Chapter 15: Cell Death and Cancer
Overview of Cell Death
Cell death can broadly be divided into two categories: unprogrammed cell death and programmed cell death. Unprogrammed cell death, also termed necrosis, is a disordered process that results in damage to surrounding tissue. In response to certain toxins (e.g., brown recluse spider venom) or injury, cell membranes rupture. Hydrolytic enzymes and low pH organelles, such as lysosomes and endosomes, are then released into the extracellular environment. This causes inflammation and, in extreme cases, the damaged tissue will turn red or black in color.
In contrast to necrosis, programmed cell death (termed apoptosis) is a highly ordered process. Briefly, apoptosis is initiated by internal or external signals that indicate the cell should be removed from the population. This triggers "cell suicide" where the intracellular contents are degraded. Next, the plasma membrane forms protrusions in a process called membrane "blebbing." The blebs eventually break apart to form apoptotic bodies, which are cleared by phagocytic cells. Because of this, the intracellular contents of the dying cells are not released, and there is no inflammation or damage to the surrounding tissue (Figure 15-1). The specific events that trigger and are involved in apoptosis are outlined in the next section.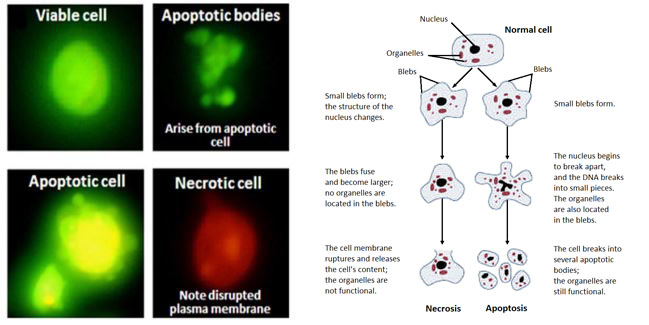 Figure 15-1: Apoptosis versus Necrosis. Panels on the left: Only green-fluorescing (apoptotic) cells eventually formed apoptotic bodies. In contrast, necrotic (orange-fluorescing) cells lose their plasma membranes, do not form such 'bodies' and will eventually disintegrate. Panel on the right: The left hand column shows the steps in necrosis resulting in inflammation while the right hand column shows the steps in apoptosis, resulting in clearance of apoptotic bodies.
Apoptosis
Introduction
When a cell is damaged, superfluous, or potentially dangerous to an organism, it can initiate a mechanism to trigger apoptosis. Apoptosis allows a cell to die in a controlled manner preventing the release of potentially damaging molecules from inside the cell, thereby avoiding an inflammatory response. There are many internal checkpoints that monitor a cell's health; if abnormalities are observed (i.e., the failure to pass a cell cycle checkpoint), a cell can spontaneously initiate the process of apoptosis.
Apoptosis is essential for normal embryological development. In vertebrates, for example, early stages of development include the formation of web-like tissue between individual fingers and toes (Figure 15-2). During the course of normal development, these unneeded cells must be eliminated, enabling fully separated fingers and toes to form. A cell signaling mechanism triggers apoptosis, which destroys the cells between the developing digits.
Initiation of apoptosis
Internal and external signals can trigger apoptosis. As previously discussed, checkpoints within the cell cycle serve as "quality control" mechanisms to ensure that only undamaged cells proliferate. Apoptosis may be initiated by internal signals triggered by various events, such as checkpoint failure, physical damage to chromosomes during cell division, or significant debilitating mutations prior to S phase. If a checkpoint fails, or a cell suffers physical damage to chromosomes during cell division, or if it suffers a debilitating somatic mutation in a prior S phase, internal signals will initiate apoptosis. One example of this is the expression of pro-apoptosis genes by p53 after the DNA damage is detected.
Several external signaling molecules also regulate apoptosis. This regulation involves the balance between the cell receiving or withdrawing "survival" signals vs. "pro-death" signals. The continued survival of most cells requires that they receive continuous stimulation (or survival signals) from other cells and, for many, continued adhesion to the surface on which they are growing.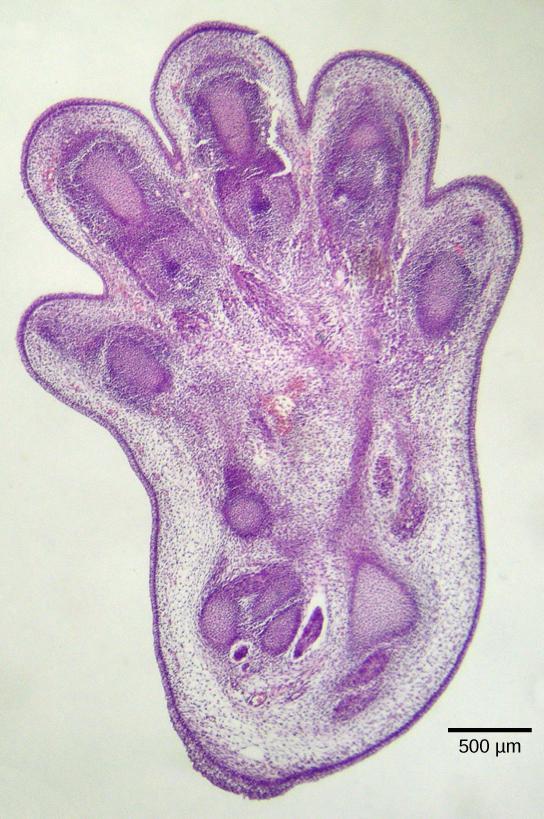 Figure 15-2: Apoptosis during embryonic development. The histological section of a foot of a 15-day-old mouse embryo, visualized using light microscopy, reveals areas of tissue between the toes, which apoptosis will eliminate before the mouse reaches its full gestational age at 27 days. (credit: modification of work by Michal Mañas)
Stages of apoptosis
As previously stated, apoptosis is a highly-ordered process. The major stages of typical apoptosis are as follows:
Release of cytochrome c from the mitochondria

Formation of the apoptosome

Initiation of the caspase cascade

Breakdown of cellular contents, including chromatin

Membrane "blebbing"

Phagocytosis of apoptotic bodies
Apoptosis begins with the release of a mitochondrial protein, called cytochrome c, into the cytoplasm in response to internal or external signals. The release of cytochrome c is regulated by a group of proteins with competing functions. The anti-apoptosis protein Bcl-2 inhibits cell death by sequestering cytochrome c in the mitochondria. In contrast, the pro-apoptosis proteins Bak and Bax promote the release of the cytochrome c into the cytoplasm, initiating apoptosis. This specific mechanism of action is still not fully understood. However, it is believed that Bak and Bax form a pore in the mitochondria, allowing cytochrome c to be released. Conversely, Bcl-2 is thought to either prevent Bax/Bak pore formation and/or serve as a "plug" to prevent cytochrome c diffusion through the pore.
After exiting the mitochondria, cytochrome c binds to adaptor proteins and pro-caspase 9 to form a structure called the apoptosome. Pro-caspase 9 is a member of a class of enzymes called caspases, which are proteolytic enzymes (enzymes that break down proteins; also called proteases). The "pro" in pro-caspase 9 indicates that the enzyme is in its inactive proenzyme (procaspase) form, meaning it cannot break down proteins. Shortly after the formation of the apoptosome, pro-caspase 9 is converted to the active protease caspase-9. This occurs when the pro-domain, a part of the protein that inhibits enzyme activity, is removed from the caspase (Figure 15-3, A).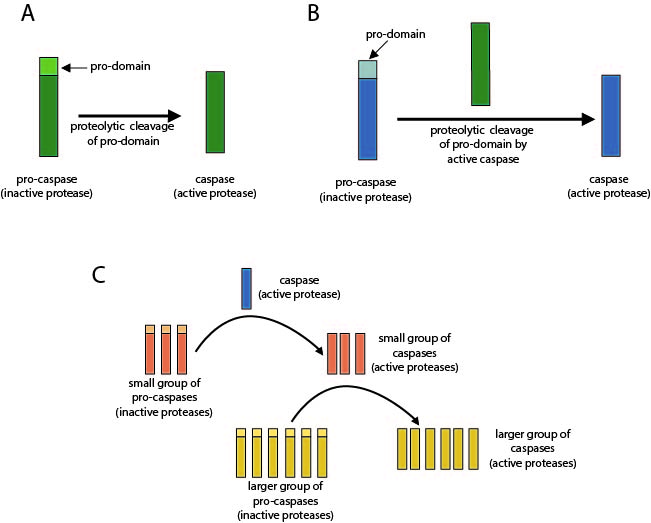 Figure 15-3. Caspases. (A) Pro-caspases are inactive proteases (proteases are enzymes that break down proteins). Pro-caspases become caspases (active proteases) after removal of the pro-domain on the pro-caspase. (B) During the early stages of apoptosis, pro-caspase 9 (green) in the apoptosome is converted into caspase 9. Active caspase 9 can then cleave the pro-domains off of other caspases, such as caspases 3, 6, 7 (blue). (C) A few caspases can activate a small population of caspases, which can then go on to activate a larger caspase population. This cascade effect leads to a lead large number of active caspases in the cell, which then breakdown cellular proteins and chromatin.
In addition to caspase 9, there are many other caspases in the cell, which exist in their inactive, procaspase form. After the conversion of pro-caspase 9 to caspase within the apoptosome, caspase 9 cleaves the pro-domains from a small population of pro-caspases 3, 6, and 7 proteins to form active caspases 3, 6, and 7 (Figure 15-3, B). These active caspases then cleave pro-domains from other pro-caspases, increasing the number of active caspases within the cell (Figure 15-3, C). Thus a cascade effect occurs, called a caspase cascade (also called a proteolytic cascade), after the initial activation of one set of caspases. Ultimately, the active caspases breakdown chromatin and proteins within the cell (Figure 15-4).
Figure 15-4: The role of caspases in apoptosis. In a cell that is not undergoing apoptosis, caspases exist in their proenzyme form, meaning they are inactive. When released from the mitochondria, cytochrome c binds to adaptor proteins and the proenzyme caspase 9 to form a structure called the apoptosome. The formation of the apoptosome triggers caspase 9 to become an active protease. The apoptosome (with active caspase 9) converts several caspases (examples: caspases 3, 6, and 7) from their proenzyme forms into their active forms. Active caspases break down cellular proteins, and convert other caspases from their proenzyme to their active form. Collectively, this forms a cascade of amplifying caspase activity, resulting in apoptotic cell death
Once active, caspases degrade chromatin and proteins within the cell. As a result, the cell begins to shrink and lose shape as the cytoskeleton is degraded. Then the organelles appear to pack together, except for the nucleus. Inside the nucleus, the chromatin condenses and attaches to the nuclear envelope, which then loses its integrity and starts to break apart. The cell membrane begins to show irregularities, descriptively known as blebs, and eventually, the cell breaks apart into vesicles called apoptotic bodies that are neatly cleaned up by phagocytes drawn to the site by apoptotic signals emitted by the dying cell (Figure 15-5)
One important note is another form of apoptosis, sometimes called extrinsic apoptosis, which does not utilize cytochrome c. Instead, in these forms of apoptosis, the caspase cascade is directly activated by pro-cell death receptors. After initiation of the caspase cascade, membrane blebbing and formation and clearance of apoptotic bodies occur as previously described.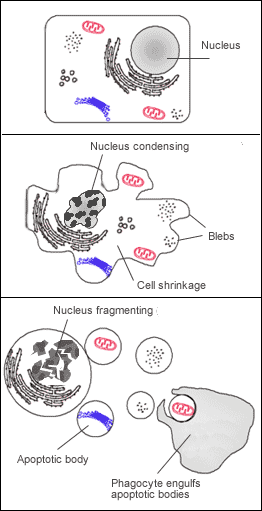 Figure 15-5: Membrane blebbing and apoptotic bodies. Active caspases breakdown proteins in the cell. This results in cell shrinking and fragmentation of the nucleus. The cell membrane protrudes in a process called membrane blebbing. Blebs will eventually break off and form vesicles called apoptotic bodies. Apoptotic bodies are then engulfed by phagocytic cells.
Cancer
Cancer is a collective name for many different diseases caused by uncontrolled cell division. Despite the redundancy and overlapping levels of cell-cycle control, errors can ultimately occur. One of the critical processes monitored by the cell-cycle checkpoint surveillance mechanism is the proper replication of DNA during the S phase. Even when all of the cell-cycle controls are fully functional, a small percentage of replication errors (mutations) will be passed on to the daughter cells. If one of these changes to the DNA nucleotide sequence occurs within a gene, a gene mutation results. All cancers begin when gene mutations give rise to a faulty protein that's normal role is involved in the process of cell reproduction. The change in the cell that results from the malformed protein may be minor. Even minor mistakes, however, may allow subsequent mistakes to occur more readily. Over and over, small, uncorrected errors are inherited from parent to daughter cells and accumulate as each generation of cells produces more non-functional proteins from uncorrected DNA damage. Eventually, the pace of the cell cycle speeds up as the effectiveness of the control and repair mechanisms decreases. Uncontrolled growth of the mutated cells outpaces the growth of normal cells in the area, and a tumor can result.
As discussed in Chapter 14, cycling cells continue to divide until they attain G0 in the terminally differentiated state. Most terminally differentiated cells are cleared by apoptosis when they reach the end of their effective lives, to be replaced by cells generated by stem cells. Furthermore, accidental signaling can bring cells out of G0, leading to renewed cell proliferation. While these cells are obviously abnormal, they are not detected by apoptotic defense mechanisms and undergo uncontrolled cell divisions, eventually becoming cancer cells. Likewise, physically damaged or mutated cells may sometimes escape apoptotic clearance. When they do, they may also become cancer cells. Apoptotic clearance and uncontrolled cancer cell proliferation are compared below (Figure 15-6).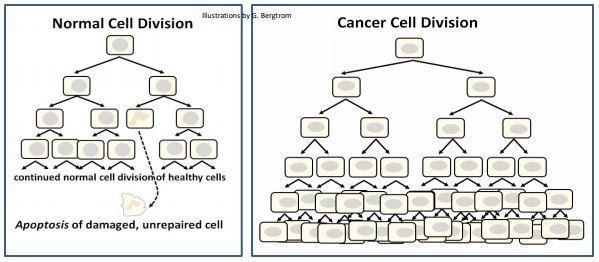 Figure 15-6: Cell division in normal and cancer cells. In normal, non-cancerous cells, cell division only occurs in response to pro-growth signaling molecules. Additionally, cells that are damaged and/or no longer needed by the body are cleared by apoptosis. In contrast, cancer cells grow in a rapid, uncontrolled manner and evade apoptosis.
Mutations and Cancer
Cancers accumulate mutations as they mature. Early-stage tumors can begin with a single mutation, while late-stage tumors can have dozens of mutations (early- and late-tumors, called benign and malignant tumors, are discussed later in the chapter). The two types of genes that contribute to cancer are proto-oncogenes and tumor suppressors.
Proto-oncogenes
The genes that code for the positive cell-cycle regulators are called proto-oncogenes. These genes, when not mutated, play a role in the promotion of the cell cycle under normal conditions. Once a proto-oncogene has been altered such that it increases the rate of the cell cycle, it is then referred to as an oncogene. Stated another way, proto-oncogenes, when mutated, become oncogenes—genes that cause a cell to become cancerous. Mutations in proto-oncogenes are unique in that they increase the activity of a positive regulator, meaning they can push the cell cycle forward before the cell is ready. This is because the mutation of a proto-oncogene into an oncogene causes either hyper-reactivity or overproduction of the protein. For example, a mutation that allows Cdk, a protein involved in cell-cycle regulation (see Chapter 14), to be activated before it should be could push the cell cycle past a checkpoint before all of the required conditions are met. If the resulting daughter cells are too damaged to undertake further cell divisions, the mutation would not be propagated, and no harm comes to the organism. However, if the atypical daughter cells divide further, the subsequent generation of cells will likely accumulate even more mutations, some possibly in additional genes that regulate the cell cycle. The Cdk example is only one of many genes that are considered proto-oncogenes. Unsurprisingly, many genes involved in the initiation of the pro-growth MAPK signaling pathway are proto-oncogenes. Examples include the Ras GTPase, EGFR (endothelial growth factor receptor, a receptor tyrosine kinase), and Her2 (another receptor kinase that is frequently mutated in breast cancers).
Tumor Suppressor Genes
Many genes that are negative cell-cycle regulatory proteins were discovered in cells that had become cancerous. Tumor suppressor genes are genes that code for the negative regulator proteins that normally inhibit the cell cycle, the type of regulator that—when activated—can prevent the cell from undergoing uncontrolled division. The collective function of the best-understood tumor suppressor gene proteins, retinoblastoma protein (Rb), p53, and p21, is to put up a roadblock to cell-cycle progress until certain events are completed (refer to Chapter 14). A cell that carries mutated forms of a negative regulator might not be able to halt the cell cycle if there is a problem. If tumor suppressor genes are mutated such that they can no longer inhibit cell cycle, this can contribute to unregulated cell growth. Mutated tumor suppressor genes do not get a new name upon becoming mutated or inactivated.
Mutations in p53 have been identified in more than half of all human tumor cells. This discovery is not surprising in light of the multiple roles that the p53 protein plays at the G1 and G2 checkpoints. The p53 protein is a transcription factor that activates other genes that participate in DNA repair and/or initiate cell death when DNA damage cannot be repaired. These genes effectively halt the cell cycle, allowing time for the cell to fix itself. A damaged p53 gene can result in the cell behaving as if there is no damage to the DNA, thereby allowing cell division of mutated or damaged cells, which potentially contributes to the formation of cancer(s) (Figure 15-7).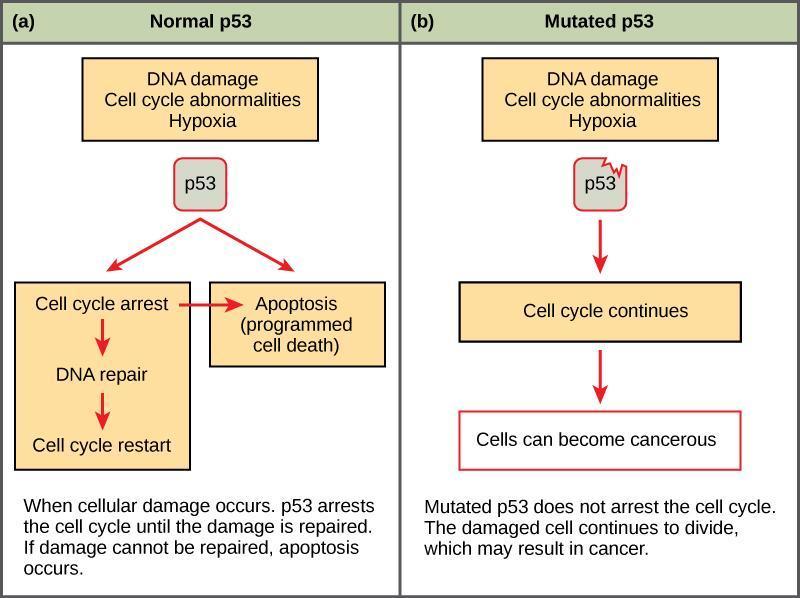 Figure 15-7: p53 in cancer. The tumor suppressor p53 is activated in response to cellular damage and cell cycle abnormalities. p53 is a transcription factor that controls the expression of many genes that regulate cell cycle arrest, DNA damage repair, and apoptosis. p53 is mutated in over half of all cancers, causing p53 to have reduced or no functionality. This allows cells to divide, propagating the mutation in daughter cells and allowing the accumulation of new mutations. In addition, the damaged version of p53 found in cancer cells cannot trigger cell death.
Benign and Malignant Tumors
As previously mentioned, a single mutated cell in a tissue can become the growth point of a tumor, essentially a mass of cells cloned from the original mutated one. Benign tumors or growths are tumors comprised of cells that divide rapidly, but are otherwise normal (Figure 15-8, top panel). In some cases, benign tumors stop growing and are not life-threatening. Benign tumors are not considered cancerous, examples of these include breast and uterine fibroids in women or common moles, which can often surgically removed for the comfort of the patient. In other cases, cells in benign tumors can accrue more mutations and develop into a more dangerous tumor type called a malignant tumor.
Malignant tumors (also called malignant neoplasms) (Figure 15-8, bottom panel) are cancerous and are the results of multiple mutations. They can grow beyond the boundaries of the tumor itself. This is achieved by stopping a process called contact-inhibition, which refers to contact-dependent signals between adjacent cells within a tissue that prevent cells from growing on top of each other. As tumors grow, they deplete their available nutrients. To continue to grow, they release signaling molecules that stimulate the growth and reorganization of nearby blood vessels. The process of blood vessel formation is called angiogenesis, a process that is not unique to cancer, but allows them to continue growing by acquired the necessary nutrients. In addition to providing nutrients, the blood vessels serve as a conduit to travel to a secondary location in the body, the phenomenon called metastasis. Cancer cells that metastasize can become the focal point of new tumor formation in many different tissues. Because cancer cells continue to cycle and replicate their DNA, they can undergo yet more somatic mutations. These further changes can facilitate additional metastasis and cancer cell growth in different locations in the body.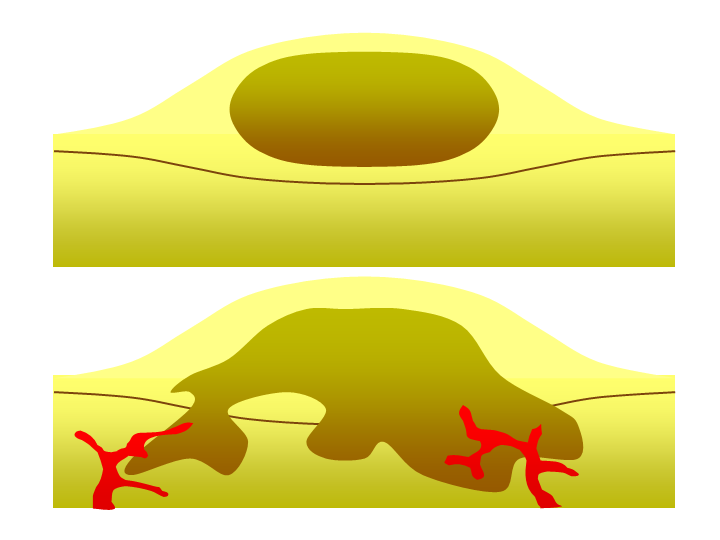 Figure 15-8: Benign and Malignant Tumors. Early-stage tumors, called benign tumors (top panel), are masses of cells that grow uncontrollably, but are otherwise normal. In some cases, benign tumors will stop growing at a certain point and are not life-threatening (examples: some fibroids and moles). Other benign tumors can develop into malignant tumors (bottom panel), which can grow beyond their boundaries by preventing contact inhibition. Malignant tumors can also redirect blood vessels to gain more nutrients and further their growth through the process of angiogenesis. These blood vessels can then serve as conduits for tumors to travel to secondary locations in the body (metastasis).
Different cancer cell types have different growth and other behavioral properties. You may have heard of slow-growing and fast-growing cancers. Colon cancers are typically slow-growing, tending to remain in the benign stage longer than other cancers, until an accumulation of mutations results in cancer progression. Periodic colonoscopies that detect and remove colorectal tumors in middle-age or older people can prevent the disease, although the risks of disease and the procedure itself must be balanced. Pancreatic and glial cancers are fast-growing and usually go undetected until they reach an advanced stage. The twin goals of medical research are to detect the different cancers early enough for successful intervention, and of course, to find effective treatments.
Treatment for Cancers
There are many different kinds of cancers originating in different tissues of the body. They all share the property of uncontrolled cell division, albeit for different molecular and not always well-understood reasons. The two major cancer treatment strategies developed in the 20th century all aim at disrupting DNA replication in some way.
Radiation therapy relies on the fact that most cells in our bodies do not divide. Aiming mutagenic radiation at tumors in the hope that replicating DNA will be mutated at so many sites (i.e., genes) that the tumor cells can no longer survive or replicate properly.

Chemotherapy is used to attack tumors that do not respond well to radiation or that are not easily reached by radiation technologies and to treat cancers that do not form focused tumors (such as lymphomas and leukemias involving lymph and blood cells). These chemotherapies aim to disrupt replication or mitotic activities. One example is Doxorubicin, a chemotherapeutic drug that obstructs DNA replication by inhibiting the activity of topoisomerases. Taxol, a plant alkaloid, is a chemotherapy drug that acts by blocking spindle fiber microtubules from depolymerizing. This blocks mitotic anaphase and telophase, thus preventing cell division. Colchicine, another plant alkaloid, attacks cancer (and other dividing) cells by blocking microtubule formation, and therefore, preventing spindle fiber formation in mitotic prophase.
These therapies are not effective against all cancers, and of course, they don't target specific kinds of cancer cells. Their success relies simply on the fact that cancer cells proliferate rapidly and constantly while other cell types do not. Many, if not all, of the side effects of radiation and chemotherapies result from the damage done to normal dividing cells. For example, hair follicle cells accounting for hair loss among many cancer patients, and depletion of blood cells that fail to be replaced by stem cells in bone marrow.
Associated Videos: