Stem cells are specialized, regenerative cells that are found in many locations in the body. Stem cells have two defining characteristics: the capacity for self-renewal and the ability to differentiate into mature adult cells. When stem cells divide by mitosis they either form two stem cells, thus increasing the size of the stem cell "pool", or they form one daughter cell that goes on to differentiate and one daughter cell that retains its stem-cell properties, the ability to generate cells with two different fates from one cell is termed asymmetric cell division (Fig 16-1).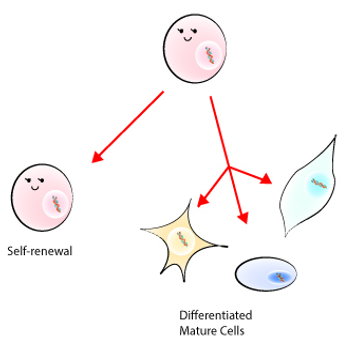 Figure 16-1: Characteristics of Stem Cells. Stem cells have the ability to renew themselves as well as differentiate into mature adult cells.
Like differentiation of other cell types, the process of stem cell differentiation is regulated by transcription factors, causing the expression or inhibition of various genes, thereby resulting in varying proteomes between cell types. The variation in proteomes between cell types is what drives differentiation, and thus, specialization of cells. The ability of transcription factors to control whether a gene will be transcribed or not contributes to specialization. Additionally, growth factors that aid in the division process are key components of cell differentiation. Fig 16-2 shows a variety of cell types that stem cells can differentiate into, in response to different transcription factors, when forming mature adult cells.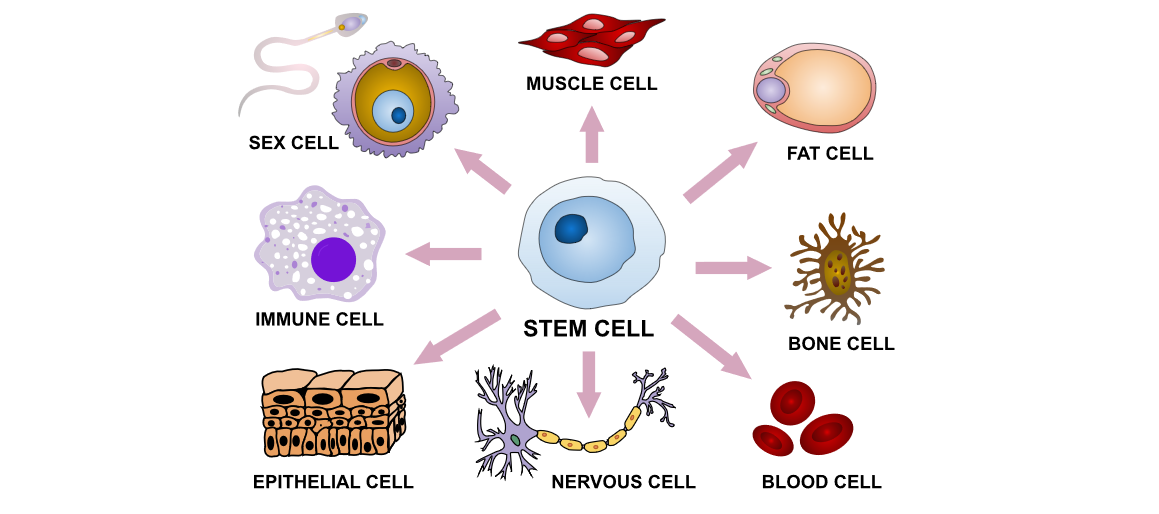 Figure 16-2: Stem Cell Differentiation. Stem cells can differentiate into a variety of different mature adult cells.
Early embryonic development
There are many sources of stem cells, one such source is embryos. To understand the relationships between stem cells and embryos, we must first review mammalian embryonic development: Fertilization is the process in which gametes (an egg /oocyte and a sperm) fuse to form a zygote. The egg and sperm cells are haploid, meaning they each contain one set of chromosomes. Only one sperm must fuse with one egg, to ensure that the offspring has only one complete diploid set of chromosomes. The sperm plasma membrane fuses with the egg plasma membrane, as illustrated in Figure 16-3. The fusion of these two membranes creates an opening through which the sperm nucleus is transferred into the ovum. The nuclear membranes of the egg and sperm break down, and the two haploid genomes condense to form a diploid genome.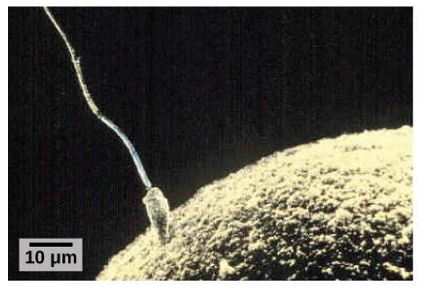 Figure 16-3: Fertilization. Image of sperm fertilizing an egg cell.
The development of multicellular organisms begins from a single-celled zygote, the diploid cell that results from the fusion of egg and sperm cells during the process of fertilization. After fertilization, the zygote undergoes rapid cell division to form the blastula. The rapid, multiple rounds of cell division during embryonic development are termed cleavage (Fig 16-4a). During cleavage, the cells divide without an increase in mass; that is, one large single-celled zygote divides into multiple smaller cells. After cleavage has produced over 100 cells, the embryo is called a blastula. The blastula is a spherical layer of cells (the blastoderm) surrounding a fluid-filled or yolk-filled cavity (the blastocoel) (Fig 16-4b). Mammals at this stage form a structure called the blastocyst, characterized by an inner cell mass that is distinct from
the surrounding blastula (Fig 16-5).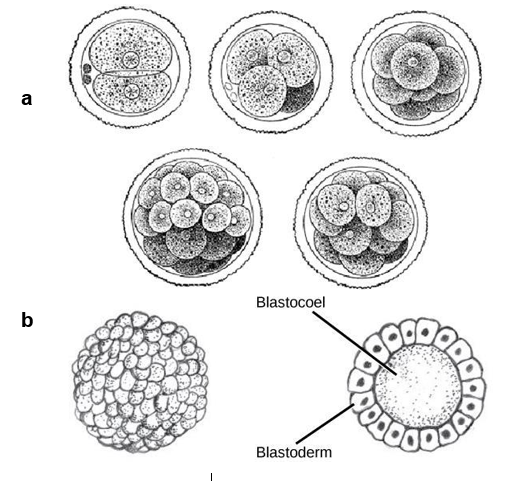 Figure 16-4: Cleavage events during embryonic development. After fertilization, the zygote undergoes rapid mitotic division where the cells do not increase in size (a), forming the blastula (b).
In mammals, the blastula forms the blastocyst in the next stage of development. Here the cells in the blastula arrange themselves in two layers: the inner cell mass and an outer layer called the trophoblast. The inner cell mass (ICM) is also known as the embryoblast, and this mass of cells will go on to form the embryo, it consists of embryonic stem cells that will differentiate into the different cell types needed by the organism. The trophoblast will develop into the placenta and nourish the embryo.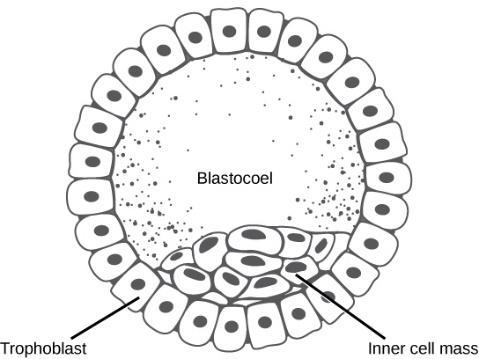 Figure 16-5: The blastocyst. The blastocyst contains the outer cell layer, the trophoblast that will become the placenta and the inner cell mass that will develop into the embryo.
Types of Stem Cells
Several adjectives are used to describe the developmental potential (or potency) of stem cells; that is, the number of different kinds of differentiated cells that they can become. Stem cells are divided into three categories: totipotent, pluripotent, and multipotent stem cells.
Totipotent Stem Cells
In mammals, totipotent cells have the potential to become any type in the adult body and any cell of the extraembryonic membranes (e.g., placenta). The only totipotent cells that can be found in humans are zygotes. In mammals, the term "totipotent stem cell" is a misnomer as mammalian zygotes cannot undergo self-renewal. One example of true totipotent stem cells are fungal spore cells because an adult, multicellular fungus can be generated from a single spore.
Pluripotent Stem Cells
Pluripotent stem cells are true stem cells, with the potential to make almost all differentiated cells in the body. Pluripotent stem cells can be isolated from the ICM of the blastocyst (the stage of embryonic development when implantation occurs) and are called embryonic stem cells (ES). Human ES cells are considered to be pluripotent, and not totipotent, because they cannot generate every type of human cells. Recall that the trophoblast in the blastocyst structure gives rise to the placenta; therefore human ES cells from the ICM cannot differentiate into placental cells. Harvesting ES cells from human blastocysts for research purposes is controversial because it destroys the embryo. To minimize controversy the most common source of human ES cells are the extra embryos produced during in vitro fertilization (IVF) procedures, as these embryos are discarded if the clients have stopped treatment. These stem cells can be grown in culture, but only with special methods to prevent them from differentiating.
Pluripotent stem cells can now be generated from differentiated cells using genetic manipulation in the laboratory. These induced pluripotent stem cells (iPSCs) are described in more detail later in the chapter.
Multipotent Stem Cells
Multipotent stem cells are true stem cells in that they can undergo self-renewal, but can only differentiate into a limited number of types. Pools of multipotent stem cells are found in tissues throughout the body. For this reason, multipotent stem cells are also called "adult-derived" or "tissue-specific" stem cells. One source of multipotent stem cells is the bone marrow. The bone marrow contains multipotent stem cells, called hematopoietic stem cells, that give rise to a limited array of cells including red and white blood cells (Fig 16-6). Multipotent stem cells are found in adult animals; most organs in the body (e.g., brain, liver, lungs) contain them where they serve as a source to replace dead or damaged cells.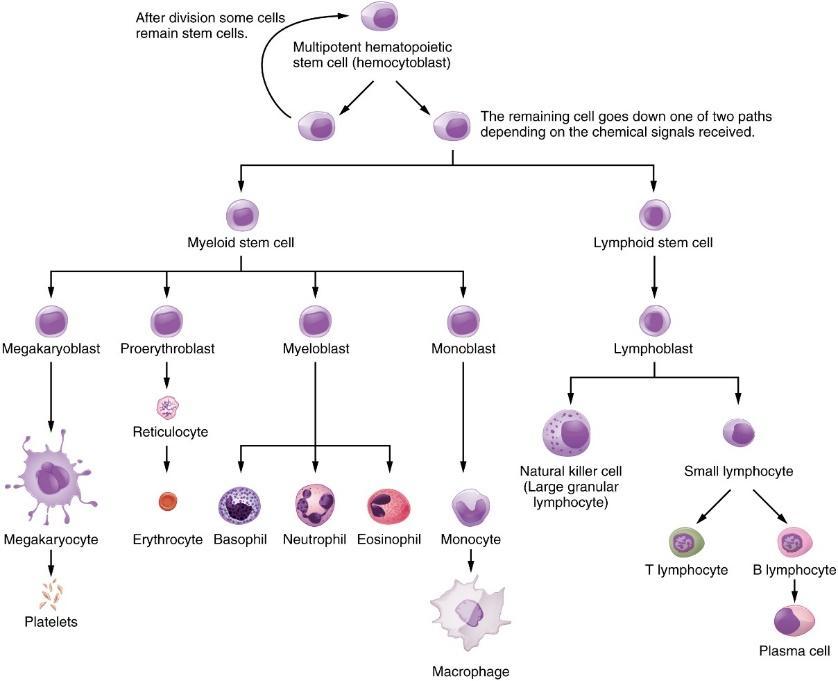 Figure 16-6: Hematopoietic stem cells. Hematopoietic stem cells are multipotent stem cells that can differentiate into a limited set of cell types, those of the blood.
Therapeutic applications of stem cells
Many medical problems arise from damage to differentiated cells. Examples include: 1) Type 1 diabetes mellitus where the beta cells of the pancreas have been destroyed by an autoimmune attack, 2) Parkinson's disease; where dopamine-secreting cells of the brain have been destroyed, 3) Multiple sclerosis with the loss of myelin sheaths around axons, and 4) blindness caused by damage to the cornea. The great developmental potential of stem cells has created intense research into enlisting them to aid in replacing the lost or damaged cells of such disorders.
Induced Pluripotent Stem Cells (iPSCs)
A promising alternative to the use of embryonic stem cells in human therapy are recently-developed methods that genetically reprogram the nuclei of differentiated adult cells so that they regain the pluripotency of embryonic stem (ES) cells. In June 2007, three laboratories reported that introducing extra copies of only four genes into adult mouse skin cells (fibroblasts) enables them to regain the properties of ES cells. When these cells, named induced pluripotent stem cells (iPSCs cells), were placed in mouse blastocysts, they participated in building all the tissues of the mice that resulted. By 2009, several labs had succeeded in producing fertile adult mice from iPSCs derived from mouse embryonic fibroblasts. This shows that iPSCs are just as capable of driving complete development due to their pluripotency, as embryonic stem cells. Additionally iPSCs have been isolated from adult human tissue and reprogrammed for use both in research and clinical applications (Fig 16-7).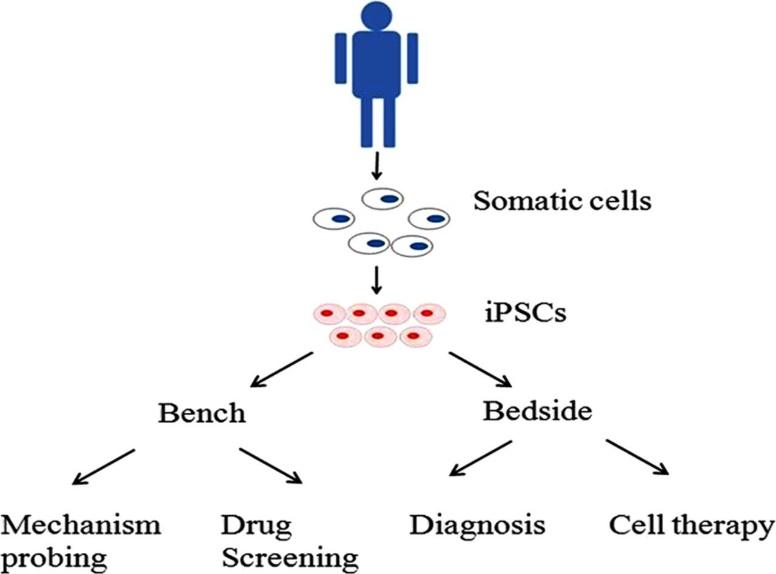 Figure 16-7: Induced pluripotent stem cells. Adult (somatic) cells can be reprogrammed into IPS cells and used in research or clinical applications.
Bone Marrow Transplant
Hematopoietic stem cells (HSCs) are the multipotent stem cells from which all the types of blood cells are made. They reside in the bone marrow and can be harvested from it. However, a few infusions of granulocyte colony-stimulating factor (G-CSF) — available thanks to recombinant DNA technology — causes them to be released into the blood where they can more easily be collected. They are used to treat a variety of ailments including sickle-cell disease, multiple myeloma (a cancer of plasma cells), various leukemia'\s, and some other types of cancer. In 2006, some 50,000 of these transplants were performed worldwide. High doses of chemotherapy and radiation can be used to kill off the cancerous cells in a patient, but they also destroy the patient's bone marrow. The patient will die without a transplant of hematopoietic stem cells.
Purified hematopoietic stem cells used for bone marrow transplant can be generated from hematopoietic stem cells that were removed from the patient before cancer therapy began and treated to "purge" them of cancerous cells, these are termed autologous stem cells (Fig 16-8). Alternatively, hematopoietic stem cells can be isolated or removed from someone else, often a close relative, these are termed allogeneic stem cells. Another source of hematopoietic stem cells is cord blood — blood drained (through the umbilical cord) from the placenta of newborn infants.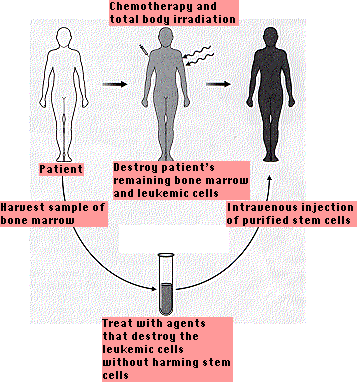 Figure 16-8: Bone Marrow Transplantation. Hematopoietic stem cells can be isolated from a patient, treated to remove cancerous cells, and injected back into the patient for therapeutic purposes.
Associated Videos: