Chapter 11: Principles of Cell Signaling
How do cells communicate?
Cell signaling (also called signal transduction) describes the ability for cells to respond to stimuli from their environment. Some examples include wound healing after injury, activation of the immune system in response to pathogens, and changes in gene expression during different developmental stages. Communication between cells is called intercellular signaling, and communication within a cell is called intracellular signaling. An easy way to remember the distinction is by understanding the Latin origin of the prefixes: inter- means "between" (for example, intersecting lines are those that cross each other) and intra- means "inside" (like intravenous).
Signaling Molecules and Receptors
Cell signaling is initiated by signaling molecules (also called ligands). Different types of molecules can serve as signaling molecules. They can be proteins (ex: insulin, human growth hormone), lipids (ex: prostaglandins, testosterone, cortisol), amino acid metabolites (ex: histamine, dopamine), gases (ex: nitric oxide), and many others. Signaling molecules interact with proteins in or on target cells, which are cells that are affected by chemical signals; the proteins that respond to ligands are also called receptors. Signaling molecules and receptors exist in several varieties; however, a signaling molecule will bind to a specific receptor that typically binds only one type of signaling molecule. This specificity occurs because signaling molecules have a unique charge, shape, size, and hydrophobicity that only permit them to bind to specific, complementary regions on receptors. As such, one can think of signaling molecules-receptor interactions as "keys" and "locks."
Types of Cell Signaling
Cell signaling can be divided into four major categories depending on how far the signaling molecule is from the receptor and where the receptor is located (Figure 11-1):
Long-range signaling (endocrine)

Short-range signaling (paracrine)

Self-activation (autocrine)

Direct activation (contact-dependent, also called juxtacrine)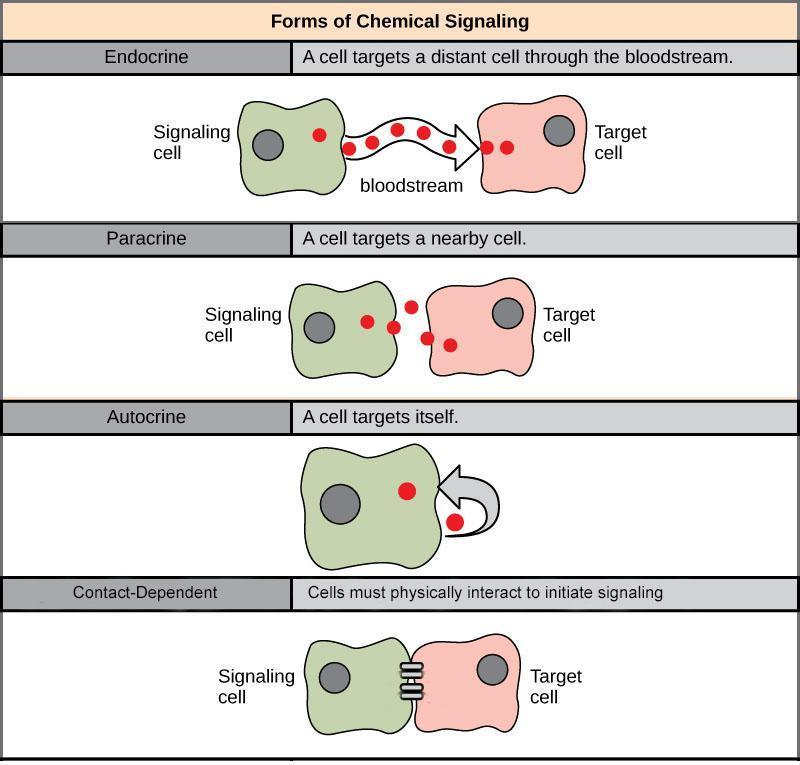 Figure 11-1: The four types of cell signaling. Cell signaling is divided into four major categories based on the location of the receptor and the distance traveled by the signaling molecule. These categories are endocrine (long-range signaling), paracrine (local signaling), autocrine (cell self-stimulation), and contact-dependent/juxtacrine signaling (signaling that requires direct contact between cells).
Endocrine Signaling
Signals from distant cells are called endocrine signals, and they originate from endocrine cells. In the body, many endocrine cells are located in endocrine glands, such as the thyroid gland, the hypothalamus, and the pituitary gland. These types of signals usually produce a slower response but have a longer-lasting effect. The ligands released in endocrine signaling are called hormones, signaling molecules that are produced in one part of the body but affect other body regions some distance away (Figure 11-1).
Hormones travel the vast distances between endocrine cells and their target cells via the bloodstream, which is a relatively slow way to move throughout the body. Because of their form of transport, hormones get diluted and are present in low concentrations when they act as ligands to the receptors on their target cells.
Paracrine Signaling
Signals that act locally between cells that are close together are called paracrine signals (Figure 11-1). Paracrine signals move by diffusion through the extracellular matrix. These types of signals usually elicit quick responses that last only a short amount of time. To keep the response localized, paracrine ligand molecules are normally quickly degraded by enzymes or removed by neighboring cells. Removing the signals will reestablish the concentration gradient for the signal, allowing them to diffuse through the intracellular space if released again quickly.
The inflammatory response is one example of paracrine signaling. In response to injury (e.g., an insect bite), cells release signaling molecules called cytokines. Cytokines recruit and activate immune cells near the site of injury, resulting in redness and swelling. This is the first step in the wound healing response.
Another example of paracrine signaling is the transfer of signals across synapses between nerve cells (Figure 11-2). A nerve cell consists of a cell body, several short, branched extensions called dendrites that receive stimuli, and a long extension called an axon, which transmits signals to other nerve cells or muscle cells. The junction between nerve cells where signal transmission occurs is called a synapse. A synaptic signal is a chemical signal that travels between nerve cells. Fast-moving electrical impulses propagate signals within the nerve cells. When these impulses reach the end of the axon, the signal continues to a dendrite of the next cell by the release of chemical ligands called neurotransmitters by the pre-synaptic cell (the cell emitting the signal). The neurotransmitters are transported across the very small distances between nerve cells, which are called chemical synapses. The small distance between nerve cells allows the signal to travel quickly; this enables an immediate response, such as, take your hand off the hot surface on the stove!
When the neurotransmitter binds the receptor on the surface of the post-synaptic cell, the electrochemical potential of the target cell changes and the next electrical impulse is launched. The neurotransmitters that are released into the chemical synapse are degraded quickly or get reabsorbed by the pre-synaptic cell so that the recipient nerve cell can recover quickly and be prepared to respond rapidly to the next synaptic signal.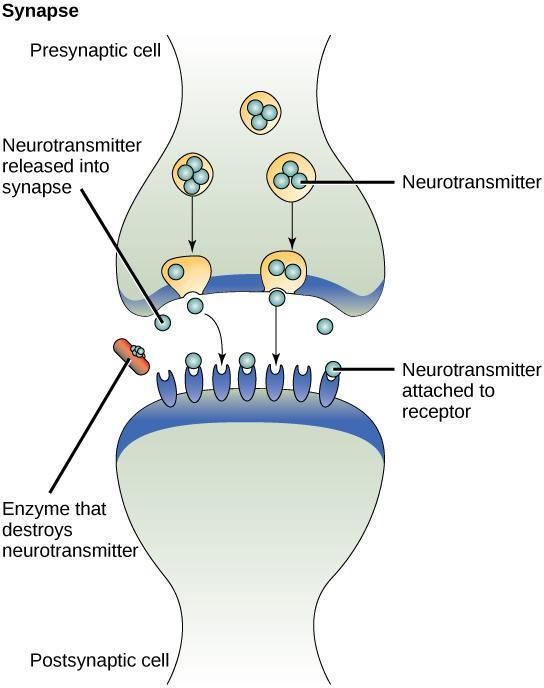 Figure 11-2: Neuronal Signaling. In neuronal signaling, signaling molecules are released by the pre-synaptic cell and bind to receptors on the nearby post-synaptic cell. This is an example of paracrine signaling.
Autocrine Signaling
Autocrine signals are produced by signaling cells that can also bind to the ligand that is released (Figure 11-1). This means the signaling cell and the target cell are one and the same (the prefix auto- means self, a reminder that the signaling cell sends a signal to itself). This type of signaling often occurs during the early development of an organism to ensure that cells develop into the correct tissues and take on the proper function. Autocrine signaling also regulates pain sensation and inflammatory responses. Further, if a cell is infected with a virus, the cell can signal itself to undergo programmed cell death, killing the virus in the process. In some cases, neighboring cells of the same type are also influenced by the released ligand, therefore also inducing paracrine signaling. In embryological development, this process of stimulating a group of neighboring cells may help to direct the differentiation of identical cells into the same cell type, thus ensuring the proper developmental outcome.
Contact-Dependent Signaling
In contact-dependent signaling (also called juxtacrine signaling), cells must physically interact to initiate cell signaling (Figure 11-1). This can be through gap junctions and/or through interactions of transmembrane proteins. In this case, the signaling molecule/ligand is generally bound to the membrane of one cell, so that cell needs to come in direct contact with the receptor on the target cell to deliver the signal. One example of contact-dependent signaling is the Delta-Notch pathway used in embryonic development. Delta, a transmembrane protein on the signaling cell, binds to Notch, a receptor on the receiving cell. Notch alters its conformation, allowing its cytoplasmic domain to be cut off by an enzyme called a secretase. The cytoplasmic domain then translocates into the nucleus, where it acts as an activating transcription factor to upregulate the expression of genes needed in the next developmental stage.
Components of a Cell Signaling Pathway
As previously mentioned, cell signaling is initiated when a signaling molecule/ligand binds to its corresponding receptor. Once a receptor is activated, a series of events (Figure 11-3) is triggered within the cell, which eventually leads to the resulting cellular response (e.g., change in gene expression or change in metabolism). These events are outlined in the following sections.
Intracellular Signaling Cascades and Effectors
Receptors, even at high density, represent only a minute fraction of the surface area of the cell, and therefore an even tinier fraction of the volume of the cell. Therefore the activation of a receptor must be amplified for it to initiate cellular activities (e.g. locomotion, growth, cell cycle progression). Thus one of the first things a receptor does upon activation or ligand binding is to initiate an intracellular signaling cascade (Figure 11-3). This aptly named sequence of events begins with the receptor activating an enzyme. The enzyme may be the cytoplasmic domain of the receptor itself, or it may be an independent protein but closely linked to the receptor. The enzyme does what enzymes do: it rapidly converts substrate molecules into product molecules. In this case, sometimes, the product is an activator for another enzyme, and sometimes, the substrate is an inactive enzyme and the product is an activated enzyme. Either way, because of the high activity rates, the single activation of the receptor has increased tens or hundreds of enzyme activations. Each of those activates another hundred, and so on, so that the effect of the receptor can be rapidly distributed throughout the cell.
In some cases, molecules within an intracellular signaling cascade will produce small, intracellular molecules that serve to amplify the cellular response to the primary signaling molecules. These molecules are termed secondary messengers (Figure 11-3).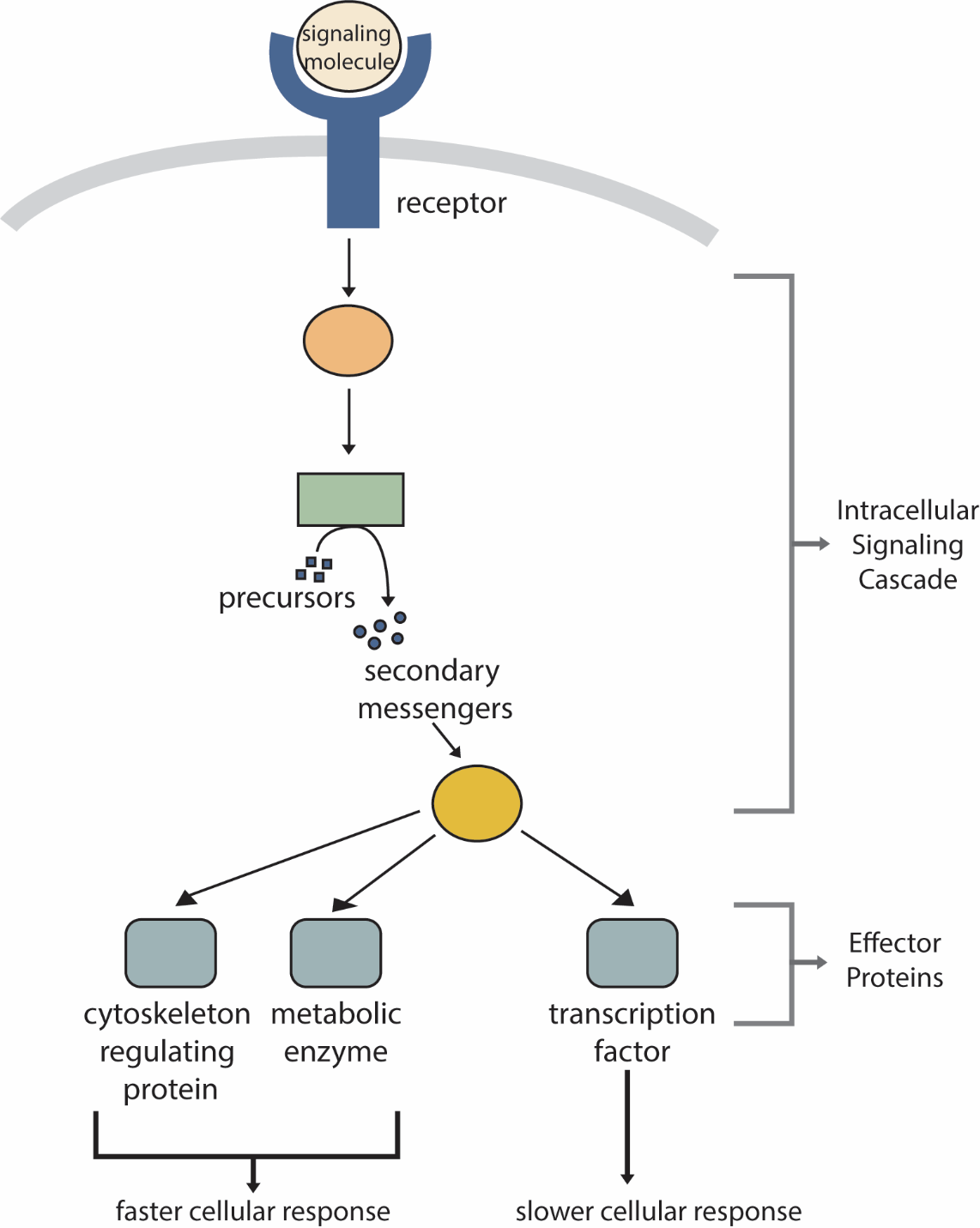 Figure 11-3: Generic Cell Signaling Pathway. Cell signaling begins when a signaling molecule binds to its receptor. Receptors are found both inside the cell and on the cell surface. Once stimulated by the signaling molecule, the receptor initiates an intracellular signaling cascade, which is a series of enzymatic reactions. Many of these enzymes are kinases, phosphatases, or GTPases. In some cases, intracellular signaling cascades produce secondary messengers, small intracellular molecules that serve to amplify the cellular response to the primary signaling molecule. The result of the cascade is the activation of effector proteins. Effector proteins facilitate the cellular response to the signaling molecule. Effectors involved in "fast" responses (less than a second to a few minutes) are typically metabolic enzymes and/or cytoskeleton remodeling proteins. Transcription factors serve as effectors for slower responses (several minutes to hours) that depend on changes in gene expression.
Two of the most common enzymes within intracellular signaling cascades are kinases and GTPases. Kinases (Figure 11-4) facilitate the addition of a phosphate group (PO4–3) to a molecule such as a protein in a process called phosphorylation. Kinases add phosphate groups to serine, threonine, and tyrosine residues of proteins, where they replace the hydroxyl group of the amino acid. Various kinases are named for the substrate they phosphorylate. Phosphorylation of serine and threonine residues often activate enzymes. Phosphorylation of tyrosine residues can either affect the activity of an enzyme or create a binding site that interacts with downstream components in the signaling cascade. Phosphorylation may activate or inactivate enzymes. The reversal of phosphorylation, termed dephosphorylation, is completed by an enzyme called a phosphatase. Dephosphorylation will reverse the effect that the phosphorylation had on its substrate.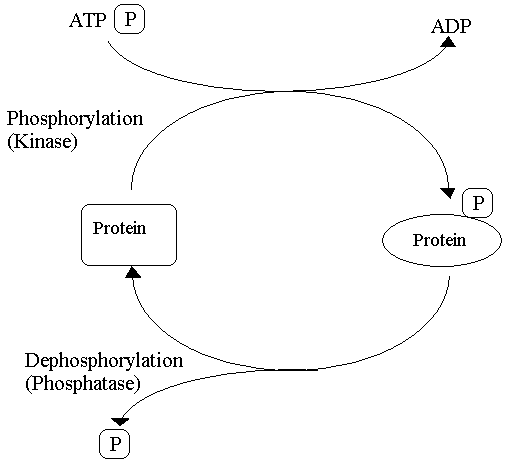 Figure 11-4: Kinase/Phosphatase Molecular Switch. Kinases add a phosphate group (PO4–3) to many substrates, including proteins involved in cell signaling. Phosphorylation can change protein function by altering its enzymatic activity, cellular location, and/or shape. These function changes can be reversed by enzymes called phosphatases, which remove phosphate groups.
GTPases hydrolyze a bound GTP to GDP, where the GDP molecule remains bound to the GTPase itself. Although the GTPase can hydrolyze GTP spontaneously, the GTPase-activating protein, GAP greatly speeds the rate of hydrolysis. When GDP is bound, the protein is inactive. To cycle the system back to GTP, and activate the protein, the GDP is not re-phosphorylated: rather, the GDP has to be removed and exchanged for a new GTP. The exchange is greatly facilitated by the action of an accessory protein, the guanine nucleotide exchange factor (GEF) (Figure 11-5).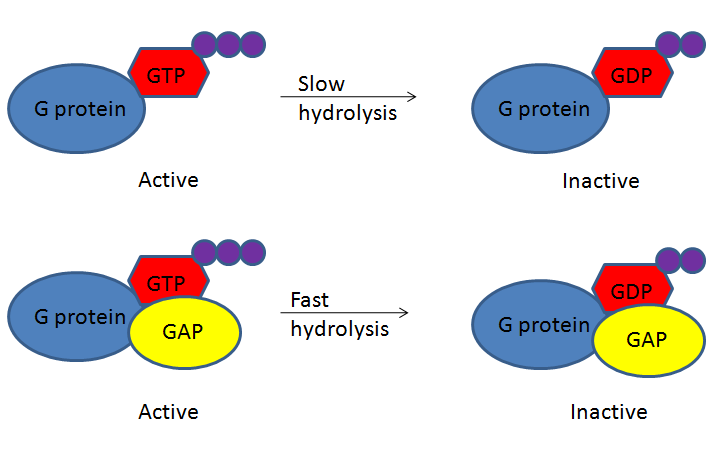 Figure 11-5: GTPase Molecular Switch. Active GTPases are bound to GTP. GTPases rapidly hydrolyze GTP to GDP, in the presence of their corresponding GAP proteins, rendering the GTPase inactive. GTPases become active when a GEF protein exchanges the bound GDP for GTP.
The endpoint of intracellular cascades is the activation of effectors. Effectors are proteins that elicit cellular responses to signaling molecules. For example, if the cellular response to a particular signaling molecule is shape change, the effector proteins would by enzymes that remodel the cytoskeleton. Similarly, if the cellular response to a signaling molecule is a change in gene expression, the transcription factors modulating the expressions of these genes would be effectors (Figure 11-3).
Effectors control both fast (less than a second to a few minutes) and slow (several minutes to hours) cellular responses to signaling molecules. Cells can rapidly change their metabolisms and shape. Therefore, effectors involved in fast cellular responses are typically metabolic enzymes or enzymes that regulate the cytoskeleton. Since the processes of transcription and translation take time, cellular responses that involve changes in gene expression (i.e., when the effectors are transcription factors) are considered slow responses (Figure 11-3).
Receptors
Receptors are protein molecules in the target cell or on its surface that bind signaling molecules. There are two types of receptors: internal receptors and cell-surface receptors.
Internal receptors
Internal receptors, also known as intracellular or cytoplasmic receptors, are found in the cytoplasm of the cell and respond to hydrophobic ligand molecules that can travel across the plasma membrane. Once inside the cell, many of these molecules bind to proteins that act as regulators of mRNA synthesis (transcription) to mediate gene expression. Gene expression is the cellular process of transforming the information in a cell's DNA into a sequence of amino acids, which ultimately forms a protein. When the ligand binds to the internal receptor, a conformational change is triggered that exposes a DNA-binding site on the protein. The ligand-receptor complex moves into the nucleus, then binds to specific regulatory regions of the chromosomal DNA and promotes the initiation of transcription (Figure 11-6). Internal receptors can directly influence gene expression without having to pass the signal on to other receptors or messengers.
Figure 11-6: Intracellular Receptors. Intracellular receptors bind signaling molecules that can diffuse across the plasma membrane. Many intracellular receptors are transcription factors, which bind to promoters to change gene expression when bound to their corresponding ligand.
Steroid Hormone Signaling
Small hydrophobic ligands can directly diffuse through the plasma membrane and interact with internal receptors. Important members of this class of ligands are the steroid hormones. Steroids are lipids that have a hydrocarbon skeleton with four fused rings; different steroids have different functional groups attached to the carbon skeleton (Figure 11-7). Steroid hormones include the female sex hormone, estradiol, which is a type of estrogen; the male sex hormone, testosterone; and cholesterol, which is an essential structural component of biological membranes and a precursor of steroid hormones. Other hydrophobic hormones include thyroid hormones and vitamin D. To be soluble in blood, hydrophobic ligands must bind to carrier proteins while they are being transported through the bloodstream.

Figure 11-7: Steroid hormones. Estradiol and testosterone are examples of steroid hormones. They are metabolites of cholesterol and can, therefore, diffuse across the plasma membrane to bind to intracellular receptors.
Nitric Oxide Signaling
Nitric oxide (NO) is a gas that can diffuse directly across the plasma membrane. Due to this property, NO, like steroid hormones, can bind to an intracellular receptor. NO plays an important role regulating blood flow by relaxing smooth muscles around blood vessels (resulting in an increase blood flow). In response to neuronal signaling, NO is released from endothelial cells and binds to its intracellular receptor, guanylyl cyclase (GC), in adjacent smooth muscle cells. GC is a receptor with enzymatic activity. When bound to its ligand NO, GC metabolizes guanosine triphosphate (GTP) into cyclic guanosine monophosphate (cGMP) (Figure 11-8). cGMP is a secondary messenger, because it is a small molecule that amplifies the response. Enzymes called phosphodiesterases (PDE) convert cGMP into guanosine monophosphate (GMP).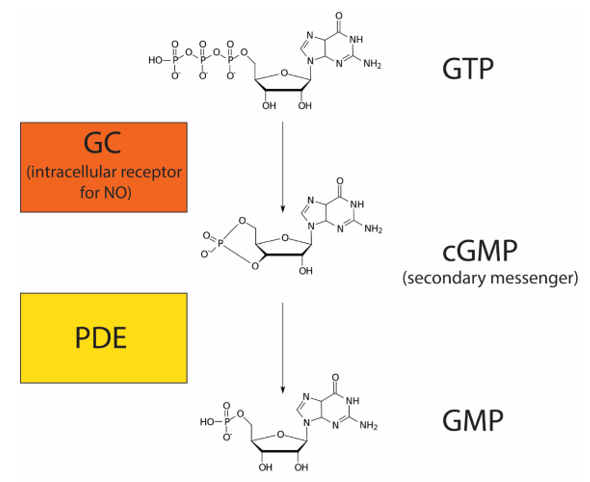 Figure 11-8: Guanylyl Cyclase and cGMP. Guanylyl Cyclase (GC) is an intracellular receptor for nitric oxide (NO) and an enzyme. When NO is bound to GC, GC can convert guanosine triphosphate (GTP) into cyclic guanosine monophosphate (cGMP). cGMP is a necessary secondary messenger in the NO signaling pathway. cGMP can be broken down into guanosine monophosphate (GMP) by enzymes called phosphodiesterases (PDE).
As levels of the secondary messenger cGMP rise, cGMP molecules bind to and activate the intracellular signaling molecule protein kinase A (PKA). Activated PKA phosphorylates numerous effector proteins, which collectively relax smooth muscles and increase blood flow (Figure 11-9).
NO has a very short half-life and, therefore, only functions over short distances. Nitroglycerin, a treatment for heart disease, acts by triggering the release of NO, which causes blood vessels to dilate (expand), thus restoring blood flow to the heart. NO has become better known recently because prescription medications target the pathway that it affects for erectile dysfunction, such as Viagra (erection involves dilated blood vessels) (Figure 11-9).

Figure 11-9: Nitric Oxide Cell Signaling. In response to neuronal signaling, endothelial cells that wrap around blood vessels produce the small gas Nitric Oxide (NO). NO diffuses out of the endothelial cells and into adjacent smooth muscle cells. Inside the smooth muscle cells, NO binds to its intracellular receptor, guanylyl cyclase (GC). When active, GC metabolizes GTP into the secondary messenger cGMP. Increasing levels of cGMP led to the activation of effector proteins, such as myosin light chain kinase, which led to muscle relaxation. As the smoothing muscles around the blood vessels relax, blood flow increases. The drug erectile dysfunction Viagra targets phosphodiesters (PDE), enzymes that break down cGMP into GMP. By inhibiting the breakdown of the secondary messenger cGMP, Viagra maintains high cellular levels of cGMP, thus maintaining smooth muscle relaxation, increased blood flow, and prolonged erections.
Cell-Surface Receptors
Cell-surface receptors, also known as transmembrane receptors, or extracellular receptors, are cell surface, membrane-anchored (integral) proteins that bind to external ligand molecules. This type of receptor spans the plasma membrane and performs signal transduction, in which an extracellular signal is converted into an intercellular signal. Ligands that interact with cell-surface receptors do not have to enter the cell that they affect. Cell-surface receptors are also called cell-specific proteins or markers because they are specific to individual cell types.
Because cell-surface receptor proteins are fundamental to normal cell functioning, it should come as no surprise that a malfunction in any one of these proteins could have severe consequences. Errors in the protein structures of certain receptor molecules have been shown to play a role in hypertension (high blood pressure), asthma, heart disease, and cancer.
Each cell-surface receptor has three main components: an external ligand-binding domain, a hydrophobic membrane-spanning region, and an intracellular domain inside the cell. The ligand-binding domain is also called the extracellular domain. The size and extent of each of these domains vary widely, depending on the type of receptor.
Ligand-gated ion channels bind signaling molecules and open a channel through the membrane that allows specific ions to pass through. To form a channel, this type of cell-surface receptor has an extensive membrane-spanning region (Figure 11-10). To interact with the phospholipid fatty acid tails that form the center of the plasma membrane, many of the amino acids in the membrane-spanning region are hydrophobic. Conversely, the amino acids that line the inside of the channel are hydrophilic to allow for the passage of polar molecules such as water or ions. When a ligand binds to the extracellular region of the channel, there is a conformational change in the protein structure that allows ions such as sodium, calcium, magnesium, and hydrogen to pass through. G-protein coupled receptors (GPCRs) and receptor tyrosine kinases (RTKs), two additional types of cell surface receptors, are covered in more detail in the following chapter.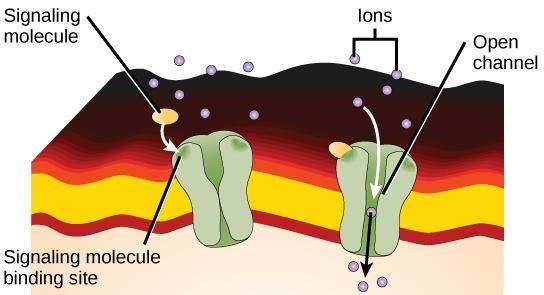 Fig 11-10. Ion Channels. Cell surface Ligand-gated ion channels open when they bind to specific signaling molecules. Once open, ions flow in or out of the cell, depending on the specific channel.
Associated Videos: