Chapter 2: DNA Packaging and Chromosomes
If stretched to its full length, the DNA molecule of the largest human chromosome would be 85mm. Yet during mitosis and meiosis, this DNA molecule is compacted into a chromosome approximately 5µm long. How does the cell package very substantial amounts of linear DNA so that it can fit inside the nucleus? Packaging DNA requires several proteins to coil and supercoil the DNA into a small enough molecule.
Compaction/Condensation of DNA
Naked DNA, whether prokaryotic or eukaryotic, is roughly 11 nm in diameter. However, given the size of eukaryotic genomes, if the DNA were stored naked inside the nucleus, it would become tangled. Picture a bucket into which you have tossed a hundred meters of yarn without any attempt to organize it by coiling it or bunching it. Now consider whether you would be able to reach into that bucket and pull on one strand, and expect to pull up only one strand or if instead, you are likely to pull up at least a small tangle of yarn. The cell does exactly what you would do with the yarn to keep it organized: it is packaged neatly into smaller, more manageable coils. In the case of DNA, the DNA 'yarn' is wrapped around spools of histone proteins to form nucleosomes, which package together to produce chromatin. Chromatin is the term used to describe the association of proteins with DNA. Chromatin is about 30 nm in width and is therefore sometimes referred to as the 30 nm fiber. There are several levels of chromatin organization (Fig 2-1).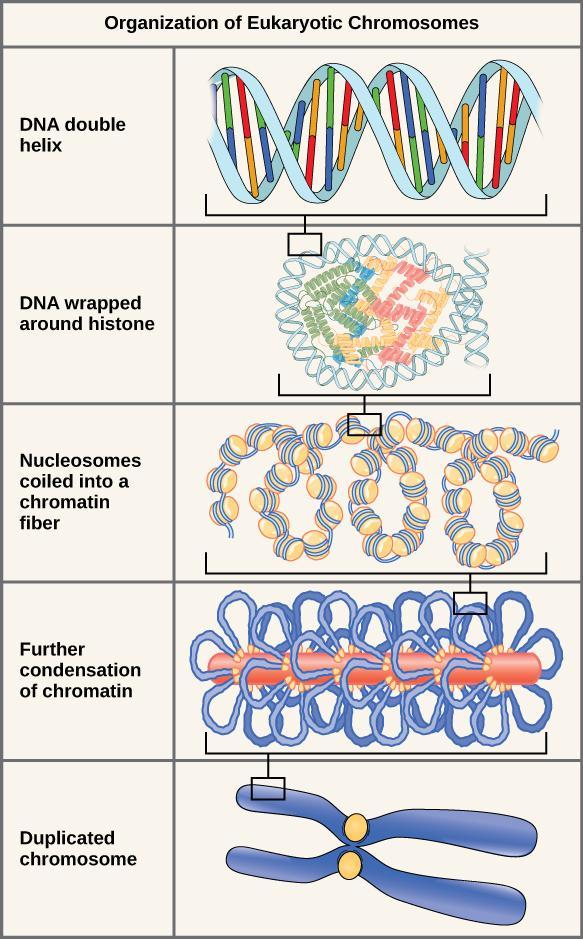 Figure 2-1: Eukaryotic chromosome organization. Double-stranded DNA wraps around histone proteins to form nucleosomes that create the appearance of "beads on a string." The nucleosomes are coiled into a 30-nm chromatin fiber. When a cell undergoes mitosis, the chromosomes condense even further.
Although this compaction makes it easier to transport DNA within a dividing cell, it also makes DNA less accessible for other cellular functions such as DNA synthesis and transcription. Thus, chromosomes vary in how tightly DNA is packaged, depending on the stage of the cell cycle and on the level of gene activity required. For example, the DNA needs to be thoroughly condensed during cell division to ensure that the chromosomes are evenly aligned and separated. However, during other parts of the cell cycle, parts of the chromosomes need to be less condensed to allow for gene expression.
Histones
The first level of DNA packaging forms the nucleosome, composed of DNA wrapped around histones. Histones are a family of positively-charged proteins (Fig 2-1 second panel [colored coiled structures being wrapped by DNA] and Fig 2-2) that function primarily in packaging DNA. The nucleosome is formed when DNA wraps (a little over 2 times) around a core of eight histone proteins- two each of H2A, H2B, H3, and H4. The small stretch of DNA between each nucleosome is called "linker" DNA. The number and position of the positive charges (mostly from lysine and arginine amino acids) are crucial for histone proteins to tightly bind DNA, which is negatively charged due to the phosphates in the backbone. In addition to the histones found in the nucleosome core, there is also the H1 histone protein that is not directly associated with the core octamer but binds externally to both the nucleosome and the linker DNA between nucleosomes, helping to further compact DNA. Interactions between H1 subunits of multiple nucleosomes is a likely mechanism for forming the 30 nm coiled fiber (Fig 2-1 middle panel).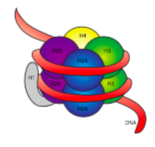 Figure 2-2: The nucleosome and histones. The nucleosome is composed of slightly over two turns of DNA around a histone core containing two copies each of H2A, H2B, H3, and H4 histones. The H1 histone is not part of the core unit but functions in coordinating interaction between nucleosomes.
Packing DNA into the nucleus of a cell affects whether genes are available to be transcribed. If a particular gene is "packed away", out of access, then there will be little to no expression of that gene in that particular cell, the gene would be "silenced" Later, if the protein produced by that gene is needed, then the chromatin must de-condense such that the gene is accessible to the transcription machinery.
Euchromatin and Heterochromatin
Chromosomes are made visible under a microscope with staining from certain types of dyes, which is how they got their name (chromosome means "colored body"). Certain dyes stain some regions along a chromosome more intensely than others, giving some chromosomes a banded appearance (Fig 2-3).

Figure 2-3: Chromosomes and centromeres. This microscope image shows the banded appearance of chromosomes. The arrow points to the centromere.
Classically, there are two major types of chromatin, but we now know that these are more the ends of a continuous and varied spectrum. Euchromatin is more loosely packed, making the DNA more accessible to protein binding and tends to contain genes that are being transcribed, or may need to be transcribed to meet the cell's needs. Heterochromatin is more densely packed and is often rich in repetitive sequences and sequences that are not to be transcribed in that cell, thus those genes are silenced (Fig 2-4). Specific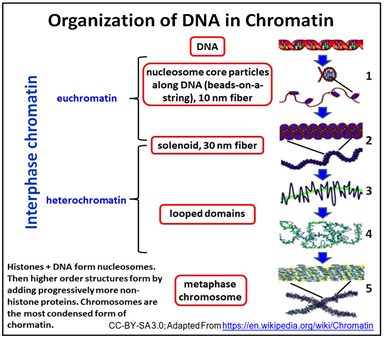 Figure 2-4: Euchromatin and heterochromatin organization. Euchromatin is less densely packed and the DNA is available for transcription, whereas heterochromatin is more densely packed and the DNA is not accessible to the transcription machinery. A single chromosome may have regions of euchromatin and heterochromatin at the same time.
genes may be in the euchromatin state in one cell, while in the heterochromatin state in another. For example, in a pancreatic beta cell, the gene for insulin is in the euchromatin state because that cell needs to produce insulin at important times in the cell's life, whereas the gene for insulin is in the heterochromatin state for all other cells in the body because those cells do not produce that protein. Another example of this are the genes for the hemoglobin protein, which is in the euchromatin state in the cells of the bone marrow that make blood cells because those red blood cells need the hemoglobin protein present. All other cells of the body do not need hemoglobin for a functional purpose, so those genes are in the heterochromatin state in those cells. The sodium-potassium pump which regulates the homeostasis of almost every cell is vital and is therefore in the euchromatin state in all cells. Telomerase, which extends the ends of the DNA during development, is turned off once a child is born. This is an example of a gene in the heterochromatin state for nearly all normally functioning cells. The DNA in the centromeres and telomeres of chromosomes are always composed of heterochromatin because they have different functions beyond gene expression. The sequences in centromeres are associated with proteins that function as anchor sites for microtubules that will separate chromosomes during mitosis. The sequences of telomeres are short, repeated segments that prevent the loss of coding sequences during DNA replication. Both telomeres and centromeres are recognizable by packaging proteins because of the structural features of repeated sequences. During most of the cell cycle the chromosomes may have varying amounts of euchromatin and heterochromatin. (See Chapter 5 for more about how euchromatin and heterochromatin patterning is involved in differential gene expression.) However, during mitosis and meiosis, the chromosomes are the most densely packed and transcription is largely inactive.
Associated videos: