3.1 – 3.2 The Twentieth Century and Beyond
3.1 MODERNISM AND POSTMODERNISM AS LITERARY MOVEMENTS
Modernism as a literary movement was influenced by thinkers who questioned the certainties that had provided support for traditional modes of social organization, religion, morality, and human identity, or the self. These thinkers included the socialist Karl Marx (1818-1883); Friedrich Nietzsche (1844-1900), whose philosophical studies encouraged accepting concepts as occurring within (and therefore defined by) perspectives, and that critiqued Christianity; Sigmund Freud (1856-1939), who founded psychoanalysis; and Sir James Frazer (1854-1941), who examined mythology and religion syncretically.
Image 3.1 | Photo of Sigmund Freud
Photographer | Max Halberstadt Source | Wikimedia Commons License | Public Domain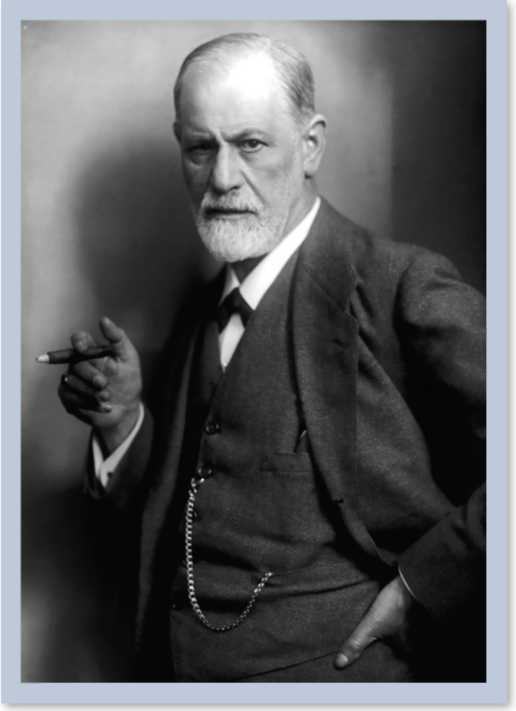 Modernism rebelled against traditional literary forms and subjects. Modernists subverted basic conventions of prose fiction by breaking up narrative continuity, violating traditional syntax, and disrupting the coherence of narration—through the use of stream-of-consciousness, that is, a narrative style providing the uninterrupted flow of an individual's thoughts and feelings—among other innovative modes of narration. They also departed from standard ways of representing characters by questioning identity as a real as opposed to an artificial construct, by eliminating the possibility of character coherence, and by conflating characters' inwardness with their external representation.
Although Victorian themes and authors influenced writers like William Butler Yeats (1865-1939), James Joyce (1882-1941), Virginia Woolf (1882-1941), T. S. Eliot (1888-1965), and D. H. Lawrence (1885-1930), modernism defined itself against Victorianism. Lytton Strachey (1880-1932) in his Eminent Victorians (1918) punctured Victorian stuffiness and pretensions to moral and cultural superiority by critically examining such revered Victorian figures as Henry Edward Manning (1808-1892), a Roman Catholic Cardinal; Florence Nightingale (1820-1910), the founder of modern nursing; and General Charles George Gordon (1833-1885), who quelled the Taiping Rebellion. A prominent feature of modernism was its interest in the avant-garde; as Ezra Pound (1885-1972) directed, modernists wanted to make it new.
Victorian realism gave way to obviously artificial structures. To the modernists, the visible, space, and time are not reality; rather, they are modes through which we apprehend reality. When reviewing Joyce's Ulysses (1922), T. S. Eliot lauded Joyce's mythical method in using the paradigm of Ulysses' journey from Troy to his home in Ithaca to give shape and significance to modern futility and anarchy as Leopold Bloom travels through Dublin. Through this mythical method, writers could be realistic in portraying modern chaos while also suggesting, through psychological insights, a continuing "buried life" (to use Arnold's phrase) that rises in mythic or archetypal patterns, patterns that express the meeting of mind with nature.
The sense of the individual's place in the world became tenuous, especially through what modernists identified as the dissociation of the mind and body. Modernists examined this dissociation through such themes as the inorganic and artificial, alienation, and estrangement. While some modernists, like Lawrence, suggest strategies for reintegrating the body and mind, others, like Woolf, face this dissociation with a sense of tragedy and overwhelming despair. Another dissociation that modernists pointed to was that between the perceived and the "real" self, between an autonomous self and one created by society and the world. Some writers, like Joyce, indicated ways to develop a strong individuality that rejected old values and created new ones; others suggested that such a strong individuality can make a world of itself and claim universality; and still others suggested that "real" individuality ceased to exist at all. Such writers considered how individuals could develop "honest" relationships with the world around them.
Modernism itself gave way to a post-modernism that even further questioned narrative and verbal structures through fragmentation and unreliable narrators, among other methods. Writers' intentions were called into question, as literary texts came to be seen as dependent on both the author and the reader. The idea of a critical fallacy, where the author may not even know what they are writing, moved away from the subjective/objective view of art toward more of an emphasis on the work itself and the reader's response to it. Textual unity, even through use of the mythic method, was not integral to the text but instead imposed on it, and readers work through textual indeterminacy, fragmentation, and unreliability to derive meaning, if any meaning is available at all.
Postmodernism destabilized the relationship among author, text, and reader by highlighting fictive methods through metafiction, when a work deliberately draws attention to its artificiality; the sprawl, excess, and fragmentation of maximalism; and the stripping to the bone of minimalism. It also made no distinction between so-called high and low culture through pastiche, parody, and intertextuality, with texts commenting upon each other and existing within their own literary continuum.
Image 3.2 | The Golden Bough Artist | Wenceslas Hollar Source | Wikimedia Commons License | Public Domain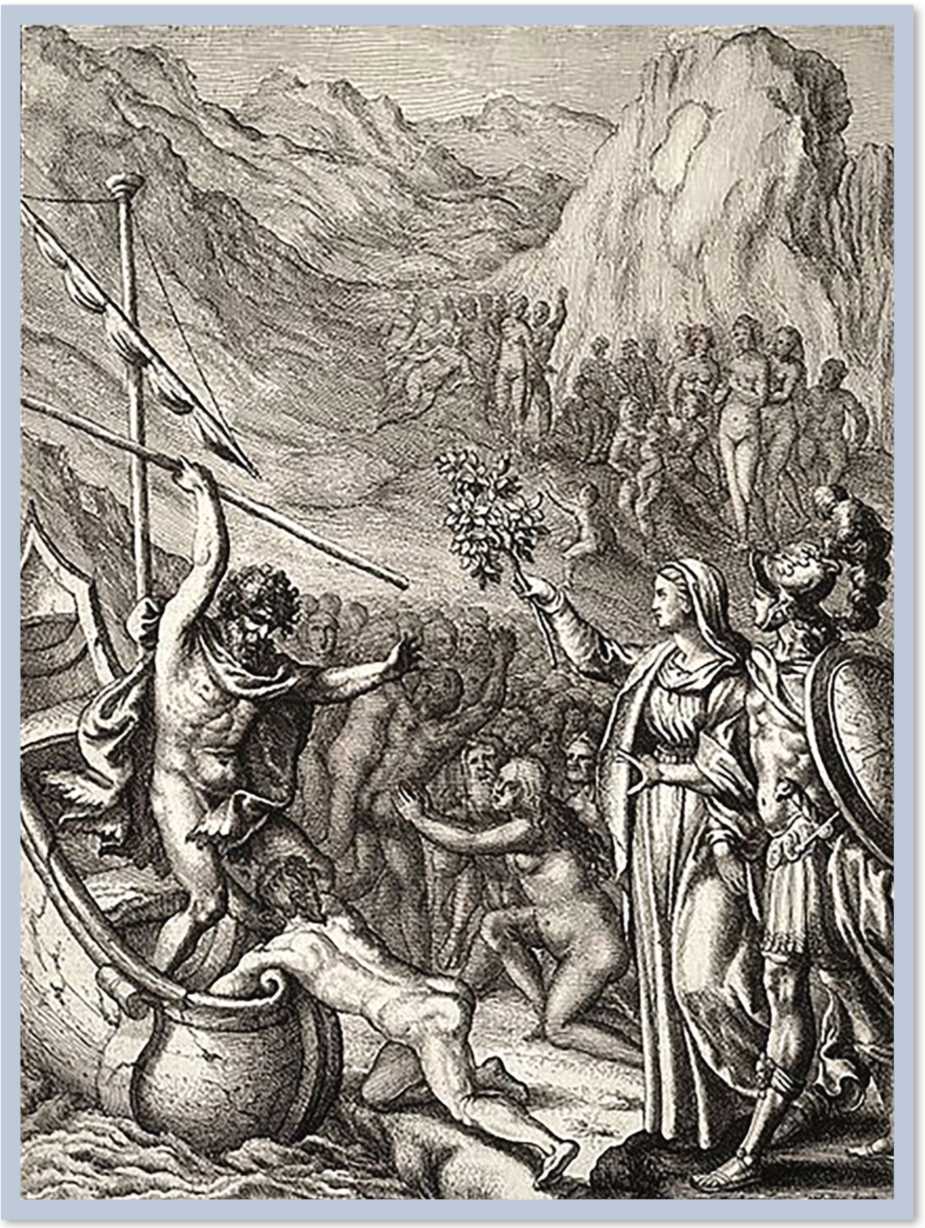 In his plot-less dramas configuring cultural fatigue and individual alienation, Samuel Beckett (1906-1989) rejected structural elements of both the drama and society. As the individual's place in the world came to be seen as an artificial construct, the artist's place in the world became more and more remote. The loss of a "center" on which writers could depend became increasingly apparent with the influx of colonial and postcolonial writers like Doris Lessing (1919-2013) and Anita Desai (1937 - ). Diversity in literature, of races, voices, viewpoints, and more, became the hallmark of the twentieth century and beyond.
3.2 HISTORICAL CONTEXT
The Victorian idea of human perfectibility, the sense that we are in the best of all worlds in the best of all ways, persisted for a brief time after the death of Queen Victoria in 1901. The accession of Edward VII ushered in the Edwardian Age, deemed a golden age that would see the fruition of scientific and technological advancements in the bettering of humankind. Some of these hallmark advancements carried on Victorian trends: the factory assembly line led to mass production, the airplane increased the speed of travel, and the radio facilitated communication. Nevertheless, the Victorian moved firmly to the past, making way for even more rapid change; indeed, the word "Victorian" itself became a tag for the outmoded, hypocritical, conventional, and repressed.
After the Victorian era, the concept of human identity itself—common human nature shared by all—came under scrutiny. The psychology and psychoanalysis of Freud and Carl Jung (1875-1961) challenged past views of stable human identity by suggesting hidden impulses and motives embedded within the unconscious. By bringing to the surface what had been hidden or unknown, the twentieth century liberated the individual, allowing unprecedented mental and physical freedom.
The Edwardian Age, followed briefly by the Georgian Age, however, proved transitional as the hopes of a new world soon gave way to the grim realities of World War I. Victorian Imperialism led to competition among all the European nations as each strove to feed their factories and production with the raw materials of colonies in Africa and other territories. This competition was accompanied by defensive alliances and an arms race, particularly of technologically-based weapons that distanced individual fighters from each other and allowed for mass slaughter and destruction. The dangers of these trends were realized in June 1914 when Archduke Franz Ferdinand (1863-1914) of Austria-Hungary was assassinated by Gavrilo Princip (1894-1918), a Serbian nationalist, causing Austria-Hungary to declare war on Serbia. When Russia, Serbia's ally, mobilized in their defense, Germany declared war on Russia.
Image 3.3 | The Assassination of Archduke Franz Ferdinand
Attribution | User "Csh012" Source | Wikimedia Commons License | CC BY-SA 4.0
The Treaty of London of 1839 committed England to protecting Belgium. In August 1914, Germany invaded Belgium, with France as their main target. Britain declared war on Germany; Britain, France, and Russia allied in war against Germany and Austria-Hungary. Millions of men and women died in the consequent World War. England's patriotic fervor soon faced the realities of the Gallipoli Campaign (1915-1916), where an allied attempt to secure a sea route to Russia proved lacking in strategic planning and intelligence and catastrophic in its casualties; of the battles of Somme and Ypres (Passchendaele) that led to unprecedented numbers of deaths and injuries, with little effect in breaking defenses; where total war destroyed entire landscapes; where soldiers faced trench warfare, stalemate, and disease. England internally faced government turnovers, an Irish rebellion with the Dublin Rising on Easter Monday (1916), rationing, and the Influenza Pandemic (1918-1919) that affected a quarter of the British population.
Image 3.4 | European Alliances 1914
Attribution | User "historicair" Source | Wikimedia Commons License | CC BY-SA 3.0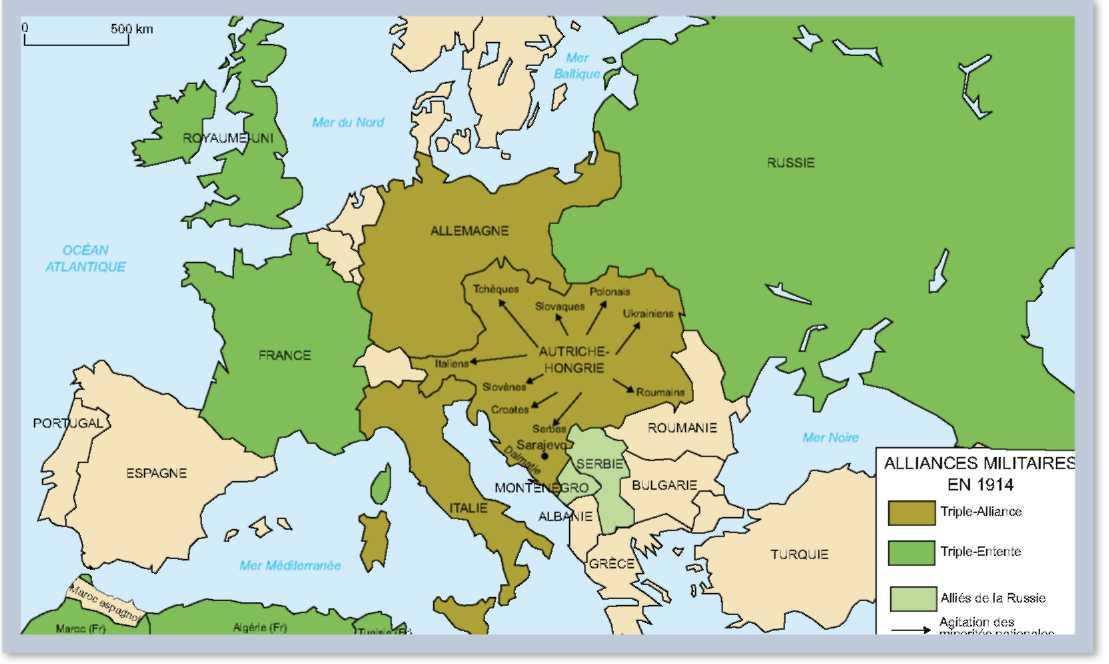 Image 3.5 | Battle of the Somme
Photographer | Ivor Castle Source | Wikimedia Commons License | Public Domain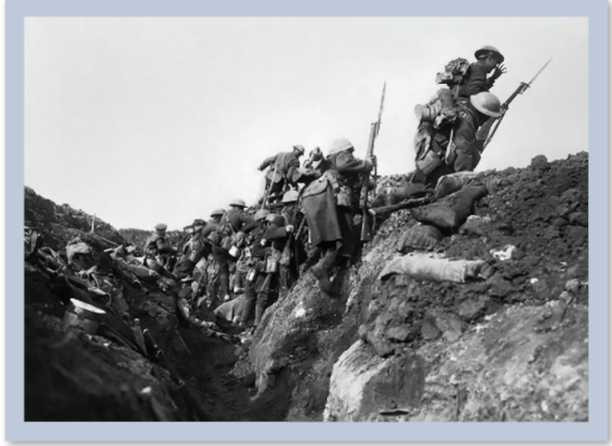 WWI led to the collapse of western civilization as it had heretofore been known. It led to a series of revolutions, including the Russian Revolution of 1917, and a twenty-one year "terrifying peace" begun with the Armistice on November 11, 1918. Economic depression and unemployment around the world followed. The socialist hopes of Morris and Karl Marx devolved into totalitarian and fascist politics and politicians, epitomized by Adolph Hitler (1889-1945) and Benito Mussolini (1883-194). In September 1939, England and France declared war on Nazi Germany after it invaded Poland. Germany, Russia, Italy, and Japan formed the Axis powers that fought mainly Great Britain and the Commonwealth. The theater of war again became worldwide.
The upheaval in England itself was epitomized in the evacuation of children from cities to the countryside to keep them safe from German air attacks. In the 1940 Battle of Britain, the Royal Air Force defended England against large-scale, almost incessant attacks by the German Air Force. While nations in Europe, like France, gave way to German invasion, England remained unbowed, though bloodied. Germany also incurred unexpected losses in its invasion of the Soviet Union. Japan's attack at Pearl Harbor in 1941 brought America into the war, sided with the Allies. Malaya, Singapore, and Thailand fell to Japan's expansionist desire for natural resources like rubber, tin, and oil. But Britain fought on, and in Africa, led by General Bernard Montgomery (1887-1976), Britain overwhelmed Field Marshall Rommel's (1891-1944) German and Italian troops in the Battle of El Alamein (Oct 23-Nov 5, 1942), a battle often viewed as the beginning of the end of WWII. Allied invasions of Italy and of occupied France, on June 6, 1944—or D-Day—led to VE (Victory in Europe) Day (May 8,1945). VJ (Victory in Japan) Day (August 15, 1945) occurred after the dropping of atomic bombs on Hiroshima and Nagasaki. The war was won, but the following peace had to be endured.
Image 3.6 | Nazi Germany Attribution | Bundesarchiv, Bild 102-04062A Source | Wikimedia Commons
License | CC BY-SA 3.0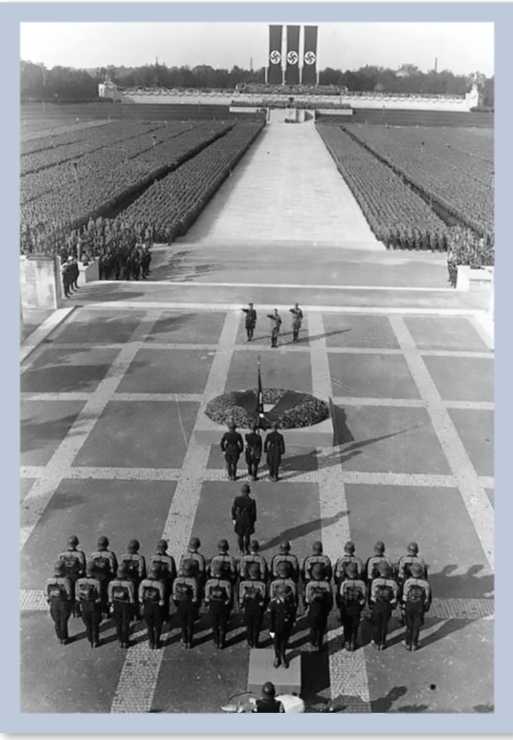 Image 3.7 | Battle of Britain Air Observer
Photographer | Unknown Source | Wikimedia Commons License | Public Domain
Image 3.8 | Atomic Bomb (Nagasaki)
Photographer | Enola Gay Tail Gunner S/Sgt. George R. (Bob) Caron Source | Wikimedia Commons License | Public Domain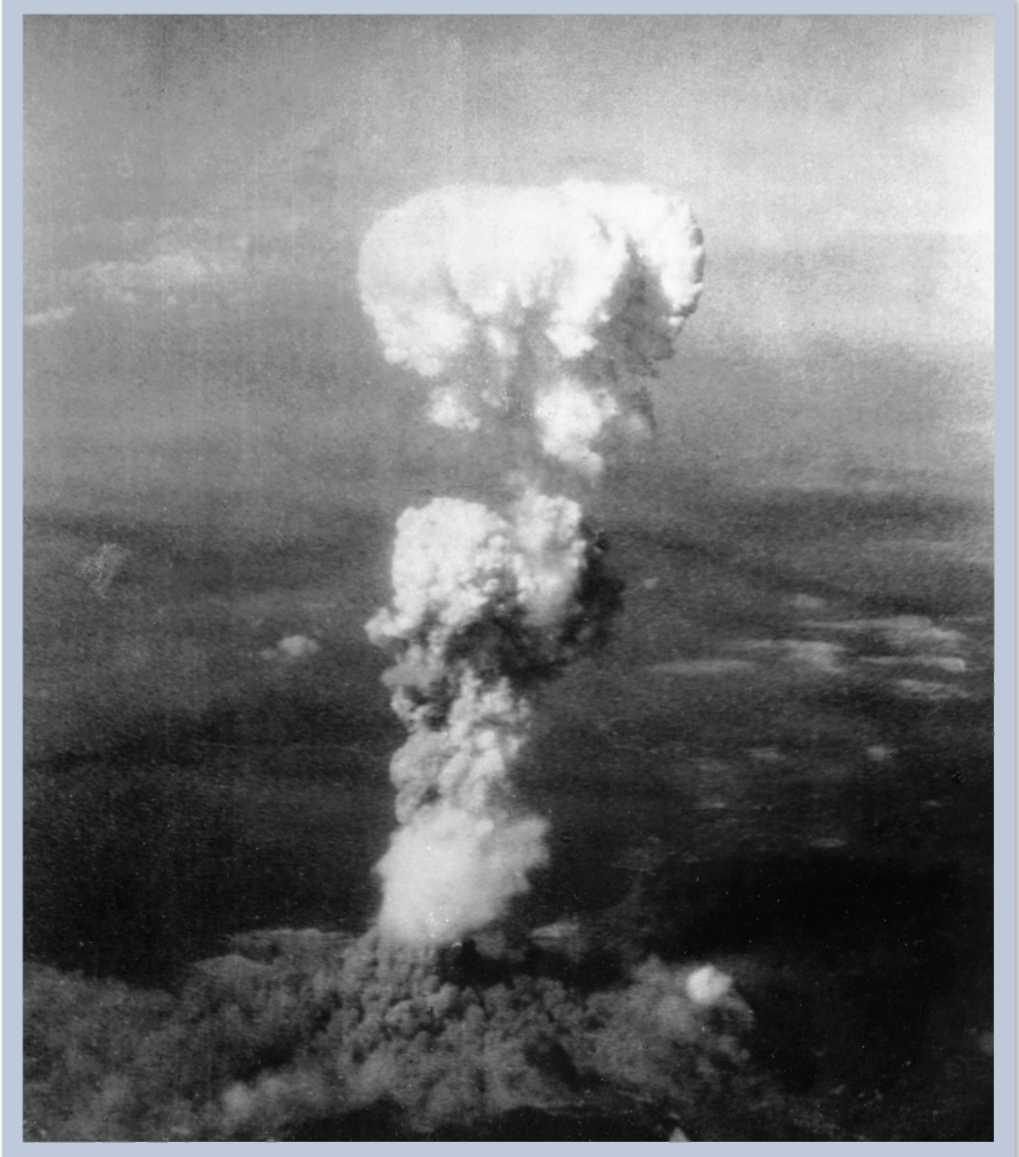 Survivors of the war faced the devastation that, in physical, spiritual, and mental terms, had occurred on an unprecedented scale. Nazi atrocities in the horrors of the Holocaust, Japanese death marches in the Bataan, the deaths due to radiation in Nagasaki and Hiroshima—these events highlighted the long-term impact of the war. While WWII led to America and Russia becoming superpowers, it took world power out of the hands of the British as independence and self-rule claimed their colonies in India, China, Africa, Australia, and New Zealand, among others. The Partition of India (1947), the Suez Crisis (1956) with the loss of control of the Suez Canal, and the independence of Nigeria (1960) and Kenya (1964) marked Britain's move to the sidelines of the world stage. Concurrently, America and Russia struggled for supremacy in the Cold War.
Post-war England saw the nationalization then re-privatization of iron, steel, railways and electricity; the creation of the National Health Service; and the devaluation of the pound. It saw the violence of protests in Northern Ireland and violent reprisals. It saw the rise of the Labour Party, the fuel crisis in 1973, and the Miners' strike in 1974.
The twenty-first century brought to Britain efforts to revive public health and education as well as national and cyber security. Britain's withdrawal from the European Union was a move in those directions with an outcome yet to be known.
3.3 RECOMMENDED READING
Malcolm Bradbury, The Social Context of Modern English Literature, 1971.
C. B. Cox and A. E. Dyson, The Twentieth-Century Mind: History, Ideas, and Literature in Britain, 3 vols., 1972.
Denis Donoghue, Yeats, 1971.
Richard Ellmann, James Joyce, 3rd rev. ed., 1983.
Paul Fussell, Wartime: Understanding and Behaviour in the Second World War, 1989.
Henry Louis Gates Jr., ed., "Race," Writing, and Difference, 1986.
Helen Gardner, The Art of T. S. Eliot, 1950.
Sandra Gilbert and Susan Gubar, No Man's Land: The Place of the Woman Writer in the Twentieth Century, 3 vols., 1988.
Robert Hughes, The Shock of the New, 1981.
Samuel Hynes, A War Imagined: The First World War and British Culture, 1990.
Hugh Kenner, A Reader's Guide to Samuel Beckett, 1973.
Phyllis Rose, Woman of Letters: A Life of Virginia Woolf, 1978.
Edward Said. Culture and Imperialism, 1993.