Chapter 5: An Interview with Josie Gill
Dr. Josie Gill is Senior Lecturer in Black British Writing in the Department of English and at the Centre for Black Humanities at the University of Bristol. She is the author of Biofictions: Race, Genetics and the Contemporary Novel (Bloomsbury), which won the British Society for Literature and Science Book Prize 2020. She is the Principal Investigator of the Black Health and the Humanities project, which investigates how Black scholarship and creativity shapes and responds to Black Health and wellbeing.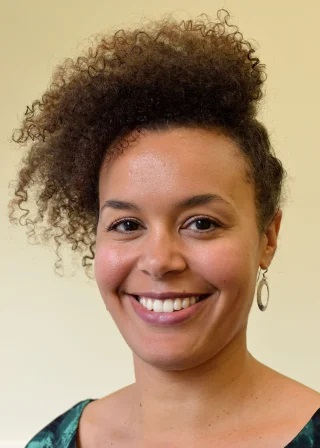 Why should we pay attention to what Black people have historically done in Britain?
For the same reason we should pay attention to what any other people have historically done in Britain. Because it helps to enrich our view of the past, a past which is all too often reduced to narrow narratives and stories that do not capture the complexity and depth of human societies and cultures. Of course, we need to understand that past in order to understand ourselves, and paying attention to what Black people have done in particular helps us to comprehend the mainstream stories that are told about history in a different way; to understand the long histories of globalisation and environmental destruction, for example, that are often positioned as relatively recent phenomena but which are in fact inseparable from colonialism.
In surveys such as the one for which this volume is intended, the main presence of Black people has been in connection with the trans-Atlantic slave trade; while these connections are essential to understanding the history and culture of the period, overemphasizing them skews the history of Black people in Britain. To your mind, what are the most significant effects caused by this distorted emphasis?
I think that the two popular narratives about Black people that historians and others are always striving to overcome are the idea that Black people were enslaved only in the Caribbean, and that Britain has only really had a Black population since the end of World War Two. Both are wrong, as many historians, writers, and artists have shown. Enslaved Black people were routinely brought to Britain in the eighteenth century, often to work in the British houses of (white) West Indian plantation owners. It was at one stage fashionable to have Black servants and many were treated like accessories. In Bristol, where I live and work (and where the statue of the slave trader Edward Colston was torn down in the summer of 2020), two enslaved people, Pero Jones and Fanny Coker, were brought to live at the house of John Pinney, who owned a plantation on the island of Nevis. His house is now a museum, but the stories of Jones and Coker, which have been told by local historians, archivists, and activists, contribute to a re-writing of the narrative that slavery somehow took place elsewhere. They, and many others like them, also challenge the idea that the Black presence in Britain is a twentieth century phenomenon. We know through archaeological analysis that there have been Black people in Britain since Roman times and in 2019 it was revealed by scientists that Cheddar Man, the name of the oldest human skeleton to have been found in Britain, likely had dark skin. Of course, many people do not want to hear these things and I guess the most significant effect of a focus on the trans-Atlantic slave trade is that it potentially drowns out findings such as this, although historians and writers, such as Bernardine Evaristo, have attempted to bring these lesser-known histories to the fore in their work.
A significant element of the recovery of Black history has been the identification of the Black people who have been overlooked; is there a specific individual you find particularly indicative of a lost aspect of that history?
One of the things that I've explored in my work is the Black people whose names and identities we will never know; ordinary people who left no material traces other than their bodies. As part of the Literary Archaeology project, I worked with two bioarchaeologists and with seven creative writers to think about how the life experiences of enslaved individuals can be comprehended in the present. Bioarchaeologists examine skeletons and human remains, which in the context of slave burial grounds can tell them where a person was born, how old they were when they died, the diet they had, the kind of work they did, and other information about their health and wellbeing. Looking at individuals from burial grounds in Barbados and Gran Canaria, the project was as much concerned with the ethics of bringing their lives into being through creative writing as it was with what their life experiences were. It's a way of approaching history that was new to me but which I found incredibly enriching and provoking. We were looking at people who had neither told their own story nor had stories told by others about them. But it is these individuals that I think can tell us new stories about Black history.
For African American students (the majority of our student body), the initial impression of British literature, especially British literature prior to the nineteenth century, is its alienness, as a literature by and for people of another time, country, and race. How far would you say this impression could stand to be corrected?
As a researcher, some of the most interesting discoveries I make, the things that spark ideas and new trains of thought, are often those which come from reading outside of the period and field in which I work. Which is to say that if we only read literature that we think relates to us, speaks to us, is relevant to us and our time, country, and race, then we risk only reading about what is already familiar, known, or understood, even if that literature reveals to us new ways and new approaches to thinking about a certain issue. While it is true that much literature that was written prior to the nineteenth century, or even prior to the twentieth, may not have been concerned with the lives of Black people, it is arguably still our role to understand why that was the case, and the role that the representation of Black people had in the development of literary production and more widely in various societies. But also, I'm not convinced that the answer to white supremacy and the exclusion of Black voices from the curriculum is to reverse this so that we only consider the literature written by one 'race' of people, so that we adopt the limited and myopic view of what matters that has characterised many traditional literature curricula. A close reading of Renaissance and eighteenth century literature, while at first challenging, may reveal some of the roots of our current literary and social worlds, enhancing our understanding of forms of thought and expression which still occur today, albeit in different form.
One register that particularly impedes American understandings of the history of Black people in Britain is class. Would you discuss the importance in your work of distinguishing the often-overlapping categories of race and class?
What is interesting about many of the West Indian migrants who came to Britain from the 1950s onwards is that many of them were middle class; many were qualified teachers or professionals who found themselves, once in Britain, only able to access jobs in factories or in trades in which people with their levels of education were rarely found. Others were recruited to work for London Transport as bus conductors or tube train drivers or as nurses to work in the NHS. But whatever background they may have come from in the Caribbean, once in Britain they were all treated in the same way. So I think a lot of the divisions between people that may have existed before they emigrated dissolved in the face of British racism, and it is important to understand that West Indians only began to understand themselves as West Indian or Caribbean when they came to Britain.
How would you compare the legacy of the Black experiences in Britain to the weight of the enslavement of African Americans in the context of 21st century America?
I think there are many similarities between Black experiences in Britain and America, police brutality being one, although there is sometimes a tendency for American racism to be the focus of popular and public attention in the UK. This may be changing though, as the global BLM movement of 2020 placed renewed attention on Black deaths at the hands of the police in Britain. The stories of Black people who have been killed or injured by the police are increasingly being told through art and writing. Steve McQueen's Small Axe (2020) series of films foregrounds the pervasiveness of the racism experienced by Black Britons in the 1960s and 1970s; Lee Lawrence's The Louder I Will Sing is an account of his mother Cherry Groce's death, after she was permanently disabled following a police shooting; Roy McFarlane's poetry collection The Healing Next Time (2018) takes inspiration from Claudia Rankine's Citizen to address police killings in the wake of the shooting of Mark Duggan, which sparked the London riots in 2011.
The Centre for Black Humanities, which you recently directed, supports scholarship on "the artistic and intellectual work of people of African descent"; such deliberatively broad framing does a lot of work. It also risks blurring together a lot of cultural distinctions. Could you discuss the benefits that make this risk worthwhile?
Well we discussed these issues a lot when we were setting up the CBH! They are actually more complicated than you might imagine, because in Britain the term 'Black' was used in the 1970s and 80s by some coalitions of ethnic minority groups who came together to fight racism under that banner (see for example the Southall Black Sisters). Today, when people use the term 'Black' in Britain they are referring to people of Afro-Caribbean or African descent. But yes, this still encompasses a lot of different histories and geographies, and we have people in the Centre working on Black histories and cultural production in Africa, Britain, the Caribbean, the US, South America, and beyond. I guess one of the main benefits for us is institutional and structural. As a group of scholars we are all broadly committed to eradicating racism within our university and to addressing lacunas in the curriculum, so having a space (albeit a virtual one right now!) where we can support each other in these endeavours, and engage with one another's work is important. Each of us are engaged with our own specific projects, and while it could be argued that organising under the name 'Black' is somehow essentialising Blackness and playing into the hands of those who would rather not have to consider it, we have found strength and solidarity in framing the Centre in this way, as well as intellectual congruences in our work.