Chapter 6: An Interview with Angela F. Jacobs
Angela F. Jacobs, a California native, is a PhD Candidate at Old Dominion University. She currently teaches Freshman Composition at North Carolina A&T State University. Her research interests are in Rhetoric and Writing Studies, Black British Literature and History, and Feminist Rhetorics. Jacobs' first published play is Ode to a Saturday Nighter. She received her BA in English Literature from Catawba College and her MA in English Literature from the University of Dayton. She has been published in Watchung Review, Media Commons, and Virginia Humanities Conference Journal Proceedings where she explored issues of race, representation, and gender.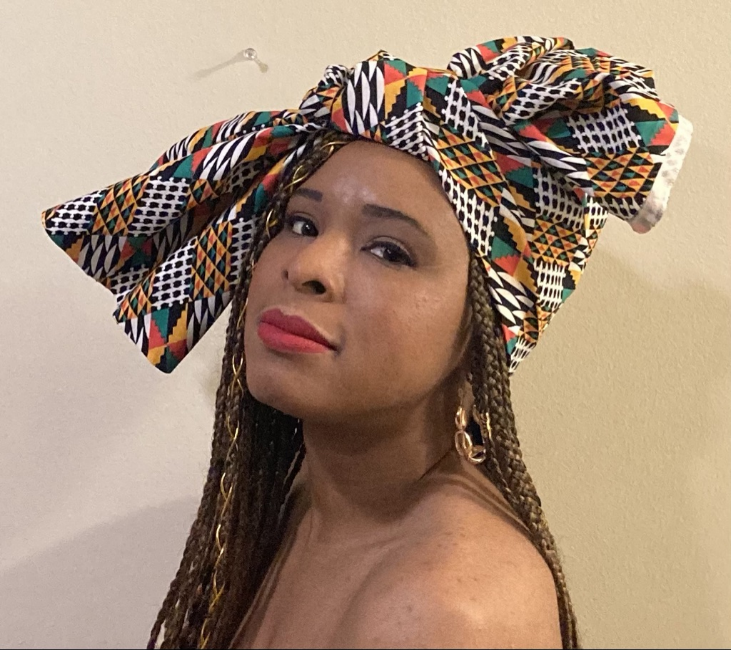 Why should we pay attention to what Black people have historically done in Britain?
Both Edward Scobie and Gretchen Gerzina, scholars of Black British history, assert that there is ample evidence that Britain has maintained a consistent African presence from around the sixteenth century (after an initial introduction by the Romans in the fourth and fifth centuries). There were also roughly around 20,000 African people who lived in London during the eighteenth century alone (Gerzina, "Black London"), which means this continued presence of Africans on British soil changes the perception of Britain's make-up and its relationship with Africa. Not only did Africans reside in Britain before the twentieth century, they made their mark on the culture and society of Britain as well. In fact, even the BBC article "Britain's First Black Community in Elizabethan London" includes several examples of Africans who resided during this famous and influential period, such as John Blanke, a Black trumpeter for both Henry VII and Henry VIII. This article also states, in regards to the "remarkable works of prose, poetry and music" by Black Britons, that "the likes of Olaudah Equiano, Ottobah Cugoano and Ignatius Sancho deserve their place in any list of Great Britons." A few examples of notable Black Britons include Dido Elizabeth, the grandniece of Lord Mansfield, Chief Justice who presided over the Zong Massacre (1781), which undermined the slave trade in Britain; Samuel Coleridge-Taylor, a Victorian composer; Mary Seacole, a British Jamaican business woman who served during the Crimean War; wrongfully-enslaved African prince, Job ben Solomon (1701-1733), the inspiration of several characters in plays and novels); and Sarah Forbes Bonetta, Queen Victoria's goddaughter, who assisted with the Sierra Leone project.
However, as several scholars have noted, many Black Britons were ordinary people who lived ordinary lives, the same as their white counterparts. They were citizens who lived, worked, married, were baptized, and died, basically showing that their existence, though extraordinary to us now, were mundane, showing how they were integrated into regular British society. This is particularly important since their stories are mostly lost. As Audrey Fisch notes, since most students of Victorian literature learn this literature through anthologies, with anthologies not being known for staying abreast of cutting edge scholarship, "[t]he problem is that my students' only exposure to the Victorian period comes from a survey of the Romantic/Victorian period...Since many of my students are going on to teach secondary and elementary school, mostly in urban environments, the political ramifications of the Norton's omissions are troubling" (354). This is true for the majority of English literature courses, with anthologies being the preferred choice of text due to their costs and efficiency. Unfortunately, much is sacrificed for efficiency, such as these types of narratives, which often get lost in the failure to fully explore the complexities of life in Britain, such as its true multicultural nature. It is important to correct and complete this narrative (the Black Britons were free, not enslaved, as slavery was not allowed in England). This knowledge gives more layers to British literature, making it more accessible to students and readers of color.
In surveys such as the one for which this volume is intended, the main presence of Black people has been in connection with the trans-Atlantic slave trade; while these connections are essential to understanding the history and culture of the period, overemphasizing them skews the history of Black people in Britain. To your mind, what are the most significant effects caused by this distorted emphasis?
The distortion greatly minimizes Africa's agency as a continent rich with its own history and culture outside of outside influence. It also negates the positive interactions Africa has had with other continents, such as with Europe. This distorted picture paints Africa as a mere pawn in the building of the greatness of Western Europe instead of a major site of greatness in its own right. It's also an oversimplification of the history of the slave trade, which many scholars have noted that Africa was already engaged in before the British. As Miranda Kaufmann notes, Portugal brought enslaved Africans to Europe in 1444. Also, Kaufmann notes how not all slaves were African, with the word 'slave' being a derivative of the word 'Slav,' referring to the Slavonic people of Eastern Europe who were enslaved by the Holy Roman Empire starting in the tenth century.
As it concerns Britain's history with Africa, which spans from just before the fall of the Roman Empire, this distortion greatly minimizes the true complexity of their interactions, making these interactions merely transactional and superficial. It also creates a false mirror with that of America's history with the trans-Atlantic slave trade, also a minimized and distorted history. Britain has a rather complicated history with Africa, filled with a multitude of reciprocal transactions. Typically, this transactional aspect obviously includes slavery, but also other forms of labor, which include cultural work. As stated in the previous question, the Black Britons weren't slaves as slavery wasn't allowed in England (though a Black servant did run the risk of being sold into slavery and shipped to places like Jamaica, as evidenced by the plight of Jonathan Strong, a seventeen-year-old African during the late eighteenth century) (Gerzina, "Black London"). However, the history of Black Britons before the eighteenth century is equally as rich, especially during the Tudor Age. In fact, according to Kaufmann, "In many ways, [Black] lives were no worse than those of the vast majority of Tudors: 'nasty, brutish, and short,' but this was the result of having no social standing, not of having dark skin" (5-6), with Kaufmann also noting how social status determined the person's treatment, regardless of skin color and that all outsiders were initially distrusted (though xenophobia was still an issue). The cultural implications included all forms of the arts, such as plays, music and musical compositions, cultural exhibitions, and literature, though these were primarily written about Africans rather than by Africans in Britain; however, several Black Britons did lend their unique voices to Britain's cultural past, such as Olaudah Equiano, Samuel Coleridge-Taylor, and Mary Seacole. In fact, Britain was very much enamored with all things African, as the eighteenth and nineteenth century blackamoor art and African bizarres can attest, though Africans themselves lived a precarious existence.
The distortion also undermines the necessity of Africa to Britain's struggle towards identity. Although Britain recognizably struggled with its identity at the apex of its empire, this struggle began much earlier. As Gerzina notes, the British only became white once Africa entered the picture ("Black London"). As Kaufmann points out, before the sixteenth century, Britain was a fledgling kingdom compared to its more powerful continental counterparts, Spain, Portugal, and France, with Spain and Portugal initially beginning the trans-Atlantic slave trade in the fifteenth century (Britain didn't "successfully" join the trans-Atlantic slave trade until the 1640s after an unsuccessful attempt by John Hawkins in the 1560s). Obviously fortunes changed for Britain, through successful battles against Spain, especially, so much that by the end of the nineteenth century (the Victorian Age) Britain emerged as the world superpower, with slavery helping to drive Britain's economic success. However, as Antoinette Burton notes in her analysis of Jane Eyre, though Britain was embroiled in the slave trade and other acts of imperialism, they did not like being reminded of this connection for, as the Somerset case (1772) re-asserted, there were to be no slaves in England, which I'm sure would surprise many people.
A significant element of the recovery of Black history has been the identification of the Black people who have been overlooked; is there a specific individual you find particularly indicative of a lost aspect of that history?
There are so many people who I have discovered who I would love to learn more about, such as John Blanke and the lives of the Black Tudors, who I recently discovered. However, due to the gendered nature of canonical literature, with male voices, regardless of race, getting more attention than female voices, I would posit that Mary Seacole definitely qualifies as being part of the lost history of Black people in Britain. Although she technically hails from Jamaica, a British colony at the time, she was a business woman who wrote her own autobiography, in which she details her own experience working as a nurse during the Crimean War, despite getting little attention compared to her much-celebrated English counterpart, Florence Nightingale. What I find especially remarkable is this text is written in her own words during the Victorian Era, where Black British voices seem to have been practically silenced. Not satisfied with her efforts being ignored, her narrative provides a first-hand account of her own experiences and reveals the manner in which she carefully crafted her narrative to appeal to a predominantly white British audience. As a mixed-race woman (Scottish father and Jamaican mother), Seacole's experiences give a glimpse into the delicate nature of her social status: free, but with limited civil rights (BBC: History). It also gives a name and face to a Black British citizen during a time period where she, according to popular thought, was not thought to exist. Her tenacity and cultural experiences provides readers with a snapshot of Black British Victorian life.
For African American students (the majority of our student body), the initial impression of British literature, especially British literature prior to the nineteenth century, is its alienness, as a literature by and for people of another time, country, and race. How far would you say this impression could stand to be corrected?
So much needs to be corrected about the lack of representation within British Literature overall. As an African American undergraduate student, I was so intrigued by British Literature and greatly enjoyed it, especially Shakespeare and Austen. This love carried over into my English master's program, where I learned more about Chaucer. I also have British cousins, with my uncle having moved to the UK over 40 years ago and marrying an English woman. Having this connection has always been a point of pride for me, my imagination running wild with what my uncle and cousins must be experiencing over in Britain. However, I remember a chance encounter with The Cambridge Companion to Black British History at the Wright State University Paul Laurence Dunbar Library (Dayton, OH), which started me thinking about the Black British experience, in general. Discovering this text made me wonder even more about the experiences of other Black British people outside of my family. I also started wondering how could a former slave-holding nation not have slaves on their soil, as in the U.S.?
After conducting research for a Victorian Institute conference in 2018, I was finally provided the opportunity to delve more into the Black British experience, especially during the Victorian Era and parts of the history leading up to this time. What I learned shook my entire understanding of the Black British experience, opening up a whole new world of British history I feel I had previously been denied. As a former Victorian Lit instructor, I have first-hand knowledge of just how much further British Literature instruction has to go in order to be much more inclusive so that all students understand the true diversity within British literature, culture, and history. My question earlier about slavery in Britain would certainly cross the mind of an African American student, seeing as how Britain helped bring slavery to the America colonies. However, understanding that English law practically banned slavery on English soil would most definitely intrigue students, especially combined with the knowledge of the rich communities and lives of Black Britons since the fifteenth century. In addition, many African American students will be able to relate to the concept of being both insider and outsider and feeling like a racialized Other, a concept practically intrinsic to the experiences of Black Britons. There are many gaps in knowledge, but with projects like these, these gaps should be getting closer to narrowing.
One register that particularly impedes American understandings of the history of Black people in Britain is class. Would you discuss the importance in your work of distinguishing the often-overlapping categories of race and class?
Race and class are especially vital as it pertains to the Black British. Despite their precarious existence, they basically covered all the class systems, from the royal court to enslavement. Even though there is still debate as to whether or not Queen Charlotte (wife of notorious King George III) was Black, there are instances of a Black presence in the royal court, such as King Henry VII's trumpeter, John Blanke, and Queen Victoria's goddaughter, Sarah Forbes Bonetta. There is also Chief Justice Lord Mansfield's grandniece, Dido Elizabeth, as part of the wealthy elite. There are also several examples of African kings sending their sons to be educated in Britain (Gerzina, "Black Victorians"). However, the vast majority of the Black British lived far from such privileged experiences. For example, during the reign of King James I, there are instances of young Black boys basically being the pets of wealthy white families, complete with collars to symbolize the wealth of their owner. As Scobie notes, "At about this time it became the vogue for titled and eminent persons to keep blackamoors as pets...There was a good reason for the popularity of these plump-faced little boys whom society women dressed exotically in eastern rather than African dress. A black-skinned attendant showed off the whiteness of his mistress' skin to great advantage" (9). Despite these kept few, most Black British lived amongst the working classes, working alongside their white counterparts in various occupations, such as servants ("Britain's First Black Community"). However, it was not uncommon to find Black Britons in entertainment occupations. As Scobie notes, "This English love of the 'Noble Savage,' the Black man of talent and accomplishment, has never failed to excite wonder and bewilderment; for, while the English will put up all sorts of social and constitutional barriers in order to prevent Black people from entering and living in Britain, they will, at the same time, sing the praises of Black writers, poets, singers, musicians, cricketers, athletes, or boxers" (87). These social and constitutional barriers were much the same as in America, with Black Britons having few civil rights.
It is important to understand the complete story of the intersection of race and class amongst the Black British in order to dispel any misconceptions about Blackness, namely the stereotypical image of the enslaved African or the poor Black person in an urban area. As British history can attest, the Black British experience ran the gamut of class well before the twentieth century. As scholars have noted, Black Britons were integrated into British society: intermarrying, attending church, and receiving proper Christian burials ("Britain's First Black Community"). They were not in the shadows or nameless, faceless denizens ignored by the greater British society. They were not entirely treated as second-class citizens as might be supposed or expected.
How would you compare the legacy of the Black experiences in Britain to the weight of the enslavement of African Americans in the context of 21st century America?
The erasure of the Black British experience from prior to the twentieth century, is almost more tragic than the African American experience. Although we have faced so much discrimination throughout our history in America, with the weight of enslavement hanging heavy upon our shoulders, at least our history and our voices exist and have been given meaning in the greater American history and American literature. Our experiences matter and are well-known. We are visible, which makes a huge difference in our legacy, even as we still grapple with the implications of this complex history. Unfortunately, for the Black British, their history practically starts after 1945, with the docking of the Empire Windrush at Tilbury in 1948 (Kaufmann 1). Obviously, this is incorrect, as several scholars have noted. However, their history prior to the 20th C is erased, either being relegated to African or Caribbean history instead of British history or completely reduced to the history of the trans-Atlantic slave trade. This separation further 'others' the Black British experience and gives the false impression that the Black British story is simply one of immigration instead of one of integration. The lack of visibility negates the true depth of their belonging to Britain proper.
It also negates the true depth of the racialization of people of African descent by the British, a racialization that Kim F. Hall posits in her exploration of the racial linguistic markers in British works. While most scholars relegate the mentions of blackness to religious meanings, Hall notes their double meaning to include the material nature of blackness with that of African people, which she notes started in the mid-sixteenth century and can even be seen within many of Shakespeare's plays, such as A Midsummer Night's Dream and Othello (22, 8). This racialized language could only truly result due to the physical presence of African people at the time this language morphed to include racial, and not just religious, implications. As I watched videos from the summer of 2020—in particular, the impassioned speech by John Boyega, a Black British actor, condemning the current state of affairs for current Black Britons and the work of Steven R. McQueen's Small Axe film series exposing the history of Britain's Caribbean population—it is very telling that, much like in the US, more work is needed for understanding the depths of institutionalized racism in Western nations. While African Americans can point to the institution of slavery as the catalyst, Black Britons, and Britons in general, are largely ignorant of just how far back their catalyst begins, which is important for their journey towards racial justice.
You have published work on the exclusion of Black peoples and authors from canonical literature. Can you speak to how best these people and figures deserve to be included and celebrated in the history of Western Literature?
Although many institutions have already created specific courses on literature of people of color as standalone courses, which I believe is truly amazing work, I would argue that these works should not solely be separated from the general context from which they emerged. In other words, although many institutions have a standalone African American Literature course (or courses), these types of separate courses should not be the only way in which literatures of people of color should be addressed. While these standalone courses can provide more in-depth focus on the issues and the voices of a specific group of authors and their works, this separation can be argued to further mark these literatures as 'Other' instead of being part of the bigger picture of the canons themselves. In my article "The Canon Takes No Notice of the Negro: Recovering the Victorian Hunger of Blackness for the Victorian Literature Course," I argue for this inclusion under the concept that the African experience is already integrated within the Victorian literature, even if this integration seems minute, such as within Vanity Fair (Miss Swartz) and Jane Eyre (Bertha Rochester). Yes, I love that there are standalone specialty literature courses for peoples of color; however, these courses should not be the sole means by which students learn of these literary works. Much like works by women authors are not typically separated from their male counterparts, so should the works of people of color or minorities be integrated into the larger literary canon in which they exist. These works should be considered just as important within Western Literature as the works of white authors. Integrating these works provides a fuller picture of Western Literature, illustrating the true complexity of the Western experience. At the risk of minimizing these works in any way, it would be helpful for students to see these works as not being extraordinary inclusions, but routine or pedestrian in their inclusion so that it does not seem special, but natural, for these works to be included. Why shouldn't an Eighteenth Century Literature course include William Ansah Sessarakoo's The African Prince: Or, Memoir of the Young Prince of Annamaboe (1750), a true account of an African prince being sold into slavery? Why shouldn't a Victorian Literature course include The Wonderful Adventures of Mrs. Seacole in Many Lands (1857)? Students should be exposed to these works and others like them in order to become accustomed to seeing diversity in practice. Yes, these works should be celebrated (with a standalone Black British Literature course being created, as well!), but these celebrations should not further 'other' these works of literature; these celebrations could simply be their inclusion alongside their white counterparts, elevating their voices, even when serving as counters to the messages and issues white authors address within their works or as a means of showing how particular issues, regardless of race, class, or gender, can be rather universal.
Queen Elizabeth has been held up for centuries as one of the most influential and powerful monarchs in England's long monarchy. Can you speak to her role in the erasure of Black people in Renaissance England?
As Hall notes, while King James I seemed to welcome Africans into the country, Queen Elizabeth I sought their expulsion, signaling a desire towards insularity and herself "as the pure and fair national body" (176). Although Kaufmann contradicts accounts of Elizabeth I's attempts to expel Africans from England in 1596 (her Privy Council gave a merchant, Casper Van Senden, a special license to remove Africans with their master's permission—which he didn't always attain), it cannot be argued that Elizabeth I was a fan of the growing number of Africans entering England under her reign (Kaufmann 2). According to Gerzina ("Black London"), Queen Elizabeth I tried to have Africans expelled from England based on the idea that they were taking jobs from low-wage white workers. She also saw the growing African population being un-Christian, despite reports of Black Britons having baptisms, marriages, and burials as evidenced in parish records ("Britain's First Black Community" and Kaufmann 5). Clearly, she saw the African presence within England as being a threat to the English people, despite their integration into British society.
Ironically, despite these edicts, Elizabeth I's stance against the growing African population was in conflict to her actions. As Gerzina ("Black London") stated, like her father before her, Elizabeth I employed African entertainers and she helped bankroll the slave trading efforts of Sir John Hawkins, which actually increased Britain's African population, along with the freed slaves from captured Spanish ships ("Britain's First Black Community"). Whatever the reality of the lack of enforcement of African repatriation attempts, the fact remains that lines were drawn: Elizabeth I did not want Africans in England or any others who she saw as damaging to British national identity. The relegation of Africans to forms of entertainment also aided in this erasure as Africans were deemed merely as sources of entertainment, thus not real people. My research also failed to turn up any evidence that Africans born on English soil were to be considered English in terms of their national identity. In essence, Africans were reduced in public thought and representation, with various attempts made to remove them from Britain altogether.
Bibliography to Angela F. Jacobs Interview
"Britain's First Black Community in Elizabethan London." BBC News, BBC, 20 July 2012, www.bbc.com/news/magazine-18903391.
Burton, Antoinette. "Recapturing Jane Eyre: Reflections on Historicizing the Colonial Encounter in Victorian Britain." Radical History Review, vol. 1996, no. 64, 1996, pp. 59–72.
Fisch, Audrey. "Black British Studies in the Victorian Period." Victorian Literature and Culture, vol. 30, no. 1, 2002, pp. 353–364., https://doi.org/10.1017/S1060150302301189.
Gerzina, Gretchen. Black London Life before Emancipation. Rutgers University Press, 1995.
----. Black Victorians/Black Victoriana. Rutgers University Press, 2003.
Hall, Kim F. Things of Darkness: Economies of Race and Gender in Early Modern England. Cornell UP, 1995.
"History - Historic Figures: Mary Seacole (1805 - 1881)." BBC, BBC, 2014, www.bbc.co.uk/history/historic_figures/seacole_mary.shtml.
Kaufmann, Miranda. Black Tudors: The Untold Story. London: One World, 2017.
Scobie, Edward. Black Britannia: A History of Blacks in Britain. Chicago: Johnson Pub. Co, 1972.