Chapter 7: An Interview with Miranda Kaufmann
Dr. Miranda Kaufmann is the author of the Wolfson History Prize and Nayef Al-Rodhan Prize shortlisted book Black Tudors: The Untold Story (2017). She studied History at Christ Church, Oxford and is now an Honorary Fellow of the University of Liverpool, a Fellow of the Royal Historical Society and of the Royal Society of Arts, and a Senior Research Fellow at the Institute of Commonwealth Studies, School of Advanced Study, University of London, where she co-convenes the 'What's Happening in Black British History?' workshop series. She is currently working on her second book, Heiresses: Slavery & The Caribbean Marriage Trade; is Lead Historian for the Colonial Countryside project; and is taking her work into schools with her Teaching Black Tudors project. www.mirandakaufmann.com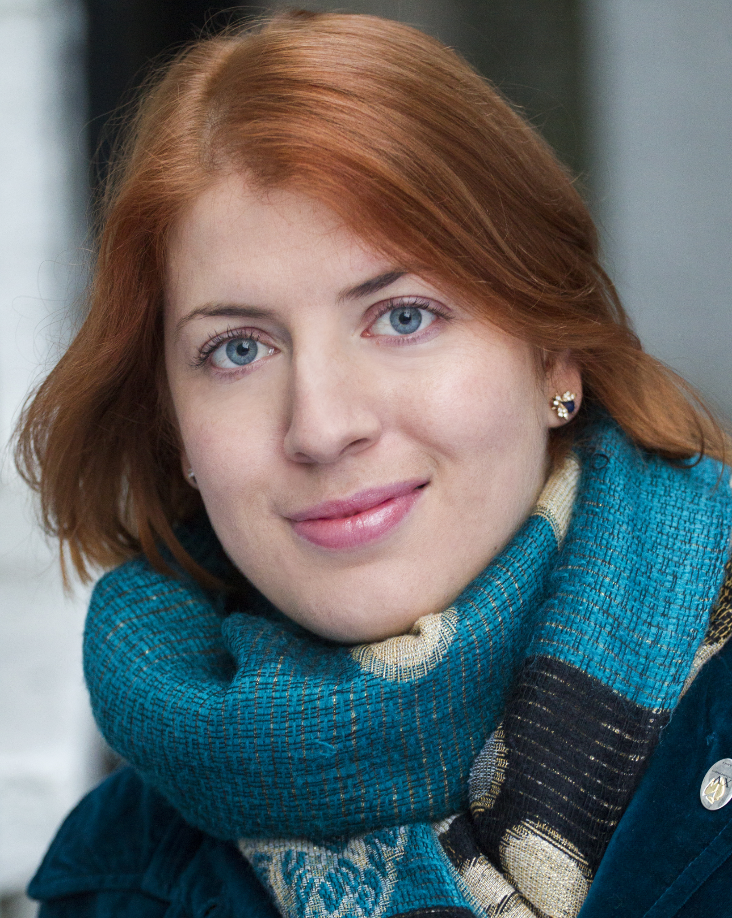 Figure 2 Photo credit: Rose Collins
Why should we pay attention to what Black people have historically done in Britain?
Firstly, because their histories are intrinsically fascinating in their own right and are too little known. Telling their stories is a form of restitution, putting Black lives back into the narrative that has often excluded them. It is also vital to have an understanding of Black British History in order to understand the history of racism, when and how it emerged and manifested itself, to better equip us to take antiracist action today. Part of that history is that before, after and even during the period of British involvement in enslavement, Africans had diverse experiences in England, Scotland, Wales and Ireland, which were very different environments to that of the British colonies. In the period I have studied in most depth, the Tudor and early Stuart period, from around 1500 to 1640, Africans were not enslaved: in fact they intermarried with English people, were baptized and allowed to testify in court: civil liberties that are sometimes unexpected.
In surveys such as the one for which this volume is intended, the main presence of Black people has been in connection with the trans-Atlantic slave trade; while these connections are essential to understanding the history and culture of the period, overemphasizing them skews the history of Black people in Britain. To your mind, what are the most significant effects caused by this distorted emphasis?
Reducing Black British History to the enslavement narrative has several negative effects. It can actually bolster racist views of the past, along the lines of "Africa had no history before the Europeans arrived," "Africans never achieved anything," "Africans had no personhood," "Africans were all the same," etc. Another problem is when the only images or presentation of Africans that children see in their school textbooks or in museum displays is of Black bodies half naked and in chains. This can not only turn Black children off history, but also undermine their sense of self-worth. It can also perpetuate the negative stereotypes I mentioned in all young people.
A significant element of the recovery of Black history has been the identification of the Black people who have been overlooked; is there a specific individual you find particularly indicative of a lost aspect of that history?
In my book Black Tudors, I focused on ten individuals, out of the hundreds I discovered living in England (and to a lesser extent, in Scotland) in the period. It's hard to choose just one person to talk about now! John Blanke, the court trumpeter; Jacques Francis, the salvage diver who worked on the wreck of the Mary Rose; and Reasonable Blackman, the Southwark silkweaver are examples of people who had lucrative skills. Edward Swarthye, who whipped a white man (who would become a future colonizer) in Gloucestershire in 1596 confounds our assumptions about who wielded the whip in history. Dederi Jaquoah, a prince from modern day Liberia who visited London in 1610-12 is of a higher status that people might expect Africans to be in that place and time. Cattelena of Almondsbury shows that not all Africans lived in port cities, but might also be living quiet rural lives. That John Anthony worked as a waged sailor aboard a ship bound for Virginia in 1619 is a fascinating contrast to the lives of the 20 or more Angolans who arrived in Jamestown that same year.
For African American students (the majority of our student body), the initial impression of British literature, especially British literature prior to the nineteenth century, is its alienness, as a literature by and for people of another time, country, and race. How far would you say this impression could stand to be corrected?
Well, as they say, "The past is a foreign country; they do things differently there." To some extent, the practice of history is to take an imaginative leap and try to understand people who are alien to all of us in the way they thought and acted. At the same time, there are human qualities that unite us all, regardless of race, class, gender or time period, and they are there to be found in all literature: which is why we still perform plays and read novels or poetry written hundreds of years ago. That said, there is plenty of British literature that features characters of African descent. This goes way beyond Shakespeare's Othello, Aaron, Cleopatra, Caliban and the Prince of Morocco. A man named Gormund, King of the Africans, appears in Geoffrey of Monmouth's 1137 History of the Kings of Britain, where he is said to have brought his people to settle in Ireland and help the Saxons invade Britain. In the early modern period, Black characters also appear in the works of Webster, Massinger, Dekker, Fletcher and others. In total, Eldred Jones listed 43 masques, plays or pageants including Black characters between 1510 and 1637, while Elliot Tokson has identified some 44 Black characters in 29 plays written between 1588 and 1689. It has been suggested that Shakespeare's Dark Lady sonnets be renamed the "Black woman sonnets" – and indeed a whole series of 17th century poems, such as Eldred Revett's "One Enamour'd on a Black-Moor" were clearly addressed to African women. And Black characters continue to appear in the 18th century, though that's a period I know less about. Of course these are all texts written by white men (with the exception of Aphra Behn's 1688 novel Oroonoko. But there are works by people of colour published in Britain before the 19th century. These include the autobiographical so-called 'slave narratives' of Ukawsaw Gronniosaw (1772), Olaudah Equiano (1789), Boston King (1798), Mary Prince (1831)—obviously 19th century, but still relevant I feel!—and abolitionist texts such as Thoughts and Sentiments on the Evil and Wicked Traffic of the Commerce of the Human Species by Quobna Ottobah Cugoano (1787). Not all writing published by people of colour was directly related to enslavement: The Letters of the Late Ignatius Sancho, An African (1782), covered topics from the arts to politics, from family life to street life, and revealed the life of a man who was simultaneously a London grocer, man of letters who corresponded with the great and the good, and the first Black Briton to vote in an election, who had his portrait painted by Thomas Gainsborough. Though Phyllis Wheatley was from Boston, her poetry was published in London in 1773. The first Indian I'm aware of to publish a book in English was Sake Dean Mohammed, a shampooing surgeon, restaurateur, and entrepreneur, whose The Travels of Dean Mahomet came out in 1794. So there's plenty to challenge impressions there!
For more see:
my article "'

Making the Beast with two Backs

,' – Interracial Relationships in Early Modern England," especially the Bibliography

Vincent Carreta,

Unchained Voices: An Anthology of Black Authors in the English-Speaking World of the Eighteenth Century

(1996);

Ryan Hanley,

Beyond Slavery and Abolition: Black British Writing, C.1770-1830

(2018);

C L Innes,

A History of Black and Asian Writing in Britain, 1700–2000

, 2nd edition (Cambridge: Cambridge University Press, 2008);

The Cambridge History of Black and Asian British Writing

, edited by Susheila Nasta and Mark U. Stein, Cambridge, Cambridge University Press, 2020.

And some useful webpages on the

British Library website

.
One register that particularly impedes American understandings of the history of Black people in Britain is class. Would you discuss the importance in your work of distinguishing the often-overlapping categories of race and class?
I'm not sure American society is as classless as this question implies. Perhaps it would help to think about the issue in terms of wealth? While wealth is not the only element of the British class system (what one might call "birth" or "lineage" or cultural capital is also key), I think everyone can understand the concept of gradations between a rich elite and those on the poverty line. And many "upper class" people in fact bought their way into that position over the centuries, usually by buying land, building a big house, etc., having made money as a merchant for example. In the reign of James I, you could buy a baronetcy (the lowest rung on the aristocratic ladder) for £1000. As you say, there are often intersections between race and class. In the early modern period, race does not appear to be the primary determinant of how a person is treated. For example, when the Moroccan embassies visit the court of Elizabeth I, they are treated with diplomatic courtesy. When Francis Drake needs the help of the Panama Maroons in the 1570s, they are treated as military allies. Princes from West Africa like Dederi Jaquoah are treated with dignity and returned home. However, when Africans arrive in England having been captured by privateers for example, they have to start from scratch. Besides class and race (which was not conceived of in the way it is now), religion was perhaps the most important factor of all in Tudor society that governed how people were treated. There were fierce divisions between Catholics and Protestants, and non-Christians were not tolerated. The small number of Jewish people had to practice their faith in secret, while openly conforming, including attending Church services (people who did not attend were subject to fines). This is likely why many Africans converted to Christianity and were baptized after arriving in England, as it was necessary to make one's way in Tudor society.
How would you compare the legacy of the Black experiences in Britain to the weight of the enslavement of African Americans in the context of 21st century America?
This is a huge topic, and really not my area of expertise, but I'll throw out some thoughts. I think it's important to remember that although there were no plantations reliant on the forced labour of enslaved Africans located in the British Isles, Britain did have these in their Caribbean colonies—and indeed, before 1776, in mainland America. So, people of Caribbean descent in Britain today are also descendants of enslaved people, just as many African Americans are, whose unpaid labour directly benefited Britain over generations. There are also Black people in Britain whose families have immigrated from Africa, many from countries, like Nigeria, which are former British colonies. In those cases, those people have that colonial baggage in a way they don't have directly in the United States. Another contrast is that the Black population in Britain is smaller, around 3% in the 2011 census (though we should have a bigger figure when the census is conducted again this year [2021]), whereas I believe in the United States, it's closer to 13%? So, the Black experience in Britain is different, but the legacies of enslavement and colonialism are just as deeply felt, manifesting in everything to policing and the justice system to education, which is why the murder of George Floyd resonated so much here last summer, with over 200,000 people (many of whom were white) turning up to Black Lives Matter protests. There has been a backlash too though, with many public commentators refusing to acknowledge the racism in our society. This is possible partly because the most brutal enslavement happened overseas, making it easier to disavow than in the United States.
So much of your work shows specific historical individuals which obviously helps counter the erasure of these people from history itself but much of the primary material you work with is still filtered through a very white class of historians (and other record keepers). Can you talk about your approach to interpreting these, at times, very subjective materials.
It is a constant, but worthwhile, struggle to read against the grain of sources to tease out the life stories of Black people. I use, for example, parish registers of baptisms, marriages, and burials; legal documents; household expenses accounts; and letters, all written by the literate white male elite. And secondary sources can be just as troublesome; again most history books until quite recently have been written by elite white men, whose own prejudices can be seen in the way they write. One biographer of Francis Drake (and indeed his editor) saw no problem in a book published in the 1990s with mentioning Maria, an African woman Drake captured from a Spanish ship, merely in passing as a way the sailors could "relieve the tedium" of the voyage across the Pacific.
Reading against the grain is a concept I first encountered as an undergraduate in the work of Daniel K. Richter, who wrote about Native Americans. It is about asking questions of the source from an opposite point of view- what can this tell us about the experience of the Black person, what did it mean to them? This can be hard work, as it is difficult when quoting sources not to, even subconsciously, reproduce the viewpoint of the writer. It is also important for me to recognize that I am also a privileged white woman, coming to the source material with my own preconceptions and prejudices. Sometimes I'm going to get it wrong, or miss something. Here, I try to listen and learn from a diverse range of voices, by seeking out the growing volume of scholarly work authored by people of colour, by attending seminars, lectures, and workshops with Black speakers, and by discussing my conclusions with as many different people as possible.
Black Tudors brings many specific historical persons to life in its pages, effectively countering the erasures of Black people from English history. Many of these people seem to lower or working class people. To what extent would you say this is true and how does this kind of positionality create challenges in representing them to a contemporary audience?
The people in Black Tudors have a range of experiences—John Blanke, as a royal trumpeter was relatively privileged compared to someone working as a servant in a more lowly household, like Mary Fillis, who worked for a seamstress. Dederi Jaquoah was a prince, Reasonable Blackman the silkweaver was an artisan, or some might say businessman, like the anonymous Black needlemaker of Cheapside, London, who 'would not teach his art to any' (effectively creating a monopoly on his skill of making Spanish steel needles, at a time when the English only made them from bone or wood). There does seem to be a desire amongst some people today to hear of Black Kings and Queens, of powerful leaders, the sorts of "great" men and women who have traditionally peopled the history books. And Black Tudors can't really fulfil that; none of the people I write about really wielded significant power in that way. Though other work looking at a similar period, such as Toby Green's, on West African Kingdoms such as Benin, or Olivette Otele's, on Queen Nzinga of Angola, can perhaps better satisfy that desire. But at the same time, I wouldn't say that modern audiences are uninterested in more "ordinary" people. History has moved on in many ways from "great men" narratives; social historians are uncovering more and more fascinating details of how, let's not forget, the majority of people lived their lives in the past. Those stories are worth telling, and I've found plenty of people who want to listen!