Chapter 9: Brief Biographies of Black People in Britain
Cheddar Man is the name of a skeleton from a person who lived in Britain approximately 8000 years BCE. His skeleton was found in a cave in Cheddar Gorge (in South West England), from which he has been named. Genetic analysis shows that he would have had "dark skin and blue eyes" (Lotzof).
The Roman emperor Claudius (r. 41-54 CE) ordered the invasion of the island of Britain, establishing an occupation of much of the territory of modern England for three and a half centuries. Roman Britain was part of a significant empire across which people and goods traveled widely. One of these travelers is the Ivory Bangle Lady, a young adult whose grave was discovered in York in 1901 (York Museums). Buried as a rich woman, she wore bracelets made of ivory and of jet that have not only given her her nickname but also provide evidence that she lived in the late-300s. Osteoarchaeological studies show that she has African ancestry and that before she was buried in York she had lived in another climate (possibly as far away as northern Africa). Further analysis of skeletons from other burials of the period shows African ancestry for more than one in ten (York Museums).
Hadrian's Wall, a barrier between Roman-occupied Britain and the unconquered north-west of the island (approximately present-day Scotland), was the site of the earliest documented Africans in Britain: soldiers, likely originally from what is now Morocco ("Reading's Early Black History").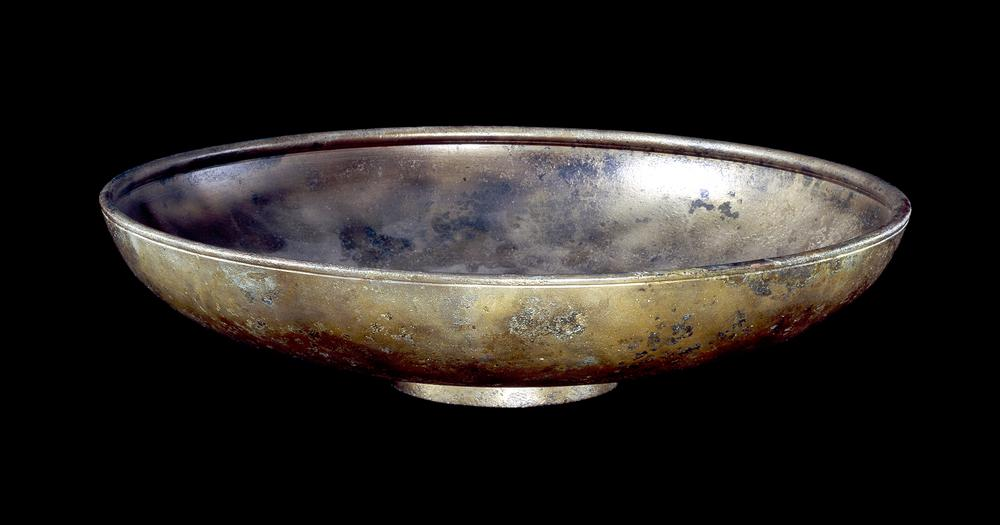 Figure 4: Bronze bowl: a shallow bowl made of copper and showing weathering from age.
A copper alloy bowl, stamped "AFRICANUS" on the base, indicating the name of the maker, was found in Luton (in the county of Kent) in 1869. It is 32 centimeters in diameter and estimated to have been made in the first century (CE). The maker's name should not be taken as proof that he was actually African. (Trustees of the British Museum) (Asset Number 36610001)
Image © The Trustees of the British Museum https://www.britishmuseum.org/collection/image/36610001
Geoffrey of Monmouth records that an African king called Gormund had led a navy to Ireland to conquer it and used Ireland then as a base from which to attack England. (See chapter VIII of book XI of The History of the Kings of Britain, which is a work as much of mythology as of history.)
Ipswich Man is the nickname of a man whose skeleton remains were discovered in Suffolk, having been buried sometime in the thirteenth century (Nubia). The man of clear African descent had been buried in the cemetery of a Franciscan monastery. Analysis of his remains found that he was born and grew up in a Mediterranean climate, likely North Africa or Southern Spain, but that he had spent much of his adult life in a cold, wet climate, most likely England itself. (Ridgway).
John Blanke is represented twice on the Westminster Tournament Roll; one of these images can be found online at the British National Archives, showing Blanke, a trumpeter, playing at the tournament King Henry VIII hosted in 1511 to celebrate his wife Katherine of Aragon giving birth to a son (though the infant would die not long after the tournament concluded) (Kaufmann 7). Blanke had been hired to the court of King Henry VII and continued to be paid as a court trumpeter into the reign of Henry VIII (Kaufmann 9). He was married, in 1512, in a Catholic ceremony (suggesting he was Catholic) and in a suit paid for by the king (Kaufmann 29). Blanke may be the best documented Black person employed in an early modern European court, but he is far from the only one; records show musicians, kitchen workers, and stable-hands across the continent (Kaufmann 30).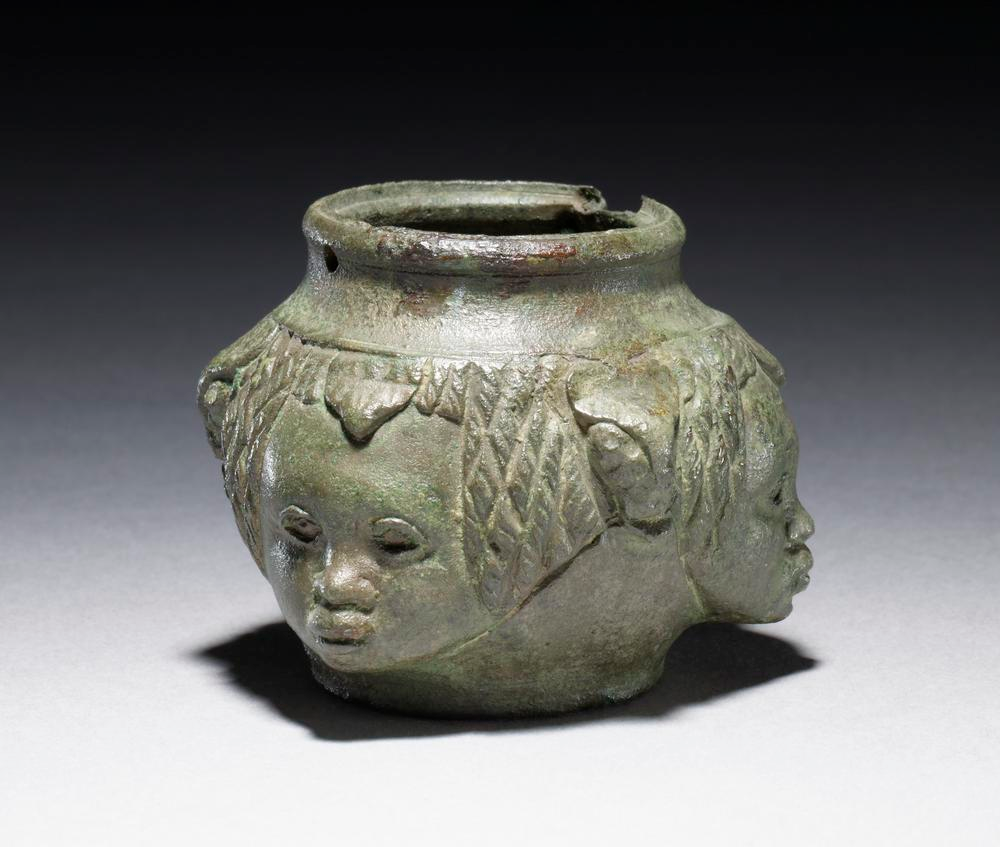 Figure 5: An oil flask, apparently missing its lid, decorated with an African face on each of the four sides of the round jar.
A small container for oil, approximately a quarter of an inch high, cast of a copper alloy in the second century. It was found in 1877, in Kent, as part of a burial accompaniment, together with other elements of a bathing kit. It reflects a fascination with African peoples, though it may not correlate with any Africans in the region at the time. (Trustees of the British Museum) (Asset Number 599310001)
Image © The Trustees of the British Museum https://www.britishmuseum.org/collection/image/599310001
The Mary Rose, reputed to be King Henry the VIII's "favorite warship," sank in battle during a war between England and France in 1545 (Morris). According to researchers from the University of Portsmouth, at least two members of the crew of the Mary Rose were likely of African descent. The first, known as "Henry," seems to have been "a teenager of muscular build who was thought to have been involved in keeping the ship watertight, and was found in the hold" (Davis). By conducting multiple tests on his bones, teeth, and DNA, researchers have found that he has genetic "similarities to Moroccan, Mozabite and near-eastern populations" (Davis). Whether "Henry" was born in North Africa or not is unclear, but it is likely that he lived most, if not all, of his short life in England. An analysis of "oxygen isotopes in his teeth" suggests that he lived in "the rainy west or south of the country" (Davis). Another person from the ship, called the "archer royal," "appears to have been a well-to-do individual: he was found with a sword, carrying a comb and wearing a leather wrist-guard bearing the arms of Catherine of Aragon and royal arms of England" (Davis).
Jacques Francis worked as a diver, salvaging ships and their cargoes. He was born in Africa but by 1546 was working in England (Kaufmann 34, 38). A significant source of historical evidence for details of his life is the court records where he testified on behalf of his employer; the fact that his testimony was accepted by the court suggests that he was a Christian and confirms records that he was employed, not enslaved, in working as a diver, as the courts would not have accepted testimony from an enslaved person or from somebody who could not swear on a Bible (Kaufmann 48, 51).
Diego, enslaved in Panama in the mid-sixteenth century, escaped in June 1572 by warning Sir Francis Drake of potential dangers he might face in raiding the town where Diego lived (Kaufmann 59). Though the Spanish colonies of the time made extensive use of enslaved Africans, the English had not yet begun to colonize and were not yet significantly involved in the slave trade; it was said that merely setting foot in England would free a man, "because in that Reign nobody is a slave" (quoted in Kaufmann 60). Diego assisted Drake and his men in their ongoing raids against the Spanish and in forging working relationships between Drake and the Cimarrons (communities of Blacks escaped from the colonies) (Kaufmann 62). Having seized considerable wealth, Drake sailed home, taking Diego with him; Diego was later employed for the voyage in which Drake first circumnavigated the earth (beginning in 1577), though Diego died before the journey was completed (Kaufmann 71, 77).
Figure 6: A view of the top of a lamp; the main portion is circular, with decorations around the central circle; two filling holes are in the central circle, and to each side of them extend nozzles, each about an inch and a half in extension beyond the circle.
A lamp, approximately one and a quarter inches high, three and an eighth inches wide, and six and three-quarters inches long. Each of the nozzles would have contained a wick that extended down into the body of the lamp. The holes in the central portion of the lamp are for filling it with oil. It was made of orange clay approximately 150-200 AD, presumably somewhere in Africa. The Museum acquired it in Liverpool. (Trustees of the British Museum) (Asset Number 1612958803)
Image © The Trustees of the British Museum https://www.britishmuseum.org/collection/image/1612958803
Edward Swarthye, whose surname is almost certainly a nod to the color of his skin, was employed as a porter in the manor of Sir Edward Wynter from the mid-1580s onward (Kaufmann 100). In this role he was, in many ways, the face of the household, being the first person a prospective visitor would encounter at the door and having the responsibility of determining which guests might be admitted; porters were among the more highly-regarded servants in a large household (Kaufmann 101). In December 1596 his employer tasked him with whipping another servant (the white manager of Wynter's iron works) for "neglecting [his] business" and causing significant financial losses (Kaufmann 107). When Wynter was brought to trial for his part in the beating, Swarthye was a witness, along with his fellow servants (Kaufmann 108-9).
On 25 September 1586 a girl called Elizabeth was baptized at St. Botolph Bishopgate; the baptismal record lists her as "a negro child, born white, the mother a negro" ("Elizabeth [No Surname]"). Bishopsgate was one of the major gates in the wall that used to stand around the city of London, and St. Botolph's church is located near its former site.
Cattelena of Almondsbury (d. 1625) is known only through the probate listing of her property at the time of her death in a village near Bristol (Kaufmann 244). Because she did not own furniture, it is believed she lived in a rented home or rented a room in someone else's home (250). Presumably she made her living from her cow, which was not only the most valuable thing she owned but also a means of ongoing income (250, 253).
Henry Mainwaring, a pirate, likely captured John Anthony around 1614, taking Portuguese ships and their cargo for his own (Kaufmann 199). By 1619 Anthony was sailing as part of Mainwaring's crew, intending to travel to the Virginia colony to establish trade; as Miranda Kaufmann notes, "Had the voyage been completed as intended, [... he] would have been the first African to arrive in an English colony in mainland North America" (208, 209). Instead, the ship appears to have turned to piracy, acquiring a load of tobacco at sea, and Anthony had to go to court to receive his pay following the journey's conclusion (209, 214).
Prince Dederi Jaquoah (born ca. 1591) was born in coastal Africa, in what is now Liberia, and came to England as a passenger on a merchant ship (Kaufmann 170, 176). Two years later he returned home, drawing upon his experiences in England to facilitate trade in his father's kingdom (188, 190).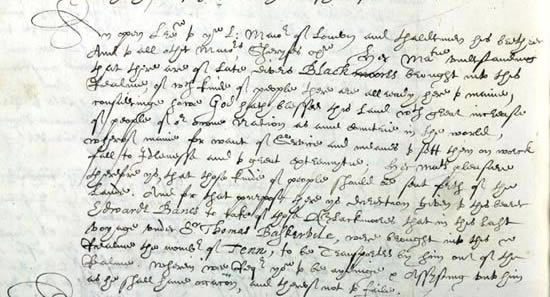 Figure 7: "An Open Letter about 'Negroes' Brought Home" in manuscript, 11 July 1596. The original is held at the National Archives and a transcript can be found on their website.
In this letter, dated 11 July 1596, Queen Elizabeth I tells mayors and sheriffs around England that the nation does not need any more people than are being born there. In effect, she cites a lack of available jobs for English-born people as the reason she is commissioning Edwarde Banes to take back out of England ten Black people who had recently been brought into the country.
Contains public sector information licensed under the Open Government Licence v3.0.
Job ben Solomon (1701-1773), born Ayyub Ben Suleiman Diallo, was sold from Senegal into slavery in Maryland colony. He wrote a letter to his father asking for his freedom to be purchased, but the letter was not delivered. Instead, a translation reached James Oglethorpe, who arranged for Suleiman Diallo to be brought to England and had agreed to buy his freedom. Ultimately Oglethorpe was already in North America by the time Suleiman Diallo arrived in England, and it was the Royal African Company that purchased his freedom. After Suleiman Diallo arranged to pay back the Royal African Company, he returned to Africa. (See Suleiman Diallo's biography, written by Thomas Bluett—Some Memoirs of the Life of Job the Son of Solomon—and also see Al-Badaai.)
Ukawsaw Gronniosaw (1705-1775) was, like many persons enslaved in the eighteenth century, sold as a child and transported to overseas colonies—in his case to Barbados ("A narrative"). After being set free, he moved to London, married, and dictated his autobiography, which was published as A Narrative of the Most Remarkable Particulars in the Life of James Albert Ukawsaw Gronniosaw, An African Prince, Written by Himself and regularly reprinted ("A narrative").
Queen Charlotte von Meckklenburg-Strelitz (1744-1818), the wife of King George III, has been rumored to have African ancestry, based on interpretations of portraits made of her. Mario De Valdez y Cocom, a historian, describes her family tree stemming from King Alfonso III of Portugal (1210-1279) and a mistress from a Moorish town. One of their great-great-great-great-grandchildren was Margarita de Castro e Souza (born in 1440). And Margarita de Castro e Souza was Queen Charlotte's great-great-great-great-great-great-great-grandmother. Few historians agree with Valdes' assumption that Alfonso III's mistress was necessarily Black, as the Moors of Spain, Portugal, Morocco, and the surrounding region were racially diverse. It is also a stretch to call a woman with one Black ancestor five hundred years in her past "Black."
Olaudah Equiano (ca. 1745-1797) is best known as the author of The Interesting Narrative of the Life of Olaudah Equiano, or Gustavus Vassa, the African, published in London in 1789. Images from the second edition can be found at the British Library's website. Although the book would be extremely profitable for him, he had already achieved financial success before writing it, having worked as a merchant both as a free man and under the person who allowed him to purchase his freedom ("Life of Olaudah Equiano").
Pero Jones (ca. 1753-1798) was transported in the 1780s from Nevis to Bristol by John Pinney, who used him as an enslaved personal servant (Gerzina). He was purchased in Nevis in 1765, along with his sisters, while still a child, and after his death his belongings were sent back to his family in Nevis (Gerzina). The city of Bristol named a bridge for him in 1999 as a commemoration of the people from Africa who were trafficked through the city and its ports ("Pero's Bridge"). When, in 2020, Black Lives Matter protestors in Bristol took down a statue of a wealthy slave trader and threw it into the harbor, they did so in sight of this bridge (Associated Press).
Quobna Ottobah Cugoano (ca. 1757-?) became a campaigner for the abolition of slavery following his own emancipation. Born free in what is now Ghana, Cugoano was enslaved first in Grenada and later in England ("Black Presence"). His emancipation may have been connected to the Somerset ruling, which made it unlawful to sell a person living in England into slavery abroad (it did not quite make it unlawful to continue to own an enslaved person living in England, but it did change the economic considerations of owning a person in England, in that the owner could not plan on profitably selling the person onwards) (English Heritage). He learned to read and became a major figure in the abolition movement, including publishing his book, Thoughts and Sentiments on the Evil and Wicked Traffic of the Slavery and Commerce of the Human Species, Humbly Submitted to the Inhabitants of Great-Britain, which is credited as the earliest of the English-language abolitionist publications by a person of African ancestry and the earliest Black-authored call for a complete end to slavery (Gunn 620).
Sake Dean Mahomed (1759-1851) was born in India and served as a teen in the East India Company Army on a British ship under the command of Captain Godfrey Baker. Baker and Mahomed formed a close bond and Mahomed returned in Ireland with the captain where he was educated and ultimately married an Irish woman, Jane Daly (Foulkes). Throughout his long life, Mahomed proved himself a pioneer: he would become an author, a restaurateur, a medical practitioner, and a bath house proprietor. In many cases he was the first individual of Indian birth to do such things in Ireland or England.
Boston King (ca. 1760-1802) was enslaved from birth in South Carolina (Hanley 1). Like many other enslaved persons at the time of the American Revolution, he joined the British military on the promise of freedom in exchange for military service; these people are known as "black Loyalists" (Hanley 1). Approximately 3000 Black Loyalists were settled in Canada following the British defeat (Hanley 1). An ordained minister, King would go on to work as a missionary in the then-new colony of Sierra Leone; he took a break from this work from 1794 to 1796 to study in England and write his autobiography, following which he went back to his missions work in West Africa for the last four years of his life (Hanley 2).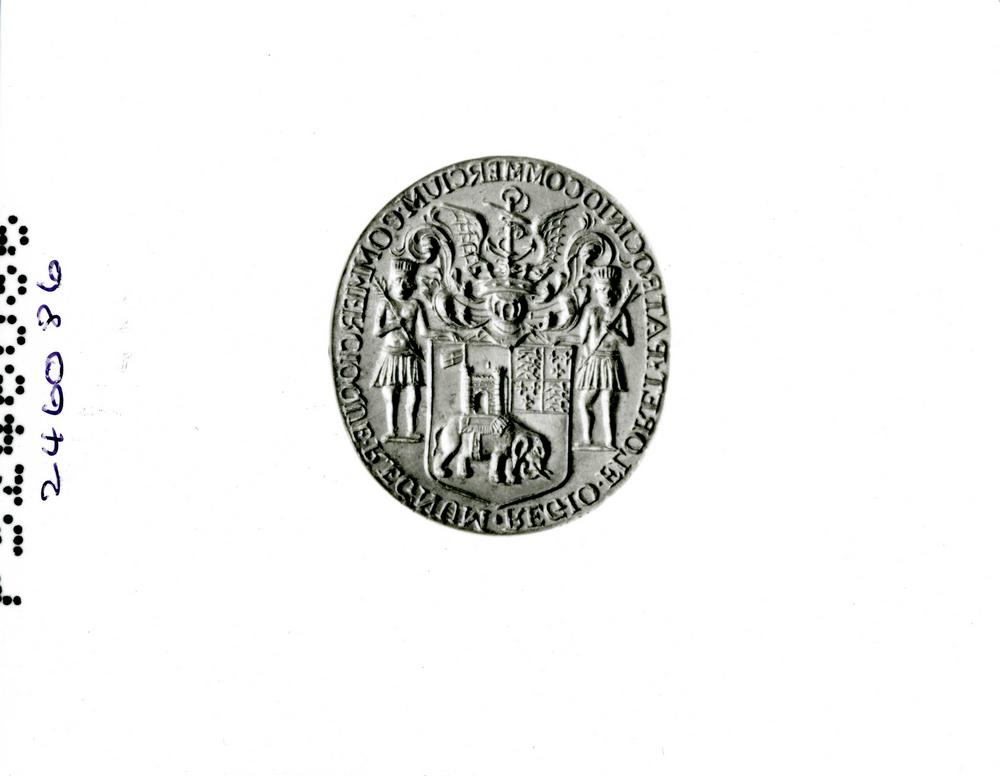 Figure 8: The seal of the Royal African Company
The seal of the Royal African Company, produced in England in 1662. The inscription reads "REGIO. FLORET. PATROCINO. COMMERCIUM. COMMERCIOQUE. REGNUM," which was the official motto of the company from 1672 onwards and indicates that royal patronage causes business to flourish which then causes the kingdom to flourish. (Trustees of the British Museum) (Asset Number 1186488001)
Image © The Trustees of the British Museum https://www.britishmuseum.org/collection/image/1186488001
Dido Elizabeth Belle (1761-1804) was the daughter of John Lindsey, an officer in the British Navy, and Maria Bell, a woman of African descent enslaved in the West Indies (Braimah 2). When Dido Elizabeth Belle's mother died, Lindsey relocated her the estate of his uncle, Lord Mansfield, the Lord Chief Justice (Braimah). Dido Elizabeth Belle's great-uncle would later be the justice ruling on the Somersett Case, which held that a person enslaved in Britain could not be sold into enslavement elsewhere ("Black Presence"). When Dido Elizabeth Belle moved to England, Lord Mansfield was already the guardian of another of his great-nieces, near the same age as Dido Elizabeth Belle; in fact Dido Elizabeth Belle is perhaps best known due to her image painted alongside Elizabeth Murray.
The two grew up together in the Earl's home where Dido Elizabeth Belle was educated. As an adult, Dido Elizabeth Belle stayed on in the home and "managed the estate's dairy and poultry yards and helped Lord Mansfield with his correspondence, a task normally assigned a male secretary or clerk" (Braimah). She would later marry John Davinier and the pair had three children (Braimah).
Fanny Coker (1767-1820) was born into slavery in John Pinney's plantation in Nevis, freed as a child, and transported from Nevis to Bristol by John Pinney in the 1780s to continue her employment, first as a seamstress and then also as a nursemaid to the Pinneys' children (Gerzina). Records of her shipments of keepsakes, gifts, and financial support for her family in Nevis exist (Gerzina).
Bibliography to the Brief Biographies of Black People in Britain
"A narrative of the most remarkable particulars in the life of James Albert Ukawsaw Gronniosaw, an African prince / written by himself." Slavery and Portraiture in 18th-Century Atlantic Britain. Yale Center for British Art. MS held in the Beinecke Rare Book and Manuscript Library, Yale University, JWJ Zan G898 770Nb https://interactive.britishart.yale.edu/slavery-and-portraiture/302/a-narrative-of-the-most-remarkable-particulars-in-the-life-of-james-albert-ukawsaw-gronniosaw-an-african-prince---written-by-himself Accessed 14 May 2021.
Al-Badaai, Muna Sulaiman. "Positioning the Testimony of Job Ben Solomon, An Enslaved African American Muslim." International Journal of Applied Linguistics and English Literature, vol. 4, no. 6 (Nov. 2015): pp. 204-211. https://doi.org/10.7575/aiac.ijalel.v.4n.6p.204 Accessed 6 May 2021.
Associated Press, The. "Watery End for Statue of Slave Trader in UK City of Bristol." Pennsylvania Real-Time News, 7 June 2020. Accessed 12 May 2021.
Black Presence: Asian and Black History in Britain, 1500-1850. The National Archives of the UK government, England, and Wales / Black and Asian Studies Association, www.nationalarchives.gov.uk/pathways/blackhistory. Accessed 4 June 2021
Braimah, Avondale. "Dido Elizabeth Belle." BlackPast. 3 June 2014 https://www.blackpast.org/global-african-history/belle-dido-elizabeth-1761-1804/ Accessed 24 May 2021.
Davis, Nicola. "Mary Rose Crew Might Have Included Sailors of African Heritage." The Guardian, 14 Mar. 2019. https://www.theguardian.com/science/2019/mar/14/mary-rose-crew-might-have-included-sailors-african-heritage
"Elizabeth [No Surname]." Baptismal record. 25 Sept. 1586. Reference code: Z/PROJECT/BAL/C/P69/BOT2/A/015/MS09222/001/02. London Metropolitan Archives Data Collections. Lma.gov.uk Accessed 4 May 2021.
English Heritage. "Cugoano, Ottobah (Born 1757)." English Heritage. https://www.english-heritage.org.uk/visit/blue-plaques/ottobah-cugoano/ Accessed 11 May 2021.
Foulkes, Debbie. "Sake Dean Mahomed: First Indian to Publish a Book, Own a Restaurant and Do 'Shampooing' in England." Entrepreneurs, Inventions, People from England. 29 Dec. 2013 https://forgottennewsmakers.com/2013/12/29/sake-dean-mahomed-1759-1851-first-indian-to-publish-a-book-own-a-restaurant-and-do-shampooing-in-england/. Accessed 24 May 2021.
Gerzina, Gretchen. "Pero Jones and Fanny Coker." Britain's Black Past. BBC Radio 4. 5 Oct. 2016.
Gunn, Jeffrey. "Creating a Paradox: Quobna Ottobah Cugoano and the Slave Trade's Violation of the Principles of Christianity, Reason, and Property Ownership." Journal of World History, vol. 21, no. 4, 2010, pp. 629-656. JSTOR, www.jstor.org/stable/41060853. Accessed 11 May 2021.
Hanley, Ryan. "Boston King and the Black Loyalists of the American Revolution." Faculty of History, University of Oxford, 2017. https://www.history.ox.ac.uk
Kaufmann, Miranda. Black Tudors, The Untold Story. One World Publications, 2019.
"Life of Olaudah Equiano, The, second edition." The British Library. https://www.bl.uk/collection-items/the-life-of-olaudah-equinao# Accessed 13 May 2021
Lotzof, Kerry. "Cheddar Man: Mesolithic Britain's Blue-Eyed Boy." Natural History Museum, London. Accessed 20 Apr. 2021. https://www.nhm.ac.uk/discover/cheddar-man-mesolithic-britain-blue-eyed-boy.html
Morris, Steven. "Newly Decked out Mary Rose reopens after £5m Makeover." The Guardian, 19 July 2016. https://www.theguardian.com/culture/2016/jul/19/mary-rose-newly-decked-out-reopens-5m-makeover
Nubia, Onyeka. "Who Was the Ipswich Man?" Early & Medieval Migrations, Our Migration Story. https://www.ourmigrationstory.org.uk/oms/the-ipswich-man Accessed 24 May 2021
"Pero's Bridge." Bristol's Free Museums and Historic Houses. museums.bristol.gov.uk Accessed 12 May 2021.
"Reading's Early Black History." Blog, Reading Museum, 31 Mar. 2021. Accessed 6 Apr. 2021. https://www.readingmuseum.org.uk/blog/readings-early-black-history
Ridgeway, Claire. "Black Africans in Medieval England by Toni Mount." The Anne Boleyn Files. 3 May 2019. Accessed 14 May 2021. https://www.theanneboleynfiles.com/black-africans-in-medieval-england-by-toni-mount/?v=7516fd43adaa
Trustees of the British Museum, The. The British Museum, www.britishmuseum.org. Accessed 2 June 2020.
York Museums and Gallery Trust. "Celebrating Ivory Bangle Lady." York Museums Trust, https://www.yorkmuseumstrust.org.uk/blog/celebrating-ivory-bangle-lady/, 2020, accessed 27 Oct. 2020.
Suggested further reading beyond Black People in Britain
"A Long Way from Home: Diaspora Communities in Roman Britain." University of Reading, University of Reading. https://www.reading.ac.uk/archaeology/research/Projects/arch-HE-Diaspora.aspx Accessed 27 Oct. 2020.
Beier, A. L. Masterless Men: The Vagrancy Problem in England, 1560-1640. Methuen, 1986.
Brundage, Anthony. The English Poor Laws, 1700-1930, Red Globe P, 2002
Eickelmann, Christine and David Small. Pero: The Life of a Slave in Eighteenth-Century Bristol. Redcliffe P, 2004.
File, Nigel, and Chris Power. Black Settlers in Britain 1555-1958. Heinemann Educational Books, 1981.
Eckardt, Hella. "A Long Way from Home: Diaspora Communities in Roman Britain." In Roman Diasporas: Archaeological Approaches to Mobility and Diversity in the Roman Empire, edited by Hella Eckardt. Journal of Roman Archaeology, 2010. pp. 99-130.
Leach, S., et al. "A Lady of York: Migration, Ethnicity and Identity in Roman Britain." Antiquity, vol. 84, no. 323, 2010, pp. 131–145. https://doi.org/10.1017/S0003598X00099816.
Leach, S., et al. "Migration and Diversity in Roman Britain: A Multidisciplinary Approach to Immigrants in Roman York, England." American Journal of Physical Anthropology, vol. 140, no. 3, 2009, pp. 546-561. https://doi.org/10.1002/ajpa.21104.
Slack, Paul. Poverty & Policy in Tudor & Stuart England. Longman, 1988.
Walvin, James. Black and White: The Negro and English Society, 1555-1945. Penguin P, 1973.