CHAPTER FOURTEEN: THE NEW IMPERIALISM
Key Terms:
sphere of influence

J.A. Hobson

Alfred Thayer Mahan

Social Darwinism

Quinine

Suez Canal

Battle of Omdurman

Berlin Conference

Herero

Congo Free State

Boer War

Fashoda Incident

First Moroccan Crisis

Second Moroccan Crisis
Questions:
How does nationalism help explain the "new imperialism," and how was this "new imperialism," different from colonialism in the past?

What were some of the motivations for Europeans' decision to undertake imperialist programs in the late 1800s?

What were some of the technologies that allowed Europeans to maintain control over larger numbers of people?

What were some of the negative consequence of Imperialism inside of Europe?
Introduction, definitions, connections
Sensitive topic
This chapter turns our attention to European imperialism of the nineteenth century. This is a big topic, one that is difficult to teach (and one that can be depressing to learn about) but it is also one that occupies an important part of this course. Learning about imperialism forces us to cast our gaze away from Europe (as we have done earlier in this course), to understand and make sense of how Europeans affected the wider world, for better and for worse.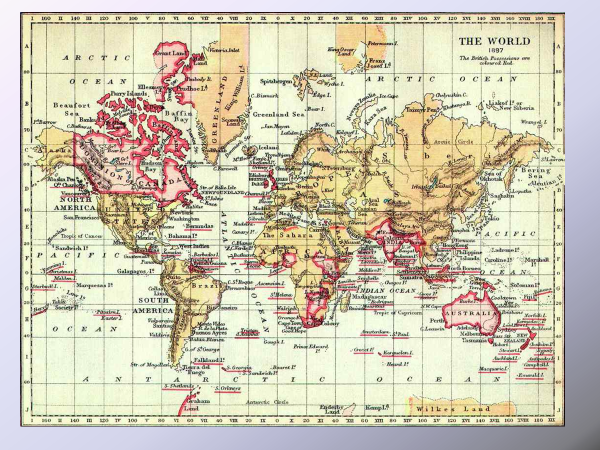 To accomplish this, we will briefly explore the history of European encounters with the non-European world, then examine some of the reasons why Europeans pursued policies of imperialism, as well as some of the technological means that enabled these Europeans to do what they wanted to do, finally turning our attention to some case studies that give texture to the general pattern. While we cannot cover everything in a survey course such as this, we should remind ourselves that our job as historians is to try to understand the past and the people who lived in it, as comprehensively as possible. That is, our job is not necessarily to cheerlead for one party or another. This is an important caveat because, when the topic of imperialism surfaces in contemporary American culture (or Western culture more broadly), there is a tendency among many present-day observers to dismiss some of the uncomfortable details in favor of highlighting the (often tangible) material benefits brought by Europeans to the non-European world. As we shall see, this story is much more than railroads and consumer goods.
Connection to Nationalism
Imperialism of the nineteenth century was, in a way, connected to the growth of nationalism. Remember how important nationalist sentiment and the "imagined community" was becoming by the mid-1800s? We saw how it could bring together groups of otherwise political enemies, forging a mass movement to support governments' actions against perceived enemies. Alternatively, nationalism could shape public sentiment to support policies aimed at building up the "nation" and those people defined as members of this nation. Yet therein lies the thorny part: if nationalism had the potential to create "insiders" (members of the dominant, or favored, group of citizens) and "outsiders" (people who did not belong to this favored group, whether because of differences in religious belief, cultural practice, ethnicity, political ideology, or whatever), within the populations of these European nation states, how widely could the definition of "outsiders" be drawn?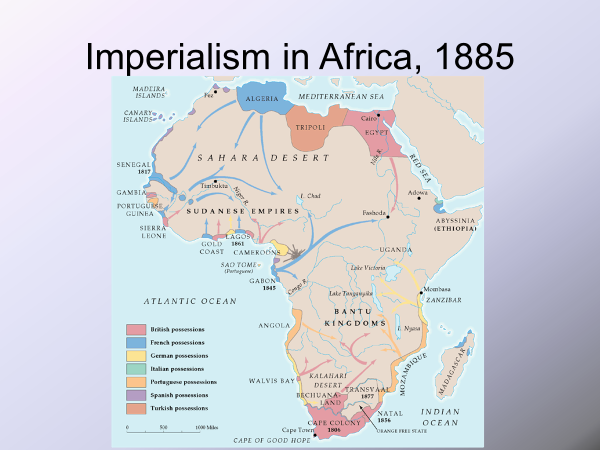 Put differently, if nationalist movements in European countries could easily define Catholics, Jews, or Muslims as "outsiders," as well as maybe lumping Communists and socialists into the category of "foreign" ideas that did not belong, then these movements were necessarily ranking some human lives as possessing less importance or value than others. If this assumption was accepted, among peoples already living within Europe, why not also draw a line between people living inside of Europe and those living outside of Europe? As it so happened, the character of most nationalist movements in Europe had shifted across the nineteenth century. Whereas in Napoleon's time, nationalists were most concerned with language and local autonomy (or, at least, local rule for their ethnic group), by the 1870s or so, nationalism had adopted many of the arguments bound up in Social Darwinism. Thus, nationalism by the 1870s was less about repelling the invading army, and more about competing with the neighboring country to prove superiority.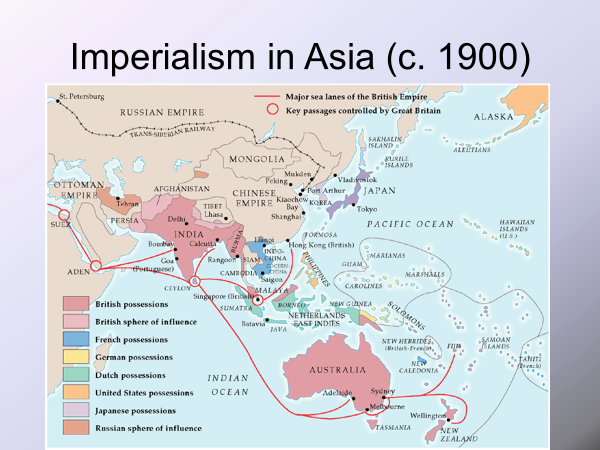 Now this gets us to imperialism, because we see in imperialism the creation or continuation of systems of exploitation and degradation, which were leveled by various European peoples against other (non-European) peoples. The single greatest reason why this happened was because the imperialist Europeans did not consider their non-European victims to be members of the "imagined" community" of European nation-states. Thus, European governments felt justified in taking steps to further the interests and well-being of their own people (who were members of that "imagined community" inside that nation-state), because the interests of Europeans were assumed to be more important than the interests of non-Europeans.
In practice, this usually means that, for example, British Imperialism was designed to help British people and the British national interests, at the expense of, say, Egyptian or Indian peoples' interests. Yet, to continue the example, British Imperialism would also have been working to harm, say, French or German interests, too. Imperialism was about competition and inherent assumptions of inequality, writ large.
Differences from "Colonialism"
Similarities and Differences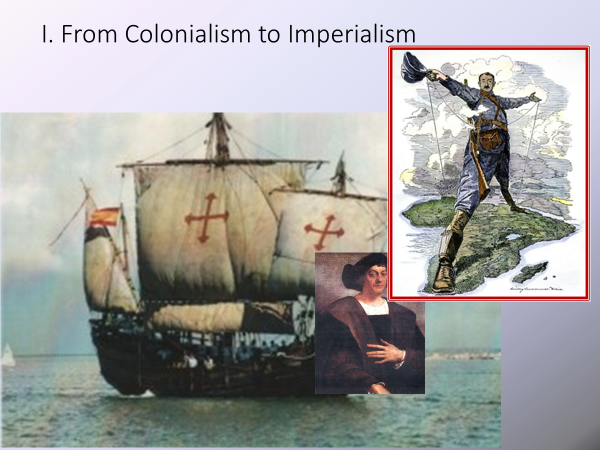 Some historians would argue that there really was only one single, long-running period of Europeans expanding beyond their borders and dominating peoples they encountered. Others argue that there were two distinct phases of this activity, with enough similarity to compare the two fruitfully but enough difference to also draw meaningful distinctions. According to this second school of thought, the first round of imperialism (approximately 1500 to 1750) is often labeled "colonialism," and saw Europeans venturing to North- and South America, around the coast of Africa, to India, to Indonesia, and to the Philippines. This early phase of European expansion into areas outside of Europe is the one that we associate with Christopher Columbus.
This early period of colonialism is frequently associated with Europeans sending large numbers of settlers to build settlements and occupy territory (displacing indigenous peoples). This period also usually featured attempts by Europeans to establish their own governments to rule the territory (and peoples) whom they conquered. In the Americas, this period also saw the implementation of large-scale slave labor systems that were consequences themselves of Europeans' genocidal actions to eliminate indigenous peoples, who provided an initial source of (still unfree) labor.
All of this is not really news to you, since you likely learned about the English colonies in eighteenth-century North America in your high school American history class.
However, this sketch of colonialism is useful here because it can help us to distinguish these earlier episodes from the later phase of European expansion, which is usually labelled "imperialism" (sometimes you'll see it called the "new imperialism"). What makes this later period of imperialism in the nineteenth century different is that European powers more often used new and different systems of economic and political control, while continuing to act in their own (Europeans') economic, financial, military, or other interest. That is, both Columbus (above) and Rhodes (below) were more interested in their own profits than improving the quality of life for indigenous peoples they encountered, even if colonialism and imperialism both involved educating, proselytizing, and otherwise "reforming" the "natives."
Specific Characteristics
So how did this imperialism look in day-to-day in practice?
Types of control.
European powers often worked to establish direct control over indigenous peoples' day-to-day life in those areas Europeans claimed (i.e. "colonies"). That is, while European merchants or businesses were certainly interested in purchasing raw materials from, and selling exports to, the indigenous peoples, European states would often take an active role in directing these affairs. This might mean forming a "protectorate," where a European government installed one of its officials to monitor and advise the indigenous government (but not actually run that government). Alternatively, this relationship might take the form of a "sphere of influence," which meant that this particular European state was granted preferred status in matters of trade and even domestic law in this indigenous state, still without having the Europeans actually governing directly. In both cases, Westerners were assuming the ability to exercise control, and the correctness of their control, over non-Western peoples.
More countries involved.
More countries were taking part in this "new imperialism" than those who had been involved in the older "colonialism." Great Britain, France, Russia, the Netherlands, Spain and Portugal had all been involved in "colonialism" of old in one way or another and many of them were active in the nineteenth century also. But now we see Germany and Italy, Belgium, Japan and the United States all getting involved, too.
Fewer actual Western settlers.
Although more states were involved, and they continued to want to exercise control over indigenous people, there were fewer actual settlers coming from the Europe than had been the case in the "colonialism" of old. That is, "imperialism" was about extending control of these various European governments, not necessarily extending the presence of their people into different parts of the world. Of course, if the Europeans were not going to overwhelm the indigenous peoples like they did in the colonial era, if the Europeans were not going to assume direct day-to-day control over indigenous governments, how would they (the Europeans) insure they got what they wanted? They used their armies and navies (more on this below).
Racial attitudes, national arrogance.
In this phase of Imperialism, we see Europeans who are involved in imperialist projects, as well as those remaining at home in the metropole, all increasingly demonstrating a pseudoscientific attitude of racial superiority informs their dealings with the indigenous peoples they seek to control, coerce, or exploit.
PAUSE for 60-Second Quiz Question 1. How does nationalism help explain the "new imperialism," and how was this "new imperialism," different from colonialism in the past? Which statement is NOT correct?
Many European nations believed their own, individual nation's, best interest was more important than other nations' interests.

Many European nations believed it was important to demonstrate power or superiority over other nations.

Many European nations believed that, in some cases, it was acceptable for one nation to rule over another nation, even if the two nations had different languages, histories, and cultures.

Many European nations sought only to enforce political (and not economic, religious, or cultural) changes on the non-European peoples they controlled.
Motivations for Imperialism
A basic working definition for "imperialism," would be the extension of control or influence by one people over another. This is what we outlined above and, as we also noted, the practice of imperialism is not limited to the modern era (nor even are the practitioners limited to Europeans). If we accept that there will be wide variations in how imperialism (or also "colonialism") worked from one time or place to another, we should be ready to accept other difference between examples, too.
When it comes to the reasons given or arguments made by Europeans in the nineteenth century in favor of imperialism, we see that the decision to launch imperialist ventures could be associated with a variety of motivations or goals. For much of the nineteenth century, economic concerns played an important role in Europeans' imperialist projects, but economics were not the only concern (as we shall see below). Nonetheless, it makes sense to begin with economic rationales for imperialism, since many historians long understood economics to be the primary factor in imperialism.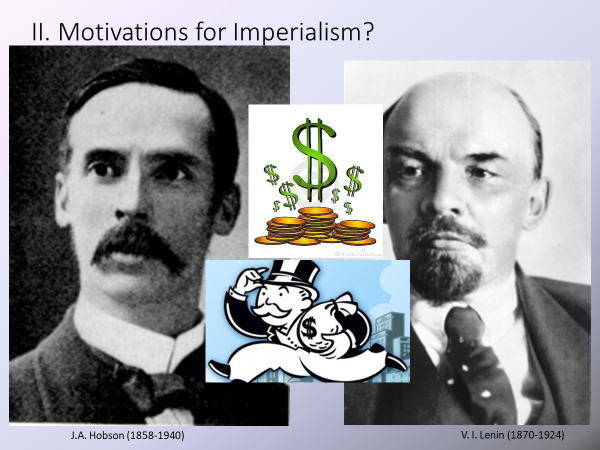 Economic
For a long time, many historians understood economics to be the primary reason why European states pursued Imperialist ventures.
One of the earliest scholars to advance this view was British economist J.A. Hobson (1858-1940) in his book Imperialism: A Study (1902). Hobson said that, because capitalist economies fostered competition, companies would routinely manufacture too many products and be unable to sell their inventory. This in turn would lead industrialists, bankers, and investors to use their influence to put pressure on governments to find a solution to this problem of unsold products. The solution often found, said Hobson, was to launch imperialist campaigns to secure access and control of markets (or, rather, people living in other places), to whom to sell these goods that could not be sold in Europe. So, in this view, imperialism was a solution to the problem of supply and demand, and Hobson thought that this could all be avoided if capitalism was restructured so as to reduce this overproduction and render the push for new markets unnecessary.
Another economic criticism of imperialism came from Russian (communist) political thinker Vladimir Lenin (1870-1924), who wrote his book, Imperialism: The Highest State of Capitalism in 1916. Lenin, a committed Marxist (that is, one who embraced Karl Marx's theory of the inevitability of a violent revolution by the proletariat, which would lead to a socialist take-over of all forms of economic activity, which would then lead give rise to a communist utopia) believed that imperialism was directly connected to the problems inherent in capitalism. In Lenin's view, the competition between industries in a capitalist economy would lead to the success of a few and the failure of many, and these failed businesses would be consolidated or otherwise absorbed by the ones who were successful. The result would be monopolies in all major industries, creating even more wealthy business owners, bankers, and the like. These wealthy individuals would one day run out of competitors, and therefore run out of room for the continued growth of their industries. Rather than accept this outcome, so said Lenin, these greedy monopolists would use their connections and influence with the government to persuade government leaders to strike out to seize colonies in other parts of the world (thus, imperialism), in order to gain access to markets and consumers, who could be forced to purchase the monopolists' wares. It should be clear that Lenin's diagnosis is similar to what Hobson said, except that Lenin (of course) saw capitalism as a whole as the central problem and said that a social revolution to overturn the propertied ruling classes and establish a dictatorship of the proletariat was the answer. (More on that later.)
In some ways, this explanation makes a good deal of sense, especially when we consider the context of these two authors in the late nineteenth- and early twentieth centuries. The period of time from about 1815 to about 1870 is sometimes referred to as the Pax Britannica,1 an era during which British industrial and naval supremacy underpinned an informal empire of free trade and commercial hegemony, achieved through Britain's early industrialization and maritime dominance. (This commercial prosperity was also partly enabled by the absence in Great Britain of the sort of political unrest associated with the 1848 Revolutions on the continent.) Although Britain reigned as "the Workshop of the World" for half a century, eventually its rivals caught up. After the Franco-Prussian War (1870-1871) the economic position of Great Britain started to erode. Coincidentally, the "Concert of Europe" system of diplomacy and balance of power started to break down, too. By the 1870s, now that the Italian- and German unification processes were complete, both new nations, along with the U.S., began a period of industrial and economic expansion that eroded British dominance in world markets. (Remember, the U.S. was just coming out of its own civil war.) A long period of economic depression began in 1873 and lasted until 1896, which meant that governments were under pressure to take measures promoting and protecting their own domestic industries. These measures usually meant abandoning free trade agreements, as happened in Germany in 1879 and France in 1881, which meant that businesses could no longer easily export goods and, once their domestic markets were saturated, they pushed their governments to seek new markets elsewhere. Hence, the Hobson and Lenin critiques.
Subsequent historians have found problems with these economic critiques. Basically, while European powers did invest capital and resources overseas, they did so not at the level that Hobson and Lenin described. Furthermore, most of this financial investment went to other European states or older, more well-established trading partners outside of Europe, not the soon-to-be conquered peoples living outside of Europe. And while there were some businesses who hoped that imperial colonies would provide new markets and access to raw materials, this frequently was not the case, or at least not the case on the level at which imperialism promoters promised. Instead, European imperialist powers more often found that these imperial colonies did not have the right kinds of raw materials that the European power in question wanted or needed, meaning they had to get these materials elsewhere. And it is not totally clear that controlling these new possessions outside of Europe was profitable in other terms.
So, if economic can explain, at best, only part of the reason for which European nations pursued imperialist projects, what are some other reasons for imperialism?
Strategic Interests
When thinking about imperial domains created in the eastern Mediterranean and Africa, in many cases, European states believed that they had a geostrategic interest in controlling territory that was situated along important sea routes (whether for the purposes of civilian trade or naval patrol). In other cases, they sought to control territory that was somehow geographically close to other centers of strategic, economic- or military-, interest. That is to say, sometimes European powers took over or directed affairs in particular areas simply to be able to control or protect access to export markets, raw materials sources, to control shipping routes. Sometimes these Europeans simply wanted to have naval bases in which to store supplies and munitions around the world, since large powerful navies require frequent refueling and re-provisioning (a theory popularized by Alfred Thayer Mahan, a U.S. Naval strategist, who wrote The Influence of Sea Power upon History, 1660-1783 in 1890).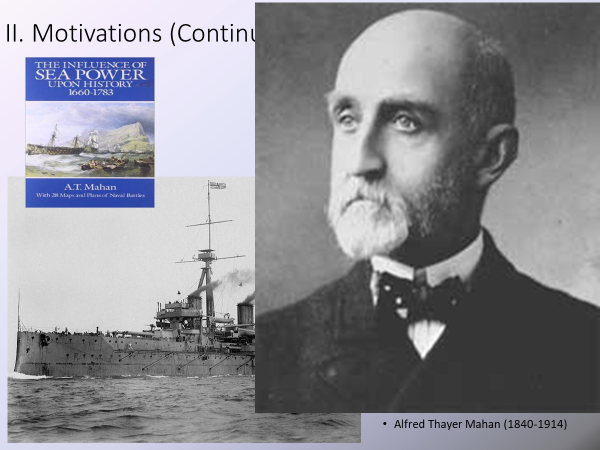 So imperialism could be "all about the Benjamins" or "all about that base." (You're welcome.)
We should also point out that earlier colonialism and this later imperialism could be undertaken almost solely for the trade routes and spheres of influence it delivered to national trading companies (that is, not necessarily national militaries or navies). So, imperialism does not necessarily have to be thought of in military terms.
Great Power aspirations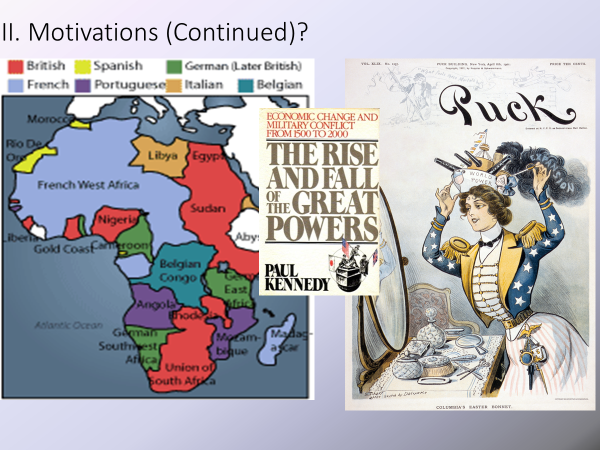 Besides economics and grand strategy, another (albeit related) motivation for these European powers to undertake imperialist expansion was their desire to simply show themselves capable of carrying out such campaigns. The idea that Europe affairs were controlled, or at least directed, by a handful of "great power" nations was one that reached back centuries. This notion was reaffirmed in the Congress of Vienna but the map of Europe had changed with the unifications of Italy and Germany: France had lost the border provinces of Alsace and Lorraine to Germany; Germany was now large nation-state but a mostly land-locked one with a small navy; Italy was in a similar situation. By 1900, "the Sun never set on the British Empire," meaning that Great Britain had the largest global empire, with France second, the United States third, and Germany fourth. Even if all of the territories and peoples were not yielding economic benefits or granting control of strategic locations around the globe, clearly these powerful European (and non-European) nations perceived there to have been benefits to simply seizing control of territory.
The reason for this is that, in this period of time, when nation-states were seeking to increase their national power and also to secure the political support of their citizens (who were not always allowed to play an equal part in political decisions or economic progress), the possession of imperial domains outside the metropole (the home country) were believed by many to signal the power and strength of that home country. Of course, between 1871 and 1914, Europeans add 20% of the Earth's land area to their control, so this did require an enormous outlay of resources to achieve. We noted above the close relationship between nationalism and imperialism, and many of the imperial nations saw increased working class militancy (and the rise of socialist parties) during this period of depression, which meant that government leaders might (and did) turn to imperialism as a force for national cohesion. That is, if Germans disagreed on wages and taxes, they might all agree that Germans were more "civilized" than Herero people in southern Africa, and therefore those Germans who oppose their government's economic policy might support its imperial policy. (In Italy, and, to a lesser extent Great Britain and Germany, a tropical empire was sometimes also promoted as an outlet for excess population.) This is where nationalism comes in, and nationalism's ability to supplant or overshadow other ideological disagreements. If you felt French, for example, and you believed France was a great and powerful nation, you might then say that France ought to have colonies all around the world, it ought to boss around "less civilized" peoples, and it ought to make more money and control more territory than, say the English.
Missionary Aspect
Another, perhaps less influential, reason for which European nations pursued imperialist policies was for various missionary or related goals. On the one hand, it could appear that European missionary societies calling for imperialist expansion were exhibiting an unselfish concern for others' well-being. That is, bringing religious teaching and (usually) the promise of Christian salvation might seem to be the opposite of egoism. However, if we examine this impulse critically, we could interpret the Europe idea that Europeans had a duty to "help" the "less civilized" peoples outside of Europe as simply infantilizing and paternalistic. This is because Christian missionaries flooded into imperial colonies, with the intention of proselytizing them but also sometimes educating them and bringing medical treatment but did so on the assumption that all things European were "better" and all things non-European were "worse." Thus, even as European medicine might promote greater health, it was not clear that European languages, economic practices, political forms, or religious systems served these non-European peoples' needs better.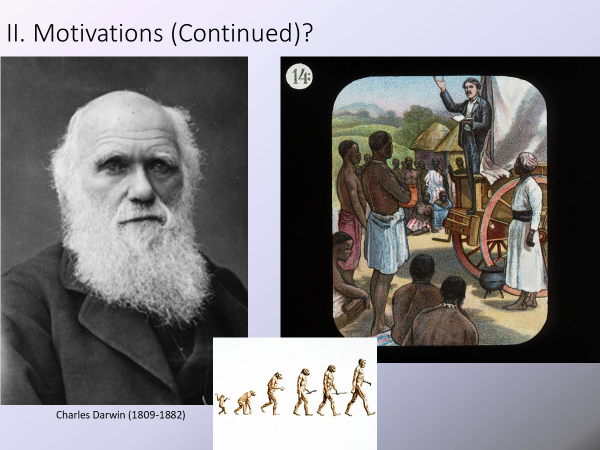 Pseudoscientific Aspect
The last reason for which Europeans undertook imperialist programs overlaps quite a bit with what we've already covered above but it's worth mentioning on its own – Social Darwinism. You're all probably familiar with this but remember that Charles Darwin published his findings on natural selection in the middle of the 1800s, which talked about biology and competition between species for resources and within species for survival. Well, it didn't take long for some Europeans (and Americans, like Herbert Spencer and William Graham Sumner) to project this theory onto human relationships and competition between nations and societies, theorizing that the strongest, fittest, most "advanced" races were the ones who would always be in control of the "less advanced," weaker and less "civilized" races.
PAUSE for 60-Second Quiz Question 2. What were some of the motivations for Europeans' decision to undertake imperialist programs in the late 1800s? Which of the following was NOT one of Europeans' motivations?
Finding economic partners with whom to trade.

Finding and controlling areas strategically important to trade and military activities.

Promoting the idea that all nations were equally powerful and should share control of geographic space and natural resources.

Converting non-Europeans to European religious practices and belief systems.
Means of carrying out Imperialist programs
Now that we've examined the various reasons why European powers chose to initiate programs of imperialism, we will turn to exploring a number of new technologies that were at their disposal, which they used to secure their dominance over non-European peoples. Remember, Europeans have had the Industrial Revolution going on now for about a century, so they are far more sophisticated when it comes to metallurgy, steam power, mass-manufacturing, distribution over a large area. Here it is important to separate technology from decision-making, since the mere existence of a certain technology does not, on its own, require that technology's use for one or another purpose. So just because European nations possessed these tools does not mean they were pre-destined to use them to direct violence at non-European peoples. Rather, Europeans chose to undertake these programs, for the reasons we detailed above. In the case of European imperialism, there were four major ways in which technologies aided and enabled European domination over non-European peoples: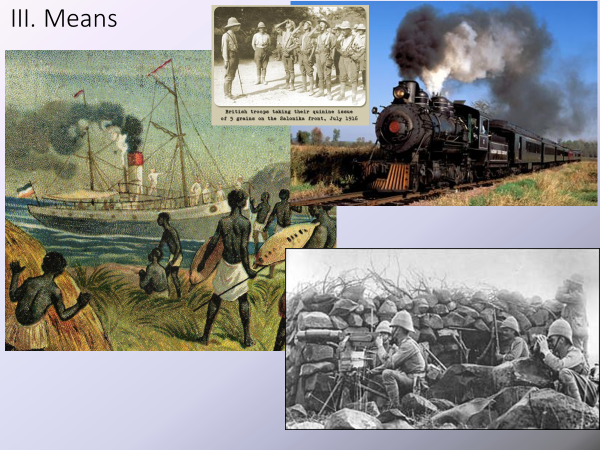 Steamships and gunboats
Much as the development of steam power and its application to overland transport (i.e. railroads) changed much about the way European societies worked, so too did the application of steam to ships have dramatic effects. Most immediately, it meant that ships no longer had to rely on the wind. (Direction of the wind was not really a problem, since they came up with new rigging systems in the Early Modern Period to sail into the wind.) But now if European trading companies or navies did not need wind (i.e. they can sail without wind), they could go anywhere. Europeans could now sail across oceans to new colonies, then they could sail (or rather, steam) their way upriver, on riverboats, with guns mounted on them, to transport goods but also weapons and soldiers. Which means Europeans were not confined to the coastal areas or even purely estuarine environments. Steam power, of course, required coal or some other fuel, which brings us back to part of the reasons for undertaking Imperialism (naval refueling stations). But gunboats brought the Europeans up China's rivers but also into the African continent, too.
Railroad
Just as steam liberated sailors from wind, steam also drove overland transportation, too. We've talked about this a little already, but steam power makes transportation across vast distances of land much more manageable. Of course, to do this, one must be able to forge the iron rails and then lay the tracks (using a steam hammer) but once this is done, trains could be pushed or pulled wherever one needed them, and this means that one's soldiers, one's guns, one's raw materials, or one's export products can be sent quickly to their destinations.
Machine Guns
Without getting too far down into the weeds, the industrialized manufacture of rifles, cannon, and new machine guns served to boost Europeans' military advantages over indigenous adversaries tremendously. This is because industrially manufactured weapons means that, if a part broke, the Europeans could easily get a replacement that will fit perfectly. Furthermore, these high-tech weapons were not easy for people to copy or even adopt easily without high levels of training. So, weapons lost by Europeans on the battlefield were not, in all cases, useful to indigenous peoples trying to fight off these Europeans.
When it comes to firearms, machine guns were important but not the only example. European armies wielding rifles (with rifled barrels) could direct fire more accurately, over longer distances, than older (unrifled) weapons in use a century earlier. Machine guns simply multiplied the firepower a single soldier could direct. Yet sometimes Europeans did sell firearms to indigenous African peoples living in coastal areas, but these were almost always older, inferior models. Further inland, indigenous peoples of the interior still used bows and arrows, which reveals the magnitude of Europeans' advantage in wreaking destruction.
Medicine
Finally, Europeans had the technology of modern medicine. In particular, they had quinine, which was a drug developed in the 1840 and 1850s, used to treat malaria Whereas before, Africa had been called "the White Man's Grave," because of the devastating effects of malaria (and other diseases) on invading Europeans, quinine presented Europeans with a way to avoid might numbers of medical casualties and, thereby carry out their military conquests (or medical missions, or whatever). While this technological advantage might seem innocuous enough, we should remind ourselves that, while modern medicine saved lives, those European lives saved then helped destroy non-European lives.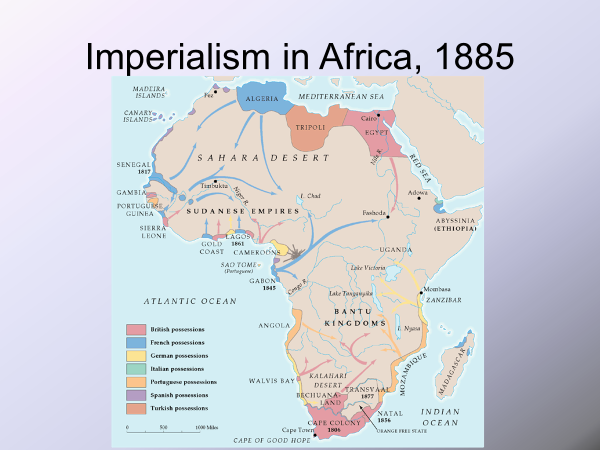 PAUSE for 60-Second Quiz Question 3. What were some of the technologies that allowed Europeans to maintain control over larger numbers of people? Which of the following is NOT a true statement?
Europeans used steam power to travel to new lands, and to send people and materials into those new lands.

Europeans used industrially manufactured weapons to defeat the indigenous peoples living in areas Europeans wanted to conquer.

Europeans used medicines they developed to treat diseases they caught in new lands they were conquering.

Europeans used germs to deliberately spread diseases to the indigenous peoples living in areas Europeans wanted to conquer.
Case Study: Africa
Now that we have covered some fundamental definitions of, motivations for, and means by which Europeans carried out imperialist programs, let us examine a series of examples. What follows is not meant to be exhaustive but merely to give some texture to how these imperialist agendas took shape in certain contexts. Africa was by no means the only locus of imperialist activity but juxtaposing different examples within close geographic and temporal proximity will let us more easily see the bigger picture.
France
Algeria
After 1815 and the Congress of Vienna, France didn't have very many colonies in Africa and those it did have were small. In 1830, France had launched a military invasion of Algeria (directly across the Mediterranean) and conquered it, making it into a department of France. In this case, Algeria was more of a settler colony in the old "colonialism" sense, since France sent close to 3000,000 French settlers to live on the fertile coastline by 1871. Over time, these French settlers pushed deeper into the desert areas to the south, where the French army suppressed the nomadic Muslim peoples living in these regions.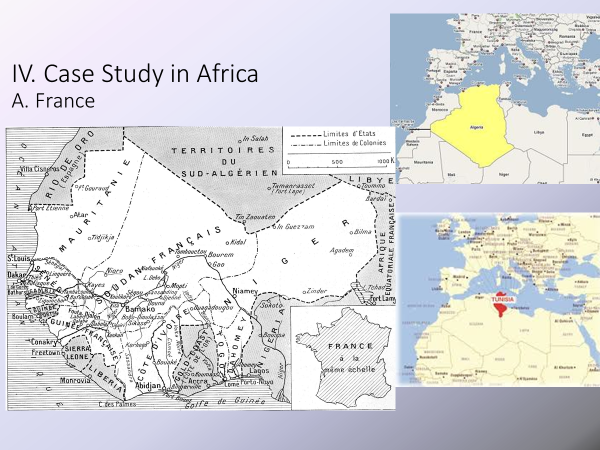 Tunisia, Morocco, West Africa
France also made other imperial ventures, too. In 1881, France declared Tunisia a protectorate. Tunisia was technically under the control of the Ottoman Empire but the Ottoman influence there was in decline. Between 1901 and 1912, French officials also created a protectorate over Morocco. In both Tunisia and Morocco, the French exercised control via ruling through puppet monarchs, who were from the local people. Parallel to developing control over Morocco in the Northern part of Africa, the French also developed holdings in West Africa (French West Africa), a single imperial territory that was approximately 800% the size of France itself and home to 12 million people (who were not necessarily happy about French rule). Key to much of France's imperial activities was its notion of mission civilatrice ("civilizing mission").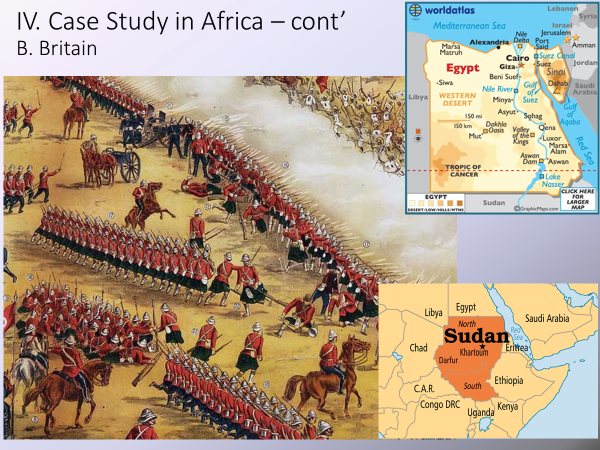 Britain
Great Britain's imperial activities arguably continued more-or-less uninterruptedly from the "colonialism" era into the "imperialism" era. The British East India Company established control over the ports of India, and therefore Indian trade with the outside world, by the 1700s. Great Britain's involvement in Africa began much later, in the mid-1800s.
Egypt
In the 1860s, Egypt was nominally still part of the Ottoman Empire but, after 1869 and the opening of Suez Canal, became a crucially important conduit for Indian-British trade. British Prime Minister Benjamin Disraeli bought 40% of stock in the canal-company from Egypt when the Ottoman sultan had financial problems. When a revolt in 1881 prompted the Egyptian army to launch a coup, the British were concerned about the security of their access to the Canal, so in 1882 the British occupy the company to protect the lifeline. This British military presence in Egypt lasts until WWII.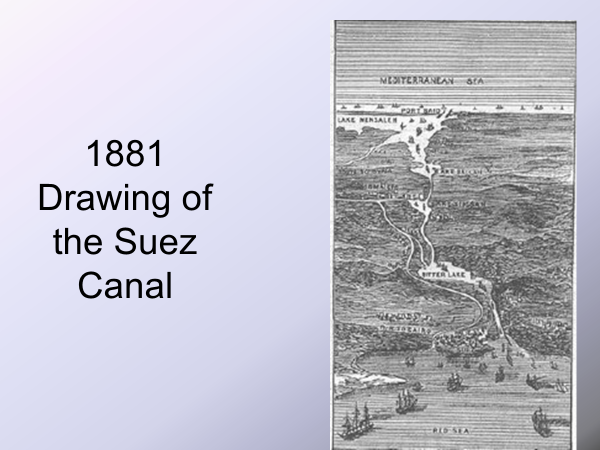 Sudan
Once they were in Egypt, the British got increasingly sucked into the upper Nile Valley, which meant involvement in Sudan (south of Egypt). The Sudanese government collapsed into chaos in 1898, which prompted the British to send an army to settle things down. In the famous (or infamous) Battle of Omdurman on September 2, 1889, British General Herbert Lord Kitchener's British-Egyptian Army defeated the Sudanese troops rather quickly. Or maybe "defeat" is not the right word. The British were armed with breach-loading rifles that could be quickly reloaded and re-fired, along with belt-fed machine guns. The Sudanese had much fewer modern weapons and 11,000 Sudanese died and 16,000 were wounded, while British dead numbered only 48 soldiers. The British would Uganda in 1894 and Kenya in 1895, all to protect Egypt.
West Africa
The British also had four colonies in West Africa: Sierra Leone, Gambia, the Gold Coast (Ghana), and Nigeria. One-sided military confrontations, such as those described between the British and their imperial subjects, were not exceptional. Rather, The European imperialists almost always had the benefit of superior scientific and industrial development. At the same time, European traders on the coastal areas of the continent had made money selling indigenous peoples living there guns but they sold them older, "inferior" weapons that stood little chance against what the European troops then were issued. This, coupled with the fact that some of the peoples living in the interior of the continent were still armed with bow-and-arrow, made sure that any and every confrontation between European imperialists and indigenous people resisting them would end poorly for the natives.
Germany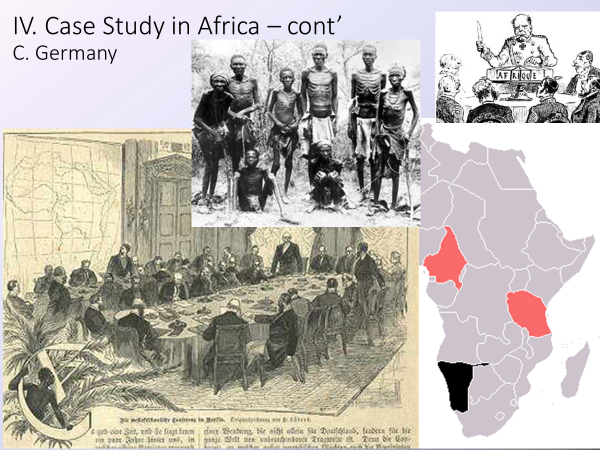 Berlin Conference
German Chancellor Bismarck also steered Germany into imperialism, but he seems to have done so to serve political goals he had back in Europe. Basically, if Germany began claiming imperial possessions in West and East Africa (present-day Namibia in SW Africa, Togoland, Cameroons in the West; Tanganyika in the East), Bismarck hoped the French would follow in order to deny more space to the Germans. The result would be the French being less focused on competition with Germany inside of Europe. Bismarck had similar goals for redirecting the British attention away from Germany itself and toward Germany's colonies in Africa. At the same time, by the 1880s, socialism as a political force was becoming more popular in Germany's highly-industrial economy, and Bismarck also perceived the usefulness of imperialist ventures to distract the working class from their grievances and instead promote nationalism across all social classes and political parties. (Historian Hans-Ulrich Wehler called this phenomenon "social imperialism.")
In 1884, Bismarck called the Berlin Conference, which was where leaders of powerful European countries divided up the African continent among themselves. Only Liberia and Ethiopia are not colonized. This episode is sometimes called the "scramble for Africa," and we might think of this as the height of European arrogance – that they sat around a table and drew lines on a map that had enormous consequences for families, villages, communities and whole nations of people who were already living in their own, self-developed economic-, social-, and political arrangements. That's not to say everything in Africa was perfect before the Europeans got there; only to say that Africans themselves had little voice and little hope for recognition of their interests from these imperial regimes.
Another major atrocity that illustrates some of the core assumptions behind imperialism took place in German South-West-Africa. In 1904, the Herero people living under German oversight revolted against the German rulers, prompting the German army to strike back. The local German army commander, General Lothar von Trotha, told the Herero to leave their lands and then used his forces to drive the people into the desert, ensuring their deaths. These were men, women and children who were forced into concentration camps in the desert, where approximately 80% of them died. (Recently, historians such as Isabell Hull have argued that this episode of violence against civilian non-combatants set important precedents for how the German army behaved, both in battle and toward civilians, which would inform its conduct in World Wars I and II.)
Italy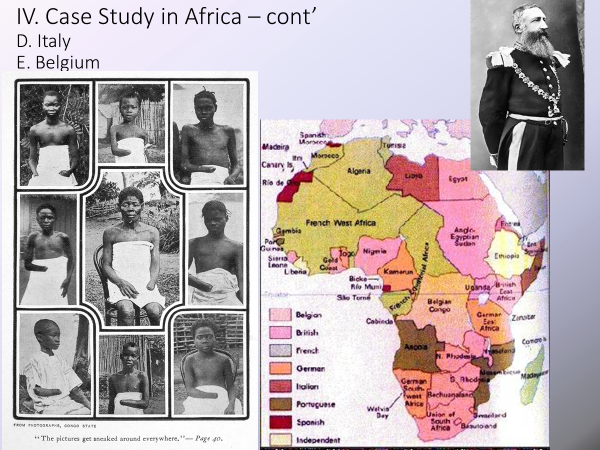 Italy met with less success than France, Britain, or Germany. In 1896, Italy had tried and failed to conquer Ethiopia. The Italians turned then to Libya, which they attacked and stole from nominal Ottoman control in 1911-1912. Although Libya would be viewed as very important by Italians, and Italian imperialists talked about re-creating the old Roman Empire (since Rome was on the Italian peninsula), Italian imperialist programs did not reach the same extents as those of other rival European nations.
Belgium
The Belgian Congo is quite a different story but worth including here. The King of Belgium, Leopold II (r.1865-1909) wanted colonies to prove the greatness of his country (which had only existed since 1830). But the civilian government of Belgium (a form of constitutional monarchy) did not want to conquer and administer imperial colonies. So, the King used his own personal wealth to recruit explorers and geographer, as well as unsuspecting anti-slavery activists, to mount an expedition to explore the Congo. Led by the famous English explorer Sir Henry Morton Stanley (1841-1904), this expedition trekked through central Africa from 1879 to 1884, exploring and negotiating treaties with local indigenous peoples (who may have had little understanding of what agreements they were making. When this expedition had finished, Leopold suddenly held personal control over a territory 70 times larger than Belgium itself! Leopold held these documents up for international recognition and claimed to be promoting humanitarian efforts to help the Congolese peoples. The ultimate outcome was that Leopold was NOT interested in humanitarian development or relief. Instead, he wanted to make money by extracting rubber and ivory, and his private colony's managers (infamously) relied on various forms of slave-labor, bodily mutilation, and murder, to coerce indigenous people to work for the company, which went by the name of the Congo Free State. But few people outside of Congo knew what was going on until Leopold gave his personal domain to the Belgian state in 1908.
South Africa (Britain)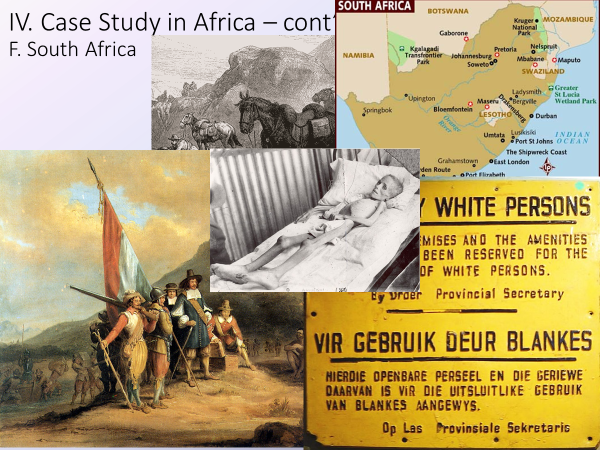 Remember that we just learned above about the Germans were using concentration camps in 1904? Well, they were not an altogether new idea. The British invented them in 1902 to deal with the Dutch Boers living in Southern Africa. In brief, there were Dutch white settlers and their descendants, called Boers (the Dutch word for "farmer"), who had originally settled at Cape Town in 1652. These Boers and their Cape Colony had specialized in food and wine production during the 1600s and 1700s. The British came to control the Cape after the Congress of Vienna and more and more British began resettling there. In 1834, the British outlawed slavery in the Cape Colony, which angered the Boers, who migrated north and east of the cape, beyond the Orange and Vaal Rivers, to establish two new colonies, the Orange Free State and the Transvaal. The British were mostly uninterested in controlling these new settlements until gold and diamonds were discovered there in 1886. This prompted lots of miners to rush out to Johannesburg (Boer territory).
Tensions between the British and the Boers eventually led to war in 1899 (Boer War) and the British army found itself facing Boer militias fighting a guerilla war. The British army reacted to these irregular tactics by relocating Boer noncombatant women and children into what the British called, "concentration camps," where many of the inmates suffered and died from malnutrition and disease. Over 30,000 of the 120,000 prisoners die and an international scandal ensues. In the spring of 1902, Great Britain annexed both Boer states into Cape Colony and forms the Union of South Africa. In 1908, this colony becomes self-governing, and gets complete independence within the British Commonwealth in 1931. Part of the outcome of the war was a decision to unite the white, European-descended peoples in South Africa and give them exclusive political and social rights, which were denied to non-whites. This was the beginning of apartheid, which only ended in 1994 after the election of the first non-white South African government in the state's history (This is the Nelson Mandela story).
By the way, at this point we should point out that the man we probably have the most to thank for South Africa and Zimbabwe is Cecil Rhodes, the British businessman and tycoon, who was vacationing in Africa in 1870 for his health when diamonds and later gold were discovered. His mining company, British South Africa Company, was able to seize control of quite a considerable piece of land, thanks to the backing of the British government. This piece of land became Rhodes' own private country, Rhodesia (later rechristened Zimbabwe, after decolonization in the 20th century). Rhodes expressed his outlook on imperialism concisely, saying, "I contend that we are the finest race in the world…and that the more of the world we inhabit the better it is."2 (By the way, this is also the guy for whom the prestigious Rhodes Scholarship at Oxford is named.)
Recipe for Disaster: Imperial conflicts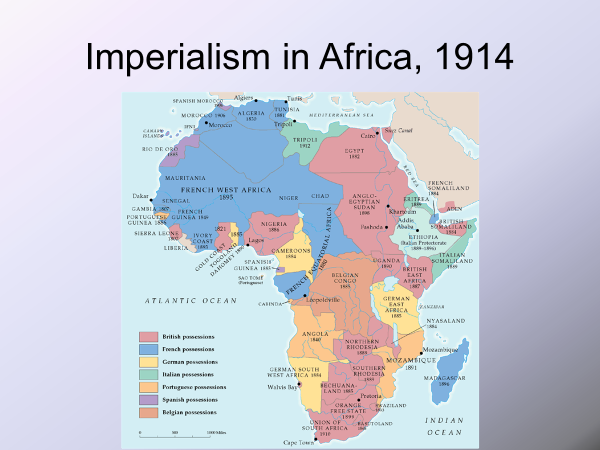 Besides European states working to promote their own economic, political, strategic, or other interests (often by exploiting non-European peoples' interests), by now it should be clear the competition between European powers was a frequent component of imperialism in the nineteenth century. It should be no surprise, then, that this competition could sometimes threaten to boil over into war. Indeed, historians who specialize in World War I have often pointed to this period of imperial competition as part of the background to understanding how war arrived in Europe in 1914.
The Fashoda Incident
Sometimes also called the "Fashoda Crisis," this was the climax of imperial territorial disputes between Britain and France in Eastern Africa, occurring in 1898. A French expedition to Fashoda, on the White Nile River, sought to gain control of the Upper Nile river basin and thereby exclude Britain from the Sudan. The French party and a British-Egyptian force (outnumbering the French by 10 to 1) met on friendly terms, but back in Europe, it became a war scare. The British held firm as both empires stood on the verge of war with heated rhetoric on both sides. Under heavy pressure, the French withdrew, securing Anglo-Egyptian control over the area. The status quo was recognized by an agreement between the two states, acknowledging British control over Egypt, while France became the dominant power in Morocco. While it might sound like each side came away with a prize, the French felt humiliated and that they had failed in their main goal (denying the British access to the Sudan). The Fashoda Incident was a diplomatic victory for the British as the French realized that in the long run, they needed the friendship of Britain in case of a war between France and Germany. It was the last crisis between the two that involved a threat of war (until 1940) and opened the way for closer relations in the Entente cordiale of 1904. It gave rise to the 'Fashoda syndrome' in French foreign policy, or seeking to assert French influence in areas which might be becoming susceptible to British influence.
First Moroccan Crisis
On March 31 1905, Kaiser Wilhelm II of Germany arrived in Tangiers to declare his support for the sultan of Morocco, provoking the anger of France and Britain in what will become known as the First Moroccan Crisis (sometimes also called the Tangiers Crisis), a foreshadowing of the greater conflict between Europe's great nations still to come, the First World War. (Remember, Morocco was supposed to be under the imperial influence of France at this time, and the continent of Africa had been parceled out to the various imperial European powers two decades prior.) The Kaiser did not have any substantive interest in Morocco; neither did the German government. The central purpose of his appearance was to disrupt the Anglo-French Entente, formed in April 1904. The Entente Cordiale, as it was known, was originally intended not as an alliance against Germany but as a settlement of long-standing imperialist rivalries between Britain and France in North Africa. By its terms, Britain could pursue its interests in Egypt, while France was free to expand westward from Algeria into Morocco, the last territory that remained independent in the region. France subsequently signed an agreement with Spain dividing Morocco into spheres of influence, with France receiving the greater part.
In what would be known as the open-door speech, Kaiser Wilhelm announced that he looked upon the sultan of Morocco as the ruler of a free and independent empire, subject to no foreign control. Furthermore, Wilhelm said that he himself would always negotiate with the sultan (i.e. not with another European rival who was controlling affairs in Morocco). He also stated that he expected Germany to have advantages in trade and commerce with Morocco equal to that of other countries. Wilhelm's sensational appearance marked an aggressive departure from the German foreign policy under the legendary Otto von Bismarck, who as chancellor had united the German empire in 1871 and had advocated conciliatory gestures towards France and other European rivals as a key part of German foreign policy.
Second Moroccan Crisis
Sometimes called the Agadir Crisis, this was another brief international crisis caused by imperial competition. In this case, France sent troops deeper into Moroccan territory in April 1911 to shore up its control. Germany demanded to be given some other territory in Africa, as compensation for having to accept French control of Morocco. The Germans threatened the French by sending naval forces to the Moroccan coast, but subsequent diplomatic negotiations brought a peaceful resolution. France now assumed direct control over Morocco as a protectorate but simultaneously granted territorial concessions to Germany in the French Congo. The British were horrified to watch this crisis unfold, especially as Germany was attempting to expand its navy to the point where it (Germany) might be able to threaten the British pre-eminence on the high seas. Germany's apparent recklessness and aggressiveness would only be underlined in the July Crisis of 1914.
Conclusion:
In the end, you might say that the Europeans got what they deserved. The imperial colonies they seized and exploited were very expensive to maintain, both in terms of money but also in lives of soldiers, sailors, and bureaucrats. Higher taxes, longer lists of military casualties, and scandalous reporting of imperial authorities' harsh treatment of indigenous people all eventually turned public opinion against the maintenance of imperial colonies, although this change occurred slowly (in most cases, after 1945).
PAUSE for 60-Second Quiz Question 4. What were some of the negative consequence of Imperialism inside of Europe? Which one is NOT correct?
Expenses of imperial wars usually meant increased taxes for citizens in the metropole

Waging of imperial wars usually meant increased deaths of soldiers and sailors from the metropole

Competition between imperial powers sometimes threatened to bring war in Europe

Waging of imperial wars usually meant non-European countries attempted to invade European countries
Key for 60-Second Quiz Questions:
D – economic changes were probably more commonly-sought than political change but religious and other cultural changes (such as language education) were also often goals, too.

C – this idea sounds like the nationalism of the early 19th century, but the assumption of equality weakened dramatically by the 1870s and 1880s.

D – the germs-to-spread-diseases from Europeans to non-Europeans was more characteristic of the earlier round of "colonialism."

D – it was the other way around: Europeans aggressively invading, not fighting defensive wars against hostile threats.
Primary Source Exercise
Reading: Jules Ferry, On French Colonial Expansion (1884)
After you have read the primary source listed above (as well as Chapter 14), answer the following questions, based on what you have learned so far:
What do you think is important to know about the author of this text? What can you learn from the words he wrote on the page? What can you infer or piece together from the background information in the textbook chapter? Why is this important?

What was the author's goal in writing this text? To whom did he address it? What purpose did it serve? Can you point to one or more examples to support this analysis?

What, if any, hidden assumptions can you detect in the text? That is, can you find word choices, phrasing, innuendo, or other examples of the authors s(explicit or implicit) bias with regard to the subject matter? Does this bias (or these assumptions) affect how you understand and react to the author's words? Why or why not?
---
This is a reference to the "Pax Romana," the period of time when Ancient Rome was ruled by Caesar Augustus and saw an extended period of peace (pax, in Latin), which followed an especially violent period of war and civil war in the Late Republic.↩

Quoted in Lynn Hunt, Thomas R. Martin, Barbara H. Rosenwein and Bonnie G. Smith, The Making of the West: Peoples and Cultures, A Concise History. Volume II: Since 1340, Third Edition (Boston, 2010), 735.↩