CHAPTER TEN: THE INDUSTRIAL REVOLUTION
Key Terms:
Agricultural Revolution

enclosure

putting out system

James Watt

flying shuttle

spinning jenny

water frame

Railroad

working class

Luddites

The Factory Act of 1833

Mines Act of 1842

Cholera

police
Questions:
What were some of the important background conditions that gave rise to the Industrial Revolution?

How did the Industrial Revolution change the experience of "work" for people working in manufacturing?

What were some of the larger consequences of Industrialization on urban culture?
We have spent the last several chapters almost exclusively on France, and for good reason, but today we turn our attention to Great Britain and the Industrial Revolution, which is another one of the really big and really important turning points in the History of Western Civilization. But before we can look at industrialization, we need to step back in time about a century or so to talk about the background to the Industrial Revolution.
Precursors: Agricultural Revolution, Urbanization, Enabling Conditions.
Agricultural Revolution.
Before the Industrial Revolution, the primary locus of work and production, broadly defined, was agriculture. For centuries, most people farmed or performed work that was adjacent to farming (like, for example, trading agricultural products or products derived from agriculture). This is not to say that there were no tools or machines; just that they were the very small exception to the rule. Beginning in the 1700s, people began to experiment more deliberately and in a more sustained fashion with applying mechanical labor to tasks that were (up to that point) performed by people. The results were far-reaching and profound.
Yet how did Europeans shift from mostly farming to mostly working outside of farming without starving to death? The answer is the Agricultural Revolution, which predated (and enabled) the Industrial Revolution. The Agricultural Revolution was a period of intense and productive experimentation with and improvement of farming practices in Great Britain, that produced a nearly 50% increase in agricultural products. (It should be noted that the population of Great Britain also increased over the same period of time, at a rate outstripping the agricultural output.) Farmers there took a number of steps to improve their harvests:
Land.
Farmers drained wetlands that were, up to that point, unsuited to cultivation. This had the effect of increasing the surface area of land used for farming and raising livestock, without adding land to the physical geography of Great Britain. At the same time, farmers also began converting land used for grazing livestock into land for cultivating crops (more on that below). The result here was the same: more square acreage was able to produce more food and related products.
Efficiency.
Besides finding ways to use more land for agricultural production, farmers also found ways to more efficiently make use of land already devoted to grazing or growing. This usually meant combining smaller, individual plots of land together into large wholes that could more easily and more uniformly be planted. It also meant intentionally growing crops in some fields for livestock consumption, as well as planting crops that would replenish nutrients and minerals to the soil. This in turn would allow farmers to avoid the need for leaving some lands fallow.
Husbandry.
Farmers also more carefully gave attention to the care and feeding of their livestock. This, combined with more selectivity in breeding had the effect of increasing livestock production and increasing the quality of the meat, milk, or other animal products.
Enclosure and Urbanization.
As innovative and beneficial as these new techniques may sound, it is crucial to note that the Agricultural Revolution did not benefit everyone equally. This dynamic is seen most easily in the enclosure movement. Enclosure was a process whereby larger, wealthier landowners took control over smaller farms or even common land (land that belonged to the village as a whole, for people to use to graze their livestock), and then "enclosed" this land in fences. This step might seem innocuous but the common land had allowed smaller farmers to raise their own animals without owning vast amounts of grazing land, since these farmers could use the common lands for those purposes. So enclosure made things really difficult for smaller farmers.
Beyond concerns about the common lands, larger landholders were putting pressure on smaller holders to sell their (usually struggling) farms to their (larger and wealthier) competitors. In either case, small farmers either saw their farms fail or felt forced to sell their operations before they failed, meaning landholding was consolidated into fewer hands and large numbers of people were either tenants who had to work land they did not own (and pay rent to live on land they did not own), or move to the city to find other work. As a result of enclosure, but also as a result of a population increase, Britain's cities saw dramatically increasing numbers of people streaming in. This growth of British cities corresponded with increasing urbanization on the European continent, as well as a geographic shifting of population centers from the Mediterranean to northern Europe. (More on urbanization below.)
Other Enabling Conditions.
These changes outlined above that had taken place across the early 1700s interacted with certain other background conditions, to give Great Britain a number of advantages in terms of the "take-off" of machine technology and its revolutionary effects on labor and business. Great Britain indisputably got the Industrial Revolution first but we have to be careful with how we explain this, since not all of these background conditions were unique to Britain.
Investment Capital.
British Banks provided an ample supply of investment capital to fund the creation and expansion of new industries. Once merchants began experimenting with new machines, the cost of their enterprises dramatically increase. Without investment capital, the Industrial Revolution would not have taken off as quickly. Yet the ability to manufacture more and sell more, to make more profits, made new industrial firms look attractive to banker and others willing to risk lending. The creation of the Joint-Stock Company allowed investors to pool financial resources while limiting any one shareholders' exposure and liability.
Population.
We detailed above how many people were leaving the countryside due to enclosure, and we also noted that Britain was experiencing something of a population boom during this time. Both of these circumstances meant that Great Britain had ample numbers of people who were looking for work and could become the new industrial labor force. At the same time as Great Britain's available workforce seemed to be waiting to step in and take jobs in the new factories, the fact that Britain's population was increasing also provided an incentive to would-be industrialists who wanted to buy machines, build a factory, an hire workers: the early phase of the Industrial Revolution centered around textile production. More people in Britain would mean they needed more clothes, which would mean more money for the factory owner.
British Social system
Perhaps less important an enabling condition (but still notable) were certain aspects of British society during this time. On the one hand, industry was not seen as something "below" the dignity of the aristocracy, at least insofar as an investment opportunity. Another social characteristic the promoted the Industrial Revolution was the institution of primogeniture, which forced wealthy families to pass their land to the oldest male son, leaving younger sons in need of a way to make money and build a career. (Daughters, of course, were simply married off.)
Constitutionalism and Laissez-faire
We have discussed this at length in earlier chapters but it is worth pointing out that it would have been harder to build an economy centered on expensive machines and cheap hourly labor if the government could seize it at any time, or if the government were prone to regularly and heavily interfere with economic activity (either through mandating wages, imposing high taxes, seizing property, or similar actions). While the Industrial Revolution did eventually spread to the European continent, the potential conflict between property-owners and powerful governments would not be easy to resolve.
Natural resources
This one might seem obvious but Great Britain had ample supplies of coal and iron ore deposits, and had fairly easy access to cotton from its colonies in the Atlantic and, eventually, in the United States (although cotton cultivation there did not really take off until the 1790s, after the US was independent). Britain's colonial presence in India also served as a major supplier of cotton.
Navy
Hand-in-hand with shipping raw materials was the fact that Great Britain had a very powerful navy that could exercise control over shipping lanes and ports, ensuring safe passage for merchant vessels.
Religious tolerance
This one might seem like a minor point but the greater degree of religious tolerance in Great Britain served at least to not impede the Industrial Revolution, even if religious toleration itself did not cause the Revolution. That is, France expelled its Protestants in the late seventeenth-century (those were the Huguenots), many of whom were merchants or skilled workers, and who took their abilities to Great Britain (or other places, such as the American colonies). Wide-ranging religious intolerance would have only slowed economic growth in Great Britain.
PAUSE for Question 1. What were some of the important background conditions that gave rise to the Industrial Revolution? Which statement is true?
Enclosure meant that more factory workers could now afford to buy farms in the countryside.

Britain had very little coal and iron ore available for mining.

Britain had a shrinking population who had trouble providing enough labor.

Britain's Constitutional government protected private property rights and promoted laissez-faire economics.
Manufacturing and Machines
The old ways: the "putting out system"
Even without steam and new machines, textile manufacturing had been on the increase in England and elsewhere, thanks in part to the old (pre-industrial) "putting out system" of production. Under this older form of production (sometimes called "cottage industry" or "proto-industrialization"), the workplace was the home, usually in rural areas (or at least not in large cities). The workers were members of the same family, who lived in the home. The workday and the intensity of work was up to them to decide.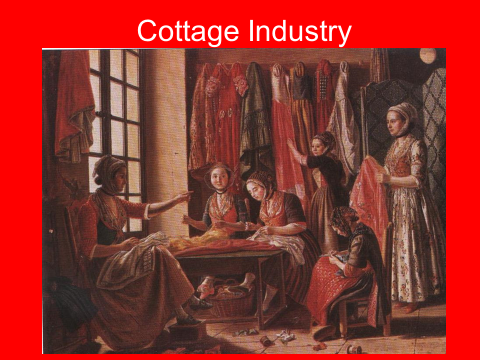 Under the putting-out-system, a traveling merchant (or manufacturer) would come to houses in the village to contract with them to produce products. (Usually we think of textiles but if could be anything from glass wares to firearms.) The merchant would negotiate a price and a timeframe for delivery and then provide the raw materials. So if the merchant and the family met on a Monday, they might agree to manufacture 100 yards of cloth by the following Monday. The merchant would agree to pay a price to 100 yards of cloth (and maybe pay extra if the family made more), and the family would agree to have those 100 yards ready at the appointed time.
For the next week, the members of the family would spend time making the fabric, with very little (if any) supervision of how many hours they worked each day, or how many pieces they produced in an hour. This does not mean it was necessarily easy. Usually tasks were split up, with the mother and the children preparing the cotton, wool, or other raw materials, then the mother and maybe older children using a spinning wheel to make the thread, then the father and maybe some of the other children using a loom to weave the thread into cloth. After making the textile, it has to be washed and trimmed and undergo additional steps before it was ready to hand over to the merchant. (These last steps might have been done in a larger workshop, under the direct control of the merchant, after taking delivery of the product). The main thing to note here is that workers were more-or-less their own bosses, in terms of how long they worked, how much they worked, and whether they took the job at all. Families working under this putting-out system were also often raising animals, or farming, or maybe both, even at a small scale. So the revenue stream from manufacturing, while important, was not their sole means of providing for their material needs.
It was this world, where the workers felt they were in more-or-less control over their own destinies (and maybe they did not even define themselves as "workers," per se), that would disappear with the rise of industrialization. Once new machines became available and merchants and manufacturers became convinced of the machines' ability to produce more, faster, and more uniformly, "work" became a place other than the home. Instead, merchants would purchase machines, house them in a central location, and bring the workers there to "work," rather than delivering machines and raw materials to the workers' homes. This was both to save costs but also to facilitate increased supervision of workers, who might break the delicate machines or otherwise damage them. This was where we get factories, clocking in and clocking out, and being paid by the hour instead of by the piece (although those elements of "work" that we think of as "normal" today did not all appear immediately or uniformly).
The emergence of steam engines
It is work taking a few minutes to look briefly at some of the more important inventions that fueled (pun intended) the Industrial Revolution, which will underline the changes described above.
England has a tradition of tinkering with inventions, re-engineering, sharing ideas and adapting machines from one inventor to accomplish another goal. So James Watt was not the first to invent a steam engine but he make important modifications to existing models of steam engines and came out with his improved engine in 1776. This new engine was more efficient (did not lose as much mechanical force) but was primarily designed to pump water up, vertically, out of coal mines. Of course, steam engines themselves were fueled mostly by coal burners but coal was also an important source of fuel for heating. Therefore, the demand for coal predated the use of steam engines.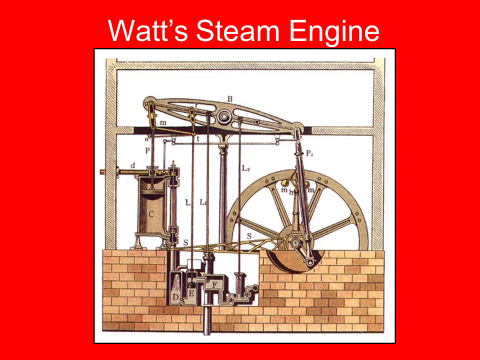 Fairly quickly, they started experimenting with these machines designed to pump water, to see if the machines could be engineered to perform other types of work (like turn a crank, which would operate a separate machine). Once they figured out how to apply the mechanical force in different ways, they could find many more things to do with these steam engines. Thus there was a sort of synergy effect, whereby a new invention in one part of a production process would drive the invention of other new means for another part of the process. Again, the best example is with textiles.
Flying shuttle.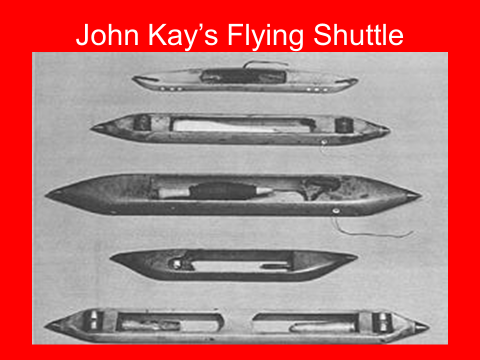 In 1733, John Kay had perfected a device called the flying shuttle, which allowed for weavers to weave cloth more quickly. It was basically a piece of wood with a cord that you could throw (or pull) across the loom quickly, which wove the next row of thread on top of the last. Then if could be thrown or pulled back the other way. Obviously, this made it much easier to weave yarn into textile fabric more quickly, meaning they could produce more products (and make more in profits) using fewer man-hours or maybe even fewer workers in general.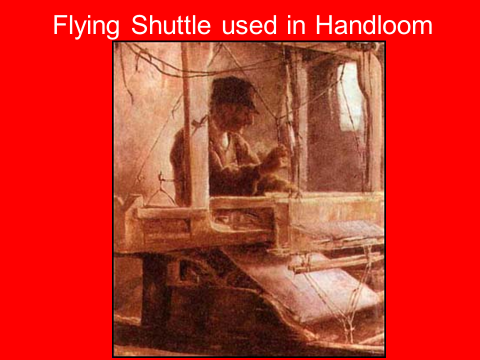 Spinning jenny.
It took a few decades for the flying shuttle to catch on and be widely adopted by the 1760s it had caught on. Suddenly, weavers could weave cloth so fast that the spinners (who spun the raw fiber into thread, the step before weaving) could not keep up. This shortage of thread compelled inventors to devise new ways of spinning thread, more quickly of course, and at a greater volume so that the weavers would not run out of thread. The spinning jenny was the result.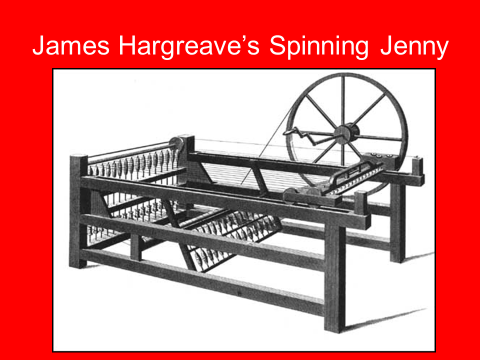 Whereas the old spinning wheel, in use since the Medieval era (think of Sleeping Beauty) had one wheel and produced one bobbin of thread, the spinning jenny was a much larger contraption that had six, eight, ten, or more bobbins, all connected by wheels and gears, that would spin simultaneously and produce exponentially more thread in the same amount of time. The designs were tinkered with and improved over time but the earliest models were hand-cranked. So one spinner could make, say, eight bobbins of thread instead of one. This was a huge improvement! Later designs were modified to be cranked by a waterwheel (if the factory was located next to a river) – this was called the water frame – or could be joined with a steam engine. Either way, a manufacturer could get much more finished product, much more quickly, with may fewer workers.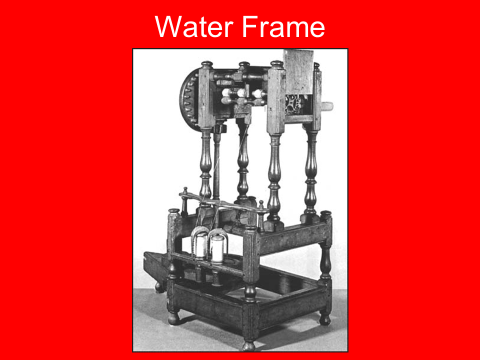 The general idea of applying mechanical forces and engineering, to improve manufacturing processes, to yield more output with fewer resources put in, is sort of a rationalization of manufacturing. That is, making everything as efficient as possible, to make the most profits, but also to use the less resources, machine and human, was itself not that different from the principles of the Enlightenment. If philosophes asked why laws, governments, or religious beliefs existed one way, and could they be improved by making work another way, then manufacturers and inventors were doing something analogous, albeit with less esoteric and more practical matters. Whether these changes were a good thing or a bad thing is a question we can think (and should) about (see below).
Railroad.
George Stephenson in England perfected the design of the steam locomotive in the 1820s. This was another inventive application for these new-fangled steam engines: connecting it to a set of wheels, mounted on a steel track, so it could propel itself (and anything it was pushing or pulling) across distances great or small. Railroad transformed overland travel, for obvious reasons: they allowed for quicker, more reliable transportation of people but also raw materials going from ports or mines into factories, finished goods going from factories to markets, ports, or elsewhere, and (eventually) soldiers going from barracks into battle. Suddenly, people were not limited to the distance they could travel by foot, horseback, or carriage in a single day. People (and horses) get tired, they have to stop and eat, drink, and rest. Steam engines can keep pushing as long as they have fuel for the burner and water (and as long as they don't overheat). So we see expansion not only in factories but also building of railroad lines across Great Britain and later the continent. Consequently, the expansion of coal mining and the mining of iron ore and its refinement into steel eclipsed textiles as the most important industries.
Diffusion.
Up to the mid-1800s, Great Britain had an enormous advantage, in terms of manufacturing, over the rest of Europe. There are a number of reasons that the Industrial Revolution was slower to take-off on the continent, many of which relate directly or indirectly to Great Britain's advantages enumerated above: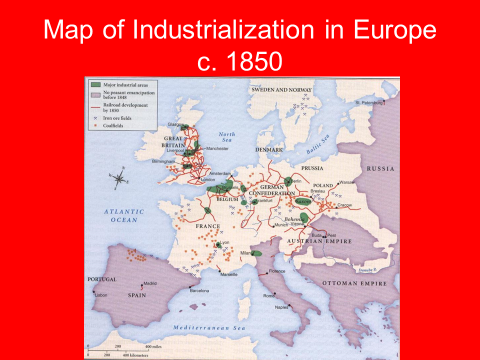 Slower adoption of agricultural revolution-related changes.
France especially was slower to adopt many of the farming techniques that freed up labor for cities. At the same time, countries where primogeniture was not the norm did not see the emergence of large-scale farming, as landholding was less concentrated into fewer hands. A plethora of smaller farmers holding smaller plots of land furthermore did not incentive efficiency practices, nor did it make the harvest of large surpluses (required to support large populations living in cities) as likely. Fewer large markets for food and goods in cities, therefore, lessened the incentive to manufacture large numbers of consumer goods. In certain locations (such as Russia), peasants still lived in serfdom, meaning they were prohibited from leaving the countryside anyway.
Capital and other resources.
Other locations did not share Britain's plentiful natural recourses, its access to investment capital or both. In some cases, this was due to the disruptive effects of the Napoleonic Wars (which were fought by Britain but on the continent – Britain was unscathed). In other cases, poor transportation networks slowed the spread of goods and information. In others, aristocrats deigned it beneath them to become involved in industry, via investing capital, so they withheld funds that could otherwise have financed factories.
And yet, over the nineteenth century, the continent (and the United States, for that matter) began to catch up. At first, Britain tried to protect its advantages by passing laws forbidding the export of machinery or the travel abroad by skilled artisans who made the machines or set up the factories. Plans and people were smuggled out, however, and they sometimes rebuild factories from memory if they had to (in other countries). Britain's rivals also set up technical schools to train workers, as well as recruiting skilled workers from Britain to relocate. Governments sometimes directly sponsored industries or encouraged the formation of joint-stock companies. By the late eighteenth century, with the growth of railroads and the unification of Italy and Germany (see Chapter 12), industrialization was chugging along (pun intended) healthily.
PAUSE for Question 2. How did the Industrial Revolution change the experience of "work" for people working in manufacturing? Which statement is not true?
The putting out system gave worker much less control over their hours and the speed at which they worked than the factory setting.

Workers in factories faced more surveillance and control.

The spinning jenny produced more thread than a single, individual spinner could produce using the older production system.

Machines could perform work in a more sustained fashion than humans, who require breaks for food and rest.
Formation of the Working Class
Factories
We have already looked at the impact(s) of machines on the creation of factory workers but, in short, the re-location of "work" to exist outside the home, at the new factory, had enormous consequences on individuals, families, and entire communities. In some cases, major new cities grew out of the presence of a few new factories. We talked about how enclosure brought people to the cities who were desperate for work but there was also a population boom happening in the eighteenth century as well, which also drove people who could not find work in the countryside into the cities. (There was also an increase in the number of people working in agriculture, though not necessarily who owned their own land.)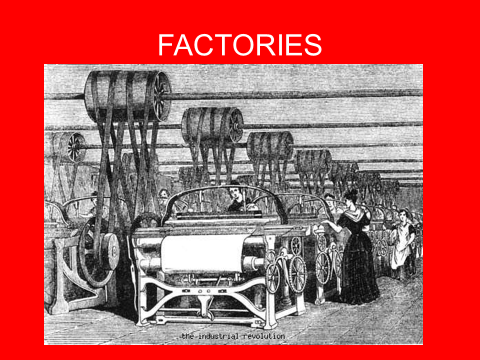 The earliest form of this transition from out-of-work farmers or families who were drawn to factories due to the phasing out of "putting-out system" work was families working as a unit, for a wage they earned together, although performing different tasks, on the factory floor. So this was something like putting-out but relocated into factories. And now people were no longer in charge of how long they worked, how often they took a break, or what time they showed up. Factory owners devised elaborate systems of finely-detailed factory disciplinary rules. Workers who ran afoul of such rules were simply locked out, sent home, or had their wages docked for the day – all of which negated the single benefit of taking a job in the factory (i.e. earning money). Workdays were long and hard, and twelve hour shifts (up to seventeen hours!) were routine, even for children.
Culture and traditions
These new factories and their workers were revealing that the old social order common to European countries, of the clergy, the nobility, and the peasants (which dated back to the Medieval Ages), was no longer completely descriptive of reality. In truth, ever since the High Middle Ages (circa 1200 CE), when cities began to grow in different location, city-dwellers had come to present an exception to this scheme. These city-dwellers were mostly merchants, artisans, and other groups of people who were (usually) wealthier and who had more privileges than peasants, but who were (again, usually) less wealthy and had fewer privileges than nobles.
These city-dwellers became the bourgeoisie (which means, "city-dweller" in French, based on the German bürgerliche, which derives from Burg, a fortified city in German). We usually conflate "bourgeois" with "middle class" and that is not entirely wrong – after all, it was mostly middle-class people who possessed some wealth, but not as much wealth as the nobility, started building businesses as merchants and manufacturers, and who eventually build factories and hired workers. But the new people being hired to do those jobs were certainly not agricultural peasants, but were not also middle-class.
Workers who took factory jobs eventually became recognized (both in their own eyes but also in the eyes of society around them) as a new group of society, one that was unique and played a new role that was not before seen as clearly. This is when we see the term, working class, appear to define these workers in their new factories. Of course, people had always "worked" before, and "work" does not have to happen in a factory, no more than it has to be manufacturing. Yet these workers defined themselves and their interests as separate and deserving of attention, not least of which included better pay and safer working conditions.
This was the beginnings of the labor movement but, interestingly, as we think of works being opposed to factories and the exploitation of labor therein, without the factories there would likely be no working class. This is because in the past, people who performed manufacturing work were isolated in their homes and workshops. Now that everyone was congregating in a factories, workers of different backgrounds and communities identified with one another and could more easily take collective action to advocate for themselves.
Luddites
Not all workers were happy with their position in this new industrial order. In fact, for highly skilled laborers who had spent their lifetime learning, refining and practicing their highly-specialized skills, the threat of these new machine-filled factories looked very much like a threat to these skilled workers' livelihoods. These displaced artisans attacked industrialization, rather than willingly adapt. This was not simply verbal opposition. In 1811-1812, roving bands of angry artisans broke into factories at night, broke the machines, and set the buildings on fire. This action – destroying private property – was not regarded lightly by the British government, who sent in military forces to restore order and passed laws imposing the death penalty on those found guilty of these crimes. We call these mobs Luddites, after graffiti left by these workers at the scene of crime in the form of the signature of Ned Ludd (a made-up name).
To this day, "Luddites" is also a term you can use to describe someone who does not like new technology. So if you still have a flip phone (or even maybe a house phone), you might call yourself a Luddite.
Advantages/Disadvantages?
The example of the Luddites brings into focus the reality that industrialization did not benefit everyone, or at least it did not benefit everyone equally. Workers in the new factories did earn wages, so they were not providing free labor. And in some cases they may have been earning more than they could earn working in agriculture or as day laborers. Yet, if they did not have the need for money (i.e. if they were already wealthy), they would likely not be working in factories at all. So while they were certainly not held against their will, there was a level of compulsion or duress that compelled them to seek employment.
Furthermore, work in factories was not always steady and workers' stable employment was subject to the whims or designs of the factory owners. So if demand for the finished product was lagging, the owner might close the factory for a week but not pay the workers. Or if there were problems getting raw materials in, workers might have their hours cut with very short notice. Such outcomes, again, underscore the vulnerability of people at the bottom in this economic order, even though some of them might stand to improve their economic situation over that which they had in the putting-out system or in farming. Factory work was also dangerous, with machine parts moving quickly, poor ventilation, and pollution of the air (due to coal-fired boilers for steam engines).
Responses
Observers and critics of English industrialization, as well as government authorities, became increasingly concerned about the negative effects of industrialization on British society. Across the 1830s and 1840s, Parliament, enacted a series of legislative measure that tried to limit the Industrial Revolution's impact on women and children:
Factory Act of 1833.
The Factory Act of 1833 was one of the earlier such responses to the challenges of the Industrial Revolution. This law restricted the amount of time children could work in textile factories, on a graduated scale based on age of the child. Children less than nine years old were prohibited from working in factories. Children between nine and thirteen years old could work up to nine hours each day in a textile factory. (This is more time than most children in the US go to school each day.) Older children, between the ages of thirteen and eighteen, could work up to twelve hours a day. It is notable that this law did not simply prohibit all work in factories by children, only set rules to establish maximums. So no matter how dangerous it might have appeared to have children working in factories, it was not so dangerous that Parliament rejected the idea altogether.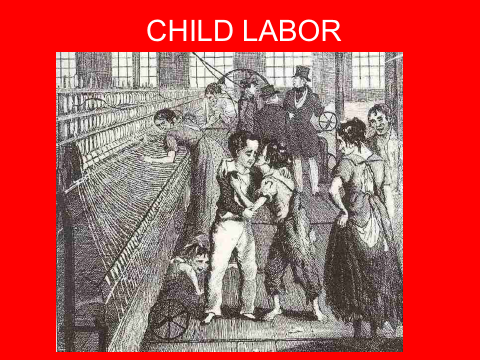 Mines Act of 1842
As we have already noted, factories were not the only important location where the Industrial Revolution took place. Mines were essential not just for coal, used to fire the water boilers to make the steam for steam engines, but also iron ore, used to make steel, as well as mining for any number of other metals used in various production processes. Yet mines were also dangerous places – dark, hot, at risk of collapse or being flooded. When Members of Parliament heard testimony from mine workers, they were astonished at the (in their eyes, scandalous) practices in the mines, such as women and girls working with very little clothing on (due to the heat). For these reasons and others, Parliament forbade the hiring of women and girls to work in any underground setting with the Mines Act of 1842.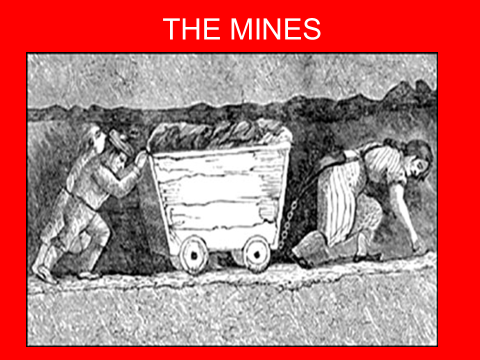 10-hour workday.
In 2020, we easily associate the 8-hour day with the norm for being "at work," even though some jobs require more hours at the worksite and others require less. Yet this familiarity with 8 hours as the standard is itself a recent product of history. As seen above, the Industrial Revolution did not begin with a normal expectation for hours worked, leading to expectations of 10- or even 12-hour days as the standard. Thus workers and their advocates considered it a great victor when, in 1847, the Central Short Time Committee, a civic organization advocating reforms in favor of industrial workers, was able to convince Parliament to establish limitations on the workday to 10 hours a day, but only for women and children working in factories. So men could be (and were) required to work for longer.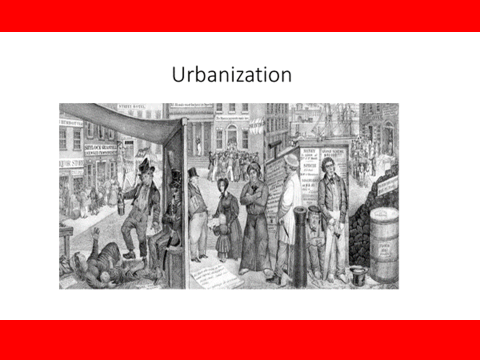 Consequences of Urbanization
Overcrowding
Wages and working conditions were not the only phenomena transformed by the Industrial Revolution. So, too, was everyday life in European cities. Beginning with Great Britain but later expanding to the continent (once the Industrial Revolution took hold there), massive numbers of people emigrated from the countryside to the cities. Because city-dwellers had little access to land on which to grow their own food, they were much more dependent on buying food but had to also pay rent and other costs of living, meaning that hunger and poverty were always at arms' length (or closer) for working-class families. Besides hunger, housing was sometimes hard to come by, and the housing that was affordable to working class families was mostly crowded and of poor quality.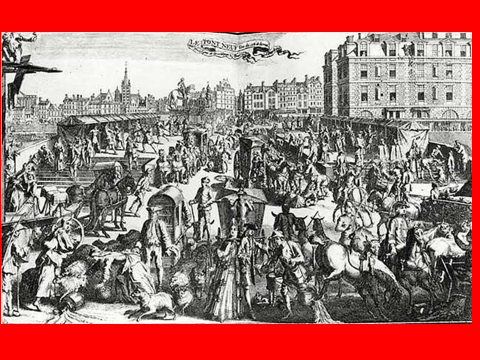 Sanitation and Disease
Such conditions made the spread of disease much more of a threat. This possibility was increased because of poor sanitation (meaning poor access to indoor plumbing and sewers). That is, people didn't have indoor plumbing and dumped their chamber pots out into the street. If they did have a plumbing system, it was easy for human waste to leak out and contaminate drinking water supplies, which could easily lead to outbreaks of cholera and typhus. Between 1830 and 1832, and again between 1847 and 1851, Europe and Asia were swarmed with outbreaks of cholera.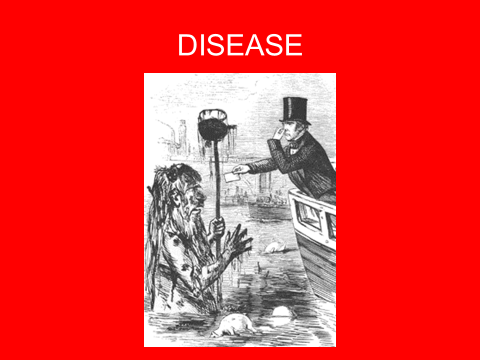 Social Ills
In addition to these threats to public health, contemporary observers frequently expressed concern over what we might term, "social ill." This is an umbrella term for things like crime, alcoholism, and sexual promiscuity. Middle class people who looked down on workers often did so because they (the middle class) believe that poorer, less educated, less cultured workers were prone to drinking, having lots of sex (and therefore lots of illegitimate births), and becoming involved in lots of crime. Thus it is no accident that this was about the time that major European cities (such as London) created their police departments to patrol the streets and suppress crime and other perceived problems.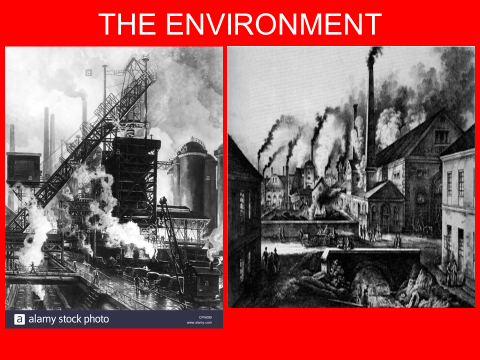 Reform movements
As responses to these social ills thought to be the result of Industrialization, we see in the early 1800s a rise in organized efforts to reform society to correct the problems brought about by the Industrial Revolution. Religious charities, Sunday School, mass primary education, temperance movements, as well as teaching and emphasizing domesticity for females are all are brief examples of efforts to address the harmful effects of the Industrial Revolution on families and societies.
PAUSE for Question 3. What were some of the larger consequences of Industrialization on urban culture? Which statement is correct?
Luddites supported the new Industrial Revolution.

Crowded conditions in cities made the spread of disease much more of a threat.

Parliament passed laws outlawing all forms of child labor.

19th century middle class people were happy to have so many more working class people in their cities.
Key to 60-second Quizzes:
D. Enclosure drove people out of the countryside, there was a population surge, and there was plenty of coal and iron.

A. Putting out gave more control.

B. Luddites opposed it, Parliament regulated but did not completely ban child labor, middle class people were worried about social ills.
Primary Source Exercise
Readings:
After you have read the primary source listed above (as well as Chapter 10), answer the following questions, based on what you have learned so far:
What do you think is important to know about the authors of these texts? What can you learn from the words they wrote on the page? What can you infer or piece together from the background information in the textbook chapter? Why is this important?

What are the authors' goals in writing these texts? To whom did they each address their ideas? What purpose did each serve? Can you point to one or more examples to support this analysis?

What, if any, hidden assumptions can you detect in this text? That is, can you find word choices, phrasing, innuendo, or other examples of the authors' (explicit or implicit) bias with regard to the subject matter? Does this bias (or these assumptions) affect how you understand and react to the authors' words? Why or why not?