CHAPTER ELEVEN: THE CONGRESS OF VIENNA, THE ERA OF THE –ISMS, AND THE REVOLUTIONS OF 1848.
Key terms:
Congress of Vienna

Conservatism

Edmund Burke

Joseph de Maistre

Prince Klemens von Metternich

Liberalism

John Stuart Mill

Thomas Malthus

David Ricardo

Nationalism

Burschenschaften

Romanticism

Charles Darwin

Social Darwinism

Karl Marx

Socialism

Robert Owen

Claude Henri de Saint-Simon

Communist Manifesto

Law of Sacrilege

Law of Indemnity

June Days

Louis-Napoleon Bonaparte,

Magyar

Francis Joseph

Frederick William IV

Frankfurt Parliament

Großdeutsch

Kleindeutsch

Krone aus der Gosse
Questions:
How did the Congress of Vienna attempt to "restore" Europe after Napoleon's wars?

How did the different ideologies of the nineteenth century each respond to the challenges of industrialization and political unrest?

What did the Revolutions of 1848 accomplish? What were their failures?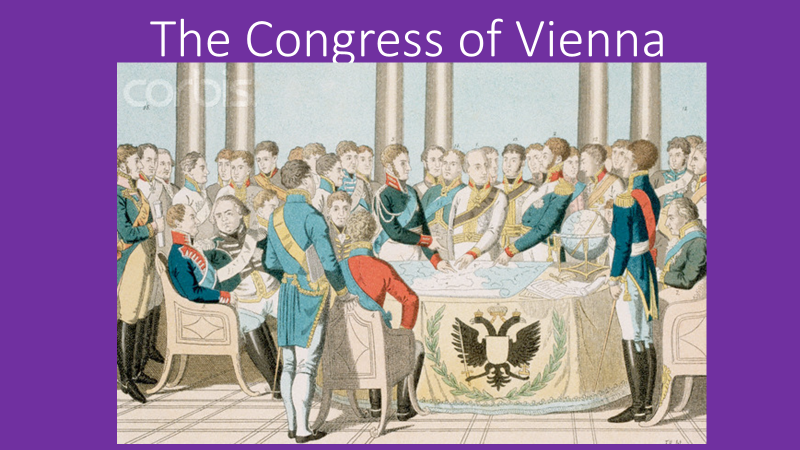 Congress of Vienna
Borders and Rulers
After Napoleon was through (actually, even before his final defeat at Waterloo), European leaders had decided that they did not like what the French Revolution and Napoleon had done to Europe. So, these leaders met at the Congress of Vienna from 1814-1815 to decide how the borders of Europe should be re-drawn, to repair the damage Napoleon and the French Revolution had wrought. Not only were they trying to re-draw the borders of European kingdoms, these diplomats were also trying to decide who should be in charge of Europe, both at the level of which countries would police the continent but also at the more local level of which person or royal house should rule the various countries conquered, reorganized, and ultimately liberated from Napoleon's control. Both issues were settled by this congress (which just means, "meeting") and the repercussions would linger for roughly the next half-century.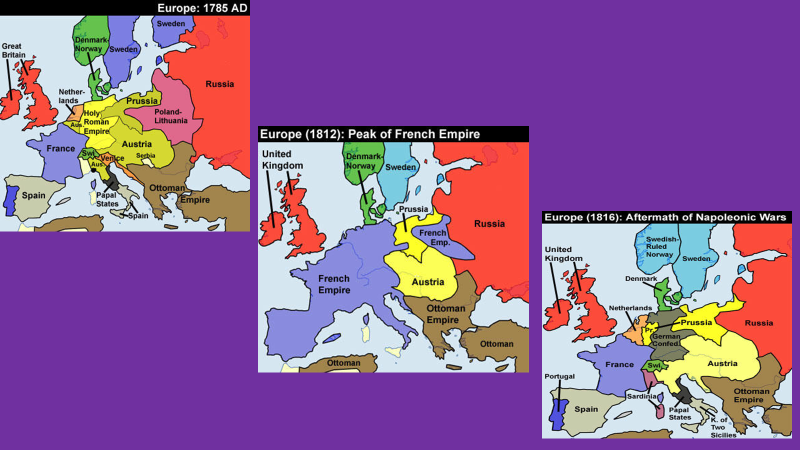 Unfortunately for the rulers and diplomats involved, the Congress of Vienna could not simply put Europe back together again like it was before 1789, as if it were Humpty Dumpty. This was because Napoleon had not only won wars but he had also reorganized parts of Europe, creating new states in some cases while forcing old monarchies out of power and replacing them with new ones (examples: Duchy of Warsaw, Principality of Saxony, the Netherlands, the Confederation of the Rhine, and the and disunited Italian states) in others. The main principle at the heart of the Congress of Vienna was a sort of balancing act between the five great powers of Europe (Austria, Prussia, Britain, Russia, and France), who would cooperate to maintain peace and security between themselves and among all European states.
Liberation?
What is means is that the great powers wanted to establish a set of rules and boundaries that would lead to peace, which is something that Europe had not known in nearly twenty-five years(!). In many cases, this was accomplished by "restoring" old monarchies to power that Napoleon had overthrown. That is why we sometimes call this time "Restoration Europe." Sometimes this meant leaving newly created territories remain independent but other times it meant giving lands back to restored monarchies. In other words, the Congress was not interested in letting peoples liberated from Napoleon's control remain free and independent. Instead, they wanted to return Europe to the control of monarchies (just not an enlarged French monarchy). In the event of local disturbances or uprisings against those restored monarchies, the great powers would send in armies to prop up or re-restore those ruling houses to power, to maintain the order and stability of Europe. In the event of one country invading another (even if it were a great power who was involved), the (remaining) great powers would also wage war to maintain this status quo. So, in many ways, Europe was perhaps not really "liberated" from Napoleon's grip, instead just changing hands from one unelected monarch to another.
PAUSE for 60-second Quiz # 1. How did the Congress of Vienna attempt to "restore" Europe after Napoleon's wars? Which statement is true?
The Congress of Vienna restored the Bourbon monarchy to France but let the citizens vote on which monarchy they wanted in other countries.

The Congress of Vienna let citizens in countries outside of France vote on whether they wanted their country to join France or remain independent.

The Congress of Vienna restored Napoleon Bonaparte to power in France.

The Congress of Vienna tried to put all the borders and rulers back as they were prior to Napoleon's conquest.
Nineteenth century Thought
Of course, not everyone in Europe was satisfied with what the Congress of Vienna accomplished, even though few (perhaps outside of France) wanted to bring back Napoleon's empire. We will now turn our attention to the "era of the -isms," a phrase referring to the growth and diversity of ideas that characterized political and economic thought, throughout Europe in the decades following the French Revolution. Many of the ideas had long-lasting effects, and several schools of thought persisted (albeit in modified form) into the twentieth century and even today. Before we go further, however, it is important to remind ourselves that historians must pay careful attention to the specifics of time and space. So, while some of these terms may sound familiar to you as an American college student in 2020, keep in mind that the meaning of words can (and often does) change over time. We are looking at these labels in the context of 19th century European history, so do not let these definitions confuse you if you are an observer of contemporary American politics.
Conservatism:
The political ideas behind the Congress of Europe were chiefly those of conservatism. Conservatism in Europe grew from the opposition to the Enlightenment and especially the French Revolution. Conservatism as an ideology wanted the maintenance of the "status quo" did not like the social and political change caused by the Revolution and Napoleon.
Reaction against the Enlightenment and the Revolution
So, Conservatism was a reaction against the Enlightenment and the Revolution. It stood for traditionalism over "reason" and "rationalism" that was the basis for the Enlightenment. This was especially the case in matters of government. Conservatism sought the restoration of traditional forms of government.
Conservatism sought to support (and in some cases rebuild) traditional social hierarchy and church authority. The monarchy, the nobility and the Roman Catholic Church had been the traditional sources of authority in Europe, but the French Revolution had destroyed much of their power in Europe- Conservatism sought to redress this. They did not concern themselves with the ideals of social equality that had come out of the Revolution. Conservatism argued for respect of authority and monarchy. Virtue and reason passed down through the ages.
Put differently, conservatism emphasized the importance of the community (especially the Christian community) rather than the role of the individual- which had been praised by the Enlightenment. Basically, Conservatism was a backlash against the French Revolution and the ideas of the Enlightenment that had helped cause the revolution, as it (conservatism) sought to restore the old order to society.
Major Figures of Conservatism.
We are going to look at a few of the prominent Conservative theorists in Europe. The first was Edmund Burke.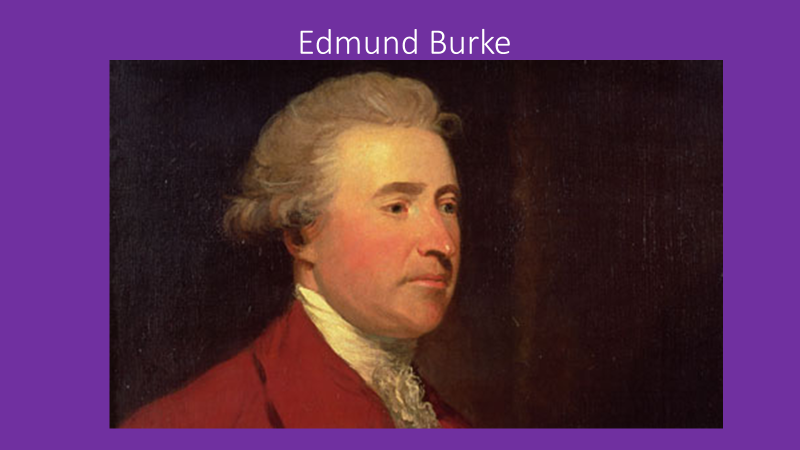 Edmund Burke (1729-1797)
Edmund Burke wrote the Reflections on the Revolution in France (1790). In this work (that was written during the early stages of the French Revolution), Burke denounced the revolution because the revolutionaries had rejected French traditions and embarked down what he felt was the dangerous path of experimentalism. Burke was not against change, but he believed that it had to be undertaken gradually by the nation's traditional government. He believed in change from within the system- not the overthrow of the system- which is what happened in the revolution.
Unlike John Locke, he did not believe that humans were by nature good, so he believed that strong authority was necessary to prevent people from tearing each other to pieces like savages. (That is, Burke was more akin to Hobbes.) Burke argued that monarchy, aristocracy, and Christianity were the civilizing and restraining forces in society. Therefore, these institutions should not be torn down, which was exactly what the French Revolution had done.
Joseph de Maistre (1753-1821)
The next theorist was Joseph de Maistre who wrote Essay on the Generative Principle of Political Constitutions (1808-1809). De Maistre hated the Enlightenment because it had led to the French Revolution. He saw the Revolution as a revolt against God. He saw the church as a civilizing force among mankind. He believed that France needed to ask God for forgiveness for the French Revolution and look to the Pope for guidance.
De Maistre believed in tradition, the church, and monarchy instead of written constitutions. Essentially, de Maistre criticized the philosophes, the French Revolution, and constitutions. He thought constitutions were bad because they hurt the traditional order of society.
Prince Klemens von Metternich (1773-1859)
One Conservative who was very active on the European stage after the defeat of Napoleon was Prince Klemens von Metternich of Austria. Metternich was the arch conservative in Europe. The Congress of Vienna (outlined above) was largely Metternich's idea. Metternich opposed the French Revolution and Napoleon. He thought that the French Revolutionaries had subverted civilization and that Napoleon had severely damaged the European state system. He sought to repair the damage done to Europe by the French Revolution and Napoleon and make sure that it never happened again.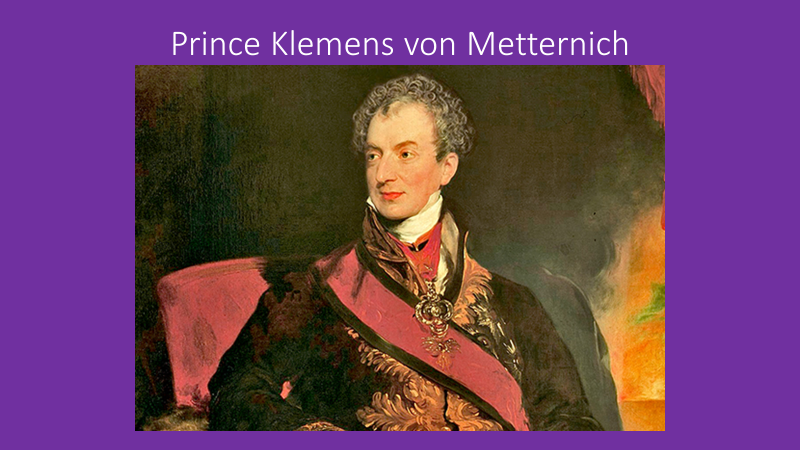 Liberalism
Well, not everyone in the wake of the French Revolution and Napoleon wanted to return to the traditional way of doing things. There were many people in Europe who liked the ideas of the Enlightenment and the social equality and liberty of the French Revolution. These were the liberals. Political liberalism carried on the tradition of the Enlightenment and the French Revolution.
A Closer look at Liberalism's pro-Enlightenment ideas.
Individual
Liberalism carried on the tradition of the Enlightenment and the French Revolution. It sought liberty and equality for the individual citizen. Liberals rejected the idea that the aristocracy and the clergy had special privileges in society, and liberalism called for equality of opportunity for all classes. They also advocated religious toleration.
Old Regime
Liberals opposed the reinstatement of the old regime governments- the absolute monarchies, aristocracy etc.
Repression
Liberals opposed government repression such as censorship of the press, secret police, arbitrary arrest, etc.
Constitution
Liberals favored written constitutions and elected parliaments.
Reason
Just like the philosophes of the Enlightenment, Liberals thought that people were basically good and that social problems could be solved through education and reason.
Class
Liberalism was a movement of the bourgeoisie, or middle class. Although they believed in Constitutions and Parliaments, they were not necessarily democrats and feared what the common people would do if they had power. Thus, many liberals wanted property and educational qualifications for a person to obtain voting rights. That is, you would have to own a certain amount of land and have a certain education level to be able to vote.
This last point caused a division between the bourgeoisie and the workers that would come back to haunt the liberals during the revolutions of 1848, which we will look at below. The liberals helped start these revolutions in many different parts of Europe to obtain constitutions and parliaments. After these had been obtained, the liberals wanted to call off the revolutions- but the radical workers did not. The workers wanted social reforms, too.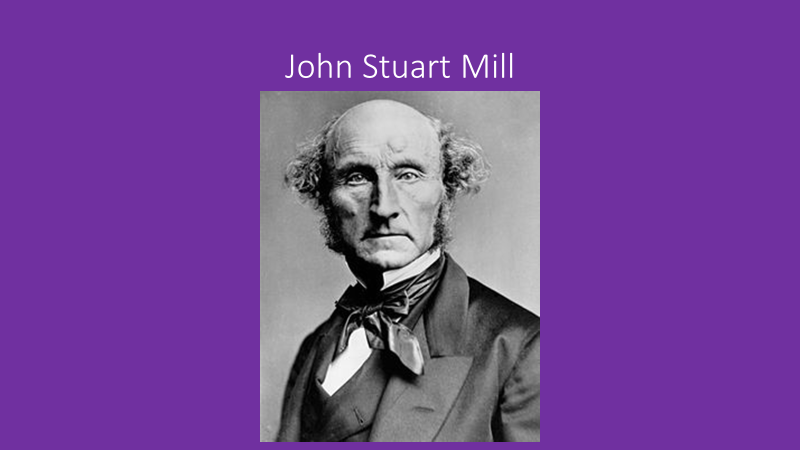 Major figure of Liberalism
John Stuart Mill (1806-1873)
One of the most prominent liberals was the British philosopher, Member of Parliament, and statesman, John Stuart Mill. He wrote On Liberty (1859). Mill advocated freedom of thought, freedom of expression, freedom of publication, freedom to pursue one's own goals, and freedom of assembly. He believed in the rights of the lower classes. He also advocated women's rights. Mill stated that the government should not suppress people's liberties and that governments had basically no right to impede or limit a person's liberty, as long as that person was not doing things with their liberty to harm others' liberties. Mill also expressed great concern about the "tyranny of the majority," a situation he envisioned where the majority of a society could decide to impose certain rule or policies on the minority opposite them, which would infringe on the liberties of that minority in a way that was not justified (i.e. this minority was not harming anyone from the majority).
Political liberalism versus economic liberalism.
This was one of the two general causes of revolution in Europe between 1820 and 1848. The other was nationalism, which we will cover below. Another aspect of liberalism that developed during the 19th century was economic liberalism.
Laissez-faire.
In the tradition of Adam Smith, economic liberals believed in laissez-faire: that the government should not interfere in economic matters no matter what. The government should only provide for national defense, police, and public works.
Examples of economic liberals.
Thomas Malthus.
One influential economic liberal was Thomas Malthus (1766-1834), He wrote his Essay on the Principles of Population (1798). Malthus argued that population increased faster than the food supply, which leads to poverty, famine, starvation, epidemics, and all sorts of bad things which nature uses to check overpopulation. He says that all this is nature's way of dealing with overpopulation. He said that the government should not interfere with such natural processes. If people were starving, it was just nature's way of dealing with overpopulation.
David Ricardo (1772-1823):
Another economic liberal was David Ricardo who wrote the Principles of Political Economy and Taxation (1817). In this work, Ricardo came up with a theory known as the Iron law of wages. This said that population increase equals larger number of workers. The increase in the number of workers equals lower wages for all workers and eventually wages would be below the subsistence level which would lead to starvation, which would in turn lead to a population reduction, which would lead to less workers which in turn would lead to higher wages, which equals larger families and population growth. This was a cyclical and unending process which constantly repeated itself.
Ricardo argued that artificial attempts to raise wages would only encourage larger families and make the situation worse. Therefore, government needed to leave things well enough alone and if people were starving because they were not making enough to live on- then that was just nature's way of dealing with surplus population.
Nationalism
Another new ideology of the early 19th century was nationalism. Nationalism was one of the most significant ideological movements in modern European history and it led to great changes in the European state system. It is, however, a little bit tricky. To understand nationalism there are some key terms that we need to discuss.
Defining terms.
First, what is a nation?
A nation is a group of people who share a common national identity. For example- the German people are a nation.
What is national identity?
National identity is a shared sense of culture among a group of people often meaning a shared language, customs, and religion. National identity, then, is the common culture shared by a group of people that makes them a nation- that differentiates them from other groups of people- other nations. For example, the German people have a common national identity- they share a common language, customs and for the most part a common religion. All these factors are not set in stone.
What is nationalism?
Nationalism is a movement that's purpose is to acquire political sovereignty for a nation. The goal of nationalism was the creation of the nation-state. For example, German nationalism was geared towards the creation of a German state.
What is a nation-state?
A nation-state is the political unit of a nation- the country. For example- Germany today is the nation-state of the German people.
The goal of nationalism was to give the nation political independence. Nationalists sought to free peoples who were ruled by other groups and to bring nations together. For example, German nationalism in the 19th century wanted a German state to be created- there was not yet any such thing as Germany- just a bunch of German states ruled independently by small rulers.
Nationalism especially applied to Germany, Italy, and Hungary, which were areas in the early 19th century that possessed nations that did not have political independence. Germany and Italy were not unified but were just a bunch of small states. Hungary was ruled by Austria.
Nationalism posed a big threat to the existing political order in Europe. A united Germany or Italy, or an independent Hungary, threatened to upset the balance of power that had been created by the Congress of Vienna in 1815, following Napoleon's abdication. We will talk more about the balance of power, but for now this was the system created at the Congress of Vienna to keep any one country in Europe from getting too strong and being able to threaten the rest of Europe. However, if the small German states which really posed no threat to Europe by themselves were ever united into a German state, then they would affect the Balance of Power.
There were links between nationalism and liberalism. Most early 19th century nationalists were also liberals. They believed that the struggle for national rights and the struggle for individual rights went hand in hand. They thought that once Europe was organized into nation states, there would be little cause for war anymore and individual liberties would be guaranteed.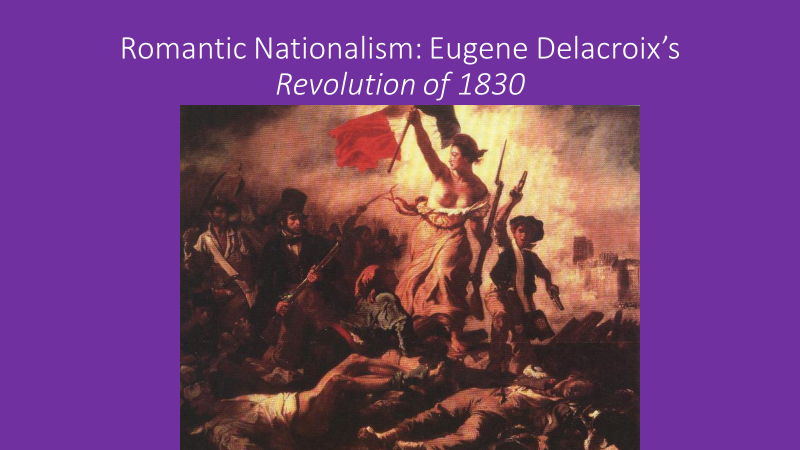 Early Nationalist Movements
France.
The Early Nationalist movements were products of the French Revolution and the Napoleonic Wars. In France before the Revolution, a common person did not think of themselves as French- their allegiance was much more local. They saw themselves as an inhabitant of a certain village or that they were a tenant of a certain nobleman- that was their allegiance. The only real sense of allegiance they felt towards the state was to the King.
Well, after the overthrow and execution of King Louis, it became clear that the French people no longer owed their allegiance to the King- because he was dead- instead, they owed their allegiance to France. The creation of a French national army by the Committee of Public Safety and the wars of the French Revolution intensified national feeling among the French. This continued during Napoleon. The French were proud of the accomplishments of their army. Every time Napoleon defeated the Austrians or the Prussians, it was a triumph for the French nation. All this led to a great feeling of French national identity. So, after the French Revolution and Napoleonic period, French people identified themselves as French- not just as a peasant from Marseillaise etc. French Revolution/Napoleonic period was the birth of nationalism in France.
Germany
However, the French Revolution/Napoleonic period was not only important for fostering French nationalism. Because of the Napoleonic wars, nationalism sprung up in many different areas. One of the places where it really took root was Germany. During the wars, the German people developed a sense of national identity since they had a common enemy- Napoleon. To a lesser extent, this was the case in Italy, Spain, and other places that Napoleon had dominated.
Another thing that increased the desire in many of these areas for political independence was the fact that Napoleon had installed a constitution in all of his Satellite states- these influenced the inhabitants of these areas to push for political autonomy after the war.
In Germany, one group that was very important in the spread of nationalist ideology and nationalist agitation after the war were the Burschenschaften which were the (German student fraternities). They kept pushing for a united German state.
In many ways, nationalism became the 19th century's secular religion. It gave people a set of beliefs, a sense of community and fellowship, a cause to fight and die for, and holy days for martyrs who had sacrificed themselves for the nation.
But is Nationalism just a 19th century phenomenon? Was nationalism still a motivating factor in the 20th century? How about the 21st? Can you think of areas where nationalism has caused wars and destruction in our lifetimes? Northern Ireland; former Yugoslavia; Palestine- Arab nationalism? Since 2016, there has been a conversation about "nationalism," which has often been inflected with racial or religion meanings (or both).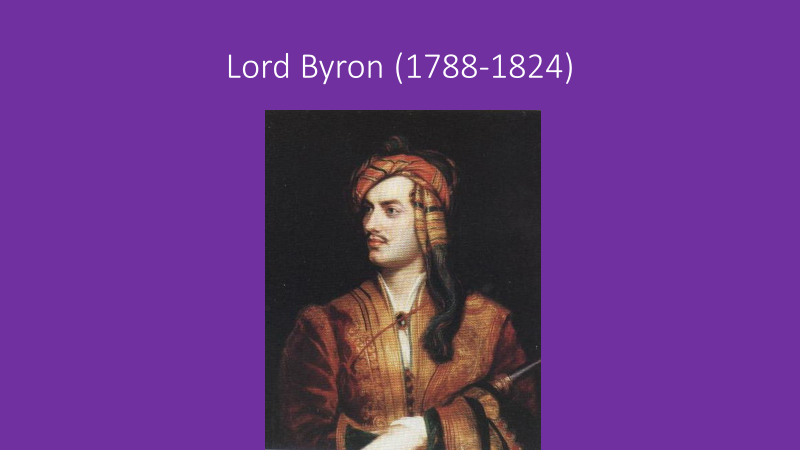 Romanticism.
Romanticism was another ideological movement during the 19th century, which was a very important influence on art, literature, and music.
Romanticism was a cultural movement that challenged the "rationalism" of the Enlightenment and the French Revolution. Romantics saw that all that the Enlightenment and the French Revolution had brought to Europe was war, destruction, and spiritual emptiness. Romanticism emphasized feelings, emotion, and imagination instead of reason. Romantics looked to personal expression in art, literature, and music. They took a new view of nature compared to Enlightenment thinkers. Whereas the philosophes of the Enlightenment had seen nature as a machine that operated according to principles laid down by Sir Isaac Newton, the Romantics saw nature as a living entity in which God manifested his power and glory.
So, Romanticism placed new emphasis on religion, and it was especially a revival of Catholicism. Under Romanticism, God was an active force in everyday life. Romantics did not believe in Deism where God had created the Earth and then let it alone to go as it would.
The philosophes had denounced the Middle Ages as a dark time of superstition and fanaticism that blocked progress. But Romantics venerated the Middle Ages as a time of social harmony, heroism, and unified Christianity. Especially liked the chivalry of the Middle Ages- King Arthur and the Round Table and all that.
Romanticism did tend to be linked with political conservatism because of its emphasis on tradition. Romanticism was also linked with nationalism. In their writings, Romantics placed emphasis on the traditions, language, folk culture, and history of different nations. This was especially important in Germany and to a certain extent in Italy. This was not confined only to writing- Romantic artists painted pictures glorifying the nation and romantic composers composed works inspiring nationalism in different areas. This is called Romantic nationalism.
The only problem was that Romantic nationalism with its excessive emotionalism eventually gave birth to radical, dangerous nationalist movements like Nazism and Fascism. Examples of Romantics were writers like William Wordsworth, John Keats, Lord Byron, Victor Hugo, Mary Shelley, and Edgar Allan Poe; artists like Casper David Friedrich, John Constable, J.M. Turner and Eugene Delacroix; and musicians like Beethoven, Schubert, Chopin, and Wagner.
We will now turn out attention to two other schools of thought but ones that cannot be solely located within the sphere of politics or culture. The 19th century was also period when faith in science really took off. "Science" was, of course, not new, and you can go back to read the chapter on the Scientific Revolution to see scientists expressing belief in the ability of science to help humans understand and improve their world. In the 19th century, two scientists wrote highly influential books that reshaped not just their own disciplines of biology and economics but sparked wide-reaching repercussions as Europeans took these ideas and ran with them, applying these ideas to all sorts of problems and envisioning new and radical solutions.
Before we talk about Darwin and Marx, we should pause to point out that our goal here is to talk about these individuals because of the impact each one had on Western Civilization- on history. Their ideas were each very controversial when they came out and are still so today. I am not talking about Darwin or Marx to say that you must believe in either one if they differ from your religious beliefs. However, part of the experience of taking college classes is becoming exposed to new, controversial, and/or otherwise challenging beliefs. Evolutionist scientists would say, well I can show you proof that Darwin is absolute fact, but this is not a science class. Similarly, some economists and historians might also say they can prove Marx was correct about this or about that, but while this is a history class, we are trying to look at the past through many analytical lenses; Marxist historiography was famous for its ideological rigidity. So, we will discuss Darwin and Marx simply because of the impacts that their theories had on mankind.
Revolution in Science: Charles Darwin
Charles Darwin (1809-1882)
Charles Darwin came by his love of science and scientific exploration quite naturally. His grandfather, Erasmus Darwin, had published a book called the Laws of Organic Life, which investigated animal modification. The basis of Charles Darwin's work was the voyage of the HMS Beagle which set sail from England in 1831 and spent five years exploring South America, especially the Galapagos Islands. The Galapagos had remained pretty much untouched by man so that they contained an abundance of wildlife, and species that did not exist in Europe. His collections from that journey he used later to support his theories.
During his journey, he observed slight differences in species- that there were species in South America and the Galapagos that were close to species in Europe, but with different features. He also discovered that many species had perished, and that new species had been formed and that there was a link between the old species and the new.
Darwin is influenced by the work of Thomas Malthus who in his Essay on the Principles of Population (1798) said that population increases faster than the food supply, which leads to poverty, famine, starvation, epidemics, and all sorts of bad things which nature uses to check overpopulation. Darwin incorporates this into his work.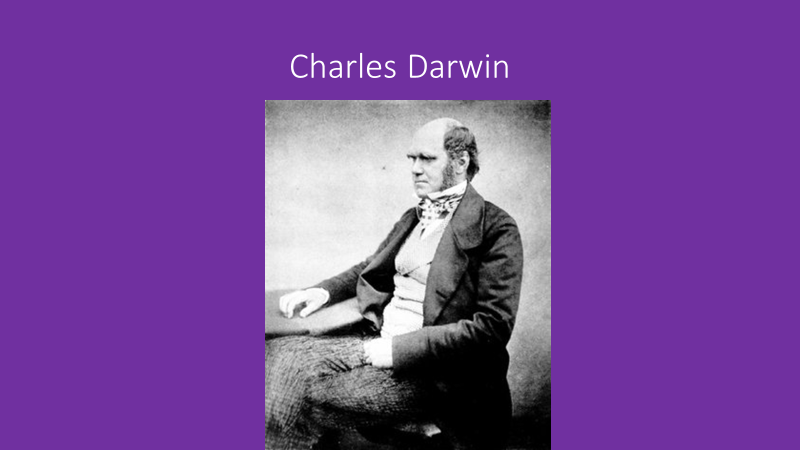 Darwin's ideas.
Darwin determines that life is a struggle for existence and that the slight differences or modifications that he saw in the species in South America show the adaptability of a species- that the species had adapted to better thrive in their environment over time. So, the idea is that the species will adapt over time with each successive generation developing traits that make it better suited for survival than the preceding generation. For example- a bird species over time developing a longer beak to allow them to dig worms more efficiently out of the ground. However, Darwin did not explain how these changes occurred. He simply identified that there were favorable and unfavorable traits. Over time the old, weaker species die out and new ones are created.
Darwin's ideas were hardly original. He obviously drew from his grandfather's writings, and from those of Charles Lyell, the father of modern geological thought. Lyell argued that the planet had evolved throughout time.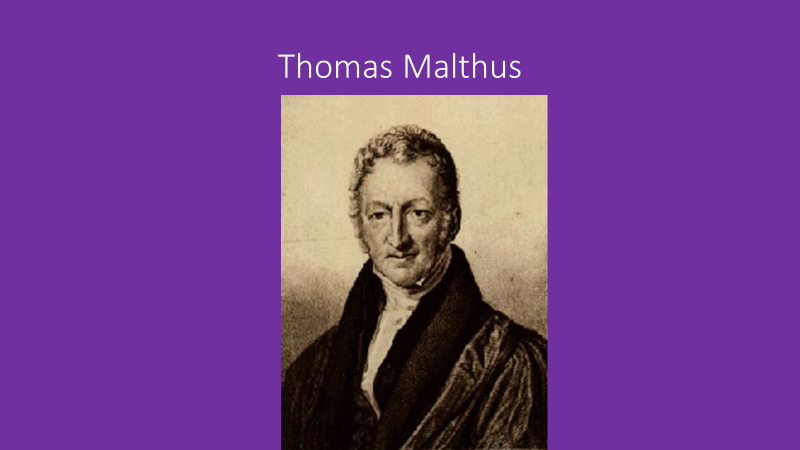 Origin of the Species, 1859
Darwin, like Copernicus, knew his work would be controversial and he dragged his feet for a long time before publishing. His first book, the Origin of the Species, was published in 1859. In this book, Darwin explains his theory of natural selection, which he defines as being a constant struggle for all species to survive. Darwin is the first to link evolution and natural selection to explain evolutionary changes.
Descent of Man, 1871
Darwin's most controversial book was the Descent of Man, published in 1871. In this book, Darwin applies his theories of natural selection to the evolution of humans. He had hinted at this in Origin of the Species but had not talked directly about humans. In the Descent of Man, he argues that mankind, like all life on Earth, had descended from earlier, simpler living forms. Human beings had evolved from lower, nonhuman species over millions of years.
Darwin and Religion
Well, who do you think would have a big problem with Darwin's work? Yes, like the scientists of the Scientific Revolution, Darwin threatened the authority of the church in his published work.
The Church, by this we mean the Roman Catholic as well as the Protestant churches, had always taught the creation of the Earth as it was written in Genesis. The Christian theory of creation was that God had instantaneously created the universe with all the plants and animal life already established. At the time of creation, plants, animals, rivers, mountains, and oceans were in a complete, permanent form. The species were created with all the characteristics they needed for survival and were distinguishable from other species. This had happened 5,000-6,000 years ago.
So, Darwin came along and was saying that no, plant and animal life on Earth was not fixed, that the plants and animals of today had evolved over time from lesser forms so that they were better suited to survive- they were not in their complete, permanent form and that plants and animals, including humans, are still evolving and changing.
Darwin's views undoubtedly shook the church—his outlook promoted a secular understanding of human origins—Darwin's work ended a trend that was begun by Copernicus and Galileo of challenging the authority of the church. Copernicus and Galileo had confirmed to Christians that the Earth was not created in the center of the Universe by God solely for them. Darwin argued that humans themselves had not been God's special creation but were in fact accidents of nature. So, Galileo had begun the process of repudiating biblical authority in matters of science, and this was carried on to a greater degree by the work of Darwin. The bible was no longer seen by many as the ultimate authority in scientific matters.
The ugly side of Darwin's work was not something that he had intended himself- it is called Social Darwinism. This is the use of Darwin's theories by others to explain social and economic situations.
Many people argued that those who were not successful in the social or economic realm were not meant to prevail, and that this was part of the evolutionary cycle. For example, social Darwinists would say if you were poor and couldn't find a job that would support you and your family, then that was just part of the order of things that the government should not intervene, it was the natural order of things. It was out of Social Darwinism that the term "survival of the fittest," developed.
This was not part of Darwin's work and he had no intention of having his theories applied outside of the scientific realm.
This is also a justification for Imperialism, which we will look at in a subsequent chapter Social Darwinism was used to justify European colonization of areas like Africa, which had "less advanced civilizations," because the Europeans were the "stronger species" and it was their "right" to go in and use these countries for raw materials and markets.
An Economic Revolution: Karl Marx (1818-1883)
Socialism before Marx
Much as Darwin upset the order of thinking about biology (and Christianity), Karl Marx had a similar impact in the realm of economics and thinking about social class. Marx is probably the most famous socialist, and for good reason, but we need to take a closer look at socialism before Marx we can understand how Marx compared with socialists who came before him.
Marx was a socialist, but he did not invent socialism, he just took it to a new level. Socialism had become an important political force by middle of 19th century, but its roots were in the Christian tradition which valued equality of all people and humane treatment. Caring for the unfortunate was a key element of Christian teaching and socialism took this principle as a given.
Of course, Christianity had been around for a long time, but socialism was somewhat new in the 19th century, so what changed? The short answer is the French Revolution and the Industrial Revolution. Socialism was really a by-product of both. As we have seen, during the Industrial Revolution, people were subjected to harsh working conditions, low wages, poor housing, and sanitation. Yet socialism was also in a way a by-product of the French Revolution with its emphasis on individual rights and freedom. So, socialism evolved as a movement to alleviate the problems of the Industrial Revolution and help the working class, using some of the Enlightenment language of the French Revolution.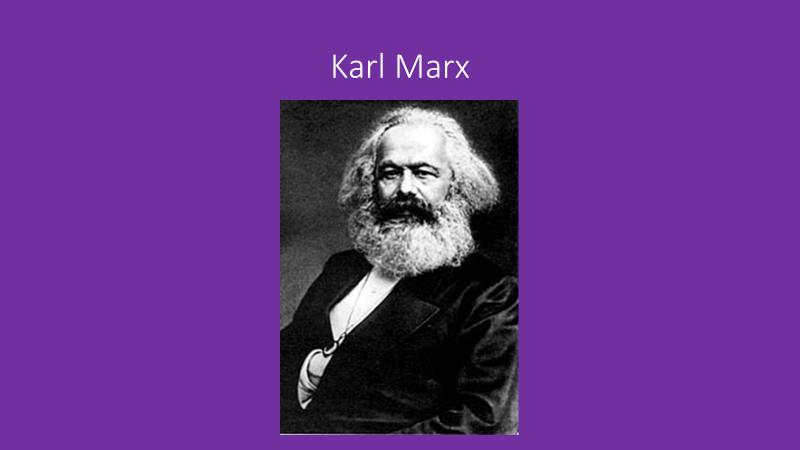 Core Beliefs of Socialism:
This does not mean that individuals were unimportant – the whole point was to make life better for individual workers and their families. However, socialism believed that the key to doing this was for individuals to unite into a community, and take action to improve their situation, as a group. This was because a focus on rights and wealth located at a purely individual level simply led to chaos and problems.
Cooperation rather than competition.
This was why locating rights (specifically property rights) at an individual level was problematic (in Socialists' eyes), because individuals seek to improve their own wealth and therefore compete (wastefully, in some cases), which creates winners and losers. Socialism instead said that people should cooperate on deciding allocations of resources, to avoid this competition that left some people inevitably starving (a la Malthus above).
Good of the people over private property.
Private property just leads to competition. Productive property should be held in common for the good of the people. Not necessarily state ownership.
Utopian Socialists.
Soon after the Industrial Revolution got underway, participants realized that the adoption of machine-driven production, centered in factories, was not without its problems, most of which fell on the new working class. Interestingly, some of the earliest critics seeking to reform the new industrialization with socialist solutions were, themselves, factory owners. These reformers are usually called Utopian Socialists. They wanted to help the workers through non-revolutionary and non-violent ways. In Great Britain, Robert Owen improved the wages of workers in his cotton mills, improved their working conditions, provided his workers with homes, and a better quality of life, and he proved that this could be done and still make a profit. French industrialists Charles Fourier and Claude Henri de Saint-Simon believed that the allocation of labor and property should be scientifically managed by professionals, not left to the whims of the free market (or the greed of those with power to make business decisions). The key to these Utopian Socialists is that they were NOT looking for some sort of violent confrontation between management and the workers – they instead were thinking of cooperative solutions.
Karl Marx (1818-1883) and Friedrich Engels (1820-1895)
Well, with Karl Marx a new type of socialist came about: the revolutionary socialists. Revolutionary Socialists essentially wanted more extreme measures to be taken to curb the excesses of industrialization and promote the economic and political power of the working class.
Marx was born in the German Rhineland to a rich Jewish family who had converted to Christianity. He enrolled at the University in Bonn in 1835 to become a lawyer, but later switched to the University of Berlin to study philosophy with the goal of being a Professor of Philosophy. He became a radical agitator in school so that when he graduated with his Ph.D., no one would hire him. Thus, he became a professional agitator and began writing for a newspaper. However, within a year, the newspaper was deemed as too radical by the government and was banned.
After this, he moved to Paris where he met Friedrich Engels, who was the son of a wealthy German textiles manufacturer who had firsthand knowledge of workers and the taxing conditions in which they labored in these new factories. In 1848, on the eve of the revolutions throughout Europe, they published a book known as the Communist Manifesto. However, the book had little initial success and for at least the next 30 years or so it was read by relatively few people. Still, it was controversial enough that the two had to flee to England, where Karl Marx spent most of the rest of his life researching in the British Library (he sat in the same place for so long that he apparently was troubled by hemorrhoid problems).
The basic argument of the Communist Manifesto is that labor forces were being victimized by the capitalist who owned the industries and that must be changed. Marx and Engel's used history as proof for their entire argument. They saw history as one never ending struggle between the classes that they felt would end in a victory of the proletariat- the workers- in Communism. They argued that there had already been a struggle between the aristocrats and the bourgeoisie in which the bourgeoisie (the Middle Class) had won- because they were the leaders in the Industrial Revolution- the factory owners, the merchants, etc. They were the new leading class in society- not the aristocrats/nobility. They had all the wealth now. He said that the ongoing struggle was between the bourgeoisie and the proletariat- between those who own the "means of production" meaning the bourgeoisie, and those who were exploited to provide wealth for the upper group- these were the Proletariat.
According to Marx and Engels, the bourgeoisie was getting rich off of the workers by stealing what is known as the "surplus value" which is the difference between the actual value of the product- meaning the cost of the materials and the labor used to make it and the selling price. He felt that the workers should get the full amount. They argued that it was a travesty because the working men and women could not even buy their own products.
Marx and Engels argued that Capitalism created the source of its own destruction, because the hallmark of Capitalism is Competition. Capitalists compete among themselves to gather the most wealth. They lower wages to gain competitive advantages, so that their product will sell for a lower price. Other manufacturers follow the lead, creating a cycle of continuously lowering wages. They argued that Capitalism could not correct the faults of its system and that this cycle would continue.
Eventually conditions for the proletariat would become so bad that they would revolt, seizing the means of production (the factories, etc.) from the bourgeois capitalists, as well as taking over the government. Marx felt that all was needed was for several professional revolutionaries, like him, to spread the message to the proletariat to get them ready for the revolution.
After the proletariat overthrew the bourgeoisie, the dictatorship of the proletariat would emerge, headed by the professional revolutionaries. This would be a transitional stage of socialism on the way to communism. It was "socialist" because all means of production (i.e. factories but also private property) would be collectively owned by all of society. To accomplish this, all forms of private property would have to be expropriated from the bourgeoisie, which would require an authoritarian government whose job was to do these things. Force might be required, and people might die but that was the price of progress, under this plan. The goal of seizing private property and otherwise carrying out this revolution, by way of seizing control of the government and making it work for the proletariat's interest, was to make ready for the emergence of Communism.
Under Marx's plan, eventually the state apparatus would "wither away" and communism would emerge. Communism was Marx's term for the final stage of his plan where there would be no government, no police, no army it would be a state of total peace. Under Communism, there would be no classes so no class conflict (just the workers). There would be no more exploitation either, so there would be no more need for the state, which would wither away. Everyone would own the means of production jointly and would be happy to go to work because they were working for themselves. It was to be just a big ole happy world. Since everyone had the same, there would be no jealousy and competition.
We do not really know if Marx's plan would work because no Communist state ever made it to the stage of Communism- they never made it past the "Dictatorship of the Proletariat" stage. Marx also said that this revolution would take place in a modern, industrialized state. He had in mind either Germany or Britain- but the places where Marxists revolutions later took place were not modern or industrialized- they were rather backward. So, we really do not know if his plan could have worked.
Marx produced his greatest work in 1867, while living in Britain. It was known as Das Capital (1867)—and it was a critique of modern capitalist society. In this work he talked about the problems with Capitalism and laid out his plan for Communism.
PAUSE for 60-second Quiz # 2. How did the different ideologies of the nineteenth century each respond to the challenges of industrialization and political unrest? Which statement is not correct?
Conservatism responded to the political unrest of the French Revolution by rejecting democracy and embracing monarchy and tradition.

Liberalism responded to the opportunity of the French Revolution by demanding limited government powers, individual civil rights, and individual property rights.

Nationalism responded to the opportunity of the French Revolution by demanding the formation of independent nation-states for all nations of people.

Romanticism responded to the unrest and turmoil of the French Revolution (and the Enlightenment before it) by calling for a return to feelings, intuition, natural talent and abilities, and folklore.

Socialism responded to the unrest of the Industrial Revolution by calling for individual property rights, laissez-faire economics, and rejected the government's ability to regular economic affairs.
The Revolutions of 1848
Cracks in the Vienna Settlement
So, these different ideologies were circulating all at once amid a situation where the traditional old order had been restored by the powerful and the elite at the Congress of Vienna, without much popular say or input. As much as the conservative monarchies wanted to put Europe back together and rewind the clock to 1787, by the 1820s already there were these new schools of thought, each providing a new language or theory for understanding the problems of the present-day and what to do to solve them. This meant that Europeans would not simply sit back and accept conservatism without question.
Spanish revolt, 1820
In Spain, after King Ferdinand VII returned to the throne in 1814, he instituted strict censorship of books and newspapers, which angered his subjects and even his soldiers. In 1823 after domestic unrest against the conservative monarchy had risen several years before, a French army invaded to prop up the regime (which is an example of the Congress of Vienna at work!). Clearly conservatism was not accepted by the Spanish people unconditionally, as the Spanish government put thousands of rebellious citizens in prison, torturing, exiling, or executing their worst offenders.
Italy, 1821
Some of this fervent spilled over the Alps into Italy, where several independent city-states, republics, and small kingdoms all co-existed on the Italian peninsula but there was no "Italian" nation state. What was seen in Italy was not just resistance to conservatism but an outpouring of nationalism (with elements of liberalism mixed in), as rowdy soldiers joined with nationalist secret societies, and called for written constitutions (in some circumstances), rebellion against rule by foreign power (in places where Italians were ruled by the Austrians), and calls for a united Italian nation-state to rule all Italians on the peninsula. All the unrest was put down by foreign intervention (again, the Congress of Vienna at work), as Austrian, Prussian, and Russian armies invaded and put down the various groups of rebels.
Russia, 1825
There was also a revolt in Russia in 1825, when Tsar Alexander I died and a movement of rebellious army officers tried to swear their allegiance not to Alexander's brother Nicholas (who was designated to inherit the throne but to his other brother, Constantine, instead. This was also an example of the troubles facing even the more powerful conservative regimes, as soldiers were expected to be loyal to the monarch but here some of them were bucking the system and willing to fight to change it. In this case, Nicholas had enough other soldiers loyal to him that his forces could put down the so-called Decembrists (named after the month of the year when they were revolting).
Ottoman Empire, 1817-1830
Similarly, Greeks, Serbs, and Albanians in the Balkan Peninsula living under Ottoman Turkish rule also began calling for and fighting for their independence, with Serbia winning independence by 1817 and Greeks winning with the help of European assistance in 1830.
A closer look: France, 1825
There was more unrest in France in 1825, when Ultraroyalists (conservatives and nobles who wanted the king to more-or-less erase the preceding forty years of French history, convinced the King Charles X (Louis XVIII's younger brother) to enact the Law of Indemnity in 1825, over objections from the legislature. This law required the French government to pay moneys to compensate nobles for the loss of their property (that is what an indemnity is) during the events of the French Revolution. At almost the same time, Charles also enacted the Law of Sacrilege, which took drastic steps to defend the Catholic Church by increasing the punishment for certain crimes (mostly those associated with stealing objects from churches) to make them capital crimes (that is, punishable by death).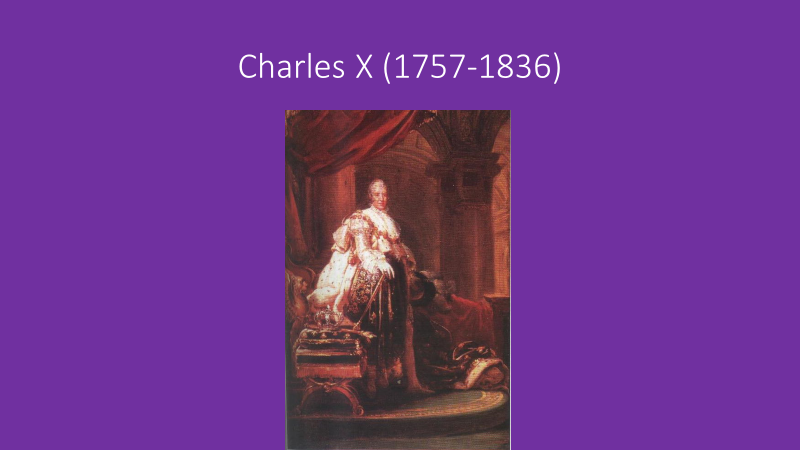 Charles X ultimately devolved into a would-be absolute monarch, dissolving the parliament and censoring those who would speak out against him. He also took steps to restrict the right to vote to now exclude liberal bankers, industrialists, and others who had supported him in the legislature but now opposed him because he was drifting away from liberalism, toward conservatism. (These laws were declared as edicts since the legislature was not meeting).
And of course, this move back towards absolutism (by a king who had long been a resistor against the Revolution of 1789) provoked mass demonstrations to pop up in Paris, in something of a replay of 1789, though without the exact same mixture of protestors. Whereas it had been the sans-culottes, and especially poorer women, who put pressure on the French government then, in 1830 it was workers (we can use the term "working class," because by now the Industrial Revolution was reaching France), university students, and authors, poets, professors, and other elite or educated groups of middle-class people, lumped under the name, "intelligentsia." Protesting turned to street fighting on July 26, 1830, with the result was a circle of moderate liberals took control to prevent the return of a republic.
Put differently, "moderate liberals" were mostly middle-class people, educated, property-owning, but not super-rich. They did not like what the king was doing but they wanted to protect their own political rights and their own property. So the conservatism of the king looked threatening to them but so, too, did the rowdy masses on the street, who might be advocating socialism, or democracy – each solution (economic or political) that liberals saw as too dangerous. So, to prevent the masses from taking over, these liberals offered the crown to Charles X's cousin, Louis-Philippe, Duke of Orleans. (Charles X had abdicated and ran away.)
Why were these liberals so afraid of socialism from the masses? Because there were real problems facing France, beyond the questions of political authority. Food prices were increasing due to poor harvests and, even under the best of circumstances, factory workers normally paid about 50% of their wages for food. So, when prices went up, they really had little room to afford the difference. (This was also the period when the potato blight struck Ireland, killing as many as 1 Million there out of a population of 8 Million.) If increased expenses for food was not enough, one major side effect of rising food prices was a consequent drop in sales for consumer goods.
Obviously, if people in urban areas have to pay for their food (because they don't have the land to grow it on), and they have to suddenly spend more on food, they can only spend less on other items like tools, clothes, and the like. However, decreased demand for manufactured goods means that factory owners will consequently reduce the production, to avoid paying for hourly labor that is not returning profit to the company because of slow sales of finished products. So industrial workers in Paris and elsewhere were really squeezed: they faced increased cost-of-living, while their wages went down, or they were unemployed completely. So, people are hungry, and they are not sure that their conservative governments will do anything to help them.
Revolutions of 1848
France
Frustrated reformers
Remember, the new French King, Louis-Philippe, was supposed to be a "safe choice" for those moderate liberals, who wanted to avoid the extreme conservatism of Charles X but also the (in their eye) anarchy of the masses. And yet by 1848, Louis-Philippe had been resisting liberal efforts to reform the voting laws (to expand the right to vote) in France, and these liberals' frustrations with the king spilled out of the assembly hall and into the streets again on February 22, 1848. What followed was the army and police being called out to disperse the crowds, and accidentally opening fire on them, angering the demonstrators even more. By February 24, there were 1500 barricades and a very angry crowd, prompting the king (like Charles X before him) to flee France for England.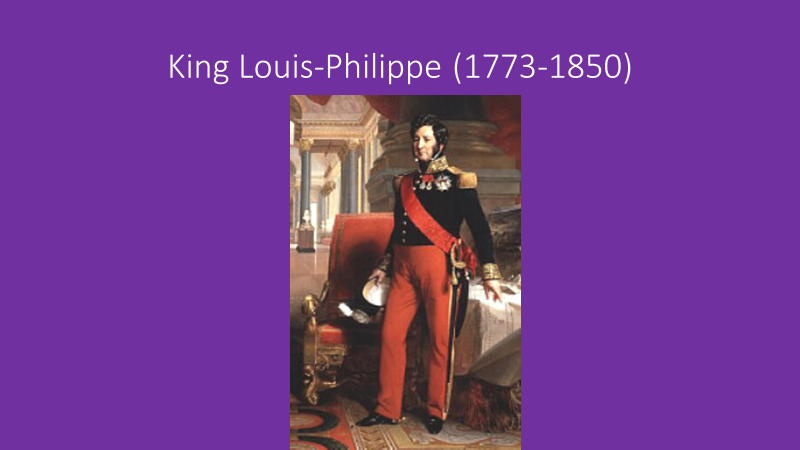 Second Republic
Now France was once again a Republic and it once again realized (mostly) liberal-style reforms. Voting rights were expanded to universal male suffrage (but still not female suffrage). Press censorship ended, political crimes were no longer punishable by death, and slavery in the French colonies was (again) abolished. Somewhat surprisingly, the new (liberal) government also tried to alleviate unemployment by setting up a network of "national workshops" to give guaranteed jobs (and, ergo, wages) to out-of-work French men. This was obviously not a laissez-faire economic policy but, in this case, economic woes seem to have spooked these liberal leaders into doing something to try to alleviate the problems of the working class.
Middle Class response
All this activity electrified the population and the rise of grassroots political activism from all sectors of French society was seen once more. This political activation had the effect of spooking those very middle-class liberals (and some conservative allies) in the legislature, as these groups were not keen to see the stirring of democratic activism by the working class. And this time it was not just abstract politics that was on peoples' minds but also the nature of the existing social order. That is, if the legislature granted universal manhood suffrage, then all those poor, starving men (but no women) could suddenly vote, and the fear what that they might vote for economic policies that the middle class and wealthy would find harmful. In fact, after a conservative government was elected to the National Assembly, much of what they passed into law in April 1848 angered the working class. The government appointed an executive committee that intentionally excluded political leaders who would be sympathetic to workers' interests. They also refused to reintroduce divorce and women's rights. Eventually, the French government capped and then tried to dissolve the popular national workshop program, after ten times the number workers expected to enroll tried to enroll.
Working Class response
What followed was the "June Days," when the workers of Paris took to the streets on June 23, 1848 in the tens of thousands. Against them fought the French Army, the national guard, and other pro-government paramilitary militias, which had little problem suppressing the protests. What we are seeing here is a breakdown between the expectations of middle-class liberals on one hand (individual rights, free trade) and socialists and workers on the other (more management or direction to the economy to give workers more economic power, alongside increased political power, too).
Conservative triumph
Next, in December 1848 the assembly introduced a constitution calling for presidential election via universal adult male suffrage, and they winner the electorate chose was Louis-Napoleon Bonaparte, the former Emperor's nephew (who received 5.5 Million votes out of 7.4 Million cast!). This Bonaparte was somewhat of a political chameleon – claiming to support workers' interests sometimes but crushing Socialists at other times, claiming to support the Republic but then allying with conservative interests. He was reelected to the presidency in 1851 but then in 1852, President Bonaparte declared himself Emperor Napoleon III (r. 1852-1870)!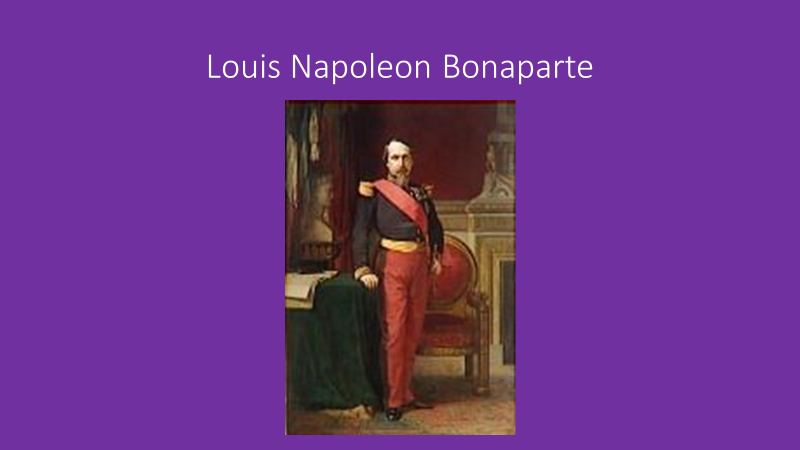 Ultimately, this was the end of the Second Republic, as these conflicts between groups of people committed to one or another ideology prevented efforts to govern and solve problems. We will come back later to check in in France, but revolutionary spirit disappears for quite some time there.
Italy
Revolution spreads
However, these events in France inspired Italian nationalists in different parts of the peninsula to also (again) rise in armed demonstration against foreign rule by the Austrians (in the north) and against local rulers in the south. Even if a nationally unified Italy was the goal of many, similar conflicts between different groups, subscribing to rival ideologies, prevented Italians from uniting together on one set of reforms.
Congress of Vienna contains
The war against the Austrians in the north goes poorly, the war in the south against local governments in favor of democratic and nationalistic goals goes better. Nationalists drove the Pope out of Rome and established a Republic there but were then thwarted by French troops sent in by Louis-Napoleon. So Italian unification and efforts to create a national state are thwarted. Revolutionary spirit does not entirely disappear in Italy, but we will have to leave this tory to be continued.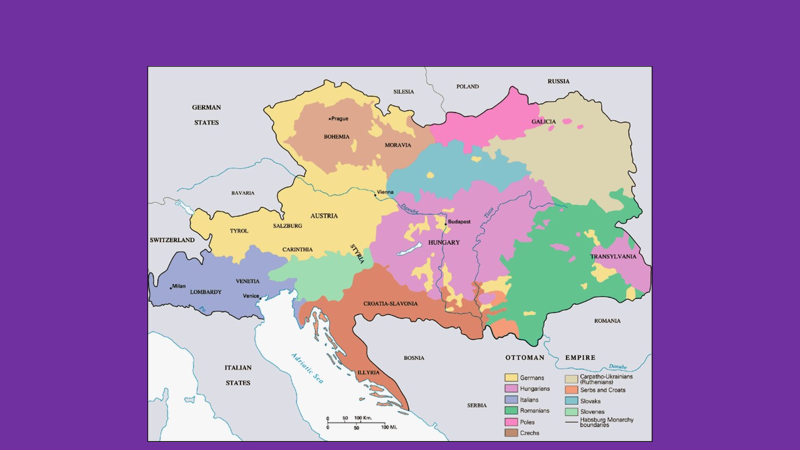 Austria
Revolution spreads
In Austria, the 1848 Revolution takes a by-now-familiar course. Just as those northern Italians under Austrian control were trying to revolt, in Hungary, Magyar people (who spoke Magyar, who were not ethnically German but a different ethnic group) were growing dissatisfied living under Austrian rule. In fact, nationalism was taking off in Hungary, too, and Magyar nationalists desired to split away from the Austrian Empire and rule themselves. On March 13, 1848, protests in Vienna (the capital) calling for political changes devolved into looting and rioting. Somewhat surprisingly, this prompted Metternich (the foreign minister) to resign and flee the country while the Emperor, Ferdinand I (r.1835-1848) made promises to deliver a new constitution, which would include an elected parliament (instead of simply a monarchy), as well as relaxation of censorship.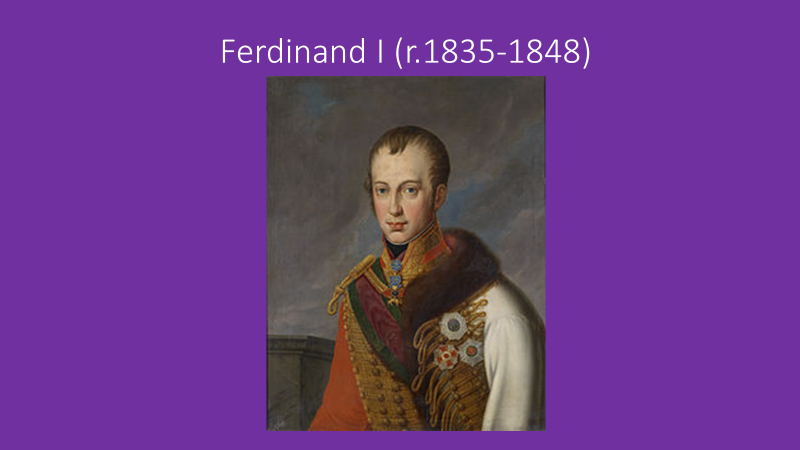 Why were these demonstrations seen as so threatening to the Austrian government? The Austrian Empire ruled over a territory comprised of a hodgepodge of different groups, all held together by the monarchy and its military. These different ethnic enclaves were all ruled by a far-away monarch but, again, this was the norm for centuries. However, the language of nationalism and the idea of each people having their own state with their own laws, to protect and promote their own customs and interests, posed an enormously powerful challenge to the Habsburg rulers, and (again) conservatism alone was not universally accepted by the people. So, the Hungarians now got home rule and their own domestic government.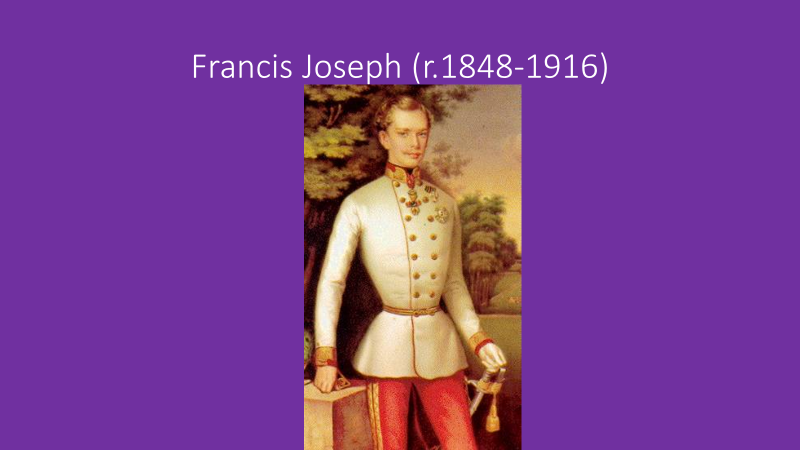 Ethnic divisions contain.
But unfortunately for the Austrian revolutionaries, their story follows a similar pattern to what we have already seen in Italy, and (partly) in France. That is, differing visions of what the problems facing Austrian subjects were, what the proper solutions would be, as well as conflicts over ethnic group allegiances or interests derailed this moment of potential revolution. That is, each ethnic group felt threatened or slighted when another group got reforms addressed specifically to them. At the same time, the Austrian Empire was not neatly partitioned into different sectors. Rather, one area with an ethnic majority would still have pockets of other ethnic minorities living there, too. These pockets of "outsiders" got nervous when the surrounding majority group began asserting its own nationalism. This distrust was suddenly enormously useful to the Habsburg monarchy, who used the potential for division between one group and another to its advantage, using a mixture of partial reforms to quell demonstrators, coupled with military force to put down violence and resistance, to eventually end the revolution.
Conservative triumph.
In December 1848, a new Emperor took the throne, Francis Joseph (r.1848-1916) succeeded his uncle Ferdinand, and was able to deal more violently with the revolutionaries, since he claimed that promises made by his uncle for reform did not apply to the new emperor. In the spring of 1849, Austrian forces, coupled with assistance from the Russian tsar, put down the last rebels in Italy and Hungary, allowing the Austrian throne to restore its power.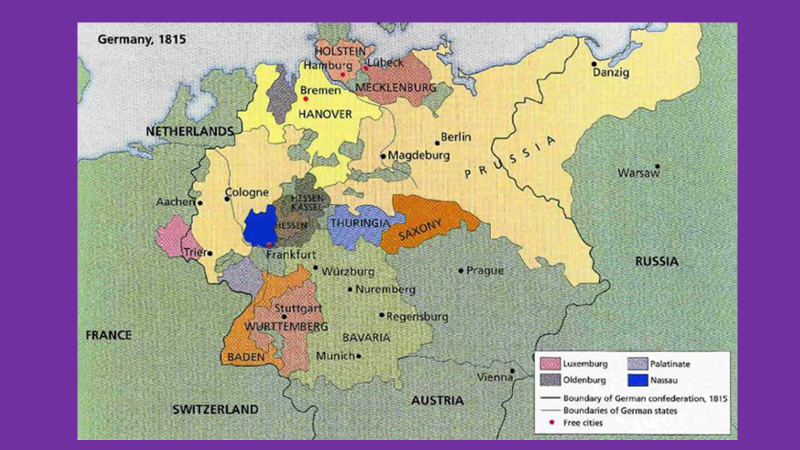 Germany.
Revolution spreads.
At the same time, Germans were also watching the "springtime of European peoples" (as it was called) and those Germans who were inclined towards the same goals (liberal governments, national states, and/or socialist economic reforms) also wanted a revolution in the German lands as well. Now, just as a reminder, "Germany" does not exist yet, but Germans in the Kingdom of Prussia began talking seriously about unifying the different German states into one unified nation-state. In Berlin, street demonstrations (like those in France, Italy, and Austria) sprouted up by the middle of March 1848. The Prussian King, Frederick William IV (r. 1840-1861), in a surprising move, chose not to send his troops into the streets to put down the demonstrations, and, perhaps even more surprisingly, seemed open to allowing limited political reforms to be enacted. Still, tensions between soldiers and demonstrators boiled over when the demonstrators were forced to leave a Berlin square near the palace, and the soldiers opened fire on the civilians.
In response, the king seemed genuinely remorseful and even appeared to want to respond to the people' demands. Frederick William called for the creation of a Prussian constituent assembly (that is, a legislative body made up of representatives of the Prussian people) and tasked this assembly with the writing of a new constitution. The king appeared to match deeds to his words, appearing publicly on the balcony of the palace as the angry Berlin demonstrators paraded the dead bodies of their revolutionary comrades by in a sort of funerary procession. Thus, it appeared to many in Prussia that the Prussian king would allow constitutional reforms in his own kingdom, but he also hinted that Prussia would help carry out the nationalist project of unifying all of Germany into one state.
Conservatism contains.
However, this optimism soon proved to have been misplaced. Once elections were held for this constituent assembly, the representatives chosen and sent to Berlin began talking of much more radical reforms than the king was willing to allow. Now clearly uninterested in democracy, Frederick William and his conservative advisors opted to simply ignore the new constituent assembly. Frederick had just appointed a cabinet of ministers to advise him, who were known to be sympathetic to liberal reform. Yet when faced with his intransigence, the liberal "March Ministers" resigned, and the king simply replaced them with more conservative ones.
A New Hope?
Frankfurt Parliament.
Even though eastern Prussia experienced conservative reaction in the face of liberal and democratic revolution, other parts of Germany, particularly the Rhineland, was experiencing something different. In May, 1848, German nationalists, representing the various German states making up the German Confederation (a loose organization of German states that was formed in the years following Napoleon) met in the Saint Paul's Church in Frankfurt to discuss the turning this confederation into a more unified nation-state. Their goal was to create a united German state for the German people, one with a moderate, liberal constitution (rather than conservative or radical or socialist one).
Ideological conflict.
What we know about these different ideological movements and people that were following them in the nineteenth century, it should come as little surprise that this liberal solution was unpalatable to conservatives who thought constitutional reforms would erode the traditions and authority of their rulers (of the different German states), as well as socialists and democrats (here, meaning people who wanted to expand voting rights and political participation; often these were working class people who wanted political rights as well as socialist-style economic reforms). Thus, German conservatives were unwilling to support the unification project in Frankfurt while the working classes in the Rhineland states did not trust the liberals to act in the workers' best interests. (Remember: liberals were for constitutional rights, limits on the monarch's power, and laissez-faire economics, which meant liberals were usually opposed to laws regarding wages, prices, and working conditions in factories.) This split between liberal reformers and democratic or working-class reformers would endure for the rest of the century.
Geographic disagreement.
The other big stumbling block for the Frankfurt Parliament was the question of what a unified Germany would look like. That is, some of these liberal reformers wanted großdeutsch ["large Germany"] solution, which means they wanted to unify all the German lands, under Austrian leadership, while others wanted a kleindeutsch ["little Germany"] solution, which means they wanted to unite all of the German lands except Austria, and they wanted to have Prussian leadership instead. Initially, the Parliament leaned in the großdeutsch direction, offering the crown of a unified Germany to the Austrian emperor, who rejected it. This left no choice but to go in the opposite direction, write Austria out of the new agreement, and hope the Prussian king would accept.
Triumph of Conservatism
After about a year of deliberating and debating (people in the street called it the "Professoren Parlament" – the "Parliament of Professors"), on March 27, 1849, the Frankfurt Parliament was finished with its constitution. They attempted to offer the crown of this new German state so Prussian King Frederick William IV, as described above, but he refused it. The reason why goes back to one of the principle difficulties faced by these liberal nationalists – opposition from conservatives in high places. In this case, Frederick William declared that he was made king of Prussian by God, so no one on earth could take that crown from him. However, if he were to accept this man-made crown from Parliament, he would be accountable to those liberals in the Parliament, who would have the power to strip the crown from him, if they chose to do so. In other words, he did not need or want this "Krone aus der Gosse" ("crown from the gutter")! So, after that the Frankfurt Parliament began dissolving, with Prussian troops forcibly dispersing those who remained in session. Finally, in April 1849, the Prussian king turned his conservative government against the prospect of liberal reforms within Prussia proper. He sent home the constituent assembly and issued his own, more conservative constitution for the Prussian people, which famously extended voting rights but created a three-class voting system, giving wealthy nobles a larger share of political power over everyone else. Later revisions made the royal ministers only answerable to the king (not to the Parliament – the representatives of the people!), as well as making the army and officer corps swear oaths of loyalty only to the king, not to the Prussian state.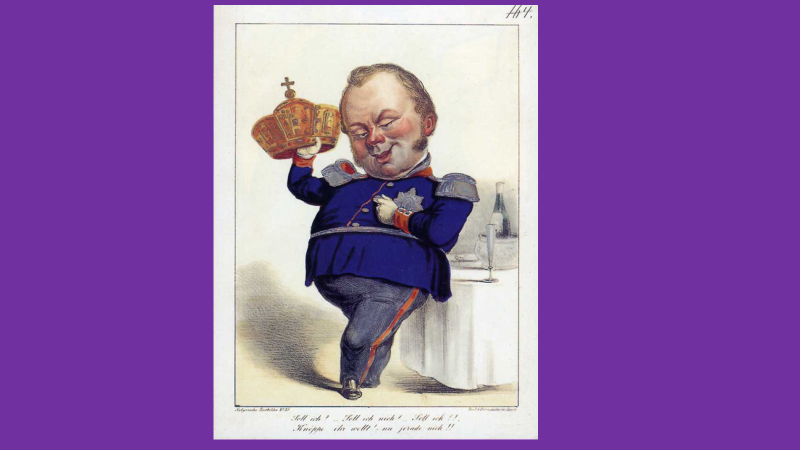 Great Britain.
You may have been wondering when we would get to Great Britain. There were no 1848 revolutions in Great Britain, nor in Belgium and the Netherlands. That is, those places most urbanized and industrialized, with larger working classes and sharper divisions between the wealthy and the poor, avoided the violence and chaos of revolution in 1848, which may seem counterintuitive. In the case of Great Britain, the reason for this was the growth of Chartism in 1838 – a movement in Britain for universal manhood suffrage, vote with secret ballot, equal electoral districts, annual elections, no more property qualifications, and salaries for MPs. The successes of the chartists were beyond those gains of the earlier Reform Bill of 1832, which had delivered more middle-class men the right to vote in Britain. Also during this time, the Corn Laws were repealed, meaning that no more tariffs had to be paid on grain imports, which was bad for conservative landholders, since foreign grain was now cheaper than that which was grown in Britain, but it was a good thing for middle-class merchants, who could do the important and sell the grain to urban consumers. All these measures were victories for liberalism, showing that liberals in Britain adapted to the social and political stresses brought by industrialization and the French Revolution, averting revolution in their own streets. However, the case in Great Britain also shows that, overall, aristocracy remained in power, even reasserting their power, although in Great Britain, it was liberalism, not conservatism, that ruled the day.
Triumph of conservatism?
Triumph
Yet this triumph of the aristocracy was the common story of 1848. The 1848 Revolutions on the European continent all failed in their quests to reform conservative governments (either into liberal- or socialist/democratic directions). Instead of reform, these conservative governments were able to quash the revolts one at a time (often because of conflicts between different factions of revolutionaries), and the conservative rulers were able to count on the back-up provided by other Great Powers who would shore up the Congress of Vienna system.
Willingness to compromise?
Interestingly, and important for the next chapter, these conservative governments were also more willing to put up with liberal reform and vice-versa – nobody wanted to deal with socialist or other radicals! Yet the story of reform and ideological conflict continues in the two specific contexts of would-be Great Powers – fragmented Italy and Germany.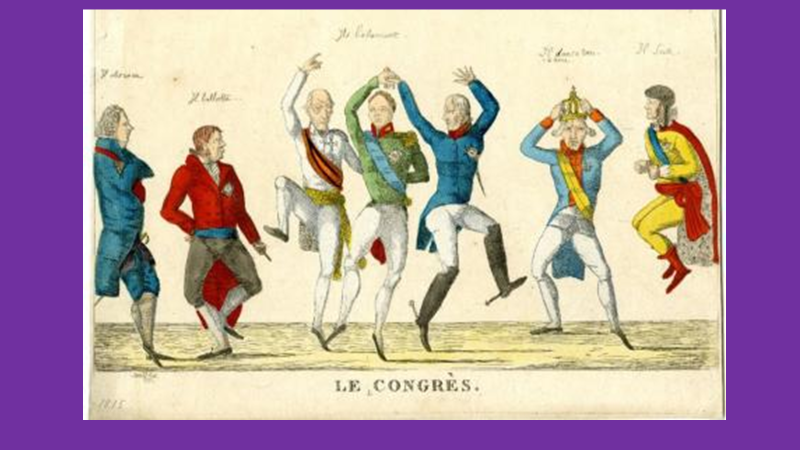 PAUSE for 60-second Quiz # 3. What did the Revolutions of 1848 accomplish? What were their failures? Which statement is not correct?
The 1848 Revolution in France failed to install a long-lasting democratic government and ended up with another monarchy.

The 1848 Revolution in Italy successfully united the Italian states together into one nation-state.

The 1848 Revolution in the Austrian Empire failed to break up the Empire into individual nation-states, each with libera-constitutional governments.

The 1848 Revolution in Germany failed to unite the German states together into one nation-state, with a liberal-constitutional government.
Key to 60-second quizzes:
d. The Congress of Vienna tried to put all the borders and rulers back as they were prior to Napoleon's conquest. That is, they did not target only France, and they did not try to accomplish this goal democratically – the Congress of Vienna is a good example of conservatism in action, with monarchs and their noble advisors making all of the decisions.

e. Socialism responded to the unrest of the Industrial Revolution by calling for limitations on individual property rights and laissez-faire economics, because socialists believed that laissez-faire had brought problems and needed to be corrected with law governing minimum wages and maximum prices, as well as maximum hours and safer working conditions. These laws were, in the eyes of liberals, wrong, since they stood in opposition to much of liberals wanted.

b. The 1848 Revolution in Italy did not successfully unite the Italian states together into one nation-state.
Primary Source Exercise
Readings:
After you have read the primary sources listed above (as well as Chapter 11), answer the following questions, based on what you have learned so far:
What do you think is important to know about the authors of these texts? What can you learn from the words each one wrote on the page? What can you infer or piece together from the background information in the textbook chapter? Why is this important?

What was each author's goal in writing their text? To whom did each address their ideas? What purpose did each serve? Can you point to one or more examples from each text to support this analysis?

What, if any, hidden assumptions can you detect in each of these texts? That is, can you find word choices, phrasing, innuendo, or other examples of the authors' (explicit or implicit) bias with regard to the subject matter? Does this bias (or these assumptions) affect how you understand and react to each author's words? Why or why not?