CHAPTER ONE: INTRODUCTION TO THE COURSE
KEY TERMS:
Thinking historically

The Five C's

Interpretation

Memory

Primary sources

Secondary sources

Western Civilization

Ming Dynasty

The Crusades
Constantinople

Cape of Good Hope

Goa

Reconquista

Christopher Columbus

Hernán Cortés

Francisco Pizarro

Treaty of Tordesillas

Zheng He
QUESTIONS:
What does it mean to study history?

What does it mean to study "western civilization?"

What were some of the reasons for which Europe was not a global power, prior to the 1500s? What changed?
What is "History?"
History is more than just learning lots of "stuff" about people, places, and events that took place before the present-day. Rather than contenting ourselves to learn "just the facts," we should take our efforts a step further to practice thinking historically. What does that mean?
For us, thinking historically means learning to approach a problem or event in the past (or the present day!) from a variety of perspectives. This can include giving attention to the short-term and long-term contexts and consequences of an event. This can also include assessing the degree of continuity or change (or both) that has taken place over time. This might include determining whether historical actors made decisions based on the limitations of their own structural circumstances, whether they sought to exercise their own free agency to control their own destiny, or maybe some combination of the two. Thinking historically might also mean looking for evidence and analyzing that evidence into an interpretation that explains the past events in question. All in all, thinking historically means that we do NOT understand history as "just the facts," but rather the practice of interpreting those facts to reveal some larger story.
How do we think historically?
One fairly well-known mnemonic device that can help up to think historically, is "The Five C's." These are (1) Change (or Continuity), (2) Context, (3) Causality, (4) Contingency, (5) Complexity. The American Historical Association has a good primer on this concept but, in short, the idea is that we cannot understand a person, a place, an idea, or an event at face-value. Instead, we have to look deeper, to see what else was happening before, after, or contemporaneously; we have to examine reasons that caused something but also reasons that cannot be proven as causes, but maybe contingent factors or correlating of coincidental happenings. Above all, we have to emplace the complexity of the past and acknowledge that there are always new questions to ask or new clues to examine.
Another handy guide to "doing" history comes from historian and teacher Gerald Schlabach. You should be sure to read the entire thing but it's worth repeating a few key points here. Obviously, even though history is an act of interpretation, we need to get the basic facts of chronology, geography, and the meaning(s) of words straight, before we can conclude much. In order to learn these and other information, historians have to use sources. These might be written sources but they could also be artifacts, visual sources, music, oral history, or other ways of preserving the past. What historians cannot do is make assertions or suppositions that have no basis in fact. Empirical evidence is the standard. Once historians have crafted an interpretation of the past, they will record it for future students (whether advanced scholars, college students, or average members of the public). These future audiences may accept this interpretation or they may offer a revision, in the face of additional facts or analysis. Sometimes the audience might not like the interpretation and reject it, not on empirical grounds, but on the grounds that it is dangerous, insulting, depressing, or unpatriotic. In this circumstance, "history" is usually bumping up against "memory," the way people are remembering the past as a guide to the present.
Memory is not necessarily the enemy of history. After all, there is an implicit argument that requiring the study of history in K-12 schools instills enough knowledge in students' brains that they will remember some of it later, as adults, and use it to help them understand the world around them. Yet there are also instances where on groups of people might want to use a specific memory of history to instill certain attitudes into their audiences. Maybe a government wants its citizenry to feel patriotic when they hear a certain song. In those cases, the public's overarching memory of history can differ substantially from the interpretations of historians, whose chief goal is not to impress an audience or instill a certain emotion, but to communicate the truth. In those cases, the academic, empirically-grounded study of history can become mired in controversy. This is usually because there is not consensus on what the purpose, and method, of history should be. The bottom line is that history does not often provide simple, short answers! Instead, we must always look carefully at the evidence and think critically about what it says (or does not say) and why this is so.
A Word on Sources
Historian and Teacher David Koeller has assembled another fantastic guide for introductory history students, and you should read it, too. Here we will simply and quickly enumerate some highlights. Historians use different types of sources of information. Sources of information that record first-hand, eyewitness accounts of the past are called primary sources. Sources that are not primary sources are secondary sources. Just as we, the historians, are making interpretations about the past, we are limited by what information is available for us to interpret. Primary sources can never tell you the complete story, because there are always some details missing (whether intentionally omitted or not). This means that one primary source is usually not enough – we need multiple perspectives and accounts to get a complete picture. Think of a traffic accident: there are two drivers, each of whom has a version of the story but each of whom is trying to convince the police that the other driver was at fault. When we read and interpret primary sources, we need to pay attention to the author and their role in the event, and who this might shape or color what they choose to say or not say about it. This does not mean we must reject some primary sources as untruthful (although sometimes this does happen) but, rather, we must be critical in how much we accept of their side of the story.
Secondary sources are those sources that are not first-hand witness accounts, but which instead report on the event after-the-fact. Secondary sources are usually assembled by reading primary sources. Secondary sources are no less vital to understanding the past, since they can deliver background information about the time period, place, or concepts described by the primary sources. Secondary sources can also be a source of facts and figures (such as dates, population sizes and characteristics, and per capita income, to name a few). Secondary sources can also introduce students to major historiographical arguments with which scholars engage. Just as no primary source is all-encompassing, and just as all historians are making interpretive judgments about the past, no secondary source can tell you the entire story – you need to read lots of them to get the fullest picture possible.
Now that we have introduced the concept of "history," let's turn to the concept of "Western Civilization."
60-Second Quiz #1: What does it mean to study history? Which of the following is NOT true?
Historians only research and tell us "the facts" (like dates, names, and places)

Historians need to interpret what "the fact" (like dates, names, and places) mean

Historians cannot simply use one primary source; they must consult many primary sources

Historians cannot simply use one secondary source; they must consult many secondary sources.
What is "Western Civilization?"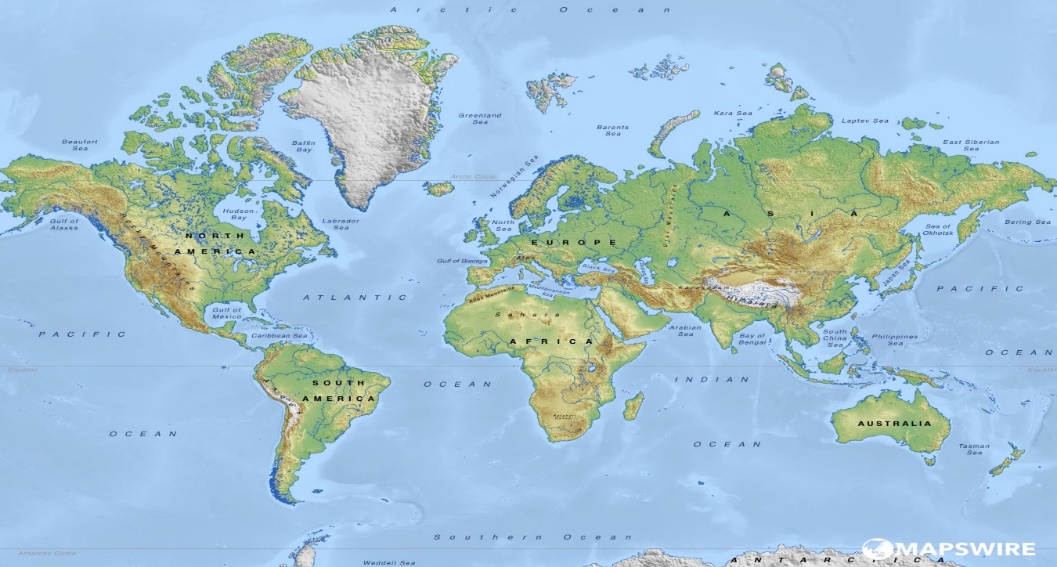 If you were to look for "western civilization" on this map, you would not find it. That is, you can find Africa, Asia, the Americas, and also Europe. But you will not find a geographic entity called "western civilization." The reason for this is that "western civilization" and its history are ideas that (surprise!) have a complex history.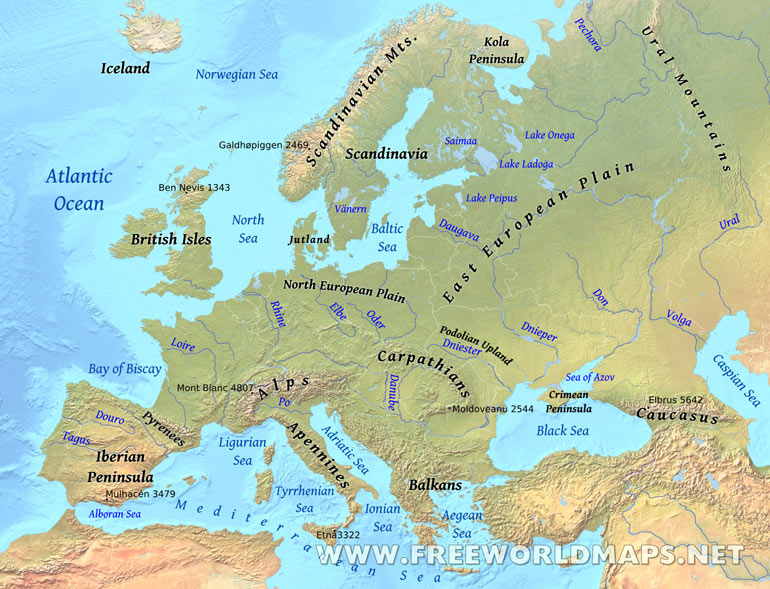 When most people talk about "western civilization," they are implicitly talking about European history. But why not just call it, "European History?" Well, in European classrooms, they do. In American classrooms prior to about 1918 or so, they called European history "European history" also. If you've taken American History I (to 1865), you probably remember that the United States wanted little to do with Europe after about 1815 or so. What changed? With the arrival of the First World War in 1914, Americans who favored American involvement in this (largely European) war made arguments about the shared history and culture of Europe and the United States. This was not a total fabrication but it does simplify things a bit too much. After 1918, the United States became more firmly entrenched (no pun intended) in European affairs, throughout the remainder of the twentieth century. And this shared history was increasingly powerful as a justification. So colleges began to offer history courses on the history of "Western Civilization."
This means that the exact boundaries for which countries, peoples, religions, political systems, economic orders, and many other characteristics are included in "western civilization" is open to debate. It might depend on which time period we are examining, or which event, or which historical actor we are taking up. After all, the borders of Europe are not themselves fixed, as Europeans sometimes regarded their neighbors to the east as "European" and, at other times, did not. At different moments in time, large populations of people outside of Europe proper were living under European imperial control, making their stories intimately bound up with the history of Europe. By the late 20th century, much the world was either aligned with the Soviet Bloc or NATO, or simply non-aligned and trying not to take sides in the Cold War, meaning the story of Europe was a world-wide event at that point. We should remember, then, not to take designations like "European," "Western" or even "Civilization" for granted, but to ask what the author meant when they used those words.
Just because this course is, therefore, somewhat fictional does not mean it has no value. Rather, we can use this course as a laboratory to examine "the history of Western Civilization" as a history of the changes and continuities in certain cultural, political, economic, and other attitudes that help explain Europe (and the U.S., too) as it is today. Conversely, we could also understand this history as a story of choices made and actions taken, sometimes in ways that might blend these characteristics together harmoniously; other times in ways that exploit or highlight the tension between these different values, which similarly explains the way the country and its people appear at present. If nothing else, we can track how Europe went from looking like this in 1648: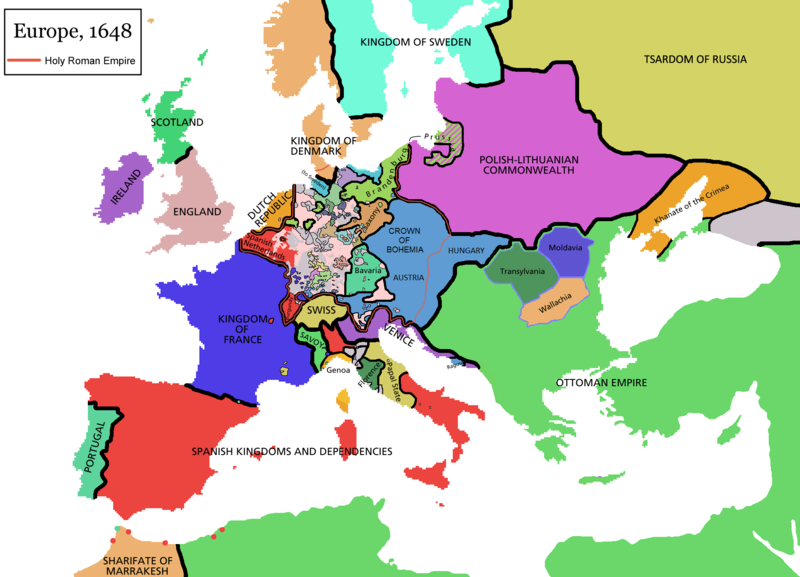 …to looking like this in 1945: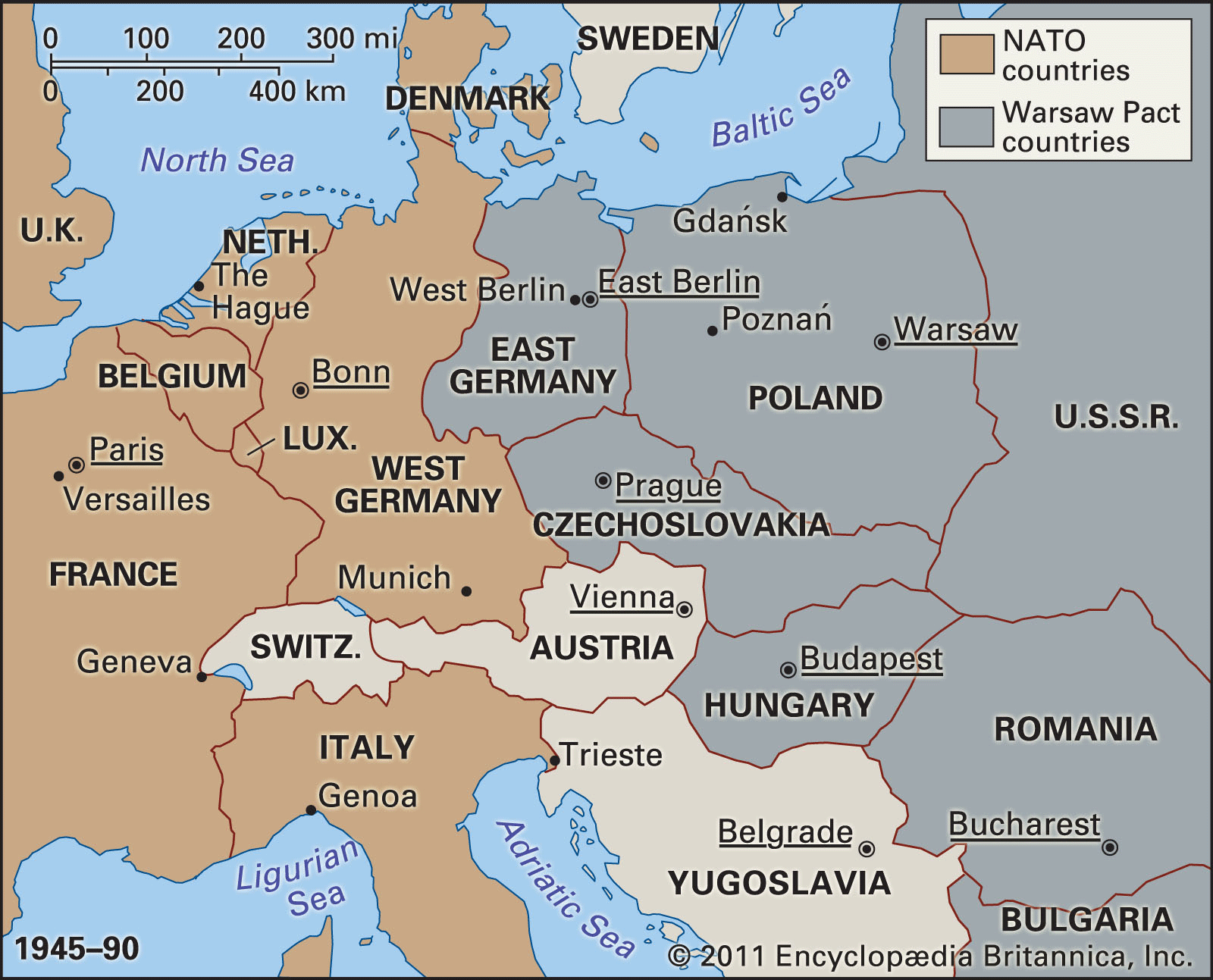 Now that we have explained the basic concepts of the course, let us begin with some important background (or contextual) information for the period before 1648.
60-Second Quiz #2: What does it mean to study "western civilization?" Which of the following statements is true?
The exact borders of "Western Civilization" are easy to locate on a physical map.

"Western Civilization" means, basically, European History and its connections to American history.

"Western Civilization" is a topic that historians have accepted as valid since the Fall of Rome in 476 CE.

"Western Civilization" means only countries that are Christian.
"The West and the Rest:" A Brief (and Surprising) Comparison
An Ascendant Europe?
In 2020, it is hard to dispute (even in a world civilization class) that the most important world development during the period from roughly 1500CE to the present was – for better or for worse – an ascendant and expansive Europe. Yet the way(s) in which Europeans were able to influence the world around them, positively and negatively, should not be held us as an end to be expected, a priori. Instead, the history of Western Civilization is a history of people, places, events, ideas, all of which must be explained with a deep appreciation to historical context.
Indeed, as the rise of China looks to many to be the defining (if not surprising) political event of the 21st century, 500 years ago it was China who stood poised to dominate the world. Let's compare two rivers and what was going on on/in them in 1420: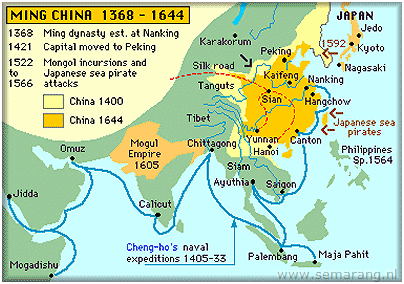 The Yangtze River in China was part of a thousand-mile-long Grand Canal, running from the China Sea through the imperial capital Nanjing (400 miles inland) and on to the soon-to-be-new imperial capital of Beijing. Through this artery flowed the lifeblood of commerce for the Ming Dynasty (1368CE-1644CE). Fifteen thousand barges annually travelled the waterway from the sea to Beijing and back. Nanjing contained over one million people and was, quite probably, the world's largest city. Chinese engineers provided a constant flow of fresh water as well as the ability to dispose of human waste as fertilizer for the agricultural areas that supplied the city with it food. A twenty-mile-long and heavily fortified wall protected the city of one million people from attack. This civilization had already produced an 11,095-volume encyclopedia, astronomical observatories, seed drills, water clocks, gunpowder and ink. In other words, Ming China was at the cutting edge of discovery, trade, knowledge, and well-positioned to lead the way into the Modern Era.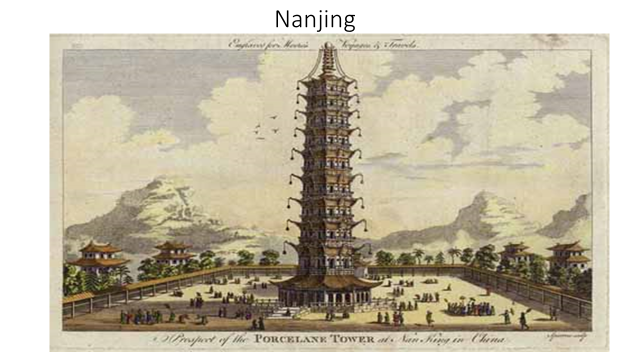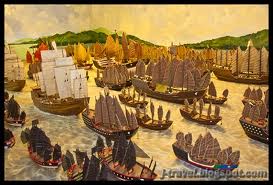 On the other side of the world, the Thames in England ran through the capital of the most prosperous kingdom in Europe, England. By the early 1420, the Black Death had reduced the population of London to 40,000 and life expectancy was about thirty-seven years old, with one-in-five babies born in England dying before reaching their first birthday. (In London, the figure stood at one-in-three!) Within a year, King Henry V would be dead, at age thirty-five, from dysentery while fighting in France. Violence would remain endemic across the British Isles: violence between the Irish and the English, the Welsh and the English, and the Scots and the English, as well as violence on the continent between the English and French. As Thomas Hobbes so famously put it, life for most people was "solitary, poor, nasty, brutish, and short!"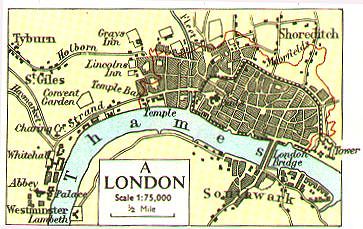 In addition to juxtaposing Ming China against Late Medieval England, we can reveal a similar contrast by expanding our gaze to all of Europe: By 1500 the various and frequently-warring petty kingdoms of Europe controlled approximately 10% of the world's land mass and about 16% of the world's population. Four centuries later, on the eve of the First World War, those figures stood at 80% and 50%, respectively. So in a span of 400 years (quite a short time, in scale of human history), much had obviously changed, but what had spurred the Europeans to turn their attention from each other and onto the rest of the world, beyond their borders? It was the Spice Race and the inward turn of China that together changed everything.
A Closer Look: Population
By population, European countries in the 15th century were not that big but, as a percentage of the world's total population, European countries in the 15th century constituted a greater percentage than today:
Population in 1500

% of World Population in 1500

1

Population in 2020

% of World Population in 2020

2

France

12 Million

3.43 - 2.82%

67 Million

0.87%

Spain

7 Million

2 - 1.6%

49 Million

0.63%

England

3

3 Million

0.86 - 0.7%

65 Million

0.84%

Portugal

1 Million

0.29 - 0.24%

10 Million

0.12%

Europe (total)

50 Million

14.29 - 11.76%

603 Million

7.83%

China (comparison)

103 Million

29.43 - 24.24%

1.3 Billion

16.88%

Africa (comparison)

12 Million

3.43 – 2.82%

1.269 Billion

16.48%
Why is this the case? Some historians like David Landes have pointed to geography as significant factor (e.g. bugs and disease did not favor certain parts of the world as much as others), as well as climate (e.g. places where rainfall was irregular and unpredictable make it hard to farm). This argument goes on to say that the temperate climate in Western Europe is milder than anywhere else but still winter season strong enough to kill off pathogens and pests, and that the hardwood forests of northern Europe required only metal tools to cut before it could grow to its potential. Yet we should remind ourselves that geography is not destiny and that, as we have seen, it can be overcome to a degree. In any case, Europe's population as a share of the total global population did not increase from 1500 to the present, so we cannot conclude that a surfeit of workers, farmers, and soldiers were the sole reason for Europe's rise.
A Closer Look: Warfare
If population cannot be counted prima facie as an advantage Europeans wielded over the world, neither can their collective military situation, at least at first glance. We must remember that 1,000 years ago Christian Europe was facing enemies on all sides—Norsemen, Arabs, and Magyars—and seemed highly unlikely to become globally dominant. That is, the Early Medieval Era found them regularly under attack and it was only by 11th century or so that most of Europe was largely secure from outside aggression (not counting Turks of course). Only at this stage did Europeans even begin to carry out aggressive military campaigns against non-Europeans (or, at least, non-Christians), such as the crusades and the Reconquista. That is, Europeans were not continually dominating their non-European neighbors from time immemorial.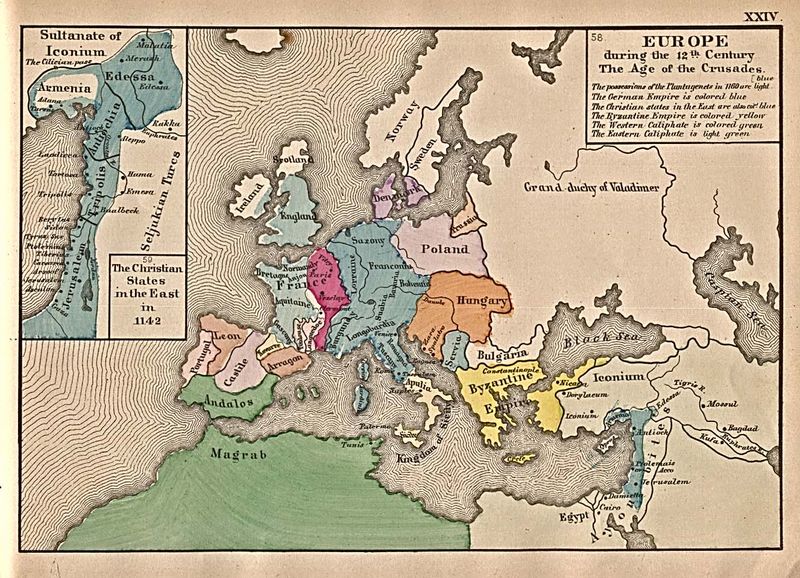 Alternatively, historian William H. McNeill and others have argued, on the other hand, that the fall of the Roman Empire and the fragmentation of Europe in to small warring states was actually Europe's good fortune. That is, they claim that this array of small- and medium-sized states was the very thing that created European dominance—political fragmentation, general insecurity, weakness and division mitigated against despotism in the West after Rome. At the same time, it encouraged private property rights and allowed subjects to squeeze rights out of their rulers, lest they choose to just up and leave and go pay taxes to a different a more lenient king. Finally, this fragmentation also meant greater competition between states, which led to military competition, which drove scientific and technological advances. Indeed, this fragmentation also paradoxically made Europe safer from a single-stroke conquest by any invader such as the Mongols—the Muslim Turks would twice get to the gates of Vienna (1529 and 1683) but after subduing all the Balkan peoples they had reached the limit of their resources.
A Closer Look: Economics and Industry
In economic terms, there was significant advance in Europe from 1000CE to 1500CE as well—Europe of the Middle Ages was an inventive society in technological matters. Eyeglasses began appearing in Italy at end of 13th century and they extended the life of craftsmen scribes, toolmakers, and metalworkers, which led to more precision work and more advanced optical work, such as telescopes and microscopes which were invented in the Low Countries around 1600. Mechanical clocks appeared in England and Italy in the late 13th century and towns would later put them in towers for common consumption—clockmakers would lead the way to accuracy and precision in mechanics and life itself—clocks brought order and control and gave us the very notion of "productivity." These clocks helped move society from task-oriented time consciousness to efforts to maximize product per unit of time.
This is not to say that the rest of the world was not inventive. It is true that mechanical clocks would be a European monopoly for 300 years but the Chinese had already built water clocks. Yet there knowledge of time was a confidential aspect of sovereignty—each emperor had his own calendar— and the Chinese imperial court would go wild for mechanical clocks given to them as gifts by western missions but treated them as toys—to do otherwise would have been to admit technological superiority of barbarians. This sense of completeness and superiority also made China oftentimes hostile to outside knowledge and practices, even when they would have been useful. (Muslims also had water clocks but thought public mechanical clocks would undermine the authority of prayer calling muezzins.) Yet this resistance to change, more than anything else, seems to have foreshadowed Europe' rise and China's decline in the Early Modern World.
Europeans had readily adapted and improved foreign inventions in numerous ways. Whereas the Chinese had invented printing and paper in 9th century, Europeans would learn to mechanically produce paper and, after the 1400s, the Gutenberg movable type allowed for thousands of new books to spread. The Chinese invented gunpowder by 11th century and Europeans gained it by late 13th but the Chinese failed to take best advantage of explosives in part because a united China was always more afraid of rebellion within than invasion from without. This Chinese invention of course led to iron cannon and firearms, and it has been argued that the increasing expense of weaponry led directly to increasingly centralized states, and stronger kings, as only a more centralized state and a king could pay for such expensive equipment for their army. The Chinese certainly had the potential to progress technologically before the Europeans but the Chinese government—a unified state for most of this time—interfered with individual effort and there were no institutional property rights to protect inventors and merchants. What's more, there were problems with state corruption, attempts by the state to completely block overseas trade under the Ming dynasty, social tension over the weight of custom and consensus in society—consensus and order was one stress of Confucianism—it was suffocation and totalitarian control of society (censorship, clothing regulations, regulations on dimensions of houses, regulation of colors one wears, women restricted to home —endless harassment by the state).
The Chinese government also discouraged it subjects from initiative and tinkering—and knowledge they did gain did not lead to or mean societal change or new method of production. Islam also absorbed and developed the knowledge and ways of all the peoples it conquered, but in 12th century Islamic science was denounced as heresy (even before this period they were falling behind) and anything that threatened to undermine the religion was banned. (This had always been a problem for theocracy.) When the Muslims conquered Persia in late 630s the Islamic forces came across a great number of books and scientific papers, and the Caliph, Umar, instructed the commander to throw them in the water for "If what they contain is right guidance, God has given us better guidance. If it error, God has protected us against it." So what we see at the end of the Medieval Period and beginning of the Modern Period is that Europeans were poised to experiment, explore, conquer, and exploit, whereas the other great civilizations of this time (China and Islam) were more concerned with other, internal matters, and less worried about the pursuit of power.
The Road to Discovery
So, it was really only after circa 1500 that Europe initiated the process of discovery and world interaction, and then responded to the discovery and set the agenda for further developments. But why did they suddenly want to do this?
There are several reasons we can point to:
The Crusades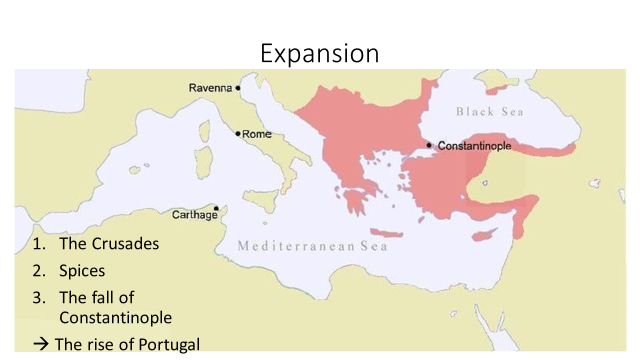 As kings and nobles traveled to the Near East, they returned with the desire for the spices, fabrics, and other products they encountered there, including most notably, sugar. Arabs had brought sugarcane from India to Cyprus and later to Crete and the Crusaders brought it back to Europe. Spices like pepper from India or cloves and nutmeg were valuable as preservatives and used as cures for everything up to Plague. (In the autumn of each year, the non-breeding livestock would be killed, and that meat had to be preserved and then, when cooked, that meat had to be heavily seasoned to hide spoilage. Thus, the value of spices to Europeans—stronger spices also actually killed or weakened bacteria, even though Europeans did not know this.)
The Spice Race
Thus, the search for less expensive routes by which to gain access to the luxury goods of the Orient. This was mostly undertaken by Spain and Portugal who, like most European nations, chafed at the control of the Eastern trade routes by the Italian states. (That is, overland routes in Europe usually ended in Italian port cities, where spices and other goods were imported from the Near East.) Spain and Portugal were well-positions as maritime powers to seek to explore alternate, overseas, trade routes and avoid the Muslim middleman (who marked up prices).
Constantinople
In 1453, the Muslim Turks captured Constantinople thereby becoming undisputed middlemen in East West trade. For much of the time over the next three centuries the Black Sea would be a Muslim lake closed to Christian traders and ships (for hundreds of years even Gibraltar was closed off.
This chain of events combined helps to spur the voyages of exploration, which take place thanks to a combination of state support and individual initiative, ingenuity, daring and courage on the part of those involved.
European Conquest and World Power (1450-1700)
Portugal
With only 1 million people, and its main export cane sugar and wine, Portugal might not look like a global contender at first glance. Yet its long seaboard and influential mercantile community drove Portugal to take the lead, as Prince Henry ("the Navigator") sent out expeditions to map the coast of Africa beginning in 1422. The Portuguese actually would sail almost to Brazil to get better winds to take them to the Cape of Good Hope, a most inventive, audacious to sail into open unknown sea. By 1488, Bartholomew Diaz rounded the Cape of Good Hope, and Portugal was poised to establish a new trade route to the riches of Asia. Four years later, the Portuguese explorer Vasco de Gama completed the mission his predecessor had launched, sailing into the Indian Ocean and to India (previously the preserve of Arab merchants). When he reached India in 1497, de Gama found Arab traders in India and they refused to trade with Christians but de Gama also noted that Europeans appeared to be stronger than the natives, had better ships and guns, and the prices he found promised huge profits—hundred weight of pepper cost three ducats in India and sold for eighty in Venice. (Later the one ship that survived Ferdinand Magellan's circumnavigation of the globe brought back 26 tons of cloves which were then sold for 10,000x cost.)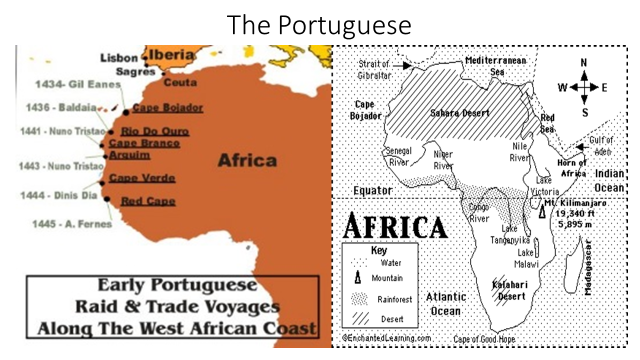 All of this now established a new trading route to the east, one that the Portuguese laid exclusive rights to and used to build a merchant empire. Twelve years later the Portuguese established their main Indian Ocean trading station at Goa, which became the Asian capital of their commercial empire. Goa also served as a missionary center as well, as the Portuguese empire strongly supported the propagation of the Catholic faith, an effort led by the Franciscan Friars. Soon the Portuguese empire embraced the spice-rich Molucca Islands, China, and Japan. An average of twelve ships per year brought the commodities, where, w/o having to inflate the prices b/c of the middlemen costs the Venetians had to pay, they sold cheaply but at profits sufficient to make the country rich. By 1600, Lisbon equaled the Italian merchant cities at their peak, while Venice, her mastery of the Med. devalued by Portuguese competition, was reduced to enjoying the small profits from Middle Eastern commerce.
Spain
Portugal was not the only European power interested in overseas exploration. Whereas the Portuguese concentrated more on securing profits from trade, the Spanish would aim instead at seizing treasure for the crown. This different had a lot to do with different circumstances, as well as different attitudes on the part of the parties involved, of course. Though no less interested in riches, Spain (at this time, the two kingdoms of Aragon and Castile, united via the marriage of King Ferdinand of Aragon and Queen Isabella of Castile in 1469) was preoccupied with the Reconquista.
The Reconquista was a protracted effort to purge the Iberian peninsula of non-Christians, meaning Muslim Moors and Jews from the diaspora were politically and military pressured to give up their lands, professions, and leave. Those who stayed were forced to convert to Catholicism or die. Those who did convert, however, were viewed with suspicion, which led to the infamous Spanish Inquisition. So while Spain was carrying out this sort of domestic crusade, they still asserted their rights to explore new territories, however, and occupied the Canary Islands in 1482. (These islands were later important as a staging-post for Columbus' four expeditions, as well as serving as a laboratory for colonial experiments.)
So, unlike the Portuguese merchants, Spanish explorers were conquistadors, products of a warrior society born out of centuries of combat with the Moors (see above on the Reconquista. The Portuguese had forced out the Moors by 1244 and secured their own independence from the Spanish by 1383). The history of struggle created a mentality in Spain that the duty of the Christian was to fight the infidel, a fight finally completed with the fall of Granada in 1492. More than the opportunities for battlefield glory and wealth, the New World provided a new focus for this mentality.
Columbus
Now we finally get to the person you've been waiting to meet. Christopher Columbus was an Italian who wanted to lead one of these voyages of exploration. He had tough luck convincing a royal court to give him financial support, after having pitched his plan several times. Eventually, Ferdinand and Isabella agree to support his expedition to locate a new route to the East Indies (meaning what we now call Southeast Asia); that is, he thought he could reach Southeast Asia faster by sailing eastward than by traveling westward (around Africa).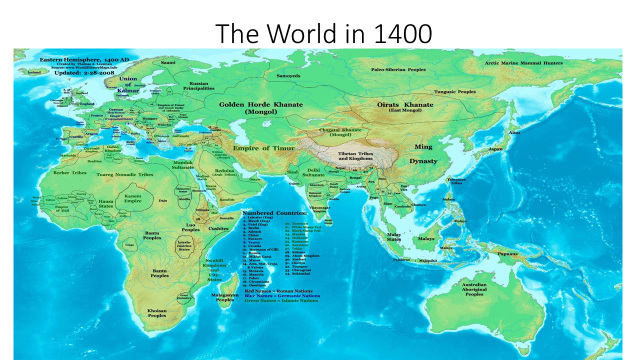 We should not fool ourselves about Columbus's motivation - he wanted money and the power that would come with leading such an expedition successfully. As mentioned above, Columbus had a hard time finding a royal court to take his plan seriously, which is why he had to make his pitch to the Spanish, then to the Portuguese (who were happy with their route around Africa), and sent his brother to England, before the Spanish eventually got on board with the plan. Their deal was that Columbus got 10% of the riches they discovered, that his Admiralty (his rank in the royal navy of Spain) would pass on to his heirs, and that he would have the title of Viceroy and Governor-General of those lands he finds. That is, Columbus was not simply in it for the sake of curiosity or some sort of religious mission.
As for the voyage itself, Columbus was a dead reckoning navigator with a lot of courage and good luck. But he under-calculated the size of the globe, believing he had only to travel 3,000 miles to the Indies while, in actuality, he would have had to travel 10,600 miles to get there. And, as you probably learned as an elementary school pupil, when Columbus did in fact hit land at about the figure he predicted, he naturally thought he had reached the Indies. Of course, he was instead in the Caribbean. He made three voyages to prove he was correct (i.e. that he was traveling from Spain to Asia) but without success (that is, he kept landing in the Caribbean). Even the name of the continents he discovered were named after Amerigo Vespucci, who enjoyed some vogue in 1507 when a German geographer labeled America on the map.
Columbus discovered South America on his third voyage, and some historians assert that, by this point, he did realize he had discovered a new continent, which he referred to as a "terrestrial paradise"—of course, if he did have to admit that he was initially, wrong, we should expect Columbus to report some sort of success to his royal backers. After all, would someone in his situation have reported that he had only found a depression sort of hell on earth? Probably not.
Clash of cultures
Thus, began the prolonged contact between Europeans and Native Americans. Unsurprisingly, this was in large part a clash of cultures, with the Natives behaving generally more generous toward the Spaniards (expecting to be able to take from Spanish in return—which made seem like thieves), although the Indians were more reluctant to share their women. On the other hand, the Spanish were revolted by cannibalistic practices they witnessed among the Indians (the existence of which is actually debated among historians). But the bottom line for Columbus was that there was very little gold and no spices, meaning the anticipated goals of this venture could not be realized. As a consolation, the Spanish did believe that they had found good islands for sugar cultivation, and a possible source for slaves. As it turned out, unintended consequences of Spanish contact largely destroyed this latter possibility.
This is likely the other part of the story you learned in school: the Spanish killed a lot of Indians through straightforward pillage and cruelty. Yet the biggest killers were biological: measles, flu, pneumonia, tuberculosis, and smallpox. It is argued that influenza from pigs ("swine flu") killed by far the most -- anywhere up to 90% of the Indian population was lost. This has led at least one historian to call this the "American Holocaust" (for some reason not Spanish Holocaust) and the beginnings of the "White Conquest" of the New World. (Interestingly, it is not clear that contemporary Americans would refer to Mediterranean Europeans as "white people" but that is a different conversation for a different class.) Ultimately, Columbus's new findings would encourage many to follow because news of the find would spread fast thanks in part to power of the printing press, recently developed by Johann Gutenberg in 1439.
Hernán Cortés
Cortés landed on coast of Mexico in 1519 with 600 men, marching 200 miles to Tenochtitlan (in the valley of Mexico), the Aztec capital. Along the way, Cortés gathered Indian allies in his campaign to attack the Aztecs. This might be surprising – why would some Indians not help their neighbors – but then we need to realize that these indigenous peoples had developed networks of economic and political alliances, as well as rivalries. Just as the Spanish might go to war against the French, even though both were culturally, linguistically, and religiously similar, the Aztecs were not exactly friendly to all their peers. Indeed, the Aztecs had built a tributary empire, where they dominated their neighbors and extracted wealth and other services in exchange for peace. This was, unsurprisingly a very brittle arrangement. In fact, the Aztecs were a nomadic people originally probably from the area of the present-day US southwest, who had moved south and eventually conquered other peoples in area.
When confronted with the Spanish, the Aztec leadership tried to bribe the Spanish to go away before they reached the capital, and along the path they also put on display the flayed bodies of executed Mexican prisoners in order to scare the Spanish and their allies off. These bribes of gold actually only encouraged the Spanish, who wanted the gold, and their Indian allies, who were fulfilling their dream of throwing off the Aztec yoke. When the two sides eventually met in battle, the Aztecs also suffered from a disadvantage in warfare tactics -- Aztec weapons and warfare were designed more to disable and capture enemy soldiers, to be able to take them back for ritual torture and sacrifice, rather than to outright kill their enemies in large numbers.
The Aztec leader, Montezuma, hoped as well that he could overawe the Spanish with his capital. Yet the Spanish took capital, arrested Montezuma, and held him hostage, then took gold from the Aztecs and then made them mine more. In 1520, the Aztecs rebelled and killed Montezuma themselves. Cortes lost a third of his men as the Spanish fought their way out of the city but their Indian allies remained loyal. In 1521, the city was taken again and Cortes and his officers put themselves in the place of Aztec nobility. The enormous cost in human lives of this episode is staggering: in Mexico the population had been 12 million and dropped to 1 million by 1600. In the 100 years after Columbus's expeditions, Indians became nearly extinct in the West Indies (the Caribbean), and had dropped from about 50 million to 4 million in those areas Spain conquered and made part of its empire. In fact, the Spanish began to import Africans slaves into the West Indies as early as 1503 to make up for the loss in forced laborers. The exact number of losses in North America is not really known but could have been 10 million.
Francisco Pizarro
In 1531, at age 56, Pizarro led less than 200 soldiers subdued the Inca Empire which, at the time, was rife with disease and had just gone through a civil war between two claimants to the throne—the victor was Atahualpa. It is difficult to discuss pre-Columbian Incan society as they did not know writing so they left no written record for historians to interpret. (They also did not have wheeled transportation, nor had they developed ocean-going coastal shipping.) We do know that, for the Inca, their ruler was absolute in power and seen as divine—all land was his and he lent it to the people in exchange for tribute, forced labor, and military recruits. Incan society was something akin to an anthill, and except for local bartering, trade was reserved for authorities—some scholars have called it socialist in as much as it was a redistributive authority, but of course it was also a police state – the word for governor (tukrikuk) also meant "he who sees all." The people meanwhile relied on coca to do their toilsome tasks (although it was technically reserved for the elite) and the culture deprived the ordinary person of initiative, autonomy, and personality.
It was thus also Incan arrogance that led them to underestimate the small Spanish force. Atahualpa's father some few years before had ruthlessly killed 20,000 members of a rebellious tribe but the Incans had no experience with this kind of outside invader. Of course, those tribes the Incans had themselves subdued did have this experience, and thus the Spanish again gathered together thousands of Indian allies who rallied to the mission. The Peruvians' population however was in fact more resistant and probably only dropped by 20% due to disease, and thus significant resistance to Spanish lasted until 1572. The Spanish ended up keeping many Inca headmen in local charge and their heirs intermarried with the Spanish and still represent the elite of that society.
Legacies:
The Spanish brought a lot of gold and silver out of the New World but failed to use it wisely to improve their own (Spanish) society or industry—they could buy everything they needed from someone else (like cannon from England) so they themselves did not have to build it, so they never did. The money did, however, help to fund armies that that stopped Turks from overrunning Europe and thus save "Western Civilization" (there's that murky term again!). So at the same time the Spanish were conquering a new world, their emperor, Charles V, was using the wealth to defend the city of Vienna (1529) from the Turks.
The Spanish Conquest had lasting impacts in terms of ecological exchanges, for both the Native Americans but also back in Europe. From the Americas, Europeans first found and adopted turkeys, maize (corn), white potatoes, peanuts, squash, peppers, tomatoes, pumpkins, pineapples, cacao (the source of chocolate), and concord grapes. That is, the ancient Romans did not eat pizza with tomato sauce, and the Spanish in the 1400s did not enjoy chocolate. From Europe, Native Americans were introduced to horses, cattle, pigs, sheep, goats, chickens (maybe), rice, wheat, oats, barley, coffee (originally from the Mocha area in Arabian Peninsula and brought to Java by Dutch), olives, bananas, daisies, and dandelions. At the same time, Europeans also brought diseases such as smallpox, measles, and typhus. After Columbus returned from his initial voyage, further conflict between Spain and Portugal were headed off by Pope Alexander VI with the Treaty of Tordesillas (1494), which established an imaginary line on the globe stipulated that area to the west would be a Spanish sphere of exploration and settlement, whereas east of the line would be Portuguese. Thus further exploration and conquest was the assumption.
Why not China or other Asian power?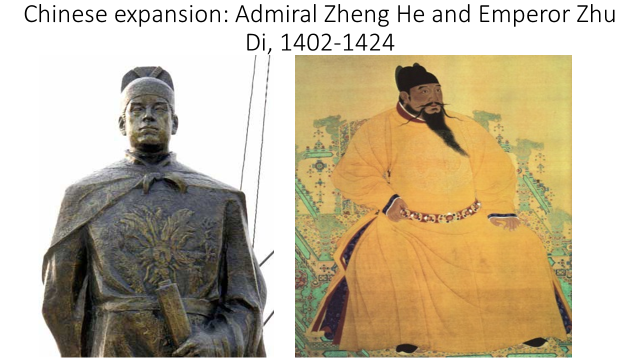 We began this section thinking about the reasons for which we might have expected China to remain in its position of leader in technology, government, and trade. It is worth returning to that line of thought, to consider why Europeans suddenly surpassed their Asian peers. By the 17th century, it was the Dutch, English, and Portuguese who were fighting for goods and trade dominance in the Indian Ocean. The province of Holland in mid-1500s had only about one million people, but some 1,800 seagoing ships; such a capital investment reveals the degree to which the Dutch were committed to overseas exploration and trade. The native rulers of these Asian regions being subdued by the Europeans, however, kept clear of the fight and were downright indifferent to maritime power: Bahadur Shah, ruler of Gujurat, neighbor to the Portuguese at Goa, declared that "Wars by sea are merchants' affairs and of no concern to the prestige of kings." This was not far from the Chinese attitude.
It is now well-known that the Chinese did venture out on the seas in the 15th century but nothing came of it. From 1405 to 1431, China was under the third emperor of the Ming Dynasty (1368-1644) Yongle (Zhu Di)(1402-1424), and undertook at least 7 major naval expeditions to explore the waters of Indonesia and the Indian Ocean—the fleets had ships that were 400 feet long and built for luxury—the Santa Maria was only 85 feet long.
The first fleet in 1405 had 317 vessels and 28,000 men under Admiral Zheng He, paid for by bleeding the peasants dry through taxes. It was strictly official in nature and not private initiative - -the campaign was not necessarily for profit, greed, or passion for exploration, but for the Chinese to show themselves and their overwhelming power and receive obeisance, fealty, and to collect tribute without even a fight.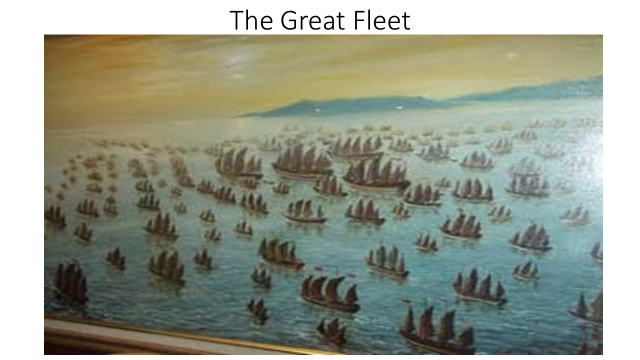 In the 1430s a new emperor took over who did not care about the maritime effort, the Mongols were a continuing problem in the north, and the cost of navy was too much considering other needs. So from 1436 the government wound down the fleets. By 1500 anyone who built a ship of more than two masts was liable to the death penalty, and in 1525 oceangoing ships of any kind were destroyed by coastal authorities and their owners arrested. Ships' logs of the campaigns were later hidden or burned by the Ministry of War. This closure and introversion by Chinese could not have come at a worse time—in fact the first Chinese vessel in a European port would be diplomatic mission for the Great Exhibition at London in 1851.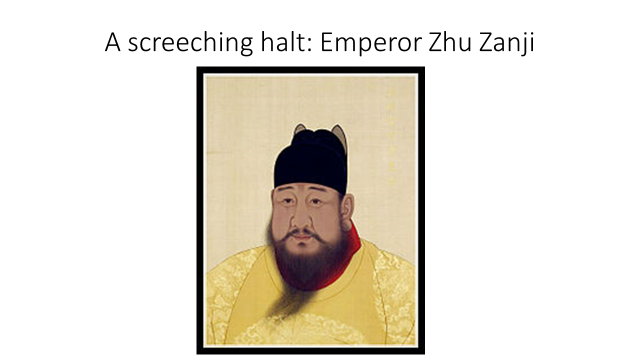 Okay, now that we have explored the reasons for which Europe's rise should be a surprise, and maybe China's decline should also have been surprising, we can turn to those events, people, and ideas that made Europe's rise happen – the shaping of the Atlantic World. Keep in mind, though, that the story of Europe rising to the top and dominating the rest of the world was not a pre-determined outcome. That is, people made choices and took actions to arrive at this end. There were contingent factors, causal factors, lots of complexity and lots of context we need to uncover before we can understand this change over time.
60-Second Quiz #3: What were some of the reasons for which Europe was not a global power, prior to the 1500s. What changed? Which statement is NOT correct?
Europe was a patchwork of petty warring states who were too busy fighting with each other, until about the 1500s.

Europe had a smaller population than, for instance, China and Africa, prior to about 1500.

Europe had no reason to seek overseas trading routes for importing foreign goods, prior to about 1500.

Europe was united into one multi-ethnic empire in 1500, with a mission to conquer its neighbors outside of Europe.
Key for 60-second quizzes:
Historians do much more than tell us "just the facts," because history is an act of interpretation. This is why they need lots of primary- and secondary sources, to use in gaining the most comprehensive understanding of the past as possible, to interpret what changed and what remained continuous.

This is a fictive notion, since there is no continent labelled "western civilization," and people in the United States only really talked about this idea after World War One began. But it is more-or-less Europe-plus-the United States, even though there can (and should) be a diversity of races, ethnic groups, languages, religions, political ideologies, and economic assumptions included in that label, to take in to account the expansiveness of Europe's reach at different points in time.

Europe was the patchwork, not a singular empire, which may have aided European states to become proficient at killing other people. Europe's small population was a disadvantage but the desire for trade, and the closing of Constantinople, helped spur sea-faring European kingdoms to explore new trade routes.
Primary Source Exercise
Reading: Christopher Columbus, Extracts from Journal (1492)
After you have read the primary source listed above (as well as Chapter 1), answer the following questions, based on what you have learned so far:
What do you think is important to know about the author of this text? What can you learn from the words written on the page? What can you infer or piece together from the background information in the textbook chapter? Why is this important?

What was the author's goal in writing this text? To whom did he or she address it? What purpose did it serve? Can you point to one or more examples to support this analysis?

What, if any, hidden assumptions can you detect in this text? That is, can you find word choices, phrasing, innuendo, or other examples of the author's (explicit or implicit) bias with regard to the subject matter? Does this bias (or these assumptions) affect how you understand and react to the author's words? Why or why not?