(1749-1806)
Image 1.5 | Portrait of Charlotte Smith
Artist | Samuel Freeman Source | National Portrait Gallery License | Public Domain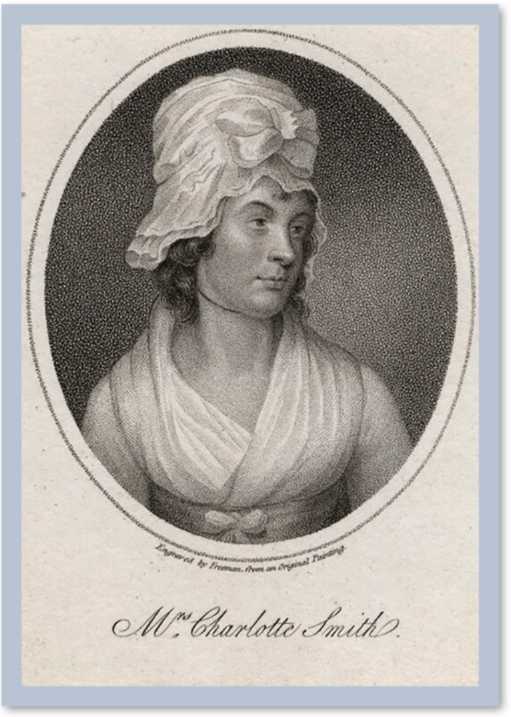 Charlotte Smith's father, Nicholas Turner, was a wealthy gentleman who nevertheless lived beyond his means. Her mother, Anna Towers, died when Smith was four years old. Smith was then left to the care of her father and aunt. She received the education her society deemed sufficient for women. At a school in Chichester, she learned dancing, drawing, and music. She further educated herself through avid reading.
In 1765, her father married Henrietta Meriton, a wealthy woman whose temperament convinced the aunt to remove Smith from her father's household. At the age of fourteen, Smith was married to Benjamin Smith, who came from a wealthy family with estates in the West Indies. They had twelve children, three of whom died early. Smith likened their marriage to legalized prostitution, a view that later women writers would repeat, protesting the limited opportunities for supporting themselves through work. The marriage was not a happy one.
Benjamin Smith squandered what money they had and did little, if anything, to acquire more. His father, Richard Smith, bought them a country estate which, through Benjamin's mismanagement, failed to accrue any income. Richard admired Smith's intellect and sought to use her skills, especially in writing, to further his own business interests. His holdings included plantations that relied on slave labor, an institution Smith would later protest against in her writing. Richard Smith tried to provide for Smith in his will but legal problems prevented her inheriting any money until the year she died. Her husband was imprisoned for debt for seven months, during which time Charlotte joined him, and later emigrated with his family to Normandy to escape creditors. Eventually, Charlotte obtained legal separation. She retained custody of their children.
While in debtor's prison with her husband, Charlotte wrote Elegiac Sonnets, and Other Essays. She had it published at her own expense in 1784. Its success encouraged her to write as a means of financial support, which she did until a few years before she died. Her astonishing literary productivity—of fiction, poetry, and drama—attests to her financial need and her business acumen and knowledge of the literary marketplace. It also attests to her literary ambition. She felt driven by market demands to write fiction. Yet her long fiction displays increasing experimentation with the developing novel genre, with its hybridity, with its tension between actuality and concrete particulars and fantasy, with its place for self-representation that proved truer than fiction. Her long fiction actively engages with her era's revolutionary politics, propounding liberal views, maintaining critical conversations with radical thinkers like Mary Wollstonecraft, and exposing the subject position of women. They often reflect personal concerns—with sexuality, vulnerability, poverty—that reflect upon social issues, particularly regarding women's place in society and lack of legal rights.
Smith preferred writing poetry, then a more respected genre than fiction, and identified herself as a poet. Her use, indeed revival, of the sonnet form countered the eighteenth-century heroic couplet. She infused her sonnets with emotion and personal sensibility, particularly with her sincere affection for nature. They directly influenced Wordsworth and Coleridge, modeling for these writers a responsiveness to nature.
1.5.1 from

Elegiac Sonnets
Written at the Close of Spring
The garlands fade that Spring so lately wove,
Each simple flow'r, which she had nursed in dew,
Anemonies that spangled every grove,
The primrose wan, and harebell, mildly blue.
No more shall violets linger in the dell,
Or purple orchis variegate the plain,
Till Spring again shall call forth every bell,
And dress with humid hands her wreaths again.–
Ah, poor Humanity! so frail, so fair,
Are the fond visions of thy early day,
Till Tyrant Passion, and corrosive Care,
Bid all thy fairy colours fade away!
Another May new buds and flow'rs shall bring;
Ah! Why has Happiness—no second Spring?
1.5.2 "To a Nightingale"
Poor melancholy bird—that all night long
Tell'st to the Moon thy tale of tender woe;
From what sad cause can such sweet sorrow flow,
And whence this mournful melody of song?
Thy poet's musing fancy would translate
What mean the sounds that swell thy little breast,
When still at dewy eve thou leav'st thy nest,
Pale Sorrow's victims wert thou once among,
Tho' now releas'd in woodlands wild to rove?
Say—Hast thou felt from friends some cruel wrong,
Or diedst thou—martyr of disastrous love?
Ah, songstress sad! that such my lot might be,
To sigh and sing, at liberty—like thee!
1.5.3 "To Sleep"
Come balmy Sleep! tir'd Nature's soft resort!
On these sad temples all thy poppies shed;
And bid gay dreams from Morpheus' airy court,
Float in light vision round my aching head!
Secure of all thy blessings, partial Power!
On his hard bed the peasant throws him down;
And the poor sea boy, in the rudest hour,
Enjoys thee more than he who wears a crown.
Clasp'd in her faithful shepherd's guardian arms,
Well may the village girl sweet slumbers prove;
And they, O gentle Sleep! still taste thy charms,
Who wake to labour, liberty and love.
But still thy opiate aid dost thou deny
To calm the anxious breast; to close the streaming eye.
1.5.4 Supposed to have been written in a Church Yard, over the Grave of a Young Woman of nineteen. From the Novel of

Celestina

(by Charlotte Smith)
Oh, thou! who sleep'st where hazle bands entwine
The vernal grass, with paler violets drest;
I would, sweet maid! thy humble bed were mine,
And mine thy calm and enviable rest.
For never more by human ills opprest,
Shall thy soft spirit fruitlessly repine:
Thou canst not now, thy fondest hopes resign
E'en in the hour that should have made thee blest.
Light lies the turf upon thy virgin breast;
And ling'ring here, to Love and Sorrow true,
The Youth who once thy simple heart possest
Shall mingle tears with April's early dew;
While still for him shall faithful Memory save
Thy form and virtues from the silent grave.
1.5.5 "The Captive escaped in the Wilds of America" Addressed to the Honourable Mrs. O'Neill
If by his torturing, savage foes untrac'd,
The breathless Captive gain some trackless glad,
Yet hears the warwhoop howl along the waste,
And dreads the reptile monsters of the shade;
The giant reeds that murmur round the flood,
Seem to conceal some hideous form beneath;
And every hollow blast that shakes the wood,
Speaks to his trembling heart, of woe and death.
With horror fraught, and desolate dismay,
On such a wanderer falls the starless night;
But if, far streaming, a propitious ray
Leads to some amicable fort his sight,
He hails the beam benign that guides his way,
As I, my Harriet, bless thy friendship's cheering light.
1.5.6 Reading and Review Questions
How, and why, does Smith transform Spring—usually associated with new life and growth—into a revelation of loss and sorrow?
What effect, if any, does the paradox "sweet sorrow" have on the tone of "To a Nightingale?" How does this poem compare to John Keats's later "Ode to a Nightingale" in terms of its emotional weight?

How, and why, does Smith gender nature in personal, rather than conventional, ways?

How, if at all, does Smith relate to rural, rude, and wretched figures, both male and female? Why?