1.4 ANNA LAETITIA BARBAULD
(1743-1825)
Anna Letitia Aikin Barbauld was born into a family of Presbyterian Dissenters. Her father, John Aikin, a schoolteacher and minister, took the unusual step of educating his daughter while she was still in her infancy. In addition to learning to read and write in English—not a given for women at this time—Barbauld learned French, Italian, Latin, and Greek. Joseph Priestley, poet, Dissenter theologian, and friend of the family, helped inspire Barbauld to write poetry. She privately circulated her poems. Like many women authors, she first published her poetry under the auspices of a male relative, in her case, in her brother John's Essays on Song-Writing (1771), which included several of her poems. William Enfield, who had published comments on Joseph Priestley's attacks on the Church of England, also included several of Barbauld's hymns in his Hymns for Public Worship (1772). In 1773, she published Poems under her own name, a radical act at that time, and met with remarkable success.
Image 1.4 | Portrait of Anna Laetitia Barbauld
Artist | John Chapman Source | Wikimedia Commons License | Public Domain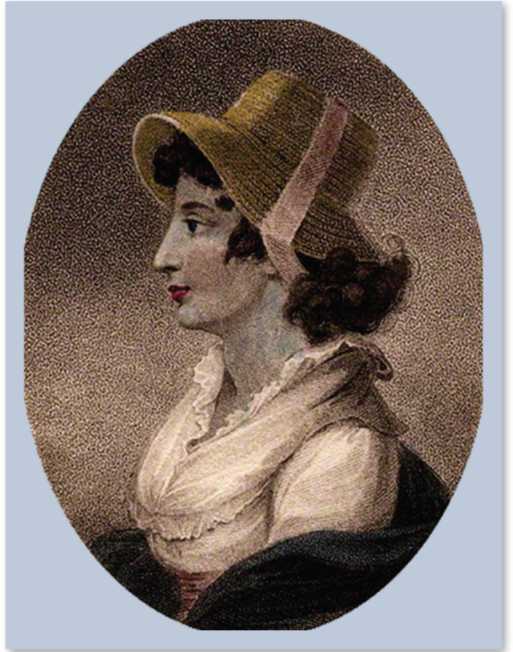 In 1774, she married Rochemont Barbauld, a Presbyterian Dissenter convert. They opened a boarding school in Suffolk and adopted children. She herself taught at Palgrave Academy in subjects that included geography and science. Her early work focused on educating children, and education remained a strong purpose throughout her writing career in both original and edited work, including Lessons for Children (1778-79) and Female Speaker (1811), an anthology of prose and poetry for young women. Her multivolume edition of The British Novelists (1810) curated the novel genre, canonizing and giving weight to the form for future generations. Its introduction evaluated constituent elements of the novel genre, particularly plot and narrative closure.
Her "evaluation" of society—particularly of its injustices; inequalities of class, race and gender; and atrocities—shaped much of her poetry and prose. In An Address to the Opposers of the Repeal of the Corporation and Test Acts (1790), she condemned religious oppression in England in an emotionally-charged and cogent argument. She prophesied the corruption and decline of a nation that failed to abolish the abhorrent slave trade in her Epistle to William Wilberforce Esq. On the Rejection of the Bill for Abolishing the Slave Trade (1791). And she vilified the English war against the French in Sins of Government, Sins of the Nation (1793).
1.4.1 "Epistle to William Wilberforce Esq. On the Rejection of the Bill for Abolishing the Slave Trade"
Cease, Wilberforce, to urge thy generous aim!
Thy Country knows the sin, and stands the shame!
The Preacher, Poet, Senator in vain
Has rattled in her sight the Negro's chain;
With his deep groans assailed her startled ear,
And rent the veil that hid his constant tear;
Forced her averted eyes his stripes to scan,
Beneath the bloody scourge laid bare the man,
Claimed Pity's tear, urged Conscience' strong controul,
And flashed conviction on her shrinking soul.
The Muse too, soon awaked, with ready tongue
At Mercy's shrine applausive pæans rung;
And Freedom's eager sons in vain foretold
A new Astrean reign, an age of gold:
She knows and she persists—Still Afric bleeds,
Unchecked, the human traffic still proceeds;
She stamps her infamy to future time,
And on her hardened forehead seals the crime.
In vain, to thy white standard gathering round,
Wit, Worth, and Parts and Eloquence are found:
In vain, to push to birth thy great design,
Contending chiefs, and hostile virtues join;
All, from conflicting ranks, of power possesst
To rouse, to melt, or to inform the breast.
Where seasoned tools of Avarice prevail,
A Nation's eloquence, combined, must fail:
Each flimsy sophistry by turns they try;
The plausive argument, the daring lie,
The artful gloss, that moral sense confounds,
The' acknowledged thirst of gain that honour wounds:
Bane of ingenuous minds!—the' unfeeling sneer,
Which sudden turns to stone the falling tear:
They search assiduous, with inverted skill,
For forms of wrong, and precedents of ill;
With impious mockery wrest the sacred page,
And glean up crimes from each remoter age:
Wrung Nature's tortures, shuddering, while you tell,
From scoffing fiends bursts forth the laugh of hell;
In Britain's senate, Misery's pangs give birth
To jests unseemly, and to horrid mirth—
Forbear!—thy virtues but provoke our doom,
And swell the' account of vengeance yet to come;
For, not unmarked in Heaven's impartial plan,
Shall man, proud worm, contemn his fellow-man!
And injured Afric, by herself redresst,
Darts her own serpents at her tyrant's breast.
Each vice, to minds depraved by bondage known,
With sure contagion fastens on his own;
In sickly languors melts his nerveless frame,
And blows to rage impetuous Passion's flame:
Fermenting swift, the fiery venom gains
The milky innocence of infant veins;
There swells the stubborn will, damps learning's fire,
The whirlwind wakes of uncontrouled desire,
Sears the young heart to images of woe,
And blasts the buds of Virtue as they blow.
Lo! where reclined, pale Beauty courts the breeze,
Diffused on sofas of voluptuous ease;
With anxious awe her menial train around
Catch her faint whispers of half-uttered sound;
See her, in monstrous fellowship, unite
At once the Scythian and the Sybarite!
Blending repugnant vices, misallied,
Which frugal nature purposed to divide;
See her, with indolence to fierceness joined,
Of body delicate, infirm of mind,
With languid tones imperious mandates urge;
With arm recumbent wield the household scourge;
And with unruffled mien, and placid sounds,
Contriving torture, and inflicting wounds.
Nor, in their palmy walks and spicy groves,
The form benign of rural Pleasure roves;
No milk-maid's song, or hum of village talk,
Soothes the lone poet in his evening walk:
No willing arm the flail unwearied plies,
Where the mixed sounds of cheerful labour rise;
No blooming maids and frolic swains are seen
To pay gay homage to their harvest queen:
No heart-expanding scenes their eyes must prove
Of thriving industry and faithful love:
But shrieks and yells disturb the balmy air,
Dumb sullen looks of woe announce despair,
And angry eyes through dusky features glare.
Far from the sounding lash the Muses fly,
And sensual riot drowns each finer joy.
Nor less from the gay East, on essenced wings,
Breathing unnamed perfumes, Contagion springs;
The soft luxurious plague alike pervades
The marble palaces and rural shades;
Hence thronged Augusta builds her rosy bowers,
And decks in summer wreaths her smoky towers;
And hence, in summer bowers, Art's costly hand
Pours courtly splendours o'er the dazzled land:
The manners melt;—one undistinguished blaze
O'erwhelms the sober pomp of elder days;
Corruption follows with gigantic stride,
And scarce vouchsafes his shameless front to hide:
The spreading leprosy taints every part,
Infects each limb, and sickens at the heart.
Simplicity, most dear of rural maids,
Weeping resigns her violated shades:
Stern Independence from his glebe retires,
And anxious Freedom eyes her drooping fires;
By foreign wealth are British morals changed,
And Afric's sons, and India's, smile avenged.
For you, whose tempered ardour long has borne
Untired the labour, and unmoved the scorn;
In Virtue's fasti be inscribed your fame,
And uttered yours with Howard's honoured name;
Friends of the friendless—Hail, ye generous band!
Whose efforts yet arrest Heaven's lifted hand,
Around whose steady brows, in union bright,
The civic wreath and Christian's palm unite:
Your merit stands, no greater and no less,
Without, or with the varnish of success:
But seek no more to break a nation's fall,
For ye have saved yourselves—and that is all.
Succeeding times your struggles, and their fate,
With mingled shame and triumph shall relate;
While faithful History, in her various page,
Marking the features of this motley age,
To shed a glory, and to fix a stain,
Tells how you strove, and that you strove in vain. 
1.4.2 "A Summer Evening's Meditation"
'TIS past! The sultry tyrant of the south
Has spent his short-liv'd rage; more grateful hours
Move silent on; the skies no more repel 
The dazzled sight, but with mild maiden beams
Of temper'd light, invite the cherish'd eye
To wander o'er their sphere; where hung aloft
DIAN's bright crescent, like a silver bow
New strung in heaven, lifts high its beamy horns
Impatient for the night, and seems to push
Her brother down the sky. Fair VENUS shines
Even in the eye of day; with sweetest beam
Propitious shines, and shakes a trembling flood
Of soften'd radiance from her dewy locks.
The shadows spread apace; while meeken'd Eve
Her cheek yet warm with blushes, slow retires
Thro' the Hesperian gardens of the west,
And shuts the gates of day. 'Tis now the hour
When Contemplation, from her sunless haunts,
The cool damp grotto, or the lonely depth
Of unpierc'd woods, where wrapt in solid shade
She mused away the gaudy hours of noon,
And fed on thoughts unripen'd by the sun,
Moves forward; and with radiant finger points
To yon blue concave swell'd by breath divine,
Where, one by one, the living eyes of heaven
Awake, quick kindling o'er the face of ether
One boundless blaze; ten thousand trembling fires, 
And dancing lustres, where th' unsteady eye 
Restless, and dazzled wanders unconfin'd
O'er all this field of glories: spacious field! 
And worthy of the master: he, whose hand
With hieroglyphics older than the Nile, 
Inscrib'd the mystic tablet; hung on high 
To public gaze, and said, adore, O man!
The finger of thy GOD. From what pure wells
Of milky light, what soft o'erflowing urn, 
Are all these lamps so fill'd? these friendly lamps,
For ever streaming o'er the azure deep 
To point our path, and light us to our home. 
How soft they slide along their lucid spheres!
And silent as the foot of time, fulfil
Their destin'd courses: Nature's self is hush'd, 
And, but a scatter'd leaf, which rustles thro' 
The thick-wove foliage, not a sound is heard
To break the midnight air; tho' the rais'd ear,
Intensely listening, drinks in every breath.
How deep the silence, yet how loud the praise!
But are they silent all? or is there not
A tongue in every star that talks with man, 
And wooes him to be wise; nor wooes in vain: 
This dead of midnight is the noon of thought, 
And wisdom mounts her zenith with the stars.
At this still hour the self-collected soul
Turns inward, and beholds a stranger there 
Of high descent, and more than mortal rank;
An embryo GOD; a spark of fire divine, 
Which must burn on for ages, when the sun, 
(Fair transitory creature of a day!) 
Has clos'd his golden eye, and wrapt in shades 
Forgets his wonted journey thro' the east.
Ye citadels of light, and seats of GODS! 
Perhaps my future home, from whence the soul
Revolving periods past, may oft look back 
With recollected tenderness, on all 
The various busy scenes she left below, 
Its deep laid projects and its strange events, 
As on some fond and doating tale that sooth'd 
Her infant hours; O be it lawful now 
To tread the hallow'd circles of your courts, 
And with mute wonder and delighted awe 
Approach your burning confines. Seiz'd in thought 
On fancy's wild and roving wing I sail, 
From the green borders of the peopled earth, 
And the pale moon, her duteous fair attendant; 
From solitary Mars; from the vast orb 
Of Jupiter, whose huge gigantic bulk 
Dances in ether like the lightest leaf; 
To the dim verge, the suburbs of the system, 
Where chearless Saturn 'midst her watry moons 
Girt with a lucid zone, majestic sits
In gloomy grandeur; like an exil'd queen 
Amongst her weeping handmaids: fearless thence
I launch into the trackless deeps of space, 
Where, burning round, ten thousand suns appear,
Of elder beam; which ask no leave to shine
Of our terrestrial star, nor borrow light 
From the proud regent of our scanty day;
Sons of the morning, first born of creation, 
And only less than him who marks their track, 
And guides their fiery wheels. Here must I stop,
Or is there aught beyond? What hand unseen 
Impels me onward thro' the glowing orbs 
Of inhabitable nature; far remote,
To the dread confines of eternal night, 
To solitudes of vast unpeopled space, 
The desarts of creation, wide and wild;
Where embryo systems and unkindled suns 
Sleep in the womb of chaos; fancy droops,
And thought astonish'd stops her bold career.
But oh thou mighty mind! whose powerful word 
Said, thus let all things be, and thus they were, 
Where shall I seek thy presence? how unblam'd 
Invoke thy dread perfection? 
Have the broad eye-lids of the morn beheld thee?
Or does the beamy shoulder of Orion 
Support thy throne? O look with pity down
On erring guilty man; not in thy names 
Of terrour clad; not with those thunders arm'd
That conscious Sinai felt, when fear appall'd 
The scatter'd tribes; thou hast a gentler voice,
That whispers comfort to the swelling heart,
Abash'd, yet longing to behold her Maker.
But now my soul unus'd to stretch her powers
In flight so daring, drops her weary wing,
And seeks again the known accustom'd spot,
Drest up with sun, and shade, and lawns, and streams, 
A mansion fair and spacious for its guest, 
And full replete with wonders. Let me here 
Content and grateful, wait th' appointed time 
And ripen for the skies: the hour will come 
When all these splendours bursting on my sight 
Shall stand unveil'd, and to my ravished sense
Unlock the glories of the world unknown. 
1.4.3 "The Rights of Women"
Yes, injured Woman! rise, assert thy right!
Woman! too long degraded, scorned, opprest;
O born to rule in partial Law's despite,
Resume thy native empire o'er the breast!
Go forth arrayed in panoply divine;
That angel pureness which admits no stain;
Go, bid proud Man his boasted rule resign,
And kiss the golden sceptre of thy reign.
Go, gird thyself with grace; collect thy store
Of bright artillery glancing from afar;
Soft melting tones thy thundering cannon's roar,
Blushes and fears thy magazine of war.
Thy rights are empire: urge no meaner claim,-
Felt, not defined, and if debated, lost;
Like sacred mysteries, which withheld from fame,
Shunning discussion, are revered the most.
Try all that wit and art suggest to bend
Of thy imperial foe the stubborn knee;
Make treacherous Man thy subject, not thy friend;
Thou mayst command, but never canst be free.
Awe the licentious, and restrain the rude;
Soften the sullen, clear the cloudy brow:
Be, more than princes' gifts, thy favours sued;-
She hazards all, who will the least allow.
But hope not, courted idol of mankind,
On this proud eminence secure to stay;
Subduing and subdued, thou soon shalt find
Thy coldness soften, and thy pride give way.
Then, then, abandon each ambitious thought,
Conquest or rule thy heart shall feebly move,
In Nature's school, by her soft maxims taught,
That separate rights are lost in mutual love. 
1.4.4 Reading and Review Questions
In the Epistle to Wilberforce, what persuasive rhetorical devices does Barbauld use, and to what effect? Consider contrasts in the poem.

In the Epistle to Wilberforce, how does Barbauld describe the effects of slaveholding on men, and on women? Do the effects differ? If so, why?

In A Summer Evening's Meditation, how do statements like stars wooing humans to be wise anticipate Wordsworth's adjuration to let nature be our teacher? What is remarkable about learning from nature?

In the Rights of Women, how does Barbauld characterize the domain or empire women are meant to rule? What's the effect of this characterization?