1.1 – 1.3 The Romantic Era
1.1 ROMANTICISM IN LITERATURE
Image 1.1 | Liberty Leading the People
Artist | Eugene Delacroix Source | Wikimedia Commons License | Public Domain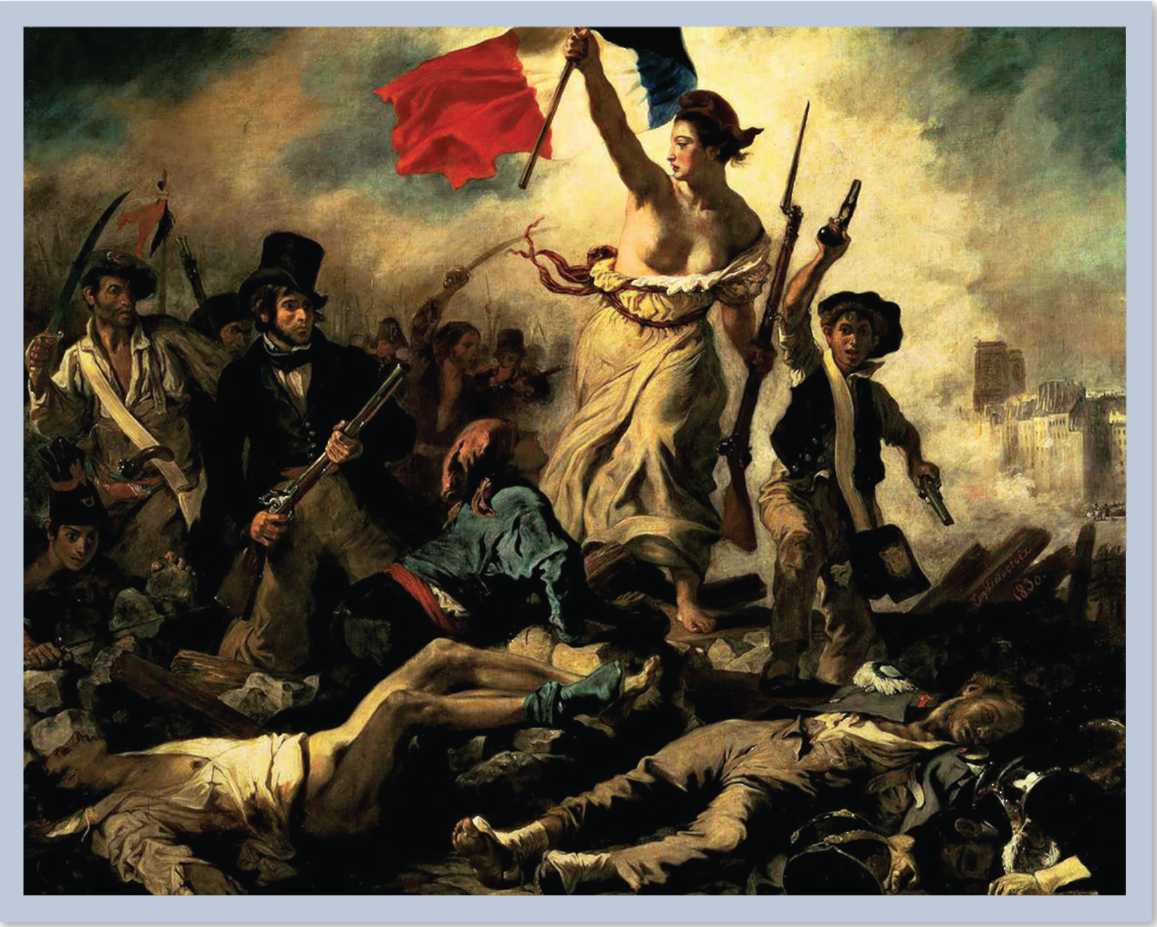 As a literary movement in England, Romanticism could be said to have fired its first salvo in 1801 with William Wordsworth's (1770-1850) "Preface" to the Lyrical Ballads. Lyrical Ballads is a collection of poetry that As a literary movement in England, Romanticism could be said to have fired its first salvo in 1801 with William Wordsworth's (1770-1850) "Preface" to the Lyrical Ballads. Lyrical Ballads is a collection of poetry that Wordsworth co-published with Samuel Taylor Coleridge (1772-1834). The term "Romanticism," describing this movement, came after the fact. Romanticism lasted until the mid-1820s, with the deaths of the poets Percy Bysshe Shelley (1792-1822) and George Gordon, Lord Byron (1788-1824).
In his preface to Hernani (1830), Victor Hugo wrote that "Romanticism was nothing more than liberalism in literature." Romanticism can be considered a rebellion against the conservative thought and literature of the eighteenth-century Age of Reason, a period that looked to ancient Rome and classical forms for models of perfection. The eighteenth-century Age of Reason was politically conservative and monarchic; other features, especially in terms of literature, include decorum, conventionality/models, harmony, artificiality, logic, and objectivity. Romanticism is neither romance nor the desire for prettiness or sentimentality; instead, it is closer to being anti-eighteenth century, or a repudiation of what went before. The idea of liberalism, to which Hugo referred, is expressed in the Romantic desire for an egalitarian (as opposed to monarchic) government, and for the freedom of the individual.
Image 1.2 | The Wanderer Above the Sea of Fog
Artist | Caspar David Friedrich Source | Wikimedia Commons License | Public Domain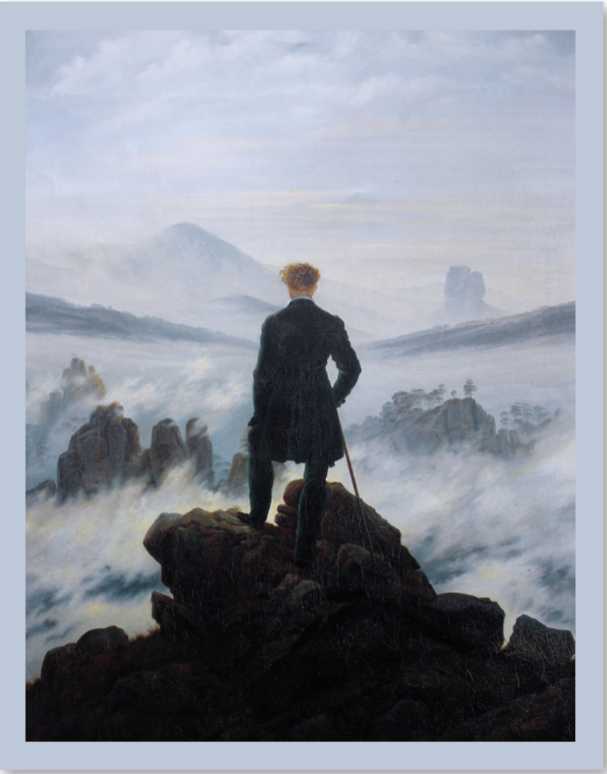 This revolutionary spirit was inspired by actual revolutions, including the American Revolution (1775-1783) and the French Revolution (1789-1790s). These revolutions occurred within a wealth of intellectual thought and new ideas on what were human rights and what role government and society played in securing these rights. Some influential works were Jean-Jacques Rousseau's The Social Contract (1762), which questioned the efficacy of existing political systems; Edmund Burke's Reflections on the Revolution in France (1790), which considered the consequences of revolution to the status quo; and Thomas Paine's The Rights of Man (1791-92), which suggested that all humans possessed inherent rights, rights that governments could potentially or actually threaten. Universal human rights existed independently of people's social position, or class. They considered the qualities that all humans shared, regardless of family, history, or income. The Romantics thought that all humans shared emotions and imagination. For the Romantics, these qualities served to validate human equality.
Romanticism regarded as values subjectivity and individuality—indeed, individual subjectivity. It shifted the eighteenth century's focus on outward action to a new focus on inward action, that is, to action in the mind. Romantic literature scrutinized feelings and the relation of feeling to the outer world. Sincerity, openness, transparency, and spontaneity allowed that relationship to be more apparent, and the lyric, or song-like expression of an individual's emotions, became a characteristic Romantic genre. The imaginative individual created from the external impressions of natural beauty and human civilization an ideal of perfection within themselves, the embodiment of which they then sought to find in the external world. The Romantic image—of the skylark, nightingale, midnight frost—epitomizes their quest for a union of the organic and the imaginative (through imaginative perception). The "closet drama," or dramas not intended to be (or even able to be) performed, and the historical novel, in which time and place could be conflated, were genres well-suited to Romantic expression. Related qualities of the unformulated, or innocent; the unconscious; and the mysterious (and even "exotic") actuated Romantic focus on, or interest in, children, and the child-like; nature, and those perceived as being close to nature, like agricultural workers; and the imaginative, or the poet.
The imaginative individual's response to nature, even to the possibility of animism in nature, reflected the importance of emotion over logic and order, for uncultivated nature. And nature in its most awe-inspiring "inhuman" forms inspired a range of emotions, from love to terror. In such moments of extreme emotion, the Romantic writer often felt connected with the sublime, with something beyond themselves, and so could see more deeply into the world than could "insensitive" individuals or those who accepted conformity or imitation. The ability to see things beyond the routine, to express thought and feeling combined, to be authentic individuals uncorrupted or made numb by society characterized the Romantic's attitudes towards and use of children and poets as touchstones. Because children—and Romantic writers—did not conform yet to societal pressures, their imaginations were truer, more active, and even prophetic in their power. Romanticism lauded and upheld the imagination as a form of individual power and freedom for all humans.
The different pressures placed upon the actual individual power and freedom of women, blacks, Roman Catholics, the rural poor, and the displaced, among others, also received nuanced attention and expression. Blake's ironies, Mary Shelley's (1797-1851) "monstrous" creativity, and Charlotte Smith's (1749-1806) anti-slavery activism, for example, demonstrated the fragility and tentativeness of any powers and any freedoms as well as the possible futility and danger of prophecy.
1.2 HISTORICAL CONTEXT
The Romantic era was characterized by revolutions, including the American, the French, and the Industrial. The American Revolution had an impact on all of Europe. Its causes included the desire for political freedom and economic stability that the colonialists saw King Georgia III as menacing. England saw the American colonies as a source of materials and goods not in England proper and as a market for goods produced by England. Much against which the colonists objected were British laws endeavoring to maintain this economic balance. When England forcefully repressed protests and rebellion, the colonies directed their ire against King George III in their Declaration of Independence. And in the Declaration, individual freedom and independence were added to economic freedom as social and moral claims.
In addition to the American Revolution, England experienced its own economic revolution—commercial, agricultural, in transportation with new roads and canals, in industrialization. The Industrial Revolution became visible to many people about the mid-1700s. It was a revolution in methods, organization, and economic principles. Before industrialization, England functioned by a Medieval code of minute regulations in business and trade and restrictions on mobility and labor.
Comparatively few people in England at that time had actual, independent rights, particularly of possession. People who had lived on the land for centuries were tenants, not owners. With progress in manufacture, particularly in textiles, came the Enclosure movement, that is, the enclosing of land which previously had been available to everyone. Landowners threw out their tenants and enclosed their land for raising sheep, because wool was a profitable commodity. Agriculture consequently declined and tenants moved to cities to work in new factories and mills.
The shift in employment opportunities—or lack thereof—through increasing mechanization resulted in riots such as The Peterloo Massacre. Percy Bysshe Shelley (1792-1822) responded with poems like "England in 1819" that supported the working class. While working men suffered, women also faced restrictions, as they had almost no legal rights and few, if any, educational opportunities.
The French Revolution evoked the American Revolution and England's Glorious Revolution during which Charles I was beheaded. The French Revolution smashed institutions, destroyed the monarchy and aristocracy, and built a new (though not permanent) order. An ideal of the French Revolution was to let the individual freely develop, so it opposed the institutions that checked individual rights.
Image 1.3 | The Peterloo Massacre
Artist | Richard Carlile Source | Wikimedia Commons License | Public Domain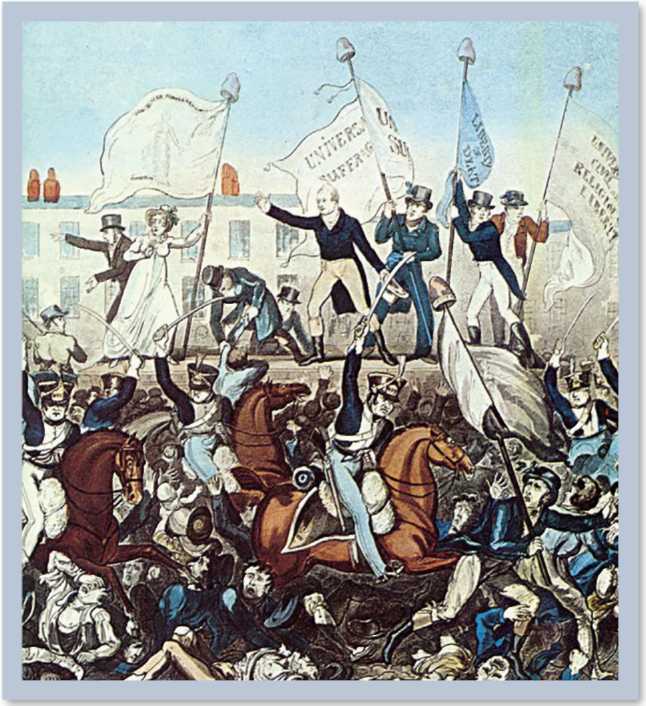 Nations such as Austria and Prussia allied against the revolution and were defeated by the Revolutionary Army that spread over Italy and Germany. Under the impact of war, counter-revolutions sprung up, and the Committee of Public Safety (1793) was formed. Through its Reign of Terror (1793-94), the Committee suppressed revolt and counter-revolution. 20,000 heads were struck off by the guillotine. The bicameral legislative government, called the Directory (1795), came into power but fell to a coup d'etat (1799) run by its own general, Napoleon Bonaparte.
The early Romantic writers at first greatly sympathized with the French Revolution. They were convinced that a revolution for moral change would occur in England. It seemed to them that the new millennium had arrived. William Blake (1757-1827) saw it as the creation of a new world and himself as its prophet. Coleridge and Wordsworth responded with peons of joy, declaring, "bliss was it in that dawn to be alive" (Wordsworth The Prelude). Both went to France and even fell in love with French women. They returned chastened by the Reign of Terror. Edmund Burke's Reflections on the French Revolution condemned the Revolution as an attempt to methodize anarchy. Reaction in England soon set in. English freedom became increasingly restricted through such acts as the Proclamation Against Seditious Writing. Parliament suspended habeus corpus, making possible imprisonment without trial, and passed the Treasonable and Seditious Practices Act (1795). Reaction against reform was stiffened by the ensuing Napoleonic Wars.
1.3 RECOMMENDED READING
M. H. Abrams, The Mirror and the Lamp: Romantic Theory and the Critical Tradition, 1953.
Marilyn Butler, Romantics, Rebels, and Reactionaries: English Literature and Its Background, 1760-1830, 1982.
Paul A. Cantor, Creature and Creator: Myth-Making and English Romanticism, 1984.
Sandra Gilbert and Susan Gubar, The Madwoman in the Attic: The Woman Writer and the Nineteenth-Century Literary Imagination, 1979.
Geoffrey Hartman, Wordsworth's Poetry, 1787-1814, 1964.
Martin K. Nurmi, William Blake, 1976.
Jerome McGann, The Romantic Idealogy, 1983.
Carl Woodring, Politics in English Romantic Poetry, 1970.