1.12 FELICIA DOROTHEA HEMANS
(1793-1835)
Image 1.22 | Portrait of Felicia Dorothea Hemans
Artist | Unknown Source | Wikimedia Commons License | Public Domain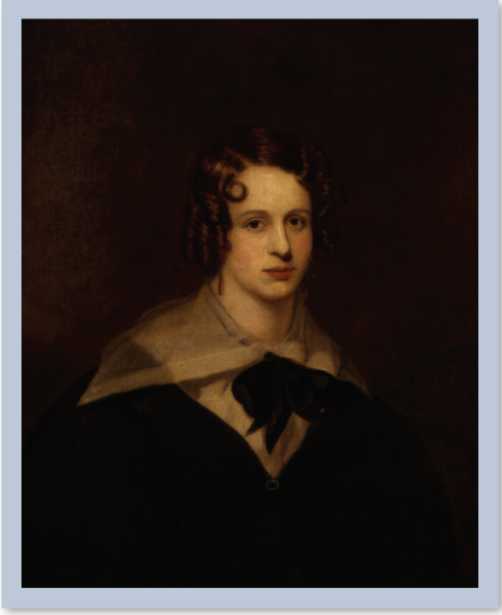 Like most women of her era, Felicia Dorothea Hemans was educated at home—first in England, then in Wales—in the expected subjects of art, music, literature, and modern languages. She added to the more commonly-taught French and Italian, Welsh, Spanish, Portuguese, German, and Latin. Unlike most women, she published a collection of Poems (1808) when she was fourteen. It heralded a remarkable, and remarkably successful, literary career. She published numerous collections of poetry, including The Domestic Affections (1812), The Restoration of Works of Art to Italy (1816), Tales and Heroic Scenes (1819), and Songs of the Affections (1830). She also wrote translations of Continental poems, critical reviews, plays, and songs.
Married in 1812 and separated from Captain Alfred Hemans when he left for Rome, Hemans became, essentially, single mother to their five children. Her work often addressed the difficulty for a woman to write and fulfill her domestic responsibilities--and fulfill them she must, in service to the "natural" superiority of her husband, and, indeed, her nation. The home women sustained served to ground the patriotic ideals of the soldier-son who died in battle—as so many men did during Hemans' lifetime. Hemans' personal difficulties were increased by a mysterious, chronic ailment that caused painful palpitations and general inflammation for most of her life. She continued to write through her pain until, nearly incapacitated, she died in 1835.
Her poetic themes of chivalry, history, the military, and domestic affections ranged among Romantic interests, winning her the praise and admiration of Wordsworth, Scott, Byron, P. B. Shelley, and the Scottish poet and playwright Joanna Baillie (1762-1851). Hemans uniquely presented female heroes defending human rights, in such figures as "The Wife of Asdrubal" (1819), who stands atop a temple while Carthage burns and denounces the cowardice of her husband, the governor of Carthage. Rather than have them be victims to their father's treachery, she stabs her children and then immolates herself. Similarly, "The Bride of the Greek Isle" (1828) after being kidnapped by pirates sets their ship on fire to avoid slavery and secure her own freedom in death. That these women pay such terrible prices to the nation and for their freedom suggests Hemans' deeper critique of a society and culture that places women in subject positions their entire lives. Her work remained popular in England and America well into the Victorian era, and she earned praise from such important Victorian women writers as Elizabeth Barrett Browning (1806-1861) and George Eliot (1819-1880).
1.12.1 "Casabianca"
The boy stood on the burning deck,
Whence all but him had fled;
The flame that lit the battle's wreck
Shone round him o'er the dead.
Yet beautiful and bright he stood,
As born to rule the storm;
A creature of heroic blood,
A proud though childlike form.
The flames rolled on—he would not go
Without his father's word;
That father, faint in death below,
His voice no longer heard.
He called aloud, "Say, father, say
If yet my task is done?"
He knew not that the chieftain lay
Unconscious of his son.
"Speak, father!" once again he cried,
"If I may yet be gone!"
And but the booming shots replied,
And fast the flames rolled on.
Upon his brow he felt their breath,
And in his waving hair;
And looked from that lone post of death,
In still, yet brave despair.
And shouted but once more aloud
"My father! must I stay?"
While o'er him fast, through sail and shroud,
The wreathing fires made way.
They wrapt the ship in splendour wild,
They caught the flag on high,
And streamed above the gallant child
Like banners in the sky.
Then came a burst of thunder sound—
The boy oh! where was he?
—Ask of the winds that far around
With fragments strew the sea;
With mast, and helm, and pennon fair,
That well had borne their part—
But the noblest thing that perished there
Was that young, faithful heart.
1.12.2 "The Homes of England"
The stately homes of England!
      How beautiful they stand,
    Amidst their tall ancestral trees,
      O'er all the pleasant land!
    The deer across their greensward bound
      Through shade and sunny gleam,
    And the swan glides past them with the sound
      Of some rejoicing stream.
    The merry homes of England!
      Around their hearths by night
    What gladsome looks of household love
      Meet in the ruddy light!
    There woman's voice flows forth in song,
      Or childish tale is told,
    Or lips move tunefully along
      Some glorious page of old.
    The blessèd homes of England!
      How softly on their bowers
    Is laid the holy quietness
      That breathes from Sabbath hours!
    Solemn, yet sweet, the church-bell's chime
      Floats through their woods at morn;
    All other sounds, in that still time,
      Of breeze and leaf are born.
    The cottage homes of England!
      By thousands on her plains,
    They are smiling o'er the silvery brooks,
      And round the hamlets' fanes.
    Through glowing orchards forth they peep,
      Each from its nook of leaves;
    And fearless there the lowly sleep,
      As the bird beneath their eaves.
    The free, fair homes of England!
      Long, long, in hut and hall
    May hearts of native proof be reared
      To guard each hallowed wall!
    And green forever be the groves,
      And bright the flowery sod,
    Where first the child's glad spirit loves
      Its country and its God!
1.12.3 Corinne at the Capitol
'Les femmes doivent penser qu'il est dans cette carriere bien peu de sorte qui puissent valoit la plus obscure vie dune femme aimee et d'une mere heureuse.'
-MADAME DE STAEL.
DAUGHTER of th' Italian heaven! 
Thou, to whom its fires are given, 
Joyously thy car hath roll'd 
Where the conqueror's pass'd of old; 
And the festal sun that shone, 
O'er three hundred triumphs gone, 
Makes thy day of glory bright, 
With a shower of golden light.
Now thou tread'st th' ascending road, 
Freedom's foot so proudly trode; 
While, from tombs of heroes borne, 
From the dust of empire shorn, 
Flowers upon thy graceful head, 
Chaplets of all hues, are shed, 
In a soft and rosy rain, 
Touch'd with many a gem-like stain.
Thou hast gain'd the summit now! 
Music hails thee from below; 
Music, whose rich notes might stir 
Ashes of the sepulchre; 
Shaking with victorious notes 
All the bright air as it floats. 
Well may woman's heart beat high 
Unto that proud harmony!
Now afar it rolls–it dies–
And thy voice is heard to rise 
With a low and lovely tone 
In its thrilling power alone; 
And thy lyre's deep silvery string, 
Touched as by a breeze's wing, 
Murmurs tremblingly at first, 
Ere the tide of rapture burst.
All the spirit of thy sky 
Now hath lit thy large dark eye, 
And thy cheek a flush hath caught 
From the joy of kindled thought; 
And the burning words of song 
From thy lip flow fast and strong, 
With a rushing stream's delight 
In the freedom of its might.
Radiant daughter of the sun! 
Now thy living wreath is won. 
Crown'd of Rome!–Oh! art thou not 
Happy in that glorious lot?–
Happier, happier far than thou, 
With the laurel on thy brow, 
She that makes the humblest hearth 
Lovely but to one on earth!
1.12.4 Reading and Review Questions
What, if anything, is the effect in Casabianca of the boy's repeated cries for release remaining unheard by the father? Consider how Hemans emphasizes the father's not hearing the boy, being unconscious of the boy.
How does Hemans characterize the stately homes of England? How does she characterize the cottages? What is significant about their differences? What is significant about their similarities?

Why does Hemans specifically identify women and children as the residents of the stately homes? Whose hearts guard the hallowed halls of the stately homes? And of the cottages?

In Corinne at the Capital, how, if at all, is your understanding of the poem affected by its epigraph quote from Madame de Stael lauding the glorious, though obscure, life of a beloved wife and a happy mother? Why?