Part 3: The Seventeenth Century – The Age of the Revolution (1603-1688)
3.7 ROBERT HERRICK
(1591-1674)
3.7.1 "The Argument of his Book"
3.7.2 "His Prayer for Absolution"
3.7.3 "The Bad Season Makes the Poet Sad"
3.7.4 "Corinna's going a Maying"
3.7.5 "The Night Piece, to Julia"
3.7.9 "To the Virgins, to Make Much of Time"
3.7.12 "His Prayer to Ben Jonson"
3.7.15 Reading and Review Questions
Robert Herrick's father, Nicholas Herrick, was a wealthy goldsmith who apparently committed suicide before Robert Herrick reached the age of two. In 1607, Herrick served as apprentice to his uncle, Sir William Herrick, who was jeweler to the king, but did not aspire to follow in his uncle's footsteps. Instead, Herrick studied at St. John's College, Cambridge and at Trinity Hall, Cambridge, both noted for their religious atmosphere. And by 1627, he took religious orders and served as chaplain to George Villiers, 1st Duke of Buckingham (1592-1628) during his ill-fated expedition to La Rochelle in aid of the Huguenots.
In 1630, Herrick was made a vicar of Dean Prior, an Anglican country parsonage in Devonshire. Due to his Royalist sympathies, Herrick lost that position in 1647 during the Civil War. Until the Restoration of Charles II, Herrick lived in Westminster, completing his collected poems, Hesperides; or the Works Both Human and Divine of Robert Herrick, Esq. (1648). After the Restoration, he regained his position as vicar, holding it until his death.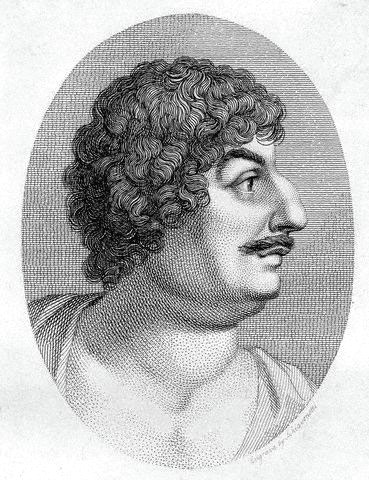 Image 3.8 | Robert Herrick
Artist | Unknown
Source | Wikimedia Commons
License | Public Domain
Considered one of the Cavalier Poets—who opposed the uniqueness, nonconformity, and scientific bent of the metaphysical poets—Herrick was a self-professed son of Ben (Jonson). As such, he was learned in the classics, particularly classic Roman poetry by Horace (65 – 8 BCE), Martial (c. 38 – c. 102 CE), and Ovid (43 BC – c. 17 CE), among others. Alongside his Christian orthodoxy stood Herrick's love of mythology and pagan rituals. His poetry is notable for its variety in form and style, for its interest in innovation and experimentation, and for the exceptional musicality of his lyrics. Even as his "To the Virgins, to Make Much of Time" insists on death's ending all our tomorrows, its rhythm and beauty make the flower that keeps us smiling.
3.7.1 "The Argument of his Book"
(1648)
I sing of brooks, of blossoms, birds, and bowers,
Of April, May, of June, and July flowers.
I sing of May-poles, hock-carts, wassails, wakes,
Of bridegrooms, brides, and of their bridal-cakes.
I write of youth, of love, and have access
By these to sing of cleanly wantonness.
I sing of dews, of rains, and piece by piece
Of balm, of oil, of spice, and ambergris.
I sing of Time's trans-shifting; and I write
How roses first came red, and lilies white.
I write of groves, of twilights, and I sing
The court of Mab, and of the fairy king.
I write of Hell; I sing (and ever shall)
Of Heaven, and hope to have it after all.
3.7.2 "His Prayer for Absolution"
(1648)
For those my unbaptized rhymes,
Writ in my wild unhallowed times,
For every sentence, clause, and word,
That's not inlaid with Thee, my Lord,
Forgive me, God, and blot each line
Out of my book, that is not Thine.
But if, 'mongst all, Thou find'st here one
Worthy thy benediction,
That one of all the rest shall be
The glory of my work, and me.
3.7.3 "The Bad Season Makes the Poet Sad"
(1648)
Dull to myself, and almost dead to these
My many fresh and fragrant mistresses;
Lost to all music now, since everything
Puts on the semblance here of sorrowing.
Sick is the land to th' heart, and doth endure
More dangerous faintings by her desp'rate cure.
But if that golden age would come again
And Charles here rule, as he before did reign;
If smooth and unperplex'd the seasons were
As when the sweet Maria lived here;
I should delight to have my curls half drown'd
In Tyrian dews, and head with roses crown'd.
And once more yet (ere I am laid out dead)
Knock at a star with my exalted head.
3.7.4 "Corinna's going a Maying"
(1648)
Get up, get up for shame, the Blooming Morne
Upon her wings presents the god unshorne.
See how Aurora throwes her faire
Fresh-quilted colours through the aire:
Get up, sweet-Slug-a-bed, and see
The Dew-bespangling Herbe and Tree.
Each Flower has wept, and bow'd toward the East,
Above an houre since; yet you not drest,
Nay! not so much as out of bed?
When all the Birds have Mattens seyd,
And sung their thankful Hymnes: 'tis sin,
Nay, profanation to keep in,
When as a thousand Virgins on this day,
Spring, sooner than the Lark, to fetch in May.
Rise; and put on your Foliage, and be seene
To come forth, like the Spring-time, fresh and greene;
And sweet as Flora. Take no care
For Jewels for your Gowne, or Haire:
Feare not; the leaves will strew
Gemms in abundance upon you:
Besides, the childhood of the Day has kept,
Against you come, some Orient Pearls unwept:
Come, and receive them while the light
Hangs on the Dew-locks of the night:
And Titan on the Eastern hill
Retires himselfe, or else stands still
Till you come forth. Wash, dresse, be briefe in praying:
Few Beads are best, when once we goe a Maying.
Come, my Corinna, come; and comming, marke
How each field turns a street; each street a Parke
Made green, and trimm'd with trees: see how
Devotion gives each House a Bough,
Or Branch: Each Porch, each doore, ere this,
An Arke a Tabernacle is
Made up of white-thorn neatly enterwove;
As if here were those cooler shades of love.
Can such delights be in the street,
And open fields, and we not see't?
Come, we'll abroad; and let's obay
The Proclamation made for May:
And sin no more, as we have done, by staying;
But my Corinna, come, let's goe a Maying.
There's not a budding Boy, or Girle, this day,
But is got up, and gone to bring in May.
A deale of Youth, ere this, is come
Back, and with White-thorn laden home.
Some have dispatcht their Cakes and Creame,
Before that we have left to dreame:
And some have wept, and woo'd, and plighted Troth,
And chose their Priest, ere we can cast off sloth:
Many a green-gown has been given;
Many a kisse, both odde and even:
Many a glance too has been sent
From out the eye, Loves Firmament:
Many a jest told of the Keyes betraying
This night, and Locks pickt, yet w'are not a Maying.
Come, let us goe, while we are in our prime;
And take the harmlesse follie of the time.
We shall grow old apace, and die
Before we know our liberty.
Our life is short; and our dayes run
As fast away as do's the Sunne:
And as a vapour, or a drop of raine
Once lost, can ne'r be found againe:
So when or you or I are made
A fable, song, or fleeting shade;
All love, all liking, all delight
Lies drown'd with us in endlesse night.
Then while time serves, and we are but decaying;
Come, my Corinna, come, let's goe a Maying.
3.7.5 "The Night Piece, to Julia"
(1648)
Her eyes the glow-worm lend thee,
The shooting stars attend thee;
And the elves also,
Whose little eyes glow
Like the sparks of fire, befriend thee.
No Will-o'-th'-Wisp mis-light thee,
Nor snake or slow-worm bite thee;
But on, on thy way,
Not making a stay,
Since ghost there's none to affright thee.
Let not the dark thee cumber;
What though the moon does slumber?
The stars of the night
Will lend thee their light,
Like tapers clear without number.
Then Julia let me woo thee,
Thus, thus to come unto me;
And when I shall meet
Thy silv'ry feet,
My soul I'll pour into thee.
3.7.6 "Upon Julia's Breasts"
(1648)
Display thy breasts, my Julia, there let me
Behold that circummortal purity;
Between whose glories, there my lips I'll lay,
Ravished in that fair Via Lactea.
3.7.7 "Upon Julia's Clothes"
(1648)
Whenas in silks my Julia goes,
Then, then (methinks) how sweetly flows
That liquefaction of her clothes.
Next, when I cast mine eyes, and see
That brave vibration each way free,
O how that glittering taketh me!
3.7.8 "Delight in Disorder"
(1648)
A sweet disorder in the dress
Kindles in clothes a wantonness;
A lawn about the shoulders thrown
Into a fine distraction;
An erring lace, which here and there
Enthrals the crimson stomacher;
A cuff neglectful, and thereby
Ribands to flow confusedly;
A winning wave, deserving note,
In the tempestuous petticoat;
A careless shoe-string, in whose tie
I see a wild civility:
Do more bewitch me, than when art
Is too precise in every part.
3.7.9 "To the Virgins, to Make Much of Time"
(1648)
Gather ye rose-buds while ye may,
Old Time is still a-flying;
And this same flower that smiles today
Tomorrow will be dying.
The glorious lamp of heaven, the sun,
The higher he's a-getting,
The sooner will his race be run,
And nearer he's to setting.
That age is best which is the first,
When youth and blood are warmer;
But being spent, the worse, and worst
Times still succeed the former.
Then be not coy, but use your time,
And while ye may, go marry;
For having lost but once your prime,
You may forever tarry.
3.7.10 "Discontents in Devon"
(1648)
More discontents I never had
Since I was born, than here;
Where I have been, and still am, sad,
In this dull Devonshire.
Yet justly too I must confess,
I ne'er invented such
Ennobled numbers for the press,
Than where I loath'd so much.
3.7.11 "His Return to London"
(1648)
From the dull confines of the drooping west
To see the day spring from the pregnant east,
Ravish'd in spirit, I come, nay more, I fly
To thee, blest place of my nativity!
Thus, thus with hallow'd foot I touch the ground,
With thousand blessings by thy fortune crown'd.
O fruitful genius! that bestowest here
An everlasting plenty, year by year.
O place! O people! Manners! fram'd to please
All nations, customs, kindreds, languages!
I am a free-born Roman; suffer then
That I amongst you live a citizen.
London my home is, though by hard fate sent
Into a long and irksome banishment;
Yet since call'd back, henceforward let me be,
O native country, repossess'd by thee!
For, rather than I'll to the west return,
I'll beg of thee first here to have mine urn.
Weak I am grown, and must in short time fall;
Give thou my sacred relics burial.
3.7.12 "His Prayer to Ben Jonson"
(1648)
When I a verse shall make,
Know I have pray'd thee,
For old religion's sake,
Saint Ben to aid me.
Make the way smooth for me,
When I, thy Herrick,
Honouring thee, on my knee
Offer my lyric.
Candles I'll give to thee,
And a new altar,
And thou, Saint Ben, shalt be
Writ in my psalter.
3.7.13 "An Ode to Ben Jonson"
(1648)
Ah Ben!
Say how, or when
Shall we thy guests
Meet at those lyric feasts
Made at the Sun,
The Dog, the Triple Tun?
Where we such clusters had
As made us nobly wild, not mad;
And yet each verse of thine
Outdid the meat, outdid the frolic wine.
My Ben
Or come again,
Or send to us
Thy wit's great overplus;
But teach us yet
Wisely to husband it;
Lest we that talent spend,
And having once brought to an end
That precious stock, the store
Of such a wit the world should have no more.
3.7.14 "Upon Ben Jonson"
(1648)
Here lies Jonson with the rest
Of the poets; but the best.
Reader, would'st thou more have known?
Ask his story, not this stone.
That will speak what this can't tell
Of his glory. So farewell.
3.7.15 Reading and Review Questions
In the Argument of his Book, Herrick lists the topics of his poetry, topics ranging from the pastoral to the supernatural, from Hell to Heaven. He declares that he wants "all," including Heaven. What do you make of this omnivorous desire? How does this omnivorous desire for "all" and "everything" compare with Donne's?
Who do you think are Herrick's intended readers? How do you know? What is Herrick's attitude towards his readers? How do you know?

How does Herrick present English village life in his poetry? What does village life represent to him? How does he use the pastoral form in his work, and to what end?

What do you make of Herrick's blending of the sacred and secular in such poems as "Corinna's going a Maying?" What is Herrick's purpose in doing so, do you think?

Considering the fact that Herrick was a vicar and bachelor, what do you make of his poems dedicated to women, of the sensual details in his poems? What is Herrick's attitude towards art in general and to his art in particular? How do you know? How does this attitude compare with Sydney's or Spenser's?