Part 3: The Seventeenth Century – The Age of the Revolution (1603-1688)
3.2 INTRODUCTION
Upon Elizabeth I's death, James IV of Scotland (1566-1624) became James I of England. Even though James I espoused the divine right of kings, his power was limited by Parliament, a powerful and persistent representative institution. Even under Henry VIII and Elizabeth I, Parliament was called to vote on the most arbitrary laws, including tax laws. The House of Commons, also, had and retained the power of the purse, even when the sovereign packed Commons with favorites. Consequently, Commons exercised a challenge to the sovereign's freedom of action. The Parliament kept their power in England: the sovereign could not make laws without votes of the House of Lords and Commons. To some extent, the Gunpowder Plot of 1605 demonstrated the importance and power of Parliament. The plot was to assassinate James I, who was brought up as a Protestant, by blowing up the House of Lords during the State Opening of Parliament.
English sovereigns were also limited by their lack of a standing army. After the union of the Scottish and English crowns with James I, England had no boundaries to defend; it had no garrisons, no garrison cities, no fortresses—except on the coast—and no standing army. Instead, England had a navy, which does not lend itself well to despotism, as it cannot be sent over land. Without an army or money, it was difficult for the sovereign to be a despot. Parliament bowed to Elizabeth I and her ministers because, as a Protestant and patriot, she stood for the wishes of her country. When James I became king, things changed. Parliament was ready for changes, a fact of which James I seemed unaware. He was a theologian who wrote on monarchy by divine right. He defied Parliament and the wishes of the aristocracy. And his son Charles I (b. 1600) persisted with this defiance. Charles I tried to rule without Parliament, but money matters made him finally call Parliament. They came together with a list of grievances, and the conflict eventually blew up into a Civil War, the opponents of which were those who espoused Parliament, the Parliamentarians, and those who supported Charles I, the Royalists.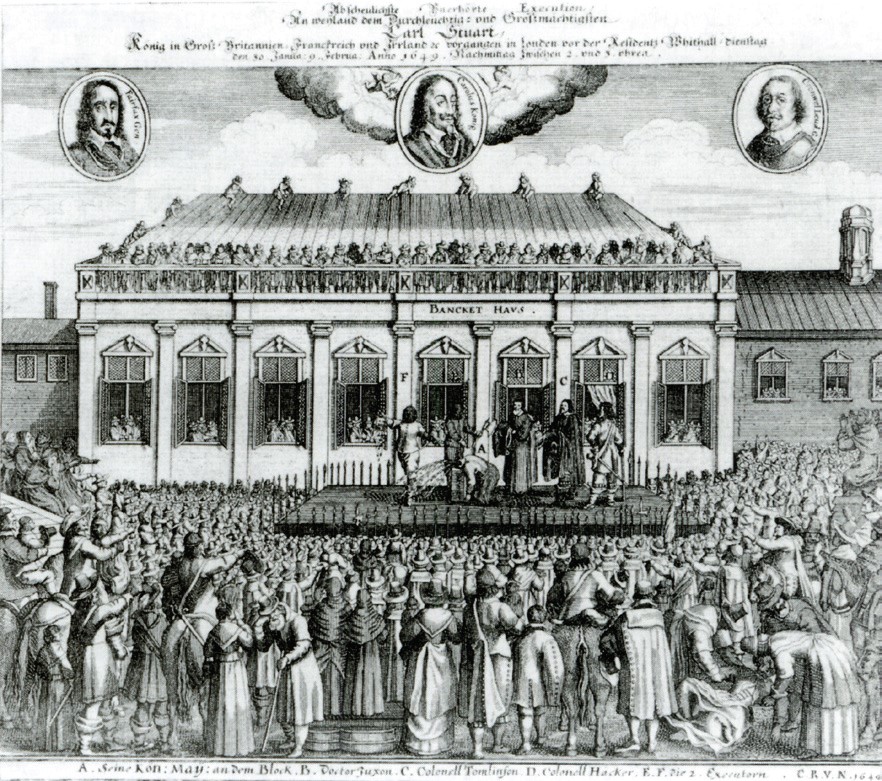 Image 3.1 | The Execution of Charles I
Artist | Unknown
Source | Wikimedia Commons
License | Public Domain
The Parliamentarians opposed Charles I's economic and political decrees; he had issued arbitrary decrees, billeted soldiers in civilian land, levied taxes without Parliamentary consent—infringements of the rights and liberties that Charles I had guaranteed by signing the constitutional document The Petition of Right (1628). Charles I also tried to make England an all-Anglican Church, a move that England would not accept. Protestant Dissenters, particularly Calvinists and Puritans, were outraged; they considered the Anglican Church too close to Roman Catholicism so wanted to purify it. Some even wanted to do away with church hierarchy, including bishops, and have Protestantism like that in Scotland. James I had distrusted the church; he taught his son Charles I to distrust it as well. Although Charles I was, in many ways, a fine person, he was also a most inept king. He fused his opponents into a strong party. The Civil War (1642-1641) was fought; intrigue and attempts for peace were unsuccessful. Oliver Cromwell (b. 1599), the leader of Parliament, became the leader of the country under the Commonwealth. And Charles I was tried for treason and beheaded (1649).
Cromwell was a complex man: crafty, ruthless, and cruel; generous and noble. He was a Puritan of liberal policies. He often emerged from a bout of prayer convinced of God's will and his own. He made many mistakes and often hated what he did, including placing England under martial law. He raged against his generals who carried this law to extremes. He wanted a Parliament, but he couldn't get it to accede to his wishes, so he dismissed it. In 1658, he died during thunder and rain: a good end for such a stormy character. Death came to his assistance, as he feared that he had done England wrong. His son Richard was incapable of ruling the country, so Cromwell's generals suggested bringing back the monarchy.
By crowning Charles II (1630-1685)—the son of Charles I—England accepted a Restoration of the monarchy, but not an absolute monarchy. Charles II was the smartest and laziest of kings. He secretly wanted to be more absolute than Parliament desired, so he endorsed the reestablishment of Roman Catholicism in England and made a secret treaty with France, the Treaty of Dover (1670), through which he received a pension from Louis XIV. Consequently, when Charles II came into conflict with Parliament, he ruled without it and was able to do so because of that pension. During his reign, two catastrophes struck London, catastrophes inherent to its increasing population: the Great Plague of London (1665) and the Great Fire of London (1666). The bubonic plague killed around 100,000 people. And the Great Fire destroyed what remained of Medieval London, the narrow alleys and thatched roofed buildings within the Roman City Wall. Over the course of four days, around 70,000 homes were destroyed, many of which were demolished to serve as firebreaks. From the remains of these catastrophes, a new city was built, under the supervision of Robert Hooke (1635-1703). The architect Sir Christopher Wren (1632-1723) rebuilt fifty-two churches in the City of London, a merchant area almost entirely destroyed by fire. His great St Paul's Cathedral stands today. He also founded the Royal Society of London for Improving Natural Knowledge, heralding the new scientific spirit.
Charles II's brother James II (1633-1701) came to power in 1685 and was deposed in the Glorious Revolution of 1688 due in particular to religious conflict. Two years after the Restoration, Parliament asserted the dominance of the Anglican Church by passing the Act of Uniformity requiring The Book of Common Prayer and ordained episcopal clergy for worship to be legal. In 1673, Parliament passed the Test Act requiring all holders of civil and military office to take the oath of Supremacy and to declare against transubstantiation (the communion bread and wine becoming the actual body and blood of Jesus Christ), a declaration that required confirmation in the taking of communion according to Anglican rites. James II was a devout Roman Catholic. He had two daughters: Mary (1662-1694), who married William, the Prince of Orange (1650-1702); and Anne (1665-1714), who married Prince George of Denmark (1653-1708).
James II's first wife, the commoner Anne Hyde, died in 1671. James II came into power with the assumption that his successor would be Mary, who was Protestant. After his wife's death, however, James II married the Roman Catholic Mary of Modena, an Italian princess. Fear and resentment grew against James II. A revolt under Charles II's illegitimate son, James Scott, 1st Duke of Monmouth (1649-1685) was put down cruelly. James II refused to abide by the Test Act, appointing Roman Catholics to military command without requiring them first to take the Supremacy oath. When Parliament criticized this behavior, James II dismissed Parliament, ordering it never to meet again during his reign. In 1688, James II's wife gave birth to James Francis Edward (d. 1766), who would likely entail a Roman Catholic succession. A conspiracy arose that led to Mary's husband, William of Orange's, being invited to invade England and overthrow Charles II. After losing support of his army and nobility, Charles II fled to France.
One year previously, Sir Isaac Newton's (1632-1727) Philosophia Naturalis Principia Mathematica marked an intellectual revolution sparked by the Reformation and the Protestant affirmation of individual conscience over authority. This authority of the individual was further promoted by the disappearance of the old guild system—the guild being an association of merchants that straitjacketed industry—that led to economic individualism, with the individual demanding to be left alone in working out their economic salvation. This economic individualism, combined with the growing religious individualism, promoted the authority of the individual against the paternalism of state, a sign of which proved the Glorious Revolution. Thomas Hobbes's (1588-1679) Leviathan (1651) delineated the principles of authority in state through the individual's ceding power to sovereign authority in order to obtain protection and peace; in effect, it delineated not the divine right of kings but a social contract. Reason, rather than revelation or paternalistic authority, became the standard of knowledge and guiding principles. Francis Bacon (1561-1621) exhorted building knowledge through sense perception and from experience derived from the application of those senses, exhorted a knowledge built on concrete particulars and facts. Now, knowledge was power. Newton's Principia demonstrated this power in its laws, of motion, universal gravitation, and planetary motion; laws that prepared for individuals acquiring greater power (through understanding) over their environment and themselves.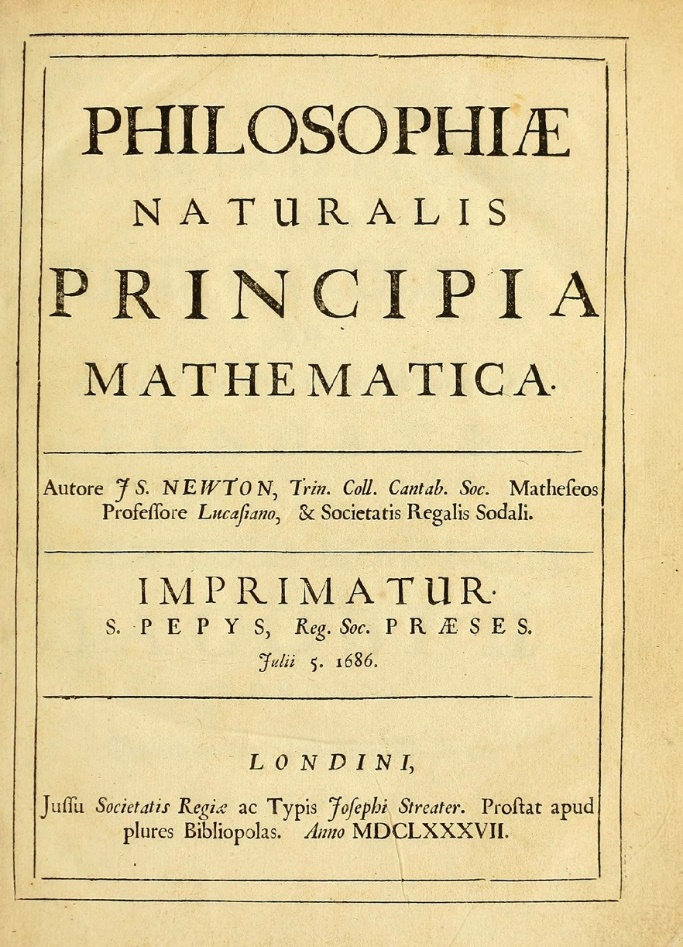 Image 3.2 | Title Page of Philosophiæ Naturalis Principia Mathematica, first edition (1687)
Author | Isaac Newton
Source | Wikimedia Commons
License | Public Domain
Newton epitomized the spirit of the age. And much of its negotiations—even vacillations—between central authority and individual rights and powers played out in the age's poetry and drama. This age was rich in various schools of poetry. Traditional poets emulated the elaborate style of Spenser. John Milton was influenced by Spenser's moral approach to writing and poetry and by his patriotic feeling. And Milton would produce the next great English epic, Paradise Lost. Other poets, like Ben Jonson, reacted against Spenser's style. Jonson took as his guide Greek and Roman poetry, characterized by its directness, precision, balance, and restraint. He inspired a group of poets known as the "Sons of Ben," including Robert Herrick; these poets were also called Cavalier Poets. And still other poets wrote in a metaphysical strain, using irregular meter, unusual verse forms, and writing in intense, dramatic, and complex verse. Metaphysical poets, like George Herbert and Andrew Marvell, wrote with wit and irony, using unusual metaphors. Tension fueled the new metaphysical poetry, particularly John Donne's (1572-1631) with its search for an absolute that resolves the disparate many, a search expressed through paradoxes, conceits, and antitheses displaying individual reason and intellect.
Late Jacobean and Caroline drama, facing a decline in popularity due to censorship and Puritan restrictions, appealed to the more private inclinations and desires of courtiers and intellectuals in plays with increasingly violent, risqué, and cynical themes, the latter epitomized in Ben Jonson's comedies, including The Alchemist and Volpone (1606). Courtly bent also gave rise to heroic drama with its epic subject matter of national import, and its verse form of the heroic couplet, that is, closed couplets in iambic pentameter. John Dryden (1631-1700) not only coined the term but also epitomized it in such plays as All for Love, or the World Well Lost (1677). And court masques, opulent spectacles, directly appealed to individuals' senses, even as they ordered them through art itself, as did Jonson's The Vision of Delight (1617) and The Gypsies Metamorphosed (1621).
The most important publication of the age pointed to the reconciliation of individual conscience with ultimate authority. The authorized King James Bible (1611), including the Old Testament, New Testament, and Apocrypha, enriched the English language and thought in a way that still resonates. John Milton would defend free thought and free expression—even to the point of requiring the execution of divinely-appointed kings—in his prose tracts and treatises. And when the Restoration destroyed his vision of liberty and made him an exile, Milton appealed to the Spirit that inspired biblical prophets to illuminate his own darkness so that he himself might justify the ways of God to men in his great epic Paradise Lost (1667, 1674).