Part 3: The Seventeenth Century – The Age of the Revolution (1603-1688)
3.11 JOHN DRYDEN
(1631-1700)
3.11.1 Annus Mirabilis: The Year of Wonders, 1666
3.11.2 All for Love: Or, The World Well Lost
3.11.3 "A Discourse Concerning the Original and Progress of Satire"
3.11.4 Reading and Review Questions:
John Dryden reached adulthood during the Commonwealth; indeed, he dedicated his Heroic Stanzas (1659) "to the Glorious Memory of Cromwell," shortly after Cromwell's death. This poem reinforces classical (Roman) hierarchies, hailing as great the men who can lead society from disorder to harmony, the men who fight to end fighting in peace. And after the Restoration, Dryden acclaimed Charles II as the herald and ruler of such peace, lauding the high and the heroic. He later celebrated Charles II's leadership through the Great Fire of London in Annus Mirabilis (1667). While having adapted to the Commonwealth, Dryden more directly benefitted from the Restoration, particularly through his friendship with such Royalists as the playwright Sir Robert Howard (1623-1698), who was also Dryden's brother-in-law. Due to his association with Charles II, Dryden was the first poet to be named poet laureate of England and was also made historiographer, a position that came with a large income.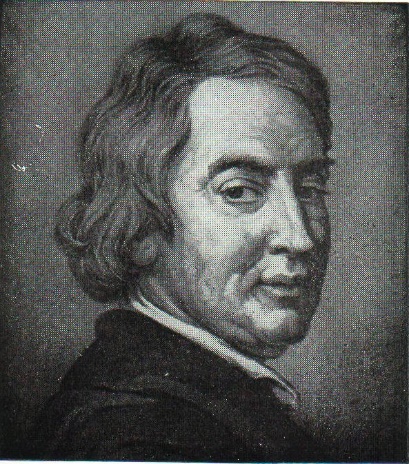 Image 3.12 | John Dryden
Artist | User "Frédéric"
Source | Wikimedia Commons
License | Public Domain
His association with Howard led to Dryden's writing his first play for the Theatre Royal company, housed in a building constructed by Howard and his partner Thomas Killigrew (1612-1683) soon after London theaters reopened after an eighteen-year ban. Dryden followed The Wild Gallant (performed in 1663; published in 1669) with a number of dramatic works, including comedies, tragedies, tragicomedies, and operas. His most successful tragedy, All for Love: Or, The World Well Lost (performed in 1677; published in 1678), attributed the rise of Octavius Caesar (later Augustus Caesar) to the weakness and emotionalism of Antony, who was selfishly swayed by his love for Cleopatra. This and other of Dryden's works influenced the neoclassical age following the Glorious Revolution.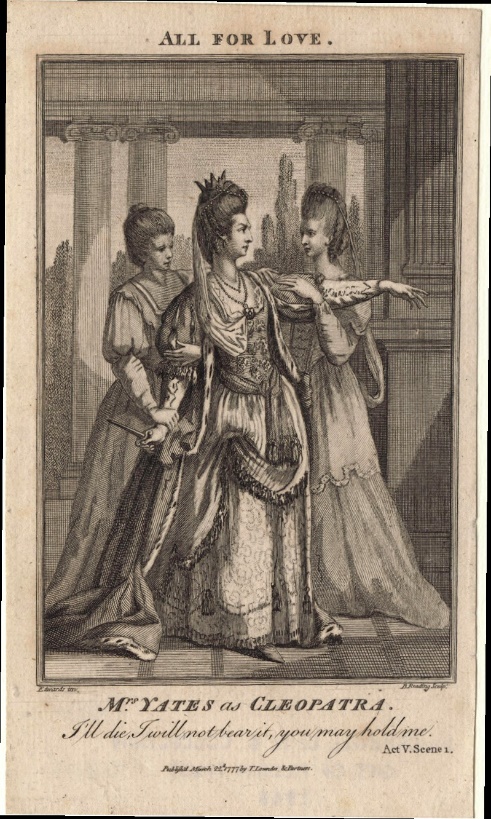 Image 3.13 | Mary Ann Yates as Cleopatra in Dryden's All for Love
Artist | Edward Edwards
Source | Wikimedia Commons
License | Public Domain
His prose essays, particularly his critical essays on literature, addressed concerns that would soon issue forth particularly in the development of the novel as genre with its mixture of the actual and fictive. In his preface to A Discourse Concerning the Original and Progress of Satire (1667), Dryden considered two types of "reading" and means of deriving meaning when he differentiated reading at home from watching a play in the playhouse, describing them as two distinct activities. Reading a text involved no successive movement, as one could read forward and backward as one pleased. That was not the case with a play, which must be watched successively. While he acknowledged the shifting roles and powers of an audience, Dryden preferred their modeling restraint, decorum, and order (such as when watching plays). In all of his work, Dryden may have included the topical and immediate—for example, in his satires—but he preferred the typological and the timeless, the general over the singular, the harmonious over the passionate and uncontrolled.
Dryden's reliance on great leaders as the means to order failed him personally when James II lost the throne to the joint rulers William III and Mary II. Dryden had converted to Roman Catholicism the year that James II ascended the throne. When he refused to reconvert to Anglicanism, Dryden lost his laureateship and position as historiographer royal. He continued to earn income, though, through his writing and translations, the most important and influential of which was his translation of The Works of Vergil (1697). His importance as a literary figure was confirmed after his death when he was buried at Westminster Abbey next to Chaucer.
3.11.1 Annus Mirabilis: The Year of Wonders, 1666
(1668)
1.
IN thriving Arts long time had Holland grown,
Crouching at home, and cruel when abroad:
Scarce leaving us the means to claim our own.
Our King they courted, & our Merchants aw'd.
2.
Trade, which like bloud should circularly flow,
Stop'd in their Channels, found its freedom lost:
Thither the wealth of all the world did go,
And seem'd but shipwrack'd on so base a Coast.
3.
For them alone the Heav'ns had kindly heat,
In Eastern Quarries ripening precious Dew:
For them the Idumaean Balm did sweat,
And in hot Ceilon Spicy Forrests grew.
4.
The Sun but seem'd the Lab'rer of their Year;
Each wexing Moon suppli'd her watry store,
To swell those Tides, which from the Line did bear
Their brim-full Vessels to the Belg'an shore.
5.
Thus mighty in her Ships, stood Carthage long,
And swept the riches of the world from far;
Yet stoop'd to Rome, less wealthy, but more strong:
And this may prove our second Punick War.
6.
What peace can be where both to one pretend?
(But they more diligent, and we more strong)
Or if a peace, it soon must have an end
For they would grow too pow'rful were it long.
7.
Behold two Nations then, ingag'd so far,
That each seav'n years the fit must shake each Land
Where France will side to weaken us by War,
Who onely can his vast designs withstand.
8.
See how he feeds th' Iberian with delays,
To render us his timely friendship vain;
And, while his secret Soul on Flanders preys,
He rocks the Cradle of the Babe of Spain.
9.
Such deep designs of Empire does he lay,
O're them whose cause he seems to take in hand.
And, prudently, would make them Lords at Sea,
To whom with ease he can give Laws by Land.
10.
This saw our King; and long within his breast
His pensive counsels ballanc'd too and fro;
He griev'd the Land he freed should be oppress'd,
And he less for it then Usurpers do.
11.
His gen'rous mind the fair Idea's drew
Of Fame and Honour which in dangers lay;
Where wealth, like fruit an precipices, grew,
Not to be gather'd but by Birds of prey.
12.
The loss and gain each fatally were great;
And still his Subjects call'd aloud for war:
But peaceful Kings o'r martial people set,
Each others poize and counter-ballance are.
13.
He, first, survey'd the charge with careful eyes,
Which none but mighty Monarchs could maintain;
Yet judg'd, like vapours that from Limbecks rise,
It would in richer showers descend again.
14.
At length resolv'd t'assert the watry Ball,
He in himself did whole Armado's bring:
Him, aged Sea-men might their Master call,
And choose for General were he not their King.
15.
It seems as every Ship their Sovereign knows,
His awful summons they so soon obey;
So here the skaly Herd when Proteus blows,
And so to pasture follow through the Sea.
16.
To see this Fleet upon the Ocean move
Angels drew wide the Curtains of the skies:
And Heav'n, as if their wanted Lights above,
For Tapers made two glareing Comets rise.
17.
Whether they unctuous Exhalations are,
Fir'd by the Sun, or seeming so alone,
Or each some more remote and slippery Star,
Which looses footing when to Mortals shown.
18.
Or one that bright companion of the Sun,
Whose glorious aspect seal'd our new-born King;
And now a round of greater years begun,
New influence from his walks of light did bring.
19.
Victorious York did, first, with fam'd success,
To his known valour make the Dutch give place:
Thus Heav'n our Monarch's fortune did confess,
Beginning conquest from his Royal Race.
20.
But since it was decreed, Auspicious King,
In Britain's right that thou should'st wed the Main,
Heav'n, as a gage, would cast some precious thing
And therefore doom'd that Lawson should be slain.
21.
Lawson amongst the formost met his fate,
Whom Sea-green Syrens from the Rocks lament:
Thus as an off'ring for the Grecian State,
He first was kill'd who first to Battel went.
22.
Their Chief blown up, in air, not waves expir'd,
To which his pride presum'd to give the Law:
The Dutch confess'd Heav'n present, and retir'd,
And all was Britain the wide Ocean saw.
23.
To nearest Ports their shatter'd Ships repair,
Where by our dreadful Canon they lay aw'd:
So reverently men quit the open air
When thunder speaks the angry Gods abroad.
24.
And now approach'd their Fleet from India, fraught
With all the riches of the rising Sun:
And precious Sand frome Southern Climates brought,
(The fatal Regions where the War begun.)
25.
Like hunted Castors, conscious of their store,
Their way-laid wealth to Norway's coasts they bring:
There first the North's cold bosome Spices bore,
And Winter brooded on the Eastern Spring.
26.
By the rich scent we found our perfum'd prey,
Which flanck'd with Rocks did close in covert lie:
And round about their murdering Canon lay,
At once to threaten and invite the eye.
27.
Fiercer then Canon, and then Rocks more hard,
The English undertook th'unequal War:
Seven Ships alone, by which the Port is barred,
Besiege the Indies, and all Denmark dare.
28.
These fight like Husbands, but like Lovers those:
These fain would keep, and those more fain enjoy
And to such height their frantick passion grows,
That what both love, both hazard to destroy.
29.
Amidst whole heaps of Spices lights a Ball,
And now their Odours arm'd against them flie:
Some preciously by shatter'd Porc'lain fall,
And some by Aromatick splinters die.
30.
An though by Tempests of the prize bereft, I
n Heavens inclemency some ease we find:
Our foes we vanquish'd by our valour left,
And onely yielded to the Seas and Wind.
31.
Nor wholly lost we so deserv'd a prey;
For storms, repenting, part of it restor'd:
Which, as a tribute from the Balthick Sea,
The British Ocean sent her mighty Lord.
32.
Go, Mortals, now, and vex your selves in vain
For wealth, which so uncertainly must come:
When what was brought so far, and with such pain,
Was onely kept to lose it neerer home.
33.
The Son, who, twice three month's on th' Ocean tost,
Prepar'd to tell what he had pass'd before,
Now sees, in English Ships the Holland Coast,
And Parents arms in vain stretch'd from the shore.
34.
This carefull Husband had been long away,
Whom his chast wife and little children mourn;
Who on their fingers learn'd to tell the day
On which their Father promis'd to return.
35.
Such are the proud designs of human kind,
And so we suffer Shipwrack every where!
Alas, what Port can such a Pilot find,
Who in the night of Fate must blindly steer!
36.
The undistinguish'd seeds of good and ill
Heav'n, in his bosom, from our knowledge hides;
And draws them in contempt of human skill,
Which oft, for friends, mistaken foes provides.
37.
Let Munsters Prelate ever be accurst,
In whom we seek the German faith in vain:
Alas, that he should teach the English first
That fraud and avarice in the Church could reign!
38.
Happy who never trust a Strangers will,
Whose friendship's in his interest understood!
Since money giv'n but tempts him to be ill
When pow'r is too remote to make him good.
39.
Till now, alone the Mighty Nations strove:
The rest, at gaze, without the Lists did stand:
And threatning France, plac'd like a painted Jove,
Kept idle thunder in his lifted hand.
40.
That Eunuch Guardian of rich Holland trade,
Who envies us what he wants power to enjoy!
Whose noisefull valour does no foe invade,
And weak assistance will his friends destroy.
41.
Offended that we fought without his leave,
He takes this time his secret have to show:
Which Charles does with a mind so calm receive,
As one that neither seeks, nor shuns his foe.
42.
With France, to aid the Dutch, the Danes unite:
France as their Tyrant, Denmark as their Slave.
But when with one three Nations joyn to fight,
They silently confess that one more brave.
43.
Lewis had chas'd the English from his shore;
But Charles the French as Subjects does invite.
Would Heav'n for each some Salomon restore,
Who, by their mercy, may decide their right.
44.
Were Subjects so but onely buy their choice,
And not from Birth did forc'd Dominion take,
Our Prince alone would have the publique voice;
And all his Neighbours Realms would desarts make.
45.
He without fear a dangerous War pursues,
Which without rashness he began before.
As Honour made him first the danger choose,
So still he makes it good on virtues score.
46.
The doubled charge his Subjects love supplies,
Who, in that bounty, to themselves are kind:
So glad Egyptians see their Nilus rise,
And in his plenty their abundance find.
47.
With equal pow'r he does two Chiefs create,
Two such, as each seem'd worthiest when alone:
Each able to sustain a Nations fate,
Since both had found a greater in their own.
48.
Both great in courage, Conduct and in Fame,
Yet neither envious of the others praise.
Their duty, faith, and int'rest too the same.
Like mighty Partners equally they raise.
49.
The Prince long time had courted Fortune's love,
But once possess'd did absolutely reign;
Thus with their Amazons the Heroes strove,
And conquer'd first those Beauties they would gain.
50.
The Duke, beheld, like Scipio, with disdain
That Carthage, which he ruin'd, rise once more:
And shook aloft the Fasces of the Main,
To fright those Slaves with what they felt before.
51.
Together to the watry Camp they haste,
Whom Matrons passing, to their children show
Infants first vows for them to Heav'n are cast,
And future people bless them as they go.
52.
With them no riotous pomp, nor Asian train,
T' infect a Navy with their gawdy fears:
To make flow fights, and victories but vain;
But war; severely, like it self, appears.
53.
Diffusive of themselves, where e'r they pass,
They make that warmth in others they expect
Their valour works like bodies on a glass,
And does its Image on their men project.
54.
Our Fleet divides, and straight the Dutch appear
In number, and a fam'd Commander, bold:
The Narrow Seas can scarce their Navy bear,
Or crowded Vessels can their Soldiers hold.
55.
The Duke, less numerous, but in courage more,
On wings of all the winds to combat flies:
His murdering Guns aloud defiance roar,
And bloudy Crosses on his Flag-staffs rise.
56.
Both furl their sails, and strip them for the fight,
Their folded sheets dismiss the useless air:
Th' Elean Plains could boast no nobler sight,
When strugling Champions did their bodies bare.
57.
Born each by other in a distant Line,
The Sea-built Forts in distant order move:
So vast the noise, as if not Fleets did joyn,
But Lands unfix'd, and floating Nations, strove.
58.
Now pass'd, on either side they nimbly tack,
Both strive to intercept and guide the wind:
And, in its eye, more closely they come back
To finish all the deaths they left behind.
59.
On high-rais'd Decks the haughty Belgians ride,
Beneath whose shade our humble Fregats go:
Such port the Elephant bears, and so defi'd
By the Rhinocero's her unequal foe.
60.
And as the built, so different is the fight;
Their mounting shot is on our sails design'd:
Deep in their hulls our deadly bullets light,
And through the yielding planks a passage find.
61.
Our dreaded Admiral from far they threat,
Whose batter'd rigging their whole war receives:
All bare, like some old Oak which tempests beat,
He stands, and sees below his scatter'd leaves.
62.
Heroes of old, when wounded, shelter sought,
But he, who meets all danger with disdain,
Ev'n in their face his ship to Anchor brought,
And Steeple high stood propt upon the Main.
63.
At this excess of courage, all amaz'd,
The foremost of his foes a while withdraw.
With such respect in enter'd Rome they gaz'd,
Who on high Chairs the God-like Fathers saw.
64.
And now, as where Patroclus body lay,
Here Trojan Chiefs advanc'd, & there the Greek:
Ours o'er the Duke their pious wings display,
And theirs the noblest spoils of Britain seek.
65.
Mean time, his busie Marriners he hasts;
His shatter'd sails with rigging to restore:
And willing Pines ascend his broken Masts,
Whose lofty heads rise higher then before.
66.
Straight to the Dutch he turns his dreadful prow,
More fierce th'important quarrel to decide.
Like Swans, in long array his Vessels show,
Whose creasts, advancing, do the waves divide.
67.
They charge, re-charge, and all along the Sea
They drive, and squander the huge Belgian Fleet.
Berkley alone who neerest Danger lay,
Did a like fate with lost Creusa meet.
68.
The night comes on, we, eager to pursue
The Combat stil, and they asham'd to leave:
Till the last streaks of dying day withdrew,
And doubtful Moon-light did our rage deceive.
69.
In th'English Fleet each ship resounds with joy,
And loud applause of their great Lead'rs fame.
In fiery dreams the Dutch they still destroy,
And, slumbring, smile at the imagin'd flame.
70.
Not so the Holland Fleet, who tir'd and done,
Stretch'd on their decks like weary Oxen lie:
Faint swears all down their mighty members run,
(Vast bulks which little souls but ill supply.)
71.
In dreams they fearful precipices tread,
Or, shipwrack'd, labour to some distant shore:
Or in dark Churches walk among the dead:
They wake with horrour, & dare sleep no more.
72.
The morn they look on with unwilling eyes,
Till, from their Main-top, joyful news they hear
Of ships, which by their mould bring new supplies,
And in their colours Belgian Lions bear.
73.
Our watchful General had discern'd, from far,
This mighty succour which made glad the foe.
He sigh'd, but, like a Father of the War,
His face spake hope, while deep his sorrows flow.
74.
His wounded men he first sends off to shore:
(Never, till now, unwilling to obey.)
They, not their wounds but want of strength deplore,
And think them happy who with him can stay.
75.
Then, to the rest, Rejoyce, (said he) to day
In you the fortune of Great Britain lies:
Among so brave a people you are they
Whom Heav'n has chose to fight for such a Prize.
76.
If number English courages could quell,
We should at first have shun'd, not met our foes;
Whose numerous sails the fearful onely tell:
Courage from hearts, and not from numbers grows.
77.
He said; nor needed more to say: with hast
To their known stations chearfully they go:
And all at once, disdaining to be last,
Sollicite every gale to meet the foe.
78.
Nor did th'incourag'd Belgians long delay,
But, bold in others, not themselves, they stood:
So thick, our Navy scarce could sheer their way,
But seem'd to wander in a moving wood.
79.
Our little Fleet was now ingag'd so far,
That, like the Sword-fish in the Whale, they fought.
The Combat onely seem'd a Civil War,
Till through their bowels we our passage wrought.
80.
Never had valour, no not ours before,
Done ought like this upon the Land or Main:
Where not to be o'rcome was to do more
Then all the Conquests former Kings did gain.
81.
The mighty Ghosts of our great Harries rose,
And armed Edwards look'd, with anxious eyes,
To see this Fleet among unequal foes,
By which fate promis'd them their Charls should rise.
82.
Mean time the Belgians tack upon our Reer,
And raking Chace-guns through our sterns they send:
Close by, their Fire-ships, like Iackals, appear,
Who on their Lions for the prey attend.
83.
Silent in smoke of Canons they come on:
(Such vapours once did fiery Cacus hide.)
In these the height of pleas'd revenge is shown,
Who burn contented by another's side.
84.
Sometimes, from fighting Squadrons of each Fleet,
(Deceiv'd themselves, or to preserve some friend)
Two grapling Aetna's on the Ocean meet,
And English fires with Belgian flames contend.
85.
Now, at each Tack, our little Fleet grows less;
And, like maim'd fowl, swim lagging on the Main.
Their greater loss their numbers scarce confess
While they lose cheaper then the English gain.
86.
Have you not seen when, whistled from the fist,
Some Falcon stoops at what her eye design'd,
And, with her eagerness, the quarry miss'd,
Straight flies at check, and clips it down the wind.
87.
The dastard Crow, that to the wood made wing,
And sees the Groves no shelter can afford,
With her loud Kaws her Craven kind does bring,
Who, safe in numbers cuff the noble Bird.
88.
Among the Dutch thus Albemarl did fare:
He could not conquer, and disdain'd to flie.
Past hope of safety, 'twas his latest care,
Like falling Cesar, decently to die.
89.
Yet pity did his manly spirit move
To see those perish who so well had fought:
And, generously, with his dispair he strove,
Resolv'd to live till he their safety wrought.
90.
Let other Muses write his prosp'rous fate,
Of conquer'd Nations tell, and Kings restor'd:
But mine shall sing of his eclips'd estate,
Which, like the Sun's, more wonders does afford.
91.
He drew his mighty Fregates all before,
On which the foe his fruitless force employes:
His weak ones deep into his Reer he bore,
Remote from Guns as sick men are from noise.
92.
His fiery Canon did their passage guide,
And foll'wing smoke obscur'd them from the foe.
Thus Israel safe from the Egyptian's pride,
By flaming pillars, and by clouds did go.
93.
Elsewhere the Belgian force we did defeat,
But here our courages did theirs subdue:
So Xenophon once led that fam'd retreat,
Which first the Asian Empire overthrew.
94.
The foe approach'd: and one, for his bold sin,
Was sunk, (as he that touch'd the Ark was slain;)
The wild waves master'd him, and suck'd him in,
And smiling Eddies dimpled on the Main.
95.
This seen, the rest at awful distance stood;
As if they had been there as servants set,
To stay, or to go on, as he thought good,
And not persue, but wait on his retreat.
96.
So Lybian Huntsmen, on some sandy plain,
From shady coverts rouz'd, the Lion chace:
The Kingly beast roars out with loud disdain,
And slowly moves, unknowing to give place.
97.
But if some one approach to dare his force,
He swings his tail, and swiftly turns him round:
With one paw seizes on his trembling Horse,
And with the other tears him to the ground.
98.
Amidst these toils succeeds the balmy night,
Now hissing waters the quench'd guns restore;
And weary waves, withdrawing from the fight,
Lie lull'd and panting on the silent shore.
99.
The Moon shone clear on the becalmed floud,
Where, while her beams like glittering silver play,
Upon the Deck our careful General stood,
And deeply mus'd on the succeeding day.
100.
That happy Sun, said he, will rise again,
Who twice victorious did our Navy see:
And I alone must view him rise in vain,
Without one ray of all his Star for me.
101.
Yet, like an English Gen'ral will I die,
And all the Ocean make my spatious grave.
Women and Cowards on the Land may lie,
The Sea's a Tomb that's proper for the brave.
102.
Restless he pass'd the remnants of the night,
Till the fresh air proclaim'd the morning nigh,
And burning ships, the Martyrs of the fight,
With paler fires beheld the Eastern sky.
103.
But now, his Stores of Ammunition spent,
His naked valour is his onely guard:
Rare thunders are from his dumb Cannon sent,
And solitary Guns are scarcely heard.
104.
Thus far had Fortune pow'r, here forc'd to stay,
Nor longer durst with vertue be at strife:
This, as a Ransome Albemarl did pay
For all the glories of so great a life.
105.
For now brave Rupert from afar appears,
Whose waving Streamers the glad General knows:
With full spread Sails his eager Navy steers,
And every Ship in swift proportion grows.
106.
The anxious Prince had heard the Cannon long,
And from that length of time dire Omens drew
Of English over-match'd, and Dutch too strong,
Who never fought three days but to pursue.
107.
Then, as an Eagle, (who, with pious care,
Was beating widely on the wing for prey)
To her now silent Eiry does repair,
And finds her callow Infants forc'd away.
108.
Stung with her love she stoops upon the plain,
The broken air loud whistling as she flies:
She stops, and listens, and shoots forth again,
And guides her pinions by her young ones cries.
109.
With such kind passion hastes the Prince to fight,
And spreads his flying canvass to the sound:
Him, whom no danger, were he there, could fright,
Now, absent, every little noise can wound.
110.
As, in a drought, the thirsty creatures cry,
And gape upon the gather'd clowds for rain,
And first the Martlet meets it in the sky,
And, with wet wings, joys all the feather'd train.
111.
With such glad hearts did our dispairing men
Salute th' appearance of the Princes Fleet;
And each ambitiously would claim the Ken
That with first eyes did distant safety meet.
112.
The Dutch, who came like greedy Hinds before,
To reap the harvest their ripe ears did yield,
Now look like those, when rowling thunders roar,
And sheets of Lightning blast the standing field.
113.
Full in the Princes passage, hills of sand
And dang'rous flats in secret ambush lay,
Where the false tides skim o'r the cover'd Land,
And Sea-men with dissembled depths betray:
114.
The wily Dutch, who, like fall'n Angels, fear'd
This new Messiah's coming, there did wait,
And round the verge their braving Vessels steer'd,
To tempt his courage with so fair a bait.
115.
But he, unmov'd, contemns their idle threat,
Secure of fame when ere he please to fight:
His cold experience tempers all his heat,
And inbred worth does boasting valour slight.
116.
Heroique virtue did his actions guide,
And he the substance not th' appearance chose:
To rescue one such friend he took more pride
Than to destroy whole thousands of such foes.
117.
But, when approach'd, in strict embraces bound,
Rupert and Albemarl together grow:
He joys to have his friend in safety found,
Which he to none but to that friend would owe.
118.
The chearful Souldiers, with new stores suppli'd,
Now long to execute their spleenfull will;
And, in revenge for those three days they tri'd,
Wish one, like Ioshuah's, when the Sun stood still.
119.
Thus re-inforc'd, against the adverse Fleet
Still doubling ours, brave Rupert leads the way.
With the first blushes of the Morn they meet,
And bring night back upon the new-born day.
120.
His presence soon blows up the kindling fight,
And his loud Guns speak thick like angry men:
It seem'd as slaughter had been breath'd all night,
And death new pointed his dull dart agen.
121.
The Dutch, too well his mighty Conduct knew,
And matchless Courage since the former fight:
Whose Navy like a stiff stretch'd cord did show
Till he bore in, and bent them into flight.
122.
The wind he shares while half their Fleet offends
His open side, and high above him shows,
Upon the rest at pleasure he descends,
And, doubly harm'd, he double harms bestows.
123.
Behind, the Gen'ral mends his weary pace,
And sullenly to his revenge he sails:
So glides some trodden Serpent on the grass,
And long behind his wounded vollume trails.
124.
Th' increasing sound is born to either shore,
And for their stakes the throwing Nations fear.
Their passion, double with the Cannons roar,
And with warm wishes each man combats there.
125.
Pli'd thick and close as when the fight begun,
Their huge unwieldy Navy wasts away:
So sicken waning Moons too neer the Sun,
And blunt their crescents on the edge of day.
126.
And now reduc'd on equal terms to fight,
Their Ships like wasted Patrimonies show:
Where the thin scatt'ring Trees admit the light,
And shun each others shadows as they grow.
127.
The warlike Prince had sever'd from the rest T
wo giant ships, the pride of all the Main;
Which, with his own, so vigorously he press'd,
And flew so home they could not rise again.
128.
Already batter'd, by his Lee they lay,
In vain upon the passing winds they call:
The passing winds through their torn canvass play,
And flagging sails on heartless Sailors fall.
129.
Their open'd sides receive a gloomy light,
Dreadful as day let in to shades below:
Without, grim death rides bare-fac'd in their sight,
And urges ent'ring billows as they flow.
130.
When one dire shot, the last they could supply,
Close by the boar'd the Prince's Main-mast bore:
All three now, helpless, by each other lie,
And this offends not, and those fear no more.
131.
So have I seen some fearful Hare maintain
A Course, till tir'd before the Dog she lay:
Who, stretch'd behind her, pants upon the plain,
Past pow'r to kill as she to get away.
132.
With his loll'd tongue he faintly licks his prey,
His warm breath blows her flix up as she lies:
She, trembling, creeps upon the ground away,
And looks back to him with beseeching eyes.
133.
The Prince unjustly does his Stars accuse,
Which hinder'd him to push his fortune on:
For what they to his courage did refuse,
By mortal valour never must be done.
134.
This lucky hour the wise Batavian takes,
And warns his tatter'd Fleet to follow home:
Proud to have so got off with equal stakes,
Where 'twas a triumph not to be o'r-come.
135.
The General's force, as kept alive by fight,
Now, not oppos'd, no longer can persue:
Lasting till Heav'n had done his courage right,
When he had conquer'd he his weakness knew.
136.
He casts a frown on the departing foe,
And sighs to see him quit the watry field:
His stern fix'd eyes no satisfaction show,
For all the glories which the Fight did yield.
137.
Though, as when Fiends did Miracles avow,
He stands confess'd ev'n by the boastful Dutch,
He onely does his conquest disavow,
And thinks too little what they found too much.
138.
Return'd, he with the Fleet resolv'd to stay,
No tender thoughts of home his heart divide:
Domestick joys and cares he puts away,
For Realms are housholds which the Great must guide.
139.
As those who unripe veins in Mines explore,
On the rich bed again the warm turf lay,
Till time digests the yet imperfect Ore,
And know it will be Gold another day.
140.
So looks our Monarch on this early fight,
Th' essay, and rudiments of great success,
Which all-maturing time must bring to light,
While he, like Heav'n, does each days labour bless.
141.
Heav'n ended not the first or second day,
Yet each was perfect to the work design'd:
God and Kings work, when they their work survey,
And passive aptness in all subjects find.
142.
In burden'd Vessels, first, with speedy care,
His plenteous Stores do season'd timber send
Thither the brawny Carpenters repair,
And as the Chyrurg'ons of maim'd ships attend.
143.
With Cord and Canvass from rich Hamburgh sent,
His Navies molted wings he imps once more:
Tall Norway Fir, their Masts in Battel spent,
And English Oak sprung leaks and planks restore.
144.
All hands employ'd, the Royal work grows warm,
Like labouring Bees on a long Summers day,
Some sound the Trumpet for the rest to swarm,
And some on bells of tasted Lillies play:
145.
With glewy wax some new foundation lay
Of Virgin combs, which from the roof are hung:
Some arm'd within doors, upon duty stay,
Or tend the sick, or educate the young.
146.
So here, some pick out bullets from the sides,
Some drive old Okum through each seam & rift:
Their left-hand does the Calking-iron guide,
The ratling Mallet with the right they lift.
147.
With boiling Pitch another near at hand
(From friendly Sweden brought) the seams in-stops:
Which well paid o'r the salt-Sea waves withstand,
And shakes them from the rising beak in drops.
148.
Some the gall'd ropes with dawby Marling bind,
Or sear-cloth Masts with strong Tarpawling coats:
To try new shrouds one mounts into the wind,
And one, below, their ease or stifness notes.
149.
Our careful Monarch stands in Person by,
His new-cast Canons firmness to explore:
The strength of big-corn'd powder loves to try,
And Ball and Cartrage sorts for every bore.
150.
Each day brings fresh supplies of Arms and Men,
And Ships which all last Winter were abrode:
And such as fitted since the Fight had been,
Or new from Stocks were fall'n into the Road.
151.
The goodly London in her gallant trim,
(The Phoenix daughter of the vanish'd old:)
Like a rich Bride does to the Ocean swim,
And on her shadow rides in floating gold.
152.
Her Flag aloft spread ruffling to the wind,
And sanguine Streamers seem the floud to fire:
The Weaver charm'd with what his Loom design'd,
Goes on to Sea, and knows not to retire.
153.
With roomy decks, her Guns of mighty strength,
(Whose low-laid mouthes each mounting billow laves:)
Deep in her draught, and warlike in her length,
She seems a Sea-wasp flying on the waves.
154.
This martial Present, piously design'd,
The Loyal City give their best-lov'd King:
And with a bounty ample as the wind,
Built, fitted and maintain'd to aid him bring.
155.
By viewing Nature, Natures Hand-maid, Art,
Makes mighty things from small beginnings grow:
Thus fishes first to shipping did impart
Their tail the Rudder, and their head the Prow.
156.
Some Log, perhaps, upon the waters swam
An useless drift, which, rudely cut within,
And hollow'd, first a floating trough became,
And cross some Riv'let passage did begin.
157.
In shipping such as this the Irish Kern,
And untaught Indian, on the stream did glide:
Ere sharp-keel'd Boats to stem the floud did learn,
Or fin-like Oars did spread from either side.
158.
Adde but a Sail, and Saturn so appear'd,
When, from lost Empire, he to Exile went,
And with the Golden age to Tyber steer'd,
Where Coin & first Commerce he did invent.
159.
Rude as their Ships was Navigation, then;
No useful Compass or Meridian known:
Coasting, they kept the Land within their ken,
And knew no North but when the Pole-star shone.
160.
Of all who since have us'd the open Sea,
Than the bold English none more fame have won:
Beyond the Year, and out of Heav'ns high-way,
They make discoveries where they see no Sun.
161.
But what so long in vain, and yet unknown,
By poor man-kinds benighted wit is sought,
Shall in this Age to Britain first be shown,
And hence be to admiring Nations taught.
162.
The Ebbs of Tydes, and their mysterious flow,
We, as Arts Elements shall understand:
And as by Line upon the Ocean go,
Whose paths shall be familiar as the Land.
163.
Instructed ships shall sail to quick Commerce;
By which remotest Regions are alli'd:
Which makes one City of the Universe,
Where some may gain, and all may be suppli'd.
164.
Their, we upon our Globes last verge shall go,
And view the Ocean leaning on the sky:
From thence our rolling Neighbours we shall know.
And on the Lunar world securely pry.
165.
This I fore-tel, from your auspicious care,
VVho great in search of God and Nature grow:
VVho best your wise Creator's praise declare,
Since best to praise his works is best to know.
166.
O truly Royal! who behold the Law,
And rule of beings in your Maker's mind,
And thence, like Limbeckss, rich Idea's draw,
To fit the levell'd use of humane kind.
167.
But first the toils of war we must endure,
And, from th'Injurious Dutch redeem the Seas.
War makes the valiant of his right secure,
And gives up fraud to be chastis'd with ease.
168.
Already were the Belgians on our coast,
Whose Fleet more mighty every day became,
By late success, which they did falsly boast,
And now, by first appearing seem'd to claim.
169.
Designing, subtil, diligent, and close,
They knew to manage War with wise delay:
Yet all those arts their vanity did cross,
And, by their pride, their prudence did betray.
170.
Nor staid the English long: but, well suppli'd,
Appear as numerous as th'insulting foe.
The Combat now by courage must be tri'd,
And the success the braver Nation show.
171.
There was the Plimouth Squadron new come in,
Which in the Straights last Winter was abroad:
Which twice on Biscay's working Bay had been,
And on the Mid-land Sea the French had aw'd.
172.
Old expert Allen, loyal all along,
Fam'd for his action on the Smirna Fleet,
And Holmes, whose name shal live in Epique Song,
While Musick Numbers, or while Verse has Fleet.
173.
Holmes, the Achates of the Gen'rals fight,
Who first bewitch'd our eyes with Guinny Gold:
As once old Cato in the Roman's sight
The tempting fruits of Africk did unfold.
174.
With him went Sprag, as bountiful as brave,
Whom his high courage to command had brought:
Harman, who did the twice fir'd Harry save,
And in his burning ship undaunted fought.
175.
Young Hollis, on a Muse by Mars begot,
Born, Cesar-like, to write and act great deeds:
Impatient to revenge his fatal shot,
His right hand doubly to his left succeeds.
176.
Thousands were there in darker fame that dwell,
Whose deeds some nobler Poem shall adorn;
And, though to me unknown, they, sure, fought well,
Whom Rupert led, and who were British born.
177.
Of every size an hundred fighting Sail,
So vast the Navy now at Anchor rides,
That underneath it the press'd waters fail,
And, with its weight, it shoulders off the Tydes.
178.
Now Anchors weigh'd, the Sea-men shout so shrill,
That Heav'n & Earth and the wide Ocean rings:
A breeze from VVestward waits their sails to fill,
And rests, in those high beds, his downy wings.
179.
The wary Dutch this gathering storm foresaw,
And durst not bide it on the English coast:
Behind their treach'rous shallows they withdraw,
And their lay snares to catch the British Hoast.
180.
So the false Spider, when her Nets are spread,
Deep ambush'd in her silent den does lie:
And feels, far off, the trembling of her thread,
Whose filmy cord should bind the strugling Fly.
181.
Then, if at last, she find him fast beset,
She issues forth, and runs along her Loom:
She joys to touch the Captive in her Net,
And drags the little wretch in triumph home.
182.
The Belgians hop'd that, with disorder'd haste,
Our deep-cut keels upon the sands might run:
Or, if with caution leisurely were past,
Their numerous gross might charge us one by one.
183.
But, with a fore-wind pushing them above,
And swelling tyde that heav'd them from below,
O'r the blind flots our warlike Squadrons move,
And, with spread sails, to welcome Battel go.
184.
It seem'd as there the British Neptune stood,
With all his host of waters at command,
Beneath them to submit th'officious floud:
And, with his Trident, shov'd them off the sand.
185.
To the pale foes they suddenly draw near,
And summon them to unexpected fight:
They start like Murderers when Ghosts appear,
And draw their Curtains in the dead of night.
186.
Now Van to Van the formost Squadrons meet,
The midmost Battels hasting up behind,
Who view, far off, the storm of falling Sleet,
And hear their thunder ratling in the wind.
187.
At length the adverse Admirals appear:
(The two bold Champions of each Countries right)
Their eyes describe the lists as they come near,
And draw the lines of death before they fight.
188.
The distance judg'd for shot of every size,
The Linstocks touch, the pond'rous ball expires:
The vig'rous Sea-man every port-hole plies,
And adds his heart to every Gun he fires.
189.
Fierce was the fight on the proud Belgians side,
For honour, which they seldome sought before:
But now they by their own vain boasts were ti'd,
And forc'd, at least in show, to prize it more.
190.
But sharp remembrance on the English part,
And shame of being match'd by such a foe:
Rouze conscious vertue up in every heart,
And seeming to be stronger makes them so.
191.
Nor long the Belgians could that Fleet sustain,
Which did two Gen'rals fates, and Cesar's bear.
Each several Ship a victory did gain,
As Rupert or as Albemarl were there.
192.
Their batter'd Admiral too soon withdrew,
Unthank'd by ours for his unfinish'd fight:
But he the minds of his Dutch Masters knew,
Who call'd that providence which we call'd flight.
193.
Never did men more joyfully obey,
Or sooner understood the sign to flie:
With such alacrity they bore away,
As if to praise them all the States stood by.
194.
O famous Leader of the Belgian Fleet,
Thy Monument inscrib'd such praise shall wear
As Verro, timely flying, once did meet,
Because he did not of his Rome despair.
195.
Behold that Navy which a while before
Provok'd the tardy English to the fight,
Now draw their beaten vessels close to shore,
As Larks lie dar'd to shun the Hobbies flight.
196.
Who ere would English Monuments survey,
In other records may our courage know:
But let them hide the story of this day,
Whose fame was blemish'd by too base a foe.
197.
Or if too busily they will enquire
Into a victory which we disdain:
Then let them know, the Belgians did retire
Before the Patron Saint of injur'd Spain.
198.
Repenting England this revengeful day
To Philip's Manes did an off'ring bring.
England, which first, by leading them astray,
Hatch'd up Rebellion to destroy her King.
199.
Our Fathers bent their baneful industry
To check a Monarchy that slowly grew:
But did not France or Holland's fate foresee,
Whose rising pow'r to swift Dominion flew.
200.
In fortunes Empire blindly thus we go,
And wander after pathless destiny:
Whose dark resorts since prudence cannot know.
In vain it would provide for what shall be.
201.
But what ere English to the bless'd shall go,
And the fourth Harry or first Orange meet:
Find him disowning of a Burbon foe,
And him detesting a Batavian Fleet.
202.
Now on their coasts our conquering Navy rides,
Way-lays their Merchants, and their Land besets;
Each day new wealth without their care provides,
They lie asleep with prizes in their nets.
203.
So, close behind some Promontory lie
The huge Leviathans t' attend their prey:
And give no chace, but swallow in the frie,
Which through their gaping jaws mistake the way.
204.
Nor was this all: in Ports and Roads remote,
Destructive Fires among whole Fleets we send:
Triumphant flames upon the water flote,
And out-bound ships at home their voyage end.
205.
Those various Squadrons, variously design'd,
Each vessel fraighted with a several load:
Each Squadron waiting for a several wind,
All find but one, to burn them in the Road.
206.
Some bound for Guinny, golden sand to find,
Bore all the gawds the simple Natives wear:
Some for the pride of Turkish Courts design'd,
For folded Turbans finest Holland bear.
207.
Some English Wool, vex'd in a Belgian Loom,
And into Cloth of spungy softness made:
Did into France or colder Denmark doom,
To ruine with worse ware our staple Trade.
208.
Our greedy Sea-men rummage every hold,
Smiles on the booty of each wealthier Chest:
And, as the Priests who with their gods make bold,
Take what they like, and sacrifice the rest.
209.
But ha! how, unsincere are all our joys!
Which, sent from Heav'n, like Lightning make no stay:
Their falling taste the journeys length destroys,
Or grief, sent post, o'r-takes them on the way.
210.
Swell'd with our late successes on the Foe,
Which France and Holland wanted power to cross:
We urge an unseen Fate to lay us low,
And feed their envious eyes with English loss.
211.
Each Element his dread command obeys,
Who makes or ruines with a smile or frown;
Who as by one he did our Nation raise,
So now he with another pulls us down.
212.
Yet, London, Empress of the Northern Clime,
By an high fate thou greatly didst expire;
Great as the worlds, which at the death of time
Must fall, and rise a nobler frame by fire.
213.
As when some dire Usurper Heav'n provides,
To scourge his Country with a lawless sway:
His birth, perhaps, some petty Village hides,
And sets his Cradle out of Fortune's way:
214.
Till fully ripe his swelling fate breaks out,
And hurries him to mighty mischiefs on:
His Prince surpriz'd at first, no ill could doubt,
And wants the pow'r to meet it when 'tis known.
215.
Such was the rise of this prodigious fire,
Which in mean buildings first obscurely bred,
From thence did soon to open streets aspire,
And straight to Palaces and Temples spread.
216.
The diligence of Trades and noiseful gain,
And luxury, more late, asleep were laid:
All was the nights, and in her silent reign,
No sound the rest of Nature did invade.
217.
In this deep quiet, from what scource unknown,
Those seeds of fire their fatal birth disclose:
And first, few scatt'ring sparks about were blown,
Big with the flames that to our ruine rose.
218.
Then, in some close-pent room it crept along,
And, smouldring as it went, in silence fed:
Till th'infant monster, with devouring strong,
Walk'd boldly upright with exalted head.
219.
Now, like some rich or mighty Murderer,
To great for prison, which he breaks with gold;
Who fresher for new mischiefs does appear,
And dares the world to tax him with the old.
220.
So scapes th'insulting fire his narrow Jail,
And makes small out-lets into open air:
There the fierce winds his open force assail,
And beat him down-ward to his first repair.
221.
The winds, like crafty Courtezans, with-held
His flames from burning, but to blow them more:
And, every fresh attempt, he is repell'd
With faint denials, weaker then before.
222.
And now, no longer letted of his prey,
He leaps up at it with inrag'd desire:
O'r-looks the neighbours with a wide survey,
And nods at every house his threatning fire.
223.
The Ghosts of Traitors, from the Bridge descend,
With bold Fanatick Spectres to rejoyce:
About the fire into a Dance they bend,
And sing their Sabbath Notes with feeble voice.
224.
Our Guardian Angel saw them where he sate
Above the Palace of our slumbring King,
He sigh'd, abandoning his charge to Fate,
And, drooping, oft look back upon the wing.
225.
At length the crackling noise and dreadful blaze,
Call'd up some waking Lover to the sight:
And long it was ere he the rest could raise,
Whose heavy eye-lids yet were full of night.
226.
The next to danger, hot pursu'd by fate,
Half cloth'd, half naked, hastily retire:
And frighted Mother strike their breasts, too late,
For helpless Infants left amidst the fire.
227.
Their cries soon waken all the dwellers near:
Now murmuring noises rise in every street;
The more remote run stumbling with their fear,
And, in the dark, men justle as they meet.
228.
So weary Bees in little Cells repose;
But if night-robbers lift the well-stor'd Hive,
An humming through their waxen City grows,
And out upon each others wings they drive.
229.
Now streets grow throng'd and busie as by day:
Some run for Buckets to the hallow'd Quire:
Some cut the Pipes, and some the Engines play,
And some more bold mount Ladders to the fire.
230.
In vain: for, from the East, a Belgian wind,
His hostile breath through the dry rafters sent:
The flames impelled, soon left their foes behind,
And forward, with a wanton fury went.
231.
A Key of fire ran all along the shore,
And lighten'd all the River with the blaze:
The waken'd Tydes began again to roar,
And wond'ring Fish in shining waters gaze.
231.
Old Father Thames rais'd up his reverend head,
But fear'd the fate of Simoeis would return:
Deep in his Ooze he sought his sedgy bed,
And shrunk his waters back into his Urn.
233.
The fire, mean time, walks in a broader gross,
To either hand his wings he opens wide:
He wades the streets, & straight he reaches cross,
And plays his longing flames on th'other side.
234.
At first they warm, then scorch, and then they take:
Now with long necks from side to side they feed:
At length, grown strong, their Mother fire forsake,
And a new Collony of flames succeed.
239.
Near as he draws, thick harbingers of smoke,
With gloomy pillars, cover all the place:
Whose little intervals of night are broke
By sparks that drive against his Sacred Face.
240.
More then his Guards his sorrows made him known,
And pious tears which down his cheeks did show'r:
The wretched in his grief forgot their own:
(So much the pity of a King has pow'r.)
241.
He wept the flames of what he lov'd so well,
And what so well had merited his love.
For never Prince in grace did more excel,
Or Royal City more in duty strove.
242.
Nor with an idle care did he behold:
(Subjects may grieve, but Monarchs must redress.)
He chears the fearful, and commends the bold,
And makes despairers hope for good success.
243.
Himself directs what first is to be done,
And orders all the succours which they bring.
The helpful and the good about him run,
And form an Army worthy such a King.
244.
He sees the dire contagion spread so fast,
That where it seizes, all relief is vain:
And therefore must unwillingly lay waste
That Country which would, else, the foe maintain.
245.
The powder blows up all before the fire:
Th' amazed flames stand gather'd on a heap;
And from the precipices brinck retire,
Afraid to venture on so large a leap.
246.
Thus fighting fires a while themselves consume,
But straight, like Turks, forc'd on to win or die;
They first lay tender bridges of their fume,
And o'r the breach in unctuous vapours flie.
247.
Part stays for passage till a gust of wind S
hips o'r their forces in a shining sheet:
Part, creeping under ground, their journey blind,
And, climbing from below, their fellows meet.
248.
Thus, to some desart plain, or old wood side,
Dire night has come from far to dance their round:
And o'r brode Rivers on their fiends they ride,
Or sweep in clowds above the blasted ground.
249.
No help avails: for, Hydra-like, the fire,
Lifts up his hundred heads to aim his way.
And scarce the wealthy can one half retire,
Before he rushes in to share the prey.
250.
The rich grow suppliant, & the poor grow proud:
Those offer mighty gain, and these ask more.
So void of pity is th'ignoble crowd,
When others ruine may increase their store.
251.
As those who live by shores with joy behold
Some wealthy vessel split or stranded nigh;
And, from the Rocks, leap down for shipwrack'd Gold,
And seek the Tempest which the others flie.
252.
So these but wait the Owners last despair,
And what's permitted to the flames invade:
Ev'n from their jaws they hungry morsels tear,
And, on their backs, the spoils of Vulcan lade.
253.
The days were all in this lost labour spent;
And when the weary King gave place to night,
His Beams he to his Royal Brother lent,
And so shone still in his reflective light.
254.
Night came, but without darkness or repose,
A dismal picture of the gen'ral doom:
Where Souls distracted when the Trumpet blows
And half unready with their bodies come.
255.
Those who have homes, when home they do repair
To a last lodging call their wand'ring friends.
Their short uneasie sleeps are broke with care,
To look how near their own destruction tends.
256.
Those who have none sit round where once it was,
And with full eyes each wonted room require:
Haunting the yet warm ashes of the place,
As murder'd men walk where they did expire.
257.
Some stir up coals and watch the Vestal fire,
Others in vain from sight of ruine run:
And, while through burning Lab'rinths they retire,
With loathing eyes repeat what they would shun.
258.
The most, in fields, like herded beasts lie down;
To dews obnoxious on the grassie floor:
And while their babes in sleep their sorrows drown,
Sad Parents watch the remnants of their store.
259.
While by the motion of the flames they ghess
What streets are burning now, & what are near:
An Infant, waking, to the paps would press,
And meets, instead of milk, a falling tear.
260.
No thought can ease them but their Sovereign's care,
Whose praise th'afflicted as their comfort sing:
Ev'n those whom want might drive to just despair,
Think life a blessing under such a King.
261.
Mean time he sadly suffers in their grief,
Out-weeps an Hermite, and out-prays a Saint:
All the long night he studies their relief,
How they may be suppli'd, and he may want.
262.
O God, said he, thou Patron of my days,
Guide of my youth in exile and distress!
Who me unfriended, brought'st by wondrous ways
The Kingdom of my Fathers to possess.
263.
Be thou my Judge, with what unwearied care
I since have labour'd for my People's good:
To bind the bruises of a Civil War,
And stop the issues of their wasting bloud.
264.
Thou, who hast taught me to forgive the ill,
And recompense, as friends the good, misled;
If mercy be a Precept of thy will,
Return that mercy on thy Servant's head.
265.
Or, if my heedless Youth has stept astray,
Too soon forgetful of thy gracious hand:
On me alone thy just displeasure lay,
But take thy judgments from this mourning Land.
266.
We all have sinn'd, and thou hast laid us low,
As humble Earth from whence at first we came:
Like flying shades before the clowds we show,
And shrink like Parchment in consuming.
267.
O let it be enough what thou hast done,
When spotted deaths ran arm'd through every street,
With poison'd darts, which not the good could shun.
The speedy could out-fly, or valiant meet.
268.
The living few, and frequent funerals then,
Proclam'd thy wrath on this forsaken place:
And now those few who are return'd agen
Thy searching judgments to their dwellings trace.
269.
O pass not, Lord, an absolute decree,
Or bind thy sentence unconditional:
But in thy sentence our remorce foresee,
And, in that foresight, this thy doom recall.
270.
Thy threatnings, Lord, as thine, thou maist revoke:
But, if immutable and fix'd they stand,
Continue still thy self to give the stroke,
And let not foreign foes oppress thy Land.
271.
Th' Eternal heard, and from the Heav'nly Quire,
Chose out the Cherub with the flaming sword:
And bad him swiftly drive th' approaching fire
From where our Naval Magazins were stor'd.
272.
The blessed Minister his wings displai'd,
And like a shooting Star he cleft the night:
He charg'd the flames, and those that disobey'd,
He lash'd to duty with his sword of light.
273.
The fugitive flames, chastis'd, went forth to prey
On pious Structures, by our Fathers rear'd:
By which to Heav'n they did affect the way,
Ere Faith in Church-men without Works was heard.
274.
The wanting Orphans saw, with watry eyes,
Their Founders charity in dust laid low:
And sent to God their ever-answer'd cries,
(For he protects the poor who made them so.)
275.
Nor could thy Fabrick, Paul's, defend thee long,
Though thou wert Sacred to thy Makers praise:
Though made immortal by a Poet's Song;
And Poets Songs the Theban walls could raise.
276.
The dareing flames peep't in and saw from far,
The awful beauties of the Sacred Quire:
But, since it was prophan'd by Civil War,
Heav'n thought it fit to have it purg'd by fire.
277.
Now down the narrow streets it swiftly came,
And, widely opening, did on both sides prey.
This benefit we sadly owe the flame,
If onely ruine must enlarge our way.
278.
And now four days the Sun had seen our woes,
Four nights the Moon beheld th' incessant fire:
It seem'd as if the Stars more sickly rose,
And farther from the feav'rish North retire.
279.
In th' Empyrean Heaven, (the bless'd abode)
The Thrones and the Dominions prostrate lie,
Not daring to behold their angry God:
And an hush'd silence damps the tuneful sky.
280.
At length th' Almighty cast a pitying eye,
And mercy softly touch'd his melting breast:
He saw the Town's one half in rubbish lie,
And eager flames give on to storm the rest.
281.
An hollow chrystal Pyramid he takes,
In firmamental waters dipt above;
Of it a brode Extinguisher he makes,
And hoods the flames that to their quarry strove.
282.
The vanquish'd fires withdraw from every place,
Or full with feeding, sink into a sleep:
Each houshold Genius shows again his face,
And, from the hearths, the little Lares creep.
283.
Our King this more then natural change beholds;
With sober joy his heart and eyes abound:
To the All-good his lifted hands he folds,
And thanks him low on his redeemed ground.
284.
As when sharp frosts had long constrain'd the earth,
A kindly thaw unlocks it with mild rain:
And first the tender blade peeps up to birth,
And straight the green fields laugh with promis'd grain:
285.
By such degrees, the spreading gladness grew
In every heart, which fear had froze before:
The standing streets with so much joy they view,
That with less grief the perish'd they deplore.
286.
The Father of the people opened wide
His stores, and all the poor with plenty fed:
Thus God's Annointed God's own place suppli'd,
And fill'd the empty with his daily bread.
287.
This Royal bounty brought its own reward,
And, in their minds, so deep did print the sense:
That if their ruines sadly they regard,
'Tis but with fear the sight might drive him thence.
289.
But so may he live long, that Town to sway,
Which by his Auspice they will nobler make,
As he will hatch their ashes by his stay,
And not their humble ruines now forsake.
290.
They have not lost their Loyalty by fire;
Nor is their courage or their wealth so low,
That from his Wars they poorly would retire,
Or beg the pity of a vanquish'd foe.
291.
Not with more constancy the Iews of old,
By Cyrus from rewarded Exile sent:
Their Royal City did in dust behold,
Or with more vigour to rebuild it went.
292.
The utmost malice of their Stars is past,
And two dire Comets which have scourg'd the Town,
In their own Plague and Fire have breath'd their last,
Or, dimly, in their sinking sockets frown.
293.
Now frequent Trines the happier lights among,
And high-rais'd Iove from his dark prison freed:
(Those weights took off that on his Planet hung)
Will gloriously the new laid work succeed.
294.
Me-thinks already, from this Chymick flame,
I see a City of more precious mold,
Rich as the Town which gives the Indies name,
With Silver pav'd, and all divine with Gold.
295.
Already, Labouring with a mighty fate,
She shakes the rubbish from her mounting brow,
And seems to have renew'd her Charters date,
Which Heav'n will to the death of time allow.
296.
More great then humane, now, and more August,
New deifi'd she from her fires does rise:
Her widening streets on new foundations trust,
And, opening, into larger parts she flies.
297.
Before, she like some Shepherdess did show,
Who sate to bathe her by a River's side:
Not answering to her fame, but rude and low,
Nor taught the beauteous Arts of Modern pride.
298.
Now, like a Maiden Queen, she will behold,
From her high Turrets, hourly Sutors come:
The East with Incense, and the West with Gold,
Will stand, like Suppliants, to receive her doom.
299.
The silver Thames, her own domestick Floud,
Shall bear her Vessels, like a sweeping Train;
And often wind (as of his Mistress proud)
With longing eyes to meet her face again.
300.
The wealthy Tagus, and the wealthier Rhine,
The glory of their Towns no more shall boast:
And Sein, That would with Belgian Rivers joyn,
Shall find her lustre stain'd, and Traffick lost.
301.
The vent'rous Merchant, who design'd more far,
And touches on our hospitable shore:
Charm'd with the splendour of this Northern Star,
Shall here unlade him, and depart no more.
302.
Our pow'rful Navy shall no longer meet,
The wealth of France or Holland to invade:
The beauty of this Town, without a Fleet,
From all the world shall vindicate her Trade.
303.
And, while this fam'd Emporium we prepare,
The British Ocean shall such triumphs boast,
That those who now disdain our Trade to share,
Shall rob like Pyrats on our wealthy Coast.
304.
Already we have conquer'd half the War,
And the less dangerous part is left behind:
Our trouble now is but to make them dare,
And not so great to vanquish as to find.
305.
Thus to the Eastern wealth through storms we go;
But now, the Cape once doubled, fear no more:
A constant Trade-wind will securely blow,
And gently lay us on the Spicy shore.
FINIS.
3.11.2 All for Love: Or, The World Well Lost
(performed in 1677; published in 1678)
Prologue
What flocks of critics hover here to-day,
As vultures wait on armies for their prey,
All gaping for the carcase of a play!
With croaking notes they bode some dire event,
And follow dying poets by the scent.
Ours gives himself for gone; y' have watched your time:
He fights this day unarmed,—without his rhyme;—
And brings a tale which often has been told;
As sad as Dido's; and almost as old.
His hero, whom you wits his bully call,
Bates of his mettle, and scarce rants at all;
He's somewhat lewd; but a well-meaning mind;
Weeps much; fights little; but is wond'rous kind.
In short, a pattern, and companion fit,
For all the keeping Tonies of the pit.
I could name more: a wife, and mistress too;
Both (to be plain) too good for most of you:
The wife well-natured, and the mistress true.
Now, poets, if your fame has been his care,
Allow him all the candour you can spare.
A brave man scorns to quarrel once a day;
Like Hectors in at every petty fray.
Let those find fault whose wit's so very small,
They've need to show that they can think at all;
Errors, like straws, upon the surface flow;
He who would search for pearls, must dive below.
Fops may have leave to level all they can;
As pigmies would be glad to lop a man.
Half-wits are fleas; so little and so light,
We scarce could know they live, but that they bite.
But, as the rich, when tired with daily feasts,
For change, become their next poor tenant's guests;
Drink hearty draughts of ale from plain brown bowls,
And snatch the homely rasher from the coals:
So you, retiring from much better cheer,
For once, may venture to do penance here.
And since that plenteous autumn now is past,
Whose grapes and peaches have indulged your taste,
Take in good part, from our poor poet's board,
Such rivelled fruits as winter can afford.
Act I
Scene I—The Temple of Isis
[Enter SERAPION, MYRIS, Priests of Isis]
SERAPION.
Portents and prodigies have grown so frequent,
That they have lost their name. Our fruitful Nile
Flowed ere the wonted season, with a torrent
So unexpected, and so wondrous fierce,
That the wild deluge overtook the haste
Even of the hinds that watched it: Men and beasts
Were borne above the tops of trees, that grew
On the utmost margin of the water-mark.
Then, with so swift an ebb the flood drove backward,
It slipt from underneath the scaly herd:
Here monstrous phocae panted on the shore;
Forsaken dolphins there with their broad tails,
Lay lashing the departing waves: hard by them,
Sea horses floundering in the slimy mud,
Tossed up their heads, and dashed the ooze about them.
[Enter ALEXAS behind them.]
MYRIS.
Avert these omens, Heaven!
SERAPION.
Last night, between the hours of twelve and one,
In a lone aisle of the temple while I walked,
A whirlwind rose, that, with a violent blast,
Shook all the dome: the doors around me clapt;
The iron wicket, that defends the vault,
Where the long race of Ptolemies is laid,
Burst open, and disclosed the mighty dead.
From out each monument, in order placed,
An armed ghost starts up: the boy-king last
Reared his inglorious head. A peal of groans
Then followed, and a lamentable voice
Cried, Egypt is no more! My blood ran back,
My shaking knees against each other knocked;
On the cold pavement down I fell entranced,
And so unfinished left the horrid scene.
ALEXAS.
And dreamed you this? or did invent the story,
[Showing himself.]
To frighten our Egyptian boys withal,
And train them up, betimes, in fear of priesthood?
SERAPION.
My lord, I saw you not,
Nor meant my words should reach you ears; but what
I uttered was most true.
ALEXAS.
A foolish dream,
Bred from the fumes of indigested feasts,
And holy luxury.
SERAPION.
I know my duty:
This goes no further.
ALEXAS.
'Tis not fit it should;
Nor would the times now bear it, were it true.
All southern, from yon hills, the Roman camp
Hangs o'er us black and threatening like a storm
Just breaking on our heads.
SERAPION.
Our faint Egyptians pray for Antony;
But in their servile hearts they own Octavius.
MYRIS.
Why then does Antony dream out his hours,
And tempts not fortune for a noble day,
Which might redeem what Actium lost?
ALEXAS.
He thinks 'tis past recovery.
SERAPION.
Yet the foe
Seems not to press the siege.
ALEXAS.
Oh, there's the wonder.
Maecenas and Agrippa, who can most
With Caesar, are his foes. His wife Octavia,
Driven from his house, solicits her revenge;
And Dolabella, who was once his friend,
Upon some private grudge, now seeks his ruin:
Yet still war seems on either side to sleep.
SERAPION.
'Tis strange that Antony, for some days past,
Has not beheld the face of Cleopatra;
But here, in Isis' temple, lives retired,
And makes his heart a prey to black despair.
ALEXAS.
'Tis true; and we much fear he hopes by absence
To cure his mind of love.
SERAPION.
If he be vanquished,
Or make his peace, Egypt is doomed to be
A Roman province; and our plenteous harvests
Must then redeem the scarceness of their soil.
While Antony stood firm, our Alexandria
Rivalled proud Rome (dominion's other seat),
And fortune striding, like a vast Colossus,
Could fix an equal foot of empire here.
ALEXAS.
Had I my wish, these tyrants of all nature,
Who lord it o'er mankind, rhould perish,—perish,
Each by the other's sword; But, since our will
Is lamely followed by our power, we must
Depend on one; with him to rise or fall.
SERAPION.
How stands the queen affected?
ALEXAS.
Oh, she dotes,
She dotes, Serapion, on this vanquished man,
And winds herself about his mighty ruins;
Whom would she yet forsake, yet yield him up,
This hunted prey, to his pursuer's hands,
She might preserve us all: but 'tis in vain—
This changes my designs, this blasts my counsels,
And makes me use all means to keep him here.
Whom I could wish divided from her arms,
Far as the earth's deep centre. Well, you know
The state of things; no more of your ill omens
And black prognostics; labour to confirm
The people's hearts.
[Enter VENTIDIUS, talking aside with a Gentleman of ANTONY'S.]
SERAPION.
These Romans will o'erhear us.
But who's that stranger? By his warlike port,
His fierce demeanour, and erected look,
He's of no vulgar note.
ALEXAS.
Oh, 'tis Ventidius,
Our emperor's great lieutenant in the East,
Who first showed Rome that Parthia could be conquered.
When Antony returned from Syria last,
He left this man to guard the Roman frontiers.
SERAPION.
You seem to know him well.
ALEXAS.
Too well. I saw him at Cilicia first,
When Cleopatra there met Antony:
A mortal foe was to us, and Egypt.
But,—let me witness to the worth I hate,—
A braver Roman never drew a sword;
Firm to his prince, but as a friend, not slave,
He ne'er was of his pleasures; but presides
O'er all his cooler hours, and morning counsels:
In short the plainness, fierceness, rugged virtue,
Of an old true-stampt Roman lives in him.
His coming bodes I know not what of ill
To our affairs. Withdraw to mark him better;
And I'll acquaint you why I sought you here,
And what's our present work.
[They withdraw to a corner of the stage; and VENTIDIUS,
with the other, comes forward to the front.]
VENTIDIUS
Not see him; say you?
I say, I must, and will.
GENTLEMAN.
He has commanded,
On pain of death, none should approach his presence.
VENTIDIUS.
I bring him news will raise his drooping spirits,
Give him new life.
GENTLEMAN.
He sees not Cleopatra.
VENTIDIUS.
Would he had never seen her!
GENTLEMAN.
He eats not, drinks not, sleeps not, has no use
Of anything, but thought; or if he talks,
'Tis to himself, and then 'tis perfect raving:
Then he defies the world, and bids it pass,
Sometimes he gnaws his lips, and curses loud
The boy Octavius; then he draws his mouth
Into a scornful smile, and cries, "Take all,
The world's not worth my care."
VENTIDIUS.
Just, just his nature.
Virtue's his path; but sometimes 'tis too narrow
For his vast soul; and then he starts out wide,
And bounds into a vice, that bears him far
From his first course, and plunges him in ills:
But, when his danger makes him find his faults,
Quick to observe, and full of sharp remorse,
He censures eagerly his own misdeeds,
Judging himself with malice to himself,
And not forgiving what as man he did,
Because his other parts are more than man.—
He must not thus be lost.
[ALEXAS and the Priests come forward.]
ALEXAS.
You have your full instructions, now advance,
Proclaim your orders loudly.
SERAPION.
Romans, Egyptians, hear the queen's command.
Thus Cleopatra bids: Let labour cease;
To pomp and triumphs give this happy day,
That gave the world a lord: 'tis Antony's.
Live, Antony; and Cleopatra live!
Be this the general voice sent up to heaven,
And every public place repeat this echo.
VENTIDIUS
Fine pageantry!
[Aside.]
SERAPION.
Set out before your doors
The images of all your sleeping fathers,
With laurels crowned; with laurels wreath your posts,
And strew with flowers the pavement; let the priests
Do present sacrifice; pour out the wine,
And call the gods to join with you in gladness.
VENTIDIUS.
Curse on the tongue that bids this general joy!
Can they be friends of Antony, who revel
When Antony's in danger? Hide, for shame,
You Romans, your great grandsires' images,
For fear their souls should animate their marbles,
To blush at their degenerate progeny.
ALEXAS.
A love, which knows no bounds, to Antony,
Would mark the day with honours, when all heaven
Laboured for him, when each propitious star
Stood wakeful in his orb, to watch that hour
And shed his better influence. Her own birthday
Our queen neglected like a vulgar fate,
That passed obscurely by.
VENTIDIUS.
Would it had slept,
Divided far from his; till some remote
And future age had called it out, to ruin
Some other prince, not him!
ALEXAS.
Your emperor,
Though grown unkind, would be more gentle, than
To upbraid my queen for loving him too well.
VENTIDIUS.
Does the mute sacrifice upbraid the priest!
He knows him not his executioner.
Oh, she has decked his ruin with her love,
Led him in golden bands to gaudy slaughter,
And made perdition pleasing: She has left him
The blank of what he was.
I tell thee, eunuch, she has quite unmanned him.
Can any Roman see, and know him now,
Thus altered from the lord of half mankind,
Unbent, unsinewed, made a woman's toy,
Shrunk from the vast extent of all his honours,
And crampt within a corner of the world?
O Antony!
Thou bravest soldier, and thou best of friends!
Bounteous as nature; next to nature's God!
Couldst thou but make new worlds, so wouldst thou give them,
As bounty were thy being! rough in battle,
As the first Romans when they went to war;
Yet after victory more pitiful
Than all their praying virgins left at home!
ALEXAS.
Would you could add, to those more shining virtues,
His truth to her who loves him.
VENTIDIUS.
Would I could not!
But wherefore waste I precious hours with thee!
Thou art her darling mischief, her chief engine,
Antony's other fate. Go, tell thy queen,
Ventidius is arrived, to end her charms.
Let your Egyptian timbrels play alone,
Nor mix effeminate sounds with Roman trumpets,
You dare not fight for Antony; go pray
And keep your cowards' holiday in temples.
[Exeunt ALEXAS, SERAPION.]
[Re-enter the Gentleman of M. ANTONY.]
2 Gent.
The emperor approaches, and commands,
On pain of death, that none presume to stay.
1 Gent.
I dare not disobey him.
[Going out with the other.]
VENTIDIUS.
Well, I dare.
But I'll observe him first unseen, and find
Which way his humour drives: The rest I'll venture.
[Withdraws.]
[Enter ANTONY, walking with a disturbed motion before he speaks.]
ANTONY.
They tell me, 'tis my birthday, and I'll keep it
With double pomp of sadness.
'Tis what the day deserves, which gave me breath.
Why was I raised the meteor of the world,
Hung in the skies, and blazing as I travelled,
'Till all my fires were spent; and then cast downward,
To be trod out by Caesar?
VENTIDIUS.
[aside.] On my soul,
'Tis mournful, wondrous mournful!
ANTONY.
Count thy gains.
Now, Antony, wouldst thou be born for this?
Glutton of fortune, thy devouring youth
Has starved thy wanting age.
VENTIDIUS.
How sorrow shakes him!
[Aside.]
So, now the tempest tears him up by the roots,
And on the ground extends the noble ruin.
[ANTONY having thrown himself down.]
Lie there, thou shadow of an emperor;
The place thou pressest on thy mother earth
Is all thy empire now: now it contains thee;
Some few days hence, and then 'twill be too large,
When thou'rt contracted in thy narrow urn,
Shrunk to a few ashes; then Octavia
(For Cleopatra will not live to see it),
Octavia then will have thee all her own,
And bear thee in her widowed hand to Caesar;
Caesar will weep, the crocodile will weep,
To see his rival of the universe
Lie still and peaceful there. I'll think no more on't.
ANTONY.
Give me some music, look that it be sad.
I'll soothe my melancholy, till I swell,
And burst myself with sighing.—
[Soft music.]
'Tis somewhat to my humour; stay, I fancy
I'm now turned wild, a commoner of nature;
Of all forsaken, and forsaking all;
Live in a shady forest's sylvan scene,
Stretched at my length beneath some blasted oak,
I lean my head upon the mossy bark,
And look just of a piece as I grew from it;
My uncombed locks, matted like mistletoe,
Hang o'er my hoary face; a murm'ring brook
Runs at my foot.
VENTIDIUS.
Methinks I fancy
Myself there too.
ANTONY.
The herd come jumping by me,
And fearless, quench their thirst, while I look on,
And take me for their fellow-citizen.
More of this image, more; it lulls my thoughts.
[Soft music again.]
VENTIDIUS.
I must disturb him; I can hold no longer.
[Stands before him.]
ANTONY.
[starting up]. Art thou Ventidius?
VENTIDIUS.
Are you Antony?
I'm liker what I was, than you to him
I left you last.
ANTONY.
I'm angry.
VENTIDIUS.
So am I.
ANTONY.
I would be private: leave me.
VENTIDIUS.
Sir, I love you,
And therefore will not leave you.
ANTONY.
Will not leave me!
Where have you learnt that answer? Who am I?
VENTIDIUS.
My emperor; the man I love next Heaven:
If I said more, I think 'twere scare a sin:
You're all that's good, and god-like.
ANTONY.
All that's wretched.
You will not leave me then?
VENTIDIUS.
'Twas too presuming
To say I would not; but I dare not leave you:
And, 'tis unkind in you to chide me hence
So soon, when I so far have come to see you.
ANTONY.
Now thou hast seen me, art thou satisfied?
For, if a friend, thou hast beheld enough;
And, if a foe, too much.
VENTIDIUS.
Look, emperor, this is no common dew.
[Weeping.]
I have not wept this forty years; but now
My mother comes afresh into my eyes;
I cannot help her softness.
ANTONY.
By heavens, he weeps! poor good old man, he weeps!
The big round drops course one another down
The furrows of his cheeks.—Stop them, Ventidius,
Or I shall blush to death, they set my shame,
That caused them, full before me.
VENTIDIUS.
I'll do my best.
ANTONY.
Sure there's contagion in the tears of friends:
See, I have caught it too. Believe me, 'tis not
For my own griefs, but thine.—Nay, father!
VENTIDIUS.
Emperor.
ANTONY.
Emperor! Why, that's the style of victory;
The conqu'ring soldier, red with unfelt wounds,
Salutes his general so; but never more
Shall that sound reach my ears.
VENTIDIUS.
I warrant you.
ANTONY.
Actium, Actium! Oh!—
VENTIDIUS.
It sits too near you.
ANTONY.
Here, here it lies a lump of lead by day,
And, in my short, distracted, nightly slumbers,
The hag that rides my dreams.—
VENTIDIUS.
Out with it; give it vent.
ANTONY.
Urge not my shame.
I lost a battle,—
VENTIDIUS.
So has Julius done.
ANTONY.
Thou favour'st me, and speak'st not half thou think'st;
For Julius fought it out, and lost it fairly.
But Antony—
VENTIDIUS.
Nay, stop not.
ANTONY.
Antony—
Well, thou wilt have it,—like a coward, fled,
Fled while his soldiers fought; fled first, Ventidius.
Thou long'st to curse me, and I give thee leave.
I know thou cam'st prepared to rail.
VENTIDIUS.
I did.
ANTONY.
I'll help thee.—I have been a man, Ventidius.
VENTIDIUS.
Yes, and a brave one! but—
ANTONY.
I know thy meaning.
But I have lost my reason, have disgraced
The name of soldier, with inglorious ease.
In the full vintage of my flowing honours,
Sat still, and saw it prest by other hands.
Fortune came smiling to my youth, and wooed it,
And purple greatness met my ripened years.
When first I came to empire, I was borne
On tides of people, crowding to my triumphs;
The wish of nations, and the willing world
Received me as its pledge of future peace;
I was so great, so happy, so beloved,
Fate could not ruin me; till I took pains,
And worked against my fortune, child her from me,
And returned her loose; yet still she came again.
My careless days, and my luxurious nights,
At length have wearied her, and now she's gone,
Gone, gone, divorced for ever. Help me, soldier,
To curse this madman, this industrious fool,
Who laboured to be wretched: Pr'ythee, curse me.
VENTIDIUS.
No.
ANTONY.
Why?
VENTIDIUS.
You are too sensible already
Of what you've done, too conscious of your failings;
And, like a scorpion, whipt by others first
To fury, sting yourself in mad revenge.
I would bring balm, and pour it in your wounds,
Cure your distempered mind, and heal your fortunes.
ANTONY.
I know thou would'st.
VENTIDIUS.
I will.
ANTONY.
Ha, ha, ha, ha!
VENTIDIUS.
You laugh.
ANTONY.
I do, to see officious love.
Give cordials to the dead.
VENTIDIUS.
You would be lost, then?
ANTONY.
I am.
VENTIDIUS.
I say you are not. Try your fortune.
ANTONY.
I have, to the utmost. Dost thou think me desperate,
Without just cause? No, when I found all lost
Beyond repair, I hid me from the world,
And learnt to scorn it here; which now I do
So heartily, I think it is not worth
The cost of keeping.
VENTIDIUS.
Caesar thinks not so;
He'll thank you for the gift he could not take.
You would be killed like Tully, would you? do,
Hold out your throat to Caesar, and die tamely.
ANTONY.
No, I can kill myself; and so resolve.
VENTIDIUS.
I can die with you too, when time shall serve;
But fortune calls upon us now to live,
To fight, to conquer.
ANTONY.
Sure thou dream'st, Ventidius.
VENTIDIUS.
No; 'tis you dream; you sleep away your hours
In desperate sloth, miscalled philosophy.
Up, up, for honour's sake; twelve legions wait you,
And long to call you chief: By painful journeys
I led them, patient both of heat and hunger,
Down form the Parthian marches to the Nile.
'Twill do you good to see their sunburnt faces,
Their scarred cheeks, and chopt hands: there's virtue in them.
They'll sell those mangled limbs at dearer rates
Than yon trim bands can buy.
ANTONY.
Where left you them?
VENTIDIUS.
I said in Lower Syria.
ANTONY.
Bring them hither;
There may be life in these.
VENTIDIUS.
They will not come.
ANTONY.
Why didst thou mock my hopes with promised aids,
To double my despair? They're mutinous.
VENTIDIUS.
Most firm and loyal.
ANTONY.
Yet they will not march
To succour me. O trifler!
VENTIDIUS.
They petition
You would make haste to head them.
ANTONY.
I'm besieged.
VENTIDIUS.
There's but one way shut up: How came I hither?
ANTONY.
I will not stir.
VENTIDIUS.
They would perhaps desire
A better reason.
ANTONY.
I have never used
My soldiers to demand a reason of
My actions. Why did they refuse to march?
VENTIDIUS.
They said they would not fight for Cleopatra.
ANTONY.
What was't they said?
VENTIDIUS.
They said they would not fight for Cleopatra.
Why should they fight indeed, to make her conquer,
And make you more a slave? to gain you kingdoms,
Which, for a kiss, at your next midnight feast,
You'll sell to her? Then she new-names her jewels,
And calls this diamond such or such a tax;
Each pendant in her ear shall be a province.
ANTONY.
Ventidius, I allow your tongue free licence
On all my other faults; but, on your life,
No word of Cleopatra: she deserves
More worlds than I can lose.
VENTIDIUS.
Behold, you Powers,
To whom you have intrusted humankind!
See Europe, Afric, Asia, put in balance,
And all weighed down by one light, worthless woman!
I think the gods are Antonies, and give,
Like prodigals, this nether world away
To none but wasteful hands.
ANTONY.
You grow presumptuous.
VENTIDIUS.
I take the privilege of plain love to speak.
ANTONY.
Plain love! plain arrogance, plain insolence!
Thy men are cowards; thou, an envious traitor;
Who, under seeming honesty, hast vented
The burden of thy rank, o'erflowing gall.
O that thou wert my equal; great in arms
As the first Caesar was, that I might kill thee
Without a stain to honour!
VENTIDIUS.
You may kill me;
You have done more already,—called me traitor.
ANTONY.
Art thou not one?
VENTIDIUS.
For showing you yourself,
Which none else durst have done? but had I been
That name, which I disdain to speak again,
I needed not have sought your abject fortunes,
Come to partake your fate, to die with you.
What hindered me to have led my conquering eagles
To fill Octavius' bands? I could have been
A traitor then, a glorious, happy traitor,
And not have been so called.
ANTONY.
Forgive me, soldier;
I've been too passionate.
VENTIDIUS.
You thought me false;
Thought my old age betrayed you: Kill me, sir,
Pray, kill me; yet you need not, your unkindness
Has left your sword no work.
ANTONY.
I did not think so;
I said it in my rage: Pr'ythee, forgive me.
Why didst thou tempt my anger, by discovery
Of what I would not hear?
VENTIDIUS.
No prince but you
Could merit that sincerity I used,
Nor durst another man have ventured it;
But you, ere love misled your wandering eyes,
Were sure the chief and best of human race,
Framed in the very pride and boast of nature;
So perfect, that the gods, who formed you, wondered
At their own skill, and cried—A lucky hit
Has mended our design. Their envy hindered,
Else you had been immortal, and a pattern,
When Heaven would work for ostentation's sake
To copy out again.
ANTONY.
But Cleopatra—
Go on; for I can bear it now.
VENTIDIUS.
No more.
ANTONY.
Thou dar'st not trust my passion, but thou may'st;
Thou only lov'st, the rest have flattered me.
VENTIDIUS.
Heaven's blessing on your heart for that kind word!
May I believe you love me? Speak again.
ANTONY.
Indeed I do. Speak this, and this, and this.
[Hugging him.]
Thy praises were unjust; but, I'll deserve them,
And yet mend all. Do with me what thou wilt;
Lead me to victory! thou know'st the way.
VENTIDIUS.
And, will you leave this—
ANTONY.
Pr'ythee, do not curse her,
And I will leave her; though, Heaven knows, I love
Beyond life, conquest, empire, all, but honour;
But I will leave her.
VENTIDIUS.
That's my royal master;
And, shall we fight?
ANTONY.
I warrant thee, old soldier.
Thou shalt behold me once again in iron;
And at the head of our old troops, that beat
The Parthians, cry aloud—Come, follow me!
VENTIDIUS.
Oh, now I hear my emperor! in that word
Octavius fell. Gods, let me see that day,
And, if I have ten years behind, take all:
I'll thank you for the exchange.
ANTONY.
O Cleopatra!
VENTIDIUS.
Again?
ANTONY.
I've done: In that last sigh she went.
Caesar shall know what 'tis to force a lover
From all he holds most dear.
VENTIDIUS.
Methinks, you breathe
Another soul: Your looks are more divine;
You speak a hero, and you move a god.
ANTONY.
Oh, thou hast fired me; my soul's up in arms,
And mans each part about me: Once again,
That noble eagerness of fight has seized me;
That eagerness with which I darted upward
To Cassius' camp: In vain the steepy hill
Opposed my way; in vain a war of spears
Sung round my head, and planted on my shield;
I won the trenches, while my foremost men
Lagged on the plain below.
VENTIDIUS.
Ye gods, ye gods,
For such another honour!
ANTONY.
Come on, my soldier!
Our hearts and arms are still the same: I long
Once more to meet our foes; that thou and I,
Like Time and Death, marching before our troops,
May taste fate to them; mow them out a passage,
And, entering where the foremost squadrons yield,
Begin the noble harvest of the field.
[Exeunt.]
Act II
Scene I
[Enter CLEOPATRA, IRAS, and ALEXAS.]
CLEOPATRA.
What shall I do, or whither shall I turn?
Ventidius has o'ercome, and he will go.
ALEXAS.
He goes to fight for you.
CLEOPATRA.
Then he would see me, ere he went to fight:
Flatter me not: If once he goes, he's lost,
And all my hopes destroyed.
ALEXAS.
Does this weak passion
Become a mighty queen?
CLEOPATRA.
I am no queen:
Is this to be a queen, to be besieged
By yon insulting Roman, and to wait
Each hour the victor's chain? These ills are small:
For Antony is lost, and I can mourn
For nothing else but him. Now come, Octavius,
I have no more to lose! prepare thy bands;
I'm fit to be a captive: Antony
Has taught my mind the fortune of a slave.
IRAS.
Call reason to assist you.
CLEOPATRA.
I have none,
And none would have: My love's a noble madness,
Which shows the cause deserved it. Moderate sorrow
Fits vulgar love, and for a vulgar man:
But I have loved with such transcendent passion,
I soared, at first, quite out of reason's view,
And now am lost above it. No, I'm proud
'Tis thus: Would Antony could see me now
Think you he would not sigh, though he must leave me?
Sure he would sigh; for he is noble-natured,
And bears a tender heart: I know him well.
Ah, no, I know him not; I knew him once,
But now 'tis past.
IRAS.
Let it be past with you:
Forget him, madam.
CLEOPATRA.
Never, never, Iras.
He once was mine; and once, though now 'tis gone,
Leaves a faint image of possession still.
ALEXAS.
Think him inconstant, cruel, and ungrateful.
CLEOPATRA.
I cannot: If I could, those thoughts were vain.
Faithless, ungrateful, cruel, though he be,
I still must love him.
[Enter CHARMION.]
Now, what news, my Charmion?
Will he be kind? and will he not forsake me?
Am I to live, or die?—nay, do I live?
Or am I dead? for when he gave his answer,
Fate took the word, and then I lived or died.
CHARMION.
I found him, madam—
CLEOPATRA.
A long speech preparing?
If thou bring'st comfort, haste, and give it me,
For never was more need.
IRAS.
I know he loves you.
CLEOPATRA.
Had he been kind, her eyes had told me so,
Before her tongue could speak it: Now she studies,
To soften what he said; but give me death,
Just as he sent it, Charmion, undisguised,
And in the words he spoke.
CHARMION.
I found him, then,
Encompassed round, I think, with iron statues;
So mute, so motionless his soldiers stood,
While awfully he cast his eyes about,
And every leader's hopes or fears surveyed:
Methought he looked resolved, and yet not pleased.
When he beheld me struggling in the crowd,
He blushed, and bade make way.
ALEXAS.
There's comfort yet.
CHARMION.
Ventidius fixed his eyes upon my passage
Severely, as he meant to frown me back,
And sullenly gave place: I told my message,
Just as you gave it, broken and disordered;
I numbered in it all your sighs and tears,
And while I moved your pitiful request,
That you but only begged a last farewell,
He fetched an inward groan; and every time
I named you, sighed, as if his heart were breaking,
But, shunned my eyes, and guiltily looked down:
He seemed not now that awful Antony,
Who shook and armed assembly with his nod;
But, making show as he would rub his eyes,
Disguised and blotted out a falling tear.
CLEOPATRA.
Did he then weep? And was I worth a tear?
If what thou hast to say be not as pleasing,
Tell me no more, but let me die contented.
CHARMION.
He bid me say,—He knew himself so well,
He could deny you nothing, if he saw you;
And therefore—
CLEOPATRA.
Thou wouldst say, he would not see me?
CHARMION.
And therefore begged you not to use a power,
Which he could ill resist; yet he should ever
Respect you, as he ought.
CLEOPATRA.
Is that a word
For Antony to use to Cleopatra?
O that faint word, RESPECT! how I disdain it!
Disdain myself, for loving after it!
He should have kept that word for cold Octavia.
Respect is for a wife: Am I that thing,
That dull, insipid lump, without desires,
And without power to give them?
ALEXAS.
You misjudge;
You see through love, and that deludes your sight;
As, what is straight, seems crooked through the water:
But I, who bear my reason undisturbed,
Can see this Antony, this dreaded man,
A fearful slave, who fain would run away,
And shuns his master's eyes: If you pursue him,
My life on't, he still drags a chain along.
That needs must clog his flight.
CLEOPATRA.
Could I believe thee!—
ALEXAS.
By every circumstance I know he loves.
True, he's hard prest, by interest and by honour;
Yet he but doubts, and parleys, and casts out
Many a long look for succour.
CLEOPATRA.
He sends word,
He fears to see my face.
ALEXAS.
And would you more?
He shows his weakness who declines the combat,
And you must urge your fortune. Could he speak
More plainly? To my ears, the message sounds—
Come to my rescue, Cleopatra, come;
Come, free me from Ventidius; from my tyrant:
See me, and give me a pretence to leave him!—
I hear his trumpets. This way he must pass.
Please you, retire a while; I'll work him first,
That he may bend more easy.
CLEOPATRA.
You shall rule me;
But all, I fear, in vain.
[Exit with CHARMION and IRAS.]
ALEXAS.
I fear so too;
Though I concealed my thoughts, to make her bold;
But 'tis our utmost means, and fate befriend it!
[Withdraws.]
[Enter Lictors with Fasces; one bearing the Eagle; then enter ANTONY with
VENTIDIUS, followed by other Commanders.]
ANTONY.
Octavius is the minion of blind chance,
But holds from virtue nothing.
VENTIDIUS.
Has he courage?
ANTONY.
But just enough to season him from coward.
Oh, 'tis the coldest youth upon a charge,
The most deliberate fighter! if he ventures
(As in Illyria once, they say, he did,
To storm a town), 'tis when he cannot choose;
When all the world have fixt their eyes upon him;
And then he lives on that for seven years after;
But, at a close revenge he never fails.
VENTIDIUS.
I heard you challenged him.
ANTONY.
I did, Ventidius.
What think'st thou was his answer? 'Twas so tame!—
He said, he had more ways than one to die;
I had not.
VENTIDIUS.
Poor!
ANTONY.
He has more ways than one;
But he would choose them all before that one.
VENTIDIUS.
He first would choose an ague, or a fever.
ANTONY.
No; it must be an ague, not a fever;
He Has not warmth enough to die by that.
VENTIDIUS.
Or old age and a bed.
ANTONY.
Ay, there's his choice,
He would live, like a lamp, to the last wink,
And crawl the utmost verge of life.
O Hercules! Why should a man like this,
Who dares not trust his fate for one great action,
Be all the care of Heaven? Why should he lord it
O'er fourscore thousand men, of whom each one
Is braver than himself?
VENTIDIUS.
You conquered for him:
Philippi knows it; there you shared with him
That empire, which your sword made all your own.
ANTONY.
Fool that I was, upon my eagle's wings
I bore this wren, till I was tired with soaring,
And now he mounts above me.
Good heavens, is this,—is this the man who braves me?
Who bids my age make way? Drives me before him,
To the world's ridge, and sweeps me off like rubbish?
VENTIDIUS.
Sir, we lose time; the troops are mounted all.
ANTONY.
Then give the word to march:
I long to leave this prison of a town,
To join thy legions; and, in open field,
Once more to show my face. Lead, my deliverer.
[Enter ALEXAS.]
ALEXAS.
Great emperor,
In mighty arms renowned above mankind,
But, in soft pity to the opprest, a god;
This message sends the mournful Cleopatra
To her departing lord.
VENTIDIUS.
Smooth sycophant!
ALEXAS.
A thousand wishes, and ten thousand prayers,
Millions of blessings wait you to the wars;
Millions of sighs and tears she sends you too,
And would have sent
As many dear embraces to your arms,
As many parting kisses to your lips;
But those, she fears, have wearied you already.
VENTIDIUS.
[aside.] False crocodile!
ALEXAS.
And yet she begs not now, you would not leave her;
That were a wish too mighty for her hopes,
Too presuming
For her low fortune, and your ebbing love;
That were a wish for her more prosperous days,
Her blooming beauty, and your growing kindness.
ANTONY.
[aside.] Well, I must man it out:—What would the queen?
ALEXAS.
First, to these noble warriors, who attend
Your daring courage in the chase of fame,—
Too daring, and too dangerous for her quiet,—
She humbly recommends all she holds dear,
All her own cares and fears,—the care of you.
VENTIDIUS.
Yes, witness Actium.
ANTONY.
Let him speak, Ventidius.
ALEXAS.
You, when his matchless valour bears him forward,
With ardour too heroic, on his foes,
Fall down, as she would do, before his feet;
Lie in his way, and stop the paths of death:
Tell him, this god is not invulnerable;
That absent Cleopatra bleeds in him;
And, that you may remember her petition,
She begs you wear these trifles, as a pawn,
Which, at your wished return, she will redeem
[Gives jewels to the Commanders.]
With all the wealth of Egypt:
This to the great Ventidius she presents,
Whom she can never count her enemy,
Because he loves her lord.
VENTIDIUS.
Tell her, I'll none on't;
I'm not ashamed of honest poverty;
Not all the diamonds of the east can bribe
Ventidius from his faith. I hope to see
These and the rest of all her sparkling store,
Where they shall more deservingly be placed.
ANTONY.
And who must wear them then?
VENTIDIUS.
The wronged Octavia.
ANTONY.
You might have spared that word.
VENTIDIUS.
And he that bribe.
ANTONY.
But have I no remembrance?
ALEXAS.
Yes, a dear one;
Your slave the queen—
ANTONY.
My mistress.
ALEXAS.
Then your mistress;
Your mistress would, she says, have sent her soul,
But that you had long since; she humbly begs
This ruby bracelet, set with bleeding hearts,
The emblems of her own, may bind your arm.
[Presenting a bracelet.]
VENTIDIUS.
Now, my best lord,—in honour's name, I ask you,
For manhood's sake, and for your own dear safety,—
Touch not these poisoned gifts,
Infected by the sender; touch them not;
Myriads of bluest plagues lie underneath them,
And more than aconite has dipt the silk.
ANTONY.
Nay, now you grow too cynical, Ventidius:
A lady's favours may be worn with honour.
What, to refuse her bracelet! On my soul,
When I lie pensive in my tent alone,
'Twill pass the wakeful hours of winter nights,
To tell these pretty beads upon my arm,
To count for every one a soft embrace,
A melting kiss at such and such a time:
And now and then the fury of her love,
When——And what harm's in this?
ALEXAS.
None, none, my lord,
But what's to her, that now 'tis past for ever.
ANTONY.
[going to tie it.]
We soldiers are so awkward—help me tie it.
ALEXAS.
In faith, my lord, we courtiers too are awkward
In these affairs: so are all men indeed:
Even I, who am not one. But shall I speak?
ANTONY.
Yes, freely.
ALEXAS.
Then, my lord, fair hands alone
Are fit to tie it; she, who sent it can.
VENTIDIUS.
Hell, death! this eunuch pander ruins you.
You will not see her?
[ALEXAS whispers an ATTENDANT, who goes out.]
ANTONY.
But to take my leave.
VENTIDIUS.
Then I have washed an Aethiop. You're undone;
Y' are in the toils; y' are taken; y' are destroyed:
Her eyes do Caesar's work.
ANTONY.
You fear too soon.
I'm constant to myself: I know my strength;
And yet she shall not think me barbarous neither,
Born in the depths of Afric: I am a Roman,
Bred in the rules of soft humanity.
A guest, and kindly used, should bid farewell.
VENTIDIUS.
You do not know
How weak you are to her, how much an infant:
You are not proof against a smile, or glance:
A sigh will quite disarm you.
ANTONY.
See, she comes!
Now you shall find your error.—Gods, I thank you:
I formed the danger greater than it was,
And now 'tis near, 'tis lessened.
VENTIDIUS.
Mark the end yet.
[Enter CLEOPATRA, CHARMION, and IRAS.]
ANTONY.
Well, madam, we are met.
CLEOPATRA.
Is this a meeting?
Then, we must part?
ANTONY.
We must.
CLEOPATRA.
Who says we must?
ANTONY.
Our own hard fates.
CLEOPATRA.
We make those fates ourselves.
ANTONY.
Yes, we have made them; we have loved each other,
Into our mutual ruin.
CLEOPATRA.
The gods have seen my joys with envious eyes;
I have no friends in heaven; and all the world,
As 'twere the business of mankind to part us,
Is armed against my love: even you yourself
Join with the rest; you, you are armed against me.
ANTONY.
I will be justified in all I do
To late posterity, and therefore hear me.
If I mix a lie
With any truth, reproach me freely with it;
Else, favour me with silence.
CLEOPATRA.
You command me,
And I am dumb.
VENTIDIUS.
I like this well; he shows authority.
ANTONY.
That I derive my ruin
From you alone——
CLEOPATRA.
O heavens! I ruin you!
ANTONY.
You promised me your silence, and you break it
Ere I have scarce begun.
CLEOPATRA.
Well, I obey you.
ANTONY.
When I beheld you first, it was in Egypt.
Ere Caesar saw your eyes, you gave me love,
And were too young to know it; that I settled
Your father in his throne, was for your sake;
I left the acknowledgment for time to ripen.
Caesar stept in, and, with a greedy hand,
Plucked the green fruit, ere the first blush of red,
Yet cleaving to the bough. He was my lord,
And was, beside, too great for me to rival;
But, I deserved you first, though he enjoyed you.
When, after, I beheld you in Cilicia,
An enemy to Rome, I pardoned you.
CLEOPATRA.
I cleared myself—
ANTONY.
Again you break your promise.
I loved you still, and took your weak excuses,
Took you into my bosom, stained by Caesar,
And not half mine: I went to Egypt with you,
And hid me from the business of the world,
Shut out inquiring nations from my sight,
To give whole years to you.
VENTIDIUS.
Yes, to your shame be't spoken.
[Aside.]
ANTONY.
How I loved.
Witness, ye days and nights, and all ye hours,
That danced away with down upon your feet,
As all your business were to count my passion!
One day passed by, and nothing saw but love;
Another came, and still 'twas only love:
The suns were wearied out with looking on,
And I untired with loving.
I saw you every day, and all the day;
And every day was still but as the first,
So eager was I still to see you more.
VENTIDIUS.
'Tis all too true.
ANTONY.
Fulvia, my wife, grew jealous,
(As she indeed had reason) raised a war
In Italy, to call me back.
VENTIDIUS.
But yet
You went not.
ANTONY.
While within your arms I lay,
The world fell mouldering from my hands each hour,
And left me scarce a grasp—I thank your love for't.
VENTIDIUS.
Well pushed: that last was home.
CLEOPATRA.
Yet may I speak?
ANTONY.
If I have urged a falsehood, yes; else, not.
Your silence says, I have not. Fulvia died,
(Pardon, you gods, with my unkindness died);
To set the world at peace, I took Octavia,
This Caesar's sister; in her pride of youth,
And flower of beauty, did I wed that lady,
Whom blushing I must praise, because I left her.
You called; my love obeyed the fatal summons:
This raised the Roman arms; the cause was yours.
I would have fought by land, where I was stronger;
You hindered it: yet, when I fought at sea,
Forsook me fighting; and (O stain to honour!
O lasting shame!) I knew not that I fled;
But fled to follow you.
VENTIDIUS.
What haste she made to hoist her purple sails!
And, to appear magnificent in flight,
Drew half our strength away.
ANTONY.
All this you caused.
And, would you multiply more ruins on me?
This honest man, my best, my only friend,
Has gathered up the shipwreck of my fortunes;
Twelve legions I have left, my last recruits.
And you have watched the news, and bring your eyes
To seize them too. If you have aught to answer,
Now speak, you have free leave.
ALEXAS.
[aside.] She stands confounded:
Despair is in her eyes.
VENTIDIUS.
Now lay a sigh in the way to stop his passage:
Prepare a tear, and bid it for his legions;
'Tis like they shall be sold.
CLEOPATRA.
How shall I plead my cause, when you, my judge,
Already have condemned me? Shall I bring
The love you bore me for my advocate?
That now is turned against me, that destroys me;
For love, once past, is, at the best, forgotten;
But oftener sours to hate: 'twill please my lord
To ruin me, and therefore I'll be guilty.
But, could I once have thought it would have pleased you,
That you would pry, with narrow searching eyes,
Into my faults, severe to my destruction,
And watching all advantages with care,
That serve to make me wretched? Speak, my lord,
For I end here. Though I deserved this usage,
Was it like you to give it?
ANTONY.
Oh, you wrong me,
To think I sought this parting, or desired
To accuse you more than what will clear myself,
And justify this breach.
CLEOPATRA.
Thus low I thank you;
And, since my innocence will not offend,
I shall not blush to own it.
VENTIDIUS.
After this,
I think she'll blush at nothing.
CLEOPATRA.
You seem grieved
(And therein you are kind) that Caesar first
Enjoyed my love, though you deserved it better:
I grieve for that, my lord, much more than you;
For, had I first been yours, it would have saved
My second choice: I never had been his,
And ne'er had been but yours. But Caesar first,
You say, possessed my love. Not so, my lord:
He first possessed my person; you, my love:
Caesar loved me; but I loved Antony.
If I endured him after, 'twas because
I judged it due to the first name of men;
And, half constrained, I gave, as to a tyrant,
What he would take by force.
VENTIDIUS.
O Syren! Syren!
Yet grant that all the love she boasts were true,
Has she not ruined you? I still urge that, The fatal consequence.
CLEOPATRA.
The consequence indeed—
For I dare challenge him, my greatest foe, To say it was designed: 'tis true, I loved you, And kept you far from an uneasy wife,— Such Fulvia was.
Yes, but he'll say, you left Octavia for me;— And, can you blame me to receive that love, Which quitted such desert, for worthless me? How often have I wished some other Caesar, Great as the first, and as the second young, Would court my love, to be refused for you!
VENTIDIUS.
Words, words; but Actium, sir; remember Actium.
CLEOPATRA.
Even there, I dare his malice. True, I counselled
To fight at sea; but I betrayed you not.
I fled, but not to the enemy. 'Twas fear;
Would I had been a man, not to have feared!
For none would then have envied me your friendship,
Who envy me your love.
ANTONY.
We are both unhappy:
If nothing else, yet our ill fortune parts us.
Speak; would you have me perish by my stay?
CLEOPATRA.
If, as a friend, you ask my judgment, go;
If, as a lover, stay. If you must perish—
'Tis a hard word—but stay.
VENTIDIUS.
See now the effects of her so boasted love!
She strives to drag you down to ruin with her;
But, could she 'scape without you, oh, how soon
Would she let go her hold, and haste to shore,
And never look behind!
CLEOPATRA.
Then judge my love by this.
[Giving ANTONY a writing.]
Could I have borne
A life or death, a happiness or woe,
From yours divided, this had given me means.
ANTONY.
By Hercules, the writing of Octavius!
I know it well: 'tis that proscribing hand,
Young as it was, that led the way to mine,
And left me but the second place in murder.—
See, see, Ventidius! here he offers Egypt,
And joins all Syria to it, as a present;
So, in requital, she forsake my fortunes,
And join her arms with his.
CLEOPATRA.
And yet you leave me!
You leave me, Antony; and yet I love you,
Indeed I do: I have refused a kingdom;
That is a trifle;
For I could part with life, with anything,
But only you. Oh, let me die but with you!
Is that a hard request?
ANTONY.
Next living with you,
'Tis all that Heaven can give.
ALEXAS.
He melts; we conquer.
[Aside.]
CLEOPATRA.
No; you shall go: your interest calls you hence;
Yes; your dear interest pulls too strong, for these
Weak arms to hold you here.
[Takes his hand.]
Go; leave me, soldier
(For you're no more a lover): leave me dying:
Push me, all pale and panting, from your bosom,
And, when your march begins, let one run after,
Breathless almost for joy, and cry—She's dead.
The soldiers shout; you then, perhaps, may sigh,
And muster all your Roman gravity:
Ventidius chides; and straight your brow clears up,
As I had never been.
ANTONY.
Gods, 'tis too much; too much for man to bear.
CLEOPATRA.
What is't for me then,
A weak, forsaken woman, and a lover?—
Here let me breathe my last: envy me not
This minute in your arms: I'll die apace,
As fast as e'er I can, and end your trouble.
ANTONY.
Die! rather let me perish; loosened nature
Leap from its hinges, sink the props of heaven,
And fall the skies, to crush the nether world!
My eyes, my soul, my all!
[Embraces her.]
VENTIDIUS.
And what's this toy,
In balance with your fortune, honour, fame?
ANTONY.
What is't, Ventidius?—it outweighs them all;
Why, we have more than conquered Caesar now:
My queen's not only innocent, but loves me.
This, this is she, who drags me down to ruin!
"But, could she 'scape without me, with what haste
Would she let slip her hold, and make to shore,
And never look behind!"
Down on thy knees, blasphemer as thou art,
And ask forgiveness of wronged innocence.
VENTIDIUS.
I'll rather die, than take it. Will you go?
ANTONY.
Go! whither? Go from all that's excellent?
Faith, honour, virtue, all good things forbid,
That I should go from her, who sets my love
Above the price of kingdoms! Give, you gods,
Give to your boy, your Caesar,
This rattle of a globe to play withal,
This gewgaw world, and put him cheaply off:
I'll not be pleased with less than Cleopatra.
CLEOPATRA.
She's wholly yours. My heart's so full of joy,
That I shall do some wild extravagance
Of love, in public; and the foolish world,
Which knows not tenderness, will think me mad.
VENTIDIUS.
O women! women! women! all the gods
Have not such power of doing good to man,
As you of doing harm.
[Exit.]
ANTONY.
Our men are armed:—
Unbar the gate that looks to Caesar's camp:
I would revenge the treachery he meant me;
And long security makes conquest easy.
I'm eager to return before I go;
For, all the pleasures I have known beat thick
On my remembrance.—How I long for night!
That both the sweets of mutual love may try,
And triumph once o'er Caesar ere we die.
[Exeunt.]
Act III
Scene I
[At one door enter CLEOPATRA, CHARMION, IRAS, and ALEXAS, a Train of
EGYPTIANS: at the other ANTONY and ROMANS. The entrance on both sides is
prepared by music; the trumpets first sounding on Antony's part: then answered by
timbrels, etc., on CLEOPATRA'S. CHARMION and IRAS hold a laurel wreath betwixt
them. A Dance of EGYPTIANS. After the ceremony, CLEOPATRA crowns ANTONY.]
ANTONY.
I thought how those white arms would fold me in,
And strain me close, and melt me into love;
So pleased with that sweet image, I sprung forwards,
And added all my strength to every blow.
CLEOPATRA.
Come to me, come, my soldier, to my arms!
You've been too long away from my embraces;
But, when I have you fast, and all my own,
With broken murmurs, and with amorous sighs,
I'll say, you were unkind, and punish you,
And mark you red with many an eager kiss.
ANTONY.
My brighter Venus!
CLEOPATRA.
O my greater Mars!
ANTONY.
Thou join'st us well, my love!
Suppose me come from the Phlegraean plains,
Where gasping giants lay, cleft by my sword,
And mountain-tops paired off each other blow,
To bury those I slew. Receive me, goddess!
Let Caesar spread his subtle nets; like Vulcan,
In thy embraces I would be beheld
By heaven and earth at once;
And make their envy what they meant their sport
Let those, who took us, blush; I would love on,
With awful state, regardless of their frowns,
As their superior gods.
There's no satiety of love in thee:
Enjoyed, thou still art new; perpetual spring
Is in thy arms; the ripened fruit but falls,
And blossoms rise to fill its empty place;
And I grow rich by giving.
[Enter VENTIDIUS, and stands apart.]
ALEXAS.
Oh, now the danger's past, your general comes!
He joins not in your joys, nor minds your triumphs;
But, with contracted brows, looks frowning on,
As envying your success.
ANTONY.
Now, on my soul, he loves me; truly loves me:
He never flattered me in any vice,
But awes me with his virtue: even this minute,
Methinks, he has a right of chiding me.
Lead to the temple: I'll avoid his presence;
It checks too strong upon me.
[Exeunt the rest.]
[As ANTONY is going, VENTIDIUS pulls him by the robe.]
VENTIDIUS.
Emperor!
ANTONY.
'Tis the old argument; I pr'ythee, spare me.
[Looking back.]
VENTIDIUS.
But this one hearing, emperor.
ANTONY.
Let go
My robe; or, by my father Hercules—
VENTIDIUS.
By Hercules' father, that's yet greater,
I bring you somewhat you would wish to know.
ANTONY.
Thou see'st we are observed; attend me here,
And I'll return.
[Exit.]
VENTIDIUS.
I am waning in his favour, yet I love him;
I love this man, who runs to meet his ruin;
And sure the gods, like me, are fond of him:
His virtues lie so mingled with his crimes,
As would confound their choice to punish one,
And not reward the other.
[Enter ANTONY.]
ANTONY.
We can conquer,
You see, without your aid.
We have dislodged their troops;
They look on us at distance, and, like curs
Scaped from the lion's paws, they bay far off,
And lick their wounds, and faintly threaten war.
Five thousand Romans, with their faces upward,
Lie breathless on the plain.
VENTIDIUS.
'Tis well; and he,
Who lost them, could have spared ten thousand more.
Yet if, by this advantage, you could gain
An easier peace, while Caesar doubts the chance
Of arms—
ANTONY.
Oh, think not on't, Ventidius!
The boy pursues my ruin, he'll no peace;
His malice is considerable in advantage.
Oh, he's the coolest murderer! so staunch,
He kills, and keeps his temper.
VENTIDIUS.
Have you no friend
In all his army, who has power to move him?
Maecenas, or Agrippa, might do much.
ANTONY.
They're both too deep in Caesar's interests.
We'll work it out by dint of sword, or perish.
VENTIDIUS.
Fain I would find some other.
ANTONY.
Thank thy love.
Some four or five such victories as this
Will save thy further pains.
VENTIDIUS.
Expect no more; Caesar is on his guard:
I know, sir, you have conquered against odds;
But still you draw supplies from one poor town,
And of Egyptians: he has all the world,
And, at his beck, nations come pouring in,
To fill the gaps you make. Pray, think again.
ANTONY.
Why dost thou drive me from myself, to search
For foreign aids?—to hunt my memory,
And range all o'er a waste and barren place,
To find a friend? The wretched have no friends.
Yet I had one, the bravest youth of Rome,
Whom Caesar loves beyond the love of women:
He could resolve his mind, as fire does wax,
From that hard rugged image melt him down,
And mould him in what softer form he pleased.
VENTIDIUS.
Him would I see; that man, of all the world;
Just such a one we want.
ANTONY.
He loved me too;
I was his soul; he lived not but in me:
We were so closed within each other's breasts,
The rivets were not found, that joined us first.
That does not reach us yet: we were so mixt,
As meeting streams, both to ourselves were lost;
We were one mass; we could not give or take,
But from the same; for he was I, I he.
VENTIDIUS.
He moves as I would wish him.
[Aside.]
ANTONY.
After this,
I need not tell his name;—'twas Dolabella.
VENTIDIUS.
He's now in Caesar's camp.
ANTONY.
No matter where,
Since he's no longer mine. He took unkindly,
That I forbade him Cleopatra's sight,
Because I feared he loved her: he confessed,
He had a warmth, which, for my sake, he stifled;
For 'twere impossible that two, so one,
Should not have loved the same. When he departed,
He took no leave; and that confirmed my thoughts.
VENTIDIUS.
It argues, that he loved you more than her,
Else he had stayed; but he perceived you jealous,
And would not grieve his friend: I know he loves you.
ANTONY.
I should have seen him, then, ere now.
VENTIDIUS.
Perhaps
He has thus long been labouring for your peace.
ANTONY.
Would he were here!
VENTIDIUS.
Would you believe he loved you?
I read your answer in your eyes, you would.
Not to conceal it longer, he has sent
A messenger from Caesar's camp, with letters.
ANTONY.
Let him appear.
VENTIDIUS.
I'll bring him instantly.
[Exit VENTIDIUS, and re-enters immediately with DOLABELLA.]
ANTONY.
'Tis he himself! himself, by holy friendship!
[Runs to embrace him.]
Art thou returned at last, my better half?
Come, give me all myself!
Let me not live,
If the young bridegroom, longing for his night,
Was ever half so fond.
DOLABELLA.
I must be silent, for my soul is busy
About a nobler work; she's new come home,
Like a long-absent man, and wanders o'er
Each room, a stranger to her own, to look
If all be safe.
ANTONY.
Thou hast what's left of me;
For I am now so sunk from what I was,
Thou find'st me at my lowest water-mark.
The rivers that ran in, and raised my fortunes,
Are all dried up, or take another course:
What I have left is from my native spring;
I've still a heart that swells, in scorn of fate,
And lifts me to my banks.
DOLABELLA.
Still you are lord of all the world to me.
ANTONY.
Why, then I yet am so; for thou art all.
If I had any joy when thou wert absent,
I grudged it to myself; methought I robbed
Thee of thy part. But, O my Dolabella!
Thou has beheld me other than I am.
Hast thou not seen my morning chambers filled
With sceptred slaves, who waited to salute me?
With eastern monarchs, who forgot the sun,
To worship my uprising?—menial kings
Ran coursing up and down my palace-yard,
Stood silent in my presence, watched my eyes,
And, at my least command, all started out,
Like racers to the goal.
DOLABELLA.
Slaves to your fortune.
ANTONY.
Fortune is Caesar's now; and what am I?
VENTIDIUS.
What you have made yourself; I will not flatter.
ANTONY.
Is this friendly done?
DOLABELLA.
Yes; when his end is so, I must join with him;
Indeed I must, and yet you must not chide;
Why am I else your friend?
ANTONY.
Take heed, young man,
How thou upbraid'st my love: The queen has eyes,
And thou too hast a soul. Canst thou remember,
When, swelled with hatred, thou beheld'st her first,
As accessary to thy brother's death?
DOLABELLA.
Spare my remembrance; 'twas a guilty day,
And still the blush hangs here.
ANTONY.
To clear herself,
For sending him no aid, she came from Egypt.
Her galley down the silver Cydnus rowed,
The tackling silk, the streamers waved with gold;
The gentle winds were lodged in purple sails:
Her nymphs, like Nereids, round her couch were placed;
Where she, another sea-born Venus, lay.
DOLABELLA.
No more; I would not hear it.
ANTONY.
Oh, you must!
She lay, and leant her cheek upon her hand,
And cast a look so languishingly sweet,
As if, secure of all beholders' hearts,
Neglecting, she could take them: boys, like Cupids,
Stood fanning, with their painted wings, the winds.
That played about her face. But if she smiled
A darting glory seemed to blaze abroad,
That men's desiring eyes were never wearied,
But hung upon the object: To soft flutes
The silver oars kept time; and while they played,
The hearing gave new pleasure to the sight;
And both to thought. 'Twas heaven, or somewhat more;
For she so charmed all hearts, that gazing crowds
Stood panting on the shore, and wanted breath
To give their welcome voice.
Then, Dolabella, where was then thy soul?
Was not thy fury quite disarmed with wonder?
Didst thou not shrink behind me from those eyes
And whisper in my ear—Oh, tell her not
That I accused her with my brother's death?
DOLABELLA.
And should my weakness be a plea for yours?
Mine was an age when love might be excused,
When kindly warmth, and when my springing youth
Made it a debt to nature. Yours—
VENTIDIUS.
Speak boldly.
Yours, he would say, in your declining age,
When no more heat was left but what you forced,
When all the sap was needful for the trunk,
When it went down, then you constrained the course,
And robbed from nature, to supply desire;
In you (I would not use so harsh a word)
'Tis but plain dotage.
ANTONY.
Ha!
DOLABELLA.
'Twas urged too home.—
But yet the loss was private, that I made;
'Twas but myself I lost: I lost no legions;
I had no world to lose, no people's love.
ANTONY.
This from a friend?
DOLABELLA.
Yes, Antony, a true one;
A friend so tender, that each word I speak
Stabs my own heart, before it reach your ear.
Oh, judge me not less kind, because I chide!
To Caesar I excuse you.
ANTONY.
O ye gods!
Have I then lived to be excused to Caesar?
DOLABELLA.
As to your equal.
ANTONY.
Well, he's but my equal:
While I wear this he never shall be more.
DOLABELLA.
I bring conditions from him.
ANTONY.
Are they noble?
Methinks thou shouldst not bring them else; yet he
Is full of deep dissembling; knows no honour
Divided from his interest. Fate mistook him;
For nature meant him for an usurer:
He's fit indeed to buy, not conquer kingdoms.
VENTIDIUS.
Then, granting this,
What power was theirs, who wrought so hard a temper
To honourable terms?
ANTONY.
I was my Dolabella, or some god.
DOLABELLA.
Nor I, nor yet Maecenas, nor Agrippa:
They were your enemies; and I, a friend,
Too weak alone; yet 'twas a Roman's deed.
ANTONY.
'Twas like a Roman done: show me that man,
Who has preserved my life, my love, my honour;
Let me but see his face.
VENTIDIUS.
That task is mine,
And, Heaven, thou know'st how pleasing.
[Exit VENTIDIUS.]
DOLABELLA.
You'll remember
To whom you stand obliged?
ANTONY.
When I forget it
Be thou unkind, and that's my greatest curse.
My queen shall thank him too,
DOLABELLA.
I fear she will not.
ANTONY.
But she shall do it: The queen, my Dolabella!
Hast thou not still some grudgings of thy fever?
DOLABELLA.
I would not see her lost.
ANTONY.
When I forsake her,
Leave me my better stars! for she has truth
Beyond her beauty. Caesar tempted her,
At no less price than kingdoms, to betray me;
But she resisted all: and yet thou chidest me
For loving her too well. Could I do so?
DOLABELLA.
Yes; there's my reason.
[Re-enter VENTIDIUS, with OCTAVIA, leading ANTONY'S two little DAUGHTERS.]
ANTONY.
Where?—Octavia there!
[Starting back.]
VENTIDIUS.
What, is she poison to you?—a disease?
Look on her, view her well, and those she brings:
Are they all strangers to your eyes? has nature
No secret call, no whisper they are yours?
DOLABELLA.
For shame, my lord, if not for love, receive them
With kinder eyes. If you confess a man,
Meet them, embrace them, bid them welcome to you.
Your arms should open, even without your knowledge,
To clasp them in; your feet should turn to wings,
To bear you to them; and your eyes dart out
And aim a kiss, ere you could reach the lips.
ANTONY.
I stood amazed, to think how they came hither.
VENTIDIUS.
I sent for them; I brought them in unknown
To Cleopatra's guards.
DOLABELLA.
Yet, are you cold?
OCTAVIA.
Thus long I have attended for my welcome;
Which, as a stranger, sure I might expect.
Who am I?
ANTONY.
Caesar's sister.
OCTAVIA.
That's unkind.
Had I been nothing more than Caesar's sister,
Know, I had still remained in Caesar's camp:
But your Octavia, your much injured wife,
Though banished from your bed, driven from your house,
In spite of Caesar's sister, still is yours.
'Tis true, I have a heart disdains your coldness,
And prompts me not to seek what you should offer;
But a wife's virtue still surmounts that pride.
I come to claim you as my own; to show
My duty first; to ask, nay beg, your kindness:
Your hand, my lord; 'tis mine, and I will have it.
[Taking his hand.]
VENTIDIUS.
Do, take it; thou deserv'st it.
DOLABELLA.
On my soul,
And so she does: she's neither too submissive,
Nor yet too haughty; but so just a mean
Shows, as it ought, a wife and Roman too.
ANTONY.
I fear, Octavia, you have begged my life.
OCTAVIA.
Begged it, my lord?
ANTONY.
Yes, begged it, my ambassadress;
Poorly and basely begged it of your brother.
OCTAVIA.
Poorly and basely I could never beg:
Nor could my brother grant.
ANTONY.
Shall I, who, to my kneeling slave, could say,
Rise up, and be a king; shall I fall down
And cry,—Forgive me, Caesar! Shall I set
A man, my equal, in the place of Jove,
As he could give me being? No; that word,
Forgive, would choke me up,
And die upon my tongue.
DOLABELLA.
You shall not need it.
ANTONY.
I will not need it. Come, you've all betrayed me,—
My friend too!—to receive some vile conditions.
My wife has bought me, with her prayers and tears;
And now I must become her branded slave.
In every peevish mood, she will upbraid
The life she gave: if I but look awry,
She cries—I'll tell my brother.
OCTAVIA.
My hard fortune
Subjects me still to your unkind mistakes.
But the conditions I have brought are such,
Your need not blush to take: I love your honour,
Because 'tis mine; it never shall be said,
Octavia's husband was her brother's slave.
Sir, you are free; free, even from her you loathe;
For, though my brother bargains for your love,
Makes me the price and cement of your peace,
I have a soul like yours; I cannot take
Your love as alms, nor beg what I deserve.
I'll tell my brother we are reconciled;
He shall draw back his troops, and you shall march
To rule the East: I may be dropt at Athens;
No matter where. I never will complain,
But only keep the barren name of wife,
And rid you of the trouble.
VENTIDIUS.
Was ever such a strife of sullen honour! [Apart]
Both scorn to be obliged.
DOLABELLA.
Oh, she has touched him in the tenderest part; [Apart]
See how he reddens with despite and shame,
To be outdone in generosity!
VENTIDIUS.
See how he winks! how he dries up a tear, [Apart]
That fain would fall!
ANTONY.
Octavia, I have heard you, and must praise
The greatness of your soul;
But cannot yield to what you have proposed:
For I can ne'er be conquered but by love;
And you do all for duty. You would free me,
And would be dropt at Athens; was't not so?
OCTAVIA.
It was, my lord.
ANTONY.
Then I must be obliged
To one who loves me not; who, to herself,
May call me thankless and ungrateful man:—
I'll not endure it; no.
VENTIDIUS.
I am glad it pinches there.
[Aside.]
OCTAVIA.
Would you triumph o'er poor Octavia's virtue?
That pride was all I had to bear me up;
That you might think you owed me for your life,
And owed it to my duty, not my love.
I have been injured, and my haughty soul
Could brook but ill the man who slights my bed.
ANTONY.
Therefore you love me not.
OCTAVIA.
Therefore, my lord,
I should not love you.
ANTONY.
Therefore you would leave me?
OCTAVIA.
And therefore I should leave you—if I could.
DOLABELLA.
Her soul's too great, after such injuries,
To say she loves; and yet she lets you see it.
Her modesty and silence plead her cause.
ANTONY.
O Dolabella, which way shall I turn?
I find a secret yielding in my soul;
But Cleopatra, who would die with me,
Must she be left? Pity pleads for Octavia;
But does it not plead more for Cleopatra?
VENTIDIUS.
Justice and pity both plead for Octavia;
For Cleopatra, neither.
One would be ruined with you; but she first
Had ruined you: The other, you have ruined,
And yet she would preserve you.
In everything their merits are unequal.
ANTONY.
O my distracted soul!
OCTAVIA.
Sweet Heaven compose it!—
Come, come, my lord, if I can pardon you,
Methinks you should accept it. Look on these;
Are they not yours? or stand they thus neglected,
As they are mine? Go to him, children, go;
Kneel to him, take him by the hand, speak to him;
For you may speak, and he may own you too,
Without a blush; and so he cannot all
His children: go, I say, and pull him to me,
And pull him to yourselves, from that bad woman.
You, Agrippina, hang upon his arms;
And you, Antonia, clasp about his waist:
If he will shake you off, if he will dash you
Against the pavement, you must bear it, children;
For you are mine, and I was born to suffer.
[Here the CHILDREN go to him, etc.]
VENTIDIUS.
Was ever sight so moving?—Emperor!
DOLABELLA.
Friend!
OCTAVIA.
Husband!
BOTH CHILDREN.
Father!
ANTONY.
I am vanquished: take me,
Octavia; take me, children; share me all.
[Embracing them.]
I've been a thriftless debtor to your loves,
And run out much, in riot, from your stock;
But all shall be amended.
OCTAVIA.
O blest hour!
DOLABELLA.
O happy change!
VENTIDIUS.
My joy stops at my tongue;
But it has found two channels here for one,
And bubbles out above.
ANTONY.
[to OCTAVIA]
This is thy triumph; lead me where thou wilt;
Even to thy brother's camp.
OCTAVIA.
All there are yours.
[Enter ALEXAS hastily.]
ALEXAS.
The queen, my mistress, sir, and yours—
ANTONY.
'Tis past.—
Octavia, you shall stay this night: To-morrow,
Caesar and we are one.
[Exit leading OCTAVIA; DOLABELLA and the CHILDREN follow.]
VENTIDIUS.
There's news for you; run, my officious eunuch,
Be sure to be the first; haste forward:
Haste, my dear eunuch, haste.
[Exit.]
ALEXAS.
This downright fighting fool, this thick-skulled hero,
This blunt, unthinking instrument of death,
With plain dull virtue has outgone my wit.
Pleasure forsook my earliest infancy;
The luxury of others robbed my cradle,
And ravished thence the promise of a man.
Cast out from nature, disinherited
Of what her meanest children claim by kind,
Yet greatness kept me from contempt: that's gone.
Had Cleopatra followed my advice,
Then he had been betrayed who now forsakes.
She dies for love; but she has known its joys:
Gods, is this just, that I, who know no joys,
Must die, because she loves?
[Enter CLEOPATRA, CHARMION, IRAS, and Train.]
O madam, I have seen what blasts my eyes!
Octavia's here.
CLEOPATRA
Peace with that raven's note.
I know it too; and now am in
The pangs of death.
ALEXAS.
You are no more a queen;
Egypt is lost.
CLEOPATRA.
What tell'st thou me of Egypt?
My life, my soul is lost! Octavia has him!—
O fatal name to Cleopatra's love!
My kisses, my embraces now are hers;
While I—But thou hast seen my rival; speak,
Does she deserve this blessing? Is she fair?
Bright as a goddess? and is all perfection
Confined to her? It is. Poor I was made
Of that coarse matter, which, when she was finished,
The gods threw by for rubbish.
ALEXAS.
She is indeed a very miracle.
CLEOPATRA.
Death to my hopes, a miracle!
ALEXAS.
A miracle;
[Bowing.]
I mean of goodness; for in beauty, madam,
You make all wonders cease.
CLEOPATRA.
I was too rash:
Take this in part of recompense. But, oh!
[Giving a ring.]
I fear thou flatterest me.
CHARMION.
She comes! she's here!
IRAS.
Fly, madam, Caesar's sister!
CLEOPATRA.
Were she the sister of the thunderer Jove,
And bore her brother's lightning in her eyes,
Thus would I face my rival.
[Meets OCTAVIA with VENTIDIUS. OCTAVIA bears up to her. Their Trains come
up on either side.]
OCTAVIA
I need not ask if you are Cleopatra;
Your haughty carriage—
CLEOPATRA.
Shows I am a queen:
Nor need I ask you, who you are.
OCTAVIA.
A Roman:
A name, that makes and can unmake a queen.
CLEOPATRA.
Your lord, the man who serves me, is a Roman.
OCTAVIA.
He was a Roman, till he lost that name,
To be a slave in Egypt; but I come
To free him thence.
CLEOPATRA.
Peace, peace, my lover's Juno.
When he grew weary of that household clog,
He chose my easier bonds.
OCTAVIA.
I wonder not
Your bonds are easy: you have long been practised
In that lascivious art: He's not the first
For whom you spread your snares: Let Caesar witness.
CLEOPATRA.
I loved not Caesar; 'twas but gratitude
I paid his love: The worst your malice can,
Is but to say the greatest of mankind
Has been my slave. The next, but far above him
In my esteem, is he whom law calls yours,
But whom his love made mine.
OCTAVIA.
I would view nearer.
[Coming up close to her.]
That face, which has so long usurped my right,
To find the inevitable charms, that catch
Mankind so sure, that ruined my dear lord.
CLEOPATRA.
Oh, you do well to search; for had you known
But half these charms, you had not lost his heart.
OCTAVIA.
Far be their knowledge from a Roman lady,
Far from a modest wife! Shame of our sex,
Dost thou not blush to own those black endearments,
That make sin pleasing?
CLEOPATRA.
You may blush, who want them.
If bounteous nature, if indulgent Heaven
Have given me charms to please the bravest man,
Should I not thank them? Should I be ashamed,
And not be proud? I am, that he has loved me;
And, when I love not him, Heaven change this face
For one like that.
OCTAVIA.
Thou lov'st him not so well.
CLEOPATRA.
I love him better, and deserve him more.
OCTAVIA.
You do not; cannot: You have been his ruin.
Who made him cheap at Rome, but Cleopatra?
Who made him scorned abroad, but Cleopatra?
At Actium, who betrayed him? Cleopatra.
Who made his children orphans, and poor me
A wretched widow? only Cleopatra.
CLEOPATRA.
Yet she, who loves him best, is Cleopatra.
If you have suffered, I have suffered more.
You bear the specious title of a wife,
To gild your cause, and draw the pitying world
To favour it: the world condemns poor me.
For I have lost my honour, lost my fame,
And stained the glory of my royal house,
And all to bear the branded name of mistress.
There wants but life, and that too I would lose
For him I love.
OCTAVIA.
Be't so, then; take thy wish.
[Exit with her Train.]
CLEOPATRA.
And 'tis my wish,
Now he is lost for whom alone I lived.
My sight grows dim, and every object dances,
And swims before me, in the maze of death.
My spirits, while they were opposed, kept up;
They could not sink beneath a rival's scorn!
But now she's gone, they faint.
ALEXAS.
Mine have had leisure
To recollect their strength, and furnish counsel,
To ruin her, who else must ruin you.
CLEOPATRA.
Vain promiser!
Lead me, my Charmion; nay, your hand too, Iras.
My grief has weight enough to sink you both.
Conduct me to some solitary chamber,
And draw the curtains round;
Then leave me to myself, to take alone
My fill of grief:
There I till death will his unkindness weep;
As harmless infants moan themselves asleep.
[Exeunt.]
Act IV
Scene I
[Enter ANTONY and DOLABELLA.]
DOLABELLA.
Why would you shift it from yourself on me?
Can you not tell her, you must part?
ANTONY.
I cannot.
I could pull out an eye, and bid it go,
And t'other should not weep. O Dolabella,
How many deaths are in this word, DEPART!
I dare not trust my tongue to tell her so:
One look of hers would thaw me into tears,
And I should melt, till I were lost again.
DOLABELLA.
Then let Ventidius;
He's rough by nature.
ANTONY.
Oh, he'll speak too harshly;
He'll kill her with the news: Thou, only thou.
DOLABELLA.
Nature has cast me in so soft a mould,
That but to hear a story, feigned for pleasure,
Of some sad lover's death, moistens my eyes,
And robs me of my manhood. I should speak
So faintly, with such fear to grieve her heart,
She'd not believe it earnest.
ANTONY.
Therefore,—therefore
Thou only, thou art fit: Think thyself me;
And when thou speak'st (but let it first be long),
Take off the edge from every sharper sound,
And let our parting be as gently made,
As other loves begin: Wilt thou do this?
DOLABELLA.
What you have said so sinks into my soul,
That, if I must speak, I shall speak just so.
ANTONY.
I leave you then to your sad task: Farewell.
I sent her word to meet you.
[Goes to the door, and comes back.]
I forgot;
Let her be told, I'll make her peace with mine,
Her crown and dignity shall be preserved,
If I have power with Caesar.—Oh, be sure
To think on that.
DOLABELLA.
Fear not, I will remember.
[ANTONY goes again to the door, and comes back.]
ANTONY.
And tell her, too, how much I was constrained;
I did not this, but with extremest force.
Desire her not to hate my memory,
For I still cherish hers:—insist on that.
DOLABELLA.
Trust me. I'll not forget it.
ANTONY.
Then that's all.
[Goes out, and returns again.]
Wilt thou forgive my fondness this once more?
Tell her, though we shall never meet again,
If I should hear she took another love,
The news would break my heart.—Now I must go;
For every time I have returned, I feel
My soul more tender; and my next command
Would be, to bid her stay, and ruin both.
[Exit.]
DOLABELLA.
Men are but children of a larger growth;
Our appetites as apt to change as theirs,
And full as craving too, and full as vain;
And yet the soul, shut up in her dark room,
Viewing so clear abroad, at home sees nothing:
But, like a mole in earth, busy and blind,
Works all her folly up, and casts it outward
To the world's open view: Thus I discovered,
And blamed the love of ruined Antony:
Yet wish that I were he, to be so ruined.
[Enter VENTIDIUS above.]
VENTIDIUS.
Alone, and talking to himself? concerned too?
Perhaps my guess is right; he loved her once,
And may pursue it still.
DOLABELLA.
O friendship! friendship!
Ill canst thou answer this; and reason, worse:
Unfaithful in the attempt; hopeless to win;
And if I win, undone: mere madness all.
And yet the occasion's fair. What injury
To him, to wear the robe which he throws by!
VENTIDIUS.
None, none at all. This happens as I wish,
To ruin her yet more with Antony.
[Enter CLEOPATRA talking with ALEXAS; CHARMION, IRAS on the other side.]
DOLABELLA.
She comes! What charms have sorrow on that face!
Sorrow seems pleased to dwell with so much sweetness;
Yet, now and then, a melancholy smile
Breaks loose, like lightning in a winter's night,
And shows a moment's day.
VENTIDIUS.
If she should love him too! her eunuch there?
That porc'pisce bodes ill weather. Draw, draw nearer,
Sweet devil, that I may hear.
ALEXAS.
Believe me; try
[DOLABELLA goes over to CHARMION and IRAS; seems to talk with them.]
To make him jealous; jealousy is like
A polished glass held to the lips when life's in doubt;
If there be breath, 'twill catch the damp, and show it.
CLEOPATRA.
I grant you, jealousy's a proof of love,
But 'tis a weak and unavailing medicine;
It puts out the disease, and makes it show,
But has no power to cure.
ALEXAS.
'Tis your last remedy, and strongest too:
And then this Dolabella, who so fit
To practise on? He's handsome, valiant, young,
And looks as he were laid for nature's bait,
To catch weak women's eyes.
He stands already more than half suspected
Of loving you: the least kind word or glance,
You give this youth, will kindle him with love:
Then, like a burning vessel set adrift,
You'll send him down amain before the wind,
To fire the heart of jealous Antony.
CLEOPATRA.
Can I do this? Ah, no, my love's so true,
That I can neither hide it where it is,
Nor show it where it is not. Nature meant me
A wife; a silly, harmless, household dove,
Fond without art, and kind without deceit;
But Fortune, that has made a mistress of me,
Has thrust me out to the wide world, unfurnished
Of falsehood to be happy.
ALEXAS.
Force yourself.
The event will be, your lover will return,
Doubly desirous to possess the good
Which once he feared to lose.
CLEOPATRA.
I must attempt it;
But oh, with what regret!
[Exit ALEXAS. She comes up to DOLABELLA.]
VENTIDIUS.
So, now the scene draws near; they're in my reach.
CLEOPATRA.
[to DOLABELLA.]
Discoursing with my women! might not I
Share in your entertainment?
CHARMION.
You have been
The subject of it, madam.
CLEOPATRA.
How! and how!
IRAS.
Such praises of your beauty!
CLEOPATRA.
Mere poetry.
Your Roman wits, your Gallus and Tibullus,
Have taught you this from Cytheris and Delia.
DOLABELLA.
Those Roman wits have never been in Egypt;
Cytheris and Delia else had been unsung:
I, who have seen—had I been born a poet,
Should choose a nobler name.
CLEOPATRA.
You flatter me.
But, 'tis your nation's vice: All of your country
Are flatterers, and all false. Your friend's like you.
I'm sure, he sent you not to speak these words.
DOLABELLA.
No, madam; yet he sent me—
CLEOPATRA.
Well, he sent you—
DOLABELLA.
Of a less pleasing errand.
CLEOPATRA.
How less pleasing?
Less to yourself, or me?
DOLABELLA.
Madam, to both;
For you must mourn, and I must grieve to cause it.
CLEOPATRA.
You, Charmion, and your fellow, stand at distance.—
Hold up, my spirits. [Aside.]—Well, now your mournful matter;
For I'm prepared, perhaps can guess it too.
DOLABELLA.
I wish you would; for 'tis a thankless office,
To tell ill news: And I, of all your sex,
Most fear displeasing you.
CLEOPATRA.
Of all your sex,
I soonest could forgive you, if you should.
VENTIDIUS.
Most delicate advances! Women! women!
Dear, damned, inconstant sex!
CLEOPATRA.
In the first place,
I am to be forsaken; is't not so?
DOLABELLA.
I wish I could not answer to that question.
CLEOPATRA.
Then pass it o'er, because it troubles you:
I should have been more grieved another time.
Next I'm to lose my kingdom—Farewell, Egypt!
Yet, is there ary more?
DOLABELLA.
Madam, I fear
Your too deep sense of grief has turned your reason.
CLEOPATRA.
No, no, I'm not run mad; I can bear fortune:
And love may be expelled by other love,
As poisons are by poisons.
DOLABELLA.
You o'erjoy me, madam,
To find your griefs so moderately borne.
You've heard the worst; all are not false like him.
CLEOPATRA.
No; Heaven forbid they should.
DOLABELLA.
Some men are constant.
CLEOPATRA.
And constancy deserves reward, that's certain.
DOLABELLA.
Deserves it not; but give it leave to hope.
VENTIDIUS.
I'll swear, thou hast my leave. I have enough:
But how to manage this! Well, I'll consider.
[Exit.]
DOLABELLA.
I came prepared
To tell you heavy news; news, which I thought
Would fright the blood from your pale cheeks to hear:
But you have met it with a cheerfulness,
That makes my task more easy; and my tongue,
Which on another's message was employed,
Would gladly speak its own.
CLEOPATRA.
Hold, Dolabella.
First tell me, were you chosen by my lord?
Or sought you this employment?
DOLABELLA.
He picked me out; and, as his bosom friend,
He charged me with his words.
CLEOPATRA.
The message then
I know was tender, and each accent smooth,
To mollify that rugged word, DEPART.
DOLABELLA.
Oh, you mistake: He chose the harshest words;
With fiery eyes, and contracted brows,
He coined his face in the severest stamp;
And fury shook his fabric, like an earthquake;
He heaved for vent, and burst like bellowing Aetna,
In sounds scarce human "Hence away for ever,
Let her begone, the blot of my renown,
And bane of all my hopes!"
[All the time of this speech, CLEOPATRA seems more
and more concerned, till she sinks quite down.]
"Let her be driven, as far as men can think,
From man's commerce! she'll poison to the centre."
CLEOPATRA.
Oh, I can bear no more!
DOLABELLA.
Help, help!—O wretch! O cursed, cursed wretch!
What have I done!
CHARMION.
Help, chafe her temples, Iras.
IRAS.
Bend, bend her forward quickly.
CHARMION.
Heaven be praised,
She comes again.
CLEOPATRA.
Oh, let him not approach me.
Why have you brought me back to this loathed being;
The abode of falsehood, violated vows,
And injured love? For pity, let me go;
For, if there be a place of long repose,
I'm sure I want it. My disdainful lord
Can never break that quiet; nor awake
The sleeping soul, with hollowing in my tomb
Such words as fright her hence.—Unkind, unkind!
DOLABELLA.
Believe me, 'tis against myself I speak;
[Kneeling.]
That sure desires belief; I injured him:
My friend ne'er spoke those words. Oh, had you seen
How often he came back, and every time
With something more obliging and more kind,
To add to what he said; what dear farewells;
How almost vanquished by his love he parted,
And leaned to what unwillingly he left!
I, traitor as I was, for love of you
(But what can you not do, who made me false?)
I forged that lie; for whose forgiveness kneels
This self-accused, self-punished criminal.
CLEOPATRA.
With how much ease believe we what we wish!
Rise, Dolabella; if you have been guilty,
I have contributed, and too much love
Has made me guilty too.
The advance of kindness, which I made, was feigned,
To call back fleeting love by jealousy;
But 'twould not last. Oh, rather let me lose,
Than so ignobly trifle with his heart.
DOLABELLA.
I find your breast fenced round from human reach,
Transparent as a rock of solid crystal;
Seen through, but never pierced. My friend, my friend,
What endless treasure hast thou thrown away;
And scattered, like an infant, in the ocean,
Vain sums of wealth, which none can gather thence!
CLEOPATRA.
Could you not beg
An hour's admittance to his private ear?
Like one, who wanders through long barren wilds
And yet foreknows no hospitable inn
Is near to succour hunger, eats his fill,
Before his painful march;
So would I feed a while my famished eyes
Before we part; for I have far to go,
If death be far, and never must return.
[VENTIDIUS with OCTAVIA, behind.]
VENTIDIUS.
From hence you may discover—oh, sweet, sweet!
Would you indeed? The pretty hand in earnest?
DOLABELLA.
I will, for this reward.
[Takes her hand.]
Draw it not back.
'Tis all I e'er will beg.
VENTIDIUS.
They turn upon us.
OCTAVIA.
What quick eyes has guilt!
VENTIDIUS.
Seem not to have observed them, and go on.
[They enter.]
DOLABELLA.
Saw you the emperor, Ventidius?
VENTIDIUS.
No.
I sought him; but I heard that he was private,
None with him but Hipparchus, his freedman.
DOLABELLA.
Know you his business?
VENTIDIUS.
Giving him instructions,
And letters to his brother Caesar.
DOLABELLA.
Well,
He must be found.
[Exeunt DOLABELLA and CLEOPATRA.]
OCTAVIA.
Most glorious impudence!
VENTIDIUS.
She looked, methought,
As she would say—Take your old man, Octavia;
Thank you, I'm better here.—
Well, but what use
Make we of this discovery?
OCTAVIA.
Let it die.
VENTIDIUS.
I pity Dolabella; but she's dangerous:
Her eyes have power beyond Thessalian charms,
To draw the moon from heaven; for eloquence,
The sea-green Syrens taught her voice their flattery;
And, while she speaks, night steals upon the day,
Unmarked of those that hear. Then she's so charming,
Age buds at sight of her, and swells to youth:
The holy priests gaze on her when she smiles;
And with heaved hands, forgetting gravity,
They bless her wanton eyes: Even I, who hate her,
With a malignant joy behold such beauty;
And, while I curse, desire it. Antony
Must needs have some remains of passion still,
Which may ferment into a worse relapse,
If now not fully cured. I know, this minute,
With Caesar he's endeavouring her peace.
OCTAVIA.
You have prevailed:—But for a further purpose
[Walks off.]
I'll prove how he will relish this discovery.
What, make a strumpet's peace! it swells my heart:
It must not, shall not be.
VENTIDIUS.
His guards appear.
Let me begin, and you shall second me.
[Enter ANTONY.]
ANTONY.
Octavia, I was looking you, my love:
What, are your letters ready? I have given
My last instructions.
OCTAVIA.
Mine, my lord, are written.
ANTONY.
Ventidius.
[Drawing him aside.]
VENTIDIUS.
My lord?
ANTONY.
A word in private.—
When saw you Dolabella?
VENTIDIUS.
Now, my lord,
He parted hence; and Cleopatra with him.
ANTONY.
Speak softly.—'Twas by my command he went,
To bear my last farewell.
VENTIDIUS.
It looked indeed
[Aloud.]
Like your farewell.
ANTONY.
More softly.—My farewell?
What secret meaning have you in those words
Of—My farewell? He did it by my order.
VENTIDIUS.
Then he obeyed your order. I suppose
[Aloud.]
You bid him do it with all gentleness,
All kindness, and all—love.
ANTONY.
How she mourned,
The poor forsaken creature!
VENTIDIUS.
She took it as she ought; she bore your parting
As she did Caesar's, as she would another's,
Were a new love to come.
ANTONY.
Thou dost belie her;
[Aloud.]
Most basely, and maliciously belie her.
VENTIDIUS.
I thought not to displease you; I have done.
OCTAVIA.
You seemed disturbed, my Lord.
[Coming up.]
ANTONY.
A very trifle.
Retire, my love.
VANTIDIUS.
It was indeed a trifle.
He sent—
ANTONY.
No more. Look how thou disobey'st me;
[Angrily.]
Thy life shall answer it.
OCTAVIA.
Then 'tis no trifle.
VENTIDIUS.
[to OCTAVIA.]
'Tis less; a very nothing: You too saw it,
As well as I, and therefore 'tis no secret.
ANTONY.
She saw it!
VENTIDIUS.
Yes: She saw young Dolabella—
ANTONY.
Young Dolabella!
VENTIDIUS.
Young, I think him young,
And handsome too; and so do others think him.
But what of that? He went by your command,
Indeed 'tis probable, with some kind message;
For she received it graciously; she smiled;
And then he grew familiar with her hand,
Squeezed it, and worried it with ravenous kisses;
She blushed, and sighed, and smiled, and blushed again;
At last she took occasion to talk softly,
And brought her cheek up close, and leaned on his;
At which, he whispered kisses back on hers;
And then she cried aloud—That constancy
Should be rewarded.
OCTAVIA.
This I saw and heard.
ANTONY.
What woman was it, whom you heard and saw
So playful with my friend?
Not Cleopatra?
VENTIDIUS.
Even she, my lord.
ANTONY.
My Cleopatra?
VENTIDIUS.
Your Cleopatra;
Dolabella's Cleopatra; every man's Cleopatra.
ANTONY.
Thou liest.
VENTIDIUS.
I do not lie, my lord.
Is this so strange? Should mistresses be left,
And not provide against a time of change?
You know she's not much used to lonely nights.
ANTONY.
I'll think no more on't.
I know 'tis false, and see the plot betwixt you.—
You needed not have gone this way, Octavia.
What harms it you that Cleopatra's just?
She's mine no more. I see, and I forgive:
Urge it no further, love.
OCTAVIA.
Are you concerned,
That she's found false?
ANTONY.
I should be, were it so;
For, though 'tis past, I would not that the world
Should tax my former choice, that I loved one
Of so light note; but I forgive you both.
VENTIDIUS.
What has my age deserved, that you should think
I would abuse your ears with perjury?
If Heaven be true, she's false.
ANTONY.
Though heaven and earth
Should witness it, I'll not believe her tainted.
VENTIDIUS.
I'll bring you, then, a witness
From hell, to prove her so.—Nay, go not back;
[Seeing ALEXAS just entering, and starting back.]
For stay you must and shall.
ALEXAS.
What means my lord?
VENTIDIUS.
To make you do what most you hate,—speak truth.
You are of Cleopatra's private counsel,
Of her bed-counsel, her lascivious hours;
Are conscious of each nightly change she makes,
And watch her, as Chaldaeans do the moon,
Can tell what signs she passes through, what day.
ALEXAS.
My noble lord!
VENTIDIUS.
My most illustrious pander,
No fine set speech, no cadence, no turned periods,
But a plain homespun truth, is what I ask.
I did, myself, o'erhear your queen make love
To Dolabella. Speak; for I will know,
By your confession, what more passed betwixt them;
How near the business draws to your employment;
And when the happy hour.
ANTONY.
Speak truth, Alexas; whether it offend
Or please Ventidius, care not: Justify
Thy injured queen from malice: Dare his worst.
OCTAVIA.
[aside.] See how he gives him courage! how he fears
To find her false! and shuts his eyes to truth,
Willing to be misled!
ALEXAS.
As far as love may plead for woman's frailty,
Urged by desert and greatness of the lover,
So far, divine Octavia, may my queen
Stand even excused to you for loving him
Who is your lord: so far, from brave Ventidius,
May her past actions hope a fair report.
ANTONY.
'Tis well, and truly spoken: mark, Ventidius.
ALEXAS.
To you, most noble emperor, her strong passion
Stands not excused, but wholly justified.
Her beauty's charms alone, without her crown,
From Ind and Meroe drew the distant vows
Of sighing kings; and at her feet were laid
The sceptres of the earth, exposed on heaps,
To choose where she would reign:
She thought a Roman only could deserve her,
And, of all Romans, only Antony;
And, to be less than wife to you, disdained
Their lawful passion.
ANTONY.
'Tis but truth.
ALEXAS.
And yet, though love, and your unmatched desert,
Have drawn her from the due regard of honour,
At last Heaven opened her unwilling eyes
To see the wrongs she offered fair Octavia,
Whose holy bed she lawlessly usurped.
The sad effects of this improsperous war
Confirmed those pious thoughts.
VENTIDIUS.
[aside.] Oh, wheel you there?
Observe him now; the man begins to mend,
And talk substantial reason.—Fear not, eunuch;
The emperor has given thee leave to speak.
ALEXAS.
Else had I never dared to offend his ears
With what the last necessity has urged
On my forsaken mistress; yet I must not
Presume to say, her heart is wholly altered.
ANTONY.
No, dare not for thy life, I charge thee dare not
Pronounce that fatal word!
OCTAVIA.
Must I bear this? Good Heaven, afford me patience.
[Aside.]
VENTIDIUS.
On, sweet eunuch; my dear half-man, proceed.
ALEXAS.
Yet Dolabella
Has loved her long; he, next my god-like lord,
Deserves her best; and should she meet his passion,
Rejected, as she is, by him she loved——
ANTONY.
Hence from my sight! for I can bear no more:
Let furies drag thee quick to hell; let all
The longer damned have rest; each torturing hand
Do thou employ, till Cleopatra comes;
Then join thou too, and help to torture her!
[Exit ALEXAS, thrust out by ANTONY.]
OCTAVIA.
'Tis not well.
Indeed, my lord, 'tis much unkind to me,
To show this passion, this extreme concernment,
For an abandoned, faithless prostitute.
ANTONY.
Octavia, leave me; I am much disordered:
Leave me, I say.
OCTAVIA.
My lord!
ANTONY.
I bid you leave me.
VENTIDIUS.
Obey him, madam: best withdraw a while,
And see how this will work.
OCTAVIA.
Wherein have I offended you, my lord,
That I am bid to leave you? Am I false,
Or infamous? Am I a Cleopatra?
Were I she,
Base as she is, you would not bid me leave you;
But hang upon my neck, take slight excuses,
And fawn upon my falsehood.
ANTONY.
'Tis too much.
Too much, Octavia; I am pressed with sorrows
Too heavy to be borne; and you add more:
I would retire, and recollect what's left
Of man within, to aid me.
OCTAVIA.
You would mourn,
In private, for your love, who has betrayed you.
You did but half return to me: your kindness
Lingered behind with her, I hear, my lord,
You make conditions for her,
And would include her treaty. Wondrous proofs
Of love to me!
ANTONY.
Are you my friend, Ventidius?
Or are you turned a Dolabella too,
And let this fury loose?
VENTIDIUS.
Oh, be advised,
Sweet madam, and retire.
OCTAVIA.
Yes, I will go; but never to return.
You shall no more be haunted with this Fury.
My lord, my lord, love will not always last,
When urged with long unkindness and disdain:
Take her again, whom you prefer to me;
She stays but to be called. Poor cozened man!
Let a feigned parting give her back your heart,
Which a feigned love first got; for injured me,
Though my just sense of wrongs forbid my stay,
My duty shall be yours.
To the dear pledges of our former love
My tenderness and care shall be transferred,
And they shall cheer, by turns, my widowed nights:
So, take my last farewell; for I despair
To have you whole, and scorn to take you half.
[Exit.]
VENTIDIUS.
I combat Heaven, which blasts my best designs;
My last attempt must be to win her back;
But oh! I fear in vain.
[Exit.]
ANTONY.
Why was I framed with this plain, honest heart,
Which knows not to disguise its griefs and weakness,
But bears its workings outward to the world?
I should have kept the mighty anguish in,
And forced a smile at Cleopatra's falsehood:
Octavia had believed it, and had stayed.
But I am made a shallow-forded stream,
Seen to the bottom: all my clearness scorned,
And all my faults exposed.—See where he comes,
[Enter DOLLABELLA.]
Who has profaned the sacred name of friend,
And worn it into vileness!
With how secure a brow, and specious form,
He gilds the secret villain! Sure that face
Was meant for honesty; but Heaven mismatched it,
And furnished treason out with nature's pomp,
To make its work more easy.
DOLABELLA.
O my friend!
ANTONY.
Well, Dolabella, you performed my message?
DOLABELLA.
I did, unwillingly.
ANTONY.
Unwillingly?
Was it so hard for you to bear our parting?
You should have wished it.
DOLABELLA.
Why?
ANTONY.
Because you love me.
And she received my message with as true,
With as unfeigned a sorrow as you brought it?
DOLABELLA.
She loves you, even to madness.
ANTONY.
Oh, I know it.
You, Dolabella, do not better know
How much she loves me. And should I
Forsake this beauty? This all-perfect creature?
DOLABELLA.
I could not, were she mine.
ANTONY.
And yet you first
Persuaded me: How come you altered since?
DOLABELLA.
I said at first I was not fit to go:
I could not hear her sighs, and see her tears,
But pity must prevail: And so, perhaps,
It may again with you; for I have promised,
That she should take her last farewell: And, see,
She comes to claim my word.
[Enter CLEOPATRA.]
ANTONY.
False Dolabella!
DOLABELLA.
What's false, my lord?
ANTONY.
Why, Dolabella's false,
And Cleopatra's false; both false and faithless.
Draw near, you well-joined wickedness, you serpents,
Whom I have in my kindly bosom warmed,
Till I am stung to death.
DOLABELLA.
My lord, have I
Deserved to be thus used?
CLEOPATRA.
Can Heaven prepare
A newer torment? Can it find a curse
Beyond our separation?
ANTONY.
Yes, if fate
Be just, much greater: Heaven should be ingenious
In punishing such crimes. The rolling stone,
And gnawing vulture, were slight pains, invented
When Jove was young, and no examples known
Of mighty ills; but you have ripened sin,
To such a monstrous growth, 'twill pose the gods
To find an equal torture. Two, two such!—
Oh, there's no further name,—two such! to me,
To me, who locked my soul within your breasts,
Had no desires, no joys, no life, but you;
When half the globe was mine, I gave it you
In dowry with my heart; I had no use,
No fruit of all, but you: A friend and mistress
Was what the world could give. O Cleopatra!
O Dolabella! how could you betray
This tender heart, which with an infant fondness
Lay lulled betwixt your bosoms, and there slept,
Secure of injured faith?
DOLABELLA.
If she has wronged you,
Heaven, hell, and you revenge it.
ANTONY.
If she has wronged me!
Thou wouldst evade thy part of guilt; but swear
Thou lov'st not her.
DOLABELLA.
Not so as I love you.
ANTONY.
Not so? Swear, swear, I say, thou dost not love her.
DOLABELLA.
No more than friendship will allow.
ANTONY.
No more?
Friendship allows thee nothing: Thou art perjured—
And yet thou didst not swear thou lov'st her not;
But not so much, no more. O trifling hypocrite,
Who dar'st not own to her, thou dost not love,
Nor own to me, thou dost! Ventidius heard it;
Octavia saw it.
CLEOPATRA.
They are enemies.
ANTONY.
Alexas is not so: He, he confessed it;
He, who, next hell, best knew it, he avowed it.
Why do I seek a proof beyond yourself?
[To DOLABELLA.]
You, whom I sent to bear my last farewell,
Returned, to plead her stay.
DOLABELLA.
What shall I answer?
If to have loved be guilt, then I have sinned;
But if to have repented of that love
Can wash away my crime, I have repented.
Yet, if I have offended past forgiveness,
Let not her suffer: She is innocent.
CLEOPATRA.
Ah, what will not a woman do, who loves?
What means will she refuse, to keep that heart,
Where all her joys are placed? 'Twas I encouraged,
'Twas I blew up the fire that scorched his soul,
To make you jealous, and by that regain you.
But all in vain; I could not counterfeit:
In spite of all the dams my love broke o'er,
And drowned by heart again: fate took the occasion;
And thus one minute's feigning has destroyed
My whole life's truth.
ANTONY.
Thin cobweb arts of falsehood;
Seen, and broke through at first.
DOLABELLA.
Forgive your mistress.
CLEOPATRA.
Forgive your friend.
ANTONY.
You have convinced yourselves.
You plead each other's cause: What witness have you,
That you but meant to raise my jealousy?
CLEOPATRA.
Ourselves, and Heaven.
ANTONY.
Guilt witnesses for guilt. Hence, love and friendship!
You have no longer place in human breasts,
These two have driven you out: Avoid my sight!
I would not kill the man whom I have loved,
And cannot hurt the woman; but avoid me:
I do not know how long I can be tame;
For, if I stay one minute more, to think
How I am wronged, my justice and revenge
Will cry so loud within me, that my pity
Will not be heard for either.
DOLABELLA.
Heaven has but
Our sorrow for our sins; and then delights
To pardon erring man: Sweet mercy seems
Its darling attribute, which limits justice;
As if there were degrees in infinite,
And infinite would rather want perfection
Than punish to extent.
ANTONY.
I can forgive
A foe; but not a mistress and a friend.
Treason is there in its most horrid shape,
Where trust is greatest; and the soul resigned,
Is stabbed by its own guards: I'll hear no more;
Hence from my sight for ever!
CLEOPATRA.
How? for ever!
I cannot go one moment from your sight,
And must I go for ever?
My joys, my only joys, are centred here:
What place have I to go to? My own kingdom?
That I have lost for you: Or to the Romans?
They hate me for your sake: Or must I wander
The wide world o'er, a helpless, banished woman,
Banished for love of you; banished from you?
Ay, there's the banishment! Oh, hear me; hear me,
With strictest justice: For I beg no favour;
And if I have offended you, then kill me,
But do not banish me.
ANTONY.
I must not hear you.
I have a fool within me takes your part;
But honour stops my ears.
CLEOPATRA.
For pity hear me!
Would you cast off a slave who followed you?
Who crouched beneath your spurn?—He has no pity!
See, if he gives one tear to my departure;
One look, one kind farewell: O iron heart!
Let all the gods look down, and judge betwixt us,
If he did ever love!
ANTONY.
No more: Alexas!
DOLABELLA.
A perjured villain!
ANTONY.
[to CLEOPATRA.] Your Alexas; yours.
CLEOPATRA.
Oh, 'twas his plot; his ruinous design,
To engage you in my love by jealousy.
Hear him; confront him with me; let him speak.
ANTONY.
I have; I have.
CLEOPATRA.
And if he clear me not—
ANTONY.
Your creature! one, who hangs upon your smiles!
Watches your eye, to say or to unsay,
Whate'er you please! I am not to be moved.
CLEOPATRA.
Then must we part? Farewell, my cruel lord!
The appearance is against me; and I go,
Unjustified, for ever from your sight.
How I have loved, you know; how yet I love,
My only comfort is, I know myself:
I love you more, even now you are unkind,
Then when you loved me most; so well, so truly
I'll never strive against it; but die pleased,
To think you once were mine.
ANTONY.
Good heaven, they weep at parting!
Must I weep too? that calls them innocent.
I must not weep; and yet I must, to think
That I must not forgive.—
Live, but live wretched; 'tis but just you should,
Who made me so: Live from each other's sight:
Let me not hear you meet. Set all the earth,
And all the seas, betwixt your sundered loves:
View nothing common but the sun and skies.
Now, all take several ways;
And each your own sad fate, with mine, deplore;
That you were false, and I could trust no more.
[Exeunt severally.]
Act V
Scene I
[Enter CLEOPATRA, CHARMION, and IRAS.]
CHARMION.
Be juster, Heaven; such virtue punished thus,
Will make us think that chance rules all above,
And shuffles, with a random hand, the lots,
Which man is forced to draw.
CLEOPATRA.
I could tear out these eyes, that gained his heart,
And had not power to keep it. O the curse
Of doting on, even when I find it dotage!
Bear witness, gods, you heard him bid me go;
You, whom he mocked with imprecating vows
Of promised faith!—I'll die; I will not bear it.
You may hold me—
[She pulls out her dagger, and they hold her.]
But I can keep my breath; I can die inward,
And choke this love.
[Enter ALEXAS.]
IRAS.
Help, O Alexas, help!
The queen grows desperate; her soul struggles in her
With all the agonies of love and rage,
And strives to force its passage.
CLEOPATRA.
Let me go.
Art thou there, traitor!—O,
O for a little breath, to vent my rage,
Give, give me way, and let me loose upon him.
ALEXAS.
Yes, I deserve it, for my ill-timed truth.
Was it for me to prop
The ruins of a falling majesty?
To place myself beneath the mighty flaw,
Thus to be crushed, and pounded into atoms,
By its o'erwhelming weight? 'Tis too presuming
For subjects to preserve that wilful power,
Which courts its own destruction.
CLEOPATRA.
I would reason
More calmly with you. Did not you o'errule,
And force my plain, direct, and open love,
Into these crooked paths of jealousy?
Now, what's the event? Octavia is removed;
But Cleopatra's banished. Thou, thou villain,
Hast pushed my boat to open sea; to prove,
At my sad cost, if thou canst steer it back.
It cannot be; I'm lost too far; I'm ruined:
Hence, thou impostor, traitor, monster, devil!—
I can no more: Thou, and my griefs, have sunk
Me down so low, that I want voice to curse thee.
ALEXAS.
Suppose some shipwrecked seaman near the shore,
Dropping and faint, with climbing up the cliff,
If, from above, some charitable hand
Pull him to safety, hazarding himself,
To draw the other's weight; would he look back,
And curse him for his pains? The case is yours;
But one step more, and you have gained the height.
CLEOPATRA.
Sunk, never more to rise.
ALEXAS.
Octavia's gone, and Dolabella banished.
Believe me, madam, Antony is yours.
His heart was never lost, but started off
To jealousy, love's last retreat and covert;
Where it lies hid in shades, watchful in silence,
And listening for the sound that calls it back.
Some other, any man ('tis so advanced),
May perfect this unfinished work, which I
(Unhappy only to myself) have left
So easy to his hand.
CLEOPATRA.
Look well thou do't; else—
ALEXAS.
Else, what your silence threatens.—Antony
Is mounted up the Pharos; from whose turret,
He stands surveying our Egyptian galleys,
Engaged with Caesar's fleet. Now death or conquest!
If the first happen, fate acquits my promise;
If we o'ercome, the conqueror is yours.
[A distant shout within.]
CHARMION.
Have comfort, madam: Did you mark that shout?
[Second shout nearer.]
IRAS.
Hark! they redouble it.
ALEXAS.
'Tis from the port.
The loudness shows it near: Good news, kind heavens!
CLEOPATRA.
Osiris make it so!
[Enter SERAPION.]
SERAPION.
Where, where's the queen?
ALEXAS.
How frightfully the holy coward stares
As if not yet recovered of the assault,
When all his gods, and, what's more dear to him,
His offerings, were at stake.
SERAPION.
O horror, horror!
Egypt has been; our latest hour has come:
The queen of nations, from her ancient seat,
Is sunk for ever in the dark abyss:
Time has unrolled her glories to the last,
And now closed up the volume.
CLEOPATRA.
Be more plain:
Say, whence thou comest; though fate is in thy face,
Which from the haggard eyes looks wildly out,
And threatens ere thou speakest.
SERAPION.
I came from Pharos;
From viewing (spare me, and imagine it)
Our land's last hope, your navy—
CLEOPATRA.
Vanquished?
SERAPION.
No:
They fought not.
CLEOPATRA.
Then they fled.
SERAPION.
Nor that. I saw,
With Antony, your well-appointed fleet
Row out; and thrice he waved his hand on high,
And thrice with cheerful cries they shouted back:
'Twas then false Fortune, like a fawning strumpet,
About to leave the bankrupt prodigal,
With a dissembled smile would kiss at parting,
And flatter to the last; the well-timed oars,
Now dipt from every bank, now smoothly run
To meet the foe; and soon indeed they met,
But not as foes. In few, we saw their caps
On either side thrown up; the Egyptian galleys,
Received like friends, passed through, and fell behind
The Roman rear: And now, they all come forward,
And ride within the port.
CLEOPATRA.
Enough, Serapion:
I've heard my doom.—This needed not, you gods:
When I lost Antony, your work was done;
'Tis but superfluous malice.—Where's my lord?
How bears he this last blow?
SERAPION.
His fury cannot be expressed by words:
Thrice he attempted headlong to have fallen
Full on his foes, and aimed at Caesar's galley:
Withheld, he raves on you; cries,—He's betrayed.
Should he now find you—
ALEXAS.
Shun him; seek your safety,
Till you can clear your innocence.
CLEOPATRA.
I'll stay.
ALEXAS.
You must not; haste you to your monument,
While I make speed to Caesar.
CLEOPATRA.
Caesar! No,
I have no business with him.
ALEXAS.
I can work him
To spare your life, and let this madman perish.
CLEOPATRA.
Base fawning wretch! wouldst thou betray him too?
Hence from my sight! I will not hear a traitor;
'Twas thy design brought all this ruin on us.—
Serapion, thou art honest; counsel me:
But haste, each moment's precious.
SERAPION.
Retire; you must not yet see Antony.
He who began this mischief,
'Tis just he tempt the danger; let him clear you:
And, since he offered you his servile tongue,
To gain a poor precarious life from Caesar,
Let him expose that fawning eloquence,
And speak to Antony.
ALEXAS.
O heavens! I dare not;
I meet my certain death.
CLEOPATRA.
Slave, thou deservest it.—
Not that I fear my lord, will I avoid him;
I know him noble: when he banished me,
And thought me false, he scorned to take my life;
But I'll be justified, and then die with him.
ALEXAS.
O pity me, and let me follow you.
CLEOPATRA.
To death, if thou stir hence. Speak, if thou canst,
Now for thy life, which basely thou wouldst save;
While mine I prize at—this! Come, good Serapion.
[Exeunt CLEOPATRA, SERAPION, CHARMION, and IRAS.]
ALEXAS.
O that I less could fear to lose this being,
Which, like a snowball in my coward hand,
The more 'tis grasped, the faster melts away.
Poor reason! what a wretched aid art thou!
For still, in spite of thee,
These two long lovers, soul and body, dread
Their final separation. Let me think:
What can I say, to save myself from death?
No matter what becomes of Cleopatra.
ANTONY.
Which way? where?
[Within.]
VENTIDIUS.
This leads to the monument.
[Within.]
ALEXAS.
Ah me! I hear him; yet I'm unprepared:
My gift of lying's gone;
And this court-devil, which I so oft have raised,
Forsakes me at my need. I dare not stay;
Yet cannot far go hence.
[Exit.]
[Enter ANTONY and VENTIDIUS.]
ANTONY.
O happy Caesar! thou hast men to lead:
Think not 'tis thou hast conquered Antony;
But Rome has conquered Egypt. I'm betrayed.
VENTIDIUS.
Curse on this treacherous train!
Their soil and heaven infect them all with baseness:
And their young souls come tainted to the world
With the first breath they draw.
ANTONY.
The original villain sure no god created;
He was a bastard of the sun, by Nile,
Aped into man; with all his mother's mud
Crusted about his soul.
VENTIDIUS.
The nation is
One universal traitor; and their queen
The very spirit and extract of them all.
ANTONY.
Is there yet left
A possibility of aid from valour?
Is there one god unsworn to my destruction?
The least unmortgaged hope? for, if there be,
Methinks I cannot fall beneath the fate
Of such a boy as Caesar.
The world's one half is yet in Antony;
And from each limb of it, that's hewed away,
The soul comes back to me.
VENTIDIUS.
There yet remain
Three legions in the town. The last assault
Lopt off the rest; if death be your design,—
As I must wish it now,—these are sufficient
To make a heap about us of dead foes,
An honest pile for burial.
ANTONY.
They are enough.
We'll not divide our stars; but, side by side,
Fight emulous, and with malicious eyes
Survey each other's acts: So every death
Thou giv'st, I'll take on me, as a just debt,
And pay thee back a soul.
VENTIDIUS.
Now you shall see I love you. Not a word
Of chiding more. By my few hours of life,
I am so pleased with this brave Roman fate,
That I would not be Caesar, to outlive you.
When we put off this flesh, and mount together,
I shall be shown to all the ethereal crowd,—
Lo, this is he who died with Antony!
ANTONY.
Who knows, but we may pierce through all their troops,
And reach my veterans yet? 'tis worth the 'tempting,
To o'erleap this gulf of fate,
And leave our wandering destinies behind.
[Enter ALEXAS, trembling.]
VENTIDIUS.
See, see, that villain!
See Cleopatra stamped upon that face,
With all her cunning, all her arts of falsehood!
How she looks out through those dissembling eyes!
How he sets his countenance for deceit,
And promises a lie, before he speaks!
Let me despatch him first.
[Drawing.]
ALEXAS.
O spare me, spare me!
ANTONY.
Hold; he's not worth your killing.—On thy life,
Which thou may'st keep, because I scorn to take it,
No syllable to justify thy queen;
Save thy base tongue its office.
ALEXAS.
Sir, she is gone.
Where she shall never be molested more
By love, or you.
ANTONY.
Fled to her Dolabella!
Die, traitor! I revoke my promise! die!
[Going to kill him.]
ALEXAS.
O hold! she is not fled.
ANTONY.
She is: my eyes
Are open to her falsehood; my whole life
Has been a golden dream of love and friendship;
But, now I wake, I'm like a merchant, roused
From soft repose, to see his vessel sinking,
And all his wealth cast over. Ungrateful woman!
Who followed me, but as the swallow summer,
Hatching her young ones in my kindly beams,
Singing her flatteries to my morning wake:
But, now my winter comes, she spreads her wings,
And seeks the spring of Caesar.
ALEXAS.
Think not so;
Her fortunes have, in all things, mixed with yours.
Had she betrayed her naval force to Rome,
How easily might she have gone to Caesar,
Secure by such a bribe!
VENTIDIUS.
She sent it first,
To be more welcome after.
ANTONY.
'Tis too plain;
Else would she have appeared, to clear herself.
ALEXAS.
Too fatally she has: she could not bear
To be accused by you; but shut herself
Within her monument; looked down and sighed;
While, from her unchanged face, the silent tears
Dropt, as they had not leave, but stole their parting.
Some indistinguished words she only murmured;
At last, she raised her eyes; and, with such looks
As dying Lucrece cast—
ANTONY.
My heart forebodes—
VENTIDIUS.
All for the best:—Go on.
ALEXAS.
She snatched her poniard,
And, ere we could prevent the fatal blow,
Plunged it within her breast; then turned to me:
Go, bear my lord, said she, my last farewell;
And ask him, if he yet suspect my faith.
More she was saying, but death rushed betwixt.
She half pronounced your name with her last breath,
And buried half within her.
VENTIDIUS.
Heaven be praised!
ANTONY.
Then art thou innocent, my poor dear love,
And art thou dead?
O those two words! their sound should be divided:
Hadst thou been false, and died; or hadst thou lived,
And hadst been true—But innocence and death!
This shows not well above. Then what am I,
The murderer of this truth, this innocence!
Thoughts cannot form themselves in words so horrid
As can express my guilt!
VENTIDIUS.
Is't come to this? The gods have been too gracious;
And thus you thank them for it!
ANTONY.
[to ALEXAS.] Why stayest thou here?
Is it for thee to spy upon my soul,
And see its inward mourning? Get thee hence;
Thou art not worthy to behold, what now
Becomes a Roman emperor to perform.
ALEXAS.
He loves her still:
His grief betrays it. Good! the joy to find
She's yet alive, completes the reconcilement.
I've saved myself, and her. But, oh! the Romans!
Fate comes too fast upon my wit,
Hunts me too hard, and meets me at each double.
[Aside.]
[Exit.]
VENTIDIUS.
Would she had died a little sooner, though!
Before Octavia went, you might have treated:
Now 'twill look tame, and would not be received.
Come, rouse yourself, and let's die warm together.
ANTONY.
I will not fight: there's no more work for war.
The business of my angry hours is done.
VENTIDIUS.
Caesar is at your gates.
ANTONY.
Why, let him enter;
He's welcome now.
VENTIDIUS.
What lethargy has crept into your soul?
ANTONY.
'Tis but a scorn of life, and just desire
To free myself from bondage.
VENTIDIUS.
Do it bravely.
ANTONY.
I will; but not by fighting. O Ventidius!
What should I fight for now?—my queen is dead.
I was but great for her; my power, my empire,
Were but my merchandise to buy her love;
And conquered kings, my factors. Now she's dead,
Let Caesar take the world,—
An empty circle, since the jewel's gone
Which made it worth my strife: my being's nauseous;
For all the bribes of life are gone away.
VENTIDIUS.
Would you be taken?
ANTONY.
Yes, I would be taken;
But, as a Roman ought,—dead, my Ventidius:
For I'll convey my soul from Caesar's reach,
And lay down life myself. 'Tis time the world
Should have a lord, and know whom to obey.
We two have kept its homage in suspense,
And bent the globe, on whose each side we trod,
Till it was dented inwards. Let him walk
Alone upon't: I'm weary of my part.
My torch is out; and the world stands before me,
Like a black desert at the approach of night:
I'll lay me down, and stray no farther on.
VENTIDIUS.
I could be grieved,
But that I'll not outlive you: choose your death;
For, I have seen him in such various shapes,
I care not which I take: I'm only troubled,
The life I bear is worn to such a rag,
'Tis scarce worth giving. I could wish, indeed,
We threw it from us with a better grace;
That, like two lions taken in the toils,
We might at last thrust out our paws, and wound
The hunters that inclose us.
ANTONY.
I have thought on it.
Ventidius, you must live.
VENTIDIUS.
I must not, sir.
ANTONY.
Wilt thou not live, to speak some good of me?
To stand by my fair fame, and guard the approaches
From the ill tongues of men?
VENTIDIUS.
Who shall guard mine,
For living after you?
ANTONY.
Say, I command it.
VENTIDIUS.
If we die well, our deaths will speak themselves
And need no living witness.
ANTONY.
Thou hast loved me,
And fain I would reward thee. I must die;
Kill me, and take the merit of my death,
To make thee friends with Caesar.
VENTIDIUS.
Thank your kindness.
You said I loved you; and in recompense,
You bid me turn a traitor: Did I think
You would have used me thus?—that I should die
With a hard thought of you?
ANTONY.
Forgive me, Roman.
Since I have heard of Cleopatra's death,
My reason bears no rule upon my tongue,
But lets my thoughts break all at random out.
I've thought better; do not deny me twice.
VENTIDIUS.
By Heaven I will not.
Let it not be to outlive you.
ANTONY.
Kill me first,
And then die thou; for 'tis but just thou serve
Thy friend, before thyself.
VENTIDIUS.
Give me your hand.
We soon shall meet again. Now, farewell, emperor!—
[Embrace.]
Methinks that word's too cold to be my last:
Since death sweeps all distinctions, farewell, friend!
That's all—
I will not make a business of a trifle;
And yet I cannot look on you, and kill you;
Pray turn your face.
ANTONY.
I do: strike home, be sure.
VENTIDIUS.
Home as my sword will reach.
[Kills himself.]
ANTONY.
Oh, thou mistak'st;
That wound was not of thine; give it me back:
Thou robb'st me of my death.
VENTIDIUS.
I do indeed;
But think 'tis the first time I e'er deceived you,
If that may plead my pardon.—And you, gods,
Forgive me, if you will; for I die perjured,
Rather than kill my friend.
[Dies.]
ANTONY.
Farewell! Ever my leader, even in death!
My queen and thou have got the start of me,
And I'm the lag of honour.—Gone so soon?
Is Death no more? he used him carelessly,
With a familiar kindness: ere he knocked,
Ran to the door, and took him in his arms,
As who should say—You're welcome at all hours,
A friend need give no warning. Books had spoiled him;
For all the learned are cowards by profession.
'Tis not worth
My further thought; for death, for aught I know,
Is but to think no more. Here's to be satisfied.
[Falls on his sword.]
I've missed my heart. O unperforming hand!
Thou never couldst have erred in a worse time.
My fortune jades me to the last; and death,
Like a great man, takes state, and makes me wait
For my admittance.—
[Trampling within.]
Some, perhaps, from Caesar:
If he should find me living, and suspect
That I played booty with my life! I'll mend
My work, ere they can reach me.
[Rises upon his knees.]
[Enter CLEOPATRA, CHARMION, and IRAS.]
CLEOPATRA.
Where is my lord? where is he?
CHARMION.
There he lies,
And dead Ventidius by him.
CLEOPATRA.
My tears were prophets; I am come too late.
O that accursed Alexas!
[Runs to him.]
ANTONY.
Art thou living?
Or am I dead before I knew, and thou
The first kind ghost that meets me?
CLEOPATRA.
Help me seat him.
Send quickly, send for help!
[They place him in a chair.]
ANTONY.
I am answered.
We live both. Sit thee down, my Cleopatra:
I'll make the most I can of life, to stay
A moment more with thee.
CLEOPATRA.
How is it with you?
ANTONY.
'Tis as with a man
Removing in a hurry; all packed up,
But one dear jewel that his haste forgot;
And he, for that, returns upon the spur:
So I come back for thee.
CLEOPATRA.
Too long, ye heavens, you have been cruel to me:
Now show your mended faith, and give me back
His fleeting life!
ANTONY.
It will not be, my love;
I keep my soul by force.
Say but, thou art not false.
CLEOPATRA.
'Tis now too late
To say I'm true: I'll prove it, and die with you.
Unknown to me, Alexas feigned my death:
Which, when I knew, I hasted to prevent
This fatal consequence. My fleet betrayed
Both you and me.
ANTONY.
And Dolabella—
CLEOPATRA.
Scarce
Esteemed before he loved; but hated now.
ANTONY.
Enough: my life's not long enough for more.
Thou say'st, thou wilt come after: I believe thee;
For I can now believe whate'er thou sayest,
That we may part more kindly.
CLEOPATRA.
I will come:
Doubt not, my life, I'll come, and quickly too:
Caesar shall triumph o'er no part of thee.
ANTONY.
But grieve not, while thou stayest,
My last disastrous times:
Think we have had a clear and glorious day
And Heaven did kindly to delay the storm,
Just till our close of evening. Ten years' love,
And not a moment lost, but all improved
To the utmost joys,—what ages have we lived?
And now to die each other's; and, so dying,
While hand in hand we walk in groves below,
Whole troops of lovers' ghosts shall flock about us,
And all the train be ours.
CLEOPATRA.
Your words are like the notes of dying swans,
Too sweet to last. Were there so many hours
For your unkindness, and not one for love?
ANTONY.
No, not a minute.—This one kiss—more worth
Than all I leave to Caesar.
[Dies.]
CLEOPATRA.
O tell me so again,
And take ten thousand kisses for that word.
My lord, my lord! speak, if you yet have being;
Sign to me, if you cannot speak; or cast
One look! Do anything that shows you live.
IRAS.
He's gone too far to hear you;
And this you see, a lump of senseless clay,
The leavings of a soul.
CHARMION.
Remember, madam,
He charged you not to grieve.
CLEOPATRA.
And I'll obey him.
I have not loved a Roman, not to know
What should become his wife; his wife, my Charmion!
For 'tis to that high title I aspire;
And now I'll not die less. Let dull Octavia
Survive, to mourn him dead: My nobler fate
Shall knit our spousals with a tie, too strong
For Roman laws to break.
IRAS.
Will you then die?
CLEOPATRA.
Why shouldst thou make that question?
IRAS.
Caesar is merciful.
CLEOPATRA.
Let him be so
To those that want his mercy: My poor lord
Made no such covenant with him, to spare me
When he was dead. Yield me to Caesar's pride?
What! to be led in triumph through the streets,
A spectacle to base plebeian eyes;
While some dejected friend of Antony's,
Close in a corner, shakes his head, and mutters
A secret curse on her who ruined him!
I'll none of that.
CHARMION.
Whatever you resolve,
I'll follow, even to death.
IRAS.
I only feared
For you; but more should fear to live without you.
CLEOPATRA.
Why, now, 'tis as it should be. Quick, my friends,
Despatch; ere this, the town's in Caesar's hands:
My lord looks down concerned, and fears my stay,
Lest I should be surprised;
Keep him not waiting for his love too long.
You, Charmion, bring my crown and richest jewels;
With them, the wreath of victory I made
(Vain augury!) for him, who now lies dead:
You, Iras, bring the cure of all our ills.
IRAS.
The aspics, madam?
CLEOPATRA.
Must I bid you twice?
[Exit CHARMION and IRAS.]
'Tis sweet to die, when they would force life on me,
To rush into the dark abode of death,
And seize him first; if he be like my love,
He is not frightful, sure.
We're now alone, in secrecy and silence;
And is not this like lovers? I may kiss
These pale, cold lips; Octavia does not see me:
And, oh! 'tis better far to have him thus,
Than see him in her arms.—Oh, welcome, welcome!
[Enter CHARMION and IRAS.]
CHARMION.
What must be done?
CLEOPATRA.
Short ceremony, friends;
But yet it must be decent. First, this laurel
Shall crown my hero's head: he fell not basely,
Nor left his shield behind him.—Only thou
Couldst triumph o'er thyself; and thou alone
Wert worthy so to triumph.
CHARMION.
To what end
These ensigns of your pomp and royalty?
CLEOPATRA.
Dull, that thou art! why 'tis to meet my love;
As when I saw him first, on Cydnus' bank,
All sparkling, like a goddess: so adorned,
I'll find him once again; my second spousals
Shall match my first in glory. Haste, haste, both,
And dress the bride of Antony.
CHARMION.
'Tis done.
CLEOPATRA.
Now seat me by my lord. I claim this place,
For I must conquer Caesar too, like him,
And win my share of the world.—Hail, you dear relics
Of my immortal love!
O let no impious hand remove you hence:
But rest for ever here! Let Egypt give
His death that peace, which it denied his life.—
Reach me the casket.
IRAS.
Underneath the fruit
The aspic lies.
CLEOPATRA.
Welcome, thou kind deceiver!
[Putting aside the leaves.]
Thou best of thieves: who, with an easy key,
Dost open life, and, unperceived by us,
Even steal us from ourselves; discharging so
Death's dreadful office, better than himself;
Touching our limbs so gently into slumber,
That Death stands by, deceived by his own image,
And thinks himself but sleep.
SERAPION.
The queen, where is she?
[Within.]
The town is yielded, Caesar's at the gates.
CLEOPATRA.
He comes too late to invade the rights of death!
Haste, bare my arm, and rouse the serpent's fury.
[Holds out her arm, and draws it back.]
Coward flesh,
Wouldst thou conspire with Caesar to betray me,
As thou wert none of mine? I'll force thee to it,
And not be sent by him,
But bring, myself, my soul to Antony.
[Turns aside, and then shows her arm bloody.]
Take hence; the work is done.
SERAPION.
Break ope the door,
[Within.]
And guard the traitor well.
CHARMION.
The next is ours.
IRAS.
Now, Charmion, to be worthy
Of our great queen and mistress.
[They apply the aspics.]
CLEOPATRA.
Already, death, I feel thee in my veins:
I go with such a will to find my lord,
That we shall quickly meet.
A heavy numbness creeps through every limb,
And now 'tis at my head: My eyelids fall,
And my dear love is vanquished in a mist.
Where shall I find him, where? O turn me to him,
And lay me on his breast!—Caesar, thy worst;
Now part us, if thou canst.
[Dies.]
[IRAS sinks down at her feet, and dies; CHARMION stands behind her chair, as
dressing her head.]
[Enter SERAPION, two PRIESTS, ALEXAS bound, EGYPTIANS.]
PRIEST.
Behold, Serapion,
What havoc death has made!
SERAPION.
'Twas what I feared.—
Charmion, is this well done?
CHARMION.
Yes, 'tis well done, and like a queen, the last
Of her great race: I follow her.
[Sinks down: dies.]
ALEXAS.
'Tis true,
She has done well: Much better thus to die,
Than live to make a holiday in Rome.
SERAPION.
See how the lovers sit in state together,
As they were giving laws to half mankind!
The impression of a smile, left in her face,
Shows she died pleased with him for whom she lived,
And went to charm him in another world.
Caesar's just entering: grief has now no leisure.
Secure that villain, as our pledge of safety,
To grace the imperial triumph.—Sleep, blest pair,
Secure from human chance, long ages out,
While all the storms of fate fly o'er your tomb;
And fame to late posterity shall tell,
No lovers lived so great, or died so well.
[Exeunt.]
Epilogue
Poets, like disputants, when reasons fail,
Have one sure refuge left—and that's to rail.
Fop, coxcomb, fool, are thundered through the pit;
And this is all their equipage of wit.
We wonder how the devil this difference grows
Betwixt our fools in verse, and yours in prose:
For, 'faith, the quarrel rightly understood,
'Tis civil war with their own flesh and blood.
The threadbare author hates the gaudy coat;
And swears at the gilt coach, but swears afoot:
For 'tis observed of every scribbling man,
He grows a fop as fast as e'er he can;
Prunes up, and asks his oracle, the glass,
If pink or purple best become his face.
For our poor wretch, he neither rails nor prays;
Nor likes your wit just as you like his plays;
He has not yet so much of Mr. Bayes.
He does his best; and if he cannot please,
Would quietly sue out his WRIT OF EASE.
Yet, if he might his own grand jury call,
By the fair sex he begs to stand or fall.
Let Caesar's power the men's ambition move,
But grace you him who lost the world for love!
Yet if some antiquated lady say,
The last age is not copied in his play;
Heaven help the man who for that face must drudge,
Which only has the wrinkles of a judge.
Let not the young and beauteous join with those;
For should you raise such numerous hosts of foes,
Young wits and sparks he to his aid must call;
'Tis more than one man's work to please you all.
3.11.3 "A Discourse Concerning the Original and Progress of Satire"
(1693)
And now, my Lord, to apply what I have said, to my present Business; the Satires of Juvenal and Persius, appearing in this New English Dress, cannot so properly be Inscrib'd to any Man as to Your Lordship, who are the First of the Age in that way of Writing. Your Lordship, amongst many other Favours, has given me Your Permission for this Address; and You have particularly Encourag'd me by Your Perusal and Approbation of the Sixth and Tenth Satires of Juvenal, as I have Translated them. My fellow Labourers, have likewise Commission'd me, to perform in their behalf this Office of a Dedication to you; and will acknowledge with all possible Respect and Gratitude, your Acceptance of their Work. Some of them have the Honour to be known to your Lordship already; and they who have not yet that happiness, desire it now. Be pleas'd to receive our common Endeavours with your wonted Candor, without Intitleing you to the Protection of our common Failings, in so difficult an Undertakeing. And allow me your Patience, if it be not already tir'd with this long Epistle, to give you from the Best Authors, the Origine, the Antiquity, the Growth, the Change, and the Compleatment of Satire among theRomans. To Describe, if not Define, the Nature of that Poem, with it's several Qualifications and Virtues, together with the several sorts of it. To compare the Excellencies of Horace, Persius and Juvenal, and shew the particular Manners of their Satires. And lastly, to give an Account of this New Way of Version which is attempted in our Performance. All which, according to the weakness of my Ability, and the best Lights which I can get from others, shall be the Subject of my following Discourse.
There has been a long Dispute amongst the Modern Critiques, whether the Romans deriv'd their Satire from the Grecians, or first Invented it themselves. Julius Scaliger and Heinsius, are of the first Opinion; Casaubon, Rigaltius, Dacier, and the Publisher of the Dauphin's Juvenal maintain the Latter. If we take Satire in the general signification of the Word, as it is us'd in all Modern Languages, for an Invective, 'tis certain that it is almost as old as Verse; and tho' Hymns, which are praises of God, may be allow'd to have been before it, yet the defamation of others was not long after it. After God had Curs'd Adam and Eve in Paradise, the Husband and Wife excus'd themselves, by laying the blame on one another; and gave a beginning to those Conjugal Dialogues in Prose; which the Poets have perfected in Verse. The Third Chapter of Job is one of the first Instances of this Poem in Holy Scripture: Unless we will take it higher, from the latter end of the second; where his Wife advises him to curse his Maker.
This Original, I confess, is not much to the Honour of Satire; but here it was Nature, and that deprav'd: When it became an Art, it bore better Fruit. Only we have learnt thus much already, that Scoffs and Revilings are of the growth of all Nations; and consequently that neither the Greek Poets borrow'd from other People their Art of Railing, neither needed the Romans to take it from them. But considering Satire as a Species of Poetry; here the War begins amongst the Criticks.
Scaliger the Father will have it descend from Greece to Rome; and derives the word Satyre, from Satyrus, that mixt kind of Animal, or, as the Ancients thought him, Rural God, made up betwixt a Man and a Goat; with a Humane Head, Hook'd Nose, Powting Lips, a Bunch, or Struma under the Chin, prick'd Ears, and upright Horns; the Body shagg'd with hair, especially from the waste, and ending in a Goat, with the legs and feet of that Creature. But Casaubon, and his Followers, with Reason, condemn this derivation; and prove that from Satyrus, the word Satira, as it signifies a Poem, cannot possibly descend. For Satira is not properly a Substantive, but an Adjective; to which, the word Lanx, in English a Charger, or large Platter, is understood: So that the Greek Poem made according to the Manners of a Satyr, and expressing his Qualities, must properly be call'd Satyrical, and not Satire: And thus far 'tis allow'd, that the Grecians had such Poems; but that they where wholly different in Specie, from that to which the Romans gave the Name of Satire.
Aristotle divides all Poetry, in relation to the Progress of it, into Nature without Art: Art begun, and Art Compleated. Mankind, even the most Barbarous have the Seeds of Poetry implanted in them. The first Specimen of it was certainly shewn in the Praises of the Deity, and Prayers to him: And as they are of Natural Obligation, so they are likewise of Divine Institution. Which Milton observing, introduces Adam and Eve, every Morning adoring God in Hymns and Prayers. The first Poetry was thus begun, in the wild Notes of Nature, before the invention of Feet, and Measures. The Grecians and Romans had no other Original of their Poetry. Festivals and Holydays soon succeeded to Private Worship, and we need not doubt but they were enjoyn'd by the true God to his own People; as they were afterwards imitated by the Heathens; who by the light of Reason knew they were to invoke some Superiour Being in their Necessities, and to thank him for his Benefits. Thus the Grecian Holydays were Celebrated with Offerings to Bacchus and Ceres, and other Deities, to whose Bounty they suppos'd they were owing for their Corn and Wine, and other helps of Life. And the Ancient Romans, as Horacetells us, paid their thanks to Mother Earth, or Vesta, to Silvanus, and their Genius, in the same manner. But as all Festivals have a double Reason of their Institution; the first of Religion, the other of Recreation, for the unbending of our Minds: So both the Grecians and Romans agreed, after their Sacrifices were perform'd, to spend the remainder of the day in Sports and Merriments; amongst which, Songs and Dances, and that which they call'd Wit, (for want of knowing better,) were the chiefest Entertainments. The Grecians had a notion of Satyres, whom I have already describ'd; and taking them, and the Sileni, that is the young Satyrs and the old, for the Tutors, Attendants, and Humble Companions of their Bacchus, habited themselves like those Rural Deities, and imitated them in their Rustick Dances, to which they join'd Songs, with some sort of rude Harmony, but without certain Numbers; and to these they added a kind of Chorus.
The Romans also (as Nature is the same in all places) though they knew nothing of those Grecian Demi-Gods, nor had any Communication with Greece, yet had certain Young Men, who at their Festivals, Danc'd and Sung after their uncouth manner, to a certain kind of Verse, which they call'd Saturnian; what it was, we have no very certain light from Antiquity to discover; but we may conclude, that, like the Grecian, it was void of Art, or at least with very feeble beginnings of it. Those Ancient Romans, at these Holydays, which were a mixture of Devotion and Debauchery, had a Custom of reproaching each other with their Faults, in a sort of ExtemporePoetry, or rather of tunable hobling Verse; and they answer'd in the same kind of gross Raillery; their Wit and their Musick being of a piece. The Grecians, says Casaubon, had formerly done the same, in the Persons of their petulant Satyrs: But I am afraid he mistakes the matter, and confounds the Singing and Dancing of the Satyrs, with the Rustical Entertainments of the first Romans. The Reason of my Opinion is this; that Casaubon finding little light from Antiquity, of these beginnings of Poetry, amongst the Grecians, but only these Representations of Satyrs, who carry'd Canisters and Cornucopias full of several Fruits in their hands, and danc'd with them at their Publick Feasts: And afterwards reading Horace, who makes mention of his homely Romans, jesting at one another in the same kind of Solemnities, might suppose those wanton Satyrs did the same. And especially because Horace possibly might seem to him, to have shewn the Original of all Poetry in general, including the Grecians, as well as Romans: Though 'tis plainly otherwise, that he only describ'd the beginning, and first Rudiments of Poetry in his own Country. The Verses are these, which he cites from the First Epistle of the Second Book, which was Written to Augustus.
Agricolæ prisci, fortes, parvoq; beati,
Condita post frumenta, levantes tempore festo
Corpus & ipsum animum spe finis dura ferentem,
Cum sociis operum, & pueris, & conjuge fidâ,
Tellurem Porco, Silvanum lacte piabant;
Floribus & vino Genium memorem brevis ævi:
Fescennina per hunc invent a licentia morem
Versibus alternis, opprobria rustica fudit.
Our Brawny Clowns of Old, who turn'd the soyl,
Content with little, and inur'd to toyl,
At Harvest home, with Mirth and Country Cheer
Restor'd their Bodies for another year:
Refresh'd their Spirits, and renew'd their Hope,
Of such a future Feast, and future Crop.
Then with their Fellow-joggers of the Ploughs,
Their little Children, and their faithful Spouse;
A Sow they slew to Vesta's Deity;
And kindly Milk, Silvanus, pour'd to thee .
With Flow'rs, and Wine, their Genius they ador'd;
A short Life, and a merry, was the word.
From flowing Cups defaming Rhymes ensue,
And at each other homely Taunts they threw.
Yet since it is a hard Conjecture, that so Great a Man as Casaubon shou'd misapply what Horace writ concerning Ancient Rome, to the Ceremonies and Manners of Ancient Greece, I will not insist on this Opinion, but rather judge in general, that since all Poetry had its Original from Religion, that of the Grecians and Romehad the same beginning: Both were invented at Festivals of Thanksgiving: And both were prosecuted with Mirth and Raillery, and Rudiments of Verses: Amongst the Greeks, by those who Represented Satyrs; and amongst the Romans by real Clowns.
Your Lordship has perceiv'd, by this time, that this Satyrique Tragedy, and the Roman Satire have little Resemblance in any of their Features. The very Kinds are different: For what has a Pastoral Tragedy to do with a Paper of Verses Satirically written? The Character and Raillery of the Satyres is the only thing that cou'd pretend to a likeness: Were Scaliger and Heinsius alive to maintain their Opinion. And the first Farces of the Romans, which were the Rudiments of their Poetry, were written before they had any Communication with the Greeks; or, indeed, any Knowledge of that People.
The Grecians, besides these Satyrique Tragedies, had another kind of Poem, which they call'd Silli; which were more of kin to the Roman Satire: Those Silli were indeed Invective Poems, but of a different Species from the Roman Poems of Ennius, Pacuvius, Lucilius, Horace, and the rest of their Successors. They were so call'd, says Casaubon in one place, from Silenus, the Foster-Father of Bacchus; but in another place, bethinking himself better, he derives their Name apo tou sillainein, from their Scoffing and Petulancy. From some Fragments of the Silli, written by Timon, we may find, that they were Satyrique Poems, full of Parodies; that is, of Verses patch'd up from great Poets, and turn'd into another Sence than their Author intended them. Such amongst the Romans is the Famous Cento of Ausonius; where the words are Virgil's: But by applying them to another Sense, they are made a Relation of a Wedding-Night; and the Act of Consummation fulsomly describ'd in the very words of the most Modest amongst all Poets. Of the same manner are our Songs, which are turn'd into Burlesque; and the serious words of the Author perverted into a ridiculous meaning. Thus in Timon's Silli the words are generally those of