Part 3: The Seventeenth Century – The Age of the Revolution (1603-1688)
3.4 JOHN DONNE
(1572-1631)
3.4.7 "A Valediction: Forbidding Mourning"
3.4.12 from Devotions Upon Emergent Occasions: Meditation 17
3.4.13 Reading and Review Questions
John Donne was born into a family of devout Roman Catholics at a time when Roman Catholics were greatly persecuted in England. His mother, Elizabeth, came from a family related to Thomas More. One of Donne's uncles, who was a Jesuit, was imprisoned, sentenced to death, and exiled for heading a clandestine mission in England. Donne's brother Henry was arrested for harboring a priest; Henry died of the plague in Newgate Prison. In effect, Donne was a member of a minority group. His family was wealthy enough to afford Donne the Grand Tour, but he was hindered by his religious faith.
He was sent to Oxford at the age of eleven not because he was a child prodigy but because graduates at sixteen were supposed to pledge allegiance to the English monarch rather than the Pope. He matriculated at Hart Hall, Oxford but was unable to earn a law degree because he was Roman Catholic. He also probably studied at Cambridge then traveled abroad. Upon returning to London, Donne studied law, the classics, divinity, and languages. He also lived somewhat as a libertine, a young man around town, frequenting plays and admiring women. And he wrote verses, sonnets, Ovidian elegies to love, satires that challenged literary tradition and religious authority, and essays dealing with paradoxes and problems.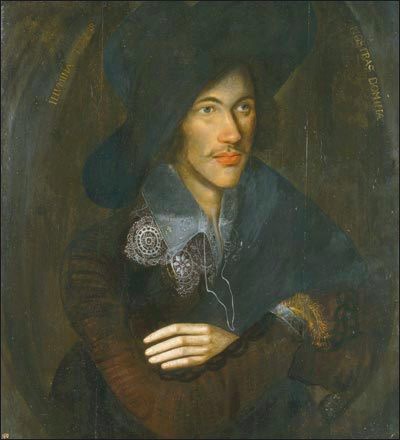 Image 3.3 | John Donne
Artist | Unknown
Source | Wikimedia Commons
License | Public Domain
As a writer, Donne was both unique and original. He was a seeker, always accepting and rejecting ideas. He took a skeptical approach to reality, using awkward meter and a jumble of allusions and objects in his poems. Instead of perpetuating what he felt was the trite blandness of the typical Elizabethan metaphor in which a lady was described as a "fair flower," her lips like rubies and her hair like gold, Donne used striking images and the metaphysical conceit, that is, a less ornamental but still often extravagant metaphor which points out an unusual parallel between what are usually highly dissimilar elements. He forces his readers to accept his conceits by surprising them with their aptness or causing them to see new details in an accepted analogy. Donne's poems include a series of heterogeneous objects yoked masterfully, even violently, together. For he had an intellectual avidity, a hunger for the Absolute that would resolve all (often conflicting) particulars. For a time, love seemed to be that Absolute, that would make his "circle just" ("A Valediction Forbidding Mourning," 35).
In 1597, Donne was appointed secretary to Sir Thomas Egerton (1540-1617), the keeper of the seal; he also served as a member of parliament. His career looked promising; he was a world traveler, and a soldier who fought with Sir Walter Raleigh in the expeditions to Cadiz and the Azores. He fell in love with Anne More, the seventeen-year-old niece of Lord Egerton, and they secretly married. Their marriage was illegal, though, and Anne's father, Sir George More, had Donne imprisoned. The marriage was later sanctioned, but Donne's position in Egerton's service was lost and his career in pieces.
Donne (re)pieced together a career by writing anti-Catholic treatises, all the while hoping for political preferment. He was befriended by Sir Robert Drury, whom he accompanied to the Continent and who allowed Donne's family a home on the Drury estate. He was offered a job as a benefice for the church, which he refused. Realizing that his only path to advancement lay in the Church of England, Donne converted to Anglicanism. Anne Donne died in 1617; Donne was ordained as a priest and became Dean of Saint Paul's Cathedral in 1621. He was a powerful preacher at a time when sermons were given extraordinary attention. Besides sermons, Donne wrote translations, elegies, satires, and holy sonnets devoted to God, the great Absolute that translates "all our scattered leaves" into an open book, made perfect before God (Meditation 17).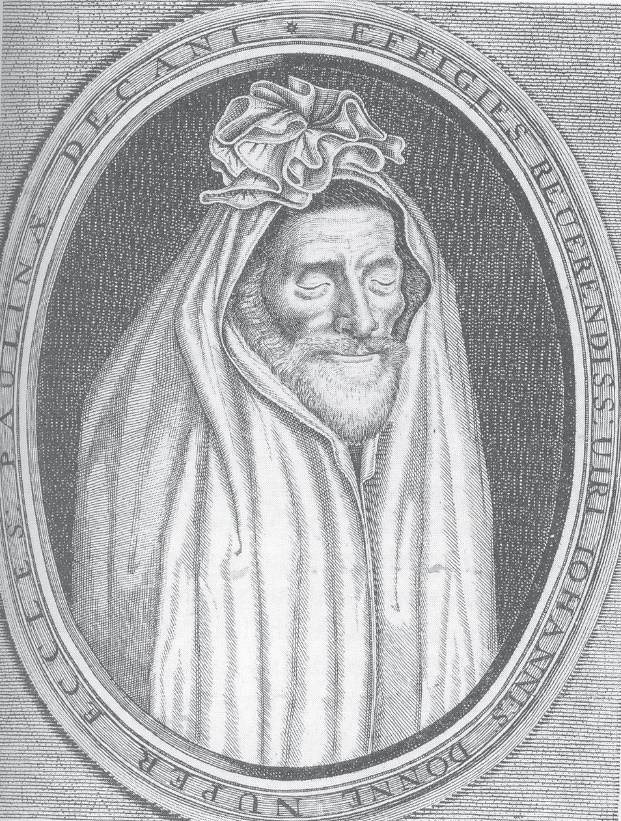 Image 3.4 | John Donne in his Shroud
Artist | Martin Droeshout
Source | Wikimedia Commons
License | Public Domain
Suffering from the fever that ultimately killed him, Donne preached his own funeral sermon. He also had his portrait taken, dressed in a shroud: he made a masterpiece of death.
3.4.1 "The Good-Morrow"
(1633)
I WONDER by my troth, what thou and I
Did, till we loved? were we not wean'd till then?
But suck'd on country pleasures, childishly?
Or snorted we in the Seven Sleepers' den?
'Twas so; but this, all pleasures fancies be;
If ever any beauty I did see,
Which I desired, and got, 'twas but a dream of thee.
And now good-morrow to our waking souls,
Which watch not one another out of fear;
For love all love of other sights controls,
And makes one little room an everywhere.
Let sea-discoverers to new worlds have gone;
Let maps to other, worlds on worlds have shown;
Let us possess one world; each hath one, and is one.
My face in thine eye, thine in mine appears,
And true plain hearts do in the faces rest;
Where can we find two better hemispheres
Without sharp north, without declining west?
Whatever dies, was not mix'd equally;
If our two loves be one, or thou and I
Love so alike that none can slacken, none can die.
3.4.2 "The Sun Rising"
(1633)
BUSY old fool, unruly Sun,
Why dost thou thus,
Through windows, and through curtains, call on us?
Must to thy motions lovers' seasons run?
Saucy pedantic wretch, go chide
Late school-boys and sour prentices,
Go tell court-huntsmen that the king will ride,
Call country ants to harvest offices;
Love, all alike, no season knows nor clime,
Nor hours, days, months, which are the rags of time.
Thy beams so reverend, and strong
Why shouldst thou think?
I could eclipse and cloud them with a wink,
But that I would not lose her sight so long.
If her eyes have not blinded thine,
Look, and to-morrow late tell me,
Whether both th' Indias of spice and mine
Be where thou left'st them, or lie here with me.
Ask for those kings whom thou saw'st yesterday,
And thou shalt hear, "All here in one bed lay."
She's all states, and all princes I;
Nothing else is;
Princes do but play us; compared to this,
All honour's mimic, all wealth alchemy.
Thou, Sun, art half as happy as we,
In that the world's contracted thus;
Thine age asks ease, and since thy duties be
To warm the world, that's done in warming us.
Shine here to us, and thou art everywhere;
This bed thy center is, these walls thy sphere.
3.4.3 "The Indifferent"
(1633)
I CAN love both fair and brown;
Her whom abundance melts, and her whom want betrays;
Her who loves loneness best, and her who masks and plays;
Her whom the country form'd, and whom the town;
Her who believes, and her who tries;
Her who still weeps with spongy eyes,
And her who is dry cork, and never cries.
I can love her, and her, and you, and you;
I can love any, so she be not true.
Will no other vice content you?
Will it not serve your turn to do as did your mothers?
Or have you all old vices spent, and now would find out others?
Or doth a fear that men are true torment you?
O we are not, be not you so;
Let me—and do you—twenty know;
Rob me, but bind me not, and let me go.
Must I, who came to travel thorough you,
Grow your fix'd subject, because you are true?
Venus heard me sigh this song;
And by love's sweetest part, variety, she swore,
She heard not this till now; and that it should be so no more.
She went, examined, and return'd ere long,
And said, "Alas! some two or three
Poor heretics in love there be,
Which think to stablish dangerous constancy.
But I have told them, 'Since you will be true,
You shall be true to them who're false to you.'"
3.4.4 "Break of Day"
(1633)
'TIS true, 'tis day; what though it be?
O, wilt thou therefore rise from me?
Why should we rise because 'tis light?
Did we lie down because 'twas night?
Love, which in spite of darkness brought us hither,
Should in despite of light keep us together.
Light hath no tongue, but is all eye;
If it could speak as well as spy,
This were the worst that it could say,
That being well I fain would stay,
And that I loved my heart and honour so
That I would not from him, that had them, go.
Must business thee from hence remove?
O! that's the worst disease of love,
The poor, the foul, the false, love can
Admit, but not the busied man.
He which hath business, and makes love, doth do
Such wrong, as when a married man doth woo.
3.4.5 "Love's Alchemy"
(1633)
Some that have deeper digg'd love's mine than I,
Say, where his centric happiness doth lie.
I have loved, and got, and told,
But should I love, get, tell, till I were old,
I should not find that hidden mystery.
O! 'tis imposture all;
And as no chemic yet th' elixir got,
But glorifies his pregnant pot,
If by the way to him befall
Some odoriferous thing, or medicinal,
So, lovers dream a rich and long delight,
But get a winter-seeming summer's night.
Our ease, our thrift, our honour, and our day,
Shall we for this vain bubble's shadow pay?
Ends love in this, that my man
Can be as happy as I can, if he can
Endure the short scorn of a bridegroom's play?
That loving wretch that swears,
'Tis not the bodies marry, but the minds,
Which he in her angelic finds,
Would swear as justly, that he hears,
In that day's rude hoarse minstrelsy, the spheres.
Hope not for mind in women; at their best,
Sweetness and wit they are, but mummy, possess'd.
3.4.6 "The Flea"
(1633)
Mark but this flea, and mark in this,
How little that which thou deniest me is;
It suck'd me first, and now sucks thee,
And in this flea our two bloods mingled be.
Thou know'st that this cannot be said
A sin, nor shame, nor loss of maidenhead;
Yet this enjoys before it woo,
And pamper'd swells with one blood made of two;
And this, alas! is more than we would do.
O stay, three lives in one flea spare,
Where we almost, yea, more than married are.
This flea is you and I, and this
Our marriage bed, and marriage temple is.
Though parents grudge, and you, we're met,
And cloister'd in these living walls of jet.
Though use make you apt to kill me,
Let not to that self-murder added be,
And sacrilege, three sins in killing three.
Cruel and sudden, hast thou since
Purpled thy nail in blood of innocence?
Wherein could this flea guilty be,
Except in that drop which it suck'd from thee?
Yet thou triumph'st, and say'st that thou
Find'st not thyself nor me the weaker now.
'Tis true; then learn how false fears be;
Just so much honour, when thou yield'st to me,
Will waste, as this flea's death took life from thee.
3.4.7 "A Valediction: Forbidding Mourning"
(1633)
As virtuous men pass mildly away,
And whisper to their souls to go,
Whilst some of their sad friends do say,
"Now his breath goes," and some say, "No."
So let us melt, and make no noise,
No tear-floods, nor sigh-tempests move;
'Twere profanation of our joys
To tell the laity our love.
Moving of th' earth brings harms and fears;
Men reckon what it did, and meant;
But trepidation of the spheres,
Though greater far, is innocent.
Dull sublunary lovers' love
—Whose soul is sense—cannot admit
Of absence, 'cause it doth remove
The thing which elemented it.
But we by a love so much refined,
That ourselves know not what it is,
Inter-assurèd of the mind,
Care less, eyes, lips and hands to miss.
Our two souls therefore, which are one,
Though I must go, endure not yet
A breach, but an expansion,
Like gold to aery thinness beat.
If they be two, they are two so
As stiff twin compasses are two;
Thy soul, the fix'd foot, makes no show
To move, but doth, if th' other do.
And though it in the centre sit,
Yet, when the other far doth roam,
It leans, and hearkens after it,
And grows erect, as that comes home.
Such wilt thou be to me, who must,
Like th' other foot, obliquely run;
Thy firmness makes my circle just
And makes me end where I begun.
3.4.8 "Holy Sonnet 3"
(1635)
O! might those sighs and tears return again
Into my breast and eyes, which I have spent,
That I might in this holy discontent
Mourn with some fruit, as I have mourn'd in vain.
In mine Idolatry what showers of rain
Mine eyes did waste? what griefs my heart did rent?
That sufferance was my sin, I now repent;
'Cause I did suffer, I must suffer pain.
Th' hydroptic drunkard, and night-scouting thief,
The itchy lecher, and self-tickling proud
Have the remembrance of past joys, for relief
Of coming ills. To poor me is allow'd
No ease; for long, yet vehement grief hath been
Th' effect and cause, the punishment and sin.
3.4.9 "Holy Sonnet 4"
(1635)
O, my black soul, now thou art summoned
By sickness, Death's herald and champion;
Thou'rt like a pilgrim, which abroad hath done
Treason, and durst not turn to whence he's fled;
Or like a thief, which till death's doom be read,
Wisheth himself deliver'd from prison,
But damn'd and haled to execution,
Wisheth that still he might be imprisoned.
Yet grace, if thou repent, thou canst not lack;
But who shall give thee that grace to begin?
O, make thyself with holy mourning black,
And red with blushing, as thou art with sin;
Or wash thee in Christ's blood, which hath this might,
That being red, it dyes red souls to white.
3.4.10 "Holy Sonnet 5"
(1635)
I am a little world made cunningly
Of elements, and an angelic sprite;
But black sin hath betray'd to endless night
My world's both parts, and, O, both parts must die.
You which beyond that heaven which was most high
Have found new spheres, and of new land can write,
Pour new seas in mine eyes, that so I might
Drown my world with my weeping earnestly,
Or wash it if it must be drown'd no more.
But O, it must be burnt; alas! the fire
Of lust and envy burnt it heretofore,
And made it fouler; let their flames retire,
And burn me, O Lord, with a fiery zeal
Of Thee and Thy house, which doth in eating heal.
3.4.11 "Holy Sonnet 10"
(1633)
Death be not proud, though some have callèd thee
Mighty and dreadfull, for, thou art not so,
For, those, whom thou think'st, thou dost overthrow,
Die not, poore death, nor yet canst thou kill me.
From rest and sleepe, which but thy pictures bee,
Much pleasure, then from thee, much more must flow,
And soonest our best men with thee doe goe,
Rest of their bones, and soules deliverie.
Thou art slave to Fate, Chance, kings, and desperate men,
And dost with poyson, warre, and sicknesse dwell,
And poppie, or charmes can make us sleepe as well,
And better than thy stroake; why swell'st thou then;
One short sleepe past, wee wake eternally,
And death shall be no more, death, thou shalt die.
3.4.12 from Devotions Upon Emergent Occasions: Meditation 17
(1624)
Nunc Lento Sonitu Dicunt, Morieris
(Now this bell, tolling softly for another, says to me, Thou must die.)
Perchance, he for whom this bell tolls may be so ill, as that he knows not it tolls for him; and perchance I may think myself so much better than I am, as that they who are about me, and see my state, may have caused it to toll for me, and I know not that. The church is catholic, universal, so are all her actions; all that she does belongs to all. When she baptizes a child, that action concerns me; for that child is thereby connected to that body which is my head too, and ingrafted into that body whereof I am a member. And when she buries a man, that action concerns me: all mankind is of one author, and is one volume; when one man dies, one chapter is not torn out of the book, but translated into a better language; and every chapter must be so translated; God employs several translators; some pieces are translated by age, some by sickness, some by war, some by justice; but God's hand is in every translation, and his hand shall bind up all our scattered leaves again for that library where every book shall lie open to one another. As therefore the bell that rings to a sermon calls not upon the preacher only, but upon the congregation to come, so this bell calls us all; but how much more me, who am brought so near the door by this sickness.
There was a contention as far as a suit (in which both piety and dignity, religion and estimation, were mingled), which of the religious orders should ring to prayers first in the morning; and it was determined, that they should ring first that rose earliest. If we understand aright the dignity of this bell that tolls for our evening prayer, we would be glad to make it ours by rising early, in that application, that it might be ours as well as his, whose indeed it is.
The bell doth toll for him that thinks it doth; and though it intermit again, yet from that minute that this occasion wrought upon him, he is united to God. Who casts not up his eye to the sun when it rises? but who takes off his eye from a comet when that breaks out? Who bends not his ear to any bell which upon any occasion rings? but who can remove it from that bell which is passing a piece of himself out of this world?
No man is an island, entire of itself; every man is a piece of the continent, a part of the main. If a clod be washed away by the sea, Europe is the less, as well as if a promontory were, as well as if a manor of thy friend's or of thine own were: any man's death diminishes me, because I am involved in mankind, and therefore never send to know for whom the bell tolls; it tolls for thee.
Neither can we call this a begging of misery, or a borrowing of misery, as though we were not miserable enough of ourselves, but must fetch in more from the next house, in taking upon us the misery of our neighbours. Truly it were an excusable covetousness if we did, for affliction is a treasure, and scarce any man hath enough of it. No man hath affliction enough that is not matured and ripened by it, and made fit for God by that affliction. If a man carry treasure in bullion, or in a wedge of gold, and have none coined into current money, his treasure will not defray him as he travels. Tribulation is treasure in the nature of it, but it is not current money in the use of it, except we get nearer and nearer our home, heaven, by it. Another man may be sick too, and sick to death, and this affliction may lie in his bowels, as gold in a mine, and be of no use to him; but this bell, that tells me of his affliction, digs out and applies that gold to me: if by this consideration of another's danger I take mine own into contemplation, and so secure myself, by making my recourse to my God, who is our only security.
3.4.13 Reading and Review Questions
How, if at all, can readers reconcile Donne's love poems with his religious poems? Do his love poems contain religious, or spiritual, elements?

How, if at all, do Donne's poems reconcile a cynical realization of the many, or life's heterogeneity, with his thirst for the Absolute, or the one. Do his poems offer partial solutions to his dilemma?

Why do you think Donne uses words like all, infinity, everywhere; or claims that his love is like America? What's their effect, and why?

How do Donne's poems compare with Elizabethan love poetry? Consider the decorum and conventions of Elizabethan poetry that praises and pines for distant and idealized ladies in gentle and courtly language. How does Donne's poetic style compare with the Elizabethans'?

How, if at all, does Holy Sonnet 10 relate to Meditation 17? What attitude towards God and man do these works suggest?