Chapter 6: Connecting Art to Our Lives
Peggy Blood, Rita Tekippe, and Pamela J. Sachant
6.1 LEARNING OUTCOMES
After completing this chapter, you should be able to:
Identify the purposes art serves in society

Understand the philosophy of aesthetics in the visual arts

Understand the function of art as a means of communication

Understand how architectural forms contributed and enhanced to religious cultures
6.2 INTRODUCTION
Art has been described as humankind's most enduring achievement. From the time of early cave dwelling to contemporary society, art has served as a vehicle for translating our insights into understanding others and ourselves. The creation of art may have different aims, for example, to make something beautiful, to be broadly expressive and emotional (without connection to beauty) for personal reasons, to illustrate concepts and beliefs of great importance to its creators, to show ways in which a group is unified, or to make a social or political statement. These disparate aims have one thing in common: they each seek in some way to connect art to our lives.
6.3 AESTHETICS
Aesthetics, the study of principles and appreciation of beauty, is linked to our thinking about and connections to art. During the eighteenth century in Europe, philosophers and other thinkers began to question the interrelationship of art, beauty, and pleasure. German philosopher Immanuel Kant characterized the appreciation of beauty as the "judgment of taste," which is comprised of two parts: subjectivity and universality. Subjectivity, as the term suggests, is based on the feeling of pleasure or displeasure experienced by the individual viewer. Universality refers to views about art that are held in common, the "norm," so to speak. Kant believed the beauty of art can only be appreciated when the viewer is "disinterested," that is, when the viewer is deriving pleasure that is not based upon or produces desire. If the viewer's subjective judgment is disinterested, then a universally valid measure of taste can be rendered. Only if the viewer can separate the appreciation of art from the desire for it, and is instead interested in art for its pure beauty, or aesthetics, can the viewer be said to have achieved the judgment of taste.
Writers, composers, and artists who were part of the Romantic movement that emerged in Europe at the end of the eighteenth century soon questioned Kant's belief that aesthetics or the study of beauty in art, what he termed the judgment of taste, was both disinterested and universal. Turning away from categories and definitions based on rationality, Romanticism celebrated spontaneity, emotion, the individual, and the sublime: intellectual and imaginative sensations that defy measurement or explanation.
Romantic painter Eugène Delacroix (1798-1863, France) spent his lifetime seeking to express the extremes of human emotion and experience in his work based on history, literature, current events, and his own travels. With passages of brilliant color applied in thick, vigorous brush strokes, Delacroix depicted beauty, violence, tragedy, and ecstasy with equal passion, in waves of movement swiftly passing across his canvas. This quality can be seen in The Death of Sardanapalus where the shadowed figure of the Assyrian king surveys the scene of carnage taking place before him with dispassion. (Figure 6.1) Although historical accounts indicate that Sardanapalus did have all of his possessions destroyed, including his concubines and horses, rather than surrender them to his enemies, Delacroix largely relied on his own imagination for his frenzied interpretation and embellishment of the scene.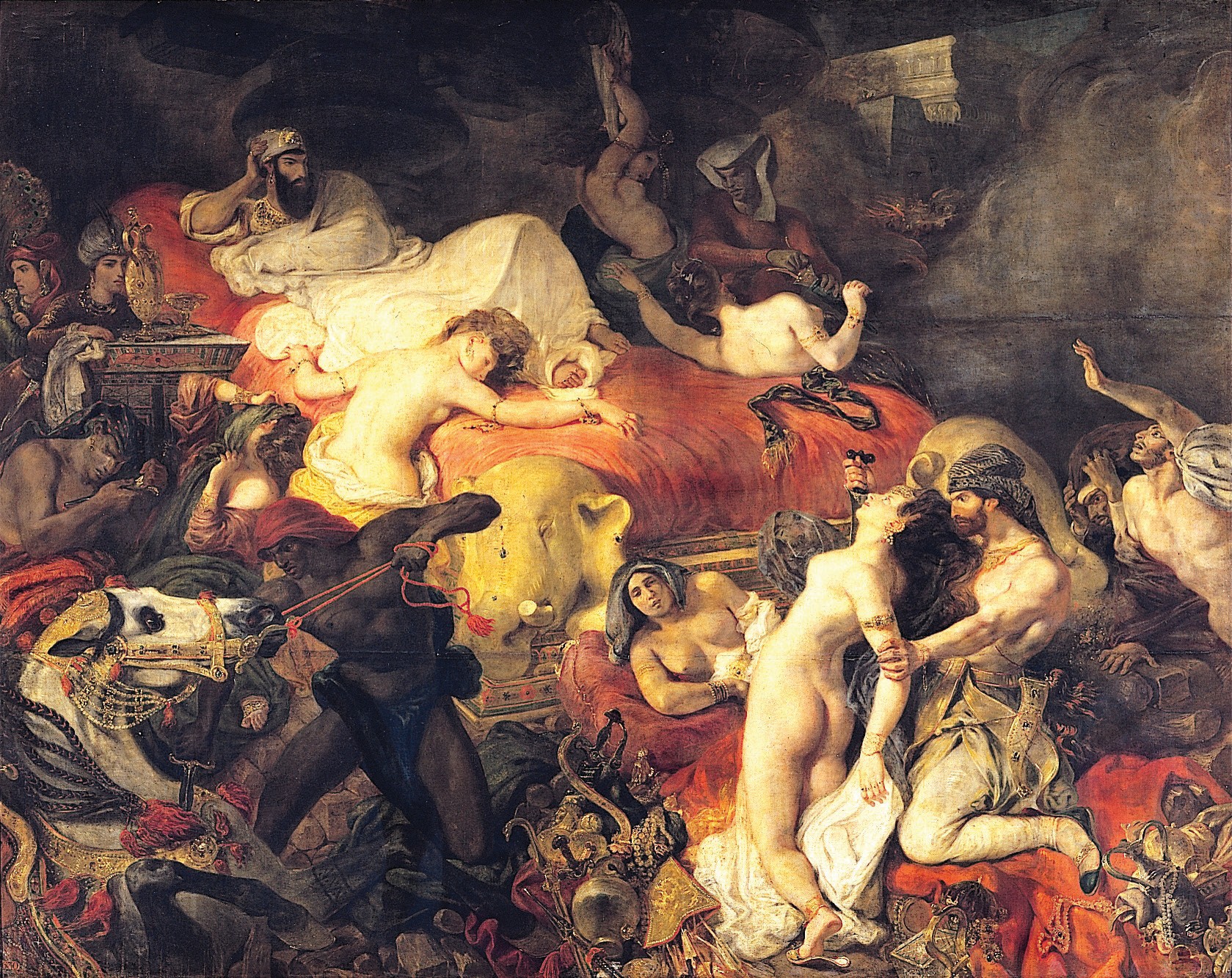 Figure 6.1 | Death of Sardanapalus
Artist: Eugène Delacroix
Author: User "Marianika"
Source: Wikimedia Commons
License: Public Domain
John Dewey, an American philosopher, psychologist, and educational reformer, in 1934 wrote Art and Experience. He described the aesthetic experience in ways that somewhat reflect the process Delacroix brought to his painting. Dewey stated, however, that although it begins with the art object, the experience of art extends far beyond that one element to produce an ongoing exchange between artist, viewer, and culture at large that culminates in an experience that is a "manifestation, a record and celebration of the life of a civilization."1 The "sudden" pleasure one feels when engaging with a work of art or architecture is, in fact, the product of a long process of growth and engagement. For example, walking around and through a grand structure such as Reims Cathedral (1211-1275) in France, with its High Gothic façade, lavish sculptural decoration, extreme verticality, and expansive windows, is breathtakingly impressive because object (building) and experience have coalesced. (Figure 6.2) Further, we continue learning from the experience of observing art or beauty—what, why, and when depends on how much we receive from the experience and from successive encounters.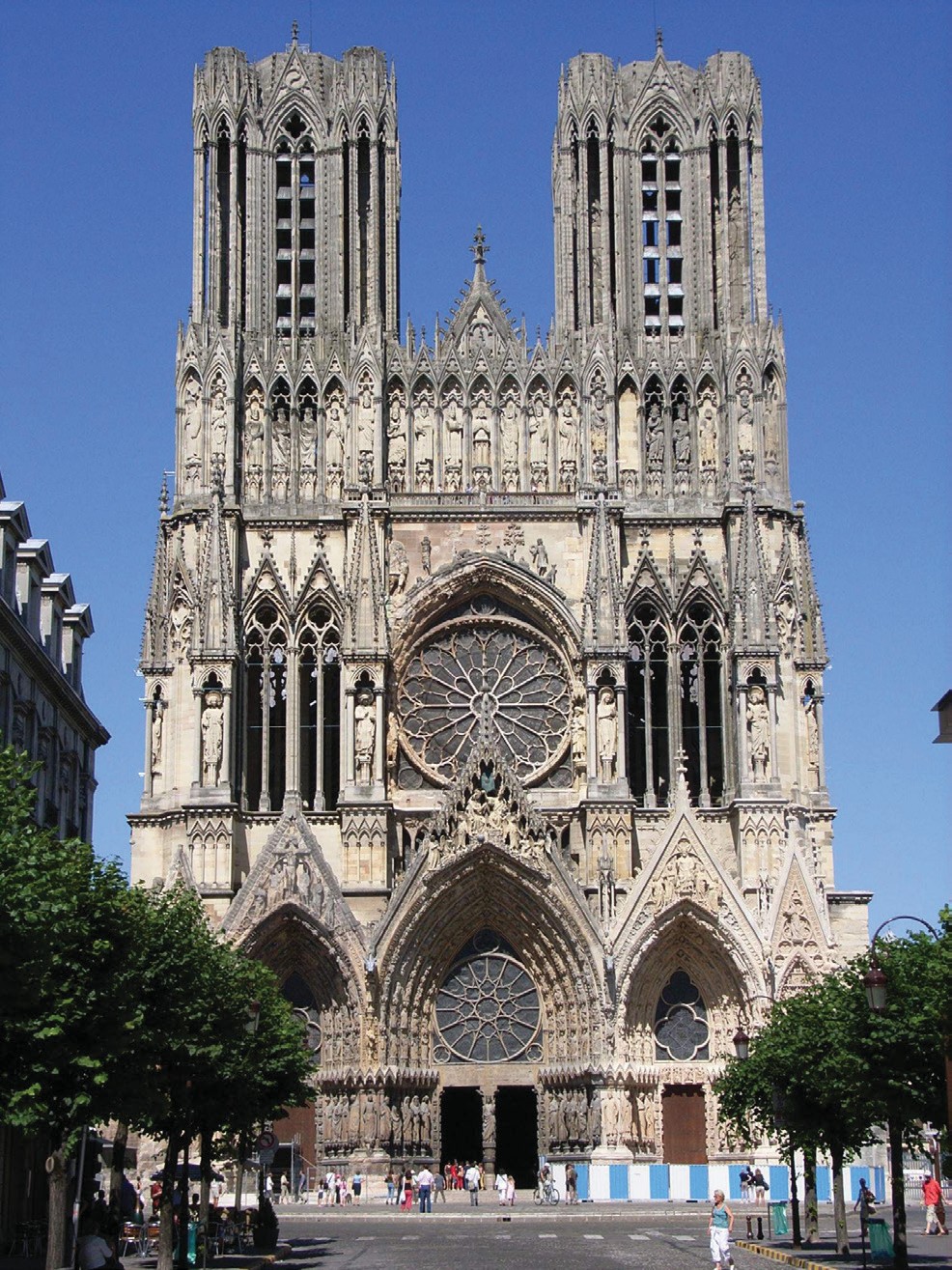 Figure 6.2 | Cathedral of Reims
Author: User "bodoklechsel"
Source: Wikipedia
License: CC BY-SA 3.0
The movement in thinking about aesthetics from Kant's judgment of taste, with its assumption of an intellectually-based universality, to Dewey's claim that the aesthetics of the work of art are found in the viewer's experience of it, at that moment and over time, mirror substantial changes that have taken place in all aspects of scientific and intellectual thought over the past three centuries. What we can learn from their theories is that we can examine ideas about "fine arts," "beauty," and "aesthetics" and perhaps come up with similar definitions conveying ideas of pleasure, temporary enlightenment, and human experience—but, we may not.
For example, Miami-based artist Jona Cerwinske (USA), began his career making graffiti art and street murals and considers any surface a ground for art. In 2007, he covered a Lamborghini car with an intertwined network of organic shapes and geometric lines. (Lamborghini Art, Jona Cerwinske) This work of art could be described as an example of disinterested contemplation: you look at the Lamborghini and contemplate the beauty and elegance of the car and its design. In this way, the car's aesthetic appeal stems from admiration of the object and the delight it gives; it is a judgment of taste. Conversely, it could be described as an aesthetic experience: looking at the Lamborghini produces a response of pleasure, perhaps at its beauty, its place in the history of fine motor cars, or the thought of owning and driving such a prestigious and fast vehicle. In this case, appreciation of beauty is both a broadly intellectual as well as an individual emotional response.
6.4 EXPRESSION (PHILOSOPHICAL, POLITICAL, RELIGIOUS, PERSONAL)
Art has important functions in facilitating various types of human expression. Both creating and viewing art can provide us means of stating or affirming our personal and collective feelings, thoughts, ideals, and attitudes. Often we learn values and philosophical ideas and themes through artistic means.
Among the many philosophy-based art movements of the late nineteenth century was the French group who called themselves les Nabis, or the prophets. Their task as artists, they believed, was to revive ideals of painting, to prophesy modern modes, and to affirm spiritual goals by envisioning nature's roles in life and creating a new symbolism. Among the movement's leaders was Maurice Denis (1870-1943, France), who often depicted landscape settings imbued with biblical or mythical themes. (Figure 6.3) His paintings are abstracted statements about his philosophies of faith and of the need for honesty in art. With willowy figural forms that were lyrically flattened in space, he asserted the two-dimensionality of the picture plane, seeking to avoid the delusions of depth and emphasizing the surface of the work and the beauty of color.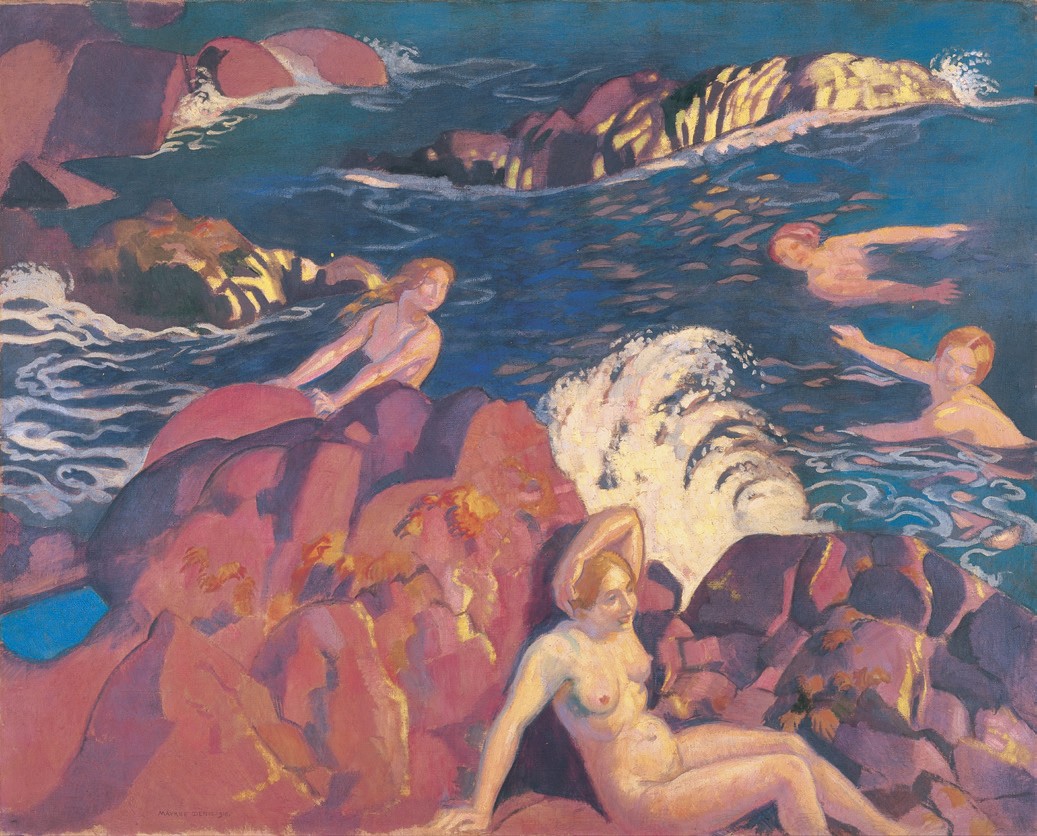 Figure 6.3 | Wave
Artist: Maurice Denis
Author: User "Dcoetzee"
Source: Wikipedia
License: Public Domain
Political statements are often wed to philosophical principles in the ways that they are given artistic expression. Such was the case with grand American landscape paintings such as Emigrants Crossing the Plains by Albert Bierstadt (18301902, Germany, lived USA). (Figure 6.4) This painting was associated with the nineteenth-century philosophy of Manifest Destiny which promoted the idea that the assimilation of land and the use of the natural resources of the western parts of the United States were God-given rights and duties for the people who had settled here. Essentially, the settlers (who were mainly of European descent) were destined to occupy and civilize the lands from one coast to the other. This philosophy justified the political actions that took away the Native Americans' rights and also led to the Mexican-American War (1846-1848).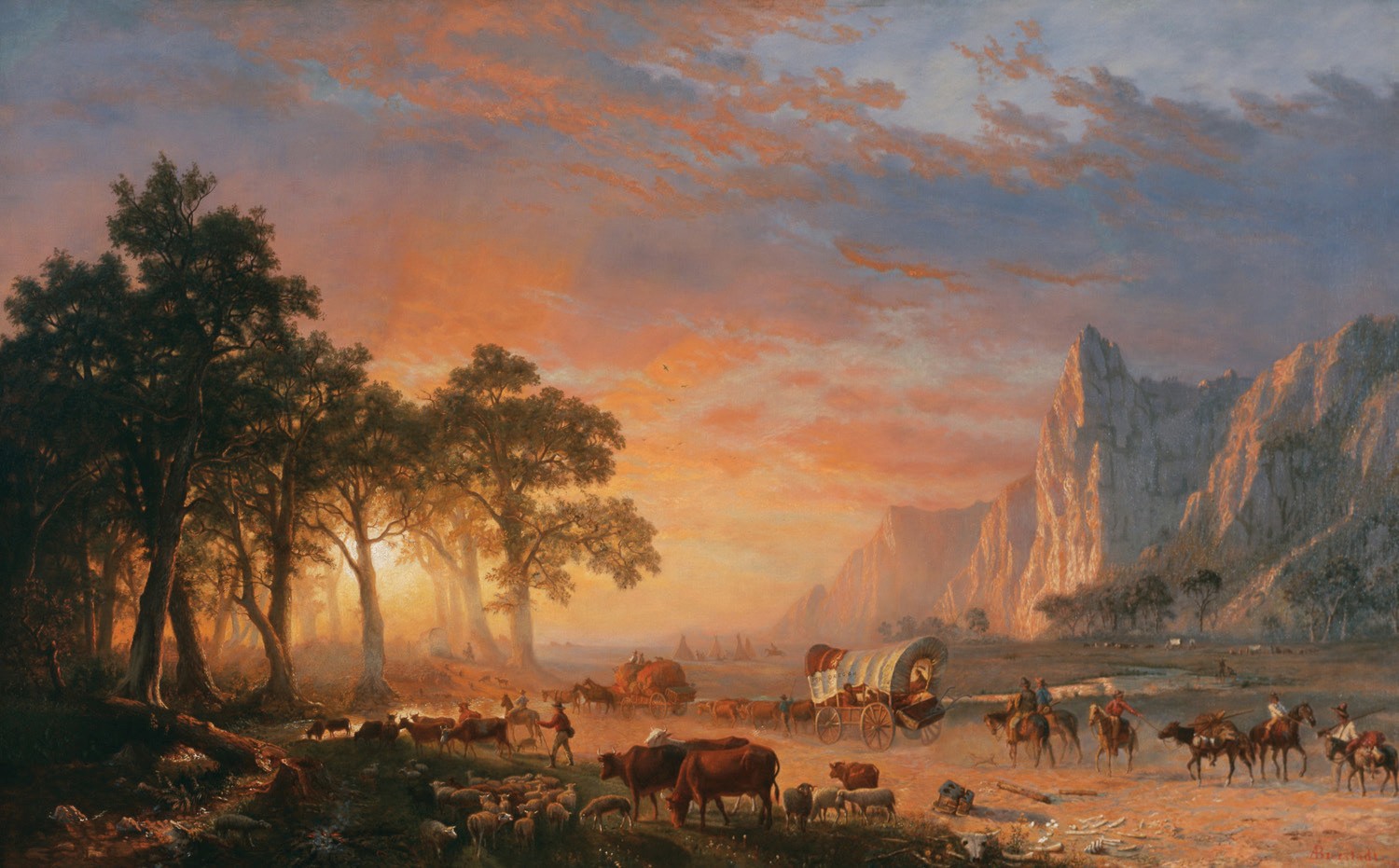 Figure 6.4 | Emigrants Crossing the Plains or The Oregon Trail
Artist: Albert Bierstadt
Author: BOCA Museum of Art
Source: Wikimedia Commons
License: Public Domain
The history of art is replete with instances of political statements and political propaganda, as we have seen. In ancient Rome, the Emperor Augustus not only presented himself as very young and fit in his portrait (see Figure 4.20), but also promoted his political agenda through such public monuments as the Ara Pacis. (Figure 6.5) This altar dedicated to the goddess of peace is adorned with messages about the peace and prosperity Augustus was bringing to the citizens through his many virtues and achievements, including his conquest of foreign lands, association with the Roman deities, role as chief priest, promotion of the family as the cornerstone of the empire, wisdom of the imperial/senatorial rule, and alleged ancestry leading back to the legendary founding of Rome by Romulus and Remus. All these pictorial messages served to characterize the ways that Augustus wanted his relationship to the people to be perceived. With its enclosed altar table, the Ara Pacis also carried religious messages about the practices of making sacrifices to the pagan deities, carried out by Augustus in his role as chief priest.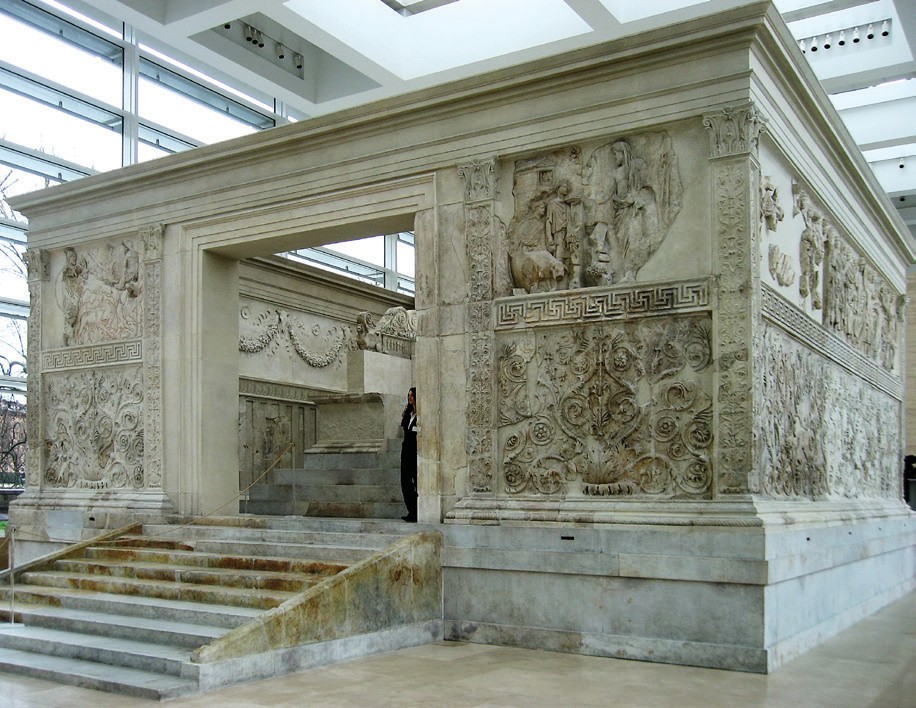 Figure 6.5 | Ara Pacis in Rome, Italy
Author: User "Manfred Heyde"
Source: Wikimedia Commons
License: CC BY-SA 3.0
Such public artistic expressions have been common throughout time, but there have also been many statements of personal belief, sentiment, or feeling. Personal statements can also reflect on a person's status or occupation. Painter Adélaïde Labille-Guiard (1749-1803, France) portrays herself as highly positioned in society by virtue of her own skills in portraiture and her role as a teacher. (Figure 6.6) John Singleton Copley (1738-1815 USA, lived England) created a portrait of Mrs. Ezekiel Goldthwait that conveys her wealth and status through clothing and setting. (Figure 6.7) At the same time, by having her reach for the fruit on the table, he alludes to her other accomplishments, including being the mother of thirteen children, a gifted gardener, and a wealthy landowner with orchards in colonial Boston.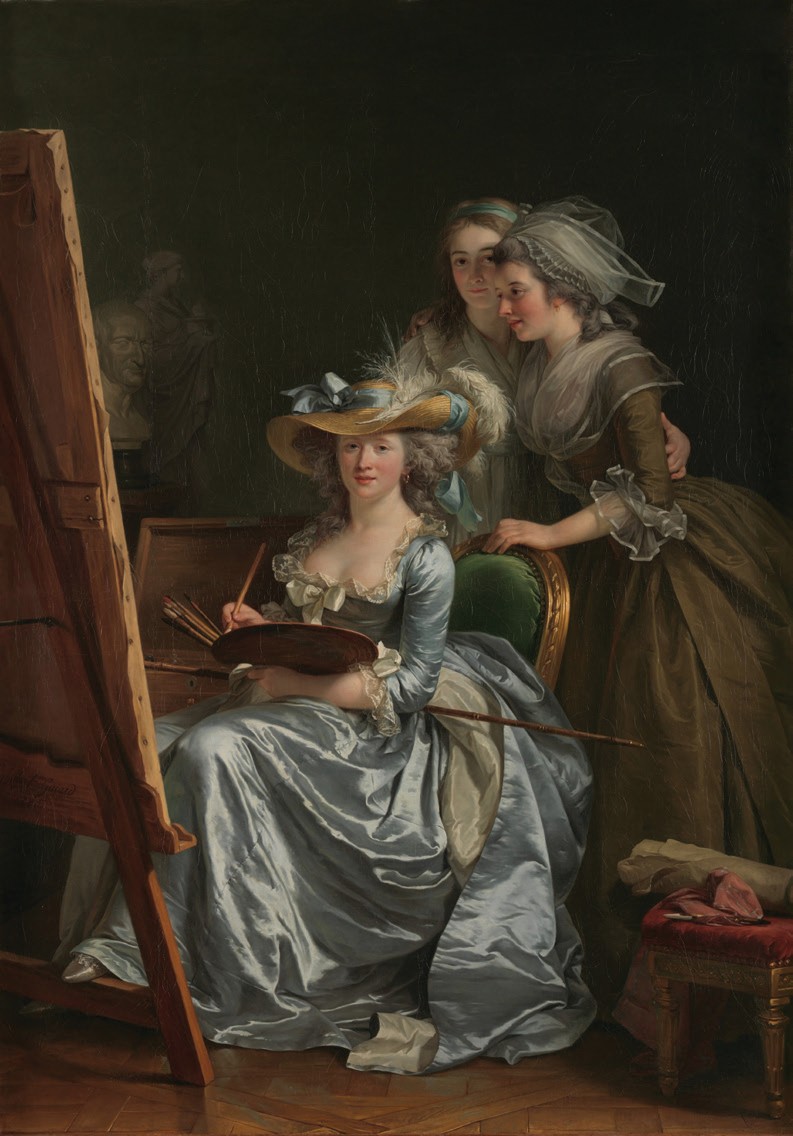 Figure 6.6 | Self-Portrait with Two Pupils
Artist: Adélaïde Labille-Guiard
Source: Met Museum
License: OASC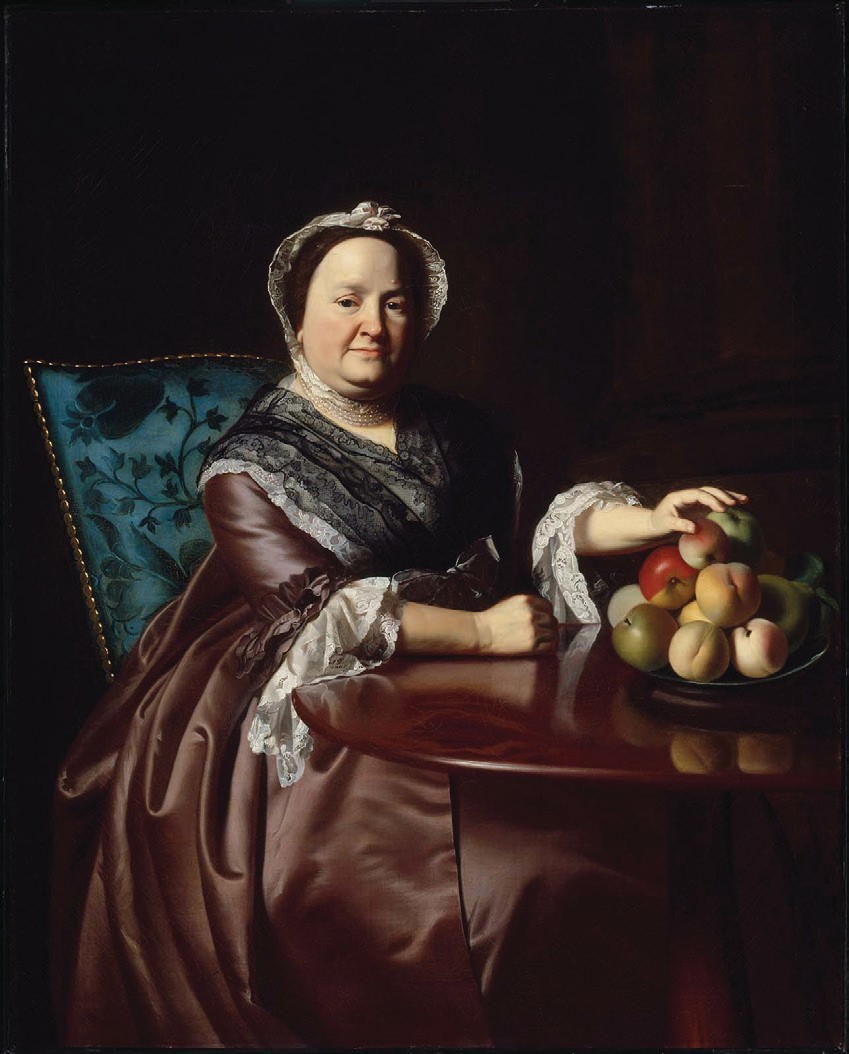 Figure 6.7 | Mrs. Ezekiel Goldthwait
Artist: John Singleton Copley
Source: Museum of Fine Arts Boston
License: Public Domain
6.5 UNIFICATION/EXCLUSION
Art and architecture can be used as a means of bringing together a group of people with like beliefs or views, and emphasizing what they have in common. In demonstrating how they are alike, such objects and places can also indicate how others are different, which can lead to the exclusion of those who hold different beliefs or views. The Dome of the Rock is such a place.
The events that have been agreed upon as having occurred, and their relative importance, are key to understanding the Dome of the Rock or Qubbat as-Kakhrah in Jerusalem. (Figure 6.8) Its site, origins, and various past and present uses are all factors in the shrine's meaning and significance to the people of different backgrounds and faiths for whom it is a holy place. The Dome of the Rock was completed in 691 CE as a shrine for Muslim pilgrims by the Umayyad caliph, or political and religious leader, Abd al-Malik. The sacred rock upon which the shrine is built marks the site where Muhammad ascended to heaven on a winged horse. Part of the Temple Mount or Mount Zion, the rock is said to have great importance before Muhammad, as well, by those of the Jewish, Roman, and Christian faiths. It is the site where Abraham prepared to sacrifice his son, Isaac; according to the Hebrew Bible, Solomon's Temple, also known as the First Temple, was later erected there; Herod's Temple, completed during the reign of the Persian King Darius I around 516 BCE was next built; and it was destroyed in 70 CE under Roman Emperor Titus, who had a temple to the god Jupiter built on the site.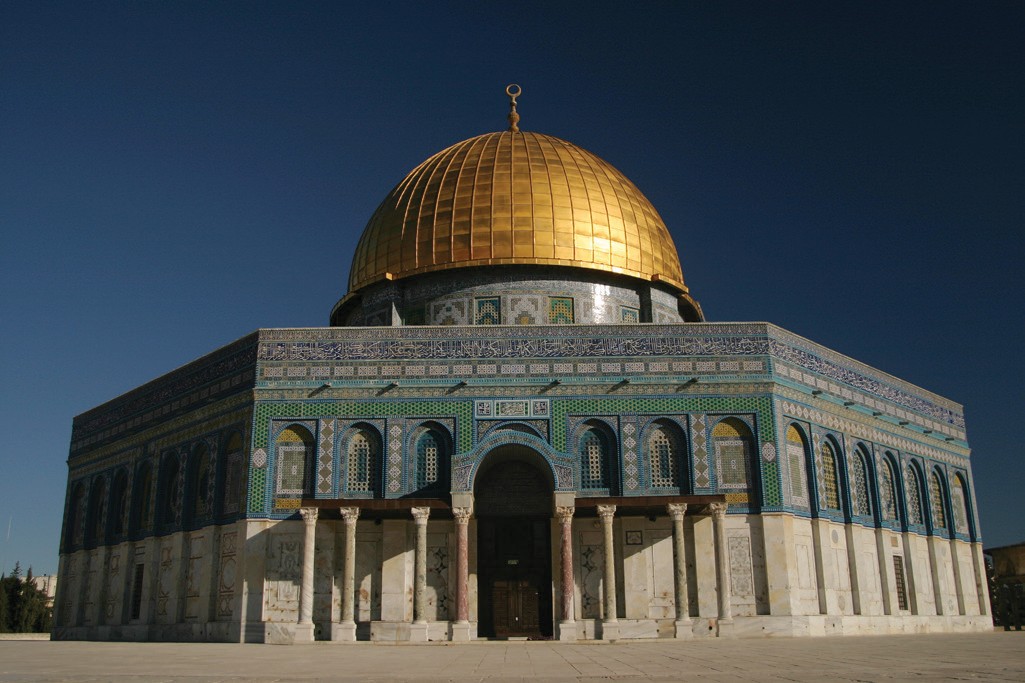 Figure 6.8 | The Dome of the Rock
Author: User "Brian Jeffery Beggerly"
Source: Wikimedia Commons
License: CC BY 2.0
As Christianity grew in the succeeding centuries, the city of Jerusalem, then part of the Byzantine Empire (c. 330-1453), became a destination for pilgrims visiting places Jesus was said to have lived or traveled to in his lifetime. But, the city came under Muslim rule in 637 CE, and it is thought that Caliph Abd al-Malik had the Dome of the Rock built on the holy site to demonstrate the lasting power of the Islamic faith, and to rival the Byzantine Christian churches in the region. As a young faith, Islam did not yet have a "vocabulary" of architectural forms established. Muslim builders and artisans instead borrowed from existing structures—houses of worship, palaces, fortifications—throughout the Mediterranean and Near East.
One of the inspirations for the Dome of the Rock is the dome of the Church of the Holy Sepulcher, also in Jerusalem, that was built in 325/326 CE on what is believed to be Calvary, where Jesus was crucified, as well as the sepulcher, or tomb, where he was buried and resurrected. (Figure 6.9) While the overall plans of the two buildings are markedly different, the domes are nearly the same shape and size: the dome of the Church of the Holy Sepulcher is approximately sixty-nine feet in height and diameter, while that of the Dome of the Rock is sixty-seven feet. Each of the eight outer walls of the Dome of the Rock is sixty-seven feet, as well, giving the octagonal structure the balance of relative proportions, and rhythmic repetition of forms found in many Christian central-plan churches, that is, with the primary space located in the center. (Interior Diagram of the Church)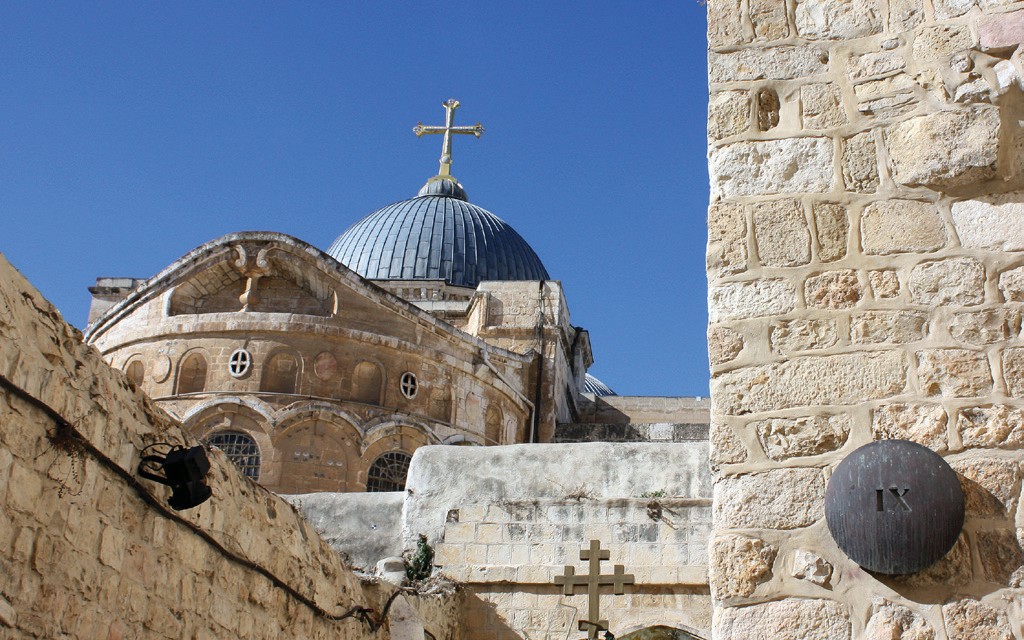 Figure 6.9 | Exterior view of the Church of the Holy Sepulchre
Author: User "Anton Croos"
Source: Wikimedia Commons
License: CC BY-SA 4.0
The Dome of the Rock has passed between the hands of Muslims, Christians, and Jews many times since it was built. Today, Jerusalem is part of Israel, but the Dome of the Rock is maintained by an Islamic council within Jordan's Ministry of Awqaf (religious trust), Islamic Affairs, and Holy Places. Since 2006, non-Muslims have again been allowed on the Temple Mount, during certain hours and after having gone through security checkpoints, but Muslims only are allowed into the Dome of the Rock. Some Orthodox Jews believe it is against their faith to visit the holy site at all.
The Dome of the Rock is one example of a holy site upon which a building or a succession of buildings devoted to different religious beliefs has been erected. Such a structure may have been used for hundreds of years by a group following a faith dissimilar to those before or after who claim ownership of it, and the structure may share architectural elements with houses of worship from other religious systems. Those things are not necessarily important to the believers, although there are numerous occasions in history when destruction of a holy building with the intention of replacing it with a place of worship sacred to the new regime symbolizes a conqueror's defeat of a people and their religion.
Key, however, is the conviction that the site is hallowed: the holiness of the place is believed without question. Keeping that in mind, recognizing the long, varied, and sometimes contentious history of the Temple Mount, the Dome of the Rock, and the city of Jerusalem, as well as the significance of events that have taken place there to people of the Jewish, Islamic, and Christian faiths, what is remarkable is the site is not one of exclusion. There is tension and at best a parallel existence of religious ideologies, but considering the divergent meanings and strong significance of the site as a place of pilgrimage and worship to so many, while the Dome of the Rock is far from being a model of unification, it is not an example of rejection.
On a more individual level, Winslow Homer (1836-1910, USA) was born in Boston, Massachusetts, and started his career there as a printmaker before moving to New York City in 1859. He opened his own studio and did freelance work for Harper's Weekly, making sketches that he and other illustrators produced as wood engravings for the journal. Once the Civil War began in 1861, Homer became an artist-correspondent for the magazine, sometimes traveling to capture scenes on battlegrounds, in soldiers' camps, and other newsworthy locales. He often created informal narratives about both military and civilian life, the war as experienced by those on the battle lines as well as the home front. His images and the stories they told were about the people, their efforts, bravery, sacrifices, and attempts to maintain a semblance of normalcy in the midst of a war that was tearing the nation apart.
In addition to his drawings and prints, Homer began painting Civil War subjects in 1862. He showed a number of these paintings to critical and popular acclaim in the annual exhibitions at the National Academy of Design in New York between 1863 and 1866. One of the last Civil War paintings he created was The Veteran in a New Field. (Figure 6.10) He started it shortly after the war ended and President Abraham Lincoln was assassinated, both events occurring in April 1865. Homer depicts a soldier who has returned to his farm. Having cast aside his Union jacket, the soldier-farmer has taken up his scythe and, with broad horizontal sweeps, harvests a bountiful crop. This quiet scene is a reminder of the never-ending process of life, death, and rebirth. Homer captures the sense of anxious relief, deep sorrow, and tentative hope individuals and nation alike were experiencing at that time of transition.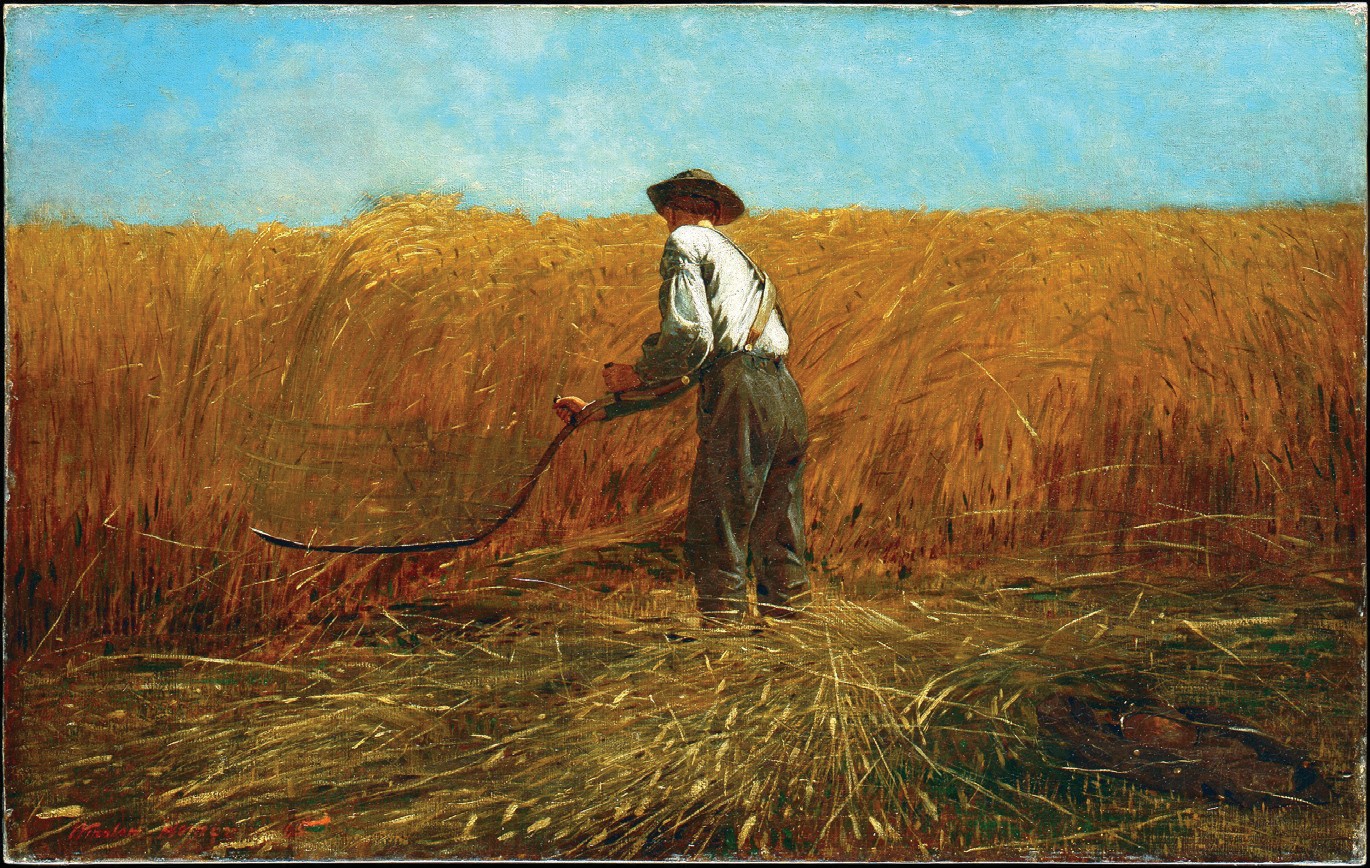 Figure 6.10 | The Veteran in a New Field
Artist: Winslow Homer
Source: Met Museum
License: OASC
Homer was quietly calling for a healing of the Union, seeking grounds for unification of a bitterly divided and sorely wounded nation. He saw this recovery as being possible through the continuity of meaning found in the land and commonalities of work.
6.6 COMMUNICATION
In past societies in which art played a central role, people communicated through their creativity. In societies where many people were illiterate, they understood and learned more from symbolism and images than from words. One such example is the Snake Goddess discovered by archaeologist Arthur Evans and his team in 1903 at the Palace of Knossos on the island of Crete. (Figure 6.11) Part of the Minoan civilization (c. 3650-c. 1,450 BCE), this deity is believed to be a fertility symbol, also known as a "Mother Goddess," a religious symbol that appears from prehistoric eras until the Roman Empire. The snake held in each of the figure's upraised hands is associated with fertility and symbolizes the renewal of life due to the fact that it periodically sheds its skin. The object tells us about the type of culture from which it is derived, articulating their beliefs, traditions, and customs. For the Minoans, there was no need to explain or interpret this image because it was easily understood by their community.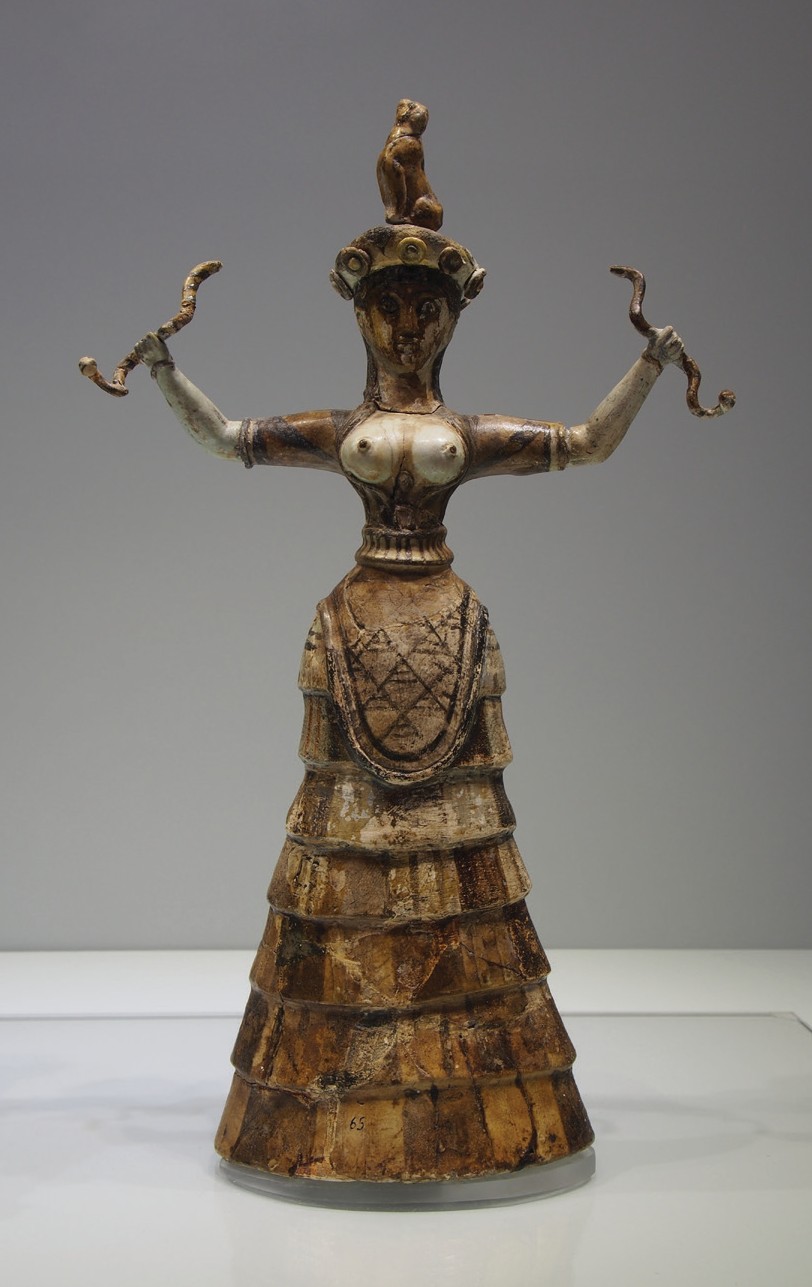 Figure 6.11 | Snake Goddess
Author: User "C messier"
Source: Wikimedia Commons
License: CC BY-SA 4.0
For Chinese art, different periods in history have given way to different meanings attributed to its imagery. Although numerous textiles, calligraphy, ceramics, paintings, sculptures, and other objects and works from China are thousands of years old, the idea of grouping them under the description of "Chinese art" has a short history. In this sense, art in China is not really that old. This is because the vast majority of people in China did not see the artifacts that are the artistic heritage of that country before the twentieth century—when the Nantong Museum, the first built by the Chinese and not colonial occupiers, opened in 1905—despite the existence of a sophisticated tradition of creating art and of collecting and showing art to the elite.
Categorizing Chinese art allowed statements to be made about the art and people. The various ways in which different meanings have been read into Chinese art at different periods of time is well illustrated in this jade gui tablet. (Jade Tablet) A gui is a ritual scepter, held by a ruler during ceremonies as a symbol of rank and power. According to researcher Tsai Wen Hsiung, the history of using jade can be traced back seven thousand years. Looking at jade plaques unearthed from the Stone Age and Neolithic period, it is evident that the Chinese people were the first to carve jade for ornaments. This jade tablet is from the Late Shandong Longshan Culture (c. 2650-2050 BCE). Located in Shandong province, it was the last Neolithic jade culture in the Yangtze Valley River region, a land area rich in resources. The tablet is one of a large number of artifacts made from jade in that creative era, many of which replicated weapons and tools. Jade was the most precious material available in the Yangtze region at the time the jade gui tablet was made.
The tablet represents the excellent manufactured craftsmanship of the Shandong Longshan culture. The stone has a yellow tone with grey and ochre natural coloring resulting from aging over time. In low relief slightly below the middle of the tablet is a stylized face of a god shown in a typically flattened view. (Detail of Jade Tablet) There is an eighteenth-century inscription by a Chinese emperior who provides an explanation of the decoration. According to art historian Chang Li-tuan, the tablet was originally plain, but during the Ch'ien–lung reign two poems from different years were engraved on it; the last engraving in 1754 was by the Ch'ien–lung Emperor. The stone with its décor of symbolic images and incriptions represents the Chinese love of antiquity, depicting a people uniquely proud of interpreting their history. It also shows us the tradition in Chinese art of contributing to the meaning of a work by adding words and imagery to it over time. In doing so, both the symbolism and the status of the object are enhanced.
A more modern use of communicating through symbols in art can be found among the Ashanti people of Ghana, West Africa, and the Kente cloth woven by them and others in the region, including the Ewe people. Using silk and cotton, the cloth is woven on specially designed looms in four-inch strips that are then sewn together. (Figure 6.12) Kente cloth was traditionally worn by kings during special ceremonies. The patterns and symbols woven into the cloth conveyed highly individualized messages that could not be reproduced by the weavers for any other individuals. Colors conveyed mood, with darker shades associated with grieving and lighter shades with happiness. Although the cloth was originally for political leaders, the design was not meant to convey a political message: it represented the culture's spiritual beliefs in symbols and colors.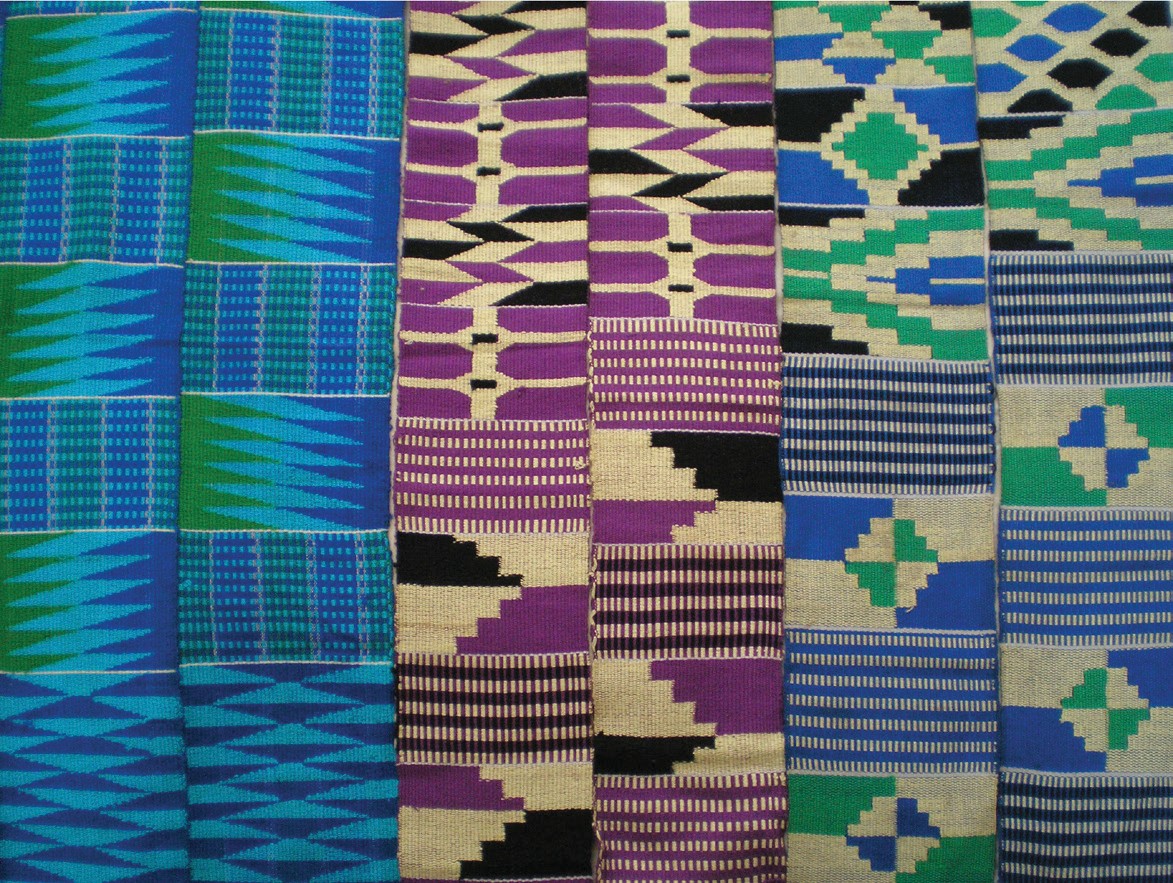 Figure 6.12 | Kente Weaving
Author: User "ZSM"
Source: Wikimedia Commons
License: CC BY-SA 3.0
In his conceptual art, Mel Chin (b. 1951, USA) does make a political statement. For example, he examines the psychological and social issues of imperialism in his black nine-by-fourteen-foot spider. In the stomach of the giant, intimidating spider is a glass case containing an 1843 china teapot on a silver serving tray. (Cabinet of Craving, Jesse Lott and Madeline O'Connor) The sculpture symbolizes the destructive co-dependence of empires, depicting the English craving for tea and porcelain during the Victorian era and the Chinese desire for silver that led to the Opium Wars (1839-42, 1856-60). Although Chin takes an indirect approach in making his political statement, it is nevertheless powerful.
6.7 PROTEST AND SHOCK
Art also connects to our lives as a means of expressing protest, as can be seen in the work of Jaune Quick-to-See Smith (b. 1940, USA), a Native American who often sarcastically comments on the history of the treatment of her people by Americans in general and by the United States government in particular. The impetus for these two works was the 1992 celebration of the 500th anniversary of Columbus's discovery of the "New World." (Trade (Gifts for Trading Land with White People), Juane Quick-to-See Smith; Paper Dolls for a Post Columbian World with Ensembles Contributed by US Government, Juane Quick-to-See Smith) Her commentary includes the commercialization and stereotyping of her people, and their relegation to reservations, with forced cultural changes, as well as such harmful effects as the introduction of the deadly smallpox disease among people with no previous exposure to it. Her drawings and paintings are often very simple and straightforward in method and style but show masterful techniques that she developed through sophisticated artistic training.
Certainly, the category of shock could be applied to the works by Smith we have just seen, and shock has been used increasingly in contemporary art to bolster political statements of protest or just commentary on our expectations and frames of reference. Ron Mueck (b. 1958, Australia) has made a point of repeatedly challenging the viewer with questions about life and relationships in his hyperrealist sculpture. (Mask II, Ron Mueck) He often creates works of the human form that are exceptionally out of scale, unexpectedly undressed, or placed in unusual postures, thereby creating many surprises among gallery goers, especially those who approach these uncanny works at a close distance.
6.8 CELEBRATION AND COMMEMORATION
The use of art to note the observance of particular life events for ordinary people, rulers, and officials of all sorts has been a frequent theme and appears in all eras and in myriad styles. The presentation of such an event can very effectively call atten tion to a distinctive new approach an artist takes. Such is the case for a painting in celebration of a wedding created by Henri Rousseau (1844-1910, France), a mostly self-taught artist. (Figure 6.13) Due to such stylistic traits as the lack of formal onepoint perspective and simplified treatment of the human form, Rousseau was described by critics as a naive painter. His style was embraced by many avant-garde artists at the time, however, as boldly moving away from traditional methods and ideas taught in art schools at the time. Artwork to express the grief of the living and to preserve and honor the memory of the deceased can be found in all ages and cultures. Funerary markers, some large and elaborate, have appeared in many eras. From ancient Greece, for example, we have a marble grave stele, or marker, carved with a portrait of a noblewoman seated on a Greek klismos chair, a curved-leg style then popular, while selecting a piece of jewelry from a young servant woman standing before her. (Figure 6.14) The jewelry, now missing, stood for the wealth of the individual, family, and society at large, and the state of well being that will continue for the group in spite of one individual's death.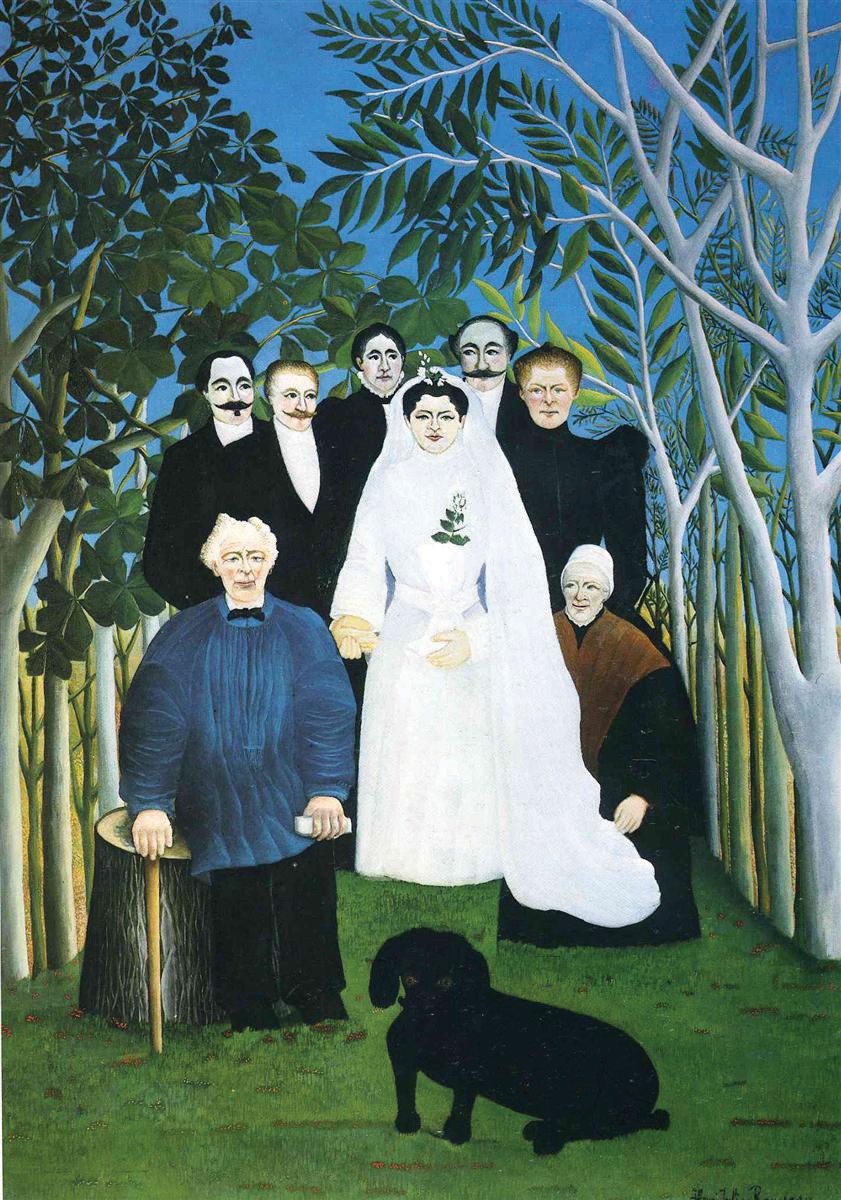 Figure 6.13 | The Wedding Party
Artist: Henri Rousseau
Source: Wikiart
License: Public Domain
Figure 6.14 | Funerary Stele of Hegeso
Artist: Kallimachos
Author: User "Marsyas"
Source: Wikimedia Commons
License: CC BY-SA 3.0
6.9 WORSHIP
Perhaps the most frequent use of art as a means of connecting to viewers' lives through the ages has been for religious purposes, often entailing the aspects of worship whereby a deity, person, or narrative is presented for the viewer to use in order to express their devotion, as an occasion of worship, or to contemplate its meaning. Among the most formalized types are cult statues—images of deities, saints, or revered figures—such as Varaha, the boar-headed avatar, or physical form, of the Hindu god Vishnu. Here, Varaha is rescuing the goddess Bhudevi by slaying the demon that had trapped her in the ocean. (Figure 6.15) Dangling in mid-air as she holds his tusk, Varaha returned Bhuvedi to her rightful place on earth.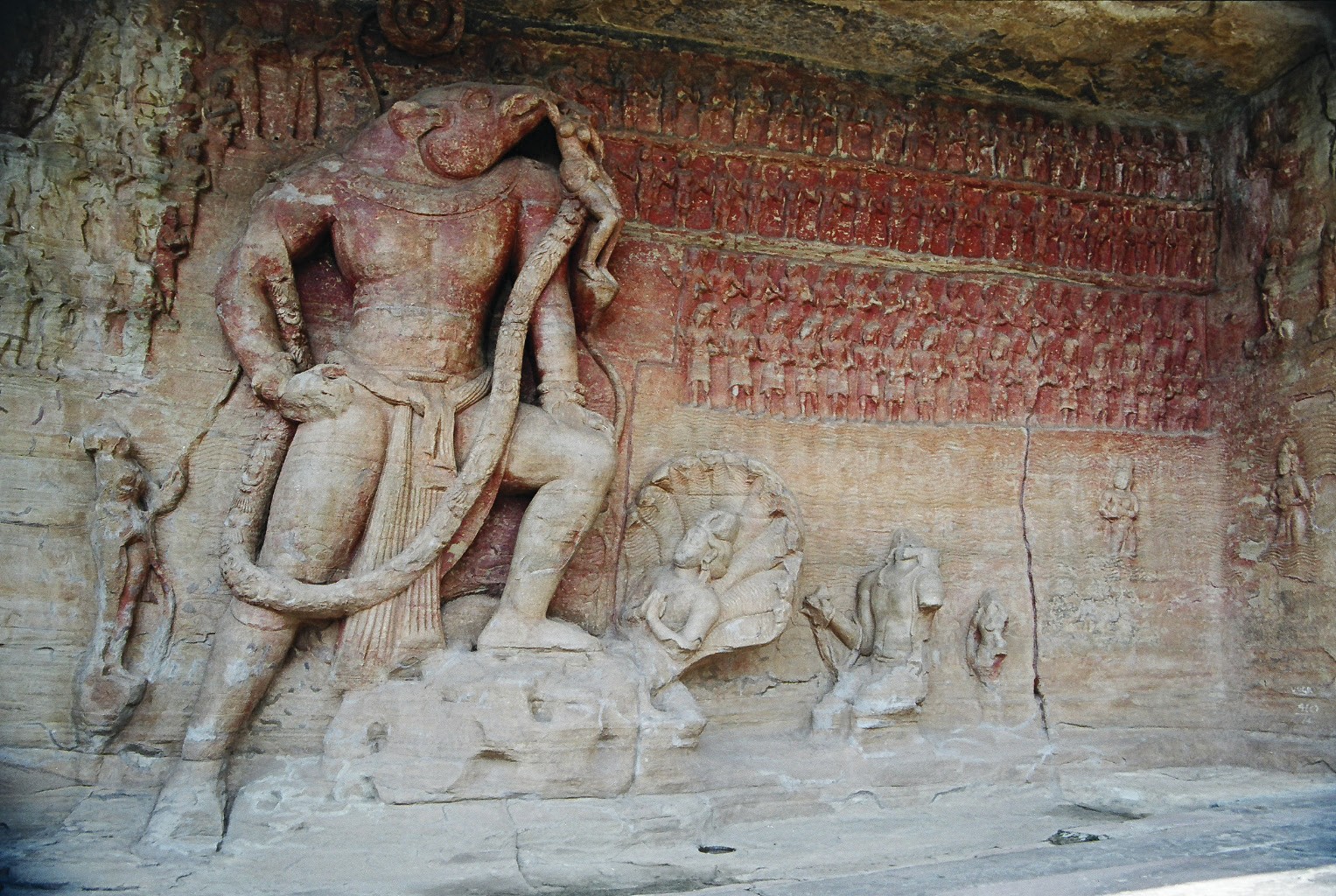 Figure 6.15 | Rock Carving Depicting Vishnu
Author: User "Clt13"
Source: Wikimedia Commons
License: CC BY-SA 2.5
Other examples include the enormous altarpieces that were a central focus in churches during the Middle Ages, Renaissance, and Baroque (seventeenth century) eras in Europe, altarpieces such as El Transparente in the Cathedral of Toledo, Spain. Its elaborate carvings and gilding interplay with natural sunlight that streams in from strategically placed openings in the wall and ceiling. (Figure 6.16) Such works are designed to be awe-inspiring, presenting the viewer/believer with a spectacular visual expression of mysteries of the faith.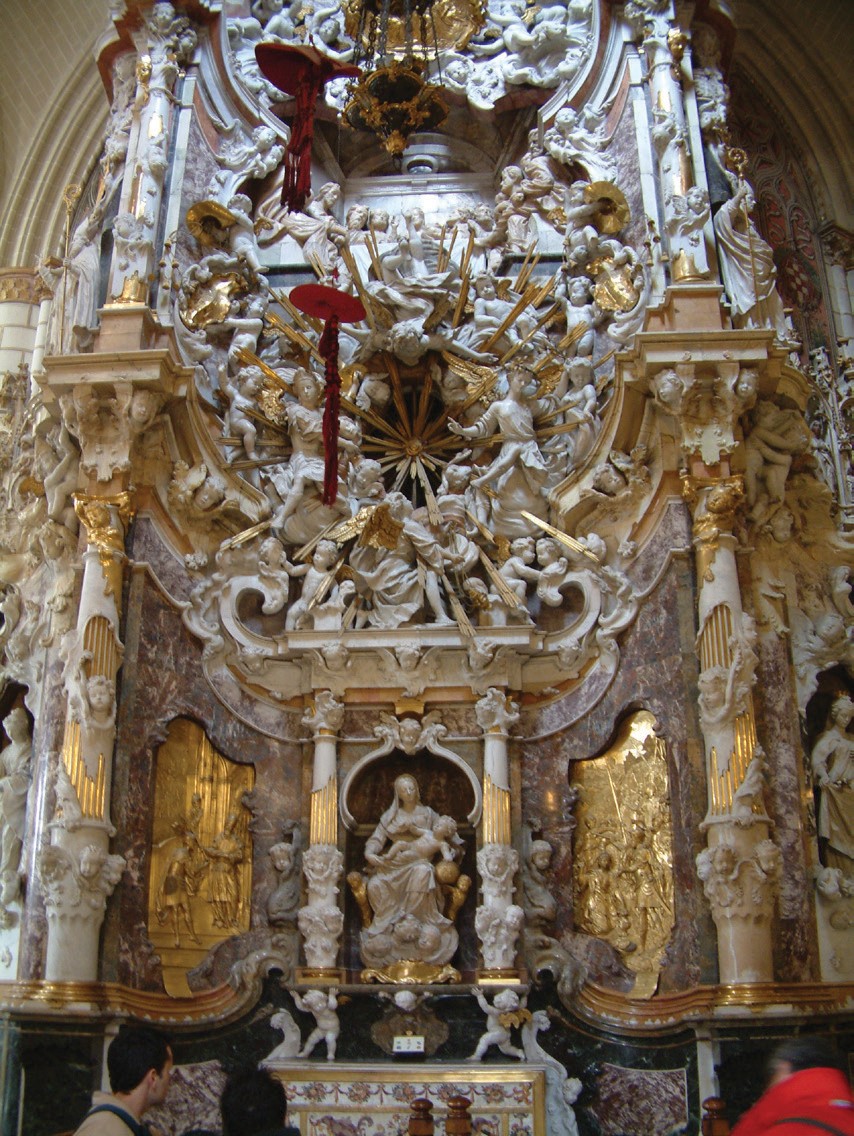 Figure 6.16 | El Transparente Altarpiece at Cathedral of Toledo, Spain
Author: User "Tim giddings"
Source: Wikimedia Commons
License: CC BY-SA 3.0
6.10 INFORMATION, EDUCATION, AND INSPIRATION
Art has often been used as a means to inform, to educate, and to inspire, and the religious works that we have viewed have been traditionally used for these purposes. In addition to those, we need to consider the many forms than have long been used to provide information for secular, or non-religious, purposes as well as those that have emerged more recently.
Perhaps the first would be the creation of scrolls and book forms, both of which occurred very early, the exact dates of which are indeterminate. We know the Egyptians created a form of paper made from flexible papyrus stems they rolled into scrolls and the Romans developed the codex form of books we use today, although each of these forms is also known to have been used by others. The Egyptians developed their system of writing in hieroglyphs, abstracted pictures that represent words or sounds, around 3,400 BCE. Literacy and writing was restricted among the Egyptians to highly educated scribes. (Figure 6.17) By around the first century BCE, the Romans had formalized a system of tiered education, that is, progressing through grades based on age and development of skills. Although formal schooling was generally reserved to those who could afford it, education was not restricted to any particular class or group. While the ancient Chinese used paper and printing methods from as early as the first century, these did not appear in the Western world for centuries afterwards. The invention of the printing press and movable type by Johannes Gutenberg in Germany in 1439 was truly momentous, as both written and pictorial forms could then be replicated and dispersed widely. (Figures 6.18 and 6.19)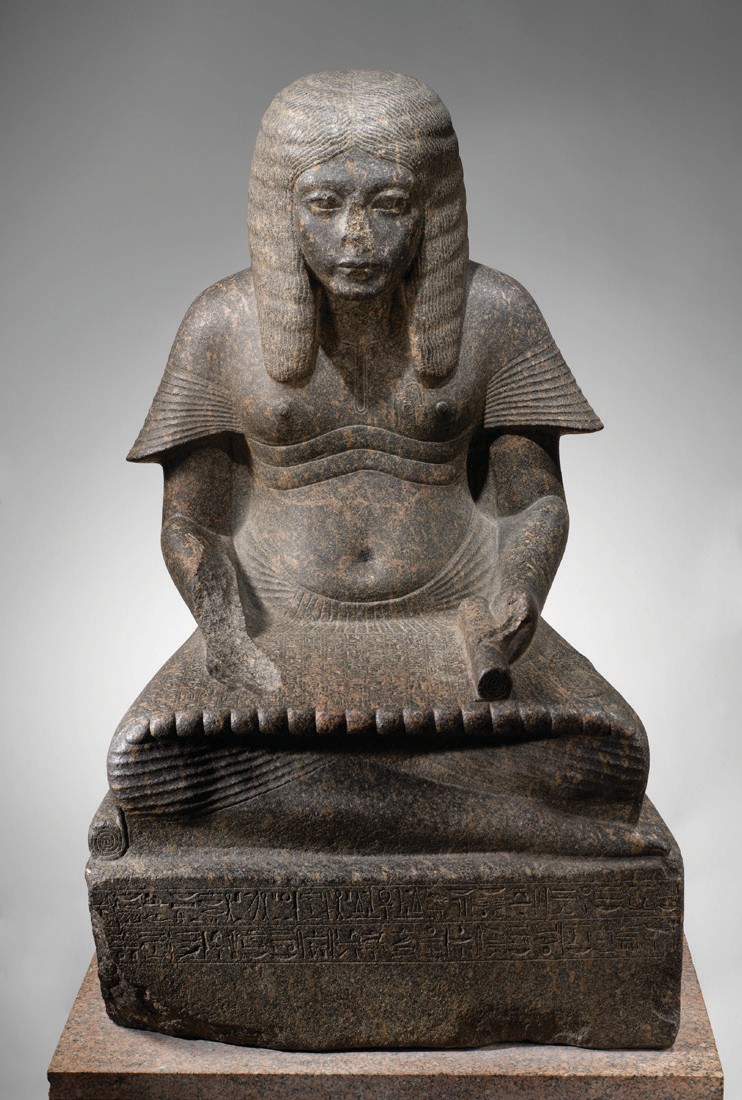 Figure 6.17 | Haremhab as a Scribe of the King
Source: Met Museum
License: OASC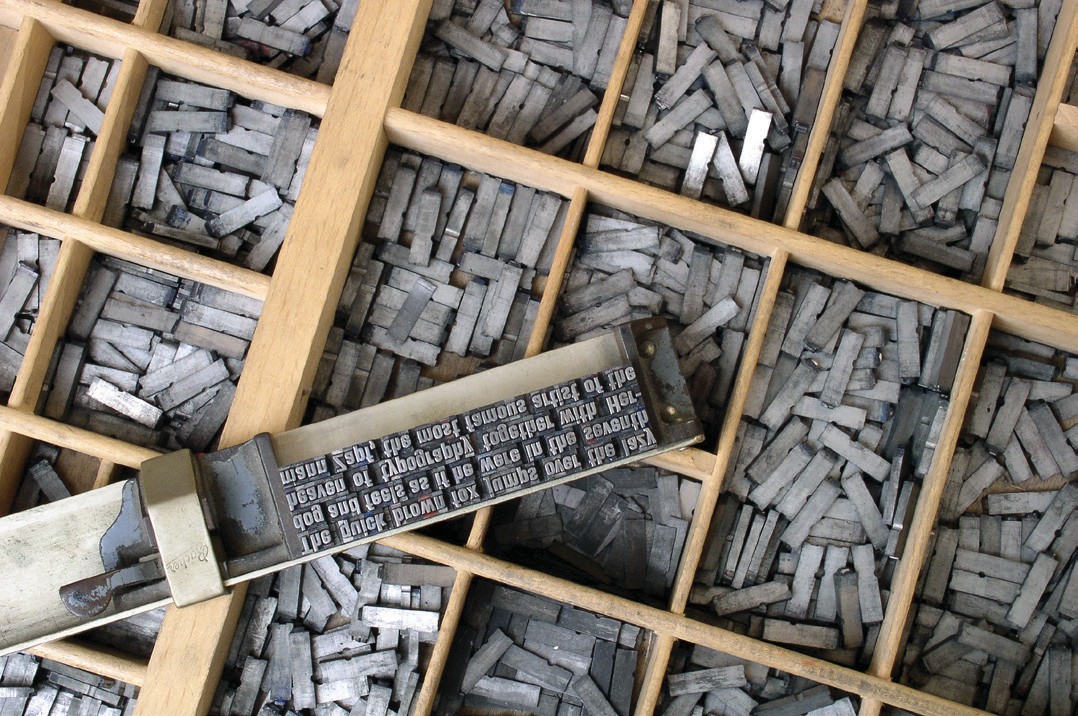 Figure 6.18 | Metal Movable Type
Author: Willi Heidelbach
Source: Wikimedia Commons
License: CC BY-SA 3.0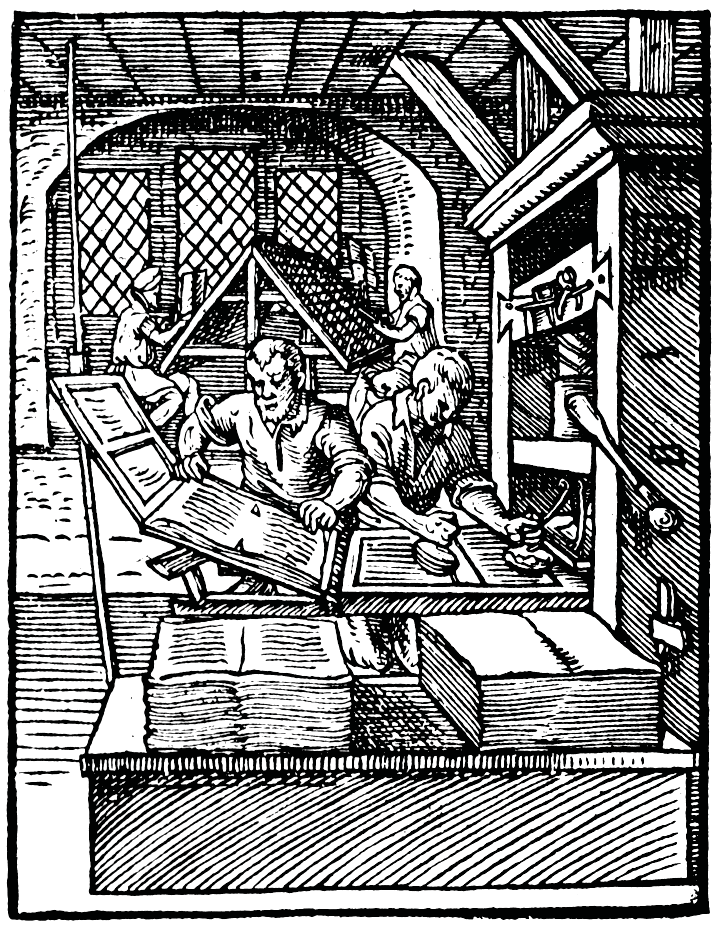 Figure 6.19 | Etching of 16th Century Printer
Artist: Jost Amman
Author: User "Parhamr"
Source: Wikimedia Commons License: Public Domain
The advent of photography beginning in the 1830s considerably broadened the potential dissemination of information. Photography's use in printed matter developed, and is notable for, the journalistic approach and documentary features it brought to newspapers and magazines in the early twentieth century that continue to this day. The graphic arts presented new means and a new arena for artists and also for the spread of information. Of course, at the same time, the potential for manipulation of these means resulted in the spread of a great wealth of material of dubious accuracy and purpose. Misinformation is spread as easily as information, so the need to critically evaluate the material and ideas you gather is increasingly important if you seek truth from art.
The early and mid-twentieth century brought us movies and television. From the late twentieth century to the present, the growth of visual media has greatly expanded the possibilities to the point that we are constantly bombarded with data we must assess with regard to its truth and value. The possibilities for gathering information and for using artistic means to inform are now broad and deep, and provide us with richly enticing and inspirational imagery for our viewing, thinking, learning, and art-making of all types.
6.11 BEFORE YOU MOVE ON
Key Concepts
We have observed in this chapter that art is like a mirror reflecting, communicating, and interpreting self, individuals, and society. Throughout history from primitive to modern, humans have been able to express a variety of ideas and feelings and even to evoke responses from neighbors through artistic markings and with the creation of structures. Those artistic expressions have been a major source in understanding each other and the world we live in. It has communicated in many different ways and styles the practical and abstraction, the cultural and the aesthetics of a people. As we have previously noted, Immanuel Kant characterized beauty or aesthetics and the practicality of it as a systematic way in understanding the range of the arts. We have noted that art can be an instrumental discipline, a powerful social or political force by which society interprets, controls, modifies, or adapts to their environment or to their personal taste and/or beliefs. Examples include the political and social statements of Jaune Quick—To—See Smith's "the Quincentenary Non-Celebration" or Jona Cerwinske's graffiti and murals, or the romantic and sacred aesthetic styles of Albert Bierstadt and Maurice Denis; the genre representation of cultural identity in the Ashante Kente cloth and the hyperrealist works of sculptor Ron Mueck; and in earlier years, a holy site like the Islamic structure The Dome of the Rock that is identified and recognized as a holy place by several diverse religious groups: Muslims, Jews and Catholics, thus representing several diverse groups all of which communicate powerful artistic messages. Each and all bring people together with like beliefs or views through an artistic structure of communicating: creativity (a substance of inventive, original , imaginative ideas); disposition (the character, temperament, formal structure qualities, and sequence); and style (communicating and delivering specific resources and physical attributes that send off a reaction).
Test Yourself
How did the development of photography impact social consciousness and awareness in the arts; cite examples. Discuss and show change and influence.

Historically, markings have been a means of delivering a religious message to different cultures. Identify and discuss at least three different early written religious art forms used to communicate a message. Explain the message and how it is influenced by the artist style in written form or imagery.

How have people used art to commemorate events in their lives throughout history? Show examples of images and elaborate on artist style and presentation of depicting the event.
6.12 KEY TERMS
aesthetics: the study of principles and appreciation of beauty.
Ara Pacis: an enclosed altar in Rome dedicated to Pax, the Roman goddess of Peace.
artifacts: a tool, weapon, or ornament created by humans that usually has historical significance.
avant-garde: works of art that are innovative, experimental, different from the norm or on the cutting edge.
avatar: physical form of the Hindu god Vishnu.
Bhudevi: a Hindu earth goddess and the divine wife of Varaha, an Avatar of Vishnu.
central-plan churches: are symbolic to reference the cross of Christ. Its round, cruciform, or polygonal design was popular in the West and East after the fourth century.
gui: a ritual scepter, held by a ruler during ceremonies as a symbol of rank and power.
hieroglyphs: abstracted pictures that represent words or sounds.
Kente cloth: woven silk and cotton wrap worn by Ashante kings during special ceremonies.
klismos chair: a curved-leg chair style popular in Ancient Greece.
les Nabis: a movement of Post –impressionist graphic and fine artists in France during the 1890s.
Neolithic period: known also as the Stone Age, is the last stage of prehistoric human cultural evolution. It is a period known for its polished stone tools, spread of architecture, megalithic architecture, and domestication of animals.
Palace of Knossos: the first Minoan monument located in Knossos. It was the residence of King Minos's dynasty, where he ruled.
Shandong Longshan Culture: Central China's Neolithic culture named after Longshan, Shandong Province. The culture is known for its production of black pottery.
Stele: grave marker.
Varaha: a Hindu god in the form of a boar during the Satya Yuga.
---
John Dewey, Art as Experience (New York: Minton, Balch, and Co., 1934), p. 326.↩