The selections in this chapter are from both Persian and Arabic sources. The center of the Persian Empire was located in what is modern-day Iran, and there was a long history of classical Persian literature before the Islamic invasion in the mid-seventeenth century C.E. After the violent overthrow of the Sassanid Empire by nomadic Arab tribes, the library in Ctesiphon (the capital city) was burned, as were libraries in other major cities. Although many pre-invasion Persian works were lost, some stories are recorded in later works. Abolqasem Ferdowsi, in his Shahnameh, writes the history of Persia from the creation of the world to the Islamic invasion; while Ferdowsi was Muslim, he writes in Persian, and his epic preserves the stories of Persia's Zoroastrian heroes (Zoroastrianism was the state religion of Persia before the invasion).
Medieval Persian authors often wrote in both Persian and Arabic, and the most prestigious literary form was poetry. In many cases, prose writing was combined with poetry, with lines of poetry appearing at regular intervals in the prose. The emphasis was on works that were educational or enlightening, rather than simply entertaining, so works such as the Rose Garden of Sa'di combined wise sayings and stories with humor and wit, demonstrating Sa'di's talents in both prose and poetry.
Sa'di often admires Sufi dervishes (similar to Christian mendicant friars in their poverty and austerity) in his works; an offshoot of Islam, Sufism combines Islamic, Christian, and Buddhist beliefs. The focus is on connecting with God; since humans are unable to understand God fully with their rational minds, Sufis attempt an emotional connection. Sa'di admired their willingness to confront rulers fearlessly about their (less-than) moral behavior, since death would only reunite them with God. Jalal al-Din Rumi, one of the finest poets in Persian literature, was also a founder of a Sufi order of dervishes (sometimes called "whirling dervishes" because of the spinning that they do to achieve a trance-like state of meditation). Although seemingly conventional on the surface, his love poetry ultimately is about longing for a spiritual union with God.
The Qur'an is the most important work in Arabic. Believed by Muslims to be the word of God as dictated to Mohammed through the angel Jibreel (Gabriel), its influence on Arabic literature and culture is immeasurable. Only the Qur'an in Arabic is considered to be the true Qur'an; any translation alters the actual words of the text, so followers are expected to read the text in the original language. Therefore, the text presented in this anthology is not the true document, but an approximation in English.
The other major work in Arabic in this chapter is secular: The Thousand and One Nights (also known as The Arabian Nights). Technically, this sort of storytelling would not have been considered "high" literature at the time, since it was not poetry, religious, or a collection of wise sayings. Its impact on literature, however, has been considerable, both in the Middle East and Europe. The stories are drawn from Arabic, Persian, and Indian folktales (among others). Thanks to early translations, many of the individual stories are well known around the world.
As you read, consider the following questions:
What kind of relationship do the heroes have to their societies, their leaders (rulers), their families, and their religion?

How is the frame tale found in The Thousand and One Nights similar to the frame tales in Chaucer and Boccaccio?

What is similar and different about the poetry of Rumi and Dante?

How is the Shahname similar to and different from the epics from the Ancient World (such as The Iliad, The Mahabharata, and The Aeneid)?

How has the role of religion changed in the stories, now that there are no pantheons of gods?
Written by Laura J. Getty
The roSe GArden (GoleSTAn or GuliSTAn)
Sa'dī (ca. 1213-1291 C.E.)
Published 1258 C.E.
Iran
Musharrif al-Dīn ibn Muṣlih al-Dīn, known as Sa'di or Saadi, wrote both poetry and prose in Persian. The Rose Garden is a combination of the two genres: mostly prose, with poems and lines of poetry scattered throughout. The stories and anecdotes in The Rose Garden offer examples of wisdom drawn from history and literature. Sa'di clearly admired Sufis, and he devotes a section of the work to "The Wisdom of Dervishes"; in it, the Sufi dervishes challenge rulers to behave morally, unafraid of earthly consequences. There are examples of rulers who are driven from power because of their cruelty, greed, or even stupidity. In other anecdotes, people are advised to avoid conflict when possible: suggesting, in one famous example, that a kind lie sometimes might be better than a harmful truth. The Rose Garden influenced authors such as Johannes Wolfgang Goethe, Victor Hugo, and Ralph Waldo Emerson, and it is still popular today.
Written by Laura J. Getty
6.2.1 The Rose Garden of Sa'dī
Sa'dī, translated by L. Cranmer-Byng and S. A. Kapadia
License: Public Domain
Chapter I
The Manners of Kings, Faithlessness of the World
This was written over the portico of the Palace of King Feridun.
The world, O brother! may with none abide.
Look to thy God, let Him suffice alone!
This world that cherished thee will cast aside:
A little while and all thy wealth is flown.
What matter when depart thou must,
If death should find thee in the dust, Or call thee from thy throne!
A Vision of Sultan Mahmud
One of the Kings of Khorasan in a dream beheld the vision of Sultan Mahmud, an hundred years after he had died. His whole body seemed to have crumbled and turned to dust, save only his eyes, which were moving in their sockets and looking about them. All the learned ones failed to interpret this, except a Dervish, who made obeisance and said: "He is still looking to see how it came to pass that his kingdom belongs to others."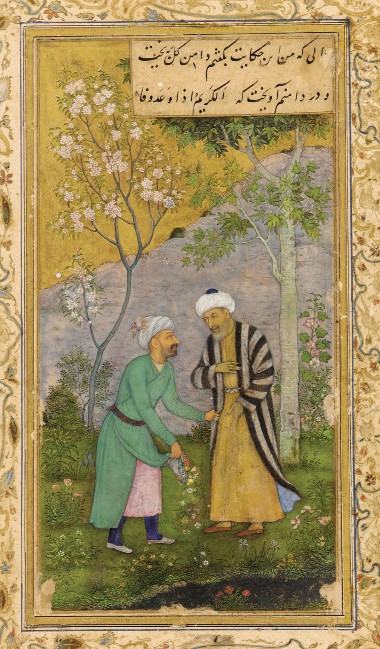 Image 6.1: Saadi in a Rose Garden | Saadi (also Sa'di) stands in a garden with another man, surrounded by flowers with a mountain the background.
Author: Govardhan
Source: Wikimedia Commons
License: Public Domain
Verses
Many are they, once famed, beneath the ground,
That left no record of their little worth,
And the old corse surrendered, earth to earth,
Was so consumed that not a bone is found.
The glories of King Nusherwan remain,
And time remembers his munificence.
Be generous, O friend! ere passing hence,
They shall proclaim thee with the moons that
wane.
On the Deception of Appearances
The man that never will declare his thought
Conceals a soul of honour or of sin.
Dost think yon silent jungle holdeth naught?
Perchance a lurking tiger sleeps therein.
Friendship
He is no friend who in thine hour of pride
Brags of his love and calls himself thy kin.
He is a friend who hales his fellow in,
And clangs the door upon the wolf outside.
Retirement and Peace
A vezier, having been deprived of his post, joined the brotherhood of Dervishes. The blessing of their society was such upon him that he acquired content once more. The Sultan became well disposed towards him, and bade him resume his office; but he refused, saying: "It is better to be retired than busy."
Verses
Those that have sought the hermit's cell where
quiet seasons rule
Have drawn the venom of the dog, the malice of
the fool;
They tore their controversies up, the pen away
they flung,
And so escaped the critic's lash, and foiled the
slanderer's tongue.
The king said: "Verily we are in need of one sufficiently intelligent who is able to carry on the affairs of the government." He answered: "It is a sign of sufficient intelligence not to meddle with such matters."
Toil and Servitude
There were two brothers in Egypt, one of them in the service of the Sultan, the other living by his own industry. The rich man once asked his poor brother why he did not serve the Sultan, in order to be released from the hardships of toil? He answered: "Why dost thou not labour, in order to be free from the baseness of service, since wise men have said it is better to eat barley-bread and sit at ease than to be girt with a golden girdle and stand in service?"
On Rejoicing Over a Fallen Foe
A certain person told Nusherwan the Just that God Most High had taken from this world an enemy of his. He asked: "Hast thou heard by any means that He intendeth to spare me?"
Exult not o'er the dying foe! One day

Thou too must quit thy tenement of clay
Chapter II
The Morals of Dervishes
Fault-Finding and Self-Conceit
I remember being pious in my youth, given to night vigils, prayers, and abstinence. One night I was sitting with

my father, on whom God have mercy, keeping awake and holding the precious Koran in my lap, whilst the company around us slept. I said: "Of these people not one lifts up the head or bows the knee (in prayer). They are all sound asleep, as though they were dead." He answered: "Little one of thy father, would that thou wert also asleep, rather than proclaiming the faults of others."
Verses
The braggart sees himself alone,
Since he is veiled in self-conceit;
Were God's all-seeing eye his own,
He would no weaker braggart meet.
Forbearance
A band of vagabonds meeting a Dervish spoke evilly to him, beat him and ill-used him, whereupon he brought his complaint to his superior. The Director replied: "My son! the patched gown of the Dervishes is the garb of resignation, and he who, wearing it, cannot bear with injury, is but a pretender to whom our garb is forbidden."
Distich
Thou canst not stir the river's bed with stones:
Wisdom aggrieved is but'a shallow brook.
Verses
If any injure thee, thy spleen control,
Since by forgiveness thou shalt cleanse thy soul.
O brother, since the end of all is dust,
Be dust, ere unto dust return thou must.
Humility
Hark to my tale, how once a quarrel rose
Betwixt a flag and curtain in Bagdad,—
How, drooping from the march, the dusty flag
Reproached the curtain: "Art not thou and I
Both servants in the Sultan's court? I know
No respite from his service. From the light
Of cock-crow to the gloom of nightingales
I travel, travel: thou hast neither siege
Nor battle to endure, nor whirling sand,
Nor wind, nor heat to suffer; while my step
Is ever on the march. Why art thou held
More honoured? Thou art cherished by slim boys
Of moon-pale beauty, jasmine-scented maids
Touch thee caressingly; while I am rolled
By raw recruits, and ofttimes on the trail
Carried head downwards."
Then the curtain spake:
"My head is humbly on the threshold laid,
Unlike thine own, that flaunting would defy
The golden-armoured sun. Whoever rears
The neck of exaltation shall descend
Most speedily neck level with the dust."
The Dervish Way
The way of dervishes is gratefulness, praise,
worship, obedience, contentment, and charity,
believing in the unity of God, faith, submission,
and patience. Whoever hath these qualities is
indeed a Dervish, though he may wear fine
raiment; whereas the idler, who neglecteth
prayer, who goeth after ease and pleasure, turneth
day into night in the bondage of desire, and night
into day in the slumber of forgetfulness, eateth
whatever he layeth hold on, and speaketh that
which is uppermost, he is an evil-doer, though
he may wear the garb of the Dervishes.
Verses
Thou who within of good resolve art bare,
Yet dost the mantle of the righteous wear;
Thou who hast but a reed-mat to thy floor,
Hang not the rainbow-curtain on the door.
Chapter III
The Preciousness of Contentment
Wisdom and Worldly Power
Two sons of princes lived in Egypt, the one given to the study of science, the other heaping up riches, till the former became the wise man of the age, and the latter the King of Egypt. Then the rich man looked with the eye of scorn upon the philosopher, and said: "I have reached the sovereign power whilst thou remainest poor as before." He replied: "O brother! I must needs be grateful to the Most High Creator, that I have found the inheritance of the prophets, while thou hast obtained the inheritance of Pharaoh and Haman —the Kingdom of Egypt."
Mesnevi
I am that ant which under foot is trod.
No wasp am I, for man to curse my sting.
How can I rightly thank Almighty God
That I am harmless both to clown and king?
Frugality
It is written in the annals of Ardeshir Babekan that he asked an Arabian physician how much food ought to be taken daily. He answered: "The weight of one hundred dirrhems were enough." The king asked him: "What strength will this quantity give me?" He replied: "This quantity will carry thee; but whatever' more is taken, thou wilt be the carrier of it."
Eat to live, thy prayers repeating;

Think not life was made for eating.
Self-Dependence
They asked of Hâtim Tai if he had seen any one in the world of nobler sentiments than himself. He replied: "Yes, one day I slew forty camels to give a banquet to Arab chieftains. I went forth upon some affair to a corner of the desert, where I saw a gatherer of sticks, who had piled up a heap of brushwood. I asked him why he had not become a guest of Hâtim, seeing that many people had gathered around his carpet. But he replied:
'He that hath bread procured by honest sweat,

To Hâtim will not bear to be in debt.'
Then I perceived that his sentiments were nobler than mine own."
Pearls and Starvation
I saw an Arab sitting amid a circle of jewelers at Bosrah, and telling them tales. He said: "Once I lost my way in the desert, and had consumed all my provisions. I was prepared to die, when suddenly I beheld a bag of pearls. Never shall I forget the joy I felt, deeming them to be parched grain, nor the bitterness and despair with which I found them to be pearls."
Verses
In deserts, amid shifting sand and drouth,
Nor pearl nor shell is manna to the mouth.
Ah! what avails, when food and strength are
gone,
The girdle with its pearls or pebbles strown?
Chapter IV
The Blessing of Silence
On the Choice of Words
Subhân Vail is held to have had no peer in oratory, since he had spoken before an assembly for a whole year without using the same phrase twice; but if the same meaning happened to occur, he expressed it in another way: and this is one of the accomplishments of courtiers and princes.
Mesnevi
A word, if binding on the heart and sweet,
Is worthy of belief and approbation.
What thou hast said ne'er let thy tongue repeat:
We do not twice partake the same collation.
On Interruptions
I once heard a philosopher say that no one has ever confessed his own ignorance, save him who begins to talk whilst another has not yet finished.
Mesnevi
Words have a head, O shrewd man, and a tail;
Into no other's discourse fit thine own.
The man of sound discretion will not fail
To bide his time and hold the floor alone.
On Hearing Ourselves
A certain preacher was wont to think that his harsh voice gave pleasure, and often he shouted aloud and needlessly. Thou mightest have said that the raven of separation was the burden of his song; and the verse, for the most detestable of voices is surely the voice of asses, appears to have fitted him. This distich is also concerning him:
When Abu-l-Fares brays of Heaven'sbliss,

He rocks the ruins of Persepolis.
By reason of his rank the people of the place endured this defect, and did not think fit to distress him. Afterwards, however, another preacher of those parts arrived, who bore a secret grudge against him, and said: "I have dreamed about thee, and may it prove fortunate!" "What hast thou dreamed?" "I dreamed that thy voice had become melodious, and that the people had ease during thy sermons." For a little while the preacher pondered on these words; then made answer: "Truly thou hast dreamed a blessed dream, since thou hast made me aware of my weakness. Now I know that my voice is harsh, and that the people are distressed with my loud reading; accordingly I have vowed that henceforth I will not preach save with the tones of moderation."
Chapter VII
The Effects of Education
Knowledge is Wealth
A philosopher was teaching boys, and said to them: "O darlings of your fathers, learn a trade, since no reliance may be placed upon the possessions and riches of the world: for silver and gold are a source of peril, since either a thief may steal them at once or the owner waste them by degrees; but a profession is a living spring and wealth enduring. Although a professional man may lose his fortune, he need not grieve, for his knowledge is wealth of itself, and wherever he go he will be honoured, and sit in the upper seat: but he who has no calling will glean the crumbs and suffer want."
Distich
He finds not easy to obey whose word was man's behest,
Nor will he bear with insolence whom all men have caressed.
Verses
Once confusion filled Damascus,
Each one left his quiet corner;
Learned sons of lusty peasants
Were the veziers of the Caliphs:
While the silly sons of veziers
Begged their bread through every village.
Verses
Dost want thy sire's inheritance?
Acquire his business ways,
Since all the gold that feeds thy glance
May melt within ten days.
The Lilies of Immortality
A certain illustrious man had a worthy son who died. When they asked him what he desired should be written upon the urn of the tomb, he answered: "The verses of the Holy Book are deserving of more reverence than to be written in such a place, where they might be effaced by time, or trodden upon by men, or defiled by dogs. If it is needful to write anything, let this suffice:
How gladly when the lilies bloomed,

My heart the loaded ways did roam!

Pass with the spring, O friend, and, lo!

The lilies breaking through my loam."
The QurAn
Compiled ca. 632-651 B.C.E.
Mecca, Arabia (what is now Saudi Arabia)
The Quran (a.k.a. Qur'an or Koran), meaning "the recitation," is the sacred scripture of Islam, or the word of God, and is meant to be musically read aloud. Islam, rooted in the Arabic word "salema" (meaning "peace"), means "obedience" and "submission." Muslims believe that the Quran was revealed through the angel Gabriel to the prophet Muhammad in the seventh century. Existing only as an oral recitation during Muhammad's time, the Quran was compiled in written form under the first several caliphs. The holy book is written in Arabic, Islam's sacred language, and has 114 suras, or chapters. Translations of the Quran, although they are helpful for understanding the original, are not regarded as the same as the holy book in Arabic. As part of Abrahamic religions, the Quran shows connections to Jewish and Christian biblical characters and stories.
Written by Kyounghye Kwon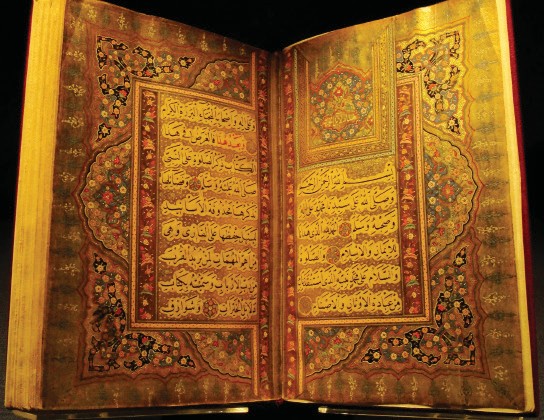 Image 6.2: The Quran | A copy of the Quran from the Chester Beatty Library.
Author: User "Jonsafari"
Source: Wikimedia Commons
License: Public Domain
6.3.1 Selections from The Quran with Surah introductions Saheeh international Translation
Edited by A. B. al-Mehri
License: Public Domain
Sūrah 1: al-Fātihah
In the name of God, the Entirely Merciful, the Especially Merciful.

[All] praise is [due] to God, Lord of the worlds—

The Entirely Merciful, the Especially Merciful,

Sovereign of the Day of Recompense.

It is You we worship and You we ask for help.

Guide us to the straight path—

The path of those upon whom You have bestowed favor, not of those who have evoked [Your] anger or of those who are astray.
Sūrah 5: al-Mā'idah
In the Name of God, the Most Compassionate, the Most Merciful
O you who have believed, fulfill [all] contracts. Lawful for you are the animals of grazing livestock except for that which is recited to you [in this Qur'ān]—hunting not being permitted while you are in the state of ihrām. Indeed, God ordains what He intends.
O you who have believed, do not violate the rites of God or [the sanctity of] the sacred month or [neglect the marking of] the sacrificial animals and garlanding [them] or [violate the safety of] those coming to the Sacred House seeking bounty from their Lord and [His] approval. But when you come out of ihrām, then [you may] hunt. And do not let the hatred of a people for having obstructed you from al-Masjid al-Harām lead you to transgress. And cooperate in righteousness and piety, but do not cooperate in sin and aggression. And fear God; indeed, God is severe in penalty.

Prohibited to you are dead animals, blood, the flesh of swine, and that which has been dedicated to other than God, and [those animals] killed by strangling or by a violent blow or by a head-long fall or by the goring of horns, and those from which a wild animal has eaten, except what you [are able to] slaughter [before its death], and those which are sacrificed on stone altars, and [prohibited is] that you seek decision through divining arrows. That is grave disobedience. This day those who disbelieve have despaired of [defeating] your religion; so fear them not, but fear Me. This day I have perfected for you your religion and completed My favor upon you and have approved for you Islām as religion. But whoever is forced by severe hunger with no inclination to sin—then indeed, God is Forgiving and Merciful.

They ask you, [O Muhammad], what has been made lawful for them. Say, "Lawful for you are [all] good foods and [game caught by] what you have trained of hunting animals which you train as God has taught you. So eat of what they catch for you, and mention the name of God upon it, and fear God." Indeed, God is swift in account.

This day [all] good foods have been made lawful, and the food of those who were given the Scripture is lawful for you and your food is lawful for them. And [lawful in marriage are] chaste women from among the believers and chaste women from among those who were given the Scripture before you, when you have given them their due compensation, desiring chastity, not unlawful sexual intercourse or taking [secret] lovers. And whoever denies the faith—his work has become worthless, and he, in the Hereafter, will be among the losers.

O you who have believed, when you rise to [perform] prayer, wash your faces and your forearms to the elbows and wipe over your heads and wash your feet to the ankles. And if you are in a state of janābah, then purify yourselves. But if you are ill or on a journey or one of you comes from the place of relieving himself or you have contacted women and do not find water, then seek clean earth and wipe over your faces and hands with it. God does not intend to make difficulty for you, but He intends to purify you and complete His favor upon you that you may be grateful.

And remember the favor of God upon you and His covenant with which He bound you when you said, "We hear and we obey"; and fear God. Indeed, God is Knowing of that within the breasts.

O you who have believed, be persistently standing firm for God, witnesses in justice, and do not let the hatred of a people prevent you from being just. Be just; that is nearer to righteousness. And fear God; indeed, God is Acquainted with what you do.

God has promised those who believe and do righteous deeds [that] for them there is forgiveness and great reward.

But those who disbelieve and deny Our signs—those are the companions of Hellfire.

O you who have believed, remember the favor of God upon you when a people determined to extend their hands [in aggression] against you, but He withheld their hands from you; and fear God. And upon God let the believers rely.

And God had already taken a covenant from the Children of Israel, and We delegated from among them twelve leaders. And God said, "I am with you. If you establish prayer and give zakāh and believe in My messengers and support them and loan God a goodly loan, I will surely remove from you your misdeeds and admit you to gardens beneath which rivers flow. But whoever of you disbelieves after that has certainly strayed from the soundness of the way."

So for their breaking of the covenant We cursed them and made their hearts hard. They distort words from their [proper] places [i.e., usages] and have forgotten a portion of that of which they were reminded. And you will still observe deceit among them, except a few of them. But pardon them and overlook [their misdeeds]. Indeed, God loves the doers of good.

And from those who say, "We are Christians" We took their covenant; but they forgot a portion of that of which they were reminded. So We caused among them animosity and hatred until the Day of Resurrection. And God is going to inform them about what they used to do.

O People of the Scripture, there has come to you Our Messenger making clear to you much of what you used to conceal of the Scripture and overlooking much. There has come to you from God a light and a clear Book [i.e., the Qur'ān]

By which God guides those who pursue His pleasure to the ways of peace and brings them out from darknesses into the light, by His permission, and guides them to a straight path.

They have certainly disbelieved who say that God is Christ, the son of Mary. Say, "Then who could prevent God at all if He had intended to destroy Christ, the son of Mary, or his mother or everyone on the earth?" And to God belongs the dominion of the heavens and the earth and whatever is between them. He creates what He wills, and God is over all things competent.

But the Jews and the Christians say, "We are the children of God and His beloved." Say, "Then why does He punish you for your sins?" Rather, you are human beings from among those He has created. He forgives whom He wills, and He punishes whom He wills. And to God belongs the dominion of the heavens and the earth and whatever is between them, and to Him is the [final] destination.

O People of the Scripture, there has come to you Our Messenger to make clear to you [the religion] after a period [of suspension] of messengers, lest you say, "There came not to us any bringer of good tidings or a warner." But there has come to you a bringer of good tidings and a warner. And God is over all things competent.

And [mention, O Muhammad], when Moses said to his people, "O my people, remember the favor of God upon you when He appointed among you prophets and made you possessors and gave you that which He had not given anyone among the worlds.

O my people, enter the Holy Land [i.e., Palestine] which God has assigned to you and do not turn back [from fighting in God's cause] and [thus] become losers."

They said, "O Moses, indeed within it is a people of tyrannical strength, and indeed, we will never enter it until they leave it; but if they leave it, then we will enter."

Said two men from those who feared [to disobey] upon whom God had bestowed favor, "Enter upon them through the gate, for when you have entered it, you will be predominant. And upon God rely, if you should be believers."

They said, "O Moses, indeed we will not enter it, ever, as long as they are within it; so go, you and your Lord, and fight. Indeed, we are remaining right here."

[Moses] said, "My Lord, indeed I do not possess [i.e., control] except myself and my brother, so part us from the defiantly disobedient people."

[God] said, "Then indeed, it is forbidden to them for forty years [in which] they will wander throughout the land. So do not grieve over the defiantly disobedient people."

And recite to them the story of Adam's two sons, in truth, when they both offered a sacrifice [to God], and it was accepted from one of them but was not accepted from the other. Said [the latter], "I will surely kill you." Said [the former], "Indeed, God only accepts from the righteous [who fear Him].

If you should raise your hand against me to kill me—I shall not raise my hand against you to kill you. Indeed, I fear God, Lord of the worlds.

Indeed, I want you to obtain [thereby] my sin and your sin so you will be among the companions of the Fire. And that is the recompense of wrongdoers."

And his soul permitted to him the murder of his brother, so he killed him and became among the losers.

Then God sent a crow searching [i.e., scratching] in the ground to show him how to hide the disgrace of his brother. He said, "O woe to me! Have I failed to be like this crow and hide the disgrace [i.e., body] of my brother?" And he became of the regretful.

Because of that, We decreed upon the Children of Israel that whoever kills a soul unless for a soul or for corruption [done] in the land—it is as if he had slain mankind entirely. And whoever saves one—it is as if he had saved mankind entirely. And our messengers had certainly come to them with clear proofs. Then indeed many of them, [even] after that, throughout the land, were transgressors.

Indeed, the penalty for those who wage war against God and His Messenger and strive upon earth [to cause] corruption is none but that they be killed or crucified or that their hands and feet be cut off from opposite sides or that they be exiled from the land. That is for them a disgrace in this world; and for them in the Hereafter is a great punishment,

Except for those who return [repenting] before you overcome [i.e., apprehend] them. And know that God is Forgiving and Merciful.

O you who have believed, fear God and seek the means [of nearness] to Him and strive in His cause that you may succeed.

Indeed, those who disbelieve—if they should have all that is in the earth and the like of it with it by which to ransom themselves from the punishment of the Day of Resurrection, it will not be accepted from them, and for them is a painful punishment.

They will wish to get out of the Fire, but never are they to emerge therefrom, and for them is an enduring punishment.

[As for] the thief, the male and the female, amputate their hands in recompense for what they earned [i.e., committed] as a deterrent [punishment] from God. And God is Exalted in Might and Wise.

But whoever repents after his wrongdoing and reforms, indeed, God will turn to him in forgiveness. Indeed, God is Forgiving and Merciful.

Do you not know that to God belongs the dominion of the heavens and the earth? He punishes whom He wills and forgives whom He wills, and God is over all things competent.

O Messenger, let them not grieve you who hasten into disbelief of those who say, "We believe" with their mouths, but their hearts believe not, and from among the Jews. [They are] avid listeners to falsehood, listening to another people who have not come to you. They distort words beyond their [proper] places [i.e., usages], saying "If you are given this, take it; but if you are not given it, then beware." But he for whom God intends fitnah—never will you possess [power to do] for him a thing against God. Those are the ones for whom God does not intend to purify their hearts. For them in this world is disgrace, and for them in the Hereafter is a great punishment.

[They are] avid listeners to falsehood, devourers of [what is] unlawful. So if they come to you, [O Muhammad], judge between them or turn away from them. And if you turn away from them—never will they harm you at all. And if you judge, judge between them with justice. Indeed, God loves those who act justly.

But how is it that they come to you for judgement while they have the Torah, in which is the judgement of God? Then they turn away, [even] after that; but those are not [in fact] believers.

Indeed, We sent down the Torah, in which was guidance and light. The prophets who submitted [to God] judged by it for the Jews, as did the rabbis and scholars by that with which they were entrusted of the Scripture of God, and they were witnesses thereto. So do not fear the people but fear Me, and do not exchange My verses for a small price [i.e., worldly gain]. And whoever does not judge by what God has revealed— then it is those who are the disbelievers.

And We ordained for them therein a life for a life, an eye for an eye, a nose for a nose, an ear for an ear, a tooth for a tooth, and for wounds is legal retribution. But whoever gives [up his right as] charity, it is an expiation for him. And whoever does not judge by what God has revealed—then it is those who are the wrongdoers [i.e., the unjust].

And We sent, following in their footsteps, Jesus, the son of Mary, confirming that which came before him in the Torah; and We gave him the Gospel, in which was guidance and light and confirming that which preceded it of the Torah as guidance and instruction for the righteous.

And let the People of the Gospel judge by what God has revealed therein. And whoever does not judge by what God has revealed then it is those who are the defiantly disobedient.

And We have revealed to you, [O Muhammad], the Book [i.e., the Qur'ān] in truth, confirming that which preceded it of the Scripture and as a criterion over it. So judge between them by what God has revealed and do not follow their inclinations away from what has come to you of the truth. To each of you We prescribed a law and a method. Had God willed, He would have made you one nation [united in religion], but [He intended] to test you in what He has given you; so race to [all that is] good. To God is your return all together, and He will [then] inform you concerning that over which you used to differ.

And judge, [O Muhammad], between them by what God has revealed and do not follow their inclinations and beware of them, lest they tempt you away from some of what God has revealed to you. And if they turn away—then know that God only intends to afflict them with some of their [own] sins. And indeed, many among the people are defiantly disobedient.

Then is it the judgement of [the time of] ignorance they desire? But who is better than God in judgement for a people who are certain [in faith].

O you who have believed, do not take the Jews and the Christians as allies. They are [in fact] allies of one another. And whoever is an ally to them among you—then indeed, he is [one] of them. Indeed, God guides not the wrongdoing people.

So you see those in whose hearts is disease [i.e., hypocrisy] hastening into [association with] them, saying, "We are afraid a misfortune may strike us." But perhaps God will bring conquest or a decision from Him, and they will become, over what they have been concealing within themselves, regretful.

And those who believe will say, "Are these the ones who swore by God their strongest oaths that indeed they were with you?" Their deeds have become worthless, and they have become losers.

O you who have believed, whoever of you should revert from his religion—God will bring forth [in place of them] a people He will love and who will love Him [who are] humble toward the believers, powerful against the disbelievers; they strive in the cause of God and do not fear the blame of a critic. That is the favor of God; He bestows it upon whom He wills. And God is all-Encompassing and Knowing.

Your ally is none but God and [therefore] His Messenger and those who have believed—those who establish prayer and give zakāh, and they bow [in worship],

And whoever is an ally of God and His Messenger and those who have believed—indeed, the party of God—they will be the predominant.

O you who have believed, take not those who have taken your religion in ridicule and amusement among the ones who were given the Scripture before you nor the disbelievers as allies. And fear God, if you should [truly] be believers.

And when you call to prayer, they take it in ridicule and amusement. That is because they are a people who do not use reason.

Say, "O People of the Scripture, do you resent us except [for the fact] that we have believed in God and what was revealed to us and what was revealed before and because most of you are defiantly disobedient?"

Say, "Shall I inform you of [what is] worse than that as penalty from God? [It is that of] those whom God has cursed and with whom He became angry and made of them apes and pigs and slaves of taghūt. Those are worse in position and further astray from the sound way."

And when they come to you, they say, "We believe." But they have entered with disbelief [in their hearts], and they have certainly left with it. And God is most knowing of what they were concealing.

And you see many of them hastening into sin and aggression and the devouring of [what is] unlawful. How wretched is what they have been doing.

Why do the rabbis and religious scholars not forbid them from saying what is sinful and devouring what is unlawful? How wretched is what they have been practicing.

And the Jews say, "The hand of God is chained." Chained are their hands, and cursed are they for what they say. Rather, both His hands are extended; He spends however He wills. And that which has been revealed to you from your Lord will surely increase many of them in transgression and disbelief. And We have cast among them animosity and hatred until the Day of Resurrection. Every time they kindled the fire of war [against you], God extinguished it. And they strive throughout the land [causing] corruption, and God does not like corrupters.

And if only the People of the Scripture had believed and feared God, We would have removed from them their misdeeds and admitted them to Gardens of Pleasure.

And if only they upheld [the law of] the Torah, the Gospel, and what has been revealed to them from their Lord [i.e., the Qur'ān], they would have consumed [provision] from above them and from beneath their feet. Among them are a moderate [i.e., acceptable] community, but many of them—evil is that which they do.

O Messenger, announce that which has been revealed to you from your Lord, and if you do not, then you have not conveyed His message. And God will protect you from the people. Indeed, God does not guide the disbelieving people.

Say, "O People of the Scripture, you are [standing] on nothing until you uphold [the law of] the Torah, the Gospel, and what has been revealed to you from your Lord [i.e., the Qur'ān]." And that which has been revealed to you from your Lord will surely increase many of them in transgression and disbelief. So do not grieve over the disbelieving people.

Indeed, those who have believed [in Prophet Muhammad] and those [before him] who were Jews or Sabeans or Christians—those [among them] who believed in God and the Last Day and did righteousness— no fear will there be concerning them, nor will they grieve.

We had already taken the covenant of the Children of Israel and had sent to them messengers. Whenever there came to them a messenger with what their souls did not desire, a party [of messengers] they denied, and another party they killed.

And they thought there would be no [resulting] punishment, so they became blind and deaf. Then God turned to them in forgiveness; then [again] many of them became blind and deaf. And God is Seeing of what they do.

They have certainly disbelieved who say, "God is the Messiah, the son of Mary" while the Messiah has said, "O Children of Israel, worship God, my Lord and your Lord." Indeed, he who associates others with God—God has forbidden him Paradise, and his refuge is the Fire. And there are not for the wrongdoers any helpers.

They have certainly disbelieved who say, "God is the third of three." And there is no god except one God. And if they do not desist from what they are saying, there will surely afflict the disbelievers among them a painful punishment.

So will they not repent to God and seek His forgiveness? And God is Forgiving and Merciful.

The Messiah, son of Mary, was not but a messenger; [other] messengers have passed on before him. And his mother was a supporter of truth. They both used to eat food. Look how We make clear to them the signs; then look how they are deluded.

Say, "Do you worship besides God that which holds for you no [power of] harm or benefit while it is God who is the Hearing, the Knowing?"

Say, "O People of the Scripture, do not exceed limits in your religion beyond the truth and do not follow the inclinations of a people who had gone astray before and misled many and have strayed from the soundness of the way."

Cursed were those who disbelieved among the Children of Israel by the tongue of David and of Jesus, the son of Mary. That was because they disobeyed and [habitually] transgressed.

They used not to prevent one another from wrongdoing that they did. How wretched was that which they were doing.

You see many of them becoming allies of those who disbelieved [i.e., the polytheists]. How wretched is that which they have put forth for themselves in that God has become angry with them, and in the punishment they will abide eternally.

And if they had believed in God and the Prophet and in what was revealed to him, they would not have taken them as allies; but many of them are defiantly disobedient.

You will surely find the most intense of the people in animosity toward the believers [to be] the Jews and those who associate others with God; and you will find the nearest of them in affection to the believers those who say, "We are Christians." That is because among them are priests and monks and because they are not arrogant.

And when they hear what has been revealed to the Messenger, you see their eyes overflowing with tears because of what they have recognized of the truth. They say, "Our Lord, we have believed, so register us among the witnesses.

And why should we not believe in God and what has come to us of the truth? And we aspire that our Lord will admit us [to Paradise] with the righteous people."

So God rewarded them for what they said with gardens [in Paradise] beneath which rivers flow, wherein they abide eternally. And that is the reward of doers of good.

But those who disbelieved and denied Our signs—they are the companions of Hellfire.

O you who have believed, do not prohibit the good things which God has made lawful to you and do not transgress. Indeed, God does not like transgressors.

And eat of what God has provided for you [which is] lawful and good. And fear God, in whom you are believers.

God will not impose blame upon you for what is meaningless in your oaths, but He will impose blame upon you for [breaking] what you intended of oaths. So its expiation is the feeding of ten needy people from the average of that which you feed your [own] families or clothing them or the freeing of a slave. But whoever cannot find [or afford it]—then a fast of three days [is required]. That is the expiation for oaths when you have sworn. But guard your oaths. Thus does God make clear to you His verses [i.e., revealed law] that you may be grateful.

O you who have believed, indeed, intoxicants, gambling, [sacrificing on] stone alters [to other than God], and divining arrows are but defilement from the work of Satan, so avoid it that you may be successful.

Satan only wants to cause between you animosity and hatred through intoxicants and gambling and to avert you from the remembrance of God and from prayer. So will you not desist?

And obey God and obey the Messenger and beware. And if you turn away—then know that upon Our Messenger is only [the responsibility for] clear notification.

There is not upon those who believe and do righteousness [any] blame concerning what they have eaten [in the past] if they [now] fear God and believe and do righteous deeds, and then fear God and believe, and then fear God and do good; and God loves the doers of good.

O you who have believed, God will surely test you through something of the game that your hands and spears [can] reach, that God may make evident those who fear Him unseen. And whoever transgresses after that—for him is a painful punishment.

O you who have believed, do not kill game while you are in the state of ihrām. And whoever of you kills it intentionally—the penalty is an equivalent from sacrificial animals to what he killed, as judged by two just men among you as an offering [to God] delivered to the Ka'bāh, or an expiation: the feeding of needy people or the equivalent of that in fasting, that he may taste the consequence of his matter [i.e., deed]. God has pardoned what is past; but whoever returns [to violation], then God will take retribution from him. And God is Exalted in Might and Owner of Retribution.

Lawful to you is game from the sea and its food as provision for you and the travelers, but forbidden to you is game from the land as long as you are in the state of ihrām. And fear God to whom you will be gathered.

God has made the Ka'bāh, the Sacred House, standing for the people and [has sanctified] the sacred months and the sacrificial animals and the garlands [by which they are identified]. That is so you may know that God knows what is in the heavens and what is in the earth and that God is Knowing of all things.

Know that God is severe in penalty and that God is Forgiving and Merciful.

Not upon the Messenger is [responsibility] except [for] notification. And God knows whatever you reveal and whatever you conceal.

Say, "Not equal are the evil and the good, although the abundance of evil might impress you." So fear God, O you of understanding, that you may be successful.

O you who have believed, do not ask about things which, if they are shown to you, will distress you. But if you ask about them while the Qur'ān is being revealed, they will be shown to you. God has pardoned it [i.e., that which is past]; and God is Forgiving and Forbearing.

A people asked such [questions] before you; then they became thereby disbelievers.

God has not appointed [such innovations as] bahirah or sā'ibah or wasīlah or hām. But those who disbelieve invent falsehood about God, and most of them do not reason.

And when it is said to them, "Come to what God has revealed and to the Messenger," they say, "Sufficient for us is that upon which we found our fathers." Even though their fathers knew nothing, nor were they guided?

O you who have believed, upon you is [responsibility for] yourselves. Those who have gone astray will not harm you when you have been guided. To God is your return all together; then He will inform you of what you used to do.

O you who have believed, testimony [should be taken] among you when death approaches one of you at the time of bequest—[that of] two just men from among you or two others from outside if you are traveling through the land and the disaster of death should strike you. Detain them after the prayer and let them both swear by God if you doubt [their testimony, saying], "We will not exchange it [i.e., our oath] for a price [i.e., worldly gain], even if he should be a near relative, and we will not withhold the testimony of [i.e., ordained by] God. Indeed, we would then be of the sinful."

But if it is found that those two were guilty of sin [i.e., perjury], let two others stand in their place [who are] foremost [in claim] from those who have a lawful right. And let them swear by God, "Our testimony is truer than their testimony, and we have not transgressed. Indeed, we would then be of the wrongdoers."

That is more likely that they will give testimony according to its [true] objective, or [at least] they would fear that [other] oaths might be taken after their oaths. And fear God and listen [i.e., obey Him]; and God does not guide the defiantly disobedient people.

[Be warned of] the Day when God will assemble the messengers and say, "What was the response you received?" They will say, "We have no knowledge. Indeed, it is You who is Knower of the unseen"—

[The Day] when God will say, "O Jesus, Son of Mary, remember My favor upon you and upon your mother when I supported you with the Pure Spirit [i.e., the angel Gabriel] and you spoke to the people in the cradle and in maturity; and [remember] when I taught you writing and wisdom and the Torah and the Gospel; and when you designed from clay [what was] like the form of a bird with My permission, then you breathed into it, and it became a bird with My permission; and you healed the blind [from birth] and the leper with My permission; and when you brought forth the dead with My permission; and when I restrained the Children of Israel from [killing] you when you came to them with clear proofs and those who disbelieved among them said, "This is not but obvious magic."

And [remember] when I inspired to the disciples, "Believe in Me and in My messenger [i.e., Jesus]." They said, "We have believed, so bear witness that indeed we are Muslims [in submission to God]."

[And remember] when the disciples said, "O Jesus, Son of Mary, can your Lord send down to us a table [spread with food] from the heaven? [Jesus] said, "Fear God, if you should be believers."

They said, "We wish to eat from it and let our hearts be reassured and know that you have been truthful to us and be among its witnesses."

Said Jesus, the son of Mary, "O God, our Lord, send down to us a table [spread with food] from the heaven to be for us a festival for the first of us and the last of us and a sign from You. And provide for us, and You are the best of providers."

God said, "Indeed, I will send it down to you, but whoever disbelieves afterwards from among you—then indeed will I punish him with a punishment by which I have not punished anyone among the worlds."

And [beware the Day] when God will say, "O Jesus, Son of Mary, did you say to the people, 'Take me and my mother as deities besides God?'" He will say, "Exalted are You! It was not for me to say that to which I have no right. If I had said it, You would have known it. You know what is within myself, and I do not know what is within Yourself. Indeed, it is You who is Knower of the unseen.

I said not to them except what You commanded me—to worship God, my Lord and your Lord. And I was a witness over them as long as I was among them; but when You took me up, You were the Observer over them, and You are, over all things, Witness.

If You should punish them—indeed they are Your servants; but if You forgive them—indeed it is You who is the Exalted in Might, the Wise."

God will say, "This is the Day when the truthful will benefit from their truthfulness." For them are gardens [in Paradise] beneath which rivers flow, wherein they will abide forever, God being pleased with them, and they with Him. That is the great attainment.

God belongs the dominion of the heavens and the earth and whatever is within them. And He is over all things competent.
Sūrah 10: Yūnus
In the Name of God, the Most Compassionate, the Most Merciful
Alif, Lām, Rā. These are the verses of the wise Book.

Have the people been amazed that We revealed [revelation] to a man from among them, [saying], "Warn mankind and give good tidings to those who believe that they will have a [firm] precedence of honor with their Lord"? [But] the disbelievers say, "Indeed, this is an obvious magician."

Indeed, your Lord is God, who created the heavens and the earth in six days and then established Himself above the Throne, arranging the matter [of His creation]. There is no intercessor except after His permission. That is God, your Lord, so worship Him. Then will you not remember?

To Him is your return all together. [It is] the promise of God [which is] truth. Indeed, He begins the [process of] creation and then repeats it that He may reward those who have believed and done righteous deeds, in justice. But those who disbelieved will have a drink of scalding water and a painful punishment for what they used to deny.

It is He who made the sun a shining light and the moon a derived light and determined for it phases—that you may know the number of years and account [of time]. God has not created this except in truth. He details the signs for a people who know.

Indeed, in the alternation of the night and the day and [in] what God has created in the heavens and the earth are signs for a people who fear God.

Indeed, those who do not expect the meeting with Us and are satisfied with the life of this world and feel secure therein and those who are heedless of Our signs—

For those their refuge will be the Fire because of what they used to earn.

Indeed, those who have believed and done righteous deeds—their Lord will guide them because of their faith. Beneath them rivers will flow in the Gardens of Pleasure.

Their call therein will be, "Exalted are You, O God," and their greeting therein will be, "Peace." And the last of their call will be, "Praise to God, Lord of the worlds!"

And if God was to hasten for the people the evil [they invoke] as He hastens for them the good, their term would have been ended for them. But We leave the ones who do not expect the meeting with Us, in their transgression, wandering blindly.

And when affliction touches man, he calls upon Us, whether lying on his side or sitting or standing; but when We remove from him his affliction, he continues [in disobedience] as if he had never called upon Us to [remove] an affliction that touched him. Thus is made pleasing to the transgressors that which they have been doing.

And We had already destroyed generations before you when they wronged, and their messengers had come to them with clear proofs, but they were not to believe. Thus do We recompense the criminal people.

Then We made you successors in the land after them so that We may observe how you will do.

And when Our verses are recited to them as clear evidences, those who do not expect the meeting with Us say, "Bring us a Qur'ān other than this or change it." Say, [O Muhammad], "It is not for me to change it on my own accord. I only follow what is revealed to me. Indeed I fear, if I should disobey my Lord, the punishment of a tremendous Day."

Say, "If God had willed, I would not have recited it to you, nor would He have made it known to you, for I had remained among you a lifetime before it. Then will you not reason?"

So who is more unjust than he who invents a lie about God or denies His signs? Indeed, the criminals will not succeed.

And they worship other than God that which neither harms them nor benefits them, and they say, "These are our intercessors with God." Say, "Do you inform God of something He does not know in the heavens or on the earth?" Exalted is He and high above what they associate with Him.

And mankind was not but one community [united in religion], but [then] they differed. And if not for a word that preceded from your Lord, it would have been judged between them [immediately] concerning that over which they differ.

And they say, "Why is a sign not sent down to him from his Lord?" So say, "The unseen is only for God [to administer], so wait; indeed, I am with you among those who wait."

And when We give the people a taste of mercy after adversity has touched them, at once they conspire against Our verses. Say, "God is swifter in strategy." Indeed, Our messengers [i.e., angels] record that which you conspire.

It is He who enables you to travel on land and sea until, when you are in ships and they sail with them by a good wind and they rejoice therein, there comes a storm wind and the waves come upon them from everywhere and they assume that they are surrounded [i.e., doomed], supplicating God, sincere to Him in religion, "If You should save us from this, we will surely be among the thankful."

But when He saves them, at once they commit injustice upon the earth without right. O mankind, your injustice is only against yourselves, [being merely] the enjoyment of worldly life. Then to Us is your return, and We will inform you of what you used to do.

The example of [this] worldly life is but like rain which We have sent down from the sky that the plants of the earth absorb—[those] from which men and livestock eat—until, when the earth has taken on its adornment and is beautified and its people suppose that they have capability over it, there comes to it Our command by night or by day, and We make it as a harvest, as if it had not flourished yesterday. Thus do We explain in detail the signs for a people who give thought.

And God invites to the Home of Peace [i.e., Paradise] and guides whom He wills to a straight path.

For them who have done good is the best [reward]—and extra. No darkness will cover their faces, nor humiliation. Those are companions of Paradise; they will abide therein eternally.

But they who have earned [blame for] evil doings—the recompense of an evil deed is its equivalent, and humiliation will cover them. They will have from God no protector. It will be as if their faces are covered with pieces of the night—so dark [are they]. Those are the companions of the Fire; they will abide therein eternally.

And [mention, O Muhammad], the Day We will gather them all together—then We will say to those who associated others with God, "[Remain in] your place, you and your 'partners.'" Then We will separate them, and their "partners" will say, "You did not used to worship us,

And sufficient is God as a witness between us and you that we were of your worship unaware."

There, [on that Day], every soul will be put to trial for what it did previously, and they will be returned to God, their master, the Truth, and lost from them is whatever they used to invent.

Say, "Who provides for you from the heaven and the earth? Or who controls hearing and sight and who brings the living out of the dead and brings the dead out of the living and who arranges [every] matter?" They will say, "God," so say, "Then will you not fear Him?"

For that is God, your Lord, the Truth. And what can be beyond truth except error? So how are you averted?

Thus the word [i.e., decree] of your Lord has come into effect upon those who defiantly disobeyed—that they will not believe.

Say, "Are there of your 'partners' any who begins creation and then repeats it?" Say, "God begins creation and then repeats it, so how are you deluded?"

Say, "Are there of your 'partners' any who guides to the truth?" Say, "God guides to the truth. So is He who guides to the truth more worthy to be followed or he who guides not unless he is guided? Then what is [wrong] with you—how do you judge?"

And most of them follow not except assumption. Indeed, assumption avails not against the truth at all. Indeed, God is Knowing of what they do.

And it was not [possible] for this Qur'ān to be produced by other than God, but [it is] a confirmation of what was before it and a detailed explanation of the [former] Scripture, about which there is no doubt, from the Lord of the worlds.

Or do they say [about the Prophet], "He invented it?" Say, "Then bring forth a sūrah like it and call upon [for assistance] whomever you can besides God, if you should be truthful."

Rather, they have denied that which they encompass not in knowledge and whose interpretation has not yet come to them. Thus did those before them deny. Then observe how was the end of the wrongdoers.

And of them are those who believe in it, and of them are those who do not believe in it. And your Lord is most knowing of the corrupters.

And if they deny you, [O Muhammad], then say, "For me are my deeds, and for you are your deeds. You are disassociated from what I do, and I am disassociated from what you do."

And among them are those who listen to you. But can you cause the deaf to This phrase refers back to the Qur'ān hear [i.e., benefit from this hearing], although they will not use reason?

And among them are those who look at you. But can you guide the blind although they will not [attempt to] see?

Indeed, God does not wrong the people at all, but it is the people who are wronging themselves.

And on the Day when He will gather them, [it will be] as if they had not remained [in the world] but an hour of the day, [and] they will know each other. Those will have lost who denied the meeting with God and were not guided.

And whether We show you some of what We promise them, [O Muhammad], or We take you in death, to Us is their return; then, [either way], God is a witness concerning what they are doing.

And for every nation is a messenger. So when their messenger comes, it will be judged between them in justice, and they will not be wronged.

And they say, "When is [the fulfillment of] this promise, if you should be truthful?"

Say, "I possess not for myself any harm or benefit except what God should will. For every nation is a [specified] term. When their time has come, then they will not remain behind an hour, nor will they precede [it]."

Say, "Have you considered: if His punishment should come to you by night or by day—for which [aspect] of it would the criminals be impatient?"

Then is it that when it has [actually] occurred you will believe in it? Now? And you were [once] for it impatient.

Then it will be said to those who had wronged, "Taste the punishment of eternity; are you being recompensed except for what you used to earn?"

And they ask information of you, [O Muhammad], "Is it true?" Say, "Yes, by my Lord. Indeed, it is truth; and you will not cause failure [to God]."

And if each soul that wronged had everything on earth, it would offer it in ransom. And they will confide regret when they see the punishment; and they will be judged in justice, and they will not be wronged.

Unquestionably, to God belongs whatever is in the heavens and the earth. Unquestionably, the promise of God is truth, but most of them do not know.

He gives life and causes death, and to Him you will be returned.

O mankind, there has come to you instruction from your Lord and healing for what is in the breasts and guidance and mercy for the believers.

Say, "In the bounty of God and in His mercy—in that let them rejoice; it is better than what they accumulate."

Say, "Have you seen what God has sent down to you of provision of which you have made [some] lawful and [some] unlawful?" Say, "Has God permitted you [to do so], or do you invent [something] about God?"

And what will be the supposition of those who invent falsehood about God on the Day of Resurrection? Indeed, God is full of bounty to the people, but most of them are not grateful.

And, [O Muhammad], you are not [engaged] in any matter or recite any of the Qur'ān and you [people] do not do any deed except that We are witness over you when you are involved in it. And not absent from your Lord is any [part] of an atom's weight within the earth or within the heaven or [anything] smaller than that or greater but that it is in a clear register.

Unquestionably, [for] the allies of God there will be no fear concerning them, nor will they grieve—

Those who believed and were fearing God.

For them are good tidings in the worldly life and in the Hereafter. No change is there in the words [i.e., decrees] of God. That is what is the great attainment.

And let not their speech grieve you. Indeed, honor [due to power] belongs to God entirely. He is the Hearing, the Knowing.

Unquestionably, to God belongs whoever is in the heavens and whoever is on the earth. And those who invoke other than God do not [actually] follow [His] "partners." They follow not except assumption, and they are not but falsifying.

It is He who made for you the night to rest therein and the day, giving sight. Indeed in that are signs for a people who listen.

They have said, "God has taken a son." Exalted is He; He is the [one] Free of need. To Him belongs whatever is in the heavens and whatever is in the earth. You have no authority for this [claim]. Do you say about God that which you do not know?

Say, "Indeed, those who invent falsehood about God will not succeed."

[For them is brief] enjoyment in this world; then to Us is their return; then We will make them taste the severe punishment because they used to disbelieve.

And recite to them the news of Noah, when he said to his people, "O my people, if my residence and my reminding of the signs of God has become burdensome upon you—then I have relied upon God. So resolve upon your plan and [call upon] your associates. Then let not your plan be obscure to you. Then carry it out upon me and do not give me respite.

And if you turn away [from my advice]—then no payment have I asked of you. My reward is only from God, and I have been commanded to be of the Muslims [i.e., those who submit to God]."

And they denied him, so We saved him and those with him in the ship and made them successors, and We drowned those who denied Our signs. Then see how was the end of those who were warned.

Then We sent after him messengers to their peoples, and they came to them with clear proofs. But they were not to believe in that which they had denied before. Thus We seal over the hearts of the transgressors.

Then We sent after them Moses and Aaron to Pharaoh and his establishment with Our sins, but they behaved arrogantly and were a criminal people.

So when there came to them the truth from Us, they said, "Indeed, this is obvious magic."

Moses said, "Do you say [thus] about the truth when it has come to you? Is this magic? But magicians will not succeed."

They said, "Have you come to us to turn us away from that upon which we found our fathers and so that you two may have grandeur in the land? And we are not believers in you."

And Pharaoh said, "Bring to me every learned magician."

So when the magicians came, Moses said to them, "Throw down whatever you will throw."

And when they had thrown, Moses said, "What you have brought is [only] magic. Indeed, God will expose its worthlessness. Indeed, God does not amend the work of corrupters.

And God will establish the truth by His words, even if the criminals dislike it."

But no one believed Moses, except [some] offspring [i.e., youths] among his people, for fear of Pharaoh and his establishment that they would persecute them. And indeed, Pharaoh was haughty within the land, and indeed, he was of the transgressors.

And Moses said, "O my people, if you have believed in God, then rely upon Him, if you should be Muslims [i.e., submitting to him]."

So they said, "Upon God do we rely. Our Lord, make us not [objects of] trial for the wrongdoing people.

And save us by Your mercy from the disbelieving people."

And We inspired to Moses and his brother, "Settle your people in Egypt in houses and make your houses [facing the] qiblah and establish prayer and give good tidings to the believers."

And Moses said, "Our Lord, indeed You have given Pharaoh and his establishment splendor and wealth in the worldly life, our Lord, that they may lead [men] astray from Your way. Our Lord, obliterate their wealth and harden their hearts so that they will not believe until they see the painful punishment."

[God] said, "Your supplication has been answered." So remain on a right course and follow not the way of those who do not know."

And We took the Children of Israel across the sea, and Pharaoh and his soldiers pursued them in tyranny and enmity until, when drowning overtook him, he said, "I believe that there is no deity except that in whom the Children of Israel believe, and I am of the Muslims."

Now? And you had disobeyed [Him] before and were of the corrupters?

So today We will save you in body that you may be to those who succeed you a sign. And indeed, many among the people, of Our signs, are heedless.

And We had certainty settled the Children of Israel in an agreeable settlement and provided them with good things. And they did not differ until [after] knowledge had come to them. Indeed, your Lord will judge between them on the Day of Resurrection concerning that over which they used to differ.

So if you are in doubt, [O Muhammad], about that which We have revealed to you, then ask those who have been reading the Scripture before you. The truth has certainly come to you from your Lord, so never be among the doubters.

And never be of those who deny the signs of God and [thus] be among the losers.

Indeed, those upon whom the word [i.e., decree] of your Lord has come into effect will not believe,

Even if every sign should come to them, until they see the painful punishment.

Then has there not been a [single] city that believed so its faith benefited it except the people of Jonah? When they believed, We removed from them the punishment of disgrace in worldly life and gave them enjoyment [i.e., provision] for a time.

And had your Lord willed, those on earth would have believed—all of them entirely. Then, [O Muhammad], would you compel the people in order that they become believers?

And it is not for a soul [i.e., anyone] to believe except by permission of God, and He will place defilement upon those who will not use reason.

Say, "Observe what is in the heavens and earth." But of no avail will be signs or warners to a people who do not believe.

So do they wait except for like [what occurred in] the days of those who passed on before them? Say, "Then wait; indeed, I am with you among those who wait."

Then We will save Our messengers and those who have believed. Thus, it is an obligation upon Us that We save the believers.

Say, [O Muhammad], "O people, if you are in doubt as to my religion—then I do not worship those which you worship besides God; but I worship God, who causes your death. And I have been commanded to be of the believers

And [commanded], 'Direct your face [i.e., self] toward the religion, inclining to truth, and never be of those who associate others with God;

And do not invoke besides God that which neither benefits you nor harms you, for if you did, then indeed you would be of the wrongdoers.'"

And if God should touch you with adversity, there is no remover of it except Him; and if He intends for you good, then there is no repeller of His bounty. He causes it to reach whom He wills of His servants. And He is the Forgiving, the Merciful.

Say, "O mankind, the truth has come to you from your Lord, so whoever is guided is only guided for [the benefit of] his soul, and whoever goes astray

And follow what is revealed to you, [O Muhammad], and be patient until God will judge. And He is the best of judges.
Sūrah 12: Yūsuf
In the Name of God, the Most Compassionate, the Most Merciful
Alif, Lam, Rā. These are the verses of the clear Book.

Indeed, We have sent it down as an Arabic Qur'ān that you might understand.

We relate to you, [O Muhammad], the best of stories in what We have revealed to you of this Qur'ān although you were, before it, among the unaware.

[Of these stories mention] when Joseph said to his father, "O my father, indeed I have seen [in a dream] eleven stars and the sun and the moon; I saw them prostrating to me."

He said, "O my son, do not relate your vision to your brothers or they will contrive against you a plan. Indeed Satan, to man, is a manifest enemy.

And thus will your Lord choose you and teach you the interpretation of narratives [i.e., events of dreams] and complete His favor upon you and upon the family of Jacob, as He completed it upon your fathers before, Abraham and Isaac. Indeed, your Lord is Knowing and Wise."

Certainly were there in Joseph and his brothers signs for those who ask, [such as]

When they said, "Joseph and his brother are more beloved to our father than we, while we are a clan. Indeed, our father is in clear error.

Kill Joseph or cast him out to [another] land; the countenance [i.e., attention] of your father will [then] be only for you, and you will be after that a righteous people."

Said a speaker among them, "Do not kill Joseph but throw him into the bottom of the well; some travelers will pick him up—if you would do [something]."

They said, "O our father, why do you not entrust us with Joseph while indeed, we are to him sincere counselors?

Send him with us tomorrow that he may eat well and play. And indeed, we will be his guardians."

[Jacob] said, "Indeed, it saddens me that you should take him, and I fear that a wolf would eat him while you are of him unaware."

They said, "If a wolf should eat him while we are a [strong] clan, indeed, we would then be losers."

So when they took him [out] and agreed to put him into the bottom of the well... But We inspired to him, "You will surely inform them [someday] about this affair of theirs while they do not perceive [your identity]."

And they came to their father at night, weeping.

They said, "O our father, indeed we went racing each other and left Joseph with our possessions, and a wolf ate him. But you would not believe us, even if we were truthful."

And they brought upon his shirt false blood. [Jacob] said, "Rather, your souls have enticed you to something, so patience is most fitting. And God is the one sought for help against that which you describe."

And there came a company of travelers; then they sent their water drawer, and he let down his bucket. He said, "Good news! Here is a boy." And they concealed him, [taking him] as merchandise; and God was knowing of what they did.

And they sold him for a reduced price—a few dirhams—and they were, concerning him, of those content with little.

And the one from Egypt who bought him said to his wife, "Make his residence comfortable. Perhaps he will benefit us, or we will adopt him as a son." And thus, We established Joseph in the land that We might teach him the interpretation of events [i.e., dreams]. And God is predominant over His affair, but most of the people do not know.

And when he [i.e., Joseph] reached maturity, We gave him judgment and knowledge. And thus We reward the doers of good.

And she, in whose house he was, sought to seduce him. She closed the doors and said, "Come, you." He said, "[I seek] the refuge of God. Indeed, he is my master, who has made good my residence. Indeed, wrongdoers will not succeed."

And she certainly determined [to seduce] him, and he would have inclined to her had he not seen the proof [i.e., sign] of his Lord. And thus [it was] that We should avert from him evil and immorality. Indeed, he was of Our chosen servants

And they both raced to the door, and she tore his shirt from the back, and they found her husband at the door. She said, "What is the recompense of one who intended evil for your wife but that he be imprisoned or a painful punishment?"

[Joseph] said, "It was she who sought to seduce me." And a witness from her family testified, "If his shirt is torn from the front, then she has told the truth, and he is of the bars.

But if his shirt is torn from the back, then she has lied, and he is of the truthful."

So when he [i.e., her husband] saw his shirt torn from the back, he said, "Indeed, it is of your [i.e., women's] plan. Indeed, your plan is great [i.e., vehement].

Joseph, ignore this. And, [my wife], ask forgiveness for your sin. Indeed, you were of the sinful."

And women in the city said, "The wife of al-'Azeez is seeking to seduce her slave boy; he has impassioned her with love. Indeed, we see her [to be] in clear error."

So when she heard of their scheming, she sent for them and prepared for them a banquet and gave each one of them a knife and said [to Joseph], "Come out before them." And when they saw him, they greatly admired him and cut their hands and said, "Perfect is God! This is not a man; this is none but a noble angel."

She said, "That is the one about whom you blamed me. And I certainly sought to seduce him, but he firmly refused; and if he will not do what I order him, he will surely be imprisoned and will be of those debased."

He said, "My Lord, prison is more to my liking than that to which they invite me. And if You do not avert from me their plan, I might incline toward them and [thus] be of the ignorant."

So his Lord responded to him and averted from him their plan. Indeed, He is the Hearing, the Knowing.

Then it appeared to them after they had seen the signs that he [i.e., al-Azeez] should surely imprison him for a time.

And there entered the prison with him two young men. One of them said, "Indeed, I have seen myself [in a dream] pressing wine." The other said, "Indeed, I have seen myself carrying upon my head [some] bread, from which the birds were eating. Inform us of its interpretation; indeed, we see you to be of those who do good."

He said, "You will not receive food that is provided to you except that I will inform you of its interpretation before it comes to you. That is from what my Lord has taught me. Indeed, I have left the religion of a people who do not believe in God, and they, in the Hereafter, are disbelievers.

And I have followed the religion of my fathers, Abraham, Isaac and Jacob. And it was not for us to associate anything with God. That is from the favor of God upon us and upon the people, but most of the people are not grateful.

O [my] two companions of prison, are separate lords better or God, the One, the Prevailing?

You worship not besides Him except [mere] names you have named them, you and your fathers, for which God has sent down no authority. Legislation is not but for God. He has commanded that you worship not except Him. That is the correct religion, but most of the people do not know.

O two companions of prison, as for one of you, he will give drink to his master of wine; but as for the other, he will be crucified, and the birds will eat from his head. The matter has been decreed about which you both inquire."

And he said to the one whom he knew would go free, "Mention me before your master." But Satan made him forget the mention [to] his master, and he [i.e., Joseph] remained in prison several years.

And [subsequently] the king said, "Indeed, I have seen [in a dream] seven fat cows being eaten by seven [that were] lean, and seven green spikes [of grain] and others [that were] dry. O eminent ones, explain to me my vision, if you should interpret visions."

They said, "[It is but] a mixture of false dreams, and we are not learned in the interpretation of dreams."

But the one who was freed and remembered after a time said, "I will inform you of its interpretation, so send me forth."

[He said], "Joseph, O man of truth, explain to us about seven fat cows eaten by seven [that were] lean, and seven green spikes [of grain] and others [that were] dry—that I may return to the people [i.e., the king and his court]; perhaps they will know [about you]."

[Joseph] said, "You will plant for seven years consecutively; and what you harvest leave in its spikes, except a little from which you will eat.

Then will come after that seven difficult [years] which will consume what you advanced [i.e., saved] for them, except a little from which you will store.

Then will come after that a year in which the people will be given rain and in which they will press [olives and grapes]."

And the king said, "Bring him to me." But when the messenger came to him, [Joseph] said, "Return to your master and ask him what is the case of the women who cut their hands. Indeed, my Lord is Knowing of their plan."

Said [the king to the women], "What was your condition when you sought to seduce Joseph?" They said, "Perfect is God! We know about him no evil." The wife of al-Azeez said, "Now the truth has become evident. It was I who sought to seduce him, and indeed, he is of the truthful.

That is so he [i.e., al-Azeez] will know that I did not betray him in [his] absence and that God does not guide the plan of betrayers.

And I do not acquit myself. Indeed, the soul is a persistent enjoiner of evil, except those upon which my Lord has mercy. Indeed, my Lord is Forgiving and Merciful."

And the king said, "Bring him to me; I will appoint him exclusively for myself." And when he spoke to him, he said, "Indeed, you are today established [in position] and trusted."

[Joseph] said, "Appoint me over the storehouses of the land. Indeed, I will be a knowing guardian."

And thus We established Joseph in the land to settle therein wherever he willed. We touch with Our mercy whom We will, and We do not allow to be lost the reward of those who do good.

And the reward of the Hereafter is better for those who believed and were fearing God.

And the brothers of Joseph came [seeking food], and they entered upon him; and he recognized them, but he was to them unknown.

And when he had furnished them with their supplies, he said, "Bring me a brother of yours from your father. Do not you see that I give full measure and that I am the best of accommodators?

But if you do not bring him to me, no measure will there be [hereafter] for you from me, nor will you approach me."

They said, "We will attempt to dissuade his father from [keeping] him, and indeed, we will do [it]."

And [Joseph] said to his servants, "Put their merchandise into their saddlebags so they might recognize it when they have gone back to their people that perhaps they will [again] return."

So when they returned to their father, they said, "O our father, [further] measure has been denied to us, so send with us our brother [that] we will be given measure. And indeed, we will be his guardians."

He said, "Should I entrust you with him except [under coercion] as I entrusted you with his brother before? But God is the best guardian, and He is the most merciful of the merciful."

And when they opened their baggage, they found their merchandise returned to them. They said, "O our father, what [more] could we desire? This is our merchandise returned to us. And we will obtain supplies [i.e., food] for our family and protect our brother and obtain an increase of a camel's load; that is an easy measurement."

[Jacob] said, "Never will I send him with you until you give me a promise [i.e., oath] by God that you will bring him [back] to me, unless you should be surrounded [i.e., overcome by enemies]." And when they had given their promise, he said, "God, over what we say, is Witness."

And he said, "O my sons, do not enter from one gate but enter from different gates; and I cannot avail you against [the decree of] God at all. The decision is only for God; upon Him I have relied, and upon Him let those who would rely [indeed] rely."

And when they entered from where their father had ordered them, it did not avail them against God at all except [it was] a need [i.e., concern] within the soul of Jacob, which he satisfied. And indeed, he was a possessor of knowledge because of what We had taught him, but most of the people do not know.

And when they entered upon Joseph, he took his brother to himself; he said, "Indeed, I am your brother, so do not despair over what they used to do [to me]."

So when he had furnished them with their supplies, he put the [gold measuring] bowl into the bag of his brother. Then an announcer called out, "O caravan, indeed you are thieves."

They said while approaching them, "What is it you are missing?"

They said, "We are missing the measure of the king. And for he who produces it is [the reward of] a camel's load, and I am responsible for it."

They said, "By God, you have certainly known that we did not come to cause corruption in the land, and we have not been thieves."

They [the accusers] said, "Then what would be its recompense if you should be liars?"

The brothers] said, "Its recompense is that he in whose bag it is found—he [himself] will be its recompense. Thus do we recompense the wrongdoers."

So he began [the search] with their bags before the bag of his brother; then he extracted it from the bag of his brother. Thus did We plan for Joseph. He could not have taken his brother within the religion [i.e., law] of the king except that God willed. We raise in degrees whom We will, but over every possessor of knowledge is one [more] knowing.

They said, "If he steals—a brother of his has stolen before." But Joseph kept it within himself and did not reveal it to them. He said, "You are worse in position, and God is most knowing of what you describe."

They said, "O Azeez, indeed he has a father [who is] an old man, so take one of us in place of him. Indeed, we see you as a doer of good."

He said, "[I seek] the refuge of God [to prevent] that we take except him with whom we found our possession. Indeed, we would then be unjust."

So when they had despaired of him, they secluded themselves in private consultation. The eldest of them said, "Do you not know that your father has taken upon you an oath by God and [that] before you failed in [your duty to] Joseph? So I will never leave [this] land until my father permits me or God decides for me, and He is the best of judges.

Return to your father and say, 'O our father, indeed your son has stolen, and we did not testify except to what we knew. And we were not witnesses of the unseen.

And ask the city in which we were and the caravan in which we came—and indeed, we are truthful,'"

[Jacob] said, "Rather, your souls have enticed you to something, so patience is most fitting. Perhaps God will bring them to me all together. Indeed, it is He who is the Knowing, the Wise."

And he turned away from them and said, "Oh, my sorrow over Joseph," and his eyes became white from grief, for he was [of that] a suppressor.

They said, "By God, you will not cease remembering Joseph until you become fatally ill or become of those who perish."

He said, "I only complain of my suffering and my grief to God, and I know from God that which you do not know.

O my sons, go and find out about Joseph and his brother and despair not of relief from God. Indeed, no one despairs of relief from God except the disbelieving people."

So when they entered upon him [i.e., Joseph], they said, "O 'Azeez, adversity has touched us and our family, and we have come with goods poor in quality, but give us full measure and be charitable to us. Indeed, God rewards the charitable."

He said, "Do you know what you did with Joseph and his brother when you were ignorant?"

They said, "Are you indeed Joseph?" He said, "I am Joseph, and this is my brother. God has certainly favored us. Indeed, he who fears God and is patient, then indeed, God does not allow to be lost the reward of those who do good."

They said, "By God, certainly has God preferred you over us, and indeed, we have been sinners."

He said, "No blame will there be upon you today. God will forgive you; and He is the most merciful of the merciful.

Take this, my shirt, and cast it over the face of my father; he will become seeing. And bring me your family, all together."

And when the caravan departed [from Egypt], their father said, "Indeed, I find the smell of Joseph [and would say that he was alive] if you did not think me weakened in mind."

They said, "By God, indeed you are in your [same] old error."

And when the bearer of good tidings arrived, he cast it over his face, and he returned [once again] seeing. He said, "Did I not tell you that I know from God that which you do not know?"

They said, "O our father, ask for us forgiveness of our sins; indeed, we have been sinners."

He said, "I will ask forgiveness for you from my Lord. Indeed, it is He who is the Forgiving, the Merciful."

And when they entered upon Joseph, he took his parents to himself [i.e., embraced them] and said, "Enter Egypt, God willing, safe [and secure]."

And he raised his parents upon the throne, and they bowed to him in prostration. And he said, "O my father, this is the explanation of my vision of before. My Lord has made it reality. And He was certainly good to me when He took me out of prison and brought you [here] from bedouin life after Satan had induced [estrangement] between me and my brothers. Indeed, my Lord is Subtle in what He wills. Indeed, it is He who is the Knowing, the Wise.

My Lord, You have given me [something] of sovereignty and taught me of the interpretation of dreams. Creator of the heavens and earth, You are my protector in this world and in the Hereafter. Cause me to die a Muslim and join me with the righteous."

That is from the news of the unseen which We reveal, [O Muhammad], to you. And you were not with them when they put together their plan while they conspired.

And most of the people, although you strive [for it], are not believers.

And you do not ask of them for it any payment. It is not except a reminder to the worlds.

And how many a sign within the heavens and earth do they pass over while they, therefrom, are turning away.

And most of them believe not in God except while they associate others with Him.

Then do they feel secure that there will not come to them an overwhelming [aspect] of the punishment of God or that the Hour will not come upon them suddenly while they do not perceive?

Say, "This is my way; I invite to God with insight, I and those who follow me. And exalted is God; and I am not of those who associate others with Him."

And We sent not before you [as messengers] except men to whom We revealed from among the people of cities. So have they not traveled through the earth and observed how was the end of those before them? And the home of the Hereafter is best for those who fear God; then will you not reason?

[They continued] until, when the messengers despaired and were certain that they had been denied, there came to them Our victory, and whoever We willed was saved. And Our punishment cannot be repelled from the people who are criminals.

There was certainly in their stories a lesson for those of understanding. Never was it [i.e., the Qur'ān] a narration invented, but a confirmation of what was before it and a detailed explanation of all things and guidance and mercy for a people who believe.
Sūrah 19: Maryam
In the Name of God, the Most Compassionate, the Most Merciful
Kāf, Hā, Yā, 'Ayn, Sād.

[This is] a mention of the mercy of your Lord to His servant Zechariah

When he called to his Lord a private call [i.e., supplication],

He said, "My Lord, indeed my bones have weakened, and my head has filled with white, and never have I been in my supplication to You, my Lord, unhappy [i.e., disappointed].

And indeed, I fear the successors after me, and my wife has been barren, so give me from Yourself an heir

Who will inherit me and inherit from the family of Jacob. And make him, my Lord, pleasing [to You]."

[He was told], "O Zechariah, indeed We give you good tidings of a boy whose name will be John. We have not assigned to any before [this] name."

He said, "My Lord, how will I have a boy when my wife has been barren and I have reached extreme old age?"

[An angel] said, "Thus [it will be]; your Lord says, 'It is easy for Me, for I created you before, while you were nothing.'"

[Zechariah] said, "My Lord, make for me a sign." He said, "Your sign is that you will not speak to the people for three nights, [being] sound."

So he came out to his people from the prayer chamber and signaled to them to exalt [God] in the morning and afternoon.

[God said], "O John, take the Scripture [i.e., adhere to it] with determination." And We gave him judgement [while yet] a boy

And affection from Us and purity, and he was fearing of God

And dutiful to his parents, and he was not a disobedient tyrant.

And peace be upon him the day he was born and the day he dies and the day he is raised alive.

And mention, [O Muhammad], in the Book [the story of] Mary, when she withdrew from her family to a place toward the east.

And she took, in seclusion from them, a screen. Then We sent to her Our Angel [i.e., Gabriel], and he represented himself to her as a well-proportioned man.

She said, "Indeed, I seek refuge in the Most Merciful from you, [so leave me], if you should be fearing of God."

He said, "I am only the messenger of your Lord to give you [news of] a pure boy [i.e., son]."

She said, "How can I have a boy while no man has touched me and I have not been unchaste?"

He said, "Thus [it will be]; your Lord says, 'It is easy for Me, and We will make him a sign to the people and a mercy from Us. And it is a matter [already] decreed.'"

So she conceived him, and she withdrew with him to a remote place.

And the pains of childbirth drove her to the trunk of a palm tree. She said, "Oh, I wish I had died before this and was in oblivion, forgotten."

But he called her from below her, "Do not grieve; your Lord has provided beneath you a stream.

And shake toward you the trunk of the palm tree; it will drop upon you ripe, fresh dates.

So eat and drink and be contented. And if you see from among humanity anyone, say, 'Indeed, I have vowed to the Most Merciful abstention, so I will not speak today to [any] man.'"

Then she brought him to her people, carrying him. They said, "O Mary, you have certainly done a thing unprecedented.

O sister of Aaron, your father was not a man of evil, nor was your mother unchaste."

So she pointed to him. They said, "How can we speak to one who is in the cradle a child?"

[Jesus] said, "Indeed, I am the servant of God. He has given me the Scripture and made me a prophet.

And He has made me blessed wherever I am and has enjoined upon me prayer and zakāh as long as I remain alive

And [made me] dutiful to my mother, and He has not made me a wretched tyrant.

And peace is on me the day I was born and the day I will die and the day I am raised alive."

That is Jesus, the son of Mary—the word of truth about which they are in dispute.

It is not [befitting] for God to take a son; exalted is He! When He decrees an affair, He only says to it, "Be," and it is.

[Jesus said], "And indeed, God is my Lord and your Lord, so worship Him. That is a straight path."

Then the factions differed [concerning Jesus] from among them, so woe to those who disbelieved—from the scene of a tremendous Day.

How [clearly] they will hear and see the Day they come to Us, but the wrongdoers today are in clear error.

And warn them, [O Muhammad], of the Day of Regret, when the matter will be concluded; and [yet], they are in [a state of] heedlessness, and they do not believe.

Indeed, it is We who will inherit the earth and whoever is on it, and to Us they will be returned.

And mention in the Book [the story of] Abraham. Indeed, he was a man of truth and a prophet.

[Mention] when he said to his father, "O my father, why do you worship that which does not hear and does not see and will not benefit you at all?

O my father, indeed there has come to me of knowledge that which has not come to you, so follow me; I will guide you to an even path.

O my father, do not worship [i.e., obey] Satan. Indeed Satan has ever been, to the Most Merciful, disobedient.

O my father, indeed I fear that there will touch you a punishment from the Most Merciful so you would be to Satan a companion [in Hellfire]."

[His father] said, "Have you no desire for my gods, O Abraham? If you do not desist, I will surely stone you, so avoid me a prolonged time."

[Abraham] said, "Peace [i.e., safety] will be upon you. I will ask forgiveness for you of my Lord. Indeed, He is ever gracious to me.

And I will leave you and those you invoke other than God and will invoke my Lord. I expect that I will not be in invocation to my Lord unhappy [i.e., disappointed]."

So when he had left them and those they worshipped other than God, We gave him Isaac and Jacob, and each [of them] We made a prophet.

And We gave them of Our mercy, and We made for them a mention [i.e., reputation] of high honour.

And mention in the Book, Moses. Indeed, he was chosen, and he was a messenger and a prophet.

And We called him from the side of the mount at [his] right and brought him near, confiding [to him].

And We gave him out of Our mercy his brother Aaron as a prophet.

And mention in the Book, Ishmael. Indeed, he was true to his promise, and he was a messenger and a prophet.

And he used to enjoin on his people prayer and zakāh and was to his Lord pleasing [i.e., accepted by Him],

And mention in the Book, Idrees. Indeed, he was a man of truth and a prophet.

And We raised him to a high station.

Those were the ones upon whom God bestowed favor from among the prophets of the descendants of Adam and of those We carried [in the ship] with Noah, and of the descendants of Abraham and Israel [i.e., Jacob], and of those whom We guided and chose. When the verses of the Most Merciful were recited to them, they fell in prostration and weeping.

But there came after them successors [i.e., later generations] who neglected prayer and pursued desires; so they are going to meet evil—

Except those who repent, believe and do righteousness; for those will enter Paradise and will not be wronged at all.

[Therein are] gardens of perpetual residence which the Most Merciful has promised His servants in the unseen. Indeed, His promise has ever been coming.

They will not hear therein any ill speech—only [greetings of] peace—and they will have their provision therein, morning and afternoon.

That is Paradise, which We give as inheritance to those of Our servants who were fearing of God.

[Gabriel said], "And we [angels] descend not except by the order of your Lord. To Him belongs that before us and that behind us and what is in between. And never is your Lord forgetful—

Lord of the heavens and the earth and whatever is between them—so worship Him and have patience for His worship. Do you know of any similarity to Him?"

And man [i.e., the disbeliever] says, "When I have died, am I going to be brought forth alive?"

Does man not remember that We created him before, while he was nothing?

So by your Lord, We will surely gather them and the devils; then We will bring them to be present around Hell upon their knees.

Then We will surely extract from every sect those of them who were worst against the Most Merciful in insolence.

Then, surely it is We who are most knowing of those most worthy of burning therein.

And there is none of you except he will come to it. This is upon your Lord an inevitability decreed.

Then We will save those who feared God and leave the wrongdoers within it, on their knees.

And when Our verses are recited to them as clear evidences, those who disbelieve say to those who believe, "Which of [our] two parties is best in position and best in association?"

And how many a generation have We destroyed before them who were better in possessions and [outward] appearance?

Say, "Whoever is in error—let the Most Merciful extend for him an extension [in wealth and time] until, when they see that which they were promised—either punishment [in this world] or the Hour [of resurrection]—they will come to know who is worst in position and weaker in soldiers."

And God increases those who were guided, in guidance, and the enduring good deeds are better to your Lord for reward and better for recourse.

Then, have you seen he who disbelieved in Our verses and said, "I will surely be given wealth and children [in the next life]?"

Has he looked into the unseen, or has he taken from the Most Merciful a promise?

No! We will record what he says and extend [i.e., increase] for him from the punishment extensively.

And We will inherit him [in] what he mentions, and he will come to Us alone.

And they have taken besides God [false] deities that they would be for them [a source of] honour.

No! They [i.e., those "gods"] will deny their worship of them and will be against them opponents [on the Day of Judgement].

Do you not see that We have sent the devils upon the disbelievers, inciting them [to evil] with [constant] incitement?

So be not impatient over them. We only count out [i.e., allow] to them a [limited] number.

On the Day We will gather the righteous to the Most Merciful as a delegation

And will drive the criminals to Hell in thirst

None will have [power of] intercession except he who had taken from the Most Merciful a covenant.

And they say, "The Most Merciful has taken [for Himself] a son."

You have done an atrocious thing.

The heavens almost rupture therefrom and the earth splits open and the mountains collapse in devastation

That they attribute to the Most Merciful a son.

And it is not appropriate for the Most Merciful that He should take a son.

There is no one in the heavens and earth but that he comes to the Most Merciful as a servant.

He has enumerated them and counted them a [full] counting.

And all of them are coming to Him on the Day of Resurrection alone.

Indeed, those who have believed and done righteous deeds—the Most Merciful will appoint for them affection.

So, [O Muhammad], We have only made it [i.e., the Qur'ān] easy in your tongue [i.e., the Arabic language] that you may give good tidings thereby to the righteous and warn thereby a hostile people.

And how many have We destroyed before them of generations? Do you perceive of them anyone or hear from them a sound?
Sūrah 55: ar-Rahmān
In the Name of God, the Most Compassionate, the Most Merciful
The Most Merciful

Taught the Qur'ān,

Created man,

[And] taught him eloquence.

The sun and the moon [move] by precise calculation,

And the stars and trees prostrate.

And the heaven He raised and imposed the balance

That you not transgress within the balance.

And establish weight in justice and do not make deficient the balance.

And the earth He laid [out] for the creatures.

Therein is fruit and palm trees having sheaths [of dates]

And grain having husks and scented plants.

So which of the favors of your Lord would you deny?

He created man from clay like [that of] pottery.

And He created the jinn from a smokeless flame of fire.

So which of the favors of your Lord would you deny?

[He is] Lord of the two sunrises and Lord of the two sunsets.

So which of the favors of your Lord would you deny?

He released the two seas, meeting [side by side];

Between them is a barrier [so] neither of them transgresses.

So which of the favors of your Lord would you deny?

From both of them emerge pearl and coral.

So which of the favors of your Lord would you deny?

And to Him belong the ships [with sails] elevated in the sea like mountains.

So which of the favors of your Lord would you deny?

Everyone upon it [i.e., the earth] will perish,

And there will remain the Face of your Lord, Owner of Majesty and Honour.

So which of the favors of your Lord would you deny?

Whoever is within the heavens and earth asks Him; every day He is in [i.e., bringing about] a matter.

So which of the favors of your Lord would you deny?

We will attend to you, O prominent beings.

So which of the favors of your Lord would you deny?

O company of jinn and mankind, if you are able to pass beyond the regions of the heavens and the earth, then pass. You will not pass except by authority [from God].

So which of the favors of your Lord would you deny?

There will be sent upon you a flame of fire and smoke, and you will not defend yourselves.

So which of the favors of your Lord would you deny?

And when the heaven is split open and becomes rose-colored like oil—

So which of the favors of your Lord would you deny?—

Then on that Day none will be asked about his sin among men or jinn.

So which of the favors of your Lord would you deny?

The criminals will be known by their marks, and they will be seized by the forelocks and the feet.

So which of the favors of your Lord would you deny?

This is Hell, which the criminals deny.

They will go around between it and scalding water, heated [to the utmost degree].

So which of the favors of your Lord would you deny?

But for he who has feared the position of his Lord are two gardens—

So which of the favors of your Lord would you deny?—

Having [spreading] branches.

So which of the favors of your Lord would you deny?

In both of them are two springs, flowing.

So which of the favors of your Lord would you deny?

In both of them are of every fruit, two kinds.

So which of the favors of your Lord would you deny?

[They are] reclining on beds whose linings are of silk brocade, and the fruit of the two gardens is hanging low.

So which of the favors of your Lord would you deny?

In them are women limiting [their] glances, untouched before them by man or jinn!—

So which of the favors of your Lord would you deny?—

As if they were rubies and coral.

So which of the favors of your Lord would you deny?

Is the reward for good [anything] but good?

So which of the favors of your Lord would you deny?

And below them both [in excellence] are two [other] gardens—

So which of the favors of your Lord would you deny?—

Dark green [in color].

So which of the favors of your Lord would you deny?

In both of them are two springs, spouting.

So which of the favors of your Lord would you deny?

In both of them are fruit and palm trees and pomegranates.

So which of the favors of your Lord would you deny?

In them are good and beautiful women

So which of the favors of your Lord would you deny?—

Fair ones reserved in pavilions—

So which of the favors of your Lord would you deny?—

Untouched before them by man or jinni—

So which of the favors of your Lord would you deny?—

Reclining on green cushions and beautiful fine carpets.

So which of the favors of your Lord would you deny?

Blessed is the name of your Lord, Owner of Majesty and Honour.
Sūrah 76: al-Insān
In the Name of God, the Most Compassionate, the Most Merciful
Has there [not] come upon man a period of time when he was not a thing [even] mentioned?

Indeed, We created man from a sperm-drop mixture that We may try him; and We made him hearing and seeing.

Indeed, We guided him to the way, be he grateful or be he ungrateful.

Indeed, We have prepared for the disbelievers chains and shackles and a blaze.

Indeed, the righteous will drink from a cup [of wine] whose mixture is of Kāfūr,

A spring of which the [righteous] servants of God will drink; they will make it gush forth in force [and abundance].

They [are those who] fulfill [their] vows and fear a Day whose evil will be widespread.

And they give food in spite of love for it to the needy, the orphan, and the captive,

[Saying], "We feed you only for the countenance [i.e., approval] of God. We wish not from you reward or gratitude.

Indeed, We fear from our Lord a Day austere and distressful."

So God will protect them from the evil of that Day and give them radiance and happiness

And will reward them for what they patiendy endured [with] a garden [in Paradise] and silk [garments].

[They will be] reclining therein on adorned couches. They will not see therein any [burning] sun or [freezing] cold.

And near above them are its shades, and its [fruit] to be picked will be lowered in compliance.

And there will be circulated among them vessels of silver and cups having been [created] clear [as glass],

Clear glasses [made] from silver of which they have determined the measure.

And they will be given to drink a cup [of wine] whose mixture is of ginger

[From] a fountain within it [i.e., Paradise] named Salsabeel.

There will circulate among them young boys made eternal. When you see them, you would think them [as beautiful as] scattered pearls.

And when you look there [in Paradise], you will see pleasure and great dominion.

Upon them [i.e., the inhabitants] will be green garments of fine silk and brocade. And they will be adorned with bracelets of silver, and their Lord will give them a purifying drink.

[And it will be said], "Indeed, this is for you a reward, and your effort has been appreciated."

Indeed, it is We who have sent down to you, [O Muhammad], the Qur'ān progressively.

So be patient for the decision of your Lord and do not obey from among them a sinner or ungrateful [disbeliever].

And mention the name of your Lord [in prayer] morning and evening

And during the night prostrate to Him and exalt [i.e., praise] Him a long [part of the] night.

Indeed, these [disbelievers] love the immediate and leave behind them a grave Day.

We have created them and strengthened their forms, and when We will, We can change their likenesses with [complete] alteration.

Indeed, this is a reminder, so he who wills may take to his Lord a way.

And you do not will except that God wills. Indeed, God is ever Knowing and Wise.

He admits whom He wills into His mercy; but the wrongdoers—He has prepared for them a painful punishment.
Sūrah 112: al-Ikhlās
In the Name of God, the Most Compassionate, the Most Merciful
Say, "He is God, [who is] One,

God, the Eternal Refuge.

He neither begets nor is born,

Nor is there to Him any equivalent."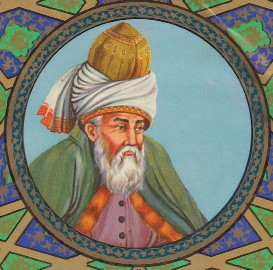 Image 6.3: Rumi | A portrait of Rumi (or Molavi, as he is known in Iran) well-dressed and with a white beard.
Author: User "Bellavista1957"
Source: Wikimedia Commons
License: Public Domain
divAni ShAmSi TABriz and mASnAvi
Jalal al-Din Rumi (1207-1273 C.E.)
Persian literature
Although Rumi was born in Afghanistan and lived in Turkey, his poetry was written mostly in Persian, and his Sufi religious beliefs transcended national boundaries. Afghanistan was on the edge of the Persian Empire, and Rumi's father was a traditional Islamic religious teacher who trained his son to follow in his footsteps. When he was forty, Rumi had a religious epiphany when he met Shams, a wandering Sufi, who was about sixty. Rumi became a Sufi, and the outpouring of poetry that followed was staggering. Sufism combines ideas from Islam, Christianity, and Buddhism, and it attempts to achieve union with God: not by logical means (which is beyond the ability of the human mind), but by emotional means. Rumi founded the Mevlevi order of dervishes, sometimes called whirling dervishes because of the spinning dance that they do to achieve a trance-like state. Despite the loss of Shams, who may have been murdered by Rumi's jealous disciples, Rumi continued to write, amassing over forty thousand couplets of poetry over his lifetime. The Divani Shamsi Tabriz is a collection of individual poems, including poems in the ghazal form and the rubaiyat form (which are different ways to group couplets). The Masnavi (also spelled Mathnavi or Mathnawi) is referred to as the "Quran in Persian"; it was meant to teach his followers the spirit of Sufi Islam, drawing on the Quran, folktales, and anecdotes (among other forms) for the prose sections between the poems. Unlike the Divani Shamsi Tabriz, the Masnavi is a cohesive collection, with a moral to each story. Today Rumi is the most important medieval Persian poet and one of the most widely-read mystical poets. Perhaps in part because of his emphasis on the positive, and his embrace of all religions, Rumi is now the best-selling poet in the United States (Ciabattari).
Written by Laura J. Getty
6.4.1 Selections from the Persian mystics
Jalálu'd-Dín Rúmí, edited by F. Hadland Davis, L. Cranmer-Byng, and S. A. Kapadia
License: Public Domain
Sorrow Quenched In The Beloved
Through grief my days are as labour and sorrow.
My days move on, hand in hand with anguish.
Yet, though my days vanish thus, 'tis no matter.
Do Thou abide, Incomparable Pure One.
The Music Of Love
Hail to thee, then, O love, sweet madness!
Thou who healest all our infirmities!
Who art the Physician of our pride and self-conceit!
Who art our Plato and our Galen!
Love exalts our earthly bodies to heaven,
And makes the very hills to dance with joy!
O lover, 'twas Love that gave life to Mount Sinai,
When "it quaked, and Moses fell down in a swoon."
Did my Beloved only touch me with His lips,
I too, like a flute, would burst out into melody.
When The Rose Has Faded
When the rose has faded and the garden is withered,
The song of the nightingale is no longer to be heard.
The BELOVED is all in all, the lover only veils Him;
The BELOVED is all that lives, the lover a dead thing.
When the lover feels no longer love's quickening,
He becomes like a bird who has lost its wings. Alas!
How can I retain my senses about me,
When the beloved shows not the Light of His countenance?
The Silence Of Love
Love is the astrolabe of God's mysteries.
A lover may hanker after this love or that love,
But at the last he is drawn to the king of Love.
However much we describe and explain Love,
When we fall in love we are ashamed of our words.
Explanation by the tongue makes most things clear,
But Love unexplained is better.
Earthly Love Essential To The Love Divine
In one 'twas said, "Leave power and weakness alone;
Whatever withdraws thine eyes from God is an idol."
In one 'twas said, "Quench not thy earthy torch,
That it may be a light to lighten mankind.
If thou neglectest regard and care for it,
Thou wilt quench at midnight the lamp of Union."
The Eternal Spendour Of The Beloved
Why dost Thou flee from the cries of us on earth?
Why pourest Thou sorrow on the heart of the sorrowful?
O Thou who, as each new morn dawns from the east,
Art seen uprising anew, like a bright fountain!
What excuse makest Thou for Thy witcheries?
O Thou whose lips are sweeter than sugar.
Thou that ever renewest the life of this old world.
Hear the cry of this lifeless body and heart!
Woman
Woman is a ray of God, not a mere mistress,
The Creator's Self, as it were, not a mere creature!
The Divine Union
Mustafa became beside himself at that sweet call,
His prayer failed on "the night of the early morning halt."
He lifted not head from that blissful sleep,
So that his morning prayer was put off till noon.
On that, his wedding night, in the presence of his bride.
His pure soul attained to kiss her hands.
Love and mistress are both veiled and hidden.
Impute it not a fault if I call Him "Bride."
Image 6.4: Jalal Al-Din Rumi Mathnavi-I Ma'Navi | The pages of a Persian manuscript.
Author: Hussain ibn Shaikh 'Ali
Source: Wikimedia Commons
License: Public Domain
"He Knows About It All"
He who is from head to foot a perfect rose or lily.
To him spring brings rejoicing.
The useless thorn desires the autumn,
That autumn may associate itself with the garden;
And hide the rose's beauty and the thorn's shame,
That men may not see the bloom of the one and the other's shame;
That common stone and pure ruby may appear all as one.
Resignation
True, the Gardener knows the difference in the autumn,
But the sight of One is better than the world's sight.
Resignation The Way To Prefection
Whoso recognises and confesses his own defects
Is hastening in the way that leads to Perfection!
But he advances not towards the Almighty
Who fancies himself to be perfect.
Love The Source Of Light Rather Than Vanishing Form
Whatsoever is perceived by sense He annuls,
But He stablishes that which is hidden from the senses.
The lover's love is visible, his Beloved hidden.
The Friend is absent, the distraction He causes present.
Renounce these affections for outward forms,
Love depends not on outward form or face.
Whatever is beloved is not a mere empty form,
Whether your beloved be of the earth or heaven.
Whatever is the form you have fallen in love with—
Why do you forsake it the moment life leaves it?
The Religion Of Love
The form is still there; whence then this disgust at it?
Ah! lover, consider well what is really your beloved.
If a thing perceived by outward senses is the beloved,
Then all who retain their senses must still love it;
And since Love increases constancy,
How can constancy fail while form abides?
But the truth is, the sun's beams strike the wall.
And the wall only reflects that borrowed light.
Why give your heart to mere stones, simpleton?
Go! Seek the Source of Light which shineth alway!
The Religion Of Love
The sect of lovers is distinct from all others,
Lovers have a religion and a faith of their own.
Though the ruby has no stamp, what matters it?
Love is fearless in the midst of the sea of fear.
"Pain Is Treasure"
Pain is a treasure, for it contains mercies;
The kernel is soft when the rind is scraped off.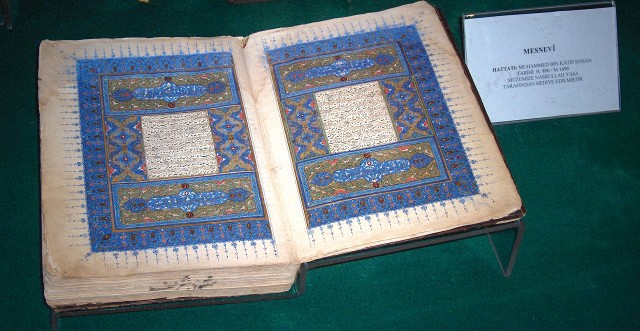 Image 6.5: Masnavi | Pages of a Persian manuscript with beautiful blue decorations around the text.
Author: Georges Jansoone
Source: Wikimedia Commons
License: CC BY 3.0
6.4.2 Selections from the Flowers of the Persian Poets
Jalálu'd-Dín Rúmí, edited by Nathan Haskell Dole and Belle M. Walker
License: Public Domain
"I To Myself Am Unknown"
Lo, for I to myself am unknown, now in God's name what must I do?
I adore not the Cross nor the Crescent, I am not a Gianour nor a Jew.
East nor West land nor sea is my home, I have kin nor with angel nor gnome,
I am wrought not of fire nor of foam, I am shaped not of dust nor of dew.
I was born not in China afar, not in Saqsin and not in Bulghar;
Not in India, where five rivers are, nor 'Iraq nor Khorasan I grew.
Not in this world nor that world I dwell, not in Paradise, neither in Hell;
Not from Eden and Rizwan I fell, not from Adam my lineage I drew.
In a place beyond uttermost Place, in a tract without shadow of trace,
Soul and body transcending, I live in the soul of my Loved One anew!
ShAhnAmeh
Abu'l-Qasim Ferdowsi (ca. 935-ca. 1020 C.E.)
Begun ca. 977 and finished 1010 C.E. Iran
Ferdowsi's Shahnameh, or Book of Kings, is an epic that includes other material, stretching from the creation of the world, through the legendary heroes that are the protagonists of epic literature, to the historical kings of Persia (modern-day Iran) up to the Muslim invasion. Written in classical Persian, with very few Arabic words, the Shahnameh records the history of Persia at a time when its traditions were changing. The characters in the epic follow Zoroastrianism, the state religion of Persia from at least 1000 B.C.E. (and perhaps as early as 1500 B.C.E.) until the Muslim invasion in 650 C.E. Zoroastrianism is monotheistic; the one god is Ahura Mazda (also called Hormozd in the text), who is challenged by an evil spirit named Angra Mainyu (also called Ahriman in the text). In the story of "Sekander" (Alexander the Great), Ferdowsi rewrites history, making Alexander the (secret) son of a Persian king, so that his conquest of the Persian Empire is an internal struggle, rather than a Persian defeat by an outside invader. In "Rudabeh," the meeting of Rudabeh and her true love includes the earliest written reference to a Rapunzel-like scene in literature. The other selection is from the story of Rostam and his son Sohrab, one of the most famous and frequently translated sections in the epic because of its subject matter: a father and son who unknowingly end up on opposite sides on a battlefield.
Written by Laura J. Getty
6.5.1 "The Shah nameh from Persian literature, volume 1
Firdusi, translated by James Atkinson
License: Public Domain
"Rúdábeh
The chief of Kábul was descended from the family of Zohák. He was named Mihráb, and to secure the safety of his state, paid annual tribute to Sám. Mihráb, on the arrival of Zál, went out of the city to see him, and was hospitably entertained by the young hero, who soon discovered that he had a daughter of wonderful attractions.
Her name Rúdábeh; screened from public view,
Her countenance is brilliant as the sun;
From head to foot her lovely form is fair
As polished ivory. Like the spring, her cheek
Presents a radiant bloom,—in stature tall,
And o'er her silvery brightness, richly flow
Dark musky ringlets clustering to her feet.
She blushes like the rich pomegranate flower;
Her eyes are soft and sweet as the narcissus,
Her lashes from the raven's jetty plume
Have stolen their blackness, and her brows are bent
Like archer's bow. Ask ye to see the moon?
Look at her face. Seek ye for musky fragrance?
She is all sweetness. Her long fingers seem
Pencils of silver, and so beautiful
Her presence, that she breathes of Heaven and love.
Such was the description of Rúdábeh, which inspired the heart of Zál with the most violent affection, and imagination added to her charms.
Mihráb again waited on Zál, who received him graciously, and asked him in what manner he could promote his wishes. Mihráb said that he only desired him to become his guest at a banquet he intended to invite him to; but Zál thought proper to refuse, because he well knew, if he accepted an invitation of the kind from a relation of Zohák, that his father Sám and the King of Persia would be offended. Mihráb returned to Kábul disappointed, and having gone into his harem, his wife, Síndokht, inquired after the stranger from Zábul, the white-headed son of Sám. She wished to know what he was like, in form and feature, and what account he gave of his sojourn with the Símúrgh. Mihráb described him in the warmest terms of admiration—he was valiant, he said, accomplished and handsome, with no other defect than that of white hair. And so boundless was his praise, that Rúdábeh, who was present, drank every word with avidity, and felt her own heart warmed into admiration and love. Full of emotion, she afterwards said privately to her attendants:
"To you alone the secret of my heart

I now unfold; to you alone confess

The deep sensations of my captive soul.

I love, I love; all day and night of him

I think alone—I see him in my dreams—

You only know my secret—aid me now,

And soothe the sorrows of my bursting heart."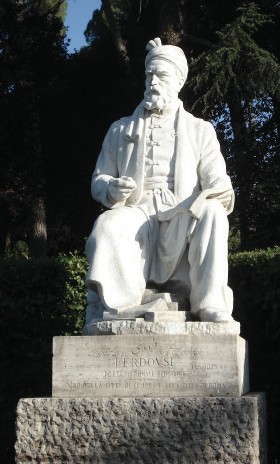 Image 6.6: Statue of Ferdowsi | Marble statue of Ferdowsi seated.
Author: User "Harlock81"
Source: Wikimedia Commons
License: CC BY-SA 3.0
The attendants were startled with this confession and entreaty and ventured to remonstrate against so preposterous an attachment.
"What! hast thou lost all sense of shame,
All value for thy honored name!
That thou, in loveliness supreme,
Of every tongue the constant theme,
Should choose, and on another's word.
The nursling of a Mountain Bird!
A being never seen before,
Which human mother never bore!
And can the hoary locks of age,
A youthful heart like thine engage?
Must thy enchanting form be prest
To such a dubious monster's breast?
And all thy beauty's rich array,
Thy peerless charms be thrown away?"
This violent remonstrance was more calculated to rouse the indignation of Rúdábeh than to induce her to change her mind. It did so. But she subdued her resentment, and again dwelt upon the ardor of her passion.
"My attachment is fixed, my election is made,
And when hearts are enchained 'tis in vain to upbraid.
Neither Kízar nor Faghfúr I wish to behold,
Nor the monarch of Persia with jewels and gold;
All, all I despise, save the choice of my heart,
And from his beloved image I never can part.
Call him aged, or young, 'tis a fruitless endeavour
To uproot a desire I must cherish for ever;
Call him old, call him young, who can passion control?
Ever present, and loved, he entrances my soul.
'Tis for him I exist—him I worship alone,
And my heart it must bleed till I call him my own."
As soon as the attendants found that Rúdábeh's attachment was deeply fixed, and not to be removed, they changed their purpose, and became obedient to her wishes, anxious to pursue any measure that might bring Zál and their mistress together. Rúdábeh was delighted with this proof of their regard.
It was spring-time, and the attendants repaired towards the halting-place of Zál, in the neighborhood of the city. Their occupation seemed to be gathering roses along the romantic banks of a pellucid streamlet, and when they purposely strayed opposite the tent of Zál, he observed them, and asked his friends—why they presumed to gather roses in his garden. He was told that they were damsels sent by the moon of Kábulistán from the palace of Mihráb to gather roses, and upon hearing this his heart was touched with emotion. He rose up and rambled about for amusement, keeping the direction of the river, followed by a servant with a bow. He was not far from the damsels, when a bird sprung up from the water, which he shot, upon the wing, with an arrow. The bird happened to fall near the rose-gatherers, and Zál ordered his servant to bring it to him. The attendants of Rúdábeh lost not the opportunity, as he approached them, to inquire who the archer was. "Know ye not," answered the servant, "that this is Ním-rúz, the son of Sám, and also called Dustán, the greatest warrior ever known." At this the damsels smiled, and said that they too belonged to a person of distinction—and not of inferior worth—to a star in the palace of Mihráb. "We have come from Kábul to the King of Zábulistán, and should Zál and Rúdábeh be of equal rank, her ruby lips may become acquainted with his, and their wished-for union be effected." When the servant returned, Zál was immediately informed of the conversation that had taken place, and in consequence presents were prepared.
They who to gather roses came—went back

With precious gems—and honorary robes;

And two bright finger-rings were secretly

Sent to the princess.
Then did the attendants of Rúdábeh exult in the success of their artifice, and say that the lion had come into their toils. Rúdábeh herself, however, had some fears on the subject. She anxiously sought to know exactly the personal appearance of Zál, and happily her warmest hopes were realized by the description she received. But one difficulty remained—how were they to meet? How was she to see with her own eyes the man whom her fancy had depicted in such glowing colors? Her attendants, sufficiently expert at intrigue, soon contrived the means of gratifying her wishes. There was a beautiful rural retreat in a sequestered situation, the apartments of which were adorned with pictures of great men, and ornamented in the most splendid manner. To this favorite place Rúdábeh retired, and most magnificently dressed, awaiting the coming of Zál, whom her attendants had previously invited to repair thither as soon as the sun had gone down. The shadows of evening were falling as he approached, and the enamoured princess thus addressed him from her balcony:—
"May happiness attend thee ever, thou,

Whose lucid features make this gloomy night

Clear as the day; whose perfume scents the breeze;

Thou who, regardless of fatigue, hast come

On foot too, thus to see me—"
Hearing a sweet voice, he looked up, and beheld a bright face in the balcony, and he said to the beautiful vision:
"How often have I hoped that Heaven
Would, in some secret place display
Thy charms to me, and thou hast given
My heart the wish of many a day;
For now thy gentle voice I hear,
And now I see thee—speak again!
Speak freely in a willing ear,
And every wish thou hast obtain."
Not a word was lost upon Rúdábeh, and she soon accomplished her object. Her hair was so luxuriant, and of such a length, that casting it loose it flowed down from the balcony; and, after fastening the upper part to a ring, she requested Zál to take hold of the other end and mount up. He ardently kissed the musky tresses, and by them quickly ascended.
Then hand in hand within the chambers they
Gracefully passed.—Attractive was the scene,
The walls embellished by the painter's skill,
And every object exquisitely formed,
Sculpture, and architectural ornament,
Fit for a king. Zál with amazement gazed
Upon what art had done, but more he gazed
Upon the witching radiance of his love,
Upon her tulip cheeks, her musky locks,
Breathing the sweetness of a summer garden;
Upon the sparkling brightness of her rings,
Necklace, and bracelets, glittering on her arms.
His mien too was majestic—on his head
He wore a ruby crown, and near his breast
Was seen a belted dagger. Fondly she
With side-long glances marked his noble aspect,
The fine proportions of his graceful limbs,
His strength and beauty. Her enamoured heart
Suffused her cheek with blushes, every glance
Increased the ardent transports of her soul.
So mild was his demeanour, he appeared
A gentle lion toying with his prey.
Long they remained rapt in admiration
Of each other. At length the warrior rose,
And thus addressed her: "It becomes not us
To be forgetful of the path of prudence,
Though love would dictate a more ardent course,
How oft has Sám, my father, counselled me,
Against unseeming thoughts,—unseemly deeds,—
Always to choose the right, and shun the wrong.
How will he burn with anger when he hears
This new adventure; how will Minúchihr
Indignantly reproach me for this dream!
This waking dream of rapture! but I call
High Heaven to witness what I now declare—
Whoever may oppose my sacred vows,
I still am thine, affianced thine, for ever."
And thus Rúdábeh: "Thou hast won my heart,
And kings may sue in vain; to thee devoted,
Thou art alone my warrior and my love."
Thus they exclaimed,—then Zál with fond adieus
Softly descended from the balcony, And hastened to his tent.
As speedily as possible he assembled together his counsellors and Múbids to obtain their advice on the present extraordinary occasion, and he represented to them the sacred importance of encouraging matrimonial alliances.
For marriage is a contract sealed by Heaven—
How happy is the Warrior's lot, amidst
His smiling children; when he dies, his son
Succeeds him, and enjoys his rank and name.
And is it not a glorious thing to say—
This is the son of Zál, or this of Sám,
The heir of his renowned progenitor?
He then related to them the story of his love and affection for the daughter of Mihráb; but the Múbids, well knowing that the chief of Kábul was of the family of Zohák, the serpent-king, did not approve the union desired, which excited the indignation of Zál. They, however, recommended his writing a letter to Sám, who might, if he thought proper, refer the matter to Minúchihr. The letter was accordingly written and despatched, and when Sám received it, he immediately referred the question to his astrologers, to know whether the nuptials, if solemnized between Zál and Rúdábeh, would be prosperous or not. They foretold that the nuptials would be prosperous, and that the issue would be a son of wonderful strength and power, the conqueror of the world. This announcement delighted the heart of the old warrior, and he sent the messenger back with the assurance of his approbation of the proposed union, but requested that the subject might be kept concealed till he returned with his army from the expedition to Karugsár, and was able to consult with Minúchihr.
Zál, exulting at his success, communicated the glad tidings to Rúdábeh by their female emissary, who had hitherto carried on successfully the correspondence between them. But as she was conveying an answer to this welcome news, and some presents to Zál, Síndokht, the mother of Rúdábeh, detected her, and, examining the contents of the packet, she found sufficient evidence, she thought, of something wrong.
"What treachery is this? What have we here!

Sirbund and male attire? Thou, wretch, confess!

Disclose thy secret doings."
The emissary, however, betrayed nothing; but declared that she was a dealer in jewels and dresses, and had been only showing her merchandise to Rúdábeh. Síndokht, in extreme agitation of mind, hastened to her daughter's apartment to ascertain the particulars of this affair, when Rúdábeh at once fearlessly acknowledged her unalterable affection for Zál,
"I love him so devotedly, all day,
All night my tears have flowed unceasingly;
And one hair of his head I prize more dearly
Than all the world beside; for him I live;
And we have met, and we have sat together,
And pledged our mutual love with mutual joy
And innocence of heart."
Rúdábeh further informed her of Sám's consent to their nuptials, which in some degree satisfied the mother.
But when Mihráb was made acquainted with the arrangement, his rage was unbounded, for he dreaded the resentment of Sám and Minúchihr when the circumstances became fully known to them. Trembling with indignation he drew his dagger, and would have instantly rushed to Rúdábeh's chamber to destroy her, had not Síndokht fallen at his feet and restrained him. He insisted, however, on her being brought before him; and upon his promise not to do her any harm, Síndokht complied. Rúdábeh disdained to take off her ornaments to appear as an offender and a supplicant, but, proud of her choice, went into her father's presence, gayly adorned with jewels, and in splendid apparel. Mihráb received her with surprise.
"Why all this glittering finery? Is the devil

United to an angel? When a snake

Is met with in Arabia, it is killed!"
But Rúdábeh answered not a word, and was permitted to retire with her mother.
When Minúchihr was apprised of the proceedings between Zál and Rúdábeh, he was deeply concerned, anticipating nothing but confusion and ruin to Persia from the united influence of Zál and Mihráb. Feridún had purified the world from the abominations of Zohák, and as Mihráb was a descendant of that merciless tyrant, he feared that some attempt would be made to resume the enormities of former times; Sám was therefore required to give his advice on the occasion.
The conqueror of Karugsár and Mázinderán was received on his return with cordial rejoicings, and he charmed the king with the story of his triumphant success. The monarch against whom he had fought was descended, on the mother's side, from Zohák, and his Demon army was more numerous than ants, or clouds of locusts, covering mountain and plain. Sám thus proceeded in his description of the conflict.
"And when he heard my voice, and saw what deeds
I had performed, approaching me, he threw
His noose; but downward bending I escaped,
And with my bow I showered upon his head
Steel-pointed arrows, piercing through the brain;
Then did I grasp his loins, and from his horse
Cast him upon the ground, deprived of life.
At this, the demons terrified and pale,
Shrunk back, some flying to the mountain wilds,
And others, taken on the battle-field,
Became obedient to the Persian king."
Minúchihr, gratified by this result of the expedition, appointed Sám to a new enterprise, which was to destroy Kábul by fire and sword, especially the house of Mihráb; and that ruler, of the serpent-race, and all his adherents were to be put to death. Sám, before he took leave to return to his own government at Zábul, tried to dissuade him from this violent exercise of revenge, but without making any sensible impression upon him.
Meanwhile the vindictive intentions of Minúchihr, which were soon known at Kábul, produced the greatest alarm and consternation in the family of Mihráb. Zál now returned to his father, and Sám sent a letter to Minúchihr, again to deprecate his wrath, and appointed Zál the messenger. In this letter Sám enumerates his services at Karugsár and Mázinderán, and especially dwells upon the destruction of a prodigious dragon.
"I am thy servant, and twice sixty years
Have seen my prowess. Mounted on my steed,
Wielding my battle-axe, overthrowing heroes,
Who equals Sám, the warrior? I destroyed
The mighty monster, whose devouring jaws
Unpeopled half the land, and spread dismay
From town to town. The world was full of horror,
No bird was seen in air, no beast of prey
In plain or forest; from the stream he drew
The crocodile; the eagle from the sky.
The country had no habitant alive,
And when I found no human being left,
I cast away all fear, and girt my loins,
And in the name of God went boldly forth,
Armed for the strife. I saw him towering rise,
Huge as a mountain, with his hideous hair
Dragging upon the ground; his long black tongue
Shut up the path; his eyes two lakes of blood;
And, seeing me, so horrible his roar,
The earth shook with affright, and from his mouth
A flood of poison issued. Like a lion
Forward I sprang, and in a moment drove
A diamond-pointed arrow through his tongue,
Fixing him to the ground. Another went
Down his deep throat, and dreadfully he writhed.
A third passed through his middle. Then I raised
My battle-axe, cow-headed, and with one
Tremendous blow, dislodged his venomous brain,
And deluged all around with blood and poison.
There lay the monster dead, and soon the world
Regained its peace and comfort. Now I'm old,
The vigour of my youth is past and gone,
And it becomes me to resign my station,
To Zál, my gallant son."
Mihráb continued in such extreme agitation, that in his own mind he saw no means of avoiding the threatened desolation of his country but by putting his wife and daughter to death. Síndokht however had a better resource, and suggested the expediency of waiting upon Sám herself, to induce him to forward her own views and the nuptials between Zál and Rúdábeh. To this Mihráb assented, and she proceeded, mounted on a richly caparisoned horse, to Zábul with most magnificent presents, consisting of three hundred thousand dínars; ten horses with golden, and thirty with silver, housings; sixty richly attired damsels, carrying golden trays of jewels and musk, and camphor, and wine, and sugar; forty pieces of figured cloth; a hundred milch camels, and a hundred others for burden; two hundred Indian swords, a golden crown and throne, and four elephants. Sám was amazed and embarrassed by the arrival of this splendid array. If he accepted the presents, he would incur the anger of Minúchihr; and if he rejected them, Zál would be disappointed and driven to despair. He at length accepted them, and concurred in the wishes of Síndokht respecting the union of the two lovers.
When Zál arrived at the court of Minúchihr, he was received with honor, and the letter of Sám being read, the king was prevailed upon to consent to the pacific proposals that were made in favor of Mihráb, and the nuptials. He too consulted his astrologers, and was informed that the offspring of Zál and Rúdábeh would be a hero of matchless strength and valor. Zál, on his return through Kábul, had an interview with Rúdábeh, who welcomed him in the most rapturous terms:—
Be thou for ever blest, for I adore thee,

And make the dust of thy fair feet my pillow.
In short, with the approbation of all parties the marriage at length took place, and was celebrated at the beautiful summer-house where first the lovers met. Sám was present at Kábul on the happy occasion, and soon afterwards returned to Sístán, preparatory to resuming his martial labors in Karugsár and Mázinderán.
As the time drew near that Rúdábeh should become a mother, she suffered extremely from constant indisposition, and both Zál and Síndokht were in the deepest distress on account of her precarious state.
The cypress leaf was withering; pale she lay,

Unsoothed by rest or sleep, death seemed approaching.
At last Zál recollected the feather of the Símúrgh, and followed the instructions which he had received, by placing it on the fire. In a moment darkness surrounded them, which was, however, immediately dispersed by the sudden appearance of the Símúrgh. "Why," said the Símúrgh, "do I see all this grief and sorrow? Why are the teardrops in the warrior's eyes? A child will be born of mighty power, who will become the wonder of the world."
The Símúrgh then gave some advice which was implicitly attended to, and the result was that Rúdábeh was soon out of danger. Never was beheld so prodigious a child. The father and mother were equally amazed. They called the boy Rustem. On the first day he looked a year old, and he required the milk of ten nurses. A likeness of him was immediately worked in silk, representing him upon a horse, and armed like a warrior, which was sent to Sám, who was then fighting in Mázinderán, and it made the old champion almost delirious with joy. At Kábul and Zábul there was nothing but feasting and rejoicing, as soon as the tidings were known, and thousands of dínars were given away in charity to the poor. When Rustem was five years of age, he ate as much as a man, and some say that even in his third year he rode on horseback. In his eighth year he was as powerful as any hero of the time.
In beauty of form and in vigour of limb,

No mortal was ever seen equal to him.
Both Sám and Mihráb, though far distant from the scene of felicity, were equally anxious to proceed to Zábulistán to behold their wonderful grandson. Both set off, but Mihráb arrived first with great pomp, and a whole army for his suite, and went forth with Zál to meet Sám, and give him an honorable welcome. The boy Rustem was mounted on an elephant, wearing a splendid crown, and wanted to join them, but his father kindly prevented him undergoing the inconvenience of alighting. Zál and Mihráb dismounted as soon as Sám was seen at a distance, and performed the ceremonies of an affectionate reception. Sám was indeed amazed when he did see the boy, and showered blessings on his head.
Afterwards Sám placed Mihráb on his right hand, and Zál on his left, and Rustem before him, and began to converse with his grandson, who thus manifested to him his martial disposition.
"Thou art the champion of the world, and I
The branch of that fair tree of which thou art
The glorious root: to thee I am devoted,
But ease and leisure have no charms for me;
Nor music, nor the songs of festive joy.
Mounted and armed, a helmet on my brow,
A javelin in my grasp, I long to meet
The foe, and cast his severed head before thee."
Then Sám made a royal feast, and every apartment in his palace was richly decorated, and resounded with mirth and rejoicing. Mihráb was the merriest, and drank the most, and in his cups saw nothing but himself, so vain had he become from the countenance he had received. He kept saying:—
"Now I feel no alarm about Sám or Zál-zer,
Nor the splendour and power of the great Minúchihr;
Whilst aided by Rustem, his sword, and his mace,
Not a cloud of misfortune can shadow my face.
All the laws of Zohák I will quickly restore,
And the world shall be fragrant and blest as before."
This exultation plainly betrayed the disposition of his race; and though Sám smiled at the extravagance of Mihráb, he looked up towards Heaven, and prayed that Rustem might not prove a tyrant, but be continually active in doing good, and humble before God.
Upon Sám departing, on his return to Karugsár and Mázinderán, Zál went with Rustem to Sístán, a province dependent on his government, and settled him there. The white elephant, belonging to Minúchihr, was kept at Sístán. One night Rustem was awakened out of his sleep by a great noise, and cries of distress when starting up and inquiring the cause, he was told that the white elephant had got loose, and was trampling and crushing the people to death. In a moment he issued from his apartment, brandishing his mace; but was soon stopped by the servants, who were anxious to expostulate with him against venturing out in the darkness of night to encounter a ferocious elephant. Impatient at being thus interrupted he knocked down one of the watchmen, who fell dead at his feet, and the others running away, he broke the lock of the gate, and escaped. He immediately opposed himself to the enormous animal, which looked like a mountain, and kept roaring like the River Nil. Regarding him with a cautious and steady eye, he gave a loud shout, and fearlessly struck him a blow, with such strength and vigor, that the iron mace was bent almost double. The elephant trembled, and soon fell exhausted and lifeless in the dust. When it was communicated to Zál that Rustem had killed the animal with one blow, he was amazed, and fervently returned thanks to heaven. He called him to him, and kissed him, and said: "My darling boy, thou art indeed unequalled in valor and magnanimity."
Then it occurred to Zál that Rustem, after such an achievement, would be a proper person to take vengeance on the enemies of his grandfather Narímán, who was sent by Feridún with a large army against an enchanted fort situated upon the mountain Sipund, and who whilst endeavoring to effect his object, was killed by a piece of rock thrown down from above by the besieged. The fort, which was many miles high, inclosed beautiful lawns of the freshest verdure, and delightful gardens abounding with fruit and flowers; it was also full of treasure. Sám, on hearing of the fate of his father, was deeply afflicted, and in a short time proceeded against the fort himself; but he was surrounded by a trackless desert. He knew not what course to pursue; not a being was ever seen to enter or come out of the gates, and, after spending months and years in fruitless endeavors, he was compelled to retire from the appalling enterprise in despair. "Now," said Zál to Rustem, "the time is come, and the remedy is at hand; thou art yet unknown, and may easily accomplish our purpose." Rustem agreed to the proposed adventure, and according to his father's advice, assumed the dress and character of a salt-merchant, prepared a caravan of camels, and secreted arms for himself and companions among the loads of salt. Everything being ready they set off, and it was not long before they reached the fort on the mountain Sipund. Salt being a precious article, and much wanted, as soon as the garrison knew that it was for sale, the gates were opened; and then was Rustem seen, together with his warriors, surrounded by men, women, and children, anxiously making their purchases, some giving clothes in exchange, some gold, and some silver, without fear or suspicion.
But when the night came on, and it was dark,
Rustem impatient drew his warriors forth,
And moved towards the mansion of the chief—
But not unheard. The unaccustomed noise,
Announcing warlike menace and attack,
Awoke the Kotwál, who sprung up to meet
The peril threatened by the invading foe.
Rustem meanwhile uplifts his ponderous mace,
And cleaves his head, and scatters on the ground
The reeking brains. And now the garrison
Are on the alert, all hastening to the spot
Where battle rages; midst the deepened gloom
Flash sparkling swords, which show the crimson earth
Bright as the ruby.
Rustem continued fighting with the people of the fort all night, and just as morning dawned, he discovered the chief and slew him. Those who survived, then escaped, and not one of the inhabitants remained within the walls alive. Rustem's next object was to enter the governor's mansion. It was built of stone, and the gate, which was made of iron, he burst open with his battle-axe, and advancing onward, he discovered a temple, constructed with infinite skill and science, beyond the power of mortal man, and which contained amazing wealth, in jewels and gold. All the warriors gathered for themselves as much treasure as they could carry away, and more than imagination can conceive; and Rustem wrote to Zál to know his further commands on the subject of the capture. Zál, overjoyed at the result of the enterprise, replied:
Thou hast illumed the soul of Narímán,

Now in the blissful bowers of Paradise,

By punishing his foes with fire and sword.
He then recommended him to load all the camels with as much of the invaluable property as could be removed, and bring it away, and then burn and destroy the whole place, leaving not a single vestige; and the command having been strictly complied with, Rustem retraced his steps to Zábulistán.
On his return Zál pressed him to his heart,
And paid him public honors. The fond mother
Kissed and embraced her darling son, and all
Uniting, showered their blessings on his head.
Story of Sohráb
O ye, who dwell in Youth's inviting bowers,
Waste not, in useless joy, your fleeting hours,
But rather let the tears of sorrow roll,
And sad reflection fill the conscious soul.
For many a jocund spring has passed away, 5
And many a flower has blossomed, to decay;
And human life, still hastening to a close,
Finds in the worthless dust its last repose.
Still the vain world abounds in strife and hate,
And sire and son provoke each other's fate; 10
And kindred blood by kindred hands is shed,
And vengeance sleeps not—dies not, with the dead.
All nature fades—the garden's treasures fall,
Young bud, and citron ripe—all perish, all.
And now a tale of sorrow must be told, 15
A tale of tears, derived from Múbid old,
And thus remembered.—
With the dawn of day,
Rustem arose, and wandering took his way,
Armed for the chase, where sloping to the sky, 20
Túrán's lone wilds in sullen grandeur lie;
There, to dispel his melancholy mood,
He urged his matchless steed through glen and wood.
Flushed with the noble game which met his view,
He starts the wild-ass o'er the glistening dew; 25
And, oft exulting, sees his quivering dart,
Plunge through the glossy skin, and pierce the heart.
Tired of the sport, at length, he sought the shade,
Which near a stream embowering trees displayed,
And with his arrow's point, a fire he raised, 30
And thorns and grass before him quickly blazed.
The severed parts upon a bough he cast,
To catch the flames; and when the rich repast
Was drest; with flesh and marrow, savory food,
He quelled his hunger; and the sparkling flood 35
That murmured at his feet, his thirst represt;
Then gentle sleep composed his limbs to rest.
Meanwhile his horse, for speed and form renown'd,
Ranged o'er the plain with flowery herbage crown'd,
Encumbering arms no more his sides opprest, 40
No folding mail confined his ample chest,
Gallant and free, he left the Champion's side,
And cropp'd the mead, or sought the cooling tide;
When lo! it chanced amid that woodland chase,
A band of horsemen, rambling near the place, 45
Saw, with surprise, superior game astray,
And rushed at once to seize the noble prey;
But, in the imminent struggle, two beneath
His steel-clad hoofs received the stroke of death;
One proved a sterner fate—for downward borne, 50
The mangled head was from the shoulders torn.
Still undismayed, again they nimbly sprung,
And round his neck the noose entangling flung:
Now, all in vain, he spurns the smoking ground,
In vain the tumult echoes all around; 55
They bear him off, and view, with ardent eyes,
His matchless beauty and majestic size;
Then soothe his fury, anxious to obtain,
A bounding steed of his immortal strain.
When Rustem woke, and miss'd his favourite horse, 60
The loved companion of his glorious course;
Sorrowing he rose, and, hastening thence, began
To shape his dubious way to Samengán;
"Reduced to journey thus, alone!" he said,
"How pierce the gloom which thickens round my head; 65
Burthen'd, on foot, a dreary waste in view,
Where shall I bend my steps, what path pursue?
The scoffing Turks will cry, 'Behold our might!
We won the trophy from the Champion-knight!
From him who, reckless of his fame and pride, 70
Thus idly slept, and thus ignobly died,'"
Girding his loins he gathered from the field,
His quivered stores, his beamy sword and shield,
Harness and saddle-gear were o'er him slung.
Bridle and mail across his shoulders hung. 75
Then looking round, with anxious eye, to meet,
The broad impression of his charger's feet,
The track he hail'd, and following, onward prest.
While grief and hope alternate filled his breast.
O'er vale and wild-wood led, he soon descries. 80
The regal city's shining turrets rise.
And when the Champion's near approach is known,
The usual homage waits him to the throne.
The king, on foot, received his welcome guest
With preferred friendship, and his coming blest: 85
But Rustem frowned, and with resentment fired,
Spoke of his wrongs, the plundered steed required.
"I've traced his footsteps to your royal town,
Here must he be, protected by your crown;
But if retained, if not from fetters freed, 90
My vengeance shall o'ertake the felon-deed."
"My honored guest!" the wondering King replied—
"Shall Rustem's wants or wishes be denied?
But let not anger, headlong, fierce, and blind,
O'ercloud the virtues of a generous mind. 95
If still within the limits of my reign,
The well known courser shall be thine again:
For Rakush never can remain concealed,
No more than Rustem in the battle-field!
Then cease to nourish useless rage, and share 100
With joyous heart my hospitable fare."
The son of Zál now felt his wrath subdued,
And glad sensations in his soul renewed.
The ready herald by the King's command,
Convened the Chiefs and Warriors of the land; 105
And soon the banquet social glee restored,
And China wine-cups glittered on the board;
And cheerful song, and music's magic power,
And sparkling wine, beguiled the festive hour.
The dulcet draughts o'er Rustem's senses stole, 110
And melting strains absorbed his softened soul.
But when approached the period of repose,
All, prompt and mindful, from the banquet rose;
A couch was spread well worthy such a guest,
Perfumed with rose and musk; and whilst at rest, 115
In deep sound sleep, the wearied Champion lay,
Forgot were all the sorrows of the way.
One watch had passed, and still sweet slumber shed
Its magic power around the hero's head—
When forth Tahmíneh came—a damsel held 120
An amber taper, which the gloom dispelled,
And near his pillow stood; in beauty bright,
The monarch's daughter struck his wondering sight.
Clear as the moon, in glowing charms arrayed,
Her winning eyes the light of heaven displayed; 125
Her cypress form entranced the gazer's view,
Her waving curls, the heart, resistless, drew,
Her eye-brows like the Archer's bended bow;
Her ringlets, snares; her cheek, the rose's glow,
Mixed with the lily—from her ear-tips hung 130
Rings rich and glittering, star-like; and her tongue,
And lips, all sugared sweetness—pearls the while
Sparkled within a mouth formed to beguile.
Her presence dimmed the stars, and breathing round
Fragrance and joy, she scarcely touched the ground, 135
So light her step, so graceful—every part
Perfect, and suited to her spotless heart.
Rustem, surprised, the gentle maid addressed,
And asked what lovely stranger broke his rest.
"What is thy name," he said—"what dost thou seek 140
Amidst the gloom of night? Fair vision, speak!"
"O thou," she softly sigh'd, "of matchless fame!
With pity hear, Tahmíneh is my name!
The pangs of love my anxious heart employ,
And flattering promise long-expected joy; 145
No curious eye has yet these features seen,
My voice unheard, beyond the sacred screen.
How often have I listened with amaze,
To thy great deeds, enamoured of thy praise;
How oft from every tongue I've heard the strain, 150
And thought of thee—and sighed, and sighed again.
The ravenous eagle, hovering o'er his prey,
Starts at thy gleaming sword and flies away:
Thou art the slayer of the Demon brood,
And the fierce monsters of the echoing wood. 155
Where'er thy mace is seen, shrink back the bold,
Thy javelin's flash all tremble to behold.
Enchanted with the stories of thy fame,
My fluttering heart responded to thy name;
And whilst their magic influence I felt, 160
In prayer for thee devotedly I knelt;
And fervent vowed, thus powerful glory charms,
No other spouse should bless my longing arms.
Indulgent heaven propitious to my prayer,
Now brings thee hither to reward my care. 165
Túrán's dominions thou hast sought, alone,
By night, in darkness—thou, the mighty one!
O claim my hand, and grant my soul's desire;
Ask me in marriage of my royal sire;
Perhaps a boy our wedded love may crown, 170
Whose strength like thine may gain the world's renown.
Nay more—for Samengán will keep my word—
Rakush to thee again shall be restored."
The damsel thus her ardent thought expressed,
And Rustem's heart beat joyous in his breast, 175
Hearing her passion—not a word was lost,
And Rakush safe, by him still valued most;
He called her near; with graceful step she came,
And marked with throbbing pulse his kindled flame.
And now a Múbid, from the Champion-knight, 180
Requests the royal sanction to the rite;
O'erjoyed, the King the honoured suit approves,
O'erjoyed to bless the doting child he loves,
And happier still, in showering smiles around,
To be allied to warrior so renowned. 185
When the delighted father, doubly blest,
Resigned his daughter to his glorious guest,
The people shared the gladness which it gave,
The union of the beauteous and the brave.
To grace their nuptial day—both old and young, 190
The hymeneal gratulations sung:
"May this young moon bring happiness and joy,
And every source of enmity destroy."
The marriage-bower received the happy pair,
And love and transport shower'd their blessings 195
Ere from his lofty sphere the morn had thrown
His glittering radiance, and in splendour shone,
The mindful Champion, from his sinewy arm,
His bracelet drew, the soul-ennobling charm;
And, as he held the wondrous gift with pride, 200
He thus address'd his love-devoted bride!
"Take this," he said, "and if, by gracious heaven,
A daughter for thy solace should be given,
Let it among her ringlets be displayed,
And joy and honour will await the maid; 205
But should kind fate increase the nuptial-joy,
And make thee mother of a blooming boy,
Around his arm this magic bracelet bind,
To fire with virtuous deeds his ripening mind;
The strength of Sám will nerve his manly form, 210
In temper mild, in valour like the storm;
His not the dastard fate to shrink, or turn
From where the lions of the battle burn;
To him the soaring eagle from the sky
Will stoop, the bravest yield to him, or fly; 215
Thus shall his bright career imperious claim
The well-won honours of immortal fame!"
Ardent he said, and kissed her eyes and face,
And lingering held her in a fond embrace.
When the bright sun his radiant brow displayed, 220
And earth in all its loveliest hues arrayed,
The Champion rose to leave his spouse's side,
The warm affections of his weeping bride.
For her, too soon the winged moments flew,
Too soon, alas! the parting hour she knew; 225
Clasped in his arms, with many a streaming tear,
She tried, in vain, to win his deafen'd ear;
Still tried, ah fruitless struggle! to impart,
The swelling anguish of her bursting heart.
The father now with gratulations due 230
Rustem approaches, and displays to view
The fiery war-horse—welcome as the light
Of heaven, to one immersed in deepest night;
The Champion, wild with joy, fits on the rein,
And girds the saddle on his back again; 235
Then mounts, and leaving sire and wife behind,
Onward to Sístán rushes like the wind.
But when returned to Zábul's friendly shade,
None knew what joys the Warrior had delayed;
Still, fond remembrance, with endearing thought, 240
Oft to his mind the scene of rapture brought.
When nine slow-circling months had roll'd away,
Sweet-smiling pleasure hailed the brightening day—
A wondrous boy Tahmíneh's tears supprest,
And lull'd the sorrows of her heart to rest; 245
To him, predestined to be great and brave,
The name Sohráb his tender mother gave;
And as he grew, amazed, the gathering throng,
View'd his large limbs, his sinews firm and strong;
His infant years no soft endearment claimed: 250
Athletic sports his eager soul inflamed;
Broad at the chest and taper round the loins,
Where to the rising hip the body joins;
Hunter and wrestler; and so great his speed,
He could overtake, and hold the swiftest steed. 255
His noble aspect, and majestic grace,
Betrayed the offspring of a glorious race.
How, with a mother's ever anxious love,
Still to retain him near her heart she strove!
For when the father's fond inquiry came, 260
Cautious, she still concealed his birth and name,
And feign'd a daughter born, the evil fraught
With misery to avert—but vain the thought;
Not many years had passed, with downy flight,
Ere he, Tahmíneh's wonder and delight, 265
With glistening eye, and youthful ardour warm,
Filled her foreboding bosom with alarm.
"O now relieve my heart!" he said, "declare,
From whom I sprang and breathe the vital air.
Since, from my childhood I have ever been, 270
Amidst my play-mates of superior mien;
Should friend or foe demand my father's name,
Let not my silence testify my shame!
If still concealed, you falter, still delay,
A mother's blood shall wash the crime away." 275
"This wrath forego," the mother answering cried,
"And joyful hear to whom thou art allied.
A glorious line precedes thy destined birth,
The mightiest heroes of the sons of earth.
The deeds of Sám remotest realms admire, 280
And Zál, and Rustem thy illustrious sire!"
In private, then, she Rustem's letter placed
Before his view, and brought with eager haste
Three sparkling rubies, wedges three of gold,
From Persia sent—"Behold," she said, "behold 285
Thy father's gifts, will these thy doubts remove
The costly pledges of paternal love!
Behold this bracelet charm, of sovereign power
To baffle fate in danger's awful hour;
But thou must still the perilous secret keep, 290
Nor ask the harvest of renown to reap;
For when, by this peculiar signet known,
Thy glorious father shall demand his son,
Doomed from her only joy in life to part,
O think what pangs will rend thy mother's heart!— 295
Seek not the fame which only teems with woe;
Afrásiyáb is Rustem's deadliest foe!
And if by him discovered, him I dread,
Revenge will fail upon thy guiltless head."
The youth replied: "In vain thy sighs and tears, 300
The secret breathes and mocks thy idle fears.
No human power can fate's decrees control,
Or check the kindled ardour of my soul.
Then why from me the bursting truth conceal?
My father's foes even now my vengeance feel; 305
Even now in wrath my native legions rise,
And sounds of desolation strike the skies;
Káús himself, hurled from his ivory throne,
Shall yield to Rustem the imperial crown,
And thou, my mother, still in triumph seen, 310
Of lovely Persia hailed the honoured queen!
Then shall Túrán unite beneath my hand,
And drive this proud oppressor from the land!
Father and Son, in virtuous league combined,
No savage despot shall enslave mankind; 315
When Sun and Moon o'er heaven refulgent blaze,
Shall little stars obtrude their feeble rays?"
He paused, and then: "O mother, I must now
My father seek, and see his lofty brow;
Be mine a horse, such as a prince demands, 320
Fit for the dusty field, a warrior's hands;
Strong as an elephant his form should be,
And chested like the stag, in motion free,
And swift as bird, or fish; it would disgrace
A warrior bold on foot to show his face." 325
The mother, seeing how his heart was bent,
His day-star rising in the firmament,
Commands the stables to be searched to find
Among the steeds one suited to his mind;
Pressing their backs he tries their strength and nerve, 330
Bent double to the ground their bellies curve;
Not one, from neighbouring plain and mountain brought,
Equals the wish with which his soul is fraught;
Fruitless on every side he anxious turns,
Fruitless, his brain with wild impatience burns, 335
But when at length they bring the destined steed,
From Rakush bred, of lightning's winged speed,
Fleet, as the arrow from the bow-string flies,
Fleet, as the eagle darting through the skies,
Rejoiced he springs, and, with a nimble bound, 340
Vaults in his seat, and wheels the courser round;
"With such a horse—thus mounted, what remains?
Káús, the Persian King, no longer reigns!"
High flushed he speaks—with youthful pride elate,
Eager to crush the Monarch's glittering state; 345
He grasps his javelin with a hero's might,
And pants with ardour for the field of fight.
Soon o'er the realm his fame expanding spread,
And gathering thousands hasten'd to his aid.
His Grand-sire, pleased, beheld the warrior-train 350
Successive throng and darken all the plain;
And bounteously his treasures he supplied,
Camels, and steeds, and gold.—In martial pride,
Sohráb was seen—a Grecian helmet graced
His brow—and costliest mail his limbs embraced. 355
Afrásiyáb now hears with ardent joy,
The bold ambition of the warrior-boy,
Of him who, perfumed with the milky breath
Of infancy, was threatening war and death,
And bursting sudden from his mother's side, 360
Had launched his bark upon the perilous tide.
The insidious King sees well the tempting hour,
Favouring his arms against the Persian power,
And thence, in haste, the enterprise to share,
Twelve thousand veterans selects with care; 365
To Húmán and Bármán the charge consigns,
And thus his force with Samengán combines;
But treacherous first his martial chiefs he prest,
To keep the secret fast within their breast:—
"For this bold youth must not his father know, 370
Each must confront the other as his foe—
Such is my vengeance! With unhallowed rage,
Father and Son shall dreadful battle wage!
Unknown the youth shall Rustem's force withstand,
And soon o'erwhelm the bulwark of the land. 375
Rustem removed, the Persian throne is ours,
An easy conquest to confederate powers;
And then, secured by some propitious snare,
Sohráb himself our galling bonds shall wear.
Or should the Son by Rustem's falchion bleed, 380
The father's horror at that fatal deed,
Will rend his soul, and 'midst his sacred grief,
Káús in vain will supplicate relief."
The tutored chiefs advance with speed, and bring
Imperial presents to the future king; 385
In stately pomp the embassy proceeds;
Ten loaded camels, ten unrivalled steeds,
A golden crown, and throne, whose jewels bright
Gleam in the sun, and shed a sparkling light,
A letter too the crafty tyrant sends, 390
And fraudful thus the glorious aim commends.—
"If Persia's spoils invite thee to the field,
Accept the aid my conquering legions yield;
Led by two Chiefs of valour and renown,
Upon thy head to place the kingly crown." 395
Elate with promised fame, the youth surveys
The regal vest, the throne's irradiant blaze,
The golden crown, the steeds, the sumptuous load
Of ten strong camels, craftily bestowed;
Salutes the Chiefs, and views on every side, 400
The lengthening ranks with various arms supplied.
The march begins—the brazen drums resound,
His moving thousands hide the trembling ground;
For Persia's verdant land he wields the spear,
And blood and havoc mark his groaning rear. 405
To check the Invader's horror-spreading course,
The barrier-fort opposed unequal force;
That fort whose walls, extending wide, contained
The stay of Persia, men to battle trained.
Soon as Hujír the dusky crowd descried, 410
He on his own presumptuous arm relied,
And left the fort; in mail with shield and spear,
Vaunting he spoke—"What hostile force is here?
What Chieftain dares our war-like realms invade?"
"And who art thou?" Sohráb indignant said, 415
Rushing towards him with undaunted look—
"Hast thou, audacious! nerve and soul to brook
The crocodile in fight, that to the strife
Singly thou comest, reckless of thy life?"
To this the foe replied—"A Turk and I 420
Have never yet been bound in friendly tie;
And soon thy head shall, severed by my sword,
Gladden the sight of Persia's mighty lord,
While thy torn limbs to vultures shall be given,
Or bleach beneath the parching blast of heaven." 425
The youthful hero laughing hears the boast,
And now by each continual spears are tost,
Mingling together; like a flood of fire
The boaster meets his adversary's ire;
The horse on which he rides, with thundering pace, 430
Seems like a mountain moving from its base;
Sternly he seeks the stripling's loins to wound,
But the lance hurtless drops upon the ground;
Sohráb, advancing, hurls his steady spear
Full on the middle of the vain Hujír, 435
Who staggers in his seat. With proud disdain
The youth now flings him headlong on the plain,
And quick dismounting, on his heaving breast
Triumphant stands, his Khunjer firmly prest,
To strike the head off—but the blow was stayed—Trembling, 440
for life, the craven boaster prayed.
That mercy granted eased his coward mind,
Though, dire disgrace, in captive bonds confined,
And sent to Húmán, who amazed beheld
How soon Sohráb his daring soul had quelled. 445
When Gúrd-afríd, a peerless warrior-dame,
Heard of the conflict, and the hero's shame,
Groans heaved her breast, and tears of anger flowed,
Her tulip cheek with deeper crimson glowed;
Speedful, in arms magnificent arrayed, 450
A foaming palfrey bore the martial maid;
The burnished mail her tender limbs embraced,
Beneath her helm her clustering locks she placed;
Poised in her hand an iron javelin gleamed,
And o'er the ground its sparkling lustre streamed; 455
Accoutred thus in manly guise, no eye
However piercing could her sex descry;
Now, like a lion, from the fort she bends,
And 'midst the foe impetuously descends;
Fearless of soul, demands with haughty tone, 460
The bravest chief, for war-like valour known,
To try the chance of fight. In shining arms,
Again Sohráb the glow of battle warms;
With scornful smiles, "Another deer!" he cries,
"Come to my victor-toils, another prize!" 465
The damsel saw his noose insidious spread,
And soon her arrows whizzed around his head;
With steady skill the twanging bow she drew,
And still her pointed darts unerring flew;
For when in forest sports she touched the string, 470
Never escaped even bird upon the wing;
Furious he burned, and high his buckler held,
To ward the storm, by growing force impell'd;
And tilted forward with augmented wrath,
But Gúrd-áfríd aspires to cross his path; 475
Now o'er her back the slacken'd bow resounds;
She grasps her lance, her goaded courser bounds,
Driven on the youth with persevering might—
Unconquer'd courage still prolongs the fight;
The stripling Chief shields off the threaten'd blow, 480
Reins in his steed, then rushes on the foe;
With outstretch'd arm, he bending backwards hung,
And, gathering strength, his pointed javelin flung;
Firm through her girdle belt the weapon went,
And glancing down the polish'd armour rent. 485
Staggering, and stunned by his superior force,
She almost tumbled from her foaming horse,
Yet unsubdued, she cut the spear in two,
And from her side the quivering fragment drew,
Then gain'd her seat, and onward urged her steed, 490
But strong and fleet Sohráb arrests her speed:
Strikes off her helm, and sees—a woman's face,
Radiant with blushes and commanding grace!
Thus undeceived, in admiration lost,
He cries, "A woman, from the Persian host! 495
If Persian damsels thus in arms engage,
Who shall repel their warrior's fiercer rage?"
Then from his saddle thong—his noose he drew,
And round her waist the twisted loop he threw—
"Now seek not to escape," he sharply said, 500
"Such is the fate of war, unthinking maid!
And, as such beauty seldom swells our pride,
Vain thy attempt to cast my toils aside."
In this extreme, but one resource remained,
Only one remedy her hope sustained— 505
Expert in wiles each siren-art she knew,
And thence exposed her blooming face to view;
Raising her full black orbs, serenely bright,
In all her charms she blazed before his sight;
And thus addressed Sohráb—"O warrior brave, 510
Hear me, and thy imperilled honour save,
These curling tresses seen by either host,
A woman conquered, whence the glorious boast?
Thy startled troops will know, with inward grief,
A woman's arm resists their towering chief, 515
Better preserve a warrior's fair renown,
And let our struggle still remain unknown,
For who with wanton folly would expose
A helpless maid, to aggravate her woes;
The fort, the treasure, shall thy toils repay, 520
The chief, and garrison, thy will obey,
And thine the honours of this dreadful day."
Raptured he gazed, her smiles resistless move
The wildest transports of ungoverned love.
Her face disclosed a paradise to view, 525
Eyes like the fawn, and cheeks of rosy hue—
Thus vanquished, lost, unconscious of her aim,
And only struggling with his amorous flame,
He rode behind, as if compelled by fate,
And heedless saw her gain the castle-gate. 530
Safe with her friends, escaped from brand and spear,
Smiling she stands, as if unknown to fear.
—The father now, with tearful pleasure wild,
Clasps to his heart his fondly-foster'd child;
The crowding warriors round her eager bend, 535
And grateful prayers to favouring heaven ascend.
Now from the walls, she, with majestic air,
Exclaims: "Thou warrior of Túrán! forbear,
Why vex thy soul, and useless strife demand!
Go, and in peace enjoy thy native land." 540
Stern he rejoins: "Thou beauteous tyrant! say,
Though crown'd with charms, devoted to betray,
When these proud walls, in dust and ruins laid,
Yield no defence, and thou a captive maid,
Will not repentance through thy bosom dart, 545
And sorrow soften that disdainful heart?"
Quick she replied: "O'er Persia's fertile fields
The savage Turk in vain his falchion wields;
When King Káús this bold invasion hears,
And mighty Rustem clad in arms appears! 550
Destruction wide will glut the slippery plain,
And not one man of all thy host remain.
Alas! that bravery, high as thine, should meet
Amidst such promise, with a sure defeat,
But not a gleam of hope remains for thee, 555
Thy wondrous valour cannot keep thee free.
Avert the fate which o'er thy head impends,
Return, return, and save thy martial friends!"
Thus to be scorned, defrauded of his prey,
With victory in his grasp—to lose the day! 560
Shame and revenge alternate filled his mind;
The suburb-town to pillage he consigned,
And devastation—not a dwelling spared;
The very owl was from her covert scared;
Then thus: "Though luckless in my aim to-day, 565
To-morrow shall behold a sterner fray;
This fort, in ashes, scattered o'er the plain."
He ceased—and turned towards his troops again;
There, at a distance from the hostile power,
He brooding waits the slaughter-breathing hour. 570
Meanwhile the sire of Gúrd-afríd, who now
Governed the fort, and feared the warrior's vow;
Mournful and pale, with gathering woes opprest,
His distant Monarch trembling thus addrest.
But first invoked the heavenly power to shed 575
Its choicest blessings o'er his royal head.
"Against our realm with numerous foot and horse,
A stripling warrior holds his ruthless course.
His lion-breast unequalled strength betrays,
And o'er his mien the sun's effulgence plays: 580
Sohráb his name; like Sám Suwár he shows,
Or Rustem terrible amidst his foes.
The bold Hujír lies vanquished on the plain,
And drags a captive's ignominious chain;
Myriads of troops besiege our tottering wall, 585
And vain the effort to suspend its fall.
Haste, arm for fight, this Tartar-power withstand,
Let sweeping Vengeance lift her flickering brand;
Rustem alone may stem the roaring wave,
And, prompt as bold, his groaning country save. 590
Meanwhile in flight we place our only trust,
Ere the proud ramparts crumble in the dust."
Swift flies the messenger through secret ways,
And to the King the dreadful tale conveys,
Then passed, unseen, in night's concealing shade, 595
The mournful heroes and the warrior maid.
Soon as the sun with vivifying ray,
Gleams o'er the landscape, and renews the day;
The flaming troops the lofty walls surround,
With thundering crash the bursting gates resound. 600
Already are the captives bound, in thought,
And like a herd before the conqueror brought;
Sohráb, terrific o'er the ruin, views
His hopes deceived, but restless still pursues.
An empty fortress mocks his searching eye, 605
No steel-clad chiefs his burning wrath defy;
No warrior-maid reviving passion warms,
And soothes his soul with fondly-valued charms.
Deep in his breast he feels the amorous smart,
And hugs her image closer to his heart. 610
"Alas! that Fate should thus invidious shroud
The moon's soft radiance in a gloomy cloud;
Should to my eyes such winning grace display,
Then snatch the enchanter of my soul away!
A beauteous roe my toils enclosed in vain, 615
Now I, her victim, drag the captive's chain;
Strange the effects that from her charms proceed,
I gave the wound, and I afflicted bleed!
Vanquished by her, I mourn the luckless strife;
Dark, dark, and bitter, frowns my morn of life. 620
A fair unknown my tortured bosom rends,
Withers each joy, and every hope suspends."
Impassioned thus Sohráb in secret sighed,
And sought, in vain, o'er-mastering grief to hide.
Can the heart bleed and throb from day to day, 625
And yet no trace its inmost pangs betray?
Love scorns control, and prompts the labouring sigh,
Pales the red lip, and dims the lucid eye;
His look alarmed the stern Túránian Chief,
Closely he mark'd his heart-corroding grief;— 630
And though he knew not that the martial dame,
Had in his bosom lit the tender flame;
Full well he knew such deep repinings prove,
The hapless thraldom of disastrous love.
Full well he knew some idol's musky hair, 635
Had to his youthful heart become a snare,
But still unnoted was the gushing tear,
Till haply he had gained his private ear:—
"In ancient times, no hero known to fame,
Not dead to glory e'er indulged the flame; 640
Though beauty's smiles might charm a fleeting hour,
The heart, unsway'd, repelled their lasting power.
A warrior Chief to trembling love a prey?
What! weep for woman one inglorious day?
Canst thou for love's effeminate control, 645
Barter the glory of a warrior's soul?
Although a hundred damsels might be gained,
The hero's heart shall still be free, unchained.
Thou art our leader, and thy place the field
Where soldiers love to fight with spear and shield; 650
And what hast thou to do with tears and smiles,
The silly victim to a woman's wiles?
Our progress, mark! from far Túrán we came,
Through seas of blood to gain immortal fame;
And wilt thou now the tempting conquest shun, 655
When our brave arms this Barrier-fort have won?
Why linger here, and trickling sorrows shed,
Till mighty Káús thunders o'er thy head!
Till Tús, and Gíw, and Gúdarz, and Báhrám,
And Rustem brave, Ferámurz, and Rehám, 660
Shall aid the war! A great emprise is thine,
At once, then, every other thought resign;
For know the task which first inspired thy zeal,
Transcends in glory all that love can feel.
Rise, lead the war, prodigious toils require 665
Unyielding strength, and unextinguished fire;
Pursue the triumph with tempestuous rage,
Against the world in glorious strife engage,
And when an empire sinks beneath thy sway
(O quickly may we hail the prosperous day), 670
The fickle sex will then with blooming charms,
Adoring throng to bless thy circling arms!"
Húmán's warm speech, the spirit-stirring theme,
Awoke Sohráb from his inglorious dream.
No more the tear his faded cheek bedewed, 675
Again ambition all his hopes renewed:
Swell'd his bold heart with unforgotten zeal,
The noble wrath which heroes only feel;
Fiercely he vowed at one tremendous stroke,
To bow the world beneath the tyrant's yoke! 680
"Afrásiyáb," he cried, "shall reign alone,
The mighty lord of Persia's gorgeous throne!"
Burning, himself, to rule this nether sphere,
These welcome tidings charmed the despot's ear.
Meantime Káús, this dire invasion known, 685
Had called his chiefs around his ivory throne:
There stood Gurgín, and Báhrám, and Gushwád,
And Tús, and Gíw, and Gúdárz, and Ferhád;
To them he read the melancholy tale,
Gust'hem had written of the rising bale; 690
Besought their aid and prudent choice, to form
Some sure defence against the threatening storm.
With one consent they urge the strong request,
To summon Rustem from his rural rest.—
Instant a warrior-delegate they send, 695
And thus the King invites his patriot-friend,
"To thee all praise, whose mighty arm alone,
Preserves the glory of the Persian throne!
Lo! Tartar hordes our happy realms invade;
The tottering state requires thy powerful aid; 700
A youthful Champion leads the ruthless host,
His savage country's widely-rumoured boast.
The Barrier-fortress sinks beneath his sway,
Hujír is vanquished, ruin tracks his way;
Strong as a raging elephant in fight, 705
No arm but thine can match his furious might.
Mázinderán thy conquering prowess knew;
The Demon-king thy trenchant falchion slew,
The rolling heavens, abash'd with fear, behold
Thy biting sword, thy mace adorned with gold! 710
Fly to the succour of a King distress'd,
Proud of thy love, with thy protection blest.
When o'er the nation dread misfortunes lower,
Thou art the refuge, thou the saving power.
The chiefs assembled claim thy patriot vows, 715
Give to thy glory all that life allows;
And while no whisper breathes the direful tale,
O, let thy Monarch's anxious prayers prevail."
Closing the fragrant page o'ercome with dread,
The afflicted King to Gíw, the warrior, said:— 720
"Go, bind the saddle on thy fleetest horse,
Outstrip the tempest in thy rapid course,
To Rustem swift his country's woes convey,
Too true art thou to linger on the way;
Speed, day and night—and not one instant wait, 725
Whatever hour may bring thee to his gate."
Followed no pause—to Gíw enough was said,
Nor rest, nor taste of food, his speed delayed.
And when arrived, where Zábul's bowers exhale
Ambrosial sweets and scent the balmy gale, 730
The sentinel's loud voice in Rustem's ear,
Announced a messenger from Persia, near;
The Chief himself amidst his warriors stood,
Dispensing honours to the brave and good,
And soon as Gíw had joined the martial ring, 735
(The sacred envoy of the Persian King),
He, with becoming loyalty inspired,
Asked what the monarch, what the state required;
But Gíw, apart, his secret mission told—
The written page was speedily unrolled. 740
Struck with amazement, Rustem—"Now on earth
A warrior-knight of Sám's excelling worth?
Whence comes this hero of the prosperous star?
I know no Turk renowned, like him, in war;
He bears the port of Rustem too, 'tis said, 745
Like Sám, like Narímán, a warrior bred!
He cannot be my son, unknown to me;
Reason forbids the thought—it cannot be!
At Samengán, where once affection smiled,
To me Tahmíneh bore her only child, 750
That was a daughter?" Pondering thus he spoke,
And then aloud—"Why fear the invader's yoke?
Why trembling shrink, by coward thoughts dismayed,
Must we not all in dust, at length, be laid?
But come, to Nírum's palace, haste with me, 755
And there partake the feast—from sorrow free;
Breathe, but awhile—ere we our toils renew,
And moisten the parched lip with needful dew.
Let plans of war another day decide,
We soon shall quell this youthful hero's pride. 760
The force of fire soon flutters and decays
When ocean, swelled by storms, its wrath displays.
What danger threatens! whence the dastard fear!
Rest, and at leisure share a warrior's cheer."
In vain the Envoy prest the Monarch's grief; 765
The matchless prowess of the stripling chief;
How brave Hujír had felt his furious hand;
What thickening woes beset the shuddering land.
But Rustem, still, delayed the parting day,
And mirth and feasting rolled the hours away; 770
Morn following morn beheld the banquet bright,
Music and wine prolonged the genial rite;
Rapt by the witchery of the melting strain,
No thought of Káús touch'd his swimming brain.
The trumpet's clang, on fragrant breezes borne, 775
Now loud salutes the fifth revolving morn;
The softer tones which charm'd the jocund feast,
And all the noise of revelry, had ceased,
The generous horse, with rich embroidery deckt,
Whose gilded trappings sparkling light reflect, 780
Bears with majestic port the Champion brave,
And high in air the victor-banners wave.
Prompt at the martial call, Zúára leads
His veteran troops from Zábul's verdant meads.
Ere Rustem had approached his journey's end, 785
Tús, Gúdarz, Gushwád, met their champion-friend
With customary honours; pleased to bring
The shield of Persia to the anxious King.
But foaming wrath the senseless monarch swayed;
His friendship scorned, his mandate disobeyed, 790
Beneath dark brows o'er-shadowing deep, his eye
Red gleaming shone, like lightning through the sky
And when the warriors met his sullen view,
Frowning revenge, still more enraged he grew:—
Loud to the Envoy thus he fiercely cried:— 795
"Since Rustem has my royal power defied,
Had I a sword, this instant should his head
Roll on the ground; but let him now be led
Hence, and impaled alive." Astounded Gíw
Shrunk from such treatment of a knight so true; 800
But this resistance added to the flame,
And both were branded with revolt and shame;
Both were condemned, and Tús, the stern decree
Received, to break them on the felon-tree.
Could daring insult, thus deliberate given, 805
Escape the rage of one to frenzy driven?
No, from his side the nerveless Chief was flung,
Bent to the ground. Away the Champion sprung;
Mounted his foaming horse, and looking round—
His boiling wrath thus rapid utterance found:— 810
"Ungrateful King, thy tyrant acts disgrace
The sacred throne, and more, the human race;
Midst clashing swords thy recreant life I saved,
And am I now by Tús contemptuous braved?
On me shall Tús, shall Káús dare to frown? 815
On me, the bulwark of the regal crown?
Wherefore should fear in Rustem's breast have birth,
Káús, to me, a worthless clod of earth!
Go, and thyself Sohráb's invasion stay,
Go, seize the plunderers growling o'er their prey! 820
Wherefore to others give the base command?
Go, break him on the tree with thine own hand.
Know, thou hast roused a warrior, great and free,
Who never bends to tyrant Kings like thee!
Was not this untired arm triumphant seen, 825
In Misser, Rúm, Mázinderán, and Chín!
And must I shrink at thy imperious nod!
Slave to no Prince, I only bow to God.
Whatever wrath from thee, proud King! may fall,
For thee I fought, and I deserve it all. 830
The regal sceptre might have graced my hand,
I kept the laws, and scorned supreme command.
When Kai-kobád and Alberz mountain strayed,
I drew him thence, and gave a warrior's aid;
Placed on his brows the long-contested crown, 835
Worn by his sires, by sacred right his own;
Strong in the cause, my conquering arms prevailed,
Wouldst thou have reign'd had Rustem's valour failed
When the White Demon raged in battle-fray,
Wouldst thou have lived had Rustem lost the day?" 840
Then to his friends: "Be wise, and shun your fate,
Fly the wide ruin which o'erwhelms the state;
The conqueror comes—the scourge of great and small,
And vultures, following fast, will gorge on all.
Persia no more its injured Chief shall view"— 845
He said, and sternly from the court withdrew.
The warriors now, with sad forebodings wrung,
Torn from that hope to which they proudly clung,
On Gúdarz rest, to soothe with gentle sway,
The frantic King, and Rustem's wrath allay. 850
With bitter grief they wail misfortune's shock,
No shepherd now to guard the timorous flock.
Gúdarz at length, with boding cares imprest,
Thus soothed the anger in the royal breast.
"Say, what has Rustem done, that he should be 855
Impaled upon the ignominious tree?
Degrading thought, unworthy to be bred
Within a royal heart, a royal head.
Hast thou forgot when near the Caspian-wave,
Defeat and ruin had appalled the brave, 860
When mighty Rustem struck the dreadful blow,
And nobly freed thee from the savage foe?
Did Demons huge escape his flaming brand?
Their reeking limbs bestrew'd the slippery strand.
Shall he for this resign his vital breath? 865
What! shall the hero's recompense be death?
But who will dare a threatening step advance,
What earthly power can bear his withering glance?
Should he to Zábul fired with wrongs return,
The plunder'd land will long in sorrow mourn! 870
This direful presage all our warriors feel,
For who can now oppose the invader's steel;
Thus is it wise thy champion to offend,
To urge to this extreme thy warrior-friend?
Remember, passion ever scorns control, 875
And wisdom's mild decrees should rule a Monarch's soul."
Káús, relenting, heard with anxious ear,
And groundless wrath gave place to shame and fear;
"Go then," he cried, "his generous aid implore,
And to your King the mighty Chief restore!" 880
When Gúdarz rose, and seized his courser's rein,
A crowd of heroes followed in his train.
To Rustem, now (respectful homage paid),
The royal prayer he anxious thus conveyed.
"The King, repentant, seeks thy aid again, 885
Grieved to the heart that he has given thee pain;
But though his anger was unjust and strong,
Thy country still is guiltless of the wrong,
And, therefore, why abandoned thus by thee?
Thy help the King himself implores through me." 890
Rustem rejoined: "Unworthy the pretence,
And scorn and insult all my recompense?
Must I be galled by his capricious mood?
I, who have still his firmest champion stood?
But all is past, to heaven alone resigned, 895
No human cares shall more disturb my mind!"
Then Gúdarz thus (consummate art inspired
His prudent tongue, with all that zeal required);
"When Rustem dreads Sohráb's resistless power,
Well may inferiors fly the trying hour! 900
The dire suspicion now pervades us all,
Thus, unavenged, shall beauteous Persia fall!
Yet, generous still, avert the lasting shame,
O, still preserve thy country's glorious fame!
Or wilt thou, deaf to all our fears excite, 905
Forsake thy friends, and shun the pending fight?
And worse, O grief! in thy declining days,
Forfeit the honours of thy country's praise?"
This artful censure set his soul on fire,
But patriot firmness calm'd his burning ire; 910
And thus he said—"Inured to war's alarms,
Did ever Rustem shun the din of arms?
Though frowns from Káús I disdain to bear,
My threatened country claims a warrior's care."
He ceased, and prudent joined the circling throng, 915
And in the public good forgot the private wrong.
From far the King the generous Champion viewed,
And rising, mildly thus his speech pursued:—
"Since various tempers govern all mankind,
Me, nature fashioned of a froward mind; 920
And what the heavens spontaneously bestow,
Sown by their bounty must for ever grow.
The fit of wrath which burst within me, soon
Shrunk up my heart as thin as the new moon;
Else had I deemed thee still my army's boast, 925
Source of my regal power, beloved the most,
Unequalled. Every day, remembering thee,
I drain the wine cup, thou art all to me;
I wished thee to perform that lofty part,
Claimed by thy valour, sanctioned by my heart; 930
Hence thy delay my better thoughts supprest,
And boisterous passions revelled in my breast;
But when I saw thee from my Court retire
In wrath, repentance quenched my burning ire.
O, let me now my keen contrition prove, 935
Again enjoy thy fellowship and love:
And while to thee my gratitude is known,
Still be the pride and glory of my throne."
Rustem, thus answering said:—"Thou art the King,
Source of command, pure honour's sacred spring; 940
And here I stand to follow thy behest,
Obedient ever—be thy will expressed,
And services required—Old age shall see
My loins still bound in fealty to thee."
To this the King:—"Rejoice we then to-day, 945
And on the morrow marshal our array."
The monarch quick commands the feast of joy,
And social cares his buoyant mind employ,
Within a bower, beside a crystal spring,
Where opening flowers, refreshing odours fling, 950
Cheerful he sits, and forms the banquet scene,
In regal splendour on the crowded green;
And as around he greets his valiant bands,
Showers golden presents from his bounteous hands;
Voluptuous damsels trill the sportive lay, 955
Whose sparkling glances beam celestial day;
Fill'd with delight the heroes closer join,
And quaff till midnight cups of generous wine.
Soon as the Sun had pierced the veil of night,
And o'er the prospect shed his earliest light, 960
Káús, impatient, bids the clarions sound,
The sprightly notes from hills and rocks rebound;
His treasure gates are opened:—and to all
A largess given; obedient to the call,
His subjects gathering crowd the mountain's brow, 965
And following thousands shade the vales below;
With shields, in armor, numerous legions bend;
And troops of horse the threatening lines extend.
Beneath the tread of heroes fierce and strong,
By war's tumultuous fury borne along, 970
The firm earth shook: the dust, in eddies driven,
Whirled high in air, obscured the face of heaven;
Nor earth, nor sky appeared—all, seeming lost,
And swallowed up by that wide-spreading host.
The steely armour glitter'd o'er the fields, 975
And lightnings flash'd from gold emblazoned shields;
Thou wouldst have said, the clouds had burst in showers,
Of sparkling amber o'er the martial powers.
Thus, close embodied, they pursued their way,
And reached the Barrier-fort in terrible array. 980
The legions of Túrán, with dread surprise,
Saw o'er the plain successive myriads rise;
And showed them to Sohráb; he, mounting high
The fort, surveyed them with a fearless eye;
To Húmán, who, with withering terror pale, 985
Had marked their progress through the distant vale,
He pointed out the sight, and ardent said:—
"Dispel these woe-fraught broodings from thy head,
I wage the war, Afrásiyáb! for thee,
And make this desert seem a rolling sea." 990
Thus, while amazement every bosom quell'd,
Sohráb, unmoved, the coming storm beheld,
And boldly gazing on the camp around,
Raised high the cup with wine nectareous crowned:
O'er him no dreams of woe insidious stole, 995
No thought but joy engaged his ardent soul.
The Persian legions had restrained their course,
Tents and pavilions, countless foot and horse,
Clothed all the spacious plain, and gleaming threw
Terrific splendours on the gazer's view. 1000
But when the Sun had faded in the west,
And night assumed her ebon-coloured vest,
The mighty Chief approached the sacred throne,
And generous thus made danger all his own:
"The rules of war demand a previous task, 1005
To watch this dreadful foe I boldly ask;
With wary step the wondrous youth to view,
And mark the heroes who his path pursue."
The King assents: "The task is justly thine,
Favourite of heaven, inspired by power divine." 1010
In Turkish habit, secretly arrayed,
The lurking Champion wandered through the shade
And, cautious, standing near the palace gate,
Saw how the chiefs were ranged in princely state.
What time Sohráb his thoughts to battle turned, 1015
And for the first proud fruits of conquest burned,
His mother called a warrior to his aid,
And Zinda-ruzm his sister's call obeyed.
To him Tahmineh gave her only joy,
And bade him shield the bold adventurous boy: 1020
"But, in the dreadful strife, should danger rise,
Present my child before his father's eyes!
By him protected, war may rage in vain,
Though he may never bless these arms again!"
This guardian prince sat on the stripling's right, 1025
Viewing the imperial banquet with delight.
Húmán and Bármán, near the hero placed,
In joyous pomp the full assembly graced;
A hundred valiant Chiefs begirt the throne,
And, all elate, were chaunting his renown. 1030
Closely concealed, the gay and splendid scene,
Rustem contemplates with astonished mien;
When Zind, retiring, marks the listener nigh,
Watching the festal train with curious eye;
And well he knew, amongst his Tartar host, 1035
Such towering stature not a Chief could boast—
"What spy is here, close shrouded by the night?
Art thou afraid to face the beams of light?"
But scarcely from his lips these words had past,
Ere, fell'd to earth, he groaning breathed his last; 1040
Unseen he perish'd, fate decreed the blow,
To add fresh keenness to a parent's woe.
Meantime Sohráb, perceiving the delay
In Zind's return, looked round him with dismay;
The seat still vacant—but the bitter truth, 1045
Full soon was known to the distracted youth;
Full soon he found that Zinda-ruzm was gone,
His day of feasting and of glory done;
Speedful towards the fatal spot he ran,
Where slept in bloody vest the slaughtered man. 1050
The lighted torches now displayed the dead,
Stiff on the ground his graceful limbs were spread;
Sad sight to him who knew his guardian care,
Now doom'd a kinsman's early loss to bear;
Anguish and rage devour his breast by turns, 1055
He vows revenge, then o'er the warrior mourns:
And thus exclaims to each afflicted Chief:—
"No time, to-night, my friends, for useless grief;
The ravenous wolf has watched his helpless prey,
Sprung o'er the fold, and borne its flower away; 1060
But if the heavens my lifted arm befriend,
Upon the guilty shall my wrath descend—
Unsheathed, this sword shall dire revenge pursue,
And Persian blood the thirsty land bedew."
Frowning he paused, and check'd the spreading woe, 1065
Resumed the feast, and bid the wine-cup flow!
The valiant Gíw was sentinel that night,
And marking dimly by the dubious light,
A warrior form approach, he claps his hands,
With naked sword and lifted shield he stands, 1070
To front the foe; but Rustem now appears,
And Gíw the secret tale astonished hears;
From thence the Champion on the Monarch waits.
The power and splendour of Sohráb relates:
"Circled by Chiefs this glorious youth was seen, 1075
Of lofty stature and majestic mien;
No Tartar region gave the hero birth:
Some happier portion of the spacious earth;
Tall, as the graceful cypress he appears;
Like Sám, the brave, his warrior-front he rears!" 1080
Then having told how, while the banquet shone,
Unhappy Zind had sunk, without a groan;
He forms his conquering bands in close array,
And, cheer'd by wine, awaits the coming day.
When now the Sun his golden buckler raised, 1085
And genial light through heaven diffusive blazed,
Sohráb in mail his nervous limbs attired,
For dreadful wrath his soul to vengeance fired;
With anxious haste he bent the yielding cord,
Ring within ring, more fateful than the sword; 1090
Around his brows a regal helm he bound;
His dappled steed impatient stampt the ground.
Thus armed, ascending where the eye could trace
The hostile force, and mark each leader's place,
He called Hujír, the captive Chief addressed, 1095
And anxious thus, his soul's desire expressed:
"A prisoner thou, if freedom's voice can charm,
And dungeon darkness fill thee with alarm,
That freedom merit, shun severest woe,
And truly answer what I ask to know! 1100
If rigid truth thy ready speech attend,
Honours and wealth shall dignify my friend."
"Obedient to thy wish," Hujír replied,
"Truth thou shalt hear, whatever chance betide;
For what on earth to praise has better claim? 1105
Falsehood but leads to sorrow and to shame!"
"Then say, what heroes lead the adverse host,
Where they command, what dignities they boast;
Say, where does Káús hold his kingly state,
Where Tús, and Gúdarz, on his bidding wait; 1110
Gíw, Gust'hem, and Báhrám—all known to thee,
And where is mighty Rustem, where is he?
Look round with care, their names and power display
Or instant death shall end thy vital day."
"Where yonder splendid tapestries extend, 1115
And o'er pavilions bright infolding bend,
A throne triumphal shines with sapphire rays,
And golden suns upon the banners blaze;
Full in the centre of the hosts—and round
The tent a hundred elephants are bound, 1120
As if, in pomp, he mocked the power of fate;
There royal Káús holds his kingly state.
"In yonder tent which numerous guards protect,
Where front and rear illustrious Chiefs collect;
Where horsemen wheeling seem prepared for fight, 1125
Their golden armour glittering in the light;
Tús lifts his banners, deck'd with royal pride,
Feared by the brave, the soldier's friend and guide.
"That crimson tent where spear-men frowning stand,
And steel-clad veterans form a threatening band, 1130
Holds mighty Gúdarz, famed for martial fire,
Of eighty valiant sons the valiant sire;
Yet strong in arms, he shuns inglorious ease,
His lion-banners floating in the breeze.
"But mark, that green pavilion; girt around 1135
By Persian nobles, speaks the Chief renowned;
Fierce on the standard, worked with curious art,
A hideous dragon writhing seems to start;
Throned in his tent the warrior's form is seen,
Towering above the assembled host between! 1140
A generous horse before him snorts and neighs,
The trembling earth the echoing sound conveys.
Like him no Champion ever met my eyes,
No horse like that for majesty and size;
What Chief illustrious bears a port so high? 1145
Mark, how his standard flickers through the sky!"
Thus ardent spoke Sohráb. Hujír dismayed,
Paused ere reply the dangerous truth betrayed.
Trembling for Rustem's life the captive groaned;
Basely his country's glorious boast disowned, 1150
And said the Chief from distant China came—
Sohráb abrupt demands the hero's name;
The name unknown, grief wrings his aching heart,
And yearning anguish speeds her venom'd dart;
To him his mother gave the tokens true, 1155
He sees them all, and all but mock his view.
When gloomy fate descends in evil hour,
Can human wisdom bribe her favouring power?
Yet, gathering hope, again with restless mien
He marks the Chiefs who crowd the warlike scene. 1160
"Where numerous heroes, horse and foot, appear,
And brazen trumpets thrill the listening ear,
Behold the proud pavilion of the brave!
With wolves emboss'd the silken banners wave.
The throne's bright gems with radiant lustre glow, 1165
Slaves rank'd around with duteous homage bow.
What mighty Chieftain rules his cohorts there?
His name and lineage, free from guile, declare!"
"Gíw, son of Gúdarz, long a glorious name,
Whose prowess even transcends his father's fame." 1170
"Mark yonder tent of pure and dazzling white,
Whose rich brocade reflects a quivering light;
An ebon seat surmounts the ivory throne;
There frowns in state a warrior of renown.
The crowding slaves his awful nod obey, 1175
And silver moons around his banners play;
What Chief, or Prince, has grasped the hostile sword?
Fríburz, the son of Persia's mighty lord."
Again: "These standards show one champion more,
Upon their centre flames the savage boar; 1180
The saffron-hued pavilion bright ascends,
Whence many a fold of tasselled fringe depends;
Who there presides?"
"Guráz, from heroes sprung,
Whose praise exceeds the power of mortal tongue." 1185
Thus, anxious, he explored the crowded field,
Nor once the secret of his birth revealed;
Heaven will'd it so. Pressed down by silent grief,
Surrounding objects promised no relief.
This world to mortals still denies repose, 1190
And life is still the scene of many woes.
Again his eye, instinctive turned, descried
The green pavilion, and the warrior's pride.
Again he cries: "O tell his glorious name;
Yon gallant horse declares the hero's fame!" 1195
But false Hujír the aspiring hope repelled,
Crushed the fond wish, the soothing balm withheld,
"And why should I conceal his name from thee?
His name and title are unknown to me."
Then thus Sohráb—"In all that thou hast said, 1200
No sign of Rustem have thy words conveyed;
Thou sayest he leads the Persian host to arms,
With him has battle lost its boisterous charms?
Of him no trace thy guiding hand has shown;
Can power supreme remain unmark'd, unknown?" 1205
"Perhaps returned to Zábul's verdant bowers,
He undisturbed enjoys his peaceful hours,
The vernal banquets may constrain his stay,
And rural sports invite prolonged delay."
"Ah! say not thus; the Champion of the world, 1210
Shrink from the kindling war with banners furled!
It cannot be! Say where his lightnings dart,
Show me the warrior, all thou know'st impart;
Treasures uncounted shall be thy reward,
Death changed to life, my friendship more than shared. 1215
Dost thou not know what, in the royal ear,
The Múbid said—befitting Kings to hear?
'Untold, a secret is a jewel bright,
Yet profitless whilst hidden from the light;
But when revealed, in words distinctly given, 1220
It shines refulgent as the sun through heaven.'"
To him, Hujír evasive thus replies:
"Through all the extended earth his glory flies!
Whenever dangers round the nation close,
Rustem approaches, and repels its foes; 1225
And shouldst thou see him mix in mortal strife,
Thou'dst think 'twere easier to escape with life
From tiger fell, or demon—or the fold
Of the chafed dragon, than his dreadful hold—
When fiercest battle clothes the fields with fire, 1230
Before his rage embodied hosts retire!"
"And where didst thou encountering armies see?
Why Rustem's praise so proudly urge to me?
Let us but meet and thou shalt trembling know,
How fierce that wrath which bids my bosom glow: 1235
If living flames express his boundless ire,
O'erwhelming waters quench consuming fire!
And deepest darkness, glooms of ten-fold night,
Fly from the piercing beams of radiant light."
Hujír shrunk back with undissembled dread, 1240
And thus communing with himself, he said—
"Shall I, regardless of my country, guide
To Rustem's tent this furious homicide?
And witness there destruction to our host?
The bulwark of the land for ever lost! 1245
What Chief can then the Tartar power restrain!
Káús dethroned, the mighty Rustem slain!
Better a thousand deaths should lay me low,
Than, living, yield such triumph to the foe.
For in this struggle should my blood be shed, 1250
No foul dishonour can pursue me, dead;
No lasting shame my father's age oppress,
Whom eighty sons of martial courage bless!
They for their brother slain, incensed will rise,
And pour their vengeance on my enemies." 1255
Then thus aloud—"Can idle words avail?
Why still of Rustem urge the frequent tale?
Why for the elephant-bodied hero ask?
Thee, he will find—no uncongenial task.
Why seek pretences to destroy my life? 1260
Strike, for no Rustem views th' unequal strife!"
Sohráb confused, with hopeless anguish mourned,
Back from the lofty walls he quick returned,
And stood amazed.
Now war and vengeance claim, 1265
Collected thought and deeds of mighty name;
The jointed mail his vigorous body clasps,
His sinewy hand the shining javelin grasps;
Like a mad elephant he meets the foe,
His steed a moving mountain—deeply glow 1270
His cheeks with passionate ardour, as he flies
Resistless onwards, and with sparkling eyes,
Full on the centre drives his daring horse—
The yielding Persians fly his furious course;
As the wild ass impetuous springs away, 1275
When the fierce lion thunders on his prey.
By every sign of strength and martial power,
They think him Rustem in his direst hour;
On Káús now his proud defiance falls,
Scornful to him the stripling warrior calls: 1280
"And why art thou misnamed of royal strain?
What work of thine befits the tented plain?
This thirsty javelin seeks thy coward breast;
Thou and thy thousands doomed to endless rest.
True to my oath, which time can never change, 1285
On thee, proud King! I hurl my just revenge.
The blood of Zind inspires my burning hate,
And dire resentment hurries on thy fate;
Whom canst thou send to try the desperate strife?
What valiant Chief, regardless of his life? 1290
Where now can Fríburz, Tús, Gíw, Gúdarz, be,
And the world-conquering Rustem, where is he?"
No prompt reply from Persian lip ensued—
Then rushing on, with demon-strength endued,
Sohráb elate his javelin waved around, 1295
And hurled the bright pavilion to the ground;
With horror Káús feels destruction nigh,
And cries: "For Rustem's needful succour fly!
This frantic Turk, triumphant on the plain,
Withers the souls of all my warrior train." 1300
That instant Tús the mighty Champion sought,
And told the deeds the Tartar Chief had wrought;
"'Tis ever thus, the brainless Monarch's due!
Shame and disaster still his steps pursue!"
This saying, from his tent he soon descried, 1305
The wild confusion spreading far and wide;
And saddled Rakush—whilst, in deep dismay,
Girgín incessant cried—"Speed, speed, away."
Rehám bound on the mace, Tús promptly ran,
And buckled on the broad Burgustuwán. 1310
Rustem, meanwhile, the thickening tumult hears
And in his heart, untouched by human fears,
Says: "What is this, that feeling seems to stun!
This battle must be led by Ahirmun,
The awful day of doom must have begun." 1315
In haste he arms, and mounts his bounding steed,
The growing rage demands redoubled speed;
The leopard's skin he o'er his shoulders throws,
The regal girdle round his middle glows.
High wave his glorious banners; broad revealed, 1320
The pictured dragons glare along the field
Borne by Zúára. When, surprised, he views
Sohráb, endued with ample breast and thews,
Like Sám Suwár, he beckons him apart;
The youth advances with a gallant heart, 1325
Willing to prove his adversary's might,
By single combat to decide the fight;
And eagerly, "Together brought," he cries,
"Remote from us be foemen, and allies,
And though at once by either host surveyed, 1330
Ours be the strife which asks no mortal aid."
Rustem, considerate, view'd him o'er and o'er,
So wondrous graceful was the form he bore,
And frankly said: "Experience flows with age,
And many a foe has felt my conquering rage; 1335
Much have I seen, superior strength and art
Have borne my spear thro' many a demon's heart;
Only behold me on the battle plain,
Wait till thou see'st this hand the war sustain,
And if on thee should changeful fortune smile, 1340
Thou needst not fear the monster of the Nile!
But soft compassion melts my soul to save,
A youth so blooming with a mind so brave!"
The generous speech Sohráb attentive heard,
His heart expanding glowed at every word: 1345
"One question answer, and in answering show,
That truth should ever from a warrior flow;
Art thou not Rustem, whose exploits sublime,
Endear his name thro' every distant clime?"
"I boast no station of exalted birth, 1350
No proud pretensions to distinguished worth;
To him inferior, no such powers are mine,
No offspring I of Nírum's glorious line!"
The prompt denial dampt his filial joy,
All hope at once forsook the Warrior-boy, 1355
His opening day of pleasure, and the bloom
Of cherished life, immersed in shadowy gloom.
Perplexed with what his mother's words implied;—
A narrow space is now prepared, aside,
For single combat. With disdainful glance 1360
Each boldly shakes his death-devoting lance,
And rushes forward to the dubious fight;
Thoughts high and brave their burning souls excite;
Now sword to sword; continuous strokes resound,
Till glittering fragments strew the dusty ground. 1365
Each grasps his massive club with added force,
The folding mail is rent from either horse;
It seemed as if the fearful day of doom
Had, clothed in all its withering terrors, come.
Their shattered corslets yield defence no more— 1370
At length they breathe, defiled with dust and gore;
Their gasping throats with parching thirst are dry,
Gloomy and fierce they roll the lowering eye,
And frown defiance. Son and Father driven
To mortal strife! are these the ways of Heaven? 1375
The various swarms which boundless ocean breeds,
The countless tribes which crop the flowery meads,
All know their kind, but hapless man alone
Has no instinctive feeling for his own!
Compell'd to pause, by every eye surveyed, 1380
Rustem, with shame, his wearied strength betrayed;
Foil'd by a youth in battle's mid career,
His groaning spirit almost sunk with fear;
Recovering strength, again they fiercely meet;
Again they struggle with redoubled heat; 1385
With bended bows they furious now contend;
And feather'd shafts in rattling showers descend;
Thick as autumnal leaves they strew the plain,
Harmless their points, and all their fury vain.
And now they seize each other's girdle-band; 1390
Rustem, who, if he moved his iron hand,
Could shake a mountain, and to whom a rock
Seemed soft as wax, tried, with one mighty stroke,
To hurl him thundering from his fiery steed,
But Fate forbids the gallant youth should bleed; 1395
Finding his wonted nerves relaxed, amazed
That hand he drops which never had been raised
Uncrowned with victory, even when demons fought,
And pauses, wildered with despairing thought.
Sohráb again springs with terrific grace, 1400
And lifts, from saddle-bow, his ponderous mace;
With gather'd strength the quick-descending blow
Wounds in its fall, and stuns the unwary foe;
Then thus contemptuous: "All thy power is gone;
Thy charger's strength exhausted as thy own; 1405
Thy bleeding wounds with pity I behold;
O seek no more the combat of the bold!"
Rustem to this reproach made no reply,
But stood confused—meanwhile, tumultuously
The legions closed; with soul-appalling force, 1410
Troop rushed on troop, o'erwhelming man and horse;
Sohráb, incensed, the Persian host engaged,
Furious along the scattered lines he raged;
Fierce as a wolf he rode on every side,
The thirsty earth with streaming gore was dyed. 1415
Midst the Túránians, then, the Champion sped,
And like a tiger heaped the fields with dead.
But when the Monarch's danger struck his thought,
Returning swift, the stripling youth he sought;
Grieved to the soul, the mighty Champion view'd 1420
His hands and mail with Persian blood imbrued;
And thus exclaimed with lion-voice—"O say,
Why with the Persians dost thou war to-day?
Why not with me alone decide the fight,
Thou'rt like a wolf that seek'st the fold by night." 1425
To this Sohráb his proud assent expressed—
And Rustem, answering, thus the youth addressed.
"Night-shadows now are thickening o'er the plain,
The morrow's sun must see our strife again;
In wrestling let us then exert our might!" 1430
He said, and eve's last glimmer sunk in night
Thus as the skies a deeper gloom displayed,
The stripling's life was hastening into shade!
The gallant heroes to their tents retired,
The sweets of rest their wearied limbs required: 1435
Sohráb, delighted with his brave career,
Describes the fight in Húmán's anxious ear:
Tells how he forced unnumbered Chiefs to yield,
And stood himself the victor of the field!
"But let the morrow's dawn," he cried, "arrive, 1440
And not one Persian shall the day survive;
Meanwhile let wine its strengthening balm impart,
And add new zeal to every drooping heart."
The valiant Gíw with Rustem pondering stood,
And, sad, recalled the scene of death and blood; 1445
Grief and amazement heaved the frequent sigh,
And almost froze the crimson current dry.
Rustem, oppressed by Gíw's desponding thought,
Amidst his Chiefs the mournful Monarch sought;
To him he told Sohráb's tremendous sway, 1450
The dire misfortunes of this luckless day;
Told with what grasping force he tried, in vain,
To hurl the wondrous stripling to the plain:
"The whispering zephyr might as well aspire
To shake a mountain—such his strength and fire. 1455
But night came on—and, by agreement, we
Must meet again to-morrow—who shall be
Victorious, Heaven knows only:—for by Heaven,
Victory or death to man is ever given."
This said, the King, o'erwhelmed in deep despair, 1460
Passed the dread night in agony and prayer.
The Champion, silent, joined his bands at rest,
And spurned at length despondence from his breast;
Removed from all, he cheered Zúára's heart,
And nerved his soul to bear a trying part:— 1465
"Ere early morning gilds the ethereal plain,
In martial order range my warrior-train;
And when I meet in all his glorious pride,
This valiant Turk whom late my rage defied,
Should fortune's smiles my arduous task requite, 1470
Bring them to share the triumph of my might;
But should success the stripling's arm attend,
And dire defeat and death my glories end,
To their loved homes my brave associates guide;
Let bowery Zábul all their sorrows hide— 1475
Comfort my venerable father's heart;
In gentlest words my heavy fate impart.
The dreadful tidings to my mother bear,
And soothe her anguish with the tenderest care;
Say, that the will of righteous Heaven decreed, 1480
That thus in arms her mighty son should bleed.
Enough of fame my various toils acquired,
When warring demons, bathed in blood, expired.
Were life prolonged a thousand lingering years,
Death comes at last and ends our mortal fears; 1485
Kirshásp, and Sám, and Narímán, the best
And bravest heroes, who have ever blest
This fleeting world, were not endued with power,
To stay the march of fate one single hour;
The world for them possessed no fixed abode, 1490
The path to death's cold regions must be trod;
Then, why lament the doom ordained for all?
Thus Jemshíd fell, and thus must Rustem fall."
When the bright dawn proclaimed the rising day,
The warriors armed, impatient of delay; 1495
But first Sohráb, his proud confederate nigh,
Thus wistful spoke, as swelled the boding sigh—
"Now, mark my great antagonist in arms!
His noble form my filial bosom warms;
My mother's tokens shine conspicuous here, 1500
And all the proofs my heart demands, appear;
Sure this is Rustem, whom my eyes engage!
Shall I, O grief! provoke my Father's rage?
Offended Nature then would curse my name,
And shuddering nations echo with my shame." 1505
He ceased, then Húmán: "Vain, fantastic thought,
Oft have I been where Persia's Champion fought;
And thou hast heard, what wonders he performed,
When, in his prime, Mázinderán was stormed;
That horse resembles Rustem's, it is true, 1510
But not so strong, nor beautiful to view."
Sohráb now buckles on his war attire,
His heart all softness, and his brain all fire;
Around his lips such smiles benignant played,
He seemed to greet a friend, as thus he said:— 1515
"Here let us sit together on the plain,
Here, social sit, and from the fight refrain;
Ask we from heaven forgiveness of the past,
And bind our souls in friendship that may last;
Ours be the feast—let us be warm and free, 1520
For powerful instinct draws me still to thee;
Fain would my heart in bland affection join,
Then let thy generous ardour equal mine;
And kindly say, with whom I now contend—
What name distinguished boasts my warrior-friend! 1525
Thy name unfit for champion brave to hide,
Thy name so long, long sought, and still denied;
Say, art thou Rustem, whom I burn to know?
Ingenuous say, and cease to be my foe!"
Sternly the mighty Champion cried, "Away— 1530
Hence with thy wiles—now practised to delay;
The promised struggle, resolute, I claim,
Then cease to move me to an act of shame."
Sohráb rejoined—"Old man! thou wilt not hear
The words of prudence uttered in thine ear; 1535
Then, Heaven! look on."
Preparing for the shock,
Each binds his charger to a neighbouring rock;
And girds his loins, and rubs his wrists, and tries
Their suppleness and force, with angry eyes; 1540
And now they meet—now rise, and now descend,
And strong and fierce their sinewy arms extend;
Wrestling with all their strength they grasp and strain,
And blood and sweat flow copious on the plain;
Like raging elephants they furious close; 1545
Commutual wounds are given, and wrenching blows.
Sohráb now clasps his hands, and forward springs
Impatiently, and round the Champion clings;
Seizes his girdle belt, with power to tear
The very earth asunder; in despair 1560
Rustem, defeated, feels his nerves give way,
And thundering falls. Sohráb bestrides his prey:
Grim as the lion, prowling through the wood,
Upon a wild ass springs, and pants for blood.
His lifted sword had lopt the gory head, 1565
But Rustem, quick, with crafty ardour said:—
"One moment, hold! what, are our laws unknown?
A Chief may fight till he is twice o'erthrown;
The second fall, his recreant blood is spilt,
These are our laws, avoid the menaced guilt." 1570
Proud of his strength, and easily deceived,
The wondering youth the artful tale believed;
Released his prey, and, wild as wind or wave,
Neglecting all the prudence of the brave,
Turned from the place, nor once the strife renewed, 1575
But bounded o'er the plain and other cares pursued,
As if all memory of the war had died,
All thoughts of him with whom his strength was tried.
Húmán, confounded at the stripling's stay,
Went forth, and heard the fortune of the day; 1580
Amazed to find the mighty Rustem freed,
With deepest grief he wailed the luckless deed.
"What! loose a raging lion from the snare,
And let him growling hasten to his lair?
Bethink thee well; in war, from this unwise, 1585
This thoughtless act what countless woes may rise;
Never again suspend the final blow,
Nor trust the seeming weakness of a foe!"
"Hence with complaint," the dauntless youth replied,
"To-morrow's contest shall his fate decide." 1590
When Rustem was released, in altered mood
He sought the coolness of the murmuring flood;
There quenched his thirst; and bathed his limbs, and prayed,
Beseeching Heaven to yield its strengthening aid.
His pious prayer indulgent Heaven approved, 1595
And growing strength through all his sinews moved;
Such as erewhile his towering structure knew,
When his bold arm unconquered demons slew.
Yet in his mien no confidence appeared,
No ardent hope his wounded spirits cheered. 1600
Again they met. A glow of youthful grace,
Diffused its radiance o'er the stripling's face,
And when he saw in renovated guise,
The foe so lately mastered; with surprise,
He cried—"What! rescued from my power, again 1605
Dost thou confront me on the battle plain?
Or, dost thou, wearied, draw thy vital breath,
And seek, from warrior bold, the shaft of death?
Truth has no charms for thee, old man; even now,
Some further cheat may lurk upon thy brow; 1610
Twice have I shown thee mercy, twice thy age
Hath been thy safety—twice it soothed my rage."
Then mild the Champion: "Youth is proud and vain!
The idle boast a warrior would disdain;
This aged arm perhaps may yet control, 1615
The wanton fury that inflames thy soul!"
Again, dismounting, each the other viewed
With sullen glance, and swift the fight renewed;
Clenched front to front, again they tug and bend,
Twist their broad limbs as every nerve would rend; 1620
With rage convulsive Rustem grasps him round;
Bends his strong back, and hurls him to the ground;
Him, who had deemed the triumph all his own;
But dubious of his power to keep him down,
Like lightning quick he gives the deadly thrust, 1625
And spurns the Stripling weltering in the dust.
—Thus as his blood that shining steel imbrues,
Thine too shall flow, when Destiny pursues;
For when she marks the victim of her power,
A thousand daggers speed the dying hour. 1630
Writhing with pain Sohráb in murmurs sighed—
And thus to Rustem—"Vaunt not, in thy pride;
Upon myself this sorrow have I brought,
Thou but the instrument of fate—which wrought
My downfall; thou are guiltless—guiltless quite; 1635
O! had I seen my father in the fight,
My glorious father! Life will soon be o'er,
And his great deeds enchant my soul no more!
Of him my mother gave the mark and sign,
For him I sought, and what an end is mine! 1640
My only wish on earth, my constant sigh,
Him to behold, and with that wish I die.
But hope not to elude his piercing sight,
In vain for thee the deepest glooms of night;
Couldst thou through Ocean's depths for refuge fly, 1645
Or midst the star-beams track the upper sky!
Rustem, with vengeance armed, will reach thee there,
His soul the prey of anguish and despair."
An icy horror chills the Champion's heart,
His brain whirls round with agonizing smart; 1650
O'er his wan cheek no gushing sorrows flow,
Senseless he sinks beneath the weight of woe;
Relieved at length, with frenzied look, he cries:
"Prove thou art mine, confirm my doubting eyes!
For I am Rustem!" Piercing was the groan, 1655
Which burst from his torn heart—as wild and lone,
He gazed upon him. Dire amazement shook
The dying youth, and mournful thus he spoke:
"If thou art Rustem, cruel is thy part,
No warmth paternal seems to fill thy heart; 1660
Else hadst thou known me when, with strong desire,
I fondly claimed thee for my valiant sire;
Now from my body strip the shining mail,
Untie these bands, ere life and feeling fail;
And on my arm the direful proof behold! 1665
Thy sacred bracelet of refulgent gold!
When the loud brazen drums were heard afar,
And, echoing round, proclaimed the pending war,
Whilst parting tears my mother's eyes o'erflowed,
This mystic gift her bursting heart bestowed: 1670
'Take this,' she said, 'thy father's token wear,
And promised glory will reward thy care.'
The hour is come, but fraught with bitterest woe,
We meet in blood to wail the fatal blow."
The loosened mail unfolds the bracelet bright, 1675
Unhappy gift! to Rustem's wildered sight,
Prostrate he falls—"By my unnatural hand,
My son, my son is slain—and from the land
Uprooted."—Frantic, in the dust his hair
He rends in agony and deep despair; 1680
The western sun had disappeared in gloom,
And still, the Champion wept his cruel doom;
His wondering legions marked the long delay,
And, seeing Rakush riderless astray,
The rumour quick to Persia's Monarch spread, 1685
And there described the mighty Rustem dead.
Káús, alarmed, the fatal tidings hears;
His bosom quivers with increasing fears.
"Speed, speed, and see what has befallen to-day
To cause these groans and tears—what fatal fray! 1690
If he be lost, if breathless on the ground,
And this young warrior, with the conquest crowned—
Then must I, humbled, from my kingdom torn,
Wander like Jemshíd, through the world forlorn."
The army roused, rushed o'er the dusty plain, 1695
Urged by the Monarch to revenge the slain;
Wild consternation saddened every face,
Tús winged with horror sought the fatal place,
And there beheld the agonizing sight—
The murderous end of that unnatural fight. 1700
Sohráb, still breathing, hears the shrill alarms,
His gentle speech suspends the clang of arms:
"My light of life now fluttering sinks in shade,
Let vengeance sleep, and peaceful vows be made.
Beseech the King to spare this Tartar host, 1705
For they are guiltless, all to them is lost;
I led them on, their souls with glory fired,
While mad ambition all my thoughts inspired.
In search of thee, the world before my eyes,
War was my choice, and thou the sacred prize; 1710
With thee, my sire! in virtuous league combined,
No tyrant King should persecute mankind.
That hope is past—the storm has ceased to rave—
My ripening honours wither in the grave;
Then let no vengeance on my comrades fall, 1715
Mine was the guilt, and mine the sorrow, all;
How often have I sought thee—oft my mind
Figured thee to my sight—o'erjoyed to find
My mother's token; disappointment came,
When thou denied thy lineage and thy name; 1720
Oh! still o'er thee my soul impassioned hung,
Still to my father fond affection clung!
But fate, remorseless, all my hopes withstood,
And stained thy reeking hands in kindred blood."
His faltering breath protracted speech denied: 1725
Still from his eye-lids flowed a gushing tide;
Through Rustem's soul redoubled horror ran,
Heart-rending thoughts subdued the mighty man,
And now, at last, with joy-illumined eye,
The Zábul bands their glorious Chief descry; 1730
But when they saw his pale and haggard look,
Knew from what mournful cause he gazed and shook,
With downcast mien they moaned and wept aloud;
While Rustem thus addressed the weeping crowd
"Here ends the war! let gentle peace succeed, 1735
Enough of death, I—I have done the deed!"
Then to his brother, groaning deep, he said—
"O what a curse upon a parent's head!
But go—and to the Tartar say—no more,
Let war between us steep the earth with gore." 1740
Zúára flew and wildly spoke his grief,
To crafty Húmán, the Túránian Chief,
Who, with dissembled sorrow, heard him tell
The dismal tidings which he knew too well;
"And who," he said, "has caused these tears to flow? 1745
Who, but Hujír? He might have stayed the blow,
But when Sohráb his Father's banners sought;
He still denied that here the Champion fought;
He spread the ruin, he the secret knew,
Hence should his crime receive the vengeance due!" 1750
Zúára, frantic, breathed in Rustem's ear,
The treachery of the captive Chief, Hujír;
Whose headless trunk had weltered on the strand,
But prayers and force withheld the lifted hand.
Then to his dying son the Champion turned, 1755
Remorse more deep within his bosom burned;
A burst of frenzy fired his throbbing brain;
He clenched his sword, but found his fury vain;
The Persian Chiefs the desperate act represt,
And tried to calm the tumult in his breast: 1760
Thus Gúdarz spoke—"Alas! wert thou to give
Thyself a thousand wounds, and cease to live;
What would it be to him thou sorrowest o'er?
It would not save one pang—then weep no more;
For if removed by death, O say, to whom 1765
Has ever been vouchsafed a different doom?
All are the prey of death—the crowned, the low,
And man, through life, the victim still of woe."
Then Rustem: "Fly! and to the King relate,
The pressing horrors which involve my fate; 1770
And if the memory of my deeds e'er swayed
His mind, O supplicate his generous aid;
A sovereign balm he has whose wondrous power,
All wounds can heal, and fleeting life restore;
Swift from his tent the potent medicine bring." 1775
—But mark the malice of the brainless King!
Hard as the flinty rock, he stern denies
The healthful draught, and gloomy thus replies:
"Can I forgive his foul and slanderous tongue?
The sharp disdain on me contemptuous flung? 1780
Scorned 'midst my army by a shameless boy,
Who sought my throne, my sceptre to destroy!
Nothing but mischief from his heart can flow,
Is it, then, wise to cherish such a foe?
The fool who warms his enemy to life, 1785
Only prepares for scenes of future strife."
Gúdarz, returning, told the hopeless tale—
And thinking Rustem's presence might prevail;
The Champion rose, but ere he reached the throne,
Sohráb had breathed the last expiring groan. 1790
Now keener anguish rack'd the father's mind,
Reft of his son, a murderer of his kind;
His guilty sword distained with filial gore,
He beat his burning breast, his hair he tore;
The breathless corse before his shuddering view, 1795
A shower of ashes o'er his head he threw;
"In my old age," he cried, "what have I done?
Why have I slain my son, my innocent son!
Why o'er his splendid dawning did I roll
The clouds of death—and plunge my burthened soul 1800
In agony? My son! from heroes sprung;
Better these hands were from my body wrung;
And solitude and darkness, deep and drear,
Fold me from sight than hated linger here.
But when his mother hears, with horror wild, 1805
That I have shed the life-blood of her child,
So nobly brave, so dearly loved, in vain,
How can her heart that rending shock sustain?"
Now on a bier the Persian warriors place
The breathless Youth, and shade his pallid face; 1810
And turning from that fatal field away,
Move towards the Champion's home in long array.
Then Rustem, sick of martial pomp and show,
Himself the spring of all this scene of woe,
Doomed to the flames the pageantry he loved, 1815
Shield, spear, and mace, so oft in battle proved;
Now lost to all, encompassed by despair;
His bright pavilion crackling blazed in air;
The sparkling throne the ascending column fed;
In smoking fragments fell the golden bed; 1820
The raging fire red glimmering died away,
And all the Warrior's pride in dust and ashes lay.
Káús, the King, now joins the mournful Chief,
And tries to soothe his deep and settled grief;
For soon or late we yield our vital breath, 1825
And all our worldly troubles end in death!
"When first I saw him, graceful in his might,
He looked far other than a Tartar knight;
Wondering I gazed—now Destiny has thrown
Him on thy sword—he fought, and he is gone; 1830
And should even Heaven against the earth be hurled,
Or fire inwrap in crackling flames the world,
That which is past—we never can restore,
His soul has travelled to some happier shore.
Alas! no good from sorrow canst thou reap, 1835
Then wherefore thus in gloom and misery weep?"
But Rustem's mighty woes disdained his aid,
His heart was drowned in grief, and thus he said:
"Yes, he is gone! to me for ever lost!
O then protect his brave unguided host; 1840
From war removed and this detested place,
Let them, unharmed, their mountain-wilds retrace;
Bid them secure my brother's will obey,
The careful guardian of their weary way,
To where the Jihún's distant waters stray." 1845
To this the King: "My soul is sad to see
Thy hopeless grief—but, since approved by thee,
The war shall cease—though the Túránian brand
Has spread dismay and terror through the land."
The King, appeased, no more with vengeance burned, 1850
The Tartar legions to their homes returned;
The Persian warriors, gathering round the dead,
Grovelled in dust, and tears of sorrow shed;
Then back to loved Irán their steps the monarch led.
But Rustem, midst his native bands, remained, 1855
And further rites of sacrifice maintained;
A thousand horses bled at his command,
And the torn drums were scattered o'er the sand;
And now through Zábul's deep and bowery groves,
In mournful pomp the sad procession moves. 1860
The mighty Chief on foot precedes the bier;
His Warrior-friends, in grief assembled near:
The dismal cadence rose upon the gale,
And Zál astonished heard the piercing wail;
He and his kindred joined the solemn train; 1865
Hung round the bier and wondering viewed the slain.
"There gaze, and weep!" the sorrowing Father said,
"For there, behold my glorious offspring dead!"
The hoary Sire shrunk backward with surprise,
And tears of blood o'erflowed his aged eyes; 1870
And now the Champion's rural palace gate
Receives the funeral group in gloomy state;
Rúdábeh loud bemoaned the Stripling's doom;
Sweet flower, all drooping in the hour of bloom,
His tender youth in distant bowers had past, 1875
Sheltered at home he felt no withering blast;
In the soft prison of his mother's arms,
Secure from danger and the world's alarms.
O ruthless Fortune! flushed with generous pride,
He sought his sire, and thus unhappy, died. 1880
Rustem again the sacred bier unclosed;
Again Sohráb to public view exposed;
Husbands, and wives, and warriors, old and young,
Struck with amaze, around the body hung,
With garments rent and loosely flowing hair; 1885
Their shrieks and clamours filled the echoing air;
Frequent they cried: "Thus Sám the Champion slept!
Thus sleeps Sohráb!" Again they groaned, and wept.
Now o'er the corpse a yellow robe is spread,
The aloes bier is closed upon the dead; 1890
And, to preserve the hapless hero's name,
Fragrant and fresh, that his unblemished fame
Might live and bloom through all succeeding days,
A mound sepulchral on the spot they raise,
Formed like a charger's hoof. 1895
In every ear
The story has been told—and many a tear,
Shed at the sad recital. Through Túrán,
Afrásiyáb's wide realm, and Samengán,
Deep sunk the tidings—nuptial bower, and bed, 1900
And all that promised happiness, had fled!
But when Tahmíneh heard this tale of woe,
Think how a mother bore the mortal blow!
Distracted, wild, she sprang from place to place;
With frenzied hands deformed her beauteous face; 1905
The musky locks her polished temples crowned.
Furious she tore, and flung upon the ground;
Starting, in agony of grief, she gazed—
Her swimming eyes to Heaven imploring raised;
And groaning cried: "Sole comfort of my life! 1910
Doomed the sad victim of unnatural strife,
Where art thou now with dust and blood defiled?
Thou darling boy, my lost, my murdered child!
When thou wert gone—how, night and lingering day,
Did thy fond mother watch the time away; 1915
For hope still pictured all I wished to see,
Thy father found, and thou returned to me,
Yes—thou, exulting in thy father's fame!
And yet, nor sire nor son, nor tidings, came:
How could I dream of this? ye met—but how? 1920
That noble aspect—that ingenuous brow,
Moved not a nerve in him—ye met—to part,
Alas! the life-blood issuing from the heart
Short was the day which gave to me delight,
Soon, soon, succeeds a long and dismal night; 1925
On whom shall now devolve my tender care?
Who, loved like thee, my bosom-sorrows share?
Whom shall I take to fill thy vacant place,
To whom extend a mother's soft embrace?
Sad fate! for one so young, so fair, so brave, 1930
Seeking thy father thus to find a grave.
These arms no more shall fold thee to my breast,
No more with thee my soul be doubly blest;
No, drowned in blood thy lifeless body lies,
For ever torn from these desiring eyes; 1935
Friendless, alone, beneath a foreign sky,
Thy mail thy death-clothes—and thy father, by;
Why did not I conduct thee on the way,
And point where Rustem's bright pavilion lay?
Thou hadst the tokens—why didst thou withhold 1940
Those dear remembrances—that pledge of gold?
Hadst thou the bracelet to his view restored,
Thy precious blood had never stained his sword."
The strong emotion choked her panting breath,
Her veins seemed withered by the cold of death: 1945
The trembling matrons hastening round her mourned,
With piercing cries, till fluttering life returned;
Then gazing up, distraught, she wept again,
And frantic, seeing 'midst her pitying train,
The favourite steed—now more than ever dear, 1950
The hoofs she kissed, and bathed with many a tear;
Clasping the mail Sohráb in battle wore,
With burning lips she kissed it o'er and o'er;
His martial robes she in her arms comprest,
And like an infant strained them to her breast; 1955
The reins, and trappings, club, and spear, were brought,
The sword, and shield, with which the Stripling fought,
These she embraced with melancholy joy,
In sad remembrance of her darling boy.
And still she beat her face, and o'er them hung, 1960
As in a trance—or to them wildly clung—
Day after day she thus indulged her grief,
Night after night, disdaining all relief;
At length worn out—from earthly anguish riven,
The mother's spirit joined her child in Heaven. 1965
Sikander
Failakús, before his death, placed the crown of sovereignty upon the head of Sikander, and appointed Aristú, who was one of the disciples of the great Aflátún, his vizir. He cautioned him to pursue the path of virtue and rectitude, and to cast from his heart every feeling of vanity and pride; above all he implored him to be just and merciful, and said:—
"Think not that thou art wise, but ignorant,

And ever listen to advice and counsel;

We are but dust, and from the dust created;

And what our lives but helplessness and sorrow!"
Sikander for a time attended faithfully to the instructions of his father, and to the counsel of Aristú, both in public and private affairs.
Upon Sikander's elevation to the throne, Dárá sent an envoy to him to claim the customary tribute, but he received for answer: "The time is past when Rúm acknowledged the superiority of Persia. It is now thy turn to pay tribute to Rúm. If my demand be refused, I will immediately invade thy dominions; and think not that I shall be satisfied with the conquest of Persia alone, the whole world shall be mine; therefore prepare for war." Dárá had no alternative, not even submission, and accordingly assembled his army, for Sikander was already in full march against him. Upon the confines of Persia the armies came in sight of each other, when Sikander, in the assumed character of an envoy, was resolved to ascertain the exact condition of the enemy. With this view he entered the Persian camp, and Dárá allowing the person whom he supposed an ambassador, to approach, enquired what message the king of Rúm had sent to him. "Hear me!" said the pretended envoy: "Sikander has not invaded thy empire for the exclusive purpose of fighting, but to know its history, its laws, and customs, from personal inspection. His object is to travel through the whole world. Why then should he make war upon thee? Give him but a free passage through thy kingdom, and nothing more is required. However if it be thy wish to proceed to hostilities, he apprehends nothing from the greatness of thy power." Dárá was astonished at the majestic air and dignity of the envoy, never having witnessed his equal, and he anxiously said:—
"What is thy name, from whom art thou descended?

For that commanding front, that fearless eye,

Bespeaks illustrious birth. Art thou indeed

Sikander, whom my fancy would believe thee,

So eloquent in speech, in mien so noble?"

"No!" said the envoy, "no such rank is mine,

Sikander holds among his numerous host

Thousands superior to the humble slave

Who stands before thee. It is not for me

To put upon myself the air of kings,

To ape their manners and their lofty state."
Dárá could not help smiling, and ordered refreshments and wine to be brought. He filled a cup and gave it to the envoy, who drank it off, but did not, according to custom, return the empty goblet to the cup-bearer. The cup-bearer demanded the cup, and Dárá asked the envoy why he did not give it back. "It is the custom in my country," said the envoy, "when a cup is once given into an ambassador's hands, never to receive it back again." Dárá was still more amused by this explanation, and presented to him another cup, and successively four, which the envoy did not fail to appropriate severally in the same way. In the evening a feast was held, and Sikander partook of the delicious refreshments that had been prepared for him; but in the midst of the entertainment one of the persons present recognized him, and immediately whispered to Dárá that his enemy was in his power.
Sikander's sharp and cautious eye now marked

The changing scene, and up he sprang, but first

Snatched the four cups, and rushing from the tent,

Vaulted upon his horse, and rode away.

So instantaneous was the act, amazed

The assembly rose, and presently a troop

Was ordered in pursuit—but night, dark night,

Baffled their search, and checked their eager speed.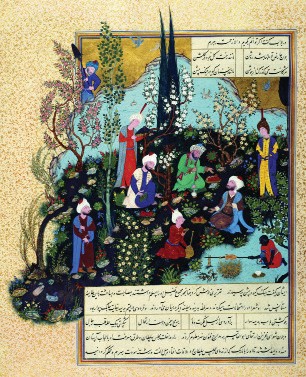 Image 6.7: Ferdowsi and the Three Ghaznavid Court Poets | Ferdowsi and several other people enjoy a colorful garden with small ponds.
Author: User "Napoleon 100"
Source: Wikimedia Commons
License: Public Domain
As soon as he reached his own army, he sent for Aristátalís and his courtiers, and exultingly displayed to them the four golden cups. "These," said he, "have I taken from my enemy, I have taken them from his own table, and before his own eyes. His strength and numbers too I have ascertained, and my success is certain." No time was now lost in arrangements for the battle. The armies engaged, and they fought seven days without a decisive blow being struck. On the eighth, Dárá was compelled to fly, and his legions, defeated and harassed, were pursued by the Rúmís with great slaughter to the banks of the Euphrates. Sikander now returned to take possession of the capital. In the meantime Dárá collected his scattered forces together, and again tried his fortune, but he was again defeated. After his second success, the conqueror devoted himself so zealously to conciliate and win the affections of the people, that they soon ceased to remember their former king with any degree of attachment to his interests. Sikander said to them: "Persia indeed is my inheritance: I am no stranger to you, for I am myself descended from Dáráb; you may therefore safely trust to my justice and paternal care, in everything that concerns your welfare." The result was, that legion after legion united in his cause, and consolidated his power.
When Dárá was informed of the universal disaffection of his army, he said to the remaining friends who were personally devoted to him: "Alas! my subjects have been deluded by the artful dissimulation and skill of Sikander; your next misfortune will be the captivity of your wives and children. Yes, your wives and children will be made the slaves of the conquerors." A few troops, still faithful to their unfortunate king, offered to make another effort against the enemy, and Dárá was too grateful and too brave to discountenance their enthusiastic fidelity, though with such little chance of success. A fragment of an army was consequently brought into action, and the result was what had been anticipated. Dárá was again a fugitive; and after the defeat, escaped with three hundred men into the neighboring desert. Sikander captured his wife and family, but magnanimously restored them to the unfortunate monarch, who, destitute of all further hope, now asked for a place of refuge in his own dominions, and for that he offered him all the buried treasure of his ancestors. Sikander, in reply, invited him to his presence; and promised to restore him to his throne, that he might himself be enabled to pursue other conquests; but Dárá refused to go, although advised by his nobles to accept the invitation. "I am willing to put myself to death," said he with emotion, "but I cannot submit to this degradation. I cannot go before him, and thus personally acknowledge his authority over me." Resolved upon this point, he wrote to Faúr, one of the sovereigns of Ind, to request his assistance, and Faúr recommended that he should pay him a visit for the purpose of concerting what measures should be adopted. This correspondence having come to the knowledge of Sikander, he took care that his enemy should be intercepted in whatever direction he might proceed.
Dárá had two ministers, named Mahiyár and Jamúsipár, who, finding that according to the predictions of the astrologers their master would in a few days fall into the hands of Sikander, consulted together, and thought they had better put him to death themselves, in order that they might get into favor with Sikander. It was night, and the soldiers of the escort were dispersed at various distances, and the vizirs were stationed on each side of the king. As they travelled on, Jamúsipár took an opportunity of plunging his dagger into Dárá's side, and Mahiyár gave another blow, which felled the monarch to the ground. They immediately sent the tidings of this event to Sikander, who hastened to the spot, and the opening daylight presented to his view the wounded king.
Dismounting quickly, he in sorrow placed

The head of Dárá on his lap, and wept

In bitterness of soul, to see that form

Mangled with ghastly wounds.
Dárá still breathed; and when he lifted up his eyes and beheld Sikander, he groaned deeply. Sikander said, "Rise up, that we may convey thee to a place of safety, and apply the proper remedies to thy wounds."—"Alas!" replied Dárá, "the time for remedies is past. I leave thee to Heaven, and may thy reign give peace and happiness to the empire."—"Never," said Sikander, "never did I desire to see thee thus mangled and fallen—never to witness this sight! If the Almighty should spare thy life, thou shalt again be the monarch of Persia, and I will go from hence. On my mother's word, thou and I are sons of the same father. It is this brotherly affection which now wrings my heart!" Saying this, the tears chased each other down his cheeks in such abundance that they fell upon the face of Dárá. Again, he said, "Thy murderers shall meet with merited vengeance, they shall be punished to the uttermost." Dárá blessed him, and said, "My end is approaching, but thy sweet discourse and consoling kindness have banished all my grief. I shall now die with a mind at rest. Weep no more—
"My course is finished, thine is scarce begun;
But hear my dying wish, my last request:
Preserve the honour of my family,
Preserve it from disgrace. I have a daughter
Dearer to me than life, her name is Roshung;
Espouse her, I beseech thee—and if Heaven
Should bless thee with a boy, O! let his name be
Isfendiyár, that he may propagate
With zeal the sacred doctrines of Zerdusht,
The Zendavesta, then my soul will be
Happy in Heaven; and he, at Náu-rúz tide,
Will also hold the festival I love,
And at the altar light the Holy Fire;
Nor will he cease his labour, till the faith
Of Lohurásp be everywhere accepted,
And everywhere believed the true religion."
Sikander promised that he would assuredly fulfil the wishes he had expressed, and then Dárá placed the palm of his brother's hand on his mouth, and shortly afterwards expired. Sikander again wept bitterly, and then the body was placed on a golden couch, and he attended it in sorrow to the grave.
After the burial of Dárá, the two ministers, Jamúsipár and Mahiyár, were brought near the tomb, and executed upon the dar.
Just vengeance upon the guilty head,

For they their generous monarch's blood had shed.
Sikander had now no rival to the throne of Persia, and he commenced his government under the most favorable auspices. He continued the same customs and ordinances which were handed down to him, and retained every one in his established rank and occupation. He gladdened the heart by his justice and liberality. Keeping in mind his promise to Dárá, he now wrote to the mother of Roshung, and communicating to her the dying solicitations of the king, requested her to send Roshung to him, that he might fulfil the last wish of his brother. The wife of Dárá immediately complied with the command, and sent her daughter with various presents to Sikander, and she was on her arrival married to the conqueror, acceding to the customs and laws of the empire. Sikander loved her exceedingly, and on her account remained some time in Persia, but he at length determined to proceed into Ind to conquer that country of enchanters and enchantment.
On approaching Ind he wrote to Kaid, summoning him to surrender his kingdom, and received from him the following answer: "I will certainly submit to thy authority, but I have four things which no other person in the world possesses, and which I cannot relinquish. I have a daughter, beautiful as an angel of Paradise, a wise minister, a skilful physician, and a goblet of inestimable value!" Upon receiving this extraordinary reply, Sikander again addressed a letter to him, in which he peremptorily required all these things immediately. Kaid not daring to refuse, or make any attempt at evasion, reluctantly complied with the requisition. Sikander received the minister and the physician with great politeness and attention, and in the evening held a splendid feast, at which he espoused the beautiful daughter of Kaid, and taking the goblet from her hands, drank off the wine with which it was filled. After that, Kaid himself waited upon Sikander, and personally acknowledged his authority and dominion.
Sikander then proceeded to claim the allegiance and homage of Faúr, the king of Kanúj, and wrote to him to submit to his power; but Faúr returned a haughty answer, saying:—
"Kaid Indí is a coward to obey thee,

But I am Faúr, descended from a race

Of matchless warriors; and shall I submit,

And to a Greek!"
Sikander was highly incensed at this bold reply. The force he had now with him amounted to eighty thousand men; that is, thirty thousand Iránians, forty thousand Rúmís, and ten thousand Indís. Faúr had sixty thousand horsemen, and two thousand elephants. The troops of Sikander were greatly terrified at the sight of so many elephants, which gave the enemy such a tremendous superiority. Aristátalís, and some other ingenious counsellors, were requested to consult together to contrive some means of counteracting the power of the war-elephants, and they suggested the construction of an iron horse, and the figure of a rider also of iron, to be placed upon wheels like a carriage, and drawn by a number of horses. A soldier, clothed in iron armor, was to follow the vehicle—his hands and face besmeared with combustible matter, and this soldier, armed with a long staff, was at an appointed signal, to pierce the belly of the horse and also of the rider, previously filled with combustibles, so that when the ignited point came in contact with them, the whole engine would make a tremendous explosion and blaze in the air. Sikander approved of this invention, and collected all the blacksmiths and artisans in the country to construct a thousand machines of this description with the utmost expedition, and as soon as they were completed, he prepared for action. Faúr too pushed forward with his two thousand elephants in advance; but when the Kanújians beheld such a formidable array they were surprised, and Faúr anxiously inquired from his spies what it could be. Upon being told that it was Sikander's artillery, his troops pushed the elephants against the enemy with vigor, at which moment the combustibles were fired by the Rúmís, and the machinery exploding, many elephants were burnt and destroyed, and the remainder, with the troops, fled in confusion. Sikander then encountered Faúr, and after a severe contest, slew him, and became ruler of the kingdom of Kanúj.
After the conquest of Kanúj, Sikander went to Mekka, carrying thither rich presents and offerings. From thence he proceeded to another city, where he was received with great homage by the most illustrious of the nation. He enquired of them if there was anything wonderful or extraordinary in their country, that he might go to see it, and they replied that there were two trees in the kingdom, one a male, the other a female, from which a voice proceeded. The male-tree spoke in the day, and the female-tree in the night, and whoever had a wish, went thither to have his desires accomplished. Sikander immediately repaired to the spot, and approaching it, he hoped in his heart that a considerable part of his life still remained to be enjoyed. When he came under the tree, a terrible sound arose and rung in his ears, and he asked the people present what it meant. The attendant priest said it implied that fourteen years of his life still remained. Sikander, at this interpretation of the prophetic sound, wept and the burning tears ran down his cheeks. Again he asked, "Shall I return to Rúm, and see my mother and children before I die?" and the answer was, "Thou wilt die at Kashán.
"Nor mother, nor thy family at home

Wilt thou behold again, for thou wilt die,

Closing thy course of glory at Kashán."
Sikander left the place in sorrow, and pursued his way towards Rúm. In his progress he arrived at another city, and the inhabitants gave him the most honorable welcome, representing to him, however, that they were dreadfully afflicted by the presence of two demons or giants, who constantly assailed them in the night, devouring men and goats and whatever came in their way. Sikander asked their names; and they replied, Yájuj and Májuj (Gog and Magog). He immediately ordered a barrier to be erected five hundred yards high, and three hundred yards wide, and when it was finished he went away. The giants, notwithstanding all their efforts, were unable to scale this barrier, and in consequence the inhabitants pursued their occupations without the fear of molestation.
To scenes of noble daring still he turned
His ardent spirit—for he knew not fear.
Still he led on his legions—and now came
To a strange place, where countless numbers met
His wondering view—countless inhabitants
Crowding the city streets, and neighbouring plains;
And in the distance presently he saw
A lofty mountain reaching to the stars.
Onward proceeding, at its foot he found
A guardian-dragon, terrible in form,
Ready with open jaws to crush his victim;
But unappalled, Sikander him beholding
With steady eye, which scorned to turn aside,
Sprang forward, and at once the monster slew.
Ascending then the mountain, many a ridge,
Oft resting on the way, he reached the summit,
Where the dead corse of an old saint appeared
Wrapt in his grave-clothes, and in gems imbedded.
In gold and precious jewels glittering round,
Seeming to show what man is, mortal man!
Wealth, worldly pomp, the baubles of ambition,
All left behind, himself a heap of dust!
None ever went upon that mountain top,
But sought for knowledge; and Sikander hoped
When he had reached its cloudy eminence,
To see the visions of futurity
Arise from that departed, holy man!
And soon he heard a voice: "Thy time is nigh!
Yet may I thy career on earth unfold.
It will be thine to conquer many a realm,
Win many a crown; thou wilt have many friends
And numerous foes, and thy devoted head
Will be uplifted to the very heavens.
Renowned and glorious shalt thou be; thy name
Immortal; but, alas! thy time is nigh!"
At these prophetic words Sikander wept,
And from that ominous mountain hastened down.
After that Sikander journeyed on to the city of Kashán, where he fell sick, and in a few days, according to the oracle and the prophecy, expired. He had scarcely breathed his last, when Aristú, and Bilniyás the physician, and his family, entered Kashán, and found him dead. They beat their faces, and tore their hair, and mourned for him forty days.
The ThouSAnd And one niGhTS
First published ca. 879 C.E.
Middle East and India
The Thousand and One Nights is a collection of mostly Middle Eastern and Indian stories, written in Arabic. Within a frame narrative, it contains numerous stories from different cultures in these regions. The first appearance of a physical fragment of The Thousand and One Nights dates from 879 C.E., and the next evidence was mentioned in the 10th century. By the mid-twentieth century, six different forms had been recognized. The French translation in 1704 by Antoine Galland was the first European translation. English translations of the text began in the nineteenth century, and early English translations sanitized parts of the stories. Based on popular oral storytelling traditions, the stories tend to have improvisational, sensuous, and enchanting qualities.
Written by Kyounghye Kwon
6.6.1 Selections from Thousand and one nights
Anonymous, translated by Edward William Lane
License: Public Domain
Introduction
In the name of God, the Compassionate, the Merciful.
Praise be to God, the Beneficent King, the Creator of the universe, who hath raised the heavens without pillars, and spread out the earth as abed; and blessing and peace be on the lord of apostles, our lord and our master Moḥammad, and his Family; blessing and peace, enduring and constant, unto the day of judgment.
To proceed:—The lives of former generations are a lesson to posterity; that a man may review the remarkable events which have happened to others, and be admonished; and may consider the history of people of preceding ages, and of all that hath befallen them, and be restrained. Extolled be the perfection of Him who hath thus ordained the history of former generations to be a lesson to those which follow. Such are the Tales of a Thousand and One Nights, with their romantic stories and their fables.
It is related (but God alone is all-knowing, as well as all-wise, and almighty, and all-bountiful,) that there was, in ancient times, a King of the countries of India and China, possessing numerous troops, and guards, and servants, and domestic dependents: and he had two sons; one of whom was a man of mature age; and the other, a youth. Both of these princes were brave horsemen; but especially the elder, who inherited the kingdom of his father; and governed his subjects with such justice that the inhabitants of his country and whole empire loved him. He was called King Shahriyár: his younger brother was named Sháh-Zemán, and was King of Samarḳand. The administration of their governments was conducted with rectitude, each of them ruling over his subjects with justice during a period of twenty years with the utmost enjoyment and happiness. After this period, the elder King felt a strong desire to see his brother, and ordered his Wezeer to repair to him and bring him.
Having taken the advice of the Wezeer on this subject, he immediately gave orders to prepare handsome presents, such as horses adorned with gold and costly jewels, and memlooks, and beautiful virgins, and expensive stuffs. He then wrote a letter to his brother, expressive of his great desire to see him; and having sealed it, and given it to the Wezeer, together with the presents above mentioned, he ordered the minister to strain his nerves, and tuck up his skirts, and use all expedition in returning. The Wezeer answered, without delay, I hear and obey; and forthwith prepared for the journey: he packed his baggage, removed the burdens, and made ready all his provisions within three days; and on the fourth day, he took leave of the King Shahriyár, and went forth towards the deserts and wastes. He proceeded night and day; and each of the kings under the authority of King Shahriyár by whose residence he passed came forth to meet him, with costly presents, and gifts of gold and silver, and entertained him three days; after which, on the fourth day, he accompanied him one day's journey, and took leave of him. Thus he continued on his way until he drew near to the city of Samarḳand, when he sent forward a messenger to inform King Sháh-Zemán of his approach. The messenger entered the city, inquired the way to the palace, and, introducing himself to the King, kissed the ground before him, and acquainted him with the approach of his brother's Wezeer;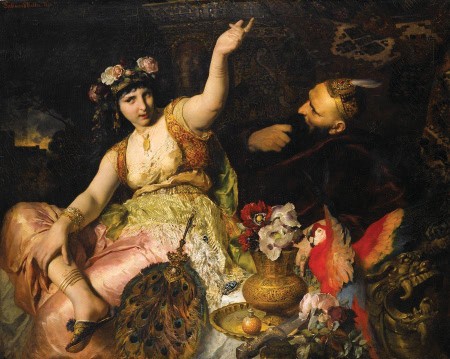 Image 6.8: Sheherazade and Sultan Schariar | Sheherazade, the Sultan's most recent wife, tells him one of her many stories.
Author: Ferdinand Keller
Source: Wikimedia Commons
License: Public Domain
upon which Sháh-Zemán ordered the chief officers of his court, and the great men of his kingdom, to go forth a day's journey to meet him; and they did so; and when they met him, they welcomed him, and walked by his stirrups until they returned to the city. The Wezeer then presented himself before the King Sháh-Zemán, greeted him with a prayer for the divine assistance in his favour, kissed the ground before him, and informed him of his brother's desire to see him; after which he handed to him the letter. The King took it, read it, and understood its contents; and answered by expressing his readiness to obey the commands of his brother. But, said he (addressing the Wezeer), I will not go until I have entertained thee three days. Accordingly, he lodged him in a palace befitting his rank, accommodated his troops in tents, and appointed them all things requisite in the way of food and drink: and so they remained three days. On the fourth day, he equipped himself for the journey, made ready his baggage, and collected together costly presents suitable to his brother's dignity.
These preparations being completed, he sent forth his tents and camels and mules and servants and guards, appointed his Wezeer to be governor of the country during his absence, and set out towards his brother's dominions. At midnight, however, he remembered that he had left in his palace an article which he should have brought with him; and having returned to the palace to fetch it, he there beheld his wife sleeping in his bed, and attended by a male negro slave, who had fallen asleep by her side. On beholding this scene, the world became black before his eyes; and he said within himself, If this is the case when I have not departed from the city, what will be the conduct of this vile woman while I am sojourning with my brother? He then drew his sword, and slew them both in the bed: after which he immediately returned, gave orders for departure, and journeyed to his brother's capital.
Shahriyár, rejoicing at the tidings of his approach, went forth to meet him, saluted him, and welcomed him with the utmost delight. He then ordered that the city should be decorated on the occasion, and sat down to entertain his brother with cheerful conversation: but the mind of King Sháh-Zemán was distracted by reflections upon the conduct of his wife; excessive grief took possession of him; and his countenance became sallow; and his frame, emaciated. His brother observed his altered condition, and, imagining that it was occasioned by his absence from his dominions, abstained from troubling him or asking respecting the cause, until after the lapse of some days, when at length he said to him, O my brother, I perceive that thy body is emaciated, and thy countenance is become sallow. He answered, O brother, I have an internal sore:—and he informed him not of the conduct of his wife which he had witnessed. Shahriyár then said, I wish that thou wouldest go out with me on a hunting excursion; perhaps thy mind might so be diverted:—but he declined; and Shahriyár went alone to the chase.
Now there were some windows in the King's palace commanding a view of his garden; and while his brother was looking out from one of these, a door of the palace was opened, and there came forth from it twenty females and twenty male black slaves; and the King's wife, who was distinguished by extraordinary beauty and elegance, accompanied them to a fountain, where they all disrobed themselves, and sat down together. The King's wife then called out, O Mes'ood! and immediately a black slave came to her, and embraced her; she doing the like. So also did the other slaves and the women; and all of them continued revelling together until the close of the day. When Sháh-Zemán beheld this spectacle, he said within himself, By Allah! my affliction is lighter than this! His vexation and grief were alleviated, and he no longer abstained from sufficient food and drink.
When his brother returned from his excursion, and they had saluted each other, and King Shahriyár observed his brother Sháh-Zemán, that his colour had returned, that his face had recovered the flush of health, and that he ate with appetite, after his late abstinence, he was surprised, and said, O my brother, when I saw thee last, thy countenance was sallow, and now thy colour hath returned to thee: acquaint me with thy state.—As to the change of my natural complexion, answered Sháh-Zemán, I will inform thee of its cause; but excuse my explaining to thee the return of my colour.—First, said Shahriyár, relate to me the cause of the change of thy proper complexion, and of thy weakness: let me hear it.—Know then, O my brother, he answered, that when thou sentest thy Wezeer to me to invite me to thy presence, I prepared myself for the journey, and when I had gone forth from the city, I remembered that I had left behind me the jewel that I have given thee; I therefore returned to my palace for it, and there I found my wife sleeping in my bed, and attended by a black male slave; and I killed them both, and came to thee: but my mind was occupied by reflections upon this affair, and this was the cause of the change of my complexion, and of my weakness: now, as to the return of my colour, excuse my informing thee of its cause.—But when his brother heard these words, he said, I conjure thee by Allah that thou acquaint me with the cause of the return of thy colour:—so he repeated to him all that he had seen. I would see this, said Shahriyár, with my own eye.—Then, said Sháh-Zemán, give out that thou art going again to the chase, and conceal thyself here with me, and thou shalt witness this conduct, and obtain ocular proof of it.
Shahriyár, upon this, immediately announced that it was his intention to make another excursion. The troops went out of the city with the tents, and the King followed them; and after he had reposed awhile in the camp, he said to his servants, Let no one come in to me:—and he disguised himself, and returned to his brother in the palace, and sat in one of the windows overlooking the garden; and when he had been there a short time, the women and their mistress entered the garden with the black slaves, and did as his brother had described, continuing so until the hour of the afternoon-prayer.
When King Shahriyár beheld this occurrence, reason fled from his head, and he said to his brother Sháh-Zemán, Arise, and let us travel whither we please, and renounce the regal state, until we see whether such a calamity as this have befallen any other person like unto us; and if not, our death will be preferable to our life. His brother agreed to his proposal, and they went out from a private door of the palace, and journeyed continually, days and nights, until they arrived at a tree in the midst of a meadow, by a spring of water, on the shore of the sea. They drank of this spring, and sat down to rest; and when the day had a little advanced, the sea became troubled before them, and there arose from it a black pillar, ascending towards the sky, and approaching the meadow. Struck with fear at the sight, they climbed up into the tree, which was lofty; and thence they gazed to see what this might be: and behold, it was a Jinnee, of gigantic stature, broad-fronted and bulky, bearing on his head a chest. He landed, and came to the tree into which the two Kings had climbed, and, having seated himself beneath it, opened the chest, and took out of it another box, which he also opened; and there came forth from it a young woman, fair and beautiful, like the shining sun. When the Jinnee cast his eyes upon her, he said, O lady of noble race, whom I carried off on thy wedding-night, I have a desire to sleep a little:—and he placed his head upon her knee, and slept. The damsel then raised her head towards the tree, and saw there the two Kings; upon which she removed the head of the Jinnee from her knee, and, having placed it on the ground, stood under the tree, and made signs to the two Kings, as though she would say, Come down, and fear not this 'Efreet. They answered her, We conjure thee by Allah that thou excuse us in this matter. But she said, I conjure you by the same that ye come down; and if ye do not, I will rouse this 'Efreet, and he shall put you to a cruel death. So, being afraid, they came down to her; and, after they had remained with her as long as she required, she took from her pocket a purse, and drew out from this a string, upon which were ninety-eight seal-rings; and she said to them, Know ye what are these? They answered, We know not.—The owners of these rings, said she, have, all of them, been admitted to converse with me, like as ye have, unknown to this foolish 'Efreet; therefore, give me your two rings, ye brothers. So they gave her their two rings from their fingers; and she then said to them, This 'Efreet carried me off on my wedding-night, and put me in the box, and placed the box in the chest, and affixed to the chest seven locks, and deposited me, thus imprisoned, in the bottom of the roaring sea, beneath the dashing waves; not knowing that, when one of our sex desires to accomplish any object, nothing can prevent her. In accordance with this, says one of the poets:—
Never trust in women; nor rely upon their vows;

For their pleasure and displeasure depend upon their passions.

They offer a false affection; for perfidy lurks within their clothing.

By the tale of Yoosuf be admonished, and guard against their stratagems.

Dost thou not consider that Iblees ejected Adam by means of woman?
And another poet says:—
Abstain from censure; for it will strengthen the censured, and increase desire into violent passion.

If I suffer such passion, my case is but the same as that of many a man before me:

For greatly indeed to be wondered at is he who hath kept himself safe fromwomen's artifice.
When the two Kings heard these words from her lips, they were struck with the utmost astonishment, and said, one to the other, If this is an 'Efreet, and a greater calamity hath happened unto him than that which hath befallen us, this is a circumstance that should console us:—and immediately they departed, and returned to the city.
As soon as they had entered the palace, Shahriyár caused his wife to be beheaded, and in like manner the women and black slaves; and thenceforth he made it his regular custom, every time that he took a virgin to his bed, to kill her at the expiration of the night. Thus he continued to do during a period of three years; and the people raised an outcry against him, and fled with their daughters, and there remained not a virgin in the city of a sufficient age for marriage. Such was the case when the King ordered the Wezeer to bring him a virgin according to his custom; and the Wezeer went forth and searched, and found none; and he went back to his house enraged and vexed, fearing what the King might do to him.
Now the Wezeer had two daughters; the elder of whom was named Shahrazád; and the younger, Dunyázád. The former had read various books of histories, and the lives of preceding kings, and stories of past generations: it is asserted that she had collected together a thousand books of histories, relating to preceding generations and kings, and works of the poets: and she said to her father on this occasion, Why do I see thee thus changed, and oppressed with solicitude and sorrows? It has been said by one of the poets:—
Tell him who is oppressed with anxiety, that anxiety will not last:

As happiness passeth away, so passeth away anxiety.
When the Wezeer heard these words from his daughter, he related to her all that had happened to him with regard to the King: upon which she said, By Allah, O my father, give me in marriage to this King: either I shall die, and be a ransom for one of the daughters of the Muslims, or I shall live, and be the cause of their deliverance from him.—I conjure thee by Allah, exclaimed he, that thou expose not thyself to such peril:—but she said, It must be so. Then, said he, I fear for thee that the same will befall thee that happened in the case of the ass and the bull and the husbandman.—And what, she asked, was that, O my father.
Know, O my daughter, said the Wezeer, that there was a certain merchant, who possessed wealth and cattle, and had a wife and children; and God, whose name be exalted, had also endowed him with the knowledge of the languages of beasts and birds. The abode of this merchant was in the country; and he had, in his house, an ass and a bull. When the bull came to the place where the ass was tied, he found it swept and sprinkled; in his manger were sifted barley and sifted cut straw, and the ass was lying at his ease; his master being accustomed only to ride him occasionally, when business required, and soon to return: and it happened, one day, that the merchant overheard the bull saying to the ass, May thy food benefit thee! I am oppressed with fatigue, while thou art enjoying repose: thou eatest sifted barley, and men serve thee; and it is only occasionally that thy master rides thee, and returns; while I am continually employed in ploughing, and turning the mill.—The ass answered, When thou goest out to the field, and they place the yoke upon thy neck, lie down, and do not rise again, even if they beat thee; or, if thou rise, lie down a second time; and when they take thee back, and place the beans before thee, eat them not, as though thou wert sick: abstain from eating and drinking a day, or two days, or three; and so shalt thou find rest from trouble and labour.—Accordingly, when the driver came to the bull with his fodder, he ate scarcely any of it; and on the morrow, when the driver came again to take him to plough, he found him apparently quite infirm: so the merchant said, Take the ass, and make him draw the plough in his stead all the day. The man did so; and when the ass returned at the close of the day, the bull thanked him for the favour he had conferred upon him by relieving him of his trouble on that day; but the ass returned him no answer, for he repented most grievously. On the next day, the ploughman came again, and took the ass, and ploughed with him till evening; and the ass returned with his neck flayed by the yoke, and reduced to an extreme state of weakness; and the bull looked upon him, and thanked and praised him. The ass exclaimed, I was living at ease, and nought but my meddling hath injured me! Then said he to the bull, Know that I am one who would give thee good advice: I heard our master say, If the bull rise not from his place, take him to the butcher, that he may kill him, and make a naṭạ of his skin:—I am therefore in fear for thee, and so I have given thee advice; and peace be on thee!—When the bull heard these words of the ass, he thanked him, and said, To-morrow I will go with alacrity:—so he ate the whole of his fodder, and even licked the manger.—Their master, meanwhile, was listening to their conversation.
On the following morning, the merchant and his wife went to the bull's crib, and sat down there; and the driver came, and took out the bull; and when the bull saw his master, he shook his tail, and showed his alacrity by sounds and actions, bounding about in such a manner that the merchant laughed until he fell backwards. His wife, in surprise, asked him, At what dost thou laugh? He answered, At a thing that I have heard and seen; but I cannot reveal it; for if I did, I should die. She said, Thou must inform me of the cause of thy laughter, even if thou die.—I cannot reveal it, said he: the fear of death prevents me.—Thou laughedst only at me, she said; and she ceased not to urge and importune him until he was quite overcome and distracted. So he called together his children, and sent for the Ḳáḍee and witnesses, that he might make his will, and reveal the secret to her, and die: for he loved her excessively, since she was the daughter of his paternal uncle, and the mother of his children, and he had lived with her to the age of a hundred and twenty years. Having assembled her family and his neighbours, he related to them his story, and told them that as soon as he revealed his secret he must die; upon which every one present said to her, We conjure thee by Allah that thou give up this affair, and let not thy husband, and the father of thy children, die. But she said, I will not desist until he tell me, though he die for it. So they ceased to solicit her; and the merchant left them, and went to the stable to perform the ablution, and then to return, and tell them the secret, and die.
Now he had a cock, with fifty hens under him, and he had also a dog; and he heard the dog call to the cock, and reproach him, saying, Art thou happy when our master is going to die? The cock asked, How so?—and the dog related to him the story; upon which the cock exclaimed, By Allah! our master has little sense: I have fifty wives; and I please this, and provoke that; while he has but one wife, and cannot manage this affair with her: why does he not take some twigs of the mulberry-tree, and enter her chamber, and beat her until she dies or repents? She would never, after that, ask him a question respecting anything.—And when the merchant heard the words of the cock, as he addressed the dog, he recovered his reason, and made up his mind to beat her.—Now, said the Wezeer to his daughter Shahrazád, perhaps I may do to thee as the merchant did to his wife. She asked, And what did he? He answered, He entered her chamber, after he had cut off some twigs of the mulberry-tree, and hidden them there; and then said to her, Come into the chamber, that I may tell thee the secret while no one sees me, and then die:—and when she had entered, he locked the chamber-door upon her, and beat her until she became almost senseless and cried out, I repent:—and she kissed his hands and his feet, and repented, and went out with him; and all the company, and her own family, rejoiced; and they lived together in the happiest manner until death.
When the Wezeer's daughter heard the words of her father, she said to him, It must be as I have requested. So he arrayed her, and went to the King Shahriyár. Now she had given directions to her young sister, saying to her, When I have gone to the King, I will send to request thee to come; and when thou comest to me, and seest a convenient time, do thou say to me, O my sister, relate to me some strange story to beguile our waking hour:—and I will relate to thee a story that shall, if it be the will of God, be the means of procuring deliverance.
Her father, the Wezeer, then took her to the King, who, when he saw him, was rejoiced, and said, Hast thou brought me what I desired? He answered, Yes. When the King, therefore, introduced himself to her, she wept; and he said to her, What aileth thee? She answered, O King, I have a young sister, and I wish to take leave of her. So the King sent to her; and she came to her sister, and embraced her, and sat near the foot of the bed; and after she had waited for a proper opportunity, she said, By Allah! O my sister, relate to us a story to beguile the waking hour of our night. Most willingly, answered Shahrazád, if this virtuous King permit me. And the King, hearing these words, and being restless, was pleased with the idea of listening to the story; and thus, on the first night of the thousand and one, Shahrazád commenced her recitations.
Chapter I
Commencing with the first night, and ending with the part of the third.
The Story of the Merchant and the Jinnee
It has been related to me, O happy King, said Shahrazád, that there was a certain merchant who had great wealth, and traded extensively with surrounding countries; and one day he mounted his horse, and journeyed to a neighbouring country to collect what was due to him, and, the heat oppressing him, he sat under a tree, in a garden, and put his hand into his saddle-bag, and ate a morsel of bread and a date which were among his provisions. Having eaten the date, he threw aside the stone, and immediately there appeared before him an 'Efreet, of enormous height, who, holding a drawn sword in his hand, approached him, and said, Rise, that I may kill thee, as thou hast killed my son. The merchant asked him, How have I killed thy son? He answered, When thou atest the date, and threwest aside the stone, it struck my son upon the chest, and, as fate had decreed against him, he instantly died.
The merchant, on hearing these words, exclaimed, Verily to God we belong, and verily to Him we must return! There is no strength nor power but in God, the High, the Great! If I killed him, I did it not intentionally, but without knowing it; and I trust in thee that thou wilt pardon me.—The Jinnee answered, Thy death is indispensable, as thou hast killed my son:—and so saying, he dragged him, and threw him on the ground, and raised his arm to strike him with the sword. The merchant, upon this, wept bitterly, and said to the Jinnee, I commit my affair unto God, for no one can avoid what He hath decreed:—and he continued his lamentation, repeating the following verses:—
Time consists of two days; this, bright; and that, gloomy: and life, of two moieties; this, safe; and that, fearful.
Say to him who hath taunted us on account of misfortunes, Doth fortune oppose any but the eminent?
Dost thou not observe that corpses float upon the sea, whilethe precious pearls remain in its furthest depths?
When the hands of time play with us, misfortune is imparted to us by its protracted kiss.
In the heaven are stars that cannot be numbered; but none is eclipsed save the sun and the moon.
How many green and dry trees are on the earth; but none is assailed with stones save that which beareth fruit!
Thou thoughtest well of the days when they went well with thee, and fearedst not the evil that destiny was bringing.
—When he had finished reciting these verses, the Jinnee said to him, Spare thy words, for thy death is unavoidable.
Then said the merchant, Know, O 'Efreet, that I have debts to pay, and I have much property, and children, and a wife, and I have pledges also in my possession: let me, therefore, go back to my house, and give to every one his due, and then I will return to thee: I bind myself by a vow and covenant that I will return to thee, and thou shalt do what thou wilt; and God is witness of what I say.—Upon this, the Jinnee accepted his covenant, and liberated him; granting him a respite until the expiration of the year.
The merchant, therefore, returned to his town, accomplished all that was upon his mind to do, paid every one what he owed him, and informed his wife and children of the event which had befallen him; upon hearing which, they and all his family and women wept. He appointed a guardian over his children, and remained with his family until the end of the year; when he took his grave-clothes under his arm, bade farewell to his household and neighbours, and all his relations, and went forth, in spite of himself; his family raising cries of lamentation, and shrieking.
He proceeded until he arrived at the garden before mentioned; and it was the first day of the new year; and as he sat, weeping for the calamity which he expected soon to befall him, a sheykh, advanced in years, approached him, leading a gazelle with a chain attached to its neck. This sheykh saluted the merchant, wishing him a long life, and said to him, What is the reason of thy sitting alone in this place, seeing that it is a resort of the Jinn? The merchant therefore informed him of what had befallen him with the 'Efreet, and of the cause of his sitting there; at which the sheykh, the owner of the gazelle, was astonished, and said, By Allah, O my brother, thy faithfulness is great, and thy story is wonderful! if it were engraved upon the intellect, it would be a lesson to him who would be admonished!—And he sat down by his side, and said, By Allah, O my brother, I will not quit this place until I see what will happen unto thee with this 'Efreet. So he sat down, and conversed with him. And the merchant became almost senseless; fear entered him, and terror, and violent grief, and excessive anxiety. And as the owner of the gazelle sat by his side, lo, a second sheykh approached them, with two black hounds, and inquired of them, after saluting them, the reason of their sitting in that place, seeing that it was a resort of the Jánn: and they told him the story from beginning to end. And he had hardly sat down when there approached them a third sheykh, with a dapple mule; and he asked them the same question, which was answered in the same manner.
Immediately after, the dust was agitated, and became an enormous revolving pillar, approaching them from the midst of the desert; and this dust subsided, and behold, the Jinnee, with a drawn sword in his hand; his eyes casting forth sparks of fire. He came to them, and dragged from them the merchant, and said to him, Rise, that I may kill thee, as thou killedst my son, the vital spirit of my heart. And the merchant wailed and wept; and the three sheykhs also manifested their sorrow by weeping and crying aloud and wailing: but the first sheykh, who was the owner of the gazelle, recovering his self-possession, kissed the hand of the 'Efreet, and said to him, O thou Jinnee, and crown of the kings of the Jánn, if I relate to thee the story of myself and this gazelle, and thou find it to be wonderful, and more so than the adventure of this merchant, wilt thou give up to me a third of thy claim to his blood? He answered, Yes, O sheykh; if thou relate to me the story, and I find it to be as thou hast said, I will give up to thee a third of my claim to his blood.
The Story of the First Sheykh and the Gazelle
Then said the sheykh, Know, O 'Efreet, that this gazelle is the daughter of my paternal uncle, and she is of my flesh and my blood. I took her as my wife when she was young, and lived with her about thirty years; but I was not blessed with a child by her; so I took to me a concubine slave, and by her I was blessed with a male child, like the rising full moon, with beautiful eyes, and delicately-shaped eyebrows, and perfectly-formed limbs; and he grew up by little and little until he attained the age of fifteen years. At this period, I unexpectedly had occasion to journey to a certain city, and went thither with a great stock of merchandise.
Now my cousin, this gazelle, had studied enchantment and divination from her early years; and during my absence, she transformed the youth above mentioned into a calf; and his mother, into a cow; and committed them to the care of the herdsman: and when I returned, after a long time, from my journey, I asked after my son and his mother, and she said, Thy slave is dead, and thy son hath fled, and I know not whither he is gone. After hearing this, I remained for the space of a year with mourning heart and weeping eye, until the Festival of the Sacrifice; when I sent to the herdsman, and ordered him to choose for me a fat cow; and he brought me one, and it was my concubine, whom this gazelle had enchanted. I tucked up my skirts and sleeves, and took the knife in my hand, and prepared myself to slaughter her; upon which she moaned and cried so violently that I left her, and ordered the herdsman to kill and skin her: and he did so, but found in her neither fat nor flesh, nor anything but skin and bone; and I repented of slaughtering her, when repentance was of no avail. I therefore gave her to the herdsman, and said to him, Bring me a fat calf: and he brought me my son, who was transformed into a calf. And when the calf saw me, he broke his rope, and came to me, and fawned upon me, and wailed and cried, so that I was moved with pity for him; and I said to the herdsman, Bring me a cow, and let this—
Here Shahrazád perceived the light of morning, and discontinued the recitation with which she had been allowed thus far to proceed. Her sister said to her, How excellent is thy story! and how pretty! and how pleasant! and how sweet!—but she answered, What is this in comparison with that which I will relate to thee in the next night, if I live, and the King spare me! And the King said, By Allah, I will not kill her until I hear the remainder of her story. Thus they pleasantly passed the night until the morning, when the King went forth to his hall of judgment, and the Wezeer went thither with the grave-clothes under his arm: and the King gave judgment, and invested and displaced, until the close of the day, without informing the Wezeer of that which had happened; and the minister was greatly astonished. The court was then dissolved; and the King returned to the privacy of his palace.
[On the second and each succeeding night, Shahrazád continued so to interest King Shahriyár by her stories as to induce him to defer putting her to death, in expectation that her fund of amusing tales would soon be exhausted; and as this is expressed in the original work in nearly the same words at the close of every night, such repetitions will in the present translation be omitted.]
When the sheykh, continued Shahrazád, observed the tears of the calf, his heart sympathized with him, and he said to the herdsman, Let this calf remain with the cattle—Meanwhile, the Jinnee wondered at this strange story; and the owner of the gazelle thus proceeded.
O lord of the kings of the Jánn, while this happened, my cousin, this gazelle, looked on, and said, Slaughter this calf; for he is fat: but I could not do it; so I ordered the herdsman to take him back; and he took him and went away. And as I was sitting, on the following day, he came to me, and said, O my master, I have to tell thee something that thou wilt be rejoiced to hear; and a reward is due to me for bringing good news. I answered, Well:—and he said, O merchant, I have a daughter who learned enchantment in her youth from an old woman in our family; and yesterday, when thou gavest me the calf, I took him to her, and she looked at him, and covered her face, and wept, and then laughed, and said, O my father, hath my condition become so degraded in thy opinion that thou bringest before me strange men?—Where, said I, are any strange men? and wherefore didst thou weep and laugh? She answered, This calf that is with thee is the son of our master, the merchant, and the wife of our master hath enchanted both him and his mother; and this was the reason of my laughter; but as to the reason of my weeping, it was on account of his mother, because his father had slaughtered her.—And I was excessively astonished at this; and scarcely was I certain that the light of morning had appeared when I hastened to inform thee.
When I heard, O Jinnee, the words of the herdsman, I went forth with him, intoxicated without wine, from the excessive joy and happiness that I received, and arrived at his house, where his daughter welcomed me, and kissed my hand; and the calf came to me, and fawned upon me. And I said to the herdsman's daughter, Is that true which thou hast said respecting this calf? She answered, Yes, O my master; he is verily thy son, and the vital spirit of thy heart.—O maiden, said I, if thou wilt restore him, all the cattle and other property of mine that thy father hath under his care shall be thine. Upon this, she smiled, and said, O my master, I have no desire for the property unless on two conditions: the first is, that thou shalt marry me to him; and the second, that I shall enchant her who enchanted him, and so restrain her; otherwise, I shall not be secure from her artifice. On hearing, O Jinnee, these her words, I said, And thou shalt have all the property that is under the care of thy father besides; and as to my cousin, even her blood shall be lawful to thee. So, when she heard this, she took a cup, and filled it with water, and repeated a spell over it, and sprinkled with it the calf, saying to him, If God created thee a calf, remain in this form, and be not changed; but if thou be enchanted, return to thy original form, by permission of God, whose name be exalted!— upon which he shook, and became a man; and I threw myself upon him, and said, I conjure thee by Allah that thou relate to me all that my cousin did to thee and to thy mother. So he related to me all that had happened to them both; and I said to him, O my son, God hath given thee one to liberate thee, and to avenge thee:—and I married to him, O Jinnee, the herdsman's daughter; after which, she transformed my cousin into this gazelle. And as I happened to pass this way, I saw this merchant, and asked him what had happened to him; and when he had informed me, I sat down to see the result.—This is my story. The Jinnee said, This is a wonderful tale; and I give up to thee a third of my claim to his blood.
The second sheykh, the owner of the two hounds, then advanced, and said to the Jinnee, If I relate to thee the story of myself and these hounds, and thou find it to be in like manner wonderful, wilt thou remit to me, also, a third of thy claim to the blood of this merchant? The Jinnee answered, Yes.
The Story of the Second Sheykh and the Two Black Hounds
Then said the sheykh, Know, O lord of the kings of the Jánn, that these two hounds are my brothers. My father died, and left to us three thousand pieces of gold; and I opened a shop to sell and buy. But one of my brothers made a journey, with a stock of merchandise, and was absent from us for the space of a year with the caravans; after which, he returned destitute. I said to him, Did I not advise thee to abstain from travelling? But he wept, and said, O my brother, God, to whom be ascribed all might and glory, decreed this event; and there is no longer any profit in these words: I have nothing left. So I took him up into the shop, and then went with him to the bath, and clad him in a costly suit of my own clothing; after which, we sat down together to eat; and I said to him, O my brother, I will calculate the gain of my shop during the year, and divide it, exclusive of the principal, between me and thee. Accordingly, I made the calculation, and found my gain to amount to two thousand pieces of gold; and I praised God, to whom be ascribed all might and glory, and rejoiced exceedingly, and divided the gain in two equal parts between myself and him.—My other brother then set forth on a journey; and after a year, returned in the like condition; and I did unto him as I had done to the former.
After this, when we had lived together for some time, my brothers again wished to travel, and were desirous that I should accompany them; but I would not. What, said I, have ye gained in your travels, that I should expect to gain? They importuned me; but I would not comply with their request; and we remained selling and buying in our shops a whole year. Still, however, they persevered in proposing that we should travel, and I still refused, until after the lapse of six entire years, when at last I consented, and said to them, O my brothers, let us calculate what property we possess. We did so, and found it to be six thousand pieces of gold: and I then said to them, We will bury half of it in the earth, that it may be of service to us if any misfortune befall us, in which case each of us shall take a thousand pieces, with which to traffic. Excellent is thy advice, said they. So I took the money and divided it into two equal portions, and buried three thousand pieces of gold; and of the other half, I gave to each of them a thousand pieces. We then prepared merchandise, and hired a ship, and embarked our goods, and proceeded on our voyage for the space of a whole month, at the expiration of which we arrived at a city, where we sold our merchandise; and for every piece of gold we gained ten.
And when we were about to set sail again, we found, on the shore of the sea, a maiden clad in tattered garments, who kissed my hand, and said to me, O my master, art thou possessed of charity and kindness? If so, I will requite thee for them. I answered, Yes, I have those qualities, though thou requite me not. Then said she, O my master, accept me as thy wife, and take me to thy country; for I give myself to thee: act kindly towards me; for I am one who requires to be treated with kindness and charity, and who will requite thee for so doing; and let not my present condition at all deceive thee. When I heard these words, my heart was moved with tenderness towards her, in order to the accomplishment of a purpose of God, to whom be ascribed all might and glory; and I took her, and clothed her, and furnished for her a place in the ship in a handsome manner, and regarded her with kind and respectful attention.
We then set sail; and I became most cordially attached to my wife, so that, on her account, I neglected the society of my brothers, who, in consequence, became jealous of me, and likewise envied me my wealth, and the abundance of my merchandise; casting the eyes of covetousness upon the whole of the property. They therefore consulted together to kill me, and take my wealth; saying, Let us kill our brother, and all the property shall be ours:—and the devil made these actions to seem fair in their eyes; so they came to me while I was sleeping by the side of my wife, and took both of us up, and threw us into the sea. But as soon as my wife awoke, she shook herself, and became transformed into a Jinneeyeh. She immediately bore me away, and placed me upon an island, and, for a while, disappeared. In the morning, however, she returned, and said to me, I am thy wife, who carried thee, and rescued thee from death, by permission of God, whose name be exalted. Know that I am a Jinneeyeh: I saw thee, and my heart loved thee for the sake of God; for I am a believer in God and his Apostle, God bless and save him! I came to thee in the condition in which thou sawest me, and thou didst marry me; and see, I have rescued thee from drowning. But I am incensed against thy brothers, and I must kill them.—When I heard her tale, I was astonished, and thanked her for what she had done;—But, said I, as to the destruction of my brothers, it is not what I desire. I then related to her all that had happened between myself and them from first to last; and when she had heard it, she said, I will, this next night, fly to them, and sink their ship, and destroy them. But I said, I conjure thee by Allah that thou do it not; for the author of the proverb saith, O thou benefactor of him who hath done evil, the action that he hath done is sufficient for him:—besides, they are at all events my brothers. She still, however, said, They must be killed;—and I continued to propitiate her towards them: and at last she lifted me up, and soared through the air, and placed me on the roof of my house.
Having opened the doors, I dug up what I had hidden in the earth; and after I had saluted my neighbours, and bought merchandise, I opened my shop. And in the following night, when I entered my house, I found these two dogs tied up in it; and as soon as they saw me, they came to me, and wept, and clung to me; but I knew not what had happened until immediately my wife appeared before me, and said, These are thy brothers. And who, said I, hath done this unto them? She answered, I sent to my sister and she did it; and they shall not be restored until after the lapse of ten years. And I was now on my way to her, that she might restore them, as they have been in this state ten years, when I saw this man, and, being informed of what had befallen him, I determined not to quit the place until I should have seen what would happen between thee and him.—This is my story.—Verily, said the Jinnee, it is a wonderful tale; and I give up to thee a third of the claim that I had to his blood on account of his offence.
Upon this, the third sheykh, the owner of the mule, said to the Jinnee, As to me, break not my heart if I relate to thee nothing more than this:—
The Story of the Third Sheykh and the Mule
The mule that thou seest was my wife: she became enamoured of a black slave; and when I discovered her with him, she took a mug of water, and, having uttered a spell over it, sprinkled me, and transformed me into a dog. In this state, I ran to the shop of a butcher, whose daughter saw me, and, being skilled in enchantment, restored me to my original form, and instructed me to enchant my wife in the manner thou beholdest.—And now I hope that thou wilt remit to me also a third of the merchant's offence. Divinely was he gifted who said,
Sow good, even on an unworthy soil; for it will not be lost wherever it is sown.
When the sheykh had thus finished his story, the Jinnee shook with delight, and remitted the remaining third of his claim to the merchant's blood. The merchant then approached the sheykhs, and thanked them, and they congratulated him on his safety; and each went his way.
But this, said Shahrazád, is not more wonderful than the story of the fisherman. The King asked her, And what is the story of the fisherman? And she related it as follows:—
Chapter II
Commencing with Part of the Third Night, and Ending with Part of the Ninth
The Story of the Fisherman
There was a certain fisherman, advanced in age, who had a wife and three children; and though he was in indigent circumstances, it was his custom to cast his net, every day, no more than four times. One day he went forth at the hour of noon to the shore of the sea, and put down his basket, and cast his net, and waited until it was motionless in the water, when he drew together its strings, and found it to be heavy: he pulled, but could not draw it up: so he took the end of the cord, and knocked a stake into the shore, and tied the cord to it. He then stripped himself, and dived round the net, and continued to pull until he drew it out: whereupon he rejoiced, and put on his clothes; but when he came to examine the net, he found in it the carcass of an ass. At the sight of this he mourned, and exclaimed, There is no strength nor power but in God, the High, the Great! This is a strange piece of fortune!—And he repeated the following verse:—
O thou who occupiest thyself in the darkness of night, and in peril! Spare thy trouble; for the support of Providence is not obtained by toil!
He then disencumbered his net of the dead ass, and wrung it out; after which he spread it, and descended into the sea, and—exclaiming, In the name of God!—cast it again, and waited till it had sunk and was still, when he pulled it, and found it more heavy and more difficult to raise than on the former occasion. He therefore concluded that it was full of fish: so he tied it, and stripped, and plunged and dived, and pulled until he raised it, and drew it upon the shore; when he found in it only a large jar, full of sand and mud; on seeing which, he was troubled in his heart, and repeated the following words of the poet:—
O angry fate, forbear! or, if thou wilt not forbear, relent!
Neither favour from fortune do I gain, nor profit from the work of my hands,
I came forth to seek my sustenance, but have found it to be exhausted.
How many of the ignorant are in splendour! and how many of the wise, in obscurity!
So saying, he threw aside the jar, and wrung out and cleansed his net; and, begging the forgiveness of God for his impatience, returned to the sea the third time, and threw the net, and waited till it had sunk and was motionless: he then drew it out, and found in it a quantity of broken jars and pots.
Upon this, he raised his head towards heaven, and said, O God, Thou knowest that I cast not my net more than four times; and I have now cast it three times! Then—exclaiming, In the name of God!—he cast the net again into the sea, and waited till it was still; when he attempted to draw it up, but could not, for it clung to the bottom. And he exclaimed, There is no strength nor power but in God!—and stripped himself again, and dived round the net, and pulled it until he raised it upon the shore; when he opened it, and found in it a bottle of brass, filled with something, and having its mouth closed with a stopper of lead, bearing the impression of the seal of our lord Suleymán. At the sight of this, the fisherman was rejoiced, and said, This I will sell in the copper-market; for it is worth ten pieces of gold. He then shook it, and found it to be heavy, and said, I must open it, and see what is in it, and store it in my bag; and then I will sell the bottle in the copper-market. So he took out a knife, and picked at the lead until he extracted it from the bottle. He then laid the bottle on the ground, and shook it, that its contents might pour out; but there came forth from it nothing but smoke, which ascended towards the sky, and spread over the face of the earth; at which he wondered excessively. And after a little while, the smoke collected together, and was condensed, and then became agitated, and was converted into an 'Efreet, whose head was in the clouds, while his feet rested upon the ground: his head was like a dome: his hands were like winnowing forks; and his legs, like masts: his mouth resembled a cavern: his teeth were like stones; his nostrils, like trumpets; and his eyes, like lamps; and he had dishevelled and dust-coloured hair.
When the fisherman beheld this 'Efreet, the muscles of his sides quivered, his teeth were locked together, his spittle dried up, and he saw not his way. The 'Efreet, as soon as he perceived him, exclaimed, There is no deity but God: Suleymán is the Prophet of God. O Prophet of God, slay me not; for I will never again oppose thee in word, or rebel against thee in deed!—O Márid, said the fisherman, dost thou say, Suleymán is the Prophet of God? Suleymán hath been dead a thousand and eight hundred years; and we are now in the end of time. What is thy history, and what is thy tale, and what was the cause of thy entering this bottle? When the Márid heard these words of the fisherman, he said, There is no deity but God! Receive news, O fisherman!—Of what, said the fisherman, dost thou give me news? He answered, Of thy being instantly put to a most cruel death. The fisherman exclaimed, Thou deservest, for this news, O master of the 'Efreets, the withdrawal of protection from thee, O thou remote! Wherefore wouldst thou kill me? and what requires thy killing me, when I have liberated thee from the bottle, and rescued thee from the bottom of the sea, and brought thee up upon the dry land?—The 'Efreet answered, Choose what kind of death thou wilt die, and in what manner thou shalt be killed.—What is my offence, said the fisherman, that this should be my recompense from thee? The 'Efreet replied, Hear my story, O fisherman.—Tell it then, said the fisherman, and be short in thy words; for my soul hath sunk down to my feet.
Know then, said he, that I am one of the heretical Jinn: I rebelled against Suleymán the son of Dáood: I and Ṣakhr the Jinnee; and he sent to me his Wezeer, Áṣaf the son of Barkhiyà, who came upon me forcibly, and took me to him in bonds, and placed me before him: and when Suleymán saw me, he offered up a prayer for protection against me, and exhorted me to embrace the faith, and to submit to his authority; but I refused; upon which he called for this bottle, and confined me in it, and closed it upon me with the leaden stopper, which he stamped with the Most Great Name: he then gave orders to the Jinn, who carried me away, and threw me into the midst of the sea. There I remained a hundred years; and I said in my heart, Whosoever shall liberate me, I will enrich him for ever:—but the hundred years passed over me, and no one liberated me: and I entered upon another hundred years; and I said, Whosoever shall liberate me, I will open to him the treasures of the earth;—but no one did so: and four hundred years more passed over me, and I said, Whosoever shall liberate me, I will perform for him three wants:— but still no one liberated me. I then fell into a violent rage, and said within myself, Whosoever shall liberate me now, I will kill him; and only suffer him to choose in what manner he will die. And lo, now thou hast liberated me, and I have given thee thy choice of the manner in which thou wilt die.
When the fisherman had heard the story of the 'Efreet, he exclaimed, O Allah! that I should not have liberated thee but in such a time as this! Then said he to the 'Efreet, Pardon me, and kill me not, and so may God pardon thee; and destroy me not, lest God give power over thee to one who will destroy thee. The Márid answered, I must positively kill thee; therefore choose by what manner of death thou wilt die. The fisherman then felt assured of his death; but he again implored the 'Efreet, saying, Pardon me by way of gratitude for my liberating thee.—Why, answered the 'Efreet, I am not going to kill thee but for that very reason, because thou hast liberated me.—O Sheykh of the 'Efreets, said the fisherman, do I act kindly towards thee, and dost thou recompense me with baseness? But the proverb lieth not that saith,—
We did good to them, and they returned us the contrary; and such, by my life, is the conduct of the wicked. Thus he who acteth kindly to the undeserving is recompensed in the same manner as the aider of Umm-'Ámir.
The 'Efreet, when he heard these words, answered by saying, Covet not life, for thy death is unavoidable. Then said the fisherman within himself, This is a Jinnee, and I am a man; and God hath given me sound reason; therefore, I will now plot his destruction with my art and reason, like as he hath plotted with his cunning and perfidy. So he said to the 'Efreet, Hast thou determined to kill me? He answered, Yes. Then said he, By the Most Great Name engraved upon the seal of Suleymán, I will ask thee one question; and wilt thou answer it to me truly? On hearing the mention of the Most Great Name, the 'Efreet was agitated, and trembled, and replied, Yes; ask, and be brief. The fisherman then said, How wast thou in this bottle? It will not contain thy hand or thy foot; how then can it contain thy whole body?—Dost thou not believe that I was in it? said the 'Efreet. The fisherman answered, I will never believe thee until I see thee in it. Upon this, the 'Efreet shook, and became converted again into smoke, which rose to the sky, and then became condensed, and entered the bottle by little and little, until it was all enclosed; when the fisherman hastily snatched the sealed leaden stopper, and, having replaced it in the mouth of the bottle, called out to the 'Efreet, and said, Choose in what manner of death thou wilt die. I will assuredly throw thee here into the sea, and build me a house on this spot; and whosoever shall come here, I will prevent his fishing in this place, and will say to him, Here is an 'Efreet, who, to any person that liberates him, will propose various kinds of death, and then give him his choice of one of them. On hearing these words of the fisherman, the 'Efreet endeavoured to escape; but could not, finding himself restrained by the impression of the seal of Suleymán, and thus imprisoned by the fisherman as the vilest and filthiest and least of 'Efreets. The fisherman then took the bottle to the brink of the sea. The 'Efreet exclaimed, Nay! nay!—to which the fisherman answered, Yea, without fail! yea, without fail! The Márid then addressing him with a soft voice and humble manner, said, What dost thou intend to do with me, O fisherman? He answered, I will throw thee into the sea; and if thou hast been there a thousand and eight hundred years, I will make thee to remain there until the hour of judgment. Did I not say to thee, Spare me, and so may God spare thee; and destroy me not, lest God destroy thee? But thou didst reject my petition, and wouldest nothing but treachery; therefore God hath caused thee to fall into my hand, and I have betrayed thee.—Open to me, said the 'Efreet, that I may confer benefits upon thee. The fisherman replied, Thou liest, thou accursed! I and thou are like the Wezeer of King Yoonán and the sage Doobán.—What, said the 'Efreet, was the case of the Wezeer of King Yoonán and the sage Doobán, and what is their story? The fisherman answered as follows:—
The Story of King Yoonán and the Sage of Doobán
Know, O 'Efreet, that there was, in former times, in the country of the Persians, a monarch who was called King Yoonán, possessing great treasures and numerous forces, valiant, and having troops of every description; but he was afflicted with leprosy, which the physicians and sages had failed to remove; neither their potions, nor powders, nor ointments were of any benefit to him; and none of the physicians was able to cure him. At length there arrived at the city of this king a great sage, stricken in years, who was called the sage Doobán: he was acquainted with ancient Greek, Persian, modern Greek, Arabic, and Syriac books, and with medicine and astrology, both with respect to their scientific principles and the rules of their practical applications for good and evil; as well as the properties of plants, dried and fresh, the injurious and the useful: he was versed in the wisdom of the philosophers, and embraced a knowledge of all the medical and other sciences. After this sage had arrived in the city, and remained in it a few days, he heard of the case of the King, of the leprosy with which God had afflicted him, and that the physicians and men of science had failed to cure him. In consequence of this information, he passed the next night in deep study; and when the morning came, and diffused its light, and the sun saluted the Ornament of the Good, he attired himself in the richest of his apparel, and presented himself before the King. Having kissed the ground before him, and offered up a prayer for the continuance of his power and happiness, and greeted him in the best manner he was able, he informed him who he was, and said, O King, I have heard of the disease which hath attacked thy person, and that many of the physicians are unacquainted with the means of removing it; and I will cure thee without giving thee to drink any potion, or anointing thee with ointment. When King Yoonán heard his words, he wondered, and said to him, How wilt thou do this? By Allah, if thou cure me, I will enrich thee and thy children's children, and I will heap favours upon thee, and whatever thou shalt desire shall be thine, and thou shalt be my companion and my friend.—He then bestowed upon him a robe of honour, and other presents, and said to him, Wilt thou cure me of this disease without potion or ointment? He answered, Yes; I will cure thee without any discomfort to thy person. And the King was extremely astonished, and said, O Sage, at what time, and on what day, shall that which thou hast proposed to me be done? Hasten it, O my Son.—He answered, I hear and obey.
He then went out from the presence of the King, and hired a house, in which he deposited his books, and medicines, and drugs. Having done this, he selected certain of his medicines and drugs, and made a goff-stick, with a hollow handle, into which he introduced them; after which he made a ball for it, skilfully adapted; and on the following day, after he had finished these, he went again to the King, and kissed the ground before him, and directed him to repair to the horse-course, and to play with the ball and goff-stick. The King, attended by his Emeers and Chamberlains and Wezeers, went thither, and, as soon as he arrived there, the sage Doobán presented himself before him, and handed to him the goff-stick, saying, Take this goff-stick, and grasp it thus, and ride along the horse-course, and strike the ball with it with all thy force, until the palm of thy hand and thy whole body become moist with perspiration, when the medicine will penetrate into thy hand, and pervade thy whole body; and when thou hast done this, and the medicine remains in thee, return to thy palace, and enter the bath, and wash thyself, and sleep: then shalt thou find thyself cured: and peace be on thee. So King Yoonán took the goff-stick from the sage, and grasped it in his hand, and mounted his horse; and the ball was thrown before him, and he urged his horse after it until he overtook it, when he struck it with all his force; and when he had continued this exercise as long as was necessary, and bathed and slept, he looked upon his skin, and not a vestige of the leprosy remained: it was clear as white silver. Upon this he rejoiced exceedingly; his heart was dilated, and he was full of happiness.
On the following morning he entered the council-chamber, and sat upon his throne; and the Chamberlains and great officers of his court came before him. The sage Doobán also presented himself; and when the King saw him, he rose to him in haste, and seated him by his side. Services of food were then spread before them, and the sage ate with the King, and remained as his guest all the day; and when the night approached, the King gave him two thousand pieces of gold, besides dresses of honour and other presents, and mounted him on his own horse, and so the sage returned to his house. And the King was astonished at his skill; saying, This man hath cured me by an external process, without anointing me with ointment: by Allah, this is consummate science; and it is incumbent on me to bestow favours and honours upon him, and to make him my companion and familiar friend as long as I live. He passed the night happy and joyful on account of his recovery, and when he arose, he went forth again, and sat upon his throne; the officers of his court standing before him, and the Emeers and Wezeers sitting on his right hand and on his left; and he called for the sage Doobán, who came, and kissed the ground before him; and the King rose, and seated him by his side, and ate with him, and greeted him with compliments: he bestowed upon him again a robe of honour and other presents, and, after conversing with him till the approach of night, gave orders that five other robes of honour should be given to him, and a thousand pieces of gold; and the sage departed, and returned to his house.
Again, when the next morning came, the King went as usual to his council-chamber, and the Emeers and Wezeers and Chamberlains surrounded him. Now there was, among his Wezeers, one of ill aspect, and of evil star; sordid, avaricious, and of an envious and malicious disposition; and when he saw that the King had made the sage Doobán his friend, and bestowed upon him these favours, he envied him this distinction, and meditated evil against him; agreeably with the adage which saith, There is no one void of envy;—and another, which saith, Tyranny lurketh in the soul: power manifesteth it, and weakness concealeth it. So he approached the King, and kissed the ground before him, and said, O King of the age, thou art he whose goodness extendeth to all men, and I have an important piece of advice to give thee: if I were to conceal it from thee, I should be a base-born wretch: therefore, if thou order me to impart it, I will do so. The King, disturbed by these words of the Wezeer, said, What is thy advice? He answered, O glorious King, it hath been said, by the ancients, He who looketh not to results, fortune will not attend him:—now I have seen the King in a way that is not right; since he hath bestowed favours upon his enemy, and upon him who desireth the downfall of his dominion: he hath treated him with kindness, and honoured him with the highest honours, and admitted him to the closest intimacy: I therefore fear, for the King, the consequence of this conduct.—At this the King was troubled, and his countenance changed; and he said, Who is he whom thou regardest as mine enemy, and to whom I shew kindness? He replied, O King, if thou hast been asleep, awake! I allude to the sage Doobán.—The King said, He is my intimate companion, and the dearest of men in my estimation; for he restored me by a thing that I merely held in my hand, and cured me of my disease which the physicians were unable to remove, and there is not now to be found one like to him in the whole world, from west to east. Wherefore, then, dost thou utter these words against him? I will, from this day, appoint him a regular salary and maintenance, and give him every month a thousand pieces of gold; and if I gave him a share of my kingdom it were but a small thing to do unto him. I do not think that thou hast said this from any other motive than that of envy. If I did what thou desirest, I should repent after it, as the man repented who killed his parrot.
The Story of the Husband and the Parrot
There was a certain merchant, of an excessively jealous disposition, having a wife endowed with perfect beauty, who had prevented him from leaving his home; but an event happened which obliged him to make a journey; and when he found his doing so to be indispensable, he went to the market in which birds were sold, and bought a parrot, which he placed in his house to act as a spy, that, on his return, she might inform him of what passed during his absence; for this parrot was cunning and intelligent, and remembered whatever she heard. So, when he had made his journey, and accomplished his business, he returned, and caused the parrot to be brought to him, and asked her respecting the conduct of his wife. She answered, Thy wife has a lover, who visited her every night during thy absence:—and when the man heard this, he fell into a violent rage, and went to his wife, and gave her a severe beating.
The woman imagined that one of the female slaves had informed him of what had passed between her and her paramour during his absence: she therefore called them together, and made them swear; and they all swore that they had not told their master anything of the matter; but confessed that they had heard the parrot relate to him what had passed. Having thus established, on the testimony of the slaves, the fact of the parrot's having informed her husband of her intrigue, she ordered one of these slaves to grind with a hand-mill under the cage, another to sprinkle water from above, and a third to move a mirror from side to side, during the next night on which her husband was absent; and on the following morning, when the man returned from an entertainment at which he had been present, and inquired again of the parrot what had passed that night during his absence, the bird answered, O my master, I could neither see nor hear anything, on account of the excessive darkness, and thunder, and lightning, and rain. Now this happened during summer: so he said to her, What strange words are these? It is now summer, when nothing of what thou hast described ever happens.—The parrot, however, swore by Allah the Great that what she had said was true; and that it had so happened: upon which the man, not understanding the case, nor knowing the plot, became violently enraged, and took out the bird from the cage, and threw her down upon the ground with such violence that he killed her.
But after some days, one of his female slaves informed him of the truth; yet he would not believe it, until he saw his wife's paramour going out from his house; when he drew his sword, and slew the traitor by a blow on the back of his neck: so also did he to his treacherous wife; and thus both of them went, laden with the sin which they had committed, to the fire; and the merchant discovered that the parrot had informed him truly of what she had seen; and he mourned grievously for her loss.
When the Wezeer heard these words of King Yoonán, he said, O King of great dignity, what hath this crafty sage—this man from whom nought but mischief proceedeth—done unto me, that I should be his enemy, and speak evil of him, and plot with thee to destroy him? I have informed thee respecting him in compassion for thee, and in fear of his despoiling thee of thy happiness; and if my words be not true, destroy me, as the Wezeer of Es-Sindibád was destroyed.—The King asked, How was that? And the Wezeer thus answered:—
The Story of the Envious Wezeer and the Prince and the Ghooleh
The King above mentioned had a son who was ardently fond of the chase; and he had a Wezeer whom he charged to be always with this son wherever he went. One day the son went forth to hunt, and his father's Wezeer was with him; and as they rode together, they saw a great wild beast; upon which the Wezeer exclaimed to the Prince, Away after this wild beast! The King's son pursued it until he was out of the sight of his attendants, and the beast also escaped from before his eyes in the desert; and while the Prince wandered in perplexity, not knowing whither to direct his course, he met in his way a damsel, who was weeping. He said to her, Who art thou?—and she answered, I am a daughter of one of the kings of India; I was in the desert, and slumber overtook me, and I fell from my horse in a state of insensibility, and being thus separated from my attendants, I lost my way. The Prince, on hearing this, pitied her forlorn state, and placed her behind him on his horse; and as they proceeded, they passed by a ruin, and the damsel said to him, O my master, I would alight here for a little while. The Prince therefore lifted her from his horse at this ruin; but she delayed so long to return, that he wondered wherefore she had loitered so, and entering after her, without her knowledge, perceived that she was a Ghooleh, and heard her say, My children, I have brought you to-day a fat young man:—on which they exclaimed, Bring him in to us, O mother! that we may fill our stomachs with his flesh. When the Prince heard their words, he felt assured of destruction; the muscles of his sides quivered, and fear overcame him, and he retreated. The Ghooleh then came forth, and, seeing that he appeared alarmed and fearful, and that he was trembling, said to him, Wherefore dost thou fear? He answered, I have an enemy of whom I am in fear. The Ghooleh said, Thou assertest thyself to be the son of the King. He replied, Yes.—Then, said she, wherefore dost thou not give some money to thine enemy, and so conciliate him? He answered, He will not be appeased with money, nor with anything but life; and therefore do I fear him: I am an injured man. She then said to him, If thou be an injured man, as thou affirmest, beg aid of God against thine oppressor, and He will avert from thee his mischievous design, and that of every other person whom thou fearest. Upon this, therefore, the Prince raised his head towards heaven, and said, O thou who answerest the distressed when he prayeth to Thee, and dispellest evil, assist me, and cause mine enemy to depart from me; for Thou art able to do whatsoever Thou wilt!—and the Ghooleh no sooner heard his prayer, than she departed from him. The Prince then returned to his father, and informed him of the conduct of the Wezeer; upon which the King gave orders that the minister should be put to death.
Continuation of the Story of King Yoonán and the Safe Doobán
And thou, O King, continued the Wezeer of King Yoonán, if thou trust in this sage, he will kill thee in the foulest manner. If thou continue to bestow favours upon him, and to make him thine intimate companion, he will plot thy destruction. Dost thou not see that he hath cured thee of the disease by external means, by a thing that thou heldest in thy hand? Therefore thou art not secure against his killing thee by a thing that thou shalt hold in the same manner.—King Yoonán answered, Thou hast spoken truth: the case is as thou hast said, O faithful Wezeer: it is probable that this sage came as a spy to accomplish my death; and if he cured me by a thing I held in my hand, he may destroy me by a thing that I may smell: what then, O Wezeer, shall be done respecting him? The Wezeer answered, Send to him immediately, and desire him to come hither; and when he is come, strike off his head, and so shalt thou avert from thee his evil design, and be secure from him. Betray him before he betray thee.—The King said, Thou hast spoken right.
Immediately, therefore, he sent for the sage, who came, full of joy, not knowing what the Compassionate had decreed against him, and addressed the King with these words of the poet:—
If I fail any day to render thee due thanks, tell me for whom I have composed my verse and prose.

Thou hast loaded me with favours unsolicited, bestowed without delay on thy part, or excuse.

How then should I abstain from praising thee as thou deservest, and lauding thee both with my heart and voice? Nay, I will thank thee for thy benefits conferred upon me: they are light upon my tongue, though weighty to my back.
Knowest thou, said the King, wherefore I have summoned thee? The sage answered, None knoweth what is secret but God, whose name be exalted! Then said the King, I have summoned thee that I may take away thy life. The sage, in the utmost astonishment at this announcement, said, O King, wherefore wouldst thou kill me, and what offence hath been committed by me? The King answered, It hath been told me that thou art a spy, and that thou hast come hither to kill me: but I will prevent thee by killing thee first:—and so saying, he called out to the executioner, Strike off the head of this traitor, and relieve me from his wickedness,—Spare me, said the sage, and so may God spare thee; and destroy me not, lest God destroy thee.—And he repeated these words several times, like as I did, O 'Efreet; but thou wouldst not let me go, desiring to destroy me.
King Yoonán then said to the sage Doobán, I shall not be secure unless I kill thee; for thou curedst me by a thing that I held in my hand, and I have no security against thy killing me by a thing that I may smell, or by some other means.—O King, said the sage, is this my recompense from thee? Dost thou return evil for good?—The King answered, Thou must be slain without delay. When the sage, therefore, was convinced that the King intended to put him to death, and that his fate was inevitable, he lamented the benefit that he had done to the undeserving. The executioner then advanced, and bandaged his eyes, and, having drawn his sword, said, Give permission. Upon this the sage wept, and said again, Spare me, and so may God spare thee; and destroy me not, lest God destroy thee! Wouldst thou return me the recompense of the crocodile?—What, said the King, is the story of the crocodile? The sage answered, I cannot relate it while in this condition; but I conjure thee by Allah to spare me, and so may He spare thee. And he wept bitterly. Then one of the chief officers of the King arose, and said, O King, give up to me the blood of this sage; for we have not seen him commit any offence against thee; nor have we seen him do aught but cure thee of thy disease, which wearied the other physicians and sages. The King answered, Ye know not the reason wherefore I would kill the sage: it is this, that if I suffered him to live, I should myself inevitably perish; for he who cured me of the disease under which I suffered by a thing that I held in my hand, may kill me by a thing that I may smell; and I fear that he would do so, and would receive an appointment on account of it; seeing that it is probable he is a spy who hath come hither to kill me; I must therefore kill him, and then shall I feel myself safe.—The sage then said again, Spare me, and so may God spare thee; and destroy me not, lest God destroy thee.
But he now felt certain, O 'Efreet, that the King would put him to death, and that there was no escape for him; so he said, O King, if my death is indispensable, grant me some respite, that I may return to my house, and acquit myself of my duties, and give directions to my family and neighbours to bury me, and dispose of my medical books; and among my books is one of most especial value, which I offer as a present to thee, that thou mayest treasure it in thy library.—And what, said the King, is this book? He answered, It contains things not to be enumerated; and the smallest of the secret virtues that it possesses is this; that, when thou hast cut off my head, if thou open this book, and count three leaves, and then read three lines on the page to the left, the head will speak to thee, and answer whatever thou shalt ask. At this the King was excessively astonished, and shook with delight, and said to him, O Sage, when I have cut off thy head will it speak? He answered, Yes, O King; and this is a wonderful thing.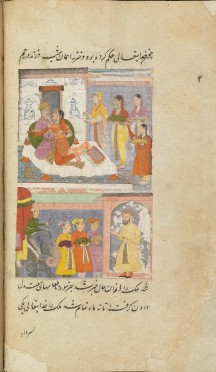 Image 6.9: The Story of Seyf ol-molûk and Badî`ol-Jamâl | This Indian manuscript with illustrations shares a common tale with The Thousand and One Nights.
Author: User "e-codices"
Source: Flickr
License: CC BY-NC
The King then sent him in the custody of guards; and the sage descended to his house, and settled all his affairs on that day; and on the following day he went up to the court: and the Emeers and Wezeers, and Chamberlains and Deputies, and all the great officers of the state, went thither also: and the court resembled a flower-garden. And when the sage had entered, he presented himself before the King, bearing an old book, and a small pot containing a powder: and he sat down, and said, Bring me a tray. So they brought him one; and he poured out the powder into it, and spread it. He then said, O King, take this book, and do nothing with it until thou hast cut off my head; and when thou hast done so, place it upon this tray, and order some one to press it down upon the powder; and when this is done, the blood will be stanched: then open the book. As soon as the sage had said this, the King gave orders to strike off his head; and it was done. The King then opened the book, and found that its leaves were stuck together; so he put his finger to his mouth, and moistened it with his spittle, and opened the first leaf, and the second, and the third; but the leaves were not opened without difficulty. He opened six leaves, and looked at them; but found upon them no writing. So he said, O Sage, there is nothing written in it. The head of the sage answered, Turn over more leaves. The King did so; and in a little while, the poison penetrated into his system; for the book was poisoned; and the King fell back, and cried out, The poison hath penetrated into me!—and upon this, the head of the sage Doobán repeated these verses:—
They made use of their power, and used it tyrannically;

and soon it became as though it never had existed.

Had they acted equitably, they had experienced equity; but

they oppressed; wherefore fortune oppressed them with

calamities and trials.

Then did the case itself announce to them, This is the

reward of your conduct, and fortune is blameless.
And when the head of the sage Doobán had uttered these words, the King immediately fell down dead.
Continuation of the Story of the Fisherman
Now, O 'Efreet, continued the fisherman, know that if King Yoonán had spared the sage Doobán, God had spared him; but he refused, and desired his destruction; therefore God destroyed him: and thou, O 'Efreet, if thou hadst spared me, God had spared thee, and I had spared thee; but thou desiredst my death; therefore will I put thee to death imprisoned in this bottle, and will throw thee here into the sea. The Márid, upon this, cried out, and said, I conjure thee by Allah, O fisherman, that thou do it not: spare me in generosity, and be not angry with me for what I did; but if I have done evil, do thou good, according to the proverb,—O thou benefactor of him who hath done evil, the action that he hath done is sufficient for him:—do not therefore as Umámeh did to 'Átikeh.—And what, said the fisherman, was their case? The 'Efreet answered, This is not a time for telling stories, when I am in this prison; but when thou liberatest me, I will relate to thee their case. The fisherman said, Thou must be thrown into the sea, and there shall be no way of escape for thee from it; for I endeavoured to propitiate thee, and humbled myself before thee, yet thou wouldest nothing but my destruction, though I had committed no offence to deserve it, and had done no evil to thee whatever, but only good, delivering thee from thy confinement; and when thou didst thus unto me, I perceived that thou wast radically corrupt: and I would have thee know, that my motive for throwing thee into this sea, is, that I may acquaint with thy story every one that shall take thee out, and caution him against thee, that he may cast thee in again: thus shalt thou remain in this sea to the end of time, and experience varieties of torment.— The 'Efreet then said, Liberate me, for this is an opportunity for thee to display humanity; and I vow to thee that I will never do thee harm; but, on the contrary, will do thee a service that shall enrich thee for ever.
Upon this the fisherman accepted his covenant that he would not hurt him, but that he would do him good; and when he had bound him by oaths and vows, and made him swear by the Most Great Name of God, he opened to him; and the smoke ascended until it had all come forth, and then collected together, and became, as before, an 'Efreet of hideous form. The 'Efreet then kicked the bottle into the sea. When the fisherman saw him do this, he made sure of destruction, and said, This is no sign of good:—but afterwards he fortified his heart, and said, O 'Efreet, God, whose name be exalted, hath said, Perform the covenant, for the covenant shall be inquired into:—and thou has covenanted with me, and sworn that thou wilt not act treacherously towards me; therefore, if thou so act, God will recompense thee; for He is jealous; He respiteth, but suffereth not to escape; and remember that I said to thee as said the sage Doobán to King Yoonán, Spare me, and so may God spare thee.
The 'Efreet laughed, and, walking on before him, said, O fisherman, follow me. The fisherman did so, not believing in his escape, until they had quitted the neighbourhood of the city, and ascended a mountain, and descended into a wide desert tract, in the midst of which was a lake of water. Here the 'Efreet stopped, and ordered the fisherman to cast his net and take some fish; and the fisherman, looking into the lake, saw in it fish of different colours, white and red and blue and yellow; at which he was astonished; and he cast his net, and drew it in, and found in it four fish, each fish of a different colour from the others, at the sight of which he rejoiced. The 'Efreet then said to him, Take them to the Sulṭán, and present them to him, and he will give thee what will enrich thee; and for the sake of God accept my excuse, for, at present, I know no other way of rewarding thee, having been in the sea a thousand and eight hundred years, and not seen the surface of the earth until now: but take not fish from the lake more than once each day: and now I commend thee to the care of God.—Having thus said, he struck the earth with his feet, and it clove asunder, and swallowed him.
The fisherman then went back to the city, wondering at all that had befallen him with the 'Efreet, and carried the fish to his house; and he took an earthen bowl, and, having filled it with water, put the fish into it; and they struggled in the water: and when he had done this, he placed the bowl upon his head, and repaired to the King's palace, as the 'Efreet had commanded him, and, going up unto the King, presented to him the fish; and the King was excessively astonished at them, for he had never seen any like them in the course of his life; and he said, Give these fish to the slave cook-maid. This maid had been sent as a present to him by the King of the Greeks, three days before; and he had not yet tried her skill. The Wezeer, therefore, ordered her to fry the fish, and said to her, O maid, the King saith unto thee, I have not reserved my tear but for the time of my difficulty:—to-day, then, gratify us by a specimen of thy excellent cookery, for a person hath brought these fish as a present to the Sulṭán. After having thus charged her, the Wezeer returned, and the King ordered him to give the fisherman four hundred pieces of gold: so the Wezeer gave them to him; and he took them in his lap, and returned to his home and his wife, joyful and happy, and bought what was needful for his family.
Such were the events that befell the fisherman: now we must relate what happened to the maid.—She took the fish, and cleaned them, and arranged them in the frying-pan, and left them until one side was cooked, when she turned them upon the other side; and lo, the wall of the kitchen clove asunder, and there came forth from it a damsel of tall stature, smooth-cheeked, of perfect form, with eyes adorned with koḥl, beautiful in countenance, and with heavy, swelling hips; wearing a koofeeyeh interwoven with blue silk; with rings in her ears, and bracelets on her wrists, and rings set with precious jewels on her fingers; and in her hand was a rod of Indian cane: and she dipped the end of the rod in the frying-pan, and said, O fish, are ye remaining faithful to your covenant? At the sight of this, the cook-maid fainted. The damsel then repeated the same words a second and a third time; after which the fish raised their heads from the frying-pan, and answered, Yes, yes. They then repeated the following verse:—
If thou return, we return; and if thou come, we come; and if thou forsake, we verily do the same.
And upon this the damsel overturned the frying-pan, and departed by the way she had entered, and the wall of the kitchen closed up again. The cook-maid then arose, and beheld the four fish burnt like charcoal; and she exclaimed, In his first encounter his staff broke!—and as she sat reproaching herself, she beheld the Wezeer standing at her head; and he said to her, Bring the fish to the Sulṭán:—and she wept, and informed him of what had happened.
The Wezeer was astonished at her words, and exclaimed, This is indeed a wonderful event;—and he sent for the fisherman, and when he was brought, he said to him, O fisherman, thou must bring to us four fish like those which thou broughtest before. The fisherman accordingly went forth to the lake, and threw his net, and when he had drawn it in he found in it four fish as before; and he took them to the Wezeer, who went with them to the maid, and said to her, Rise, and fry them in my presence, that I may witness this occurrence. The maid, therefore, prepared the fish, and put them in the frying-pan, and they had remained but a little while, when the wall clove asunder, and the damsel appeared, clad as before, and holding the rod; and she dipped the end of the rod in the frying-pan, and said, O fish, O fish, are ye remaining faithful to your old covenant? Upon which they raised their heads, and answered as before; and the damsel overturned the frying-pan with the rod, and returned by the way she had entered, and the wall closed up again.
The Wezeer then said, This is an event which cannot be concealed from the King:—so he went to him, and informed him of what had happened in his presence; and the King said, I must see this with my own eyes. He sent, therefore, to the fisherman, and commanded him to bring four fish like the former; granting him a delay of three days. And the fisherman repaired to the lake, and brought the fish thence to the King, who ordered again that four hundred pieces of gold should be given to him; and then, turning to the Wezeer, said to him, Cook the fish thyself here before me. The Wezeer answered, I hear and obey. He brought the frying-pan, and, after he had cleaned the fish, threw them into it; and as soon as he had turned them, the wall clove asunder, and there came forth from it a negro, in size like a bull, or like one of the tribe of 'Ád, having in his hand a branch of a green tree; and he said, with a clear but terrifying voice, O fish, O fish, are ye remaining faithful to your old covenant? Upon which they raised their heads, and answered as before, Yes, yes:
If thou return, we return; and if thou come, we come; and if thou forsake, we verily do the same.
The black then approached the frying-pan, and overturned it with the branch, and the fish became like charcoal, and he went away as he had come.
When he had thus disappeared from before their eyes, the King said, This is an event respecting which it is impossible to keep silence, and there must, undoubtedly, be some strange circumstance connected with these fish. He then ordered that the fisherman should be brought before him, and when he had come, he said to him, Whence came these fish? The fisherman answered, From a lake between four mountains behind this mountain which is without thy city. The King said to him, How many days' journey distant? He answered, O our lord the Sulṭán, a journey of half-an-hour. And the Sulṭán was astonished, and ordered his troops to go out immediately with him and the fisherman, who began to curse the 'Efreet. They proceeded until they had ascended the mountain, and descended into a wide desert tract which they had never before seen in their whole lives; and the Sulṭán and all the troops wondered at the sight of this desert, which was between four mountains, and at the fish, which were of four colours, red and white and yellow and blue. The King paused in astonishment, and said to the troops, and to the other attendants who were with him, Hath any one of you before seen this lake in this place? They all answered, No. Then said the King, By Allah, I will not enter my city, nor will I sit upon my throne, until I know the true history of this lake, and of its fish. And upon this he ordered his people to encamp around these mountains; and they did so. He then called for the Wezeer, who was a well-informed, sensible, prudent, and learned man; and when he had presented himself before him, he said to him, I desire to do a thing with which I will acquaint thee; and it is this:—I have resolved to depart alone this night, to seek for information respecting this lake and its fish: therefore, sit thou at the door of my pavilion, and say to the Emeers and Wezeers and Chamberlains, The Sulṭán is sick, and hath commanded me not to allow any person to go in unto him:—and acquaint no one with my intention.
The Wezeer was unable to oppose his design; so the King disguised himself, and slung on his sword, and withdrew himself from the midst of his troops. He journeyed the whole of the night, until the morning, and proceeded until the heat became oppressive to him: he then paused to rest; after which he again proceeded the remainder of the day and the second night until the morning, when there appeared before him, in the distance, something black, at the sight of which he rejoiced, and said, Perhaps I shall there find some person who will inform me of the history of the lake and its fish. And when he approached this black object, he found it to be a palace built of black stones, and overlaid with iron; and one of the leaves of its doors was open, and the other shut. The King was glad, and he stood at the door, and knocked gently, but heard no answer; he knocked a second and a third time, but again heard no answer: then he knocked a fourth time, and with violence; but no one answered. So he said, It is doubtless empty:—and he took courage, and entered from the door into the passage, and cried out, saying, O inhabitants of the palace, I am a stranger and a traveller! have ye any provision? And he repeated these words a second and a third time; but heard no answer. And upon this he fortified his heart, and emboldened himself, and proceeded from the passage into the midst of the palace; but he found no one there, and only saw that it was furnished, and that there was, in the centre of it, a fountain with four lions of red gold, which poured forth the water from their mouths, like pearls and jewels: around this were birds; and over the top of the palace was extended a net which prevented their flying out. At the sight of these objects he was astonished, and he was grieved that he saw no person there whom he could ask for information respecting the lake, and the fish, and the mountains, and the palace. He then sat down between the doors, reflecting upon these things; and as he thus sat, he heard a voice of lamentation from a sorrowful heart, chanting these verses:—
O fortune, thou pitiest me not, nor releasest me! See my heart is straitened between affliction and peril!
Will not you [O my wife] have compassion on the mighty whom love hath abased, and the wealthy who is
reduced to indigence?
We were jealous even of the zephyr which passed over you: but when the divine decree is issued, the eye
becometh blind!
What resource hath the archer when, in the hour of conflict, he desireth to discharge the arrow, but findeth his
bow-string broken.
And when troubles are multiplied upon the noble-minded, where shall he find refuge from fate and from destiny?
When the Sulṭán heard this lamentation, he sprang upon his feet, and, seeking the direction whence it proceeded, found a curtain suspended before the door of a chamber; and he raised it, and beheld behind it a young man sitting on a couch raised to the height of a cubit from the floor. He was a handsome youth, well-shaped, and of eloquent speech, with shining forehead, and rosy cheek, marked with a mole resembling ambergris. The King was rejoiced at seeing him, and saluted him; and the young man (who remained sitting, and was clad with a vest of silk, embroidered with gold, but who exhibited traces of grief) returned his salutation, and said to him, O my master, excuse my not rising.—O youth! said the King, inform me respecting the lake, and its fish of various colours, and respecting this palace, and the reason of thy being alone in it, and of thy lamentation. When the young man heard these words, tears trickled down his cheeks, and he wept bitterly. And the King was astonished, and said to him, What causeth thee to weep, O youth? He answered, How can I refrain from weeping, when this is my state?—and so saying, he stretched forth his hand, and lifted up the skirts of his clothing; and lo, half of him, from his waist to the soles of his feet, was stone; and from his waist to the hair of his head, he was like other men. He then said, Know, O King, that the story of the fish is extraordinary; if it were engraved upon the intellect, it would be a lesson to him who would be admonished:—and he related as follows:—
The Story of the Young King of the Black Islands
My father was king of the city which was here situate: his name was Maḥmood, and he was lord of the Black Islands, and of the four mountains. After a reign of seventy years, he died, and I succeeded to his throne; whereupon I took as my wife the daughter of my uncle; and she loved me excessively, so that when I absented myself from her, she would neither eat nor drink till she saw me again. She remained under my protection five years. After this, she went one day to the bath; and I had commanded the cook to prepare the supper, and entered this palace, and slept in my usual place. I had ordered two maids to fan me; and one of them sat at my head, and the other at my feet; but I was restless, because my wife was not with me; and I could not sleep. My eyes were closed, but my spirit was awake; and I heard the maid at my head say to her at my feet, O Mes'oodeh, verily our lord is unfortunate in his youth, and what a pity is it that it should be passed with our depraved, wicked mistress!—Perdition to unfaithful wives! replied the other: but (added she) such a person as our lord, so endowed by nature, is not suited to this profligate woman, who passes every night absent from his bed.—Verily, rejoined she at my head, our lord is careless in not making any inquiry respecting her.—Wo to thee! said the other: hath our lord any knowledge of her conduct, or doth she leave him to his choice? Nay, on the contrary, she contriveth to defraud him by means of the cup of wine which he drinketh every night before he sleepeth, putting benj into it; in consequence of which he sleepeth so soundly that he knoweth not what happeneth, nor whither she goeth, nor what she doeth; for, after she hath given him the wine to drink, she dresseth herself, and goeth out from him, and is absent until daybreak, when she returneth to him, and burneth a perfume under his nose, upon which he awaketh from his sleep.
When I heard this conversation of the maids, the light became darkness before my face, and I was hardly conscious of the approach of night, when my cousin returned from the bath. The table was prepared, and we ate, and sat a while drinking our wine as usual. I then called for the wine which I was accustomed to drink before I lay down to sleep, and she handed to me the cup; but I turned away, and, pretending to drink it as I was wont to do, poured it into my bosom, and immediately lay down: upon which she said, Sleep on; I wish that thou wouldst never wake again! By Allah, I abhor thee, and abhor thy person, and my soul is weary of thy company!—She then arose, and attired herself in the most magnificent of her apparel, and, having perfumed herself, and slung on a sword, opened the door of the palace, and went out. I got up immediately, and followed her until she had quitted the palace, and passed through the streets of the city, and arrived at the city-gates, when she pronounced some words that I understood not; whereupon the locks fell off, and the gates opened, and she went out, I still following her, without her knowledge. Thence she proceeded to a space among the mounds, and arrived at a strong edifice, in which was a ḳubbeh constructed of mud, with a door, which she entered. I then climbed upon the roof of the ḳubbeh, and, looking down upon her through an aperture, saw that she was visiting a black slave, whose large lips, one of which overlapped the other, gathered up the sand from the pebbly floor, while he lay, in a filthy and wet condition, upon a few stalks of sugar-cane.
She kissed the ground before this slave; and he raised his head towards her, and said, Wo to thee! Wherefore hast thou remained away until this hour? The other blacks have been here drinking wine, and each of them has gone away with his mistress; and I refused to drink on thy account.—She answered, O my master, and beloved of my heart, knowest thou not that I am married to my cousin, and that I abhor every man who resembles him, and hate myself while I am in his company? If I did not fear to displease thee, I would reduce the city to ruins, so that the owl and the raven should cry in it, and would transport its stones beyond Mount Ḳáf.—Thou liest, thou infamous woman, replied the slave; and I swear by the generosity of the blacks (and if I speak not truth, may our valour be as the valour of the whites), that if thou loiter as thou hast now done till this hour, I will no longer give thee my company, nor approach thy person, thou faithless one! Dost thou inconvenience me for the sake of thine own pleasure, thou filthy wretch, and vilest of the whites?—When I heard (continued the King) their words, and witnessed what passed between them, the world became dark before my face, and I knew not where I was.—My cousin still stood weeping, and abasing herself before him, and said, O my beloved, and treasure of my heart, there remaineth to me none but thee for whom I care, and if thou cast me off, alas for me! O my beloved! O light of mine eye!—Thus she continued to weep, and to humble herself before him, until he became pacified towards her; upon which she rejoiced, and arose, and, having disrobed herself, said to him, O my master, hast thou here anything that thy maid may eat? He answered, Uncover the dough-pan; it contains some cooked rats' bones: eat of them, and pick them; and take this earthen pot: thou wilt find in it some booẓah to drink. So she arose, and ate and drank, and washed her hands; after which she lay down by the side of the slave, upon the stalks of sugar-cane, and covered herself with his tattered clothes and rags.
When I saw her do this, I became unconscious of my existence, and, descending from the roof of the ḳubbeh, entered, and took the sword from the side of my cousin, with the intention of killing them both. I struck the slave upon his neck, and thought that he was killed; but the blow, which I gave with the view of severing his head, only cut the gullet and skin and flesh; and when I thought that I had killed him, he uttered a loud snore, upon which my cousin started up, and as soon as I had gone, took the sword, and returned it to its scabbard, and came back to the city and to the palace, and lay down again in my bed, in which she remained until the morning.
On the following day, I observed that my cousin had cut off her hair, and put on the apparel of mourning; and she said to me, O my cousin, blame me not for what I do; for I have received news that my mother is dead, and that my father hath been slain in a holy war, and that one of my two brothers hath died of a poisonous sting, and the other by the fall of a house: it is natural, therefore, that I should weep and mourn. On hearing these words, I abstained from upbraiding her, and said, Do what seemeth fit to thee; for I will not oppose thee. Accordingly, she continued mourning and weeping and wailing a whole year; after which she said to me, I have a desire to build for myself, in thy palace, a tomb, with a ḳubbeh, that I may repair thither alone to mourn, and I will call it the House of Lamentations. I replied, Do what thou seest fit. So she built for herself a house for mourning, with a ḳubbeh in the middle of it, like the tomb of a saint; after which she removed thither the slave, and there she lodged him. He was in a state of excessive weakness, and unable to render her any service, though he drank wine; and from the day on which I had wounded him, he had never spoken; yet he remained alive, because the appointed term of his life had not expired. My cousin every day visited him in this tomb early and late, to weep and mourn over him, and took to him wine to drink, and boiled meats; and thus she continued to do, morning and evening, until the expiration of the second year, while I patiently suffered her, till one day, I entered her apartment unawares, and found her weeping, and slapping her face, and repeating these verses:—
I have lost my existence among mankind since your absence; for my heart loveth none but you.
Take my body, then, in mercy, to the place where you are laid; and there bury me by your side:
And if, at my grave, you utter my name, the moaning of my bones shall answer to your call.
As soon as she had finished the recitation of these verses, I said to her, holding my drawn sword in my hand, This is the language of those faithless women who renounce the ties of affinity, and regard not lawful fellowship!—and I was about to strike her with the sword, and had lifted up my arm to do so, when she rose—for she knew that it was I who had wounded the slave—and, standing before me, pronounced some words which I understood not, and said, May God, by means of my enchantment, make thee to be half of stone, and half of the substance of man!—whereupon I became as thou seest, unable to move, neither dead nor alive; and when I had been reduced to this state, she enchanted the city and its markets and fields. The inhabitants of our city were of four classes; Muslims, and Christians, and Jews, and Magians; and she transformed them into fish: the white are the Muslims; the red, the Magians; the blue, the Christians; and the yellow, the Jews. She transformed, also, the four islands into four mountains, and placed them around the lake; and from that time she has continued every day to torture me, inflicting upon me a hundred lashes with a leathern whip, until the blood flows from my wounds; after which she puts on my upper half a vest of hair-cloth, beneath these garments.—Having said thus, the young man wept, and ejaculating the following verses:—
Give me patience, O Allah, to bear what Thou decreest! I will be patient, if so I may obtain thine approval.
I am straitened, indeed, by the calamity that hath befallen me: but the Family of the favoured Prophet shall
intercede for me!
Upon this, the King, looking towards the young man, said to him, O youth, thou hast increased my anxiety. And where (he added) is this woman?—The young man answered, She is in the tomb where the slave is lying, in the ḳubbeh; and every day, before she visits him, she strips me of my clothing, and inflicts upon me a hundred lashes with the whip, while I weep and cry out, unable to move so as to repulse her. After thus torturing me, she repairs early to the slave, with the wine and boiled meat.—By Allah, O youth, said the King, I will do thee an act of kindness for which I shall be remembered, and a favour which historians shall record in a biography after me.
He then sat and conversed with him until the approach of night, upon which he arose, and waited till the first dawn of day, when he took off his clothes, and slung on his sword, and went to the place where the slave lay. After remarking the candles and lamps, and perfumes and ointments, he approached the slave, and with a blow of his sword slew him: he then carried him on his back, and threw him into a well which he found in the palace, and, returning to the ḳubbeh, clad himself with the slave's clothes, and lay down with the drawn sword by his side. Soon after, the vile enchantress went to her cousin, and, having pulled off his clothes, took the whip, and beat him, while he cried, Ah! it is enough for me to be in this state! Have pity on me then!—Didst thou shew pity to me, she exclaimed, and didst thou spare my lover?—She then put on him the hair-cloth vest and his outer garments, and repaired to the slave with a cup of wine, and a bowl of boiled meat. Entering the tomb, she wept and wailed, exclaiming, O my master, answer me! O my master, speak to me!—and poured forth her lamentation in the words of this verse:—
How long shall this aversion and harshness continue? Sufficient is the evil which my passion hath brought upon me!
Then, weeping as before, she exclaimed again, O my master, answer me, and speak to me! Upon this the King, speaking in a low voice, and adapting his tongue to the pronunciation of the blacks, ejaculated, Ah! Ah! there is no strength nor power but in God! On hearing these words, she screamed with joy, and fell down in a swoon; and when she recovered, she exclaimed, Possibly my master is restored to health! The King, again lowering his voice, as if from weakness, replied, Thou profligate wretch, thou deservest not that I should address thee.—Wherefore? said she. He answered, Because all the day long thou tormentest thy husband, while he calleth out, and imploreth the aid of God, so that thou hast prevented my sleeping from the commencement of darkness until morning: thy husband hath not ceased to humble himself, and to imprecate vengeance upon thee, till he hath distracted me; and had it not been for this, I had recovered my strength: this it is which hath prevented my answering thee.—Then, with thy permission, she replied, I will liberate him from his present sufferings.—Liberate him, said the King, and give us ease.
She replied, I hear and obey;—and immediately arose, and went out from the ḳubbeh to the palace, and, taking a cup, filled it with water, and pronounced certain words over it, upon which it began to boil like a cauldron. She then sprinkled some of it upon her cousin, saying, By virtue of what I have uttered, be changed from thy present state to that in which thou wast at first!—and instantly he shook, and stood upon his feet, rejoicing in his liberation, and exclaimed, I testify that there is no deity but God, and that Moḥammad is God's Apostle; God bless and save him! She then said to him, Depart, and return not hither, or I will kill thee:—and she cried out in his face: so he departed from before her, and she returned to the ḳubbeh, and said, O my master, come forth to me that I may behold thee. He replied, with a weak voice, What hast thou done? Thou hast relieved me from the branch, but hast not relieved me from the root.—O my beloved, she said, and what is the root? He answered, The people of this city, and of the four islands: every night, at the middle hour, the fish raise their heads, and imprecate vengeance upon me and upon thee; and this is the cause that preventeth the return of vigour to my body; therefore, liberate them, and come, and take my hand, and raise me; for vigour hath already in part returned to me.
On hearing these words of the King, whom she imagined to be the slave, she said to him with joy, O my master, on my head and my eye! In the name of Allah!—and she sprang up, full of happiness, and hastened to the lake, where, taking a little of its water, she pronounced over it some unintelligible words, whereupon the fish became agitated, and raised their heads, and immediately became converted into men as before. Thus was the enchantment removed from the inhabitants of the city, and the city became repeopled, and the market-streets re-erected, and every one returned to his occupation: the mountains also became changed into islands as they were at the first. The enchantress then returned immediately to the King, whom she still imagined to be the slave, and said to him, O my beloved, stretch forth thy honoured hand, that I may kiss it.—Approach me, said the King in a low voice. So she drew near to him; and he, having his keen-edged sword ready in his hand, thrust it into her bosom, and the point protruded from her back: he then struck her again, and clove her in twain, and went forth.
He found the young man who had been enchanted waiting his return, and congratulated him on his safety; and the young prince kissed his hand, and thanked him. The King then said to him, Wilt thou remain in thy city, or come with me to my capital?—O King of the age, said the young man, dost thou know the distance that is between thee and thy city? The King answered, Two days and a half.—O King, replied the young man, if thou hast been asleep, awake: between thee and thy city is a distance of a year's journey to him who travelleth with diligence; and thou camest in two days and a half only because the city was enchanted: but, O King, I will never quit thee for the twinkling of an eye. The King rejoiced at his words, and said, Praise be to God, who hath in his beneficence given thee to me: thou art my son; for during my whole life, I have never been blest with a son:—and they embraced each other, and rejoiced exceedingly. They then went together into the palace, where the King who had been enchanted informed the officers of his court that he was about to perform the holy pilgrimage: so they prepared for him everything that he required; and he departed with the Sulṭán; his heart burning with reflections upon his city, because he had been deprived of the sight of it for the space of a year.
He set forth, accompanied by fifty memlooks, and provided with presents, and they continued their journey night and day for a whole year, after which they drew near to the city of the Sulṭán, and the Wezeer and the troops, who had lost all hope of his return, came forth to meet him. The troops, approaching him, kissed the ground before him, and congratulated him on his safe return; and he entered the city, and sat upon the throne. He then acquainted the Wezeer with all that had happened to the young King; on hearing which, the Wezeer congratulated the latter, also, on his safety; and when all things were restored to order, the Sulṭán bestowed presents upon a number of his subjects, and said to the Wezeer, Bring to me the fisherman who presented to me the fish. So he sent to this fisherman, who had been the cause of the restoration of the inhabitants of the enchanted city, and brought him; and the King invested him with a dress of honour, and inquired of him respecting his circumstances, and whether he had any children. The fisherman informed him that he had a son and two daughters; and the King, on hearing this, took as his wife one of the daughters, and the young prince married the other. The King also conferred upon the son the office of treasurer. He then sent the Wezeer to the city of the young prince, the capital of the Black Islands, and invested him with its sovereignty, despatching with him the fifty memlooks who had accompanied him thence, with numerous robes of honour to all the Emeers: and the Wezeer kissed his hands, and set forth on his journey; while the Sulṭán and the young prince remained. And as to the fisherman, he became the wealthiest of the people of his age; and his daughters continued to be the wives of the Kings until they died.
But this (added Shahrazád) is not more wonderful than what happened to the porter.
AuToBioGrAPhy oF uSAmAh iBn munQidh
Usamah Ibn Munqidh (July 4, 1095 – November 17, 1188)
Composed 1175 Syria/Islam
Poet, courtier, diplomat, warrior, and eye-witness to a tumultuous period in Middle Eastern history, Usamah Ibn Munqidh lived a life full of adventure, political intrigue, and religious conflict, much of which is recorded in his Autobiography, or, as it is also known, The Book of Learning by Example. He was the nephew of Nasr, ruler of the fortress town Shaizar in what is present day Syria. As a young man, he was encouraged by his father to memorize the Quran and lead a life of religious devotion. The record of Shaizar during his early and middle years, however, is one of incessant warfare with Byzantines and Crusaders. Exiled permanently in 1137 due to court intrigue, Usamah travelled the Middle East extensively, serving as a courtier and diplomat for various Muslim rulers; the Autobiography was dedicated to Saladin, the first sultan of Egypt and Syria. Chiefly known among Arab readers today for his poetry, including Kitab al-'Asa ("Book of the Staff "), Lubab al-Adab ("Kernels of Refinement"), Usamah is frequently cited by Western sources as a participant and witness to the Second Crusades, with the Crusades (1145-1149) being a largely unsuccessful military campaign that led to the fall of Jerusalem. His sharply critical portraits of the Franks as illiterate brutes and sensualists in the Autobiography preserves a vivid record of the European crusaders from the perspective of a highly literate and cultured Islamic observer, although recent scholars suggest that Usamah was not above using exaggeration to entertain his Muslim audience.
6.7.1 Questions to consider while reading this selection:
What are some of the practices of the Franks that Usamah considers barbaric or uncivilized?

What do these examples tell us about the Franks?

What does Usamah's account reveal about Muslim culture at the time?
Written by Doug Thomson
6.7.2 Usmah Ibn Munqidh (1095-1188): Autobiography, Excerpts on the Franks
License: © Paul Halsall, July 1998. All rights reserved.
Usmah Ibn Munqidh, edited by Paul Halsall
Usamah (1095-1188), was a Muslim warrior and courtier, who fought against the Crusaders with Saladin. Yet as a resident of the area around Palestine, he also had a chance to befriend a number of them. His autobiography dates from around 1175.
Mysterious are the works of the Creator, the author of all things! When one comes to recount cases regarding the Franks, he cannot but glorify Allah (exalted is he!) and sanctify him, for he sees them as animals possessing the virtues of courage and fighting, but nothing else; just as animals have only the virtues of strength and carrying loads. I shall now give some instances of their doings and their curious mentality.
In the army of King Fulk, son of Fulk, was a Frankish reverend knight who had just arrived from their land in order to make the holy pilgrimage and then return home. He was of my intimate fellowship and kept such constant company with me that he began to call me "my brother." Between us were mutual bonds of amity and friendship. When he resolved to return by sea to his homeland, he said to me:
My brother, I am leaving for my country and I want you to send with me thy son (my son, who was then fourteen years old, was at that time in my company) to our country, where he can see the knights and learn wisdom and chivalry. When he returns, be will be like a wise man.
Thus there fell upon my ears words which would never come out of the head of a sensible man; for even if my son were to be taken captive, his captivity could not bring him a worse misfortune than carrying him into the lands of the Franks. However, I said to the man:
By thy life, this has exactly been my idea. But the only thing that prevented me from carrying it out was the fact that his grandmother, my mother, is so fond of him and did not this time let him come out with me until she exacted an oath from me to the effect that I would return him to her.
Thereupon he asked, "Is thy mother still alive?" "Yes." I replied. 'Well," said he, "disobey her not." A case illustrating their curious medicine is the following:
The lord of al-Munaytirah wrote to my uncle asking him to dispatch a physician to treat certain sick persons among his people. My uncle sent him a Christian physician named Thabit. Thabit was absent but ten days when be returned. So we said to him, "How quickly has thou healed thy patients!" He said:
They brought before me a knight in whose leg an abscess had grown; and a woman afflicted with imbecility. To the knight I applied a small poultice until the abscess opened and became well; and the woman I put on diet and made her humor wet. Then a Frankish physician came to them and said, "This man knows nothing about treating them." He then said to the knight, "Which wouldst thou prefer, living with one leg or dying with two?" The latter replied, "Living with one leg." The physician said, "Bring me a strong knight and a sharp ax." A knight came with the ax. And I was standing by. Then the physician laid the leg of the patient on a block of wood and bade the knight strike his leg with the ax and chop it off at one blow. Accordingly he struck it-while I was looking on-one blow, but the leg was not severed. He dealt another blow, upon which the marrow of the leg flowed out and the patient died on the spot. He then examined the woman and said, "This is a woman in whose head there is a devil which has possessed her. Shave off her hair." Accordingly they shaved it off and the woman began once more to cat their ordinary diet-garlic and mustard. Her imbecility took a turn for the worse. The physician then said, "The devil has penetrated through her head." He therefore took a razor, made a deep cruciform incision on it, peeled off the skin at the middle of the incision until the bone of the skull was exposed and rubbed it with salt. The woman also expired instantly. Thereupon I asked them whether my services were needed any longer, and when they replied in the negative I returned home, having learned of their medicine what I knew not before.
I have, however, witnessed a case of their medicine which was quite different from that.
The king of the Franks bad for treasurer a knight named Bernard, who (may Allah's curse be upon him!) was one of the most accursed and wicked among the Franks. A horse kicked him in the leg, which was subsequently infected and which opened in fourteen different places. Every time one of these cuts would close in one place, another would open in ancther place. All this happened while I was praying for his perdition. Then came to him a Frankish physician and removed from the leg all the ointments which were on it and began to wasb it with very strong vinegar. By this treatment all the cuts were healed and the man became well again. He was up again like a devil. Another case illustrating their curious medicine is the following: In Shayzar we had an artisan named abu-al-Fath, who had a boy whose neck was afflicted with scrofula. Every time a part of it would close, another part would open. This man happened to go to Antioch on business of his, accompanied by his son. A Frank noticed the boy and asked his father about him. Abu-al-Fath replied, "This is my son." The Frank said to him, 'Wilt thou swear by thy religion that if I prescribe to you a medicine which will cure thy boy, thou wilt charge nobody fees for prescribing it thyself? In that case, I shall prescribe to you a medicine which will cure the boy." The man took the oath and the Frank said:
Take uncrushed leaves of glasswort, burn them, then soak the ashes in olive oil and sharp vinegar. Treat the scrofula with them until the spot on which it is growing is eaten up. Then take burnt lead, soak it in ghee butter and treat him with it. That will cure him.
The father treated the boy accordingly, and the boy was cured. The sores closed and the boy returned to his normal condition of health.
I have myself treated with this medicine many who were afflicted with such disease, and the treatment was successful in removing the cause of the complaint.
***
The Franks are void of all zeal and jealousy. One of them may be walking along with his wife. He meets another man who takes the wife by the hand and steps aside to converse with her while the husband is standing on one side waiting for his wife to conclude the conversation. If she lingers too long for him, he leaves her alone with the conversant and goes away.
Here is an illustration which I myself witnessed:
When I used to visit Nablus, I always took lodging with a man named Mu'izz, whose home was a lodging house for the Muslims. The house had windows which opened to the road, and there stood opposite to it on the other side of the road a house belonging to a Frank who sold wine for the merchants. He would take some wine in a bottle and go around announcing it by shouting, "So and so, the merchant, has just opened a cask full of this wine. He who wants to buy some of it will find it in such and such a place." The Frank's pay for the announcement made would be the wine in that bottle. One day this Frank went home and found a man with his wife in the same bed. He asked him, "What could have made you enter into my wife's room?" The man replied, "I was tired, so I went in to rest." "But how," asked he, "didst thou get into my bed?" The other replied, "I found a bed that was spread, so I slept in it." "But," said be, "my wife was sleeping together with you!" The other replied, "Well, the bed is hers. How could I therefore have prevented her from using her own bed?"
"By the truth of my religion," said the husband, "if thou shouldst do it again, thou and I would have a quarrel." Such was for the Frank the entire expression of his disapproval and the limit of his jealousy. . . .
Another illustration: I entered the public bath in Sur [Tyre] and took my place in a secluded part. One of my servants thereupon said to me, "There is with us in the bath a woman." When I went out, I sat on one of the stone benches and behold! the woman who was in the bath had come out all dressed and was standing with her father just opposite me. But I could not be sure that she was a woman. So I said to one of my companions, "By Allah, see if this is a woman," by which I meant that he should ask about her. But he went, as I was looking at him, lifted the end of her robe and looked carefully at her. Thereupon her father turned toward me and said, "This is my daughter. Her mother is dead and she has nobody to wash her hair. So I took her in with me to the bath and washed her head." I replied, "Thou hast well done! This is something for which thou shalt be rewarded [by Allah]!"
***
I once went in the company of al-Amir Mu'in-al-Din (may Allah's mercy rest upon his soul!) to Jerusalem.
We stopped at Nablus. There a blind man, a Muslim, who was still young and was well dressed, presented himself before al-amir carrying fruits for him and asked permission to be admitted into his service in Damascus. The amir consented. I inquired about this man and was informed that his mother bad been married to a Frank whom she had killed. Her son used to practice ruses against the Frankish pilgrims and cooperate with his mother in assassinating them. They finally brought charges against him and tried his case according to the Frankish way of procedure.
They installed a huge cask and filled it with water. Across it they set a board of wood. They then bound the arms of the man charged with the act, tied a rope around his shoulders and dropped him into the cask, their idea being that in case he was innocent, he would sink in the water and they would then lift him up with the rope so that he might not die in the water; and in case he was guilty, he would not sink in the water. This man did his best to sink when they dropped him into the water, but he could not do it. So he had to submit to their sentence against him-- may Allah's curse be upon them! They pierced his eyeballs with red-hot awls.
Later this same man arrived in Damascus. Al-Amir Mu'in-al-Din (may Allah's mercy rest upon his soul!) as- signed him a stipend large enough to meet all his needs and said to a slave of his, "Conduct him to Burhan-al-Din al-Balkhi (may Allah's mercy rest upon his soul!) and ask him on my behalf to order somebody to teach this man the Koran and something of Muslim jurisprudence." Hearing that, the blind man remarked, "May triumph and victory be thine! But this was never my thought. What didst thou think I was going to do for tbee?" asked Mu'in-al-Din. The blind man replied, "I thought thou wouldst give me a horse, a mule and a suit of armor and make me a knight." Mu'in-al-Din then said, "I never thought that a blind man could become a knight."
***
Among the Franks are those who have become acclimatized and have associated long with the Muslims. These are much better than the recent comers from the Frankish lands. But they constitute the exception and cannot be treated as a rule.
Here is an illustration. I dispatched one of my men to Antioch on business. There was in Antioch at that time al-Ra'is Theodoros Sophianos, to whom I was bound by mutual ties of amity. His influence in Antioch was supreme. One day he said to my man, "I am invited by a friend of mine who is a Frank. Thou shouldst come with me so that thou mayest see their fashions." My man related the story in the following words:
I went along with him and we came to the home of a knight who belonged to the old category of knights who came with the early expeditions of the Franks. He had been by that time stricken off the register and exempted from service, and possessed in Antioch an estate on the income of which he lived. The knight presented an excellent table, with food extraordinarily clean and delicious. Seeing me abstaining from food, he said, "Eat, be of good cbeer! I never eat Frankish dishes, but I have Egyptian women cooks and never eat except their cooking. Besides, pork never enters my home." I ate, but guardedly, and after that we departed.
As I was passing in the market place, a Frankish woman all of a sudden hung to my clothes and began to mutter words in their language, and I could not understand what she was saying. This made me immediately the center of a big crowd of Franks. I was convinced that death was at hand. But all of a sudden that same knight approached. On seeing me, he came and said to that woman, "What is the matter between you and this Muslim?" She replied, "This is he who has killed my brother Hurso." This Hurso was a knight in Afiimiyah who was killed by someone of the army of Hamah. The Christian knight shouted at her, saying, "This is a bourgeois (i.e., a merchant) who neither fights nor attends a fight." He also yelled at the people who had assembled, and they all dispersed. Then he took me by the hand and went away. Thus the effect of that meal was my deliverance from certain death.*