As mentioned in the introduction to Part Two, both the terms "the Middle Ages" and "the Renaissance" are specifically European constructs. The European Renaissance was self-named, with writers in that time period identifying themselves as the "re-birth" (or re-naissance) of classical Greek and Roman ideals and literature. Everything between the classical world and their time period was referred to as the "middle"—or Middle Ages. The term, therefore, should be taken with a grain of salt; obviously, to promote themselves, Renaissance writers were often harsh in their criticism of their immediate predecessors, as most new literary periods are to the previous literary period. To this day, popular culture in the West still has traces of the negative Renaissance attitude towards anything "medieval." European authors such as Dante would have been quite surprised (and indignant) to hear that he was part of a time period that supposedly was lesser than what followed. Since Dante's Divine Comedy ranks among the best of world literature to this day, he would be justified in feeling that way.
In chronological terms, the Middle Ages in Europe traditionally are dated from the fall of Rome in 476 C.E. to the arrival of Columbus in North America in 1492 C.E. These dates are not exact, but they at least give us the general magnitude of the time period: roughly a thousand years. Within that stretch of time, scholars usually break the time into early, middle, and late periods of literature.
The selections in this chapter focus on the transformation of a hero and the role of courtly love in aristocratic culture. There are still epic heroes, but now they are often knights (with different sets of concerns from ancient world warriors); in Dante, he takes the previous epic form even further by creating a Christian epic, with a hero who does not need to be a knight (or even all that brave, as long as he has divine help). There is a debate about whether courtly love ever existed outside of literature (or whether it actually inspired knights and ladies to act the way that they did in the stories), but the concept of courtly love drives many medieval stories. Historically, in aristocratic circles, marriage was almost exclusively a business transaction between families; your average knight might not have much chance of marrying the woman he loved, but (courtly love suggests) he might try to get her attention by performing brave deeds. In the most proper scenarios, he would serve her from afar, never expecting a reward for his attentions. It is that kind of courtly love that Cervantes would satirize during the Renaissance in Don Quixote. In more risqué scenarios, the knight might try to convince the (often married) lady to return his affections. Stories in the works of Chrétien de Troyes and Boccaccio play with that theme to both comic and dramatic effect. In the selections found here from Chaucer's works, Chaucer makes it clear that he finds the whole concept of courtly love questionable (especially from the woman's point of view) and sometimes outright objectionable. Dante distances himself from his own background as a love poet, turning from earthly love to spiritual love in his writings; the lady he loves from afar (and with whom he never had a relationship) leads him to a love of God.
As you read, consider the following questions:
How are medieval epic heroes (such as the Cid and Dante) different from and similar to the warriors of the ancient world?

What kind of relationship do the heroes have to their societies, their leaders (rulers), their families, and their religion?

How does the text approach courtly love, especially in terms of the behavior expected from knights and ladies? Does it support it or question it?

What themes from the ancient world appear in the Middle Ages? In what ways are the stories a continuation of issues and concerns found in works from Part One?

How has the role of religion changed in the stories, now that there are no pantheons of gods?
Written by Laura J. Getty
THE SERMON ON THE MOUNT (FROM MATTHEW 5-7)
First century C.E.
The Roman Province of Israel
The Gospel according to Matthew was written sometime between 85 and 90 C.E. and is one of the four canonical gospels of the Christian Bible, also known as the New Testament. The other three gospels are Mark, Luke, and John. All four gospels were anonymously authored, and with the exception of a smattering of Aramaic, they were all written in Greek, the dominant scholarly language of that period in that region of the world. Matthew (along with Mark and Luke) is one of the three synoptic (or "seen together") gospels, which are the main sources for the historical narrative of Jesus' life.
The Sermon on the Mount is one of the Five Discourses of Matthew (the sermons of Jesus in the book of Matthew). It is the first and longest sermon by Jesus in the Gospels, taking place shortly after the Temptation of Christ, the gathering of his first four disciples, and his initial healing ministries. The Sermon on the Mount includes the Beatitudes (or blessings), the Lord's Prayer (also known as the Our Father), and numerous parables and analogies. The Sermon covers laws concerning murder, adultery, divorce, oaths, and revenge and includes Jesus' famous admonition to "love thy neighbor." Jesus also warns his disciples against ostentation in prayer and almsgiving, materialism, judging others, and hypocrisy.
There is no other part of the Christian Bible that has been analyzed, interpreted, and written about more than the Sermon on the Mount. Ranging from a strictly literal interpretation of the Sermon to a view that argues that Jesus was establishing general principles for behavior but not hard and fast rules, Christians have debated the meaning of the Sermon for centuries. Philosophers and writers as diverse as St. Augustine, St. Francis of Assisi, Geoffrey Chaucer, and Leo Tolstoy have all weighed in.
Written by Rhonda Kelley
5.2.1 Questions to consider while reading this selection:
According to the Sermon, to what degree is a Christian meant to follow the rules, and how does one go about it?

What are the main virtues of Christian religion as taught in the Sermon?

If a Christian were to follow the Sermon literally, what extreme behaviors would that require? Do you think that following the teachings of Christ is possible?

Compare Jesus' demands for moral human conduct with the ethics and values of the other cultures we have studied.

Teaching in parables, as Jesus explains to his disciples, puts a burden on the audience that straightforward instruction does not. Why does this method of communication particularly suit a religious or spiritual subject?
5.2.2 Matthew 5-7: The Sermon on the Mount
License: Public Domain
Chapter 5
1 And seeing the multitudes, he went up into a mountain: and when he was set, his disciples came unto him:
2 And he opened his mouth, and taught them, saying,
3 Blessed are the poor in spirit: for theirs is the kingdom of heaven.
4 Blessed are they that mourn: for they shall be comforted.
5 Blessed are the meek: for they shall inherit the earth.
6 Blessed are they which do hunger and thirst after righteousness: for they shall be filled.
7 Blessed are the merciful: for they shall obtain mercy.
8 Blessed are the pure in heart: for they shall see God.
9 Blessed are the peacemakers: for they shall be called the children of God.
10 Blessed are they which are persecuted for righteousness' sake: for theirs is the kingdom of heaven.
11 Blessed are ye, when men shall revile you, and persecute you, and shall say all manner of evil against you falsely, for my sake.
12 Rejoice, and be exceeding glad: for great is your reward in heaven: for so persecuted they the prophets which were before you.
13 Ye are the salt of the earth: but if the salt have lost his savour, wherewith shall it be salted? it is thenceforth good for nothing, but to be cast out, and to be trodden under foot of men.
14 Ye are the light of the world. A city that is set on an hill cannot be hid.
15 Neither do men light a candle, and put it under a bushel, but on a candlestick; and it giveth light unto all that are in the house.
16 Let your light so shine before men, that they may see your good works, and glorify your Father which is in heaven.
17 Think not that I am come to destroy the law, or the prophets: I am not come to destroy, but to fulfil.
18 For verily I say unto you, Till heaven and earth pass, one jot or one tittle shall in no wise pass from the law, till all be fulfilled.
19 Whosoever therefore shall break one of these least commandments, and shall teach men so, he shall be called the least in the kingdom of heaven: but whosoever shall do and teach them, the same shall be called great in the kingdom of heaven.
20 For I say unto you, That except your righteousness shall exceed the righteousness of the scribes and Pharisees, ye shall in no case enter into the kingdom of heaven.
21 Ye have heard that it was said of them of old time, Thou shalt not kill; and whosoever shall kill shall be in danger of the judgment:
22 But I say unto you, That whosoever is angry with his brother without a cause shall be in danger of the judgment: and whosoever shall say to his brother, Raca, shall be in danger of the council: but whosoever shall say, Thou fool, shall be in danger of hell fire.
23 Therefore if thou bring thy gift to the altar, and there rememberest that thy brother hath ought against thee;
24 Leave there thy gift before the altar, and go thy way; first be reconciled to thy brother, and then come and offer thy gift. 25 Agree with thine adversary quickly, whiles thou art in the way with him; lest at any time the adversary deliver thee to the judge, and the judge deliver thee to the officer, and thou be cast into prison.
26 Verily I say unto thee, Thou shalt by no means come out thence, till thou hast paid the uttermost farthing.
27 Ye have heard that it was said by them of old time, Thou shalt not commit adultery:
28 But I say unto you, That whosoever looketh on a woman to lust after her hath committed adultery with her already in his heart.
29 And if thy right eye offend thee, pluck it out, and cast it from thee: for it is profitable for thee that one of thy members should perish, and not that thy whole body should be cast into hell.
30 And if thy right hand offend thee, cut it off, and cast it from thee: for it is profitable for thee that one of thy members should perish, and not that thy whole body should be cast into hell.
31 It hath been said, Whosoever shall put away his wife, let him give her a writing of divorcement:
32 But I say unto you, That whosoever shall put away his wife, saving for the cause of fornication, causeth her to commit adultery: and whosoever shall marry her that is divorced committeth adultery.
33 Again, ye have heard that it hath been said by them of old time, Thou shalt not forswear thyself, but shalt perform unto the Lord thine oaths:
34 But I say unto you, Swear not at all; neither by heaven; for it is God's throne:
35 Nor by the earth; for it is his footstool: neither by Jerusalem; for it is the city of the great King.
36 Neither shalt thou swear by thy head, because thou canst not make one hair white or black.
37 But let your communication be, Yea, yea; Nay, nay: for whatsoever is more than these cometh of evil.
38 Ye have heard that it hath been said, An eye for an eye, and a tooth for a tooth:
39 But I say unto you, That ye resist not evil: but whosoever shall smite thee on thy right cheek, turn to him the other also.
40 And if any man will sue thee at the law, and take away thy coat, let him have thy cloak also.
41 And whosoever shall compel thee to go a mile, go with him twain.
42 Give to him that asketh thee, and from him that would borrow of thee turn not thou away.
43 Ye have heard that it hath been said, Thou shalt love thy neighbour, and hate thine enemy.
44 But I say unto you, Love your enemies, bless them that curse you, do good to them that hate you, and pray for them which despitefully use you, and persecute you;
45 That ye may be the children of your Father which is in heaven: for he maketh his sun to rise on the evil and on the good, and sendeth rain on the just and on the unjust.
46 For if ye love them which love you, what reward have ye? do not even the publicans the same?
47 And if ye salute your brethren only, what do ye more than others? do not even the publicans so?
48 Be ye therefore perfect, even as your Father which is in heaven is perfect.
Chapter 6
1 Take heed that ye do not your alms before men, to be seen of them: otherwise ye have no reward of your Father which is in heaven.
2 Therefore when thou doest thine alms, do not sound a trumpet before thee, as the hypocrites do in the synagogues and in the streets, that they may have glory of men. Verily I say unto you, They have their reward.
3 But when thou doest alms, let not thy left hand know what thy right hand doeth:
4 That thine alms may be in secret: and thy Father which seeth in secret himself shall reward thee openly.
5 And when thou prayest, thou shalt not be as the hypocrites are: for they love to pray standing in the synagogues and in the corners of the streets, that they may be seen of men. Verily I say unto you, They have their reward.
6 But thou, when thou prayest, enter into thy closet, and when thou hast shut thy door, pray to thy Father which is in secret; and thy Father which seeth in secret shall reward thee openly.
7 But when ye pray, use not vain repetitions, as the heathen do: for they think that they shall be heard for their much speaking.
8 Be not ye therefore like unto them: for your Father knoweth what things ye have need of, before ye ask him.
9 After this manner therefore pray ye: Our Father which art in heaven, Hallowed be thy name.
10 Thy kingdom come, Thy will be done in earth, as it is in heaven.
11 Give us this day our daily bread.
12 And forgive us our debts, as we forgive our debtors.
13 And lead us not into temptation, but deliver us from evil: For thine is the kingdom, and the power, and the glory, for ever. Amen.
14 For if ye forgive men their trespasses, your heavenly Father will also forgive you:
15 But if ye forgive not men their trespasses, neither will your Father forgive your trespasses.
16 Moreover when ye fast, be not, as the hypocrites, of a sad countenance: for they disfigure their faces, that they may appear unto men to fast. Verily I say unto you, They have their reward.
17 But thou, when thou fastest, anoint thine head, and wash thy face;
18 That thou appear not unto men to fast, but unto thy Father which is in secret: and thy Father, which seeth in secret, shall reward thee openly.
19 Lay not up for yourselves treasures upon earth, where moth and rust doth corrupt, and where thieves break through and steal:
20 But lay up for yourselves treasures in heaven, where neither moth nor rust doth corrupt, and where thieves do not break through nor steal:
21 For where your treasure is, there will your heart be also.
22 The light of the body is the eye: if therefore thine eye be single, thy whole body shall be full of light.
23 But if thine eye be evil, thy whole body shall be full of darkness. If therefore the light that is in thee be darkness, how great is that darkness!
24 No man can serve two masters: for either he will hate the one, and love the other; or else he will hold to the one, and despise the other. Ye cannot serve God and mammon.
25 Therefore I say unto you, Take no thought for your life, what ye shall eat, or what ye shall drink; nor yet for your body, what ye shall put on. Is not the life more than meat, and the body than raiment?
26 Behold the fowls of the air: for they sow not, neither do they reap, nor gather into barns; yet your heavenly Father feedeth them. Are ye not much better than they?
27 Which of you by taking thought can add one cubit unto his stature?
28 And why take ye thought for raiment? Consider the lilies of the field, how they grow; they toil not, neither do they spin:
29 And yet I say unto you, That even Solomon in all his glory was not arrayed like one of these.
30 Wherefore, if God so clothe the grass of the field, which to day is, and to morrow is cast into the oven, shall he not much more clothe you, O ye of little faith?
31 Therefore take no thought, saying, What shall we eat? or, What shall we drink? or, Wherewithal shall we be clothed?
32 (For after all these things do the Gentiles seek:) for your heavenly Father knoweth that ye have need of all these things.
33 But seek ye first the kingdom of God, and his righteousness; and all these things shall be added unto you.
34 Take therefore no thought for the morrow: for the morrow shall take thought for the things of itself. Sufficient unto the day is the evil thereof.
Chapter 7
1 Judge not, that ye be not judged.
2 For with what judgment ye judge, ye shall be judged: and with what measure ye mete, it shall be measured to you again.
3 And why beholdest thou the mote that is in thy brother's eye, but considerest not the beam that is in thine own eye?
4 Or how wilt thou say to thy brother, Let me pull out the mote out of thine eye; and, behold, a beam is in thine own eye?
5 Thou hypocrite, first cast out the beam out of thine own eye; and then shalt thou see clearly to cast out the mote out of thy brother's eye.
6 Give not that which is holy unto the dogs, neither cast ye your pearls before swine, lest they trample them under their feet, and turn again and rend you.
7 Ask, and it shall be given you; seek, and ye shall find; knock, and it shall be opened unto you:
8 For every one that asketh receiveth; and he that seeketh findeth; and to him that knocketh it shall be opened.
9 Or what man is there of you, whom if his son ask bread, will he give him a stone?
10 Or if he ask a fish, will he give him a serpent?
11 If ye then, being evil, know how to give good gifts unto your children, how much more shall your Father which is in heaven give good things to them that ask him?
12 Therefore all things whatsoever ye would that men should do to you, do ye even so to them: for this is the law and the prophets.
13 Enter ye in at the strait gate: for wide is the gate, and broad is the way, that leadeth to destruction, and many there be which go in thereat:
14 Because strait is the gate, and narrow is the way, which leadeth unto life, and few there be that find it.
15 Beware of false prophets, which come to you in sheep's clothing, but inwardly they are ravening wolves.
16 Ye shall know them by their fruits. Do men gather grapes of thorns, or figs of thistles?
17 Even so every good tree bringeth forth good fruit; but a corrupt tree bringeth forth evil fruit.
18 A good tree cannot bring forth evil fruit, neither can a corrupt tree bring forth good fruit.
19 Every tree that bringeth not forth good fruit is hewn down, and cast into the fire.
20 Wherefore by their fruits ye shall know them.
21 Not every one that saith unto me, Lord, Lord, shall enter into the kingdom of heaven; but he that doeth the will of my Father which is in heaven.
22 Many will say to me in that day, Lord, Lord, have we not prophesied in thy name? and in thy name have cast out devils? and in thy name done many wonderful works?
23 And then will I profess unto them, I never knew you: depart from me, ye that work iniquity.
24 Therefore whosoever heareth these sayings of mine, and doeth them, I will liken him unto a wise man, which built his house upon a rock:
25 And the rain descended, and the floods came, and the winds blew, and beat upon that house; and it fell not: for it was founded upon a rock.
26 And every one that heareth these sayings of mine, and doeth them not, shall be likened unto a foolish man, which built his house upon the sand:
27 And the rain descended, and the floods came, and the winds blew, and beat upon that house; and it fell: and great was the fall of it.
28 And it came to pass, when Jesus had ended these sayings, the people were astonished at his doctrine:
29 For he taught them as one having authority, and not as the scribes.
THE PARLIAMENT OF BIRDS AND THE CANTERBURY TALES
Geoffrey Chaucer (ca. 13421400 C.E.)
The Parliament of Birds (ca. 1381-1382 C.E.)
The Canterbury Tales (ca. 13871400 C.E.)
England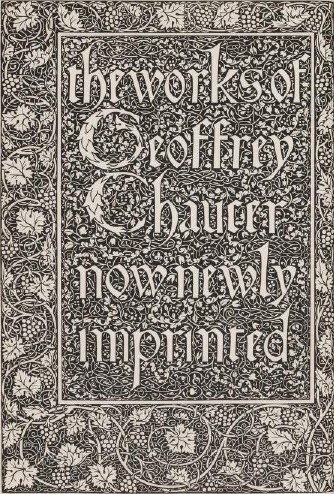 Image 5.1: The works of Geoffrey Chaucer Frontispiece | An intricately designed black and white frontispiece featuring ivy vines featuring the text "The Works of Geoffrey Chaucer now newly imprinted"
Author: Edward Burne-Jones
Source: Archive.org
License: Public Domain
Geoffrey Chaucer's influence on later British literature is difficult to overstate. The most important English writer before Shakespeare (who re-wrote Chaucer's version of the Troilus and Criseyde story), Chaucer introduced new words into English (such as "cosmos"), and his stories draw on a wealth of previous authors, especially Ovid and Boccaccio. Unlike Shakespeare, Chaucer's writing is often translated, since Middle English is substantially different from even the Early Modern English of Shakespeare. The selections in this anthology are focused on a single theme: Chaucer's revisionist, revolutionary approach to courtly love. Courtly love poetry often focuses on the male perspective exclusively; the female is the object to be obtained, and she usually is not given a voice (or, ultimately, a choice) in the matter. The Parliament of Birds (also called The Parliament of Fowles) gives the female a voice, if not necessarily a choice, while the General Prologue to The Canterbury Tales offers, among many other things, a satirical look at how courtly love can be misused: The Prioress and the Monk are only two examples. The Wife of Bath's Tale and The Franklin's Tale both offer fascinating alternatives to the regular courtly love scenario, while The Miller's Tale is a mocking revision of the genre by the Miller, who is responding to the story of courtly love that had just been told by the Knight.
Written by Laura J. Getty
5.3.1 The Parlement of Fowles [The Parliament of Birds]
Geoffrey Chaucer, translated and edited by Gerard NeCastro
License: © Copyright, 2007, All Rights Reserved
The life so brief, the art so long in the learning, the attempt so hard, the conquest so sharp, the fearful joy that ever slips away so quickly—by all this I mean love, which so sorely astounds my feeling with its wondrous operation, that when I think upon it I scarce know whether I wake or sleep. For albeit I know not love myself; nor how he pays people their wage, yet I have very often chanced to read in books of his miracles and his cruel anger there, surely, I read he will ever be lord and sovereign, and his strokes will be so heavy I dare say nothing but, "God save such a lord!" I can say no more.
Somewhat for pleasure and somewhat for learning I am in the habit of reading books, as I have told you. But why speak I of all this? Not long ago I chanced to look at a book, written in antique letters, and there I read very diligently and eagerly through the long day, to learn a certain thing. For, as men say, out of old fields comes all this new corn from year to year; and, in good faith, out of old books comes all this new knowledge that men learn. But now to my theme in this matter: it so delighted me to read on, that the whole day seemed to me rather short. This book of which I speak was entitled Tully on the Dream of Scipio. It had seven chapters, on heaven and hell and earth, and the souls that live in those places; about which I will tell you the substance of Tully's opinion, as briefly as I can.
First the book tells how, when Scipio had come to Africa, he met Masinissa, who clasped him in his arms for joy. Then it tells their conversation and all the joy that was between them until the day began to end; and then how Scipio's beloved ancestor Africanus appeared to him that night in his sleep. Then it tells how Africanus showed him Carthage from a starry place, and disclosed to him all his good fortune to come, and said to him that any man, learned or unlettered, who loves the common profit and is virtuous shall go to a blessed place where is joy without end. Then Scipio asked whether people that die here have life and dwelling elsewhere; and Africanus said, "Yes, without doubt," and added that our space of life in the present world, whatever way we follow, is just a kind of death, and righteous people, after they die, shall go to heaven.
And he showed him the Milky Way, and the earth here, so little in comparison with the hugeness of the heavens; and after that he showed him the nine spheres. And then he heard the melody that proceeds from those nine spheres, which is the fount of music and melody in this world, and the cause of harmony. Then Africanus instructed him not to take delight in this world, since earth is so little and so full of torment and ill favor. Then he told him how in a certain term of years every star should come into its own place, where it first was; and all that has been done by all mankind in this world shall pass out of memory.
Then he asked Africanus to tell him fully the way to come into that heavenly happiness; and he said, "First know yourself to be immortal; and always see that you labor diligently and teach for the common profit, and you shall not fail to come speedily to that dear place that is full of joy and of bright souls. But breakers of the law, in truth, and lecherous folk, after they die, shall ever be whirled about the earth in torment, until many an age be passed; and then, all their wicked deeds forgiven, they shall come to that blessed region, to which may God send you His grace to come."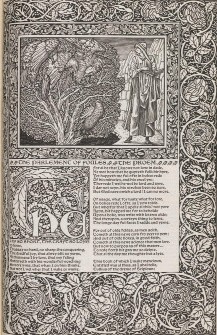 Image 5.2: Parliament of Fowls | A black and white illustration of a man in robes looking at the parliament of fowls as they nest in a tree.
Author: Edward Burne-Jones
Source: Archive.org
License: Public Domain
The day began to end, and dark night, which withdraws beasts from their activity, bereft me of my book for the lack of light; and I set forth to my bed, full of brooding and anxious heaviness. For I both had that which I wished not and what I wished that I had not. But at last, wearied with all the day's labor, my spirit took rest and heavily slept; and as I lay in my sleep, I dreamed how Africanus, in the very same guise in which Scipio saw him that time before, had come and stood at the very side of my bed. When the weary hunter sleeps, quickly his mind returns to the wood; the judge dreams how his cases fare, and the carter how his carts go; the rich dream of gold, the knight fights his foes; the sick man dreams he drinks of the wine cask, the lover that he has his lady. I cannot say whether my reading of Africanus was the cause that I dreamed that he stood there; but thus he spoke, "You have done so well to look upon my old tattered book, of which Macrobius thought not a little, that I would requite you somewhat for your labor."
Cytherea, you sweet, blessed lady, who with your fire-brand subdues whomsoever you wish, and sends me this dream, be my helper in this, for you are best able! As surely as I saw you in the north-northwest when I began to write my dream, so surely do you give me power to rhyme it and compose it!
This aforesaid Africanus took me from there and brought me out with him to a gate of a park walled with mossy stone; and over the gate on either side, carved in large letters, were verses of very diverse senses, of which I shall tell you the full meaning:
"Through me men go into that blessed place

Where hearts find health and deadly wounds find cure,

Through me men go unto the fount of Grace,

Where green and lusty May shall ever endure.

I lead men to blithe peace and joy secure.

Reader, be glad; throw off your sorrows past.

Open am I; press in and make haste fast."
On the other side it said:
"Through me men go where all mischance betides,

Where is the mortal striking of the spear,

To which Disdain and Coldness are the guides,

Where trees no fruit or leaf shall ever bear.

This stream shall lead you to the sorrowful weir

Where fish in baleful prison lie all dry.

To shun it is the only remedy."
These inscriptions were written, the one in gold, the other in black, and I beheld them for a long while, for at the one my heart grew hardy, and the other ever increased my fear; the first warmed me, the other chilled me. For fear of error my wit could not make its choice, to enter or to flee, to lose myself or save myself. Just as a piece of iron set between two load-stones of equal force has no power to move one way or the other—for as much as one draws the other hinders.
So it fared with me, who knew not which would be better, to enter or not, until Africanus my guide caught and pushed me in at the wide gates, saying, "Your doubt stands written on your face, though you tell it not to me. But fear not to come in, for this writing is not meant for you or for any, unless he would be Love's servant. For in love, I believe, you have lost your sense of taste, even as a sick man loses his taste of sweet and bitter. Nevertheless, dull though you may be, you can still look upon that which you cannot do; for many a man who cannot complete a bout is nevertheless pleased to be at a wrestling match, and judges whether one or another does better. And if you have skill to set it down, I will show you something to write about."
With that he took my hand in his, from which I took comfort and quickly went in. But Lord, how glad and at ease I was! For everywhere I cast my eyes were trees clad, each according to its kind, with everlasting leaves in fresh color and green as emerald, a joy to behold: the builder oak, eke the hardy ash, the elm the pillar and the coffin for corpses, the boxwood for horns, the holly for whip-handles, the fir to bear sails, the cypress to mourn death, the yew the bowman, the aspen for smooth shafts, the olive of peace, the drunken vine, the victor palm, and the laurel for divination.
By a river in a green meadow, where there is at all points so much sweetness, I saw a garden, full of blossomy boughs, with white, blue, yellow and red flowers; and cold fountain-streams, not at all dead, full of small shining fish with red fins and silver-bright scales. On every bough I heard the birds sing with the voice of angels in their melody. Some busied themselves to lead forth their young. The little bunnies hastened to play. Further on I noticed all about the timid roe, the buck, harts and hinds and squirrels and small beasts of gentle nature. I heard stringed instruments playing harmonies of such ravishing sweetness that God, Maker and Lord of all, never heard better, I believe. At the same time a wind, scarce could it have been gentler, made in the green leaves a soft noise which accorded with the song of the birds above. The air of that place was so mild that never was there discomfort for heat or cold. Every wholesome spice and herb grew there, and no person could age or sicken. There was a thousand times more joy than man can tell. And it would never be night there, but ever bright day in every man's eye.
I saw Cupid our lord forging and filing his arrows under a tree beside a spring, and his bow lay ready at his feet. And meanwhile his daughter well tempered the arrow-heads in the spring, and by her cunning she piled them after as they should serve, some to slay, some to wound and pierce. Just then I was aware of Pleasure and of Fair Array and Courtesy and Joy and of Deception who has wit and power to cause a being to do folly—she was disguised, I deny it not. And under an oak, I believe, I saw Delight, standing apart with Gentle Breeding. I saw Beauty without any raiment; and Youth, full of sportiveness and jollity, Foolhardiness, Flattery, Desire, Message-sending and Bribery; and three others—their names shall not be told by me.
And upon great high pillars of jasper I saw a temple of brass strongly stand. About the temple many women were dancing ceaselessly, of whom some were beautiful themselves and some gay in dress; only in their kirtles they went, with hair unbound—that was forever their business, year by year. And on the temple I saw many hundred pairs of doves sitting, white and beautiful. Before the temple-door sat Lady Peace full gravely, holding back the curtain, and beside her Lady Patience, with pale face and wondrous discretion, sitting upon a mound of sand. Next to her were Promise and Cunning and a crowd of their followers within the temple and without.
Inside I heard a gust of sighs blowing about, hot as fire, engendered of longing, which caused every altar to blaze ever anew. And well I saw then that all the cause of sorrows that lovers endure is through the bitter goddess Jealousy. As I walked about within the temple I saw the god Priapus standing in sovereign station, his scepter in hand, and in such attire as when the ass confounded him to confusion with its outcry by night. People were busily setting upon his head garlands full of fresh, new flowers of various colors.
In a private corner I found Venus, who was noble and stately in her bearing, sporting with her porter Riches. The place was dark, but in time I saw a little light—it could scarcely have been less. Venus reposed upon a golden bed until the hot sun should seek the west. Her golden hair was bound with a golden thread, but all untressed as she lay. And one could see her naked from the breast to the head; the remnant, in truth, was well covered to my pleasure with a filmy kerchief of Valence; there was no thicker cloth that could also be transparent. The place gave forth a thousand sweet odors. Bacchus, god of wine, sat beside her, and next was Ceres, who saves all from hunger, and, as I said, the Cyprian woman lay in the midst; on their knees two young people were crying to her to be their helper.
But thus I left her lying, and further in the temple I saw how, in scorn of Diana the chaste, there hung on the wall many a broken bow of such maidens as had first wasted their time in her service. And everywhere was painted many stories, of which I shall touch on a few, such as Callisto and Atalanta and many maidens whose name I do not know. There was also Semiramis, Candace, Hercules, Byblis, Dido, Thisbe and Pyramus, Tristram and Isolt, Paris, Achilles, Helen, Cleopatra, Troilus, and Scylla, and the mother of Romulus as well—all were portrayed on the other wall, and their love and by what plight they died.
When I had returned to the sweet and green garden that I spoke of, I walked forth to comfort myself. Then I noticed how there sat a queen who was exceeding in fairness over every other creature, as the brilliant summer sun passes the stars in brightness. This noble goddess Nature was set upon a flowery hill in a verdant glade. All her halls and bowers were wrought of branches according to the art and measure of Nature.
And there was not any bird that is created through procreation that was not ready in her presence to hear her and receive her judgment. For this was Saint Valentine's day, when every bird of every kind that men can imagine comes to this place to choose his mate. And they made an exceedingly great noise; and earth and sea and the trees and all the lakes were so full that there was scarcely room for me to stand, so full was the entire place. And just as Alan, in The Complaint of Nature, describes Nature in her features and attire, so might men find her in reality.
This noble empress, full of grace, bade every bird take his station, as they were accustomed to stand always on Saint Valentine's day from year to year. That is to say, the birds of prey were set highest, and then the little birds who eat, as nature inclines them, worms or other things of which I speak not; but water-fowls sat the lowest in the dale; and birds that live on seed sat upon the grass, so many that it was a marvel to see.
There one could find the royal eagle, that pierces the sun with his sharp glance; and other eagles of lower race, of which clerks can tell. There was that tyrant with dun gray feathers, I mean the goshawk, that harasses other birds with his fierce ravening. There was the noble falcon, that with his feet grasps the king's hand; also the bold sparrow-hawk, foe of quails; the merlin, that often greedily pursues the lark. The dove was there, with her meek eyes; the jealous swan, that sings at his death; and the owl also, that forebodes death; the giant crane, with his trumpet voice; thieving chough; the prating magpie; the scornful jay; the heron, foe to eels; the false lapwing, full of trickery; the starling, that can betray secrets; the tame redbreast; the coward kite; the cock, timekeeper of little thorps; the sparrow, son of Venus; the nightingale, which calls forth the fresh new leaves; the swallow, murderer of the little bees which make honey from the fresh-hued flowers; the wedded turtle-dove, with her faithful heart; the peacock, with his shining angel-feathers; the pheasant, that scorns the cock by night; the vigilant goose; the cuckoo, ever unnatural; the popinjay, full of wantonness; the drake, destroyer of his own kind; the stork, that avenges adultery; the greedy, gluttonous cormorant; the wise raven and the crow, with voice of ill-boding; the ancient thrush and the wintry fieldfare.
What more shall I say? One might find assembled in that place before the noble goddess Nature birds of every sort in this world that have feathers and stature. And each by her consent worked diligently to choose or take graciously his lady or his mate.
But to the point: Nature held on her hand a formel eagle, the noblest in shape that she ever found among her works, the gentlest and goodliest; in her every noble trait so had its seat that Nature herself rejoiced to look upon her and to kiss her beak many times. Nature, vicar of the Almighty Lord, who has knit in harmony hot, cold, heavy, light, moist, and dry in exact proportions, began to speak in a gentle voice: "Birds, take heed of what I say; and for your welfare and to further your needs I will hasten as fast as I can speak. You well know how on Saint Valentine's day, by my statute and through my ordinance, you come to choose your mates, as I prick you with sweet pain, and then fly on your way. But I may not, to win this entire world, depart from my just order, that he who is most worthy shall begin.
"The tercel eagle, the royal bird above you in degree, as you well know, the wise and worthy one, trusty, true as steel, which you may see I have formed in every part as pleased me best—there is no need to describe his shape to you—he shall choose first and speak as he will. And after him you shall choose in order, according to your nature, each as pleases you; and, as your chance is, you shall lose or win. But whichever of you love ensnares most, to him may God send her who sighs for him most sorely."
And at this she called the tercel and said, "My son, the choice is fallen to you. Nevertheless under this condition must be the choice of each one here, that his chosen mate will agree to his choice, whatsoever he be who would have her. From year to year this is always our custom. And whoever at this time can win grace has come here in blissful time!"
The royal tercel, with bowed head and humble appearance, delayed not and spoke: "As my sovereign lady, not as my spouse, I choose—and choose with will and heart and mind—the formel of so noble shape upon your hand. I am hers wholly and will serve her always. Let her do as she wishes, to let me live or die; I beseech her for mercy and grace, as my sovereign lady, or else let me die here presently. For surely I cannot live long in torment, for in my heart every vein is cut. Having regard only to my faithfulness, dear heart, have some pity upon my woe. And if I am found untrue to her, disobedient or willfully negligent, a boaster, or in time love elsewhere, I pray you this will be my doom: that I will be torn to pieces by these birds, upon that day when she should ever know me untrue to her or in my guilt unkind. And since no other loves her as well as I, though she never promised me love, she ought to be mine by her mercy; for I can fasten no other bond on her. Never for any woe shall I cease to serve her, however far she may roam. Say what you will, my words are done."
Even as the fresh red rose newly blown blushes in the summer sun, so grew the color of this woman when she heard all this; she answered no word good or bad, so sorely was she abashed; until Nature said, "Daughter, fear not, be of good courage."
Then spoke another tercel of a lower order: "That shall not be. I love her better than you, by Saint John, or at least I love her as well, and have served her longer, according to my station. If she should love for long being to me alone should be the reward; and I also dare to say, if she should find me false, unkind, a prater, or a rebel in any way, or jealous, let me be hanged by the neck. And unless I bear myself in her service as well as my wit allows me, to protect her honor in every point, let her take my life and all the wealth I have."
Then a third tercel eagle said, "Now, sirs, you see how little time we have here, for every bird clamors to be off with his mate or lady dear, and Nature herself as well, because of the delay, will not hear half of what I would speak. Yet unless I speak I must die of sorrow. I boast not at all of long service; but it is as likely that I shall die of woe today as he who has been languishing these twenty winters. And it may well happen that a man may serve better in half a year, even if it were no longer, than another man who has served many years. I do not say this about myself, for I can do no service to my lady's pleasure; but I dare say that I am her truest man, I believe, and would be most glad to please her. In short, until death may seize me I will be hers, whether I wake or sleep, and true in all that heart can think."
In all my life since the day I was born never have I heard any man so noble make a plea in love or any other thing—even if a man had time and wit to rehearse their expression and their words. And this discourse lasted from the morning until the sun drew downward so rapidly. The clamor released by the birds rung so loud— "Make an end of this and let us go!"—that I well thought the forest would be splintered. They cried, "Make haste! Alas, you will ruin us! When shall your cursed pleading come to an end? How should a judge believe either side for yea or nay, without any proof?"
The goose, cuckoo and duck so loudly cried, "Kek, kek!", "Cuckoo!", "Quack, quack!" that the noise reverberated in my ears. The goose said, "All this is not worth a fly! But from this I can devise a remedy, and I will speak my verdict fair and soon, on behalf of the waterfowl. Let who will smile or frown."
"And I for the worm-eating fowl," said the foolish cuckoo; "of my own authority, for the common welfare, I will take the responsibility now, for it would be great charity to release us." "By God, you may wait a while yet," said the turtle-dove. "If you are he to choose who shall speak, it would be as well for him to be silent. I am among the birds that eat seed, one of the most unworthy, and of little wit—that I know well. But a creature's tongue would be better quiet than meddling with such doings about which he knows neither rhyme nor reason. And whosoever does so, overburdens himself in foul fashion, for often one not entrusted to a duty commits offence."
Nature, who had always an ear to the murmuring of folly at the back, said with ready tongue, "Hold your peace there! And straightway, I hope, I shall find a counsel to let you go and release you from this noise. My judgment is that you shall choose one from each bird-folk to give the verdict for you all."
The birds all assented to this conclusion. And first the birds of prey by full election chose the tercel-falcon to define all their judgment, and decide as he wished. And they presented him to Nature and she accepted him gladly. The falcon then spoke in this fashion: "It would be hard to determine by reason which best loves this gentle woman; for each has such ready answers that none may be defeated by reasons. I cannot see of what avail are arguments; so it seems there must be battle."
"All ready!" then cried these tercel-eagles.
"Nay, sirs," said he, "if I dare say it, you do me wrong, my tale is not done. For, sirs, take it not amiss, I pray, it cannot go thus as you desire. Ours is the voice that has the charge over this, and you must stand by the judges' decision. Peace, therefore! I say that it would seem in my mind that the worthiest in knighthood, who has longest followed it, the highest in degree and of gentlest blood, would be most fitting for her, if she wish it. And of these three she knows which he is, I believe, for that is easily seen."
The waterfowl put their heads together, and after short considering, when each had spoken his tedious gabble, they said truly, by one assent, how "the goose, with her gentle eloquence, who so desires to speak for us, shall say our say," and prayed God would help her. Then the goose began to speak for these waterfowl, and said in her cackling, "Peace! Now every man take heed and hearken what argument I shall put forth. My wits are sharp, I love no delay; I counsel him, I say, even if he were my brother, leave him if she will not love him."
"Lo here," said the sparrow-hawk, "a perfect argument for a goose—bad luck to her! Lo, thus it is to have a wagging tongue! Now, fool, it would be better for you to have held your peace than have shown your folly, by God! But to do thus rests not in her wit or will; for it is truly said, 'a fool cannot be silent.'"
Laughter arose from all the birds of noble kind; and straightway the seed-eating fowl chose the faithful turtle-dove, and called her to them, and prayed her to speak the sober truth about this matter, and asked her counsel. And she answered that she would fully show her mind. "Nay, God forbid a lover should change!" said the turtle-dove, and grew all red with shame. "Though his lady may be cold for evermore, let him serve her ever until he die. In truth I praise not the goose's counsel, for even if my lady died I would have no other mate, I would be hers until death take me."
"By my hat, well jested!" said the duck. "That men should love forever, without cause! Who can find reason or wit there? Does one who is mirthless dance merrily? Who should care for him who is carefree? Yea, quack!" said the duck loud and long, "God knows there are more stars than a pair."
"Now fie, churl!" said the noble falcon. "That thought came straight from the dunghill. You can not see when a thing is proper. You fare with love as owls with light; the day blinds them, but they see very well in darkness. Your nature is so low and wretched that you can not see or guess what love is."
Then the cuckoo thrust himself forward in behalf of the worm-eating birds, and said quickly, "So that I may have my mate in peace, I care not how long you contend. Let each be single all his life; that is my counsel, since they cannot agree. This is my instruction, and there an end!"
"Yea," said the merlin, "as this glutton has well filled his paunch, this should suffice for us all! You murderer of the hedge-sparrow on the branch, the one who brought you up, you ruthless glutton! May you live unmated, you mangler of worms! It matters nothing to you, though your tribe may perish. Go, be a stupid fool, as long as the world lasts!"
"Peace now, I command here," said Nature, "For I have heard the opinions of all, and yet we are no nearer to our goal. But this is my final decision, that she herself shall have the choice of whom she wishes. Whosoever may be pleased or not, he whom she chooses shall have her straightway. For since it cannot here be debated who loves her best, as the falcon said, then will I grant her this favor, that she shall have him alone on whom her heart is set, and he her that has fixed his heart on her. This judgment I, Nature, make; and I cannot speak falsely, nor look with partial eye on any rank. But if it is reasonable to counsel you in choosing a mate, then surely I would counsel you to take the royal tercel, as the falcon said right wisely; for he is noblest and most worthy whom I created so well for my own pleasure; that ought to suffice you."
The formel answered with timid voice, "Goddess of nature, my righteous lady, true it is that I am ever under your rod, just as every other creature is, and I must be yours as long as my life may last. Therefore, grant me my first request, and straightway I will speak to you my mind."
"I grant it to you," said Nature; and this female eagle spoke immediately in this way: "Almighty queen, until this year comes to an end I ask respite, to take counsel with myself; and after that to have my choice free. This is all that I would say. I can say no more, even if you were to slay me. In truth, as yet I will in no manner serve Venus or Cupid"
"Now since it can happen no other way," Nature said then, "there is no more to be said here. Then I wish these birds to go their way each with his mate, so that they tarry here no longer." And she spoke to them thus as you shall hear. "To you I speak, you tercels," said Nature. "Be of good heart, and continue in service, all three; a year is not so long to wait. And let each of you strive according to his degree to do well. For, God knows, she is departed from you this year; and whatsoever may happen afterwards, this interval is appointed to you all."
And when this work was all brought to an end, Nature gave every bird his mate by just accord, and they went their way. Ah, Lord! The bliss and joy that they made! For each of them took the other in his wings, and wound their necks about each other, ever thanking the noble goddess of nature. But first were chosen birds to sing, as was always their custom year by year to sing a roundel at their departure, to honor Nature and give her pleasure. The tune, I believe, was made in France. The words were such as you may here find in these verses, as I remember them.
Qui bien aime a tard oublie.
"Welcome, summer, with sunshine soft,
The winter's tempest you will break,
And drive away the long nights black!
Saint Valentine, throned aloft,
Thus little birds sing for your sake:
Welcome, summer, with sunshine soft,
The winter's tempest you will shake!
Good cause have they to glad them oft,
His own true-love each bird will take;
Blithe may they sing when they awake,
Welcome, summer, with sunshine soft,
The winter's tempest you will break,
And drive away the long nights black!"
And with the shouting that the birds raised, as they flew away when their song was done, I awoke; and I took up other books to read, and still I read always. In truth I hope so to read that some day I shall meet with something of which I shall fare the better. And so I will not cease to read: Explicit tractatus de Congregacione Volucrum die sancti Valentini tentum, secundum Galfridum Chaucers. Deo gracias.
5.3.2 The Canterbury Tales
License: © Copyright, 2007, All Rights Reserved
Geoffrey Chaucer, translated and edited by Gerard NeCastro
Here begins the Book of the Tales of Canterbury.
The General Prologue
When the sweet showers of April have pierced to the root the dryness of March and bathed every vein in moisture by which strength are the flowers brought forth; when Zephyr also with his sweet breath has given spirit to the tender new shoots in the grove and field, and the young sun has run half his course through Aries the Ram, and little birds make melody and sleep all night with an open eye, so nature pricks them in their hearts; then people long to go on pilgrimages to renowned shrines in various distant lands, and palmers to seek foreign shores. And especially from every shire's end in England they make their way to Canterbury, to seek the holy blessed martyr who helped them when they were sick.
One day in that season, as I was waiting at the Tabard Inn at Southwark, about to make my pilgrimage with devout heart to Canterbury, it happened that there came at night to that inn a company of twenty-nine various people, who by chance had joined together in fellowship. All were pilgrims, riding to Canterbury. The chambers and the stables were spacious, and we were lodged well. But in brief, when the sun had gone to rest, I had spoken with every one of them and was soon a part of their company, and agreed to rise early to take our way to where I have told you.
Nevertheless, while I have time and space, before this tale goes further, I think it is reasonable to tell you all the qualities of each of them, as they appeared to me, what sort of people they were, of what station and how they were fashioned. I will begin with a knight.
There was a Knight and a worthy man, who, from the time when he first rode abroad, loved chivalry, faithfulness and honor, liberality and courtesy. He was valiant in his lord's war and had campaigned, no man farther, in both Christian and heathen lands, and ever was honored for his worth. He was at Alexandria when it was won; many times in Prussia he sat in the place of honor above knights from all nations; he had fought in Lithuania and in Russia, and no Christian man of his did so more often; he had been in Granada at the siege of Algeciras and in Belmaria; he was at Lyeys and in Attalia when they were won, and had landed with many noble armies in the Levant. He had been in fifteen mortal battles, and had thrice fought for our faith in the lists at Tremessen and always slain his foe; he had been also, long before, with the lord of Palathia against another heathen host in Turkey; and ever he had great renown. And though he was valorous, he was prudent, and he was as meek as a maiden in his bearing. In all his life he never yet spoke any discourtesy to any living creature, but was truly a perfect gentle knight. To tell you of his equipment, his horses were good but he was not gaily clad. He wore a jerkin of coarse cloth all stained with rust by his coat of mail, for he had just returned from his travels and went to do his pilgrimage.
His son was with him, a young Squire, a lover and a lusty young soldier. His locks were curled as if laid in a press. He may have been twenty years of age, of average height, amazingly nimble and great of strength. He had been, at one time, in a campaign in Flanders, Artois, and Picardy, and had borne himself well, in so little time, in hope to stand in his lady's grace. His clothes were embroidered, red and white, like a meadow full of fresh flowers. All the day long he was singing or playing upon the flute; he was as fresh as the month of May. His coat was short, with long, wide sleeves. Well could he sit a horse and ride, make songs, joust and dance, draw and write. He loved so ardently that at nighttime he slept no more than a nightingale. He was courteous, modest and helpful, and carved before his father at table.
They had a Yeoman with them; on that journey they would have no other servants. He was clad in a coat and hood of green, and in his hand he bore a mighty bow and under his belt a neat sheaf of arrows, bright and sharp, with peacock feathers. He knew how to handle his gear like a good yeoman; his arrows did not fall short on account of any poorly adjusted feathers. His head was cropped and his face brown. He understood well all the practice of woodcraft. He wore a gay arm-guard of leather and at one side a sword and buckler; at the other a fine dagger, well fashioned and as sharp as a spear-point; on his breast an image of St. Christopher in bright silver, and over his shoulder a horn on a green baldric. He was a woodsman indeed, I believe.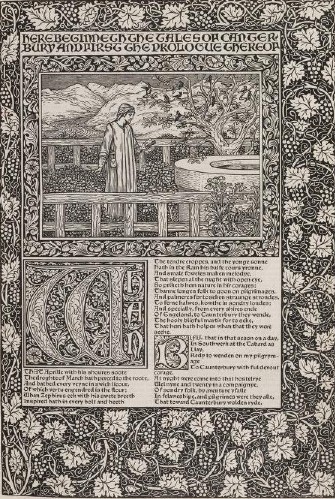 Image 5.3: The Canterbuy Tales Title Page | The title page for The Canterbury Tales featuring an artist rendering of Geoffrey Chaucer gazing into a well, a paper clutch in his hand.
Author: Edward Burne-Jones
Source: Archive.org
License: Public Domain
There was also a nun, a Prioress, quiet and simple in her smiling; her greatest oath was "by Saint Loy." She was named Madame Eglantine. Well she sang the divine service, intoned in a seemly manner in her nose, and spoke French elegantly, after the manner of Stratfordatte-Bow, for of Parisian French she knew nothing. She had been well taught the art of eating, and let no morsel fall from her lips, and wet but her finger-tips in the sauce. She knew how to lift and how to hold a bit so that not a drop fell upon her breast. Her pleasure was all in courtesy. She wiped her upper lip so well that no spot of grease was to be seen in her cup after she had drunk; and very dainty she was in reaching for her food. And surely she was of fine behavior, pleasant and amiable of bearing. She took pains to imitate court manners, to be stately in her demeanor and to be held worthy of reverence. But to tell you of her character, she was so charitable and so tender-hearted she would weep if she saw a mouse caught in a trap if it were dead or bleeding. She had certain small dogs, which she fed upon roasted meat or milk and finest wheaten bread. She would weep sorely if one of them died or was struck at sharply with a stick. She was all warm feeling and tender heart. Her wimple was pleated neatly. Her nose was slender, her eyes gray as glass, her mouth small and soft and red. Certainly she had a fine forehead, almost a span high; truly she was not undersized. Her cloak was neatly made, I could tell. About her arm was a coral rosary, the larger beads of green, upon which hung a brooch of shining gold; on it was engraved first an A with a crown, and after that Amor vincit omnia.
Another Nun, her chaplain, was with her, and three Priests.
There was a Monk, a very fine and handsome one, a great rider about the country-side and a lover of hunting, a manly man in all things, fit to be an abbot. He had many fine horses in his stable, and when he rode, men could hear his bridle jingling in a whistling wind as clear and loud as the chapel-bell where this lord was prior. Because the rule of St. Maurus or of St. Benedict was old and something austere, this same monk let such old things pass and followed the ways of the newer world. He gave not a plucked hen for the text that hunters are not holy, or that a careless monk (that is to say, one out of his cloister) is like a fish out of water; for that text he would not give a herring. And I said his opinion was right; why should he study and lose his wits ever poring over a book in the cloister, or toil with his hands and labor as St. Augustine bids? How shall the world be served? Let St. Augustine have his work to himself. Therefore he rode hard, followed greyhounds as swift as birds on the wing. All his pleasure was in riding and hunting the hare, and he spared no cost on those. I saw his sleeves edged at the wrist with fine dark fur, the finest in the country, and to fasten his hood under his chin he had a finely-wrought brooch of gold; in the larger end was a love-knot. His bald head shone like glass; so did his face, as if it had been anointed. He was a sleek, fat lord. His bright eyes rolled in his head, glowing like the fire under a cauldron. His boots were of rich soft leather, his horse in excellent condition. Now certainly he was a fine prelate. He was not pale, like a wasted spirit; best of any roast he loved a fat swan. His palfrey was as brown as a berry.
There was a begging Friar, lively and jolly, a very dignified fellow. In all the four orders there is not one so skilled in gay and flattering talk. He had, at his own expense, married off many young women; he was a noble pillar of his order! He was well beloved and familiar among franklins everywhere in his countryside, and also with worthy town women, for he had, as he said himself, more virtue as confessor than a parson, for he held a papal license. Very sweetly he heard confession, and his absolution was pleasant; he was an easy man to give penance, when he looked to have a good dinner. Gifts to a poor order are a sign that a man has been well confessed, he maintained; if a man gave, he knew he was contrite. For many people are so stern of heart that they cannot weep, though they suffer sorely; therefore, instead of weeping and praying, men may give silver to the poor friars. The tip of his hood was stuffed full of knives and pins as presents to fine women. And certainly he had a pleasant voice in singing, and well could play the fiddle; in singing ballads he bore off the prize. His neck was as white as the fleur-de-lis, and he was as strong as a champion. He knew all the town taverns, and every inn-keeper and bar-maid, better than the lepers and beggar-women. For it accorded not with a man of his importance to have acquaintance with sick lepers; it was not seemly, it profited not, to deal with any such poor trash, but all with rich folk and sellers of victual. But everywhere that advantage might follow he was courteous, lowly and serviceable. Nowhere was any so capable; he was the best beggar in his house, and gave a certain yearly payment so that none of his brethren might trespass on his routes. Though a widow might not have an old shoe to give, so pleasant was his "In principio," he would have his farthing before he went. He gained more from his begging than he ever needed, I believe! He would romp about like a puppy-dog. On days of reconciliation, or love-days, he was very helpful, for he was not like a cloister-monk or a poor scholar with a threadbare cope, but like a Master of Arts or a cardinal. His half-cope was of double worsted and came from the clothes-press rounding out like a bell. He pleased his whim by lisping a little, to make his English sound sweet upon his tongue, and in his harping and singing his eyes twinkled in his head like the stars on a frosty night. This worthy friar was named Hubert.
There was a Merchant with a forked beard, in parti-colored garb. High he sat upon his horse, a Flanders beaver-hat on his head, and boots fastened neatly with rich clasps. He uttered his opinions pompously, ever tending to the increase of his own profit; at any cost he wished the sea were safeguarded between Middleburg and Orwell. In selling crown-pieces he knew how to profit by the exchange. This worthy man employed his wit cunningly; no creature knew that he was in debt, so stately he was of demeanor in bargaining and borrowing. He was a worthy man indeed, but, to tell the truth, I know not his name.
There was also a Clerk from Oxford who had long gone to lectures on logic. His horse was as lean as a rake, and he was not at all fat, I think, but looked hollow-cheeked, and grave likewise. His little outer cloak was threadbare, for he had no worldly skill to beg for his needs, and as yet had gained himself no benefice. He would rather have had at his bed's head twenty volumes of Aristotle and his philosophy, bound in red or black, than rich robes or a fiddle or gay psaltery. Even though he was a philosopher, he had little gold in his money-box! But all that he could get from his friends he spent on books and learning, and would pray diligently for the souls of who gave it to him to stay at the schools. Of study he took most heed and care. Not a word did he speak more than was needed, and the little he spoke was formal and modest, short and quick, and full of high matter. All that he said tended toward moral virtue. Gladly would he learn and gladly teach.
There was also a Sergeant of the Law, an excellent man, wary and wise, a frequenter of the porch of Paul's Church. He was discreet and of great distinction; or seemed such, his words were so sage. He had been judge at court, by patent and full commission; with his learning and great reputation he had earned many fees and robes. Such a man as he for acquiring goods there never was; anything that he desired could be shown to be held in unrestricted possession, and none could find a flaw in his deeds. Nowhere was there so busy a man, and yet he seemed busier than he was. He knew in precise terms every case and judgment since King William the Conqueror, and every statute fully, word for word, and none could chide at his writing. He rode in simple style in a parti-colored coat and a belt of silk with small cross-bars. Of his appearance I will not make a longer story.
Traveling with him was a Franklin, with a beard as white as a daisy, a ruddy face and a sanguine temper. Well he loved a sop of wine of a morning. He was accustomed to live in pleasure, for he was a very son of Epicurus, who held the opinion that perfect felicity stands in pleasure alone. He ever kept an open house, like a true St. Julian in his own country-side. His bread and his wine both were always of the best; never were a man's wine-vaults better stored. His house was never without a huge supply of fish or meat; in his house it snowed meat and drink, and every fine pleasure that a man could dream of. According to the season of the year he varied his meats and his suppers. Many fat partridges were in his cage and many bream and pike in his fishpond. Woe to his cook unless his sauces were pungent and sharp, and his gear ever in order! All the long day stood a great table in his hall fully prepared. When the justices met at sessions of court, there he lorded it full grandly, and many times he sat as knight of the shire in parliament. A dagger hung at his girdle, and a pouch of taffeta, white as morning's milk. He had been sheriff and auditor; nowhere was so worthy a vassal.
A Haberdasher, a Carpenter, a Weaver, a Dyer, and an Upholsterer were with us also, all in the same dress of a great and splendid guild. All fresh and new was their gear. Their knives were not tipped with brass but all with fine-wrought silver, like their girdles and their pouches. Each of them seemed a fair burgess to sit in a guildhall on a dais. Each for his discretion was fit to be alderman of his guild, and had goods and income sufficient for that. Their wives would have consented, I should think; otherwise, they would be at fault. It is a fair thing to be called madame, and to walk ahead of other folks to vigils, and to have a mantle carried royally before them.
They had a Cook with them for that journey, to boil chickens with the marrow-bones and tart powder-merchant and cyprus-root. Well he knew a draught of London ale! He could roast and fry and broil and stew, make dainty pottage and bake pies well. It was a great pity, it seemed to me, that he had a great ulcer on his shin, for he made capon-in-cream with the best of them.
There was a Shipman, from far in the West; for anything I know, he was from Dartmouth. He rode a nag, as well as he knew how, in a gown of coarse wool to the knee. He had a dagger hanging on a lace around his neck and under his arm. The hot summer had made his hue brown. In truth he was a good fellow: many draughts of wine had he drawn at Bordeaux while the merchant slept. He paid no heed to nice conscience; on the high seas, if he fought and had the upper hand, he made his victims walk the plank. But in skill to reckon his moon, his tides, his currents and dangers at hand, his harbors and navigation, there was none like him from Hull to Carthage. In his undertakings he was bold and shrewd. His beard had been shaken by many tempests. He knew the harbors well from Gothland to Cape Finisterre, and every creek in Spain and in Brittany. His ship was called the Maudelayne.
With us was a Doctor, a Physician; for skill in medicine and in surgery there was no peer in this entire world. He watched sharply for favorable hours and an auspicious ascendant for his patients' treatment, for he was well grounded in astrology. He knew the cause of each malady, if it was hot, cold, dry or moist, from where it had sprung and of what humor. He was a thorough and a perfect practitioner. Having found the cause and source of his trouble, quickly he had ready the sick man's cure. He had his apothecaries all prepared to send him electuaries and drugs, for each helped the other's gain; their friendship was not formed of late! He knew well the old Aesculapius, Dioscorides and Rufus, Hippocrates, Haly and Galen, Serapion, Rhasis and Avicenna, Averroes, Damascene and Constantine, Bernard, Gatisden and Gilbertine. His own diet was moderate, with no excess, but nourishing and simple to digest. His study was only a little on Scripture. He was clad in red and blue-gray cloth, lined with taffeta and sendal silk. Yet he was but moderate in spending, and kept what he gained during the pestilence. Gold is a medicine from the heart in physicians' terms; doubtless that was why he loved gold above all else.
There was a Good Wife from near Bath, but she was somewhat deaf, and that was pity. She was so skilled in making cloth that she surpassed those of Ypres and Ghent. In all the parish there was no wife who should march up to make an offering before her, and if any did, so angered she was that truly she was out of all charity. Her kerchiefs were very fine in texture; and I dare swear those that were on her head for Sunday weighed ten pounds. Her hose were of a fine scarlet and tightly fastened, and her shoes were soft and new. Her face was bold and fair and red. All her life she was a worthy woman; she had had five husbands at the church-door, besides other company in her youth, but of that there is no need to speak now. She had thrice been at Jerusalem; many distant streams had she crossed; she had been on pilgrimages to Boulogne and to Rome, to Santiago in Galicia and to Cologne. This wandering by the way had taught her various things. To tell the truth, she was gap-toothed; she sat easily on an ambling horse, wearing a fair wimple and on her head a hat as broad as a buckler or target. About her broad hips was a short riding skirt and on her feet a pair of sharp spurs. Well could she laugh and prattle in company. Love and its remedies she knew all about, I dare give my word, for she had been through the old dance.
There was a good man of religion, a poor Parson, but rich in holy thought and deed. He was also a learned man, a clerk, and would faithfully preach Christ's gospel and devoutly instruct his parishioners. He was benign, wonderfully diligent, and patient in adversity, as he was often tested. He was loath to excommunicate for unpaid tithes, but rather would give to his poor parishioners out of the church alms and also of his own substance; in little he found sufficiency. His parish was wide and the houses far apart, but not even for thunder or rain did he neglect to visit the farthest, great or small, in sickness or misfortune, going on foot, a staff in his hand. To his sheep did he give this noble example, which he first set into action and afterward taught; these words he took out of the gospel, and this similitude he added also, that if gold will rust, what shall iron do? For if a priest upon whom we trust were to be foul, it is no wonder that an ignorant layman would be corrupt; and it is a shame (if a priest will but pay attention to it) that a shepherd should be defiled and the sheep clean. A priest should give good example by his cleanness how his sheep should live. He would not farm out his benefice, nor leave his sheep stuck fast in the mire, while he ran to London to St. Paul's, to get an easy appointment as a chantry-priest, or to be retained by some guild, but dwelled at home and guarded his fold well, so that the wolf would not make it miscarry. He was no hireling, but a shepherd. And though he was holy and virtuous, he was not pitiless to sinful men, nor cold or haughty of speech, but both discreet and benign in his teaching; to draw folk up to heaven by his fair life and good example, this was his care. But when a man was stubborn, whether of high or low estate, he would scold him sharply. There was nowhere a better priest than he. He looked for no pomp and reverence, nor yet was his conscience too particular; but the teaching of Christ and his apostles he taught, and first he followed it himself.
With him was his brother, a Ploughman, who had drawn many cartloads of dung. He was a faithful and good toiler, living in peace and perfect charity. He loved God best at all times with all his whole heart, in good and ill fortune, and then his neighbor even as himself. He would thresh and ditch and delve for every poor person without pay, but for Christ's sake, if he were able. He paid his tithes fairly and well on both his produce and his goods. He wore a ploughman's frock and rode upon a mare.
There was a Reeve also and a Miller, a Summoner and a Pardoner, a Manciple and myself. There were no more.
The Miller was a stout fellow, big of bones and brawn; and well he showed them, for everywhere he went to a wrestling match he would always carry off the prize ram. He was short-shouldered and broad, a thick, knotty fellow. There was no door that he could not heave off its hinges, or break with his head at a running. His beard was as red as any sow or fox, and broad like a spade as well. Upon the very tip of his nose he had a wart, and on it stood a tuft of red hair like the bristles on a sow's ears, and his nostrils were black and wide. At his thigh hung a sword and buckler. His mouth was as great as a great furnace. He was a teller of dirty stories and a buffoon, and it was mostly of sin and obscenity. He knew well how to steal corn and take his toll of meal three times over; and yet he had a golden thumb, by God! He wore a white coat and a blue hood. He could blow and play the bagpipe well, and with its noise he led us out of town.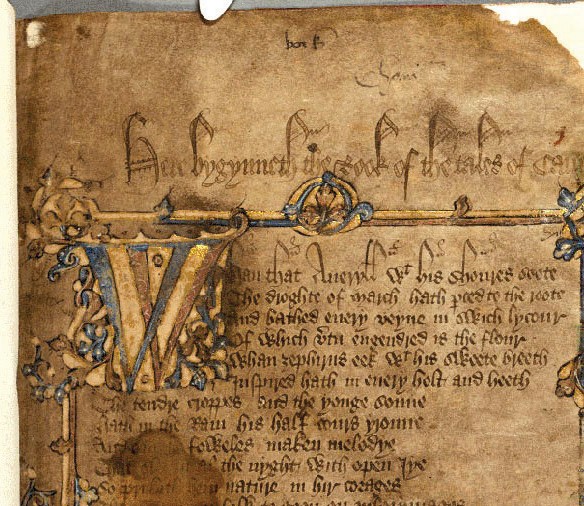 Image 5.4: Hengwrt Manuscript | The top of the page containing the
General Prologue for the Canterbury Tales from the Hengwrt manuscript.
Author: Unknown
Source: Wikimedia Commons
License: Public Domain
There was a gentle Manciple of an Inn of Court, of whom other stewards might take example for craftiness in buying victuals. Whether he paid in cash or took on credit, he was so watchful in his buying that he was always ahead and in good standing. Now is it not a full fair gift of God that the wit of such an unlettered man shall surpass the wisdom of a great body of learned men? He had more than a score of masters, expert and diligent in law, of whom in that house there were a dozen worthy to be stewards of lands and revenues of any lord in England, to let him live upon his income, honorably, free from debt, unless he were mad, or live as plainly as he would; or able to help a whole shire in any case that might occur. And yet this Manciple hoodwinked all of them.
The Reeve was a slender, bilious man. His beard was shaven as close as could be, and his hair was cut short around his ears and docked in front like a priest's. His legs were full and lean like a stick; I could see no calf. He could well keep a bin and a garner and no inspector could get the best of him. In the drought or in the wet he could foretell the yield of his grain and seed. His lord's sheep, poultry and cattle, his dairy and swine and horses and all his stock, this Reeve had wholly under his governance, and submitted his accounts thereon ever since his lord was twenty years of age; and none could ever find him out in arrears. There was no bailiff nor herdsman nor other churl whose tricks and craftiness he didn't know. They were as afraid of him as of the plague. His dwelling-place was a pleasant one on a heath, all shaded with green trees. Better than his lord he knew how to pick up wealth, and had a rich private hoard; he knew how to please his master cunningly by giving and lending him out of what was his master's by right, and to win thanks for that, and a coat and hood as a reward too. In his youth he had learned a good trade and was a fine carpenter and workman. This Reeve sat upon a fine dapple gray cob named Scot. He wore a long surcoat of blue and at his side a rusty blade. He was from Norfolk, near a town they call Baldeswell. His coat was tucked up around him like a friar's, and he always rode last of us all.
A Summoner was with us there, a fire-red cherubim-faced fellow, salt-phlegmed and pimply, with slits for eyes, scabby black eyebrows and thin ragged beard, and as hot and lecherous as a sparrow. Children were terrified at his visage. No quicksilver, white-lead, brimstone, borax nor ceruse, no cream of tartar nor any ointment that would clean and burn, could help his white blotches or the knobs on his chaps. He loved garlic, onions and leeks too well, and to drink strong wine as red as blood, and then he would talk and cry out like mad. And after drinking deep of wine he would speak no word but Latin, in which he had a few terms, two or three, learned out of some canon. No wonder was that, for he heard it all day long, and you know well how a jay can call "Walter" after hearing it a long time, as well as the pope could. But if he were tested in any other point, his learning was found to be all spent. Questio quid juris, he was always crying. He was a kind and gentle rogue; a better fellow I never knew; for a quart of wine he would allow a good fellow to have his concubine for a year and completely excuse him. Secretly he knew how to swindle anyone. And if anywhere he found a good fellow, he would teach him in such case to have no fear of the archdeacon's excommunication, unless a man's soul is in his purse, for it was in his purse he should be punished. "The Archdeacon's hell is your purse," he said. (But well I know he lied in his teeth; every guilty man should fear the church's curse, for it will slay, just as absolution saves, and also let him beware of a significavit.) Within his jurisdiction on his own terms he held all the young people of the diocese, knew their guilty secrets, and was their chief adviser. He had a garland on his head large enough for an ale-house sign, and carried a round loaf of bread as big as a buckler.
With him rode a gentle Pardoner, of Roncesvalles, his friend and companion, who had come straight from the court of Rome. He sang loudly, "Come here, love, to me," while the Summoner joined him with a stiff bass; never was there a trumpet of half such a sound. This Pardoner had waxy-yellow hair, hanging smooth, like a hank of flax, spread over his shoulders in thin strands. For sport he wore no hood, which was trussed up in his wallet; riding with his hair disheveled, bareheaded except for his cap, he thought he was all in the latest fashion. His eyes were glaring like a hare's. He had a veronica sewed on his cap, and his wallet, brimful of pardons hot from Rome, lay before him on his saddle. His voice was as small as a goat's. He had no beard nor ever would have, his face was as smooth as if lately shaven; I believe he was a mare or a gelding. But as for his trade, from Berwick to Dover there was not such another pardoner. In his bag he had a pillow-case which he said was our Lady's kerchief, and a small piece of the sail which he said St. Peter had when he walked upon the sea and Jesus Christ caught him. He had a cross of latoun, set full of false gems, and pigs' bones in a glass. But with these relics, when he found a poor parson dwelling in the country, in one day he gained himself more money than the parson gained in two months. And thus, with flattering deceit and tricks, he made the parson and the people his dupes. But to give him his due, after all he was a noble ecclesiastic in church; he could read well a lesson or legend and best of all sing an offertory. For he knew well that when that was done he must preach and file his tongue smooth, to win silver as he well knew how. Therefore he sang merrily and loud.
Now I have told you in few words the station, the array, the number of this company and why they were assembled in Southwark as well, at this noble inn, the Tabard, close to the Bell tavern. But now it is time to say how we behaved that same evening, when we had arrived at that inn; and afterward I will tell you of our journey and the rest of our pilgrimage.
But first I pray that by your courtesy you ascribe it not to my ill manners if I speak plainly in this matter, telling you their words and cheer, and if I speak their very words as they were. For this you know as well as I, that whoever tells a tale that another has told, he must repeat every word, as nearly as he can, although he may speak ever so rudely and freely. Otherwise, he must tell his tale falsely, or pretend, or find new words. He may not spare any, even if it were his own brother; he is bound to say one word as well as the next. Christ himself spoke plainly in Holy Scriptures and you know well there is no baseness in that. And Plato, whoever can read him, says that the word must be cousin to the deed.
I also pray you to forgive me though I have not set folk here in this tale according to their station, as they should be. My wit is short, you can well understand.
Our host put us all in good spirits, and soon brought us to supper and served us with the best of provisions. The wine was strong and very glad we were to drink. Our Host was a seemly man, fit to be marshal in a banquet-hall, a large man with bright eyes, bold in speech, wise and discreet, lacking nothing of manhood: there is not a fairer burgess in Cheapside. He was in all things a very merry fellow, and after supper, when we had paid our bills, he began to jest and speak of mirth among other things.
"Now gentle people," he said, "truly you are heartily welcome to me, for, by my word, if I shall tell the truth, I have not seen this year so merry a company at this inn at once. I would gladly make mirth if I only knew how. And I have just now thought of a mirthful thing to give you pleasure, which shall cost nothing. You go to Canterbury, God speed you, and may the blessed martyr duly reward you! I know full well, along the way you mean to tell tales and amuse yourselves, for in truth it is no comfort or mirth to ride along dumb as a stone.
"And therefore, as I said, I will make you a game. If it please you all by common consent to stand by my words and to do as I shall tell you, now, by my father's soul (and he is in heaven), tomorrow as you ride along, if you are not merry, I will give you my head. Hold up your hands, without more words!"
Our mind was not long to decide. We thought it not worth debating, and agreed with him without more thought, and told him to say his verdict as he wished.
"Gentle people," said he, "please listen now, but take it not, I pray you, disdainfully. To speak briefly and plainly, this is the point, that each of you for pastime shall tell two tales in this journey to Canterbury, and two others on the way home, of things that have happened in the past. And whichever of you bears himself best, that is to say, that tells now tales most instructive and delighting, shall have a supper at the expense of us all, sitting here in this place, beside this post, when we come back from Canterbury. And to add to your sport I will gladly go with you at my own cost, and be your guide. And whoever opposes my judgment shall pay all that we spend on the way. If you agree that this will be so, tell me now, without more words, and without delay I will plan for that."
We agreed to this thing and pledged our word with glad hearts, and prayed him to do so, and to be our ruler and to remember and judge our tales, and to appoint a supper at a certain price. We would be ruled at his will in great and small, and thus with one voice we agreed to his judgment. At this the wine was fetched, and we drank and then each went to rest without a longer stay.
In the morning, when the day began to spring, our host arose and played rooster to us all, and gathered us in a flock. Forth we rode, a little faster than a walk, to St. Thomas-a-Watering. There our Host drew up his horse and said, "Listen, gentle people, if you will. You know your agreement; I remind you of it. If what you said at the hour of evensong last night is still what you agree to this morning at the time of matins, let us see who shall tell the first tale. So may I ever drink beer or wine, whoever rebels against my judgment shall pay all that is spent on the journey. Now draw cuts, before we depart further; he who has the shortest shall begin the tales. Sir Knight, my master and my lord," said he, "now draw your lot, for this is my will, Come nearer, my lady Prioress, and you, sir Clerk, be not shy, study not; set your hands to them, every one of you."
Without delay every one began to draw, and in short, whether it were by chance or not, the truth is, the lot fell to the Knight, at which every one was merry and glad. He was to tell his tale, as was reasonable, according to the agreement that you have heard. What need is there for more words?
When this good man saw it was so, as one discreet and obedient to his free promise he said, "Since I begin the game, what, in God's name, welcome be the cut! Now let us ride on, and listen to what I say." And at that word we rode forth on our journey. And he soon began his tale with a cheerful spirit, and spoke in this way.
Here ends the Prologue of this book.
The Miller's Tale
Here follow the words between the Host and the Miller.
The Prologue of the Miller's Tale
When the Knight had ended his tale, in the entire crowd was there nobody, young or old, who did not say it was a noble history and worthy to be called to mind; and especially each of the gentle people. Our Host laughed and swore, "So may I thrive, this goes well! The bag is unbuckled, let see now who shall tell another tale, for truly the sport has begun well. Now you, Sir Monk, if you can, tell something to repay the Knight's story with."
The Miller, who had drunk himself so completely pale that he could scarcely sit on his horse, would not take off his hood or hat, or wait and mind his manners for no one, but began to cry aloud in Pilate's voice, and swore by arms and blood and head, "I know a noble tale for the occasion, to repay the Knight's story with."
Our Host saw that he was all drunk with ale and said, "Wait, Robin, dear brother, some better man shall speak first; wait, and let us work thriftily."
"By God's soul!" he said, "I will not do that! I will speak, or else go my way!"
"Tell on, in the Devil's name!" answered our Host. "You are a fool; your wits have been overcome."
"Now listen, one and all! But first," said the Miller, "I make a protestation that I am drunk; I know it by my voice. And therefore if I speak as I should not, blame it on the ale of Southwark, I pray you; for I will tell a legend and a life of a carpenter and his wife, and how a clerk made a fool of the carpenter."
"Shut your trap!" the Reeve answered and said, "Set aside your rude drunken ribaldry. It is a great folly and sin to injure or defame any man, and to bring woman into such bad reputation. You can say plenty about other matters.
This drunken Miller answered back immediately and said, "Oswald, dear brother, he is no cuckold who has no wife. But I do not say, therefore, that you are one. There are many good wives, and always a thousand good to one bad. That you know well yourself, if you have not gone mad. Why are you angry now with my tale? I have a wife as well as you, by God, yet for all the oxen in my plough I would not presume to be able to judge myself if I may be a cuckold; I will believe well I am not one. A husband should not be too inquisitive about God's private matters, nor of his wife's. He can find God's plenty there; he need not inquire about the remainder."
What more can I say, but this Miller would withhold his word for nobody, and told his churl's tale in his own fashion. I think that I shall retell it here. And therefore I beg every gentle creature, for the love of God, not to judge that I tell it thus out of evil intent, but only because I must truly repeat all their tales, whether they are better or worse, or else tell some of my matter falsely. And therefore whoever wishes not to hear it, let them turn the leaf over and choose another tale; for they shall find plenty of historical matters, great and small, concerning noble deeds, and morality and holiness as well. Do not blame me if you choose incorrectly. The Miller is a churl, you know well, and so was the Reeve (and many others), and the two of them spoke of ribaldry. Think well, and do not blame me, and people should not take a game seriously as well.
Here ends the Prologue.
Here begins the Miller's Tale.
A while ago there dwelt at Oxford a rich churl fellow, who took guests as boarders. He was a carpenter by trade. With him dwelt a poor scholar who had studied the liberal arts, but all his delight was turned to learning astrology. He knew how to work out certain problems; for instance, if men asked him at certain celestial hours when there should be drought or rain, or what should happen in any matter; I cannot count every one.
This clerk was named gentle Nicholas. He was well skilled in secret love and consolation; and he was also sly and secretive about it; and as meek as a maiden to look upon. He had a chamber to himself in that lodging-house, without any company, and handsomely decked with sweet herbs; and he himself was as sweet as the root of licorice or any setwall. His Almagest, and other books great and small, his astrolabe, which he used in his art, and his counting-stones for calculating, all lay neatly by themselves on shelves at the head of his bed.
His clothes-press was covered with a red woolen cloth, and above it was set a pleasant psaltery, on which he made melody at night so sweetly that the entire chamber was full of it. He would sing the hymn Angelus ad Virginem, and after that the King's Note. Often was his merry throat blessed. And so this sweet clerk passed his time by help of what income he had and his friends provided.
This carpenter had newly wedded a wife, eighteen years of age, whom he loved more than his own soul. He was jealous, and held her closely caged, for she was young, and he was much older and judged himself likely to be made a cuckold.
His wit was rude, and he didn't know Cato's teaching that instructed that men should wed their equal. Men should wed according to their own station in life, for youth and age are often at odds. But since he had fallen into the snare, he must endure his pain, like other people.
This young wife was fair, and her body moreover was as graceful and slim as any weasel. She wore a striped silken belt, and over her loins an apron white as morning's milk, all flounced out. Her smock was white and embroidered on the collar, inside and outside, in front and in back, with coal-black silk; and of the same black silk were the strings of her white hood, and she wore a broad band of silk, wrapped high about her hair.
And surely she had a lecherous eye; her eyebrows were arched and black as a sloe berry, and partly plucked out to make them narrow. She was more delicious to look on than the young pear-tree in bloom, and softer than a lamb's wool. From her belt hung a leather purse, tasseled with silk and with beads of brass.
In all this world there is no man so wise who could imagine such a wench, or so lively a little doll. Her hue shone more brightly than the noble newly forged in the Tower. And as for her singing, it was as loud and lively as a swallow's sitting on a barn. And she could skip and make merry as any kid or calf following its mother. Her mouth was sweet as honeyed ale or mead, or a hoard of apples laid in the hay or heather. She was skittish as a jolly colt, tall as a mast, and upright as a bolt. She wore a brooch on her low collar as broad as the embossed center of a shield, and her shoes were laced high on her legs. She was a primrose, a pig's-eye, for a lord to lie in his bed or even a yeoman to wed.
Now sir, and again sir, it so chanced that this gentle Nicholas fell to play and romp with this young wife, as clerks are very artful and sly, on a day when her husband was at Osney. And secretly he caught hold of her genitalia and said: "Surely, unless you will love me, sweetheart, I shall die for my secret love of you. And he held her hard by the thighs and said, "Sweetheart, love me now, or I will die, may God save me!"
She sprang back like a colt in the halter, and wriggled away with her head. "I will not kiss you, in faith," she said. Why, let me be, let me be, Nicholas, or I will cry out, 'Alas! Help!' Take away your hands, by your courtesy!"
But this Nicholas began to beg for her grace, and spoke so fairly and made such offers that at last she granted him her love and swore by Saint Thomas of Kent that she would do his will when she should see her chance.
"My husband is so jealous that unless you are secretive and watch your time, I know very well I am no better than dead. You must be very sly in this thing."
"No, have no fear about that," said Nicholas. "A clerk has spent his time poorly if he can not beguile a carpenter!"
And thus they were agreed and pledged to watch for a time, as I have told. When Nicholas had done so, petted her well on her limbs, and kissed her sweetly, he took his psaltery and made melody and played fervently.
Then it happened on a holy day that this wife went to the parish church to work Christ's own works. Her forehead shone as bright as day, since she had scrubbed it when she had finished her tasks.
Now at that church there was a parish clerk named Absolom. His hair was curly and shone like gold, and spread out like a large broad fan; its neat part ran straight and even. His complexion was rosy, and his eyes as gray as goose-quills. His leather shoes were carved in such a way that they resembled a window in Paul's Church. He went clad precisely and neatly all in red hose and a kirtle of a light watchet-blue; the laces were set in it fair and thick, and over it he had a lively surplice, as white as a blossom on a twig. God bless me, but he was a sweet lad!
He knew well how to clip and shave and let blood, and make a quittance or a charter for land. He could trip and dance in twenty ways in the manner of Oxford in that day, and cast with his legs back and forth, and play songs on a small fiddle. He could play on his cittern as well, and sometimes sang in a loud treble. In the whole town there was no brew-house or tavern where any tapster might be that he did not visit in his merrymaking. But to tell the truth he was some-what squeamish about farting and rough speech.
This Absalom, so pretty and fine, went on this holy day with a censer, diligently incensing the wives of the parish, and he cast many longing looks on them, and especially on this carpenter's wife. To look at her seemed to him a sweet employment, as she was so sweet and proper and lusty; I dare say, if she had been a mouse and he a cat, he would have pounced on her immediately. And this sweet parish-clerk had such a love-longing in his heart that at the offertory he would take nothing from any wife; for courtesy, he said, he would take none.
When at night the moon shone very beautifully and Absalom intended to remain awake all night for love's sake, he took his cittern and went forth, amorous and jolly, until he came to the carpenter's house a little after the cocks had crowed, and pulled himself up by a casement-window.
Dear lady, if your will so be,
I pray you that you pity me
He sang in his sweet small voice, in nice harmony with his cittern.
This carpenter woke, heard his song and said without hesitation to his wife, "What, Alison! Don't you hear Absalom chanting this way under our own bedroom-wall?"
"Yes, God knows, John," she answered him, "I hear every bit of it."
Thus it went on; what would you have better than well-enough? From day to day this jolly Absalom wooed her until he was all woe-begone. He remained awake all night and all day, he combed his spreading locks and preened himself, he wooed her by go-betweens and agents, and swore he would be her own page; he sang quavering like a nightingale; he sent her mead, and wines sweetened and spiced, and wafers piping hot from the coals, and because she was from the town he proffered her money. For some people will be won by rich gifts and some by blows and some by courtesy. Sometimes, to show his cheerfulness and skill, he would play Herod on a high scaffold.
But in such a case what could help him? She so loved gentle Nicholas that Absalom may as well go blow the buck's-horn. For all his labor he had nothing but scorn, and thus she made Absalom her ape and turned all his earnest to a joke. This proverb is true—it is no lie. Men say it is just so: "The sly nearby one makes the far dear one loathed." For though Absalom may go mad for it, because he was far from her eye, this nearby Nicholas stood in his light. Now bear yourself well, gentle Nicholas, for Absalom may wail and sing "Alack!"
And so it happened one Saturday that the carpenter had gone to Oseney, and gentle Nicholas and Alison had agreed upon this, that Nicholas would create a ruse to beguile this poor jealous husband; and if the game went as planned, she should be his, for this was his desire and hers also. And immediately, without more words, Nicholas would delay no longer, but had food and drink for a day or two carried softly into his chamber, and instructed her say to her husband, if he asked about him, that she did not know where he was; that she had not set eyes upon him all that day and she believed he was in some malady, for not by any crying out could her maid rouse him; he would not answer at all, for nothing.
Thus passed forth all that Saturday; Nicholas lay still in his chamber, and ate and slept or did what he wished, until Sunday toward sundown. This simple carpenter had great wonder about Nicholas, what could ail him. "By Saint Thomas," he said, "I am afraid all is not well with Nicholas. God forbid that he has died suddenly! This world nowadays is so ticklish, surely; to-day I saw carried to church a corpse that I saw at work last Monday. Go up, call at his door," he said to his boy, "or knock with a stone; see how it is, and tell me straight."
This boy went up sturdily, stood at the chamber-door, and cried and knocked like mad: "What! How! What are you doing, master Nicholas? How can you sleep all day long?"
But all was for nothing; he heard not a word. Then he found a hole, low down in the wall, where the cat would usually creep in; and through that he looked far into it and at last caught sight of him.
Nicholas sat ever gaping upward as if he were peering at the new moon. Down went the boy, and told his master in what plight he saw this man.
The carpenter began to cross himself and said, "Help us, Saint Frideswide! People know little what shall happen to them. This man with his astronomy is fallen into some madness or some fit; I always thought how it would end this way. Men were not intended to know God's secrets. Yes, happy is an unlearned man that never had schooling and knows nothing but his beliefs!
"So fared another clerk with his astronomy; he walked in the fields to look upon the stars, to see what was to happen, until he fell into a clay-pit that he did not see! But yet, by Saint Thomas, I am very sorry about gentle Nicholas. By Jesus, King of Heaven, he shall be scolded for his studying if I may. Get me a staff, Robin, so that I can pry under the door while you heave it up. I believe we shall rouse him from his studying!"
And so he went to the chamber door. His boy was a strong lad, and quickly heaved the door up by the hinges, and it immediately fell flat upon the floor. Nicholas sat ever as still as a stone, ever gaping into the air. This carpenter believed he had fallen into despair, and seized him mightily by the shoulders and shook him hard and cried wildly, "What, Nicholas! What, ho! What, look down! Awake, think on Christ's passion; I cross thee from elves and unearthly creatures!" And at that point he said the night-spell, toward the four corners of the house and on the outside of the threshold of the door:
Jesus Christ and sweet Saint Benedict
Bless this house from every wicked sprit.
For the night-hag, the white pater noster;
Where did you go, Saint Peter's sister?
At last this gentle Nicholas began to sigh sorely, and said, "Alack! Shall the entire world be destroyed again now?"
"What are you saying?" said the carpenter. "What now! Think on God, as we do, we men that work."
"Fetch me a drink," said Nicholas, "and after I will speak privately of a certain thing that concerns you and me both. I will tell it to no other man, you can be sure."
The carpenter went down and came again bringing a large quart of mighty ale; and when each of them had drunk his share, Nicholas shut his door fast and set the carpenter down beside him.
"John, my dear host," he said, "you shall swear to me here on your honor that you will reveal this secret to no creature; for it is Christ's own secret that I show you, and if you tell it to any you are a lost man. For this vengeance you will receive, therefore: if you betray me, you shall run mad!"
"No, may Christ and His holy blood forbid!" said this simple man. "I am no blabber, and though I say it myself, I am not wont to prate. Say what you will, I shall never utter it to man, woman or child, by Him That harrowed hell!"
"Now, John, I will not deceive you," said Nicholas; "I have found by my astrology, as I have been looking in the shining moon, that now a Monday next, about a quarter through the night, there shall fall a rain so wild and mad that never was Noah's flood half so great. This world shall all be drowned in less than an hour, so hideous shall be the downpour. Thus shall all mankind perish in the flood."
"Alas, my wife! And shall she drown?" this carpenter answered, and nearly fell over for sorrow. "Alas, my Alison! Is there no remedy?"
"Why yes, before God, if you will work according to wise advising," said gentle Nicholas; "but you may not work out of your own head. For thus says Solomon, and he was right trustworthy, "Work all by counsel, and you shall never repent." And if you will work after good advice, I undertake without mast or sail to save both her and you and me. Have you not heard how Noah was saved, when our Lord had warned him that the entire world should be destroyed with water?"
"Yes," said the carpenter, "I heard it long, long ago."
"Have you not heard also," said Nicholas, "the woe that Noah and his sons had before he could get his wife aboard? He had rather than all his black rams then, I dare be bound, that she had had a ship all to herself! Do you know then what is best to do? This thing calls for haste, and on an urgent matter one may not preach or delay. Go immediately and get us directly into this house a kneading-trough or else a brewing-tub for each of us (but make sure that they are large), in which we may swim as if in a barge and have in enough provisions for a day we will need no more. The water shall slacken and run off about nine o'clock on the next day. But Robin your boy must not know of this, and I cannot save your maid Jill either. Do not ask why, for even if you ask me I will not tell God's secret. It ought to suffice you, if your wits are not turning, to have as great a grace as Noah had. I shall save your wife, I promise you. Go your way now, and make haste.
"But when you have obtained these three kneading-tubs for us three, then you shall hang them from the rafters high in the roof, so that no man notice our device. And when you have done this, and laid our provisions in them nicely, and an axe as well to strike the cord in two when the water comes, and when you have broken a hole on high in the gable toward the garden over the barn, so that we may freely go on our way when the great shower is past then you will float as merrily, I will be bound, as the white duck after her drake. Then will I call out, 'How, Alison! How, John! Be merry; the flood will soon pass.' And you will answer, 'Hail, Master Nicholas! Good morning, I see you well, it is daylight now!' And then we shall be lords over the entire world until we die, just as Noah and his wife!
"But one thing I warn you of strictly. Be well advised on that night when we have entered aboard ship that none of us speaks a word, neither calls nor cries, but we must be in our prayers. For that is God's own precious command. And your wife and you must hang far apart, so that there will be no folly between you, any more in looking than in action. Now that all this plan is explained to you; go, and may God help you! Tomorrow at night, when people are all in bed, we will creep into our kneading-tubs and sit there, awaiting God's grace. Go your way now; I have no time to make a longer sermon of this. Men say thus: "Send the wise and say nothing." You are so wise that there is no need to teach you. Go, save our lives, I entreat you."
This simple carpenter went his way often crying "alack!" and "alas!", and told the secret to his wife. And she was wary, and knew better than he what this quaint plan was about. But nevertheless she acted as if she would die, and said, "Alas! Go your way at once and help us to escape, or else we are all lost; I am your true, faithful wedded wife. Go, dear spouse, and help to save us!
Lo, how great a thing is feeling! Men may die of imagination, so deep may the impression be. This simple fellow began to quake; he thought he could truly hear Noah's flood come wallowing like the sea to drown his honey sweet Alison; he wept, wailed and made sorrowful expression, and he sighed with many a sorry gust. He went and got himself a kneading-trough, and after that a tub and a cask, sent them secretly to his house and hung them in the roof. With his own hand he made three ladders, to climb by the rungs and uprights into the tubs hanging among the beams; and supplied tub and trough and cask with bread and cheese as well as good ale in a large jug, sufficient for a day. But before he had made all this gear, he sent his serving boy and girl to London about his business. And as it drew toward night on the Monday, he lit no candle, but shut the door and ordered all things as they should be; and, in brief, up they all three climbed, and sat still while a man could walk a furlong.
"Now mum, and say a pater noster!" said Nicholas; and "Mum!" said John, and "Mum!" Alison. This carpenter sat still and said his prayers, ever listening for the rain, if he could hear it.
The dead sleep, for very weariness and apprehension, fell on this carpenter even about curfew-time or a little later, as I suppose; he groaned sorely in the travail of his spirit, and eke snored, for his head lay uneasily. Down the ladder stalked Nicholas, and Alison sped down very softly; and they were in mirth and glee, until the bells began to sound for lauds, and friars in the chancel began to sing.
This parish-clerk, amorous Absalom, always so woe-begone for love, was at Oseney on that Monday to amuse himself and make merry, with a party; and by chance he secretly asked a cloister-monk after John the carpenter. The monk drew him aside out of the church. "I know not," he said; "I have not seen him work here since Saturday. I believe he has gone where our abbot has sent him for timber, for he is accustomed to go for timber and remain at the grange a day or two. Or else he is at home, certainly. In truth I cannot say where he is."
This Absalom grew very merry of heart, and thought, "Now is the time to wake all night, for certainly since daybreak I have not seen him stirring about his door. On my soul, at cockcrow I shall knock secretly at his window which stands low upon his chamber-wall. To Alison now will I tell the whole of my love-longing, and now I shall not fail at the least to have a kiss from her. I shall have some sort of comfort, in faith. My mouth has itched all day long; that is a sign of kissing at least.
All night eke I dreamed I was at a festival. Therefore I will go sleep an hour or two, and then I will wake all night in mirth."
When the first cock had crowed, up rose this frisky lover, and arrayed him in his gayest with all nicety. But first he chewed cardamoms and licorice to smell sweetly, before he had combed his hair, and put a true-love charm under his tongue, for by this he hoped to find favor. He rambled to the carpenter's house, and stood still under the casement, which was so low it reached to his breast. He gave a soft half-cough,-"What do you, sweet Alison, honeycomb? My fair bird, my darling! Awake, sweet cinnamon, and speak to me. You think right little upon my sorrow, who sweat for your love wherever I go!
No wonder though I languish and sweat! I mourn like a lamb after the dug. In faith, darling, I have such love-longing that I mourn like the true turtle-dove. I cannot eat, no more than a maiden."
"Go from the window, Jack-fool," she said. "On my soul, there will be no singing "Come kiss me now." I love another better than you, by heaven, Absalom, and else I were at fault. Go your ways, or I will cast a stone at you, and let me sleep, in the Devil's name!"
"Alas!" he said. "Alackaday that true love was ever so ill bestowed! Then kiss me, since it may be no better, for Jesus' love, and for the love of me."
"Will you then go your way with that?" she said. "Yes, surely, sweetheart," said this Absolom.
"Then make yourself ready," she said, "I am coming now."
And to Nicholas she said silently, "Now hush, and you shall laugh your fill."
This Absolom set himself down on his knees and said, "I am a lord of the highest degree; for after this I hope there will come more. Sweetheart, your grace, and sweet bird, your favor!"
She unlatches the window, and does so in haste. "Take this," she said, "come now, and move quickly, lest our neighbors see you."
This Absolom wiped his mouth dry. Dark as pitch, or as coal, was the night, and at the window she put out her hole, and Absolom, who knew no better or worse but with his mouth he kissed her naked ass so sweetly, before he was aware of this.
He started aback, and thought something was amiss, for well he knew a woman has no beard. He felt something all rough and long-haired, and said, "Fy! alas! What have I done?"
"Tee hee!" she said, and shut the window, and Absolom went forth with troubled steps.
"A beard! A beard!" said handy Nicholas, "By God's body, this goes fair and well."
This foolish Absolom heard every bit, and on his lips he began to bite angrily, and said to himself, "I shall pay you back."
Who rubs now, and who chafes now, his lips with dust, with sand, with straw, with cloth, with chips, but Absolom, who says over and over, "Alas! I commend my soul unto Satan"? But I would rather be revenged for this insult" he said, "than own this entire town. Alas," he said, "alas, that I did not turn aside!"
His hot love was now cold and entirely quenched; for from that moment that he had kissed her ass, he cared not a straw for things of love, for he was healed of his sickness. Often the things of love he defied, and wept as does a child that is beaten.
This Absalom walked slowly across the street to a smith called Master Gervase, who forged plough-instruments at his forge. He was busily sharpening coulter and share when Absalom knocked very gently and said, "Unlock the door, Gervase, and do it quickly."
"What! Who are you?" "It is me, Absalom."
"What, Absalom! By the cross, why are you up so early? Eh, God bless! What ails you? Some pretty girl, God knows, has brought you to stir so early. By Saint Neot, you know well what I mean!"
This Absalom cared not a peascod for all his mocking, and returned not a word in kind. He had more wool on his distaff than Gervase knew, and said, "Dear friend, that hot coulter in the chimney—lend it to me. I have something to do with it; and I will bring it you again right away.
"Surely," answered Gervase, "even if it were gold or nobles in a bag all uncounted, you should have it, as I am a faithful smith! Eh, the Devil, what do you want to do with it?"
"That is as it may be," said Absalom. I shall tell you tomorrow;" and he took up the coulter by the cool handle.
Softly he went out the door and went to the wall of the carpenter's house. He coughed first, and knocked withal upon the window, as he did before.
"Who is there that knocks so?" Alison answered. "I warrant it a thief!"
"Why nay," he said, "God knows, my sweet, I am your Absalom, my sweetheart. I have brought you a ring of gold; my mother gave it me, on my life! It is very fine and nicely engraved. I will give you this, if you kiss me!"
This Nicholas had risen to take a piss, and he thought he would contribute to the joke; he should kiss him before he ran off! And he threw up the window in haste and quietly put his ass out—past the buttocks, all the way to the thigh-bone. Thereupon spoke this clerk Absalom, Speak, sweet bird, I know not where thou art. This Nicholas then let fly a fart as great as a thunder-clap, so much so that with the stroke Absalom was almost blinded; and he was ready with his hot iron and smote Nicholas on the ass.
Off went the skin, about a hands-breadth around, the hot coulter burned his rump so, and for the pain he thought he would die. "Help! Water, water! Help, help, for God's sake!" he cried like a madman.
The carpenter started out of his slumber; he heard one cry wildly "Water!", and thought, "Alas! Noah's flood is coming now!" He sat up without a word, and with his axe struck the cord in two, and down went tub and all; they stopped for nothing until they came to the floor, and there he lay in a swoon.
Up started Alison and Nicholas, and cried "Help!" and "Alack!" in the street. The neighbors young and old ran to stare upon him as he lay yet in a swoon, for with the fall he had broken his arm.
But he must even digest his own trouble, for when he spoke he was talked down by Alison and gentle Nicholas. They told every man he was mad, he was aghast so of "Noah's flood" in his fantasy, that of his folly he had bought him three kneading-tubs and had hung them above in the roof; and had prayed them for God's sake to sit with him in the roof, to keep him company.
People laughed at his odd quirk; into the roof they peered and gawked, and turned all his trouble into mirth. For whatever the carpenter answered, it was all for naught; no man heard his speeches, he was so sworn down by the great oaths of the others that in the entire city he was held as mad. Every clerk then agreed with every other clerk: "the man is mad, my dear brother!" And every creature laughed over this contention.
Thus the carpenter lost his wife, for all his watching and jealousy; and Nicholas was sore burned. This tale is done, and God save the entire company.
Here ends the Miller's Tale.
The Wife of Bath's Tale
The Prologue of the Wife of Bath's Tale
"Experience, though it would be no authority in this world, would be quite sufficient for me, to speak of the woe that is in marriage; for, gentle people, since I was twelve years old—thank God, Who lives forever—I have had five husbands at the church-door (for I have been wedded so often); and all were worthy men in their ranks. But in truth I was told not long ago that since Christ went only once to a wedding, in Cana of Galilee, by that same example he taught me that I should be wedded only once. Lo! Hear what a sharp word Jesus, man and God, spoke on a certain occasion beside a well, in reproof of the Samaritan woman. He said, 'You have had five husbands; and that man who has you now is not your husband.' Thus he said, certainly. What he meant by it I cannot say; but I ask, why the fifth man was no husband to the Samaritan woman.
"How many could she have in marriage? At this point I have never in my life heard a designation of the number. Men may divine and interpret up and down, but well I know, surely, God expressly instructed us to increase and multiply. I can well understand that noble text. Likewise, I know well he said also that my husband should leave father and mother and take me. But he did not mention any number, not bigamy or of octogamy. Why should men speak villainously of them?
"Lo, Sir Solomon the wise king! I believe he had more than one wife, and I wish to God it were lawful for me to be refreshed half so often! What a gift of God he had in all his wives! No man who lives in this world now has so many. God knows this noble king, to my thinking, had a merry life with each of them, so joyous was his lot! Blessed be God that I wedded five! And they were the best that I could pick out, both in their bodies and of their coffers. A variety of schools make perfect scholars, and much practice in a variety of employments truly makes the perfect workman. I have the schooling of five husbands. I would welcome the sixth, whenever he shall come! In truth, I will not keep myself wholly chaste; when my husband has departed from the world, then some other Christian man shall wed me. For then, the apostle says, I am free, in God's name, to wed where I wish.
"He says that it is no sin to be wedded; it is better to be wedded than to burn. What do I care if people speak badly of cursed Lamech and his bigamy? Well I know Abraham was a holy man, and Jacob as well, as far as I know, and each of them had more than two wives. And many other holy men did as well.
"When have you seen that in any time great God forbade marriage explicitly? Tell me, I pray you. Or where did he command virginity? You know as well as I, without a doubt, that the apostle, when he speaks of maidenhood, says that he had no instructions on it. Men may counsel a woman to be single, but counseling is not commanding; he left it to our own judgment. For if God had commanded maidenhood, then with that same word had he condemned marrying. And certainly, if no seed were sown, from where then should virgins spring? Paul dared not command a thing for which his master gave no order. The prize is set for virginity—win it who can. Let us see who runs best.
"But this command is not to be taken by every creature, but only where Almighty God wishes to give it through his might. The apostle was a virgin, I know well, but nevertheless, though he wrote that he wished every creature to be like him, all that is only advice to be a virgin; and he gave me leave and indulgence to be a wife. So likewise, if my spouse should die, there is no shame or charge of bigamy to marry me. It would be good, he said, to touch no woman, for it is a peril to bring together fire and hay. You know what this example may mean.
"This is the sum of it all: the apostle held virginity to be more perfect than marriage because of weakness. I call them weak unless man and wife would lead all their life in chastity. I grant it well, I have no malice even if maidenhood were set above remarriage. It pleases them to be clean, body and soul; of my own estate I will make no boast. For you well know that not every vessel in a lord's house is made of gold; some are of wood, and do their lord service. God calls people to him in various manners, and each one has his own gift from—one this, one that, as it pleases God to provide. Virginity is a great perfection, and devoted chastity as well.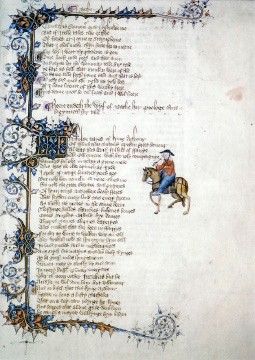 Image 5.5: The Wife of Bath Prologue | "The Wife of Bath" prologue, a
tale from The Canterbury Tales, from the Ellesmere manuscript.
Author: User "SkedO"
Source: Wikimedia Commons
License: Public Domain
But Christ, the fountain of perfection, did not instruct every person to go sell all that he had and give to the poor, and in such a fashion follow him and his footsteps. "He spoke this to those people who wished to be perfect; and by your leave, gentle people, I am not one of those. I will use the flower of my life in the acts and fruits of marriage.
Tell me also, for what purpose were members of procreation made, and made in such a perfect manner? Trust well, they were not made for nothing. Whosoever wishes to interpret may do so, and interpret things up and down that and say that they were made for purging urine and that both our small things were also to know a female from a male and for no other cause—did someone say no? Those with experience know well it is not so. So that scholars will not be angry with me, I say this: that they are made for both; that is to say, for duty and for ease of procreation, providing we do not displease God. Why should men otherwise set down in their books that man shall yield to his wife her debt? Now with what should he make his payment, if he did not use his blessed instrument? They were made then upon a creature to purge urine, and for procreation as well.
But I do not say that every person who has such equipment is bound to go and use it for procreation. For that reason people should men take no heed of chastity. Christ was a virgin and created as a man, as were many saints since the beginning of the world; yet they always lived in perfect chastity. I will not envy any virginity. Let virgins be called bread of purified wheat-seed, and let us wives be called barley-bread; and yet, as Mark can tell, our Lord Jesus refreshed many people with barley-bread. I will persevere in such a state as God has called us to; I am not particular. In wifehood I will use my instrument as freely as my Maker has sent it. If I am unaccommodating to my husband, may God give me sorrow. My husband shall have it both evening and morning, whenever it pleases him to come forth and pay his debt. I will not stop. I will have a husband who will be both my debtor and servant, and have his tribulation upon his flesh, while I am his wife. As long as I live I, and not he, have the power over his body. The apostle told it to me in this very way, and instructed our husbands to love us well. This entire subject pleases me well, every bit.
Up started the Pardoner, and without delay. "Now lady," he said, "by God and St. John, you are a noble preacher in this matter! I was about to wed a wife; alas! Why should I pay for it so dearly upon my flesh? I would rather not wed any wife this year."
"Wait! My tale is not yet begun," she said. "No, before I go you shall drink out of another barrel that will taste worse than ale. And when I have told my story to you about the tribulation in marriage, in which I have been expert all my life (that is to say, I myself have been the scourge), then you may choose whether you will sip of that same barrel that I shall broach. Be mindful, before you come too close; for I shall tell half a score of examples. 'Whosoever will not be warned by other men, by him shall other men be corrected': these same words writes Ptolemy; read his Almagest."
"Lady," said this Pardoner, "I would pray you, if it were your pleasure, tell your tale as you began, hold back for no man, and teach us young men from your experience."
"Gladly," she said, "if it may please you. But I beg all of you in this company, if I speak according to my fancy, do not take it amiss. For my intent is but to make sport. Now, sirs, I will continue.
"May I never see another drop of ale or wine, if I did not tell the truth about my husbands, as three of them were good, and two of them were bad. The three men were good, rich and old, and they hardly could keep their obligation to me, by which they were bound to me. By God, you know well what I mean by this. May God help me, I laugh when I think how pitifully I made them work at night! And, by my faith, I found it useless. I did not need to make an effort or pay them any respect to win their love. They loved me so well, by God above, that I set no value on their love. A wise woman will always attempt to win love where she has none; but since I had them wholly in my hand and had all their land, why should I bother to please them, unless it were for my profit and pleasure? I ruled them so, by my faith, that many nights they sang 'alas!'
"Not for them, I believe, was fetched the bacon that some men win at Dunmow in Essex. I governed them so well by my rules that each of them was blissful and glad to bring me beautiful things from the fair. They were glad when I spoke friendly to them, for God knows, I chided them without mercy. Now listen, you wise wives who can understand, hear how craftily I behaved myself.
"Thus shall you speak, and thus you shall put them in the wrong, for there is no man who can swear and lie half so boldly as a woman. I say this for the benefit of wise wives when they have made a little misstep. A wise wife, if she knows what is good for her, shall make a man believe that the jackdaw is mad, and shall use her own maid as a witness to confirm it.
"But now hear how I spoke: -'Old sir fogey, is this how you would have things? Why is my neighbor's wife so fine? She is honored everywhere she goes, while I have no decent clothes and must sit at home. Are you in love? What are you doing at my neighbor's house? Is she so fair? What do you whisper with our maid? God bless! Leave behind your tricks, old sir lecher! And if I have a friend or a gossip, completely innocent, and I walk to his house or amuse myself there, you chide me like a fiend. You come home as drunk as a mouse and sit on your bench preaching, with no good reason. You say to me, it is a great evil to wed a poor woman, for the cost; and if she were rich, of noble birth, then you say that it is a torment to suffer her pride and her melancholy. And if she were fair, you say that every lecher will have her, you very knave! She who is assailed on every side cannot remain in chastity for long.
"'You say that some folk desire us for our wealth, some for our figure, some for our beauty, some because we can sing or dance, some for our manners and mirth, and some for our hands and slim arms. Thus all goes to the Devil, by your account.
"'You say that a castle wall can not be defended when it is assailed so long from every side. And if a woman be foul, then you say that she covets every man she sees, and will leap on him like a spaniel, until she find some man to do business with her. You say no goose in the lake that is too grey to look for a mate. And you say that it is a hard matter to control a thing that no man would be willing to keep.
"'Thus you say, old fool, when you are going to bed; that no wise man need marry, nor any man who hopes for heaven. With a wild thunder-clap and fiery lightning-bolt may your withered neck be snapped in two! You say that leaky houses, smoke, and chiding wives, make men flee from their own homes.
"'Ah, God bless! What ails such an old man to scold like this? You say that we wives will cover our vices until we are safely married, and then we show them. That is a villain's proverb! You say that oxen, asses, horses, and hounds are tested for some time before men buy them, and so are basins, wash-bowl, spoons, stools, pots, clothes, attire, and all such household stuff; but people make no test of wives until they are wedded. And then, you old rascally dotard, you say, we will show our vices.
"'You say also it displeases me unless you praise my beauty and gaze ever upon my face and call me "fair lady" everywhere; and unless you make a feast on my birthday, and dress me gay and freshly; and unless you do honor to my nurse, and to my maid in my bower, and to my father's family—all this you say, old barrel-full of lies.
"'And yet you have gathered a false suspicion of our apprentice Jankin, for his crisp hair shining like fine gold, and because he escorts me back and forth. I would not have him, even if you should die tomorrow! But tell me this—and bad luck to you!—why do you hide the keys of your chest from me? By God, they are my goods as well as yours! Why do you intend to make a fool of the mistress of your house? Now by the lord who is called St. James, however you may rage, you shall not be master both of my body and of my goods; you must give up one of them, in spite of your eyes.
"'What good does it do if you inquire after me or spy upon me? You want to lock me in your chest, I believe! You should say, "Wife, go where you wish, take your pleasure, I will believe no tales; I know you for a true wife, Lady Alice." We love no man who takes note or care where we go; we wish to have our freedom. May he be blessed
of all men, that wise astrologer, Sir Ptolemy, who says this proverb in his book Almagest, "Of all men, he who never cares who has the world in hand has the greatest wisdom." You are to understand by this proverb that you have enough: why do you need to care how well-off other people are? For in truth, old fogey, you shall have plenty of pleasing thing in the evening. He who will forbid a man to light a candle at his lantern is too great a miser; by God, he should have light, nevertheless. So you have enough; you need not complain.
"'You say also that if we make ourselves amorous with clothing and with costly dress, it would be a peril to our chastity; and yet—may the plague take you!—you must confirm it with these words of the apostle: "Ye women shall apparel yourselves in garments made with chastity and shame," he said, "and not with tressed hair and splendid gems and pearls, nor with gold, nor rich clothes." I would not give a fly for your text or your rubric.
"'You said also I was like a cat; for a cat, if someone were to singe the cat's skin, will always dwell at home; but if she were sleek and elegant in her fur, she will not remain in the house an hour, but before any day would dawn, will go forth to show her skin and go a-caterwauling. This is to say, sir rogue, if I am finely dressed, I will run out to show my clothes.
"'Sir old fool, what ails you to spy after me? Even if you were to ask Argus to be my sentry with his hundred eyes as best he can, in faith, he shall not keep watch over me unless it suits me. Still I could deceive him, as I hope to prosper!
"'You say also that there are three things that trouble this entire world, and that no creature can endure the fourth. Oh, dear sir rascal, may Jesus shorten your life! Still you preach and say a hateful woman is considered one of these adversities. Are there no other things you can use for comparison without an innocent wife being one of them?
"'You compare woman's love to hell, or to barren land where no water can lie. You compare it also to wildfire; the more it burns, the more it desires to consume everything that can be burned. You say that just as worms destroy a tree, so too a wife destroys her husband; those who are tied to women know this.
"Gentle people, in this very way, as you can see, I would firmly swear to my old husbands, that they said this in their drunkenness; and all was false, except I got Jankin and my niece to be my witnesses. O Lord! The pain and woe I did them, though they were innocent, by God's sweet suffering! For I could bite and whinny like a horse. I knew how to complain, even if I was guilty; or else I would have often been undone. He who first comes to the mill, grinds first; I complained first, and thus our war was ended. They were very glad to excuse themselves hurriedly of things that they never had done in all their lives. I would accuse my old husband of visiting prostitutes, even when they were so sick that they could scarcely stand.
"Yet I tickled his heart because he thought that I had such great fondness for him. I swore that all my walking about at night was to spot wenches whom he slept with. Under that pretext I had many privy jests at him; for all such wit is given to us when we are born. God has given deceit, weeping, and spinning to women by nature, so long as they live.
"And thus I boast of one thing for myself: in the end I had the better in every way, by cunning, or by force, or by some type of device, such as continual murmuring or grumbling. And most chiefly at night they had ill fortune; then I would scold and grant him no pleasure. I would not stay in bed any longer if I felt his arm over my side, until he had paid his ransom to me. And therefore I tell this to every man: let he who can, prosper, for everything has its price. Men may lure no hawks with an empty hand. For the sake of gain I would give them their way, and pretend to have an appetite; and yet I never had pleasure in bacon, from Dunmow or elsewhere. And so I would be chiding them all the time; even if the pope had sat beside them, by my word, I would not spare them at their own table. I repaid them word for word; so may the Almighty Lord help me, if I ere to make my testament right now, I would not owe them a word that has not been repaid. By my wits I made it so that they were glad to surrender, as their best option, or we would have never been at peace. For though my husband looked like a mad lion, he was nonetheless bound to fail in his purpose.
"Then would I say, 'Good dear, take note how meekly Wilkin our sheep looks; come near, my spouse, let me kiss your cheek. You should be all patient and mild, and have a sweet tender conscience, since you thus preach of the patience of Job. Always endure, since you can preach so well; and unless you do, we must teach you for sure that it is pleasant to have a wife in peace. Truly, one of us two must bend to the other and since a man is more reasonable than a woman, you must be patient. What ails you to grumble and groan in this way? Is it because you want to have my body all to yourself? Why, take it all! Have every bit! By Peter, I curse you, but you love it well! If I would sell my beautiful thing, I could walk as fresh as a rose, but I will keep it for your own taste. You are to blame, by God! I tell you the truth." We had this sort of words between us; but now I will speak about my fourth husband.
"My fourth husband was a reveller, that is to say, he had a paramour—and I was young and full of frolic, stubborn and strong, and jolly as a magpie. I could dance well to a little harp, and sing like any nightingale, when I had taken a draught of sweet wine. Metellius, the filthy churl, the swine, who with a staff bereft his spouse of her life, because she drank wine, would not have frightened me from drink, if I had been his wife! And when I think of wine I must think of Venus; for just as surely as cold engenders hail, a lecherous mouth leads to a lecherous body. There is no defense in a woman who is full of wine, as lechers know by experience.
"Lord Christ! But when I think about my youth and mirth, it tickles me at the root of my heart! To this very day it does my heart good that I have had my fling in my time. But alas! Age, which envenoms all things, has bereft me of my beauty and energy. Let them go. Farewell! May the Devil go with them! The flour is gone, and there is no more to say; now I sell the bran as best as I can. But even now I will strive to be very merry.
"Now I will tell of my fourth husband. I say I had great resentment in my heart that he had pleasure in any other. But by the Lord and Saint Joce, he was paid back! I made a cross from the same wood for his back; not with my body, in any foul manner, but truly I offered people such generous hospitality that for anger and absolute jealousy I made him fry in his own grease. By God, I was his purgatory on earth, wherefore I hope that his soul is in glory now.
"For God knows, he sat often and sang, when his shoe pinched him bitterly: No creature knew, except God and he, how sorely I twisted him in so many ways. He died when I returned home from Jerusalem, and lies buried under the cross-beam, albeit his tomb is not quite as elaborately crafted as the sepulcher of Darius that Apelles so skilfully made. It would have been a waste to bury him at such an expense! Farewell to him; he is now in his grave and in his coffin—God rest his soul!
"Now will I speak of my fifth husband—may God never allow his soul to enter hell! And yet he was the most villainous to me, as I can still feel on my ribs all in a row, and ever shall to my ending day. But he was so fresh and merry, and could sweet-talk so well that, even if he had beaten me on every bone, he could soon win my beautiful thing again. I believe I loved him best, because he was sparing in his love.
"We women have, to tell the truth, an odd fantasy on this matter; whatever thing we can not easily win we will cry after continually and crave. "Forbid us something, and we desire that thing. Press on us hard, and then we will flee. With much reserve we offer our merchandise; a large crowd at the market makes our wares expensive; wares offered at too low a price will be thought to have little value. Every wise woman knows this.
"My fifth husband—may God bless his soul—which I took for love and not for riches, was sometime an Oxford scholar; and he had left school, and went to board with my good friend, who dwelt in our town. May God keep her soul! Her name was Alisoun. She knew my heart and my private thoughts better than our parish priest, by my soul! To her I revealed all my secrets.
"For had my husband peed on a wall, or done something that would have cost him his life, I would have told his every bit of his secret to her, and to another worthy wife, and to my niece, whom I loved well. And I did so often, God knows, which often made his face red and hot for true shame, and he would blame himself for telling me so great a secret.
"And so it happened that once, in Lent, (as I so often did, I visited my friend, for I still always loved to be merry, and to walk from house to house in March, April, and May, to hear various tales) that Jankin the clerk, my friend dame Alice, and I walked into the fields. All that spring my husband was in London; I had a better opportunity to play, and to see and to be seen by lusty folk. What did I know about how my fortune was to be shaped or in what place? Therefore, I made my visits to holy day vigils, to processions, to sermons, to these pilgrimages, to miracle-plays, and to weddings, and wore my gay scarlet gowns. These worms and moths and mites never ate a bit of them, upon my peril! And do you know why? Because they were well used.
"Now I will tell what happed to me. I say that we walked in the fields, until in truth we had such flirtation together, this clerk and I, that in my foresight I spoke to him, and told him how he should wed me, if I were widowed. For, I am not speaking in boast; I was certainly never to this point without provision for marriage—nor for other things as well. I think that a mouse's heart is not worth a leek if the mouse has but one hole to run to; and if that one fails, then all is over.
"I persuaded him to think that he had enchanted me; my mother taught me that trick. And I said also I dreamed of him all night; he would have slain me as I lay on my back, and my whole bed was full of real blood; but yet I hoped that he should bring good fortune to me, for blood signifies gold, as I was taught. And all of it was false; I dreamed not a bit of it, but I followed my mother's teaching all along, as well as in other things besides.
"But now, sir, let me see; what shall I say now? Aha! By God, I have it again. When my fourth husband lay on his bier, I wept ever and made a sorrowful expression, as wives must, for it is the custom; and I covered my face with my kerchief. But since I had been provided with a new mate, I wept rather little, I vow.
"In the morning my husband was borne to church by the neighbors, who mourned for him, and our scholar Jankin was one of them. So may God help me, when I saw him go after the bier, I thought he had so clean and fair a pair of legs and feet that I gave him all my heart to keep. He was twenty winters old, I believe, and if I am to tell the truth, I was forty. But I always had a colt's tooth. I was gap-toothed; I bore the print of Saint Venus' birthmark, and that became me well. I was a lusty one, and fair, and rich, and youthful, and merry of heart, may God help me.
"For certainly, I am dominated by the planet Venus in my senses, and my heart is dominated by the planet Mars. Venus gave me my love for pleasure and my wantonness, and Mars my sturdy hardihood. My ascendant was Mars in Taurus. Alas, alas! That ever 1ove was thought a sin! I followed ever my inclination by virtue of my constellation. That made it that I could not withhold my chamber from any good fellow. Yet I have the mark of Mars upon my face and in another private place as well. May God be my salvation indeed, I never loved discreetly, but always followed my appetite, whether he was short or tall, black or white it did not matter to me, as long as he pleased me, how poor he was, nor of what station.
"What should I say but at the end of a month this jolly clerk Jankin, who was so debonair, wedded me with great splendor? And I gave him all the land and wealth that I had ever been given; but afterwards I repented myself sorely, for he would allow nothing that I desired. By God, he struck me once on the ear! That was because I tore a leaf out of his book and my ear grew entirely deaf because of the blow. I was as stubborn as a lioness, and a very chatterbox with my tongue, and I would walk as I had done before from house to house, though he had sworn I should not. For this reason he would often make homilies and teach me old Roman histories how Symplicius Gallus left his wife and forsook her for all his days, just because he saw her one day looking out of his door with her head uncovered.
"He told me the name of another Roman who forsook his wife also because without his knowledge she was to a summer game. And then he would seek in his Bible that proverb of the Ecclesiast where he commands and firmly forbids that a man should allow his wife to go wander about. Then indeed he would say just this,
"He who builds his house out of sallows,
And spurs his blind horse over fallows,
And allows his wife to seek hallows,
Then should be hanged upon the gallows."
But all for nothing; I did not care one acorn for his proverbs or his old saying, and I would not be scolded by him. I hate anyone who tells me my faults; and, God knows, so too do more of us than I. This made him insanely furious with me, but I would not tolerate him in any case.
"Now, by Saint Thomas, I will tell you the truly, why I tore a leaf out of his book, for which he struck me so that I became deaf. He had a book which he would be still reading, night and day, for his amusement. He called it Valerius and Theophrastus; he always laughed uproariously at this book. And there was also once a scholar at Rome, a cardinal, named Saint Jerome, who composed a book against Jovinian; and besides this in my husband's book there were Tertullian, Chrysippus, Trotula, and Heloise, who was abbess not far from Paris, and also the Proverbs of Solomon, Ovid's Art of Love and many other books; and all these were bound in one volume.
"And every night and day, when he had leisure and freedom from other outside occupation, it was his habit to read in this book about wicked women; of them he knew more lives and legends than there are of good women in the Bible. For, trust well, it is an impossibility that any scholar will speak well of women, unless it would be of the lives of holy saints; but never of any other woman. Who painted the Lion, tell me? By God, if women had written histories, as scholars have in their chapels, they would have written about men more evil than all the sons of Adam could redress.
"The children of Mercury and the children of Venus are contrary in their actions; Mercury loves wisdom and knowledge, and Venus revelry and extravagance. And, because of their contrary natures, each of these planets descends in sign of the zodiac in which the other is most powerful; thus Mercury is depressed in Pisces, where Venus is exalted, and Venus is depressed where Mercury is exalted. Therefore no woman is praised by any scholar. When the scholar is old and entirely unable to give Venus service that is even worth his old shoe, then he sits down and in his dotage writes that women cannot keep their marriage vow!
"But now to my tale—why I was beaten for a book, by God, as I told you. One night Jankin, our husband, sat by the fire and read in his book, first about Eve, for whose wickedness all mankind was brought to misery, for which Jesus Christ Himself was slain, Who redeemed us with His heart's blood. Lo! Here you may read explicitly about woman, that she was the ruin of all mankind.
"Then he read to me how Samson lost his hair in his sleep; his sweetheart cut it with her shears, through which treason he lost both his eyes. Then I tell you he read me about Hercules and his Dejanira, who caused him to set fire to himself. Nor did he in any way forget the penance and woe which Socrates had with his two wives, how his wife Xantippe cast piss on his head; this blameless man sat still as a stone, wiped his head, and dared say no more than, "before thunder ceases, the rain comes."
"Of his cursedness my husband found a relish in the tale of Pasiphae, queen of Crete. Fie! Speak no more of her horrible lust and desire—it is a grisly thing. He read with good devotion about Clytemnestra, who for her wantonness treacherously caused her husband's death. He told me also for what cause Amphiaraus perished at Thebes; my husband had a legend about his wife Eriphyle, who for a brooch of gold secretly informed the Greeks where her husband had hidden himself; for this reason he met a sorry fate at Thebes. He told me of Livia and Lucilia, who both caused their husbands to die, the one for hate, the other for love. Livia, late one evening, poisoned her husband, because she had become his foe; the wanton Lucilia so loved her husband that she gave him a love-drink, that she might always be in his mind, but of such power that he was dead before morning.
"And thus in one way or the other husbands came to sorrow. And then he told me how one Latumius lamented to Arrius, his fellow, how there grew in his garden such a tree on which, he said, his three wives had hanged themselves with desperate heart. 'Oh dear brother, give me a slip from this same blessed tree,' said this Arrius, 'and it shall be planted in my garden!'
"He read about wives of later times, some of whom have murdered their husbands in their sleep, and had sex with their lovers while the corpse lay all night flat on the floor. And some have driven nails into their husband's brains while they slept. And some have given them poison in their drink. He spoke more evil than a heart can devise.
"And in all this he knew more proverbs than blades of grass grow in this world. He said, 'It is better to have your dwelling with a lion or a foul dragon, than with a woman accustomed to scorning.' 'It is better,' he said, 'to dwell high in the roof, than down in the house with an angry woman; they are so wicked and contrary that they forever hate what their husbands love.'
"He said, 'A woman casts her shame away when she casts off her undergarments.' And furthermore, 'A beautiful woman, unless she is also chaste, is like a gold ring in a sow's nose.' Who would think or imagine the woe and pain in my heart.
"And when I saw that he would never leave reading all night in this cursed book, all of the sudden I plucked three leaves out of his book, even as he was reading, and I also struck him on the cheek with my fist so that he fell down backward into our fire. And he started up like a mad lion, and struck me on the head with his fist so that I lay as dead on the floor.
"And he was aghast when he saw how still I was, and would have fled on his way, until at last I came out of my swoon. 'Oh, have you slain me, false thief,' I said, 'and have you murdered me thus for my land? Before I die, I will still kiss you.' And he came nearer and kneeled down gently and said, 'Dear sister Alisoun, so God help me, I shall never strike you again! You yourself are to blame for what I have done. Forgive me for it; and I beg you for that.' And yet again I hit him on the cheek, and said, 'Thief, I am revenged this much. Now I will die; I can speak no more.'
"But at last with great pain and grief, we fell into agreement between ourselves. He put the full bridle into my hand, to have the governance of house and estate, and over his tongue and hands as well. And I made him burn his book then and there.
"And when I had got for myself all the sovereignty, through a master-stroke, and when he said, 'My own faithful wife, do as you will the rest of your days; be the guard of your honor, and of my dignity also,' we had never a dispute after that day. God help me so, I was as loving to him as any wife between Denmark and India, and as true also; and so was he to me. And I pray to God, Who sits in glory, so bless his soul for His sweet compassion! Now I will relate my story, if you will listen."
The Friar, when he had heard all this, laughed and said, "Now, Madame, so may I have joy, this is a long preamble of a tale!"
When the Summoner heard the Friar make an outcry, he said, "Lo! By God's two arms! A friar will evermore be meddling. Lo, good men! A fly and a friar will fall into every dish and every affair. Why do you speak of preambling? What! Amble or trot, or hold your peace and go sit down! You hinder our sport in this way."
"Yes, is that what you want, sir Summoner? Now by my faith," said the Friar, "I shall tell, before I go, such a tale or two of a summoner that all the people here shall laugh."
"Now, Friar, I curse your face," said this Summoner, "and I curse myself, unless I tell stories, two or three, of friars, before I get to Sittingborne, that shall make your heart grieve, for I know well your patience has already left you."
"Peace, and now!" cried our Host; and said, "Let the woman tell her tale. You act like people who are drunk with ale. Please, Madame, tell your tale; and that is best."
"All ready, sir, just as you wish," she said, "if I have the permission of this worthy Friar."
"Yes, Madame," he said, "tell your tale now, and I will listen."
Here ends the Prologue of the Wife of Bath.
Here begins the Tale of the Wife of Bath.
In the old days of King Arthur, of whom Britons speak great glory, this land was entirely filled with fairy power. The elf-queen danced often with her merry company in many green meadows. This long ago was the belief, as I find in books. I speak of many hundred years ago; but in our times no man can see elves any more.
For now the great charity and the prayers of begging friars and other holy friars, who, as thick as motes in a sunbeam, reach every land and every stream, blessing halls, chambers, kitchens, bowers, cities, towns, castles, villages, barns, stables, dairies—all this causes there to be no elves. For where a fairy was accustomed to walk, there the begging friar himself walks now, in the mornings or the afternoons, and says his matins and his holy things as he goes along in his begging. Women may go up and down safely; in every bush or under every tree, there is no incubus, except him, and he will do nothing but dishonor them.
And so it happened that this King Arthur had in his court a lusty young knight, who one day came riding from the river; and it happened that he saw walking ahead of him a maiden, whom he ravished, in spite of all her resistance. For this violation there was such clamor and such appeal to King Arthur, that the knight was condemned by course of law to die; and perhaps the statute in place then was so severe that he would have lost his head, if the queen and other ladies had not so long begged the king for mercy, until he granted him his life at that point, and placed him entirely at the queen's will, to choose whether she would save him or let him die.
The queen thanked the king very heartily; and after this, upon a day when she saw the opportunity, she spoke in this way to the knight: "You stand now," she said, "in such a plight that you have even now no assurance of your life. I grant you life, if you can tell me what thing it is that women desire most. Beware, and guard your neck-bone from iron! And if you cannot tell it right now, I will still give you leave to go for twelve months and a day, to search out and learn an answer sufficient for this point. And before you depart, I will have security that you will yield up your body in this place."
This knight was woeful, and he sighed sorrowfully. But what! He could not do just as he pleased. And, with such a reply that God would provide for him, at last he chose to depart and come at the very end of the year; and he took his leave and went forth along his way.
He sought every house and place where he hoped to find such luck as to learn what women love most. But he could arrive at no coast where he could find two creatures agreeing together on this matter. Some said that women best love riches; some said honor; some said mirth; some, fancy clothes; some, pleasure in bed, and to be widowed often and re-wed. Some said that our hearts are most eased when we be flattered and gratified.
They came very near the truth; a man shall best win us by flattery, I will not deny it, and we are caught by attentiveness and diligence, both great and small. And some said how we love best to be free and to do just as we wish, and that no man should reprove us for our faults, but say that we are wise and never foolish at all. For in truth there is nobody among us who will not kick if someone would claw us on a sore place, just because he tells us the truth. Try this, and he shall find it out that it is true. For though we may be full of vice within, we wish to be considered wise and clean of sin.
And some said that we have great delight to be accounted stable and trustworthy and steadfast in one purpose, and never reveal what men tell us. But that sort of talk is not worth a rake-handle, by God! We women can conceal nothing. Take witness of Midas. Would you like to hear the tale?
Ovid, among other little things, says that Midas had two ass's ears growing upon his head under his long hair, which deformity he hid artfully from every man's sight, as best he could, so that nobody knew of it, except his wife. He loved her most and trusted her; and he asked her to tell of his disfigurement to no creature. She swore to him, "No," not even to gain all the world would she do that villainy and sin, to bring her husband so foul a name; for her own honor she would not do it.
But nevertheless she felt she should die, to hide a secret so long; it swelled so sorely about her heart, it seemed to her, that some word needed to burst from her. And since she dared tell it to no human creature, she ran down to a nearby marsh; her heart was ablaze until she arrived there.
And as a bittern bumbles in the mire, she laid her mouth down unto the water: "Betray me not, you water, with your sound,' she said; 'I tell it to you, and to nobody else. My husband has two long ass's ears. Now my heart is whole and well again; now it is out. In very truth I could keep it in no longer.'
By this you may see that though we wait a time, we can conceal no secret forever; it must come out. If you wish to hear the remainder of the tale, read Ovid; you can find it out there.
This knight, about whom my tale chiefly is, when he saw he could not come by it, that is to say, what women love most—the spirit in his breast was so sorrowful. But home he went, as he could not remain. The day had come when he had to turn homeward. And as he went, deep in care, it happened that he rode under the edge of a forest, where he saw twenty-four ladies and more in a dance. Eagerly he drew toward this dance, in hope of learning some piece of wisdom. But in truth, before he arrived there entirely, the dance vanished—he did not know where it went. He saw no living creature there, except a woman sitting on the grass—no one could imagine a fouler creature.
At the approach of the knight this old woman arose and said, "Sir knight, there is no path that lies this way. Tell me, by your faith, what do you seek? Peradventure it may be better for you; these old people know many things."
"My dear mother," said this knight, "in truth I am just a dead man, unless I can say what thing it is that women desire most. If you could instruct me, I would repay you well for your work."
"Pledge me your word here on my hand," she said, "that you will do the first thing that I require of you, if it should lie in your power; and before it is night I will tell it you."
"Take my pledge here," said the knight, "I agree."
"Then," she said, "I dare to boast that your life is safe; for upon my soul I will guarantee that the queen will say as I do. Show me the proudest of the whole court, who wears a kerchief or other head-dress and who dares say no to what I shall teach you. Let us go on, without further words." Then she whispered a word in his ear, and told him to be glad and have no fear.
When they had arrived at the court, this knight said he had kept his day, as he had promised, and his answer was ready. At that time many noble wives were assembled to hear his answer, and many maidens, and many widows (because they be wise); and the queen herself sat as judge. And then this knight was summoned.
Silence was commanded to every creature, and the knight was ordered to tell in public what thing mortal women most love. This knight stood not like a dumb beast, but without delay answered the question with manly voice, so that all the court heard it.
"My liege lady, over all this world" he said, "women wish to have sovereignty as well over her husband as her love, and to have mastery over him. This is your greatest desire, though you may slay me for this. Do as you wish; I am here at your will."
In all the court there was neither wife nor maiden nor widow to contradict what he replied, but all declared he was worthy to have his freedom. And at that word, the old woman, whom the knight had seen sitting on the grass, started up.
"Mercy, my sovereign lady!" she said. "Do me justice, before your court departs. I taught the knight this answer, for which he pledged me his word that he would do the first thing I should require of him, if it lay in his power. Before the court, then, I pray you, sir knight," she said, "that you take me as your wife; for you well know that I have saved your life. If I speak falsely, say no to me, upon your faith!"
This knight answered, "Alas and alack! I know full well that this was my promise. But for the love of God, please choose another request! Take all my goods, and let my body go."
"No, then,' she answered, "I curse us both. For though I may be ugly, poor, and old, I would like none of all the metal or ore that is buried under the earth or lies upon it, only that I would be your wife, and your love also."
"My love!" he said, "No, my damnation! Alas that any of my kindred should be so foully disgraced by such a match!"
But all this was for nothing. This is the conclusion, that he was constrained, and had to wed her. And he took his old wife and went to bed.
Now perhaps some men would say that through my negligence I take no care to tell you all the joy and all the preparations that there were at the celebration that day. To this point I shall briefly answer, and say there was no joy nor celebration at all; but only heaviness and much sorrow. For he wedded her secretly the next morning. And he was so miserable that he hid himself the rest of the day like an owl, as his wife looked so ugly.
Great was his misery when he was alone with his wife; he tossed about and turned back and forth. His old wife lay always smiling, and said, "Ah, God bless, dear husband! Does every knight act this way with his wife? Is this the way of King Arthur's household? Is every knight of his so hard to please? I am your own love and your wife also, and I have saved your life, and surely, I have never yet done you any wrong. Why do act this way on this first night? You act like a man who has lost his wit. What is my guilt? Tell me, for the love of God, and if I have the power, it shall be amended."
"Amended!" said this knight. "Alas! No, no! It can not be amended forevermore! You are so loathly and so old, and come of so low a lineage as well, that it is small wonder that I toss and turn. I wish to God my heart would burst!'
'Is this,' she said, 'the cause of your unrest?'
'Yes, certainly, and no wonder,' he said.
"Now, sir," she replied, "I could amend all this before three days had passed, if I wish, so that you might bear yourself toward me well.
"But when you speak of such gentility as is descended from ancient wealth—so that you knights should therefore would be gentlemen of breeding—such arrogance is not worth a hen. Look who is always most virtuous, openly and secretly, and most inclines to do what gentle deeds he can; take him for the gentlest man. Christ wishes that we claim our gentility from Him, not from our ancestors' ancient wealth. For though all their heritage of our ancestors, by reason of which we claim high rank, may descend to us, yet they cannot at all bequeath to any of us their virtuous living, which made them to be called gentle men and to bid us follow to them and do in like manner.
The wise poet of Florence, who is named Dante, speaks well on this matter. Lo, this is what Dante's says in his poetry: "Seldom does a man climb to excellence on his own slim branches, for God, from his goodness, wills that we claim or gentility from Him." For we may claim nothing from our ancestors, except for temporal things that can be injured and impaired.
"Every creature also knows this as well as I, that if gentility were planted by nature in a certain family all down the line, openly and privately, then they would never cease to do the fair duties of gentility; they could never do any base or vicious deed. Take fire and bear it into the darkest house between here and the mount of Caucasus, and let the doors be shut and leave that place. Nevertheless the fire will burn and blaze as fairly as though twenty thousand men witnessed it; on peril of my life, it will keep to its natural duty until it dies.
"Here you may well see how nobility hangs not from ancient possessions, since people do not always perform its works, as does the fire, according to its nature. For, God knows, one may often see a lord's son do vicious and shameful deeds; and he who wishes to be esteemed for his gentility because he was born of a noble house and had virtuous and noble ancestors, and yet himself will not perform the deeds of gentility nor follow after his gentle ancestor who is dead, he is not gentle, even if he is a duke or an earl; for base and sinful deeds make a commoner. For gentility then would be nothing but renown of your ancestors for their high worthiness, which is something that has nothing to do with you. Your gentility comes only from God. Then our true gentility comes from divine grace, and was in no fashion bequeathed to us with our earthly station.
"Think how noble was that Tullius Hostilius, as Valerius tells, who rose out of poverty to high nobility. Read Seneca, and Boethius as well; there you shall see expressly that he who does noble deeds is noble. And therefore, dear husband, I conclude in this way: albeit my ancestors were untutored, yet may the high God—and so I hope— grant me grace to live virtuously. Then I am noble, when I begin to live virtuously and to abandon evil.
"And you reproach me for poverty; but the high God on whom we believe chose freely to live in poverty. And surely every man, maiden, or wife, may well know that Jesus, King of Heaven, would not choose a wicked manner of living. Truly cheerful poverty is an honorable thing, so will Seneca say, and other clerks. Whoever keeps himself content with his poverty, I count as rich, even if he does not have not a shirt! He who covets is a poor creature, for he wishes to have that which is not within his power. But he who has nothing, nor covets things, is rich, albeit you count him as only a serving-lad.
"True poverty sings a song of its own. Concerning poverty, Juvenal says merrily:
"The poor man, when he goes along the way,
Before the thieves, he can still sing and play."
Poverty is a hateful good, I suppose, a great remover from the busyness of the world, and a great teacher of wisdom to one who takes it in patience. All this is poverty, though it may seem wretched; and a possession that no creature will challenge. When a man is humbled, often poverty allows him to know his God and himself as well. It seems to me that poverty is a magnifying glass through which he may see who his true friends are. And therefore, sir, I pray, so that I will not grieve you, scorn me no more for my poverty.
"Now, sir, you reproach me for my old age. And surely, sir, though there may be no authority in any book to tell you so, yet you honorable gentlefolk say that men should do courtesy to an old creature, and for your gentle manners call him Father. And I could find authorities to show this, I believe.
"Now you say I am old and foul: then have no fear that you will be a cuckold. For ugliness and age, upon my life, are great wardens over chastity. But nevertheless, since I know your delight, I shall fulfill your appetite.
"Choose," she said, "one of these two things: to have me foul and old until I die, and to you a true, humble wife, never in all my days displeasing you; or else to have me young and beautiful, and take your chance on how many visits there will be to your house—or perhaps to some other place—which will be for my sake. Now choose yourself which one you will have."
This knight thought hard about it and sighed deeply; but at last he spoke in this manner: "My lady and love, and my dear wife, I put myself into your wise governance. Please choose which may be the greatest pleasure and greatest honor to you and me also; I care not which of the two, for it is sufficient to me to please you."
"Then I have the mastery over you," she said, "since I may choose and govern as I wish"
"Yes, surely, wife," he said; "I believe that is for the best."
"Kiss me," she said, "we will be angered no longer. For by my faith I will be both unto you—that is to say, both beautiful, yes, and good. I pray to God that I may die mad, but I would be as good and faithful as ever a wife was since the world was new. And if I am not as beautiful to see in the morning as any lady, queen or empress, between the east and the west, do with my life and death as you will. Lift up the curtain, and look how it is."
And when the knight saw truly that she was so fair and so young, he clasped her in his two arms for joy, his heart bathed in a bath of bliss. A thousand times in a row he kissed her. And she obeyed him in all that might cause him delight or pleasure.
And thus they lived in perfect joy to the end of their lives. And may Jesus Christ send us husbands meek, young, and lusty, and grace to outlive them that we wed.
And I pray Jesus also to shorten their days that will not be ruled by their wives. And old, angry misers—may God send them a true pestilence soon!
Here ends the Wife of Bath's Tale.
The Franklin's Tale
Here follow the Words of the Franklin to the Squire, and the Words of the Host to the Franklin.
"In faith, Squire, you have conducted yourself well and nobly. I praise your wit highly," said the Franklin, with such delicate understanding. In my judgment there is nobody in this company who shall be your peer in eloquence as long as you live. May God give you good fortune, and send you perseverance in virtue, for I have great delight in your speaking. I have a son, and by the Trinity I had rather he would be a man of such discretion as you, than have twenty pounds worth of land, even if it were put in my hand right now.
"Fie on possessions, unless a man is virtuous as well! I have scolded my son, and shall still scold him, because he will not wish to pursue virtue; but his habit is to play at dice and to spend and to lose all that he has. And he had rather talk with a page than converse with any noble person from whom he might properly learn nobility.
"A straw for your gentle manners!" said our Host. "What, Franklin, well you know, by God, that each of you must tell at least a tale or two, or break your word."
"That I well know, sir," said the Franklin. "I pray you not to hold me in scorn if I speak a word or two to this man.
"Tell your tale now, without more words.
"Gladly, sir Host," he said, "I will obey your will; now listen to what I say. I will not contradict you in any way as far, to the extent that my wits will suffice. I pray to God that it may please yow; then I will know well that it is good enough."
The Prologue of the Franklin's Tale
"These old gentle Bretons in their time made lays about various adventures, rhymed in their early British tongue; which lays they sang to their instruments of music, or else read them, for their pleasure. And one of them I have in mind, which I will relate with good will as best I can. But, sirs, because I am an unlearned man, at my beginning I pray you to excuse me for my homely speech. In truth, I never learned rhetoric; anything I speak must be bare and plain. I never slept on the Mount of Parnassus, nor learned Marcus Tullius Cicero. I know no colors of speech, surely; only such colors as grow in the meadow, or else such as people dye or paint. Colors of rhetoric are too strange for me; my spirit has no feeling in such matters. But if you wish, you shall hear my tale."
Here begins the Franklin's Tale.
In Armorica, which is called Brittany, there was a knight who loved and served a lady in the best manner he could. And he underwent many labors and many great enterprises, before he gained her. For she was one of the fairest women under the sun, and had come from such a noble family that this knight scarcely dared for fear to tell her his woe and his pain and distress. But at last she took such pity upon his pains, because of his worthiness and primarily for his humble attentiveness, so that secretly she agreed to take him as husband and lord, in such lordship as men may have over their wives. And in order that they might live more in bliss, he swore to her as a knight, by his own free will, that never at any time in all his life would he take any authority upon himself against her will, nor show jealousy toward her, but obey her and follow her will in all things, as any lover shall do toward his lady; except that he wanted only the sovereignty in name, lest he should shame his rank as husband.
She thanked him, and said with great humility, "Sir, since through your noble mind you offer me so free a rein, God forbid that through my guilt there would ever be war or contention between us two. Sir, I will be your true humble wife until my heart break; take here my pledge." Thus they were both in quiet and peace.
For one thing, sirs, I dare safely say, friends must comply with one another, if they wish to keep company long. Love will not be constrained by mastery; when mastery comes, the god of love soon beats his wings, and, farewell, he is gone! Love is as free as any spirit. Women by their nature desire liberty and not to be under constraint like a servant; and so do men, if I shall tell the truth. Look who is most patient in love, he has the advantage over all. Patience is a high virtue, certainly; for, as these scholars say, it conquers things that force could never reach.
Men should not scold or complain at every word. Learn to endure, or else, on my life, you shall learn this, whether you wish to or not. For certainly there is nobody in this world who sometimes does not act or speak amiss. Wrath, sickness, the constellation, wine, woe, changing humors, very often cause a man to act or speak amiss.
A man may not be avenged of every wrong; in every creature who knows how to rule his life, there must be moderation, according to the occasion. And therefore, so that he might live at ease, this wise worthy knight promised patience toward her, and she seriously swore to him that there never should be a fault in her. Here one may see a humble and wise agreement; thus she took her servant and her lord: servant in love, and lord in marriage. Then he was in both lordship and servitude. Servitude? No, but superior in lordship, since he has both his ]ady and love; surely, his lady, and his wife as well, who accepted that law of love. And in this happy state he went home with his wife to his country, not far from Penmark, where his dwelling was, and where he lived in happiness and comfort.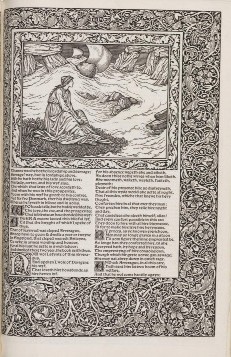 Image 5.6: The Franklin's Tale | A two page featuring a black and white illustration of Dorigen looking out at the rocks on the coast of Brittany, which play an important role in The Franklin's Tale.
Author: Edward Burne-Jones
Source: Archive.org
License: Public Domain
Who, unless he had been wedded, could tell the joy, the comfort, and wellbeing between husband and wife?
This blessed condition lasted a year and more, until the knight of whom I speak, who was called Arveragus of Kayrrud, laid his plans to go and dwell a year or two in England, which also was called Britain, to seek worship and honor in arms, for he set all his pleasure on such toils. And he dwelt there two years, as the book says.
Now I will leave Arveragus, and will speak of Dorigen his wife, who loved her husband as her heart's blood. For in his absence she wept and sighed, as these noble wives do (when they will). She mourned, watched, wailed, fasted, lamented; desire for his presence so distracted her that she cared nothing for the whole wide world. Her friends, who knew her heavy thoughts, comforted her in all they could. They preached to her; day and night they told her that she was slaying herself for no good reason, alas! And they comforted her all they could, to make her leave her heaviness.
Through the process of time, as you all know, one may engrave in a stone so long that some figure will be imprinted on it. They comforted her so long that, with the aid of hope and reason, she received the imprint of their consolation. Through this her great sorrow began to assuage; she could not continue forever in such frenzy.
And while she was in all this sorrow, Arveragus had sent home to her letters telling of his welfare, and that he would soon return; otherwise, this sorrow would have slain her heart. Her friends saw her sorrow began to slacken, and on their knees begged her for God's love to come and roam about with them, to drive away her dark imaginings. And finally she agreed, for well she saw that it was best.
Now her castle stood near to the sea, and for a diversion she often walked with her friends high upon the bank, from which she saw many ships and barges sailing on their course, wherever they would go. But then that became a part of her grief. For often she said to herself, "Alas! Is there no ship of so many that I see that will bring home my lord? Then my heart would be fully cured of its bitter, bitter pains."
Another time she would sit there and ponder, and from the shore cast her eyes down. But when she saw the grisly black rocks, her heart would so quake for true fear that she could not hold herself on her feet. Then she would sit down on the grass and piteously look into the sea, and with sorrowful, cold sighs say just so: "Eternal God, who through Your providence guides the world by sure government, You make nothing in vain, as they say. But, Lord, these grisly, fiendish, black rocks, which seem more like a foul chaos of work than any fair creation by such a perfect, wise, and unchanging God: why have You created this irrational work? For by this work neither man nor bird nor brute is benefited, south or north, east or west.
"It does no good, in my mind, but harm. Do You not see, Lord, how it destroys mankind? Although they may not be remembered, rocks have slain a hundred thousand bodies of mankind, which is such a fair a part of Your work that You made it in Your own image. Then it should seem You had a great fondness toward men; but how then may it be that You created to destroy them in such a way that do no good, but always harm? I know well that scholars will say as they please by arguments that all is for the best, though I cannot understand their reasons. But may the same God that made the wind blow protect my lord! This is my conclusion; I leave all disputation to scholars. But I wish to God that all these black rocks were sunk into hell, for his sake! These rocks slay my heart for fear." Thus she would speak to herself, with many piteous tears.
Her friends saw that it was no diversion for her, but only a discomfort, to walk by the sea, and devised for her amusements in other places. They led her by rivers and springs and in other delightful places; they danced and they played at chess and backgammon.
So one day in the morning, they went to amuse themselves for the entire day in a nearby garden, in which they had made their provision of food and other things. This was on the sixth morning of May, and May with his soft rains had painted this garden full of leaves and flowers. And truly the craft of man's hand had so curiously arrayed this garden that never was a garden of such beauty, unless it would be paradise itself.
The scent and the fresh sight of flowers would have gladdened any heart that was ever born, unless too great a sickness or too great a sorrow distressed it; so full was it of delight and beauty.
After dinner they began to dance and sing, except Dorigen, who always made complaint or moan, because she saw not her husband and also her love enter into the dance. But nevertheless she must wait for a time and with good hope let her sorrow pass.
Upon this dance, among other men, there danced before Dorigen a squire who was fresher and more joyful in apparel than is the month of May, I believe. He sang and danced to surpass any man who is or was since the world was made. He was, if one would describe him, one of the most handsome men alive: young, strong, virtuous, rich, and wise; and well beloved and held in great honor. And in short, if I am to tell the truth, this servant to Venus, this lively squire, who was called Aurelius, had loved Dorigen, entirely without her knowledge, more than any creature for two years and more, as it happened, but never dared he tell her his woe. He drank all his penance without a cup.
He was in despair, he dared say nothing except that in his songs he would reveal his woe to some degree, as in a general complaining; he said he loved, and was in no way beloved. Of such matter he made many lays, songs, complaints, roundels, and virelays, about how he would dare not utter his sorrow, but languishes like a fury in hell; and die he must, he said, as did Echo for Narcissus, who dared not tell her woe. In other manner than this that I speak of he dared not reveal his passion to her; except that, by chance, sometimes at dances, where young people perform their customs of courtship, it may well be that he looked upon her face in such a way as a man who asks for grace; but she knew nothing of his intent.
Nevertheless it happened, before they went from that garden, that because he was her neighbor and a man of good reputation, and she had known him for a long time, they began to speak. And Aurelius drew more and more toward his matter and when he saw his time, he said thus: "Madame, by God That made this world, If I had known it would gladden your heart, I wish that the day when your Arveragus went over the sea, I, Aurelius, had gone to a place from which I never should have returned. For I well know that my service is in vain; my reward is but the breaking of my heart. Have pity upon my bitter pains, Madame, for with a word you may slay me or save me. I wish to God that I were buried here at your feet! I have now no time to say more; have mercy, sweet, or you will cause me to die!"
She looked at Aurelius: "Is this your desire?" she said. "Is this what you wish to say? Never before did I know what was in your mind. But now, Aurelius, I know it. By that God that gave me breath and soul, never in word or deed shall I be an untrue wife. As long as I have any senses, I will be his to whom I am bound. Take this for my final answer."
But in sport after that she said, "Aurelius, by the high God in heaven, yet would I consent to be your love, since I see you so piteously lamenting. Whenever that day comes that all along the coast of Brittany you remove all the rocks, stone by stone, so that they no longer obstruct the passage of ship or boat—I say, when you have made the coast so clear of rocks that there is no stone to be seen, then I will love you best of all men. Take here my pledge, in all that I can ever do."
"Is there no other mercy in you?" he said.
"No," she said, "by that Lord that made me! For I well know that shall never happen. Let such follies pass out of your heart. What delight should a man ever have to go about loving the wife of another man, who has her body whenever he wishes?"
Aurelius gave many sore sighs. He was woeful when he heard this; and with a sorrowful heart he answered, "Madame, this would be impossible! Then I must die of a sudden and horrible death." And with that word he turned back.
Then many of her other friends came roaming up and down in the paths, and knew nothing of this affair, but speedily began new revel; until the bright sun lost his hue, and the horizon had taken away from him his light (this is as much as to say, it was evening). And they went home in joy and contentment, except, alas, wretched Aurelius alone! He went to his house with sorrowful heart; he saw that he could never escape death, and felt his heart grow cold. Up to the heaven he held his hands and set himself down on his bare knees, and raving said his prayer; for true woe he was out of his wits and knew not what he spoke.
With piteous heart he began his complaint to the gods, and first to the sun: "Apollo," he said, "lord and ruler of every plant, herb, tree, and flower, who gives to each of them his times and seasons, according to your height in the sky, as your lodging changes toward north or south; lord Phoebus, cast your merciful eye upon wretched Aurelius, who is so lost. Behold, lord, my lady has decreed my guiltless death, unless your kindness should have some pity upon my dying heart. For well I know, lord Phoebus, that you may help me best of all except my lady, if you wish. Now promise to hear me tell you in what way I may be helped.
"Your blessed sister, Lucina the bright, chief goddess and queen of the sea (though Neptune has his godhead in the sea, yet is she empress over him), you well know, lord, that just as it is her desire to be kindled and lightened by your orb, for which reason she follows you eagerly, so too the sea desires by its nature to follow her, being goddess both in the sea and in rivers great and small.
"Therefore, Lord Phoebus, this is my prayer: perform this miracle or break my heart; that now at this next opposition, which shall be in the sign of the Lion, pray Lucina to bring a flood so great that it shall rise above the highest rock in Armorican Britanny by at least five fathoms, and let this flood last two years.
"Then, certainly, I may say to my lady, 'Keep your promise, the rocks are gone.' Lord Phoebus, do this miracle; ask her to go the same speed as you; I say, ask your sister that these two years she will go no faster in her course than you. Then shall she always be exactly at full, and the spring flood-tide will last day and night. And if she will not promise to grant me my dear sovereign lady in such a manner, pray her to sink every rock into her own dark region under the ground where Pluto dwells, or nevermore shall I gain my lady. Barefoot I will go a pilgrimage to your temple at Delphi. Lord Phoebus; see the tears on my cheeks, and have some pity on my pains."
And with that he fell down in a swoon and for a long time lay in a trance. His brother, who knew his trouble, caught him up and brought him to his bed. In this woe and torment I let this woeful creature lie in despair. He may choose, as far as I am concerned, whether he will live or die.
Arveragus was come home, with other valiant knights, in health and great honor as the flower of chivalry. Oh, now you are happy, Dorigen, who has in your arms your lively husband, the vigorous knight, the valiant warrior, who loves you as his own heart's life. He never thought to be suspicious whether any creature had spoken to her of love while he was gone; he had no fear of that. He gave no heed to any such matter, but danced, jousted, and showed her great enjoyment. Thus I leave them in happiness and bliss, and will tell of the sick Aurelius.
Two years and more the wretched Aurelius lay in languor and mad torment, before he could walk a step on earth; and he had no comfort in this time, except from his brother, a scholar, who knew of all this woeful matter. For in truth he dared say no word about it to any other creature. He carried it under his breast more secretly than Pamphilus carried his love for Galatea. His breast was whole, to outward view, but ever in his heart was the keen arrow. And you well know that in surgery the cure of a wound healed only on the surface is perilous, unless men could touch the arrow or get at it.
His brother wept and wailed privately, until at last it came to his mind that while he was at Orleans, in France, as young scholars who are desirous of studying curious arts seek in every nook and corner to learn this special knowledge, it came to his mind that, one day while he studied at Orleans, he saw a book of natural magic, which his friend, who was then a bachelor of law, had secretly left upon his desk, though he was there for a different field of study. This book spoke much of the celestial influences concerning the twenty-eight mansions which belong to the moon, and such folly as is not worth a fly in our day. For the faith of the Holy Church that is in our doctrine will not allow any illusion to harm us.
And as soon as he remembered this book his heart began to dance for joy, and he said quietly to himself, "My brother shall be cured speedily; for I am sure there are arts by which men create various apparitions, such as these deceiving magicians conjure up. For often at feasts, I have heard tell, within a large hall these magicians have made water and a barge come in and row up and down in the hall. Sometimes a grim lion has seemed to come, and sometimes flowers spring as in a meadow, sometimes a vine, with grapes white and red, sometimes a castle of mortar and stone. And when they wished, they caused it all to disappear immediately; so it seemed to every man's sight.
"Now then, I conclude thus, that if I could find some old comrade at Orleans who is acquainted with these mansions of the moon, or other natural magic besides, he should well cause my brother to possess his love. For by means of an illusion a clerk may make it appear to a man's sight that every one of the black rocks of Brittany be removed, and that ships come and go along the shore, and that this continue a day or two in such form. Then my brother would be entirely cured. Then she must keep her promise, or else at least he shall shame her."
Why should I make this a longer story? He came to his brother's bed and gave him such encouragement to go to Orleans that he started up at once and went ahead on his way in hopes to be relieved of his care. When they had almost arrived at that city, about two or three furlongs away, they met a young clerk roaming by himself who greeted them politely in Latin, and then said a marvelous thing. "I know the cause of your coming," he said. And before they went a foot further, he told them all that was in their minds. This scholar of Brittany asked him about the companions whom he had known in old days, and he answered him that they were dead; for which he wept many tears.
Aurelius alighted quickly from his horse and went forth home to his house with this magician, who made them well at ease; no provision that might give pleasure. Aurelius had never seen in his life a house so well appointed.
Before he went to supper, the magician showed him forests and parks full of wild beasts; there he saw harts with their lofty horns, the largest that eye ever saw. He beheld a hundred of them slain by dogs, and some bleeding from bitter arrow-wounds. When these wild deer vanished, he saw falconers upon a fair river, slaying the heron with their hawks. Then he saw knights jousting on a plain. And after this, the magician did him the pleasure to show him his lady in a dance, in which he himself was dancing, as it seemed to him. And when this master who created the magic saw that it was time, he clapped his hands, and, farewell, all our revel was gone.
And yet while they saw all this marvelous sight, they never stirred out of the house, but sat still in his study, where his books were, and no other creature but the three of them.
This master called his squire to him, and said thus: "Is our supper ready? It is almost an hour, I will swear, since I told you make our supper, when these honorable men went with me into my study, where my books are."
"Sir," said this squire, "when it pleases you it will be entirely ready, even if you wish to have it right now." "Let us go to supper, then," he said, "that is best. These people in love must take repose sometime."
After supper they fell into talk over the sum which should be this master's reward for removing all the rocks of Brittany, and from the Gironde to the mouth of Seine. He raised difficulties and swore that he would not have less than a thousand pounds, and he would not be glad to do it for that sum, so God save him!
Aurelius answered directly, with a joyous heart, "Fie on a thousand pound! I would give this wide world, which men say is a ball, if I were lord of it. This bargain is done, for we are agreed. You shall be paid faithfully, by my word. But take care now that you delay us here no longer than tomorrow, for any negligence or sloth."
"No," this clerk said, "take here my faith in pledge to you."
Aurelius went to bed when he wished, and rested nearly all that night. Despite all his labor and his hope of bliss, his woeful heart had relief from suffering. In the morning, when it was day, they took the shortest road to Brittany, Aurelius and this magician, and dismounted at the place where they wished to be. And, as books remind me, this was the cold, frosty season of December. Phoebus grew old and of hue like latten, who in his hot declination shone with his bright beams like burnished gold; but now he had descended into Capricorn, where he shone fully pale, I dare well say. The bitter frosts, with sleet and rain, have destroyed the green in every garden. Janus with his double beard sits by the fire and drinks the wine out of his ox-horn; before him stands brawn of the tusked boar, and every lusty man cries, "Noel!"
Aurelius offered his master all the hospitality and reverence he could, and asked him to do his duty to bring him out of his bitter pains, or with a sword he would slit his own heart. This cunning scholar so pitied this man that he made as much haste as he could, day and night, to look for the most beneficial time for his experiment; that is to say, to create an appearance, by such an illusion or crafty trick—I do not have vocabulary of astrology—that she and every person should think and say that the rocks of Brittany were gone, or else sunk under the earth.
So at last he found his time to work his tricks and stage his miserable performance of wicked superstition. He brought forth his Toledo tables, well corrected; there lacked nothing, neither his tables of collected or expanded years, nor his roots, nor his other gear, such as his centres and his arguments, and his tables of proportional parts for his equations. And for his calculations he knew full well how far Alnath in the eighth sphere was pushed from the head of that fixed Aries above, which is calculated to be in the ninth sphere; cunningly he calculated by means of all this. When he had found his first mansion, by proportion he knew the rest, and he well knew the rising of his moon, in which was the planet's face and term, and all the rest. And he knew well the moon to be in a mansion favorable to his enterprise, and knew also the other matters to be observed for working such illusions and such misdoings as heathen people used in those days.
For this reason he no longer delayed, but through his magic it seemed for a week or two that all the rocks were gone. Aurelius, who was still despairing whether he should have his love or fare badly, waited night and day for this miracle. And when he knew that there was no hindrance, but that every rock was gone, he fell down at his master's feet immediately and said, "I, Aurelius, woeful wretch, thank you, lord, and Venus my lady, who have helped me from my cold misery." And he made his way forth to the temple where he knew he should see his lady. And when he saw his time, he then saluted his dear sovereign lady with a timid heart and humble face.
This woeful man said, "My own lady, whom I most fear and love as best I know how, and whom of all this world I would be most loathe to displease, if I did not suffer so much distress for the love of you that soon I must die here at your feet, I should never tell you how woebegone I am. But surely I must either die or make my complaint, as you slay me, an innocent man, with true pain. But though you have no pity for my death, consider this carefully before you break your pledge.
"For the sake of God in heaven, please repent before you murder me because I love you. For well you know what you promised, Madame; not that I claim anything of you as a right, my sovereign lady, but only ask it as a favor. Nevertheless, in a garden yonder, at such a spot, you know very well what you promised me, and you pledged your word in my hand, to love me best; God knows, you said so, though I may be unworthy of it. Madame, I say it for your honor, more than to save my heart's life; I have done as you said, and if you wish, you may go and see. Do as you wish; remember your promise, for, alive or dead, you shall find me right in that garden. It all depends on you, to make me live or die. But well I know the rocks are gone.
He takes his leave, and she stood astonished; not a drop of blood was in all her face. She thought never to have come into such a trap. She said, "Alas that ever this should happen! For I never deemed that such a monstrosity or marvel could happen, by any possibility. It is against the course of nature. And home she went, a sorrowful creature; scarcely could she walk for utter fear, and for a whole day or two she wept and wailed and swooned, so that it was pitiful to behold. But why she was so she told no creature, for Arveragus was gone out of town.
But with a pale face and sorrowful expression she spoke to herself, and said thus in her complaint as I shall tell you. She said, "Alas! I complain about you, Fortune, who has bound me unawares in your chain, from which to escape I know no help, except only death or dishonor; one of these two it is necessary for me to choose. But nevertheless I had rather forfeit my life than have shame on my body, or lose my fair reputation, or know myself false. And by my death, surely, I may escape.
"Alas, have not many noble wives and many maidens slain themselves before this, rather than do wrong with her body? Yes, surely; lo! These histories testify it. When the thirty tyrants, full of cursedness, had slain Phidon at a feast in Athens, by their malice they commanded men to arrest his daughters and bring them before them entirely naked, to fulfill their foul pleasure, and they made them dance in their father's blood upon the pavement. May God give them damnation! For this reason these woeful maidens, in fear of this, secretly leaped into a well and drowned themselves, rather than lose their maidenhood; so the books relate.
"The people of Messene had fifty Lacedaemon maidens sought out, with whom they wished to satisfy their lust; but of that entire band there was none who was not slain, and with good will chose to die rather than consent to be robbed of her maidenhood. Why should I, then, fear to die?
"Lo also, the tyrant Aristoclides. He loved a maiden named Stymphalides, who, when her father was slain one night, went directly to Diana's temple, and laid hold of the image of Diana with her two hands, and would never let go. No creature could tear her hands from it, until she was slain in that very place. Now since maidens have had such scorn to be defiled with man's base pleasure, it seems to me that a wife ought indeed rather to slay herself than be defiled.
"What shall I say of Hasdrubal's wife, who slew herself at Carthage? For when she saw that the Romans had won the city, she took all her children and skipped down into the fire, and chose rather to die than that any Roman dishonored her.
"Did not Lucrece slay herself at Rome, alas, when she was violated by Tarquin, because she deemed it a shame to live when she had lost her honor?
The seven maidens of Miletus also for true fear and woe slew themselves rather than the people of Gaul should violate them.
I could tell now more than a thousand stories, I believe, concerning this matter. When Abradates was slain, his dear wife slew herself and let her blood flow into Abradates' deep, wide wounds, saying, "My body, at least, no creature shall defile, if I can hinder it."
"Why should I cite more examples of this, since so many have slain themselves rather than be defiled? I will end thus, for it is better for me to slay myself than so to be defiled. I will be true to Arveragus, or slay myself in some way, as did the dear daughter of Democion, because she would not be defiled. O Scedasus, it is a great pity to read how your daughters died, who slew themselves for the same cause, alas! It was as great pity, or indeed greater, for the Theban maiden that slew herself even for the same grief, to escape Nicanor. Another Theban maiden did likewise; because one of Macedonia had violated her, she redressed her maidenhood by her death. What shall I say of the wife of Niceratus, who for a like cause took her life? How true also was his love to Alcibiades, and chose rather to die than to suffer his body to be unburied! Lo, what a wife was Alcestis! What says Homer of Penelope the good? All Greece knows of her chastity. It is written thus of Laodamia, in truth, that when Protesilaus was slain at Troy, she would live no longer after his days. I may tell the same of noble Portia; she could not live without Brutus, to whom she had fully given her whole heart. The perfect wifehood of Artemisia is honored through all barbarian lands. O queen Teuta, your wifely chastity may be a mirror to all wives. The same thing I say of Bilia, of Rhodogune and of Valeria."
Thus Dorigen made her complaint a day or two, at all times intending to die. But nevertheless Arveragus, this worthy knight, came home the third evening, and asked her why she wept so sorely. And she began to weep ever more bitterly.
"Alas that ever I was born! Thus I said," she said, "this was my oath," and she told him what you have already heard; there is no need to tell more.
This husband, with cheerful countenance and in friendly fashion, answered and said as I shall tell you; "Is there anything else but this, Dorigen?"
"Nay, nay," she said, "so may God help me; God forbid there would be more; this is too much."
"Yes, wife," he replied; "leave sleeping that which is quiet. It may yet be well today, by chance. You shall keep your pledge, by my faith! For may God so surely have mercy on me, for the true love I have for you I had far rather be stabbed to the heart, than you should not hold your pledge. A promise is the highest thing that a man may keep." But with that word he burst out weeping immediately, and said, "I forbid you, on pain of death, as long as your life lasts, to tell this matter to any creature. I will endure all my woe as best I can, and make no such sign of grief that people might judge or guess harm of you."
And he called forth a squire and maid, and said, "Go forth directly with Dorigen and bring her to such a place." They took their leave and went their way, but they knew not why she went there. He would tell his intention to no creature. Perhaps in truth many of you will think him a foolish man in this, that he would put his wife in jeopardy; listen to the tale, before you exclaim against her. She may have better fortune than you might suppose; and when you have heard the tale, you may judge.
This squire Aurelius, who was so amorous of Dorigen, happened by chance to meet her amidst the town, right in the busiest street, as she was bound straight for the garden where she had promised to go. And he also was bound for the garden; for he always noted well when she would go out of her house to any place. But thus they met, by chance or good fortune; and he saluted her with joyous mood, and asked where she was going.
And she answered, as if she were mad, "To the garden, as my husband ordered, to keep my promise, Alas! Alas!" Aurelius wondered about what had happened, and in his heart he had great compassion about her and her lament, and about Arveragus, the worthy knight who had told her to maintain everything she had promised, so loath was he that his wife should break her pledge. And Aurelius' heart was moved to great pity, and this made him consider carefully what would be best, so that he felt he would rather refrain from his desire rather than to be guilty of such a wretched and dishonorable act against nobility and all gentility.
For this reason he said thus in few words: "Madame, say to Arveragus, your lord, that since I see his great nobility to you (and I well see your distress), that it seemed better to him to suffer shame (and that would be a pity) than you should break your pledge to me, I would rather suffer perpetual woe than part the love between you. Into your hand, Madame, I release, cancelled, every assurance and every bond that you have made to me to this day from the time when you were born. I pledge my word that I shall never reproach you on the score of any promise. And here I take my leave of the best and truest wife that in all my days I have ever known. But let every woman beware what she promises; let her at least think of Dorigen." Thus surely a squire can do a gentle deed, as well as can a knight.
She thanked him upon her bare knees, and went home to her husband and told him everything, even as you have heard me tell it. And be assured, he was so well pleased that I could not tell how much; why should I explain this matter any further? Arveragus and his wife Dorigen led forth their days in sovereign bliss.
Never again was there trouble between them. Evermore he cherished her as though she were a queen, and she was true to him. Concerning these two people you will get no more from me.
Aurelius, who had forfeited all the expense, cursed the time when he was born. "Alas! alas!" he said, "that I promised a thousand pounds' weight of refined gold to this philosopher! What shall I do? I see nothing more but that I am undone. I must sell my heritage and be a beggar. I cannot remain here and shame all my family here, unless I can gain his mercy. But nevertheless I will seek of him to let me pay on certain days each year, and will thank him for his great courtesy. I will keep my word, I will not be false."
With sore heart he went to his coffer and brought to this clerk gold of the value of five hundred pounds, I believe, and asked him through his noble courtesy to grant him certain days to pay the remnant, and said, "Master, I dare well boast that I never failed of my word as yet. For truly my debt shall be paid to you, whatever may happen to me, even if I must go begging in my undergarments alone. But would you promise, upon security, to give me a respite for two or three years; then it will be well with me. For otherwise I must sell my heritage. There is no more to say."
This philosopher answered gravely and said thus, when he heard these words, "Have I not kept my covenant with you?"
"Yes, surely, well and truly," he said. "Have you not had your lady just as you desired?"
"No, no," he said and sighed sorrowfully.
"What was the cause? Tell me, if you can."
Aurelius began his tale immediately, and told him everything, as you have heard. There is no need to rehearse it again. He said, "Arveragus on account of his nobility would rather have died in sorrow and woe than that his wife would be false to her pledge." He told him also the sorrow of Dorigen, how loath she was to be a wicked wife, and that she had rather have died that day, and that it was through innocence she had sworn her oath. "She never heard tell before of magic illusion; that made me have pity upon her. And just as he sent her freely to me, so freely I sent her back to him. This is everything; there is no more to say."
This philosopher answered: "Dear friend, each of you did a gentle deed toward the other. You are a squire, he is a knight. But may God in his blessed power forbid, but a clerk may truly do a gentle deed as well as any of you.
Sir, I release you from your debt of a thousand pounds, as freely as if you had only now crept out of the earth and had never known me before now. For, sir, I will not take a penny from you for all my skill and all my labor. You have paid well for my subsistence. It is enough. And farewell, and have a good day." And he took his horse and went forth on his journey.
Gentle people, I would ask you this question now: Which do you think was the most noble? Now tell me, before you go farther. I know no more; my tale is finished.
Here is ended the Franklin's Tale.
THE DECAMERON
Giovanni Boccaccio ( 13131375 C.E.)
Begun ca. 1349 and finished by 1353 C.E.
Italy
Boccaccio began writing his Decameron shortly after an outbreak of the plague in Florence, Italy, in 1348 that killed about three quarters of the population. The introduction to this frame tale depicts the horrors of the plague, with vivid descriptions of the dying and laments about the lack of a cure. In his story, seven women and three men leave Florence to take refuge in the countryside. They justify their decision in several ways: the right to self-preservation; the bad morals and lewd behavior of many of their neighbors (who are convinced that they are going to die anyway); and their own feelings of abandonment by their families. They decide to tell stories to pass the time: one story each for ten days (the Greek for "ten" is "deka" and for "day" is "hemera," from which Boccaccio derives his title). Each day, one of them chooses a theme for the stories. As entertaining as the stories are, the discussions between the stories are what make the collection special; the speakers carry on a battle of the sexes as they debate the meaning and relative value of each story. The same dynamic can be found in two other frame tales in this anthology, one of which was influenced by the Decameron: the Thousand and One Nights (written before the Decameron) with its gripping frame story of Shahrazad; and Chaucer's Canterbury Tales, with the conversations (and arguments) among the pilgrims who are telling the tales.
Written by Laura J. Getty
5.4.1 The Decameron
Giovanni Boccaccio, translated by John Payne
License: Public Domain
Introduction
To the Ladies
Giovanni Boccaccio, translated by Léopold Flameng
License: Public Domain
When I reflect how disposed you are by nature to compassion, I cannot help being apprehensive lest what I now offer to your acceptance should seem to have but a harsh and offensive beginning; for it presents at the very outset the mournful remembrance of that most fatal plague, so terrible yet in the memories of us all. But let not this dismay you from reading further, as though every page were to cost you sighs and tears. Rather let this beginning, disagreeable as it is, seem to you but as a rugged and steep mountain placed before a delightful valley, which appears more beautiful and pleasant, as the way to it was more difficult: for as joy usually ends in sorrow, so again the end of sorrow is joy. To this short fatigue (I call it short, because contained in few words,) immediately succeeds the mirth and pleasure I had before promised you; and which, but for that promise, you would scarcely expect to find. And in truth could I have brought you by any other way than this, I would gladly have done it: but as the occasion of the occurrences, of which I am going to treat, could not well be made out without such a relation, I am forced to use this Introduction.
In the year then of our Lord 1348, there happened at Florence, the finest city in all Italy, a most terrible plague; which, whether owing to the influence of the planets, or that it was sent from God as a just punishment for our sins, had broken out some years before in the Levant, and after passing from place to place, and making incredible havoc all the way, had now reached the west. There, spite of all the means that art and human foresight could suggest, such as keeping the city clear from filth, the exclusion of all suspected persons, and the publication of copious instructions for the preservation of health; and notwithstanding manifold humble supplications offered to God in processions and otherwise; it began to show itself in the spring of the aforesaid year, in a sad and wonderful manner. Unlike what had been seen in the east, where bleeding from the nose is the fatal prognostic, here there appeared certain tumours in the groin or under the arm-pits, some as big as a small apple, others as an egg; and afterwards purple spots in most parts of the body; in some cases large and but few in number, in others smaller and more numerous—both sorts the usual messengers of death. To the cure of this malady, neither medical knowledge nor the power of drugs was of any effect; whether because the disease was in its own nature mortal, or that the physicians (the number of whom, taking quacks and women pretenders into the account, was grown very great,) could form no just idea of the cause, nor consequently devise a true method of cure; whichever was the reason, few escaped; but nearly all died the third day from the first appearance of the symptoms, some sooner, some later, without any fever or other accessory symptoms. What gave the more virulence to this plague, was that, by being communicated from the sick to the hale, it spread daily, like fire when it comes in contact with large masses of combustibles. Nor was it caught only by conversing with, or coming near the sick, but even by touching their clothes, or anything that they had before touched. It is wonderful, what I am going to mention; and had I not seen it with my own eyes, and were there not many witnesses to attest it besides myself, I should never venture to relate it, however worthy it were of belief. Such, I say, was the quality of the pestilential matter, as to pass not only from man to man, but, what is more strange, it has been often known, that anything belonging to the infected, if touched by any other creature, would certainly infect, and even kill that creature in a short space of time. One instance of this kind I took particular notice of: the rags of a poor man just dead had been thrown into the street; two hogs came up, and after rooting amongst the rags, and shaking them about in their mouths, in less than an hour they both turned round, and died on the spot.
These facts, and others of the like sort, occasioned various fears and devices amongst those who survived, all tending to the same uncharitable and cruel end; which was, to avoid the sick, and everything that had been near them, expecting by that means to save themselves. And some holding it best to live temperately, and to avoid excesses of all kinds, made parties, and shut themselves up from the rest of the world; eating and drinking moderately of the best, and diverting themselves with music, and such other entertainments as they might have within door; never listening to anything from without, to make them uneasy. Others maintained free living to be a better preservative, and would baulk no passion or appetite they wished to gratify, drinking and reveling incessantly from tavern to tavern, or in private houses (which were frequently found deserted by the owners, and therefore common to every one), yet strenuously avoiding, with all this brutal indulgence, to come near the infected. And such, at that time, was the public distress, that the laws, human and divine, were no more regarded; for the officers, to put them in force, being either dead, sick, or in want of persons to assist them, every one did just as he pleased. A third sort of people chose a method between these two: not confining themselves to rules of diet like the former, and yet avoiding the intemperance of the latter ; but eating and drinking what their appetites required, they walked everywhere with odours and nose gays to smell to ; as holding it best to corroborate the brain: for the whole atmosphere seemed to them tainted with the stench of dead bodies, arising partly from the distemper itself, and partly from the fermenting of the medicines within them. Others with less humanity, but perchance, as they supposed, with more security from danger, decided that the only remedy for the pestilence was to avoid it: persuaded, therefore, of this, and taking care for themselves only, men and women in great numbers left the city, their houses, relations, and effects, and fled into the country: as if the wrath of God had been restrained to visit those only within the walls of the city; or else concluding, that none ought to stay in a place thus doomed to destruction.
Thus divided as they were in their views, neither did all die, nor all escape; but falling sick indifferently, as well those of one as of another opinion; they who first set the example by forsaking others, now languished themselves without pity. I pass over the little regard that citizens and relations showed to each other; for their terror was such, that a brother even fled from his brother, a wife from her husband, and, what is more uncommon, a parent from his own child. Hence numbers that fell sick could have no help but what the charity of friends, who were very few, or the avarice of servants supplied; and even these were scarce and at extravagant wages, and so little used to the business that they were fit only to reach what was called for, and observe when their employer died; and this desire of getting money often cost them their lives. From this desertion of friends, and scarcity of servants, an unheard-of custom prevailed; no lady, however young or handsome, would scruple to be attended by a man-servant, whether young or old it mattered not, and to expose herself naked to him, the necessity of the distemper requiring it, as though it was to a woman; which might make those who recovered, less modest for the time to come. And many lost their lives, who might have escaped, had they been looked after at all. So that, between the scarcity of servants, and the violence of the distemper, such numbers were continually dying, as made it terrible to hear as well as to behold. Whence, from mere necessity, many customs were introduced different from what had been before known in the city.
It had been usual, as it now is, for the women who were friends and neighbours to the deceased, to meet together at his house, and to lament with his relations; at the same time the men would get together at the door, with a number of clergy, according to the person's circumstances; and the corpse was carried by people of his own rank, with the solemnity of tapers and singing, to that church where the deceased had desired to be buried. This custom was now laid aside, and, so far from having a crowd of women to lament over them, great numbers passed out of the world without a witness. Few were they who had the tears of their friends at their departure; those friends were laughing and making themselves merry the while; for even the women had learned to postpone every other concern to that of their own lives. Nor was a corpse attended by more than ten or a dozen, nor those citizens of credit, but fellows hired for the purpose; who would put themselves under the bier, and carry it with all possible haste to the nearest church; and the corpse was interred, without any great ceremony, where they could find room. With regard to the lower sort, and many of a middling rank, the scene was still more affecting; for they staying at home either through poverty or hopes of succour in distress, fell sick daily by thousands, and, having nobody to attend them, generally died: some breathed their last in the streets, and others shut up in their own houses, where the stench that came from them made the first discovery of their deaths to the neighbourhood. And, indeed, every place was filled with the dead. Hence it became a general practice, as well out of regard for the living as pity for the dead, for the neighbours, assisted by what porters they could meet with, to clear all the houses, and lay the bodies at the doors; and every morning great numbers might be seen brought out in this manner, to be carried away on biers, or tables, two or three at a time; and sometimes it has happened that a wife and her husband, two or three brothers, and a father and son, have been laid on together. It has been observed also, whilst two or three priests have walked before a corpse with their crucifix, that two or three sets of porters have fallen in with them; and where they knew but of one dead body, they have buried six, eight, or more : nor was there any to follow, and shed a few tears over them ; for things were come to that pass, that men's lives were no more regarded than the lives of so many beasts. Thus it plainly appeared, that what the wisest in the ordinary course of things, and by a common train of calamities, could never be taught, namely, to bear them patiently, this, by the excess of calamity, was now grown a familiar lesson to the most simple and unthinking. The consecrated ground no longer containing the numbers which were continually brought thither, especially as they were desirous of laying every one in the parts allotted to their families, they were forced to dig trenches, and to put them in by hundreds, piling them up in rows, as goods are stowed in a ship, and throwing in a little earth till they were filled to the top.
Not to dwell upon every particular of our misery, I shall observe, that it fared no better with the adjacent country; for, to omit the different boroughs about us, which presented the same view in miniature with the city, you might see the poor distressed labourers, with their families, without either the aid of physicians, or help of servants, languishing on the highways, in the fields, and in their own houses, and dying rather like cattle than human creatures. The consequence was that, growing dissolute in their manners like the citizens, and careless of everything, as supposing every day to be their last, their thoughts were not so much employed how to improve, as how to use their substance for their present support. The oxen, asses, sheep, goats, swine, and the dogs themselves, ever faithful to their masters, being driven from their own homes, were left to roam at will about the fields, and among the standing corn, which no one cared to gather, or even to reap ; and many times, after they had filled themselves in the day, the animals would return of their own accord like rational creatures at night.
What can I say more, if I return to the city? Unless that such was the cruelty of Heaven, and perhaps of men, that between March and July following, according to authentic reckonings, upwards of a hundred thousand souls perished in the city only; whereas, before that calamity, it was not supposed to have contained so many inhabitants. What magnificent dwellings, what noble palaces were then depopulated to the last inhabitant! What families became extinct! What riches and vast possessions were left, and no known heir to inherit them! What numbers of both sexes, in the prime and vigour of youth, whom in the morning neither Galen, Hippocrates, nor Æsculapius himself, would have denied to be in perfect health, breakfasted in the morning with their living friends, and supped at night with their departed friends in the other world or else to show by our habits the greatness of our distress. And if we go hence, it is either to see multitudes of the dead and sick carried along the streets; or persons who had been outlawed for their villanies, now facing it out publicly, in safe defiance of the laws; or the scum of the city, enriched with the public calamity, and insulting us with ribald ballads. Nor is anything now talked of, but that such a one is dead, or dying; and, were any left to mourn, we should hear nothing but lamentations. Or if we go home — I know not whether it fares with you as with myself—when I find out of a numerous family not one left besides a maidservant, I am frightened out of my senses; and go where I will, the ghosts of the departed seem always before me; not like the persons whilst they were living, but assuming a ghastly and dreadful aspect. Therefore the case is the same, whether we stay here, depart hence, or go home; especially as there are few left but ourselves who are able to go, and have a place to go to. Those few too, I am told, fall into all sorts of debauchery; and even cloistered ladies, supposing themselves entitled to equal liberties with others, are as bad as the worst. Now if this be so (as you see plainly it is), what do we here? What are we dreaming of? Why are we less regardful of our lives than other people of theirs? Are we of less value to ourselves, or are our souls and bodies more firmly united, and so in less danger of dissolution? It is monstrous to think in such a manner; so many of both sexes dying of this distemper in the very prime of their youth afford us an undeniable argument to the contrary. Wherefore, lest through our own willfulness or neglect, this calamity, which might have been prevented, should befall us, I should think it best (and I hope you will join with me,) for us to quit the town, and avoiding, as we would death itself, the bad example of others, to choose some place of retirement, of which every one of us has more than one, where we may make ourselves innocently merry, without offering the least violence to the dictates of reason and our own consciences. There will our ears be entertained with the warbling of the birds, and our eyes with the verdure of the hills and valleys; with the waving of cornfields like the sea itself; with trees of a thousand different kinds, and a more open and serene sky; which, however overcast, yet affords a far more agreeable prospect than these desolate walls. The air also is pleasanter, and there is greater plenty of everything, attended with few inconveniences: for, though people die there as well as here, yet we shall have fewer such objects before us, as the inhabitants are less in number; and on the other part, if I judge right, we desert nobody, but are rather ourselves forsaken. For all our friends, either by death, or endeavouring to avoid it, have left us, as if we in no way belonged to them. As no blame then can ensue from following this advice, and perhaps sickness and death from not doing so, I would have us take our maids, and everything we may be supposed to want, and enjoy all the diversions which the season will permit, to-day in one place, to-morrow in another; and so continue to do, unless death should interpose, until we see what end Providence designs for these things. And of this too let me remind you, that our characters will stand as fair by our going away reputably, as those of others will do who stay at home with discredit."
The ladies having heard what Pampinea had to offer, not only approved of it, but had actually began to concert measures for their instant departure, when Filomena, who was a most discreet person, remarked: "Though Pampinea has spoken well, yet there is no occasion to run headlong into the affair, as you are about to do. We are but women, nor is any of us so ignorant as not to know how little able we shall be to conduct such an affair, without some man to help us. We are naturally fickle, obstinate, suspicious, and fearful; and I doubt much, unless we take somebody into our scheme to manage it for us, lest it soon be at an end; and perhaps, little to our reputation. Let us provide against this, therefore, before we begin."
Eliza then replied: "It is true, man is our sex's chief or head, and without his management, it seldom happens that any undertaking of ours succeeds well. But how are these men to be come at? We all know that the greater part of our male acquaintance are dead, and the rest all dispersed abroad, avoiding what we seek to avoid, and without our knowing where to find them. To take strangers with us, would not be altogether so proper: for, whilst we have regard to our health, we should so contrive matters, that, wherever we go to repose and divert ourselves, no scandal may ensue from it."
Whilst this matter was in debate, behold, three gentlemen came into the church, the youngest not less than twenty-five years of age, and in whom neither the adversity of the times, the loss of relations and friends, nor even fear for themselves, could stifle, or indeed cool, the passion of love. One was called Pamfilo, the second Filostrato, and the third Dioneo, all of them well bred, and pleasant companions; and who, to divert themselves in this time of affliction, were then in pursuit of their mistresses, who as it chanced were three of these seven ladies, the other four being all related to one or other of them. These gentlemen were no sooner within view, than the ladies had immediately their eyes upon them, and Pampinea said, with a smile, "See, fortune is with us, and has thrown in our way three prudent and worthy gentlemen, who will conduct and wait upon us, if we think fit to accept of their service." Neifile, with a blush, because she was one that had an admirer, answered: "Take care what you say, I know them all indeed to be persons of character, and fit to be trusted, even in affairs of more consequence, and in better company; but, as some of them are enamoured of certain ladies here, I am only concerned lest we be drawn into some scrape or scandal, without either our fault or theirs." Filomena replied: "Never tell me what other people may think, so long as I know myself to be virtuous; God and the truth will be my defence; and if they be willing to go, we will say with Pampinea, that fortune is with us."
The rest hearing her speak in this manner, gave consent that the gentlemen should be invited to partake in this expedition. Without more words, Pampinea, who was related to one of the three rose up, and made towards them, as they stood watching at a distance. Then, after a cheerful salutation, she acquainted them with the design in hand, and entreated that they would, out of pure friendship, oblige them with their company. The gentlemen at first took it all for a jest, but, being assured to the contrary, immediately answered that they were ready; and, to lose no time, gave the necessary orders for what they wished to have done. Every thing being thus prepared, and a messenger dispatched before, whither they intended to go, the next morning, which was Wednesday, by break of day, the ladies, with some of their women, and the gentlemen, with every one his servant, set out from the city, and, after they had travelled two short miles, came to the place appointed.
It was a little eminence, remote from any great road, covered with trees and shrubs of an agreeable verdure; and on the top was a stately palace, with a grand and beautiful court in the middle: within were galleries, and fine apartments elegantly fitted up, and adorned with most curious paintings; around it were fine meadows, and most delightful gardens, with fountains of the purest and best water. The vaults also were stored with the richest wines, suited rather to the taste of copious topers, than of modest and virtuous ladies. This palace they found cleared out, and everything set in order for their reception, with the rooms all graced with the flowers of the season, to their great satisfaction. The party being seated, Dioneo, who was the pleasantest of them all, and full of words, began "Your wisdom it is, ladies, rather than any foresight of ours, which has brought us hither. I know not how you have disposed of your cares; as for mine, I left them all behind me when I came from home. Either prepare, then, to be as merry as myself (I mean with decency), or give me leave to go back again, and resume my cares where I left them." Pampinea made answer, as if she had disposed of hers in like manner: "You say right, sir, we will be merry; we fled from our troubles for no other reason. But, as extremes are never likely to last, I, who first proposed the means by which such an agreeable company is now met together, being desirous to make our mirth of some continuance, do find there is a necessity for our appointing a principal, whom we shall honour and obey in all things as our head; and whose province it shall be to regulate our diversions. And that every one may make trial of the burthen which attends care, as well as the pleasure which there is in superiority, nor therefore envy what he has not yet tried, I hold it best that every one should experience both the trouble and the honour for one day. The first, I propose, shall be elected by us all, and, on the approach of evening, hall name a person to succeed for the following day: and each one, during the time of his or her government, shall give orders concerning the place where, and the manner how, we are to live."
These words were received with the highest satisfaction, and the speaker was, with one consent, appointed president for the first day: whilst Filomena, running to a laurel-tree, (for she had often heard how much that tree has always been esteemed, and what honour was conferred on those who were deservedly crowned with it,) made a garland, and put it upon Pampinea's head. That garland, whilst the company continued together, was ever after to be the ensign of sovereignty.
Pampinea, being thus elected queen, enjoined silence, and having summoned to her presence the gentlemen's servants, and their own women, who were four in number: "To give you the first example," said she, "how, by proceeding from good to better, we may live orderly and pleasantly, and continue together, without the least reproach, as long as we please, in the first place I declare Parmeno, Dioneo's servant, master of my household, and to him I commit the care of my family, and everything relating to my hall. Sirisco, Pamfilo's servant, I appoint my treasurer, and to be under the direction of Parmeno; and Tindaro I command to wait on Filostrato and the other two gentlemen, whilst their servants are thus employed. Mysia, my woman, and Licisca, Filomena's, I order into the kitchen, there to get ready what shall be provided by Parmeno. To Lauretta's Chimera, and Fiammetta's Stratilia, I give the care of the ladies' chambers, and to keep the room clean where we sit. And I will and command you all, on pain of my displeasure, that wherever you go, or whatever you hear and see, you bring no news here but what is good." These orders were approved by all; and the queen, rising from her seat, with a good deal of gaiety, added: "Here are gardens and meadows, where you may divert yourselves till nine o'clock, when I shall expect you back, that we may dine in the cool of the day."
The company were now at liberty, and the gentlemen and ladies took a pleasant walk in the garden, talking over a thousand merry things by the way, and diverting themselves by singing love songs, and weaving garlands of flowers. Returning at the time appointed, they found Parmeno busy in the execution of his office: for in a saloon below was the table set forth, covered with the neatest linen, with glasses reflecting a lustre like silver: and water having been presented to them to wash their hands, by the queen's order, Parmeno desired them to sit down. The dishes were now served up in the most elegant manner, and the best wines brought in, the servants waiting all the time with the most profound silence; and being well pleased with their entertainment, they dined with all the facetiousness and mirth imaginable. When dinner was over, as they could all dance, and some both play and sing well, the queen ordered in the musical instruments. Dioneo took a lute, and Fiammetta a viol, in obedience to the royal command; a dance was struck up, and the queen, with the rest of the company, took an agreeable turn or two, whilst the servants were sent to dinner; and when the dance was ended, they began to sing, and continued till the queen thought it time to break up. Her permission being given, the gentlemen retired to their chambers, remote from the ladies' lodging rooms, and the ladies did the same, and undressed themselves for bed.
It was little more than three, when the queen rose, and ordered all to be called, alleging that much sleep in the daytime was unwholesome. Then they went into a meadow of deep grass, where the sun had little power; and having the benefit of a pleasant breeze, they sat down in a circle, as the queen had commanded, and she addressed them in this manner:—"As the sun is high, and the heat excessive, and nothing is to be heard but the chirping of the cicalas among the olives, it would be madness for us to think of moving yet: this is an airy place, and here are chess-boards and backgammon tables to divert yourselves with; but if you will be ruled by me, you will not play at all, since it often makes the one party uneasy, without any great pleasure to the other, or to the lookers-on; but let us begin and tell stories, and in this manner one person will entertain the whole company ; and by the time it has gone round, the worst part of the day will be over, and then we can divert ourselves as we like best. If this be agreeable to you, then (for I wait to know your pleasure) let us begin; if not, you are at your own disposal till the evening." This motion being approved by all, the queen continued, "Let every one for this first day take what subject he fancies most:" and turning to Pamfilo, who sat on her right hand, she bade him begin. He readily obeyed, and spoke to this effect, so as to be distinctly heard by the whole company.
Day the Third
The Ninth Story
Gillette de narbonne recovereth the king of france of a fistula and demandeth for her husband bertrand de roussillon, who marrieth her against his will and betaketh him for despite to florence, where, he paying court to a young lady, gillette, in the person of the latter, lieth with him and hath by him two sons; wherefore after, holding her dear, he entertaineth her for his wife.
Lauretta's story being now ended, it rested but with the queen to tell, an she would not infringe upon Dioneo's privilege; wherefore, without waiting to be solicited by her companions, she began all blithesomely to speak thus: "Who shall tell a story that may appear goodly, now we have heard that of Lauretta? Certes, it was well for us that hers was not the first, for that few of the others would have pleased after it, as I misdoubt me will betide of those which are yet to tell this day. Natheless, be that as it may, I will e'en recount to you that which occurreth to me upon the proposed theme.
There was in the kingdom of France a gentleman called Isnard, Count of Roussillon, who, for that he was scant of health, still entertained about his person a physician, by name Master Gerard de Narbonne. The said count had one little son, and no more, hight Bertrand, who was exceeding handsome and agreeable, and with him other children of his own age were brought up. Among these latter was a daughter of the aforesaid physician, by name Gillette, who vowed to the said Bertrand an infinite love and fervent more than pertained unto her tender years. The count dying and leaving his son in the hands of the king, it behoved him betake himself to Paris, whereof the damsel abode sore disconsolate, and her own father dying no great while after, she would fain, an she might have had a seemly occasion, have gone to Paris to see Bertrand: but, being straitly guarded, for that she was left rich and alone, she saw no honourable way thereto; and being now of age for a husband and having never been able to forget Bertrand, she had, without reason assigned, refused many to whom her kinsfolk would have married her.
Now it befell that, what while she burned more than ever for love of Bertrand, for that she heard he was grown a very goodly gentleman, news came to her how the King of France, by an imposthume which he had had in his breast and which had been ill tended, had gotten a fistula, which occasioned him the utmost anguish and annoy, nor had he yet been able to find a physician who might avail to recover him thereof, albeit many had essayed it, but all had aggravated the ill; wherefore the king, despairing of cure, would have no more counsel nor aid of any. Hereof the young lady was beyond measure content and bethought herself that not only would this furnish her with a legitimate occasion of going to Paris, but that, should the king's ailment be such as she believed, she might lightly avail to have Bertrand to husband. Accordingly, having aforetime learned many things of her father, she made a powder of certain simples useful for such an infirmity as she conceived the king's to be and taking horse, repaired to Paris.
Before aught else she studied to see Bertrand and next, presenting herself before the king, she prayed him of his favour to show her his ailment. The king, seeing her a fair and engaging damsel, knew not how to deny her and showed her that which ailed him. Whenas she saw it, she was certified incontinent that she could heal it and accordingly said, 'My lord, an it please you, I hope in God to make you whole of this your infirmity in eight days' time, without annoy or fatigue on your part.' The king scoffed in himself at her words, saying, 'That which the best physicians in the world have availed not neither known to do, how shall a young woman know?' Accordingly, he thanked her for her good will and answered that he was resolved no more to follow the counsel of physicians. Whereupon quoth the damsel, 'My lord, you make light of my skill, for that I am young and a woman; but I would have you bear in mind that I medicine not of mine own science, but with the aid of God and the science of Master Gerard de Narbonne, who was my father and a famous physician whilst he lived.'
The king, hearing this, said in himself, 'It may be this woman is sent me of God; why should I not make proof of her knowledge, since she saith she will, without annoy of mine, cure me in little time?' Accordingly, being resolved to essay her, he said, 'Damsel, and if you cure us not, after causing us break our resolution, what will you have ensue to you therefor?' 'My lord,' answered she, 'set a guard upon me and if I cure you not within eight days, let burn me alive; but, if I cure you, what reward shall I have?' Quoth the king, 'You seem as yet unhusbanded; if you do this, we will marry you well and worshipfully.' 'My lord,' replied the young lady, 'I am well pleased that you should marry me, but I will have a husband such as I shall ask of you, excepting always any one of your sons or of the royal house.' He readily promised her that which she sought, whereupon she began her cure and in brief, before the term limited, she brought him back to health.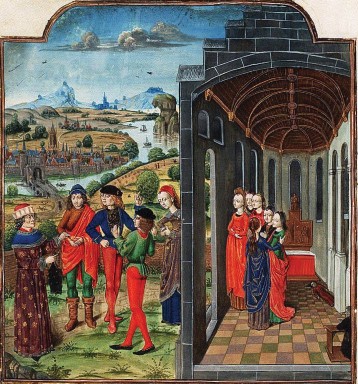 Image 5.7: Giovanni Boccaccio and Florentines who have Fled from the Plague | In this introduction to The Decameron, the author is shown alongside his ten characters (three men and seven women) who left Florence to escape the plague.
Author: Master of 1482 and follower (illuminators)
Source: Wikimedia Commons
License: Public Domain
The king, feeling himself healed, said, 'Damsel, you have well earned your husband'; whereto she answered, 'Then, my lord, I have earned Bertrand de Roussillon, whom I began to love even in the days of my childhood and have ever since loved over all.' The king deemed it a grave matter to give him to her; nevertheless, having promised her and unwilling to fail of his faith, he let call the count to himself and bespoke him thus: 'Bertrand, you are now of age and accomplished [in all that behoveth unto man's estate]; wherefore it is our pleasure that you return to govern your county and carry with you a damsel, whom we have given you to wife.' 'And who is the damsel, my lord?' asked Bertrand; to which the king answered, 'It is she who hath with her medicines restored to us our health.'
Bertrand, who had seen and recognized Gillette, knowing her (albeit she seemed to him very fair) to be of no such lineage as sorted with his quality, said all disdainfully, 'My lord, will you then marry me to a she-leach? Now God forbid I should ever take such an one to wife!' 'Then,' said the king, 'will you have us fail of our faith, the which, to have our health again, we pledged to the damsel, who in guerdon thereof demanded you to husband?' 'My lord,' answered Bertrand, 'you may, an you will, take from me whatsoever I possess or, as your liegeman, bestow me upon whoso pleaseth you; but of this I certify you, that I will never be a consenting party unto such a marriage.' 'Nay,' rejoined the king, 'but you shall, for that the damsel is fair and wise and loveth you dear; wherefore we doubt not but you will have a far happier life with her than with a lady of higher lineage.' Bertrand held his peace and the king let make great preparations for the celebration of the marriage.
The appointed day being come, Bertrand, sore against his will, in the presence of the king, espoused the damsel, who loved him more than herself. This done, having already determined in himself what he should do, he sought leave of the king to depart, saying he would fain return to his county and there consummate the marriage; then, taking horse, he repaired not thither, but betook himself into Tuscany, where, hearing that the Florentines were at war with those of Sienna, he determined to join himself to the former, by whom he was joyfully received and made captain over a certain number of men-at-arms; and there, being well provided of them, he abode a pretty while in their service.
The newly-made wife, ill content with such a lot, but hoping by her fair dealing to recall him to his county, betook herself to Roussillon, where she was received of all as their liege lady. There, finding everything waste and disordered for the long time that the land had been without a lord, with great diligence and solicitude, like a discreet lady as she was, she set all in order again, whereof the count's vassals were mightily content and held her exceeding dear, vowing her a great love and blaming the count sore for that he accepted not of her. The lady, having thoroughly ordered the county, notified the count thereof by two knights, whom she despatched to him, praying him that, an it were on her account he forbore to come to his county, he should signify it to her and she, to pleasure him, would depart thence; but he answered them very harshly, saying, 'For that, let her do her pleasure; I, for my part, will return thither to abide with her, whenas she shall have this my ring on her finger and in her arms a son by me begotten.' Now the ring in question he held very dear and never parted with it, by reason of a certain virtue which it had been given him to understand that it had.
The knights understood the hardship of the condition implied in these two well nigh impossible requirements, but, seeing that they might not by their words avail to move him from his purpose, they returned to the lady and reported to her his reply; whereat she was sore afflicted and determined, after long consideration, to seek to learn if and where the two things aforesaid might be compassed, to the intent that she might, in consequence, have her husband again. Accordingly, having bethought herself what she should do, she assembled certain of the best and chiefest men of the county and with plaintive speech very orderly recounted to them that which she had already done for love of the count and showed them what had ensued thereof, adding that it was not her intent that, through her sojourn there, the count should abide in perpetual exile; nay, rather she purposed to spend the rest of her life in pilgrimages and works of mercy and charity for her soul's health; wherefore she prayed them take the ward and governance of the county and notify the count that she had left him free and vacant possession and had departed the country, intending nevermore to return to Roussillon. Many were the tears shed by the good folk, whilst she spoke, and many the prayers addressed to her that it would please her change counsel and abide there; but they availed nought. Then, commending them to God, she set out upon her way, without telling any whither she was bound, well furnished with monies and jewels of price and accompanied by a cousin of hers and a chamberwoman, all in pilgrims' habits, and stayed not till she came to Florence, where, chancing upon a little inn, kept by a decent widow woman, she there took up her abode and lived quietly, after the fashion of a poor pilgrim, impatient to hear news of her lord.
It befell, then, that on the morrow of her arrival she saw Bertrand pass before her lodging, a-horseback with his company, and albeit she knew him full well, natheless she asked the good woman of the inn who he was. The hostess answered, 'That is a stranger gentleman, who calleth himself Count Bertrand, a pleasant man and a courteous and much loved in this city; and he is the most enamoured man in the world of a she-neighbour of ours, who is a gentlewoman, but poor. Sooth to say, she is a very virtuous damsel and abideth, being yet unmarried for poverty, with her mother, a very good and discreet lady, but for whom, maybe, she had already done the count's pleasure.' The countess took good note of what she heard and having more closely enquired into every particular and apprehended all aright, determined in herself how she should do.
Accordingly, having learned the house and name of the lady whose daughter the count loved, she one day repaired privily thither in her pilgrim's habit and finding the mother and daughter in very poor case, saluted them and told the former that, an it pleased her, she would fain speak with her alone. The gentlewoman, rising, replied that she was ready to hearken to her and accordingly carried her into a chamber of hers, where they seated themselves and the countess began thus, 'Madam, meseemeth you are of the enemies of Fortune, even as I am; but, an you will, belike you may be able to relieve both yourself and me.' The lady answered that she desired nothing better than to relieve herself by any honest means; and the countess went on, 'Needs must you pledge me your faith, whereto an I commit myself and you deceive me, you will mar your own affairs and mine.' 'Tell me anything you will in all assurance,' replied the gentlewoman; 'for never shall you find yourself deceived of me.'
Thereupon the countess, beginning with her first enamourment, recounted to her who she was and all that had betided her to that day after such a fashion that the gentlewoman, putting faith in her words and having, indeed, already in part heard her story from others, began to have compassion of her. The countess, having related her adventures, went on to say, 'You have now, amongst my other troubles, heard what are the two things which it behoveth me have, an I would have my husband, and to which I know none who can help me, save only yourself, if that be true which I hear, to wit, that the count my husband is passionately enamoured of your daughter.' 'Madam,' answered the gentlewoman, 'if the count love my daughter I know not; indeed he maketh a great show thereof. But, an it be so, what can I do in this that you desire?' 'Madam,' rejoined the countess, 'I will tell you; but first I will e'en show you what I purpose shall ensue thereof to you, an you serve me. I see your daughter fair and of age for a husband and according to what I have heard, meseemeth I understand the lack of good to marry her withal it is that causeth you keep her at home. Now I purpose, in requital of the service you shall do me, to give her forthright of mine own monies such a dowry as you yourself shall deem necessary to marry her honorably.'
The mother, being needy, was pleased with the offer; algates, having the spirit of a gentlewoman, she said, 'Madam, tell me what I can do for you; if it consist with my honour, I will willingly do it, and you shall after do that which shall please you.' Then said the countess, 'It behoveth me that you let tell the count my husband by some one in whom you trust, that your daughter is ready to do his every pleasure, so she may but be certified that he loveth her as he pretendeth, the which she will never believe, except he send her the ring which he carrieth on his finger and by which she hath heard he setteth such store. An he send you the ring, you must give it to me and after send to him to say that your daughter is ready do his pleasure; then bring him hither in secret and privily put me to bed to him in the stead of your daughter. It may be God will vouchsafe me to conceive and on this wise, having his ring on my finger and a child in mine arms of him begotten, I shall presently regain him and abide with him, as a wife should abide with her husband, and you will have been the cause thereof.'
This seemed a grave matter to the gentlewoman, who feared lest blame should haply ensue thereof to her daughter; nevertheless, bethinking her it were honourably done to help the poor lady recover her husband and that she went about to do this to a worthy end and trusting in the good and honest intention of the countess, she not only promised her to do it, but, before many days, dealing with prudence and secrecy, in accordance with the latter's instructions, she both got the ring (albeit this seemed somewhat grievous to the count) and adroitly put her to bed with her husband, in the place of her own daughter. In these first embracements, most ardently sought of the count, the lady, by God's pleasure, became with child of two sons, as her delivery in due time made manifest. Nor once only, but many times, did the gentlewoman gratify the countess with her husband's embraces, contriving so secretly that never was a word known of the matter, whilst the count still believed himself to have been, not with his wife, but with her whom he loved; and whenas he came to take leave of a morning, he gave her, at one time and another, divers goodly and precious jewels, which the countess laid up with all diligence.
Then, feeling herself with child and unwilling to burden the gentlewoman farther with such an office, she said to her, 'Madam, thanks to God and you, I have gotten that which I desired, wherefore it is time that I do that which shall content you and after get me gone hence.' The gentlewoman answered that, if she had gotten that which contented her, she was well pleased, but that she had not done this of any hope of reward, nay, for that herseemed it behoved her to do it, an she would do well. 'Madam,' rejoined the countess, 'that which you say liketh me well and so on my part I purpose not to give you that which you shall ask of me by way of reward, but to do well, for that meseemeth behoveful so to do.' The gentlewoman, then, constrained by necessity, with the utmost shamefastness, asked her an hundred pounds to marry her daughter withal; but the countess, seeing her confusion and hearing her modest demand, gave her five hundred and so many rare and precious jewels as were worth maybe as much more. With this the gentlewoman was far more than satisfied and rendered the countess the best thanks in her power; whereupon the latter, taking leave of her, returned to the inn, whilst the other, to deprive Bertrand of all farther occasion of coming or sending to her house, removed with her daughter into the country to the house of one of her kinsfolk, and he, being a little after recalled by his vassals and hearing that the countess had departed the country, returned to his own house.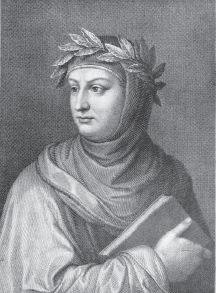 Image 5.8: Boccaccio by morghen | Engraved portrait of Boccaccio, by the artist Raffaello Sanzio Morghen.
Author: Raffaello Sanzio Morghen
Source: Wikimedia Commons
License: Public Domain
The countess, hearing that he had departed Florence and returned to his county, was mightily rejoiced and abode at Florence till her time came to be delivered, when she gave birth to two male children, most like their father, and let rear them with all diligence. Whenas it seemed to her time, she set out and came, without being known of any, to Montpellier, where having rested some days and made enquiry of the count and where he was, she learned that he was to hold a great entertainment of knights and ladies at Roussillon on All Saints' Day and betook herself thither, still in her pilgrim's habit that she was wont to wear. Finding the knights and ladies assembled in the count's palace and about to sit down to table, she went up, with her children in her arms and without changing her dress, into the banqueting hall and making her way between man and man whereas she saw the count, cast herself at his feet and said, weeping, 'I am thine unhappy wife, who, to let thee return and abide in thy house, have long gone wandering miserably about the world. I conjure thee, in the name of God, to accomplish unto me thy promise upon the condition appointed me by the two knights I sent thee; for, behold, here in mine arms is not only one son of thine, but two, and here is thy ring. It is time, then, that I be received of thee as a wife, according to thy promise.'
The count, hearing this, was all confounded and recognized the ring and the children also, so like were they to him; but yet he said, 'How can this have come to pass?' The countess, then, to his exceeding wonderment and that of all others who were present, orderly recounted that which had passed and how it had happened; whereupon the count, feeling that she spoke sooth and seeing her constancy and wit and moreover two such goodly children, as well for the observance of his promise as to pleasure all his liegemen and the ladies, who all besought him thenceforth to receive and honour her as his lawful wife, put off his obstinate despite and raising the countess to her feet, embraced her and kissing her, acknowledged her for his lawful wife and those for his children. Then, letting clothe her in apparel such as beseemed her quality, to the exceeding joyance of as many as were there and of all other his vassals who heard the news, he held high festival, not only all that day, but sundry others, and from that day forth still honoured her as his bride and his wife and loved and tendered her over all."
Day the Fourth
The Second Story
Fra alberto giveth a lady to believe that the angel gabriel is enamoured of her and in his shape lieth with her sundry times; after which, for fear of her kinsmen, he casteth himself forth of her window into the canal and taketh refuge in the house of a poor man, who on the morrow carrieth him, in the guise of a wild man of the woods, to the piazza, where, being recognized, he is taken by his brethren and put in prison.
The story told by Fiammetta had more than once brought the tears to the eyes of the ladies her companions; but, it being now finished, the king with a stern countenance said, "My life would seem to me a little price to give for half the delight that Guiscardo had with Ghismonda, nor should any of you ladies marvel thereat, seeing that every hour of my life I suffer a thousand deaths, nor for all that is a single particle of delight vouchsafed me. But, leaving be my affairs for the present, it is my pleasure that Pampinea follow on the order of the discourse with some story of woeful chances and fortunes in part like to mine own; which if she ensue like as Fiammetta hath begun, I shall doubtless begin to feel some dew fallen upon my fire." Pampinea, hearing the order laid upon her, more by her affection apprehended the mind of the ladies her companions than that of Filostrato by his words, wherefore, being more disposed to give them some diversion than to content the king, farther than in the mere letter of his commandment, she bethought herself to tell a story, that should, without departing from the proposed theme, give occasion for laughter, and accordingly began as follows:
"The vulgar have a proverb to the effect that he who is naught and is held good may do ill and it is not believed of him; the which affordeth me ample matter for discourse upon that which hath been proposed to me and at the same time to show what and how great is the hypocrisy of the clergy, who, with garments long and wide and faces paled by art and voices humble and meek to solicit the folk, but exceeding loud and fierce to rebuke in others their own vices, pretend that themselves by taking and others by giving to them come to salvation, and to boot, not as men who have, like ourselves, to purchase paradise, but as in a manner they were possessors and lords thereof, assign unto each who dieth, according to the sum of the monies left them by him, a more or less excellent place there, studying thus to deceive first themselves, an they believe as they say, and after those who put faith for that matter in their words. Anent whom, were it permitted me to discover as much as it behoved, I would quickly make clear to many simple folk that which they keep hidden under those huge wide gowns of theirs. But would God it might betide them all of their cozening tricks, as it betided a certain minor friar, and he no youngling, but held one of the first casuists in Venice; of whom it especially pleaseth me to tell you, so as peradventure somewhat to cheer your hearts, that are full of compassion for the death of Ghismonda, with laughter and pleasance.
There was, then, noble ladies, in Imola, a man of wicked and corrupt life, who was called Berto della Massa and whose lewd fashions, being well known of the Imolese, had brought him into such ill savour with them that there was none in the town who would credit him, even when he said sooth; wherefore, seeing that his shifts might no longer stand him in stead there, he removed in desperation to Venice, the receptacle of every kind of trash, thinking to find there new means of carrying on his wicked practices. There, as if conscience-stricken for the evil deeds done by him in the past, feigning himself overcome with the utmost humility and waxing devouter than any man alive, he went and turned Minor Friar and styled himself Fra Alberta da Imola; in which habit he proceeded to lead, to all appearance, a very austere life, greatly commending abstinence and mortification and never eating flesh nor drinking wine, whenas he had not thereof that which was to his liking. In short, scarce was any ware of him when from a thief, a pimp, a forger, a manslayer, he suddenly became a great preacher, without having for all that forsworn the vices aforesaid, whenas he might secretly put them in practice. Moreover, becoming a priest, he would still, whenas he celebrated mass at the altar, an he were seen of many, beweep our Saviour's passion, as one whom tears cost little, whenas he willed it. Brief, what with his preachings and his tears, he contrived on such wise to inveigle the Venetians that he was trustee and depository of well nigh every will made in the town and guardian of folk's monies, besides being confessor and counsellor of the most part of the men and women of the place; and doing thus, from wolf he was become shepherd and the fame of his sanctity was far greater in those parts than ever was that of St. Francis at Assisi.
It chanced one day that a vain simple young lady, by name Madam Lisetta da Ca Quirino, wife of a great merchant who was gone with the galleys into Flanders, came with other ladies to confess to this same holy friar, at whose feet kneeling and having, like a true daughter of Venice as she was (where the women are all feather-brained), told him part of her affairs, she was asked of him if she had a lover. Whereto she answered, with an offended air, 'Good lack, sir friar, have you no eyes in your head? Seem my charms to you such as those of yonder others? I might have lovers and to spare, an I would; but my beauties are not for this one nor that. How many women do you see whose charms are such as mine, who would be fair in Paradise?' Brief, she said so many things of this beauty of hers that it was a weariness to hear. Fra Alberto incontinent perceived that she savoured of folly and himseeming she was a fit soil for his tools, he fell suddenly and beyond measure in love with her; but, reserving blandishments for a more convenient season, he proceeded, for the nonce, so he might show himself a holy man, to rebuke her and tell her that this was vainglory and so forth. The lady told him he was an ass and knew not what one beauty was more than another, whereupon he, unwilling to vex her overmuch, took her confession and let her go away with the others.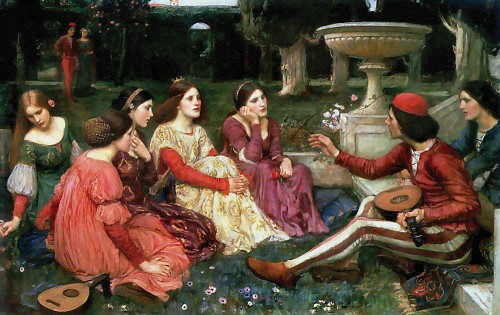 Image 5.9: A Tale from the decameron | An oil painting by John William Waterhouse, showing the characters of The Decameron sitting together as they tell their stories.
Author: Unknown
Source: Wikimedia Commons
License: Public Domain
He let some days pass, then, taking with him a trusty companion of his, he repaired to Madam Lisetta's house and withdrawing with her into a room apart, where none might see him, he fell on his knees before her and said, 'Madam, I pray you for God's sake pardon me that which I said to you last Sunday, whenas you bespoke me of your beauty, for that the following night I was so cruelly chastised there that I have not since been able to rise from my bed till to-day.' Quoth Mistress Featherbrain, 'And who chastised you thus?' 'I will tell you,' replied the monk. 'Being that night at my orisons, as I still use to be, I saw of a sudden a great light in my cell and ere I could turn me to see what it might be, I beheld over against me a very fair youth with a stout cudgel in his hand, who took me by the gown and dragging me to my feet, gave me such a drubbing that he broke every bone in my body. I asked him why he used me thus and he answered, "For that thou presumedst to-day, to disparage the celestial charms of Madam Lisetta, whom I love over all things, save only God." "Who, then, are you?" asked I; and he replied that he was the angel Gabriel. "O my lord," said I, "I pray you pardon me"; and he, "So be it; I pardon thee on condition that thou go to her, as first thou mayst, and get her pardon; but if she pardons thee not, I will return to thee and give thee such a bout of it that I will make thee a woeful man for all the time thou shalt live here below." That which he said to me after I dare not tell you, except you first pardon me.'
My Lady Addlepate, who was somewhat scant of wit, was overjoyed to hear this, taking it all for gospel, and said, after a little, 'I told you, Fra Alberto, that my charms were celestial, but, so God be mine aid, it irketh me for you and I will pardon you forthright, so you may come to no more harm, provided you tell me truly that which the angel said to you after.' 'Madam,' replied Fra Alberto, 'since you pardon me, I will gladly tell it you; but I must warn you of one thing, to wit, that whatever I tell you, you must have a care not to repeat it to any one alive, an you would not mar your affairs, for that you are the luckiest lady in the world. The angel Gabriel bade me tell you that you pleased him so much that he had many a time come to pass the night with you, but that he feared to affright you. Now he sendeth to tell you by me that he hath a mind to come to you one night and abide awhile with you and (for that he is an angel and that, if he came in angel-form, you might not avail to touch him,) he purposeth, for your delectation, to come in guise of a man, wherefore he biddeth you send to tell him when you would have him come and in whose form, and he will come hither; whereof you may hold yourself blest over any other lady alive.'
My Lady Conceit answered that it liked her well that the angel Gabriel loved her, seeing she loved him well nor ever failed to light a candle of a groat before him, whereas she saw him depictured, and that what time soever he chose to come to her, he should be dearly welcome and would find her all alone in her chamber, but on this condition, that he should not leave her for the Virgin Mary, whose great well-wisher it was said he was, as indeed appeareth, inasmuch as in every place where she saw him [limned], he was on his knees before her. Moreover, she said it must rest with him to come in whatsoever form he pleased, so but she was not affrighted.
Then said Fra Alberto, 'Madam, you speak sagely and I will without fail take order with him of that which you tell me. But you may do me a great favour, which will cost you nothing; it is this, that you will him come with this my body. And I will tell you in what you will do me a favour; you must know that he will take my soul forth of my body and put it in Paradise, whilst he himself will enter into me; and what while he abideth with you, so long will my soul abide in Paradise.' 'With all my heart,' answered Dame Littlewit. 'I will well that you have this consolation, in requital of the buffets he gave you on my account.' Then said Fra Alberto, 'Look that he find the door of your house open to-night, so he may come in thereat, for that, coming in human form, as he will, he might not enter save by the door.' The lady replied that it should be done, whereupon the monk took his leave and she abode in such a transport of exultation that her breech touched not her shift and herseemed a thousand years till the angel Gabriel should come to her.
Meanwhile, Fra Alberto, bethinking him that it behoved him play the cavalier, not the angel, that night proceeded to fortify himself with confections and other good things, so he might not lightly be unhorsed; then, getting leave, as soon as it was night, he repaired with one of his comrades to the house of a woman, a friend of his, whence he was used whiles to take his start what time he went to course the fillies; and thence, whenas it seemed to him time, having disguised himself, he betook him to the lady's house. There he tricked himself out as an angel with the trappings he had brought with him and going up, entered the chamber of the lady, who, seeing this creature all in white, fell on her knees before him. The angel blessed her and raising her to her feet, signed to her to go to bed, which she, studious to obey, promptly did, and the angel after lay down with his devotee. Now Fra Alberto was a personable man of his body and a lusty and excellent well set up on his legs; wherefore, finding himself in bed with Madam Lisetta, who was young and dainty, he showed himself another guess bedfellow than her husband and many a time that night took flight without wings, whereof she avowed herself exceeding content; and eke he told her many things of the glories of heaven. Then, the day drawing near, after taking order for his return, he made off with his trappings and returned to his comrade, whom the good woman of the house had meanwhile borne amicable company, lest he should get a fright, lying alone.
As for the lady, no sooner had she dined than, taking her waiting-woman with her, she betook herself to Fra Alberto and gave him news of the angel Gabriel, telling him that which she had heard from him of the glories of life eternal and how he was made and adding to boot, marvellous stories of her own invention. 'Madam,' said he, 'I know not how you fared with him; I only know that yesternight, whenas he came to me and I did your message to him, he suddenly transported my soul amongst such a multitude of roses and other flowers that never was the like thereof seen here below, and I abode in one of the most delightsome places that was aye until the morning; but what became of my body meanwhile I know not.' 'Do I not tell you?' answered the lady. 'Your body lay all night in mine arms with the angel Gabriel. If you believe me not, look under your left pap, whereas I gave the angel such a kiss that the marks of it will stay by you for some days to come.' Quoth the friar, 'Say you so? Then will I do to-day a thing I have not done this great while; I will strip myself, to see if you tell truth.' Then, after much prating, the lady returned home and Fra Alberto paid her many visits in angel-form, without suffering any hindrance.
However, it chanced one day that Madam Lisetta, being in dispute with a gossip of hers upon the question of female charms, to set her own above all others, said, like a woman who had little wit in her noddle, 'An you but knew whom my beauty pleaseth, in truth you would hold your peace of other women.' The other, longing to hear, said, as one who knew her well, 'Madam, maybe you say sooth; but knowing not who this may be, one cannot turn about so lightly.' Thereupon quoth Lisetta, who was eath enough to draw, 'Gossip, it must go no farther; but he I mean is the angel Gabriel, who loveth me more than himself, as the fairest lady (for that which he telleth me) who is in the world or the Maremma.' The other had a mind to laugh, but contained herself, so she might make Lisetta speak farther, and said, 'Faith, madam, an the angel Gabriel be your lover and tell you this, needs must it be so; but methought not the angels did these things.' 'Gossip,' answered the lady, 'you are mistaken; zounds, he doth what you wot of better than my husband and telleth me they do it also up yonder; but, for that I seem to him fairer than any she in heaven, he hath fallen in love with me and cometh full oft to lie with me; seestow now?'
The gossip, to whom it seemed a thousand years till she should be whereas she might repeat these things, took her leave of Madam Lisetta and foregathering at an entertainment with a great company of ladies, orderly recounted to them the whole story. They told it again to their husbands and other ladies, and these to yet others, and so in less than two days Venice was all full of it. Among others to whose ears the thing came were Lisetta's brothers-in-law, who, without saying aught to her, bethought themselves to find the angel in question and see if he knew how to fly, and to this end they lay several nights in wait for him. As chance would have it, some inkling of the matter came to the ears of Fra Alberto, who accordingly repaired one night to the lady's house, to reprove her, but hardly had he put off his clothes ere her brothers-in-law, who had seen him come, were at the door of her chamber to open it.
Fra Alberto, hearing this and guessing what was to do, started up and having no other resource, opened a window, which gave upon the Grand Canal, and cast himself thence into the water. The canal was deep there and he could swim well, so that he did himself no hurt, but made his way to the opposite bank and hastily entering a house that stood open there, besought a poor man, whom he found within, to save his life for the love of God, telling him a tale of his own fashion, to explain how he came there at that hour and naked. The good man was moved to pity and it behoving him to go do his occasions, he put him in his own bed and bade him abide there against his return; then, locking him in, he went about his affairs. Meanwhile, the lady's brothers-in-law entered her chamber and found that the angel Gabriel had flown, leaving his wings there; whereupon, seeing themselves baffled, they gave her all manner hard words and ultimately made off to their own house with the angel's trappings, leaving her disconsolate.
Broad day come, the good man with whom Fra Alberto had taken refuge, being on the Rialto, heard how the angel Gabriel had gone that night to lie with Madam Lisetta and being surprised by her kinsmen, had cast himself for fear into the canal, nor was it known what was come of him, and concluded forthright that this was he whom he had at home. Accordingly, he returned thither and recognizing the monk, found means after much parley, to make him fetch him fifty ducats, an he would not have him give him up to the lady's kinsmen. Having gotten the money and Fra Alberto offering to depart thence, the good man said to him, 'There is no way of escape for you, an it be not one that I will tell you. We hold to-day a festival, wherein one bringeth a man clad bear-fashion and another one accoutred as a wild man of the woods and what not else, some one thing and some another, and there is a hunt held in St. Mark's Place, which finished, the festival is at an end and after each goeth whither it pleaseth him with him whom he hath brought. An you will have me lead you thither, after one or other of these fashions, I can after carry you whither you please, ere it be spied out that you are here; else I know not how you are to get away, without being recognized, for the lady's kinsmen, concluding that you must be somewhere hereabout, have set a watch for you on all sides.'
Hard as it seemed to Fra Alberto to go on such wise, nevertheless, of the fear he had of the lady's kinsmen, he resigned himself thereto and told his host whither he would be carried, leaving the manner to him. Accordingly, the other, having smeared him all over with honey and covered him with down, clapped a chain about his neck and a mask on his face; then giving him a great staff in on hand and in the other two great dogs which he had fetched from the shambles he despatched one to the Rialto to make public proclamation that whoso would see the angel Gabriel should repair to St. Mark's Place; and this was Venetian loyalty! This done, after a while, he brought him forth and setting him before himself, went holding him by the chain behind, to the no small clamour of the folk, who said all, 'What be this? What be this?' till he came to the place, where, what with those who had followed after them and those who, hearing the proclamation, were come thither from the Rialto, were folk without end. There he tied his wild man to a column in a raised and high place, making a show of awaiting the hunt, whilst the flies and gads gave the monk exceeding annoy, for that he was besmeared with honey. But, when he saw the place well filled, making as he would unchain his wild man, he pulled off Fra Alberto's mask and said, 'Gentlemen, since the bear cometh not and there is no hunt toward, I purpose, so you may not be come in vain, that you shall see the angel Gabriel, who cometh down from heaven to earth anights, to comfort the Venetian ladies.'
No sooner was the mask off than Fra Alberto was incontinent recognized of all, who raised a general outcry against him, giving him the scurviest words and the soundest rating was ever given a canting knave; moreover, they cast in his face, one this kind of filth and another that, and so they baited him a great while, till the news came by chance to his brethren, whereupon half a dozen of them sallied forth and coming thither, unchained him and threw a gown over him; then, with a general hue and cry behind them, they carried him off to the convent, where it is believed he died in prison, after a wretched life. Thus then did this fellow, held good and doing ill, without it being believed, dare to feign himself the angel Gabriel, and after being turned into a wild man of the woods and put to shame, as he deserved, bewailed, when too late, the sins he had committed. God grant it happen thus to all other knaves of his fashion!"
Day the Fifth
The Ninth Story
Federigo degli alberighi loveth and is not loved. He wasteth his substance in prodigal hospitality till there is left him but one sole falcon, which, having nought else, he giveth his mistress to eat, on her coming to his house; and she, learning this, changeth her mind and taking him to husband, maketh him rich again.
Filomena having ceased speaking, the queen, seeing that none remained to tell save only herself and Dioneo, whose privilege entitled him to speak last, said, with blithe aspect, "It pertaineth now to me to tell and I, dearest ladies, will willingly do it, relating a story like in part to the foregoing, to the intent that not only may you know how much the love of you can avail in gentle hearts, but that you may learn to be yourselves, whenas it behoveth, bestowers of your guerdons, without always suffering fortune to be your guide, which most times, as it chanceth, giveth not discreetly, but out of all measure.
You must know, then, that Coppo di Borghese Domenichi, who was of our days and maybe is yet a man of great worship and authority in our city and illustrious and worthy of eternal renown, much more for his fashions and his merit than for the nobility of his blood, being grown full of years, delighted oftentimes to discourse with his neighbours and others of things past, the which he knew how to do better and more orderly and with more memory and elegance of speech than any other man. Amongst other fine things of his, he was used to tell that there was once in Florence a young man called Federigo, son of Messer Filippo Alberighi and renowned for deeds of arms and courtesy over every other bachelor in Tuscany, who, as betideth most gentlemen, became enamoured of a gentlewoman named Madam Giovanna, in her day held one of the fairest and sprightliest ladies that were in Florence; and to win her love, he held jousts and tourneyings and made entertainments and gave gifts and spent his substance without any stint; but she, being no less virtuous than fair, recked nought of these things done for her nor of him who did them. Federigo spending thus far beyond his means and gaining nought, his wealth, as lightly happeneth, in course of time came to an end and he abode poor, nor was aught left him but a poor little farm, on whose returns he lived very meagrely, and to boot a falcon he had, one of the best in the world. Wherefore, being more in love than ever and himseeming he might no longer make such a figure in the city as he would fain do, he took up his abode at Campi, where his farm was, and there bore his poverty with patience, hawking whenas he might and asking of no one.
Federigo being thus come to extremity, it befell one day that Madam Giovanna's husband fell sick and seeing himself nigh upon death, made his will, wherein, being very rich, he left a son of his, now well grown, his heir, after which, having much loved Madam Giovanna, he substituted her to his heir, in case his son should die without lawful issue, and died. Madam Giovanna, being thus left a widow, betook herself that summer, as is the usance of our ladies, into the country with her son to an estate of hers very near that of Federigo; wherefore it befell that the lad made acquaintance with the latter and began to take delight in hawks and hounds, and having many a time seen his falcon flown and being strangely taken therewith, longed sore to have it, but dared not ask it of him, seeing it so dear to him. The thing standing thus, it came to pass that the lad fell sick, whereat his mother was sore concerned, as one who had none but him and loved him with all her might, and abode about him all day, comforting him without cease; and many a time she asked him if there were aught he desired, beseeching him tell it her, for an it might be gotten, she would contrive that he should have it. The lad, having heard these offers many times repeated, said, 'Mother mine, an you could procure me to have Federigo's falcon, methinketh I should soon be whole.'
The lady hearing this, bethought herself awhile and began to consider how she should do. She knew that Federigo had long loved her and had never gotten of her so much as a glance of the eye; wherefore quoth she in herself, 'How shall I send or go to him to seek of him this falcon, which is, by all I hear, the best that ever flew and which, to boot, maintaineth him in the world? And how can I be so graceless as to offer to take this from a gentleman who hath none other pleasure left?' Perplexed with this thought and knowing not what to say, for all she was very certain of getting the bird, if she asked for it, she made no reply to her son, but abode silent. However, at last, the love of her son so got the better of her that she resolved in herself to satisfy him, come what might, and not to send, but to go herself for the falcon and fetch it to him. Accordingly she said to him, 'My son, take comfort and bethink thyself to grow well again, for I promise thee that the first thing I do to-morrow morning I will go for it and fetch it to thee.' The boy was rejoiced at this and showed some amendment that same day.
Next morning, the lady, taking another lady to bear her company, repaired, by way of diversion, to Federigo's little house and enquired for the latter, who, for that it was no weather for hawking nor had been for some days past, was then in a garden he had, overlooking the doing of certain little matters of his, and hearing that Madam Giovanna asked for him at the door, ran thither, rejoicing and marvelling exceedingly. She, seeing him come, rose and going with womanly graciousness to meet him, answered his respectful salutation with 'Give you good day, Federigo!' then went on to say, 'I am come to make thee amends for that which thou hast suffered through me, in loving me more than should have behooved thee; and the amends in question is this that I purpose to dine with thee this morning familiarly, I and this lady my companion.' 'Madam,' answered Federigo humbly, 'I remember me not to have ever received any ill at your hands, but on the contrary so much good that, if ever I was worth aught, it came about through your worth and the love I bore you; and assuredly, albeit you have come to a poor host, this your gracious visit is far more precious to me than it would be an it were given me to spend over again as much as that which I have spent aforetime.' So saying, he shamefastly received her into his house and thence brought her into his garden, where, having none else to bear her company, he said to her, 'Madam, since there is none else here, this good woman, wife of yonder husbandman, will bear you company, whilst I go see the table laid.'
Never till that moment, extreme as was his poverty, had he been so dolorously sensible of the straits to which he had brought himself for the lack of those riches he had spent on such disorderly wise. But that morning, finding he had nothing wherewithal he might honourably entertain the lady, for love of whom he had aforetime entertained folk without number, he was made perforce aware of his default and ran hither and thither, perplexed beyond measure, like a man beside himself, inwardly cursing his ill fortune, but found neither money nor aught he might pawn. It was now growing late and he having a great desire to entertain the gentle lady with somewhat, yet choosing not to have recourse to his own labourer, much less any one else, his eye fell on his good falcon, which he saw on his perch in his little saloon; whereupon, having no other resource, he took the bird and finding him fat, deemed him a dish worthy of such a lady. Accordingly, without more ado, he wrung the hawk's neck and hastily caused a little maid of his pluck it and truss it and after put it on the spit and roast it diligently. Then, the table laid and covered with very white cloths, whereof he had yet some store, he returned with a blithe countenance to the lady in the garden and told her that dinner was ready, such as it was in his power to provide. Accordingly, the lady and her friend, arising, betook themselves to table and in company with Federigo, who served them with the utmost diligence, ate the good falcon, unknowing what they did.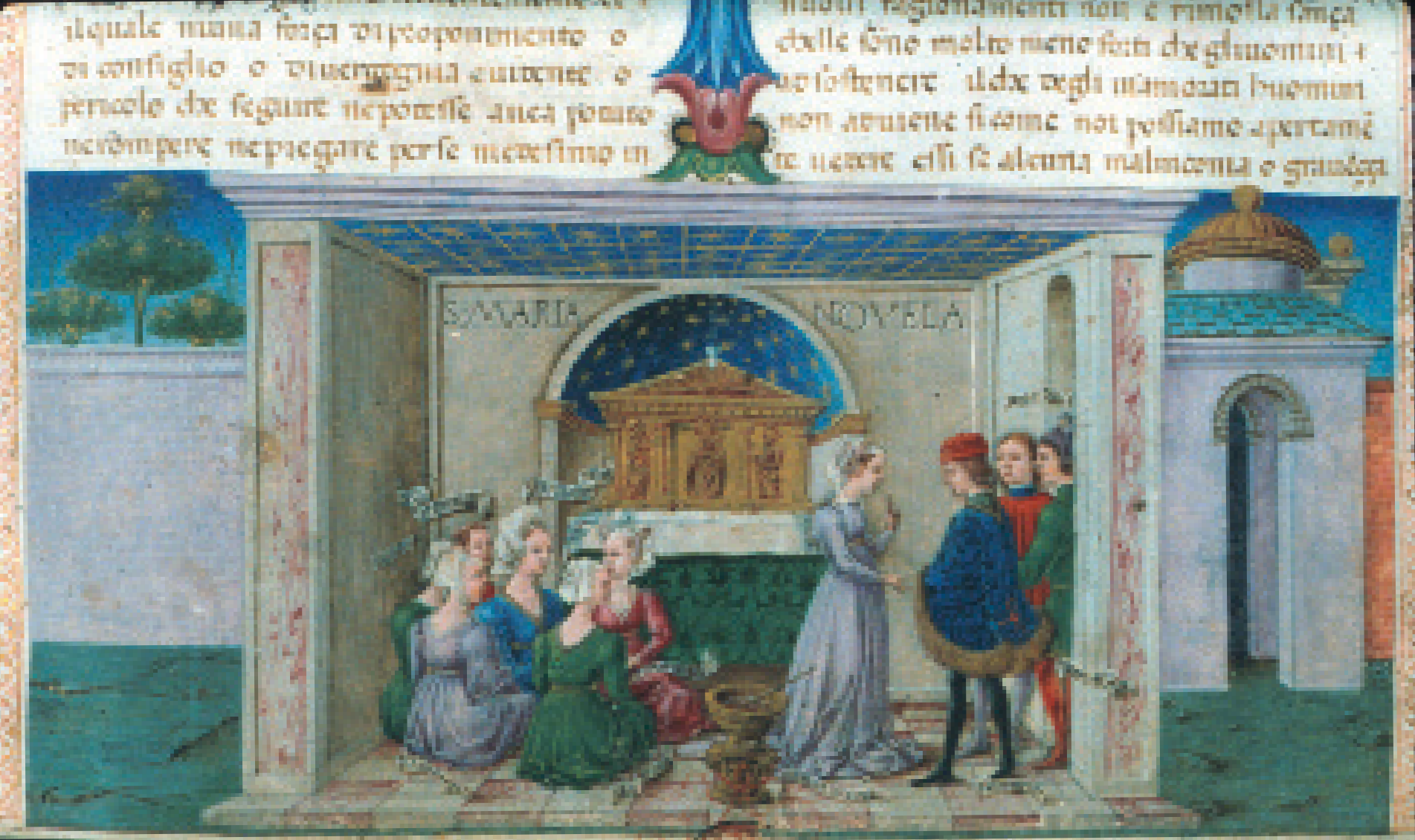 Image 5.10: decameron | An image from The Decameron, illustrated by Taddeo Crivelli, depicting the seven women and three men from Boccaccio's manuscript.
Author: User "Cassmus"
Source: Wikimedia Commons
License: Public Domain
Presently, after they had risen from table and had abidden with him awhile in cheerful discourse, the lady, thinking it time to tell that wherefor she was come, turned to Federigo and courteously bespoke him, saying, 'Federigo, I doubt not a jot but that, when thou hearest that which is the especial occasion of my coming hither, thou wilt marvel at my presumption, remembering thee of thy past life and of my virtue, which latter belike thou reputedst cruelty and hardness of heart; but, if thou hadst or hadst had children, by whom thou mightest know how potent is the love one beareth them, meseemeth certain that thou wouldst in part hold me excused. But, although thou hast none, I, who have one child, cannot therefore escape the common laws to which other mothers are subject and whose enforcements it behoveth me ensue, need must I, against my will and contrary to all right and seemliness, ask of thee a boon, which I know is supremely dear to thee (and that with good reason, for that thy sorry fortune hath left thee none other delight, none other diversion, none other solace), to wit, thy falcon, whereof my boy is so sore enamoured that, an I carry it not to him, I fear me his present disorder will be so aggravated that there may presently ensue thereof somewhat whereby I shall lose him. Wherefore I conjure thee,—not by the love thou bearest me and whereto thou art nowise beholden, but by thine own nobility, which in doing courtesy hath approved itself greater than in any other,—that it please thee give it to me, so by the gift I may say I have kept my son alive and thus made him for ever thy debtor.'
Federigo, hearing what the lady asked and knowing that he could not oblige her, for that he had given her the falcon to eat, fell a-weeping in her presence, ere he could answer a word. The lady at first believed that his tears arose from grief at having to part from his good falcon and was like to say that she would not have it. However, she contained herself and awaited what Federigo should reply, who, after weeping awhile, made answer thus: 'Madam, since it pleased God that I should set my love on you, I have in many things reputed fortune contrary to me and have complained of her; but all the ill turns she hath done me have been a light matter in comparison with that which she doth me at this present and for which I can never more be reconciled to her, considering that you are come hither to my poor house, whereas you deigned not to come what while I was rich, and seek of me a little boon, the which she hath so wrought that I cannot grant you; and why this cannot be I will tell you briefly. When I heard that you, of your favour, were minded to dine with me, I deemed it a light thing and a seemly, having regard to your worth and the nobility of your station, to honour you, as far as in me lay, with some choicer victual than that which is commonly set before other folk; wherefore, remembering me of the falcon which you ask of me and of his excellence, I judged him a dish worthy of you. This very morning, then, you have had him roasted upon the trencher, and indeed I had accounted him excellently well bestowed; but now, seeing that you would fain have had him on other wise, it is so great a grief to me that I cannot oblige you therein that methinketh I shall never forgive myself therefor.' So saying, in witness of this, he let cast before her the falcon's feathers and feet and beak.
The lady, seeing and hearing this, first blamed him for having, to give a woman to eat, slain such a falcon, and after inwardly much commended the greatness of his soul, which poverty had not availed nor might anywise avail to abate. Then, being put out of all hope of having the falcon and fallen therefore in doubt of her son's recovery, she took her leave and returned, all disconsolate, to the latter, who, before many days had passed, whether for chagrin that he could not have the bird or for that his disorder was e'en fated to bring him to that pass, departed this life, to the inexpressible grief of his mother. After she had abidden awhile full of tears and affliction, being left very rich and yet young, she was more than once urged by her brothers to marry again, and albeit she would fain not have done so, yet, finding herself importuned and calling to mind Federigo's worth and his last magnificence, to wit, the having slain such a falcon for her entertainment, she said to them, 'I would gladly, an it liked you, abide as I am; but, since it is your pleasure that I take a [second] husband, certes I will never take any other, an I have not Federigo degli Alberighi.' Whereupon her brothers, making mock of her, said 'Silly woman that thou art, what is this thou sayest? How canst thou choose him, seeing he hath nothing in the world?' 'Brothers mine,' answered she, 'I know very well that it is as you say; but I would liefer have a man that lacketh of riches than riches that lack of a man.' Her brethren, hearing her mind and knowing Federigo for a man of great merit, poor though he was, gave her, with all her wealth, to him, even as she would; and he, seeing himself married to a lady of such worth and one whom he had loved so dear and exceeding rich, to boot, became a better husband of his substance and ended his days with her in joy and solace."
THE DIVINE COMEDY
Dante Alighieri (1265-1321 C.E.)
Composed between 13081321 C.E.
Italy
Durante degli Alighieri, known to us as Dante, called his masterpiece simply La Commedia (The Comedy), not because it is funny, but because it begins sadly and ends happily. It is a deceptively simple title for such a complex and detailed work; as an example, Dante intended the first three lines to be read with four levels of meaning (literal, allegorical, moral, and anagogical/mystical). Boccaccio, author of The Decameron, added the word "Divine" to the title, both for the subject matter and the quality of the work. In the story, Dante appears as the main character, although this "pilgrim" should not be confused with the author himself: The character has no clue about what is happening, while the author controls all. The Divine Comedy exists because Dante made the switch from writing love lyrics (with the focus on earthly love) to writing about spiritual love after his muse, Beatrice, died duringone of the plagues in Florence. Just as Beatrice inspired Dante from afar during life (the two never had a romantic relationship), she becomes after death the angelic inspiration to turn his attention to God. Dante plays with several traditions in his work: It is a Christian epic, where the epic hero does not need to be brave (in fact, he faints several times) as long as he has divine intervention; it is a pro-Trojan work, following Virgil's lead in the Aeneid; and it uses classical imagery and mythology to represent ideas (literally, Cerberus is a three-headed dog from Greek mythology, but he appears on the level of the Gluttonous to represent the concept of gulping down food). Virgil's influence manifests itself in several other ways: not only as the epic poet who was, according to Dante, his great master, but also as the poet who wrote of the foundation of the Roman Empire. Dante believed that a strong Holy Roman Empire (based in what is now Germany) would lead to the Second Coming of Christ, whose birth came during the original pax Romana (peace of Rome). It makes perfect sense, therefore, that Beatrice would task Virgil with being Dante's guide until she assumes that duty before the ascent through Heaven. It also would explain the urgency of Dante's prose; Dante believes that little time is left before the end of the world, so his work attempts to persuade its audience to change their ways now. In the first book, Inferno (Hell), Dante finds ways to represent how the punishment is the crime, often with astonishing creativity; in Purgatorio (Purgatory), Dante describes the way that sins are purged; and in Paradiso (Heaven), Dante displays his knowledge of the arts and sciences of his day. Geographically, Hell is described as a downward funnel, while the island of Purgatory is a funnel leading upward. Earth exists (for Dante) as a globe around which all other heavenly bodies move; Heaven exists in those circles that form around the Earth, with God in the space beyond. Heaven is therefore described both as a rose (with the petals forming the circles) and as a type of stadium, where everyone sits facing out, rather than in. Dante's goal at the end of the epic is to be granted a vision of God as he looks out into the empyrean.
[We have included "Inferno" from Dante's The Divine Comedy. Visit http://www.gutenberg.org/cache/ epub/1004/pg1004-images.html to read The Divine Comedy in its entirety.]
Written by Laura J. Getty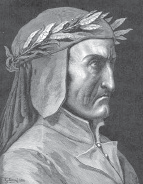 Image 5.11: Portrait of Dante Alighieri | In this depiction, Dante wears a laurel wreath and a rather angry scowl.
Author: Gustave Doré
Source: WikiArt
License: Public Domain
5.5.1 Inferno
Dante Alighieri, translated by Henry Wadsworth Longfellow
License: Public Domain
CANTO I
The Dark Forest. The Hill Of Difficulty. The Panther, the Lion, and the Wolf. Virgil.
Midway upon the journey of our life
  I found myself within a forest dark,
  For the straightforward pathway had been lost.
Ah me! how hard a thing it is to say
  What was this forest savage, rough, and stern,
  Which in the very thought renews the fear.
So bitter is it, death is little more;
  But of the good to treat, which there I found,
  Speak will I of the other things I saw there.
I cannot well repeat how there I entered,
  So full was I of slumber at the moment
  In which I had abandoned the true way.
But after I had reached a mountain's foot,
  At that point where the valley terminated,
  Which had with consternation pierced my heart,
Upward I looked, and I beheld its shoulders,
  Vested already with that planet's rays
  Which leadeth others right by every road.
Then was the fear a little quieted
  That in my heart's lake had endured throughout
  The night, which I had passed so piteously.
And even as he, who, with distressful breath,
  Forth issued from the sea upon the shore,
  Turns to the water perilous and gazes;
So did my soul, that still was fleeing onward,
  Turn itself back to re-behold the pass
  Which never yet a living person left.
After my weary body I had rested,
  The way resumed I on the desert slope,
  So that the firm foot ever was the lower.
And lo! almost where the ascent began,
  A panther light and swift exceedingly,
  Which with a spotted skin was covered o'er!
And never moved she from before my face,
  Nay, rather did impede so much my way,
  That many times I to return had turned.
The time was the beginning of the morning,
  And up the sun was mounting with those stars
  That with him were, what time the Love Divine
At first in motion set those beauteous things;
  So were to me occasion of good hope,
  The variegated skin of that wild beast,
The hour of time, and the delicious season;
  But not so much, that did not give me fear
  A lion's aspect which appeared to me.
He seemed as if against me he were coming
  With head uplifted, and with ravenous hunger,
  So that it seemed the air was afraid of him;
And a she-wolf, that with all hungerings
  Seemed to be laden in her meagreness,
  And many folk has caused to live forlorn!
She brought upon me so much heaviness,
  With the affright that from her aspect came,
  That I the hope relinquished of the height.
And as he is who willingly acquires,
  And the time comes that causes him to lose,
  Who weeps in all his thoughts and is despondent,
E'en such made me that beast withouten peace,
  Which, coming on against me by degrees
  Thrust me back thither where the sun is silent.
While I was rushing downward to the lowland,
  Before mine eyes did one present himself,
  Who seemed from long-continued silence hoarse.
When I beheld him in the desert vast,
  "Have pity on me," unto him I cried,
  "Whiche'er thou art, or shade or real man!"
He answered me: "Not man; man once I was,
  And both my parents were of Lombardy,
  And Mantuans by country both of them.
'Sub Julio' was I born, though it was late,
  And lived at Rome under the good Augustus,
  During the time of false and lying gods.
A poet was I, and I sang that just
  Son of Anchises, who came forth from Troy,
  After that Ilion the superb was burned.
But thou, why goest thou back to such annoyance?
  Why climb'st thou not the Mount Delectable,
  Which is the source and cause of every joy?"
"Now, art thou that Virgilius and that fountain
  Which spreads abroad so wide a river of speech?"
  I made response to him with bashful forehead.
"O, of the other poets honour and light,
  Avail me the long study and great love
  That have impelled me to explore thy volume!
Thou art my master, and my author thou,
  Thou art alone the one from whom I took
  The beautiful style that has done honour to me.
Behold the beast, for which I have turned back;
  Do thou protect me from her, famous Sage,
  For she doth make my veins and pulses tremble."
"Thee it behoves to take another road,"
  Responded he, when he beheld me weeping,
  "If from this savage place thou wouldst escape;
Because this beast, at which thou criest out,
  Suffers not any one to pass her way,
  But so doth harass him, that she destroys him;
And has a nature so malign and ruthless,
  That never doth she glut her greedy will,
  And after food is hungrier than before.
Many the animals with whom she weds,
  And more they shall be still, until the Greyhound
  Comes, who shall make her perish in her pain.
He shall not feed on either earth or pelf,
  But upon wisdom, and on love and virtue;
  'Twixt Feltro and Feltro shall his nation be;
Of that low Italy shall he be the saviour,
  On whose account the maid Camilla died,
  Euryalus, Turnus, Nisus, of their wounds;
Through every city shall he hunt her down,
  Until he shall have driven her back to Hell,
  There from whence envy first did let her loose.
Therefore I think and judge it for thy best
  Thou follow me, and I will be thy guide,
  And lead thee hence through the eternal place,
Where thou shalt hear the desperate lamentations,
  Shalt see the ancient spirits disconsolate,
  Who cry out each one for the second death;
And thou shalt see those who contented are
  Within the fire, because they hope to come,
  Whene'er it may be, to the blessed people;
To whom, then, if thou wishest to ascend,
  A soul shall be for that than I more worthy;
  With her at my departure I will leave thee;
Because that Emperor, who reigns above,
  In that I was rebellious to his law,
  Wills that through me none come into his city.
He governs everywhere, and there he reigns;
  There is his city and his lofty throne;
  O happy he whom thereto he elects!"
And I to him: "Poet, I thee entreat,
  By that same God whom thou didst never know,
  So that I may escape this woe and worse,
Thou wouldst conduct me there where thou hast said,
  That I may see the portal of Saint Peter,
  And those thou makest so disconsolate."
Then he moved on, and I behind him followed.
Image 5.12: Inferno: Canto One | Dante flees through a dark forest, pursued by three dangerous animals, a lion, a leopard, and a wolf.
Author: Teodolinda Barolini
Source: Digital Dante
License: Public Domain
CANTO II
The Descent. Dante's Protest and Virgil's Appeal. The Intercession of the Three Ladies Benedight.
Day was departing, and the embrowned air
  Released the animals that are on earth
  From their fatigues; and I the only one
Made myself ready to sustain the war,
  Both of the way and likewise of the woe,
  Which memory that errs not shall retrace.
O Muses, O high genius, now assist me!
  O memory, that didst write down what I saw,
  Here thy nobility shall be manifest!
And I began: "Poet, who guidest me,
  Regard my manhood, if it be sufficient,
  Ere to the arduous pass thou dost confide me.
Thou sayest, that of Silvius the parent,
  While yet corruptible, unto the world
  Immortal went, and was there bodily.
But if the adversary of all evil
  Was courteous, thinking of the high effect
  That issue would from him, and who, and what,
To men of intellect unmeet it seems not;
  For he was of great Rome, and of her empire
  In the empyreal heaven as father chosen;
The which and what, wishing to speak the truth,
  Were stablished as the holy place, wherein
  Sits the successor of the greatest Peter.
Upon this journey, whence thou givest him vaunt,
  Things did he hear, which the occasion were
  Both of his victory and the papal mantle.
Thither went afterwards the Chosen Vessel,
  To bring back comfort thence unto that Faith,
  Which of salvation's way is the beginning.
But I, why thither come, or who concedes it?
  I not Aeneas am, I am not Paul,
  Nor I, nor others, think me worthy of it.
Therefore, if I resign myself to come,
  I fear the coming may be ill-advised;
  Thou'rt wise, and knowest better than I speak."
And as he is, who unwills what he willed,
  And by new thoughts doth his intention change,
  So that from his design he quite withdraws,
Such I became, upon that dark hillside,
  Because, in thinking, I consumed the emprise,
  Which was so very prompt in the beginning.
"If I have well thy language understood,"
  Replied that shade of the Magnanimous,
  "Thy soul attainted is with cowardice,
Which many times a man encumbers so,
  It turns him back from honoured enterprise,
  As false sight doth a beast, when he is shy.
That thou mayst free thee from this apprehension,
  I'll tell thee why I came, and what I heard
  At the first moment when I grieved for thee.
Among those was I who are in suspense,
  And a fair, saintly Lady called to me
  In such wise, I besought her to command me.
Her eyes where shining brighter than the Star;
  And she began to say, gentle and low,
  With voice angelical, in her own language:
'O spirit courteous of Mantua,
  Of whom the fame still in the world endures,
  And shall endure, long-lasting as the world;
A friend of mine, and not the friend of fortune,
  Upon the desert slope is so impeded
  Upon his way, that he has turned through terror,
And may, I fear, already be so lost,
  That I too late have risen to his succour,
  From that which I have heard of him in Heaven.
Bestir thee now, and with thy speech ornate,
  And with what needful is for his release,
  Assist him so, that I may be consoled.
Beatrice am I, who do bid thee go;
  I come from there, where I would fain return;
  Love moved me, which compelleth me to speak.
When I shall be in presence of my Lord,
  Full often will I praise thee unto him.'
  Then paused she, and thereafter I began:
'O Lady of virtue, thou alone through whom
  The human race exceedeth all contained
  Within the heaven that has the lesser circles,
So grateful unto me is thy commandment,
  To obey, if 'twere already done, were late;
  No farther need'st thou ope to me thy wish.
But the cause tell me why thou dost not shun
  The here descending down into this centre,
  From the vast place thou burnest to return to.'
'Since thou wouldst fain so inwardly discern,
  Briefly will I relate,' she answered me,
  'Why I am not afraid to enter here.
Of those things only should one be afraid
  Which have the power of doing others harm;
  Of the rest, no; because they are not fearful.
God in his mercy such created me
  That misery of yours attains me not,
  Nor any flame assails me of this burning.
A gentle Lady is in Heaven, who grieves
  At this impediment, to which I send thee,
  So that stern judgment there above is broken.
In her entreaty she besought Lucia,
  And said, "Thy faithful one now stands in need
  Of thee, and unto thee I recommend him."
Lucia, foe of all that cruel is,
  Hastened away, and came unto the place
  Where I was sitting with the ancient Rachel.
"Beatrice" said she, "the true praise of God,
  Why succourest thou not him, who loved thee so,
  For thee he issued from the vulgar herd?
Dost thou not hear the pity of his plaint?
  Dost thou not see the death that combats him
  Beside that flood, where ocean has no vaunt?"
Never were persons in the world so swift
  To work their weal and to escape their woe,
  As I, after such words as these were uttered,
Came hither downward from my blessed seat,
  Confiding in thy dignified discourse,
  Which honours thee, and those who've listened to it.'
After she thus had spoken unto me,
  Weeping, her shining eyes she turned away;
  Whereby she made me swifter in my coming;
And unto thee I came, as she desired;
  I have delivered thee from that wild beast,
  Which barred the beautiful mountain's short ascent.
What is it, then? Why, why dost thou delay?
  Why is such baseness bedded in thy heart?
  Daring and hardihood why hast thou not,
Seeing that three such Ladies benedight
  Are caring for thee in the court of Heaven,
  And so much good my speech doth promise thee?"
Even as the flowerets, by nocturnal chill,
  Bowed down and closed, when the sun whitens them,
  Uplift themselves all open on their stems;
Such I became with my exhausted strength,
  And such good courage to my heart there coursed,
  That I began, like an intrepid person:
"O she compassionate, who succoured me,
  And courteous thou, who hast obeyed so soon
  The words of truth which she addressed to thee!
Thou hast my heart so with desire disposed
  To the adventure, with these words of thine,
  That to my first intent I have returned.
Now go, for one sole will is in us both,
  Thou Leader, and thou Lord, and Master thou."
  Thus said I to him; and when he had moved,
I entered on the deep and savage way.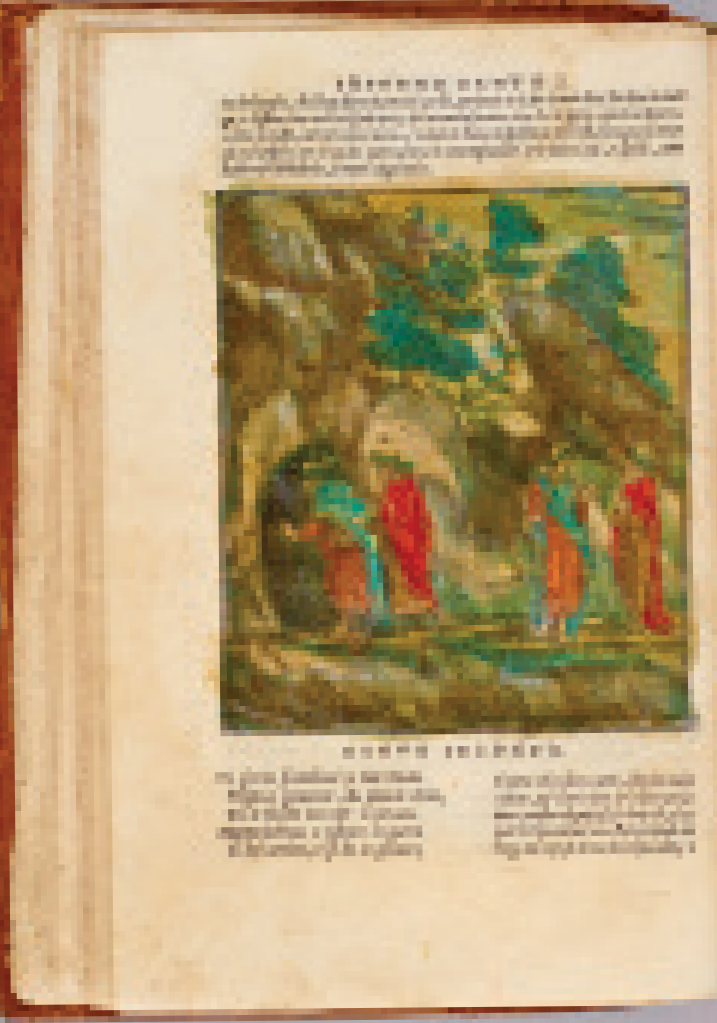 Image 5.13: Inferno: Canto Two | The Roman poet Virgil explains that he has been sent to guide Dante through the underworld.
Author: Teodolinda Barolini
Source: Digital Dante
License: Public Domain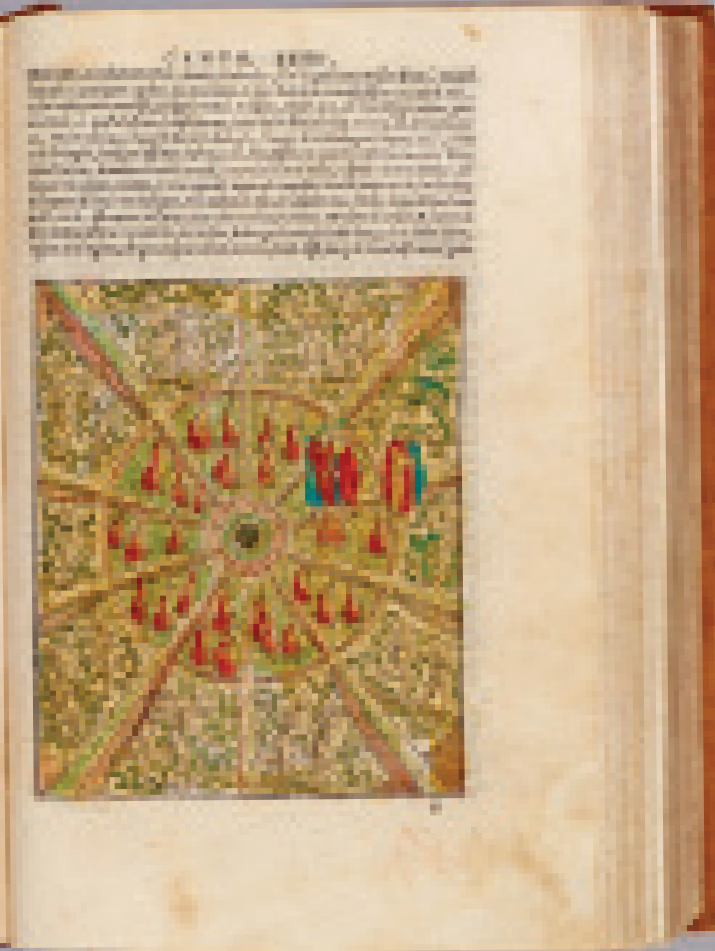 Image 5.14: Inferno: Canto Twenty-Six | Dante and Virgil travel through the eighth circle of Hell, where sinners are punished for fraud by being turned into tongues of fire.
Author: Teodolinda Barolini
Source: Digital Dante
License: Public Domain
CANTO III
The Gate of Hell. The Inefficient or Indifferent. Pope Celestine V. The Shores of Acheron.
1
Charon.
2
The Earthquake and the Swoon.
"Through me the way is to the city dolent;
  Through me the way is to eternal dole;
  Through me the way among the people lost.
Justice incited my sublime Creator;
  Created me divine Omnipotence,
  The highest Wisdom and the primal Love.
Before me there were no created things,
  Only eterne, and I eternal last.
  All hope abandon, ye who enter in!"
These words in sombre colour I beheld
  Written upon the summit of a gate;
  Whence I: "Their sense is, Master, hard to me!"
And he to me, as one experienced:
  "Here all suspicion needs must be abandoned,
  All cowardice must needs be here extinct.
We to the place have come, where I have told thee
  Thou shalt behold the people dolorous
  Who have foregone the good of intellect."
And after he had laid his hand on mine
  With joyful mien, whence I was comforted,
  He led me in among the secret things.
There sighs, complaints, and ululations loud
  Resounded through the air without a star,
  Whence I, at the beginning, wept thereat.
Languages diverse, horrible dialects,
  Accents of anger, words of agony,
  And voices high and hoarse, with sound of hands,
Made up a tumult that goes whirling on
  For ever in that air for ever black,
  Even as the sand doth, when the whirlwind breathes.
And I, who had my head with horror bound,
  Said: "Master, what is this which now I hear?
  What folk is this, which seems by pain so vanquished?"
And he to me: "This miserable mode
  Maintain the melancholy souls of those
  Who lived withouten infamy or praise.
Commingled are they with that caitiff choir
  Of Angels, who have not rebellious been,
  Nor faithful were to God, but were for self.
The heavens expelled them, not to be less fair;
  Nor them the nethermore abyss receives,
  For glory none the damned would have from them."
And I: "O Master, what so grievous is
  To these, that maketh them lament so sore?"
  He answered: "I will tell thee very briefly.
These have no longer any hope of death;
  And this blind life of theirs is so debased,
  They envious are of every other fate.
No fame of them the world permits to be;
  Misericord and Justice both disdain them.
  Let us not speak of them, but look, and pass."
And I, who looked again, beheld a banner,
  Which, whirling round, ran on so rapidly,
  That of all pause it seemed to me indignant;
And after it there came so long a train
  Of people, that I ne'er would have believed
  That ever Death so many had undone.
When some among them I had recognised,
  I looked, and I beheld the shade of him
  Who made through cowardice the great refusal.
Forthwith I comprehended, and was certain,
  That this the sect was of the caitiff wretches
  Hateful to God and to his enemies.
These miscreants, who never were alive,
  Were naked, and were stung exceedingly
  By gadflies and by hornets that were there.
These did their faces irrigate with blood,
  Which, with their tears commingled, at their feet
  By the disgusting worms was gathered up.
And when to gazing farther I betook me.
  People I saw on a great river's bank;
  Whence said I: "Master, now vouchsafe to me,
That I may know who these are, and what law
  Makes them appear so ready to pass over,
  As I discern athwart the dusky light."
And he to me: "These things shall all be known
  To thee, as soon as we our footsteps stay
  Upon the dismal shore of Acheron."
Then with mine eyes ashamed and downward cast,
  Fearing my words might irksome be to him,
  From speech refrained I till we reached the river.
And lo! towards us coming in a boat
  An old man, hoary with the hair of eld,
  Crying: "Woe unto you, ye souls depraved!
Hope nevermore to look upon the heavens;
  I come to lead you to the other shore,
  To the eternal shades in heat and frost.
And thou, that yonder standest, living soul,
  Withdraw thee from these people, who are dead!"
  But when he saw that I did not withdraw,
He said: "By other ways, by other ports
  Thou to the shore shalt come, not here, for passage;
  A lighter vessel needs must carry thee."
And unto him the Guide: "Vex thee not, Charon;
  It is so willed there where is power to do
  That which is willed; and farther question not."
Thereat were quieted the fleecy cheeks
  Of him the ferryman of the livid fen,
  Who round about his eyes had wheels of flame.
But all those souls who weary were and naked
  Their colour changed and gnashed their teeth together,
  As soon as they had heard those cruel words.
God they blasphemed and their progenitors,
  The human race, the place, the time, the seed
  Of their engendering and of their birth!
Thereafter all together they drew back,
  Bitterly weeping, to the accursed shore,
  Which waiteth every man who fears not God.
Charon the demon, with the eyes of glede,
  Beckoning to them, collects them all together,
  Beats with his oar whoever lags behind.
As in the autumn-time the leaves fall off,
  First one and then another, till the branch
  Unto the earth surrenders all its spoils;
In similar wise the evil seed of Adam
  Throw themselves from that margin one by one,
  At signals, as a bird unto its lure.
So they depart across the dusky wave,
  And ere upon the other side they land,
  Again on this side a new troop assembles.
"My son," the courteous Master said to me,
  "All those who perish in the wrath of God
  Here meet together out of every land;
And ready are they to pass o'er the river,
  Because celestial Justice spurs them on,
  So that their fear is turned into desire.
This way there never passes a good soul;
  And hence if Charon doth complain of thee,
  Well mayst thou know now what his speech imports."
This being finished, all the dusk champaign
  Trembled so violently, that of that terror
  The recollection bathes me still with sweat.
The land of tears gave forth a blast of wind,
  And fulminated a vermilion light,
  Which overmastered in me every sense,
And as a man whom sleep hath seized I fell.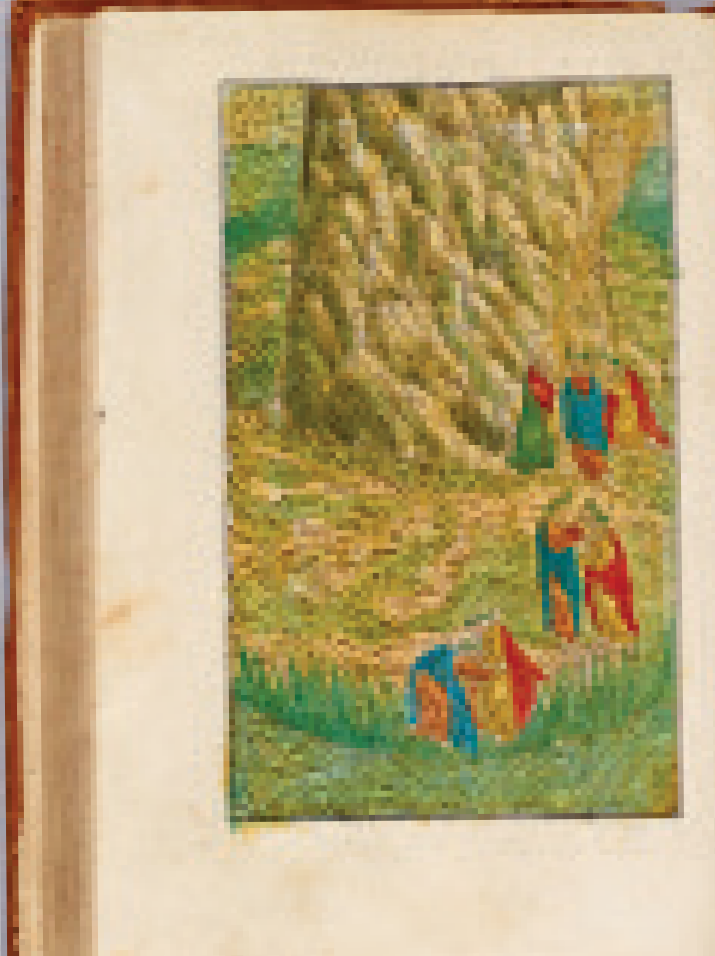 Image 5.15: Purgatorio: Canto One | After leaving Hell, Dante and Virgil encounter Cato the Younger, who says that Dante must clean himself before he can enter Purgatory.
Author: Teodolinda Barolini
Source: Digital Dante
License: Public Domain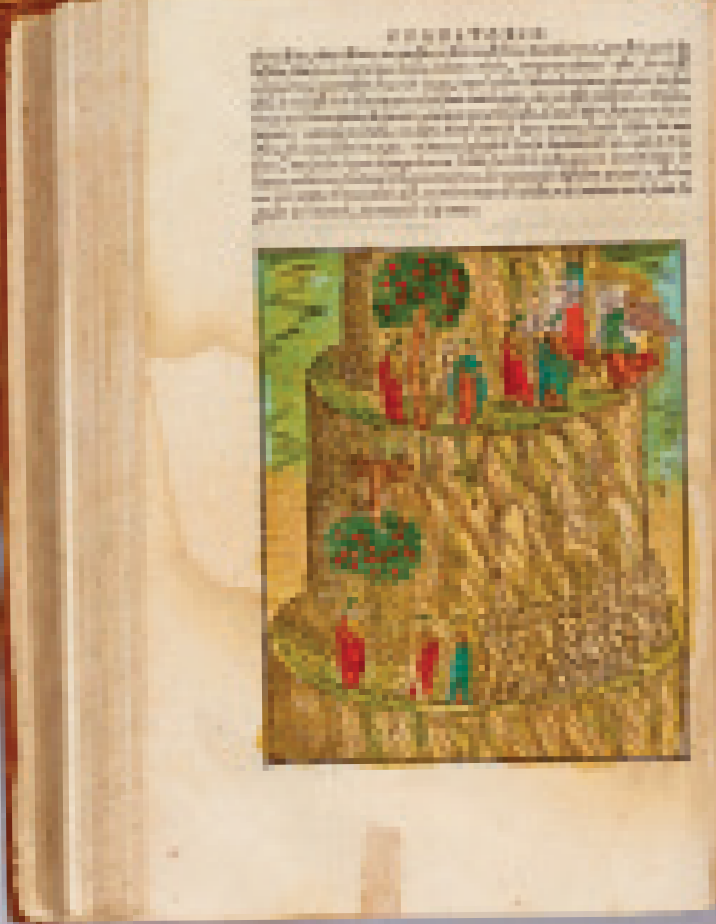 Image 5.16: Purgatorio: Canto Twenty-Two | Dante passes through the sixth layer of Purgatory, where gluttony transforms to temperance.
Author: Teodolinda Barolini
Source: Digital Dante
License: Public Domain
CANTO IV
The First Circle, Limbo: Virtuous Pagans and the Unbaptized. The Four Poets, Homer, Horace, Ovid, and Lucan. The Noble Castle Of Philosophy.
Broke the deep lethargy within my head
  A heavy thunder, so that I upstarted,
  Like to a person who by force is wakened;
And round about I moved my rested eyes,
  Uprisen erect, and steadfastly I gazed,
  To recognise the place wherein I was.
True is it, that upon the verge I found me
  Of the abysmal valley dolorous,
  That gathers thunder of infinite ululations.
Obscure, profound it was, and nebulous,
  So that by fixing on its depths my sight
  Nothing whatever I discerned therein.
"Let us descend now into the blind world,"
  Began the Poet, pallid utterly;
  "I will be first, and thou shalt second be."
And I, who of his colour was aware,
  Said: "How shall I come, if thou art afraid,
  Who'rt wont to be a comfort to my fears?"
And he to me: "The anguish of the people
  Who are below here in my face depicts
  That pity which for terror thou hast taken.
Let us go on, for the long way impels us."
  Thus he went in, and thus he made me enter
  The foremost circle that surrounds the abyss.
There, as it seemed to me from listening,
  Were lamentations none, but only sighs,
  That tremble made the everlasting air.
And this arose from sorrow without torment,
  Which the crowds had, that many were and great,
  Of infants and of women and of men.
To me the Master good: "Thou dost not ask
  What spirits these, which thou beholdest, are?
  Now will I have thee know, ere thou go farther,
That they sinned not; and if they merit had,
  'Tis not enough, because they had not baptism
  Which is the portal of the Faith thou holdest;
And if they were before Christianity,
  In the right manner they adored not God;
  And among such as these am I myself.
For such defects, and not for other guilt,
  Lost are we and are only so far punished,
  That without hope we live on in desire."
Great grief seized on my heart when this I heard,
  Because some people of much worthiness
  I knew, who in that Limbo were suspended.
"Tell me, my Master, tell me, thou my Lord,"
  Began I, with desire of being certain
  Of that Faith which o'ercometh every error,
"Came any one by his own merit hence,
  Or by another's, who was blessed thereafter?"
  And he, who understood my covert speech,
Replied: "I was a novice in this state,
  When I saw hither come a Mighty One,
  With sign of victory incoronate.
Hence he drew forth the shade of the First Parent,
  And that of his son Abel, and of Noah,
  Of Moses the lawgiver, and the obedient
Abraham, patriarch, and David, king,
  Israel with his father and his children,
  And Rachel, for whose sake he did so much,
And others many, and he made them blessed;
  And thou must know, that earlier than these
  Never were any human spirits saved."
We ceased not to advance because he spake,
  But still were passing onward through the forest,
  The forest, say I, of thick-crowded ghosts.
Not very far as yet our way had gone
  This side the summit, when I saw a fire
  That overcame a hemisphere of darkness.
We were a little distant from it still,
  But not so far that I in part discerned not
  That honourable people held that place.
"O thou who honourest every art and science,
  Who may these be, which such great honour have,
  That from the fashion of the rest it parts them?"
And he to me: "The honourable name,
  That sounds of them above there in thy life,
  Wins grace in Heaven, that so advances them."
In the mean time a voice was heard by me:
  "All honour be to the pre-eminent Poet;
  His shade returns again, that was departed."
After the voice had ceased and quiet was,
  Four mighty shades I saw approaching us;
  Semblance had they nor sorrowful nor glad.
To say to me began my gracious Master:
  "Him with that falchion in his hand behold,
  Who comes before the three, even as their lord.
That one is Homer, Poet sovereign;
  He who comes next is Horace, the satirist;
  The third is Ovid, and the last is Lucan.
Because to each of these with me applies
  The name that solitary voice proclaimed,
  They do me honour, and in that do well."
Thus I beheld assemble the fair school
  Of that lord of the song pre-eminent,
  Who o'er the others like an eagle soars.
When they together had discoursed somewhat,
  They turned to me with signs of salutation,
  And on beholding this, my Master smiled;
And more of honour still, much more, they did me,
  In that they made me one of their own band;
  So that the sixth was I, 'mid so much wit.
Thus we went on as far as to the light,
  Things saying 'tis becoming to keep silent,
  As was the saying of them where I was.
We came unto a noble castle's foot,
  Seven times encompassed with lofty walls,
  Defended round by a fair rivulet;
This we passed over even as firm ground;
  Through portals seven I entered with these Sages;
  We came into a meadow of fresh verdure.
People were there with solemn eyes and slow,
  Of great authority in their countenance;
  They spake but seldom, and with gentle voices.
Thus we withdrew ourselves upon one side
  Into an opening luminous and lofty,
  So that they all of them were visible.
There opposite, upon the green enamel,
  Were pointed out to me the mighty spirits,
  Whom to have seen I feel myself exalted.
I saw Electra with companions many,
  'Mongst whom I knew both Hector and Aeneas,
  Caesar in armour with gerfalcon eyes;
I saw Camilla and Penthesilea
  On the other side, and saw the King Latinus,
  Who with Lavinia his daughter sat;
I saw that Brutus who drove Tarquin forth,
  Lucretia, Julia, Marcia, and Cornelia,
  And saw alone, apart, the Saladin.
When I had lifted up my brows a little,
  The Master I beheld of those who know,
  Sit with his philosophic family.
All gaze upon him, and all do him honour.
  There I beheld both Socrates and Plato,
  Who nearer him before the others stand;
Democritus, who puts the world on chance,
  Diogenes, Anaxagoras, and Thales,
  Zeno, Empedocles, and Heraclitus;
Of qualities I saw the good collector,
  Hight Dioscorides; and Orpheus saw I,
  Tully and Livy, and moral Seneca,
Euclid, geometrician, and Ptolemy,
  Galen, Hippocrates, and Avicenna,
  Averroes, who the great Comment made.
I cannot all of them pourtray in full,
  Because so drives me onward the long theme,
  That many times the word comes short of fact.
The sixfold company in two divides;
  Another way my sapient Guide conducts me
  Forth from the quiet to the air that trembles;
And to a place I come where nothing shines.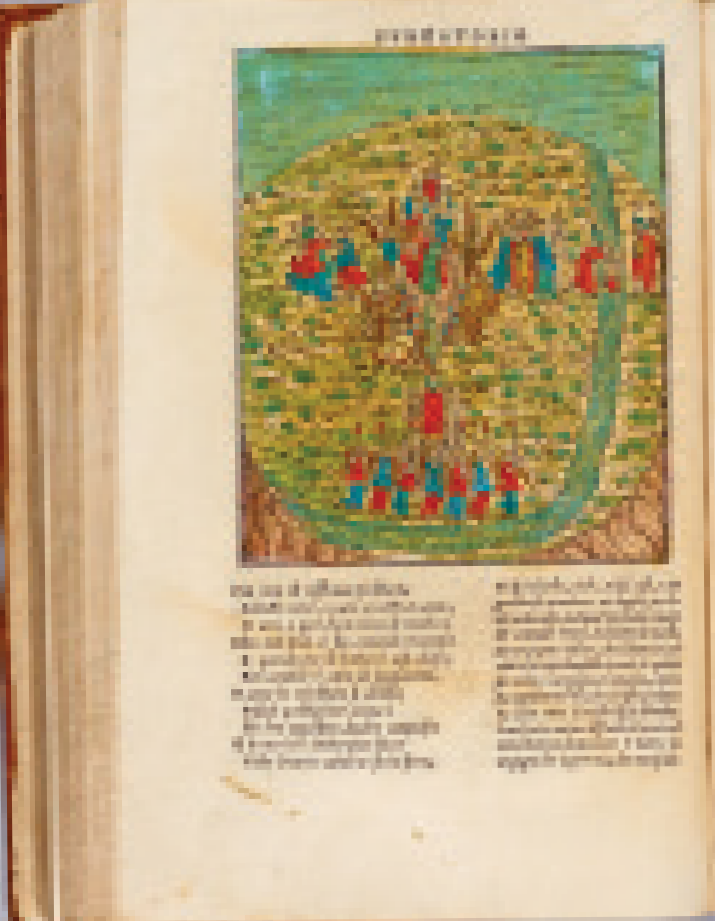 Image 5.17: Purgatorio: Canto Thirty | In this illustration, Dante is criticized by Beatrice for loving other women after her death, and they both observe the griffin.
Author: Teodolinda Barolini
Source: Digital Dante
License: Public Domain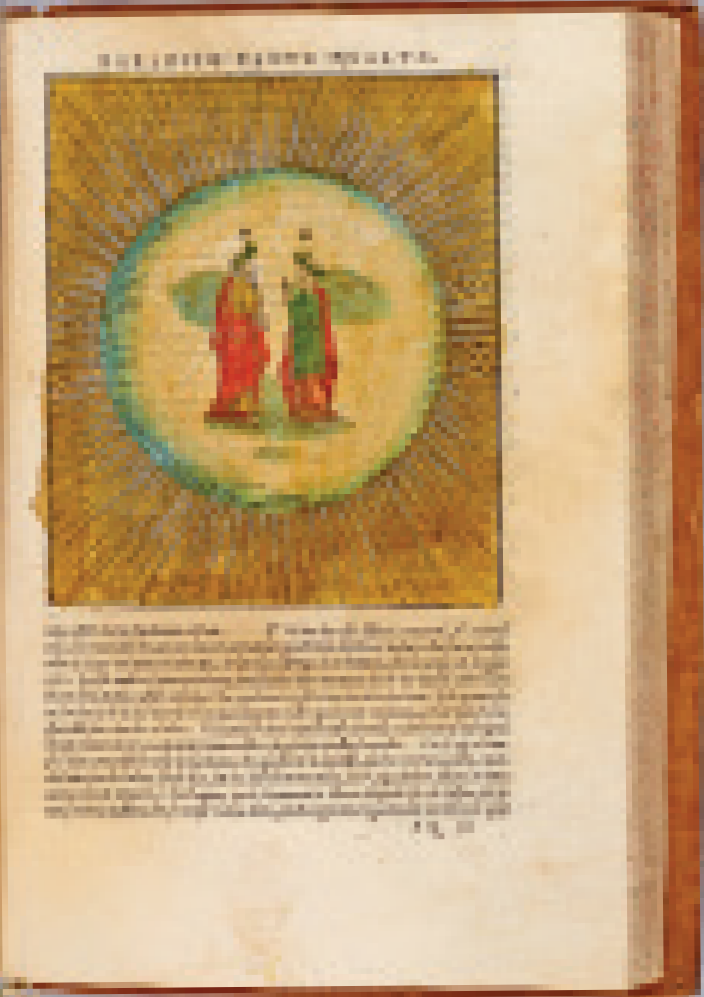 Image 5.18: Paradiso: Canto Four | Beatrice and Dante face one another and discuss free will.
Author: Teodolinda Barolini
Source: Digital Dante
License: Public Domain
CANTO V
The Second Circle: the Wanton. Minos. The Infernal Hurricane. Francesca Da Rimini.
Thus I descended out of the first circle
  Down to the second, that less space begirds,
  And so much greater dole, that goads to wailing.
There standeth Minos horribly, and snarls;
  Examines the transgressions at the entrance;
  Judges, and sends according as he girds him.
I say, that when the spirit evil-born
  Cometh before him, wholly it confesses;
  And this discriminator of transgressions
Seeth what place in Hell is meet for it;
  Girds himself with his tail as many times
  As grades he wishes it should be thrust down.
Always before him many of them stand;
  They go by turns each one unto the judgment;
  They speak, and hear, and then are downward hurled.
"O thou, that to this dolorous hostelry
  Comest," said Minos to me, when he saw me,
  Leaving the practice of so great an office,
"Look how thou enterest, and in whom thou trustest;
  Let not the portal's amplitude deceive thee."
  And unto him my Guide: "Why criest thou too?
Do not impede his journey fate-ordained;
  It is so willed there where is power to do
  That which is willed; and ask no further question."
And now begin the dolesome notes to grow
  Audible unto me; now am I come
  There where much lamentation strikes upon me.
I came into a place mute of all light,
  Which bellows as the sea does in a tempest,
  If by opposing winds 't is combated.
The infernal hurricane that never rests
  Hurtles the spirits onward in its rapine;
  Whirling them round, and smiting, it molests them.
When they arrive before the precipice,
  There are the shrieks, the plaints, and the laments,
  There they blaspheme the puissance divine.
I understood that unto such a torment
  The carnal malefactors were condemned,
  Who reason subjugate to appetite.
And as the wings of starlings bear them on
  In the cold season in large band and full,
  So doth that blast the spirits maledict;
It hither, thither, downward, upward, drives them;
  No hope doth comfort them for evermore,
  Not of repose, but even of lesser pain.
And as the cranes go chanting forth their lays,
  Making in air a long line of themselves,
  So saw I coming, uttering lamentations,
Shadows borne onward by the aforesaid stress.
  Whereupon said I: "Master, who are those
  People, whom the black air so castigates?"
"The first of those, of whom intelligence
  Thou fain wouldst have," then said he unto me,
  "The empress was of many languages.
To sensual vices she was so abandoned,
  That lustful she made licit in her law,
  To remove the blame to which she had been led.
She is Semiramis, of whom we read
  That she succeeded Ninus, and was his spouse;
  She held the land which now the Sultan rules.
The next is she who killed herself for love,
  And broke faith with the ashes of Sichaeus;
  Then Cleopatra the voluptuous."
Helen I saw, for whom so many ruthless
  Seasons revolved; and saw the great Achilles,
  Who at the last hour combated with Love.
Paris I saw, Tristan; and more than a thousand
  Shades did he name and point out with his finger,
  Whom Love had separated from our life.
After that I had listened to my Teacher,
  Naming the dames of eld and cavaliers,
  Pity prevailed, and I was nigh bewildered.
And I began: "O Poet, willingly
  Speak would I to those two, who go together,
  And seem upon the wind to be so light."
And, he to me: "Thou'lt mark, when they shall be
  Nearer to us; and then do thou implore them
  By love which leadeth them, and they will come."
Soon as the wind in our direction sways them,
  My voice uplift I: "O ye weary souls!
  Come speak to us, if no one interdicts it."
As turtle-doves, called onward by desire,
  With open and steady wings to the sweet nest
  Fly through the air by their volition borne,
So came they from the band where Dido is,
  Approaching us athwart the air malign,
  So strong was the affectionate appeal.
"O living creature gracious and benignant,
  Who visiting goest through the purple air
  Us, who have stained the world incarnadine,
If were the King of the Universe our friend,
  We would pray unto him to give thee peace,
  Since thou hast pity on our woe perverse.
Of what it pleases thee to hear and speak,
  That will we hear, and we will speak to you,
  While silent is the wind, as it is now.
Sitteth the city, wherein I was born,
  Upon the sea-shore where the Po descends
  To rest in peace with all his retinue.
Love, that on gentle heart doth swiftly seize,
  Seized this man for the person beautiful
  That was ta'en from me, and still the mode offends me.
Love, that exempts no one beloved from loving,
  Seized me with pleasure of this man so strongly,
  That, as thou seest, it doth not yet desert me;
Love has conducted us unto one death;
  Caina waiteth him who quenched our life!"
  These words were borne along from them to us.
As soon as I had heard those souls tormented,
  I bowed my face, and so long held it down
  Until the Poet said to me: "What thinkest?"
When I made answer, I began: "Alas!
  How many pleasant thoughts, how much desire,
  Conducted these unto the dolorous pass!"
Then unto them I turned me, and I spake,
  And I began: "Thine agonies, Francesca,
  Sad and compassionate to weeping make me.
But tell me, at the time of those sweet sighs,
  By what and in what manner Love conceded,
  That you should know your dubious desires?"
And she to me: "There is no greater sorrow
  Than to be mindful of the happy time
  In misery, and that thy Teacher knows.
But, if to recognise the earliest root
  Of love in us thou hast so great desire,
  I will do even as he who weeps and speaks.
One day we reading were for our delight
  Of Launcelot, how Love did him enthral.
  Alone we were and without any fear.
Full many a time our eyes together drew
  That reading, and drove the colour from our faces;
  But one point only was it that o'ercame us.
When as we read of the much-longed-for smile
  Being by such a noble lover kissed,
  This one, who ne'er from me shall be divided,
Kissed me upon the mouth all palpitating.
  Galeotto was the book and he who wrote it.
  That day no farther did we read therein."
And all the while one spirit uttered this,
  The other one did weep so, that, for pity,
  I swooned away as if I had been dying,
And fell, even as a dead body falls.
CANTO XII
The Minotaur. The Seventh Circle: The Violent. The River Phlegethon.
3
The Violent Against Their Neighbours. The Centaurs. Tyrants.
The place where to descend the bank we came
  Was alpine, and from what was there, moreover,
  Of such a kind that every eye would shun it.
Such as that ruin is which in the flank
  Smote, on this side of Trent, the Adige,
  Either by earthquake or by failing stay,
For from the mountain's top, from which it moved,
  Unto the plain the cliff is shattered so,
  Some path 'twould give to him who was above;
Even such was the descent of that ravine,
  And on the border of the broken chasm
  The infamy of Crete was stretched along,
Who was conceived in the fictitious cow;
  And when he us beheld, he bit himself,
  Even as one whom anger racks within.
My Sage towards him shouted: "Peradventure
  Thou think'st that here may be the Duke of Athens,
  Who in the world above brought death to thee?
Get thee gone, beast, for this one cometh not
  Instructed by thy sister, but he comes
  In order to behold your punishments."
As is that bull who breaks loose at the moment
  In which he has received the mortal blow,
  Who cannot walk, but staggers here and there,
The Minotaur beheld I do the like;
  And he, the wary, cried: "Run to the passage;
  While he wroth, 'tis well thou shouldst descend."
Thus down we took our way o'er that discharge
  Of stones, which oftentimes did move themselves
  Beneath my feet, from the unwonted burden.
Thoughtful I went; and he said: "Thou art thinking
  Perhaps upon this ruin, which is guarded
  By that brute anger which just now I quenched.
Now will I have thee know, the other time
  I here descended to the nether Hell,
  This precipice had not yet fallen down.
But truly, if I well discern, a little
  Before His coming who the mighty spoil
  Bore off from Dis, in the supernal circle,
Upon all sides the deep and loathsome valley
  Trembled so, that I thought the Universe
  Was thrilled with love, by which there are who think
The world ofttimes converted into chaos;
  And at that moment this primeval crag
  Both here and elsewhere made such overthrow.
But fix thine eyes below; for draweth near
  The river of blood, within which boiling is
  Whoe'er by violence doth injure others."
O blind cupidity, O wrath insane,
  That spurs us onward so in our short life,
  And in the eternal then so badly steeps us!
I saw an ample moat bent like a bow,
  As one which all the plain encompasses,
  Conformable to what my Guide had said.
And between this and the embankment's foot
  Centaurs in file were running, armed with arrows,
  As in the world they used the chase to follow.
Beholding us descend, each one stood still,
  And from the squadron three detached themselves,
  With bows and arrows in advance selected;
And from afar one cried: "Unto what torment
  Come ye, who down the hillside are descending?
  Tell us from there; if not, I draw the bow."
My Master said: "Our answer will we make
  To Chiron, near you there; in evil hour,
  That will of thine was evermore so hasty."
Then touched he me, and said: "This one is Nessus,
  Who perished for the lovely Dejanira,
  And for himself, himself did vengeance take.
And he in the midst, who at his breast is gazing,
  Is the great Chiron, who brought up Achilles;
  That other Pholus is, who was so wrathful.
Thousands and thousands go about the moat
  Shooting with shafts whatever soul emerges
  Out of the blood, more than his crime allots."
Near we approached unto those monsters fleet;
  Chiron an arrow took, and with the notch
  Backward upon his jaws he put his beard.
After he had uncovered his great mouth,
  He said to his companions: "Are you ware
  That he behind moveth whate'er he touches?
Thus are not wont to do the feet of dead men."
  And my good Guide, who now was at his breast,
  Where the two natures are together joined,
Replied: "Indeed he lives, and thus alone
  Me it behoves to show him the dark valley;
  Necessity, and not delight, impels us.
Some one withdrew from singing Halleluja,
  Who unto me committed this new office;
  No thief is he, nor I a thievish spirit.
But by that virtue through which I am moving
  My steps along this savage thoroughfare,
  Give us some one of thine, to be with us,
And who may show us where to pass the ford,
  And who may carry this one on his back;
  For 'tis no spirit that can walk the air."
Upon his right breast Chiron wheeled about,
  And said to Nessus: "Turn and do thou guide them,
  And warn aside, if other band may meet you."
We with our faithful escort onward moved
  Along the brink of the vermilion boiling,
  Wherein the boiled were uttering loud laments.
People I saw within up to the eyebrows,
  And the great Centaur said: "Tyrants are these,
  Who dealt in bloodshed and in pillaging.
Here they lament their pitiless mischiefs; here
  Is Alexander, and fierce Dionysius
  Who upon Sicily brought dolorous years.
That forehead there which has the hair so black
  Is Azzolin; and the other who is blond,
  Obizzo is of Esti, who, in truth,
Up in the world was by his stepson slain."
  Then turned I to the Poet; and he said,
  "Now he be first to thee, and second I."
A little farther on the Centaur stopped
  Above a folk, who far down as the throat
  Seemed from that boiling stream to issue forth.
A shade he showed us on one side alone,
  Saying: "He cleft asunder in God's bosom
  The heart that still upon the Thames is honoured."
Then people saw I, who from out the river
  Lifted their heads and also all the chest;
  And many among these I recognised.
Thus ever more and more grew shallower
  That blood, so that the feet alone it covered;
  And there across the moat our passage was.
"Even as thou here upon this side beholdest
  The boiling stream, that aye diminishes,"
  The Centaur said, "I wish thee to believe
That on this other more and more declines
  Its bed, until it reunites itself
  Where it behoveth tyranny to groan.
Justice divine, upon this side, is goading
  That Attila, who was a scourge on earth,
  And Pyrrhus, and Sextus; and for ever milks
The tears which with the boiling it unseals
  In Rinier da Corneto and Rinier Pazzo,
  Who made upon the highways so much war."
Then back he turned, and passed again the ford.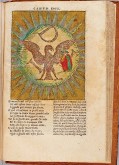 Image 5.19: Paradiso: Canto Twenty | Heavenly souls form shapes with their bodies, eventually transforming into an eagle, one of the symbols of ancient Rome.
Author: Teodolinda Barolini
Source: Digital Dante
License: Public Domain
CANTO XIII
The Wood of Thorns. The Harpies. The Violent Against Themselves. Suicides. Pier Della Vigna. Lano and Jacopo Da Sant' Andrea.
Not yet had Nessus reached the other side,
  When we had put ourselves within a wood,
  That was not marked by any path whatever.
Not foliage green, but of a dusky colour,
  Not branches smooth, but gnarled and intertangled,
  Not apple-trees were there, but thorns with poison.
Such tangled thickets have not, nor so dense,
  Those savage wild beasts, that in hatred hold
  'Twixt Cecina and Corneto the tilled places.
There do the hideous Harpies make their nests,
  Who chased the Trojans from the Strophades,
  With sad announcement of impending doom;
Broad wings have they, and necks and faces human,
  And feet with claws, and their great bellies fledged;
  They make laments upon the wondrous trees.
And the good Master: "Ere thou enter farther,
  Know that thou art within the second round,"
  Thus he began to say, "and shalt be, till
Thou comest out upon the horrible sand;
  Therefore look well around, and thou shalt see
  Things that will credence give unto my speech."
I heard on all sides lamentations uttered,
  And person none beheld I who might make them,
  Whence, utterly bewildered, I stood still.
I think he thought that I perhaps might think
  So many voices issued through those trunks
  From people who concealed themselves from us;
Therefore the Master said: "If thou break off
  Some little spray from any of these trees,
  The thoughts thou hast will wholly be made vain."
Then stretched I forth my hand a little forward,
  And plucked a branchlet off from a great thorn;
  And the trunk cried, "Why dost thou mangle me?"
After it had become embrowned with blood,
  It recommenced its cry: "Why dost thou rend me?
  Hast thou no spirit of pity whatsoever?
Men once we were, and now are changed to trees;
  Indeed, thy hand should be more pitiful,
  Even if the souls of serpents we had been."
As out of a green brand, that is on fire
  At one of the ends, and from the other drips
  And hisses with the wind that is escaping;
So from that splinter issued forth together
  Both words and blood; whereat I let the tip
  Fall, and stood like a man who is afraid.
"Had he been able sooner to believe,"
  My Sage made answer, "O thou wounded soul,
  What only in my verses he has seen,
Not upon thee had he stretched forth his hand;
  Whereas the thing incredible has caused me
  To put him to an act which grieveth me.
But tell him who thou wast, so that by way
  Of some amends thy fame he may refresh
  Up in the world, to which he can return."
And the trunk said: "So thy sweet words allure me,
  I cannot silent be; and you be vexed not,
  That I a little to discourse am tempted.
I am the one who both keys had in keeping
  Of Frederick's heart, and turned them to and fro
  So softly in unlocking and in locking,
That from his secrets most men I withheld;
  Fidelity I bore the glorious office
  So great, I lost thereby my sleep and pulses.
The courtesan who never from the dwelling
  Of Caesar turned aside her strumpet eyes,
  Death universal and the vice of courts,
Inflamed against me all the other minds,
  And they, inflamed, did so inflame Augustus,
  That my glad honours turned to dismal mournings.
My spirit, in disdainful exultation,
  Thinking by dying to escape disdain,
  Made me unjust against myself, the just.
I, by the roots unwonted of this wood,
  Do swear to you that never broke I faith
  Unto my lord, who was so worthy of honour;
And to the world if one of you return,
  Let him my memory comfort, which is lying
  Still prostrate from the blow that envy dealt it."
Waited awhile, and then: "Since he is silent,"
  The Poet said to me, "lose not the time,
  But speak, and question him, if more may please thee."
Whence I to him: "Do thou again inquire
  Concerning what thou thinks't will satisfy me;
  For I cannot, such pity is in my heart."
Therefore he recommenced: "So may the man
  Do for thee freely what thy speech implores,
  Spirit incarcerate, again be pleased
To tell us in what way the soul is bound
  Within these knots; and tell us, if thou canst,
  If any from such members e'er is freed."
Then blew the trunk amain, and afterward
  The wind was into such a voice converted:
  "With brevity shall be replied to you.
When the exasperated soul abandons
  The body whence it rent itself away,
  Minos consigns it to the seventh abyss.
It falls into the forest, and no part
  Is chosen for it; but where Fortune hurls it,
  There like a grain of spelt it germinates.
It springs a sapling, and a forest tree;
  The Harpies, feeding then upon its leaves,
  Do pain create, and for the pain an outlet.
Like others for our spoils shall we return;
  But not that any one may them revest,
  For 'tis not just to have what one casts off.
Here we shall drag them, and along the dismal
  Forest our bodies shall suspended be,
  Each to the thorn of his molested shade."
We were attentive still unto the trunk,
  Thinking that more it yet might wish to tell us,
  When by a tumult we were overtaken,
In the same way as he is who perceives
  The boar and chase approaching to his stand,
  Who hears the crashing of the beasts and branches;
And two behold! upon our left-hand side,
  Naked and scratched, fleeing so furiously,
  That of the forest, every fan they broke.
He who was in advance: "Now help, Death, help!"
  And the other one, who seemed to lag too much,
  Was shouting: "Lano, were not so alert
Those legs of thine at joustings of the Toppo!"
  And then, perchance because his breath was failing,
  He grouped himself together with a bush.
Behind them was the forest full of black
  She-mastiffs, ravenous, and swift of foot
  As greyhounds, who are issuing from the chain.
On him who had crouched down they set their teeth,
  And him they lacerated piece by piece,
  Thereafter bore away those aching members.
Thereat my Escort took me by the hand,
  And led me to the bush, that all in vain
  Was weeping from its bloody lacerations.
"O Jacopo," it said, "of Sant' Andrea,
  What helped it thee of me to make a screen?
  What blame have I in thy nefarious life?"
When near him had the Master stayed his steps,
  He said: "Who wast thou, that through wounds so many
  Art blowing out with blood thy dolorous speech?"
And he to us: "O souls, that hither come
  To look upon the shameful massacre
  That has so rent away from me my leaves,
Gather them up beneath the dismal bush;
  I of that city was which to the Baptist
  Changed its first patron, wherefore he for this
Forever with his art will make it sad.
  And were it not that on the pass of Arno
  Some glimpses of him are remaining still,
Those citizens, who afterwards rebuilt it
  Upon the ashes left by Attila,
  In vain had caused their labour to be done.
Of my own house I made myself a gibbet."
CANTO XV
The Violent Against Nature. Brunetto Latini.
Now bears us onward one of the hard margins,
  And so the brooklet's mist o'ershadows it,
  From fire it saves the water and the dikes.
Even as the Flemings, 'twixt Cadsand and Bruges,
  Fearing the flood that tow'rds them hurls itself,
  Their bulwarks build to put the sea to flight;
And as the Paduans along the Brenta,
  To guard their villas and their villages,
  Or ever Chiarentana feel the heat;
In such similitude had those been made,
  Albeit not so lofty nor so thick,
  Whoever he might be, the master made them.
Now were we from the forest so remote,
  I could not have discovered where it was,
  Even if backward I had turned myself,
When we a company of souls encountered,
  Who came beside the dike, and every one
  Gazed at us, as at evening we are wont
To eye each other under a new moon,
  And so towards us sharpened they their brows
  As an old tailor at the needle's eye.
Thus scrutinised by such a family,
  By some one I was recognised, who seized
  My garment's hem, and cried out, "What a marvel!"
And I, when he stretched forth his arm to me,
  On his baked aspect fastened so mine eyes,
  That the scorched countenance prevented not
His recognition by my intellect;
  And bowing down my face unto his own,
  I made reply, "Are you here, Ser Brunetto?"
And he: "May't not displease thee, O my son,
  If a brief space with thee Brunetto Latini
  Backward return and let the trail go on."
I said to him: "With all my power I ask it;
  And if you wish me to sit down with you,
  I will, if he please, for I go with him."
"O son," he said, "whoever of this herd
  A moment stops, lies then a hundred years,
  Nor fans himself when smiteth him the fire.
Therefore go on; I at thy skirts will come,
  And afterward will I rejoin my band,
  Which goes lamenting its eternal doom."
I did not dare to go down from the road
  Level to walk with him; but my head bowed
  I held as one who goeth reverently.
And he began: "What fortune or what fate
  Before the last day leadeth thee down here?
  And who is this that showeth thee the way?"
"Up there above us in the life serene,"
  I answered him, "I lost me in a valley,
  Or ever yet my age had been completed.
But yestermorn I turned my back upon it;
  This one appeared to me, returning thither,
  And homeward leadeth me along this road."
And he to me: "If thou thy star do follow,
  Thou canst not fail thee of a glorious port,
  If well I judged in the life beautiful.
And if I had not died so prematurely,
  Seeing Heaven thus benignant unto thee,
  I would have given thee comfort in the work.
But that ungrateful and malignant people,
  Which of old time from Fesole descended,
  And smacks still of the mountain and the granite,
Will make itself, for thy good deeds, thy foe;
  And it is right; for among crabbed sorbs
  It ill befits the sweet fig to bear fruit.
Old rumour in the world proclaims them blind;
  A people avaricious, envious, proud;
  Take heed that of their customs thou do cleanse thee.
Thy fortune so much honour doth reserve thee,
  One party and the other shall be hungry
  For thee; but far from goat shall be the grass.
Their litter let the beasts of Fesole
  Make of themselves, nor let them touch the plant,
  If any still upon their dunghill rise,
In which may yet revive the consecrated
  Seed of those Romans, who remained there when
  The nest of such great malice it became."
"If my entreaty wholly were fulfilled,"
  Replied I to him, "not yet would you be
  In banishment from human nature placed;
For in my mind is fixed, and touches now
  My heart the dear and good paternal image
  Of you, when in the world from hour to hour
You taught me how a man becomes eternal;
  And how much I am grateful, while I live
  Behoves that in my language be discerned.
What you narrate of my career I write,
  And keep it to be glossed with other text
  By a Lady who can do it, if I reach her.
This much will I have manifest to you;
  Provided that my conscience do not chide me,
  For whatsoever Fortune I am ready.
Such handsel is not new unto mine ears;
  Therefore let Fortune turn her wheel around
  As it may please her, and the churl his mattock."
My Master thereupon on his right cheek
  Did backward turn himself, and looked at me;
  Then said: "He listeneth well who noteth it."
Nor speaking less on that account, I go
  With Ser Brunetto, and I ask who are
  His most known and most eminent companions.
And he to me: "To know of some is well;
  Of others it were laudable to be silent,
  For short would be the time for so much speech.
Know them in sum, that all of them were clerks,
  And men of letters great and of great fame,
  In the world tainted with the selfsame sin.
Priscian goes yonder with that wretched crowd,
  And Francis of Accorso; and thou hadst seen there
  If thou hadst had a hankering for such scurf,
That one, who by the Servant of the Servants
  From Arno was transferred to Bacchiglione,
  Where he has left his sin-excited nerves.
More would I say, but coming and discoursing
  Can be no longer; for that I behold
  New smoke uprising yonder from the sand.
A people comes with whom I may not be;
  Commended unto thee be my Tesoro,
  In which I still live, and no more I ask."
Then he turned round, and seemed to be of those
  Who at Verona run for the Green Mantle
  Across the plain; and seemed to be among them
The one who wins, and not the one who loses.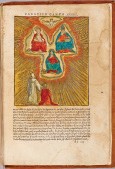 Image 5.20: Paradiso: Canto Thirty-Three | Dante witnesses the Virgil Mary, and Saint Bernard offers her a prayer on Dante's behalf.
Author: Teodolinda Barolini
Source: Digital Dante
License: Public Domain
CANTO XXXIV
Fourth Division of the Ninth Circle, the Judecca: Traitors to their Lords and Benefactors. Lucifer, Judas Iscariot, Brutus, and Cassius. The Chasm of Lethe. The Ascent.
"'Vexilla Regis prodeunt Inferni'
  Towards us; therefore look in front of thee,"
  My Master said, "if thou discernest him."
As, when there breathes a heavy fog, or when
  Our hemisphere is darkening into night,
  Appears far off a mill the wind is turning,
Methought that such a building then I saw;
  And, for the wind, I drew myself behind
  My Guide, because there was no other shelter.
Now was I, and with fear in verse I put it,
  There where the shades were wholly covered up,
  And glimmered through like unto straws in glass.
Some prone are lying, others stand erect,
  This with the head, and that one with the soles;
  Another, bow-like, face to feet inverts.
When in advance so far we had proceeded,
  That it my Master pleased to show to me
  The creature who once had the beauteous semblance,
He from before me moved and made me stop,
  Saying: "Behold Dis, and behold the place
  Where thou with fortitude must arm thyself."
How frozen I became and powerless then,
  Ask it not, Reader, for I write it not,
  Because all language would be insufficient.
I did not die, and I alive remained not;
  Think for thyself now, hast thou aught of wit,
  What I became, being of both deprived.
The Emperor of the kingdom dolorous
  From his mid-breast forth issued from the ice;
  And better with a giant I compare
Than do the giants with those arms of his;
  Consider now how great must be that whole,
  Which unto such a part conforms itself.
Were he as fair once, as he now is foul,
  And lifted up his brow against his Maker,
  Well may proceed from him all tribulation.
O, what a marvel it appeared to me,
  When I beheld three faces on his head!
  The one in front, and that vermilion was;
Two were the others, that were joined with this
  Above the middle part of either shoulder,
  And they were joined together at the crest;
And the right-hand one seemed 'twixt white and yellow;
  The left was such to look upon as those
  Who come from where the Nile falls valley-ward.
Underneath each came forth two mighty wings,
  Such as befitting were so great a bird;
  Sails of the sea I never saw so large.
 No feathers had they, but as of a bat
  Their fashion was; and he was waving them,
  So that three winds proceeded forth therefrom.
Thereby Cocytus wholly was congealed.
  With six eyes did he weep, and down three chins
  Trickled the tear-drops and the bloody drivel.
At every mouth he with his teeth was crunching
  A sinner, in the manner of a brake,
  So that he three of them tormented thus.
To him in front the biting was as naught
  Unto the clawing, for sometimes the spine
  Utterly stripped of all the skin remained.
"That soul up there which has the greatest pain,"
  The Master said, "is Judas Iscariot;
  With head inside, he plies his legs without.
Of the two others, who head downward are,
  The one who hangs from the black jowl is Brutus;
  See how he writhes himself, and speaks no word.
And the other, who so stalwart seems, is Cassius.
  But night is reascending, and 'tis time
  That we depart, for we have seen the whole."
As seemed him good, I clasped him round the neck,
  And he the vantage seized of time and place,
  And when the wings were opened wide apart,
He laid fast hold upon the shaggy sides;
  From fell to fell descended downward then
  Between the thick hair and the frozen crust.
When we were come to where the thigh revolves
  Exactly on the thickness of the haunch,
  The Guide, with labour and with hard-drawn breath,
Turned round his head where he had had his legs,
  And grappled to the hair, as one who mounts,
  So that to Hell I thought we were returning.
"Keep fast thy hold, for by such stairs as these,"
  The Master said, panting as one fatigued,
  "Must we perforce depart from so much evil."
Then through the opening of a rock he issued,
  And down upon the margin seated me;
  Then tow'rds me he outstretched his wary step.
I lifted up mine eyes and thought to see
  Lucifer in the same way I had left him;
  And I beheld him upward hold his legs.
And if I then became disquieted,
  Let stolid people think who do not see
  What the point is beyond which I had passed.
"Rise up," the Master said, "upon thy feet;
  The way is long, and difficult the road,
  And now the sun to middle-tierce returns."
It was not any palace corridor
  There where we were, but dungeon natural,
  With floor uneven and unease of light.
"Ere from the abyss I tear myself away,
  My Master," said I when I had arisen,
  "To draw me from an error speak a little;
Where is the ice? and how is this one fixed
  Thus upside down? and how in such short time
  From eve to morn has the sun made his transit?"
And he to me: "Thou still imaginest
  Thou art beyond the centre, where I grasped
  The hair of the fell worm, who mines the world.
That side thou wast, so long as I descended;
  When round I turned me, thou didst pass the point
  To which things heavy draw from every side,
And now beneath the hemisphere art come
  Opposite that which overhangs the vast
  Dry-land, and 'neath whose cope was put to death
The Man who without sin was born and lived.
  Thou hast thy feet upon the little sphere
  Which makes the other face of the Judecca.
Here it is morn when it is evening there;
  And he who with his hair a stairway made us
  Still fixed remaineth as he was before.
Upon this side he fell down out of heaven;
  And all the land, that whilom here emerged,
  For fear of him made of the sea a veil,
And came to our hemisphere; and peradventure
  To flee from him, what on this side appears
  Left the place vacant here, and back recoiled."
A place there is below, from Beelzebub
  As far receding as the tomb extends,
  Which not by sight is known, but by the sound
Of a small rivulet, that there descendeth
  Through chasm within the stone, which it has gnawed
  With course that winds about and slightly falls.
The Guide and I into that hidden road
  Now entered, to return to the bright world;
  And without care of having any rest
We mounted up, he first and I the second,
  Till I beheld through a round aperture
  Some of the beauteous things that Heaven doth bear;
Thence we came forth to rebehold the stars.
[NOTE: Our selection omits a number of cantos depicting various sins of fraud. The final third of the Inferno (Cantos XVIII-XXXIV) catalogs two different kinds of fraud: the first section (cantos XVIII-XXX) depicts "simple" fraud, deceiving others who have no special trust in the sinner (for example fortune-telling); the second and more damnable (XXXI-XXXIV), complex fraud or treachery, involves deceiving people who have a trusted relationship with the sinner (for example betraying one's family or country). We have included just two cantos from "simple" fraud (XXVI and XXVII); these relate the stories of how Ulysses (Latin for Odysseus) and Guido da Montefeltro, two powerful and gifted individuals, come to be damned. After their stories, we conclude with the sins of complex fraud (XXXII-XXXIV), which take us to the end of the Inferno.]
THE SONG OF ROLAND
Anonymous or possibly composed by a poet named Turold
Floruit or fl 1075-1100
Composed ca. eleventh century CE
French
The Song of Roland is actually founded upon an historical event, the Battle of Roncevaux Pass (778 CE), in which Roland, commander of the rear guard of Charlemagne's army, was defeated by the Basques. This chanson de geste ("song of mighty deeds") provides a powerful fusion of Germanic warrior and Christian cultures. The Song briskly moves its source material into a mythic dimension, with a 200 year old, semi-divine Charlemagne assigning his twelve peers and their troops to guard a high mountain pass in the Pyrenees against attack by 400,000 Saracen Muslims (an obvious epic inflation). In the figure of Ganelon, stepfather of Roland who betrays him, the epic depicts the qualities most abhorred by a warrior culture, deceit and disloyalty. In the figure of the martyred and brave—even to a point of rashness—Roland, the epic creates an ideal of the masculine fighting hero, despite the fact that he would have done well to listen to the advice of his wise friend Oliver. Composed of various threads from the oral tradition and written down sometime in the eleventh century, the Song of Roland served as an inspiration for the Crusaders. As such, it offers a particularly scurrilous portrait of Muslim warriors as cowards and villains who worship pagan deities. One of the first works in the French literary tradition, the Song of Roland memorializes its militant Christian culture through vivid description and dramatic action, especially in its set-pieces of hand-tohand combat. In proclaiming that "pagans are wrong and the Christians are right," the epic offers a world of moral absolutes with little room for shadings.
Written by Doug Thomson
5.6.1 Questions to consider while reading this selection:
How are the Muslims (Saracens) depicted in the epic?
What are the characteristics of the ideal masculine hero as can be gathered from depictions of the epic's various characters? How does this ideal hero compare and contrast with other epic heroes ?

In Laisse XCIV, Roland asserts that "We [the French] have the right, these gluttons [the Saracens] have the wrong!" What do you make of the moral absolutes that govern the poem (Christians right, pagans wrong. period)?

Archbishop Turpin is the leading religious figure in the epic. What do you make of his brand of Christianity?
5.6.2 La Chanson de Roland
Translated from the Seventh Edition of Leon Gautier by Léonce Rabillon
Edited, annotated, and compiled by Rhonda L. Kelley
License: CC BY-SA 4.0
Charlemagne in Spain
I.
Carle our most noble Emperor and King,4
Hath tarried now full seven years in Spain,5
Conqu'ring the highland regions to the sea;
No fortress stands before him unsubdued,
Nor wall, nor city left, to be destroyed,
Save Sarraguce,6 high on a mountain set.
There rules the King Marsile who loves not God,
Apollo7 worships and Mohammed serves;
Nor can he from his evil doom escape.
Aoi.8
Ganelon's Treason (summary)
At the end of his seven-year campaign against Spain, Charlemagne finds he cannot penetrate the walls of King Marsile's Saragossa. Fearful of a siege, Marsile promises through a messenger that if Charlemagne will leave Spain, then Marsile will present himself with a ransom at Charlemagne's court to be converted to Christianity. Charlemagne accepts the offer and sends an ambassador to convey same.
On the advice of Roland, Charlemagne's nephew and leader of his rear-guard, the Franks send Ganelon, Roland's stepfather, to deliver the message. Because all of the previous ambassadors to Marsile had died horrible deaths, Ganelon assumes that Roland is setting him up for a similar fate. In retaliation to the perceived insult, Ganelon betrays Roland and Charlemagne to King Marsile. Knowing that Roland would lead several other Paladins and the rear-guard, Ganelon tells Marsile how to ambush the rear-guard at the narrow mountain pass of Ronceval.
Prelude to the Great Battle.
9
LXXXI.
Olivier10 from the summit of a hill11
On his right hand looks o'er a grassy vale,
And views the Pagans'12 onward marching hordes;
Then straight he called his faithful friend Rollánd:
"From Spain a distant rumbling noise I hear,
So many hauberks white and flashing helms
I see!—This will inflame our French men's hearts.
The treason is the work of Ganelon
Who named us for this post before the King."
"Hush! Olivier!"—the Count Rollánd replies,
"'Tis my step-father, speak no other word."
Aoi.
LXXXII.
Count Olivier is posted on a hill
From whence Spain's Kingdom he descries,13 and all
The swarming host of Saracens; their helms
So bright bedecked with gold, and their great shields,
Their 'broidered hauberks, and their waving flags,
He cannot count the squadrons; in such crowds
They come, his sight reached not unto their end.
Then all bewildered he descends the hill,
Rejoins the French, and all to them relates.
Aoi.
LXXXIII.
Said Olivier: "I have seen Pagans more
Than eyes e'er saw upon the earth; at least
One hundred thousand warriors armed with shields,
In their white hauberks clad, with helmets laced,
Lances in rest, and burnished brazen spears.
Battle ye will have, such as ne'er was before.
French Lords, may God inspire you with his strength!
Stand firm your ground, that we may not succumb."
The French say: "Cursed be those who fly the field!
Ready to die, not one shall fail you here."
Aoi.
Roland's Pride
LXXXIV.
Olivier said: "So strong the Pagan host;
Our French, methinks, in number are too few;
Companion Rollánd, sound your horn,14 that Carle15
May hear and send his army back to help."
Rollánd replies:—"Great folly would be mine,
And all my glory in sweet France be lost.
No, I shall strike great blows with Durendal;16
To the golden hilt the blade shall reek with blood.
In evil hour the felon17 Pagans came
Unto the Pass, for all are doomed to die!"
Aoi.
LXXXV.
"Rollànd, companion, sound your olifant,18
That Carle may hear and soon bring back the host.
With all his Baronage19 the king will give
Us help!"—Replied Rollánd:—"May God fore-fend
That for my cause my kindred e'er20 be blamed,
Or that dishonor fall upon sweet France.
Nay, I will deal hard blows with Durendal,
This my good sword now girt unto my side
Whose blade you'll see all reeking with red blood.
Those felon Pagans have for their ill fate
Together met—yea, death awaits them all."
Aoi.
LXXXVI.
"Companion Rollánd, sound your olifant!
If Carle who passes through the mounts shall hear,
To you I pledge my word, the French return."
Answered Rollánd:—"May God forbid!—Ne'er be
It said by living man that Pagans could
Cause me to blow my horn, to bring disgrace
Upon my kin!—When on the battle field,
I'll strike one thousand seven hundred blows,
And Durendal all bleeding shall you see.
[The French are brave and bravely will they strike.]
Those Spanish Moors are doomed to certain death."
Aoi.
LXXXVII.
Olivier said:—"To me there seems no shame;
I have beheld the Moors21 of Spain; they swarm
O'er mountains, vales and lands, hide all the plains;
Great is this stranger host; our number small."
Rollánd replies:—"The more my ardor grows.
God and his [blessed] angels grant that France
Lose naught of her renown through my default.
Better to die than in dishonor [live.]
The more we strike the more Carle's love we gain!"
Aoi.
LXXXVIII.
Rollánd is brave and Olivier is wise;
Both knights of wond'rous courage—and in arms
And mounted on their steeds, they both will die
Ere 22 they will shun the fight. Good are the Counts23
And proud their words.—The Pagan felons ride
In fury on!—"Rollánd," said Olivier,
"One moment, look! Our foes so close, and Carle
Afar from us—you have not deigned to blow
Your horn! If came the king, no hurt were ours.
Cast your eyes toward the great defiles24 of Aspre;25
There see this most unhappy rear-guard. [Those
Who here fight, ne'er shall fight on other fields."]
Rollànd retorts:—"Speak not such shameful words.
Woe unto him who bears a coward's heart
Within his breast. There firm shall we remain;
The combat and the blows from us shall come."
Aoi.
LXXXIX.
Now when Rollánd the battle sees at hand,
More than a leopard's or a lion's pride
He shows. He calls the French and Olivier:
"Companion, friend, pray, speak of this no more.
The Emperor who left his French in trust
To us, has chos'n those twenty thousand men.
Right well he knows none has a coward's soul.
A man should suffer hurt for his good lord,
Endure great cold or scorching heat, and give
Even to his flesh and blood—Strike with your lance,
And I with Durendal, my trusty sword,
Carle's gift. If here I die, may he who wins
It, say:—'Twas once the sword of a brave knight."
Aoi.
XC.
Turpin the Archbishop from another side,
Spurring his courser, mounts a hill and calls
The French around. This sermon to them speaks:
"Seigneurs Barons, Carle left us here: for him,
Our King, our duty is to die, to aid
In saving Christendom, the Faith of Christ
Uphold. There, battle will ye have, for there
Before your eyes behold the Saracens.
Confess your sins, and for God's mercy pray!
For your soul's cure I absolution give....
If you should die, as holy martyrs ye
Will fall, and places find in Paradise!"
The French alight and fall upon their knees;
The Godly Archbishop grants them benison,
Giving for penance his command to strike.
Aoi.
XCI.
The French arise. They stand assoiled and quit
Of all sins, blessed by Turpin in God's name.
On swift destriers26 they mount, armed cap-a-pie27
Calls Olivier:—"Companion, sire, full well
You know, it is Count Ganelon who has
Betrayed us all, and guerdon28 rich received
In gold and silver; well the Emp'ror should
Avenge us! King Marsile a bargain made
Of us, but swords will make the reck'ning good."
Aoi.
XCII.
Through the defiles of Spain hath passed Rollánd
Mounted on Veillantif,29 his charger swift
And strong, bearing his bright and glitt'ring arms.
On goes the brave Rollánd, his lance borne up
Skyward, beneath its point a pennon bound,
Snow-white, whose fringes flap his hand.
Fair is his form, his visage bright with smiles.
Behind him follows Olivier his friend;
The French with joy, him as their champion, hail.
He on the Heathens throws a haughty glance,
But casts a sweet and humble look upon
His French, and to them speaks with courteous tone:
"Seigneurs Barons, march steadily and close.
These Pagans hither came to find a grave;
We here shall conquer such great spoil to-day
As never yet was gained by Kings of France."
Even as he spoke the word, the armies met.
Aoi.
XCIII.
Said Olivier:—"No care have I to speak,
Since you deigned not to blow your olifant,
All hope of help from Carle for you is lost.
He knows no word of this; the fault lies not
In him, nor are yon Knights to blame—ride on
And gallop to the charge as best you can.
Seigneurs Barons, recoil not from the foe,
In God's name! bearing ever this in mind,
Hard blows to deal and hard blows to endure
Forget we not the war-cry of King Carle!"
At this word all the French together shout.
Who then had heard the cry, "Montjoie!"30 had known
What courage is. Then all together rush
Right onward; God! with what an onset fierce!
Deeply they spur their steeds for greater speed;
They burn to fight. What else can they desire?
The Saracens stand firm and nothing fear....
Behold the Franks and Pagans hand to hand....
Aoi.
The Melee
XCIV.
The nephew of Marsile—his name Aëlroth,31
Forward the first of all spurs on his horse
Against our French, hurling forth insulting words:
"To-day, French villains, ye will joust with us;
Who was to guard you, has betrayed you; mad
Must be the King who left you in the pass.
So now the honor of sweet France is lost,
And Carle the great shall lose his right arm here."
Rollànd heard.—God! what pain to him! He drives
His golden spurs into his courser's flanks,
And rushes at full speed against Aëlroth;
His shield he breaks, dismails the hauberk linked;
Cleaving his breast, he severs all the bones,
And from the spine the ribs disjoint. The lance
Forth from his body thrusts the Pagan's soul;
The Heathen's corse32 reels from his horse, falls down
Upon the earth, the neck cloven in two halves.
Rollánd still taunts him:—"Go thou, wretch, and know
Carle was not mad. Ne'er did he treason love,
And he did well to leave us in the pass.
To-day sweet France will not her honor lose!
Strike, Frenchmen, strike; the first sword-stroke is ours;
We have the right, these gluttons have the wrong!"
Aoi.
XCV.
Then comes a Duke whose name is Falsarun;
He is the brother of the King Marsile.
The lands of Dathan and of Abirun
He holds: no viler wretch lives under Heaven.
Vast is his forehead, and the space between
His deeply sunken eyes is half a foot.
Seeing his nephew dead, in grief he bounds
Forth from the serried ranks, and shouts aloud
The Pagan war-cry, furious 'gainst the French.
"To-day," he cries, "at last sweet France shall lose
Her fame!"—When Olivier heard this, in wrath
He pricks with golden spurs his charger's flanks,
And, like true baron, lifts his arm to strike,
Shivers the Pagan's shield, his hauberk tears
Apart. The pennon's folds pass through his breast
As with the shaft he hurls him from the selle,33
A mangled corpse;—here lies he on the ground.
Unto the prostrate body Olivier
Says proudly:—"Wretch, to me thy threats are vain!
Strike boldly, Franks! The victory shall be ours!
Montjoie!" he shouts, the battle-cry of Carle.
Aoi.
XCVI.
A king, named Corsablis, from Barbarie,34
A distant land, is there.—The Pagan host
He calls;—"The field is ours with ease: the French
So few in numbers we may well disdain,
Nor Carle shall rescue one; all perish here.
To-day, they all are doomed to death!" Turpin
The Archbishop heard him; lived no man on earth
He hated more than Corsablis; he pricks
His horse with both his spurs of purest gold,
And 'gainst him rushes with tremendous force.
The shield and hauberk split; and with a stroke
Of the long lance into his body driven,
Corsablis lifeless drops across the path;
Him, though a corpse, Turpin addresses thus:
"Thou, coward Pagan, thou hast lied! Great Carl
My lord, was ever and will ever be
Our help; and Frenchmen know not how to fly.
As for thy fellows, we can keep them here;
I tell you, each this day shall die.—Strike, Franks,
Yourselves forget not. This first blow, thank God,
Is ours! Montjoie!" cries he, to hold the field.
Aoi.
XCVII.
Gérin35 attacks Malprimis de Brigal
Whose good shield now was not a denier36 worth:
The crystal boss all broken, and one half
Fall'n on the ground. Down to the flesh Gérin
His hauberk cleaves, and passes through his heart
The brazen point of a stout lance. Then falls
The Pagan chief and dies by that good blow;
And Sathanas37 bears off the wretched soul.
Aoi.
XCVIII.
Gérier,38 his comrade, strikes the Amurafle,39
Breaks his good shield, his hauberk white unmails,
Plants in his heart a spear's steel point with such
Good aim, one blow has pierced the body through;
And his strong lance-thrust hurls him dead to earth.—
Said Olivier: "A noble combat ours!"
Aoi.
XCIX.
Duke Sansun40 rushes on the Almazour;41
He splits the shield with painted flowers and gold
Embossed. The strong-mailed hauberk shelters not,
As he is pierced through liver, heart and lungs.
For him may mourn who will—death-struck he falls:
"That is a Baron's stroke!" the Archbishop cries.
Aoi.
C.
Anseïs42 gives his steed the rein, and charges
Fierce on Turgis de Turteluse; beneath
The golden boss asunder breaks the shield,
Rips up the hauberk double-linked; so true
The thrust, that all the steel passed through his breast.
With this one blow the shaft has struck him dead.
Rollánd exclaimed: "The stroke is of a Knight!"
Aoi.
CI.
Then Engelier,43 the Gascuin44 of Burdele,
Spurs deep his horse, and casting loose the rein,
Rushes upon Escremiz de Valterne;
Breaks down the buckler fastened to his throat
And rends his gorget-mail; full in the breast
The lance strikes deep and passes in between
The collar bones; dead from the saddle struck
He falls.—And Turpin says: "Ye all are lost!"
Aoi.
CII.
Othon45 assails a Pagan, Estorgant,
His thrust hits hard the leather of the shield,
Effacing its bright colors red and white,
Breaks in his hauberk's sides, and plunges deep
Within his heart a strong and trenchant spear,
From off the flying steed striking him dead.
This done, he says:—"No hope for you remains!"
Aoi.
CIII.
And Bérengier46 smites now Estramaris,
Splits down his shield, shivers his coat of mail
In shreds and through his bosom drives a lance.
Dead 'midst one thousand Saracens he drops.
Of their twelve Peers47 now ten have breathed their last:
Chernuble—Margariz, the Count, survive.
Aoi.
CIV.
Most valiant Knight is Margariz. 'Mid all
Beauteous, strong, slender, quick of hand. He spurs
His horse and charges Olivier; beneath
The boss of purest gold his shield breaks down,
Then at his side a pointed lance he aims;
But God protects him, for the blow ne'er reached
The flesh. The point grazed only, wounding not.
Then Margariz unhindered rides away
And sounds his horn to rally his own men.
Aoi.
CV.
The battle rages fierce. All men engage.
Rollánd, the dauntless, combats with his lance
As long as holds the shaft. Fifteen good blows
It dealt, then broke and fell; now his good sword,
Loved Durendal, he draws, spurs on his steed
'Gainst Chernubles, splits his bright helm adorned
With gems; one blow cleaves through mail-cap and skull,
Cutting both eyes and visage in two parts,
And the white hauberk with its close-linked mail;
Down to the body's fork, the saddle all
Of beaten gold, still deeper goes the sword,
Cuts through the courser's chine, nor seeks the joint.
Upon the verdant grass fall dead both knight
And steed. And then he cries: "Wretch! ill inspired
To venture here! Mohammed helped thee not....
Wretches like you this battle shall not win."
Aoi.
CVI.
The Count Rollànd rides through the battle-field
And makes, with Durendal's keen blade in hand,
A mighty carnage of the Saracens.
Ah! had you then beheld the valiant Knight
Heap corse on corse; blood drenching all the ground;
His own arms, hauberk, all besmeared with gore,
And his good steed from neck to shoulder bleed!
Still Olivier halts not in his career.
Of the twelve Peers not one deserves reproach,
And all the French strike well and massacre
The foe. The Pagans dead or dying fall.
Cries the Archbishop: "Well done, Knights of France!
Montjoie! Montjoie! It is Carle's battle cry!"
Aoi.
CVII.
Olivier grasps the truncheon48 of his lance,
Spurs through the storm and fury of the fight,
And rushes on the Pagan Malsarun,
Breaks down his shield with flowers and gold embossed,
Thrusts from their orbs his eyes; his brains dashed out
Are crushed and trampled 'neath the victor's feet;
With seven hundred men of theirs he fell.
The Count next slew Turgis and Estorgus;
But now the shaft breaks short off by his hand.
Then said Rollánd: "What mean you, Compagnon?49
In such a fight as this 'tis not a staff
We need, but steel and iron, as I deem.
Where now that sword called Halteclere, with hilt
Of gold and crystal pommel?" "I lack time
To draw it," valiant Olivier replies,
"So busy is my hand in dealing blows!"
Aoi.
CVIII.
Lord Olivier then his good sword unsheathed,
For which Rollánd entreated him so much,
And showed it to his friend with knightly pride;
Strikes down a Pagan, Justin de Val-Ferrée,
Whose head is severed by the blow; cuts through
Th' embroider'd hauberk, through the body, through
The saddle all with studs and gold embossed,
And through the back-bone of the steed. Both man
And steed fall on the grass before him, dead.
Rollánd exclaims: "Henceforth, you are indeed
My brother! These, the strokes loved by King Carle!"
And echoes round the cry: "Montjoie! Montjoie!"
Aoi.
CIX.
The Count Gérin sits on his horse, Sorel,
And his companion Gérier, on Passe-Cerf,
They loose the reins, and both spur on against
A Pagan, Timozel. One strikes the shield,
The other strikes the hauberk;—in his heart
The two spears meet and hurl him lifeless down.
I never heard it said nor can I know
By which of them the swifter blow was struck.—
Esperveris, son to Borel, was next
By Engelier de Burdele50 slain. Turpin
With his own hand gave death to Siglorel
Th' Enchanter who once entered hell, led there
By Jupiter's craft. Turpin said:—"Forfeit paid
For crime!"—"The wretch is vanquished," cried Rollánd,
"My brother Olivier, such blows I love!"
Aoi.
CX.
The combat paused not. Franks and Pagans vie
In dealing blows; attacking now, and now
Defending. Splintered spears, dripping with blood
So many; o'er the field such numbers strewn:
Of banners torn and shattered gonfalons!
So many valiant French mowed in their prime,
Whom mothers and sweet wives will never see
Again, nor those of France who in the Pass
Await them! Carle for these shall weep and mourn.
But what avails? Naught can he help them now.
Ill service rendered Ganelon to them
The day when he to Sarraguce repaired
To sell his kin. Ere long for this he lost
Both limb and life, judged and condemned at Aix,
There to be hanged with thirty of his race
Who were not spared the punishment of death.
Aoi.
CXI.
The battle rages. Wonders all perform;
Rollánd and Olivier strike hard; Turpin
Th' Archbishop, deals more than a thousand blows;
The twelve Peers dally not upon the field,
While all the French together fight as if
One man. By hundreds and by thousands fall
The Pagans: none scapes death, save those who fly
Whether they will or no, all lose their lives.
And yet the French have lost their strongest arms,
Their fathers and their kin they will ne'er see
Again, nor Carle who waits them in the Pass.
Meantime in France an awful scourge prevails:
Wind, storm, rain, hail and flashing lightning bolts
Conflict confusedly, and naught more true,
The earth shook from Saint Michiel-del-Peril
As far as to the Saints, from Besançon
Unto the [sea-port] of Guitzand; no house
Whose walls unshaken stood; darkness at noon
Shrouded the sky. No beam of light above
Save when a flash rips up the clouds. Dismayed
Beholders cry:—"The world's last day has come,
The destined end of all things is at hand!"
Unwitting of the truth, their speech is vain....
'Tis dolour51 for the death of Count Rollánd!
Aoi.
CXII.
The French [strike] hard; they strike with all their force.
In multitudes—by thousands die their foes;
Not two out of one hundred thousand now
Survive. [Turpin] says:—"Brave are all our men;—
None braver under Heaven—In the Geste52
Of France 'tis writ true vassals have our Kings."
Seeking their friends, they overrun the field.
Their eyes are filled with tenderness and tears
For their dear kindred they so fondly loved....
Now King Marsile with his great host appears....
Aoi.
CXIII.
Marsile advances 'midst a valley deep,
Surrounded by the mighty host he brought,
In twenty squadrons mustered and arrayed.
Bright shine the helmets strewn with gold and gems,
And shields and hauberks graved. They sound a charge
With seven hundred clarions sending forth
Loud blasts throughout the land—Thus said Rollánd:
"Companion Olivier, my brother, friend,
The traitor, Ganelon, has sworn our death....
His treason is too sure; the Emp'ror Carle
For this vile crime will take a vengeance deep.
A long and cruel battle we shall have,
Ere this unknown to man. There, I will fight
With my good Durendal; you, friend, will strike
With Halteclere—Those noble swords we bore
Throughout so many lands; such combats won
By them, vile strains must never chant their deeds."
Aoi.
CXIV.
When the French see the Pagan cohorts swarm
The country o'er, they call on Olivier,
Rollánd and the twelve Peers to guard their lives.
Unto them now the Archbishop speaks his mind:
"Barons, be not unworthy of yourselves!
Fly not the field, for God's sake, that brave men
Sing not ill songs of you! Far better die
In battle. Doomed, I know, we are to death,
And ere this day has passed, our lives are o'er.
But for one thing ye can believe my word:
For you God's Paradise stands open wide,
And seats await you 'mid the blessèd Saints."
These words of comfort reassure the French;
All in one voice cry out:—"Montjoie! Montjoie!"
Aoi.
CXV.
There was a Saracen from Sarraguce
Lord of one half the city—Climorin,
Unlike a Baron; he received the faith
Of Ganelon, and sealed the treacherous bond
By pressing on his lip a kiss—Besides
Unto him gave his sword and carbuncle.53
"I will," said he, "put your great France to shame
And from the Emperor's head shake off the crown!"
Mounted on Barbamouche that faster flies
Than hawk or swallow on the wing, he spurs
His courser hard, and dropping on its neck
The rein, he strikes Engelier de Gascuigne;
Hauberk nor shield is for him a defense:
Deep in the core the Pagan thrusts his spear
So mightily, its point comes out behind,
And with the shaft o'erturns him on the field
A corse;—he cries. "Fit for destruction these!
Strike, Pagans, strike, and let us break their lines!"
The French cry: "God! to lose so brave a Knight!"....
Aoi.
CXVI.
The Count Rollánd calls Olivier: "You know,
Companion, sire, Engelier is no more....
No better Knight had we"—The Count replies:
"God grant that I avenge him well!" He drives
His golden spurs into his charger's flanks;
And waving Halteclere's blood dripping blade,
The Pagan he assails, and deals a blow....
O'erthrown is Climorin. The fiends of hell
Bear off his soul. The Knight then slays the Duke
Alphaïen, beheads Escababi,
Unhorses seven Arabs with such skill
They rise no more to fight. Then said Rollánd:
"Wroth is my sire, and by my side achieves
Renown! by such good blows Carl's love is gained.
Strike, Chevaliers!54 strike on!"—he cries aloud.
Aoi.
CXVII.
From otherwhere is Valdabrun who armed
Marsile a Knight; lord of four hundred ships.
There is no sailor but swears by his name;
'Twas he by treason took Jerusalem,
Who there the shrine of Solomon profaned,
And slew before the Fonts the Patriarch;
'Twas he, received Count Ganelon's vile oath
And gave him with his sword a thousand marks;
Faster than falcon in its flight his steed
Named Graminond. He sharply spurs his flanks
And rushes 'gainst the mighty Duke Sansun,
Breaks down his shield—the hauberk rends, and thrusts
Within his breast the pennon of the flag;
The shaft o'erthrows him from the saddle, dead.
"Strike Pagans! strike, for we shall conquer them!"
The French say:—"God! what Baron true we lose!"
Aoi.
CXVIII.
When Count Rollánd sees Sansun lifeless fall,
You may well know what grief was his. He spurs
His horse down on the Pagan. Durendal
More worth than precious gold he lifts to strike
With all his might; gold studded helm, head, trunk,
Hauberk asunder cleaves; the blow, e'en through
The gold boss'd saddle, strikes the courser's back,
Killing both horse and man. Blame or approve
Who may. The Pagans say:—"Hard is this blow!"
Retorts Rollánd:—"For yours no pity can
I feel—With you the vaunting and the wrong!"
Aoi.
CXIX.
An African fresh from the desert land
Was there, Malquidant, son of king Malcud;
His armor highly wrought in beaten gold
Outshines all others in the sun's bright rays.
Mounted upon his horse named Salt-Perdut,
He aims a blow at Anseïs' shield, and cuts
The azure and vermillion all away.
His hauberk rives asunder, side from side,
And through his body pass both point and shaft.
The Count is dead.—His last breath spent and flown.
The French say:—"Baron, such great woe for you!"
Aoi.
CXX.
The Archbishop Turpin rides across the fields;
No shaven priest sang ever mass so well
As he, and showed such prowess in his deeds.
He to the Pagan:—"May God send all ills
To thee, who slew the knight my heart bewails!"
Turpin spurs hard his good steed 'gainst the wretch;
One blow strikes down his strong Toledo shield:
The miscreant dead upon the green sward falls.
Aoi.
CXXI.
Elsewhere stands Grandomie who is the son
Of Capuel king of Cappadoce. He sits
A steed named Marmorie, than flying bird
More swift. Loosening the rein, and spurring deep,
To smite Gérin with all his force he rides;
Torn from the neck which bears it, shattered falls
The purple shield, through the rent mail he drives
The whole blue pennon in his breast. Gérin
Drops lifeless by this blow, against a rock.
The Pagan also slays Gérier, his friend,
And Bérengier, and Gui de Saint-Antoine;
Assailing then the noble Duke Austoire
Who holds Valence and fiefs along the Rosne,
He strikes him dead. The Saracens extol
Their triumph, but how many fall of ours!
Aoi.
CXXII.
Hearing the Frenchmen's sobs, the Count Rollánd
Grasps in his hand his sword, all reeking blood.
His mighty heart nigh breaking with his grief,
Cries to the foe:—"May God all evils send
On thee! him hast thou slain for whom thou shalt
Most dearly pay!—" He spurs his flying steed....
Conquer who may—these two fight hand to hand.
Aoi.
CXXIII.
A wise and valiant knight was Grandonie,
Virtuous and fearless vassal. 'Mid his way
Encountering Count Rollánd, though never seen
Before, at once he knew 'twas he, as well
By his proud mien and noble beauty, as
By his fair countenance and lofty look.
Awe-struck, despite himself, he vainly tries
To fly, but rooted to the spot he stays.
The Count Rollánd smites him so skillfully,
He splits in two the nazal, helm, nose, mouth,
And teeth, the body and mailed-armor, then
Hews through the golden selle, both silver-flaps;
With a still deeper stroke the courser's back
Is gashed. So both are slain past remedy.
The men of Spain cry out all sorrowful;
But say the French:—"Well our defender strikes."
Aoi.
CXXIV.
Marv'lous the battle, and the tumult fierce;
The French of strength and fury full, raise high
Their swords: backs, ribs and wrists are slashed; the flesh
Cut through rent garments to the quick; along
The verdant soil the red blood runs in streams.
The Pagans cry:—"We cannot more endure!
Great land, Mohammed curse thee!—More than all
This people bold."—Not one who does not cry
"Marsile! ride on, O King, thy aid we need!"
Aoi.
CXXV.
A battle fierce and wonderful!—Hard strike
The French with glittering lance, and there you might
Have seen what miseries man can suffer: Mowed
And heaped in bloody mounds, all gasping out
Their lives, some on their backs, some on their teeth—
The Saracens give way, willing or not;
By the French lances forced, they fly the field.
Aoi.
CXXVI.
Marsile his warriors massacred beholds,
And, bidding all his horns and trumpets blow,
Rides forward, and his whole van rides with him.
In the van rode a Saracen, Abisme,
The vilest wretch among his men, sunk deep
In crimes and shame, who has no faith in God,
Sainte Marie's son; as black as melted pitch
His face; more fond of blood and treason foul
Than of the gold of all Galice. None saw
Him laugh or play; for courage and rash deeds
He pleased the vile Marsile whose dragon flag
He bears. No pity can the Archbishop feel
For him, and at his sight he craves to try
His arm, all softly saying to himself:
"This Saracen is but a heretic;
Far better die than not to give him death.
Ne'er cowardice nor coward I endured!"
Aoi.
CXXVII.
The Archbishop gives the signal for the fight;
He rides the horse he captured from Grossaille,
A King he slew among the Danes: a horse
Of wondrous fleetness, light-hoofed, slender-limbed;
Thigh short; with broad and mighty haunch; the flanks
Are long, and very high his spine; pure white
His tail, and yellow is his mane—his ears
Are small—light brown his head. This paragon
Of all the beasts of earth has not his peer.
The Archbishop, baron-like, spurs on the horse,
Full bent upon the encounter with Abisme;
He gains his side and hard he strikes his shield
Glittering with gems, topaz and amethyst,
Crystals and carbuncles, which to him gave
The Emir Galafés—a demon's gift
To this in Val-Metas. Him Turpin smites
Nor mercy shows; 'gainst such a blow avails
The shield but little; sheer from side to side
Passes the blade ... dead on the place he falls.
At such exploit amazed, the French exclaim:
"The archbishop's crosier in his hand is safe!"
Aoi.
CXXVIII.
The Count Rollánd calls Olivier: "With me,
Companion, sire, confess that 'mong brave knights
The archbishop upon earth or under Heav'n
Has not his peer in casting spear or lance."
Olivier answers:—"To his rescue on!"
At this the French once more resume the fight.
Hard are the blows, rough is the strife—Meantime
The Christian host in greatest sorrow mourn.
Aoi.
CXXIX.
Whoever could this fight describe? Rollánd
And Olivier vie with Turpin in skill
And glorious deeds—The slain can counted be;
In charts and briefs their numbers are enrolled:
More than four thousand fell, so says the Geste.
Four times the French arms were victorious,
But on the fifth, a cruel fate they met;
The knights of France found there a grave, except
Three more whose lives God saved; yet those brave knights,
Ere falling, their last breath will dearly sell.
Aoi.
The Horn
CXXX.
Seeing so many warriors fall'n around,
Rollánd unto his comrade Olivier
Spoke thus: "Companion fair and dear, for God
Whose blessing rest on you, those vassals true
And brave lie corses on the battle-field:
Look! We must mourn for France so sweet and fair,
From henceforth widowed of such valiant knights.
Carle, 'would you were amongst us, King and friend!
What can we do, say, brother Olivier,
To bring him news of this sore strait of ours!"
Olivier answers:—"I know not; but this
I know; for us is better death than shame."
Aoi.
CXXXI.
Rollánd says;—"I will blow mine olifant,
And Carle will hear it from the pass. I pledge
My word the French at once retrace their steps."
Said Olivier:—"This a great shame would be,
One which to all your kindred would bequeathe
A lifetime's stain. When this I asked of you,
You answered nay, and would do naught. Well, now
With my consent you shall not;—if you blow
Your horn, of valor true you show no proof.
Already, both your arms are drenched with blood."
Responds the Count:—"These arms have nobly struck."
Aoi.
CXXXII.
"The strife is rude," Rollánd says—"I will blow
My horn, that Carle may hear."—Said Olivier:—
"This would not courage be. What I desired,
Companion, you disdained. Were the king here,
Safe would we be, but yon brave men are not
To blame"—"By this my beard," said Olivier,
"I swear, if e'er I see again sweet Aude,
My sister, in her arms you ne'er shall lie."
Aoi.
CXXXIII.
Rollánd asked Olivier—"Why show to me
Your anger, friend!"—"Companion, yours the fault;
True courage means not folly. Better far
Is prudence than your valiant rage. Our French
Their lives have lost, your rashness is the cause.
And now our arms can never more give Carle
Their service good. Had you believed your friend,
Amongst us would he be, and ours the field,
The King Marsile, a captive or a corse.
Rollànd, your valor brought ill fortune, nor
Shall Carle the great e'er more our help receive,
A man unequaled till God's judgment-day.
Here you shall die, and dying, humble France, ...
This day our loyal friendship ends—ere falls
The Vesper-eve, dolorously we part!"
Aoi.
CXXXIV.
The Archbishop heard their strife. In haste he drives
Into his horse his spurs of purest gold,
And quick beside them rides. Then chiding them,
Says:—"Sire Rollánd, and you, Sire Olivier,
In God's name be no feud between you two;
No more your horn shall save us; nathless55 'twere
Far better Carle should come and soon avenge
Our deaths. So joyous then these Spanish foes
Would not return. But as our Franks alight,
Find us or slain or mangled on the field,
They will our bodies on their chargers' backs
Lift in their shrouds with grief and pity, all
In tears, and bury us in holy ground:
And neither wolves, nor swine, nor curs shall feed
On us—" Replies Rollánd:—"Well have you said."
Aoi.
CXXXV.
Rollánd raised to his lips the olifant,
Drew a deep breath, and blew with all his force.
High are the mountains, and from peak to peak
The sound re-echoes; thirty leagues away
'Twas heard by Carle and all his brave compeers.
Cried the king:—"Our men make battle!—" Ganelon
Retorts in haste:—"If thus another dared
To speak, we should denounce it as a lie."
Aoi.
CXXXVI.
The Count Rollánd in his great anguish blows
His olifant so mightily, with such
Despairing agony, his mouth pours forth
The crimson blood, and his swoll'n temples burst.
Yea, but so far the ringing blast resounds;
Carle hears it, marching through the pass, Naimes harks,
The French all listen with attentive ear.
"That is Rollánd's horn!—" Carle cried, "which ne'er yet
Was, save in battle, blown!—" But Ganelon
Replies:—"No fight is there!—you, sire, are old,
Your hair and beard are all bestrewn with gray,
And as a child your speech. Well do you know
Rollánd's great pride. 'Tis marvelous God bears
With him so long. Already took he Noble
Without your leave. The Pagans left their walls
And fought Rollánd, your brave Knight, in the field;
With his good blade he slew them all, and then
Washed all the plain with water, that no trace
Of blood was left—yea, oftentimes he runs
After a hare all day and blows his horn.
Doubtless he takes his sport now with his peers;
And who 'neath Heav'n would dare attack Rollánd?
None, as I deem. Nay, sire, ride on apace;
Why do you halt? Still far is the Great Land."
Aoi.
CXXXVII.
Rollánd with bleeding mouth and temples burst,
Still in his anguish, blows his olifant;
Carle hears it, and his Franks. The king exclaims:
"That horn has a long breath!" Duke Naimes replies:
"Rollánd it is, and in a sore distress,
Upon my faith, a battle rages there!
A traitor he who would deceive you now.
To arms! Your war-cry shout, your kinsman save!
Plainly enough you hear his call for help."
Aoi.
CXXXVIII.
Carle orders all the trumpeters to sound
The march. The French alight. They arm themselves
With helmets, hauberks and gold hilted swords,
Bright bucklers, long sharp spears, with pennons white
And red and blue. The barons of the host
Leap on their steeds, all spurring on; while through
The pass they march, each to the other says:
"Could we but reach Rollánd before he dies,
What deadly blows, with his, our swords would strike!"
But what avails?—Too late they will arrive.
Aoi.
CXXXIX.
The ev'n56 is clear, the sun its radiant beams
Reflects upon the marching legions. Spears,
Hauberks and helms, shields painted with bright flowers,
Gold pennons all ablaze with glitt'ring hues.
Burning with wrath the Emperor rides on;
The French with sad and angered looks. None there
But weeps aloud. All tremble for Rollánd.
The King commands Count Ganelon be seized
And given to the scullions of his house.
Their chief, named Bègue, he calls and bids: "Guard well
This man as one who all my kin betrayed."
Him Bègue received, and set upon the Count
One hundred of his kitchen comrades—best
And worst;—they pluck his beard on lip and cheek;
Each deals him with his fist four blows, and falls
On him with lash and stick; they chain his neck
As they would chain a bear, and he is thrown
For more dishonor on a sumpter57 mule,
There guarded so until to Carle brought back.
Aoi.
CXL.
High are the mountains, gloomy, terrible,
The valleys deep, and swift the rushing streams.
In van, in rear, the brazen trumpets blow,
Answ'ring the olifant. With angry look
Rides on the Emp'ror; filled with wrath and grief,
Follow the French, each sobbing, each in tears,
Praying that God may guard Rollánd, until
They reach the battle-field. With him what blows
Will they not strike? Alas! what boots it now?
Too late they are and can not come in time.
Aoi.
CXLI.
Carle in great anger rides—his snow-white beard
O'erspreads his breast-plate. Hard the Barons spur,
For never one but inwardly doth rage
That he is far from their great chief, Rollánd,
Who combats now the Saracens of Spain:
If wounded he, will one of his survive?
O God! What Knights those sixty left by him!
Nor King nor captain better ever had....
Aoi.
The Rout
CXLII.
The Count Rollánd casts o'er the mounts and vales
A glance: French corses strew the plains in heaps;
He for them mourns as gentle chevalier.
At such a sight the noble hero weeps:
"Seigneurs, to you may God be merciful!
To all your souls may He grant Paradise,
And there may they on beds of heavenly flowers
Repose!—No better vassals lived! so long
Have ye served me! So many lands for Carle
Ye won!—The Emperor for this ill fate
Has nurtured you!—O land of France, most sweet
Art thou, but now forsaken and a waste.
Barons of France, to-day I see you die
For me; nor can I save or e'en defend
Your lives. Be God your aid, who ne'er played false!
Olivier, brother, I must not fail thee!
If other death comes not, of grief I die.
Come, sire companion ... come to fight again!"
Aoi.
CXLIII.
Soon to the field returns the Count Rollánd
With Durendal in hand; as a true knight
He fights. Faldrun del Pin he cleaves in half
With twenty-four among the bravest foes.
Never was man so bent upon revenge.
As run wild deer before the chasing hounds,
Before Rollánd the Pagans flee.—"Well done!"
The Archbishop cries, "Such valor a true Knight
Should have, when mounted, armed, on his good steed!
Else, not four deniers is he worth: a monk
In cloister should he be, and spend his life
In praying for our sins!...." "Strike," said Rollànd,
"No quarter!"58—At the word the French renew
The combat ... yet the Christian loss was great.
Aoi.
CXLIV.
When soldiers on the battle-field expect
No quarter—desperate they fight; and thus
The French, like lions, fiercely stand at bay.
Like a true baron King Marsile rides forth
Upon his steed Gaignon, and spurs him on
Against Bevum, of Belne and Digun lord,
His buckler cleaves, his hauberk with a blow
Shatters, and lays him dead upon the field.
Then fall beneath the Pagan King, Ivoire
And Ivun; then Gerard de Roussillon. 59—
The Count Rollánd is nigh and cries aloud:
"God give damnation unto thee who thus
So foully slay'st my friends! But ere we part,
Dearly shalt thou abye it, and to-day
Shalt learn the name my good sword bears."—He strikes
The King a true Knight's stroke, and his right hand
Lops at the wrist; then Turfaleu the fair,
Marsile's own son, beheads.60 The Pagans say:
"Aid us, Mahum!61 Avenge us, Gods of ours,
On Carle, who brought such villains to our land,
As rather than depart will die."—And each
To each cries: "Let us fly!"—Upon the word,
A hundred thousand turn in sudden flight.
Whoever calls them, ne'er will they return.
Aoi.
CXLV.
Alas, it not avails! If Marsile flies,
His uncle Marganice unhurt remained.
'Tis he who held Carthage, Alferne, Garnaille,
And Ethiopia, a land accursed;
Chief of the Blacks, a thick-nosed, large-eared race.
Of these he more than fifty thousand leads,
Who ride on proudly, full of wrath, and shout
The Pagan war-cry.—"Here," said Count Rollànd,
"Here shall we fall as martyrs. Well I know
Our end is nigh; but dastard I count him
Who sells not dear his life. Barons, strike well,
Strike with your burnished swords, and set such price
On death and life, that naught of shame shall fall
On our sweet France. When Carle, my lord, shall come
Upon this field, and see such slaughter here
Of Saracens, fifteen to one of ours,
Then will he breathe a blessing on his Knights."
Aoi.
Olivier's Death
CXLVI.
When sees Rollánd this tribe accursed, more black
Than ink, with glist'ning teeth, their only gleam
Of white, he said:—"Truly I know to-day
We die! Strike, Frenchmen, that is my command."
And Olivier, "Woe to the laggards," cries.
These words the French hearts fired to meet the fray.
Aoi.
CXLVII.
The Pagans, when they mark how few the French,
Are filled with pride and comfort, and they say
One to the other:—"Their King Carle is wrong!"—
Upon his sorrel steed sits Marganice;
Urging him hard with pricking spurs of gold,
Encounters Olivier—strikes him behind,
Drives his white hauberk-links into his heart,
And through in front came forth the pointed lance.
The Kalif62 cries:—"That blow struck home! Carlmagne,
For thy mishap, left you to guard the Pass!
That he has wronged us, little may he boast.
Your death alone for us a vengeance full!"
Aoi.
CXLVIII.
Olivier knows his death-wound. In his hand
He grasps Halteclere's bright steel, and strikes a blow
Well aimed upon the Kalif's pointed helm;
He scatters golden flow'rs and gems in dust.
His head the trenchant blade cleaves to the teeth,
And dead the Kalif falls.—"Pagan accursed,"
He cries, "not here shalt thou say Carle lost aught;
To wife nor lady shalt thou ever boast
In thine own land, that thou hast reft from Carle
One denier's63 worth, or me or others harmed!"
And then he called Rollànd unto his aid.
Aoi.
CXLIX.
Olivier feels that he is hurt to death.
No vengeance can suffice him; Baron-like
He strikes amid the press, cuts shields embossed
And ashen shafts, and spears, feet, shoulders, wrists
And breasts of horsemen. He who saw him thus
Dismember Saracens, corse over corse
Heap on the ground, would of a vassal true
Remembrance keep. Nor does he now forget
The rallying cry of Carle:—"Montjoie!" he cries
Loudly and clear; then calls Rollánd, his friend
And compeer:—"Sire companion, stand by me!
This day our breaking hearts forever part!"
Aoi.
CL.
Rollánd looks Olivier full in the face;
Pale, livid, colorless; pure crimson blood
Drips from his body, and streams on the earth.
"God!" cried Rollánd, "I know not what to do,
Companion, friend, thy courage was betrayed
To-day; nor will such courage e'er be seen
In human heart. Sweet France, oh! how shalt thou,
As widow,64 wail thy vassals true and brave,
Humbled and wrecked! The great heart of King Carle
Will break!" He spake and on his saddle swooned.
Aoi.
CLI.
Behold Rollánd, there, fainting on his steed,
While Olivier stands wounded to the death.
So great the loss of blood, his troubled eyes
See naught afar or near, nor mortal man
Can recognize. Encount'ring there Rollánd,
Upon his golden-studded helm he struck
A dreadful blow, which to the nose-plate cleft,
And split the crest in twain, but left the head
Untouched. Rollánd at this, upon him looks,
And softly, sweetly asks:—"Sire compagnon!
Was that blow meant for me? I am Rollánd
By whom you are beloved so well; to me
Could you by any chance, defiance give?"
Said Olivier:—"I hear your speech, but see
You now no more. May God behold you, friend!
I struck the blow; beseech you, pardon me."
Rollánd responds:—"I am not wounded—here
And before God I pardon you." At this,
Each to the other bends in courtesy.
With such great tenderness and love they part.
Aoi.
CLII.
Olivier feels the agony of death;
His vacant eyes roll wildly in his head,
And all his hearing and his sight are lost.
Dismounting, on the ground he lies, and smites
His breast, aloud confessing all his sins;
With joined hands tow'rd Heaven lifted up
He prays to God to give him Paradise,
To bless Carl'magne, sweet France, and far beyond
All other men, Rollánd, his compagnon.
His heart fails—forward droops his helmet—prone
Upon the earth he lies—'tis over now....
The Count is dead. Rollánd, the Baron, mourns
And weeps as never mortal mourned before.
Aoi.
CLIII.
When sees the Count Rollánd the breath of life
Gone from his friend, his body stretched on earth,
His face low in the dust, his tears gush out
With heavy sobs. Then tenderly he speaks:
"Alas! for all thy valor, comrade dear!
Year after year, day after day, a life
Of love we led; ne'er didst thou wrong to me,
Nor I to thee. If death takes thee away,
My life is but a pain." While speaking thus,
The Marchis65 faints on Veillantif, his steed.
But still firm in his stirrups of pure gold:
Where'er Rollánd may ride, he cannot fall.
Aoi.
CLIV.
Scarce hath the Count recovered from his swoon,
When all the great disaster meets his sight;
The French lie on the field; all lost to him
Save the Archbishop and Gualtier de l'Hum,
Who had descended from the mountain height
Where he the men of Spain all day withstood
Till all his own fell 'neath the Pagan swords.
Willed he or not, he fled into the vale,
And now upon Rollánd he calls for aid;
"Most gentle Count, most valiant, where art thou?
Ne'er had I fear where'er thou wert!—'tis I,
Gualtier, who conquered Maëlgut, who am
Old gray-haired Droün's nephew; till this day
My courage won thy love. So well I fought
Against the Saracens, my spear was broke,
My shield was pierced, my hauberk torn and wrung,
And in my body eight steel darts I bear.
Done are my days, but dear the last I sold!"
The words of that brave knight Rollánd has heard,
Spurs on his steed and gallops to his help.
Aoi.
CLV.
With grief and rage Rollánd's great heart is full;
Amidst the thick ranks of a swarming foe
He rides. He fights—and twenty Pagans fall
Slain by his hand; by Gualtier's six, and five
By the Archbishop's. Loud the Pagans cry:
"Vile wretches these! Let none escape alive!
Eternal shame to them who dare not make
Attack; foul recreants those who let their flight
Avail."—Renewing then their hues and cries,
The Pagans rush from all parts 'gainst the knights.
Aoi.
Charlemagne Approaches
CLVI.
The Count Rollánd was ever great in war;
Most valiant is Gualtier de l'Hum; Turpin
The Archbishop, of a valor proved: each leaves
The other naught to do, and 'mid the throng
Strikes Pagans down, who though one thousand foot
And forty thousand horsemen mustering, yet
Dare not approach, forsooth; but from afar
Against them hurl their jav'lins, spears and darts,
Their lances and winged arrows. First of all
Is slain Gualtier; Turpin de Reins' good shield
Is pierced, his helmet broken, and his head
Wounded, his hauberk shattered and dislinked;
Four spears have pierced his body; his good steed
Dies under him. Alas! the Archbishop falls.
Aoi.
CLVII.
Hardly had Turpin fallen on the earth,
By four spear-shafts transfixed, when the brave knight
Sprang quickly to his feet once more. His look
Sought for Rollánd to whom he ran in haste.
One word he said:—"Unconquered yet am I!
While life doth last, a true knight yields it not!"
He draws Almace, his sword of burnished steel,
And rushing 'mid the throng, one thousand blows
And more he deals.—Carle said in after days,
Turpin spared none, as dead upon the field
He saw four hundred men, some cut in twain,
Some with lopped heads: so says the Geste of France,
And one who saw the field, the brave Saint-Gille
For whom God showed his might; who in the cloister
Of Loüm wrote the record of these deeds.
Who knows not this, he knows not any thing.
Aoi.
CLVIII.
As hero fights the Count Rollánd; but all
His body burns with heat and drips with sweat;
His head is torn by pain; his temple burst
By that strong blast he gave the olifant.
Still would he know if Carle returns; once more
He blows his horn—Alas, with feeble blast.
Carle caught the distant sound, and, list'ning, waits:
"Seigneurs," cried he, "great evils fall apace;
I hear his dying blast upon his horn.
If we would find him yet alive, we need
Urge on our steeds. Let all our trumpets blow!"
Then sixty thousand trumps rang forth their peals;
The hills reëcho, and the vales respond.
The Pagans hear—and stay their gabbling mirth.
One to the other says:—"'Tis Carle who comes!"
Aoi.
CLIX.
The Pagans say:—"The Emperor returns;
These are the clarions of the French we hear.
If Carle should come, 'twill be our doom; if lives
Rollánd, the war begins anew, and Spain
Our land is lost to us for evermore."
Four hundred warriors well armed cap-a-pie,
The bravest of the host, then closed their ranks
And dashed in fierce attack against Rollánd.
Mighty the deeds the Count must now achieve!
Aoi.
CLX.
As they draw near, Rollánd calls up his pride
And summons all his strength to meet the charge.
No foot of ground he yields while life remains.
Firm on his courser Veillantif he sits
And gores his flanks with spurs of purest gold.
Into the thickest ranks he and Turpin
The Archbishop rush. And now the Pagans all
Unto each other cry: "Hence, friends, away!
The horns of those of France we now have heard,
Carlemagne the mighty Emperor returns!"
Aoi.
CLXI.
Ne'er could the Count Rollánd a coward love,
Nor proud, nor wicked men, nor faithless knights.
He calls to the Archbishop: "You, on foot,
And I on horseback, sire! For love of you
I by your side will stand; together we
Will share or good or ill; I leave you not
For aught of human mold. This day we shall
Hurl back the Pagan charge, and Durendal
Shall deal his mightiest blows!"—To this replies
The Archbishop: "Traitor he who strikes not well!
King Carle returns—Great shall his vengeance be!"
Aoi.
CLXII.
The Pagans say: "For such ill were we born!
What fatal morn this day for us has ris'n!
Dead lie our lords and Peers! With his great host
King Carle returns, the mighty Baron—Hark!
His clarions sound, and loud the cry 'Montjoie;'
Rollánd has so great pride, no man of flesh
Can make him yield, or vanquished fall. 'Twere best
We pierced him from afar, and left him lying
Upon the field!"——'Twas done: darts, lances, spears,
Javelins, winged arrows flew so thick,
That his good shield was pierced, his hauberk rent
And torn apart—his body yet unharmed.
Veillantif, pierced with thirty wounds, falls dead
Beneath the Count.—The affrighted Pagans fly.
The Count Rollánd stands on the field, alone.
Aoi.
The Last Benediction of the Archbishop
CLXIII.
Raging in wrath the Pagans fly, and toward
The land of Spain they haste. The Count Rollánd
Pursues them not, for Veillantif lies dead.
On foot he stands whether he will or not.
To help Turpin, the Archbishop, fast he ran,
His helm unclasped, removed the hauberk white
And light, then ripped the sides of his blialt66
To find his gaping wounds; then tenderly
Pressing him in his arms, on the green sward
He laid him gently down, and fondly prayed:
"O noble man, grant me your leave in this;
Our brave compeers, so dear to us, have breathed
Their last—we should not leave them on the field;
I will their bodies seek and gather here,
To lay them out before you."—"Go, and soon
Return," the Archbishop said; "the field is yours
And also mine, thanks to Almighty God!"
Aoi.
CLXIV.
Alone the Count Rollánd retraced his steps
Throughout the field. Vales, mounts, he searched, and found
Gerin and his companion Gerier, then
Berengier and Otun; here Anseïs,
There Sansun, then beyond, Gerard the old
De Roussillon he found—one after one
He bore each knight within his arms, and placed
Them gently, side by side, before the knees
Of Turpin who cannot restrain his tears;
With lifted hands he blesses them and says:
"Most hapless Knights!—May God the Glorious
Receive your souls, and in his Paradise
'Mid holy flowers place them!—In this hour
Of death, my deepest grief is that no more
The mighty Emperor I shall behold!"
Aoi.
CLXV.
Rollánd turns back, and searching through the field,
Has found, alas! his comrade Olivier....
He pressed him 'gainst his bosom tenderly,
And, as he could, returning to Turpin,
Stretched on a shield he lays him down among
The other knights. The Archbishop then assoils67
And signs him with the holy cross. The grief
And pity were more sore than heart can bear....
Then said Rollánd:—"Fair comrade Olivier,
Son of the good Count Renier, he who held
The marches to the distant shores of Gennes;
To break a lance, to pierce a shield, the brave
To counsel, traitors to dismay and foil,
No land e'er saw a better chevalier."
Aoi.
CLXVI.
When Count Rollánd beheld his Peers lie dead,
And Olivier, that friend so tenderly
Beloved, his soul by pity was o'erflowed;
Tears from his eyes gush out, his countenance
Turns pale; distressed, he can no longer stand.
Would he or not, he swooned and fell to earth.
The Archbishop said: "Baron, what woe is yours!"
Aoi.
CLXVII.
The Archbishop, when he saw Count Rollánd swoon,
Felt keener grief than e'er he felt before;
Stretched forth his hand, and took the olifant.—
Ronceval there is a running stream;
Thence will he water bring to Count Rollánd.
Staggering, with feeble steps, thither he goes,
But loss of blood has made him all too weak:
Ere he has gone an acre's length, his heart
Fails, and he sinks in mortal agony.
Aoi.
CLXVIII.
Meantime the Count Rollánd revives.—Erect
He stands, but with great pain; then downward looks
And upward. Then he sees the noble lord
The Archbishop, holy minister of God,
Beyond his comrades lying on the sward
Stretched out.—He lifts his eyes to Heav'n, recalls
His sins, and raising both his joinèd hands,
He prays Our God to grant him paradise.—
Turpin, Carle's Knight, is dead, who all his life,
With doughty blows and sermons erudite,
Ne'er ceased to fight the Pagans. May the Lord
Grant him His holy blessing evermore!
Aoi.
CLXIX.
The Count Rollánd sees lifeless on the field
The Archbishop lie; gush from the gaping wounds
His entrails in the dust, and through his skull
The oozing brain pours o'er his brow.—In form
Of holy Cross upon his breast Rollánd
Disposes both his hands so fair and white,
And mourned him in the fashion of his land:
"O noble man! O knight of lineage pure!
To the Glorious One of Heav'n I thee commend;
For ne'er was man who Him more truly served,
Nor since the Apostles' days, such prophet, strong,
To keep God's law and draw the hearts of men.
From ev'ry pain your soul be freed, and wide
Before it ope the Gates of Paradise!"
Aoi.
Roland's Death
CLXX.
Rollánd now feels his death is drawing nigh:
From both his ears the brain is oozing fast.
For all his peers he prays that God may call
Their souls to Him; to the Angel Gabriel
He recommends his spirit. In one hand
He takes the olifant, that no reproach
May rest upon him; in the other grasps
Durendal, his good sword. Forward he goes,
Far as an arblast68 sends a shaft, across
A new-tilled ground and toward the land of Spain.
Upon a hill, beneath two lofty trees,
Four terraces of marble spread:—he falls
Prone fainting on the green, for death draws near.
Aoi.
CLXXI.
High are the mounts, and lofty are the trees.
Four terraces are there, of marble bright:
There Count Rollánd lies senseless on the grass.
Him at this moment spies a Saracen
Who lies among the corpses, feigning death,
His face and body all besmeared with blood.
Sudden he rises to his feet, and bounds
Upon the Baron.—Handsome, brave and strong
He was, but from his pride sprang mortal rage.
He seized the body of Rollánd, and grasped
His arms, exclaiming thus:—"Here vanquished Carle's
Great nephew lies!"—"This sword to Araby
I'll bear."—He drew it;—this aroused the Count.
Aoi.
CLXXII.
Rollánd perceived an alien hand would rob
Him of his sword; his eyes he oped; one word
He spoke:—"I trow,69 not one of us art thou!"
Then with his olifant from which he parts
Never, he smites the golden studded helm,
Crushing the steel, the head, the bones; both eyes
Are from their sockets beaten out—o'erthrown
Dead at the Baron's feet he falls:—"O wretch,"
He cries, "how durst thou, or for good or ill,
Lay hands upon Rollánd? Who hears of this
Will call thee fool. Mine olifant is cleft,
Its gems and gold all scattered by the blow."
Aoi.
CLXXIII.
Now feels Rollánd that death is near at hand
And struggles up with all his force; his face
Grows livid;—[Durendal, his naked sword]
He holds;—beside him rises a gray rock
On which he strikes ten mighty blows through grief
And rage—The steel but grinds; it breaks not, nor
Is notched; then cries the Count:—"Saint Mary, help!
O Durendal! Good sword! ill starred art thou!
Though we two part, I care not less for thee.
What victories together thou and I,
Have gained, what kingdoms conquered, which now holds
White-bearded Carle! No coward's hand shall grasp
Thy hilt: a valiant knight has borne thee long,
Such as none shall e'er bear in France the Free!"
Aoi.
CLXXIV.
Rollánd smites hard the rock of Sardonix;70
The steel but grinds, it breaks not, nor grows blunt;
Then seeing that he can not break his sword,
Thus to himself he mourns for Durendal:
"O good my sword, how bright and pure! Against
The sun what flashing light thy blade reflects!
When Carle passed through the valley of Moriane,
The God of Heaven by his Angel sent
Command that he should give thee to a Count,
A valiant captain; it was then the great
And gentle King did gird thee to my side.—
With thee I won for him Anjou—Bretaigne;71
For him with thee I won Poitou, le Maine
And Normandie72 the free; I won Provence
And Aquitaine, and Lumbardie,73 and all
The Romanie;74 I won for him Bavière,75
All Flandre76—Buguerie77—all Puillanie,78
Costentinnoble79 which allegiance paid,
And Saxonie80 submitted to his power;
For him I won Escoce81 and Galle,82 Irlande83
And Engleterre84 he made his royal seat;
With thee I conquered all the lands and realms
Which Carle, the hoary-bearded monarch, rules.
Now for this sword I mourn.... Far better die
Than in the hands of Pagans let it fall!
May God, Our Father, save sweet France this shame!"
Aoi.
CLXXV.
Upon the grey rock mightily he smites,
Shattering it more than I can tell; the sword
But grinds.—It breaks not—nor receives a notch,
And upwards springs more dazzling in the air.
When sees the Count Rollánd his sword can never break,
Softly within himself its fate he mourns:
"O Durendal, how fair and holy thou!
In thy gold-hilt are relics rare; a tooth
Of great saint Pierre—some blood of Saint Basile,
A lock of hair of Monseigneur Saint Denis,
A fragment of the robe of Sainte-Marie.
It is not right that Pagans should own thee;
By Christian hand alone be held. Vast realms
I shall have conquered once that now are ruled
By Carle, the King with beard all blossom-white,
And by them made great emperor and Lord.
May thou ne'er fall into a cowardly hand."
Aoi.
CLXXVI.
The Count Rollánd feels through his limbs the grasp
Of death, and from his head ev'n to his heart
A mortal chill descends. Unto a pine
He hastens, and falls stretched upon the grass.
Beneath him lie his sword and olifant,
And toward the Heathen land he turns his head,
That Carle and all his knightly host may say:
"The gentle Count a conqueror has died...."
Then asking pardon for his sins, or great
Or small, he offers up his glove to God.
Aoi.
CLXXVII.
The Count Rollánd feels now his end approach.
Against a pointed rock, and facing Spain,
He lies. Three times he beats his breast, and says:
"Mea culpa! Oh, my God, may through thy grace,
Be pardoned all my sins, or great or small,
Until this hour committed since my birth!"
Then his right glove he offers up to God,
And toward him angels from high Heav'n descend.
Aoi.
CLXXVIII.
Beneath a pine Rollánd doth lie, and looks
Toward Spain—He broods on many things of yore:
On all the lands he conquered, on sweet France,
On all his kinsmen, on great Carle his lord
Who nurtured him;—he sighs—nor can restrain
His tears, but can not yet himself forget;
Recalls his sins, and for the grace of God
He prays:—"Our Father, never yet untrue,
Who Saint-Lazare raised from the dead, and saved
Thy Daniel from the lions' claws—Oh, free
My soul from peril, from my whole life's sins!"
His right hand glove he offered up to God;
Saint Gabriel took the glove.—With head reclined
Upon his arm, with hands devoutly joined
He breathed his last. God sent his Cherubim,
Saint-Raphaël, Saint Michiel del Peril.
Together with them Gabriel came.—All bring
The soul of Count Rollánd to Paradise....
Aoi.
The Chastisement of the Saracens
CLXXIX.
Rollánd is dead: God has his soul in heaven.
To Ronceval the Emperor has come.
There, neither road nor any path is seen,
Nor vacant space, nor ell, nor foot of land
That mounds of mangled bodies cover not,
Pagans or French.—The Emperor exclaims:
"Fair nephew, where art thou? The Archbishop, where?
And Olivier, alas, where are they all?
Gérin, Gérier, the two companions, where
Are they? And where is Otes and Bérengier,
Ives and Ivoire both to my heart so dear?
The Gascuin Engelier, Sansun the Duke,
Anseïs the rash, Gerard de Roussillon
The old, and my twelve Peers I left behind,
What fate is theirs?"—What boots it? None replies."—
"—God," cries the King, "what grief is mine to think
"I stood not here the battle to begin."
He tears his beard with anger; all his knights
And barons weep great tears; dizzy with woe
And swooning, twenty thousand fall to earth.
Duke Naimes feels pity overflow his heart.
Aoi.
CLXXX.
No baron is there now, no chevalier
Who, in his pity, sheds not tears for sons,
For brothers—nephews—friends—and for liege-lords.
Many have fallen swooning on the earth,
But Duke Naimes bore himself as valorous knight:
He foremost said to Carle:—"Behold two leagues
Away!—The roads are dark with clouds of dust.
There swarm the Pagan tribes.... Ride on them now,
Avenge this bitter woe."—"O God," said Carle,
"Are they already flown so far?—our rights
And honor shield! Those Pagans took from me
The flower of my Sweet France!"—The King commands
Gebuin, Otun, Tedbalt de Reins and Count
Milun:—"Watch ye the field, the vales, the mounts;
The slain, leave to their rest; see that no beast
Nor lion, squire nor page approach. I charge
You, let no man upon them lay his hand
Until, with God's assistance, we return."
They lovingly and with sweet tone reply:
"Thus shall we do, just Emperor, dear sire!"
Upon the field they keep one thousand knights.
Aoi.
CLXXXI.
Now bids the Emperor his trumpets blow,
Then forward at the head of his great host
He rides, that Baron true. Of those of Spain
He finds the tracks, points out the road; in quick
Pursuit all follow Carle.... When sees the King
The eve decline, he on the verdant grass
Dismounts, and prostrate prays to God our Lord
The sun to stay, the shades of night hold back
And longer make the day. To him appears
A Counselor-Angel with the swift command;
"Ride on, O King, nor fear that night shall fall!
God knows that thou hast lost the flower of France;
But vengeance canst have now upon that horde
Of unbelievers." Thus the Angel spake.
The Emp'ror rises and remounts his steed.
Aoi.
CLXXXII.
To Carlemagne Our Lord now showed his might;
The sun stays in its course. The Pagans fly,
And fast the French pursuing, overtake
Them in the Val-Tenebre. They drive them on
Toward Sarraguce, while close behind them fall
The upraised swords, and strew the ground with dead.
No issue, no escape, by road or pass!
In front deep Ebro rolls its mighty waves:
No boat, no barge, no raft. They call for help
On Tervagant, then plunge into the flood.
Vain was their trust: some, weighted with their arms,
Sink in a moment; others are swept down,
And those most favored swallow monstrous draughts.
All drown most cruelly. The French cry out:
"For your own woe wished ye to see Rollánd!"
Aoi.
Charlemagne and Baligant at Ronceval (Summary and Excerpt)
Meanwhile, back at Saragossa, Marsile has summoned the aid of Baligant, his liege lord. Marsile, dying and unable to lead, hands over the defense of Saragossa to Baligant.
Baligant leads his army to engage Charlemagne at Ronceval, where the Franks are mourning and honoring the dead. Both armies fight with distinction, and Charlemagne meets Baligant on the battle field:
CCLXIII.
The mighty Emir85 with a giant's strength
Smites Carle86 upon the helm of burnished steel,
Which splits in twain beneath the ponderous blow,
Cuts through the silky hair, shears from the scalp
Fully the breadth of a man's palm and more,
Baring the skull. Carle staggers, nearly falls,
But God willed not that he should die or yield.
Saint Gabriel, with eager flight once more
Descends, demanding:—"What ails thee, great King?"
Aoi.
CCLXIV.
When Carle the Angel's heavenly accent hears,
All thought or dread of death forsakes his soul,
And in him springs again his former strength.
The Emir by the royal sword of France
Is struck, his helm all bright with gems is rent,
His cloven skull pours out the brain, his face
Is cleft to the very roots of his white beard:
Dead falls the Pagan past recovery.
Then shouts the King his rallying cry, "Montjoie!"
Hearing his shout, Duke Naimes hastes up, and brings
The charger Tecendur for Carle the great
To mount. The Pagans turn their backs—God wills
They should not stay. The Franks have their desires.
Aoi.
The Death of Marsile; Capture of Bramimunde
CCLXVI.
Amidst the sultry heat and clouds of dust
The Pagans rousèd, by their foes harassed,
Flee far for Sarraguce. To her high tower
Ascends Queen Bramimunde, where, seeing thus
The routed Arabs fly, she calls her priests
And canons, subjects to false law, by God
Ne'er loved: their crowns no holy tonsure wear.
She cries aloud:—"Aid us, Mahum!87 Oh aid!
O gentle King! Already vanquished are
Our men, the Emir88 slain in shameful death!"
On hearing this, Marsile turned to the wall
His covered face, and amid bitter tears
His life departed. Soon the eager fiends
Bore off to judgment his sin-burthened89 soul.
Aoi.
CCLXVII.
The Pagans all are slain [or put to flight];
Carle wins the day. The gates of Sarraguce
Are stormed, and well he knows, defense is vain.
He takes the city. All the Christian host
Pour in, and there repose their limbs this night.
The King with snow-white beard is filled with pride:
Queen Bramimunde gives up the citadels;
Ten of these forts are large, and fifty small.
Well helped are they whom God Almighty aids.
Aoi.
CCLXVIII.
The sunny day had passed, the shades of night
Had fallen; bright the moonlight; all the stars
In heaven shone. Carle ruled in Sarraguce.
Unto one thousand men he gave command
To search throughout the city's synagogues
And mosques for all their idols and graved signs
Of gods—these to be broken up and crushed
By ax and iron mallet he ordains.
Nor sorcery nor falsehood left. King Carle
Believes in God and serves him faithfully.
Then bishops bless the fountains, leading up
The Heathens to the blest baptismal Font.
If one perchance resist the King, condemned
Is he to die, or hanged, or burnt, or slain.
More than one hundred thousand are baptized
True Christians; but not so Queen Bramimunde:
A captive shall she go unto sweet France
And be converted by the King through love.
Aoi.
The Punishment of Ganelon.
CCLXX.
From Spain at last the Emperor has returned
To Aix, the noblest seat of France; ascends
His palace, enters in the stately hall.—
Now comes to greet him the fair [lady] Aude,
And asks the King:—"Where is Rollánd the chief
Who pledged his faith to take me for his wife?"
Sore-pained, heart-broken, Carle, with weeping eyes,
Tears his white beard.—"Ah! sister well beloved,
Thou askest me of one who is no more.
A worthier match I give thee in exchange;
Loewis it is. I can not better say.
He is my son, and will protect my realms."
Aude answers:—"To my ear these words are strange.
May God, His saints, His angels, all forfend
That, if Rollánd lives not, I still should live."
Her color fades, she falls prone at the feet
Of Carlemagne—dead ... God's mercy on her soul!
Barons of France mourn her with pitying tears.
Aoi.
CCLXXI.
Such was the end of Aude the beautiful.
The King, in hope 'tis but a swoon, with tears
And pity taking both her hands, uplifts
Her form; the head upon the shoulders sinks.
As soon as Carle knows it is death indeed,
Four countesses he summons, bids them bear
In haste the Lady to a nunnery.——
All night they watched the body, and at morn
Beside a shrine gently she was entombed
With highest honors by the King's command.
Aoi.
CCLXXII.
The Emperor is once more at Aix. There stands
Amid the city 'fore the palace gate,
In iron chains, the traitor Ganelon.
His hands are fastened to a stake with thongs
Of deer-skin by the sergeants who then beat
His body well with staves and heavy cords.
Such treatment was his true desert. He waits
His coming doom, in agony of soul.
Aoi.
CCLXXIII.
Written it is in ancient Geste of France
That Carle then summoned men from all his lands,
Who met at Aix's Chapelle. A solemn feast
It was; some say the Baron Saint Silvestre's.
This day began the plea and history
Of Ganelon who wove the treason's plot.
The Emperor bade them drag him to his bar.
Aoi.
CCLXXIV.
"Seigneurs Barons," said to them Carle the King,
"Judge Ganelon according to the law.—
Among my host with me to Spain he came;
His craft lost twenty thousand of my Franks;
My nephew, whom ye nevermore shall see,
And Olivier, the brave and courteous Knight.
The traitor sold my brave twelve Peers for gain."
Then Ganelon:—"May I be cursed ere I
Deny. Of wealth and honors had [Rollánd]
Deprived me, and for this, his loss and death
I wrought, but treason none I will confess."
Respond the French:—"On this we counsel take."
Aoi.
CCLXXV.
In presence of the King stands Ganelon
With bearing hardy, florid countenance;
Were he but loyal, as a Baron true
His mien. Upon the French and judges he
Has cast a glance, and on his thirty kin
Who 'round him stand; then with firm voice exclaims:
"Barons! Now hear me all, for love of God!
I to the Emperor's host belonged, and served
Him ever in all faith and love. Rollánd,
His nephew, hatred bore to me, and fain
Had doomed my days to torture and to death.
As message-bearer I to King Marsile
Was sent, wisdom alone my shield and guard;
I gave defiance to Rollánd the bold,
To Olivier and to their comrades all:
By Carle and all his Barons this was heard.
Revenge this was, but treason it was none."
Reply the French:—"All this we well shall weigh."
Aoi.
CCLXXVI.
On seeing the great plea was to commence,
Thirty good Knights were called by Ganelon
Out of his kin, and one among them makes
A speech all others hark: 'tis Pinabel
Of Castel de Sorence, of greatest skill
In words, and apt with reason plausible;
Withal, a vassal brave to guard his arms.
Thus to him Ganelon:—"In you my trust
I place; my life from death, my name from shame
Preserve!"—Said Pinabel:—"Thou shalt be saved.
Dare one French Knight condemn thee to be hanged,
And would the Emperor make us both to meet
In combat, my good sword will his rash word
Believe."—And at his feet falls Ganelon.
Aoi.
CCLXXVII.
Baiviers, Saines, Poitevins, Normans and French
In council met;—Allemans, Tiedeis in great
Array. Those from Alverne most courteous prove
And show more kindness unto Pinabel.
One to the others said:—"To leave this plea
Right would it be, and pray Carl'magne, this once
To pardon Ganelon who, from this day,
Will serve his lord with truer faith and love.
Rollánd lies in his grave; nor wealth, nor gold
Restores him to your eyes. This cruel fight
Is folly."—All the Knights approve, save one,
Tierri, a brother of the Lord Geffrei.
Aoi.
CCLXXVIII.
To Carle his Barons come again, and say:
"We pray you, sire, acquit Count Ganelon;
Then will he serve you with true faith and love.
Grant him his life which springs from noble race.
Rollánd lies in his grave; ne'er shall we see
Him more, nor treasures e'er can bring him back."
Exclaimed the King: "Vile traitors are ye all!"
Aoi.
CLXXIX.
Now, seeing all will fail him, o'er Carle's eyes
And features gloom descends; by grief o'erwhelmed
He cries: "Unhappy that I am!" Then stood
[Tierri], the brother of Geffrei, the Duke
D'Anjou, before the King. Thin, light of frame,
Hair raven-black, [face] somewhat brown of hue,
In height nor tall nor short; with courtesy
He spake thus to the Emp'ror: "Fair sire King,
Be not cast down. That I have served you well
Ere this, you know. 'Tis my ancestral right
To sit among the judges of the plea.
However guilty was Rollánd against
Count Ganelon, his duty to the King
Should have restrained his hate. A treason foul
Ganelon wrought against Rollánd; forsworn
In perjury tow'rd you, he lost himself.
For all his crimes his death I here demand,
Death by the cord; his body to the dogs
Be thrown away—the perjurer's just doom.
Should any of his kin deny the words
I speak, this sword of mine girt to my side
Will make them good."—All cry: "Well have you said."
Aoi.
CCLXXX.
Then toward the King advances Pinabel;
Tall, strong and swift, and brave. Strike he but once,
No second blow need follow; to the King
He said: "Sire, unto you belongs this plea.
Command these clamors to be hushed. There stands
Tierri who now his judgment has pronounced.
The lie I give him and to fight defy!"
With this his right hand glove of deer-skin gave
Unto the King who said: "I must receive
Good pledges." Of his kin then thirty knights
Were given as legal sureties of his pledge.
"I also give my pledge," the Emperor said,
"And have them guarded safe till judgment pass."
Aoi.
CCLXXXI.
When Tierri sees that now the fight is near,
He gives the Emperor his right hand glove.
To him the sureties Carle himself provides,
Bids that they bring four benches to the place
Whereon the combatants shall sit. The terms
Are judged by all the others as most fair.
Ogier de Dannemarche was chosen to rule
The lists. Then for their steeds and arms both called.
Aoi.
CCLXXXII.
Both knights now made them ready for the fight,
Were shriven, assoiled, and blessed; a mass have heard,
Communion have received, and richest alms
Bequeathed to monasteries.—Before striking
They both appear.—Gold spurs their heels adorn;
They wear white hauberks light and strong; bright helms
Clasp on their heads, and gold hilt swords are girt
Upon their thighs, and to their necks are bound
Strong quartered shields; they wield in each right hand
A trenchant sword, and on fleet steeds they mount;
Then melt in tears one hundred thousand knights
Who for Rollánd's sake wish Tierri well.
Yea—but God knows what way the thing will end.
Aoi.
CCLXXXIII.
Beyond the town of Aix a plain extends:
And here our Barons will the combat try.
Most valiant knights are both; the steeds they ride
Are swift and stout; with spurs in flanks, and freed
Of rein, they dash.—The warriors all their might
And skill unite to strike the surest blow.
Bucklers beneath the shock are torn and crushed,
White hauberks rent in shreds, asunder bursts
Each courser's girth, the saddles, turning, fall.
One hundred thousand men look weeping on....
Aoi.
CCLXXXIV.
Both knights leap on the earth, and, quick as light,
Stand face to face.—Strong, fiery Pinabel
And Tierri for each other seek. Their steeds
Are fled.—But their gold-hilted swords they wield;
And on the helms of steel they shower such blows
As rashed the thongs. Loudly the knights lament,
And Carle exclaims:—"Show thou the right, O God!"
Aoi.
CCLXXXV.
Cried Pinabel:—"Tierri, surrender thou!
Thy vassal I will be in faith and love,
And to thy pleasure will I yield my wealth;
But let the King forgive Count Ganelon!"
Tierri replied:—"Thy offers all are vain;
Vile treason were it such a pact to make;
But God shall judge us and make plain the right."
Aoi.
CCLXXXVI.
Then Tierri spake:—"I hold thee, Pinabel,
As Baron true, great, strong, of handsome mold;
Thy peers acknowledge thee as valiant knight;
Well, let this combat cease, between the King
And thee a covenant I will strive to make.
On Ganelon such justice shall be done
That future ages shall record the doom."
They grasp again their swords and hew
Each other's gold-encrusted helm with rage
So rash that sparkling fires spurt through the air.
No power will now disjoint the combatants:
The death of one can only close the strife.
Aoi.
CCLXXXVII.
No braver man than Pinabel.—Such blows
He deals on Tierri's helmet of Provence,
That the sparks fly in showers, and, falling, set
The grass ablaze. Then aiming at his foe
His keen-edged brand, down to the brow cuts through
His helm; the blade glides down across his face,
And plows his right cheek with a deep red gash;
Unto his stomach is the haubert rent,
But God protects him, and averts his death.
Aoi.
CCLXXXVIII.
Tierri, on seeing blood gush from his brow
And tinge the grassy field, strikes Pinabel
On his steel-burnished helmet, and cuts through
To the nose-plate. His head is cleft in twain
And gushes forth the brain. This fatal blow
Gives Pinabel his death, and ends the fight.
The French exclaim:—"O wondrous work of God!
Full right it is that Ganelon be hanged
With all his kin who sureties were for him!"
Aoi.
CCLXXXIX.
Tierri had won, and on the battle-field
The Emperor Carle arrived with an escort
Of forty Barons,—Naimes the Duke, Ogier
De Dannemarche, Geffrei d'Anjou, Willalmes
De Blaive.—In close embrace the King has pressed
Tierri, and with his mantle's sables wiped
The warrior's face; then lays his furs aside
And on his shoulders others are arrayed.
Meanwhile the knight, by friendly hands disarmed,
On an Arabian mule is placed, and so
This valorous Baron full of joy returns
To Aix.—Amid the place they all dismount,
And now the sureties must abide their doom.
Aoi.
C