The works in this chapter were written down starting around the 4th century B.C.E., but the three stories date back to much earlier in the oral tradition. All three works remain influential and ubiquitous in Indian society to this day: common knowledge that everyone knows, at least in some part. Rather than offering a list of values and beliefs, the stories demonstrate them in action: how to approach complicated moral issues, and what to do when life seems unfair. The answer is not always easy, and sometimes the choice is between two options that are not ideal. The best choice is often the most difficult one, and the expectations of society for these characters can seem overwhelming. The intervention of the gods in these cases becomes absolutely necessary. The BhagavadGita is the most directly religious work, containing as it does the teaching of the god Vishnu through his avatar Krishna, but the other two texts include direct participation of gods (and their avatars) in the stories. Therefore, some basic information about Hinduism is necessary for a clear understanding of the texts:
The one god is Brahman, who both binds the universe together and transcends it. The consciousness of Brahman is divided into three parts, which worshippers address individually:
Brahma, the Creator

Vishnu, the Preserver

Shiva, the Destroyer
Each of them is represented by hundreds of minor Hindu gods, who represent aspects of these three and can function separately while still remaining part of the whole (and all of them are part of Brahman). Gods also can send down avatars—pieces of their consciousness that are born, live, and die as humans—to intervene when necessary.
In all three works, a belief in samsara—the cycle of reincarnation—drives the characters' behavior. An individual can move up or down the hierarchy in society based on their karma (the sum of their good and bad deeds), but only in their next reincarnation. For each person, the concept of dharma (doing what one is supposed to do, right behavior, Law) is slightly different: A warrior who takes an oath (no matter how crazy an oath it is) must fulfill his oath, because keeping one's word is part of a warrior's honor. Not fulfilling an oath is adharma (described as Unlaw in the texts). A farmer, however, should behave like a good farmer, rather than a warrior, and good farmers do not take crazy oaths or act in ways that could damage their ability to plant and harvest a crop. Farmers also should not try to become warriors. Social mobility, therefore, is not only discouraged, but irreligious in that context. This idea drives the caste system, forcing people to remain in their caste or face being made an Untouchable.
Each character is born into a caste, or Varna, which determines what they can and cannot do, and each Varna is broken down into numerous Jats, or communities:
Brahmins, the priests and scholars, are the highest Varna.

Kshatriyas, the rulers and the military, are the next level.

Vaishyas are the farmers, landlords, and merchants.

Sudras are peasants, servants, and workers in non-polluting jobs.
The Dalit, or Untouchables, are workers in what are considered polluting jobs. In some places, even contact with the shadow of an Untouchable was considered polluting. In some parts of India (mostly rural districts), the caste system continues, despite government attempts to stop it.
Characters need to be the best they can be (following their individual dharma) in the Varna and Jat into which they were born in order to move up the hierarchy in their next reincarnation. They are expected not only to work in their Jat, but to marry within it. Certain problems in The Mahabharata are a direct result of characters who do not stay in their Jat (or even their Varna), and the story warns us that trouble, and even disaster, will follow.
As you read, consider the following questions:
What is this society's definition of an epic hero? How do we know, based on examples from the stories themselves?

How do the characters view the gods, and how do the gods treat humans?

What do we learn about what this society considers proper or improper behavior, again based on the text itself? Who is punished or rewarded, and why?

Is family love or romantic love more important in the text, and why?
Written by Laura J. Getty
THE BHAGAVAD GITA
Added to The Mahabharata between 400 B.C.E. and 400 C.E.
India
The Bhagavad Gita records the conversation between Krishna and Arjuna right before the epic battle of Kurukshetra. Although it is a part of The Mahabharata, it often is taught separately for its insights into Hindu beliefs. Krishna is the eighth human avatar of the god Vishnu, who sends down an avatar every time that the world requires such serious divine intervention that the good side could not win without his help. In this instance, the warrior Arjuna finds himself in a difficult position; to fight a war against evil, he must fight members of his own family, which would normally be a sin. Krishna must teach Arjuna how to know what to do when faced with conflicting duties. Some of the tension of the work comes from the setting; Krishna and Arjuna are literally between the two armies as they talk, while both sides wait for Arjuna to blow his horn, which will start the battle. The Bhagavad Gita stands as one of the great moral documents in world literature, influencing people as diverse as Thoreau, Tolstoy, and Gandhi.
Written by Laura J. Getty
3.2.1 The Bhagavad Gita
Translated by Edwin Arnold
License: Public Domain
CHAPTER I
Of the Distress of Arjuna
Dhritirashtra. Ranged thus for battle on the sacred plain-
On Kurukshetra- say, Sanjaya! say
What wrought my people, and the Pandavas?
Sanjaya. When he beheld the host of Pandavas,
Raja Duryodhana to Drona drew,
And spake these words: "Ah, Guru! see this line,
How vast it is of Pandu fighting-men,
Embattled by the son of Drupada,
Thy scholar in the war! Therein stand ranked
Chiefs like Arjuna, like to Bhima chiefs,
Benders of bows; Virata, Yuyudhan,
Drupada, eminent upon his car,
Dhrishtaket, Chekitan, Kasi's stout lord,
Purujit, Kuntibhoj, and Saivya,
With Yudhamanyu, and Uttamauj
Subhadra's child; and Drupadi's;- all famed!
All mounted on their shining chariots!
On our side, too,- thou best of Brahmans! see
Excellent chiefs, commanders of my line,
Whose names I joy to count: thyself the first,
Then Bhishma, Karna, Kripa fierce in fight,
Vikarna, Aswatthaman; next to these
Strong Saumadatti, with full many more
Valiant and tried, ready this day to die
For me their king, each with his weapon grasped,
Each skilful in the field. Weakest- meseems-
Our battle shows where Bhishma holds command,
And Bhima, fronting him, something too strong!
Have care our captains nigh to Bhishma's ranks
Prepare what help they may! Now, blow my shell!"
Then, at the signal of the aged king,
With blare to wake the blood, rolling around
Like to a lion's roar, the trumpeter
Blew the great Conch; and, at the noise of it,
Trumpets and drums, cymbals and gongs and horns
Burst into sudden clamour; as the blasts
Of loosened tempest, such the tumult seemed!
Then might be seen, upon their car of gold
Yoked with white steeds, blowing their battle-shells,
Krishna the God, Arjuna at his side:
Krishna, with knotted locks, blew his great conch
Carved of the "Giant's bone;" Arjuna blew
Indra's loud gift; Bhima the terrible-
Wolf-bellied Bhima- blew a long reed-conch;
And Yudhisthira, Kunti's blameless son,
Winded a mighty shell, "Victory's Voice;"
And Nakula blew shrill upon his conch
Named the "Sweet-sounding," Sahadev on his
Called "Gem-bedecked," and Kasi's Prince on his.
Sikhandi on his car, Dhrishtadyumn,
Virata, Satyaki the Unsubdued,
Drupada, with his sons, (O Lord of Earth!)
Long-armed Subhadra's children, all blew loud,
So that the clangour shook their foemen's hearts,
With quaking earth and thundering heav'n.
Then 'twas-
Beholding Dhritirashtra's battle set,
Weapons unsheathing, bows drawn forth, the war
Instant to break- Arjun, whose ensign-badge
Was Hanuman the monkey, spake this thing
To Krishna the Divine, his charioteer:
"Drive, Dauntless One! to yonder open ground
Betwixt the armies; I would see more nigh
These who will fight with us, those we must slay
To-day, in war's arbitrament; for, sure,
On bloodshed all are bent who throng this plain,
Obeying Dhritirashtra's sinful son."
Thus, by Arjuna prayed, (O Bharata!)
Between the hosts that heavenly Charioteer
Drove the bright car, reining its milk-white steeds
Where Bhishma led, and Drona, and their Lords.
"See!" spake he to Arjuna, "where they stand,
Thy kindred of the Kurus:" and the Prince
Marked on each hand the kinsmen of his house,
Grandsires and sires, uncles and brothers and sons,
Cousins and sons-in-law and nephews, mixed
With friends and honoured elders; some this side,
Some that side ranged: and, seeing those opposed,
Such kith grown enemies- Arjuna's heart
Melted with pity, while he uttered this:
Arjuna. Krishna! as I behold, come here to shed
Their common blood, yon concourse of our kin,
My members fail, my tongue dries in my mouth,
A shudder thrills my body, and my hair
Bristles with horror; from my weak hand slips
Gandiv, the goodly bow; a fever burns
My skin to parching; hardly may I stand;
The life within me seems to swim and faint;
Nothing do I foresee save woe and wail!
It is not good, O Keshav! nought of good
Can spring from mutual slaughter! Lo, I hate
Triumph and domination, wealth and ease,
Thus sadly won! Aho! what victory
Can bring delight, Govinda! what rich spoils
Could profit; what rule recompense; what span
Of life itself seem sweet, bought with such blood?
Seeing that these stand here, ready to die,
For whose sake life was fair, and pleasure pleased,
And power grew precious:- grandsires, sires, and sons,
Brothers, and fathers-in-law, and sons-in-law,
Elders and friends! Shall I deal death on these
Even though they seek to slay us? Not one blow,
O Madhusudan! will I strike to gain
The rule of all Three Worlds; then, how much less
To seize an earthly kingdom! Killing these
Must breed but anguish, Krishna! If they be
Guilty, we shall grow guilty by their deaths;
Their sins will light on us, if we shall slay
Those sons of Dhritirashtra, and our kin;
What peace could come of that, O Madhava?
For if indeed, blinded by lust and wrath,
These cannot see, or will not see, the sin
Of kingly lines o'erthrown and kinsmen slain,
How should not we, who see, shun such a crime-
We who perceive the guilt and feel the shame-
O thou Delight of Men, Janardana?
By overthrow of houses perisheth
Their sweet continuous household piety,
And- rites neglected, piety extinct-
Enters impiety upon that home;
Its women grow unwomaned, whence there spring
Mad passions, and the mingling-up of castes,
Sending a Hell-ward road that family,
And whoso wrought its doom by wicked wrath.
Nay, and the souls of honoured ancestors
Fall from their place of peace, being bereft
Of funeral-cakes and the wan death-water.
So teach our holy hymns. Thus, if we slay
Kinsfolk and friends for love of earthly power,
Ahovat! what an evil fault it were!
Better I deem it, if my kinsmen strike,
To face them weaponless, and bare my breast
To shaft and spear, than answer blow with blow.
So speaking, in the face of those two hosts,
Arjuna sank upon his chariot-seat,
And let fall bow and arrows, sick at heart.
CHAPTER II
Of Doctrines
Sanjaya. Him, filled with such compassion and such grief,
With eyes tear-dimmed, despondent, in stern words
The Driver, Madhusudan, thus addressed:
Krishna. How hath this weakness taken thee?
Whence springs
The inglorious trouble, shameful to the brave,
Barring the path of virtue? Nay, Arjun!
Forbid thyself to feebleness! it mars
Thy warrior-name! cast off the coward-fit!
Wake! Be thyself! Arise, Scourge of thy Foes!
Arjuna. How can I, in the battle, shoot with shafts
On Bhishma, or on Drona- O thou Chief!-
Both worshipful, both honourable men?
Better to live on beggar's bread
With those we love alive,
Than taste their blood in rich feasts spread,
And guiltily survive!
Ah! were it worse- who knows?- to be
Victor or vanquished here,
When those confront us angrily
Whose death leaves living drear?
In pity lost, by doubtings tossed,
My thoughts- distracted- turn
To Thee, the Guide I reverence most,
That I may counsel learn:
I know not what would heal the grief
Burned into soul and sense,
If I were earth's unchallenged chief-
A god- and these gone thence!
Sanjaya. So spake Arjuna to the Lord of Hearts,
And sighing, "I will not fight!" held silence then.
To whom, with tender smile, (O Bharata!)
While the Prince wept despairing 'twixt those hosts,
Krishna made answer in divinest verse:
Krishna. Thou grievest where no grief should be! thou speak'st
Words lacking wisdom! for the wise in heart
Mourn not for those that live, nor those that die.
Nor I, nor thou, nor any one of these,
Ever was not, nor ever will not be,
For ever and for ever afterwards.
All, that doth live, lives always! To man's frame
As there come infancy and youth and age,
So come there raisings-up and layings-down
Of other and of other life-abodes,
Which the wise know, and fear not. This that irks-
Thy sense-life, thrilling to the elements-
Bringing thee heat and cold, sorrows and joys,
'Tis brief and mutable! Bear with it, Prince!
As the wise bear. The soul which is not moved,
The soul that with a strong and constant calm
Takes sorrow and takes joy indifferently,
Lives in the life undying! That which is
Can never cease to be; that which is not
Will not exist. To see this truth of both
Is theirs who part essence from accident,
Substance from shadow. Indestructible,
Learn thou! the Life is, spreading life through all;
It cannot anywhere, by any means,
Be anywise diminished, stayed, or changed.
But for these fleeting frames which it informs
With spirit deathless, endless, infinite,
They perish. Let them perish, Prince! and fight!
He who shall say, "Lo! I have slain a man!"
He who shall think, "Lo! I am slain!" those both
Know naught! Life cannot slay. Life is not slain!
Never the spirit was born; the spirit shall cease to be never;
Never was time it was not; End and Beginning are dreams!
Birthless and deathless and changeless remaineth the spirit for
ever;
Death hath not touched it at all, dead though the house of it
seems!
Who knoweth it exhaustless, self-sustained,
Immortal, indestructible,- shall such
Say, "I have killed a man, or caused to kill?"
Nay, but as when one layeth
His worn-out robes away,
And, taking new ones, sayeth,
"These will I wear to-day!"
So putteth by the spirit
Lightly its garb of flesh,
And passeth to inherit
A residence afresh.
I say to thee weapons reach not the Life;
Flame burns it not, waters cannot o'erwhelm,
Nor dry winds wither it. Impenetrable,
Unentered, unassailed, unharmed, untouched,
Immortal, all-arriving, stable, sure,
Invisible, ineffable, by word
And thought uncompassed, ever all itself,
Thus is the Soul declared! How wilt thou, then,-
Knowing it so,- grieve when thou shouldst not grieve?
How, if thou hearest that the man new-dead
Is, like the man new-born, still living man-
One same, existent Spirit- wilt thou weep?
The end of birth is death; the end of death
Is birth: this is ordained! and mournest thou,
Chief of the stalwart arm! for what befalls
Which could not otherwise befall? The birth
Of living things comes unperceived; the death
Comes unperceived; between them, beings perceive:
What is there sorrowful herein, dear Prince?
Wonderful, wistful, to contemplate!
Difficult, doubtful, to speak upon!
Strange and great for tongue to relate,
Mystical hearing for every one!
Nor wotteth man this, what a marvel it is,
When seeing, and saying, and hearing are done!
This Life within all living things, my Prince!
Hides beyond harm; scorn thou to suffer, then,
For that which cannot suffer. Do thy part!
Be mindful of thy name, and tremble not!
Nought better can betide a martial soul
Than lawful war; happy the warrior
To whom comes joy of battle- comes, as now,
Glorious and fair, unsought; opening for him
A gateway unto Heav'n. But, if thou shunn'st
This honourable field- a Kshattriya-
If, knowing thy duty and thy task, thou bidd'st
Duty and task go by- that shall be sin!
And those to come shall speak thee infamy
From age to age; but infamy is worse
For men of noble blood to bear than death!
The chiefs upon their battle-chariots
Will deem 'twas fear that drove thee from the fray.
Of those who held thee mighty-souled the scorn
Thou must abide, while all thine enemies
Will scatter bitter speech of thee, to mock
The valour which thou hadst; what fate could fall
More grievously than this? Either- being killed-
Thou wilt win Swarga's safety, or- alive
And victor- thou wilt reign an earthly king.
Therefore, arise, thou Son of Kunti! brace
Thine arm for conflict, nerve thy heart to meet-
As things alike to thee- pleasure or pain,
Profit or ruin, victory or defeat:
So minded, gird thee to the fight, for so
Thou shalt not sin!
Thus far I speak to thee
As from the "Sankhya"- unspiritually-
Hear now the deeper teaching of the Yog,
Which holding, understanding, thou shalt burst
Thy Karmabandh, the bondage of wrought deeds.
Here shall no end be hindered, no hope marred,
No loss be feared: faith- yea, a little faith-
Shall save thee from the anguish of thy dread.
Here, Glory of the Kurus! shines one rule-
One steadfast rule-while shifting souls have laws
Many and hard. Specious, but wrongful deem
The speech of those ill-taught ones who extol
The letter of their Vedas, saying, "This
Is all we have, or need;" being weak at heart
With wants, seekers of Heaven: which comes- they say-
As "fruit of good deeds done;" promising men
Much profit in new births for works of faith;
In various rites abounding; following whereon
Large merit shall accrue towards wealth and power;
Albeit, who wealth and power do most desire
Least fixity of soul have such, least hold
On heavenly meditation. Much these teach,
From Veds, concerning the "three qualities;"
But thou, be free of the "three qualities,"
Free of the "pairs of opposites," and free
From that sad righteousness which calculates;
Self-ruled, Arjuna! simple, satisfied.
Look! like as when a tank pours water forth
To suit all needs, so do these Brahmans draw
Text for all wants from tank of Holy Writ.
But thou, want not! ask not! Find full reward
Of doing right in right! Let right deeds be
Thy motive, not the fruit which comes from them.
And live in action! Labour! Make thine acts
Thy piety, casting all self aside,
Contemning gain and merit; equable
In good or evil: equability
Is Yog, is piety!
Yet, the right act
Is less, far less, than the right-thinking mind.
Seek refuge in thy soul; have there thy heaven!
Scorn them that follow virtue for her gifts!
The mind of pure devotion- even here-
Casts equally aside good deeds and bad,
Passing above them. Unto pure devotion
Devote thyself: with perfect meditation
Comes perfect act, and the righthearted rise-
More certainly because they seek no gain-
Forth from the bands of body, step by step,
To highest seats of bliss. When thy firm soul
Hath shaken off those tangled oracles
Which ignorantly guide, then shall it soar
To high neglect of what's denied or said,
This way or that way, in doctrinal writ.
Troubled no longer by the priestly lore,
Safe shall it live, and sure; steadfastly bent
On meditation. This is Yog- and Peace!
Arjuna. What is his mark who hath that steadfast heart,
Confirmed in holy meditation? How
Know we his speech, Kesava? Sits he, moves he
Like other men?
Krishna. When one, O Pritha's Son!-
Abandoning desires which shake the mind-
Finds in his soul full comfort for his soul,
He hath attained the Yog- that man is such!
In sorrows not dejected, and in joys
Not overjoyed; dwelling outside the stress
Of passion, fear, and anger; fixed in calms
Of lofty contemplation;- such an one
Is Muni, is the Sage, the true Recluse!
He who to none and nowhere overbound
By ties of flesh, takes evil things and good
Neither desponding nor exulting, such
Bears wisdom's plainest mark He who shall draw
As the wise tortoise draws its four feet safe
Under its shield, his five frail senses back
Under the spirit's buckler from the world
Which else assails them, such an one, my Prince!
Hath wisdom's mark! Things that solicit sense
Hold off from the self-governed; nay, it comes,
The appetites of him who lives beyond
Depart,- aroused no more. Yet may it chance,
O Son of Kunti that a governed mind
Shall some time feel the sense-storms sweep, and wrest
Strong self-control by the roots. Let him regain
His kingdom! let him conquer this, and sit
On Me intent. That man alone is wise
Who keeps the mastery of himself! If one
Ponders on objects of the sense, there springs
Attraction; from attraction grows desire,
Desire flames to fierce passion, passion breeds
Recklessness; then the memory- all betrayed-
Lets noble purpose go, and saps the mind,
Till purpose, mind, and man are all undone.
But, if one deals with objects of the sense
Not loving and not hating, making them
Serve his free soul, which rests serenely lord,
Lo! such a man comes to tranquillity;
And out of that tranquillity shall rise
The end and healing of his earthly pains,
Since the will governed sets the soul at peace.
The soul of the ungoverned is not his,
Nor hath he knowledge of himself; which lacked,
How grows serenity? and, wanting that,
Whence shall he hope for happiness?
The mind
That gives itself to follow shows of sense
Seeth its helm of wisdom rent away,
And, like a ship in waves of whirlwind, drives
To wreck and death. Only with him, great Prince!
Whose senses are not swayed by things of sense-
Only with him who holds his mastery,
Shows wisdom perfect. What is midnight-gloom
To unenlightened souls shines wakeful day
To his clear gaze; what seems as wakeful day
Is known for night, thick night of ignorance,
To his true-seeing eyes. Such is the Saint!
And like the ocean, day by day receiving
Floods from all lands, which never overflows;
Its boundary-line not leaping, and not leaving,
Fed by the rivers, but unswelled by those;-
So is the perfect one! to his soul's ocean
The world of sense pours streams of witchery,
They leave him as they find, without commotion,
Taking their tribute, but remaining sea.
Yea! whoso, shaking off the yoke of flesh
Lives lord, not servant, of his lusts; set free
From pride, from passion, from the sin of "Self,"
Toucheth tranquillity! O Pritha's Son!
That is the state of Brahm! There rests no dread
When that last step is reached! Live where he will,
Die when he may, such passeth from all 'plaining,
To blest Nirvana, with the Gods, attaining.
THE MAHABHArATA
Written down between 400 B.C.E. and 400 C.E.
India
The Mahabharata is the national epic of India, and it encapsulates ideas about morality, law, family relationships, class structure (in the form of the caste system), and reincarnation. The basic conflict is between two sets of cousins, the Pandavas and the Kauravas, who both have a legitimate claim to the throne. The story is told through a series of narrators, starting with Vyasa (a character in the story) and continuing down through time to a bard speaking to a descendant of the winning side. Ultimately, the side that follows dharma (and follows the words of the god Vishnu in his human avatar of Krishna) will win. Dharma, which is both a concept and the name of the god who embodies it, is a difficult concept to translate: It includes morality, law, and doing what is correct for your caste level, which can change based on your situation. The epic warns the audience not to transgress caste boundaries; good behavior will be rewarded through reincarnation into a higher caste level. Although the caste system was officially abolished in India in 1949, it remains a pervasive social force. The characters also have a continuing presence in present-day society, with references to them in everything from comic Books and movies to casual conversations.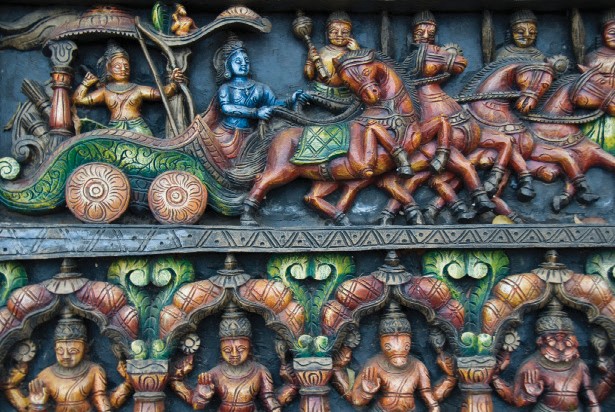 Image 3.1: wood Carving of a Scene from the Mahabharata | The carving depicts Krishna and Arjuna fighting in the battle of Kurukshetra.
Author: User "thaths"
Source: Flickr
License: CC BY-NC 2.0
3.3.1 The Genealogy of the Main Characters in the Mahabharata:
Note: Certain letters are dropped sometimes in writing (a form of abbreviation), with "h" being the most common casualty. Therefore, both "Shiva" and "Siva" are found in various texts, although the correct pronunciation regardless is to say the "h."
3.3.2 Other Characters:
Drona: the tutor of the princes

Drupada: the enemy of Drona, father of both Draupadi (wife of all five Pandavas) and Dhrishtadyumna, who is meant to kill Drona

Krishna: the seventh avatar of Vishnu, who is related to Kunti in his human incarnation and reveals the Bhavagad-Gita.
3.3.3 Key ideas:
The first thing to realize about the people in the epic is that most of them are related to each other, whether by blood, marriage, or adoption. The major conflict is between two sets of cousins—the pandavas (sons of Pandu) and the Kauravas (sons of Dhritarashtra)—who want to inherit the throne. Technically, both sets of cousins are Kurus, but the Kauravas are referred to as Kurus more often in the story. Although they both have legitimate claims, the Pandavas are considered the nobler of the cousins. The genealogy is complicated, but the basic idea is straightforward: the cousins will fight until one side wins. Since the Kauravas are (mostly) evil, there are religious reasons for the Pandavas to win, as well, which is why Krishna (an incarnation of Vishnu, one of the three main Hindu gods) sides with the Pandavas.
3.3.4 Laws:
The concept of law plays an important role in the epic. In religious terms, Dharma is both the name of one of the Hindu gods and a concept that means a range of things, including justice, right action, and doing what you must do regardless of the circumstances. The characters in the story speak about either following dharma (Law) or committing an Unlaw (the opposite of dharma), which can put the soul in jeopardy. Obeying your parents and even your elder siblings is part of the law.
Other laws involve family rights. Since the status of a woman in a family depended on her ability to bear children, a wife whose husband was unable to give her children had the right to demand that one of his brothers be the father of her children. When one of the kings in the epic (Vicitravirya) is unable to father children, his wives insist that either his half-brother (Bhisma) or his step-brother (Vyasa) give them children. Vyasa, the king's brother by marriage only, becomes the father of the king's sons, Dhritarashtra and Pandu.
Blood ties, therefore, are less important in the epic than how society chooses to recognize you. By law, children from a previous marriage (or born illegitimately) become the legal children of the man that their mother marries. If a husband accepts a child as his own, even if the father of the child is another man, society recognizes that child as his. When Pandu is unable to have children (for unusual reasons), he asks his wife to say a prayer she knows that will call down various Hindu gods to father his children, and she shares the prayer with his second wife. The sons of Pandu are not his actual blood sons, but rather are accepted as his sons by law.
3.3.5 Sons of Pandu:
Yudhishthira is the eldest. He is the son of Kunti (the first wife) and Dharma, god of justice.

Bhima is the son of Kunti and Vayu, god of the wind (considered the strongest natural force).

Arjuna is the son of Kunti and Indra, god of war.

Nakula and Sahadeva are twins. Their mother is Madri (the second wife), and their fathers are

The Asvins (pronounced Ashvins), twin horsemen gods.
They are related to Krishna through Kunti, who is his aunt, and all five brothers are married to the same woman, Draupadi (sometimes referred to as Krishnã), through a mistake in the law.
For a Summary of the Mahabharata, please visit the following link: http://larryavisbrown.homestead.com/files/xeno.mahabsynop.htm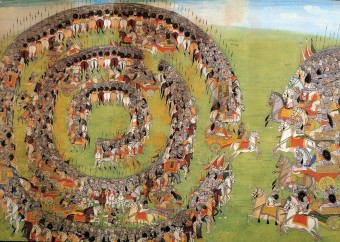 Image 3.2: The Battle of Kurukshetra | Armies standing in a circular formation ready to attack in the Battle of Kurukshetra.
Author: User "Yadupati"
Source: Flickr
License: CC BY-NC-SA
3.3.6 The Mahabharata
Dwaipayana Vyas, Translated by Kisari Mohan Ganguli
License: Public Domain
Book 2
The Dice Game
Section LVIII
Vaisampayana said,—"The sons of Pritha with Yudhishthira at their head, having entered that assembly house, approached all the kings that were present there. And worshipping all those that deserved to be worshipped, and saluting others as each deserved according to age, they seated themselves on seats that were clean and furnished with costly carpets. After they had taken their seats, as also all the kings, Sakuni the son of Suvala addressed Yudhishthira and said, 'O king, the assembly is full. All had been waiting for thee. Let, therefore, the dice be cast and the rules of play be fixed, O Yudhishthira.'
'Yudhishthira replied, 'Deceitful gambling is sinful. There is no Kshatriya prowess in it. There is certainly no morality in it. Why, then, O king, dost thou praise gambling so? The wise applaud not the pride that gamesters feel in deceitful play. O Sakuni, vanquish us, not like a wretch, by deceitful means.'
Sakuni said,—'That high-souled player who knoweth the secrets of winning and losing, who is skilled in baffling the deceitful arts of his confrere, who is united in all the diverse operations of which gambling consisteth, truly knoweth the play, and he suffereth all in course of it. O son of Pritha, it is the staking at dice, which may be lost or won that may injure us. And it is for that reason that gambling is regarded as a fault. Let us, therefore, O king, begin the play. Fear not. Let the stakes be fixed. Delay not!'
"Yudhishthira said,—'That best of Munis, Devala, the son of Asita, who always instructeth us about all those acts that may lead to heaven, hell, or the other regions, hath said, that it is sinful to play deceitfully with a gamester. To obtain victory in battle without cunning or stratagem is the best sport. Gambling, however, as a sport, is not so. Those that are respectable never use the language of the Mlechchas, nor do they adopt deceitfulness in their behaviour. War carried on without crookedness and cunning, this is the act of men that are honest. Do not, O Sakuni, playing desperately, win of us that wealth with which according to our abilities, we strive to learn how to benefit the Brahmanas. Even enemies should not be vanquished by desperate stakes in deceitful play. I do not desire either happiness or wealth by means of cunning. The conduct of one that is a gamester, even if it be without deceitfulness, should not be applauded.'
"Sakuni said,—'O Yudhishthira, it is from a desire of winning, which is not a very honest motive, that one high-born person approacheth another (in a contest of race superiority). So also it is from a desire of defeating, which is not a very honest motive, that one learned person approacheth another (in a contest of learning). Such motives, however, are scarcely regarded as really dishonest. So also, O Yudhishthira, a person skilled at dice approacheth one that is not so skilled from a desire of vanquishing him. One also who is conversant with the truths of science approacheth another that is not from desire of victory, which is scarcely an honest motive. But (as I have already said) such a motive is not really dishonest. And, O Yudhishthira, so also one that is skilled in weapons approacheth one that is not so skilled; the strong approacheth the weak. This is the practice in every contest. The motive is victory, O Yudhishthira. If, therefore, thou, in approaching me, regardest me to be actuated by motives that are dishonest, if thou art under any fear, desist then from play.'
"Yudhishthira said,—'Summoned, I do not withdraw. This is my established vow. And, O king, Fate is all powerful. We all are under the control of Destiny. With whom in this assembly am I to play? Who is there that can stake equally with me? Let the play begin.'
"Duryodhana said,—'O monarch, I shall supply jewels and gems and every kind of wealth. And it is for me that this Sakuni, my uncle, will play.'
"Yudhishthira said,—'Gambling for one's sake by the agency of another seemeth to me to be contrary to rule. Thou also, O learned one, will admit this. If, however, thou art still bent on it, let the play begin.'"
Section LIX
Vaisampayana said,—"When the play commenced, all those kings with Dhritarashtra at their head took their seats in that assembly. And, O Bharata, Bhishma and Drona and Kripa and the high-souled Vidura with cheerless hearts sat behind. And those kings with leonine necks and endued with great energy took their seats separately and in pairs upon many elevated seats of beautiful make and colour. And, O king, that mansion looked resplendent with those assembled kings like heaven itself with a conclave of the celestials of great good fortune. And they were all conversant with the Vedas and brave and of resplendent countenances. And, O great king, the friendly match at dice then commenced.
Yudhishthira said,—"O king, this excellent wealth of pearls of great value, procured from the ocean by churning it (of old), so beautiful and decked with pure gold, this, O king, is my stake. What is thy counter stake, O great king,--the wealth with which thou wishest to play with me?"
"Duryodhana said,—'I have many jewels and much wealth. But I am not vain of them. Win thou this stake.' Vaisampayana continued,—"Then Sakuni, well-skilled at dice, took up the dice and (casting them) said unto Yudhishthira, 'Lo, I have won!'"
Section LX
Yudhishthira said,—"Thou hast won this stake of me by unfair means. But be not so proud, O Sakuni. Let us play staking thousands upon thousands. I have many beautiful jars each full of a thousand Nishkas in my treasury, inexhaustible gold, and much silver and other minerals. This, O king, is the wealth with which I will stake with thee!'"
Vaisampayana continued,—"Thus addressed, Sakuni said unto the chief of the perpetuators of the Kuru race, the eldest of the sons of Pandu, king Yudhishthira, of glory incapable of sustaining any diminution. 'Lo, I have won!'"
Yudhishthira said,—'This my sacred and victorious and royal car which gladdeneth the heart and hath carried us hither, which is equal unto a thousand cars, which is of symmetrical proportions and covered with tiger-skin, and furnished with excellent wheels and flag-staffs which is handsome, and decked with strings of little bells, whose clatter is even like the roar of the clouds or of the ocean, and which is drawn by eight noble steeds known all over the kingdom and which are white as the moon-beam and from whose hoofs no terrestrial creature can escape—this, O king, is my wealth with which I will stake with thee!'"
Vaisampayana continued,—"Hearing these words, Sakuni ready with the dice, and adopting unfair means, said unto Yudhishthira, 'Lo, I have won!'
"Yudhishthira said,—'I have a hundred thousand serving-girls, all young, and decked with golden bracelets on their wrists and upper arms, and with nishkas round their necks and other ornaments, adorned with costly garlands and attired in rich robes, daubed with the sandal paste, wearing jewels and gold, and well-skilled in the four and sixty elegant arts, especially versed in dancing and singing, and who wait upon and serve at my command the celestials, the Snataka Brahmanas, and kings. With this wealth, O king, I will stake with thee!'"
Vaisampayana continued,—'Hearing these words, Sakuni ready with the dice, adopting unfair means, said unto Yudhishthira. 'Lo, I have won!'
Yudhishthira said,—"I have thousands of serving-men, skilled in waiting upon guests, always attired in silken robes, endued with wisdom and intelligence, their senses under control though young, and decked with ear-rings, and who serve all guests night and day with plates and dishes in hand. With this wealth, O king, I will stake with thee!'"
Vaisampayana continued,—"Hearing these words, Sakuni, ready with the dice, adopting unfair means said unto Yudhishthira, 'Lo, I have won!'
"Yudhishthira said,—'I have, O son of Suvala, one thousand musty elephants with golden girdles, decked with ornaments, with the mark of the lotus on their temples and necks and other parts, adorned with golden garlands, with fine white tusks long and thick as plough-shafts, worthy of carrying kings on their backs, capable of bearing every kind of noise on the field of battle, with huge bodies, capable of battering down the walls of hostile towns, of the colour of new-formed clouds, and each possessing eight she-elephants. With this wealth, O king, I will stake with thee.'"
Vaisampayana continued,—"Unto Yudhishthira who had said so, Sakuni, the son of Suvala, laughingly said, 'Lo, I have won it!'
Yudhishthira said,—'I have as many cars as elephants, all furnished with golden poles and flag-staffs and welltrained horses and warriors that fight wonderfully and each of whom receiveth a thousand coins as his monthly pay whether he fighteth or not. With this wealth, O king, I will stake with thee!'"
Vaisampayana continued,—"When these words had been spoken, the wretch Sakuni, pledged to enmity, said unto Yudhishthira, 'Lo, I have won it.'
Yudhishthira said.—'The steeds of the Tittiri, Kalmasha, and Gandharva breeds, decked with ornaments, which Chitraratha having been vanquished in battle and subdued cheerfully gave unto Arjuna, the wielder of the Gandiva. With this wealth, O king, I will stake with thee." Vaisampayana continued, "Hearing this, Sakuni, ready at dice, adopting unfair means, said unto Yudhishthira: 'Lo, I have won!'
Yudhishthira said,—'I have ten thousand cars and vehicles unto which are yoked draught animals of the foremost breed. And I have also sixty thousand warriors picked from each order by thousands, who are all brave and endued with prowess like heroes, who drink milk and eat good rice, and all of whom have broad chests. With this wealth, O king, I will stake with thee.'
Vaisampayana continued,—"Hearing this, Sakuni ready at dice, adopting unfair means said unto Yudhishthira, 'Lo, I have won!'
Yudhishthira said,—'I have four hundred Nidis (jewels of great value) encased in sheets of copper and iron. Each one of them is equal to five draunikas of the costliest and purest leaf gold of the Jatarupa kind. With this wealth, O king, I will stake with thee.'"
Vaisampayana continued,—"Hearing this, Sakuni ready at dice, adopting foul means, said unto Yudhishthira, 'Lo, I have won it!'"
Section LXI
Vaisampayana said,—"During the course of this gambling, certain to bring about utter ruin (on Yudhishthira), Vidura, that dispeller of all doubts, (addressing Dhritarashtra) said, 'O great king, O thou of the Bharata race, attend to what I say, although my words may not be agreeable to thee, like medicine to one that is ill and about to breathe his last. When this Duryodhana of sinful mind had, immediately after his birth, cried discordantly like a jackal, it was well known that he had been ordained to bring about the destruction of the Bharata race. Know, O king, that he will be the cause of death of ye all. A jackal is living in thy house, O king, in the form of Duryodhana. Thou knowest it not in consequence of thy folly. Listen now to the words of the Poet (Sukra) which I will quote. They that collect honey (in mountains), having received what they seek, do not notice that they are about to fall. Ascending dangerous heights, abstracted in the pursuit of what they seek, they fall down and meet with destruction. This Duryodhana also, maddened with the play at dice, like the collector of honey, abstracted in what he seeketh, marketh not the consequences. Making enemies of these great warriors, he beholdeth not the fall that is before him. It is known to thee, O thou of great wisdom, that amongst the Bhojas, they abandoned, for the good of the citizens a son that was unworthy of their race. The Andhakas, the Yadavas, and the Bhojas uniting together, abandoned Kansa. And afterwards, when at the command of the whole tribe, the same Kansa had been slain by Krishna that slayer of foes, all the men of the tribe became exceedingly happy for a hundred years. So at thy command, let Arjuna slay this Suyodhana. And in consequence of the slaying of this wretch, let the Kurus be glad and pass their days in happiness. In exchange of a crow, O great king, buy these peacocks--the Pandavas; and in exchange of a jackal, buy these tigers. For the sake of a family a member may be sacrificed; for the sake of a village a family may be sacrificed, for the sake of a province a village may be sacrificed and for the sake of one's own soul the whole earth may be sacrificed. Even this was what the omniscient Kavya himself, acquainted with the thoughts of every creature, and a source of terror unto all foes, said unto the great Asuras to induce them to abandon Jambha at the moment of his birth. It is said that a certain king, having caused a number of wild birds that vomited gold to take up their quarters in his own house, afterwards killed them from temptation. O slayer of foes, blinded by temptation and the desire of enjoyment, for the sake of gold, the king destroyed at the same time both his present and future gains. Therefore, O king, prosecute not the Pandavas from desire of profit, even like the king in story. For then, blinded by folly thou wilt have to repent afterwards, even like the person that killed the birds. Like a flower-seller that plucketh (many flowers) in the garden from trees that he cherisheth with affection from day to day, continue, O Bharata, to pluck flowers day by day from the Pandavas. Do not scorch them to their roots like a fire-producing breeze that reduceth everything to black charcoal. Go not, O king, unto the region of Yama, with thy sons and troops, for who is there that is capable of fighting with the sons of Pritha, together? Not to speak of others, is the chief of the celestials at the head of the celestials themselves, capable of doing so?"
Section LXII
"Vidura said,—"Gambling is the root of dissensions. It bringeth about disunion. Its consequences are frightful. Yet having recourse to this, Dhritarashtra's son Duryodhana createth for himself fierce enmity. The descendants of Pratipa and Santanu, with their fierce troops and their allies the Vahlikas, will, for the sins of Duryodhana meet with destruction. Duryodhana, in consequence of this intoxication, forcibly driveth away luck and prosperity from his kingdom, even like an infuriate bull breaking his own horns himself. That brave and learned person who disregarding his own foresight, followeth, O king, (the bent of) another man's heart, sinketh in terrible affliction even like one that goeth into the sea in a boat guided by a child. Duryodhana is gambling with the son of Pandu, and thou art in raptures that he is winning. And it is such success that begeteth war, which endeth in the destruction of men. This fascination (of gambling) that thou has well-devised only leadeth to dire results. Thus hast thou simply brought on by these counsels great affliction to thy heart. And this thy quarrel with Yudhishthira, who is so closely related to thee, even if thou hadst not foreseen it, is still approved by thee. Listen, ye sons of Santanu, ye descendants of Pratipa, who are now in this assembly of the Kauravas, to these words of wisdom. Enter ye not into the terrible fire that hath blazed forth following the wretch. When Ajatasatru, the son of Pandu, intoxicated with dice, giveth way to his wrath, and Vrikodara and Arjuna and the twins (do the same), who, in that hour of confusion, will prove your refuge? O great king, thou art thyself a mine of wealth. Thou canst earn (by other means) as much wealth as thou seekest to earn by gambling. What dost thou gain by winning from the Pandavas their vast wealth? Win the Pandavas themselves, who will be to thee more than all the wealth they have. We all know the skill of Suvala in play. This hill-king knoweth many nefarious methods in gambling. Let Sakuni return whence he came. War not, O Bharata, with the sons of Pandu!'
Section LXIII
Duryodhana said,—'O Kshatta, thou art always boasting of the fame of our enemies, deprecating the sons of Dhritarashtra. We know, O Vidura, of whom thou art really fond. Thou always disregardest us as children, That man standeth confest, who wisheth for success unto those that are near to him and defeat unto those that are not his favourites. His praise and blame are applied accordingly. Thy tongue and mind betray thy heart. But the hostility thou showeth in speech is even greater than what is in thy heart. Thou hast been cherished by us like a serpent on our lap. Like a cat thou wishest evil unto him that cherisheth thee. The wise have said that there is no sin graver than that of injuring one's master. How is it, O Kshatta, that thou dost not fear this sin? Having vanquished our enemies we have obtained great advantages. Use not harsh words in respect of us. Thou art always willing to make peace with the foes. And it is for this reason that thou hatest us always. A man becometh a foe by speaking words that are unpardonable. Then again in praising the enemy, the secrets of one's own party should not be divulged. (Thou however, transgressest this rule). Therefore, O thou parasite, why dost thou obstruct us so? Thou sayest whatever thou wishest. Insult us not. We know thy mind. Go and learn sitting at the feet of the old. Keen up the reputation that thou hast won. Meddle not with the affairs of other men. Do not imagine that thou art our chief. Tell us not harsh words always, O Vidura. We do not ask thee what is for our good. Cease, irritate not those that have already borne too much at thy hands. There is only one Controller, no second. He controlleth even the child that is in the mother's womb. I am controlled by Him. Like water that always floweth in a downward course, I am acting precisely in the way in which He is directing me. He that breaketh his head against a stone-wall, and he that feedeth a serpent, are guided in those acts of theirs by their own intellect. (Therefore, in this matter I am guided by my own intelligence). He becometh a foe who seeketh to control others by force. When advice, however, is offered in a friendly spirit, the learned bear with it. He again that hath set fire to such a highly inflammable object as camphor, beholdeth not its ashes. If he runneth immediately to extinguish it. One should not give shelter to another who is the friend of his foes, or to another who is ever jealous of his protector or to another who is evil-minded. Therefore, O Vidura, go whither-so-ever thou pleasest. A wife that is unchaste, however well-treated, forsaketh her husband yet.'
"Vidura addressing Dhritarashtra, said, 'O monarch, tell us (impartially) like a witness what thou thinkest of the conduct of those who abandon their serving-men thus for giving instruction to them. The hearts of kings are, indeed, very fickle. Granting protection at first, they strike with clubs at last. O prince (Duryodhana), thou regardest thyself as mature in intellect, and, O thou of bad heart, thou regardest me as a child. But consider that he is a child who having first accepted one for a friend, subsequently findeth fault with him. An evil-hearted man can never be brought to the path of rectitude, like an unchaste wife in the house of a well-born person. Assuredly, instruction is not agreeable to this bull of the Bharata race like a husband of sixty years to a damsel that is young. After this, O king, if thou wishest to hear words that are agreeable to thee, in respect of all acts good or bad, ask thou women and idiots and cripples or persons of that description. A sinful man speaking words that are agreeable may be had in this world. But a speaker of words that are disagreeable though sound as regimen, or a hearer of the same, is very rare. He indeed, is a king's true ally who disregarding what is agreeable or disagreeable to his master beareth himself virtuously and uttereth what may be disagreeable but necessary as regimen. O great king, drink thou that which the honest drink and the dishonest shun, even humility, which is like a medicine that is bitter, pungent, burning, unintoxicating, disagreeable, and revolting. And drinking it, O king, regain thou thy sobriety. I always wish Dhritarashtra and his sons affluence and fame. Happen what may unto thee, here I bow to thee (and take my leave). Let the Brahmanas wish me well. O son of Kuru, this is the lesson I carefully inculcate, that the wise should never enrage such as adders as have venom in their very glances!"
Section LXIV
"Sakuni said,—'Thou hast, O Yudhishthira, lost much wealth of the Pandavas. If thou hast still anything that thou hast not yet lost to us, O son of Kunti, tell us what it is!"
"Yudhishthira said,--O son of Suvala, I know that I have untold wealth. But why is it, O Sakuni, that thou askest me of my wealth? Let tens of thousands and millions and millions and tens of millions and hundreds of millions and tens of billions and hundreds of billions and trillions and tens of trillions and hundreds of trillions and tens of quadrillions and hundreds of quadrillions and even more wealth be staked by thee. I have as much. With that wealth, O king, I will play with thee."
Vaisampayana said,—"Hearing this, Sakuni, ready with the dice, adopting unfair means, said unto Yudhishthira, 'Lo, I have won!'
'Yudhishthira said,—'I have, O son of Suvala, immeasurable kine and horses and milch cows with calves and goats and sheep in the country extending from the Parnasa to the eastern bank of the Sindu. With this wealth, O king, I will play with thee.
Vaisampayana said,—"Hearing this Sakuni, ready with the dice, adopting unfair means, said unto Yudhishthira, 'Lo, I have won!'
Yudhishthira said,—'I have my city, the country, land, the wealth of all dwelling therein except of the Brahmanas, and all those persons themselves except Brahmanas still remaining to me. With this wealth, O king, I will play with thee.'
Vaisampayana said,—"Hearing this, Sakuni, ready with the dice, adopting foul means, said unto Yudhishthira, 'Lo! I have won.'
"Yudhishthira said,--These princes here, O king, who look resplendent in their ornaments and their earrings and Nishkas and all the royal ornaments on their persons are now my wealth. With this wealth, O king, I play with thee.
Vaisampayana said,—"Hearing this, Sakuni, ready with his dice, adopting foul means, said unto Yudhishthira, 'Lo! I have won them.'
"Yudhishthira said,—'This Nakula here, of mighty arms and leonine neck, of red eyes and endued with youth, is now my one stake. Know that he is my wealth.' Sakuni said,—'O king Yudhishthira, prince Nakula is dear to thee. He is already under our subjection. With whom (as stake) wilt thou now play?"
Vaisampayana said,—"Saying this, Sakuni cast those dice, and said unto Yudhishthira, 'Lo! He hath been won by us.'
Yudhishthira said,—"This Sahadeva administereth justice. He hath also acquired a reputation for learning in this world. However undeserving he may be to be staked in play, with him as stake I will play, with such a dear object as it, indeed, he were not so!"
Vaisampayana said,—"Hearing this, Sakuni, ready with the dice, adopting foul means, said unto Yudhishthira, 'Lo! I have won.'
"Sakuni continued,—'O king, the sons of Madri, dear unto thee, have both been won by me. It would seem, however, that Bhimasena and Dhananjaya are regarded very much by thee.'
"Yudhishthira said,—'Wretch! thou actest sinfully in thus seeking to create disunion amongst us who are all of one heart, disregarding morality.'
"Sakuni said,—'One that is intoxicated falleth into a pit (hell) and stayeth there deprived of the power of motion. Thou art, O king, senior to us in age, and possessed of the highest accomplishments. O bull of the Bharata race, I (beg my pardon and) bow to thee. Thou knowest, O Yudhishthira, that gamesters, while excited with play, utter such ravings that they never indulge in the like of them in their waking moments nor even in dream.'
"Yudhishthira said,--He that taketh us like a boat to the other shore of the sea of battle, he that is ever victorious over foes, the prince who is endued with great activity, he who is the one hero in this world, (is here). With that Falguna as stake, however, undeserving of being made so, I will now play with thee.'"
Vaisampayana said,—"Hearing this, Sakuni, ready with the dice, adopting foul means, said unto Yudhishthira, 'Lo! I have won.'
"Sakuni continued,—'This foremost of all wielders of the bow, this son of Pandu capable of using both his hands with equal activity hath now been won by me. O play now with the wealth that is still left unto thee, even with Bhima thy dear brother, as thy stake, O son of Pandu.
"Yudhishthira said,—'O king, however, undeserving he may be of being made a stake, I will now play with thee by staking Bhimasena, that prince who is our leader, who is the foremost in fight,--even like the wielder of the thunder-bolt--the one enemy of the Danavas,--the high-souled one with leonine neck and arched eye-brows and eyes looking askance, who is incapable of putting up with an insult, who hath no equal in might in the world, who is the foremost of all wielders of the mace, and who grindeth all foes,'"
"Vaisampayana said,—"Hearing this, Sakuni, ready with the dice adopting foul means, said unto Yudhishthira. 'Lo! I have won.'
Sakuni continued,--Thou hast, O son of Kunti, lost much wealth, horses and elephants and thy brothers as well. Say, if thou hast anything which thou hast not lost.'
Yudhishthira, said--'I alone, the eldest of all my brothers and dear unto them, am still unwon. Won by thee, I will do what he that is won will have to do.'"
Vaisampayana said,—"Hearing this Sakuni, ready with the dice, adopting foul means, said unto Yudhishthira, 'Lo! I have won.'
'Sakuni continued,—'Thou hast permitted thyself to be won. This is very sinful. There is wealth still left to thee, O king. Therefore, thy having lost thyself is certainly sinful.'"
Vaisampayana continued,—"Having said this, Sakuni, well-skilled at dice, spoke unto all the brave kings present there of his having won, one after another, all the Pandavas. The son of Suvala then, addressing Yudhishthira said,—'O king, there is still one stake dear to thee that is still unwon. Stake thou Krishna, the princess of Panchala. By her, win thyself back.'
"Yudhishthira said,—'With Draupadi as stake, who is neither short nor tall, neither spare nor corpulent, and who is possessed of blue curly locks, I will now play with thee. Possessed of eyes like the leaves of the autumn lotus, and fragrant also as the autumn lotus, equal in beauty unto her (Lakshmi) who delighteth in autumn lotuses, and unto Sree herself in symmetry and every grace she is such a woman as a man may desire for wife in respect of softness of heart, and wealth of beauty and of virtues. Possessed of every accomplishment and compassionate and sweet-speeched, she is such a woman as a man may desire for wife in respect of her fitness for the acquisition of virtue and pleasure and wealth. Retiring to bed last and waking up first, she looketh after all down to the cowherds and the shepherds. Her face too, when covered with sweat, looketh as the lotus or the jasmine. Of slender waist like that of the wasp, of long flowing locks, of red lips, and body without down, is the princess of Panchala. O king, making the slender-waisted Draupadi, who is even such as my stake, I will play with thee, O son of Suvala.'"
Vaisampayana continued,—'When the intelligent king Yudhishthira the just has spoken thus,—'Fie!' 'Fie!' were the words that were uttered by all the aged persons that were in the assembly. And the whole conclave was agitated, and the kings who were present there all gave way to grief. And Bhishma and Drona and Kripa were covered with perspiration. And Vidura holding his head between his hands sat like one that had lost his reason. He sat with face downwards giving way to his reflections and sighing like a snake. But Dhritarashtra glad, at heart, asked repeatedly, 'Hath the stake been won?' 'Hath the stake been won?' and could not conceal his emotions. Karna with Dussassana and others laughed aloud, while tears began to flow from the eyes of all other present in the assembly. And the son of Suvala, proud of success and flurried with excitement and repeating. Thou hast one stake, dear to thee, etc. said,—'Lo! I have won' and took up the dice that had been cast."
Section LXV
Duryodhana said,—'Come, Kshatta, bring hither Draupadi the dear and loved wife of the Pandavas. Let her sweep the chambers, force her thereto, and let the unfortunate one stay where our serving-women are.'
"Vidura said,—'Dost thou not know, O wretch, that by uttering such harsh words thou art tying thyself with cords? Dost thou not understand that thou art hanging on the edge of a precipice? Dost thou not know that being a deer thou provokest so many tigers to rage? Snakes of deadly venom, provoked to ire, are on thy head! Wretch, do not further provoke them lest thou goest to the region of Yama. In my judgement, slavery does not attach to Krishna, in as much as she was staked by the King after he had lost himself and ceased to be his own master. Like the bamboo that beareth fruit only when it is about to die, the son of Dhritarashtra winneth this treasure at play. Intoxicated, he perceiveth nor in these his last moments that dice bring about enmity and frightful terrors. No man should utter harsh speeches and pierce the hearts of the others. No man should subjugate his enemies by dice and such other foul means. No one should utter such words as are disapproved by the Vedas and lead to hell and annoy others. Some one uttereth from his lips words that are harsh. Stung by them another burneth day and night. These words pierce the very heart of another. The learned, therefore, should never utter them, pointing them at others. A goat had once swallowed a hook, and when it was pierced with it, the hunter placing the head of the animal on the ground tore its throat frightfully in drawing it out. Therefore, O Duryodhana, swallow not the wealth of the Pandavas. Make them not thy enemies. The sons of Pritha never use words such as these. It is only low men that are like dogs who use harsh words towards all classes of people, viz., those that have retired to the woods, those leading domestic lives, those employed in ascetic devotions and those that are of great learning. Alas! the son of Dhritarashtra knoweth not that dishonesty is one of the frightful doors of hell. Alas! many of the Kurus with Dussasana amongst them have followed him in the path of dishonesty in the matter of this play at dice. Even gourds may sink and stones may float, and boats also may always sink in water, still this foolish king, the son of Dhritarashtra, listeneth not to my words that are even as regimen unto him. Without doubt, he will be the cause of the destruction of the Kurus. When the words of wisdom spoken by friends and which are even as fit regimen are not listened to, but on the other hand temptation is on the increase, a frightful and universal destruction is sure to overtake all the Kurus."
Section LXVI
Vaisampayana said,—"Intoxicated with pride, the son of Dhritarashtra spake,—'Fie on Kshatta! and casting his eyes upon the Pratikamin in attendance, commanded him, in the midst of all those reverend seniors, saying,—'Go Pratikamin, and bring thou Draupadi hither. Thou hast no fear from the sons of Pandu. It is Vidura alone that raveth in fear. Besides, he never wisheth our prosperity!'"
Vaisampayana continued,—"Thus commanded, the Pratikamin, who was of the Suta caste, hearing the words of the king, proceeded with haste, and entering the abode of the Pandavas, like a dog in a lion's den, approached the queen of the sons of Pandu. And he said,—'Yudhishthira having been intoxicated with dice, Duryodhana, O Draupadi, hath won thee. Come now, therefore, to the abode of Dhritarashtra. I will take thee, O Yajnaseni, and put thee in some menial work.'
Draupadi said,—'Why, O Pratikamin, dost thou say so? What prince is there who playeth staking his wife? The king was certainly intoxicated with dice. Else, could he not find any other object to stake?'
"The Pratikamin said,—'When he had nothing else to stake, it was then that Ajatasatru, the son of Pandu, staked thee. The king had first staked his brothers, then himself, and then thee, O princess.'
"Draupadi said,—'O son of the Suta race, go, and ask that gambler present in the assembly, whom he hath lost first, himself, or me. Ascertaining this, come hither, and then take me with thee, O son of the Suta race.'
Vaisampayana continued,—"The messenger coming back to the assembly told all present the words of Draupadi. And he spoke unto Yudhishthira sitting in the midst of the kings, these words,--Draupadi hath asked thee, Whose lord wert thou at the time thou lost me in play? Didst thou lose thyself first or me? Yudhishthira, however sat there like one demented and deprived of reason and gave no answer good or ill to the Suta. "Duryodhana then said,—'Let the princess of Panchala come hither and put her question. Let every one hear in this assembly the words that pass between her and Yudhishthira.'
Vaisampayana continued,—"The messenger, obedient to the command of Duryodhana, going once again to the palace, himself much distressed, said unto Draupadi,—'O princess, they that are in the assembly are summoning thee. It seemeth that the end of the Kauravas is at hand. When Duryodhana, O princess, is for taking thee before the assembly, this weak-brained king will no longer be able to protect his prosperity.'
"Draupadi said,—'The great ordainer of the world hath, indeed, ordained so. Happiness and misery pay their court to both the wise and unwise. Morality, however, it hath been said, is the one highest object in the world. If cherished, that will certainly dispense blessings to us. Let not that morality now abandon the Kauravas. Going back to those that are present in that assembly, repeat these my words consonant with morality. I am ready to do what those elderly and virtuous persons conversant with morality will definitely tell me.
Vaisampayana continued,—"The Suta, hearing these words of Yajnaseni, came back to the assembly and repeated the words of Draupadi. But all sat with faces downwards, uttering not a word, knowing the eagerness and resolution of Dhritarashtra's son.
"Yudhishthira, however, O bull of the Bharata race, hearing of Duryodhana's intentions, sent a trusted messenger unto Draupadi, directing that although she was attired in one piece of cloth with her navel itself exposed, in consequence of her season having come, she should come before her father-in-law weeping bitterly. And that intelligent messenger, O king, having gone to Draupadi's abode with speed, informed her of the intentions of Yudhishthira. The illustrious Pandavas, meanwhile, distressed and sorrowful, and bound by promise, could not settle what they should do. And casting his eyes upon them, king Duryodhana, glad at heart, addressed the Suta and said,—'O Pratikamin, bring her hither. Let the Kauravas answer her question before her face. The Suta, then, obedient to his commands, but terrified at the (possible) wrath of the daughter of Drupada, disregarding his reputation for intelligence, once again said to those that were in the assembly,--what shall I say unto Krishna?'
"Duryodhana, hearing this, said,—'O Dussasana, this son of my Suta, of little intelligence, feareth Vrikodara. Therefore, go thou thyself and forcibly bring hither the daughter of Yajnasena, Our enemies at present are dependent on our will. What can they do thee?' Hearing the command of his brother, prince Dussasana rose with bloodred eyes, and entering the abode of those great warriors, spake these words unto the princess, 'Come, come, O Krishna, princess of Panchala, thou hast been won by us. And O thou of eyes large as lotus leaves, come now and accept the Kurus for thy lords. Thou hast been won virtuously, come to the assembly.' At these words, Draupadi, rising up in great affliction, rubbed her pale face with her hands, and distressed she ran to the place where the ladies of Dhritarashtra's household were. At this, Dussasana roaring in anger, ran after her and seized the queen by her locks, so long and blue and wavy. Alas! those locks that had been sprinkled with water sanctified with mantras in the great Rajasuya sacrifice, were now forcibly seized by the son of Dhritarashtra disregarding the prowess of the Pandavas. And Dussasana dragging Krishna of long long locks unto the presence of the assembly--as if she were helpless though having powerful protectors--and pulling at her, made her tremble like the banana plant in a storm. And dragged by him, with body bent, she faintly cried--'Wretch! it ill behoveth thee to take me before the assembly. My season hath come, and I am now clad in one piece of attire. But Dussasana dragging Draupadi forcibly by her black locks while she was praying piteously unto Krishna and Vishnu who were Narayana and Nara (on earth), said unto her--'Whether thy season hath come or not, whether thou art attired in one piece of cloth or entirely naked, when thou hast been won at dice and made our slave, thou art to live amongst our serving-women as thou pleasest."
Vaisampayana continued,—"With hair dishevelled and half her attire loosened, all the while dragged by Dussasana, the modest Krishna consumed with anger, faintly said--"In this assembly are persons conversant with all the branches of learning devoted to the performance of sacrifices and other rites, and all equal unto Indra, persons some of whom are really my superiors and others who deserve to be respected as such. I can not stay before them in this state. O wretch! O thou of cruel deeds, drag me not so. Uncover me not so. The princes (my lords) will not pardon thee, even if thou hast the gods themselves with Indra as thy allies. The illustrious son of Dharma is now bound by the obligations of morality. Morality, however, is subtle. Those only that are possessed of great clearness of vision can ascertain it. In speech even I am unwilling to admit an atom of fault in my lord forgetting his virtues. Thou draggest me who am in my season before these Kuru heroes. This is truly an unworthy act. But no one here rebuketh thee. Assuredly, all these are of the same mind with thee. O fie! Truly hath the virtue of the Bharata gone! Truly also hath the usage of those acquainted with the Kshatriya practice disappeared! Else these Kurus in this assembly would never have looked silently on this act that transgresseth the limits of their practices. Oh! both Drona and Bhishma have lost their energy, and so also hath the high-souled Kshatta, and so also this king. Else, why do these foremost of the Kuru elders look silently on this great crime?"
Vaisampayana continued,—"Thus did Krishna of slender waist cry in distress in that assembly. And casting a glance upon her enraged lords--the Pandavas--who were filled with terrible wrath, she inflamed them further with that glance of hers. And they were not so distressed at having been robbed of their kingdom, of their wealth, of their costliest gems, as with that glance of Krishna moved by modesty and anger. And Dussasana, beholding Krishna looking at her helpless lords, dragging her still more forcibly, and addressed her, 'Slave, Slave' and laughed aloud. And at those words Karna became very glad and approved of them by laughing aloud. And Sakuni, the son of Suvala, the Gandhara king, similarly applauded Dussasana. And amongst all those that were in the assembly except these three and Duryodhana, every one was filled with sorrow at beholding Krishna thus dragged in sight of that assembly. And beholding it all, Bhishma said, 'O blessed one, morality is subtle. I therefore am unable to duly decide this point that thou hast put, beholding that on the one hand one that hath no wealth cannot stake the wealth belonging to others, while on the other hand wives are always under the orders and at the disposal of their lords. Yudhishthira can abandon the whole world full of wealth, but he will never sacrifice morality. The son of Pandu hath said--'I am won.' Therefore, I am unable to decide this matter. Sakuni hath not his equal among men at dice-play. The son of Kunti still voluntarily staked with him. The illustrious Yudhishthira doth not himself regard that Sakuni hath played with him deceitfully. Therefore, I can not decide this point."
"Draupadi said,—"The king was summoned to this assembly and though possessing no skill at dice, he was made to play with skilful, wicked, deceitful and desperate gamblers. How can he be said then to have staked voluntarily? The chief of the Pandavas was deprived of his senses by wretches of deceitful conduct and unholy instincts, acting together, and then vanquished. He could not understand their tricks, but he hath now done so. Here, in this assembly, there are Kurus who are the lords of both their sons and their daughters-in-law! Let all of them, reflecting well upon my words, duly decide the point that I have put.
Vaisampayana continued,—'Unto Krishna who was thus weeping and crying piteously, looking at times upon her helpless lord, Dussasana spake many disagreeable and harsh words. And beholding her who was then in her season thus dragged, and her upper garments loosened, beholding her in that condition which she little deserved, Vrikodara afflicted beyond endurance, his eyes fixed upon Yudhishthira, gave way to wrath."
Section LXVII
"Bhima said,—'O Yudhishthira, gamblers have in their houses many women of loose character. They do not yet stake those women having kindness for them even. Whatever wealth and other excellent articles the king of Kasi gave, whatever, gems, animals, wealth, coats of mail and weapons that other kings of the earth gave, our kingdom, thyself and ourselves, have all been won by the foes. At all this my wrath was not excited for thou art our lord. This, however, I regard as a highly improper act--this act of staking Draupadi. This innocent girl deserveth not this treat- ment. Having obtained the Pandavas as her lords, it is for thee alone that she is being thus persecuted by the low, despicable, cruel, and mean-minded Kauravas. It is for her sake, O king, that my anger falleth on thee. I shall burn those hands of thine. Sahadeva, bring some fire."
'Arjuna hearing this, said,—'Thou hast never, O Bhimasena, before this uttered such words as these. Assuredly thy high morality hath been destroyed by these cruel foes. Thou shouldst not fulfil the wishes of the enemy. Practise thou the highest morality. Whom doth it behave to transgress his virtuous eldest brother? The king was summoned by the foe, and remembering the usage of the Kshatriyas, he played at dice against his will. That is certainly conducive to our great fame.
'Bhima said,—'If I had not known, O Dhananjaya, that the king had acted according to Kshatriya usage, then I would have, taking his hands together by sheer force, burnt them in a blazing fire."
Vaisampayana continued,—"Beholding the Pandavas thus distressed and the princess of Panchala also thus afflicted, Vikarna the son of Dhritarashtra said--'Ye kings, answer ye the question that hath been asked by Yajnaseni. If we do not judge a matter referred to us, all of us will assuredly have to go to hell without delay. How is that Bhishma and Dhritarashtra, both of whom are the oldest of the Kurus, as also the high-souled Vidura, do not say anything! The son of Bharadwaja who is the preceptor of us, as also Kripa, is here. Why do not these best of regenerate ones answer the question? Let also those other kings assembled here from all directions answer according to their judgment this question, leaving aside all motives of gain and anger. Ye kings, answer ye the question that hath been asked by this blessed daughter of king Drupada, and declare after reflection on which side each of ye is.' Thus did Vikarna repeatedly appeal to those that were in that assembly. But those kings answered him not one word, good or ill. And Vikarna having repeatedly appealed to all the kings began to rub his hands and sigh like a snake. And at last the prince said--'Ye kings of the earth, ye Kauravas, whether ye answer this question or not, I will say what I regard as just and proper. Ye foremost of men, it hath been said that hunting, drinking, gambling, and too much enjoyment of women, are the four vices of kings. The man, that is addicted to these, liveth forsaking virtue. And people do not regard the acts done by a person who is thus improperly engaged, as of any authority. This son of Pandu, while deeply engaged in one of these vicious acts, urged thereto by deceitful gamblers, made Draupadi a stake. The innocent Draupadi is, besides, the common wife of all the sons of Pandu. And the king, having first lost himself offered her as a stake. And Suvala himself desirous of a stake, indeed prevailed upon the king to stake this Krishna. Reflecting upon all these circumstances, I regard Draupadi as not won."
"Hearing these words, a loud uproar rose from among those present in that assembly. And they all applauded Vikarna and censured the son of Suvala. And at that sound, the son of Radha, deprived of his senses by anger, waving his well-shaped arms, said these words,—'O Vikarna, many opposite and inconsistent conditions are noticeable in this assembly. Like fire produced from a faggot, consuming the faggot itself, this thy ire will consume thee. These personages here, though urged by Krishna, have not uttered a word. They all regard the daughter of Drupada to have been properly won. Thou alone, O son of Dhritarashtra in consequence of thy immature years, art bursting with wrath, for though but a boy thou speakest in the assembly as if thou wert old. O younger brother of Duryodhana, thou dost not know what morality truly is, for thou sayest like a fool that this Krishna who hath been (justly) won as not won at all. O son of Dhritarashtra, how dost thou regard Krishna as not won, when the eldest of the Pandavas before this assembly staked all his possessions? O bull of the Bharata race, Draupadi is included in all the possessions (of Yudhishthira). Therefore, why regardest thou Krishna who hath been justly won as not won? Draupadi had been mentioned (by Suvala) and approved of as a stake by the Pandavas. For what reason then dost thou yet regard her as not won? Or, if thou thinkest that bringing her hither attired in a single piece of cloth, is an action of impropriety, listen to certain excellent reasons I will give. O son of the Kuru race, the gods have ordained only one husband for one woman. This Draupadi, however, hath many husbands. Therefore, certain it is that she is an unchaste woman. To bring her, therefore, into this assembly attired though she be in one piece of cloth--even to uncover her is not at all an act that may cause surprise. Whatever wealth the Pandavas had--she herself and these Pandavas themselves,--have all been justly won by the son of Suvala. O Dussasana, this Vikarna speaking words of (apparent) wisdom is but a boy. Take off the robes of the Pandavas as also the attire of Draupadi. Hearing these words the Pandavas, O Bharata, took of their upper garments and throwing them down sat in that assembly. Then Dussasana, O king, forcibly seizing Draupadi's attire before the eyes of all, began to drag it off her person."
Vaisampayana continued,—"When the attire of Draupadi was being thus dragged, the thought of Hari, (And she herself cried aloud, saying), 'O Govinda, O thou who dwellest in Dwaraka, O Krishna, O thou who art fond of cowherdesses (of Vrindavana). O Kesava, seest thou not that the Kauravas are humiliating me. O Lord, O husband of Lakshmi, O Lord of Vraja (Vrindavana), O destroyer of all afflictions, O Janarddana, rescue me who am sinking in the Kaurava Ocean. O Krishna, O Krishna, O thou great yogin, thou soul of the universe, Thou creator of all things, O Govinda, save me who am distressed,--who am losing my senses in the midst of the Kurus.' Thus did that afflicted lady resplendent still in her beauty, O king covering her face cried aloud, thinking of Krishna, of Hari, of the lord of the three worlds. Hearing the words of Draupadi, Krishna was deeply moved. And leaving his seat, the benevolent one from compassion, arrived there on foot. And while Yajnaseni was crying aloud to Krishna, also called Vishnu and Hari and Nara for protection, the illustrious Dharma, remaining unseen, covered her with excellent clothes of many hues. And, O monarch as the attire of Draupadi was being dragged, after one was taken off, another of the same kind, appeared covering her. And thus did it continue till many clothes were seen. And, O exalted on, owing to the protection of Dharma, hundreds upon hundreds of robes of many hues came off Draupadi's person. And there arose then a deep uproar of many many voices. And the kings present in that assembly beholding that most extraordinary of all sights in the world, began to applaud Draupadi and censure the son of Dhritarashtra. And Bhima then, squeezing his hands, with lips quivering in rage, swore in the midst of all those kings a terrible oath in a loud voice.
"And Bhima said,--Hear these words of mine, ye Kshatriyas of the world. Words such as these were never before uttered by other men, nor will anybody in the future ever utter them. Ye lords of earth, if having spoken these words I do not accomplish them hereafter, let me not obtain the region of my deceased ancestors. Tearing open in battle, by sheer force, the breast of this wretch, this wicked-minded scoundrel of the Bharata race, if I do not drink his life-blood, let me not obtain the region of my ancestors."
Vaisampayana continued,—"Hearing these terrible words of Bhima that made the down of the auditors to stand on end, everybody present there applauded him and censured the son of Dhritarashtra. And when a mass of clothes had been gathered in that assembly, all dragged from the person of Draupadi, Dussasana, tired and ashamed, sat down. And beholding the sons of Kunti in that state, the persons--those gods among men--that were in that assembly all uttered the word 'Fie!'(on the son of Dhritarashtra). And the united voices of all became so loud that they made the down of anybody who heard them stand on end. And all the honest men that were in that assembly began to say,—'Alas! the Kauravas answer not the question that hath been put to them by Draupadi. And all censuring Dhritarashtra together, made a loud clamour. Then Vidura, that master of the science of morality, waving his hands and silencing every one, spake these words;—'Ye that are in this assembly, Draupadi having put her question is weeping helplessly. Ye are not answering her. Virtue and morality are being persecuted by such conduct. An afflicted person approacheth an assembly of good men, like one that is being consumed by fire. They that are in the assembly quench that fire and cool him by means of truth and morality. The afflicted person asketh the assembly about his rights, as sanctioned by morality. They that are in the assembly should, unmoved by interest and anger, answer the question. Ye kings, Vikarna hath answered the question, according to his own knowledge and judgment. Ye should also answer it as ye think proper. Knowing the rules of morality, and having attended an assembly, he that doth not answer a query that is put, incurreth half the demerit that attacheth to a lie. He, on the other hand, who, knowing the rules of morality and having joined an assembly answereth falsely, assuredly incurreth the sin of a lie. The learned quote as an example in this connection the old history of Prahlada and the son of Angirasa.
"There was of old a chief of the Daityas of the name Prahlada. He had a son named Virochana. And Virochana, for the sake of obtaining a bride, quarrelled with Sudhanwan, the son of Angiras. It hath been heard by us that they mutually wagered their lives, saying--I am superior,--I am superior,--for the sake of obtaining a bride. And after they had thus quarrelled with each other, they both made Prahlada the arbitrator to decide between them. And they asked him, saying;--Who amongst us is superior (to the other)? Answer this question. Speak not falsely. Frightened at this quarrel, Prahlada cast his eyes upon Sudhanwan. And Sudhanwan in rage, burning like unto the mace of Yama, told him,--If thou answerest falsely, or dost not answer at all thy head will then be split into a hundred pieces by the wielder of the thunderbolt with that bolt of his.--Thus addressed by Sudhanwan, the Daitya, trembling like a leaf of the fig tree, went to Kasyapa of great energy, for taking counsel with him. And Prahlada said,—'Thou art, O illustrious and exalted one, fully conversant with the rules of morality that should guide both the gods and the Asuras and the Brahmanas as well. Here, however, is a situation of great difficulty in respect of duty. Tell me, I ask thee, what regions are obtainable by them who upon being asked a question, answer it not, or answer it falsely. Kasyapa thus asked answered.—'He that knoweth, but answereth not a question from temptation, anger or fear, casteth upon himself a thousand nooses of Varuna. And the person who, cited as a witness with respect to any matter of ocular or auricular knowledge, speaketh carelessly, casteth a thousand nooses of Varuna upon his own person. On the completion of one full year, one such noose is loosened. Therefore, he that knoweth, should speak the truth without concealment. If virtue, pierced by sin, repaireth to an assembly (for aid), it is the duty of every body in the assembly to take off the dart, otherwise they themselves would be pierced with it. In an assembly where a truly censurable act is not rebuked, half the demerit of that act attacheth to the head of that assembly, a fourth to the person acting censurably and a fourth unto those others that are there. In that assembly, on the other hand, when he that deserveth censure is rebuked, the head of the assembly becometh freed from all sins, and the other members also incur none. It is only the perpetrator himself of the act that becometh responsible for it. O Prahlada, they who answer falsely those that ask them about morality destroy the meritorious acts of their seven upper and seven lower generations. The grief of one who hath lost all his wealth, of one who hath lost a son, of one who is in debt, of one who is separated from his companions, of a woman who hath lost her husband, of one that hath lost his all in consequence of the king's demand, of a woman who is sterile, of one who hath been devoured by a tiger (during his last struggles in the tiger's claws), of one who is a co-wife, and of one who hath been deprived of his property by false witnesses, have been said by the gods to be uniform in degree. These different sorts of grief are his who speaketh false. A person becometh a witness in consequence of his having seen, heard, and understood a thing. Therefore, a witness should always tell the truth. A truth-telling witness never loseth his religious merits and earthly possessions also.' Hearing these words of Kasyapa, Prahlada told his son, "Sudhanwan is superior to thee, as indeed, (his father) Angiras is superior to me. The mother also of Sudhanwan is superior to thy mother. Therefore, O Virochana, this Sudhanwan is now the lord of the life." At these words of Prahlada, Sudhanwan said, "Since unmoved by affection for thy child, thou hast adhered to virtue, I command, let this son of thine live for a hundred years."
"Vidura continued,--Let all the persons, therefore, present in this assembly hearing these high truths of morality, reflect upon what should be the answer to the question asked by Draupadi".
Vaisampayana continued,—"The kings that were there hearing these words of Vidura, answered not a word, yet Karna alone spoke unto Dussasana, telling him. Take away this serving-woman Krishna into the inner apartments. And thereupon Dussasana began to drag before all the spectators the helpless and modest Draupadi, trembling and crying piteously unto the Pandavas her lords."
Section LXVIII
Draupadi said,—'Wait a little, thou worst of men, thou wicked-minded Dussasana. I have an act to perform--a high duty that hath not been performed by me yet. Dragged forcibly by this wretch's strong arms, I was deprived of my senses. I salute these reverend seniors in this assembly of the Kurus. That I could not do this before cannot be my fault.'"
Vaisampayana said,—"Dragged with greater force than before, the afflicted and helpless Draupadi, undeserving of such treatment, falling down upon the ground, thus wept in that assembly of the Kurus,—
"'Alas, only once before, on the occasion of the Swayamvara, I was beheld by the assembled kings in the amphitheatre, and never even once beheld afterwards. I am to-day brought before this assembly. She whom even the winds and the sun had seen never before in her palace is to-day before this assembly and exposed to the gaze of the crowd. Alas, she whom the sons of Pandu could not, while in her palace, suffer to be touched even by the wind, is to-day suffered by the Pandavas to be seized and dragged by this wretch. Alas, these Kauravas also suffer their daughter-in-law, so unworthy of such treatment, to be thus afflicted before them. It seemeth that the times are out of joint. What can be more distressing to me, than that though high-born and chaste, I should yet be compelled to enter this public court? Where is that virtue for which these kings were noted? It hath been heard that the kings of ancient days never brought their wedded wives into the public court. Alas, that eternal usage hath disappeared from among the Kauravas. Else, how is it that the chaste wife of the Pandavas, the sister of Prishata's son, the friend of Vasudeva, is brought before this assembly? Ye Kauravas, I am the wedded wife of king Yudhishthira the just, hailing from the same dynasty to which the King belonged. Tell me now if I am a serving-maid or otherwise. I will cheerfully accept your answer. This mean wretch, this destroyer of the name of the Kurus, is afflicting me hard. Ye Kauravas, I cannot bear it any longer. Ye kings, I desire ye to answer whether ye regard me as won or unwon. I will accept your verdict whatever it be.'
"Hearing these words, Bhishma answered, I have already said, O blessed one that the course of morality is subtle. Even the illustrious wise in this world fail to understand it always. What in this world a strong man calls morality is regarded as such by others, however otherwise it may really be; but what a weak man calls morality is scarcely regarded as such even if it be the highest morality. From the importance of the issue involved, from its intricacy and subtlety, I am unable to answer with certitude the question thou hast asked. However, it is certain that as all the Kurus have become the slaves of covetousness and folly, the destruction of this our race will happen on no distant date. O blessed one, the family into which thou hast been admitted as a daughter-in-law, is such that those who are born in it, however much they might be afflicted by calamities, never deviate from the paths of virtue and morality. O Princess of Panchala, this conduct of thine also, viz. that though sunk in distress, thou still easiest thy eyes on virtue and morality, is assuredly worthy of thee. These persons, Drona and others, of mature years and conversant with morality, sit heads downwards like men that are dead, with bodies from which life hath departed. It seemeth to me, however, that Yudhishthira is an authority on this question. It behoveth him to declare whether thou art won or not won."
Section LXIX
Vaisampayana said,—"The kings present in that assembly, from tear of Duryodhana, uttered not a word, good or ill, although they beheld Draupadi crying piteously in affliction like a female osprey, and repeatedly appealing to them. And the son of Dhritarashtra beholding those kings and sons and grand sons of kings all remaining silent, smiled a little, and addressing the daughter of the king of Panchala, said,--O Yajnaseni, the question thou hast put dependeth on thy husbands--on Bhima of mighty strength, on Arjuna, on Nakula, on Sahadeva. Let them answer thy question. O Panchali, let them for thy sake declare in the midst of these respectable men that Yudhishthira is not their lord, let them thereby make king Yudhishthira the just a liar. Thou shalt then be freed from the condition of slavery. Let the illustrious son of Dharma, always adhering to virtue, who is even like Indra, himself declare whether he is not thy lord. At his words, accept thou the Pandavas or ourselves without delay. Indeed, all the Kauravas present in this assembly are floating in the ocean of thy distress. Endued with magnanimity, they are unable to answer thy question, looking at thy unfortunate husbands.'" Vaisampayana continued,—"Hearing these words of the Kuru king, all who were present in the assembly loudly applauded them. And shouting approvingly, they made signs unto one another by motions of their eyes and lips. And amongst some that were there, sounds of distress such as 'O! and 'Alas!" were heard. And at these words of Duryodhana, so delightful (to his partisans), the Kauravas present in that assembly became exceedingly glad. And the kings, with faces turned sideways, looked upon Yudhishthira conversant with the rules of morality, curious to hear what he would say. And every one present in that assembly became curious to hear what Arjuna, the son of Pandu never defeated in battle, and what Bhimasena, and what the twins also would say. And when that busy hum of many voices became still, Bhimasena, waving his strong and well-formed arms smeared with sandalpaste spake these words,—'If this high-souled king Yudhishthira the just, who is our eldest brother, had not been our lord, we would never have forgiven the Kuru race (for all this). He is the lord of all our religious and ascetic merits, the lord of even our lives. If he regardeth himself as won, we too have all been won. If this were not so, who is there amongst creatures touching the earth with their feet and mortal, that would escape from me with his life after having touched those locks of the princess of Panchala? Behold these mighty, well-formed arms of mine, even like maces of iron. Having once come within them, even he of a hundred sacrifices is incapable of effecting an escape. Bound by the ties of virtue and the reverence that is due to our eldest brother, and repeatedly urged by Arjuna to remain silent, I am not doing anything terrible. If however, I am once commanded by king Yudhishthira the just, I would slay these wretched sons of Dhritarashtra, making slaps do the work of swords, like a lion slaying a number of little animals."
Vaisampayana continued,—"Unto Bhima who had spoken these words Bhishma and Drona and Vidura said, 'Forbear, O Bhima. Everything is possible with thee.'"
Section LXX
"Karna said,—'Of all the persons in the assembly, three, viz., Bhishma, Vidura, and the preceptor of the Kurus (Drona) appear to be independent; for they always speak of their master as wicked, always censure him, and never wish for his prosperity. O excellent one, the slave, the son, and the wife are always dependent. They cannot earn wealth, for whatever they earn belongeth to their master. Thou art the wife of a slave incapable of possessing anything on his own account. Repair now to the inner apartments of king Dhritarashtra and serve the king's relatives. We direct that that is now thy proper business. And, O princess, all the sons of Dhritarashtra and not the sons of Pritha are now thy masters. O handsome one, select thou another husband now,--one who will not make thee a slave by gambling. It is well-known that women, especially that are slaves, are not censurable if they proceed with freedom in electing husbands. Therefore let it be done by thee. Nakula hath been won, as also Bhimasena, and Yudhishthira also, and Sahadeva, and Arjuna. And, O Yajnaseni, thou art now a slave. Thy husbands that are slaves cannot continue to be thy lords any longer. Alas, doth not the son of Pritha regards life, prowess and manhood as of no use that he offereth this daughter of Drupada, the king of Panchala, in the presence of all this assembly, as a stake at dice?'"
Vaisampayana continued,—"Hearing these words, the wrathful Bhima breathed hard, a very picture of woe. Obedient to the king and bound by the tie of virtue and duty, burning everything with his eyes inflamed by anger, he said,—'O king, I cannot be angry at these words of this son of a Suta, for we have truly entered the state of servitude. But O king, could our enemies have said so unto me, it thou hadst not played staking this princess?'"
Vaisampayana continued,—"Hearing these words of Bhimasena king Duryodhana addressed Yudhishthira who was silent and deprived of his senses, saying,—'O king, both Bhima and Arjuna, and the twins also, are under thy sway. Answer thou the question (that hath been asked by Draupadi). Say, whether thou regardest Krishna as unwon.' And having spoken thus unto the son of Kunti, Duryodhana. desirous of encouraging the son of Radha and insulting Bhima, quickly uncovered his left thigh that was like unto the stem of a plantain tree or the trunk of an elephant and which was graced with every auspicious sign and endued with the strength of thunder, and showed it to Draupadi in her very sight. And beholding this, Bhimasena expanding his red eyes, said unto Duryodhana in the midst of all those kings and as if piercing them (with his dart-like words),—'Let not Vrikodara attain to the regions, obtained by his ancestors, if he doth not break that thigh of thine in the great conflict. And sparkles of fire began to be emitted from every organ of sense of Bhima filled with wrath, like those that come out of every crack and orifice in the body of a blazing tree.
Vidura then, addressing everybody, said,—'Ye kings of Pratipa's race, behold the great danger that ariseth from Bhimasena. Know ye for certain that this great calamity that threatens to overtake the Bharatas hath been sent by Destiny itself. The sons of Dhritarashtra have, indeed, gambled disregarding every proper consideration. They are even now disputing in this assembly about a lady (of the royal household). The prosperity of our kingdom is at an end. Alas, the Kauravas are even now engaged in sinful consultations. Ye Kauravas, take to your heart this high precept that I declare. If virtue is persecuted, the whole assembly becometh polluted. If Yudhishthira had staked her before he was himself won, he would certainly have been regarded as her master. If, however a person staketh anything at a time when he himself is incapable of holding any wealth, to win it is very like obtaining wealth in a dream. Listening to the words of the king of Gandhara, fall ye not off from this undoubted truth.'
"Duryodhana, hearing Vidura thus speak, said,—'I am willing to abide by the words of Bhima, of Arjuna and of the twins. Let them say that Yudhishthira is not their master. Yajnaseni will then be freed from her state of bondage."
"Arjuna at this, said,—"This illustrious son of Kunti, king Yudhishthira the just, was certainly our master before he began to play. But having lost himself, let all the Kauravas judge whose master he could be after that."
Vaisampayana continued,—"Just then, a jackal began to cry loudly in the homa-chamber of king Dhritarashtra's palace. And, O king, unto the jackal that howled so, the asses began to bray responsively. And terrible birds also, from all sides, began to answer with their cries. And Vidura conversant with everything and the daughter of Suvala, both understood the meaning of those terrible sounds. And Bhishma and Drona and the learned Gautama loudly cried,--Swashti! Swashti! 1 Then Gandhari and the learned Vidura beholding that frightful omen, represented everything, in great affliction, unto the king. And the king (Dhritarashtra) thereupon said,—
'Thou wicked-minded Duryodhana, thou wretch, destruction hath all ready overtaken thee when thou insultest in language such as this the wife of these bulls among the Kurus, especially their wedded wife Draupadi. And having spoken those words, the wise Dhritarashtra endued with knowledge, reflecting with the aid of his wisdom and desirous of saving his relatives and friends from destruction, began to console Krishna, the princess of Panchala, and addressing her, the monarch said,—'Ask of me any boon, O princess of Panchala, that thou desirest, Chaste and devoted to virtue, thou art the first of all my daughters-in-law.
"Draupadi said,—'O bull of the Bharata race, if thou will grant me a boon, I ask the handsome Yudhishthira, obedient to every duty, be freed from slavery. Let not unthinking children call my child Prativindhya endued with great energy of mind as the son of a slave. Having been a prince, so superior to all men, and nurtured by kings it is not proper that he should be called the child of a slave.
"Dhritarashtra said unto her,—'O auspicious one, let it be as thou sayest. O excellent one, ask thou another boon, for I will give it. My heart inclineth to give thee a second boon. Thou dost not deserve only one boon.
"Draupadi said,—'I ask, O king, that Bhimasena and Dhananjaya and the twins also, with their cars and bows, freed from bondage, regain their liberty.'
'Dhritarashtra said,—'O blessed daughter, let it be as thou desirest. Ask thou a third boon, for thou hast not been sufficiently honoured with two boons. Virtuous in thy behaviour, thou art the foremost of all my daughters-in- law.
Draupadi said,—'O best of kings, O illustrious one, covetousness always bringeth about loss of virtue. I do not deserve a third boon. Therefore I dare not ask any. O king of kings, it hath been said that a Vaisya may ask one boon; a Kshatriya lady, two boons; a Kshatriya male, three, and a Brahmana, a hundred. O king, these my husbands freed from the wretched state of bondage, will be able to achieve prosperity by their own virtuous acts!'"
Section LXXI
"Karna said,—'We have never heard of such an act (as this one of Draupadi), performed by any of the women noted in this world for their beauty. When the sons of both Pandu and Dhritarashtra were excited with wrath, this Draupadi became unto the sons of Pandu as their salvation. Indeed the princess of Panchala, becoming as a boat unto the sons of Pandu who were sinking in a boatless ocean of distress, hath brought them in safety to the shore.'"
Vaisampayana continued,—"Hearing these words of Karna in the midst of the Kurus,--viz., that the sons of Pandu were saved by their wife,--the angry Bhimasena in great affliction said (unto Arjuna),—'O Dhananjaya, it hath been said by Devala three lights reside in every person, viz., offspring, acts and learning, for from these three hath sprung creation. When life becometh extinct and the body becometh impure and is cast off by relatives, these three become of service to every person. But the light that is in us hath been dimmed by this act of insult to our wife. How, O Arjuna, can a son born from this insulted wife of ours prove serviceable to us? "Arjuna replied,—'Superior persons, O Bharata, never prate about the harsh words that may or may not be uttered by inferior men. Persons that have earned respect for themselves, even if they are able to retaliate, remember not the acts of hostility done by their enemies, but, on the other hand, treasure up only their good deeds.'
'Bhima said,—'Shall I, O king, slay, without loss of time all these foes assembled together, even here, or shall I destroy them, O Bharata, by the roots, outside this palace? Or, what need is there of words or of command? I shall slay all these even now, and rule thou the whole earth, O king, without a rival. And saying this, Bhima with his younger brothers, like a lion in the midst of a herd of inferior animals, repeatedly cast his angry glances around. But Arjuna, however, of white deeds, with appealing looks began to pacify his elder brother. And the mighty-armed hero endued with great prowess began to burn with the fire of his wrath. And, O king, this fire began to issue out of Vrikodara's ears and other senses with smoke and sparks and flames. And his face became terrible to behold in consequence of his furrowed brows like those of Yama himself at the time of the universal destruction. Then Yudhishthira forbade the mighty hero, embracing him with his arms and telling him 'Be not so. Stay in silence and peace.' And having pacified the mighty-armed one with eyes red in wrath, the king approached his uncle Dhritarashtra, with hands joined in entreaty."
Section LXXII
"Yudhishthira said,—'O king, thou art our master. Command us as to what we shall do. O Bharata, we desire to remain always in obedience to thee.
"Dhritarashtra replied.—'O Ajatasatru, blest be thou. Go thou in peace and safety. Commanded by me, go, rule thy own kingdom with thy wealth. And, O child, take to heart this command of an old man, this wholesome advice that I give, and which is even a nutritive regimen. O Yudhishthira, O child, thou knowest the subtle path of morality. Possessed of great wisdom, thou art also humble, and thou waitest also upon the old. Where there is intelligence, there is forbearance. Therefore, O Bharata, follow thou counsels of peace. The axe falleth upon wood, not upon stone. (Thou art open to advice, not Duryodhana). They are the best of men that remember not the acts of hostility of their foes; that behold only the merits, not the faults, of their enemies; and that never enter into hostilities themselves. They that are good remember only the good deeds of their foes and not the hostile acts their foes might have done unto them. The good, besides, do good unto others without expectation of any good, in return. O Yudhishthira, it is only the worst of men that utter harsh words in quarrelling; while they that are indifferent reply to such when spoken by others. But they that are good and wise never think of or recapitulate such harsh words, little caring whether these may or may not have been uttered by their foes. They that are good, having regard to the state of their own feelings, can understand the feelings of others, and therefore remember only the good deeds and not the acts of hostility of their foes. Thou hast acted even as good men of prepossessing countenance do, who transgress not the limits of virtue, wealth, pleasure and salvation. O child, remember not the harsh words of Duryodhana. Look at thy mother Gandhari and myself also, if thou desirest to remember only what is good. O Bharata, look at me, who am thy father unto you and am old and blind, and still alive. It was for seeing our friends and examining also the strength and weakness of my children, that I had, from motives of policy, suffered this match at dice to proceed. O king those amongst the Kurus that have thee for their ruler, and the intelligent Vidura conversant with every branch of learning for their counsellor, have, indeed, nothing to grieve for. In thee is virtue, in Arjuna is patience, in Bhimasena is prowess, and the twins, those foremost of men, is pure reverence for superiors. Blest be thou, O Ajatasatru. Return to Khandavaprastha, and let there be brotherly love between thee and thy cousins. Let thy heart also be ever fixed on virtue.'"
Vaisampayana continued,—"That foremost of the Bharatas--king Yudhishthira the just--then, thus addressed by his uncle, having gone through every ceremony of politeness, set out with his brothers for Khandavaprastha. And accompanied by Draupadi and ascending their cars which were all of the hue of the clouds, with cheerful hearts they all set out for that best of cities called Indraprastha."
Section LXXIII
Janamejaya said,—"How did the sons of Dhritarashtra feel, when they came to know that the Pandavas had, with Dhritarashtra's leave, left Hastinapore with all their wealth and jewels?"
Vaisampayana said,—"O king, learning that the Pandavas had been commanded by the wise Dhritarashtra to return to their capital, Dussasana went without loss of time unto his brother. And, O bull of the Bharata race, having arrived before Duryodhana with his counsellor, the prince, afflicted with grief, began to say,—'Ye mighty warriors, that which we had won after so much trouble, the old man (our father) hath thrown away. Know ye that he hath made over the whole of that wealth to the foes. At these words, Duryodhana and Karna and Sakuni, the son of Suvala, all of whom were guided by vanity, united together, and desirous of counteracting the sons of Pandu, approaching in haste saw privately the wise king Dhritarashtra--the son of Vichitravirya and spake unto him these pleasing and artful words. Duryodhana said,—
'Hast thou not heard, O king, what the learned Vrihaspati the preceptor of the celestials, said in course of counselling Sakra about mortals and politics? Even these, O slayer of foes, were the words of Vrihaspati, 'Those enemies that always do wrong by stratagem or force, should be slain by every means.' If, therefore, with the wealth of the Pandavas, we gratify the kings of the earth and then fight with the sons of Pandu, what reverses can overtake us? When one hath placed on the neck and back of venomous snakes full of wrath for encompassing his destruction, is it possible for him to take them off? Equipped with weapon and seated on their cars, the angry sons of Pandu like wrathful and venomous snakes will assuredly annihilate us, O father. Even now Arjuna proceedeth, encased in mail and furnished with his couple of quivers, frequently taking up the Gandiva and breathing hard and casting angry glances around. It hath (also) been heard by us that Vrikodara, hastily ordering his car to be made ready and riding on it, is proceeding along, frequently whirling his heavy mace. Nakula also is going along, with the sword in his grasp and the semi-circular shield in his hand. And Sahadeva and the king (Yudhishthira) have made signs clearly testifying to their intentions. Having ascended their cars that are full of all kinds of arms, they are whipping their horses (for going to Khandava soon) and assembling their forces. Persecuted thus by us they are incapable of forgiving us those injuries. Who is there among them that will forgive that insult to Draupadi? Blest be thou. We will again gamble with the son of Pandu for sending them to exile. O bull among men, we are competent to bring them thus under our sway. Dressed in skins, either we or they defeated at dice, shall repair to the woods for twelve years. The thirteenth year shall have to be spent in some inhabited country unrecognised; and, if recognised, an exile for another twelve years shall be the consequence. Either we or they shall live so. Let the play begin, casting the dice, let the sons of Pandu once more play. O bull of the Bharata race, O king, even this is our highest duty. This Sakuni knoweth well the whole science of dice. Even if they succeed in observing this vow for thirteen years, we shall be in the meantime firmly rooted in the kingdom and making alliances, assemble a vast invincible host and keep them content, so that we shall, O king, defeat the sons of Pandu if they reappear. Let this plan recommend itself to thee, O slayer of foes.
"Dhritarashtra said,--Bring back the Pandavas then, indeed, even if they have gone a great way. Let them come at once again to cast dice."
Vaisampayana continued,—"Then Drona, Somadatta and Valhika, Gautama, Vidura, the son of Drona, and the mighty son of Dhritarashtra by his Vaisya wife, Bhurisravas, and Bhishma, and that mighty warrior Vikarna,--all said, 'Let not the play commence. Let there be peace. But Dhritarashtra, partial to his sons, disregarding the counsels of all his wise friends and relatives, summoned the sons of Pandu."
Section LXXIV
Vaisampayana said,—'O monarch, it was then that the virtuous Gandhari, afflicted with grief on account of her affection for her sons, addressed king Dhritarashtra and said, "When Duryodhana was born, Vidura of great intelligence had said, 'It is well to send this disgrace of the race to the other world. He cried repeatedly and dissonantly like a jackal. It is certain he will prove the destruction of our race. Take this to heart, O king of the Kurus. O Bharata, sink not, for thy own fault, into an ocean of calamity. O lord, accord not thy approbation to the counsels of the wicked ones of immature years. Be not thou the cause of the terrible destruction of this race. Who is there that will break an embankment which hath been completed, or re-kindle a conflagration which hath been extinguished? O bull of the Bharata race, who is there that will provoke the peaceful sons of Pritha? Thou rememberest, O Ajamida, everything, but still I will call thy attention to this. The scriptures can never control the wicked-minded for good or evil. And, O king, a person of immature understanding will never act as one of mature years. Let thy sons follow thee as their leader. Let them not be separated from thee for ever (by losing their lives). Therefore, at my word, O king, abandon this wretch of our race. Thou couldst not, O king, from parental affection, do it before. Know that the time hath come for the destruction of race through him. Err not, O king. Let thy mind, guided by counsels of peace, virtue, and true policy, be what it naturally is. That prosperity which is acquired by the aid of wicked acts, is soon destroyed; while that which is won by mild means taketh root and descendeth from generation to generation."
"The king, thus addressed by Gandhari who pointed out to him in such language the path of virtue, replied unto her, saying,—'If the destruction of our race is come, let it take place freely. I am ill able to prevent it. Let it be as they (these my sons) desire. Let the Pandavas return. And let my sons again gamble with the sons of Pandu."
Section LXXV
Vaisampayana said,—'The royal messenger, agreeably to the commands of the intelligent king Dhritarashtra, coming upon Yudhishthira, the son of Pritha who had by that time gone a great way, addressed the monarch and said,—'Even these are the words of thy father-like uncle, O Bharata, spoken unto thee, 'The assembly is ready. O son of Pandu, O king Yudhisthira, come and cast the dice.'
Yudhishthira said,—'Creatures obtain fruits good and ill according to the dispensation of the Ordainer of the creation. Those fruits are inevitable whether I play or not. This is a summons to dice; it is, besides the command of the old king. Although I know that it will prove destructive to me, yet I cannot refuse.'
Vaisampayana continued,—"Although (a living) animal made of gold was an impossibility, yet Rama suffered himself to be tempted by a (golden) deer. Indeed, the minds of men over whom calamities hang, became deranged and out of order. Yudhishthira, therefore, having said these words, retraced his steps along with his brothers. And knowing full well the deception practised by Sakuni, the son of Pritha came back to sit at dice with him again. These mighty warriors again entered that assembly, afflicting the hearts of all their friends. And compelled by Fate they once more sat down at ease for gambling for the destruction of themselves."
"Sakuni then said,—'The old king hath given ye back all your wealth. That is well. But, O bull of the Bharata race, listen to me, there is a stake of great value. Either defeated by ye at dice, dressed in deer skins we shall enter the great forest and live there for twelve years passing the whole of the thirteenth year in some inhabited region, unrecognised, and if recognised return to an exile of another twelve years; or vanquished by us, dressed in deer skins ye shall, with Krishna, live for twelve years in the woods passing the whole of the thirteenth year unrecognised, in some inhabited region. If recognised, an exile of another twelve years is to be the consequence. On the expiry of the thirteenth year, each is to have his kingdom surrendered by the other. O Yudhishthira, with this resolution, play with us, O Bharata, casting the dice.' "At these words, they that were in that assembly, raising up their arms said in great anxiety of mind, and from the strength of their feelings these words,—'Alas, fie on the friends of Duryodhana that they do not apprise him of his great danger. Whether he, O bull among the Bharatas, (Dhritarashtra) understandeth or not, of his own sense, it is thy duty to tell him plainly."
"Vaisampayana continued,--King Yudhishthira, even hearing these various remarks, from shame and a sense of virtue again sat at dice. And though possessed of great intelligence and fully knowing the consequences, he again began to play, as if knowing that the destruction of the Kurus was at hand.
"And Yudhishthira said,—'How can, O Sakuni, a king like me, always observant of the uses of his own order, refuse, when summoned to dice? Therefore I play with thee."
"Sakuni answered,—'We have many kine and horses, and milch cows, and an infinite number of goats and sheep; and elephants and treasures and gold and slaves both male and female. All these were staked by us before but now let this be our one stake, viz., exile into the woods,--being defeated either ye or we will dwell in the woods (for twelve years) and the thirteenth year, unrecognised, in some inhabited place. Ye bulls among men, with this determination, will we play."
"O Bharata, this proposal about a stay in the woods was uttered but once. The son of Pritha, however, accepted it and Sakuni took up the dice. And casting them he said unto Yudhishthira,—'Lo, I have won."
Section LXXVI
Vaisampayana said,—"Then the vanquished sons of Pritha prepared for their exile into the woods. And they, one after another, in due order, casting off their royal robes, attired themselves in deer-skins. And Dussasana, beholding those chastisers of foes, dressed in deer-skins and deprived of their kingdom and ready to go into exile, exclaimed 'The absolute sovereignty of the illustrious king Duryodhana hath commenced. The sons of Pandu have been vanquished, and plunged into great affliction. Now have we attained the goal either by broad or narrow paths. For today becoming superior to our foes in point of prosperity as also of duration of rule have we become praiseworthy of men. The sons of Pritha have all been plunged by us into everlasting hell. They have been deprived of happiness and kingdom for ever and ever. They who, proud of their wealth, laughed in derision at the son of Dhritarashtra, will now have to go into the woods, defeated and deprived by us of all their wealth. Let them now put off their variegated coats of mail, their resplendent robes of celestial make, and let them all attire themselves in deer-skins according to the stake they had accepted of the son of Suvala. They who always used to boast that they had no equals in all the world, will now know and regard themselves in this their calamity as grains of sesame without the kernel. Although in this dress of theirs the Pandavas seem like unto wise and powerful persons installed in a sacrifice, yet they look like persons not entitled to perform sacrifices, wearing such a guise. The wise Yajnasena of the Somake race, having bestowed his daughter--the princess of Panchala--on the sons of Pandu, acted most unfortunately for the husbands of Yajnaseni--these sons of Pritha are as eunuchs. And O Yajnaseni, what joy will be thine upon beholding in the woods these thy husbands dressed in skins and thread-bare rags, deprived of their wealth and possessions. Elect thou a husband, whomsoever thou likest, from among all these present here. These Kurus assembled here, are all forbearing and self-controlled, and possessed of great wealth. Elect thou one amongst these as thy lord, so that these great calamity may not drag thee to wretchedness. 'The sons of Pandu now are even like grains of sesame without the kernel, or like show-animals encased in skins, or like grains of rice without the kernel. Why shouldst thou then longer wait upon the fallen sons of Pandu? Vain is the labour used upon pressing the sesame grain devoid of the kernel!'
"Thus did Dussasana, the son of Dhritarashtra, utter in the hearing of the Pandavas, harsh words of the most cruel import. And hearing them, the unforbearing Bhima, in wrath suddenly approaching that prince like a Himalayan lion upon a jackal, loudly and chastisingly rebuked him in these words,--Wicked-minded villain, ravest thou so in words that are uttered alone by the sinful? Boastest thou thus in the midst of the kings, advanced as thou art by the skill of the king of Gandhara. As thou piercest our hearts hear with these thy arrowy words, so shall I pierce thy heart in battle, recalling all this to thy mind. And they also who from anger or covetousness are walking behind thee as thy protectors,--them also shall I send to the abode of Yama with their descendants and relatives."
Vaisampayana continued,--Unto Bhima dressed in deer-skins and uttering these words of wrath without doing any thing, for he could not deviate from the path of virtue, Dussasana abandoning all sense of shame, dancing around the Kurus, loudly said, 'O cow! O cow!'
Bhima at this once more said,--Wretch darest thou, O Dussasana, use harsh words as these? Whom doth it behove to boast, thus having won wealth by foul means? I tell thee that if Vrikodara, the son of Pritha, drinketh not thy life-blood, piercing open thy breast in battle, let him not attain to regions of blessedness, I tell thee truly that by slaying the sons of Dhritarashtra in battle, before the very eyes of all the warriors, I shall pacify this wrath of mine soon enough.'"
Vaisampayana continued,—"And as the Pandavas were going away from the assembly, the wicked king Duryodhana from excess of joy mimiced by his own steps the playful leonine trade of Bhima. Then Vrikodara, half turning towards the king said, Think not ye fool that by this thou gainest any ascendency over me slay thee shall I soon with all thy followers, and answer thee, recalling all this to thy mind. And beholding this insult offered to him, the mighty and proud Bhima, suppressing his rising rage and following the steps of Yudhishthira, also spake these words while going out of the Kaurava court, 'I will slay Duryodhana, and Dhananjaya will slay Karna, and Sahadeva will slay Sakuni that gambler with dice. I also repeat in this assembly these proud words which the gods will assuredly make good, if ever we engage in battle with the Kurus, I will slay this wretched Duryodhana in battle with my mace, and prostrating him on the ground I will place my foot on his head. And as regards this (other) wicked person--Dussasana who is audacious in speech, I will drink his blood like a lion.
"And Arjuna said,--O Bhima, the resolutions of superior men are not known in words only. On the fourteenth year from this day, they shall see what happeneth.
"And Bhima again said,—'The earth shall drink the blood of Duryodhana, and Karna, and the wicked Sakuni, and Dussasana that maketh the fourth.'
"And Arjuna said,—'O Bhima, I will, as thou directest, slay in battle this Karna so malicious and jealous and harsh- speeched and vain. For doing what is agreeable to Bhima, Arjuna voweth that he will slay in battle with his arrows this Karna with all his followers. And I will send unto the regions of Yama also all those other kings that will from foolishness fight against me. The mountains of Himavat might be removed from where they are, the maker of the day lose his brightness, the moon his coldness, but this vow of mine will ever be cherished. And all this shall assuredly happen if on the fourteenth year from this, Duryodhana doth not, with proper respect, return us our kingdom.'"
Vaisampayana continued,—"After Arjuna had said this, Sahadeva the handsome son of Madri, endued with great energy, desirous of slaying Sakuni, waving his mighty arms and sighing like snake, exclaimed, with eyes red with anger--'Thou disgrace of the Gandhara kings, those whom thou thinkest as defeated are not really so. Those are even sharp-pointed arrows from whose wounds thou hast run the risk in battle. I shall certainly accomplish all which Bhima hath said adverting to thee with all thy followers. If therefore thou hast anything to do, do it before that day cometh. I shall assuredly slay thee in battle with all thy followers soon enough, it thou, O son of Suvala, stayest in the light pursuant to the Kshatriya usage.'
"'Then, O monarch hearing these words of Sahadeva, Nakula the handsomest of men spake these words,—'I shall certainly send unto the abode of Yama all those wicked sons of Dhritarashtra, who desirous of death and impelled by Fate, and moved also by the wish of doing what is agreeable to Duryodhana, have used harsh and insulting speeches towards this daughter o Yajnasena at the gambling match. Soon enough shall I, at the command of Yudhishthira and remembering the wrongs to Draupadi, make the earth destitute of the sons of Dhritarashtra.'
Vaisampayana continued,—"And those tigers among men, all endued with long arms, having thus pledged themselves to virtuous promises approached king Dhritarashtra."
Section LXXVII
Yudhishthira said,—'I bid farewell unto all the Bharatas, unto my old grand-sire (Bhishma), king Somadatta, the great king Vahlika, Drona, Kripa, all the other kings, Aswathaman, Vidura, Dhritarashtra, all the sons of Dhritarashtra, Yayutsu, Sanjaya, and all the courtiers, I bid fare well, all of ye and returning again I shall see you."
Vaisampayana continued,—"Overcome with shame none of those that were present there, could tell Yudhishthira anything. Within their hearts, however, they prayed for the welfare of that intelligent prince.
Vidura then said,--The reverend Pritha is a princess by birth. It behoveth her not to go into the woods. Delicate and old and ever known to happiness the blessed one will live, respected by me, in my abode. Known this, ye sons of Pandu. And let safety be always yours.'
Vaisampayana continued,—'The Pandavas thereupon said,--O sinless one, let it be as thou sayest. Thou art our uncle, and, therefore like as our father. We also are all obedient to thee. Thou art, O learned one, our most respected superior. We should always obey what thou choosest to command. And, O high-souled one, order thou whatever else there is that remaineth to be done.
"Vidura replied,—'O Yudhishthira, O bull of the Bharata race, know this to be my opinion, that one that is vanquished by sinful means need not be pained by such defeat. Thou knowest every rule of morality; Dhananjaya is ever victorious in battle; Bhimasena is the slayer of foes; Nakula is the gatherer of wealth; Sahadeva hath administrative talents, Dhaumya is the foremost of all conversant with the vedas; and the well-behaved Draupadi is conversant with virtue and economy. Ye are attached to one another and feel delight at one another's sight and enemies can not separate you from one another, and ye are contented. Therefore, who is there that will not envy ye? O Bharata, this patient abstraction from the possession of the world will be of great benefit to thee. No foe, even if he were equal to sakra himself, will be able to stand it. Formerly thou wert instructed on the mountains of Himavat by Meru Savarni; in the town of Varanavata by Krishna Dwaipayana; on the cliff of Bhrigu by Rama; and on the banks of the Dhrishadwati by Sambhu himself. Thou hast also listened to the instruction of the great Rishi Asita on the hills of Anjana; and thou becamest a disciple of Bhrigu on the banks of the Kalmashi. Narada and this thy priest Dhaumya will now become thy instructors. In the matter of the next world, abandon not these excellent lessons thou hast obtained from the Rishis. O son of Pandu. thou surpassest in intelligence even Pururavas, the son of Ila; in strength, all other monarchs, and in virtue, even the Rishis. Therefore, resolve thou earnestly to win victory, which belongeth to Indra; to control thy wrath, which belongeth to Yama; to give in charity, which belongeth to Kuvera; and to control all passions, which belongeth to Varuna. And, O Bharata, obtain thou the power of gladdening from the moon, the power of sustaining all from water; forbearance from the earth; energy from the entire solar disc; strength from the winds, and affluence from the other elements. Welfare and immunity from ailment be thine; I hope to see thee return. And, O Yudhishthira, act properly and duly in all seasons,--in those of distress--in those of difficulty,--indeed, in respect of everything, O son of Kunti, with our leave go hence. O Bharata, blessing be thine. No one can say that ye have done anything sinful before. We hope to see thee, therefore, return in safety and crowned with success."
Vaisampayana continued,—"Thus addressed by Vidura, Yudhishthira the son of Pandu, of prowess incapable of being baffled, saying, 'So be it,' bowing low unto Bhishma and Drona, went away."
Book 6
Battle of Kurukshetra: Bhishma
Section CXVI
Dhritarashtra said, "How, O Sanjaya, did Santanu's son Bhishma of mighty energy fight on the tenth day of battle, with the Pandavas and the Srinjayas? How also did the Kurus resist the Pandavas in battle? Describe to me the great battle fought by Bhishma, that ornament of battle."
Sanjaya said, "I will presently describe to thee, O Bharata, how the Kauravas fought with the Pandavas, and how that battle took place. Day after day many mighty car-warriors of thy army, excited with wrath, were despatched to the other world by the diadem-decked (Arjuna) with his great weapons. The ever-victorious Kuru warrior Bhishma also, agreeably to his vow, always caused a great carnage among the Partha army. O chastiser of foes, beholding Bhishma, fighting at the head of the Kurus, and Arjuna also fighting at the head of the Panchalas, we could not say truly on which side the victory would declare itself. On the tenth day of battle, when Bhishma and Arjuna encountered each other, awful was the carnage that took place. On that day, O scorcher of foes, Santanu's son, Bhishma, conversant with high and mighty weapons, repeatedly slew thousands upon thousands of warriors. Many, O Bharata, whose names and families were not known, but who, endued with great bravery, were unretreating from battle, were on that day slain by Bhishma. Scorching the Pandava army for ten days, Bhishma of virtuous soul, gave up all desire of protecting his life. Wishing his own slaughter presently at the head of his troops,--No more shall I slay large numbers of foremost of warriors.--thought thy mighty-armed sire Devavrata. And seeing Yudhishthira near him, O king, he addressed him, saying, 'O Yudhishthira, O thou of great wisdom, O thou that art acquainted with every branch of learning, listen to these righteous and heaven-leading words, O sire, that I say. O Bharata, I no longer desire to protect, O sire, this body of mine. I have passed much time in slaying large numbers of men in battle. If thou wishest to do what is agreeable to me, strive to slay me, placing Partha with the Panchalas and the Srinjayas at thy van'. Ascertaining this to be his intention, king Yudhishthira of true sight proceeded to battle with the Srinjayas (for his support). Then Dhrishtadyumna, O king, and Pandu's son Yudhishthira, having heard those words of Bhishma urged their array on. And Yudhishthira said, 'Advance! Fight! Vanquish Bhishma in battle. Ye all will be protected by that conqueror of foes, viz., Jishnu of unbaffled aim. And this great bowman, this generalissimo (of our forces), viz., the son of Prishata, as also Bhima, will assuredly protect you. Ye Srinjayas, entertain no fear today of Bhishma in battle. Without doubt, we will vanquish Bhishma today, placing Sikhandin in our van'. Having, on the tenth day of battle, made such a vow, the Pandavas, resolved to (conquer or) go to heaven, advanced, blinded by rage, with Sikhandin and Dhananjaya the son of Pandu to the fore. And they made the most vigorous efforts for the overthrow of Bhishma. Then diverse kings, of great might, urged by thy son, and accompanied by Drona and his son and a large force, and the mighty Dussasana at the head of all his uterine brothers, proceeded towards Bhishma staying in the midst of that battle. Then those brave warriors of thy army, placing Bhishma of high vows in their van, battled with the Parthas headed by Sikhandin. Supported by the Chedis and the Panchalas, the ape-bannered Arjuna, placing Sikhandin ahead, proceeded towards Bhishma, the son of Santanu. And the grandson of Sini battled with Drona's son, and Dhrishtaketu with the descendant of Puru, and Yudhamanyu with thy son Duryodhana at the head of his followers. And Virata, at the head of his forces, encountered Jayadratha supported by his own troops. And Vardhakshatra's heir, O chastiser of foes, encountered thy son Chitrasena armed with excellent bow and arrows. 1 And Yudhishthira proceeded against the mighty bowman Salya at the head of his troops. And Bhimasena, well-protected, proceeded against the elephant-division (of the Kaurava army). And Dhrishtadyumna, the prince of Panchala, excited with fury and accompanied by his brothers, proceeded against Drona, that foremost of all wielders of weapons, invincible, and irresistible. That chastiser of foes, viz., prince Vrihadvala, bearing on his standard the device of the lion, proceeded against Subhadra's son whose standard bore the device of the Karnikara flower. Thy sons, accompanied by many kings, proceeded against Sikhandin and Dhananjaya the son of Pritha, from desire of slaughtering both of them. When the combatants of both armies rushed against each other with awful prowess, the earth shook (under their tread). Beholding Santanu's son in battle, the divisions of thy army and of the foe, O Bharata, became mingled with one another. Tremendous was the din, O Bharata, that arose there of those warriors burning with rage and rushing against each other. And it was heard on all sides, O king. With the blare of conchs and the leonine shouts of the soldiers, the uproar became awful. The splendour, equal to that of either the Sun or the Moon, of bracelets and diadems of all the heroic kings, became dimmed. And the dust that rose looked like a cloud, the flash of bright weapons constituting its lightning. And the twang of bows, the whiz of arrows, the blare of conchs, the loud beat of drums, and the rattle of cars, of both the armies, constituted the fierce roar of those clouds. And the welkin, over the field of battle, in consequence of the bearded darts, the javelins, the swords and showers of arrows of both armies, was darkened. And car-warriors, and horsemen felled horsemen, in that dreadful battle. And elephants killed elephants, and foot-soldiers slew foot-soldiers. And the battle that took place there for Bhishma's sake, between the Kurus and the Pandavas, O tiger among men, was fierce in the extreme, like that between two hawks for a piece of flesh. Engaged in battle, that encounter between those combatants desirous of slaughtering and vanquishing one another, was extremely dreadful."
Section CXVII
Sanjaya said, "Abhimanyu, O king, displaying his prowess for the sake of Bhishma, fought with thy son who was supported by a large force. Then Duryodhana, excited with wrath, struck Abhimanyu in the chest with rune straight arrows, and once more with three. Then in that battle, Arjuna's son, inflamed with wrath, hurled at Duryodhana's car a terrible dart resembling the rod of Death himself. Thy son, however, that mighty car-warrior, O king, with a broad-headed arrow of great sharpness, cut off in twain that dart of terrible force coursing towards him with great speed. Beholding that dart of his drop down on the earth, Arjuna's wrathful son pierced Duryodhana with three shafts in his arms and chest. And once more, O Chief of the Bharatas, that mighty car-warrior of Bharata's race struck the Kuru king with ten fierce shafts in the centre of his chest. And the battle, O Bharata, that took place between those two heroes, viz., Subhadra's son, and that bull of Kuru's race, the former fighting for compassing Bhishma's death and the latter for Arjuna's defeat, was fierce and interesting to behold, and gratifying to the senses, and was applauded by all the kings. That bull among Brahmanas and chastiser of foes, viz., the son of Drona, excited with wrath in that battle, forcibly struck Satyaki in the chest with fierce arrow. The grandson of Sini also, that hero of immeasurable soul, struck the preceptor's son in every vital limbs with nine shafts winged with the feathers of the Kanka bird. Aswatthaman then, in that battle, struck Satyaki (in return) with nine shafts, and once more, quickly, with thirty, in his arms and chest. Then that great bowman Of the Satwata race, possessed of great fame, deeply pierced by Drona's son, pierced the latter (in return) with arrows. The mighty car-warrior Paurava, covering Dhrishtaketu in that battle with his shafts, mangled that great bowman exceedingly. The mighty car-warrior Dhrishtaketu, endued with great strength, quickly pierced the former with thirty arrows. Then the mighty car-warrior Paurava cut off Dhrishtaketu's bow, and uttering a loud shout, pierced him with whetted shafts. Dhrishtaketu then taking up another bow, pierced Paurava, O king, with three and seventy shafts of great sharpness. Those two great bowmen and mighty car-warriors, both of gigantic stature, pierced each other with showers of arrows. Each succeeded in cutting off the other's bow, and each slew the other's steeds. And both of them, thus deprived of their cars, then encountered each other in a battle with swords. And each took up a beautiful shield made of bull's hide and docked with a hundred moons and graced with a hundred stars. And each of them also took up a polished sword of brilliant lustre. And thus equipt, they rushed, O king at each other, like two lions in the deep forest, both seeking the companionship of the same lioness in her season. They wheeled in beautiful circles, advanced and retreated, and displayed other movements, seeking to strike each other. Then Paurava, excited with wrath, addressed Dhrishtaketu, saying--Wait, Wait,--and struck him on the frontal bone with that large scimitar of his. The king of the Chedis also, in that battle, struck Paurava, that bull among men, on his shoulder-joint, with his large scimitar of sharp edge. Those two repressors of foes thus encountering each other in dreadful battle and thus striking each other, O king, both fell down on the field. Then thy son Jayatsena, taking Paurava up on his car, removed him from the field of battle on that vehicle. And as regards Dhrishtaketu, the valiant and heroic Sahadeva, the son of Madri, possessed of great prowess, bore him away from the field.
"Chitrasena, having pierced Susarman with many arrows made wholly of iron, once more pierced him with sixty arrows and once more with nine. Susarman, however, excited with wrath in battle, pierced thy son, O king, with hundreds of arrows. Chitrasena then, O monarch, excited with rage, pierced his adversary with thirty straight shafts. Susarman, however, pierced Chitrasena again in return. 1
"In that battle for the destruction of Bhishma, Subhadra's son, enhancing his fame and honour, fought with prince Vrihadvala, putting forth his prowess for aiding (his sire) Partha and then proceeded towards Bhishma's front. The ruler of the Kosalas, having pierced the son of Arjuna with five shafts made of iron, once more pierced him with twenty straight shafts. Then the son of Subhadra pierced the ruler of Kosalas with eight shafts made wholly of iron. He succeeded not, however, in making the ruler of the Kosalas to tremble, and, therefore, he once more pierced him with many arrows. And Phalguni's son then cut off Vrihadvala's bow, and struck him again with thirty arrows winged with feathers of the Kanka bird. Prince Vrihadvala then, taking up another bow, angrily pierced the son of Phalguni in that battle with many arrows. Verily, O scorcher of foes, the battle, for Bhishma's sake, that took place between them, both excited with rage and both conversant with every mode of fight, was like the encounter of Vali and Vasava in days of old on the occasion of the battle between the gods and the Asuras.
"Bhimasena, fighting against the elephant-division, looked highly resplendent like Sakra armed with the thunder after splitting large mountains. 1 Indeed, elephants, huge as hills, slaughtered by Bhimasena in battle, fell down in numbers on the field, filling the earth with their shrieks. Resembling massive heaps of antimony, and of mountain-like proportions, those elephants with frontal globes split open, lying prostrate on the earth, seemed like mountains strewn over the earth's surface. The mighty bowman Yudhishthira, protected by a large force, afflicted the ruler of the Madras, encountering him in that dreadful battle. The ruler of the Madras, in return, displaying his prowess for the sake of Bhishma, afflicted the son of Dharma, that mighty car-warrior, in battle. The king of Sindhus, having pierced Virata with nine straight arrows of keen points, once more struck him with thirty. Virata, however, O king, that commander of a large division, struck Jayadratha in the centre of his chest with thirty shafts of keen points. The ruler of the Matsyas and the ruler of the Sindhus, both armed with beautiful bows and beautiful scimitars, both decked with handsome coats of mail and weapons and standards, and both of beautiful forms looked resplendent in that battle.
"Drona, encountering Dhrishtadyumna the prince of the Panchalas in dreadful battle, fought fiercely with his straight shafts. Then Drona, O king, having cut off the large bow of Prishata's son, pierced him deeply with fifty arrows. Then that slayer of hostile heroes, viz., the son of Prishata, taking up another bow, sped at Drona who was contending with him, many arrows. The mighty car-warrior Drona however, cut off all those arrows, striking them with his own. And then Drona sped at Drupada's son five fierce shafts. Then that slayer of hostile heroes, viz., the son of Prishata, excited with rage, hurled at Drona in that battle a mace resembling the rod of Death himself. Drona however, with fifty arrows checked that mace decked with gold as it coursed impetuously towards him. Thereupon that mace, cut into fragments, O king, by those shafts shot from Drona's bow, fell down on the earth. Then that scorcher of foes, viz., the son of Prishata, beholding his mace baffled, hurled at Drona an excellent dart made wholly of iron. Drona, however, O Bharata, cut that dart with nine shafts in that battle and then afflicted that great bowman, viz., the son of Prishata. Thus took place, O king, that fierce and awful battle between Drona and the son of Prishata, for the sake of Bhishma.
"Arjuna, getting at the son of Ganga, afflicted him with many arrows of keen points, and rushed at him like an infuriate elephant in the forest upon another. King Bhagadatta, however, of great prowess then rushed at Arjuna, and checked his course in battle with showers of arrows. Arjuna then, in that dreadful battle, pierced Bhagadatta's elephant coming towards him, with many polished arrows of iron, that were all bright as silver and furnished with keen points. The son of Kunti, meanwhile, O king, urged Sikhandin, saying,--Proceed, proceed, towards Bhishma, and slay him!--Then, O elder brother of Pandu, the ruler of Pragjyotishas, abandoning that son of Pandu, quickly proceeded, O king, against the car of Drupada. Then Arjuna, O monarch, speedily proceeded towards Bhishma, placing Sikhandin ahead. And then there took place a fierce battle, for all the brave combatants of thy army rushed with great vigour against Arjuna, uttering loud shouts. And all this seemed extremely wonderful. Like the wind dispersing in the summer masses of clouds in the welkin, Arjuna dispersed, O king, all those diverse divisions of thy sons. Sikhandin, however, without any anxiety, coming up at the grandsire of the Bharatas, quickly pierced him with great many arrows. As regards Bhishma, his car was then his fire-chamber. His bow was the flame of that fire. And swords I and darts and maces constituted the fuel of that fire. And the showers of arrows he shot were the blazing sparks of that fire with which he was then consuming Kshatriyas in that battle. As a raging conflagration with constant supply of fuel, wandereth amid masses of dry grass when aided by the wind, so did Bhishma blaze up with his flames, scattering his celestial weapons. And the Kuru hero slew the Somakas that followed Partha in that battle. Indeed that mighty car-warrior checked also the other forces of Arjuna, by means of his straight and whetted shafts furnished with wings of gold. Filling in that dreadful battle all the points of the compass, cardinal and subsidiary, with his leonine shouts, Bhishma felled many car-warriors, O king, (from their cars) and many steeds along with their riders. And he caused large bodies of cars to look like forests of palmyras shorn of their leafy heads. That foremost of all wielders of weapons, in that battle, deprived cars and steeds and elephants, of their riders. Hearing the twang of his bow and the slap of his palms, both resembling the roll of the thunder, the troops, O king, trembled all over the field. The shafts, O chief of men, of thy sire were never bootless as they fell. Indeed, shot from Bhishma's bow they never fell only touching the bodies of the foe (but pierced them through in every case). We saw crowds of cars, O king, deprived of riders, but unto which were yoked fleet steeds, dragged on all sides with the speed of the wind. Full fourteen thousand great car-warriors of noble parentage, prepared to lay down their lives, unretreating and brave, and possessed of standards decked with gold, belonging to the Chedis, the Kasis, and the Karushas, approaching Bhishma, that hero who resembled the Destroyer himself with wide-open mouth, were despatched to the other world, with their steeds, cars and elephants. There was not, O king, a single great car-warrior among the Somakas, who, having approached Bhishma in that battle, returned with life from that engagement. Beholding Bhishma's prowess, people regarded all those warriors (who approached him) as already despatched to the abode of the king of the Dead. Indeed, no car-warrior ventured to approach Bhishma in battle, except the heroic Arjuna having white steeds (yoked unto his car) and owning Krishna for his charioteer, and Sikhandin, the prince of Panchala, of immeasurable energy."
Section CXVIII
Sanjaya said,--Sikhandin, O bull among men, approaching Bhishma in battle, struck him in the centre of the chest with ten broad-headed arrows The son of Ganga, however, O Bharata, only looked at Sikhandin with wrath and as if consuming the Panchala prince with that look. Remembering his femininity, O king, Bhishma, in the very sight of all, struck him not. Sikhandin, however, understood it not. Then Arjuna, O monarch, addressed Sikhandin, saying,—'Rush quickly and slay the grandsire. What needst thou say, O hero? Slay the mighty car-warrior Bhishma. I do not see any other warrior in Yudhishthira's army who is competent to fight with Bhishma in battle, save thee, O tiger among men. I say this truly.' Thus addressed by Partha, Sikhandin, O bull of Bharata's race, quickly covered the grandsire with diverse kinds of weapons. Disregarding those shafts, thy sire Devavrata began, with his shafts, to check the angry Arjuna only in that battle. And that mighty car-warrior, O sire, began also to despatch, with his shafts of keen points, the whole army of the Pandavas to the other world. The Pandavas also, O king, after the same manner, supported by their vast host, began to overwhelm Bhishma like the clouds covering the maker of day. O bull of Bharata's race, surrounded on all sides, that Bharata hero consumed many brave warriors in that battle like a raging conflagration in the forest (consuming numberless trees). The prowess that we then beheld there of thy son (Dussasana) was wonderful, inasmuch as he battled with Partha and protected the grandsire at the same time. With that feat of thy son Dussasana, that illustrious bowman, all the people there were highly gratified. Alone he battled with all the Pandavas having Arjuna amongst them; and he fought with such vigour that the Pandavas were unable to resist him. Many car-warriors were in that battle deprived of their cars by Dussasana. And many mighty bowmen on horseback and many mighty-warriors, elephants, pierced with Dussasana's keen shafts, fell down on the earth. And many elephants, afflicted with his shafts, ran away in all directions. As a fire fiercely blazeth forth with bright flames when fed with fuel, so did thy son blaze forth, consuming the Pandava host. And no car-warrior, O Bharata, of the Pandava host ventured to vanquish or even proceed against that warrior of gigantic proportions, save Indra's son (Arjuna) owning white steeds and having Krishna for his charioteer. Then Arjuna also called Vijaya, vanquishing Dussasana in battle, O king, in the very sight of all the troops, proceeded against Bhishma. Though vanquished, thy son, however, relying upon the might of Bhishma's arms, repeatedly comforted his own side and battled with the Pandavas with great fierceness. Arjuna, O king, fighting with his foes in that battle, looked exceedingly resplendent. 1 Then Sikhandin, in that battle, O king, pierced the grandsire with many arrows whose touch resembled that of the bolts of heaven and which were as fatal as the poison of the snake. These arrows, however, O monarch, caused thy sire little pain, for the son of Ganga received them laughingly. Indeed, as a person afflicted with heat cheerfully receives torrents of rain, even so did the son of Ganga received those arrows of Sikhandin. And the Kshatriyas there, O king, beheld Bhishma in that great battle as a being of fierce visage who was incessantly consuming the troops of the high-souled Pandavas.
"Then thy son (Duryodhana), addressing all his warriors, said unto them, 'Rush ye against Phalguni from all sides. Bhishma, acquainted with the duties of a commander, will protect you'. Thus addressed, the Kaurava troops casting off all fear, fought with the Pandavas. (And once more, Duryodhana said unto them). 'With his tall standard bearing the device of the golden palmyra, Bhishma stayeth, protecting the honour and the armour of all the Dhartarashtra warriors. The very gods, striving vigorously, cannot vanquish the illustrious and mighty Bhishma. What need be said, therefore, of the Parthas who are mortals? Therefore, ye warriors, fly not away from the field, getting Phalguni for a foe. I myself, striving vigorously, will today fight with the Pandavas.. uniting with all of you, ye lords of earth, exerting yourselves actively.' Hearing these words, O monarch, of thy son with bow in hand, many mighty combatants, excited with rage, belonging to the Videhas, the Kalingas, and the diverse tribes of the Daserkas, fell upon Phalguni. And many combatants also, belonging to the Nishadas, the Sauviras, the Valhikas, the Daradas, the Westerners, the Northerners, the Malavas, the Abhighatas, the Surasenas, the Sivis, the Vasatis, the Salwas, the Sakas, the Trigartas, the Amvashthas, and the Kekayas, similarly fell upon Partha, like flights of insects upon a fire. The mighty Dhananjaya, otherwise called Vibhatsu, then, O monarch, calling to mind diverse celestial weapons and aiming them at those great car-warriors at the heads of their respective divisions, 1 quickly consumed them all, by means of those weapons of great force, like fire consuming a flight of insects. And while that firm bowman was (by means of his celestial weapons) creating thousands upon thousands of arrows, his Gandiva looked highly resplendent in the welkin. Then those Kshatriyas, O monarch, afflicted with those arrows with their tall standards torn and overthrown, could not even together, approach the ape-bannered (Partha). Car-warriors fell down with their standards, and horsemen with their horses, and elephant-riders with their elephants, attacked by Kiritin with his shafts. And the earth was soon covered all on all sides with the retreating troops of those kings, routed in consequence of the shafts shot from Arjuna's arms. Partha then, O monarch, having routed the Kaurava army, sped many arrows at Dussasana. Those arrows with iron heads, piercing thy son Dussasana through, all entered the earth like snakes through ant-hills. Arjuna then slew Dussasana's steeds and then felled his charioteer. And the lord Arjuna, with twenty shafts, deprived Vivingsati of his car, and struck him five straight shafts. And piercing Kripa and Vikarna and Salya with many arrows made wholly of iron, Kunti's son owning white steeds deprived all of them of their cars. Thus deprived of their cars and vanquished in battle by Savyasachin, Kripa and Salya, O sire, and Dussasana, and Vikarna and Vivingsati, all fled away. Having vanquished those mighty car-warriors, O chief of the Bharatas, in the forenoon, Partha blazed up in that battle like a smokeless conflagration. Scattering his shafts all around like the Sun shedding rays of light, Partha felled many other kings, O monarch. Making those mighty car-warriors turn their backs upon the field by means of his arrowy showers, Arjuna caused a large river of bloody current to flow in that battle between the hosts of the Kurus and the Pandavas, O Bharata. Large numbers of elephants and steeds and car-warriors were slain by car-warriors. And many were the car-warriors slain by elephants, and many also were the steeds slain by foot-soldiers. And the bodies of many elephant-riders and horsemen and car-warriors, cut off in the middle, as also their heads, fell down on every part of the field. And the field of battle, O king, was strewn with (slain) princes,--mighty car-warriors,--falling or fallen, decked with ear-rings and bracelets. And it was also strewn with the bodies of many warriors cut off by car-wheels, or trodden down by elephants. And foot-soldiers ran away, and horsemen also with their horses. And many elephants and car-warriors fell down on all sides. And many cars, with wheels and yokes and standards broken, lay scattered all about on the field. And the field of battle, dyed with the gore of large numbers of elephants, steeds, and car-warriors, looked beautiful like a red cloud, in the autumnal sky. Dogs, and crows, and vultures, and wolves, and jackals, and many other frightful beasts and birds, set up loud howls, at the sight of the food that lay before them. Diverse kinds of winds blew along all directions. And Rakshasas and evil spirits were seen there, uttering loud roars. And strings, embroidered with gold, and costly banners, were seen to wave, moved by the wind. And thousands of umbrellas and great cars with standards attached to them, were seen lying scattered about on the field. Then Bhishma, O king, invoking a celestial weapon, rushed at the son of Kunti, in the very sight of all the bowmen. Thereupon Sikhandin, clad in mail, rushed at Bhishma who was dashing towards Arjuna. At this, Bhishma withdrew that weapon resembling fire (in effulgence and energy). Meanwhile Kunti's son owning white steeds slaughtered thy troops, confounding the grandsire."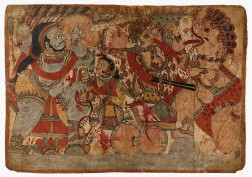 Image 3.3: Fight with Ghatotkacha | This folio from the Mahabharata depicts Ghatotkacha fighting other mythical figures from the story.
Author: User "Fæ"
Source: Wikimedia Commons
License: Public Domain
Section CXIX
Sanjaya said, "When the combatants of both armies, strong in number, were thus disposed in battle array, all those unretreating heroes, O Bharata, set their heart upon the region of Brahma. 1 In course of the general engagement that followed, the same class of combatants did not fight with the same class of combatants. Car-warriors fought not with car-warriors, or foot-soldiers with foot-soldiers, or horsemen with horsemen, or elephant-warriors with elephant-warriors. On the other hand, O monarch, the combatants fought with one another like mad men. Great and dreadful was the calamity that overtook both the armies. In that fierce slaughter when elephants and men spread themselves on the field, all distinctions between them ceased, for they fought indiscriminately.
"Then Salya and Kripa, and Chitrasena, O Bharata, and Dussasana, and Vikarna, those heroes mounted on their bright cars, caused the Pandava host to tremble. Slaughtered in battle by those high-souled warriors, the Pandava army began to reel in diverse ways, O king, like a boat on the waters tossed by the wind. As the wintry cold cuts kine to the quick, so did Bhishma cut the sons of Pandu to the quick. As regards thy army also, many elephants, looking like newly-risen clouds, were felled by the illustrious Partha. And many foremost of warriors too were seen to be crushed by that hero. And struck with arrows and long shafts in thousands, many huge elephants fell down, uttering frightful shrieks of pain. And the field of battle looked beautiful, strewn with the bodies, still decked with ornaments of high-souled warriors deprived of life and with heads still decked with ear-rings. And in that battle, O king, which was destructive of great heroes, when Bhishma and Dhananjaya the son of Pandu put forth their prowess, thy sons, O monarch, beholding the grandsire exert himself vigorously, approached him, with all their troops placed ahead. Desirous of laying down their lives in battle and making heaven itself their goal, they approached the Pandavas in that battle, which was fraught with great carnage. The brave Pandavas also, O king, bearing in mind the many injuries of diverse kinds inflicted upon them before by thee and thy son, O monarch, and casting off all fear, and eager to win the highest heavens, cheerfully fought with thy son and the other warriors of thy army.
"Then the generalissimo of the Pandava army, viz., the mighty car-warrior Dhrishtadyumna, addressing his soldiers, said, 'Ye Somakas, accompanied by the Srinjayas, rush ye at Ganga's son.' Hearing those words of their commander the Somakas and the Srinjayas, though afflicted with showers of arrows, rushed at the son of Ganga. Thus attacked, O king, thy sire Bhishma, influenced by wrath, began to fight with the Srinjayas. In days of old, O sire, the intelligent Rama had imparted to Bhishma of glorious achievements that instruction in weapons which was so destructive of hostile ranks. Relying on that instruction and causing a great havoc among the troops of the foe, that slayer of hostile heroes, viz., the old Kuru grandsire Bhishma, day after day, slew ten thousand warriors of the Ratha. On the tenth day, however, O bull of Bharata's race, Bhishma, single-handed, slew ten thousand elephants. And then he slew seven great car-warriors among the Matsyas and the Panchalas. In addition to all this, in that dreadful battle five thousand foot-soldiers, and one thousand tuskers, and ten thousand steeds, were also slain by thy sire, O king, through skill acquired by education. Then having thinned the ranks of all the kings, he slew Satanika, the dear brother of Virata. And the valiant Bhishma, having slain Satanika in battle, felled, O king, full one thousand Kshatriyas with his broad-headed shafts. Besides these, all the Kshatriyas of the Pandava army who followed Dhananjaya, as soon as they approached Bhishma, had to go to Yama's abode. Covering the Pandava host from every side with showers of arrows, Bhishma stayed in battle at the head of the Kaurava army. Achieving the most glorious feats on the tenth day, as he stayed between the two armies, bow in hand, none of the kings, O monarch, could even look at him, for he then resembled the hot mid-day Sun in the summer sky. As Sakra scorched the Daitya host in battle, even so, O Bharata, did Bhishma scorch the Pandava host. Beholding him thus put forth his prowess, the slayer of Madhu, viz., the son of Devaki, cheerfully addressing Dhananjaya, said, 'There, Bhishma, the son of Santanu, stayeth between the two armies. Slaying him by putting forth thy might, thou mayst win victory. There, at that spot, whence he breaketh our ranks, check him, putting forth thy strength. O lord, none else, save thee, ventureth to bear the arrows of Bhishma. Thus urged, the ape-bannered Arjuna at that moment made Bhishma with his car, steeds, and standard, invisible by means of his arrows. That bull, however, among the foremost of Kurus, by means of his own arrowy showers, pierced those showers of shafts shot by the son of Pandu. Then the king of the Panchalas the valiant Dhrishtaketu, Bhimasena the son of Pandu, Dhrishtadyumna of Prishata's race, the twins (Nakula and Sahadeva), Chekitana, and the five Kaikaya brothers, and the mighty-armed Satyaki and Subhadra's son, and Ghatotkacha, and the (five) sons of Draupadi, and Sikhandin, and the valiant Kuntibhoja, and Susarman, and Virata, these and many other powerful warriors of the Pandava army, afflicted by the shafts of Bhishma, seemed to sink in an ocean of grief, Phalguni, however, rescued them all. Then Sikhandin, taking up a mighty weapon and protected by Kiritin, rushed impetuously towards Bhishma alone. The unvanquished Vibhatsu then, knowing what should be done after what, slew all those that followed Bhishma, and then himself rushed at him. And Satyaki, and Chekitana, and Dhristadyumna of Prishata's race, and Virata, and Drupada, and the twin sons of Madri by Pandu, all protected by that firm bowman (viz., Arjuna) rushed against Bhishma alone in that battle. And Abhimanyu, and the five sons of Draupadi also, with mighty weapons upraised, rushed against Bhishma in battle. All those firm bowmen, unretreating from battle, pierced Bhishma in diverse parts of his body with well-aimed shafts. Disregarding all those shafts, large in number, shot by those foremost of princes belonging to the Pandava host, Bhishma of undepressed soul penetrated into the Pandava ranks. And the grandsire baffled all those arrows, as if sporting the while. Frequently looking at Sikhandin the prince of the Panchalas with a laugh, he aimed not a single arrow at him, recollecting his femininity. On the other hand, he slew seven great car-warriors belonging to Drupada's division. Then confused cries of woe soon arose amongst the Matsyas, the Panchalas, and the Chedis, who were together rushing at that single hero. With large numbers of foot-soldiers and steeds and cars, and with showers of arrows, O scorcher of foes, they overwhelmed that single warrior, viz., Bhishma the son of Bhagirathi, that scorcher of foes, like the clouds overwhelming the maker of day. Then in that battle between him and them, which resembled the battle between the gods and the Asuras in days of old, the diadem-decked (Arjuna), placing Sikhandin before him, pierced Bhishma (repeatedly).'
Section CXX
Sanjaya said, "Thus all the Pandavas, placing Sikhandin before them pierced Bhishma in that battle repeatedly surrounding him on all sides. And all the Srinjayas, uniting together, struck him with dreadful Sataghnis, and spiked maces, and battle-axes, and mallets, and short thick clubs, and bearded darts, and other missiles, and arrows furnished with golden wing, and darts and lances and kampanas; and with long shafts, and arrows furnished with heads shaped like the calf-tooth, and rockets. Thus afflicted by many, his coat of mail was pierced everywhere. But though pierced in every vital part, Bhishma felt no pain. On the other hand, he then seemed to his enemies to resemble in appearance the (all-destructive) fire that rises at the end of Yuga. His bow and arrows constituted the blazing flames (of that fire). The flight of his weapons constituted its (friendly) breeze. The rattle of his car-wheels constituted its heat and mighty weapons constituted its splendour. His beautiful bow formed its fierce tongue, and the bodies of heroic warriors, its profuse fuel. And Bhishma was seen to roll through the midst of crowds of cars belonging to those kings, or to come out (of the press) at times, or course once more through their midst. Then, disregarding the king of the Panchalas and Dhrishtaketu, he penetrated, O monarch, into the midst of the Pandava army. He then pierced the six Pandava warriors, viz., Satyaki, and Bhima, and Dhananjaya the son of Pandu, and Drupada, and Virata, and Dhrishtadyumna of Prishata's race, with many excellent arrows of great sharpness and dreadful whizz and exceeding impetuosity, and capable of piercing through every kind of armour. Those mighty car-warriors, however, checking those keen shafts, afflicted Bhishma with great force, each of them striking him with ten shafts. Those mighty shafts, whetted on stone and furnished with golden wings, which the great car-warrior Sikhandin shot, quickly penetrated into Bhishma's body. Then the diadem-decked (Arjuna), excited with wrath, and placing Sikhandin ahead rushed at Bhishma and cut off the latter's bow. Thereupon mighty car-warriors, seven in number, viz., Drona and Kritavarman, and Jayadratha the ruler of the Sindhus, and Bhurisravas, and Sala, and Salya, and Bhagadatta could not brook that act of Arjuna. Inflamed with rage, they rushed at him. Indeed, those mighty car-warriors, invoking into existence celestial weapons, fell with great wrath upon that son of Pandu, and covered him with their arrows. And as they rushed towards Phalguni's car, the noise made by them was heard to resemble that made by the ocean itself when it swelleth in rage at the end of the Yuga, Kill, Bring up (our forces), Take, Pierce, Cut off, this was the furious uproar heard about Phalguni's car. Hearing that furious uproar, the mighty car-warriors of the Pandava army rushed forward, O bull of Bharata's race, for protecting Arjuna. They were Satyaki, and Bhimasena, and Dhrishtadyumna of Prishata's race, and both Virata and Drupada, and the Rakshasa Ghatotkacha, and the wrathful Abhimanyu. These seven, inflamed with rage, and armed with excellent bows, rushed with great speed. And the battle that took place between these and the Kaurava warriors was fierce, making the hair stand on end, and resembling O chief of the Bharatas, the battle of the gods with the Danavas. Sikhandin, however, that foremost of car-warriors, protected in the battle by the diadem-decked (Arjuna), pierced Bhishma, in that encounter, with ten shafts after the latter's bow had been cut off. And he struck Bhishma's charioteer with other shafts, and cut off the latter's standard with one shaft. Then the son of Ganga took up another bow that was tougher. That even was cut off by Phalguni with three sharp shafts. Indeed, that chastiser of foes, viz., Arjuna, who was capable of drawing the bow with even his left hand, excited with rage, one after another, cut off all the bows that Bhishma took up. Then Bhishma, whose bows were thus cut off, excited with rage, and licking the corners of his mouth, took up a dart that was capable of riving a hill. In rage he hurled it at Phalguni's car. Beholding its course towards him like the blazing bolt of heaven, the delighter of the Pandavas fixed five sharp broad-headed arrows (on his bow-string). And with those five arrows, O chief of the Bharatas, the angry Arjuna cut off into five fragments that dart hurled from Bhishma's arms. Thus cut off by the angry Arjuna, that dart then fell down like a flash of lightning separated from a mass of clouds. Beholding his dart cut off, Bhishma became filled with rage. That hero, that subjugator of hostile cities, then began to reflect. And he said unto himself, 'With only a single bow I could slay all the Pandavas, if the mighty Vishnu himself had not been their protector. For two reasons, however, I will not fight with the Pandavas, viz., their unslayableness, and the femininity of Sikhandin. Formerly, when my sire wedded Kali, he pleased (with me) gave me two boons, viz., that I should be incapable of being slain in battle, and that my death should depend on my own choice. I should, however, now wish my own death, this being the proper hour.' Ascertaining this to be the resolve of Bhishma of immeasurable energy, the Rishis and the Vasus stationed in the firmament, said, 'That which hath been resolved by thee is approved by us also, O son! Act according to thy resolu- tion, O king. Withdraw thy heart from battle.' On the conclusion, of those words, fragrant and auspicious breeze charged with particles of water, began to blow along a natural direction. 1 And celestial cymbals of loud sounds began to beat. And a flowery shower fell upon Bhishma, O sire. The words spoken by the Rishis and the Vasus, however, O king, were not heard by any one save Bhishma himself. I also heard them, through the power conferred on me by the Muni. Great was the grief, O monarch, that filled the hearts of the celestials at the thought of Bhishma, that favourite of all the worlds, falling down from his car. Having listened to these words of the celestials, Santanu's son Bhishma of great ascetic merit rushed out at Vibhatsu, even though he was then being pierced with sharp arrows capable of penetrating through every armour. Then Sikhandin, O king, excited with rage, struck the grandsire of the Bharatas in the chest with nine sharp arrows. The Kuru grandsire Bhishma, however, though struck by him in battle, thus, trembled not, O monarch, but remained unmoved like a mountain during an earthquake. Then Vibhatsu, drawing his bow Gandiva with a laugh, pierced the son of Ganga with five and twenty arrows. And once more, Dhananjaya, with great speed and excited with wrath struck him in every vital part with hundreds of arrows. Thus pierced by others, also with thousands of arrows, the mighty car-warrior Bhishma pierced those others in return with great speed. And as regards the arrows shot by those warriors, Bhishma, possessed of prowess in battle that was incapable of being baffled, equally checked them all with his own straight arrows. Those arrows, however, endued with wings of gold and whetted on stone, which the mighty car-warrior Sikhandin shot in that battle, scarcely caused Bhishma any pain. Then the diadem-decked (Arjuna), excited with rage and placing Sikhandin to the fore, approached Bhishma (nearer) and once more cut off his bow. And then piercing Bhishma with ten arrows, he cut off the latter's standard with one. And striking Bhishma's chariot with ten arrows, Arjuna caused him to tremble. The son of Ganga then took up another bow that was stronger. Within, however, the twinkling of an eye, as soon, in fact, as it was taken up, Arjuna cut that bow also into three fragments with three broad-headed shafts. And thus the son of Pandu cut off in that battle even all the bows of Bhishma. After that, Bhishma the son of Santanu, no longer desired to battle with Arjuna. The latter, however, then pierced him with five and twenty arrows. That great bowman, thus pierced greatly, then addressed Dussasana, and skid, 'Behold, Partha, that great car-warrior of the Pandavas, excited with wrath in battle, pierceth me alone with many thousands of arrows. He is incapable of being vanquished in battle by the wielder of the thunder-bolt himself. As regards myself also, O hero, the very gods, Danavas and Rakshasas united together, are incapable of vanquishing me. What I shall say then of mighty car-warriors among men?' While Bhishma was thus speaking to Dussasana, Phalguni with sharp shafts, and placing Sikhandin to the fore, pierced Bhishma in that battle. Then Bhishma, deeply and excessively pierced by the wielder of Gandiva with keen-pointed shafts, once more addressed Dussasana with a smile and said, 'These arrows coursing towards me in one continuous line, whose touch resembleth that of heaven's bolt, have been shot by Arjuna. These are not Sikhandin's. Cutting me to the quick, piercing through even my hard coat of mail, and striking me with the force of mushalas, these arrows are not Sikhandin's. Of touch as hard as that of the Brahmana's rod (of chastisement), 1 and of impetus unbearable as that of the thunder-bolt, these arrows are afflicting my vital forces. These are not Sikhandin's. Of the touch of maces and spiked bludgeons, those arrows are destroying my vital forces like messengers of Death commissioned (by the grim king himself). These are not Sikhandin's. Like angry snakes of virulent poison, projecting their tongues out, these are penetrating into my vitals. These are not Sikhandin's--these that cut me to the quick like the cold of winter cutting kine to the quick. Save the heroic wielder of Gandiva, viz., the ape-bannered Jishnu, even all other kings united together cannot cause me pain. Saying these words, Bhishma, the valiant son of Santanu, as if for the object of consuming the Pandavas, hurled a dart at Partha. Partha, however, caused that dart to drop down, cutting it into three fragments with three shafts, in the very sight, O Bharata, of all the Kuru heroes of thy army. Desirous of obtaining either death or victory, the son of Ganga then took up a sword and a shield decked with gold. Before, however, he could come down from his car, Arjuna cut off by means of his arrows, that shield into a hundred fragments. And that feat of his seemed exceedingly wonderful. Then the king Yudhishthira urged his own troops, saying, 'Rush ye at Ganga's son. Do not entertain the slightest fear'. Then, armed with bearded darts, and lances, and arrows, from all sides, with axes, and excellent scimitars, and long shafts of great sharpness, with calf-toothed arrows, and broad-headed shafts, they all rushed at that single warrior. Then arose from among the Pandava host a loud shout. Then thy sons also, O king, desirous of Bhishma's victory, surrounded him and uttered leonine shouts. Fierce was the battle fought there between thy troops and those of the enemy on that the tenth day, O king, when Bhishma and Arjuna met together. Like unto the vortex that occurs at the spot where the Ganga meets the Ocean, for a short while a vortex occurred there where the troops of both armies met and struck one another down. And the Earth, wet with gore, assumed a fierce form. And the even and the uneven spots on her surface could no longer be distinguished. Although Bhishma was pierced in all his vital limbs, yet on that the tenth day he stayed (calmly) in battle, having slain ten thousand warriors. Then that great bowman, Partha, stationed at the head of his troops, broke the centre of the Kuru army. Ourselves then, afraid of Kunti's son Dhananjaya having white steeds attached to his car, and afflicted by him with polished weapons, fled away from the battle. The Sauviras, the Kitavas, the Easterners, the Westerners, the Northerners, the Malavas, the Abhishahas, the Surasenas, the Sivis, the Vasatis, the Salwas, the Sayas, the Trigartas, the Amvashthas, and the Kaikeyas. 1--these and many other illustrious warriors,--afflicted with arrows and pained by their wounds, abandoned Bhishma in that battle while he was fighting with the diadem-decked (Arjuna). Then a great many warriors, surrounding that single warrior on all sides, defeated the Kurus (that protected him) and covered him with shower of arrows. Throw down, Seize, Fight, Cut into pieces,--this was the furious uproar, O king, heard in the vicinity of Bhishma's car. Having slain in that battle, O monarch, (his foes) by hundreds and thousands, there was not in Bhishma's body space of even two fingers' breadth that was not pierced with arrows. Thus was thy sire mangled with arrows of keen points by Phalguni in that battle. And then he fell down from his car with his head to the east, a little before sunset, in the very sight of thy sons. And while Bhishma fell, loud cries of alas and oh, O Bharata, were heard in the welkin uttered by the celestials and the kings of the earth. And beholding the high-souled grandsire falling down (from his car), the hearts of all of us fell with him. That foremost of all bowmen, that mighty-armed hero, fell down, like an uprooted standard of Indra, making the earth tremble the while. 2 Pierced all over with arrows, his body touched not the ground. At that moment, O bull of Bharata's race, a divine nature took possession of that great bowman lying on a bed of arrows. The clouds poured a (cool) shower (over him) and the Earth trembled. While falling he had marked that the Sun was then in the southern solstice. That hero, therefore, permitted not his senses to depart, thinking of that (inauspicious) season (of death). And all around in the welkin he heard celestial voices saying, 'Why, Oh why, should Ganga's son, that foremost of all warriors of weapons, yield up his life during the southern declension?' Hearing these words, the son of Ganga answered, 'I am alive!' Although fallen upon the earth, the Kuru grandsire Bhishma, expectant of the northern declension, suffered not his life to depart. Ascertaining that to be his resolve, Ganga, the daughter of Himavat, sent unto him the great Rishis in swanlike form. Then those Rishis in the forms of swans inhabiting the Manasa lake, quickly rose up, and came together, for obtaining a sight of the Kuru grandsire Bhishma, to that spot where that foremost of men was lying on his bed of arrows. Then those Rishis in swanlike forms, coming to Bhishma, beheld that perpetuator of Kuru's race lying on his bed of arrows. Beholding that high-souled son of Ganga, that chief of the Bharatas, they walked round him, and the Sun being then in the southern solstice, they said, addressing one another, these words, 'Being a high-souled person, why should Bhishma pass out (of the world) during the southern declension?' Having said these words, those swans went away, proceeding towards the southern direction. Endued with great intelligence, Bhishma, O Bharata. beholding them, reflected for a moment. And the son of Santanu then said unto them. 'I will never pass out (of the world) as long as the Sun is in the southern solstice. Even this is my resolve. I will proceed to my own ancient abode when the Sun reacheth the northern solstice. Ye swans, I tell you this truly. Expectant of the northern declension I will hold my life. Since I have the fullest control over the yielding up of my life, I will, therefore, hold life, expectant of death during the northern declension. The boon that was granted to me by my illustrious sire, to the effect that my death would depend on my own wish O, let that boon become true. I will hold my life, since I have control in the matter of laying it down.' Having said these words to those swans, he continued to lie down on his bed of arrows.
"When that crest of the Kuru race, viz., Bhishma of great energy, fell down, the Pandavas and the Srinjayas uttered leonine shouts. When the grandsire of the Bharatas who was endued with great might was overthrown, thy son, O bull of Bharata's race, knew not what to do. And all the Kurus were entirely deprived of their senses. And the Kurus headed by Kripa, and Duryodhana, sighed and wept. And from grief they remained for a long while deprived of their senses. And they remained perfectly still, O monarch, without setting their hearts on battle. As if seized by thighs, they stood motionless, without proceeding against the Pandavas. When Santanu's son Bhishma of mighty energy, who was (regarded as) unslayable, was slain, all of us thought that the destruction of the Kuru king was at hand. 1 Vanquished by Savyasachin, with our foremost heroes slain, and ourselves mangled with sharp arrows, we knew not what to do. And the heroic Pandavas possessed of massive arms that looked like spiked maces, having obtained the victory and won a highly blessed state in the other world, 1 all blew their great conches. And the Somakas and the Panchalas all rejoiced, O king. Then when thousands of trumpets were blown, the mighty Bhimasena slapped his arm-pits and uttered loud shouts. When the all-powerful son of Ganga was slain, the heroic warriors of both armies, laying down their weapons, began to reflect thoughtfully. And some uttered loud shrieks and some fled away, and some were deprived of their senses. And some censured the practices of the Kshatriya order and some applauded Bhishma. And the Rishis and the Pitris all applauded Bhishma of high vows. And the deceased ancestors of the Bharatas also praised Bhishma. Meanwhile the valiant and intelligent Bhishma, the son of Santanu, having recourse to that Yoga which is taught in the great Upanishads and engaged in mental prayers, remained quiet, expectant of his hour."
Book 7
Battle of Kurukshetra: Drona
Section CXCI
"Sanjaya said, 'Then Drona caused a great carnage among the Panchalas, like the slaughter caused by Sakra himself in rage amongst the Danavas in the days of yore. The great car-warriors of the Pandava army, endued with might and energy, though slaughtered, O king, by Drona's weapons, were not yet afraid of Drona in that battle. Indeed, O monarch, those mighty car-warriors, viz., the Panchalas and the Srinjayas, all rushed against Drona himself, for fighting with him. Loud and fierce were the yells they uttered as they rushed towards Drona for encompassing him on all sides and were slaughtered by him with shafts and darts. Beholding the slaughter of the Panchalas in that battle by the illustrious Drona, and seeing his, weapons overwhelm all sides, fear entered the hearts of the Pandavas. Beholding that dreadful carnage of steeds and human beings in that battle, the Pandavas, O monarch, became hopeless of victory. (They began to say unto each other) 'Is it not evident that Drona, that warrior conversant with the mightiest of weapons, will consume us all like a raging conflagration consuming a heap of straw in the season of spring? There is none competent to even look at him in battle. Conversant with the ways of morality, Arjuna (who alone is a match for him) will not fight with him.' Beholding the sons of Kunti afflicted with the shafts of Drona and inspired with fear, Kesava, endued with great intelligence and, devoted to their welfare, addressed Arjuna and said, 'This foremost of all bowmen is incapable of being ever vanquished by force in battle, by the very gods with Vasava at their head. When, however, he lays aside his weapons, he becomes capable of being slain on the field even by human beings. Casting aside virtue, ye sons of Pandu, adopt now some contrivance for gaining the victory, so that Drona of the golden car may not slay us all in battle. Upon the full of (his son) Aswatthaman he will cease to fight, I think. Let sonic man, therefore, tell him that Aswatthaman, hath been slain in battle.' This advice, however, O kin was not approved by Kunti's son, Dhananjaya. Others approved of it. But Yudhishthira accepted it with great difficulty. Then the mighty-armed Bhima, O king, slew with a mace a foe-crushing, terrible and huge elephant named Aswatthaman, of his own army, belonging to Indravarman, the chief of the Malavas. Approaching Drona then in that battle with some bashfulness Bhimasena began to exclaim aloud, 'Aswatthaman hath been slain.' That elephant named Aswatthaman having been thus slain, Bhima spoke of Aswatthaman's slaughter. Keeping the true fact within his mind, he said what was untrue, Hearing those highly disagreeable words of Bhima and reflecting upon them, Drona's limbs seemed to dissolve like sands in water. Recollecting however, the prowess of his son, he soon came to regard that intelligence as false. Hearing, therefore, of his slaughter, Drona did not become unmanned. Indeed, soon recovering his senses, he became comforted, remembering that his son was incapable of being resisted by foes. Rushing towards the son of Prishata and desirous of slaying that hero who had been ordained as his slayer, he covered him with a thousand keen shafts, equipped with kanka feathers. Then twenty thousand Panchala car-warriors of great energy covered him, while he was thus careering in battle, with their shafts. Completely shrouded with those shafts, we could not any longer see that great car-warrior who then resembled, O monarch, the sun, covered with clouds in the season of rains. Filled with wrath and desirous of compassing the destruction of those brave Panchalas, that mighty car-warrior, that scorcher of foes, viz., Drona, dispelling all those shafts of the Panchalas, then invoked into existence the Brahma weapon. At that time, Drona looked resplendent like a smokeless, blazing fire. Once more filled with rage the valiant son of Bharadwaja slaughtering all the Somakas, seemed to be invested with great splendour. In that dreadful battle, he felled the heads of the Panchalas and cut off their massive arms, looking like spiked maces and decked with golden ornaments. Indeed, those Kshatriyas, slaughtered in battle by Bharadwaja's son fell down on the earth and lay scattered like trees uprooted by the tempest. In consequence of fallen elephants and steeds, O Bharata, the earth, miry with flesh and blood, became impassable. Having slain twenty thousand Panchala car-warriors, Drona, in that battle, shone resplendent like a smokeless, blazing fire. Once more filled with rage, the valiant son of Bharadwaja cut off, with a broad-headed arrow, the head of Vasudana from his trunk. Once more slaying five hundred Matsyas, and six thousand elephants, he slew ten thousand steeds. Beholding Drona stationed on the field for the extermination of the Kshatriya race, the Rishis Viswamitra, and Jamadagni, and Bharadwaja, and Gautama, and Vasishtha, and Kasyapa, and Atri, and the Srikatas, the Prisnis, Garga, the Valkhilyas, the Marichis, the descendants of Bhrigu and Angiras, and diverse other sages of subtle forms quickly came thither, with the Bearer of sacrificial libations at their head, and, desirous of taking Drona unto the region of Brahman, addressed Drona, that ornament of battle, and said, 'Thou art fighting unrigh- teously. The hour of thy death is come. Laying aside thy weapons in battle, O Drona, behold us stationed here. After this, it behoveth thee not to perpetrate such exceedingly cruel deeds. Thou art versed in the Vedas and their branches. Thou art devoted to the duties enjoined by truth, especially, thou art a Brahmana. Such acts do not become thee. Lay aside thy weapons. Drive away the film of error that shrouds thee. Adhere now to the eternal path. The period for which thou art to dwell in the world of men is now full. Thou hast, with the Brahma weapon, burnt men on earth that are unacquainted with weapons. This act that thou hast perpetrated, O regenerate one, is not righteous. Lay aside thy weapons in battle without delay, O Drona, do not wait longer on earth. Do not, O regenerate one, perpetrate such a sinful act.' Hearing these words of their as also those spoken by Bhimasena, and beholding Dhrishtadyumna before him, Drona became exceedingly cheerless in battle. Burning with grief and exceedingly afflicted, he enquired of Kunti's son Yudhishthira as to whether his son (Aswatthaman) had been slain or not. Drona firmly believed that Yudhishthira would never speak an untruth even for the sake of the sovereignty of the three worlds. For this reason, that bull among Brahmanas asked Yudhishthira and not any body else. He had hoped for truth from Yudhishthira from the latter's infancy.
"Meanwhile, O monarch, Govinda, knowing that Drona, that foremost of warriors, was capable of sweeping all the Pandavas off the face of the earth, became much distressed. Addressing Yudhishthira he said, 'If Drona fighteth, filled with rage, for even half-a-day, I tell thee truly, thy army will then be annihilated. Save us, then, from Drona. under such circumstances, falsehood is better than truth. By telling an untruth for saving a life, one is not touched by sin. There is no sin in untruth spoken unto women, or in marriages, or for saving king, or for rescuing a Brahmana.' 1 While Govinda and Yudhishthira were thus talking with each other, Bhimasena (addressing the king) said, 'As soon, O monarch, as I heard of the means by which the high-souled Drona might be slain, putting forth my prowess in battle, I immediately slew a mighty elephant, like unto the elephant of Sakra himself, belonging to Indravarman, the chief of the Malavas, who was standing within thy army. I then went to Drona and told him, 'Aswatthaman has been slain, O Brahmana! Cease, then, to fight. Verily, O bull among men, the preceptor did not believe in the truth of words. Desirous of victory as thou art, accept the advice of Govinda. Tell Drona, O King, that the son of Saradwat's daughter is no more. Told by thee, that bull among Brahmanas will never fight. Thou, O ruler of men, art reputed to be truthful in the three worlds.' Hearing those words of Bhima and induced by the counsels of Krishna, and owing also to the inevitability of destiny, O monarch, Yudhishthira made up his mind to say what he desired. Fearing to utter an untruth, but earnestly desirous of victory, Yudhishthira distinctly said that Aswatthaman was dead, adding indistinctly the world elephant (after the name), Before this, Yudhishthira's car had stayed at a height of four fingers' breadth from the surface of the earth; after, however, he had said that untruth, his (vehicle and) animals touched the earth. Hearing those words from Yudhishthira, the mighty car-warrior Drona, afflicted with grief, for the (supposed) death of his son, yielded to the influence of despair. By the words, again, of the Rishis, he regarded himself a great offender against the high-souled Pandavas. Hearing now about the death of his son, he became perfectly cheerless and filled with anxiety; upon beholding Dhrishtadyumna, O king, that chastiser of foes could not fight as before.'"
Section CXCII
"Sanjaya said, 'Beholding Drona filled with great anxiety and almost deprived of his senses by grief, Dhrishtadyumna, the son of the Panchala king, rushed at him. That hero had, for the destruction of Drona, been obtained by Drupada, that ruler of men, at a great sacrifice, from the Bearer of sacrificial libations. Desirous of slaying Drona, he now took up a victory-giving and formidable bow whose twang resembled the roll of the clouds, whose string was possessed of great strength, and which was irrefragable and celestial. And he fixed on it a fierce arrow, resembling a snake of virulent poison and possessed of the splendour of fire. That arrow, resembling a fire of fierce flame, while within the circle of his bow, looked like the autumnal sun of great splendour within a radiant circle. Beholding that blazing bow bent with force by Prishata's son, the troops regarded that to be the last hour (of the world). Seeing that arrow aimed at him, the valiant son of Bharadwaja thought that the last hour of his body had come. The preceptor prepared with care to baffle that shaft. The weapons, however, of that high-souled one, O monarch, no longer appeared at his bidding. 1 His weapons had not been exhausted although he had shot them ceaselessly for four days and one night. On the expiry, however, of the third part of that of the fifth day, his arrows became exhausted. Seeing the exhaustion of his arrows and afflicted with grief on account of his son's death, and in consequence also of the unwillingness of the celestial weapons to appear at his bidding, he desired to lay aside his weapons, as requested by the words of the Rishis also. Though filled with great energy, he could not however, fight as before. Then taking up another celestial bow that Angiras had given him, and certain arrows that resembled a Brahmana's curse, he continued to fight with Dhrishtadyumna. He covered the Panchala prince with a thick shower of arrows, and filled with rage, mangled his angry antagonist. With his own keen shafts he cut off in a hundred fragments those of the prince as also the latter's standard and bow. He then his antagonist's driver. Then Dhrishtadyumna, smiling, took up another bow, and pierced Drona with a keen shaft in the centre of the chest. Deeply pierced therewith and losing his self-possession in that encounter, that mighty bowman, then, with a sharp and broad-headed arrow, once more cut off Dhrishtadyumna's bow. Indeed, the invincible Drona then cut off all the weapons, O king, and all the bows that his antagonist had, with the exception only of his mace and sword. Filled with rage, he then pierced the angry Dhrishtadyumna, O chastiser of foes, nine keen arrows, capable of taking the life of every foe. Then the mighty car-warrior Dhrishtadyumna, of immeasurable soul, invoking into existence the Brahma weapon, caused the steeds of his own car to be mingled with those of his foes. Endued with the speed of the wind, those steeds that were red and of the hue of pigeons, O bull of Bharata's race, thus mingled together, looked exceedingly beautiful. Indeed, O king, those steeds thus mingled together on the field of battle, looked beautiful like roaring clouds in the season of rains, charged with lightning. Then that twice-born one of immeasurable soul cut off the shaft-joints, the wheeljoints, and (other) car-joints of Dhrishtadyumna. Deprived of his bow, and made carless and steedless and driverless, the heroic Dhrishtadyumna, fallen into great distress, grasped a mace. Filled with rage, the mighty car-warrior, Drona, of unbaffled prowess, by means of a number of keen shafts, cut off that mace, while it was on the point of being hurled at him. Beholding his mace cut off by Drona with arrows, that tiger among men, (viz., the Panchala prince), took up a spotless sword and a bright shield decked with a hundred moons. Without doubt, under those circumstances, the Panchala prince determined to make an end of that foremost of preceptors, that high-souled warrior. Sometimes, sheltering himself in his car-box and sometimes riding on his car-shafts, the prince moved about, uplifting his swords and whirling his bright shield. The mighty car-warrior Dhrishtadyumna, desirous of achieving, from folly, a difficult feat, hoped to pierce the chest of Bharadwaja's son in that battle. Sometimes, he stayed upon the yoke, and sometimes under the haunches of Drona's red steeds. These movements of his were highly applauded by all the troops. Indeed, while he stayed amid the trappings of the yoke or behind those red steeds, Drona found no opportunity to strike him. All this seemed exceedingly wonderful. The movements of both Drona and Prishata's son in that battle resembled the fight of hawk careering through the welkin for a piece of meat. Then Drona, by means of a dart pierced the white steeds of his antagonist, one after another, not striking, however, the red ones amongst them (that belonged to himself) 1. Deprived of life, those steeds of Dhrishtadyumna fell down upon the earth. Thereupon, the red steeds of Drona himself, O king, where freed from the entanglements of Dhrishtadyumna's car. Beholding his steeds slain by that foremost of Brahmanas, Prishata's sons, that mighty car-warrior, that foremost of fighters, could not brook it. Though deprived of his car, still that foremost of all swordsmen, armed with his sword, sprang towards Drona, O monarch, like Vinata's son (Garuda) making a swoop at a snake. The form, O king, of Dhrishtadyumna at that time, when he sought to slay the son of Bharadwaja, resembled the form of Vishnu himself in days of yore when at the point of slaying Hiranyakasipu. He performed diverse evolutions, in fact. O Kauravya, the son of Prishata, careering in that battle, exhibited the well-known one and twenty different kinds of motion. Armed with the sword, and shield in hand, Prishata's son wheeled about and whirled his sword on high, and made side thrusts, and rushed forward, and ran sideways, and leapt high, and assailed the flanks of his antagonists and receded backwards, and closed with his foes, and pressed them hard. Having practised them well, he also showed the evolutions called Bharata, Kausika Satwata, as he careened in that battle for compassing the destruction of Drona, Beholding those beautiful evolutions of Dhrishtadyumna, as he careered on the field, sword and shield in hand, all the warriors, as also the celestials assembled there, were filled with wonder. The regenerate Drona then, shooting a thousand arrows in the thick of fight, cut off the sword of Dhrishtadyumna as also his shield, decked with a hundred moons. Those arrows that Drona shot, while fighting from such a near point, were of the length of a span. Such arrows are used only in close fight. None else have arrows of that kind, except Kripa, and Partha, and Aswatthaman and Karna, Pradyumna and Yuyudhana; Abhimanyu also had such arrows. Then the preceptor, desirous of slaying his disciple who was unto him even as his own son, fixed on his bow-string a shaft endued with great impetuosity. That shaft, however, Satyaki cut off by means of ten arrows, in the very sight of thy son as also of the high-souled Karna, as thus rescued Dhrishtadyumna who was on the point of succumbing to Drona. Then Kesava and Dhananjaya beheld Satyaki of prowess incapable of being baffled, who, O Bharata, was thus careering in the car-tracks (of the Kuru warriors) and within the range of the shafts of Drona and Karna and Kripa. Saying. 'Excellent, Excellent!' both of them loudly applauded Satyaki of unfading glory, who was thus destroying the celestial weapons of all those warriors. Then Kesava and Dhananjaya rushed towards the Kurus. Addressing Krishna, Dhananjaya said, 'Behold, O Kesava, that perpetuator of Madhu's race, viz., Satyaki of true prowess, sporting before the preceptor and those mighty car-warriors and gladdening me and the twins and Bhima and king Yudhishthira. With skill acquired by practice and without insolence, behold that enhancer of the fame of the Vrishnis, viz., Satyaki, careering in battle, sporting the while with those mighty car-warriors. All these troops, as also the Siddhas (in the welkin), beholding him invincible in battle, are filled with wonder, and applauding him, saying, 'Excellent, Excellent!' Indeed, O king, the warriors of both armies all applauded the Satwata hero, for his feats.'"
Section CXCIII
"Sanjaya said, 'Beholding those feats of the Satwata hero, Duryodhana and others, filled with rage, quickly encompassed the grandson of Sini on all sides. Kripa and Karna, of also thy sorts, O sire, in that battle, quickly approaching the grandson of Sini, began to strike him with keen arrows. Then king Yudhishthira, and the two other Pandavas, viz., the two sons of Madri and Bhimasena of great might surrounded Satyaki (for protecting him). Karna, and the mighty car-warrior Kripa, and Duryodhana and others, all resisted Satyaki, pouring showers of arrows on him. The grand son of Sini, however, contending with all those car-warriors, baffled, O monarch, that terrible downpour of arrows, so suddenly created by his foes. Indeed, in that dreadful battle, Satyaki, by means of his own celestial weapons, duly resisted all those celestial weapons aimed at him by those illustrious warriors. The field of battle became full of many cruel sights upon that encounter of those royal combatants, resembling that scene of yore when Rudra, filled with rage, had destroyed all creatures. Human arms and heads and bows, O Bharata, and umbrellas displaced (from cars), and yak-tails, were seen lying in heaps on the field of battle. The earth became quickly strewn with broken wheels and cars, and massive arms lopped off from trunks, and brave horsemen deprived of life. And, O foremost one among the Kurus, large number of warriors, mangled with falling arrows, were seen in that great battle to roll and writhe on the ground in agony of the last spasms of death. During the progress of that terrible battle, resembling the encounter in days of old between the celestials and the Asuras, king Yudhishthira the just, addressing his warriors, said, Putting forth all your vigour, rush, ye great car-warriors, against the Pot-born! Yonder the heroic son of Prishata is engaged with Drona! He is endeavouring to the utmost of his might, to slay the son of Bharadwaja. Judging from the aspect he is presenting in this great battle, it is evident that filled with rage, he will today overthrow Drona. Uniting together, all of you fight with the Pot-born.' Thus ordered by Yudhishthira, the mighty car-warriors of the Srinjayas all rushed with great vigour to slay the son of Bharadwaja. That mighty car-warrior, viz., Bharadwaja's son, quickly rushed against those advancing warriors, knowing for certain that he would die. When Drona, of sure aim, thus proceeded, the earth trembled violently. Fierce winds began to blow, inspiring the (hostile) ranks with fear. Large meteors fell, seemingly issuing out of the sun, blazing fiercely as they fell and foreboding great terrors. The weapons of Drona, O sire, seemed to blaze forth. Cars seemed to produce loud rattles, and steeds to shed tears. The mighty car-warrior, Drona, seemed to be divested of his energy, His left eye and left hand began to twitch. Beholding Prishata's son, again, before him, and bearing in mind the words of the Rishis about his leaving the world for heaven, he became cheerless. He then desired to give up life by fighting fairly. Encompassed on all sides by the troops of Drupada's son, Drona began to career in battle, consuming large numbers of Kshatriyas. That grinder of foes, having slain four and twenty thousand Kshatriyas, then despatched to Yama's abode ten times ten thousand, by means of his shafts of keen points. Exerting himself with care, he seemed to stand in that battle like a smokeless fire. For the extermination of the Kshatriya race, he then had recourse to the Brahma weapon. Then the mighty Bhima, beholding the illustrious and irresistible prince of the Panchalas carless and weaponless, quickly proceeded towards him. Beholding him striking at Drona from a near point, that grinder of foes took up Dhrishtadyumna on his own car and said unto him, 'Save thee there is no other man that can venture to fight with the preceptor. Be quick to slay him. The burden of his slaughter rests upon thee.' Thus addressed by Bhima, the mighty-armed Dhrishtadyumna speedily took up a strong, a new and a superb bow capable of bearing a great strain. Filled with rage, and shooting his arrows in that battle at the irresistible Drona, Dhrishtadyumna covered the preceptor, desirous of withstanding him. Those two ornaments of battle then, both foremost of fighters and both filled with rage, invoked into existence the Brahma and diverse other celestial weapons. Indeed, O king, Dhrishtadyumna covered Drona with many mighty weapons in that encounter. Destroying all the weapons of Bharadwaja's son, the Panchala prince, that warrior of unfading glory, began to slay the Vasatis, the Sivis, the Valhikas and the Kurus, that is, them, who protected Drona in that battle. Indeed, O king, shooting showers of arrows on all sides, Dhrishtadyumna at that time looked resplendent like the sun himself shedding his thousands of rays. Drona, however, once more cut off the prince's bow and pierced the vitals of the prince himself with many arrows. Thus pierced, the prince felt great pain. Then Bhima, of great wrath, holding the car of Drona, O monarch, slowly said these words unto him: If wretches amongst Brahmanas, discontented with the avocations of their own order, but well-versed in arms, did not fight, the Kshatriya order then would not have been thus exterminated. Abstention from injury to all creatures hath been said to be the highest of all virtues. The Brahmana is the root of that virtue. As regards thyself, again, thou art the foremost of all persons acquainted with Brahma. Slaying all those Mlecchas and other warriors, who, however, are all engaged in the proper avocations of their order, moved thereto by ignorance and folly, O Brahmana, and by the desire of wealth for benefiting sons and wives; indeed, for the sake of an only son, why dost thou not feel ashamed? He for whom thou hast taken up weapons, and for whom thou livest, he, deprived of life, lieth today on the field of battle, unknown to thee and behind thy back. King Yudhishthira the just hath told thee this. It behoveth thee not to doubt this fact.' Thus addressed by Bhima, Drona laid aside his bow. Desirous of laying aside all his weapons also, Bharadwaja's son of virtuous soul said aloud, 'O Karna, Karna, O great bowman, O Kripa, O Duryodhana, I tell you repeatedly, exert yourselves carefully in battle. Let no injury happen to you from the Pandayas. As regards myself, I lay aside my weapons.' Saying these words, he began loudly to take the name of Aswatthaman. Laying aside his weapons then in that battle, and sitting down on the terrace of his car, he devoted himself to Yoga and assured all creatures, dispelling their fears. Beholding that opportunity, Dhrishtadyumna mustered all his energy. Laying down on the car his formidable bow, with arrow fixed on the bow-string, he took up a sword, and jumping down from his vehicle, rushed quickly against Drona. All creatures, human beings and others, uttered exclamation of woe, beholding Drona thus brought under Dhrishtadyumna's power. Loud cries of Oh and Alas were uttered, as also those of Oh and Fie. As regards Drona himself, abandoning his weapons, he was then in a supremely tranquil state. Having said those words he had devoted himself to Yoga. Endued with great effulgence and possessed of high ascetic merit, he had fixed his heart on that Supreme and Ancient Being, viz., Vishnu. Bending his face slightly down, and heaving his breast forward, and closing his eyes, and resting ort the quality of goodness, and disposing his heart to contemplation, and thinking on the monosyllable Om, representing. Brahma, and remembering the puissant, supreme, and indestructible God of gods, the radiant Drona or high ascetic merit, the preceptor (of the Kurus and the Pandavas) repaired to heaven that is so difficult of being attained even by the pious. Indeed, when Drona thus proceeded to heaven it seemed to us that there were then two suns in the firmament. The whole welkin was ablaze and seemed to be one vast expanse of equal light when the sun-like Bharadwaja, of solar effulgence, disappeared. Confused sounds of joy were heard, uttered by the delighted celestials. When Drona thus repaired to the region of Brahman, Dhrishtadyumna stood, unconscious of it all, beside him. Only we five amongst men beheld the high-souled Drona rapt in Yoga proceed to the highest region of blessedness. These five were myself, Dhananjaya, the son of Pritha, and Drona's son, Aswattha- man, and Vasudeva of Vrishni's race, and king Yudhishthira the just, the son of Pandu. Nobody else, O king, could see that glory of the wise Drona, devoted to Yoga, while passing out of the world. In fact, all human beings were unconscious of the fact that the preceptor attained to the supreme region of Brahman, a region mysterious to the very gods, and one that is the highest of all. Indeed, none of them could see the preceptor, that chastiser of foes, proceed to the region of Brahman, devoted to Yoga in the company of the foremost of Rishis, his body mangled with arrows and bathed in blood, after he had laid aside his weapons. As regards Prishata's son, though everybody cried fie on him, yet casting his eyes on the lifeless Drona's head, he began to drag it. With his sword, then, he lopped off from his foe's trunk that head,--his foe remained speechless the while. Having slain Bharadwaja's son. Dhrishtadyumna was filled with great joy, and uttered leonine shouts, whirling his sword. Of a dark complexion, with white locks hanging down to his ears, that old man of five and eighty years of age, used, for thy sake only, to career on the field of battle with the activity of a youth of sixteen. The mighty-armed Dhananjaya, the son of Kunti, (before Drona's head was cut off) had said, 'O son of Drupada, bring the preceptor alive, do not slay him. He should not be slain.' Even thus all the troops also had cried out. Arjuna, in particular, melted with pity, had cried out repeatedly. Disregarding, however, the cries of Arjuna as also these of all the kings, Dhrishtadyumna stew Drona, that bull among men, on the terrace of his car. Covered with Drona's blood, Dhrishtadyumna then Jumped from the car down upon the ground. Looking red like the sun, he then seemed to be exceedingly fierce. Thy troops beheld Drona slain even thus in that battle. Then Dhrishtadyumna. that great bowman, O king, threw down that large head of Bharadwaja's son before the warriors of thy army. Thy soldiers, O monarch, beholding the head of Bharadwaja's son, set their hearts on flight and ran away in all directions. Meanwhile Drona, ascending the skies, entered the stellar path. Through the grace of the Rishis Krishna (Dwaipayana), the son of Satyavati, I witnessed, O king, the (true circumstances about the) death of Drona. I beheld that illustrious one proceeding, after he had ascended the sky, like a smokeless brand of blazing splendour. Upon the fall of Drona, the Kurus, the Pandavas and the Srinjayas, all became cheerless and ran away with great speed. The army then broke up. Many had been slain, and many wounded by means of keen shafts. Thy warriors (in particular), upon the fall of Drona, seemed to be deprived of life. Having sustained a defeat, and being inspired with fear about the future, the Kurus regarded themselves deprived of both the worlds. Indeed, they lost all self-control. 1 Searching for the body of Bharadwaja's, son, O monarch, on the field covered with thousands of headless trunks, the kings could not find it. The Pandavas, having gained the victory and great prospects of renown in the future, began to make loud sounds with their arrows and conchs and uttered loud leonine roars. Then Bhimasena, O king, and Dhrishtadyumna, the son of Prishata, were seen in the midst of the (Pandava) host to embrace each other. Addressing the son of Prishata, that scorcher of foes, viz., Bhima said, 'I will again embrace thee, O son of Prishata, as one crowned with victory, when that wretch of a Suta's son shall be slain in battle, as also that other wretch, viz., Duryodhana.' Having said these words, Bhimasena, the son of Pandu, filled with transports of joy, caused the earth to tremble with slaps on his armpits. Terrified by that sound, thy troops ran away from battle, forgetting the duties of the Kshatriyas and setting their hearts on flight. The Pandavas, having become victors, became very glad, O monarch, and they felt great happiness, derived from the destruction of their foes in battle.'"
Book 8
Battle of Kurukshetra: Karna
Section XC
"Sanjaya said, 'Flying away in consequence of the falling of Arjuna's arrows, the broken divisions of the Kauravas, staying at a distance, continued to gaze at Arjuna's weapon swelling with energy and careering around with the effulgence of lightning. Then Karna, with showers of terrible shafts, baffled that weapon of Arjuna while it was still careering in the welkin and which Arjuna had shot with great vigour in that fierce encounter for the destruction of his foe. Indeed, that weapon (of Partha) which, swelling with energy, had been consuming the Kurus, the Suta's son now crushed with his shafts winged with gold. Bending then his own loud-sounding bow of irrefragable string, Karna shot showers of shafts. The Suta's son destroyed that burning weapon of Arjuna with his own foe-killing weapon of great power which he had obtained from Rama, and which resembled (in efficacy) an Atharvan rite. And he pierced Partha also with numerous keen shafts. The encounter then, O king, that took place between Arjuna and the son of Adhiratha, became a very dreadful one. They continued to strike each other with arrows like two fierce elephants striking each other with their tusks. All the points of the compass then became shrouded with weapons and the very sun became invisible. Indeed, Karna and Partha, with their arrowy downpours, made the welkin one vast expanse of arrows without any space between. All the Kauravas and the Somakas then beheld a wide-spread arrowy net. In that dense darkness caused by arrows, they were unable to see anything else. Those two foremost of men, both accomplished in weapons, as they incessantly aimed and shot innumerable arrows, O king, displayed diverse kinds of beautiful manoeuvres. While they were thus contending with each other in battle, sometimes the Suta's son prevailed over his rival and sometimes the diadem-decked Partha prevailed over his, in prowess and weapons and lightness of hands. Beholding that terrible and awful passage-at-arms between those two heroes each of whom was desirous of availing himself of the other's lapses, all the other warriors on the field of battle became filled with wonder. The beings in the welkin, O king, applauded Karna and Arjuna. Indeed, many of them at a time, filled with joy, cheerfully shouted, sometimes saying, "Excellent, O Karna!" and sometimes saying, "Excellent, O Arjuna!" During the progress of that fierce encounter, while the earth was being pressed deep with the weight of cars and the tread of steeds and elephants, the snake Aswasena, who was hostile to Arjuna, was passing his time in the nether region. Freed from the conflagration at Khandava, O king, he had, from anger, penetrated through the earth (for going to the subterranean region). That brave snake, recollecting the death of his mother and the enmity he on that account harboured against Arjuna, now rose from the lower region. Endued with the power of ascending the skies, he soared up with great speed upon beholding that fight between Karna and Arjuna. Thinking that that was the time for gratifying his animosity towards, as he thought, the wicked-souled Partha, he quickly entered into Karna's quiver, O king, in the form of an arrow. At that time a net of arrows was seen, shedding its bright arrows around. Karna and Partha made the welkin one dense mass of arrows by means of their arrowy downpours. Beholding that wide-spread expanse of arrows, all the Kauravas and the Somakas became filled with fear. In that thick and awful darkness caused by arrows they were unable to see anything else. Then those two tigers among men, those two foremost of all bowmen in the world, those two heroes, fatigued with their exertions in battle, looked at each other. Both of them were then fanned with excellent and waving fans made of young (palm) leaves and sprinkled with fragrant sandal-water by many Apsaras staying in the welkin. And Sakra and Surya, using their hands, gently brushed the faces of those two heroes. When at last Karna found that he could not prevail over Partha and was exceedingly scorched with the shafts of the former, that hero, his limbs very much mangled, set his heart upon that shaft of his which lay singly within a quiver. The Suta's son then fixed on his bow-string that foe-killing, exceedingly keen, snake-mouthed, blazing, and fierce shaft, which had been polished according to rule, and which he had long kept for the sake of Partha's destruction. Stretching his bow-string to his ear, Karna fixed that shaft of fierce energy and blazing splendour, that ever-worshipped weapon which lay within a golden quiver amid sandal dust, and aimed it at Partha. Indeed, he aimed that blazing arrow, born in Airavata's race, for cutting off Phalguna's head in battle. All the points of the compass and the welkin became ablaze and terrible meteors, and thunderbolts fell. When that snake of the form of an arrow was fixed on the bow-string, the Regents of the world, including Sakra, set up loud wails. The Suta's son did not know that the snake Aswasena had entered his arrow by the aid of his Yoga powers. Beholding Vaikartana aim that arrow, the high-souled ruler of the Madras, addressing Karna, said, "This arrow, O Karna, will not succeed in striking off Arjuna's head. Searching carefully, fix another arrow that may succeed in striking off thy enemy's head." Endued with great activity, the Suta's son, with eyes burning in wrath, then said unto the ruler of the Madras, "O Shalya, Karna never aimeth an arrow twice. Persons like us never become crooked warriors." Having said these words, Karna, with great care, let off that shaft which he had worshipped for many long years. Bent upon winning the victory, O king, he quickly said unto his rival, "Thou art slain, O Phalguna!" Sped from Karna's arms, that shaft of awful whizz, resembling fire or the sun in splendour, as it left the bow-string, blazed up in the welkin and seemed to divide it by a line such as is visible on the crown of a woman dividing her tresses. Beholding that shaft blazing in the welkin, the slayer of Kamsa, Madhava, with great speed and the greatest ease, pressed down with his feet that excellent car, causing it to sink about a cubit deep. At this, the steeds, white as the rays of the moon and decked in trappings of gold, bending their knees, laid themselves down on the ground. Indeed, seeing that snake (in the form of an arrow) aimed by Karna, Madhava, that foremost of all persons endued with might, put forth his strength and thus pressed down with his feet that car into the earth, whereat the steeds, (as already said) bending down their knees, laid themselves down upon the earth when the car itself had sank into it. Then loud sounds arose in the welkin in applause of Vasudeva. Many celestial voices were heard, and celestial flowers were showered upon Krishna, and leonine shouts also were uttered. When the car had thus been pressed down into the earth through the exertions of the slayer of Madhu, the excellent ornament of Arjuna's head, celebrated throughout the earth, the welkin, heaven, and the waters, the Suta's son swept off from the crown of his rival, with that arrow, in consequence of the very nature of that snaky weapon and the great care and wrath with which it had been shot. That diadem, endued with the splendour of the sun or the moon or fire or a planet, and adorned with gold and pearls and gems and diamonds, had with great care been made by the puissant Self-born himself for Purandara. Costly as its appearance indicated, it was inspiring terror in the hearts of foes, contributing to the happiness of him that wore it, and shedding a fragrance, that ornament had been given by the chief of the celestials himself with a cheerful heart unto Partha while the latter had proceeded to slaughter the foes of the gods. That diadem was incapable of being crushed by Rudra and the Lord of waters and Kuvera with Pinaka and noose and thunderbolt and the very foremost of shafts. It could not be endured by even the foremost ones among the gods. Vrisha, however, now broke it forcibly with his snake-inspired shaft. Endued with great activity, that wicked-natured snake of fierce form and false vows, falling upon that diadem-decked with gold and gems, swept it away from Arjuna's head. That snake, O king, forcibly tore it away from Partha's head, quickly reducing into fragments that well-made ornament set over with many a gem and blazing with beauty, like the thunderbolt riving a mountain summit decked with lofty and beautiful trees graced with flowers. Crushed by that excellent weapon, possessed of splendour, and blazing with the fire of (the snake's) poison, that beautiful and much-liked diadem of Partha fell down on the earth like the blazing disc of the Sun from the Asta hills. Indeed, that snake forcibly swept away from Arjuna's head that diadem adorned with many gems, like the thunder of Indra felling a beautiful mountain summit adorned with lofty trees bearing budding leaves and flowers. And the earth, welkin, heaven, and the waters, when agitated by a tempest, roar aloud, O Bharata, even such was the roar that arose in all the worlds at that time. Hearing that tremendous noise, people, notwithstanding their efforts to be calm, became extremely agitated and reeled as they stood. Reft of diadem, the dark complexioned and youthful Partha looked beautiful like a blue mountain of lofty summit. Binding then his locks with a white cloth, Arjuna stood perfectly unmoved. With that white gear on his head, he looked like the Udaya hill illumined with the rays of the sun. Thus that she-snake (whom Arjuna had killed at Khandava) of excellent mouth, through her son in the form of an arrow, sped by Surya's son, beholding Arjuna of exceeding energy and might standing with his head at a level with the reins of the steeds, took away his diadem only, that well-made ornament (formerly) owned by Aditi's son and endued with the effulgence of Surya himself. But Arjuna also (as will appear in the sequel) did not return from that battle without causing the snake to succumb to the power of Yama. Sped from Karna's arms, that costly shaft resembling fire or the sun in effulgence, viz., that mighty snake who from before had become the deadly foe of Arjuna, thus crushing the latter's diadem, went away. Having burnt the gold-decked diadem of Arjuna displayed on his head, he desired to come to Arjuna once more with great speed. Asked, however, by Karna (who saw him but knew him not), he said these words, "Thou hadst sped me, O Karna, without having seen me. It was for this that I could not strike off Arjuna's head. Do thou quickly shoot me once again, after seeing me well. I shall then slay thy foe and mine too." Thus addressed in that battle by him, the Suta's son said, "Who are you possessed of such fierce form?" The snake answered, saying, "Know me as one that has been wronged by Partha. My enmity towards him is due to his having slain my mother. If the wielder of the thunderbolt himself were to protect Partha, the latter would still have to go to the domains of the king of the pitris. Do not disregard me. Do my bidding. I will slay thy foe. Shoot me without delay." Hearing those words, Karna said, "Karna, O snake, never desires to have victory in battle today by relying on another's might. Even if I have to slay a hundred Arjunas, I will not, O snake, still shoot the same shaft twice." Once more addressing him in the midst of battle, that best of men, viz., Surya's son, Karna, said, "Aided by the nature of my other snaky weapons, and by resolute effort and wrath, I shall slay Partha. Be thou happy and go elsewhere." Thus addressed, in battle, by Karna, that prince of snakes, unable from rage to bear those words, himself proceeded, O king, for the slaughter of Partha, having assumed the form of an arrow. Of fierce form, the desire he ardently cherished was the destruction of his enemy. Then Krishna, addressing Partha in that encounter, said into him, "Slay that great snake inimical to thee." Thus addressed by the slayer of Madhu, the wielder of Gandiva, that bowman who was always fierce unto foes, enquired of him, saying, "Who is that snake that advanceth of his own accord against me, as if, indeed he advanceth right against the mouth of Garuda?" Krishna replied, "Whilst thou, armed with bow, wert engaged at Khandava in gratifying the god Agni, this snake was then in the sky, his body ensconced within his mother's. Thinking that it was only a single snake that was so staying in the sky, thou killedest the mother. Remembering that act of hostility done by thee, he cometh towards thee today for thy destruction. O resister of foes, behold him coming like a blazing meteor, falling from the firmament!'"
"Sanjaya continued, 'Then Jishnu, turning his face in rage, cut off, with six keen shafts, that snake in the welkin as the latter was coursing in a slanting direction. His body thus cut off, he fell down on the earth. After that snake had been cut off by Arjuna, the lord Keshava himself, O king, of massive arms, that foremost of beings, raised up with his arms that car from the earth. At that time, Karna, glancing obliquely at Dhananjaya, pierced that foremost of persons, viz., Krishna, with ten shafts whetted on stone and equipped with peacock feathers. Then Dhananjaya, piercing Karna with a dozen well-shot and keen arrows equipped with heads like the boar's ear, sped a cloth-yard shaft endued with the energy of a snake of virulent poison and shot from his bow-string stretched to his ear. That foremost of shafts, well shot by Arjuna, penetrated through Karna's armour, and as if suspending his life breaths, drank his blood and entered the earth, its wings also having been drenched with gore. Endued with great activity, Vrisha, enraged at the stroke of the shaft, like a snake beaten with stick, shot many mighty shafts, like snakes of virulent poison vomiting venom. And he pierced Janardana with a dozen shafts and Arjuna with nine and ninety. And once more piercing the son of Pandu with a terrible shaft, Karna laughed and uttered a loud roar. The son of Pandu, however, could not endure his enemy's joy. Acquainted with all the vital parts of the human body, Partha, possessed of prowess like that of Indra, pierced those vital limbs with hundreds of arrows even as Indra had struck Vala with great energy. Then Arjuna sped ninety arrows, each resembling the rod of Death at Karna. Deeply pierced with those shafts, Karna trembled like a mountain riven with thunder. The head-gear of Karna, adorned with costly gems and precious diamonds and pure gold, as also his earrings, cut off by Dhananjaya with his winged arrows, fell down on the earth. The costly and bright armour also of the Suta's son that had been forged with great care by many foremost of artists working for a long time, the son of Pandu cut off within a moment in many fragments. After thus divesting him of his armour, Partha then, in rage, pierced Karna with four whetted shafts of great energy. Struck forcibly by his foe, Karna suffered great pain like a diseased person afflicted by bile, phlegm, wind, and fever. Once more Arjuna, with great speed, mangled Karna, piercing his very vitals, with numerous excellent shafts, of great keenness, and sped from his circling bow with much force and speed and care. Deeply struck by Partha with those diverse arrows of keen points and fierce energy, Karna (covered with blood) looked resplendent like a mountain of red chalk with streams of red water running adown its breast. Once more Arjuna pierced Karna in the centre of the chest with many straight-coursing and strong shafts made entirely of iron and equipped with wings of gold and each resembling the fiery rod of the Destroyer, like the son of Agni piercing the Krauncha mountains. Then the Suta's son, casting aside his bow that resembled the very bow of Sakra, as also his quiver, felt great pain, and stood inactive, stupefied, and reeling, his grasp loosened and himself in great anguish. The virtuous Arjuna, observant of the duty of manliness, wished not to slay his enemy while fallen into such distress. The younger brother of Indra then, with great excitement, addressed him, saying, "Why, O son of Pandu, dost thou become so forgetful? They that are truly wise never spare their foes, however weak, even for a moment. He that is learned earneth both merit and fame by slaying foes fallen into distress. Lose no time in precipitately crushing Karna who is always inimical to thee and who is the first of heroes. The Suta's son, when able, will once more advance against thee as before. Slay him, therefore, like Indra slaying the Asura Namuci." Saying, "So be it, O Krishna!" and worshipping Janardana, Arjuna, that foremost of all persons in Kuru's race once more quickly pierced Karna with many excellent arrows like the ruler of heaven, piercing the Asura, Samvara. The diadem-decked Partha, O Bharata, covered Karna and his car and steeds with many calf-toothed arrows, and putting forth all his vigour he shrouded all the points of the compass with shafts equipped with wings of gold. Pierced with those arrows equipped with heads like the calf 's tooth, Adhiratha's son of broad chest looked resplendent like an Asoka or Palasa or Salmali decked with its flowery load or a mountain overgrown with a forest of sandal trees. Indeed, with those numerous arrows sticking to his body, Karna, O monarch, in that battle, looked resplendent like the prince of mountains with its top and glens overgrown with trees or decked with flowering Karnikaras. Karna also shooting repeated showers of arrows, looked, with those arrows constituting his rays, like the sun coursing towards the Asta hills, with disc bright with crimson rays. Shafts, however, of keen points, sped from Arjuna's arms, encountering in the welkin the blazing arrows, resembling mighty snakes, sped from the arms of Adhiratha's son, destroyed them all. Recovering his coolness, and shooting many shafts that resembled angry snakes, Karna then pierced Partha with ten shafts and Krishna with half a dozen, each of which looked like an angry snake. Then Dhananjaya desired to shoot a mighty and terrible arrow, made wholly of iron, resembling the poison of snake or fire in energy, and whose whizz resembling the peal of Indra's thunder, and which was inspired with the force of a high (celestial) weapon. At that time, when the hour of Karna's death had come, Kala, approaching invisibly, and alluding to the Brahmana's curse, and desirous of informing Karna that his death was near, told him, "The Earth is devouring thy wheel!" Indeed, O foremost of men, when the hour of Karna's death came, the high brahmastra that the illustrious Bhargava had imparted unto him, escaped from his memory. And the earth also began to devour the left wheel of his car. Then in consequence of the curse of that foremost of Brahmanas, Karna's car began to reel, having sunk deep into the earth and having been transfixed at that spot like a sacred tree with its load of flowers standing upon an elevated platform. When his car began to reel from the curse of the Brahmana, and when the high weapon he had obtained from Rama no longer shone in him through inward light, and when his terrible snake-mouthed shaft also had been cut off by Partha, Karna became filled with melancholy. Unable to endure all those calamities, he waved his arms and began to rail at righteousness saying, "They that are conversant with righteousness always say that righteousness protects those that are righteous. As regards ourselves, we always endeavour, to the best of our ability and knowledge to practise righteousness. That righteousness, however, is destroying us now instead of protecting us that are devoted to it. I, therefore, think that righteousness does not always protect its worshippers." While saying these words, he became exceedingly agitated by the strokes of Arjuna's arrows. His steeds and his driver also were displaced from their usual position. His very vitals having been struck, he became indifferent as to what he did, and repeatedly railed at righteousness in that battle. He then pierced Krishna in the arm with three terrible arrows, and Partha, too, with seven. Then Arjuna sped seven and ten terrible arrows, perfectly straight and of fierce impetuosity, resembling fire in splendour and like unto Indra's thunder in force. Endued with awful impetuosity, those arrows pierced Karna and passing out of his body fell upon the surface of the earth. Trembling at the shock, Karna then displayed his activity to the utmost of his power. Steadying himself by a powerful effort he invoked the brahmastra. Beholding the brahmastra, Arjuna invoked the Aindra weapon with proper mantras. Inspiring gandiva, its string, and his shafts also, with mantras, that scorcher of foes poured showers like Purandara pouring rain in torrents. Those arrows endued with great energy and power, issuing out of Partha's car, were seen to be displayed in the vicinity of Karna's vehicle. The mighty car-warrior Karna baffled all those shafts displayed in his front. Seeing that weapon thus destroyed, the Vrishni hero, addressing Arjuna, said, "Shoot high weapons, O Partha! The son of Radha baffles thy shafts." With proper mantras, Arjuna then fixed the brahmastra on his string, and shrouding all the points of the compass with arrows, Partha struck Karna (with many) arrows. Then Karna, with a number of whetted shafts endued with great energy, cut off the string of Arjuna's bow. Similarly he cut off the second string, and then the third, and then the fourth, and then the fifth. The sixth also was cut off by Vrisha, and then the seventh, then the eighth, then the ninth, then the tenth, and then at last the eleventh. Capable of shooting hundreds upon hundreds of arrows, Karna knew not that Partha had a hundred strings to his bow. Tying another string to his bow and shooting many arrows, the son of Pandu covered Karna with shafts that resembled snakes of blazing mouths. So quickly did Arjuna replace each broken string that Karna could not mark when it was broken and when replaced. The feat seemed to him to be exceedingly wonderful. The son of Radha baffled with his own weapons those of Savyasaci. Displaying also his own prowess, he seemed to get the better of Dhananjaya at that time. Then Krishna, beholding Arjuna afflicted with the weapons of Karna, said these words unto Partha: "Approaching Karna, strike him with superior weapons." Then Dhananjaya, filled with rage, inspiring with mantras another celestial weapons that looked like fire and that resembled the poison of the snake and that was as hard as the essence of adamant, and uniting the Raudra weapon with it, became desirous of shooting it at his foe. At that time, O king, the earth swallowed up one of wheels of Karna's car. Quickly alighting then from his vehicle, he seized his sunken wheel with his two arms and endeavoured to lift it up with a great effort. Drawn up with force by Karna, the earth, which had swallowed up his wheel, rose up to a height of four fingers' breadth, with her seven islands and her hills and waters and forests. Seeing his wheel swallowed, the son of Radha shed tears from wrath, and beholding Arjuna, filled with rage he said these words, "O Partha, O Partha, wait for a moment, that is, till I lift this sunken wheel. Beholding, O Partha, the left wheel of my car swallowed through accident by the earth, abandon (instead of cherishing) this purpose (of striking and slaying me) that is capable of being harboured by only a coward. Brave warriors that are observant of the practices of the righteous, never shoot their weapons at persons with dishevelled hair, or at those that have turned their faces from battle, or at a Brahmana, or at him who joins his palms, or at him who yields himself up or beggeth for quarter or at one who has put up his weapon, or at one whose arrows are exhausted, or at one whose armour is displaced, or at one whose weapon has fallen off or been broken! Thou art the bravest of men in the world. Thou art also of righteous behaviour, O son of Pandu! Thou art well-acquainted with the rules of battle. For these reasons, excuse me for a moment, that is, till I extricate my wheel, O Dhananjaya, from the earth. Thyself staying on thy car and myself standing weak and languid on the earth, it behoveth thee not to slay me now. Neither Vasudeva, nor thou, O son of Pandu, inspirest me with the slightest fear. Thou art born in the Kshatriya order. Thou art the perpetuator of a high race. Recollecting the teachings of righteousness, excuse me for a moment, O son of Pandu!"'"
Section XCI
"Sanjaya said, 'Then Vasudeva, stationed on the car, addressed Karna, saying, "By good luck it is, O son of Radha, that thou rememberest virtue! It is generally seen that they that are mean, when they sink into distress, rail at Providence but never at their own misdeeds. Thyself and Suyodhana and Duhshasana and Shakuni, the son of Subala, had caused Draupadi, clad in a single piece of raiment, to be brought into the midst of the assembly. On that occasion, O Karna, this virtue of thine did not manifest itself. When at the assembly Shakuni, an adept in dice, vanquished Kunti's son Yudhishthira who was unacquainted with it, whither had this virtue of thine gone? When the Kuru king (Duryodhana), acting under thy counsels, treated Bhimasena in that way with the aid of snakes and poisoned food, whither had this virtue of thine then gone? When the period of exile into the woods was over as also the thirteenth year, thou didst not make over to the Pandavas their kingdom. Whither had this virtue of thine then gone? Thou didst set fire to the house of lac at Varanavata for burning to death the sleeping Pandavas. Whither then, O son of Radha, had this virtue of thine gone? Thou laughedest at Krishna while she stood in the midst of the assembly, scantily dressed because in her season and obedient to Duhshasana's will, whither, then, O Karna, had this virtue of thine gone? When from the apartment reserved for the females innocent Krishna was dragged, thou didst not interfere. Whither, O son of Radha, had this virtue of thine gone? Thyself addressing the princess Draupadi, that lady whose tread is as dignified as that of the elephant, in these words, viz., 'The Pandavas, O Krishna, are lost. They have sunk into eternal hell. Do thou choose another husband!' thou lookedest on the scene with delight. Whither then, O Karna, had this virtue of thine gone? Covetous of kingdom and relying on the ruler of the Gandharvas, thou summonedest the Pandavas (to a match of dice). Whither then had this virtue of thine gone? When many mighty car-warriors, encompassing the boy Abhimanyu in battle, slew him, whither had this virtue of thine then gone? If this virtue that thou now invokest was nowhere on those occasions, what is the use then of parching thy palate now, by uttering that word? Thou art now for the practice of virtue, O Suta, but thou shalt not escape with life. Like Nala who was defeated by Pushkara with the aid of dice but who regained his kingdom by prowess, the Pandavas, who are free from cupidity, will recover their kingdom by the prowess of their arms, aided with all their friends. Having slain in battle their powerful foes, they, with the Somakas, will recover their kingdom. The Dhartarashtras will meet with destruction at the hands of those lions among men (viz., the sons of Pandu), that are always protected by virtue!'"
"Sanjaya continued, 'Thus addressed, O Bharata, by Vasudeva, Karna hung down his head in shame and gave no answer. With lips quivering in rage, he raised his bow, O Bharata, and, being endued with great energy and prowess, he continued to fight with Partha. Then Vasudeva, addressing Phalguna, that bull among men, said, "O thou of great might, piercing Karna with a celestial weapon, throw him down." Thus addressed by the holy one, Arjuna became filled with rage. Indeed, remembering the incidents alluded to by Krishna, Dhananjaya blazed up with fury. Then, O king, blazing flames of fire seemed to emanate from all the pores of the angry Partha's body. The sight seemed to be exceedingly wonderful. Beholding it, Karna, invoking the brahmastra, showered his shafts upon Dhananjaya, and once more made an effort to extricate his car. Partha also, by the aid of the brahmastra, poured arrowy downpours upon Karna. Baffling with his own weapon the weapon of his foe, the son of Pandu continued to strike him. The son of Kunti then, aiming at Karna sped another favourite weapon of his that was inspired with the energy of Agni. Sped by Arjuna, that weapon blazed up with its own energy. Karna, however, quenched that conflagration with the Varuna weapon. The Suta's son also, by the clouds he created, caused all the points of the compass to be shrouded with a darkness such as may be seen on a rainy day. The son of Pandu, endued with great energy, fearlessly dispelled those clouds by means of the Vayavya weapon in the very sight of Karna. The Suta's son then, for slaying the son of Pandu, took up a terrible arrow blazing like fire. When that adored shaft was fixed on the bow-string, the earth, O king, trembled with her mountains and waters and forests. Violent winds began to blow, bearing hard pebbles. All the points of the compass became enveloped with dust. Wails of grief, O Bharata, arose among the gods in the welkin. Beholding that shaft aimed by the Suta's son, O sire, the Pandavas, with cheerless hearts, gave themselves up to great sorrow. That shaft of keen point and endued with the effulgence of Sakra's thunder, sped from Karna's arms, fell upon Dhananjaya's chest and penetrated it like a mighty snake penetrating an ant-hill. That grinder of foes, viz., the high-souled Vibhatsu, thus deeply pierced in that encounter, began to reel. His grasp became loosened, at which his bow Gandiva dropped from his hand. He trembled like the prince of mountains in an earthquake. Availing himself of that opportunity, the mighty car-warrior Vrisha, desirous of extricating his car-wheel that had been swallowed up by the earth, jumped down from his vehicle. Seizing the wheel with his two arms he endeavoured to drag it up, but though possessed of great strength, he failed in his efforts, as destiny would have it. Meanwhile the diadem-decked and high-souled Arjuna, recovering his senses, took up a shaft, fatal as the rod of Death, and called anjalika. Then Vasudeva, addressing Partha, said, "Cut off with thy arrow the head of this enemy of thine, viz., Vrisha, before he succeeds in getting upon his car." Applauding those words of the lord Vasudeva, and while the wheel of his enemy was still sunk, the mighty car-warrior Arjuna took up a razor-headed arrow of blazing effulgence and struck the standard (of Karna) bearing the elephant's rope and bright as the spotless sun. That standard bearing the device of the costly elephant's rope, was adorned with gold and pearls and gems and diamonds, and forged with care by foremost of artists excelling in knowledge, and possessed of great beauty, and variegated with pure gold. That standard always used to fill thy troops with high courage and the enemy with fear. Its form commanded applause. Celebrated over the whole world, it resembled the sun in splendour. Indeed, its effulgence was like that of fire or the sun or the moon. The diadem-decked Arjuna, with that razor-headed shaft, exceedingly sharp, equipped with wings of gold, possessed of the splendour of fire when fed with libations of clarified butter, and blazing with beauty, cut off that standard of Adhiratha's son, that great car-warrior. With that standard, as it fell, the fame, pride, hope of victory, and everything dear, as also the hearts of the Kurus, fell, and loud wails of "Oh!" and "Alas!" arose (from the Kuru army). Beholding that standard cut off and thrown down by that hero of Kuru's race possessed of great lightness of hand, thy troops, O Bharata, were no longer hopeful of Karna's victory. Hastening then for Karna's destruction, Partha took out from his quiver an excellent Anjalika weapon that resembled the thunder of Indra or the rod of fire and that was possessed of the effulgence of the thousand-rayed Sun. Capable of penetrating the very vitals, besmeared with blood and flesh, resembling fire or the sun, made of costly materials, destructive of men, steeds, and elephants, of straight course and fierce impetuosity, it measured three cubits and six feet. Endued with the force of the thousand-eyed Indra's thunder, irresistible as Rakshasas in the night, resembling Pinaka or Narayana's discus, it was exceedingly terrible and destructive of all living creatures. Partha cheerfully took up that great weapon, in the shape of an arrow, which could not be resisted by the very gods, that high-souled being which was always adored by the son of Pandu, and which was capable of vanquishing the very gods and the Asuras. Beholding that shaft grasped by Partha in that battle, the entire universe shook with its mobile and immobile creatures. Indeed, seeing that weapon raised (for being sped) in that dreadful battle, the Rishis loudly cried out, "Peace be to the universe!" The wielder of Gandiva then fixed on his bow that unrivalled arrow, uniting it with a high and mighty weapon. Drawing his bow Gandiva, he quickly said, "Let this shaft of mine be like a mighty weapon capable of quickly destroying the body and heart of my enemy, if I have ever practised ascetic austerities, gratified my superiors, and listened to the counsels of well-wishers. Let this shaft, worshipped by me and possessed of great sharpness, slay my enemy Karna by that Truth." Having said these words Dhananjaya let off that terrible shaft for the destruction of Karna, that arrow fierce and efficacious as a rite prescribed in the Atharvan of Angiras, blazing with effulgence, and incapable of being endured by Death himself in battle. And the diadem-decked Partha, desirous of slaying Karna, with great cheerfulness, said, "Let this shaft conduce to my victory. Shot by me, let this arrow possessed of the splendour of fire or the sun take Karna to the presence of Yama." Saying these words, Arjuna, decked with diadem and garlands, cherishing feelings of hostility towards Karna and desirous of slaying him, cheerfully struck his foe with that foremost of shafts which was possessed of the splendour of the sun or the moon and capable of bestowing victory. Thus sped by that mighty warrior, that shaft endued with the energy of the sun caused all the points of the compass to blaze up with light. With that weapon Arjuna struck off his enemy's head like Indra striking off the head of Vritra with his thunder. Indeed, O king, with that excellent Anjalika weapon inspired with mantras into a mighty weapon, the son of Indra cut off the head of Vaikartana in the afternoon. Thus cut off with that Anjalika, the trunk of Karna fell down on the earth. The head also of that commander of the (Kaurava) army, endued with splendour equal to that of the risen sun and resembling the meridian sun of autumn, fell down on the earth like the sun of bloody disc dropped down from the Asta hills. Indeed, that head abandoned with great unwillingness the body, exceedingly beautiful and always nursed in luxury, of Karna of noble deeds, like an owner abandoning with great unwillingness his commodious mansion filled with great wealth. Cut off with Arjuna's arrow, and deprived of life, the tall trunk of Karna endued with great splendour, with blood issuing from every wound, fell down like the thunder-riven summit of a mountain of red chalk with crimson streams running down its sides after a shower. Then from that body of the fallen Karna a light passing through the welkin penetrated the sun. This wonderful sight, O king, was beheld by the human warriors after the fall of Karna. Then the Pandavas, beholding Karna slain by Phalguna, loudly blew their conchs. Similarly, Krishna and Dhananjaya also, filled with delight, and losing no time, blew their conchs. The Somakas beholding Karna slain and lying on the field, were filled with joy and uttered loud shouts with the other troops (of the Pandava army). In great delight they blew their trumpets and waved their arms and garments. All the warriors, O king, approaching Partha, began to applaud him joyfully. Others, possessed of might, danced, embracing each other, and uttering loud shouts, said, "By good luck, Karna hath been stretched on the earth and mangled with arrows." Indeed, the severed head of Karna looked beautiful like a mountain summit loosened by a tempest, or a quenched fire after the sacrifice is over, or the image of the sun after it has reached the Asta hills. The Karna-sun, with arrows for its rays, after having scorched the hostile army, was at last caused to be set by the mighty Arjuna-time. As the Sun, while proceeding towards the Asta hills, retires taking away with him all his rays, even so that shaft (of Arjuna) passed out, taking with it Karna's life breaths. The death hour of the Suta's son, O sire, was the afternoon of that day. Cut off with the Anjalika weapon in that battle, the head of Karna fell down along with his body. Indeed, that arrow of Arjuna, in the very sight of the Kaurava troops, quickly took away the head and the body of Karna. Beholding the heroic Karna thrown down stretched on the earth, pierced with arrows and bathed in blood, the king of the Madras, went away on that car deprived of its standard. After the fall of Karna, the Kauravas, deeply pierced with shafts in that battle, and afflicted with fear, fled away from the field, frequently casting their eyes on that lofty standard of Arjuna that blazed with splendour. The beautiful head, graced with a face that resembled a lotus of a 1,000 petals, of Karna whose feats were like those of the thousand-eyed Indra, fell down on the earth like the thousand-rayed sun as he looks at the close of day.'"
Book 17
End of Reign
Section I
Om! Having bowed down unto Narayana, and to Nara, the foremost of men, as also to the goddess Sarasvati, should the word "Jaya" be uttered.
Janamejaya said: "Having heard of that encounter with iron bolts between the heroes of the Vrishni and the Andhaka races, and having been informed also of Krishna's ascension to Heaven, what did the Pandavas do?"
Vaishampayana said: "Having heard the particulars of the great slaughter of the Vrishnis, the Kaurava king set his heart on leaving the world. He addressed Arjuna, saying, 'O thou of great intelligence, it is Time that cooks every creature (in his cauldron). I think that what has happened is due to the cords of Time (with which he binds us all). It behoveth thee also to see it.'
"Thus addressed by his brother, the son of Kunti only repeated the word 'Time, Time!' and fully endorsed the view of his eldest brother gifted with great intelligence. Ascertaining the resolution of Arjuna, Bhimasena and the twins fully endorsed the words that Arjuna had said. Resolved to retire from the world for earning merit, they brought Yuyutsu before them. Yudhishthira made over the kingdom to the son of his uncle by his Vaisya wife. Installing Parikshit also on their throne, as king, the eldest brother of the Pandavas, filled with sorrow, addressed Subhadra, saying, 'This son of thy son will be the king of the Kurus. The survivor of the Yadus, Vajra, has been made a king. Parikshit will rule in Hastinapura, while the Yadava prince, Vajra, will rule in Shakraprastha. He should be protected by thee. Never set thy heart on unrighteousness.'
"Having said these words, king Yudhishthira the just, along with his brothers, promptly offered oblations of water unto Vasudeva of great intelligence, as also unto his old maternal uncle and Rama and others. He then duly performed the Sraddhas of all those deceased kinsmen of his. The king, in honour of Hari and naming him repeatedly, fed the Island-born Vyasa, and Narada, and Markandeya possessed of wealth of penances, and Yajnavalkya of Bharadwaja's race, with many delicious viands. In honour of Krishna, he also gave away many jewels and gems, and robes and clothes, and villages, and horses and cars, and female slaves by hundreds and thousands unto foremost of Brahmanas. Summoning the citizens. Kripa was installed as the preceptor and Parikshit was made over to him as his disciple, O chief of Bharata's race.
"Then Yudhishthira once more summoned all his subjects. The royal sage informed them of his intentions. The citizens and the inhabitants of the provinces, hearing the king's words, became filled with anxiety and disapproved of them. 'This should never be done,' said they unto the king. The monarch, well versed with the changes brought about by time, did not listen to their counsels. Possessed of righteous soul, he persuaded the people to sanction his views. He then set his heart on leaving the world. His brothers also formed the same resolution. Then Dharma's son, Yudhishthira, the king of the Kurus, casting off his ornaments, wore barks of trees. Bhima and Arjuna and the twins, and Draupadi also of great fame, similarly clad themselves in bark of trees, O king. Having caused the preliminary rites of religion, O chief of Bharata's race, which were to bless them in the accomplishment of their design, those foremost of men cast off their sacred fires into the water. The ladies, beholding the princes in that guise, wept aloud. They seemed to look as they had looked in days before, when with Draupadi forming the sixth in number they set out from the capital after their defeat at dice. The brothers, however, were all very cheerful at the prospect of retirement. Ascertaining the intentions of Yudhishthira and seeing the destruction of the Vrishnis, no other course of action could please them then.
"The five brothers, with Draupadi forming the sixth, and a dog forming the seventh, set out on their journey. Indeed, even thus did king Yudhishthira depart, himself the head of a party of seven, from the city named after the elephant. The citizen and the ladies of the royal household followed them for some distance. None of them, however, could venture to address the king for persuading him to give up his intention. The denizens of the city then returned; Kripa and others stood around Yuyutsu as their centre. Ulupi, the daughter of the Naga chief, O thou of Kunti's race, entered the waters of Ganga. The princess Chitrangada set out for the capital of Manipura. The other ladies who were the grandmothers of Parikshit centered around him. Meanwhile the high-souled Pandavas, O thou of Kuru's race, and Draupadi of great fame, having observed the preliminary fast, set out with their faces towards the east. Setting themselves on Yoga, those high-souled ones, resolved to observe the religion of Renunciation, traversed through various countries and reached diverse rivers and seas. Yudhishthira, proceeded first. Behind him was Bhima; next walked Arjuna; after him were the twins in the order of their birth; behind them all, O foremost one of Bharata's race, proceeded Draupadi, that first of women, possessed of great beauty, of dark complexion, and endued with eyes resembling lotus petals. While the Pandavas set out for the forest, a dog followed them.
"Proceeding on, those heroes reached the sea of red waters. Dhananjaya had not cast off his celestial bow Gandiva, nor his couple of inexhaustible quivers, actuated, O king, by the cupidity that attaches one to things of great value. The Pandavas there beheld the deity of fire standing before them like a hill. Closing their way, the god stood there in his embodied form. The deity of seven flames then addressed the Pandavas, saying, 'Ye heroic sons of Pandu, know me for the deity of fire. O mighty-armed Yudhishthira, O Bhimasena that art a scorcher of foes, O Arjuna, and ye twins of great courage, listen to what I say! Ye foremost ones of Kuru's race, I am the god of fire. The forest of Khandava was burnt by me, through the puissance of Arjuna and of Narayana himself. Let your brother Phalguna proceed to the woods after casting off Gandiva, that high weapon. He has no longer any need of it. That precious discus, which was with the high-souled Krishna, has disappeared (from the world). When the time again comes, it will come back into his hands. This foremost of bows, Gandiva, was procured by me from Varuna for the use of Partha. Let it be made over to Varuna himself.'
"At this, all the brothers urged Dhananjaya to do what the deity said. He then threw into the waters (of the sea) both the bow and the couple of inexhaustible quivers. After this, O chief of Bharata's race, the god of the fire disappeared then and there. The heroic sons of Pandu next proceeded with their faces turned towards the south. Then, by the northern coast of the salt sea, those princes of Bharata's race proceeded to the south-west. Turning next towards the west, they beheld the city of Dwaraka covered by the ocean. Turning next to the north, those foremost ones proceeded on. Observant of Yoga, they were desirous of making a round of the whole Earth."
Section II
Vaishampayana said: "Those princes of restrained souls and devoted to Yoga, proceeding to the north, beheld Himavat, that very large mountain. Crossing the Himavat, they beheld a vast desert of sand. They then saw the mighty mountain Meru, the foremost of all high-peaked mountains. As those mighty ones were proceeding quickly, all rapt in Yoga, Yajnaseni, falling of from Yoga, dropped down on the Earth. Beholding her fallen down, Bhimasena of great strength addressed king Yudhishthira the just, saying, 'O scorcher of foes, this princess never did any sinful act. Tell us what the cause is for which Krishna has fallen down on the Earth!'
"Yudhishthira said: 'O best of men, though we were all equal unto her she had great partiality for Dhananjaya. She obtains the fruit of that conduct today, O best of men.'"
Vaishampayana continued: "Having said this, that foremost one of Bharata's race proceeded on. Of righteous soul, that foremost of men, endued with great intelligence, went on, with mind intent on itself. Then Sahadeva of great learning fell down on the Earth. Beholding him drop down, Bhima addressed the king, saying, 'He who with great humility used to serve us all, alas, why is that son of Madravati fallen down on the Earth?'
"Yudhishthira said, 'He never thought anybody his equal in wisdom. It is for that fault that this prince has fallen down.'
Vaishampayana continued: "Having said this, the king proceeded, leaving Sahadeva there. Indeed, Kunti's son Yudhishthira went on, with his brothers and with the dog. Beholding both Krishna and the Pandava Sahadeva fallen down, the brave Nakula, whose love for kinsmen was very great, fell down himself. Upon the falling down of the heroic Nakula of great personal beauty, Bhima once more addressed the king, saying, 'This brother of ours who was endued with righteousness without incompleteness, and who always obeyed our behests, this Nakula who was unrivalled for beauty, has fallen down.'
"Thus addressed by Bhimasena, Yudhishthira, said, with respect to Nakula, these words: 'He was of righteous soul and the foremost of all persons endued with intelligence. He, however, thought that there was nobody that equalled him in beauty of person. Indeed, he regarded himself as superior to all in that respect. It is for this that Nakula has fallen down. Know this, O Vrikodara. What has been ordained for a person, O hero, must have to be endured by him.'
"Beholding Nakula and the others fall down, Pandu's son Arjuna of white steeds, that slayer of hostile heroes, fell down in great grief of heart. When that foremost of men, who was endued with the energy of Shakra, had fallen down, indeed, when that invincible hero was on the point of death, Bhima said unto the king, 'I do not recollect any untruth uttered by this high-souled one. Indeed, not even in jest did he say anything false. What then is that for whose evil consequence this one has fallen down on the Earth?'
"Yudhishthira said, 'Arjuna had said that he would consume all our foes in a single day. Proud of his heroism, he did not, however, accomplish what he had said. Hence has he fallen down. This Phalguna disregarded all wielders of bows. One desirous of prosperity should never indulge in such sentiments.'"
Vaishampayana continued: "Having said so, the king proceeded on. Then Bhima fell down. Having fallen down, Bhima addressed king Yudhishthira the just, saying, 'O king, behold, I who am thy darling have fallen down. For what reason have I dropped down? Tell me if thou knowest it.'
"Yudhishthira said, 'Thou wert a great eater, and thou didst use to boast of thy strength. Thou never didst attend, O Bhima, to the wants of others while eating. It is for that, O Bhima, that thou hast fallen down.'
"Having said these words, the mighty-armed Yudhishthira proceeded on, without looking back. He had only one companion, the dog of which I have repeatedly spoken to thee, that followed him now.
Section III
Vaishampayana said: "Then Shakra, causing the firmament and the Earth to be filled by a loud sound, came to the son of Pritha on a car and asked him to ascend it. Beholding his brothers fallen on the Earth, king Yudhishthira the just said unto that deity of a 1,000 eyes these words: 'My brothers have all dropped down here. They must go with me. Without them by me I do not wish to go to Heaven, O lord of all the deities. The delicate princess (Draupadi) deserving of every comfort, O Purandara, should go with us. It behoveth thee to permit this.'
"Shakra said, 'Thou shalt behold thy brothers in Heaven. They have reached it before thee. Indeed, thou shalt see all of them there, with Krishna. Do not yield to grief, O chief of the Bharatas. Having cast off their human bodies they have gone there, O chief of Bharata's race. As regards thee, it is ordained that thou shalt go thither in this very body of thine.'
"Yudhishthira said, 'This dog, O lord of the Past and the Present, is exceedingly devoted to me. He should go with me. My heart is full of compassion for him.'
"Shakra said, 'Immortality and a condition equal to mine, O king, prosperity extending in all directions, and high success, and all the felicities of Heaven, thou hast won today. Do thou cast off this dog. In this there will be no cruelty.'
"Yudhishthira said, 'O thou of a 1,000 eyes. O thou that art of righteous behaviour, it is exceedingly difficult for one that is of righteous behaviour to perpetrate an act that is unrighteous. I do not desire that union with prosperity for which I shall have to cast off one that is devoted to me.'
"Indra said, 'There is no place in Heaven for persons with dogs. Besides, the (deities called) Krodhavasas take away all the merits of such persons. Reflecting on this, act, O king Yudhishthira the just. Do thou abandon this dog. There is no cruelty in this.'
"Yudhishthira said, 'It has been said that the abandonment of one that is devoted is infinitely sinful. It is equal to the sin that one incurs by slaying a Brahmana. Hence, O great Indra, I shall not abandon this dog today from desire of my happiness. Even this is my vow steadily pursued, that I never give up a person that is terrified, nor one that is devoted to me, nor one that seeks my protection, saying that he is destitute, nor one that is afflicted, nor one that has come to me, nor one that is weak in protecting oneself, nor one that is solicitous of life. I shall never give up such a one till my own life is at an end.'
"Indra said, 'Whatever gifts, or sacrifices spread out, or libations poured on the sacred fire, are seen by a dog, are taken away by the Krodhavasas. Do thou, therefore, abandon this dog. By abandoning this dog thou wilt attain to the region of the deities. Having abandoned thy brothers and Krishna, thou hast, O hero, acquired a region of felicity by thy own deeds. Why art thou so stupefied? Thou hast renounced everything. Why then dost thou not renounce this dog?' "Yudhishthira said, 'This is well known in all the worlds that there is neither friendship nor enmity with those that are dead. When my brothers and Krishna died, I was unable to revive them. Hence it was that I abandoned them. I did not, however, abandon them as long as they were alive. To frighten one that has sought protection, the slaying of a woman, the theft of what belongs to a Brahmana, and injuring a friend, each of these four, O Shakra, is I think equal to the abandonment of one that is devoted.'"
Vaishampayana continued: "Hearing these words of king Yudhishthira the just, (the dog became transformed into) the deity of Righteousness, who, well pleased, said these words unto him in a sweet voice fraught with praise.
"Dharma said: 'Thou art well born, O king of kings, and possessed of the intelligence and the good conduct of Pandu. Thou hast compassion for all creatures, O Bharata, of which this is a bright example. Formerly, O son, thou wert once examined by me in the woods of Dwaita, where thy brothers of great prowess met with (an appearance of) death. Disregarding both thy brothers Bhima and Arjuna, thou didst wish for the revival of Nakula from thy desire of doing good to thy (step-) mother. On the present occasion, thinking the dog to be devoted to thee, thou hast renounced the very car of the celestials instead of renouncing him. Hence. O king, there is no one in Heaven that is equal to thee. Hence, O Bharata, regions of inexhaustible felicity are thine. Thou hast won them, O chief of the Bharatas, and thine is a celestial and high goal.'"
Vaishampayana continued: "Then Dharma, and Shakra, and the Maruts, and the Ashvinis, and other deities, and the celestial Rishis, causing Yudhishthira to ascend on a car, proceeded to Heaven. Those beings crowned with success and capable of going everywhere at will, rode their respective cars. King Yudhishthira, that perpetuator of Kuru's race, riding on that car, ascended quickly, causing the entire welkin to blaze with his effulgence. Then Narada, that foremost of all speakers, endued with penances, and conversant with all the worlds, from amidst that concourse of deities, said these words: 'All those royal sages that are here have their achievements transcended by those of Yudhishthira. Covering all the worlds by his fame and splendour and by his wealth of conduct, he has attained to Heaven in his own (human) body. None else than the son of Pandu has been heard to achieve this.'
"Hearing these words of Narada, the righteous-souled king, saluting the deities and all the royal sages there present, said, 'Happy or miserable, whatever the region be that is now my brothers', I desire to proceed to. I do not wish to go anywhere else.'
"Hearing this speech of the king, the chief of the deities, Purandara, said these words fraught with noble sense: 'Do thou live in this place, O king of kings, which thou hast won by thy meritorious deeds. Why dost thou still cherish human affections? Thou hast attained to great success, the like of which no other man has ever been able to attain. Thy brothers, O delighter of the Kurus, have succeeded in winning regions of felicity. Human affections still touch thee. This is Heaven. Behold these celestial Rishis and Siddhas who have attained to the region of the gods.'
"Gifted with great intelligence, Yudhishthira answered the chief of the deities once more, saying, 'O conqueror of Daityas, I venture not to dwell anywhere separated from them. I desire to go there, where my brothers have gone. I wish to go there where that foremost of women, Draupadi, of ample proportions and darkish complexion and endued with great intelligence and righteous of conduct, has gone.'"
The end of Mahaprasthanika-parva
Book 18
The Last Illusions
Section I
Om! Having bowed down into Narayana, and to Nara, the foremost of men, as also to the goddess Sarasvati, should the word "Jaya" be uttered.
Janamejaya said, "Having attained to Heaven, what regions were respectively attained by my grandsires of old, viz., the Pandavas and the sons of Dhritarashtra? I desire to hear this. I think that thou art conversant with everything, having been taught by the great Rishi Vyasa of wonderful feats.
Vaishampayana said, "Listen now to what thy grandsires, Yudhishthira and others, did after having attained to Heaven, that place of the deities. Arrived at Heaven, king Yudhishthira the just, beheld Duryodhana endued with prosperity and seated on an excellent seat. He blazed with effulgence like the sun and wore all those signs of glory which belong to heroes. And he was in the company of many deities of blazing effulgence and of Sadhyas of righteous deeds. Yudhishthira, beholding Duryodhana and his prosperity, became suddenly filled with rage and turned back from the sight.
"He loudly addressed his companions, saying, 'I do not desire to share regions of felicity with Duryodhana who was stained by cupidity and possessed of little foresight. It was for him that friends, and kinsmen, over the whole Earth were slaughtered by us whom he had afflicted greatly in the deep forest. It was for him that the virtuous princess of Pancala, Draupadi of faultless features, our wife, was dragged into the midst of the assembly before all our seniors. Ye gods, I have no desire to even behold Suyodhana. I wish to go there where my brothers are.'
"Narada, smiling, told him, 'It should not be so, O king of kings. While residing in Heaven, all enmities cease. O mighty-armed Yudhishthira, do not say so about king Duryodhana. Hear my words. Here is king Duryodhana. He is worshipped with the gods by those righteous men and those foremost of kings who are now denizens of Heaven. By causing his body to be poured as a libation on the fire of battle, he has obtained the end that consists in attainment of the region for heroes. You and your brothers, who were veritable gods on Earth, were always persecuted by this one. Yet through his observance of Kshatriya practices he has attained to this region. This lord of Earth was not terrified in a situation fraught with terror.
"'O son, thou shouldst not bear in mind the woes inflicted on thee on account of the match at dice. It behoveth thee not to remember the afflictions of Draupadi. It behoveth thee not to remember the other woes which were yours in consequence of the acts of your kinsmen,—the woes, viz., that were due to battle or to other situations. Do thou meet Duryodhana now according to the ordinances of polite intercourse. This is Heaven, O lord of men. There can be no enmities here.'
"Though thus addressed by Narada, the Kuru king Yudhishthira, endued with great intelligence, enquired about his brothers and said, 'If these eternal regions reserved for heroes be Duryodhana's, that unrighteous and sinful wight, that man who was the destroyer of friends and of the whole world, that man for whose sake the entire Earth was devastated with all her horses and elephants and human beings, that wight for whose sake we were burnt with wrath in thinking of how best we might remedy our wrongs, I desire to see what regions have been attained by those high-souled heroes, my brothers of high vows, steady achievers of promises, truthful in speech, and distinguished for courage. The high-souled Karna, the son of Kunti, incapable of being baffled in battle, Dhrishtadyumna, Satyaki, the sons of Dhrishtadyumna and those other Kshatriyas who met with death in the observance of Kshatriya practices, where are those lords of Earth, O Brahmana? I do not see them here, O Narada. I desire to see, O Narada, Virata and Drupada and the other great Kshatriyas headed by Dhrishtaketu, as also Shikhandi, the Pancala prince, the sons of Draupadi, and Abhimanyu, irresistible in battle.'
Section II
"Yudhishthira said, 'Ye deities, I do not see here Radha's son of immeasurable prowess, as also my high-souled brothers, and Yudhamanyu and Uttamaujas, those great car-warriors that poured their bodies (as libations) on the fire of battle, those kings and princes that met with death for my sake in battle. Where are those great car-warriors that possessed the prowess of tigers? Have those foremost of men acquired this region? If those great car-warriors have obtained these regions, then only do you know, ye gods, that I shall reside here with those high-souled ones. If this auspicious and eternal region has not been acquired by those kings, then know, ye gods, that without those brothers and kinsmen of mine, I shall not live here. At the time of performing the water rites (after the battle), I heard my mother say, 'Do thou offer oblations of water unto Karna.' Since hearing those words of my mother, I am burning with grief. I grieve also incessantly at this, ye gods, that when I marked the resemblance between the feet of my mother and those of Karna of immeasurable soul, I did not immediately place myself under orders of that afflicter of hostile ranks. Ourselves joined with Karna, Shakra himself would have been unable to vanquish in battle. Wherever may that child of Surya be, I desire to see him. Alas, his relationship with us being unknown, I caused him to be slain by Arjuna. Bhima also of terrible prowess and dearer to me than my life-breaths, Arjuna too, resembling Indra himself, the twins also that resembled the Destroyer himself in prowess, I desire to behold. I wish to see the princess of Pancala, whose conduct was always righteous. I wish not to stay here. I tell you the truth. Ye foremost ones among the deities, what is Heaven to me if I am dissociated from my brothers? That is Heaven where those brothers of mine are. This, in my opinion, is not Heaven.'
"The gods said, 'If thou longest to be there, go then, O son, without delay. At the command of the chief of the deities, we are ready to do what is agreeable to thee.'
Vaishampayana continued: Having said so, the gods then ordered the celestial messenger, O scorcher of foes, saying, 'Do thou show unto Yudhishthira his friends and kinsmen.' Then the royal son of Kunti and the celestial messenger proceeded together, O foremost of kings, to that place where those chiefs of men (whom Yudhishthira had wished to see) were. The celestial messenger proceeded first, the king followed him behind. The path was inauspicious and difficult and trodden by men of sinful deeds. It was enveloped in thick darkness, and covered with hair and moss forming its grassy vesture. Polluted with the stench of sinners, and miry with flesh and blood, it abounded with gadflies and stinging bees and gnats and was endangered by the inroads of grisly bears. Rotting corpses lay here and there. Overspread with bones and hair, it was noisome with worms and insects. It was skirted all along with a blazing fire. It was infested by crows and other birds and vultures, all having beaks of iron, as also by evil spirits with long mouths pointed like needles. And it abounded with inaccessible fastnesses like the Vindhya mountains. Human corpses were scattered over it, smeared with fat and blood, with arms and thighs cut off, or with entrails torn out and legs severed.
"Along that path so disagreeable with the stench of corpses and awful with other incidents, the righteous-souled king proceeded, filled with diverse thoughts. He beheld a river full of boiling water and, therefore, difficult to cross, as also a forest of trees whose leaves were sharp swords and razors. There were plains full of fine white sand exceedingly heated, and rocks and stones made of iron. There were many jars of iron all around, with boiling oil in them. Many a Kuta-salmalika was there, with sharp thorns and, therefore, exceedingly painful to the touch. The son of Kunti beheld also the tortures inflicted upon sinful men.
"Beholding that inauspicious region abounding with every sort of foulness, Yudhishthira asked the celestial messenger, saying, 'How far shall we proceed along a path like this? It behoveth thee to tell me where those brothers of mine are. I desire also to know what region is this of the gods?'
"Hearing these words of king Yudhishthira the just, the celestial messenger stopped in his course and replied, saying, 'Thus far is your way. The denizens of Heaven commanded me that having come thus far, I am to stop. If thou art tired, O king of kings, thou mayst return with me.'
"Yudhishthira, however, was exceedingly disconsolate and stupefied by the foul odour. Resolved to return, O Bharata, he retraced his steps. Afflicted by sorrow and grief, the righteous-souled monarch turned back. Just at that moment he heard piteous lamentations all around, 'O son of Dharma, O royal sage, O thou of sacred origin, O son of Pandu, do thou stay a moment for favouring us. At thy approach, O invincible one, a delightful breeze hath begun to blow, bearing the sweet scent of thy person. Great hath been our relief at this. O foremost of kings, beholding thee, O first of men, great hath been our happiness. O son of Pritha, let that happiness last longer through thy stay here, for a few moments more. Do thou remain here, O Bharata, for even a short while. As long as thou art here, O thou of Kuru's race, torments cease to afflict us.' These and many similar words, uttered in piteous voices by persons in pain, the king heard in that region, wafted to his ears from every side.
"Hearing those words of beings in woe, Yudhishthira of compassionate heart exclaimed aloud, 'Alas, how painful!' And the king stood still. The speeches of those woe-begone and afflicted persons seemed to the son of Pandu to be uttered in voices that he had heard before although he could not recognise them on that occasion.
"Unable to recognise voices, Dharma's son, Yudhishthira, enquired, saying, 'Who are you? Why also do you stay here?'
"Thus addressed, they answered him from all sides, saying, 'I am Karna!' 'I am Bhimasena!' 'I am Arjuna!' 'I am Nakula!' 'I am Sahadeva!' 'I am Dhrishtadyumna!' 'I am Draupadi!' 'We are the sons of Draupadi!' Even thus, O king, did those voices speak.
"Hearing those exclamations, O king, uttered in voices of pain suitable to that place, the royal Yudhishthira asked himself 'What perverse destiny is this? What are those sinful acts which were committed by those high-souled beings, Karna and the sons of Draupadi, and the slender-waisted princess of Pancala, so that their residence has been assigned in this region of foetid smell and great woe? I am not aware of any transgression that can be attributed to these persons of righteous deeds. What is that act by doing which Dhritarashtra's son, king Suyodhana, with all his sinful followers, has become invested with such prosperity? Endued with prosperity like that of the great Indra himself, he is highly adored. What is that act through the consequence of which these (high-souled ones) have fallen into Hell? All of them were conversant with every duty, were heroes, were devoted to truth and the Vedas; were observant of Kshatriya practices; were righteous in their acts; were performers of sacrifices; and givers of large presents unto brahmanas. Am I asleep or awake? Am I conscious or unconscious? Or, is all this a mental delusion due to disorders of the brain?'
"Overwhelmed by sorrow and grief, and with his senses agitated by anxiety, king Yudhishthira indulged in such reflections for a long time. The royal son of Dharma then gave way to great wrath. Indeed, Yudhishthira then censured the gods, as also Dharma himself. Afflicted by the very foul odour, he addressed the celestial messenger, saying, 'Return to the presence of those whose messenger thou art. Tell them that I shall not go back to where they are, but shall stay even here, since, in consequence of my companionship, these afflicted brothers of mine have become comforted.' Thus addressed by the intelligent son of Pandu, the celestial messenger returned to the place where the chief of the deities was, viz., he of a hundred sacrifices. He represented unto him the acts of Yudhishthira. Indeed, O ruler of men, he informed Indra of all that Dharma's son had said!
Section III
Vaishampayana said, "King Yudhishthira the just, the son of Pritha, had not stayed there for more than a moment when, O thou of Kuru's race, all the gods with Indra at their head came to that spot. The deity of Righteousness in his embodied form also came to that place where the Kuru king was, for seeing that monarch. Upon the advent of those deities of resplendent bodies and sanctified and noble deeds, the darkness that had overwhelmed that region immediately disappeared. The torments undergone by beings of sinful deeds were no longer seen. The river Vaitarani, the thorny Salmali, the iron jars, and the boulders of rock, so terrible to behold, also vanished from sight. The diverse repulsive corpses also, which the Kuru king had seen, disappeared at the same time. Then a breeze, delicious and fraught with pleasant perfumes, perfectly pure and delightfully cool, O Bharata, began to blow on that spot in consequence of the presence of the gods. The Maruts, with Indra, the Vasus with the twin Ashvinis, the Sadhyas, the Rudras, the Adityas, and the other denizens of Heaven, as also the Siddhas and the great Rishis, all came there where Dharma's royal son of great energy was.
"Then Shakra, the lord of the deities, endued with blazing prosperity, addressed Yudhishthira and comforting him, said, 'O Yudhishthira of mighty arms, come, come, O chief of men. These illusions have ended, O puissant one. Success has been attained by thee, O mighty-armed one, and eternal regions (of felicity) have become thine. Thou shouldst not yield to wrath. Listen to these words of mine. Hell, O son, should without doubt be beheld by every king. Of both good and bad there is abundance, O chief of men. He who enjoys first the fruits of his good acts must afterwards endure Hell. He, on the other hand, who first endures Hell, must afterwards enjoy Heaven. He whose sinful acts are many enjoys Heaven first. It is for this, O king, that desirous of doing thee good, I caused thee to be sent for having a view of Hell. Thou hadst, by a pretence, deceived Drona in the matter of his son. Thou hast, in consequence thereof, been shown Hell by an act of deception. After the manner of thyself, Bhima and Arjuna, and Draupadi, have all been shown the place of sinners by an act of deception. Come, O chief of men, all of them have been cleansed of their sins. All those kings who had aided thee and who have been slain in battle, have all attained to Heaven. Come and behold them, O foremost one of Bharata's race.
"'Karna, the mighty bowman, that foremost of all wielders of weapons for whom thou art grieving, has also attained to high success. Behold, O puissant one, that foremost of men, viz., the son of Surya. He is in that place which is his own, O mighty-armed one. Kill this grief of thine, O chief of men. Behold thy brothers and others, those kings, that is, who had espoused thy side. They have all attained to their respective places (of felicity). Let the fever of thy heart be dispelled. Having endured a little misery first, from this time, O son of Kuru's race, do thou sport with me in happiness, divested of grief and all thy ailments dispelled. O mighty-armed one, do thou now enjoy, O king, the rewards of all thy deeds of righteousness of those regions which thou hast acquired thyself by thy penances and of all thy gifts. Let deities and Gandharvas, and celestial Apsaras, decked in pure robes and excellent ornaments, wait upon and serve thee for thy happiness. Do thou, O mighty-armed one, enjoy now those regions (of felicity) which have become thine through the Rajasuya sacrifice performed by thee and whose felicities have been enhanced by the sacrificial scimitar employed by thee. Let the high fruits of thy penances be enjoyed by thee. Thy regions, O Yudhishthira, are above, those of kings. They are equal to those of Hariscandra, O son of Pritha. Come, and sport there in bliss. There where the royal sage Mandhatri is, there where king Bhagiratha is, there where Dushmanta's son Bharata is, there wilt thou sport in bliss. Here is the celestial river, sacred and sanctifying the three worlds. It is called Heavenly Ganga. Plunging into it, thou wilt go to thy own regions. Having bathed in this stream, thou wilt be divested of thy human nature. Indeed, thy grief dispelled, thy ailments conquered, thou wilt be freed from all enmities.'
"While, O Kuru king, the chief of the gods was saying so unto Yudhishthira, the deity of Righteousness, in his embodied form, then addressed his own son and said, 'O king, I am greatly pleased, O thou of great wisdom, with thee, O son, by thy devotion to me, by thy truthfulness of speech, and forgiveness, and self-restraint. This, indeed, is the third test, O king, to which I put thee. Thou art incapable, O son of Pritha, of being swerved from thy nature or reason. Before this, I had examined thee in the Dwaita woods by my questions, when thou hadst come to that lake for recovering a couple of fire sticks. Thou stoodst it well. Assuming the shape of a dog, I examined thee once more, O son, when thy brothers with Draupadi had fallen down. This has been thy third test; thou hast expressed thy wish to stay at Hell for the sake of thy brothers. Thou hast become cleansed, O highly blessed one. Purified of sin, be thou happy.
O son of Pritha, thy brothers, O king, were not such as to deserve Hell. All this has been an illusion created by the chief of the gods. Without doubt, all kings, O son, must once behold Hell. Hence hast thou for a little while been subjected to this great affliction. O king, neither Arjuna, nor Bhima, nor any of those foremost of men, viz., the twins, nor Karna, ever truthful in speech and possessed of great courage, could be deserving of Hell for a long time. The princess Krishna too, O Yudhishthira, could not be deserving of that place of sinners. Come, come, O foremost one of the Bharatas, behold Ganga who spreads her current over the three worlds.'
"Thus addressed, that royal sage, viz., thy grandsire, proceeded with Dharma and all the other gods. Having bathed in the celestial river Ganga, sacred and sanctifying and ever adored by the Rishis, he cast off his human body. Assuming then a celestial form, king Yudhishthira the just, in consequence of that bath, became divested of all his enmities and grief. Surrounded by the deities, the Kuru king Yudhishthira then proceeded from that spot. He was accompanied by Dharma, and the great Rishis uttered his praises. Indeed, he reached that place where those foremost of men, those heroes, viz., the Pandavas and the Dhartarashtras, freed from (human) wrath, were enjoying each his respective status.
Section IV
Vaishampayana said, "King Yudhishthira, thus praised by the gods, the Maruts and the Rishis, proceeded to that place where those foremost ones of Kuru's race were. He beheld Govinda endued with his Brahma-form. It resembled that form of his which had been seen before and which, therefore, helped the recognition. Blazing forth in that form of his, he was adorned with celestial weapons, such as the terrible discus and others in their respective embodied forms. He was being adored by the heroic Phalguna, who also was endued with a blazing effulgence. The son of Kunti beheld the slayer of Madhu also in his own form. Those two foremost of Beings, adored by all the gods, beholding Yudhishthira, received him with proper honours.
"In another place, the delighter of the Kurus beheld Karna, that foremost one among all wielders of weapons, resembling a dozen Suryas in splendour. In another part he beheld Bhimasena of great puissance, sitting in the midst of the Maruts, and endued with a blazing form. He was sitting by the side of the God of Wind in his embodied form. Indeed, he was then in a celestial form endued with great beauty, and had attained to the highest success. In place belonging to the Ashvinis, the delighter of the Kurus beheld Nakula and Sahadeva, each blazing with his own effulgence.
"He also beheld the princess of Pancala, decked in garlands of lotuses. Having attained to Heaven, she was sitting there, endued with a form possessed of solar splendour. King Yudhishthira suddenly wished to question her. Then the illustrious Indra, the chief of the gods, spoke to him, 'This one is Sree herself. It was for your sake that she took birth, as the daughter of Drupada, among human beings, issuing not from any mother's womb, O Yudhishthira, endued with agreeable perfume and capable of delighting the whole world. For your pleasure, she was created by the wielder of the trident. She was born in the race of Drupada and was enjoyed by you all. These five highly blessed Gandharvas endued with the effulgence of fire, and possessed of great energy, were, O king, the sons of Draupadi and yourself.
"Behold Dhritarashtra, the king of the Gandharvas, possessed of great wisdom. Know that this one was the eldest brother of thy sire. This one is thy eldest brother, the son of Kunti, endued with effulgence of fire. The son of Surya, thy eldest brother, the foremost of men, even this one was known as the son of Radha. He moves in the company of Surya. Behold this foremost of Beings. Among the tribes of the Saddhyas, the gods, the Viswedevas, and the Maruts, behold, O king of kings, the mighty car-warriors of the Vrishnis and the Andhakas, viz., those heroes having Satyaki for their first, and those mighty ones among the Bhojas. Behold the son of Subhadra, invincible in battle, now staying with Soma. Even he is the mighty bowman Abhimanyu, now endued with the gentle effulgence of the great luminary of the night. Here is the mighty bowman Pandu, now united with Kunti and Madri. Thy sire frequently comes to me on his excellent car. Behold the royal Bhishma, the son of Santanu, now in the midst of the Vasus. Know that this one by the side of Brihaspati is thy preceptor Drona. These and other kings, O son of Pandu, who had warred on thy side now walk with the Gandharvas or Yakshas or other sacred beings. Some have attained to the status of Guhyakas, O king. Having cast off their bodies, they have conquered Heaven by the merit they had acquired through word, thought and deed.'
Section V
Janamejaya said, "Bhishma and Drona, those two high-souled persons, king Dhritarashtra, and Virata and Drupada, and Sankha and Uttara. Dhrishtaketu and Jayatsena and king Satyajit, the sons of Duryodhana, and Shakuni the son of Subala, Karna's sons of great prowess, king Jayadratha, Ghatotkaca and others whom thou hast not mentioned, the other heroic kings of blazing forms—tell me for what period they remained in Heaven. O foremost of regenerate persons, was theirs an eternal place in Heaven? What was the end attained to by those foremost of men when their acts came to an end? I desire to hear this, O foremost of regenerate persons, and therefore have I asked thee. Through thy blazing penances thou seest all things.
Sauti said: Thus questioned, that regenerate Rishi, receiving the permission of the high-souled Vyasa, set himself to answer the question of the king.
Vaishampayana said, "Every one, O king of men, is not capable of returning to his own nature at the end of his deeds. Whether this is so or not, is, indeed a good question asked by thee. Hear, O king, this which is a mystery of the gods, O chief of Bharata's race. It was explained (to us) by Vyasa of mighty energy, celestial vision and great prowess, that ancient ascetic, O Kauravya, who is the son of Parasara and who always observes high vows, who is of immeasurable understanding, who is omniscient, and who, therefore knows the end attached to all acts.
"Bhishma of mighty energy and great effulgence attained to the status of the Vasus. Eight Vasus, O chief of Bharata's race, are now seen. Drona entered into Brihaspati, that foremost one of Angirasa's descendants. Hridika's son Kritavarma entered the Maruts. Pradyumna entered Sanatkumara whence he had issued. Dhritarashtra obtained the regions, so difficult of acquisition, that belong to the Lord of treasures. The famous Gandhari obtained the same regions with her husband Dhritarashtra. With his two wives, Pandu proceeded to the abode of the great Indra. Both Virata and Drupada, the king Dhrishtaketu, as also Nishatha, Akrura, Samva, Bhanukampa, and Viduratha, and Bhurishrava and Sala and king Bhuri, and Kansa, and Ugrasena, and Vasudeva, and Uttara, that foremost of men, with his brother Sankha—all these foremost of persons entered the deities. Soma's son of great prowess, named Varchas of mighty energy, became Abhimanyu, the son of Phalguna, that lion among men. Having fought, agreeably to Kshatriya practices, with bravery such as none else had ever been able to show, that mighty-armed and righteous-souled being entered Soma. Slain on the field of battle, O foremost of men, Karna entered Surya. Shakuni obtained absorption into Dwapara, and Dhrishtadyumna into the deity of fire. The sons of Dhritarashtra were all Rakshasas of fierce might. Sanctified by death caused by weapons, those high-souled beings of prosperity all succeeded in attaining to Heaven. Both Kshattri and king Yudhishthira entered into the god of Righteousness. The holy and illustrious Ananta (who had taken birth as Balarama) proceeded to the region below the Earth. Through the command of the Grandsire, he, aided by his Yoga power, supported the Earth. Vasudeva was a portion of that eternal god of gods called Narayana. Accordingly, he entered into Narayana. 16,000 women had been married to Vasudeva as his wives. When the time came, O Janamejaya, they, plunged into the Sarasvati. Casting off their (human) bodies there, they re-ascended to Heaven. Transformed into Apsaras, they approached the presence of Vasudeva. Those heroic and mighty car-warriors, Ghatotkaca and others, who were slain in the great battle, attained to the status, some of gods and some of Yakshas. Those that had fought on the side of Duryodhana are said to have been Rakshasas. Gradually, O king, they have all attained to excellent regions of felicity. Those foremost of men have proceeded, some to the abode of Indra, some to that of Kuvera of great intelligence, and some to that of Varuna. I have now told thee, O thou of great splendour, everything about the acts, O Bharata, of both the Kurus and the Pandavas.
Sauti said: Hearing this, ye foremost of regenerate ones, at the intervals of sacrificial rites, king Janamejaya became filled with wonder. The sacrificial priests then finished the rites that remained to be gone through. Astika, having rescued the snakes (from fiery death), became filled with joy. King Janamejaya then gratified all the Brahmanas with copious presents. Thus worshipped by the king, they returned to their respective abodes. Having dismissed those learned Brahmanas, king Janamejaya came back from Takshasila to the city named after the elephant.
I have now told everything that Vaishampayana narrated, at the command of Vyasa, unto the king at his snake sacrifice. Called a history, it is sacred, sanctifying and excellent. It has been composed by the ascetic Krishna, O Brahmana, of truthful speech. He is omniscient, conversant with all ordinances, possessed of a knowledge of all duties, endued with piety, capable of perceiving what is beyond the ken of the senses, pure, having a soul cleansed by penances, possessed of the six high attributes, and devoted to Sankhya Yoga. He has composed this, beholding everything with a celestial eye that has been cleansed (strengthened) by varied lore. He has done this, desiring to spread the fame, throughout the world, of the high-souled Pandavas, as also of other Kshatriyas possessed of abundant wealth of energy.
That learned man who recites this history of sacred days in the midst of a listening auditory becomes cleansed of every sin, conquers Heaven, and attains to the status of Brahma. Of that man who listens with rapt attention to the recitation of the whole of this Veda composed by (the Island-born) Krishna, a million sins, numbering such grave ones as Brahmanicide and the rest, are washed off. The Pitris of that man who recites even a small portion of this history at a Sraddha, obtain inexhaustible food and drink. The sins that one commits during the day by one's senses or the mind are all washed off before evening by reciting a portion of the Mahabharata. Whatever sins a Brahmana may commit at night in the midst of women are all washed off before dawn by reciting a portion of the Mahabharata.
The high race of the Bharatas is its topic. Hence it is called Bharata. And because of its grave import, as also of the Bharatas being its topic, it is called Mahabharata. He who is versed in interpretations of this great treatise, becomes cleansed of every sin. Such a man lives in righteousness, wealth, and pleasure, and attains to Emancipation also, O chief of Bharata's race.
That which occurs here occurs elsewhere. That which does not occur here occurs nowhere else. This history is known by the name of Jaya. It should be heard by every one desirous of Emancipation. It should be read by Brahmanas, by kings, and by women quick with children. He that desires Heaven attains to Heaven; and he that desires victory attains to victory. The woman quick with child gets either a son or a daughter highly blessed. The puissant Island-born Krishna, who will not have to come back, and who is Emancipation incarnate, made an abstract of the Bharata, moved by the desire of aiding the cause of righteousness. He made another compilation consisting of sixty lakhs of verses. Thirty lakhs of these were placed in the region of the deities. In the region of the Pitris fifteen lakhs, it should be known, are current; while in that of the Yakshas fourteen lakhs are in vogue. One lakh is current among human beings.
Narada recited the Mahabharata to the gods; Asita-Devala to the Pitris; Suka to the Rakshasas and the Yakshas; and Vaishampayana to human beings. This history is sacred, and of high import, and regarded as equal to the Vedas. That man, O Saunaka, who hears this history, placing a Brahmana before him, acquires both fame and the fruition of all his wishes. He who, with fervid devotion, listens to a recitation of the Mahabharata, attains (hereafter) to high success in consequence of the merit that becomes his through understanding even a very small portion thereof. All the sins of that man who recites or listens to this history with devotion are washed off.
In former times, the great Rishi Vyasa, having composed this treatise, caused his son Suka to read it with him, along with these four Verses. —Thousands of mothers and fathers, and hundreds of sons and wives arise in the world and depart from it. Others will (arise and) similarly depart. There are thousands of occasions for joy and hundreds of occasions for fear. These affect only him that is ignorant but never him that is wise. With uplifted arms I am crying aloud but nobody hears me. From Righteousness is Wealth as also Pleasure. Why should not Righteousness, therefore, be courted? For the sake neither of pleasure, nor of fear, nor of cupidity should any one cast off Righteousness. Indeed, for the sake of even life one should not cast off Righteousness. Righteousness is eternal. Pleasure and Pain are not eternal. Jiva is eternal. The cause, however, of Jiva's being invested with a body is not so.
That man who, waking up at dawn, reads this Savittri of the Bharata, acquires all the rewards attached to a recitation of this history and ultimately attains to the highest Brahma. As the sacred Ocean, as the Himavat mountain, are both regarded as mines of precious gems, even so is this Bharata (regarded as a mine of precious gems). The man of learning, by reciting to others this Veda or Agama composed by (the Island-born) Krishna, earns wealth.
There is no doubt in this that he who, with rapt attention, recites this history called Bharata, attains to high success. What need has that man of a sprinkling of the waters of Pushkara who attentively listens to this Bharata, while it is recited to him? It represents the nectar that fell from the lips of the Island-born. It is immeasurable, sacred, sanctifying, sin-cleansing, and auspicious.
THE rAMAyAnA
Composed ca. 5th c. B.C.E. to 1st c. B.C.E. India
Attributed to Valmiki
The Ramayana ("Journey of Rama"), one of the classics of ancient Indian literature, is a Sanskrit epic poem consisting of 7 books dating as far back as to the 5th c. BCE with additions as late as the 2nd c. BCE. Its authorship is attributed to the Hindu sage Valmiki who appears in the epic as the hermit who gives Sita shelter after Rama banishes her. The Ramayana is the allegorical tale of the birth, childhood, and adult adventures of the eponymous Rama, who is an avatar of the Hindu god Vishnu and, along with his wife Sita, the embodiment of human virtue. The Ramayan of Valmiki is the 1870 verse translation by the 19th c. British scholar Ralph Griffith.
3.4.1 Questions to consider while reading this selection:
How is rama the exemplum (morally upright model) of dharma?

Consider the gender dynamics or balance of power in the Ramayana. What powers do men and women possess? how do men and women wield their powers?

How does the story of the battle between the forces of good and the forces of evil play out? Aside from the hero and villain, who is obviously good and who is obviously evil? Are there any neutral characters? does one's species (animal, demon, human, god) have any effect of one's moral alignment?

Consider the villainous ravana. How does the villain affect the narrative? Could the story address the concepts of good and evil without a specific villain?
Written by Rhonda L. Kelley
3.4.2 The Râmâyana of Valmiki
Translated by Ralph T. H. Griffith, M.A.
Edited and compiled by Rhonda L. Kelley, with Griffith's footnotes
License: CC BY-SA 4.0
Book I
Bala Kanda ("The Book of the Childhood"): Summary
1
The origins and childhood of Rama. Sita's birth, betrothal, and marriage to Rama.
Dasharatha, king of Ayodhya, had three wives Kausalya, Kaikeyi, and Sumitra. Having been childless for a long time and anxious to produce an heir, he performs a fire sacrifice. As a consequence, Rama is born to Kausalya, Bharata is born to Kaikeyi, and the twins Lakshmana and Satrughna are born to Sumitra. These sons are endowed, to various degrees, with the essence of the Supreme God Vishnu; Vishnu had opted to be born into mortality to combat the demon Ravana, who was oppressing the gods, and who could only be destroyed by a mortal. During their upbringing the princes receive instructions from the Vedas (scriptures) and in warfare. When Rama is 16 years old, the sage Vishwamitra comes to the court of Dasharatha in search of help against demons who were disturbing sacrificial rites. He chooses Rama, who is followed by Lakshmana, his constant companion throughout the story. Rama and Lakshmana receive instructions and supernatural weapons from the sage and destroy the demons.
Janaka was the king of Mithila. One day, the king found a female child in the field in a deep furrow dug by his plough. King Janaka adopted the girl and named her Sita, the Sanskrit word for "furrow". Sita grew up to be a girl of unparalleled beauty and charm. When Sita was of marriageable age, the king decided to have a swayamvara2 which included a contest. The king was in possession of an immensely heavy bow, presented to him by the Destroyer God Shiva: whoever could wield the bow could marry Sita. The sage Vishwamitra attends the swayamvara with Rama and Lakshmana. Only Rama is able to wield the bow and, when he draws the string, it breaks. Marriages are arranged between the sons of Dasharatha and daughters of Janaka. Rama marries Sita, and his brothers marry other brides from among the people of Mithila.
Book II
Ayodhya Kanda ("The Book of Ayodhya"): Selections
The preparations for Rama's coronation in the city of Ayodhya, his exile into the forest, and the regency of Bharata.
After Rama and Sita have been married for twelve years, an elderly Dasharatha expresses his desire to crown Rama king, to which the assembly and his subjects express their support. On the eve of the coronation, Dasharatha's wife Kaikeyi—her jealousy aroused by Manthara, a wicked maidservant—claims two boons that Dasharatha had long ago granted her. Kaikeyi demands Rama to be exiled into the wilderness for fourteen years and that the succession pass to her son Bharata. The heartbroken king, constrained by his rigid devotion to his oath, accedes to Kaikeyi's demands. Rama accepts his father's reluctant decree with absolute submission and calm self-control, two of the virtues that characterize him throughout the story. Sita and his half-brother Lakshmana join him in his exile. After Rama's departure, King Dasharatha, unable to bear the grief, passes away.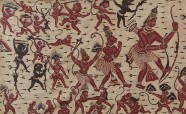 Image 3.4: Cloth printed with Human Figures from The Râmâyana Epic | This fabric artwork shows various characters from the Râmâyana engaged in battle with one another.
Author: User "Tropenmuseum" Source: Wikimedia Commons License: CC BY-SA 3.0
Meanwhile, Bharata, who was visiting his maternal uncle, learns about the events in Ajodhya. Bharata refuses to profit from his mother's wicked scheming and visits Rama in the forest. Rama, determined to carry out his father's orders to the letter, refuses to return before the fourteen years are over. Bharata refuses to be king, instead styling himself "Regent" and keeping Rama's sandals on the throne as symbolic of Rama's status as the rightful king of Ayodhya.
In the selections for this chapter, Cantos XVII-XVIX pick up the story as Rama approaches the throne for his coronation. In Cantos XXVI-XXXI, Rama has already accepted his exile and informs Sita he is leaving. Sita and Lakshmana request and are granted permission to go with him.
Canto XVII
Rama's Approach.
As Rama, rendering blithe and gay
His loving friends, pursued his way,
He saw on either hand a press
Of mingled people numberless.
The royal street he traversed, where
Incense of aloe filled the air,
Where rose high palaces, that vied
With paly clouds, on either side;
With flowers of myriad colours graced.
And food for every varied taste,
Bright as the glowing path o'erhead
Which feet of Gods celestial tread,
Loud benedictions, sweet to hear,
From countless voices soothed his ear.
While he to each gave due salute
His place and dignity to suit:
"Be thou," the joyful people cried,
"Be thou our guardian, lord and guide.
Throned and anointed king to-day,
Thy feet set forth upon the way
Wherein, each honoured as a God,
Thy fathers and forefathers trod.
Thy sire and his have graced the throne,
And loving care to us have shown:
Thus blest shall we and ours remain,
Yea still more blest in Rama's reign.
No more of dainty fare we need,
And but one cherished object heed,
That we may see our prince today
Invested with imperial sway."
Such were the words and pleasant speech
That Rama heard, unmoved, from each
Of the dear friends around him spread,
As onward through the street he sped,
For none could turn his eye or thought
From the dear form his glances sought,
With fruitless ardour forward cast
Even when Raghu's son3 had past.
And he who saw not Rama nigh,
Nor caught a look from Rama's eye,
A mark for scorn and general blame,
Reproached himself in bitter shame.
For to each class his equal mind
With sympathy and love inclined
Most fully of the princely four,
So greatest love to him they bore.
His circling course the hero bent
Round shrine and altar, reverent,
Round homes of Gods, where cross-roads met,
Where many a sacred tree was set.
Near to his father's house he drew
Like Indra's4 beautiful to view,
And with the light his glory gave
Within the royal palace drave.
Through three broad courts, where bowmen kept
Their watch and ward, his coursers swept,
Then through the two remaining went
On foot the prince preeminent.
Through all the courts the hero passed,
And gained the ladies' bower at last;
Then through the door alone withdrew,
And left without his retinue.
When thus the monarch's noble boy
Had gone his sire to meet,
The multitude, elate with joy,
Stood watching in the street,
And his return with eager eyes
Expected at the gates,
As for his darling moon to rise
The King of Rivers5 waits.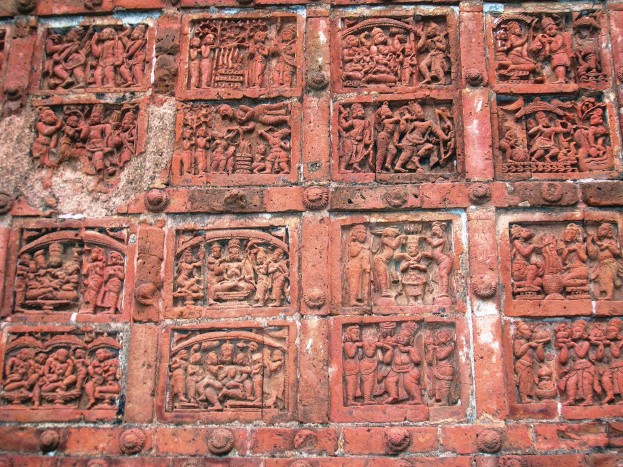 Image 3.5: Jor Bangla Temple (ramayana Motifs) | This temple wall in India shows numerous scenes from the Râmâyana.
Author: User "Jonoikobangali" Source: Wikimedia Commons License: CC BY-SA 3.0
Canto XVIII
The Sentence.
With hopeless eye and pallid mien
There sat the monarch with the queen.
His father's feet with reverence due
He clasped, and touched Kaikeyi's6 too.
The king, with eyes still brimming o'er,
Cried "Rama!" and could do no more.
His voice was choked, his eye was dim,
He could not speak or look on him.
Then sudden fear made Rama shake
As though his foot had roused a snake,
Soon as his eyes had seen the change
So mournful, terrible, and strange.
For there his reason well-nigh fled,
Sighing, with soul disquieted,
To torturing pangs a prey,
Dismayed, despairing, and distraught,
In a fierce whirl of wildering thought
The hapless monarch lay,
Like Ocean wave-engarlanded
Storm-driven from his tranquil bed,
The Sun-God in eclipse,
Or like a holy seer, heart-stirred
With anguish, when a lying word
Has passed his heedless lips.
The sight of his dear father, pained
With woe and misery unexplained
Filled Rama with unrest,
As Ocean's pulses rise and swell
When the great moon he loves so well
Shines full upon his breast.
So grieving for his father's sake,
To his own heart the hero spake:
"Why will the king my sire to-day
No kindly word of greeting say?
At other times, though wroth he be,
His eyes grow calm that look on me.
Then why does anguish wring his brow
To see his well-beloved now?"
Sick and perplexed, distraught with woe,
To Queen Kaikeyi bowing low,
While pallor o'er his bright cheek spread,
With humble reverence he said:
"What have I done, unknown, amiss
To make my father wroth like this?
Declare it, O dear Queen, and win
His pardon for my heedless sin.
Why is the sire I ever find
Filled with all love to-day unkind?
With eyes cast down and pallid cheek
This day alone he will not speak.
Or lies he prostrate neath the blow
Of fierce disease or sudden woe?
For all our bliss is dashed with pain,
And joy unmixt is hard to gain.
Does stroke of evil fortune smite
Dear Bharat, charming to the sight,
Or on the brave Satrughna7 fall,
Or consorts, for he loves them all?
Against his words when I rebel,
Or fail to please the monarch well,
When deeds of mine his soul offend,
That hour I pray my life may end.
How should a man to him who gave
His being and his life behave?
The sire to whom he owes his birth
Should be his deity on earth.
Hast thou, by pride and folly moved,
With bitter taunt the king reproved?
Has scorn of thine or cruel jest
To passion stirred his gentle breast?
Speak truly, Queen, that I may know
What cause has changed the monarch so."
Thus by the high-souled prince addressed,
Of Raghu's sons the chief and best,
She cast all ruth8 and shame aside,
And bold with greedy words replied:
"Not wrath, O Rama, stirs the king,
Nor misery stabs with sudden sting;
One thought that fills his soul has he,
But dares not speak for fear of thee.
Thou art so dear, his lips refrain
From words that might his darling pain.
But thou, as duty bids, must still
The promise of thy sire fulfil.
He who to me in days gone by
Vouchsafed a boon with honours high,
Dares now, a king, his word regret,
And caitiff-like disowns the debt.
The lord of men his promise gave
To grant the boon that I might crave,
And now a bridge would idly throw
When the dried stream has ceased to flow.
His faith the monarch must not break
In wrath, or e'en for thy dear sake.
From faith, as well the righteous know,
Our virtue and our merits flow.
Now, be they good or be they ill,
Do thou thy father's words fulfil:
Swear that his promise shall not fail,
And I will tell thee all the tale.
Yes, Rama, when I hear that thou
Hast bound thee by thy father's vow,
Then, not till then, my lips shall speak,
Nor will he tell what boon I seek."
He heard, and with a troubled breast
This answer to the queen addressed:
"Ah me, dear lady, canst thou deem
That words like these thy lips beseem?
I, at the bidding of my sire,
Would cast my body to the fire,
A deadly draught of poison drink,
Or in the waves of ocean sink:
If he command, it shall be done,—
My father and my king in one.
Then speak and let me know the thing
So longed for by my lord the king.
It shall be done: let this suffice;
Rama ne'er makes a promise twice."
He ended. To the princely youth
Who loved the right and spoke the truth,
Cruel, abominable came
The answer of the ruthless dame:
"When Gods and Titans fought of yore,
Transfixed with darts and bathed in gore
Two boons to me thy father gave
For the dear life 'twas mine to save.
Of him I claim the ancient debt,
That Bharat on the throne be set,
And thou, O Rama, go this day
To Dandak forest far away.
Now, Rama, if thou wilt maintain
Thy father's faith without a stain,
And thine own truth and honour clear,
Then, best of men, my bidding hear.
Do thou thy father's word obey,
Nor from the pledge he gave me stray.
Thy life in Dandak forest spend
Till nine long years and five shall end.
Upon my Bharat's princely head
Let consecrating drops be shed,
With all the royal pomp for thee
Made ready by the king's decree.
Seek Dandak forest and resign
Rites that would make the empire thine,
For twice seven years of exile wear
The coat of bark and matted hair.
Then in thy stead let Bharat reign
Lord of his royal sire's domain,
Rich in the fairest gems that shine,
Cars, elephants, and steeds, and kine9.
The monarch mourns thy altered fate
And vails his brow compassionate:
Bowed down by bitter grief he lies
And dares not lift to thine his eyes.
Obey his word: be firm and brave,
And with great truth the monarch save."
While thus with cruel words she spoke,
No grief the noble youth betrayed;
But forth the father's anguish broke,
At his dear Rama's lot dismayed.
Canto XIX
Rama's Promise.
Calm and unmoved by threatened woe
The noble conqueror of the foe
Answered the cruel words she spoke,
Nor quailed beneath the murderous stroke:
"Yea, for my father's promise sake
I to the wood my way will take,
And dwell a lonely exile there
In hermit dress with matted hair.
One thing alone I fain would learn,
Why is the king this day so stern?
Why is the scourge of foes so cold,
Nor gives me greeting as of old?
Now let not anger flush thy cheek:
Before thy face the truth I speak,
In hermit's coat with matted hair
To the wild wood will I repair.
How can I fail his will to do,
Friend, master, grateful sovereign too?
One only pang consumes my breast:
That his own lips have not expressed
His will, nor made his longing known
That Bharat should ascend the throne.
To Bharat I would yield my wife,
My realm and wealth, mine own dear life,
Unasked I fain would yield them all:
More gladly at my father's call,
More gladly when the gift may free
His honour and bring joy to thee.
Thus, lady, his sad heart release
From the sore shame, and give him peace.
But tell me, O, I pray thee, why
The lord of men, with downcast eye,
Lies prostrate thus, and one by one
Down his pale cheek the tear-drops run.
Let couriers to thy father speed
On horses of the swiftest breed,
And, by the mandate of the king,
Thy Bharat to his presence bring.
My father's words I will not stay
To question, but this very day
To Dandak's pathless wild will fare,
For twice seven years an exile there."
When Rama thus had made reply
Kaikeyi's heart with joy beat high.
She, trusting to the pledge she held,
The youth's departure thus impelled:
"'Tis well. Be messengers despatched
On coursers ne'er for fleetness matched,
To seek my father's home and lead
My Bharat back with all their speed.
And, Rama, as I ween that thou
Wilt scarce endure to linger now,
So surely it were wise and good
This hour to journey to the wood.
And if, with shame cast down and weak,
No word to thee the king can speak,
Forgive, and from thy mind dismiss
A trifle in an hour like this.
But till thy feet in rapid haste
Have left the city for the waste,
And to the distant forest fled,
He will not bathe nor call for bread."
"Woe! woe!" from the sad monarch burst,
In surging floods of grief immersed;
Then swooning, with his wits astray,
Upon the gold-wrought couch he lay,
And Rama raised the aged king:
But the stern queen, unpitying,
Checked not her needless words, nor spared
The hero for all speed prepared,
But urged him with her bitter tongue,
Like a good horse with lashes stung,
She spoke her shameful speech.
Serene He heard the fury of the queen,
And to her words so vile and dread
Gently, unmoved in mind, he said:
"I would not in this world remain
A grovelling thrall to paltry gain,
But duty's path would fain pursue,
True as the saints themselves are true.
From death itself I would not fly
My father's wish to gratify,
What deed soe'er his loving son
May do to please him, think it done.
Amid all duties, Queen, I count
This duty first and paramount,
That sons, obedient, aye fulfil
Their honoured fathers' word and will.
Without his word, if thou decree,
Forth to the forest will I flee,
And there shall fourteen years be spent
Mid lonely wilds in banishment.
Methinks thou couldst not hope to find
One spark of virtue in my mind,
If thou, whose wish is still my lord,
Hast for this grace the king implored.
This day I go, but, ere we part,
Must cheer my Sita's tender heart,
To my dear mother bid farewell;
Then to the woods, a while to dwell.
With thee, O Queen, the care must rest
That Bharat hear his sire's behest,
And guard the land with righteous sway,
For such the law that lives for aye."
In speechless woe the father heard,
Wept with loud cries, but spoke no word.
Then Rama touched his senseless feet,
And hers, for honour most unmeet;
Round both his circling steps he bent,
Then from the bower the hero went.
Soon as he reached the gate he found
His dear companions gathered round.
Behind him came Sumitra's child
With weeping eyes so sad and wild.
Then saw he all that rich array
Of vases for the glorious day.
Round them with reverent stops he paced,
Nor vailed his eye, nor moved in haste.
The loss of empire could not dim
The glory that encompassed him.
So will the Lord of Cooling Rays10
On whom the world delights to gaze,
Through the great love of all retain
Sweet splendour in the time of wane.
Now to the exile's lot resigned
He left the rule of earth behind:
As though all worldly cares he spurned
No trouble was in him discerned.
The chouries11 that for kings are used,
And white umbrella, he refused,
Dismissed his chariot and his men,
And every friend and citizen.
He ruled his senses, nor betrayed
The grief that on his bosom weighed,
And thus his mother's mansion sought
To tell the mournful news he brought.
Nor could the gay-clad people there
Who flocked round Rama true and fair,
One sign of altered fortune trace
Upon the splendid hero's face.
Nor had the chieftain, mighty-armed,
Lost the bright look all hearts that charmed,
As e'en from autumn moons is thrown
A splendour which is all their own.
With his sweet voice the hero spoke
Saluting all the gathered folk,
Then righteous-souled and great in fame
Close to his mother's house he came.
Lakshman the brave, his brother's peer
In princely virtues, followed near,
Sore troubled, but resolved to show
No token of his secret woe.
Thus to the palace Rama went
Where all were gay with hope and joy;
But well he knew the dire event
That hope would mar, that bliss destroy.
So to his grief he would not yield
Lest the sad change their hearts might rend,
And, the dread tiding unrevealed,
Spared from the blow each faithful friend.
[Cantos XX-XXV: Rama bids farewell to his father and mother]
Canto XXVI
Alone With Sita.
So Rama, to his purpose true,
To Queen Kausalya12 bade adieu,
Received the benison she gave,
And to the path of duty clave.
As through the crowded street he passed,
A radiance on the way he cast,
And each fair grace, by all approved,
The bosoms of the people moved.
Now of the woeful change no word
The fair Videhan13 bride had heard; T
he thought of that imperial rite
Still filled her bosom with delight.
With grateful heart and joyful thought
The Gods in worship she had sought,
And, well in royal duties learned,
Sat longing till her lord returned,
Not all unmarked by grief and shame
Within his sumptuous home he came,
And hurried through the happy crowd
With eye dejected, gloomy-browed.
Up Sita sprang, and every limb
Trembled with fear at sight of him.
She marked that cheek where anguish fed,
Those senses care-disquieted.
For, when he looked on her, no more
Could his heart hide the load it bore,
Nor could the pious chief control
The paleness o'er his cheek that stole.
His altered cheer, his brow bedewed
With clammy drops, his grief she viewed,
And cried, consumed with fires of woe,
"What, O my lord, has changed thee so?
Vrihaspati14 looks down benign,
And the moon rests in Pushya's sign15,
As Brahmans16 sage this day declare:
Then whence, my lord, this grief and care?
Why does no canopy, like foam
For its white beauty, shade thee home,
Its hundred ribs spread wide to throw
Splendour on thy fair head below?
Where are the royal fans, to grace
The lotus beauty of thy face,
Fair as the moon or wild-swan's wing,
And waving round the new-made king?
Why do no sweet-toned bards rejoice
To hail thee with triumphant voice?
No tuneful heralds love to raise
Loud music in their monarch's praise?
Why do no Brahmans, Scripture-read,
Pour curds and honey on thy head,
Anointed, as the laws ordain,
With holy rites, supreme to reign?
Where are the chiefs of every guild?
Where are the myriads should have filled
The streets, and followed home their king
With merry noise and triumphing?
Why does no gold-wrought chariot lead
With four brave horses, best for speed?
No elephant precede the crowd
Like a huge hill or thunder cloud,
Marked from his birth for happy fate,
Whom signs auspicious decorate?
Why does no henchman, young and fair,
Precede thee, and delight to bear
Entrusted to his reverent hold
The burthen of thy throne of gold?
Why, if the consecrating rite
Be ready, why this mournful plight?
Why do I see this sudden change,
This altered mien so sad and strange?"
To her, as thus she weeping cried,
Raghu's illustrious son replied:
"Sita, my honoured sire's decree
Commands me to the woods to flee.
O high-born lady, nobly bred
In the good paths thy footsteps tread,
Hear, Janak's17 daughter, while I tell
The story as it all befell.
Of old my father true and brave
Two boons to Queen Kaikeyi gave.
Through these the preparations made
For me to-day by her are stayed,
For he is bound to disallow
This promise by that earlier vow.
In Dandak forest wild and vast
Must fourteen years by me be passed.
My father's will makes Bharat heir,
The kingdom and the throne to share.
Now, ere the lonely wild I seek,
I come once more with thee to speak.
In Bharat's presence, O my dame,
Ne'er speak with pride of Rama's name:
Another's eulogy to hear
Is hateful to a monarch's
ear. Thou must with love his rule obey
To whom my father yields the sway.
With love and sweet observance learn
His grace, and more the king's, to earn.
Now, that my father may not break
The words of promise that he spake,
To the drear wood my steps are bent:
Be firm, good Sita, and content.
Through all that time, my blameless spouse,
Keep well thy fasts and holy vows.
Rise from thy bed at break of day,
And to the Gods due worship pay.
With meek and lowly love revere
The lord of men, my father dear,
And reverence to Kausalya show,
My mother, worn with eld18 and woe:
By duty's law, O best of dames,
High worship from thy love she claims,
Nor to the other queens refuse
Observance, rendering each her dues:
By love and fond attention shown
They are my mothers like mine own.
Let Bharat and Satrughna bear
In thy sweet love a special share:
Dear as my life, O let them be
Like brother and like son to thee.
In every word and deed refrain
From aught that Bharat's soul may pain:
He is Ayodhya's king and mine,
The head and lord of all our line.
For those who serve and love them much
With weariless endeavour, touch
And win the gracious hearts of kings.
While wrath from disobedience springs.
Great monarchs from their presence send
Their lawful sons who still offend,
And welcome to the vacant place
Good children of an alien race.
Then, best of women, rest thou here,
And Bharat's will with love revere.
Obedient to thy king remain,
And still thy vows of truth maintain.
To the wide wood my steps I bend:
Make thou thy dwelling here;
See that thy conduct ne'er offend,
And keep my words, my dear."
Canto XXVII
Sita's Speech.
His sweetly-speaking bride, who best
Deserved her lord, he thus addressed.
Then tender love bade passion wake,
And thus the fair Videhan spake:
"What words are these that thou hast said?
Contempt of me the thought has bred.
O best of heroes, I dismiss
With bitter scorn a speech like this:
Unworthy of a warrior's fame
It taints a monarch's son with shame,
Ne'er to be heard from those who know
The science of the sword and bow.
My lord, the mother, sire, and son
Receive their lots by merit won;
The brother and the daughter find
The portions to their deeds assigned.
The wife alone, whate'er await,
Must share on earth her husband's fate.
So now the king's command which sends
Thee to the wild, to me extends.
The wife can find no refuge, none,
In father, mother, self, or son:
Both here, and when they vanish hence,
Her husband is her sole defence.
If, Raghu's son, thy steps are led
Where Dandak's pathless wilds are spread,
My foot before thine own shall pass
Through tangled thorn and matted grass.
Dismiss thine anger and thy doubt:
Like refuse water cast them out,
And lead me, O my hero, hence—
I know not sin—with confidence.
Whate'er his lot, 'tis far more sweet
To follow still a husband's feet
Than in rich palaces to lie,
Or roam at pleasure through the sky.
My mother and my sire have taught
What duty bids, and trained each thought,
Nor have I now mine ear to turn
The duties of a wife to learn.
I'll seek with thee the woodland dell
And pathless wild where no men dwell,
Where tribes of silvan19 creatures roam,
And many a tiger makes his home.
My life shall pass as pleasant there
As in my father's palace fair.
The worlds shall wake no care in me;
My only care be truth to thee.
There while thy wish I still obey,
True to my vows with thee I'll stray,
And there shall blissful hours be spent
In woods with honey redolent.
In forest shades thy mighty arm
Would keep a stranger's life from harm,
And how shall Sita think of fear
When thou, O glorious lord, art near?
Heir of high bliss, my choice is made,
Nor can I from my will be stayed.
Doubt not; the earth will yield me roots,
These will I eat, and woodland fruits;
And as with thee I wander there
I will not bring thee grief or care.
I long, when thou, wise lord, art nigh,
All fearless, with delighted eye
To gaze upon the rocky hill,
The lake, the fountain, and the rill;
To sport with thee, my limbs to cool,
In some pure lily-covered pool,
While the white swan's and mallard's wings
Are plashing in the water-springs.
So would a thousand seasons flee
Like one sweet day, if spent with thee.
Without my lord I would not prize
A home with Gods above the skies:
Without my lord, my life to bless,
Where could be heaven or happiness?
Forbid me not: with thee I go
The tangled wood to tread.
There will I live with thee, as though
This roof were o'er my head.
My will for thine shall be resigned;
Thy feet my steps shall guide.
Thou, only thou, art in my mind:
I heed not all beside.
Thy heart shall ne'er by me be grieved;
Do not my prayer deny:
Take me, dear lord; of thee bereaved
Thy Sita swears to die."
These words the duteous lady spake,
Nor would he yet consent
His faithful wife with him to take
To share his banishment.
He soothed her with his gentle speech;
To change her will he strove;
And much he said the woes to teach
Of those in wilds who rove.
Canto XXVIII
The Dangers Of The Wood.
Thus Sita spake, and he who knew
His duty, to its orders true,
Was still reluctant as the woes
Of forest life before him rose.
He sought to soothe her grief, to dry
The torrent from each brimming eye,
And then, her firm resolve to shake,
These words the pious hero spake:
"O daughter of a noble line,
Whose steps from virtue ne'er decline,
Remain, thy duties here pursue,
As my fond heart would have thee do.
Now hear me, Sita, fair and weak,
And do the words that I shall speak.
Attend and hear while I explain
Each danger in the wood, each pain.
Thy lips have spoken: I condemn
The foolish words that fell from them.
This senseless plan, this wish of thine
To live a forest life, resign.
The names of trouble and distress
Suit well the tangled wilderness.
In the wild wood no joy I know,
A forest life is nought but woe.
The lion in his mountain cave
Answers the torrents as they rave,
And forth his voice of terror throws:
The wood, my love, is full of woes.
There mighty monsters fearless play,
And in their maddened onset slay
The hapless wretch who near them goes:
The wood, my love, is full of woes.
'Tis hard to ford each treacherous flood,
So thick with crocodiles and mud,
Where the wild elephants repose:
The wood, my love, is full of woes.
Or far from streams the wanderer strays
Through thorns and creeper-tangled ways,
While round him many a wild-cock crows:
The wood, my love, is full of woes.
On the cold ground upon a heap
Of gathered leaves condemned to sleep,
Toil-wearied, will his eyelids close:
The wood, my love, is full of woes.
Long days and nights must he content
His soul with scanty aliment,
What fruit the wind from branches blows:
The wood, my love, is full of woes.
O Sita, while his strength may last,
The ascetic in the wood must fast,
Coil on his head his matted hair,
And bark must be his only wear.
To Gods and spirits day by day
The ordered worship he must pay,
And honour with respectful care
Each wandering guest who meets him there.
The bathing rites he ne'er must shun
At dawn, at noon, at set of sun,
Obedient to the law he knows:
The wood, my love, is full of woes.
To grace the altar must be brought
The gift of flowers his hands have sought—
The debt each pious hermit owes:
The wood, my love, is full of woes.
The devotee must be content
To live, severely abstinent,
On what the chance of fortune shows:
The wood, my love, is full of woes.
Hunger afflicts him evermore:
The nights are black, the wild winds roar;
And there are dangers worse than those:
The wood, my love, is full of woes.
There creeping things in every form
Infest the earth, the serpents swarm,
And each proud eye with fury glows:
The wood, my love, is full of woes.
The snakes that by the rives hide
In sinuous course like rivers glide,
And line the path with deadly foes:
The wood, my love, is full of woes.
Scorpions, and grasshoppers, and flies
Disturb the wanderer as he lies,
And wake him from his troubled doze:
The wood, my love, is full of woes.
Trees, thorny bushes, intertwined,
Their branched ends together bind,
And dense with grass the thicket grows:
The wood, my dear, is full of woes,
With many ills the flesh is tried,
When these and countless fears beside Vex
those who in the wood remain:
The wilds are naught but grief and pain.
Hope, anger must be cast aside,
To penance every thought applied:
No fear must be of things to fear:
Hence is the wood forever drear.
Enough, my love: thy purpose quit:
For forest life thou art not fit.
As thus I think on all, I see
The wild wood is no place for thee."
Canto XXIX.
Sita's Appeal.
Thus Rama spake. Her lord's address
The lady heard with deep distress,
And, as the tear bedimmed her eye,
In soft low accents made reply:
"The perils of the wood, and all
The woes thou countest to appal,
Led by my love I deem not pain;
Each woe a charm, each loss a gain.
Tiger, and elephant, and deer,
Bull, lion, buffalo, in fear,
Soon as thy matchless form they see,
With every silvan beast will flee.
With thee, O Rama, I must go:
My sire's command ordains it so.
Bereft of thee, my lonely heart
Must break, and life and I must part.
While thou, O mighty lord, art nigh,
Not even He who rules the sky,
Though He is strongest of the strong,
With all his might can do me wrong.
Nor can a lonely woman left
By her dear husband live bereft.
In my great love, my lord, I ween,
The truth of this thou mayst have seen.
In my sire's palace long ago
I heard the chief of those who know,
The truth-declaring Brahmans, tell
My fortune, in the wood to dwell.
I heard their promise who divine
The future by each mark and sign,
And from that hour have longed to lead
The forest life their lips decreed.
Now, mighty Rama, I must share
Thy father's doom which sends thee there;
In this I will not be denied,
But follow, love, where thou shalt guide.
O husband, I will go with thee,
Obedient to that high decree.
Now let the Brahmans' words be true,
For this the time they had in view.
I know full well the wood has woes;
But they disturb the lives of those
Who in the forest dwell, nor hold
Their rebel senses well controlled.
In my sire's halls, ere I was wed,
I heard a dame who begged her bread
Before my mother's face relate
What griefs a forest life await.
And many a time in sport I prayed
To seek with thee the greenwood shade,
For O, my heart on this is set,
To follow thee, dear anchoret.
May blessings on thy life attend:
I long with thee my steps to bend,
For with such hero as thou art
This pilgrimage enchants my heart.
Still close, my lord, to thy dear side
My spirit will be purified:
Love from all sin my soul will free:
My husband is a God to me.
So, love, with thee shall I have bliss
And share the life that follows this.
I heard a Brahman, dear to fame,
This ancient Scripture text proclaim:
"The woman whom on earth below
Her parents on a man bestow,
And lawfully their hands unite
With water and each holy rite,
She in this world shall be his wife,
His also in the afterlife."
Then tell me, O beloved, why
Thou wilt this earnest prayer deny,
Nor take me with thee to the wood,
Thine own dear wife so true and good.
But if thou wilt not take me there
Thus grieving in my wild despair,
To fire or water I will fly,
Or to the poisoned draught, and die."
So thus to share his exile, she
Besought him with each earnest plea,
Nor could she yet her lord persuade
To take her to the lonely shade.
The answer of the strong-armed chief
Smote the Videhan's soul with grief,
And from her eyes the torrents came
bathing the bosom of the dame.
Canto XXX.
The Triumph Of Love.
The daughter of Videha's king,
While Rama strove to soothe the sting
Of her deep anguish, thus began
Once more in furtherance of her plan:
And with her spirit sorely tried
By fear and anger, love and pride,
With keenly taunting words addressed
Her hero of the stately breast:
"Why did the king my sire, who reigns
O'er fair Videha's wide domains,
Hail Rama son with joy unwise,
A woman in a man's disguise?
Now falsely would the people say,
By idle fancies led astray,
That Rama's own are power and might,
As glorious as the Lord of Light.
Why sinkest thou in such dismay?
What fears upon thy spirit weigh,
That thou, O Rama, fain wouldst flee
From her who thinks of naught but thee?
To thy dear will am I resigned
In heart and body, soul and mind,
As Savitri20 gave all to one,
Satyavan, Dyumatsena's son.
Not e'en in fancy can I brook
To any guard save thee to look:
Let meaner wives their houses shame,
To go with thee is all my claim.
Like some low actor, deemst thou fit
Thy wife to others to commit—
Thine own, espoused in maiden youth,
Thy wife so long, unblamed for truth?
Do thou, my lord, his will obey
For whom thou losest royal sway,
To whom thou wouldst thy wife confide—
Not me, but thee, his wish may guide.
Thou must not here thy wife forsake,
And to the wood thy journey make,
Whether stern penance, grief, and care,
Or rule or heaven await thee there.
Nor shall fatigue my limbs distress
When wandering in the wilderness:
Each path which near to thee I tread
Shall seem a soft luxurious bed.
The reeds, the bushes where I pass,
The thorny trees, the tangled grass
Shall feel, if only thou be near,
Soft to my touch as skins of deer.
When the rude wind in fury blows,
And scattered dust upon me throws,
That dust, beloved lord, to me
Shall as the precious sandal be.
And what shall be more blest than I,
When gazing on the wood I lie
In some green glade upon a bed
With sacred grass beneath us spread?
The root, the leaf, the fruit which thou
Shalt give me from the earth or bough,
Scanty or plentiful, to eat,
Shall taste to me as Amrit sweet.
As there I live on flowers and roots
And every season's kindly fruits,
I will not for my mother grieve,
My sire, my home, or all I leave.
My presence, love, shall never add
One pain to make the heart more sad;
I will not cause thee grief or care,
Nor be a burden hard to bear.
With thee is heaven, where'er the spot;
Each place is hell where thou art not.
Then go with me, O Rama; this
Is all my hope and all my bliss.
If thou wilt leave thy wife who still
Entreats thee with undaunted will,
This very day shall poison close
The life that spurns the rule of foes.
How, after, can my soul sustain
The bitter life of endless pain,
When thy dear face, my lord, I miss?
No, death is better far than this.
Not for an hour could I endure
The deadly grief that knows not cure,
Far less a woe I could not shun
For ten long years, and three, and one."
While fires of woe consumed her, such
Her sad appeal, lamenting much;
Then with a wild cry, anguish-wrung,
About her husband's neck she clung.
Like some she-elephant who bleeds
Struck by the hunter's venomed reeds,
So in her quivering heart she felt
The many wounds his speeches dealt.
Then, as the spark from wood is gained21,
Down rolled the tear so long restrained:
The crystal moisture, sprung from woe,
From her sweet eyes began to flow,
As runs the water from a pair
Of lotuses divinely fair.
And Sita's face with long dark eyes,
Pure as the moon of autumn skies,
Faded with weeping, as the buds
Of lotuses when sink the floods.
Around his wife his arms he strained,
Who senseless from her woe remained,
And with sweet words, that bade her wake
To life again, the hero spake:
"I would not with thy woe, my Queen,
Buy heaven and all its blissful sheen.
Void of all fear am I as He,
The self-existent God, can be.
I knew not all thy heart till now,
Dear lady of the lovely brow,
So wished not thee in woods to dwell;
Yet there mine arm can guard thee well.
Now surely thou, dear love, wast made
To dwell with me in green wood shade.
And, as a high saint's tender mind
Clings to its love for all mankind,
So I to thee will ever cling,
Sweet daughter of Videha's king.
The good, of old, O soft of frame,
Honoured this duty's sovereign claim,
And I its guidance will not shun,
True as light's Queen is to the Sun.
I cannot, pride of Janak's line,
This journey to the wood decline:
My sire's behest, the oath he sware,
The claims of truth, all lead me there.
One duty, dear the same for aye,
Is sire and mother to obey:
Should I their orders once transgress
My very life were weariness.
If glad obedience be denied
To father, mother, holy guide,
What rites, what service can be done
That stern Fate's favour may be won?
These three the triple world comprise,
O darling of the lovely eyes.
Earth has no holy thing like these
Whom with all love men seek to please.
Not truth, or gift, or bended knee,
Not honour, worship, lordly fee,
Storms heaven and wins a blessing thence
Like sonly love and reverence.
Heaven, riches, grain, and varied lore,
With sons and many a blessing more,
All these are made their own with ease
By those their elders' souls who please.
The mighty-souled, who ne'er forget,
Devoted sons, their filial debt,
Win worlds where Gods and minstrels are,
And Brahma's sphere more glorious far.
Now as the orders of my sire,
Who keeps the way of truth, require,
So will I do, for such the way
Of duty that endures for aye:
To take thee, love, to Dandak's wild
My heart at length is reconciled,
For thee such earnest thoughts impel
To follow, and with me to dwell.
O faultless form from feet to brows,
Come with me, as my will allows,
And duty there with me pursue,
Trembler, whose bright eyes thrill me through.
In all thy days, come good come ill,
Preserve unchanged such noble will,
And thou, dear love, wilt ever be
The glory of thy house and me.
Now, beauteous-armed, begin the tasks
The woodland life of hermits asks.
For me the joys of heaven above
Have charms no more without thee, love.
And now, dear Sita, be not slow:
Food on good mendicants bestow,
And for the holy Brahmans bring
Thy treasures and each precious thing.
Thy best attire and gems collect,
The jewels which thy beauty decked,
And every ornament and toy
Prepared for hours of sport and joy:
The beds, the cars wherein I ride,
Among our followers, next, divide."
She conscious that her lord approved
Her going, with great rapture moved,
Hastened within, without delay,
Prepared to give their wealth away.
Canto XXXI
Lakshman's Prayer.
When Lakshman, who had joined them there,
Had heard the converse of the pair,
His mien was changed, his eyes o'erflowed,
His breast no more could bear its load.
The son of Raghu, sore distressed,
His brother's feet with fervour pressed,
While thus to Sita he complained,
And him by lofty vows enchained:
"If thou wilt make the woods thy home,
Where elephant and roebuck roam,
I too this day will take my bow
And in the path before thee go.
Our way will lie through forest ground
Where countless birds and beasts are found,
I heed not homes of Gods on high,
I heed not life that cannot die,
Nor would I wish, with thee away,
O'er the three worlds to stretch my sway."
Thus Lakshman spake, with earnest prayer
His brother's woodland life to share.
As Rama still his prayer denied
Thou art my refuge: O, be kind,
Leave me not, dear my lord, behind.
Thou canst not, brother, if thou choose
That I still live, my wish refuse."
The glorious chief his speech renewed
To faithful Lakshman as he sued,
And on the eyes of Rama gazed
Longing to lead, with hands upraised:
"Thou art a hero just and dear,
Whose steps to virtue's path adhere,
Loved as my life till life shall end,
My faithful brother and my friend.
If to the woods thou take thy way
With Sita and with me to-day,
Who for Kauśalya will provide,
And guard the good Sumitra's side?
The lord of earth, of mighty power,
Who sends good things in plenteous shower,
As Indra pours the grateful rain,
A captive lies in passion's chain.
The power imperial for her son
Has Aśvapati's daughter22 won,
And she, proud queen, will little heed
Her miserable rivals' need.
So Bharat, ruler of the land,
By Queen Kaikeyi's side will stand,
Nor of those two will ever think,
While grieving in despair they sink.
Now, Lakshman, as thy love decrees,
Or else the monarch's heart to please,
Follow this counsel and protect
My honoured mother from neglect.
So thou, while not to me alone
Thy great affection will be shown,
To highest duty wilt adhere
By serving those thou shouldst revere.
Now, son of Raghu, for my sake
Obey this one request I make,
Or, of her darling son bereft,
Kauśalya has no comfort left."
The faithful Lakshman, thus addressed
In gentle words which love expressed,
To him in lore of language learned,
His answer, eloquent, returned:
"Nay, through thy might each queen will share
Attentive Bharat's love and care,
Should Bharat, raised as king to sway
This noblest realm, his trust betray,
Nor for their safety well provide,
Seduced by ill-suggesting pride,
Doubt not my vengeful hand shall kill
The cruel wretch who counsels ill—
Kill him and all who lend him aid,
And the three worlds in league arrayed.
And good Kauśalya well can fee
A thousand champions like to me.
A thousand hamlets rich in grain
The station of that queen maintain.
She may, and my dear mother too,
Live on the ample revenue.
Then let me follow thee: herein:
Is naught that may resemble sin.
So shall I in my wish succeed,
And aid, perhaps, my brother's need.
My bow and quiver well supplied
With arrows hanging at my side,
My hands shall spade and basket bear,
And for thy feet the way prepare.
I'll bring thee roots and berries sweet.
And woodland fare which hermits eat.
Thou shall with thy Videhan spouse
Recline upon the mountain's brows;
Be mine the toil, be mine to keep
Watch o'er thee waking or asleep."
Filled by his speech with joy and pride,
Rama to Lakshman thus replied:
"Go then, my brother, bid adieu
To all thy friends and retinue.
And those two bows of fearful might,
Celestial, which, at that famed rite,
Lord Varun gave to Janak, king
Of fair Vedeha with thee bring,
With heavenly coats of sword-proof mail,
Quivers, whose arrows never fail,
And golden-hilted swords so keen,
The rivals of the sun in sheen.
Tended with care these arms are all
Preserved in my preceptor's hall.
With speed, O Lakshman, go, produce,
And bring them hither for our use."
So on a woodland life intent,
To see his faithful friends he went,
And brought the heavenly arms which lay
By Rama's teacher stored away.
And Raghu's son to Rama showed
Those wondrous arms which gleamed and glowed,
Well kept, adorned with many a wreath
Of flowers on case, and hilt, and sheath.
The prudent Rama at the sight
Addressed his brother with delight:
"Well art thou come, my brother dear,
For much I longed to see thee here.
For with thine aid, before I go,
I would my gold and wealth bestow
Upon the Brahmans sage, who school
Their lives by stern devotion's rule.
And for all those who ever dwell
Within my house and serve me well,
Devoted servants, true and good,
Will I provide a livelihood.
Quick, go and summon to this place
The good Vaśishṭha's son,
Suyajǹa, of the Brahman race
The first and holiest one.
To all the Brahmans wise and good
Will I due reverence pay,
Then to the solitary wood
With thee will take my way."
Book III:
Aranya Kanda ("The Book of the Forest"): Selections
The forest exile of Rama with Sita and Lakshmana. The kidnapping of Sita by the demon king Ravana.
Rama, Sita, and Lakshmana journey southward along the banks of river Godavari, where they build cottages and live off the land. At the Panchavati Forest, the she-demon Surpanakha attempts to seduce the brothers, fails, and then tries to kill Sita. Lakshmana saves Sita by cutting off Surpanakha's nose and ears. Hearing about Surpanakha's mutilation, her brother, Khara, organizes an attack against the princes. Rama annihilates Khara and his demon minions.
When news of these events reaches Ravana, brother to Surpanakha and Khara, he resolves to destroy Rama by capturing Sita with the aid of another demon, Maricha, who assuming the form of a golden deer, captivates Sita's attention. Entranced by the beauty of the deer, Sita pleads with Rama to capture it. Rama, aware that this is a ploy of the demons, cannot dissuade Sita from her desire and chases the deer into the forest, leaving Sita under Lakshmana's guard. After some time, Sita hears Rama calling out to her; afraid for his life, she insists that Lakshmana rush to his aid. Lakshmana tries to assure her that Rama is invincible and that it is best if he continues to follow Rama's orders to protect her. On the verge of hysterics, Sita insists that it is not she but Rama who needs Lakshmana's help. He obeys her wish but stipulates that she is not to leave the cottage or entertain any strangers. He draws a line in chalk around the cottage and casts a spell on it that prevents anyone from entering the boundary but allows people to exit. With the coast finally clear, Ravana appears in the guise of an ascetic requesting Sita's hospitality. Thus Ravana tricks Sita into leaving the protection of the cottage and forcibly carries her away.
Jatayus, a vulture, tries to rescue Sita but fails. At Lanka, demons keep Sita under heavy guard. Ravana demands that Sita marry him, but Sita, eternally devoted to Rama, refuses. Rama and Lakshmana learn about Sita's abduction from the fatally wounded Jatayus and immediately set out to save her. During their search, they meet the demon Kabandha and the ascetic Shabari, who direct them towards Sugriva and Hanuman of the Monkey Kingdom.
In the selections for this chapter, Cantos XLII-LVII cover the kidnapping of Sita and her imprisonment in Lanka.
Canto XLII
Maricha Transformed.
Maricha thus in wild unrest
With bitter words the king addressed.
Then to his giant lord in dread,
"Arise, and let us go," he said.
"Ah, I have met that mighty lord
Armed with his shafts and bow and sword,
And if again that bow he bend
Our lives that very hour will end.
For none that warrior can provoke
And think to fly his deadly stroke.
Like Yama with his staff is he,
And his dread hand will slaughter thee.
What can I more? My words can find
No passage to thy stubborn mind.
I go, great King, thy task to share,
And may success attend thee there."
With that reply and bold consent T
he giant king was well content.
He strained Maricha to his breast
And thus with joyful words addressed:
"There spoke a hero dauntless still,
Obedient to his master's will,
Maricha's proper self once more:
Some other took thy shape before.
Come, mount my jewelled car that flies.
Will-governed, through the yielding skies.
These asses, goblin-faced, shall bear
Us quickly through the fields of air.
Attract the lady with thy shape,
Then through the wood, at will, escape.
And I, when she has no defence,
Will seize the dame and bear her thence."
Again Maricha made reply,
Consent and will to signify.
With rapid speed the giants two
From the calm hermit dwelling flew,
Borne in that wondrous chariot,
meet For some great God's celestial seat.
They from their airy path looked down
On many a wood and many a town,
On lake and river, brook and rill,
City and realm and towering hill.
Soon he whom giant hosts obeyed,
Maricha by his side, surveyed
The dark expanse of Dandak wood
Where Rama's hermit cottage stood.
They left the flying car, whereon
The wealth of gold and jewels shone,
And thus the giant king addressed
Maricha as his hand he pressed:
"Maricha, look! before our eyes
Round Rama's home the plantains rise.
His hermitage is now in view:
Quick to the work we came to do!"
Thus Ravan spoke, Maricha heard
Obedient to his master's word,
Threw off his giant shape and near
The cottage strayed a beauteous deer.
With magic power, by rapid change,
His borrowed form was fair and strange.
A sapphire tipped each horn with light;
His face was black relieved with white.
The turkis and the ruby shed
A glory from his ears and head.
His arching neck was proudly raised,
And lazulites beneath it blazed.
With roseate bloom his flanks were dyed,
And lotus tints adorned his hide.
His shape was fair, compact, and slight;
His hoofs were carven lazulite.
His tail with every changing glow
Displayed the hues of Indra's bow.
With glossy skin so strangely flecked,
With tints of every gem bedecked.
A light o'er Rama's home he sent,
And through the wood, where'er he went.
The giant clad in that strange dress
That took the soul with loveliness,
To charm the fair Videhan's eyes
With mingled wealth of mineral dyes,
Moved onward, cropping in his way,
The grass and grain and tender spray.
His coat with drops of silver bright,
A form to gaze on with delight,
He raised his fair neck as he went
To browse on bud and filament.
Now in the Cassia grove he strayed,
Now by the cot in plantains' shade.
Slowly and slowly on he came
To catch the glances of the dame,
And the tall deer of splendid hue
Shone full at length in Sita's view.
He roamed where'er his fancy chose
Where Rama's leafy cottage rose.
Now near, now far, in careless ease,
He came and went among the trees.
Now with light feet he turned to fly,
Now, reassured, again drew nigh:
Now gambolled close with leap and bound,
Now lay upon the grassy ground:
Now sought the door, devoid of fear,
And mingled with the troop of deer;
Led them a little way, and thence
Again returned with confidence.
Now flying far, now turning back
Emboldened on his former track,
Seeking to win the lady's glance
He wandered through the green expanse.
Then thronging round, the woodland deer
Gazed on his form with wondering fear;
A while they followed where he led,
Then snuffed the tainted gale and fled.
The giant, though he longed to slay
The startled quarry, spared the prey,
And mindful of the shape he wore
To veil his nature, still forbore.
Then Sita of the glorious eye,
Returning from her task drew nigh;
For she had sought the wood to bring
Each loveliest flower of early spring.
Now would the bright-eyed lady choose
Some gorgeous bud with blending hues,
Now plucked the mango's spray, and now
The bloom from an Aśoka bough.
She with her beauteous form, unmeet
For woodland life and lone retreat,
That wondrous dappled deer beheld
Gemmed with rich pearls, unparalleled,
His silver hair the lady saw,
His radiant teeth and lips and jaw,
And gazed with rapture as her eyes
Expanded in their glad surprise.
And when the false deer's glances fell
On her whom Rama loved so well,
He wandered here and there, and cast
A luminous beauty as he passed;
And Janak's child with strange delight
Kept gazing on the unwonted sight.
Canto XLIII
The Wondrous Deer.
She stooped, her hands with flowers to fill,
But gazed upon the marvel still:
Gazed on its back and sparkling side
Where silver hues with golden vied.
Joyous was she of faultless mould,
With glossy skin like polished gold.
And loudly to her husband cried
And bow-armed Lakshman by his side:
Again, again she called in glee:
"O come this glorious creature see;
Quick, quick, my lord, this deer to view.
And bring thy brother Lakshman too."
As through the wood her clear tones rang,
Swift to her side the brothers sprang.
With eager eyes the grove they scanned,
And saw the deer before them stand.
But doubt was strong in Lakshman's breast,
Who thus his thought and fear expressed:
"Stay, for the wondrous deer we see
The fiend Maricha's self may be.
Ere now have kings who sought this place
To take their pastime in the chase,
Met from his wicked art defeat,
And fallen slain by like deceit.
He wears, well trained in magic guile,
The figure of a deer a while,
Bright as the very sun, or place
Where dwell the gay Gandharva race.
No deer, O Rama, e'er was seen
Thus decked with gold and jewels' sheen.
'Tis magic, for the world has ne'er,
Lord of the world, shown aught so fair."
But Sita of the lovely smile,
A captive to the giant's wile,
Turned Lakshman's prudent speech aside
And thus with eager words replied:
"My honoured lord, this deer I see
With beauty rare enraptures me.
Go, chief of mighty arm, and bring
For my delight this precious thing.
Fair creatures of the woodland roam
Untroubled near our hermit home.
The forest cow and stag are there,
The fawn, the monkey, and the bear,
Where spotted deer delight to play,
And strong and beauteous Kinnars23 stray.
But never, as they wandered by,
Has such a beauty charmed mine eye
As this with limbs so fair and slight,
So gentle, beautiful and bright.
O see, how fair it is to view
With jewels of each varied hue:
Bright as the rising moon it glows,
Lighting the wood where'er it goes.
Ah me, what form and grace are there!
Its limbs how fine, its hues how fair!
Transcending all that words express,
It takes my soul with loveliness.
O, if thou would, to please me, strive
To take the beauteous thing alive,
How thou wouldst gaze with wondering eyes
Delighted on the lovely prize!
And when our woodland life is o'er,
And we enjoy our realm once more,
The wondrous animal will grace
The chambers of my dwelling-place,
And a dear treasure will it be
To Bharat and the queens and me,
And all with rapture and amaze
Upon its heavenly form will gaze.
But if the beauteous deer, pursued,
Thine arts to take it still elude,
Strike it, O chieftain, and the skin
Will be a treasure, laid within.
O, how I long my time to pass
Sitting upon the tender grass,
With that soft fell beneath me spread
Bright with its hair of golden thread!
This strong desire, this eager will,
Befits a gentle lady ill:
But when I first beheld, its look
My breast with fascination took.
See, golden hair its flank adorns,
And sapphires tip its branching horns.
Resplendent as the lunar way,
Or the first blush of opening day,
With graceful form and radiant hue
It charmed thy heart, O chieftain, too."
He heard her speech with willing ear,
He looked again upon the deer.
Its lovely shape his breast beguiled
Moved by the prayer of Janak's child,
And yielding for her pleasure's sake,
To Lakshman Rama turned and spake:
"Mark, Lakshman, mark how Sita's breast
With eager longing is possessed.
To-day this deer of wondrous breed
Must for his passing beauty bleed,
Brighter than e'er in Nandan strayed,
Or Chaitraratha's heavenly shade.
How should the groves of earth possess
Such all-surpassing loveliness!
The hair lies smooth and bright and fine,
Or waves upon each curving line,
And drops of living gold bedeck
The beauty of his side and neck.
O look, his crimson tongue between
His teeth like flaming fire is seen,
Flashing, whene'er his lips he parts,
As from a cloud the lightning darts.
O see his sunlike forehead shine
With emerald tints and almandine,
While pearly light and roseate glow
Of shells adorn his neck below.
No eye on such a deer can rest
But soft enchantment takes the breast:
No man so fair a thing behold
Ablaze with light of radiant gold,
Celestial, bright with jewels' sheen,
Nor marvel when his eyes have seen.
A king equipped with bow and shaft
Delights in gentle forest craft,
And as in boundless woods he strays
The quarry for the venison slays.
There as he wanders with his train
A store of wealth he oft may gain.
He claims by right the precious ore,
He claims the jewels' sparkling store.
Such gains are dearer in his eyes
Than wealth that in his chamber lies,
The dearest things his spirit knows,
Dear as the bliss which Śukra chose.
But oft the rich expected gain
Which heedless men pursue in vain,
The sage, who prudent counsels know,
Explain and in a moment show.
This best of deer, this gem of all,
To yield his precious spoils must fall,
And tender Sita by my side
Shall sit upon the golden hide.
Ne'er could I find so rich a coat
On spotted deer or sheep or goat.
No buck or antelope has such,
So bright to view, so soft to touch.
This radiant deer and one on high
That moves in glory through the sky,
Alike in heavenly beauty are,
One on the earth and one a star.
But, brother, if thy fears be true,
And this bright creature that we view
Be fierce Maricha in disguise,
Then by this hand he surely dies.
For that dire fiend who spurns control
With bloody hand and cruel soul,
Has roamed this forest and dismayed
The holiest saints who haunt the shade.
Great archers, sprung of royal race,
Pursuing in the wood the chase,
Have fallen by his wicked art,
And now my shaft shall strike his heart.
Vatapi, by his magic power
Made heedless saints his flesh devour,
Then, from within their frames he rent
Forth bursting from imprisonment.
But once his art in senseless pride
Upon the mightiest saint he tried,
Agastya's self, and caused him taste
The baited meal before him placed.
Vatapi, when the rite was o'er,
Would take the giant form he wore,
But Saint Agastya knew his wile
And checked the giant with smile.
"Vatapi, thou with cruel spite
Hast conquered many an anchorite
The noblest of the Brahman caste,—
And now thy ruin comes at last."
Now if my power he thus defies,
This giant, like Vatapi dies,
Daring to scorn a man like me,
A self-subduing devotee.
Yea, as Agastya slew the foe,
My hand shall lay Maricha low
Clad in thine arms thy bow in hand,
To guard the Maithil lady stand,
With watchful eye and thoughtful breast
Keeping each word of my behest
I go, and hunting through the brake
This wondrous deer will bring or take.
Yea surely I will bring the spoil
Returning from my hunter's toil
See, Lakshman how my consort's eyes
Are longing for the lovely prize.
This day it falls, that I may win
The treasure of so fair a skin.
Do thou and Sita watch with care
Lest danger seize you unaware.
Swift from my bow one shaft will fly;
The stricken deer will fall and die
Then quickly will I strip the game
And bring the trophy to my dame.
Jaṭayus, guardian good and wise,
Our old and faithful friend,
The best and strongest bird that flies,
His willing aid will lend
The Maithil lady well protect,
For every chance provide,
And in thy tender care suspect
A foe on every side."
Canto XLIV
Maricha's Death.
Thus having warned his brother bold
He grasped his sword with haft of gold,
And bow with triple flexure bent,
His own delight and ornament;
Then bound two quivers to his side,
And hurried forth with eager stride.
Soon as the antlered monarch saw
The lord of monarchs near him draw,
A while with trembling heart he fled,
Then turned and showed his stately head.
With sword and bow the chief pursued
Where'er the fleeing deer he viewed
Sending from dell and lone recess
The splendour of his loveliness.
Now full in view the creature stood
Now vanished in the depth of wood;
Now running with a languid flight,
Now like a meteor lost to sight.
With trembling limbs away he sped;
Then like the moon with clouds o'erspread
Gleamed for a moment bright between
The trees, and was again unseen.
Thus in the magic deer's disguise
Maricha lured him to the prize,
And seen a while, then lost to view,
Far from his cot the hero drew.
Still by the flying game deceived
The hunter's heart was wroth and grieved,
And wearied with the fruitless chase
He stayed him in a shady place.
Again the rover of the night
Enraged the chieftain, full in sight,
Slow moving in the coppice near,
Surrounded by the woodland deer.
Again the hunter sought the game
That seemed a while to court his aim:
But seized again with sudden dread,
Beyond his sight the creature fled.
Again the hero left the shade,
Again the deer before him strayed.
With surer hope and stronger will
The hunter longed his prey to kill.
Then as his soul impatient grew,
An arrow from his side he drew,
Resplendent at the sunbeam's glow,
The crusher of the smitten foe.
With skillful heed the mighty lord
Fixed well shaft and strained the cord.
Upon the deer his eyes he bent,
And like a fiery serpent went
The arrow Brahma's self had framed,
Alive with sparks that hissed and flamed,
Like Indra's flashing levin, true
To the false deer the missile flew
Cleaving his flesh that wonderous dart
Stood quivering in Maricha's heart.
Scarce from the ground one foot he sprang,
Then stricken fell with deadly pang.
Half lifeless, as he pressed the ground,
He gave a roar of awful sound
And ere the wounded giant died
He threw his borrowed form aside
Remembering still his lord's behest
He pondered in his heart how best S
ita might send her guard away,
And Ravan seize the helpless prey.
The monster knew the time was nigh,
And called aloud with eager cry,
"Ho, Sita, Lakshman" and the tone
He borrowed was like Rama's own.
So by that matchless arrow cleft,
The deer's bright form Maricha left,
Resumed his giant shape and size
And closed in death his languid eyes.
When Rama saw his awful foe
Gasp, smeared with blood, in deadly throe,
His anxious thoughts to Sita sped,
And the wise words that Lakshman said,
That this was false Maricha's art,
Returned again upon his heart.
He knew the foe he triumphed o'er
The name of great Maricha bore.
"The fiend," he pondered, 'ere he died,
"Ho, Lakshman! ho, my Sita!" cried
Ah, if that cry has reached her ear,
How dire must be my darling's fear!
And Lakshman of the mighty arm,
What thinks he in his wild alarm?
As thus he thought in sad surmise,
Each startled hair began to rise,
And when he saw the giant slain
And thought upon that cry again,
His spirit sank and terror pressed
Full sorely on the hero's breast.
Another deer he chased and struck,
He bore away the fallen buck,
To Janasthan then turned his face
And hastened to his dwelling place.
Canto XLV
Lakshman's Departure.
But Sita hearing as she thought,
Her husband's cry with anguish fraught,
Called to her guardian, "Lakshman, run
And in the wood seek Raghu's son.
Scarce can my heart retain its throne,
Scarce can my life be called mine own,
As all my powers and senses fail
At that long, loud and bitter wail.
Haste to the wood with all thy speed
And save thy brother in his need.
Go, save him in the distant glade
Where loud he calls, for timely aid.
He falls beneath some giant foe—
A bull whom lions overthrow."
Deaf to her prayer, no step he stirred
Obedient to his mother's word,
Then Janak's child, with ire inflamed,
In words of bitter scorn exclaimed exclaimed
"Sumitra's son, a friend in show,
Thou art in truth thy brother's foe,
Who canst at such any hour deny
Thy succour and neglect his cry.
Yes, Lakshman, smit with love of me
Thy brother's death thou fain wouldst see.
This guilty love thy heart has swayed
And makes thy feet so loth to aid.
Thou hast no love for Rama, no:
Thy joy is vice, thy thoughts are low
Hence thus unmoved thou yet canst stay
While my dear lord is far away.
If aught of ill my lord betide
Who led thee here, thy chief and guide,
Ah, what will be my hapless fate
Left in the wild wood desolate!"
Thus spoke the lady sad with fear,
With many a sigh and many a tear,
Still trembling like a captured doe:
And Lakshman spoke to calm her woe:
"Videhan Queen, be sure of this,—
And at the thought thy fear dismiss,—
Thy husband's mightier power defies
All Gods and angels of the skies,
Gandharvas, and the sons of light,
Serpents, and rovers of the night.
I tell thee, of the sons of earth,
Of Gods who boast celestial birth,
Of beasts and birds and giant hosts,
Of demigods, Gandharvas, ghosts,
Of awful fiends, O thou most fair,
There lives not one whose heart would dare
To meet thy Rama in the fight,
Like Indra's self unmatched in might.
Such idle words thou must not say
Thy Rama lives whom none may slay.
I will not, cannot leave thee here
In the wild wood till he be near.
The mightiest strength can ne'er withstand
His eager force, his vigorous hand.
No, not the triple world allied
With all the immortal Gods beside.
Dismiss thy fear, again take heart,
Let all thy doubt and woe depart.
Thy lord, be sure, will soon be here
And bring thee back that best of deer.
Not his, not his that mournful cry,
Nor haply came it from the sky.
Some giant's art was busy there
And framed a castle based on air.
A precious pledge art thou, consigned
To me by him of noblest mind,
Nor can I fairest dame, forsake
The pledge which Rama bade me take.
Upon our heads, O Queen, we drew
The giants' hate when Rama slew
Their chieftain Khara, and the shade
Of Janasthan in ruin laid.
Through all this mighty wood they rove
With varied cries from grove to grove
On rapine bent they wander here:
But O, dismiss thy causeless fear."
Bright flashed her eye as Lakshman spoke
And forth her words of fury broke
Upon her truthful guardian, flung
With bitter taunts that pierced and stung:
"Shame on such false compassion, base
Defiler of thy glorious race!
'Twere joyous sight I ween to thee
My lord in direst strait to see.
Thou knowest Rama sore bested,
Or word like this thou ne'er hadst said.
No marvel if we find such sin
In rivals false to kith and kin.
Wretches like thee of evil kind,
Concealing crime with crafty mind.
Thou, wretch, thine aid wilt still deny,
And leave my lord alone to die.
Has love of me unnerved thy hand,
Or Bharat's art this ruin planned?
But be the treachery his or thine,
In vain, in vain the base design.
For how shall I, the chosen bride
Of dark-hued Rama, lotus-eyed,
The queen who once called Rama mine,
To love of other men decline?
Believe me, Lakshman, Rama's wife
Before thine eyes will quit this life,
And not a moment will she stay
If her dear lord have passed away."
The lady's bitter speech, that stirred
Each hair upon his frame, he heard.
With lifted hands together laid,
His calm reply he gently made:
"No words have I to answer now:
My deity, O Queen, art thou.
But 'tis no marvel, dame, to find
Such lack of sense in womankind.
Throughout this world, O Maithil dame,
Weak women's hearts are still the same.
Inconstant, urged by envious spite,
They sever friends and hate the right.
I cannot brook, Videhan Queen,
Thy words intolerably keen.
Mine ears thy fierce reproaches pain
As boiling water seethes the brain.
And now to bear me witness all
The dwellers in the wood I call,
That, when with words of truth I plead,
This harsh reply is all my meed.
Ah, woe is thee! Ah, grief, that still
Eager to do my brother's will,
Mourning thy woman's nature, I
Must see thee doubt my truth and die.
I fly to Rama's side, and Oh,
May bliss attend thee while I go!
May all attendant wood-gods screen
Thy head from harm, O large-eyed Queen!
And though dire omens meet my sight
And fill my soul with wild affright,
May I return in peace and see
The son of Raghu safe with thee!"
The child of Janak heard him speak,
And the hot tear-drops down her cheek,
Increasing to a torrent, ran,
As thus once more the dame began:
"O Lakshman, if I widowed be
Godavari's flood shall cover me,
Or I will die by cord, or leap,
Life weary, from yon rocky steep;
Or deadly poison will I drink,
Or 'neath the kindled flames will sink,
But never, reft of Rama, can
Consent to touch a meaner man."
The Maithil dame with many sighs,
And torrents pouring from her eyes,
The faithful Lakshman thus addressed,
And smote her hands upon her breast.
Sumitra's son, o'erwhelmed by fears,
Looked on the large-eyed queen:
He saw that flood of burning tears,
He saw that piteous mien.
He yearned sweet comfort to afford,
He strove to soothe her pain;
But to the brother of her lord
She spoke no word again.
His reverent hands once more he raised,
His head he slightly bent,
Upon her face he sadly gazed,
And then toward Rama went.
Canto XLVI
The Guest.
The angry Lakshman scarce could brook
Her bitter words, her furious look.
With dark forebodings in his breast
To Rama's side he quickly pressed.
Then ten necked Ravan saw the time
Propitious for his purposed crime.
A mendicant in guise he came
And stood before the Maithil dame.
His garb was red, with tufted hair
And sandalled feet a shade he bare,
And from the fiend's left shoulder slung
A staff and water-vessel hung.
Near to the lovely dame he drew,
While both the chiefs were far from view,
As darkness takes the evening air
When neither sun nor moon is there.
He bent his eye upon the dame,
A princess fair, of spotless fame:
So might some baleful planet be
Near Moon-forsaken Rohini.24
As the fierce tyrant nearer drew,
The trees in Janasthan that grew
Waved not a leaf for fear and woe,
And the hushed wind forbore to blow.
Godavari's waters as they fled,
Saw his fierce eye-balls flashing red,
And from each swiftly-gliding wave
A melancholy murmur gave.
Then Ravan, when his eager eye
Beheld the longed-for moment nigh,
In mendicant's apparel dressed
Near to the Maithil lady pressed.
In holy guise, a fiend abhorred,
He found her mourning for her lord.
Thus threatening draws Śaniśchar25 nigh
To Chitra26 in the evening sky;
Thus the deep well by grass concealed
Yawns treacherous in the verdant field.
He stood and looked upon the dame
Of Rama, queen of spotless fame
With her bright teeth and each fair limb
Like the full moon she seemed to him,
Sitting within her leafy cot,
Weeping for woe that left her not.
Thus, while with joy his pulses beat,
He saw her in her lone retreat,
Eyed like the lotus, fair to view
In silken robes of amber hue.
Pierced to the core by Kama's dart
He murmured texts with lying art,
And questioned with a soft address
The lady in her loneliness.
The fiend essayed with gentle speech T
he heart of that fair dame to reach,
Pride of the worlds, like Beauty's Queen
Without her darling lotus seen:
"O thou whose silken robes enfold
A form more fair than finest gold,
With lotus garland on thy head,
Like a sweet spring with bloom o'erspread,
Who art thou, fair one, what thy name,
Beauty, or Honour, Fortune, Fame,
Spirit, or nymph, or Queen of love
Descended from thy home above?
Bright as the dazzling jasmine shine
Thy small square teeth in level line.
Like two black stars aglow with light
Thine eyes are large and pure and bright.
Thy charms of smile and teeth and hair
And winning eyes, O thou most fair,
Steal all my spirit, as the flow
Of rivers mines the bank below.
How bright, how fine each flowing tress!
How firm those orbs beneath thy dress!
That dainty waist with ease were spanned,
Sweet lady, by a lover's hand.
Mine eyes, O beauty, ne'er have seen
Goddess or nymph so fair of mien,
Or bright Gandharva's heavenly dame,
Or woman of so perfect frame.
In youth's soft prime thy years are few,
And earth has naught so fair to view.
I marvel one like thee in face
Should make the woods her dwelling-place.
Leave, lady, leave this lone retreat
In forest wilds for thee unmeet,
Where giants fierce and strong assume
All shapes and wander in the gloom.
These dainty feet were formed to tread
Some palace floor with carpets spread,
Or wander in trim gardens where
Each opening bud perfumes the air.
The richest robe thy form should deck,
The rarest gems adorn thy neck,
The sweetest wreath should bind thy hair,
The noblest lord thy bed should share.
Art thou akin, O fair of form,
To Rudras,27 or the Gods of storm,28
Or to the glorious Vasus29? How
Can less than these be bright as thou?
But never nymph or heavenly maid
Or Goddess haunts this gloomy shade.
Here giants roam, a savage race;
What led thee to so dire a place?
Here monkeys leap from tree to tree,
And bears and tigers wander free;
Here ravening lions prowl, and fell
Hyenas in the thickets yell,
And elephants infuriate roam,
Mighty and fierce, their woodland home.
Dost thou not dread, so soft and fair,
Tiger and lion, wolf and bear?
Hast thou, O beauteous dame, no fear
In the wild wood so lone and drear?
Whose and who art thou? whence and why
Sweet lady, with no guardian nigh,
Dost thou this awful forest tread
By giant bands inhabited?"
The praise the high-souled Ravan spoke
No doubt within her bosom woke.
His saintly look and Brahman guise
Deceived the lady's trusting eyes.
With due attention on the guest
Her hospitable rites she pressed.
She bade the stranger to a seat,
And gave him water for his feet.
The bowl and water-pot he bare,
And garb which wandering Brahmans wear
Forbade a doubt to rise.
Won by his holy look she deemed
The stranger even as he seemed
To her deluded eyes.
Intent on hospitable care,
She brought her best of woodland fare,
And showed her guest a seat.
She bade the saintly stranger lave
His feet in water which she gave,
And sit and rest and eat.
He kept his eager glances bent
On her so kindly eloquent,
Wife of the noblest king;
And longed in heart to steal her thence,
Preparing by the dire offence,
Death on his head to bring.
The lady watched with anxious face
For Rama coming from the chase
With Lakshman by his side:
But nothing met her wandering glance
Save the wild forest's green expanse
Extending far and wide.
Canto XLVII
Ravan's Wooing.
As, clad in mendicant's disguise,
He questioned thus his destined prize,
She to the seeming saintly man
The story of her life began.
"My guest is he," she thought, "and I,
To 'scape his curse, must needs reply:"
"Child of a noble sire I spring
From Janak, fair Videha's king.
May every good be thine! my name
Is Sita, Rama's cherished dame.
Twelve winters with my lord I spent
Most happily with sweet content
In the rich home of Raghu's line,
And every earthly joy was mine.
Twelve pleasant years flew by, and then
His peers advised the king of men,
Rama, my lord, to consecrate
Joint ruler of his ancient state.
But when the rites were scarce begun,
To consecrate Ikshvaku's son,
The queen Kaikeyi, honoured dame,
Sought of her lord an ancient claim.
Her plea of former service pressed,
And made him grant her new request,
To banish Rama to the wild
And consecrate instead her child.
This double prayer on him, the best
And truest king, she strongly pressed:
"Mine eyes in sleep I will not close,
Nor eat, nor drink, nor take repose.
This very day my death shall bring
If Rama be anointed king."
As thus she spake in envious ire,
The aged king, my husband's sire,
Besought with fitting words; but she
Was cold and deaf to every plea.
As yet my days are few; eighteen
The years of life that I have seen;
And Rama, best of all alive,
Has passed of years a score and five—
Rama the great and gentle, through
All region famed as pure and true,
Large-eyed and mighty-armed and tall,
With tender heart that cares for all.
But Daśaratha, led astray
By woman's wile and passion's sway,
By his strong love of her impelled,
The consecrating rites withheld.
When, hopeful of the promised grace,
My Rama sought his father's face,
The queen Kaikeyi, ill at ease,
Spoke to my lord brief words like these:
"Hear, son of Raghu, hear from me
The words thy father says to thee:
"I yield this day to Bharat's hand,
Free from all foes, this ancient land.
Fly from this home no longer thine,
And dwell in woods five years and nine.
Live in the forest and maintain
Mine honour pure from falsehood's stain.'
" Then Rama spoke, untouched by dread:
"Yea, it shall be as thou hast said."
And answered, faithful to his vows,
Obeying Daśaratha's spouse:
"The offered realm I would not take,
But still keep true the words he spake."
Thus, gentle Brahman, Rama still
Clung to his vow with firmest will.
And valiant Lakshman, dear to fame,
His brother by a younger dame,
Bold victor in the deadly fray,
Would follow Rama on his way.
On sternest vows his heart was set,
And he, a youthful anchoret,
Bound up in twisted coil his hair
And took the garb which hermits wear;
Then with his bow to guard us, he
Went forth with Rama and with me.
By Queen Kaikeyi's art bereft
The kingdom and our home we left,
And bound by stern religious vows
We sought this shade of forest boughs.
Now, best of Brahmans, here we tread
These pathless regions dark and dread.
But come, refresh thy soul, and rest
Here for a while an honoured guest,
For he, my lord, will soon be here
With fresh supply of woodland cheer,
Large store of venison of the buck,
Or some great boar his hand has struck.
Meanwhile, O stranger, grant my prayer:
Thy name, thy race, thy birth declare,
And why with no companion thou
Roamest in Dandak forest now."
Thus questioned Sita, Rama's dame.
Then fierce the stranger's answer came:
"Lord of the giant legions, he
From whom celestial armies flee,—
The dread of hell and earth and sky,
Ravan the Rakshas30 king am I.
Now when thy gold-like form I view
Arrayed in silks of amber hue,
My love, O thou of perfect mould,
For all my dames is dead and cold.
A thousand fairest women, torn
From many a land my home adorn.
But come, loveliest lady, be
The queen of every dame and me.
My city Lanka, glorious town,
Looks from a mountain's forehead down
Where ocean with his flash and foam
Beats madly on mine island home.
With me, O Sita, shalt thou rove
Delighted through each shady grove,
Nor shall thy happy breast retain
Fond memory of this life of pain.
In gay attire, a glittering band,
Five thousand maids shall round thee stand,
And serve thee at thy beck and sign,
If thou, fair Sita, wilt be mine."
Then forth her noble passion broke
As thus in turn the lady spoke:
"Me, me the wife of Rama, him
The lion lord with lion's limb,
Strong as the sea, firm as the rock,
Like Indra in the battle shock.
The lord of each auspicious sign,
The glory of his princely line,
Like some fair Bodh tree strong and tall,
The noblest and the best of all,
Rama, the heir of happy fate
Who keeps his word inviolate,
Lord of the lion gait, possessed
Of mighty arm and ample chest,
Rama the lion-warrior, him
Whose moon bright face no fear can dim,
Rama, his bridled passions' lord,
The darling whom his sire adored,—
Me, me the true and loving dame
Of Rama, prince of deathless fame—
Me wouldst thou vainly woo and press?
A jackal woo a lioness!
Steal from the sun his glory! such
Thy hope Lord Rama's wife to touch.
Ha! Thou hast seen the trees of gold,
The sign which dying eyes behold,
Thus seeking, weary of thy life,
To win the love of Rama's wife.
Fool! wilt thou dare to rend away
The famished lion's bleeding prey,
Or from the threatening jaws to take
The fang of some envenomed snake?
What, wouldst thou shake with puny hand
Mount Mandar,31 towering o'er the land,
Put poison to thy lips and think
The deadly cup a harmless drink?
With pointed needle touch thine eye,
A razor to thy tongue apply,
Who wouldst pollute with impious touch
The wife whom Rama loves so much?
Be round thy neck a millstone tied,
And swim the sea from side to side;
Or raising both thy hands on high
Pluck sun and moon from yonder sky;
Or let the kindled flame be pressed,
Wrapt in thy garment, to thy breast;
More wild the thought that seeks to win
Rama's dear wife who knows not sin.
The fool who thinks with idle aim
To gain the love of Rama's dame,
With dark and desperate footing makes
His way o'er points of iron stakes.
As Ocean to a bubbling spring,
The lion to a fox, the king
Of all the birds that ply the wing
To an ignoble crow
As gold to lead of little price,
As to the drainings of the rice
The drink they quaff in Paradise,
The Amrit's heavenly flow,
As sandal dust with perfume sweet
Is to the mire that soils our feet,
A tiger to a cat,
As the white swan is to the owl,
The peacock to the waterfowl,
An eagle to a bat,
Such is my lord compared with thee;
And when with bow and arrows he,
Mighty as Indra's self shall see
His foeman, armed to slay,
Thou, death-doomed like the fly that sips
The oil that on the altar drips,
Shalt cast the morsel from thy lips
And lose thy half-won prey."
Thus in high scorn the lady flung
The biting arrows of her tongue
In bitter words that pierced and stung
The rover of the night.
She ceased. Her gentle cheek grew pale,
Her loosened limbs began to fail,
And like a plantain in the gale
She trembled with affright.
He terrible as Death stood nigh,
And watched with fierce exulting eye
The fear that shook her frame.
To terrify the lady more,
He counted all his triumphs o'er,
Proclaimed the titles that he bore,
His pedigree and name.
Canto XLVIII
Ravan's Speech.
With knitted brow and furious eye
The stranger made his fierce reply:
"In me O fairest dame, behold
The brother of the King of Gold.
The Lord of Ten Necks my title, named
Ravan, for might and valour famed.
Gods and Gandharva hosts I scare;
Snakes, spirits, birds that roam the air
Fly from my coming, wild with fear,
Trembling like men when Death is near.
Vaiśravan once, my brother, wrought
To ire, encountered me and fought,
But yielding to superior might
Fled from his home in sore affright.
Lord of the man-drawn chariot, still
He dwells on famed Kailasa's hill.
I made the vanquished king resign
The glorious car which now is mine,—
Pushpak, the far-renowned, that flies
Will-guided through the buxom skies.
Celestial hosts by Indra led
Flee from my face disquieted,
And where my dreaded feet appear
The wind is hushed or breathless is fear.
Where'er I stand, where'er I go
The troubled waters cease to flow,
Each spell-bound wave is mute and still
And the fierce sun himself is chill.
Beyond the sea my Lanka stands
Filled with fierce forms and giant bands,
A glorious city fair to see
As Indra's Amaravati.
A towering height of solid wall,
Flashing afar, surrounds it all,
Its golden courts enchant the sight,
And gates aglow with lazulite.
Steeds, elephants, and cars are there,
And drums' loud music fills the air,
Fair trees in lovely gardens grow
Whose boughs with varied fruitage glow.
Thou, beauteous Queen, with me shalt dwell
In halls that suit a princess well,
Thy former fellows shall forget
Nor think of women with regret,
No earthly joy thy soul shall miss,
And take its fill of heavenly bliss.
Of mortal Rama think no more,
Whose terms of days will soon be o'er.
King Daśaratha looked in scorn
On Rama though the eldest born,
Sent to the woods the weakling fool,
And set his darling son to rule.
What, O thou large-eyed dame, hast thou
To do with fallen Rama now,
From home and kingdom forced to fly,
A wretched hermit soon to die?
Accept thy lover, nor refuse
The giant king who fondly woos.
O listen, nor reject in scorn
A heart by Kama's arrows torn.
If thou refuse to hear my prayer,
Of grief and coming woe beware;
For the sad fate will fall on thee
Which came on hapless Urvaśi,
When with her foot she chanced to touch
Purúravas, and sorrowed much.
My little finger raised in fight
Were more than match for Rama's might.
O fairest, blithe and happy be
With him whom fortune sends to thee."
Such were the words the giant said,
And Sita's angry eyes were red.
She answered in that lonely place
The monarch of the giant race:
"Art thou the brother of the Lord
Of Gold by all the world adored,
And sprung of that illustrious seed
Wouldst now attempt this evil deed?
I tell thee, impious Monarch, all
The giants by thy sin will fall,
Whose reckless lord and king thou art,
With foolish mind and lawless heart.
Yea, one may hope to steal the wife
Of Indra and escape with life.
But he who Rama's dame would tear
From his loved side must needs despair.
Yea, one may steal fair Śachi, dame
Of Him who shoots the thunder flame,
May live successful in his aim
And length of day may see;
But hope, O giant King, in vain,
Though cups of Amrit thou may drain,
To shun the penalty and pain
Of wronging one like me."
Canto XLIX
The Rape Of Sita.
The Rakshas monarch, thus addressed,
His hands a while together pressed,
And straight before her startled eyes
Stood monstrous in his giant size.
Then to the lady, with the lore
Of eloquence, he spoke once more:
"Thou scarce," he cried, "hast heard aright
The glories of my power and might.
I borne sublime in air can stand
And with these arms upheave the land,
Drink the deep flood of Ocean dry
And Death with conquering force defy,
Pierce the great sun with furious dart
And to her depths cleave earth apart.
See, thou whom love and beauty blind,
I wear each form as wills my mind."
As thus he spake in burning ire
His glowing eyes were red with fire.
His gentle garb aside was thrown
And all his native shape was shown.
Terrific, monstrous, wild, and dread
As the dark God who rules the dead,
His fiery eyes in fury rolled,
His limbs were decked with glittering gold.
Like some dark cloud the monster showed,
And his fierce breast with fury glowed.
The ten-faced rover of the night,
With twenty arms exposed to sight,
His saintly guise aside had laid
And all his giant height displayed.
Attired in robes of crimson dye
He stood and watched with angry eye
The lady in her bright array
Resplendent as the dawn of day
When from the east the sunbeams break,
And to the dark-haired lady spake:
"If thou would call that lord thine own
Whose fame in every world is known,
Look kindly on my love, and be
Bride of a consort meet for thee.
With me let blissful years be spent,
For ne'er thy choice shalt thou repent.
No deed of mine shall e'er displease
My darling as she lives at ease.
Thy love for mortal man resign,
And to a worthier lord incline.
Ah foolish lady, seeming wise
In thine own weak and partial eyes,
By what fair graces art thou held
To Rama from his realm expelled?
Misfortunes all his life attend,
And his brief days are near their end.
Unworthy prince, infirm of mind!
A woman spoke and he resigned
His home and kingdom and withdrew
From troops of friends and retinue.
And sought this forest dark and dread
By savage beasts inhabited."
Thus Ravan urged the lady meet
For love, whose words were soft and sweet.
Near and more near the giant pressed
As love's hot fire inflamed his breast.
The leader of the giant crew
His arm around the lady threw:
Thus Budha32 with ill-omened might
Steals Rohini's delicious light.
One hand her glorious tresses grasped,
One with its ruthless pressure clasped
The body of his lovely prize,
The Maithil dame with lotus eyes.
The silvan Gods in wild alarm
Marked his huge teeth and ponderous arm,
And from that Death-like presence fled,
Of mountain size and towering head.
Then seen was Ravan's magic car
Aglow with gold which blazed afar,—
The mighty car which asses drew
Thundering as it onward flew.
He spared not harsh rebuke to chide
The lady as she moaned and cried,
Then with his arm about her waist
His captive in the car he placed.
In vain he threatened: long and shrill
Rang out her lamentation still,
O Rama! which no fear could stay:
But her dear lord was far away.
Then rose the fiend, and toward the skies
Bore his poor helpless struggling prize:
Hurrying through the air above
The dame who loathed his proffered love.
So might a soaring eagle bear
A serpent's consort through the air.
As on he bore her through the sky
She shrieked aloud her bitter cry.
As when some wretch's lips complain
In agony of maddening pain;
"O Lakshman, thou whose joy is still
To do thine elder brother's will,
This fiend, who all disguises wears,
From Rama's side his darling tears.
Thou who couldst leave bliss, fortune, all,
Yea life itself at duty's call,
Dost thou not see this outrage done
To hapless me, O Raghu's son?
'Tis thine, O victor of the foe,
To bring the haughtiest spirit low,
How canst thou such an outrage see
And let the guilty fiend go free?
Ah, seldom in a moment's time
Comes bitter fruit of sin and crime,
But in the day of harvest pain
Comes like the ripening of the grain.
So thou whom fate and folly lead
To ruin for this guilty deed,
Shalt die by Rama's arm ere long
A dreadful death for hideous wrong.
Ah, too successful in their ends
Are Queen Kaikeyi and her friends,
When virtuous Rama, dear to fame,
Is mourning for his ravished dame.
Ah me, ah me! a long farewell
To lawn and glade and forest dell
In Janasthan's wild region, where
The Cassia trees are bright and fair
With all your tongues to Rama say
That Ravan bears his wife away.
Farewell, a long farewell to thee,
O pleasant stream Godavari,
Whose rippling waves are ever stirred
By many a glad wild water-bird!
All ye to Rama's ear relate
The giant's deed and Sita's fate.
O all ye Gods who love this ground
Where trees of every leaf abound,
Tell Rama I am stolen hence,
I pray you all with reverence.
On all the living things beside
That these dark boughs and coverts hide,
Ye flocks of birds, ye troops of deer,
I call on you my prayer to hear.
All ye to Rama's ear proclaim
That Ravan tears away his dame
With forceful arms,—his darling wife,
Dearer to Rama than his life.
O, if he knew I dwelt in hell,
My mighty lord, I know full well,
Would bring me, conqueror, back to-day,
Though Yama's self reclaimed his prey."
Thus from the air the lady sent
With piteous voice her last lament,
And as she wept she chanced to see
The vulture on a lofty tree.
As Ravan bore her swiftly by,
On the dear bird she bent her eye,
And with a voice which woe made faint
Renewed to him her wild complaint:
"O see, the king who rules the race
Of giants, cruel, fierce and base,
Ravan the spoiler bears me hence
The helpless prey of violence.
This fiend who roves in midnight shade
By thee, dear bird, can ne'er be stayed,
For he is armed and fierce and strong T
riumphant in the power to wrong.
For thee remains one only task,
To do, kind friend, the thing I ask.
To Rama's ear by thee be borne
How Sita from her home is torn,
And to the valiant Lakshman tell
The giant's deed and what befell."
Canto L
Jatayus.
The vulture from his slumber woke
And heard the words which Sita spoke
He raised his eye and looked on her,
Looked on her giant ravisher.
That noblest bird with pointed beak,
Majestic as a mountain peak,
High on the tree addressed the king
Of giants, wisely counselling:
"O Ten-necked lord, I firmly hold
To faith and laws ordained of old,
And thou, my brother, shouldst refrain
From guilty deeds that shame and stain.
The vulture king supreme in air,
Jaṭayus is the name I bear.
Thy captive, known by Sita's name,
Is the dear consort and the dame
Of Rama, Daśaratha's heir
Who makes the good of all his care.
Lord of the world in might he vies
With the great Gods of seas and skies.
The law he boasts to keep allows
No king to touch another's spouse,
And, more than all, a prince's dame
High honour and respect may claim.
Back to the earth thy way incline,
Nor think of one who is not thine.
Heroic souls should hold it shame
To stoop to deeds which others blame,
And all respect by them is shown
To dames of others as their own.
Not every case of bliss and gain
The Scripture's holy texts explain,
And subjects, when that light is dim,
Look to their prince and follow him.
The king is bliss and profit, he
Is store of treasures fair to see,
And all the people's fortunes spring,
Their joy and misery, from the king.
If, lord of giant race, thy mind
Be fickle, false, to sin inclined,
How wilt thou kingly place retain?
High thrones in heaven no sinners gain.
The soul which gentle passions sway
Ne'er throws its nobler part away,
Nor will the mansion of the base
Long be the good man's dwelling-place.
Prince Rama, chief of high renown,
Has wronged thee not in field or town.
Ne'er has he sinned against thee: how
Canst thou resolve to harm him now?
If moved by Śúrpanakha's prayer
The giant Khara sought him there,
And fighting fell with baffled aim,
His and not Rama's is the blame.
Say, mighty lord of giants, say
What fault on Rama canst thou lay?
What has the world's great master done
That thou should steal his precious one?
Quick, quick the Maithil dame release;
Let Rama's consort go in peace,
Lest scorched by his terrific eye
Beneath his wrath thou fall and die
Like Vritra when Lord Indra threw
The lightning flame that smote and slew.
Ah fool, with blinded eyes to take
Home to thy heart a venomed snake!
Ah foolish eyes, too blind to see
That Death's dire coils entangle thee!
The prudent man his strength will spare,
Nor lift a load too great to bear.
Content is he with wholesome food
Which gives him life and strength renewed,
But who would dare the guilty deed
That brings no fame or glorious meed,
Where merit there is none to win
And vengeance soon o'ertakes the sin?
My course of life, Pulastya's son,
For sixty thousand years has run.
Lord of my kind I still maintain
Mine old hereditary reign.
I, worn by years, am older far
Than thou, young lord of bow and car,
In coat of glittering mail encased
And armed with arrows at thy waist,
But not unchallenged shalt thou go,
Or steal the dame without a blow.
Thou canst not, King, before mine eyes
Bear off unchecked thy lovely prize,
Safe as the truth of Scripture bent
By no close logic's argument.
Stay if thy courage let thee, stay
And meet me in the battle fray,
And thou shalt stain the earth with gore
Falling as Khara fell before.
Soon Rama, clothed in bark, shall smite
Thee, his proud foe, in deadly fight,—
Rama, from whom have oft times fled
The Daitya hosts discomfited.
No power have I to kill or slay:
The princely youths are far away,
But soon shalt thou with fearful eye
Struck down beneath their arrows lie.
But while I yet have life and sense,
Thou shalt not, tyrant, carry hence
Fair Sita, Rama's honoured queen,
With lotus eyes and lovely mien.
Whate'er the pain, whate'er the cost,
Though in the struggle life be lost,
The will of Raghu's noblest son
And Daśaratha must be done.
Stay for a while, O Ravan, stay,
One hour thy flying car delay,
And from that glorious chariot thou
Shalt fall like fruit from shaken bough,
For I to thee, while yet I live,
The welcome of a foe will give."
Canto LI
The Combat.
Ravan's red eyes in fury rolled:
Bright with his armlets' flashing gold,
In high disdain, by passion stirred
He rushed against the sovereign bird.
With clash and din and furious blows
Of murderous battle met the foes:
Thus urged by winds two clouds on high
Meet warring in the stormy sky.
Then fierce the dreadful combat raged
As fiend and bird in war engaged,
As if two winged mountains sped
To dire encounter overhead.
Keen pointed arrows thick and fast,
In never ceasing fury cast,
Rained hurtling on the vulture king
And smote him on the breast and wing.
But still that noblest bird sustained
The cloud of shafts which Ravan rained,
And with strong beak and talons bent
The body of his foeman rent.
Then wild with rage the ten-necked king
Laid ten swift arrows on his string,—
Dread as the staff of Death were they,
So terrible and keen to slay.
Straight to his ear the string he drew,
Straight to the mark the arrows flew,
And pierced by every iron head
The vulture's mangled body bled.
One glance upon the car he bent
Where Sita wept with shrill lament,
Then heedless of his wounds and pain
Rushed at the giant king again.
Then the brave vulture with the stroke
Of his resistless talons broke
The giant's shafts and bow whereon
The fairest pearls and jewels shone.
The monster paused, by rage unmanned:
A second bow soon armed his hand,
Whence pointed arrows swift and true
In hundreds, yea in thousands, flew.
The monarch of the vultures, plied
With ceaseless darts on every side,
Showed like a bird that turns to rest
Close covered by the branch-built nest.
He shook his pinions to repel
The storm of arrows as it fell;
Then with his talons snapped in two
The mighty bow which Ravan drew.
Next with terrific wing he smote
So fiercely on the giant's coat,
The harness, glittering with the glow
Of fire, gave way beneath the blow.
With storm of murderous strokes he beat
The harnessed asses strong and fleet,—
Each with a goblin's monstrous face
And plates of gold his neck to grace.
Then on the car he turned his ire,—
The will-moved car that shone like fire,
And broke the glorious chariot, broke
The golden steps and pole and yoke.
The chouris and the silken shade
Like the full moon to view displayed,
Together with the guards who held
Those emblems, to the ground he felled.
The royal vulture hovered o'er
The driver's head, and pierced and tore
With his strong beak and dreaded claws
His mangled brow and cheek and jaws.
With broken car and sundered bow,
His charioteer and team laid low,
One arm about the lady wound,
Sprang the fierce giant to the ground.
Spectators of the combat, all
The spirits viewed the monster's fall:
Lauding the vulture every one
Cried with glad voice, Well done! well done!
But weak with length of days, at last
The vulture's strength was failing fast.
The fiend again assayed to bear
The lady through the fields of air.
But when the vulture saw him rise
Triumphant with his trembling prize,
Bearing the sword that still was left
When other arms were lost or cleft,
Once more, impatient of repose,
Swift from the earth her champion rose,
Hung in the way the fiend would take,
And thus addressing Ravan spake:
"Thou, King of giants, rash and blind,
Wilt be the ruin of thy kind,
Stealing the wife of Rama, him
With lightning scars on chest and limb.
A mighty host obeys his will
And troops of slaves his palace fill;
His lords of state are wise and true,
Kinsmen has he and retinue.
As thirsty travellers drain the cup,
Thou drinkest deadly poison up.
The rash and careless fool who heeds
No coming fruit of guilty deeds,
A few short years of life shall see,
And perish doomed to death like thee.
Say whither wilt thou fly to loose
Thy neck from Death's entangling noose,
Caught like the fish that finds too late
The hook beneath the treacherous bait?
Never, O King—of this be sure—
Will Raghu's fiery sons endure,
Terrific in their vengeful rage,
This insult to their hermitage.
Thy guilty hands this day have done
A deed which all reprove and shun,
Unworthly of a noble chief,
The pillage loved by coward thief.
Stay, if thy heart allow thee, stay
And meet me in the deadly fray.
Soon shall thou stain the earth with gore,
And fall as Khara fell before.
The fruits of former deeds o'erpower
The sinner in his dying hour:
And such a fate on thee, O King,
Thy tyranny and madness bring.
Not e'en the Self-existent Lord,
Who reigns by all the worlds adored,
Would dare attempt a guilty deed
Which the dire fruits of crime succeed."
Thus brave Jaṭayus, best of birds,
Addressed the fiend with moving words,
Then ready for the swift attack
Swooped down upon the giant's back.
Down to the bone the talons went;
With many a wound the flesh was rent:
Such blows infuriate drivers deal
Their elephants with pointed steel.
Fixed in his back the strong beak lay,
The talons stripped the flesh away.
He fought with claws and beak and wing,
And tore the long hair of the king.
Still as the royal vulture beat
The giant with his wings and feet,
Swelled the fiend's lips, his body shook
With furious rage too great to brook.
About the Maithil dame he cast
One huge left arm and held her fast.
In furious rage to frenzy fanned
He struck the vulture with his hand.
Jatayus mocked the vain assay,
And rent his ten left arms away.
Down dropped the severed limbs: anew
Ten others from his body grew:
Thus bright with pearly radiance glide
Dread serpents from the hillock side,
Again in wrath the giant pressed
The lady closer to his breast,
And foot and fist sent blow on blow
In ceaseless fury at the foe.
So fierce and dire the battle, waged
Between those mighty champions, raged:
Here was the lord of giants, there
The noblest of the birds of air.
Thus, as his love of Rama taught,
The faithful vulture strove and fought.
But Ravan seized his sword and smote
His wings and side and feet and throat.
At mangled side and wing he bled;
He fell, and life was almost fled.
The lady saw her champion lie,
His plumes distained with gory dye,
And hastened to the vulture's side
Grieving as though a kinsman died.
The lord of Lanka's island viewed
The vulture as he lay:
Whose back like some dark cloud was hued,
His breast a paly grey,
Like ashes, when by none renewed,
The flame has died away.
The lady saw with mournful eye,
Her champion press the plain,—
The royal bird, her true ally
Whom Ravan's might had slain.
Her soft arms locked in strict embrace
Around his neck she kept,
And lovely with her moon-bright face
Bent o'er her friend and wept.
Canto LII
Ravan's Flight.
Fair as the lord of silvery rays
Whom every star in heaven obeys,
The Maithil dame her plaint renewed
O'er him by Ravan's might subdued:
"Dreams, omens, auguries foreshow
Our coming lot of weal and woe:
But thou, my Rama, couldst not see
The grievous blow which falls on thee.
The birds and deer desert the brakes
And show the path my captor takes,
And thus e'en now this royal bird
Flew to mine aid by pity stirred.
Slain for my sake in death he lies,
The broad-winged rover of the skies.
O Rama, haste, thine aid I crave:
O Lakshman, why delay to save?
Brave sons of old Ikshvaku, hear
And rescue in this hour of fear."
Her flowery wreath was torn and rent,
Crushed was each sparkling ornament.
She with weak arms and trembling knees
Clung like a creeper to the trees,
And like some poor deserted thing
With wild shrieks made the forest ring.
But swift the giant reached her side,
As loud on Rama's name she cried.
Fierce as grim Death one hand he laid
Upon her tresses' lovely braid.
"That touch, thou impious King, shall be
The ruin of thy race and thee."
The universal world in awe
That outrage on the lady saw,
All nature shook convulsed with dread,
And darkness o'er the land was spread.
The Lord of Day grew dark and chill,
And every breath of air was still.
The Eternal Father of the sky
Beheld the crime with heavenly eye,
And spake with solemn voice, "The deed,
The deed is done, of old decreed."
Sad were the saints within the grove,
But triumph with their sorrow strove.
They wept to see the Maithil dame
Endure the outrage, scorn, and shame:
They joyed because his life should pay
The penalty incurred that day.
Then Ravan raised her up, and bare
His captive through the fields of air,
Calling with accents loud and shrill
On Rama and on Lakshman still.
With sparkling gems on arm and breast,
In silk of paly amber dressed,
High in the air the Maithil dame
Gleamed like the lightning's flashing flame.
The giant, as the breezes blew
Upon her robes of amber hue,
And round him twined that gay attire,
Showed like a mountain girt with fire.
The lady, fairest of the fair,
Had wreathed a garland round her hair;
Its lotus petals bright and sweet
Rained down about the giant's feet.
Her vesture, bright as burning gold,
Gave to the wind each glittering fold,
Fair as a gilded cloud that gleams
Touched by the Day-God's tempered beams.
Yet struggling in the fiend's embrace,
The lady with her sweet pure face,
Far from her lord, no longer wore
The light of joy that shone before.
Like some sad lily by the side
Of waters which the sun has dried;
Like the pale moon uprising through
An autumn cloud of darkest hue,
So was her perfect face between
The arms of giant Ravan seen:
Fair with the charm of braided tress
And forehead's finished loveliness;
Fair with the ivory teeth that shed
White lustre through the lips' fine red,
Fair as the lotus when the bud
Is rising from the parent flood.
With faultless lip and nose and eye,
Dear as the moon that floods the sky
With gentle light, of perfect mould,
She seemed a thing of burnished gold,
Though on her cheek the traces lay
Of tears her hand had brushed away.
But as the moon-beams swiftly fade
Ere the great Day-God shines displayed,
So in that form of perfect grace
Still trembling in the fiend's embrace,
From her beloved Rama reft,
No light of pride or joy was left.
The lady with her golden hue
O'er the swart fiend a lustre threw,
As when embroidered girths enfold
An elephant with gleams of gold.
Fair as the lily's bending stem,—
Her arms adorned with many a gem,
A lustre to the fiend she lent
Gleaming from every ornament,
As when the cloud-shot flashes light
The shadows of a mountain height.
Whene'er the breezes earthward bore
The tinkling of the zone she wore,
He seemed a cloud of darkness hue
Sending forth murmurs as it flew.
As on her way the dame was sped
From her sweet neck fair flowers were shed,
The swift wind caught the flowery rain
And poured it o'er the fiend again.
The wind-stirred blossoms, sweet to smell,
On the dark brows of Ravan fell,
Like lunar constellations set
On Meru for a coronet.
From her small foot an anklet fair
With jewels slipped, and through the air,
Like a bright circlet of the flame
Of thunder, to the valley came.
The Maithil lady, fair to see
As the young leaflet of a tree
Clad in the tender hues of spring,
Flashed glory on the giant king,
As when a gold-embroidered zone
Around an elephant is thrown.
While, bearing far the lady, through
The realms of sky the giant flew,
She like a gleaming meteor cast
A glory round her as she passed.
Then from each limb in swift descent
Dropped many a sparkling ornament:
On earth they rested dim and pale
Like fallen stars when virtues fail.33
Around her neck a garland lay
Bright as the Star-God's silvery ray:
It fell and flashed like Ganga sent
From heaven above the firmament.34
The birds of every wing had flocked
To stately trees by breezes rocked:
These bowed their wind-swept heads and said:
"My lady sweet, be comforted."
With faded blooms each brook within
Whose waters moved no gleamy fin,
Stole sadly through the forest dell
Mourning the dame it loved so well.
From every woodland region near
Came lions, tigers, birds, and deer,
And followed, each with furious look,
The way her flying shadow took.
For Sita's loss each lofty hill
Whose tears were waterfall, and rill,
Lifting on high each arm-like steep,
Seemed in the general woe to weep.
When the great sun, the lord of day,
Saw Ravan tear the dame away,
His glorious light began to fail
And all his disk grew cold and pale.
"If Ravan from the forest flies
With Rama's Sita as his prize,
Justice and truth have vanished hence,
Honour and right and innocence."
Thus rose the cry of wild despair
From spirits as they gathered there.
In trembling troops in open lawns
Wept, wild with woe, the startled fawns,
And a strange terror changed the eyes
They lifted to the distant skies.
On silvan Gods who love the dell
A sudden fear and trembling fell,
As in the deepest woe they viewed
The lady by the fiend subdued.
Still in loud shrieks was heard afar
That voice whose sweetness naught could mar,
While eager looks of fear and woe
She bent upon the earth below.
The lady of each winning wile
With pearly teeth and lovely smile,
Seized by the lord of Lanka's isle,
Looked down for friends in vain.
She saw no friend to aid her, none,
Not Rama nor the younger son
Of Daśaratha, and undone
She swooned with fear and pain.
Canto LIII
Sita's Threats.
Soon as the Maithil lady knew
That high through air the giant flew,
Distressed with grief and sore afraid
Her troubled spirit sank dismayed.
Then, as anew the waters welled
From those red eyes which sorrow swelled,
Forth in keen words her passion broke,
And to the fierce-eyed fiend she spoke:
"Canst thou attempt a deed so base,
Untroubled by the deep disgrace,—
To steal me from my home and fly,
When friend or guardian none was nigh?
Thy craven soul that longed to steal,
Fearing the blows that warriors deal,
Upon a magic deer relied
To lure my husband from my side,
Friend of his sire, the vulture king
Lies low on earth with mangled wing,
Who gave his aged life for me
And died for her he sought to free.
Ah, glorious strength indeed is thine,
Thou meanest of thy giant line,
Whose courage dared to tell thy name
And conquer in the fight a dame.
Does the vile deed that thou hast done
Cause thee no shame, thou wicked one—
A woman from her home to rend
When none was near his aid to lend?
Through all the worlds, O giant King,
The tidings of this deed will ring,
This deed in law and honour's spite
By one who claims a hero's might.
Shame on thy boasted valour, shame!
Thy prowess is an empty name.
Shame, giant, on this cursed deed
For which thy race is doomed to bleed!
Thou fliest swifter than the gale,
For what can strength like thine avail?
Stay for one hour, O Ravan, stay;
Thou shalt not flee with life away.
Soon as the royal chieftains' sight
Falls on the thief who roams by night,
Thou wilt not, tyrant, live one hour
Though backed by all thy legions' power.
Ne'er can thy puny strength sustain
The tempest of their arrowy rain:
Have e'er the trembling birds withstood
The wild flames raging in the wood?
Hear me, O Ravan, let me go,
And save thy soul from coming woe.
Or if thou wilt not set me free,
Wroth for this insult done to me.
With his brave brother's aid my lord
Against thy life will raise his sword.
A guilty hope inflames thy breast
His wife from Rama's home to wrest.
Ah fool, the hope thou hast is vain;
Thy dreams of bliss shall end in pain.
If torn from all I love by thee
My godlike lord no more I see,
Soon will I die and end my woes,
Nor live the captive of my foes.
Ah fool, with blinded eyes to choose
The evil and the good refuse!
So the sick wretch with stubborn will
Turns fondly to the cates that kill,
And madly draws his lips away
From medicine that would check decay.
About thy neck securely wound
The deadly coil of Fate is bound,
And thou, O Ravan, dost not fear
Although the hour of death is near.
With death-doomed sight thine eyes behold
The gleaming of the trees of gold,—
See dread Vaitarani, the flood
That rolls a stream of foamy blood,—
See the dark wood by all abhorred—
Its every leaf a threatening sword.
The tangled thickets thou shall tread
Where thorns with iron points are spread.
For never can thy days be long,
Base plotter of this shame and wrong
To Rama of the lofty soul:
He dies who drinks the poisoned bowl.
The coils of death around thee lie:
They hold thee and thou canst not fly.
Ah whither, tyrant, wouldst thou run
The vengeance of my lord to shun?
By his unaided arm alone
Were twice seven thousand fiends o'erthrown:
Yes, in the twinkling of an eye
He forced thy mightiest fiends to die.
And shall that lord of lion heart,
Skilled in the bow and spear and dart,
Spare thee, O fiend, in battle strife,
The robber of his darling wife?"
These were her words, and more beside,
By wrath and bitter hate supplied.
Then by her woe and fear o'erthrown
She wept again and made her moan.
As long she wept in grief and dread,
Scarce conscious of the words she said,
The wicked giant onward fled
And bore her through the air.
As firm he held the Maithil dame,
Still wildly struggling, o'er her frame
With grief and bitter misery came
The trembling of despair.
Canto LIV
Lanka.
He bore her on in rapid flight,
And not a friend appeared in sight.
But on a hill that o'er the wood
Raised its high top five monkeys stood.
From her fair neck her scarf she drew,
And down the glittering vesture flew.
With earring, necklet, chain, and gem,
Descending in the midst of them:
"For these," she thought, "my path may show,
And tell my lord the way I go."
Nor did the fiend, in wild alarm,
Mark when she drew from neck and arm
And foot the gems and gold, and sent
To earth each gleaming ornament.
The monkeys raised their tawny eyes
That closed not in their first surprise,
And saw the dark-eyed lady, where
She shrieked above them in the air.
High o'er their heads the giant passed
Holding the weeping lady fast.
O'er Pampa's flashing flood he sped
And on to Lanka's city fled.
He bore away in senseless joy
The prize that should his life destroy,
Like the rash fool who hugs beneath
His robe a snake with venomed teeth.
Swift as an arrow from a bow,
Speeding o'er lands that lay below,
Sublime in air his course he took
O'er wood and rock and lake and brook.
He passed at length the sounding sea
Where monstrous creatures wander free,—
Seat of Lord Varun's ancient reign,
Controller of the eternal main.
The angry waves were raised and tossed
As Ravan with the lady crossed,
And fish and snake in wild unrest
Showed flashing fin and gleaming crest.
Then from the blessed troops who dwell
In air celestial voices fell:
"O ten-necked King," they cried, "attend:
This guilty deed will bring thine end."
Then Ravan speeding like the storm,
Bearing his death in human form,
The struggling Sita, lighted down
In royal Lanka's glorious town;
A city bright and rich, that showed
Well-ordered street and noble road;
Arranged with just division, fair
With multitudes in court and square.
Thus, all his journey done, he passed
Within his royal home at last.
There in a queenly bower he placed
The black-eyed dame with dainty waist:
Thus in her chamber Maya laid
The lovely Maya, demon maid.
Then Ravan gave command to all
The dread she-fiends who filled the hall:
"This captive lady watch and guard
From sight of man and woman barred.
But all the fair one asks beside
Be with unsparing hand supplied:
As though 'twere I that asked, withhold
No pearls or dress or gems or gold.
And she among you that shall dare
Of purpose or through want of care
One word to vex her soul to say,
Throws her unvalued life away."
Thus spake the monarch of their race
To those she-fiends who thronged the place,
And pondering on the course to take
Went from the chamber as he spake.
He saw eight giants, strong and dread,
On flesh of bleeding victims fed,
Proud in the boon which Brahma gave,
And trusting in its power to save.
He thus the mighty chiefs addressed
Of glorious power and strength possessed:
"Arm, warriors, with the spear and bow;
With all your speed from Lanka go,
For Janasthan, our own no more,
Is now defiled with giants' gore;
The seat of Khara's royal state
Is left unto us desolate.
In your brave hearts and might confide,
And cast ignoble fear aside.
Go, in that desert region dwell
Where the fierce giants fought and fell.
A glorious host that region held,
For power and might unparalleled,
By Dúshan and brave Khara led,— A
ll, slain by Rama's arrows, bled.
Hence boundless wrath that spurns control
Reigns paramount within my soul,
And naught but Rama's death can sate
The fury of my vengeful hate.
I will not close my slumbering eyes
Till by this hand my foeman dies.
And when mine arm has slain the foe
Who laid those giant princes low,
Long will I triumph in the deed,
Like one enriched in utmost need.
Now go; that I this end may gain,
In Janasthan, O chiefs, remain.
Watch Rama there with keenest eye,
And all his deeds and movements spy.
Go forth, no helping art neglect,
Be brave and prompt and circumspect,
And be your one endeavour still
To aid mine arm this foe to kill.
Oft have I seen your warrior might
Proved in the forehead of the fight,
And sure of strength I know so well
Send you in Janasthan to dwell."
The giants heard with prompt assent
The pleasant words he said,
And each before his master bent
For meet salute, his head.
Then as he bade, without delay,
From Lanka's gate they passed,
And hurried forward on their way Invisible and fast.
Canto LV
Sita In Prison.
Thus Ravan his commandment gave
To those eight giants strong and brave,
So thinking in his foolish pride
Against all dangers to provide.
Then with his wounded heart aflame
With love he thought upon the dame,
And took with hasty steps the way
To the fair chamber where she lay.
He saw the gentle lady there
Weighed down by woe too great to bear,
Amid the throng of fiends who kept
Their watch around her as she wept:
A pinnace sinking neath the wave
When mighty winds around her rave:
A lonely herd-forsaken deer,
When hungry dogs are pressing near.
Within the bower the giant passed:
Her mournful looks were downward cast.
As there she lay with streaming eyes
The giant bade the lady rise,
And to the shrinking captive showed
The glories of his rich abode,
Where thousand women spent their days
In palaces with gold ablaze;
Where wandered birds of every sort,
And jewels flashed in hall and court.
Where noble pillars charmed the sight
With diamond and lazulite,
And others glorious to behold
With ivory, crystal, silver, gold.
There swelled on high the tambour's sound,
And burnished ore was bright around
He led the mournful lady where
Resplendent gold adorned the stair,
And showed each lattice fair to see
With silver work and ivory:
Showed his bright chambers, line on line,
Adorned with nets of golden twine.
Beyond he showed the Maithil dame
His gardens bright as lightning's flame,
And many a pool and lake he showed
Where blooms of gayest colour glowed.
Through all his home from view to view
The lady sunk in grief he drew.
Then trusting in her heart to wake
Desire of all she saw, he spake: "
Three hundred million giants, all
Obedient to their master's call,
Not counting young and weak and old,
Serve me with spirits fierce and bold.
A thousand culled from all of these
Wait on the lord they long to please.
This glorious power, this pomp and sway,
Dear lady, at thy feet I lay:
Yea, with my life I give the whole,
O dearer than my life and soul.
A thousand beauties fill my hall:
Be thou my wife and rule them all.
O hear my supplication! why
This reasonable prayer deny?
Some pity to thy suitor show,
For love's hot flames within me glow.
This isle a hundred leagues in length,
Encompassed by the ocean's strength,
Would all the Gods and fiends defy
Though led by Him who rules the sky.
No God in heaven, no sage on earth,
No minstrel of celestial birth,
No spirit in the worlds I see
A match in power and might for me.
What wilt thou do with Rama, him
Whose days are short, whose light is dim,
Expelled from home and royal sway,
Who treads on foot his weary way?
Leave the poor mortal to his fate,
And wed thee with a worthier mate.
My timid love, enjoy with me
The prime of youth before it flee.
Do not one hour the hope retain
To look on Rama's face again.
For whom would wildest thought beguile
To seek thee in the giants' isle?
Say who is he has power to bind
In toils of net the rushing wind.
Whose is the mighty hand will tame
And hold the glory of the flame?
In all the worlds above, below,
Not one, O fair of form, I know
Who from this isle in fight could rend
The lady whom these arms defend.
Fair Queen, o'er Lanka's island reign,
Sole mistress of the wide domain.
Gods, rovers of the night like me,
And all the world thy slaves will be.
O'er thy fair brows and queenly head
Let consecrating balm be shed,
And sorrow banished from thy breast,
Enjoy my love and take thy rest.
Here never more thy soul shall know
The memory of thy former woe,
And here shall thou enjoy the meed
Deserved by every virtuous deed.
Here garlands glow of flowery twine,
With gorgeous hues and scent divine.
Take gold and gems and rich attire:
Enjoy with me thy heart's desire.
There stand, of chariots far the best,
The car my brother once possessed.
Which, victor in the stricken field,
I forced the Lord of Gold to yield.
'Tis wide and high and nobly wrought,
Bright as the sun and swift as thought.
Therein O Sita, shalt thou ride
Delighted by thy lover's side.
But sorrow mars with lingering trace
The splendour of thy lotus face.
A cloud of woe is o'er it spread,
And all the light of joy is fled."
The lady, by her woe distressed,
One corner of her raiment pressed
To her sad cheek like moonlight clear,
And wiped away a falling tear.
The rover of the night renewed
His eager pleading as he viewed
The lady stand like one distraught,
Striving to fix her wandering thought:
"Think not, sweet lady, of the shame
Of broken vows, nor fear the blame.
The saints approve with favouring eyes
This union knit with marriage ties.
O beauty, at thy radiant feet
I lay my heads, and thus entreat.
One word of grace, one look I crave:
Have pity on thy prostrate slave.
These idle words I speak are vain,
Wrung forth by love's consuming pain,
And ne'er of Ravan be it said
He wooed a dame with prostrate head."
Thus to the Maithil lady sued
The monarch of the giant brood,
And "She is now mine own," he thought,
In Death's dire coils already caught.
Canto LVI
Sita's Disdain.
His words the Maithil lady heard
Oppressed by woe but undeterred.
Fear of the fiend she cast aside,
And thus in noble scorn replied:
"His word of honour never stained
King Daśaratha nobly reigned,
The bridge of right, the friend of truth.
His eldest son, a noble youth,
Is Rama, virtue's faithful friend,
Whose glories through the worlds extend.
Long arms and large full eyes has he,
My husband, yea a God to me.
With shoulders like the forest king's,
From old Ikshvaku's line he springs.
He with his brother Lakshman's aid
Will smite thee with the vengeful blade.
Hadst thou but dared before his eyes
To lay thine hand upon the prize,
Thou stretched before his feet hadst lain
In Janasthan like Khara slain.
Thy boasted rovers of the night
With hideous shapes and giant might,—
Like serpents when the feathered king
Swoops down with his tremendous wing,—
Will find their useless venom fail
When Rama's mighty arms assail.
The rapid arrows bright with gold,
Shot from the bow he loves to hold,
Will rend thy frame from flank to flank
As Ganga's waves erode the bank.
Though neither God nor fiend have power
To slay thee in the battle hour,
Yet from his hand shall come thy fate,
Struck down before his vengeful hate.
That mighty lord will strike and end
The days of life thou hast to spend.
Thy days are doomed, thy life is sped
Like victims to the pillar led.
Yea, if the glance of Rama bright
With fury on thy form should light,
Thou scorched this day wouldst fall and die
Like Kama slain by Rudra's eye.35
He who from heaven the moon could throw,
Or bid its bright rays cease to glow,—
He who could drain the mighty sea
Will set his darling Sita free.
Fled is thy life, thy glory, fled
Thy strength and power: each sense is dead.
Soon Lanka widowed by thy guilt
Will see the blood of giants spilt.
This wicked deed, O cruel King,
No triumph, no delight will bring.
Thou with outrageous might and scorn
A woman from her lord hast torn.
My glorious husband far away,
Making heroic strength his stay,
Dwells with his brother, void of fear,
In Dandak forest lone and drear.
No more in force of arms confide:
That haughty strength, that power and pride
My hero with his arrowy rain
From all thy bleeding limbs will drain.
When urged by fate's dire mandate, nigh
Comes the fixt hour for men to die.
Caught in Death's toils their eyes are blind,
And folly takes each wandering mind.
So for the outrage thou hast done
The fate is near thou canst not shun,—
The fate that on thyself and all
Thy giants and thy town shall fall.
I spurn thee: can the altar dight
With vessels for the sacred rite,
O'er which the priest his prayer has said,
Be sullied by an outcaste's tread?
So me, the consort dear and true
Of him who clings to virtue too,
Thy hated touch shall ne'er defile,
Base tyrant lord of Lanka's isle.
Can the white swan who floats in pride
Through lilies by her consort's side,
Look for one moment, as they pass,
On the poor diver in the grass?
This senseless body waits thy will,
To torture, chain, to wound or kill.
I will not, King of giants, strive
To keep this fleeting soul alive
But never shall they join the name
Of Sita with reproach and shame."
Thus as her breast with fury burned
Her bitter speech the dame returned.
Such words of rage and scorn, the last
She uttered, at the fiend she cast.
Her taunting speech the giant heard,
And every hair with anger stirred.
Then thus with fury in his eye
He made in threats his fierce reply:
"Hear Maithil lady, hear my speech:
List to my words and ponder each.
If o'er thy head twelve months shall fly
And thou thy love wilt still deny,
My cooks shall mince thy flesh with steel
And serve it for my morning meal."
Thus with terrific threats to her
Spake Ravan, cruel ravener.
Mad with the rage her answer woke
He called the fiendish train and spoke:
"Take her, ye Rakshas dames, who fright
With hideous form and mien the sight,
Who make the flesh of men your food,—
And let her pride be soon subdued."
He spoke, and at his word the band
Of fiendish monsters raised each hand
In reverence to the giant king,
And pressed round Sita in a ring.
Ravan once more with stern behest
To those she-fiends his speech addressed:
Shaking the earth beneath his tread,
He stamped his furious foot and said:
"To the Aśoka garden bear
The dame, and guard her safely there
Until her stubborn pride be bent
By mingled threat and blandishment.
See that ye watch her well, and tame,
Like some she-elephant, the dame."
They led her to that garden where
The sweetest flowers perfumed the air,
Where bright trees bore each rarest fruit,
And birds, enamoured, ne'er were mute.
Bowed down with terror and distress,
Watched by each cruel giantess,—
Like a poor solitary deer
When ravening tigresses are near,— T
he hapless lady lay distraught
Like some wild thing but newly caught,
And found no solace, no relief
From agonizing fear and grief;
Not for one moment could forget
Each terrifying word and threat,
Or the fierce eyes upon her set
By those who watched around.
She thought of Rama far away,
She mourned for Lakshman as she lay
In grief and terror and dismay
Half fainting on the ground.
Canto LVII
Sita Comforted.
Soon as the fiend had set her down
Within his home in Lanka's town
Triumph and joy filled Indra's breast,
Whom thus the Eternal Sire addressed:
"This deed will free the worlds from woe
And cause the giants' overthrow.
The fiend has borne to Lanka's isle
The lady of the lovely smile,
True consort born to happy fate
With features fair and delicate.
She looks and longs for Rama's face,
But sees a crowd of demon race,
And guarded by the giant's train
Pines for her lord and weeps in vain.
But Lanka founded on a steep
Is girdled by the mighty deep,
And how will Rama know his fair
And blameless wife is prisoned there?
She on her woe will sadly brood
And pine away in solitude,
And heedless of herself, will cease
To live, despairing of release.
Yes, pondering on her fate, I see
Her gentle life in jeopardy.
Go, Indra, swiftly seek the place,
And look upon her lovely face.
Within the city make thy way:
Let heavenly food her spirit stay."
Thus Brahma spake: and He who slew
The cruel demon Paka, flew
Where Lanka's royal city lay,
And Sleep went with him on his way.
"Sleep," cried the heavenly Monarch, "close
Each giant's eye in deep repose."
Thus Indra spoke, and Sleep fulfilled
With joy his mandate, as he willed,
To aid the plan the Gods proposed,
The demons' eyes in sleep she closed.
Then Śachi's lord, the Thousand-eyed,
To the Aśoka garden hied.
He came and stood where Sita lay,
And gently thus began to say: