Single-Document Template for OpenALG (Title)
Introductory Information (Heading 1)
This document is both a guidebook and a template for use with Affordable Learning Georgia's instance of Manifold, OpenALG. This version is for development of a single book in a single document (for best results, no more than 100 pages). If you are producing your open educational resource with each chapter in a separate document (i.e. if your book is more than 100 pages), please refer to the Multi-Document Manifold Template. We strongly suggest reading this the entire document before using it as a template, as there are some essential instructions included. If you have any questions about Manifold or this template, please contact Jeff Gallant (jeff.gallant@usg.edu) and Tiffani Reardon (tiffani.reardon@usg.edu).

This document is licensed with a Creative Commons Attribution 4.0 International License.
In the introductory information section of your book (this section), you want to include all of the front-matter of your textbook. Alternatively, you could create separate sections for each element of front matter. Keep in mind, however, that your Heading elements will denote chapter/section breaks in Manifold (each with its own TOC item). Chapter 2 of this document discusses more on heading elements.
Chapter 1: How Manifold Works (Heading 1)
Manifold, the tool behind OpenALG, is an ingestion-based open textbook platform with interactive and study-friendly capabilities such as embedding and annotation. Because it is not a native-creation tool, you need to create your textbook in a separate document, most commonly a Microsoft Word document, and then ingest it into the system.
The navigational structure of the book is based on the heading structure (using Styles), so you don't really need a linked table of contents in the Word document, although it's fine to include one as a section of the book if you want.
When your document is finished, you will use the Manifold system to ingest it, and then you can set up the environment with all of the features available for the book. This document is going to cover the document basics with a few Manifold tips for interaction. For additional documentation on how to use advanced features of Manifold and set up the environment, take a look at Manifold's documentation website.
Chapter 2: Titles and Headings (Heading 1)
Microsoft Word has a built-in set of styles for things like titles, headings, hyperlinks, and more. These styles are set up both for usability and for accessibility, so it's important to always use them. The default styles are usually Calibri with a blue font on headings, but Manifold will override those styles when you ingest, so don't waste time modifying them right now.
Titles (Heading 2)
Similar to the title of this document, for a single-file book, you want to set the book title as a Title through the Word Styles function, as shown in this document. It's important to reserve your Title tag for your book title only. To find the Title Style, expand the Styles section of the Home tab.

Figure 1: The expand button for the Styles function in Microsoft Word
The Title Style is found just below the Heading Styles, by default. To attach it to your title, just click your cursor to your title, then click Title in the Styles function.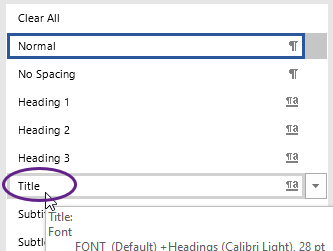 Figure 2: The Title Style on the Styles menu in Microsoft Word
Headings (Heading 2)
As you can see in this document, each chapter is set as a Heading 1. Using the Styles feature to set those (in the same way you did for the title), Manifold will know how to separate chapters and create your table of contents. It's important to reserve your Heading 1 tag for top-level Chapter/Section titles only.
For headings within your chapters, start with Heading 2 labels and work your way out, nesting as appropriate. Think of them as heading levels, rather than heading numbers—Heading 2 is the next level heading from Heading 1, meaning that they fall inside that particular Heading 1. Similarly, Heading 3 falls within Heading 2, Heading 4 falls within Heading 3, etc.
Chapter 3: Media (Heading 1)
There are several ways to add different types of media to your book, and there are several ways to make them more interactive after ingestion, as well.
Images and Alternative Text (Heading 2)
It's pretty rare to have a textbook without images or graphics, and the same goes for digital textbooks. You can absolutely include images in your Manifold document, and they will transfer during ingestion. There are a couple of things to note about images in Manifold, however:
Accessibility works the same way as in Word documents and on websites. You still need to include alternative text for your images. We (the folks at ALG) recommend the two-fold method of image accessibility so that the description can be read both by sighted readers and by those using a screen-reader. We recommend including numbered figure tags with a description (as shown below the images in this document), and then using the alternative text function of Word to direct the reader to the figure tag (for example, on the next image, the alternative text simply reads "Figure 3" to tell the reader that the description comes next with the figure tag).
To add alternative text to your image, right click on it, and click "Edit Alt Text."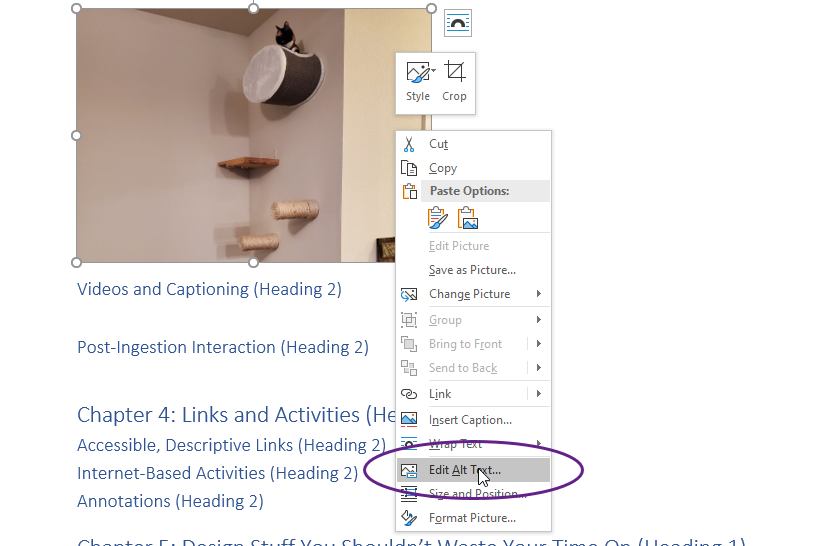 Figure 3: The "Edit Alt Text" option on the right-click menu for images in Microsoft Word
A window will pop out from the right-hand side of Word. You can type your alternative text into the box provided there.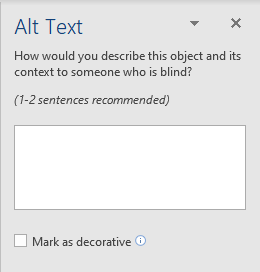 Figure 4: The Alt Text function in Microsoft Word
Note that there is a check box labeled "Mark as Decorative" as an option in the Alt Text window. It's important to only use that check box when the image is truly decorative—it provides no information to the reader relevant to the text. When you mark an image as decorative, the screen-reader will simply skip right over it without acknowledging the existence of an image.
Videos and Captioning (Heading 2)
In a Microsoft Word document, we typically add videos by simply providing a link. That is still your best bet when ingesting through Word into Manifold. However, there is a function to add a slightly more interactive way to access the video to the page after you ingest it into Manifold, using the Resources function.
When using videos as links and resources in your text, you also want to make sure that the video is captioned appropriately and accurately for hearing and cognitively impaired readers. We (at ALG) have found that the easiest open way to do that is to upload the video to YouTube and edit the automatic captioning provided there—you can then link directly to the YouTube video in your text. Check out the captioning tutorial from ALG for more information on creating captions in YouTube.
Chapter 4: Links and Activities (Heading 1)
In the previous section, we talked about linking videos into your text. The cool thing about Manifold is that you can link literally anything to it, just as you can in Word.
Accessible, Descriptive Links (Heading 2)
As you create these links, it's important to make sure that you're creating accessible, descriptive links. By that we mean that the text that is linked should say something other than the URL it's going to, as we often default to. Word makes it super easy to just place the URL directly in the document, because as soon as you space away from it, it links it for you. Here's the problem: a screen-reader can't tell the reader where that link goes if the text isn't descriptive. For example, take a look at the accessible and inaccessible links below.
Accessible, descriptive link: Affordable Learning Georgia Accessibility Resources Website
Inaccessible link: https://www.affordablelearninggeorgia.org/open_resources/accessibility
They both go to the same place, but the accessible one tells you where it is going in a descriptive manner. To create accessible links in Word, simply type out the descriptive text, then highlight it. On the "Insert" tab of the ribbon, click the link button (not the arrow below it).

Figure 5: The Link button on the Insert tab of the ribbon in Microsoft Word
Paste the website address (or URL) into the box provided and click "OK."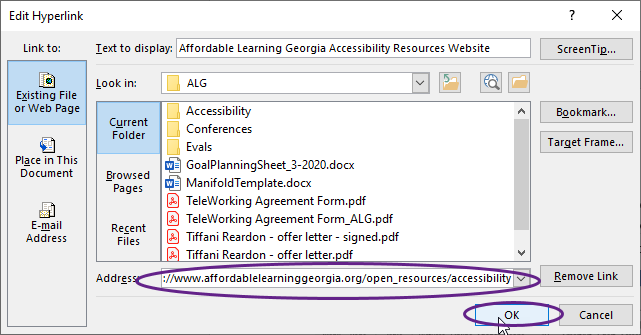 Figure 6: The Address bar and OK button in the Edit Hyperlink window in Microsoft Word
Internet-Based Activities (Heading 2)
For Word-based texts, we recommend including your internet-based activities as links (described in the previous section). Once it is ingested into Manifold, you will be able to add your activities as resources and then attach them to the text as a callout.
Chapter 5: Design Stuff You Shouldn't Waste Your Time On (Heading 1)
Manifold is designed to maximize accessibility, which means that it is going to reformat your book to fit their CSS. You can change the CSS later, but it can be hard to identify the correct tags, classes, and IDs to use. If you need to use a lot of CSS, it is strongly recommended that you create your book in HTML instead of Word.
Page Breaks (Heading 2)
If placing page breaks helps you to stay organized as you develop, that's completely fine. Feel free to use them. Just keep in mind that a page break in Word will not create a page break in Manifold. To separate things by pages, you need to create your book using the multi-document Word template or with HTML.
You also don't want to force page breaks using the Enter key multiple times. Not only does it not work to create page breaks in Manifold (it just creates a big blank space on the page), but it's also bad for accessibility because it tells the screen reader to pause for a long period, which students might mistake for the end of the document.
Fonts and Colors (Heading 2)
Font family and color of your text, including headings, will be automatically reset by Manifold, so don't spend a lot of time designing that stuff. Pick a simple style that's easy to read and accessible for the downloadable version, and then let it be.
Text-Wrapping on Images (Heading 2)
Text-wrapping on images can cause accessibility problems because it creates a confusing reading order, so it's not generally a good idea anyway. However, Manifold won't let you do it even if you wanted to. Any images set up with text-wrapping are going to be moved in-line when you ingest into Manifold, and it will most likely be place in-line at the wrong place because of the issues with reading order.
Headers, Footers, and Page Numbers (Heading 2)
Don't confuse this with headings. You absolutely should be using heading structure in your document. However, headers, where you might place a running head or a page number, as well as footers, won't ingest into Manifold and may even cause a problem on the pages. What you can do, however, is create a version with page numbers and one without. We can set it up in the system to ingest with the one without page numbers and then include the one with page numbers as a download, if you want.
Fancy Formatting on Tables (Heading 2)
Manifold will reformat your tables when you ingest. When it comes to tables, however, it's important to really consider whether the table is necessary and whether it's being used correctly. Tables should only be used for tabular data and comparisons, and they must always include a header row for accessibility. If there is no header row, Manifold will automatically make the first row a header—which may look a little funny if your first row isn't meant to be a header.