CONCLUSION: FILM AS MASS MEDIA
As we have learned in this textbook, film appreciation takes two parts: analyzing film form and film style. The elements of film form are the building blocks of cinema: all of the tools that a filmmaker has at her disposal to tell her story. Form includes mise-en-scène – the ability to externalize the themes and subtext of the story. It includes editing – the ability to manipulate time. It includes cinematography – the ability to immerse the viewer within the storyworld.
Film style describes the choices that are made with these building blocks of film form. A filmmaker might choose contemporary costumes for a historical adaptation to show the continued relevance of the story to contemporary audiences. They might choose to film in long takes to draw out time and make the audience feel as though they are experiencing the film co-presently with the characters. They might choose to film in tight close-ups rather than high crane shots to make the audience more aligned with character emotions.
As cinema became the most popular form of entertainment in the 20th century, other medias started to adopt film form and style. Books started to adopt cinematic qualities. Late modernist writers, like Virginia Woolf, started to rethink the form of literature by looking at the form of film, which had offered artists a new way of perceiving the world. Literary narratives of the 1920s became more interested in multiple points of view, "long take" stream- of-consciousness writing, and images of movement.
The early 20th century also saw the development of comic strips and graphic novels, which turned the cinematic experience into a textual one. Readers could merge text and image in their minds to create cinematic movement and editing. Some magazines even turned film stills into comic book frames, colorizing and captioning them so that the reader would be able to experience the film anew. For example, in the 1930s, Movie Comics used the Italian Fumeti style of rendering to bring current films to the page. It mixed film stills with line art and original dialogue to give films like The Son of Frankenstein a new or alternative life.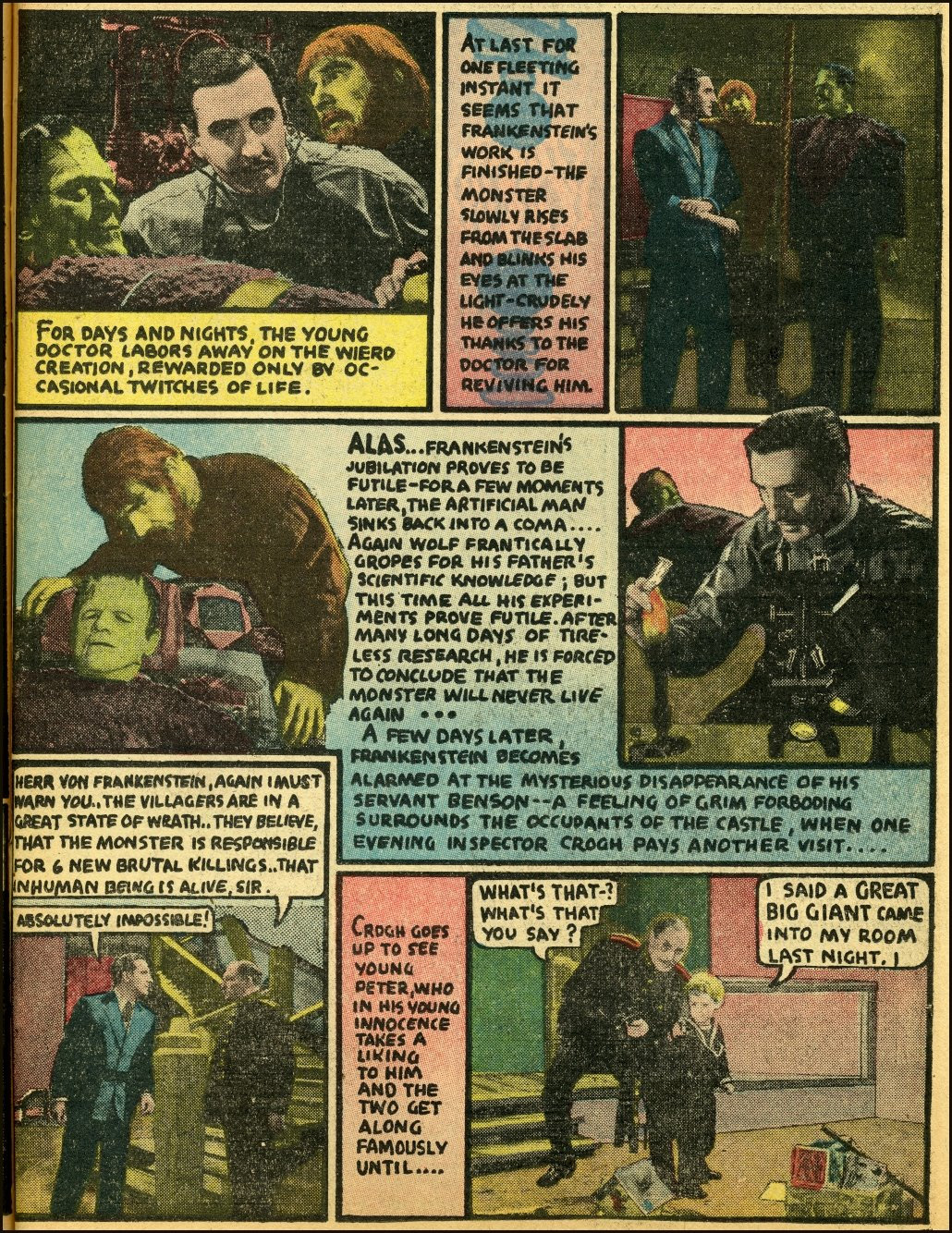 This hybrid of photorealistic and hand-drawn images accustomed audiences to the style of animation, which and in also adoptinged film form to make made animated characters feel as though they were in a live-action film. Mickey Mouse was given close-ups. Cinderella was "filmed" in tracking shots as she danced across the ballroom. Lady and the Tramp were given glamourous "three-point" lighting as they fell in love. But the relationship between animation and film worked both ways. Just as animation drew from film form, cinema started to adopt more and more elements of animation in its special effects and visual effects. Matte paintings and green screens merged two planes of image, just like traditional cel animation. Motion-capture technology turned actor motion into digital data, much like traditional rotoscoping that lifted one element from a frame to import it within another frame.
As more and more animation and special effects were adopted by cinema, film form started to look more like a hybrid and less like a pure art that has its own distinct style. As digital technologies entered the industry in the 1990s, cinema started to become less reliant on its traditional modes of creation: celluloid, heavy cameras, and hands-on editing. For this reason, the 21st century mode of digital filmmaking is often described as the "Post-Cinema Era" or "The Digital Turn".
Our current state of filmmaking, within this Digital Turn, still relies on film form such as costume design, lighting setups, camera movement, and editing. But its style has changed radically. The popularity of films like The Lord of the Rings and Avatar have solidified a film style that includes very little true live-action filmmaking. Actors perform on green stages and are covered in motion-capture reflectors while most of the film is animated in post-production. Digital creatures become the most coveted "actors" of a blockbuster film. And highly dangerous spectacles, like flying, falling, and crashing, become the most acceptable style of entertainment.
Online streaming has radically change the viewing experience, as the landscape of cinema has become occupied by platforms over theaters and as the cinema spectator has changed. No longer do we go to the movies to sit in the dark as a community to experience a film collectively. Now, we see the rise of the solitary cinema viewer, one who chooses to stay at home and stream movies. And some platforms are beginning to make films with that spectator in mind.
The 21st century has seen a radical change in the landscape of cinema , but it has also seen the rise of quality television that has exceeded the high standards of 1950s "Golden Age" TV to create a "Platinum Age" of entertainment. This new phase of television – from HBO's The Sopranos to FX's Atlanta to Netflix's The Witcher – differentiates itself from classic television by adopting a cinematic style. This TV content has blockbuster-grade budgets, the most advanced technology, and has enticed the most sought-after film actors. It adopts film form and mimics film style, but at its best, it also exceeds the capability of film form entirely. We could call this era of high-quality television "long form" cinema because it gives us eight-hour movies that have been chopped up into episodes, such a lengthy project that no theater would be able to screen it.
In the face of these changes, we find that it'is hard to define the term "cinema" anymore. Cinema has become hybridized with other medias. And other medias have been so inflected by film form and style that some have become better at producing films than cinema itself. So in the 21st century, we come back to the classic question with which we started: What is film? It's a classic form of storytelling, yes. But cinema still serves the same function as it did at the beginning of the 20th century: it is a new mode of vision that makes us see the world differently, and it is a visual language through which we communicate.