CHAPTER 4: HARMONY
Dr. N. Boumpani and Dr. J. Carteret
WHAT IS HARMONY
The previous chapter discussed how melodies are constructed of pitches that are performed one after the other, or in a horizontally linear form. Harmony can be defined as 2 or more pitches performed at the same time, in in a vertical form. Sometime two singers can sing a song, using the same words, but each of them singing different pitches at the same time. This creates a melody sung in 2-part harmony. The same can be said of two instruments. This same concept can be carried on to include 3, 4, 5 and 6 different pitches at the same time. Harmony adds to music in many ways, as we will study throughout this book. Harmony can add fullness, create tensions and resolutions, or change the mood of a work of music. Although harmony can serve the music in many more ways, for our purposes, the three listed above will be enough to start out musical journey.
Much of the time, harmony is created to support the melody. Think of a person singing a song and strumming a guitar. The sounds coming from the guitar are called chords and may have 3, 4, 5 or 6 different pitches sounding at the same time. When listening to a work being played by an orchestra, one, or more instruments may be playing the melody at any one time, while groups of other instruments play sounds that support the melody. These supporting sounds can be performed in many different ways. Sometime the sounds are pitches of long duration, other times the sounds may be producing groups of pitches played repeatedly in short durations (we will discuss rhythm in the next section), and sometimes the harmony can be played in a "somewhat-melodic" manner, yet still be harmony. The audio example below will present a very short melody, placed without any accompaniment, followed by each of the three accompaniment types explained above: 1) harmony comprised of long pitches, 2) harmony with repeated groups of pitches of short duration, and 3) harmony played in melodic manner.
EXAMPLE: Three Ways to Harmonize N. Boumpani
What all of these approaches have in common is that they support the melody. We often call the harmonic element of a piece of music the accompaniment, because it accompanies the melody. Often you will hear a singer with a piano accompaniment, or an instrument performing a melody accompanied by a band or orchestra. A composer takes a lot of time and effort to create an accompaniment that fits his music.
In the last chapter we learned that when a melody is presented without any other harmonic support, the texture of the music is called monophonic. We heard monophonic texture demonstrated when we heard the Gregorian Chant Dies Irae. Another way a melody can be monophonic is when someone is singing in the shower (assuming the person is alone). When we hear a melody supported by an harmonic accompaniment of some kind, like the examples in the file above, we call that texture homophonic texture. Sometimes harmonic accompaniments are created using voices or instruments, or combinations of both. When a singer sings a melody while other voices sing other pitches to support the melody, the texture is homophonic. When s trumpet is playing a melody and the orchestra accompanies that melody, the texture is homophonic. As long as there is only one melody present at any given time with an accompaniment, the texture is homophonic. Most of the popular music of the last 60 years has a homophonic texture. Listen to this 4-part vocal arrangement of the Fred Paris song In the Still of the Night. This song was originally recorded by the Five Satins in 1956, but re-recorded in 1991 by the group Boyz II Men.
EXAMPLE: In the Still of the Night, F. Paris
Here is a short (30 second) excerpt of a trumpet playing a melody and an orchestra playing the harmonic accompaniment. (homophonic texture)
EXAMPLE: Excerpt from Trumpet Concerto in Eb, Mvt 3 Haydn
There is one more texture that we will examine later in this chapter.
SCALES IN WESTERN MUSIC
For centuries, harmony in the western tradition has been based on sets of 7 pitches that relate to each other in a specific way. These pitch sets are known as scales. At one point there were at least 7 types of scales used by composers; however, over time, two main scale types became the mainstay for most of western music. These two scale types are major and minor. Even though there are only two types of scales, each type of scale could start on any given pitch, meaning that there are basically 12 major and 12 minor scales, all based on different starting pitches. A major scale that begins with the pitch "G" is called the G Major scale. A minor scale that begins with the pitch F is called the f minor scale. Each scale has seven pitches that move in order, with the first pitch duplicated at the top of the scale, but higher in pitch.
The scale used in a musical work establishes the key of that work, and therefore establishes the tonality of that piece. If a piece of music is based on the C major scale, that music would be in the key of C Major, or it would be said that the tonality of the work was C major. When the music is said to be in a specific key, it means that the music is based on a specific scale that starts with the note of that key. We heard part of Beethoven's Symphony No. 5 in C minor, Op. 67, which began in the key of c minor. This means it was based on the c minor scale. The first note of any scale, which represents the key, is known as the tonic of the scale and key. (We know this is a lot to take in, but consider it background for understanding the music to come.)
Longer works of music often have sections of music that change keys, for several reasons. One reason might be to create motion in the music. Another reason might be to change the mood of the work. When the key changes in a piece of music, it is known as a modulation. For this course, students will not have to learn scales or keys, and will not have to identify modulations; however, modulations may be pointed out in listening guides. Hopefully, through listening to the music in this text, students may come to at least be able to identify major sounding music from minor sounding music.
THE MAJOR SCALE
You may be aware of the major scale if you even had a music class in your middle school or high school classes, or if you sang in the chorus or played in the band. It is sometimes represented by the syllables: Do-Re-Mi-Fa-Sol-La-Ti-Do, where "Do" is the first pitch (the tonic) of the scale. Music uses only 7 letters to represent different pitches; there letters are: A - B - C - D - E - F - G. Each of these letters stands for a pitch. If we look at a piano keyboard, we usually see 88 keys, which means the 7 letters we use are used over and over again. Musicians have different ways of labeling each of the various A's, B's, C's, etc., with register numbers. For the purpose of this course, it is not important to know those numbers. If you were to find an A on a piano keyboard, and play it, then play each white key above it, once you played the 7 notes after the original A, you will have arrived at the next A. This second A would the interval of one octave above the first A. Every scale encompasses 1 octave.

Looking at the keyboard image above, there are also black "keys" that also represent pitches. The piano keys, and the pitches related to them are in between two white keys on the piano. These keys represent "sharp" and "flat" pitches. Each of the black keys on a piano represents both a flat pitch and a sharp pitch. For example, between the A and the B there is a black key. Moving up from A, we can call this black key an A sharp (A#); however, that same pitch, when approached from above can be called a B flat (Bb). This is shown in the picture below.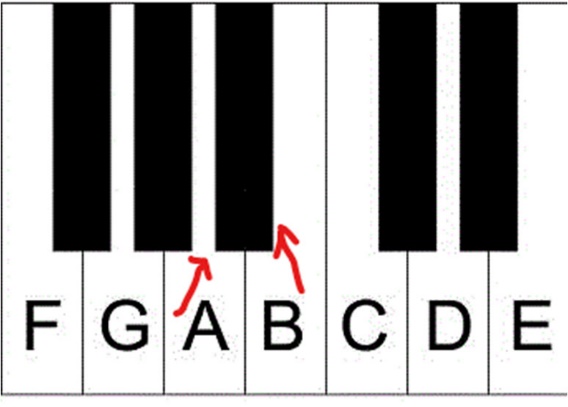 As explained above, in Western music there are two main types of scales used for most music. These are major scales and minor scales. In music, a composer can start a scale on any pitch, A, Bb, Db, etc., as the tonic for the scale they will use. To hear a major scale, you can go to the piano, find any C and then play each of the white keys until you get to the next C. (Or you could listen to the audio file below.)

This is how that would sound:
EXAMPLE: C Major scale
If one were to try and play a scale starting on any other white key other than C, and only play white keys until one reached the note one octave above, it would not produce a scale that would sound like the scale starting on C; therefore, it would not create a major scale. It is true that a major scale can start on any note on the piano; however, the sequence of intervals must follow the same sequence as in the C scale. An interval is the distance between any two pitches. From C to D there is a black key in between the two keys. The interval from C to the black key above it (C#) is the interval of one half-step. The distance from that C# to the D is also a half-step. Therefore, the distance from C to D is 2 half steps or one whole step. You will find the same interval between D to E (the second and third pitch in the C major scale); however, there is no black key between E and F. This means that from E to F is only one half-step. From the first note of a major scale to the second note is one whole step, and from the second note to the third note is a whole step, but from the third note to the fourth note is only one half-step. Following this through the entire scale, we would come up with a formula for a major scale that will work from any note on the piano. This formula is a series of steps (W = whole step or 2 half steps and H = one half step) and looks like this: W - W - H - W - W -W -H. Music that is based on the C major scale is said to be in the key of C Major. Here are several major scales that start on different keys on the piano. Even though they begin and end on different pitches, they sound alike in relation to each other.
EXAMPLE: C Major Scale
EXAMPLE: Ab Major Scale
EXAMPLE: F# Major Scale
THE MINOR SCALE
Not all music is in a major key. The other scale that is widely used in music is the minor scale. There are different types of minor scales, but, for our purposes, we will examine one and then examine how major and minor keys are used in harmony.
Going back to the piano, starting on the A key and playing all of the white keys until the next A, would result in an a minor scale, in its natural form. The formula for the minor scale is different from that of a major scale.

Examining the whole and half steps between notes, the minor scale would be: W - H - W - W - H - W -W. As with the major scale, starting on any piano key and moving by the proper sequence of whole and half steps, other minor scales can be created. Here are a few:
EXAMPLE: a minor scale
EXAMPLE: f minor scale
KEYS IN WESTERN MUSIC
MELODY'S IN MAJOR KEYS
The music in a major key produces harmonies that establish the key as a major key. Listen to a melody in the Key of Bb Major, and then listen to it harmonized in the major key of Bb Major.
EXAMPLE: Major Melody N. Boumpani
EXAMPLE: Major Melody Harmonized N. Boumpani
MELODY IN MINOR KEYS
The same holds true for minor scale and minor keys. Below is an example of a melody that is based on a minor scale, and then harmonized in the key of g minor. Can you hear the difference?
EXAMPLE: Minor Melody N. Boumpani
EXAMPLE: Minor Melody Harmonized N. Boumpani
As music is presented in this course, composers will use different keys for various reasons. These composers will often change keys within their works to create different moods or feelings and keep the listener's attention. Sometimes the key will change for the purposes of form (discussed later), or to introduce a new theme, or section. The effects of various keys and key changes will be discussed throughout this course. In vocal music the use of major and minor is important in reflecting the meaning of the words. A sad song is often sung in a minor key while a happy or playful song would usually be in a minor key. Please note that this is a very simplistic explanation of major and minor and does not hold true for all music; there are many reasons songs are in major or minor keys other than being sad or happy. In movie music, music in a major key can often signify triumph or victory, and a minor key can often accompany scenes of suspense (again, this is not always the case, these are just examples). As you listen to the works in this book and in everyday music, you may begin to notice how composers use major and minor keys in music.
HARMONY: CONSONANCE AND DISSONANCE
Composers also use harmony to "move" music along. This is done through the use of consonance and dissonance. When the music is "calm," or "restful," the music at that point is said to be consonant. When the music sounds "harsh" or "tense," the music at that point is dissonant. Music is rarely all dissonant or all consonant, although there are exceptions. "New Age" music, or music meant to help you sleep is usually all consonant. Because the harmony is always restful, it puts the listener in a relaxed mood and, often, induces sleep. Some modern art music, and some rock music, is so dissonant that the listener is put in a state of constant tension. There have been studies on the effects of both consonant and dissonant music on people and other living things that some people find very interesting. Your instructor may introduce you to some of these studies, or you can find many of them summarized on YouTube.
Consonance and dissonance are used by composers to create motion in music. Composers often start with consonance which leads to dissonance (tension), which, in turn demands resolution to consonance, and this repeats itself throughout the music. Perhaps the reason this works in music is because it mirrors life. Consider the following comparative examples. When people are really hungry, our bodies crave food because we are in a state of tension (dissonance), but when we find food, eat and become satisfied, and we are in a restful state (consonance). Sometimes, we eat too much, and we wind up with a stomach ache (a dissonant state), then a trip to the restroom can make us feel "consonant" again. The same can be true of being very tired, when we are in desperate need of sleep, we feel "dissonant," but after a good night's sleep we feel refreshed, or "consonant."
Music is much like life in this way. When there is dissonance in music, we not only hear it, but we feel it as well, and we expect it to lead back to consonance, which is usually does. When the music becomes consonant, we feel the resolution and we are pleased, then the process starts over again. We will discuss this more as we listen to music through this course. For now, listen to this short musical sample of music that moves from consonance, to dissonance, to consonance, to dissonance, and back to consonance. Listen to this clip several times until you can "feel" the tension and release. As you listen to music later in this course, sometimes the listening guides will, at times, point it out, other times your instructor may point it out. Hopefully, as the course progresses, you will begin to hear it yourself.
EXAMPLE: The Cycle of Life N. Boumpani
THE CYCLE OF LIFE
N. Boumpani (1956-)
FOCIS: consonance and dissonance
| Time | What is Happening |
| --- | --- |
| 0:02 | Music starts, very consonant |
| 0:10 | Melody enters in flute and oboes, stull very consonant |
| 0:21 | Dissonance begins to build |
| 0:28 | Dissonance continues to build |
| 0:35 | Most dissonant point |
| 0:39 | Consonance is the result of the previous dissonance |
| 0:41 | New melody at faster speed—consonant |
| 0:51 | Dissonance begins to build |
| 0:55 | Dissonance continues to build |
| 1:05 | Dissonance again reaches a climax |
| 1:11 | Consonance is the result of the dissonance |
HARMONIC TEXTURE
First and foremost: harmonic texture has nothing to do with the words "smooth" or "rough," or "jagged." Texture is a term used to explain the how the composer treats melodic ideas. We first examined monophonic texture, which is one melody performed without any harmonic support. For example, let's listen to the first 44 seconds of Whitney Houston's version of the song "I Will Always Love You" written by Dolly Parton. For these first few lines of the song, there is only the melody, beautifully sung by Ms. Houston, without any harmonic support. This song was written and originally recorded by Dolly Parton in 1972, but re-recorded by Whitney Houston in 1992. The Dolly Parton version of the song reached #1 on the Billboard Charts in 1974 and again in 1982. Whitney Houston's version hit the #1 spot in 1192 and again in 2012 after her death.
EXAMPLE: I Will Always Love You, Parton
When there is only one sound, or, in this case, one melody without harmonic support, the texture of the music is said to be monophonic. Right after that 45 second monophonic opening, the melody, as sung by Houston, is accompanied by other pitches in the piano and soft strings. When a single melody is accompanied by harmony, the texture is said to be homophonic. As you listen to music, whether popular, or as part of a film soundtrack, etc., you may notice how composers and arrangers use texture to put emotion into a song or to create specific effects. Go back to the Whitney Houston recording above and listen to the music starting around the 45 second mark for an example of homophonic texture in music. We stress texture in music in our text because it is used to create emotional responses in the listener, just like consonance and dissonance.
The third harmonic texture is not often found in popular music. When a composer writes a work where there are two melodies being played or sung at the same time the texture is called polyphonic. We will examine polyphonic texture in the music of various eras. Note this: a polyphonic work of music may have 2 or more melodies at the same time, and may, or may not have a separate harmonic accompaniment. The extra harmonic accompaniment does not change the texture, only the number of melodies being performed at the same time can define polyphonic music. This will be discussed more in the chapter on the Middle Ages. To demonstrate polyphonic texture, we will use a 30 second section of a work by Johann Sebastian Bach. Since polyphonic texture occurs when two melodies are played or sung at the same time, we will first listen to each melody separately. This makes each melody, when played by itself, monophonic; however, when we combine 2 monophonic melodies together and play them at the same time, the result is polyphonic texture. In the chapter on melody, it was discovered that melodies in the Baroque era were usually long, flowing melodies that were hard to remember. Both of these melodies fit that this definition.
EXAMPLE: Monophonic Melody 1: the Violin
EXAMPLE: Monophonic Melody 2: the cello
EXAMPLE: Polyphonic Texture: Invention #1 in C, J. S. Bach
IN CONCLUSION
Harmony occurs when two or more pitches are sounded together. Harmony can add much to a work of music. The harmonic element to piece of music is known as the accompaniment. Many times, the composer writes harmonic accompaniments to supports the melodies of a musical work. Composers have many ways of creating accompaniments.
Most of Western Music uses the major and minor scales as a basis of harmony. Every scale has a beginning note that is like "home base" for that particular scale, and music built on that scale is said to be in the key of that scale. The pitch that represents "home base for any composition is called the tonic pitch. The key represents the tonality of that music. Composers often keep their music interesting by changing the tonality as their music progresses. These changes are known as modulations.
Sometime the composer will create tensions and resolutions. When a harmony is consonant the music will sound "at rest" or calm, but when the harmony is dissonant, it will sound tense or harsh. Music mimics life in the constant cycle of consonance to dissonance to consonance. Composers use consonance and dissonance to move music forward.
When a melody is performed without any harmonic accompaniment, the texture is monophonic. When there is one melody with harmonic support, the texture is homophonic, and when there are 2 or more melodies being performed at the same time, the texture is polyphonic. Composers use musical texture for many reasons, as we will find as we explore the music of the book.