Chapter 1: An Introduction to Language
What is language?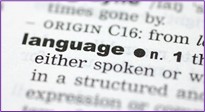 Language is all around us, but it is difficult to define. Language allows us to share complicated thoughts, negotiate agreements, and make communal plans. Our learning, our courting, our fighting — all are mediated by language. The field of scholarship that tries to answer the question "How does language work?" is called linguistics, and the scholars who study it are called linguists. Linguistics is a science. This means that linguists answer questions about language by observing the behavior of language users. Astronomy has its enormous telescopes, particle physics has its supercolliders, biology and chemistry have intricate and expensive apparatuses, all for learning about their particular facets of the world. Modern linguists go straight to the source by observing language users in action. One of the charms of linguistics is that the data is all around you; you need nothing more than a patient ear and an inquiring mind to do original linguistic research of your own. But you need not start from scratch — generations of linguists before you have laid a stable groundwork for you to build on. Throughout the history of linguistics, the primary source of data for linguists have been the speech, writing, and intuitions of language users around them. And of course, in recent decades, technology has greatly aided in our ability to study language.
So, let's come back to the issue of defining language. Millward and Hayes (2012) define language this way: "(Language is) a systematic and conventional means of human communication by way of vocal sounds; it may include written symbols corresponding in some way to these vocal sounds" (p. 1, emphasis added). We need to break this down some.
Grammar
The system in language is its grammar. In this context, grammar refers to the hundreds and thousands of rules that native speakers of a language have in their head without even realizing it. These rules allow speakers to use and understand language; however, these rules are acquired and stored unconsciously. These internalized grammar rules are not obvious to native speakers of a language unless they are pointed out or disrupted in some ways. For instance, parents do not teach their children how to make plurals in English. Children acquire this rule based on the input they hear as they mature. Over time (and given enough input), toddlers in an English-speaking environment learn to add the plural -s to make plurals: books, phones, apples. Naturally, toddlers overapply this internalized and unconscious rule, and they end up making "mistakes" and placing the -s on irregular plurals. Toddlers may say things like the following:
I put shoes on both my *foots.

The dentist looked at my *tooths.
By the way, anytime you see an asterisk in front of a word, phrase, or sentence in a linguistics text, this means something is wrong. A native speaker of that language would not make that mistake (unless they were under four, tired, or drunk!). The asterisk means the word, phrase, or sentence violates an internalized rule of grammar.
Here is another example. As toddlers listen to the PDE input around them, they learn to make a simple past tense by adding -ed at the end of a word: biked, talked, learned, burned. The actual sound that sometimes corresponds to the letters "ed" will differ depending on the environment. Sometimes it is a /t/ sound as in biked and talked. And in other environments, it is a /d/ sound, as in learned and burned. The toddlers learn the past tense formation, and they learn which sound goes with which environment. These different variations depending on the environment are known as allomorphs. Toddlers could not articulate these rules nor do they know the linguistic terminology, but they do acquire these rules. And again, toddlers may overapply rules because they have not learned all the exceptions yet, and they may utter sentences like the following:
I *singed at preschool yesterday.

My daddy *teached me to play basketball.
Sometimes the grammar mistakes are more subtle. Here is an actual sentence from a toddler.
We were playing with toys, but we had to leave. *So, we picked up them

.
While the plural and past tense rule are relatively easy to acquire, the rules for pronouns are a bit more complicated. The sentence *We picked up them violates a subtle rule for pronouns in English. Simply put, if there is a phrasal verb (e.g. pick up, look over, turn in) and a pronoun, then the pronoun has to go in the middle of the phrasal verb. The sentence We picked them up follows this rule and native speakers would not notice anything askew. However, *We picked up them violates this rule by placing the pronoun outside of the phrasal verb. This placement of pronouns with phrase verbs is not a rule that is typically written down in grammar books for school. However, it most definitely is a rule that is acquired (not taught) as toddlers listen to and engage with native speakers of English such as parents and teachers.
Many linguists classify this grammar that is learned is two ways: descriptive and prescriptive. I just analyzed three descriptive rules of English grammar (plural formation, past tense formation, and phrasal verbs with pronouns). Descriptive grammar simply attempts to analyze the rules that native speakers have in their minds that allows them to generate and understand sentences. It does not indicate if something is "right or wrong" according to academic standards. Descriptive grammar only identifies how native speakers use a language like English. And yes, there is dialect variation among native speakers, and this will be examined more throughout this text. In fact, dialect variation is both a result and a driving force in language change. But assuming the dialect difference is not too large, native speakers can easily detect a deviation for descriptive rules. If a native speaker hears the word *stooth as an attempt at the plural of tooth, they would not understand because the rule violation of the communally agreed upon grammatical system is too severe. However, a toddler's cute rendition of *tooths (while descriptively erroneous) is not so serious of an infraction that an adult could not glean the meaning, particularly in a communicative context. This text will primarily analyze the history of English from a descriptive perspective. That is to say, no attempt will be made to say what changes in the grammar and lexicon of English through its history were good or bad.
However, the history of English has been influenced, particularly beginning in the 17th century AD, by prescriptive tendencies among scholars. Prescriptive grammars try to establish and regulate "correct" language use. Prescriptivists through the centuries have exerted influence on English and this has influenced how part of English's structure today. For instance, there was a strong proscription (i.e. a rule against) using the pronoun me in subject position. For instance, the sentence Anna and me read the book together was deemed "incorrect" because me is appearing in subject position. Eventually this prescriptive rule was accepted in academic circles especially for writing, but it is still used all the time in spoken Present-Day English (PDE). Because of the strong influence of this rule, it was overly applied to prepositional phrases so that the following sentence is often produced by speakers trying to follow the rule but over applying it: That is between you and I. This shows there is mutual influence between descriptive and prescriptive rules of grammar. While the influence of "strict" grammarians and prescriptivist tendencies undoubtedly has influenced the present shape of English, much of English's structure has developed due to external historical events and organic linguistic processes.
Here is one additional explanation of descriptive vs. prescriptive approaches to grammar. Many people think of the movie My Fair Lady when they think of linguistics.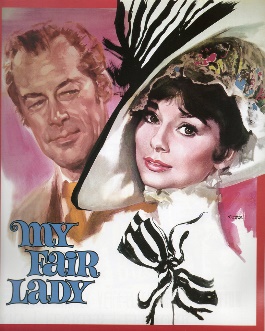 The plot of this movie revolves around a professor trying to teach a "commoner" how to use language "properly." Here is a clip from the movie that illustrate the professors desire to correct "bad" grammar. Typically, when someone "corrects" someone else's grammar, they do so from a prescriptive perspective. In My Fair Lady, the professor and the commoner were able to communicate perfectly fine. This is because they shared most of the same descriptive rules of English. Again, prescriptive rules do serve a purpose for formal speech and writing. But even people who never attended school have a perfectly developed grammatical system; it just happens to be, for the most part, what linguist would term a descriptive system.
Conventional
The second part of our definition involves convention. All languages have a system of grammar that is conventional. Conventional indicates that these grammar rules are agreed upon. It is not as if all native speakers of a language had a meeting and decided on the rules of grammar. They develop (and change) organically (i.e. naturally) over time. If the rules were not conventional (agreed upon by most speakers), communication would be impossible.
We must follow agreed-upon rules to make be able to communicate with other speakers. Let's take a look at the example of the word cat. What would happen if there were no rules for using the sounds that make up this word? If placing these sounds in an agreed-upon order was not important, then *cta, *tac, *tca, *act, or *atc could all mean cat. And what would happen if there were not an agreed upon way to make cat plural? Speakers could add the /s/ sound at any place in the word: *csat, *csat, *cast. Or a speaker could invent their own sound to denote plurality in English. But this would not lead to effective communication or even communication at all. And these conventional rules apply to all levels of a language: phonology (sound system), morphology (word formation), syntax (sentence creation). These areas will be discussed in the pages that follow.
Eventually, someone will codify these rules and write a grammar book. And as we've seen, a grammar book could be written from a descriptive or prescriptive perspective. These two types of rules do overlap. But as we know, few people speak following all the prescriptive rules in grammar books all the time. We all vary our speech some depending on the situation.
Human communication
The last part of our working definition includes human communication. Obviously the most basic definition of language involves communication. We communicate our thoughts to others using language. Most of the time, this is done verbally. But it can be done through written or visual means. Most linguists would argue that animals (i.e. non-humans) do not have language, even though animals may communicate at some level. Animal language is a long-standing debate, but to flesh our definition of language, it is helpful to discuss why most linguists maintain humans have language, but animals do not.
Many researchers argue that animal communication lacks a key aspect of human language, that is, the creation of new patterns of signs under varied circumstances. In contrast, for example, humans routinely produce entirely new combinations of words. In other words, speakers create novel sentences all the time. Here are two sentences that no one has ever said before:
Toss that thimble over here because I'm going to use it to play basketball!
The computer link with the ocean was severed due to the snowstorm on Mars.
While these sentences most likely have never uttered before, native speakers will recognize them as valid (albeit silly) sentences in PDE. The underlying grammatical system allows speakers to generate and understand an infinite number of sentences in English and in any language. In fact, Noam Chomsky, one of the founders of modern contemporary linguistics, came up with the following example: Colorless green ideas sleep furiously. He noted that this sentence follows the rules of English grammar, and all native English speakers can see that. However, it has no discernible meaning. Grammar rules are independent of meaning. Humans, as toddlers, learn the grammar rules and integrate words to form meaningful sentences.
Some researchers, including the linguist Charles Hockett, argue that human language and animal communication differ so much that the underlying principles are unrelated.
The following properties of human language have been argued to separate it from animal communication:
Arbitrariness

: There is usually no rational relationship between a sound or sign and its meaning. For example, there is nothing intrinsically house-like about the sounds I the word "house."

Discreteness

: Language is composed of small and discrete (separate) units that are used in combination to create meaning.

Displacement

: Languages can be used to communicate ideas about things that are not in the immediate vicinity either spatially or temporally.

Duality of patterning

: The smallest meaningful units (words, morphemes) consist of sequences of units without meaning. This is also referred to as double articulation.

Productivity

: Users can understand and create an indefinitely large number of utterances.

Semanticity

: Specific signals have specific meanings.
You may or may not agree with this issue of animal language, but this debate does help shed light on key aspects of what constitutes language.
Now that we have a working definition of language and some general principles about language, let's focus on the different areas of a language. The areas I will discuss now are the areas that allow for change and variation in a language. These changes through time in all languages, including English.
What is phonology?
Phonology is a branch of linguistics that studies how languages or dialects systematically organize their sounds. The term also refers to the sound system of any particular language variety. In other words, phonology is the study of how sounds make up a meaningful word in a language. For instance, the sound /s/ does not appear to mean much in English. But as we've seen, it is meaningful. Adding this phoneme (i.e. a contrastive sound unit) changes a regular English noun into a plural. And linguists use the slashes / / to indicate that what is being discussed is the phoneme (the meaningful and contrastive sound) and not the letter.
But a phoneme does not have to mean something as overt as plurality. The English phoneme /p/ does not mean anything, but it can form part of a meaningful word in English. For instance, the word pot is a cooking vessel. The sound /p/ does not mean anything, but its inclusion is essential for the word pot to have meaning for English speakers. Similarly, the vowel sound /ɑ/ and the final consonants /t/ in pot do not have meaning here unless they are combined.
I will come back to phonology and its counterpart phonetics (the study of how human produce and perceive sounds) in Chapter Two. For now, think of the difference this way. While phonetics concerns the physical production, acoustic transmission and perception of the sounds or sign of language, phonology describes the way sounds function within a given language or to encode and contrast meaning. A pot and cot are different words in PDE. And the difference is that the initial /p/ sound and the initial /k/ sound contrast meaning, even though the /p/ and the /k/ sound do not have a separate meaning by themselves.
What is morphology?
Morphology is the study of words, not just their sounds. Morphology is the study of how words form units. Fromkin, Rodman, and Hyams (2017) define morphology this way: "The study of the internal structure of words; the component of grammar that includes the rules for word formation" (p. 494). What this means is this. Morphology analyzes language from the word perspective. It looks at parts of words. Words are typically composed of smaller units that have meaning and these components that have meaning are called morphemes. The traditional definition of morpheme is the small linguistic unit that has meaning.
If we examine the word basketball, it is apparent that there are two morphemes in that word: basket and ball. And they each have a meaning. When combined, they form a new but related meaning. We could also add an -s, and the word basketballs would have three morphemes. The -s has a meaning of plurality. Similarly, the word kicked had two morphemes: kick + ed. The morpheme kick is a morpheme and a word because it can "stand alone." This kind of morpheme is known as a free morpheme. Basket and ball are also free morphemes. The -ed in the word kicked has a meaning, namely past tense. It is a morpheme, but it is a bound morpheme because it cannot stand alone; it is also used as part of another word. Affixes such as prefixes and suffixes are typically bound morphemes. Just to be clear, a morpheme is the smallest unit in a language that has meaning, even if that meaning is plurality, a tense marker, or even a grammatical marker like /s/ as in the third-person form of the verb wants. In wants, the -s indicates third-person singular. In the sentence He wants to be a famous artist, the -s of wants is a morpheme and its "meaning" is third-person singular verb form.
The following are some examples of morphemes in common English words:
one morpheme: boy, desire, meditate
Note that desire and meditate are multisyllabic words, but they are still one morpheme.
two morphemes: holi + day, camp + ing, boy + ish
Note that holiday has two morphemes holy + day, and there was a slight spelling change when this became one word in English. In camping, the -ing can either be a progressive marker as in Mary and her friends are camping in the woods. It can also transform a verb to camp into a noun as in Camping is a great pastime. Like -ing, -ish is a bound morpheme. It transforms a noun into an adjective and means to have a quality of that noun. Here are some other examples of the -ish morpheme: fortyish, bookish, squeamish.
Three morphemes: un + break + able, un + desire + able, art + ist + ic
In the word unbreakable, there are three morphemes with un- and -able both being bound affixes. Artistic has three morphemes as well. The bound morpheme -ic is often used to change a noun into an adjective. Other examples include historic, athletic, and energetic.
There is one more set of terms that is important when we discuss morphology. The term inflectional morpheme refers to a bound morpheme that is added to a base word but only has a grammatical function such as number or tense. It does not change meaning nor transform the word into a new grammatical class (i.e. part of speech). For instance, the -s in English can be a plural marker or third-person singular marker for verbs. The -ed morpheme signifies past tense. The 's indicates possession. As we will see, Old English (OE) had many more inflection morphemes than PDE.
Let me give another example of how toddlers begin to apply rules based on the input they hear. This example also demonstrates the concept of an inflection morpheme and that even toddlers understand inflectional morphemes even though they do not know that term. When my daughter was under three years of age, she would often say buyed. (We *buyed Daddy a birthday present.) She clearly had adopted the morphological rule in English of adding -ed to form past tense. She was never "taught" this; she acquired it from the input around her. But she overapplied it to form the word buyed. Certainly, she had heard the standard (and irregular) form bought many more times than she had heard buyed. In fact, it is possible she had never heard buyed. But she ignored the irregular form and tried to regularize the verb by adding the inflectional morpheme. In her emerging system of grammar, the inflectional morpheme -ed ending should be applied to all verbs. In time, she would come to learn irregular forms: bought, sung, threw, ate. And these irregular forms have their origin in the history of English.
In contrast to inflectional morphemes, derivational morphemes change the meaning of the word, and/or they change the grammatical category. For example, in unbreakable, the un- changes the word to the opposite meaning. And -able changes the word to an adjective. In the word artistic, the -ist morpheme means one "practices some activity" (e.g. economist, chemist, botanist). And the -ic transforms a noun (artist) into an adjective (artistic) and means having the character of that word (artistic, sarcastic, bombastic).
If you will bear with me, here is one more toddler example. My daughter would often say (before she turned three) Daddy is razing his whiskers. Something quite profound is happening here regarding morphology, and it reveals the remarkable grammatical system that all toddlers have. In English, the -er is a derivational suffix. Similar to -ist, the -er suffix indicates agency. It means one who does that. Examples include player, driver, reader. Now, my daughter mis-analyzed the word razor. Razor is actually monomorphemic, that is, one morpheme. However, she mistakenly heard the /ər/ sound ending (more on these symbols in a bit) and she assumed it was the agent form: razor is one who *razes. If that is the case, then she assumed that (like player), it is permissible to replace the derivational /ər/ and replace it with an inflection suffix: -ing. Hence, *Daddy is razing his whisker. This is quite logical. English speakers know that player has a root word play, to which either -er or -ing could be added. The issue is, however, is the sound /ər/ in razor is not a morpheme. It is simply part of the word and only coincidently is similar to the -er suffix.
What is syntax?
Rules of syntax tell the speaker how to put words together grammatically and meaningfully.
There are two main types of syntactic rules: rules that govern word order, and rules that direct
the use of certain morphemes that perform a grammatical function. For example, the order
of words in the English sentence The cat chased the dog cannot be changed around or its
meaning would change: The dog chased the cat (something entirely different) or Dog cat the
chased the (something meaningless). English relies on word order much more than many other languages do because English has so few morphemes that indicate the grammatical function of each word. Old English (OE), by contrast, had many more inflectional morphemes and this indicated with word was the subject, direct object, or indirect object. One of the great changes form OE to PDE has been the loss of most inflectional morphemes. This has happened naturally over the last 15000 years. As a result, word order must be followed more strictly than in Old English or highly inflected languages like Latin or German.
For example, in the sentence above, the phrase the cat must go first in the sentence, because that is how PDE indicates the subject of the sentence, the one that does the action of the verb. The phrase the dog must go after the verb, indicating that it is the dog that received the action of the verb, or is its object. Other syntactic rules tell us that we must put the before its noun, and -ed at the end of the verb to indicate past tense. In Russian, the same sentence has fewer restrictions on word order because it has bound morphemes that are attached to the nouns to indicate which one is the subject and which is the object of the verb. So the sentence koshka
'chased' sobaku, which means The cat chased the dog, has the same meaning no matter how
we order the words, because the -a on the end of koshka means the cat is the subject, and the -u
on the end of sobaku means the dog is the object. If we switched the endings and said koshku 'chased' sobaka, now it means the dog did the chasing, even though we haven't changed the
order of the words. Notice, too, that Russian does not have a word for the.
In Spanish (which many of you have studied), it is very common to drop the pronouns. The sentence Yo compré un libro nuevo 'I bought a new book' would most often be rendered as Compré un libro nuevo thus eliminating the pronoun yo 'I.' The inflection ending -é on comprar 'to buy" indicates only first person singular, so the pronoun is redundant and often eliminated.
To repeat, in OE, inflectional morphemes were plentiful (as we will see), thus syntax rules were not as strict as they are in Present-Day English.
What is lexicon?
The lexicon of a language is the list of words (i.e. morphemes) in a language. Each speaker has a limited number of words in their personal lexicon. And each language has a limited number of words in its total inventory. (But recall that with these finite numbers of words, speaker are able to create an infinite number of novel sentences due to the power of internalize grammar rules.) Even dictionaries cannot contain all words in a language, in part because languages are constantly adding new words. For example, modern life has necessitated the need for new travel words: cars, trucks, SUVs, trains, buses, etc. We therefore have added thousands of words to talk about travel, including types of vehicles, models, brands, or parts. Technology is similar with how many new words have been added: download, internet, browser, etc.
A helpful distinction when discussing words is the notion of lexical items vs. functional items. When we think of adding new words, we typically things of lexical items. These are words that are more or less concrete. They have a specific meaning. Languages add new words to the group all the time based on the needs of the user. I just mentioned several new technological words above. Since lexical items are continuously added, these group if often referred to as an open class. In contrast, languages have functional words such as prepositions, conjunctions, and pronouns. It is rare that languages add new words to the group and thus they are often referred to as a closed system.
But adding new words is not the only form of lexical change in language. Words can shift their meaning (semantics). For instance, awful originally meant 'inspiring wonder or fear.' Overtime, the meaning shifted to 'very bad or unpleasant.' Another example of semantic change is the OE Word sona (PDE 'soon'). In OE, this word meant 'immediately' but in PDE, it means 'the near future.'
As we will see, semantic change is a very productive and robust area of language change. After a word enters a language, its meaning can change through a shift in its connotations. And there are certain kinds of language change. Semantic changes are shifts in the meanings of existing words. Basic types of semantic change include:
Pejoration

indicates a word's connotations has become more negative. For instance,

lust

used to mean 'pleasure' with no negative connotations.

Villain

used to mean a 'serf,' but now it means an 'evil person.'

Amelioration

indicates a term's connotations has become more positive. The word

knight

used to mean 'youth.' But in PDE, the meaning is a hero usually on a horse.

Fond

used to mean 'foolish,' but now means 'affectionate.'

Generalization

means the word has broadened its meaning. The word

quarantine
used to mean 'a period of isolation for forty days.' Now the meaning and expanded to any period of isolation. Old English hund once referred to any dog, whereas in PDE it denotes only a particular type of dog.
Narrowing

indicates a term's potential uses are restricted. The word

dog

itself has been broadened from its OE root

dogge

, the name of a particular breed, to become the general term for all domestic canines.
Here are some examples of more modern examples of semantic shifting: dope ('good'), wicked ('brilliant'), tea ('gossip').
This brings me to a definition of language change and what motivates language change.
What is language change and what causes it?
All living languages change. By language change, I do not mean a simple slip of the tongue or jumbled syntax due to the speaker being tired or nervous. Nor do I mean a new phrase that is here today but gone tomorrow. For example, in 2006 the American Dialect Society (ADS) chose pluto as its Word of the Year. The ADS is an academic organization that studies English in the Americas. Each year members of the ADS select a word that is emerging as a new word or perhaps an established word that is undergoing a dramatic semantic shift as its Word of the Year. This is supposed to be a bit of fun (the meeting to vote on the new word occurs at the annual conference right before happy hour), but it also draws attention to language change. Note that the ADS is not prescribing the status and meaning of a word. Rather, the ADS describes (recall descriptive approaches to linguistics) changes in the English language, and part of this endeavor is to describe what members think is an emerging word or new meaning. It is society itself that dictates language and semantic change. The ADS simply tries to describe this socially-driven change. However, with pluto, the ADS members were a bit off. They predicted a new meaning of Pluto would emerge and become part of the common lexicon in English due to astronomers' decision to demote Pluto's planetary status to something resembling an asteroid status. The ADS members noticed English speakers began using to pluto to mean 'to kick out of an organization or to demote.' However, this usage was ephemeral (short-lived). This word did not take root in society. Dictionaries such as the Oxford English Dictionary have not included this new usage. New words or new meanings for established words must have some "staying power" before they are included in the dictionaries.
So, what is language change if it not a short-lived change or a slip of the tongue? It is a relatively permanent and wide-spread change to the language. It can be systematic or sporadic. But some sort of permanency and acceptance by most speakers is required for the change to become part of the language. Of course, even fairly systematic and wide-spread language changes can later be overturned by a new change later in the future. And changes can exist at all levels in a language. There are changes in the phonology, morphology, syntax, and lexicon in the history of any language, and English is no exception. English has undergone changes in all these areas. And it is important to note that change in one area of language often results in changes in another area. There is a sort of domino effect. During the centuries, OE lost many inflectional endings due to a pronunciation shift. The result was that word order became much more important in English as the centuries progressed. In PDE English, syntactic rules are quite strict while in modern German syntax is a bit freer due to more inflections. This is a simple example of how a change in OE pronunciation had a profound change in syntax.
Here are some other examples of changes in English. We will discuss more changes in detail later in the text.
Phonological change

: The pronunciations of the consonants /k/ and /g/ were lost before /n/ if they appeared in word-initial position. This is why we still write "knee" and "gnaw" even though the /k/ and /g/ are silent. The loss of these consonants occurred in the seventeenth century.

Morphological change

: At an early stage of English, certain words were marked plural with the inflectional morpheme -

n

. Examples include the Old English words

mōna

n

('moons'),

ēaga

n

('eyes'), and

nama

n

(

'names'). The plural marker -

s

also existed and it was the dominant plural marker in Old English. And over time, the -

s

(precisely since it was the dominant form) took the place of

-n

in most words except for a few remnants such as

children

,

brethren

, and

oxen

.

Syntactic change

: In a later change of English's development, the auxiliary verb

do

became obligatory to form yes/no questions and negative statements. The

do

became obligatory soon after Shakespeare's time. Consider these statements from Shakespeare.

I doubt it not. (

Romeo and Juliet

, 3.5.52)

Why look you so upon me? (

As You Like It

, 3.5.69)
In PDE, these sentences require a do.
I

do

not doubt it.

Why

do

you look so upon me?
But the question remains, why do languages change? As the linguists Peter Trudgill noted, language change remains somewhat mysterious. He notes, "All languages change all the time. It is not very well understood why this is the case, but it is a universal characteristic of human languages" (1998, p. 1). However, we can discuss some of the major motivating factors.
One reason language change is least effort. As words are repeated, they tend to get "worn down" a bit. Some sounds are lost to allow for more rapid (i.e. "easier") speech. And sometimes it is as simple as certain phonemes might be more difficult to pronounce. Such sounds would be ripe candidates for slight modifications over the years. The next generation might hear the slightly altered version of a word, and they adopt this new pronunciation as the standard pronunciation.
Another reason is analogy. There is something in humans that likes to make things similar or regularize. Our use of language is no different. If there is an "oddity" in one aspect of the language, there is a natural human tendency to regularize it. This may be exemplified in English by the plural of octopus. This is a Greek borrowed word, and so should take a plural form octopodes. However, English has many nouns of Latin origin with singular forms ending with -us and plural forms ending with -i, such as cactus/cacti, radius/radii, etc. Thus, an analogical proportion can be established: On the basis of this analogy, the plural octopi is established. Some varieties may have octopuses instead, which is instead derived from the productive plural rule of English morphology.
Or consider the word livid. Historically, livid meant "pale." However, given the similarity to the word vivid ("bright"), livid changed its meaning to something similar to "bright with anger." This is an example of analogical semantic change.
One more example. The word delight originally had no -gh- in its spelling but with words such as light, fright, sight, and might, there was an analogous spelling change.
Another reason for language change is imperfect learning. Toddlers may develop a grammatical system about the language(s) they are learning that is slightly off from the grammatical system of their parents. It is important to be clear that toddlers acquire most of their grammatical system before they attend formal schooling. And as they listen to adults and older children, they form a grammar. It becomes a situation of a "copy of a copy," and this may introduce innovations. As these toddlers become adults, these formerly innovations may become part of the standard system. But it is clear that imperfect learning can not explain all language change. There are too many innovations that do not come from toddlers. Millward and Hayes (2012) point out that complicated embedding clauses and subordination did not exist in Old English, and it is unlikely that children introduced these grammatical innovations. For instance, the following sentences uses embedding and subordination: Having left the game early, the star player, who would later regret her decision, appeared unremorseful as she left the playing field.
Least effort, analogy, and imperfect learning are some general principles that drive language change. But there still remains a bit of mystery. Sometimes a language change will, by all appearance, make the use of the language a bit more difficult. Yet the change occurs. For example, the OE verbs dig, spit, and ring were regular verbs in that the past tense of these verbs were digged, spitted, and ringed. In the case of these verbs, the language system became more complicated because PDE uses irregular forms for what was once regular: dug, spit, and rang. It would be more intuitive to think that a language system would become less complicated, but this is not what happened here. And the reasons are not always clear.
And these sorts of changes are what could be considered internal. That is to say that the changes occurred not because of any external influence. But there is also the case of external influences on the history of English. By external I refer to historical circumstances such as wars and migrations that have had a profound influence on English. In this text, we will examine both internal changes and external forces. Of courses, both the internal and external forces shape and fashion English through the centuries.
Changes can also be thought of a conditioned or unconditioned. When a change is caused by certain phonological environment, this could be considered conditioned. For example, some speakers of present-day American English, the words pen/pin, hem/him, and gym/gem are pronounced with the same vowel. But the same speakers would not use the same vowels in words such as bit/bet and sit/set. This merger in only if a /n/ or /m/ follows the vowel. In other words, it is conditioned by the sounds that follow. This very famous dialect feature is known as the pen/pin merger and typically occurs in the southeastern part of the United States as illustrated in Figure 1. The purple area shows where this feature is typically found among speakers.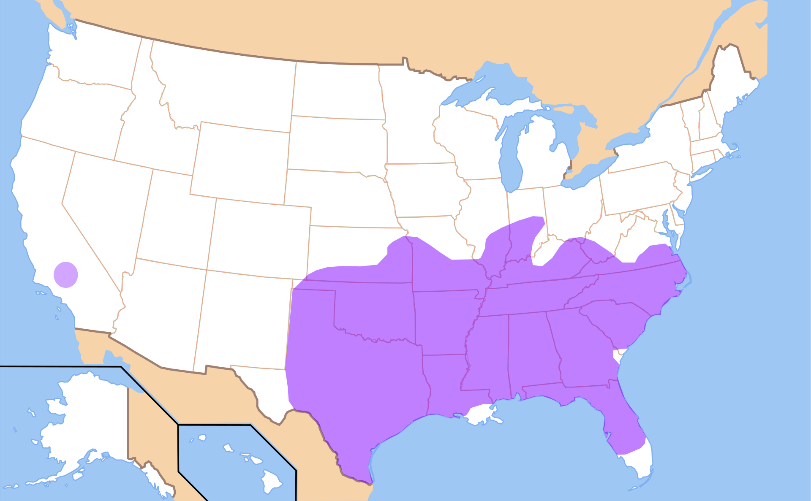 Figure 1: The pen/pin merger map


(By Angr - Own work; base map is modified from Image:Map of USA with state names.svg; data from W. Labov, S. Ash & C. Boberg, The Atlas of North American English (Mouton de Gruyter, 2006), p. 68., CC BY-SA 3.0, https://commons.wikimedia.org/w/index.php?curid=1162759)
It is important to understand that language change does not imply that the language is improving. Nor is it deteriorating. Most linguists are of the opinion that language change is simply that, natural change. However, some people think language change implies language is getting worse and that given enough changes, the language will become beyond repair and ultimately hopeless. However, if the study of language (and the history of languages) has proven anything, it is that languages are self-regulating self-healing systems. People want to be understood and communicate effectively, and given this, languages will not devolve into something useless. If this were the case, English would have long ago become useless. Rather, language somewhat mysteriously will always maintain intelligibility. This is not to say that there are not difficulties with communication when a change is introduced. In fact, dialects will develop, and these can become unintelligible. And when this happens, the two dialects become two languages because there is no longer mutual intelligibility.
While language change is constant, it is usually very slow. Think of language change as a slow-motion video rather than a sudden quick change. Most language change is in fact quite slow. If a person were to live ninety years, they might not even perceive the language they use daily has changed during those ninety years, but it has changed.
Writing is typically a slower to change than speech. While speech is more ephemeral, writing is has a certain amount of permanency. We store written records permanently, and the printing press and computers have made storage even easier. Another reason for writing's more resistance to language change is attitudinal. Since most of us are taught since our early school days to write carefully and "correctly," there is a certain sense that writing innovations should be avoided so as to preserve the "pure" form of a language. But eventually even writing systems succumb to pressures for change.
What are the Major Periods of English?
Even though language change is a slow moving, the history of English has often been presented a series of a events that mark the "new" period." Traditionally, the history of English is divided into four periods. And I will follow these traditional demarcations. But it is important to remember that these periods are somewhat artificial. Those people who lived in England during the Old English period did not think their language was "old." It was simply their language. Nonetheless, here are the four traditional periods.
Old English 449 AD – 1066 AD
Middle English 1066 AD – 1500 AD
Early Modern English 1500 AD – 1800 AD
Modern English 1800 AD - present
Key Concepts from Chapter 1
Language is defined a rule-governed system for human communication.

The traditional areas of linguistic inquire are phonology (sound system), morphology (word formation), syntax (word order), semantics (meaning), and lexicon (vocabulary).

Language change is a natural and organic process.

The traditional periods for a study of the history of English are Old English, Middle English, Early Modern English and Modern English.
Key Terms from Chapter 1
amelioration allomorphs affixes
communication conventional derivational morpheme descriptive grammar generalization grammar
inflectional morpheme language lexicon
linguistics morpheme morphology
narrowing pejoration phoneme
phonetics phonology prescriptive grammar semantics pejoration narrowing
systematic syntax
Materials for Chapter 2 adapted from the following:
Allard-Kropp, M. (2020). Languages and worldview. Open Educational Resources
Collection. Available at: https://irl.umsl.edu/oer/17
Animal Language (Wikipedia contributors, 2022)
Linguistics/Introduction (Wikibooks contributors, 2022)
Phonology (Wikipedia contributors, 2022)
Works Cited for Chapter 2
Bauer, L. and Trudgill, P. (Eds.) (1998). Language myths. London: Penguin Books.
Fromkin, V., Hymes, N., and Rodman, R. (2017). An introduction to language.
Boston: Wadsworth, Cengage Learning.
Milllward, C. & Hayes, M. (2012). A Biography of the English Language. Wadsworth: Boston.