Chapter 7: Typography
Uli Ingram
This chapter introduces and teaches you about typography. You will learn about the elements that make up typography and the effect it has on understand a map. The information includes defining type, characteristics of type, and the various uses of type on maps.
7.1: Introduction to Typography
Typography is the process of designing and placing type on a map. Type is placed on maps to inform the users of things like the purpose of the map, the source of information, and attribute values of the features displayed on the map. When type is well placed the type will greatly improve the usefulness of a map.
Placing type on a map can be a time-consuming and frustrating process. Unfortunately labeling routines rarely do an adequate job of placing type on a map automatically. Therefore it is typically up to you, the cartographer, to manually adjust or place type on a map. Unfortunately placing type of a map is often treated as an afterthought when it is actually one of the most important and useful map elements for the map user. This lesson will teach you about typography and start you down the path of properly using text on a map.
Map with Type: Consider this map in Figure 1 of the states in the contiguous United States of America. This map does a reasonably good job of clearly identify the names of each state and three large water bodies.
Map with No Labels: Now consider the same map without any of the labels as shown in Figure 2. While this map is cartographically well-designed, it is much less useful to the map user because none of the states are bodies of water are identified.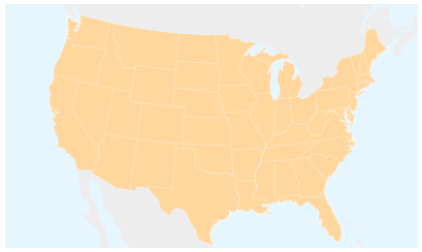 Value of Labels: The 48 state labels and the three water body labels, when placed properly on a map, can add much value and usefulness. Review figures 3 and 4.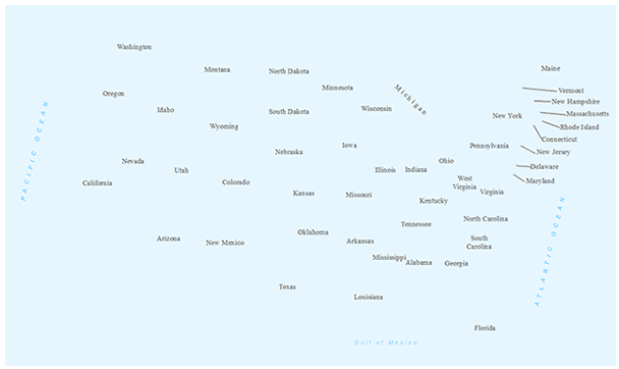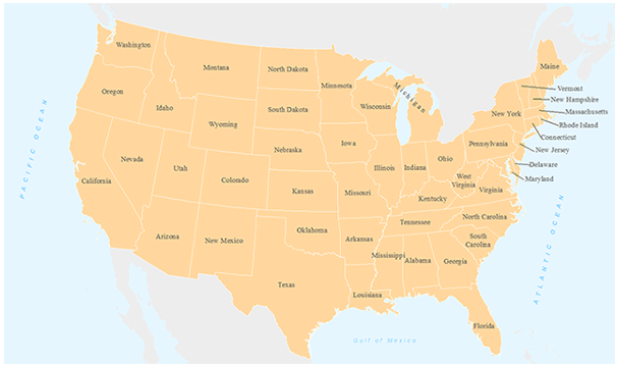 Defining Type: Type is generally organized by typeface, style, size, and family. You will now explore each one of these for type definitions more detail.Typeface/Font: A typeface or font is a set of all alpha, numeric, and special characters and the type family, style, and size. For an example of a character map which shows all of the characters in the Times New Roman font review How to Use Special Characters in Windows with Character Map.
Type Style: The type style is a design variation of a typeface. Common type styles are Roman style which is considered the normal style, italic style, where the characters are slanted to the right for emphasis, the bold style, where the characters are thickened, and the bold italic style which is a combination of bold and italic type styles.
Examples of Type Style
Roman (normal style)

Italic

Bold

Bold Italic
Type Size: Type size is the scaling of a font to make it larger and smaller. Type sizes are measured in one of two ways: points or picas. One point is equal to 1/72 of an inch. One pica is equal to 12 points. The illustration on the right shows a font in 72 point font size.

Oldstyle: The old-style type family is widely used between the 15th and 17th centuries. It is a minimal variation of stroke thickness among each character. It has small serifs. A serif is a small decoration typically placed at the extremities of a character. Old-style also has a small x-height which means that the standard height of lowercase characters is generally short. Please review the examples of uppercase and lowercase letters, including the numbers, and common symbols in the old-style font family.
The transitional font family was used during the 18th century heavily and has a greater contrast between stroke thicknesses. It has wider serifs with flatter bases and a larger x-height. Numerals are consistent and size in a transitional font family.
The slab serif font family began to be used in the 19th century. It has minimal variations in stroke thickness, heavy serifs with squared-off ends, and large x-heights.
The sans serif font family began to be heavily used in the 19th and 20th century. There is no variation in stroke thickness, no serifs, and a large-ish x-height.
The decorative font family began to be used in 19th and 20th century and is easily recognizable as heavily ornamented characters.
The script font family began use in the 19th and 20th century and resembles handwriting.
Type Characteristics: Review the following examples to become familiar with typical type characteristics of case, serif and sans serif, x-height, kerning, spacing, and leading.
Case: Case refers to whether also characters are displayed in uppercase or lowercase form. Lowercase letters have been proven to be easier to read and distinguished from each other because they have more detail in the lower half of the letter.
Example
UPPERCASE
lowercase
Sans Serif: A serif is a short extension at the ends of letter strokes. Serifs make type easier to read by guiding the eye from letter to letter and word to word. Sans serif is simply a font without serifs.

X-height: X-height refers the distance between the mean line and the baseline and is typically the height of the "x" character in the font.

Kerning: Kerning is a variation of space between adjacent letters to achieve a visually pleasing spacing. If we look at the word war in Figure 8, the top word war has no kerning. Therefore the letters seem to be far away from each other and disjointed. With automatic kerning (second row), which is often done in word processors, the letters are brought closer together spacing to be more cohesive. It is also possible to do manual kerning (third row) in which you can bring letters closer together or further apart depending on your need.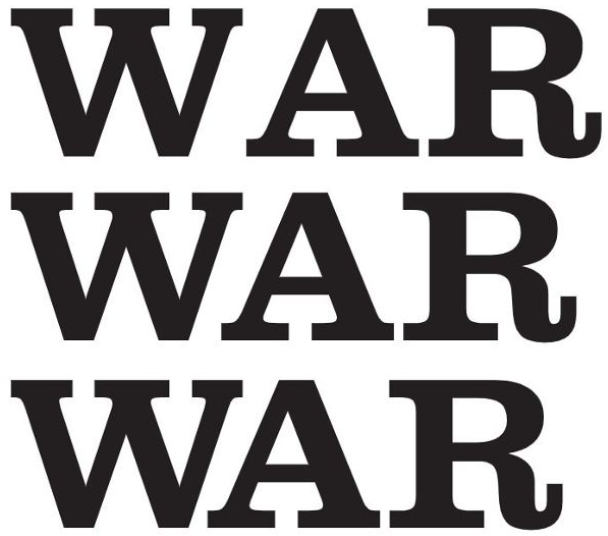 Spacing: Letter spacing is space added between characters in a word. Word spacing is when spaces are added between words.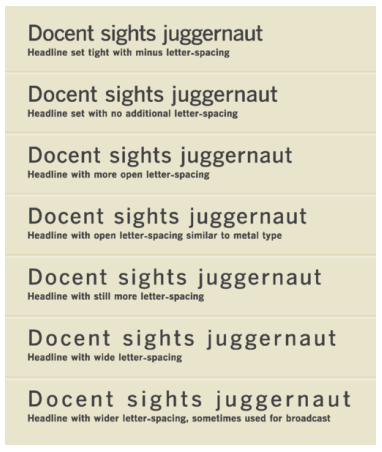 Leading: Leading refers to the space vertically between baselines of text. Leads between texts are measured in points.

Use of Type Maps: A majority of type on a map will be set in title case. Title cases are where the first letter of every word is uppercase. Feature labels will almost always be in title case. Sentence case is only used on a map when sentences are included on a map. Sentence cases are where the first letter of a sentence is uppercase. Words in all uppercase are appropriate for labeling large aerial features such as oceans or countries. As features becomes smaller in space, or importance, title case should be used.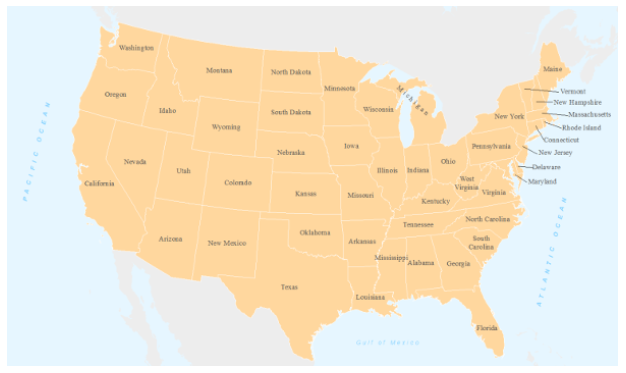 Serif vs. Sans Serif: One common question is whether serif or sans serif fonts should be used on a map. Neither has been shown to be preferred on a map so you should just pick one and be consistent across the entire map design. You may mix serif and sans serif fonts between map labels and other map elements like the title or metadata, however be consistent. For example, all labels should be serif, and all of the map elements sans serif.
Word and Letter Spacing: In most cases the default worded letter spacing is preferred. Should you need to save space you can reduce the word and letter spacing so that the label will be easier to place. Expanded word and letter spacing provides a less compact type and will be easier to read. Typically expanded worded letter spacing is used with all uppercase text when labeling large areas. All uppercase words require word spacing to allow the letters to "breathe". If you decide to modify the word and letter spacing you should be consistent within blocks of type and among types that represent similar phenomena.
Type to Avoid: In general you should avoid decorative or hard to read type families such as fonts from the decorative or script font families. Too much bold on a map will greatly de-emphasize the regular type on the map. Instead of bolding text first try different sizes to see if that fits the need.
Italic Type: Italic type should be used for the following: water features, which should also be labeled in blue, to identify publications in a data source, which is a fairly standard reference practice, and to identify species of an organism. You may use italics for other reasons like emphasis but these are common italic practices.
Type Size: When considering type size on a map you should choose a reasonable upper and lower limit. Generally six point is the smallest type size you should use on a map that is still easily readable by your audience and you should use type size this small sparingly. The production medium, lighting conditions your map will be used in, and audience type and age may dictate upper and lower limits. Type size corresponds with relative size of features with larger or more important features gaining a larger type size, and less important smaller features gaining a smaller type size.
Orientation: If at all possible type should reflect the orientation of the features it is labeling including diagonal or curved features. Type should never be upside down on a map. Label between -90° and a positive 90° and be consistent across the entire map if possible. Looking at the example here, the white text is at an acceptable orientation, but the red text is considered to be upside down and should be avoided.

Overprinting: It is possible that in some cases your label will be over printed on top of the map feature. When this happens it may obscure the map feature and make the map and label difficult to read. You can fix overprinting in a few ways such as employing masks, halos, callouts or leader lines, or better placement.
Mask: A mask should be the same color as a feature that is being over printed. In Figure 15, the mask is the same base color as the state so that when Mississippi is over printed there appears to be a blank area behind it.

Halo: A halo is similar to a mask except that the color is different from the color of the background. Halos can make the labels stand out very well if the surrounding areas are very complicated, but be careful not to make a halo too large because it may draw undue attention to the label.

Callout/Leader Line: If the label is significantly larger than the area it is supposed to be you can use a callout or leader line (Figure 15) so that you can place a label away from the feature. This will direct the user's attention to the fact that the label belongs to a feature further away. The last option is to consider placing the label better on the map. In some cases it is acceptable to reduce the font size but this does run the risk of making that feature not be perceived to be of the same type as other features in its class. In Figure 16 there is better placement in the map on the right due to the reduced font size used.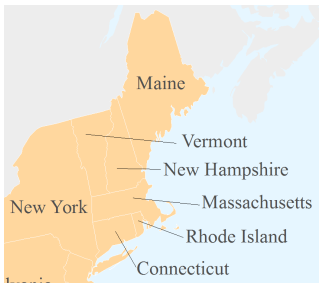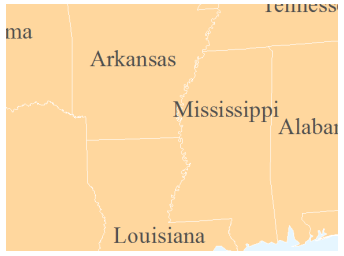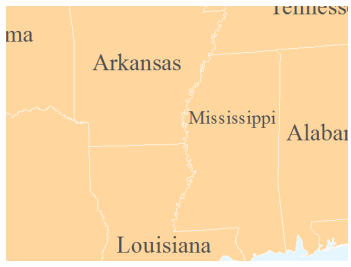 Spell Check: And last but certainly not least, you should always perform a spell check on all the text on your maps. Misspellings can undermine the authority or trust on your map. If map readers see spelling mistakes they may wonder what else you've overlooked and got wrong. You should not assume that the mapping software you are using has spellchecking capabilities as even some of the most popular mapping programs do not have spell check.
The last bit of advice with regards to type is that you should carefully consider the placement of type and do not passively accept software defaults with regards to placement and type characteristics as they may not be optimal for the map.
Other Resources
Fonts in ArcGIS
Text Symbols in ArcGIS Pro
Improving font options in ArcGIS Pro
Summary
This chapter introduced and taught you about typography. You learned about the elements that make up typography and the effect it has for a reader to understand a map. The information included defining type, characteristics of type, and the various uses of type on maps.
Credits
This work by the National Information Security and Geospatial Technologies Consortium (NISGTC), and except where otherwise noted, is licensed under the Creative Commons Attribution 3.0 Unported License.
Authoring Organization: Del Mar College
Written by: Richard Smith
Copyright: © National Information Security, Geospatial Technologies Consortium (NISGTC)
Development was funded by the Department of Labor (DOL) Trade Adjustment Assistance Community College and Career Training (TAACCCT) Grant No. TC-22525-11-60-A-48; The National Information Security, Geospatial Technologies Consortium (NISGTC) is an entity of Collin College of Texas, Bellevue College of Washington, Bunker Hill Community College of Massachusetts, Del Mar College of Texas, Moraine Valley Community College of Illinois, Rio Salado College of Arizona, and Salt Lake Community College of Utah.
This workforce solution was funded by a grant awarded by the U.S. Department of Labor's Employment and Training Administration. The solution was created by the grantee and does not necessarily reflect the official position of the U.S. Department of Labor. The Department of Labor makes no guarantees, warranties or assurances of any kind, express or implied, with respect to such information, including any information on linked sites, and including, but not limited to accuracy of the information or its completeness, timeliness, usefulness, adequacy, continued availability or ownership.