Chapter 1: Introduction to Cartography
Uli Ingram
In this chapter you will gain an understanding of the basic elements of cartographic design. In addition, you will learn about different types of maps and their applications. It is important to understand the elements needed to create an effective map and the design process involved.
1.1: Defining a Map
As one starts down the path to becoming cartographer, it is important to first start with the basic question of "what is a map?" Defining what a map is will provide a foundation needed to deconstruct the concept of a map into manageable pieces. A map is a graphic representation of the cultural and physical environment. The keyword here is graphic representation, as all maps are visual representations of the phenomenon to be modeled. The second definition of a map is that it is a reduced, selective, and symbolized graphical representation of an environment. This definition introduces three key terms reduced, selective, and symbolized.
Reduced: The first term, reduced, refers to the fact that almost all maps are more useful than when they are reproduced at a smaller scale than the actual phenomenon being mapped. For example, a road map of Idaho that when unfolded is the actual size of Idaho, is not very useful to us, so instead, we reduce the size of the spatial phenomenon being represented onto a more reasonably sized piece of paper.
Selective:The second term, selective, means that maps should only include items that are directly related to the message of the map. For instance, a map designated to show where all the hospitals are located within a city should not include the location of every manhole cover in the city on the map. The reason being, the location which the manhole covers has nothing to do with the locations of the hospitals, and therefore it would be a meaningless feature on the map.
Symbolized: The third term, symbolized, refers to the idea of extracting the item being mapped by using a representative symbol. Examples of representative symbols would be a star with a circle around it that represents a state capital, or a symbol of the front of a bus that represents a bus stop.
Example - General Reference Map: Figure 1 is an example of a general reference map produced by the National Atlas of the United States of America. This map is a graphic representation of the cultural and physical environment for the area that covers the United States. The cultural items on the map include the roads, country and state outlines, river and ocean names, country names, state names, and city locations. The physical environment being represented on this map is the topography including the location of land and water masses. This map is a reduced, selective, and symbolized graphic representation of the United States.
It is reduced because it is physically smaller than the size of the United States.
It is selective because it does not show the relevant information to the purpose of this map.
It is symbolized through the use of visual variables such as color, texture, size, and shape.
1.2: Classifying Maps
Classifying maps begins with categorizing them into mediums. The three types of map mediums are tangible, virtual, and mental.
Tangible: A tangible map is a map that you can hold in your hands such as a paper map. The nice thing about tangible maps is that they can be easily shared between users and there is no specialized hardware or software required to use them. Additionally, tangible maps are portable, and can be stored for long amounts of time without any need for maintenance.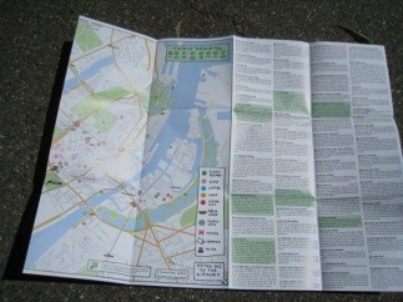 Virtual: A virtual map is any map displayed on a computing device. Maps are now found on desktop computers, tablets, laptops, phones, GPS receivers, and many other digital devices. The great thing about virtual maps is they are easily updatable, can be dynamic, show animation, can link to large amounts of information such as documents, pictures, movies, and sounds, and can be easily shared. Negative aspects of virtual maps include: they require hardware and software to view, may require maintenance in order for the map to exist for a long time, may not be intuitive to many users, and may require more training to develop.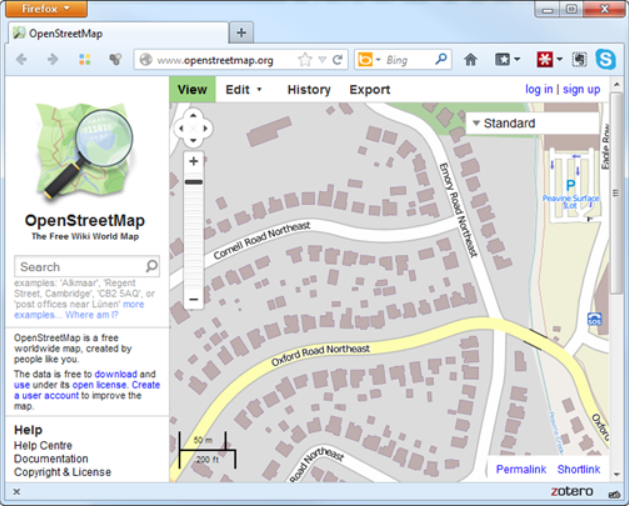 Mental: A mental map is a map that is stored in someone's mind and is their conceptualization of space. Mental maps do not translate exactly from person-to-person except through the conversion of the mental map to a tangible or virtual map, or to any other communication path such as speech or writing.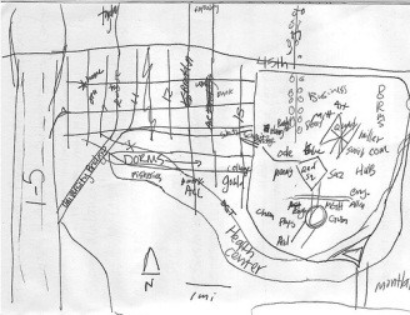 Tangible or Virtual Map: There are two types of maps that can be tangible or virtual: general reference maps, and thematic maps. Most people are very familiar with general reference maps through their use of roadmaps, which is considered a general reference map. Thematic maps are not as familiar to as wide an audience as general reference maps however thematic maps are becoming increasingly popular and can be quite useful when you wish to create a visual representation of some aspect of a data set where you want the user to consider the spatial distribution of that information.
General Reference Maps: A general reference map emphasizes location and shows a variety of features. A general reference map primarily displays objects, their location, and identifying information. General reference maps are typically not specialized to any one particular use, but are instead meant to be used for a wide variety of activities. Displayed here are two sections of two different general reference maps. The map in figure 5 shows a small geographic area and quite a bit of detail. On this map, we can see individual buildings, parking lots, walking paths, and detailed names. The map in figure 6 shows a larger geographic area with less detail. On this map we can see large bodies of water, locations of public and private land, generalized building footprints, and names that apply to large geographic areas.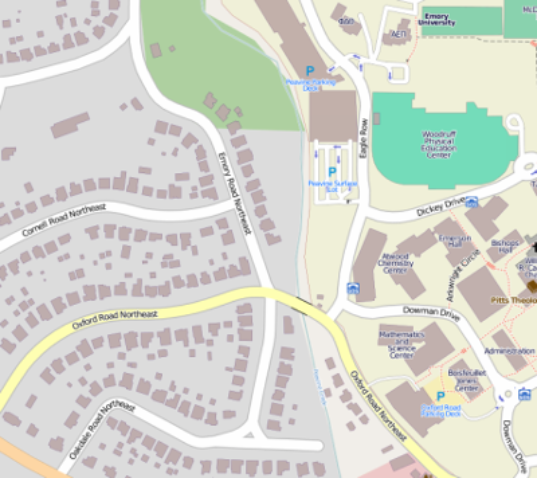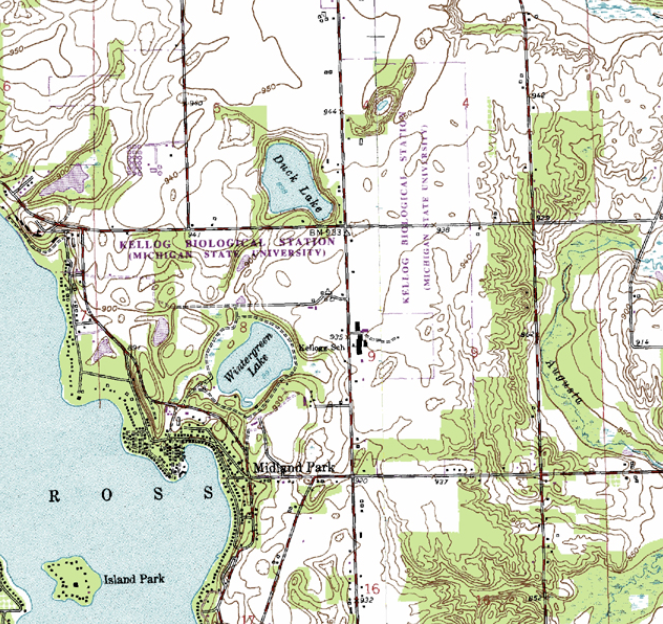 Even though these two maps are at different scales and show different amounts of detail, they have some commonalities like showing a wide variety of features, focusing on nothing in particular which makes them both examples of a general reference map. These maps were meant to be objective abstractions of reality that can be used for multiple purposes.
Thematic Maps: A thematic map emphasizes attributes related to a single subject or theme. Thematic maps typically have a very specific purpose and wish to convey a very specific message related to, typically, a single subject. Thematic maps are classified with more depth, and are not as familiar to as many people, so we will spend a little more time describing them. Thematic maps focus on a single theme which is commonly referred to as an attribute. While most thematic maps focus on a single theme it is important to note that thematic maps can also display multiple related scenes at the same time. One of the reasons thematic maps are so useful is that they display patterns of the theme across space.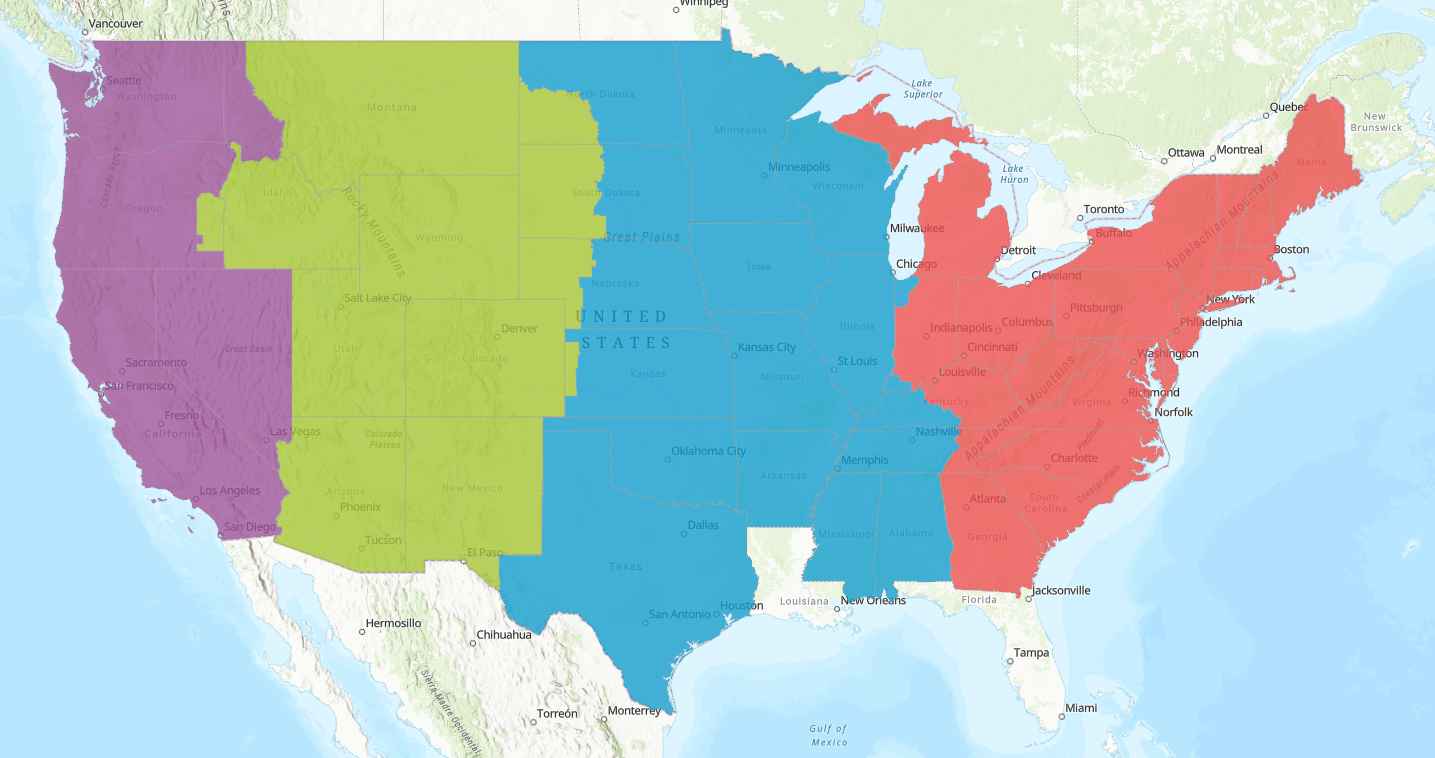 If multiple thematic maps are created relating to a single, or related multiple themes, it can be very useful to compare the two maps to draw additional conclusions. Unlike general reference maps, thematic maps are typically very selective in the features that are included on the map. Only features that support the maps theme are to be included on thematic maps. Lastly, thematic maps were not widely used until the 1800s, and are considered newer map technology than a general reference map.
Qualitative: A qualitative map is one type of thematic map. The provided image is a qualitative map of the Standard Time Zones for the United States of America created by the National Atlas of the United States of America. The different time zones are considered qualitative data, and do not contain any numerical information nor does it represent a magnitude. Qualitative thematic maps show nominal data and its distribution throughout space. A qualitative thematic map does not show any quantities or data that has magnitude. This map simply shows where each time zone exists, and that the spaces the time zones cover are considered to be different time zones. No mathematical relationships can be drawn from this map, only equality and inequality between the time zones.
Quantitative - Single Variable: A second type of thematic map is the quantitative-single variable map which shows numerical data and its variation from place to place. Typically, the numerical data is generalized so that it can produce a better looking visual product. This map represents the margin by which a presidential candidate won the county's votes in the 2008 presidential election. So, the theme of this map is the election results of the 2008 presidential election, and it uses the raw number of votes simplified, and aggregated to the county level so that it is easier to interpret the spatial distribution and patterns.
1.3: Categories of Thematic Maps
Thematic maps can be broken down even further into specific categories. Five common categories of thematic maps are choropleth, dot density, proportional symbol, flow, and cartogram. Let's take a look at an example of each category of thematic maps.
Qualitative Choropleth Map: This provided image is a quantitative choropleth map that shows acres of upland cotton harvested as a percent of harvested crop on acreage in the year 2007 in the United States of America. A choropleth map, each enumeration unit, such as a county, is assigned a color that represents either a single value, or range of values that exist in that enumeration unit. This choropleth map is displaying quantitative information that is been aggregated to the county level.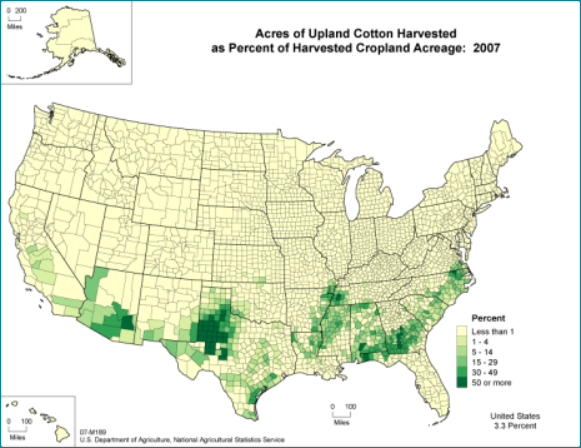 Dot Density Map: A dot density map shows total values of quantitative information represented by dots that are randomly placed within an enumeration unit. This dot density map shows the number of cattle and calves in the contiguous United States in the year 2002. On this map, one dot represents 20,000 cattle and calves. The data is collected at the county level, and the dots are randomly placed within each county.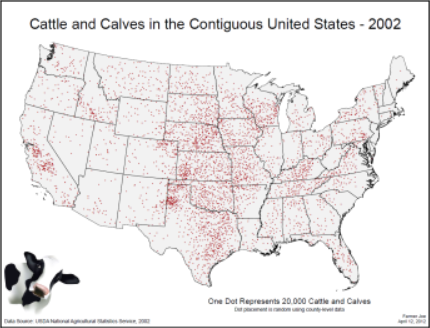 Proportional Symbol Map: This is an example of a proportional symbol map that shows the relative difference in total population between the 50 states in the year 2007. In a proportional symbol map, symbols, such as circles, are sized in proportion to the value of an attribute and allow for comparison of values between enumeration units.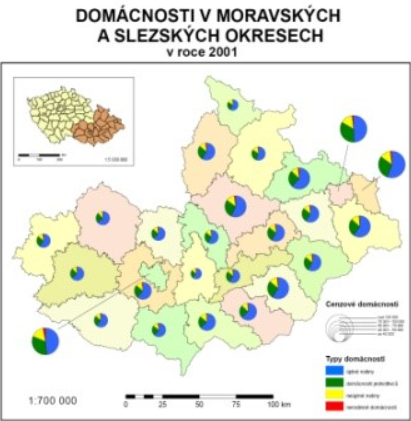 Flow Map: A flow map shows the transport of items between one location and another. This particular flood map shows a migration of people between landmasses by using arrows of different size and color to represent different facets of the migration.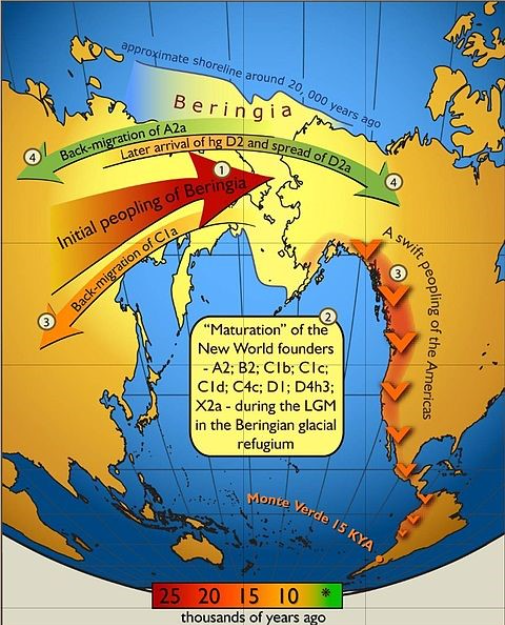 Cartogram Map: In a cartogram map, the area of the enumeration unit is sized in relation to the value of an attribute and allows the map reader to make comparisons relative to value (Figure 13). In areas where the value of the attribute is smaller than average, the size of the enumeration unit is reduced, and where the value of the attribute is larger than average, the size of the enumeration unit is enlarged. As the enumeration units are reduced or enlarged in size, the shapes of the areas can become quite distorted (Figure 14).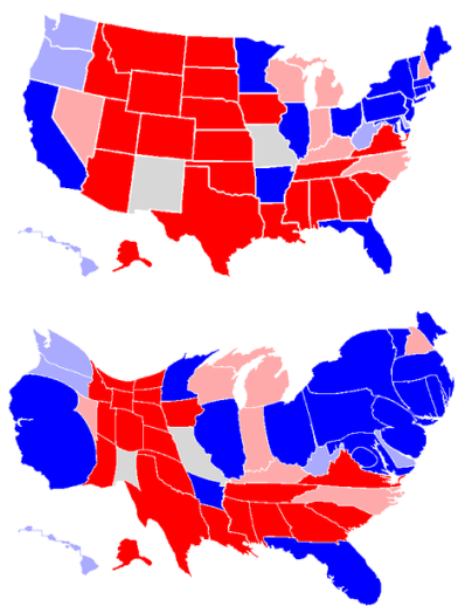 1.4: Taxonomy of Maps
There are three mediums of maps: mental, tangible, and virtual and of those three mediums, we can create tangible and virtual maps using geospatial information systems (GIS). There are two types of maps that can be produced on tangible and virtual media: general reference, and thematic. Thematic maps are broken down further into two categories: qualitative thematic maps and quantitative thematic maps. A quantitative thematic map can simultaneously represent single or multiple variables. Please refer to the Taxonomy of Maps for a representation of the classification of maps (Figure 15).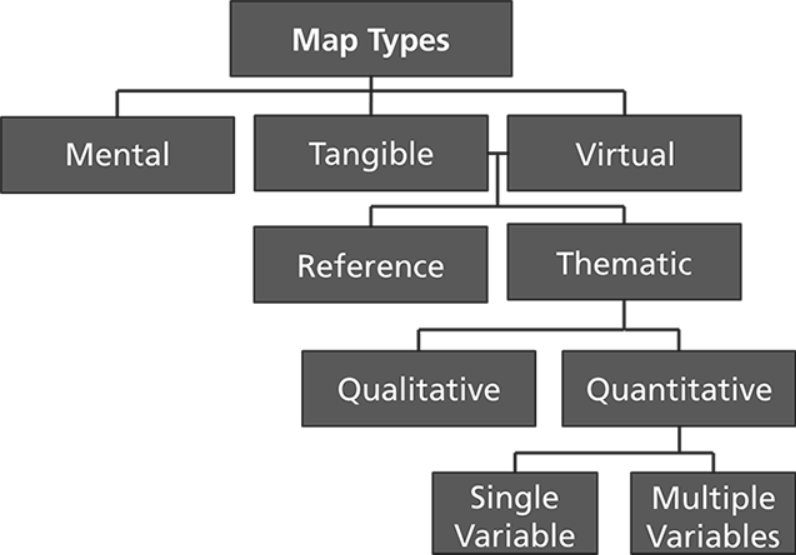 1.5: Cartography
Cartography is the art and science of making maps. Cartography involves the process of producing a map through the philosophical and theoretical basis of map making. A cartographer is someone who designs and prepares a map for distribution. More specifically, a cartographer is someone who studies the philosophical and theoretical basis of the rules for making maps. Traditionally, only cartographers made maps and these cartographers were considered skilled workers that required many years of apprenticeship and practice to master. However, in recent history, cartography has been democratized and now many different groups create maps without the use of cartographers.
Cartography is seldom a stand-alone profession and is now seen as a skill set possessed by geographers, geographic information scientists, or anyone else who wishes to create a map.
The profession of cartography still does exist and is important to many agencies that wish to produce high quality maps.
1.6: A Brief History of Maps
One can assume that humans have been mapping for as long as physically possible. Whether they were drawing in the dirt or sand, or chiseling into rock, maps have always been an important part of human development. Interestingly, these ancient and contemporary maps reveal more than just the geography of the people who made them.
Maps are often assumed to be reproductions of the world that are objective, accurate, and neutral mirrors. However, you must keep in mind that all maps are considered communication devices created by some person who has been influenced by their environment and culture. Therefore, maps are not neutral representations of the world, but social constructions, situated in a milieu. A milieu is a physical or social setting in which something occurs that often has an influence on the outcome. Review the following examples of ancient maps.
Çatalhöyük Map: The oldest existing map was created around 6200 BC. The map shows a town with an erupting volcano in the background and enables you to see how they perceived their surrounding environment and space. View the World's Oldest Maps – 2 Çatalhöyük – 6200 B.C. Babylonian Clay Map by going here.
Giadighe Petroglyph Map: The Giadighe map in this image is from 2500 BC. One can only guess at the milieu being mapped here, but we know that cultural symbols, ideas, and practices contribute to the form of the map and to the sense it made in 2500 BC. So what do we see on this map? Animals, perhaps being husbanded, what appears to be orchards or gardens shown as grids of dots, houses with ladders indicating perhaps the settlement was located on hilly terrain, huts between structures and enclosures, and of course people engaged in a variety of activities. It is interesting how much we can probably guess correctly at a distance of more than 4000 years.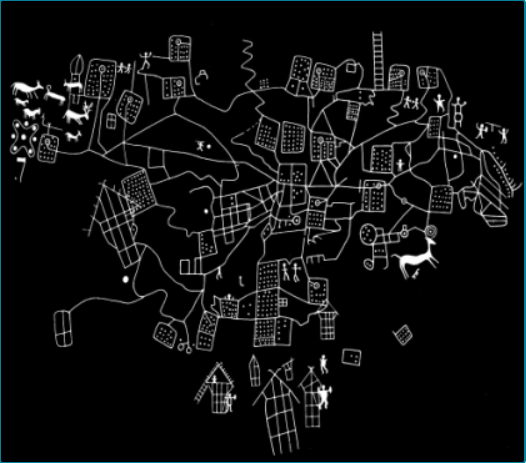 Marshall Island Map: Figure 17 is a traditional Marshall Islands Sea Chart. Sticks and shells were often used to depict islands. These charts were used for navigating between landmasses and were made to be portable.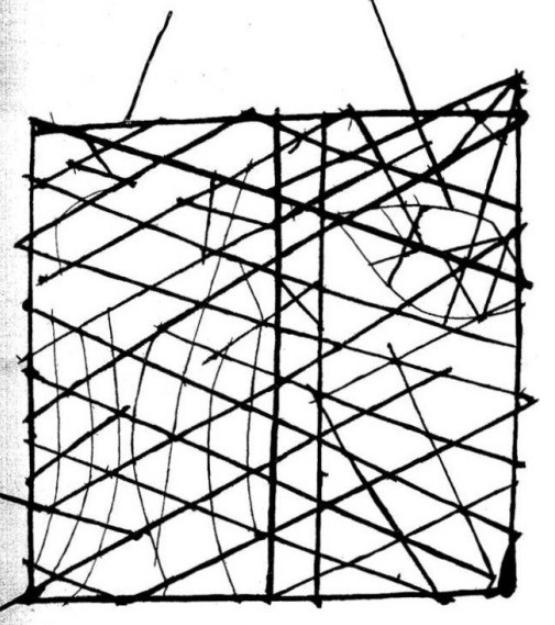 Mediterranean T-O Map: This map is known as a T-O map. The T represents the Mediterranean which divides three continents: Asia, Europe, and Africa. The O represents the ocean and Jerusalem was assumed to be in the center of the circle. The earliest representation of a T-O map is attributed to an eighth century Spanish Monk.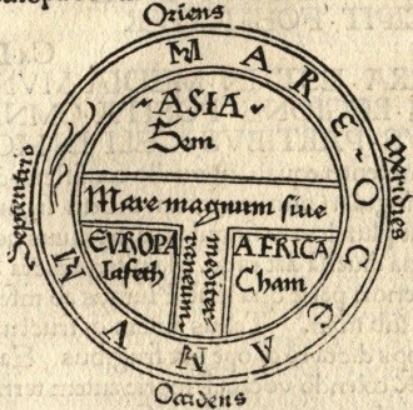 Arabia T-O Map:Take a look at an Arabia T-O Map created in a different milieu, Mapping Universal History in the World-Map of the Rudimentum Novitorium. Notice that the map includes Arabia as the fourth continent and the placement of the Garden of Eden at the top of the earth.
Babylonian World Map: In 600 BC, the Babylonians created their world map. In this map, the circle surrounds the land and is considered to be the end of the earth.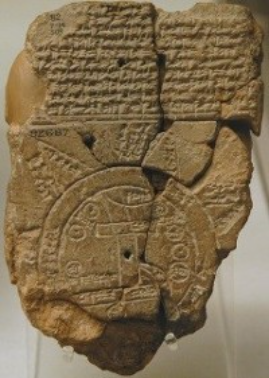 New World T-O Map: This is a New World T-O map, created in a different milieu and with a different style. Note the inclusion of America, the New World in the lower left-hand corner of the map. Note that Jerusalem is also still located in the center of the map.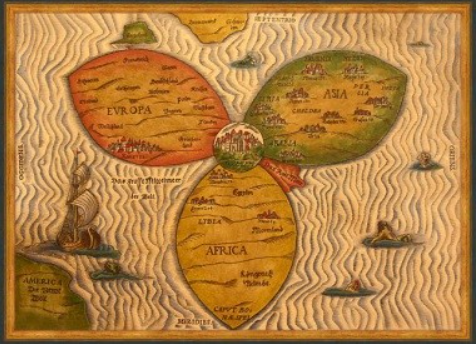 Venice Map: Here is a map of Venice created in 1565. What is interesting about this map is its perspective. This map is not a bird's eye view of Venice, but a perspective map of Venice as if it were being seen by someone sitting atop a nearby mountain. This shows that even hundreds of years ago, societies were able to make advanced spatial representations even though they may have never seen Venice from this angle.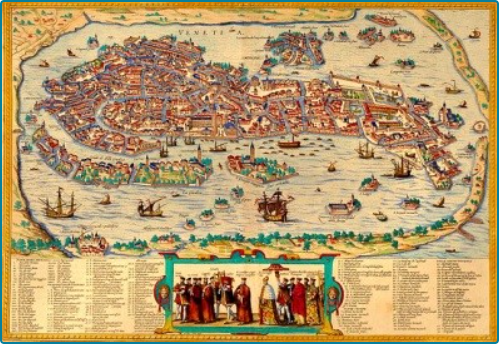 Other Resources
Readings:
Videos to Watch:
Note: you need to have an ESRI username to watch these videos.
Two minute video about ArcGIS Online
Two minute video about mapping in ArcGIS Online
Summary
In this chapter you learned about cartography and various types of maps. You were also presented with foundational information including the definition of a map and several map types that are essential to being able to understand the map classification process.
Credits
This work by the National Information Security and Geospatial Technologies Consortium (NISGTC), and except where otherwise noted, is licensed under the Creative Commons Attribution 3.0 Unported License.
Authoring Organization: Del Mar College
Written by: Richard Smith
Copyright: © National Information Security, Geospatial Technologies Consortium (NISGTC)
Development was funded by the Department of Labor (DOL) Trade Adjustment Assistance Community College and Career Training (TAACCCT) Grant No. TC-22525-11-60-A-48; The National Information Security, Geospatial Technologies Consortium (NISGTC) is an entity of Collin College of Texas, Bellevue College of Washington, Bunker Hill Community College of Massachusetts, Del Mar College of Texas, Moraine Valley Community College of Illinois, Rio Salado College of Arizona, and Salt Lake Community College of Utah.
This workforce solution was funded by a grant awarded by the U.S. Department of Labor's Employment and Training Administration. The solution was created by the grantee and does not necessarily reflect the official position of the U.S. Department of Labor. The Department of Labor makes no guarantees, warranties or assurances of any kind, express or implied, with respect to such information, including any information on linked sites, and including, but not limited to accuracy of the information or its completeness, timeliness, usefulness, adequacy, continued availability or ownership.